---
Beautiful people, I'm elated to share the first seasonal LOOKBOOK of 2019 here at JustineCelina! If you're just tuning in and you didn't catch my 2018 Review + 2019 Goals post last week, you may have missed the announcement that I'll be producing one, 12 outfit LOOKBOOK seasonally this year to help inspire your sartorial choices — and I couldn't be more excited about it! Although winter officially arrived about a month ago, we're now in the heart of the season. Surprisingly, the weather here in Calgary has been very mild and relatively snow-free (most days have been above freezing!) — presenting some unique style options to a girl who's used to making the most of our long, harsh Canadian winters!
With January sales in full effect and the onset of a new year, now is the perfect time to clean out your closet, identify holes in your wardrobe, get inspired and refine your personal style! As always, this LOOKBOOK features everything I've been wearing and loving in both personal and professional settings this season — a melange of high, low, old, new and vintage, along with tons of shoppable links at every price point! Although winter can be an uninspiring time for many in the FASHION department, I use cooler weather as an opportunity to experiment with cozy layers, sumptuous fabrics, unique textures, daring prints and a rich colour palette  to create polished looks to take me from day to night. You'll find cold weather classics intermixed with a sprinkling of this season's hottest trends, colours and a hopeful nod to spring's blooming arrival — there's truly something for everyone. I hope you enjoy my WINTER 2019 LOOKBOOK just as much as I enjoyed creating it!
---
WINTER 2019 LOOKBOOK
---
Although our winter has been mild, let's be realistic — it's still going to be winter for a long time here in Calgary! No matter the weather in your part of the world, I've divided this LOOKBOOK up into sections so you can more easily find the types of outfits you're looking for. I hope it helps to inspire your most stylish winter yet!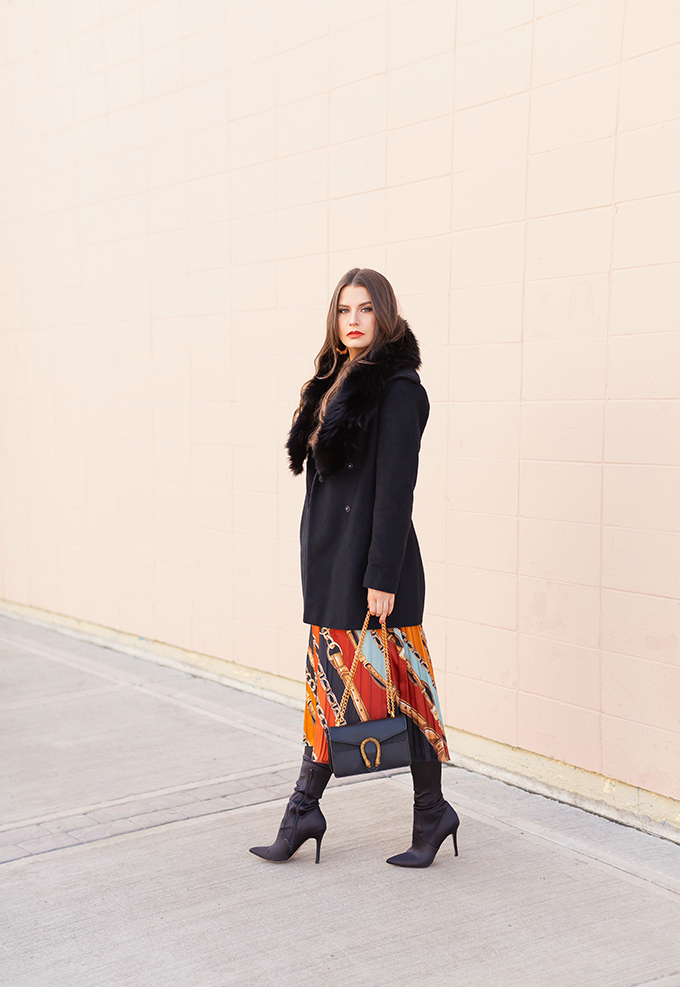 ---
WARM WINTER OUTFITS
---
While our weather has been pretty mild this I have 4 outfits in this LOOKBOOK that are suitable for extreme winter weather or colder climates. I know how tempting it is to let your personal style slide in arctic conditions — but hopefully these easy outfit formulas keep you from slipping into a style rut this winter!
---
BEYOND HOLIDAY
---
First up is actually the outfit I wore on Christmas Day this year! While the colour palette and details are decidedly holiday, this is actually one of my go-to winter outfit formulas when I want to be ultra cozy and comfortable, yet still feel stylish.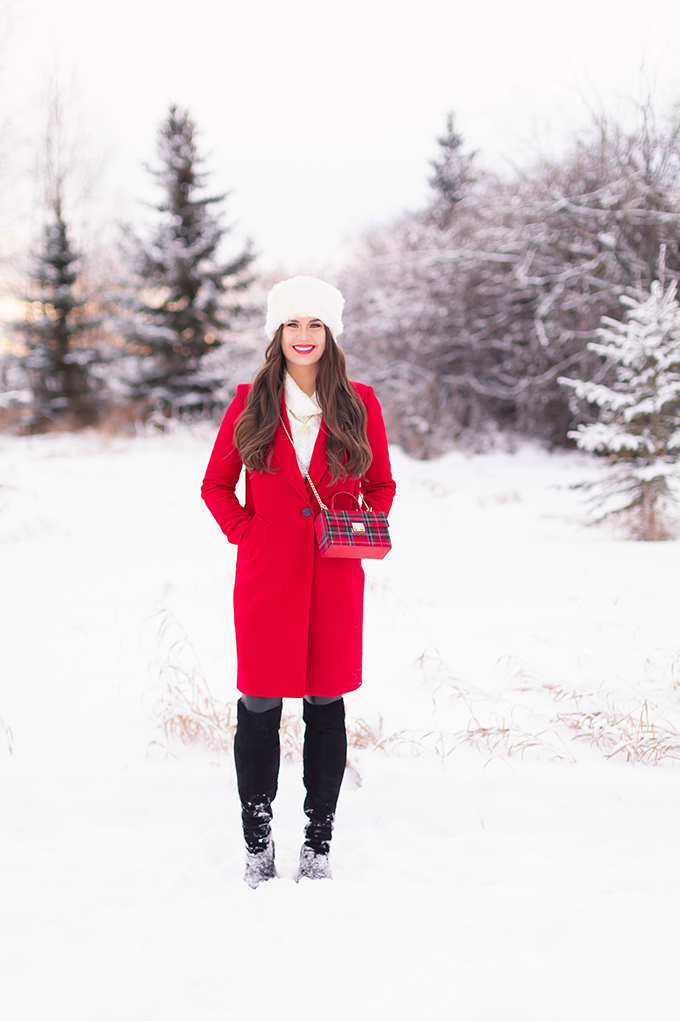 You may recognize the coat from last winter (check out this post to see a completely different way to style it!) — but this cherry red, single button wool coat has become a cold-weather staple for me, as have the rest of the pieces comprising the base of this outfit! Each Autumn/Winter, Joe Fresh releases a new version of their faux leather (or faux suede!) leggings — and each year, I add another couple of pairs to my roster. Classic black faux leather leggings paired up with a long line, cable knit sweater (which I also wore in this look) and a pair of OTK suede boots (see me wear them through the seasons here, here, here and here!) that can withstand anything winter throws at them and you have a perfect base look that you can dress up or down for almost any occasion!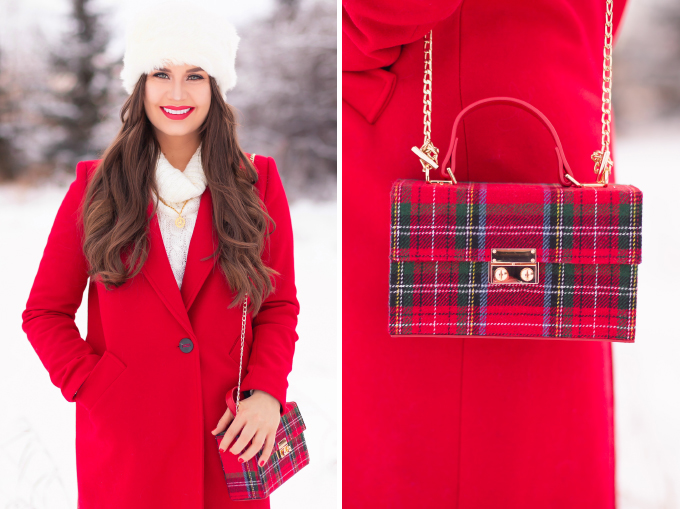 For the holidays, I chose to accessorize with a white, faux fur headband (they're one of my favourite chic, yet incredibly warm, winter accessories  — I also wore this exact headband here and faux fur hat here!), a darling tartan box bag as a nod to my Celtic heritage and my favourite red lip of all time. That said, you could select a more neutral bag and different lip to make this outfit formula work all winter long — and I actually have an example of that in my Raspberry Beret look, below!

---
COZY CHIC
---
This one of the warmest outfits in this LOOKBOOK, largely in part to my new Babaton Robbie Wool Coat (the long version, which I actually don't find to be that long at 5'8″) — which was my Boxing Week Sale Christmas present (to myself, from myself!) this year. I'm not exaggerating when I say I've been searching for the perfect winter camel coat for years — and Robbie checks all the boxes! I managed to snag her at a bit of a discount, although she was still an investment item. I've mentioned previously that I firmly believe in investing in classic outerwear in colder climates — when you consider both cost per wear and how much surface area on your body outwear takes up, it's a sound investment! Wearing this coat is nothing short of a luxury experience — it's super soft and plush (even the pockets are ultra cozy!).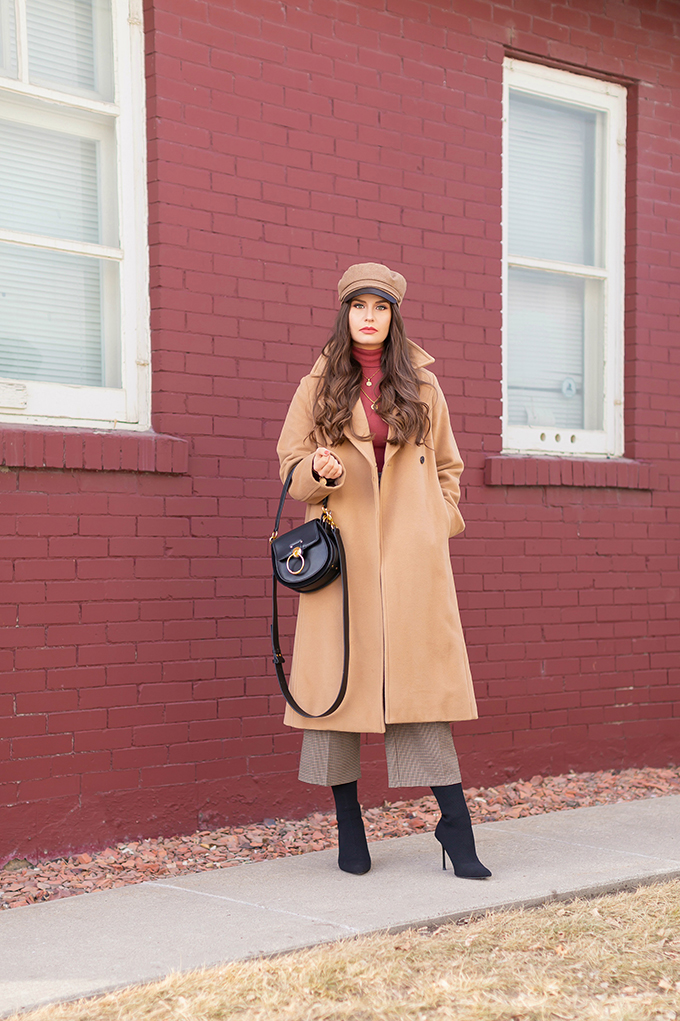 Underneath, I finally found the checked culottes of my dreams, paired them up with a super snuggly turtleneck in a Pantone Living Coral (the 2019 Colour of the Year — expect to be hearing, and seeing, a lot more about it this year!) adjacent hue. To accessorize, I started with my go-to pair of sock boots (see them in action here, here and here), teamed with my favourite bag of the season — my black Chloe Tess (just kidding, it's actually an incredible dupe from Artisan Anything!). Although even the dupe version of Chloe's Tess was still an investment, I loved this contemporary spin on the traditional saddle bag enough to try a new source for designer dupes — and I'm so glad I did (I took one for the team you guys!) because it's an incredibly crafted handbag. You'll see it at play in many other outfits in this LOOKBOOK because it seriously goes with everything!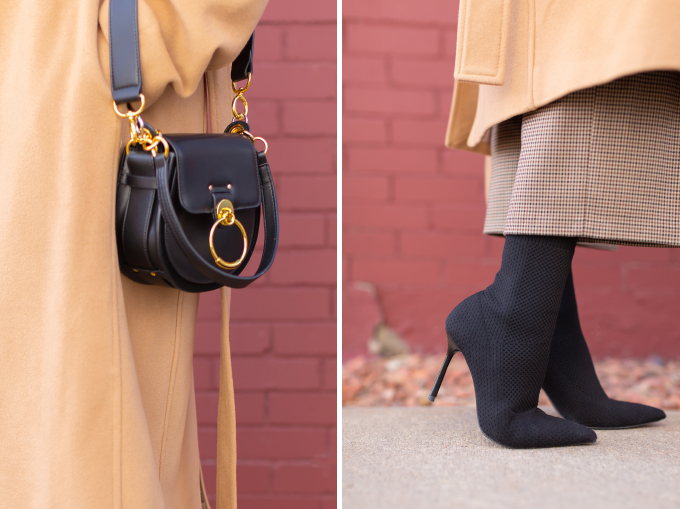 I capped things off with one of my favourite baker boy hats (which I also wore here) and polished the look off with new jewels from House of Vi — a lovely online jewellery boutique founded by fellow Calgary blogger (and total sweetheart) Vivienne Gliesche. I'm wearing the Alphabet Necklace in J layered with the Zodiac Necklace in Leo with the Amalfi Necklace. Again, expect to see a lot more of them here at JustineCelina as they've become an integral part of my personal style!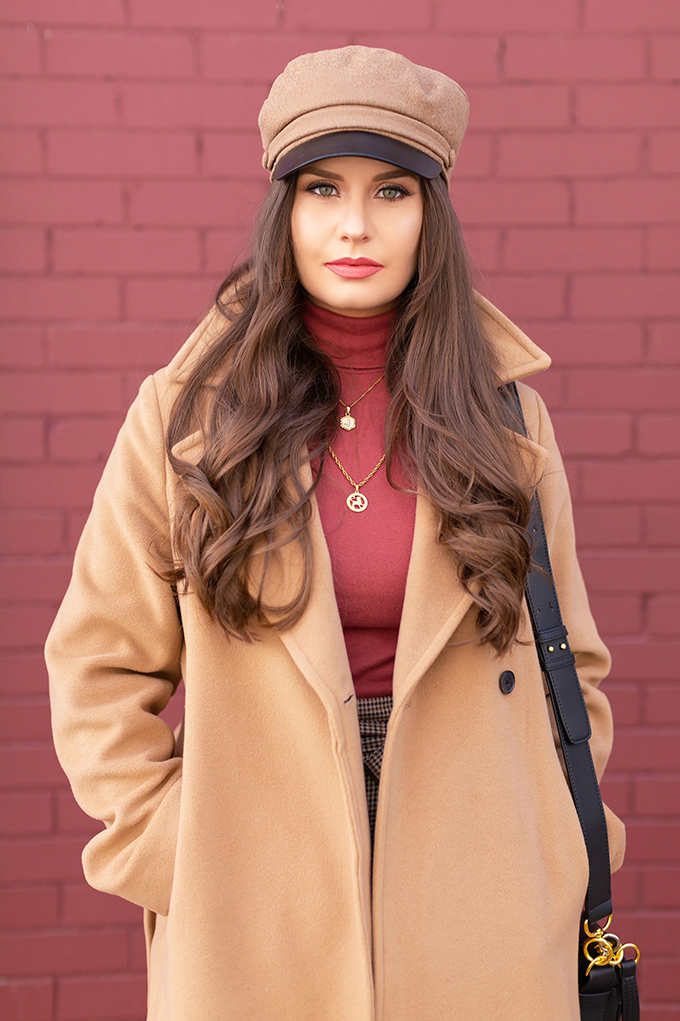 ---
RASPBERRY BERET
---
Look familiar? This outfit adheres to a very similar formula as my Beyond Holiday look, just with a completely different colour palette and a slightly different silhouette. It's ultra warm, cozy and comfortable while still feeling polished — a go-to for me on cold winter days when I want to look cute but casual!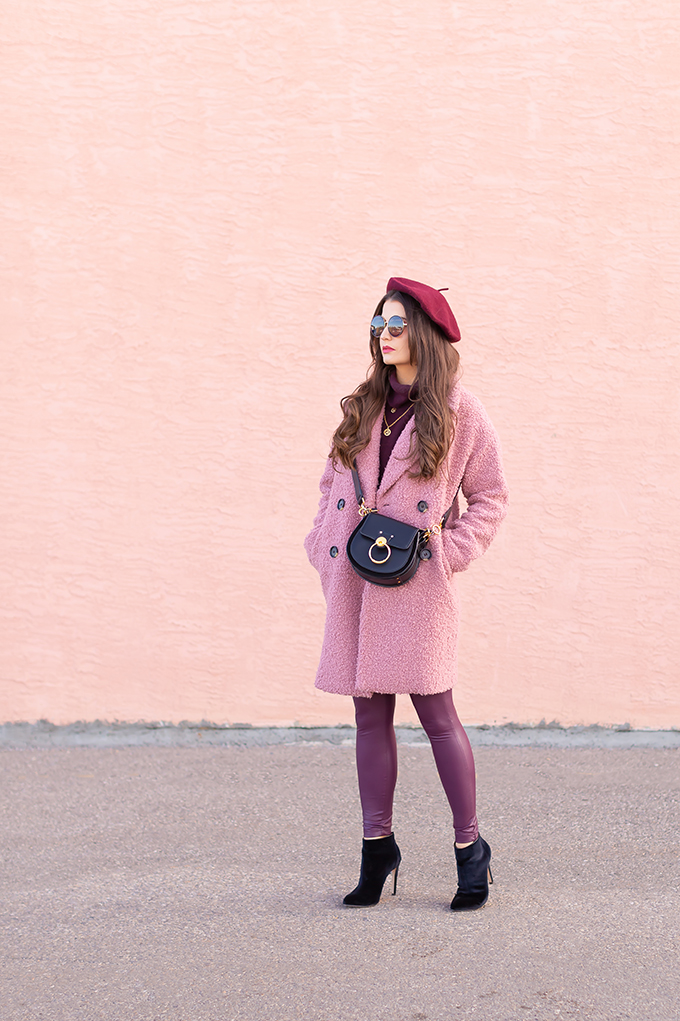 Longtime readers will know how inspired I am by colour — and as February inches closer, I find myself craving all things pink (case in point). I'm obsessed with all things burgundy, raspberry and blush right now — and I love wearing them together. Underneath my teddy coat I have my favourite, super soft H&M sweater on (the one I keep yammering on about and have in 4 different colours — check out the black version in my AUTUMN 2018 LOOKBOOK!) and the burgundy version of the black Joe Fresh faux leather leggings I wore above.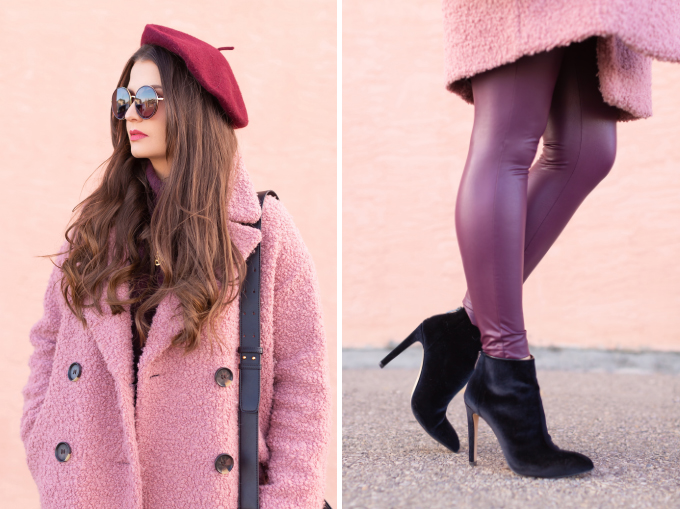 Last but certainly not least, I'm rocking a pair of super comfortable Ava & Aiden Melyssa Velvet Ankle Boots that I snagged at Saks OFF 5TH (they fit me perfectly and I can truly wear them all day!). My to-go winter bag, a wool raspberry beret and pair of bordeaux shades from Aldo complete this feminine, monochromatic outfit.

---
APRÈS SKI
---
This fun, colourful look is totally inspired by my love of the 70's! Can't you just picture me being cozied up in a vintage ski lodge, roasting marshmallows in this?! My love of decades past runs deep — and I channeled it all into this playful winter look, which I pulled together by using this incredible plaid coat with a fluffy, faux fur collar as my anchor piece!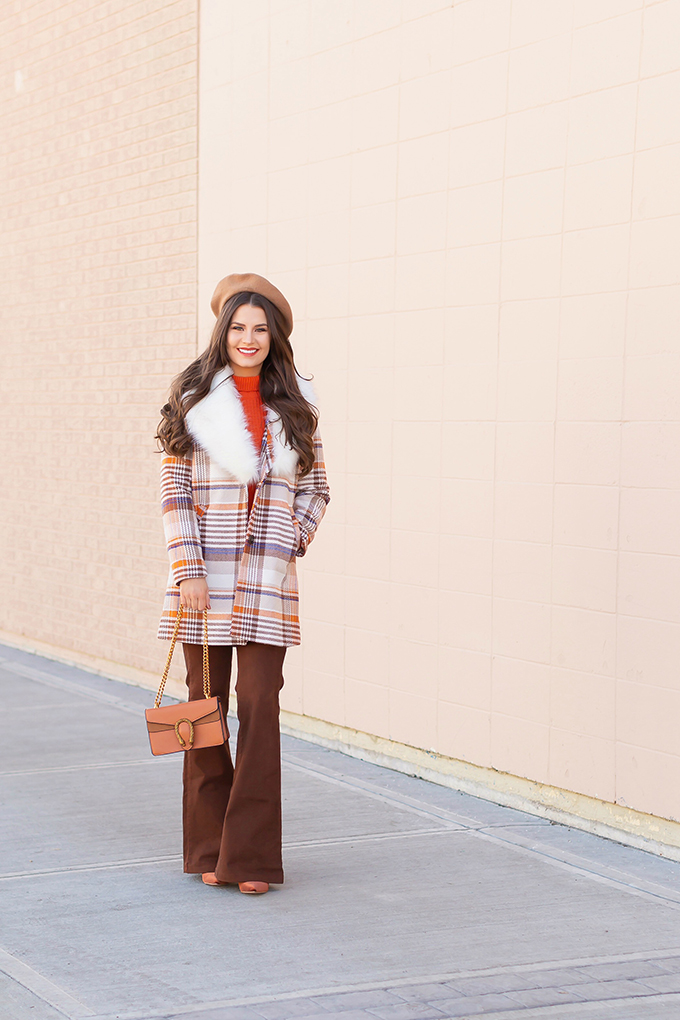 Basically, I pulled out all the items in my winter wardrobe that tied in with this dreamy palette of orange, brown, camel and purple and mashed them up to create this creative ensemble with artistic flair. Underneath my coat I have a simple orange (a major colour trend as we transition into spring!) knit paired up with my favourite pair of brown bell bottoms (you can also see them in action here).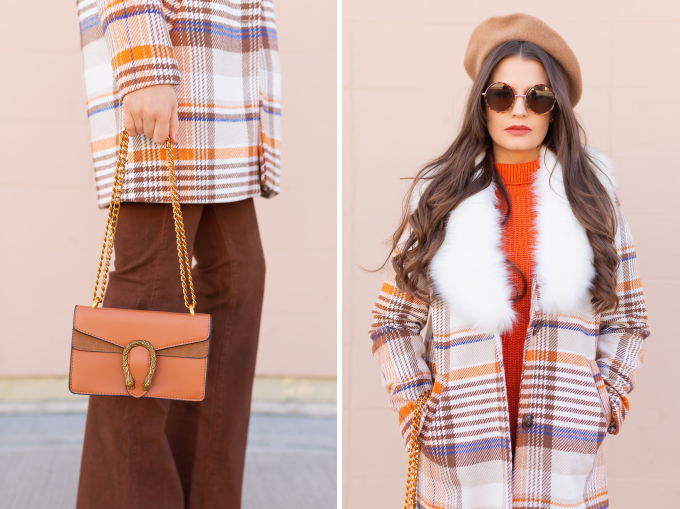 I settled on a pair of velvet sock boots in a beautiful warm caramel shade and a coordinating cross-body bag. To tie it all together and add some extra warmth, I went with a camel beret (as you've probably noticed, berets are a winter favourite of mine!). Since this look has a lot going on, I opted to mix prints in a subtle, tonal way by selecting a pair of tortoise-rimmed brown shades!

---
CASUAL WINTER OUTFITS
---
If you're a jeans and t-shirt kind of girl, this more casual section of my WINTER 2019 LOOKBOOK is for you! Each of these looks are comfortable, casual and sprinkled with a handful of this season's hottest trends — mashed up with classic winter pieces.
---
TEDDY TEXTURE
---
Despite their emergence years ago, teddy coats are still going strong — and this super soft, oversized version from Paisie is a major cool weather staple of mine (you can see how I styled it with a dress for autumn here!). To take advantage of our unseasonably mild winter, I wanted to really experiment with texture and pairing it up with items I wouldn't normally consider!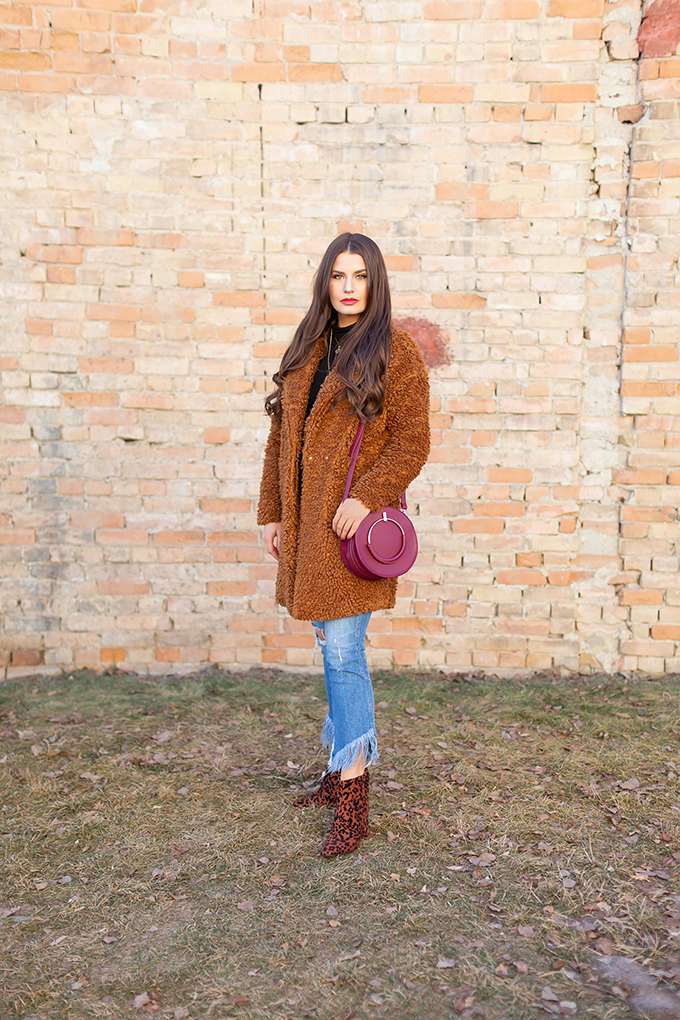 As evidenced in this LOOKBOOK, animal print is running wild this season — and it just so happened that my TopShop Brooklyn Block Heel Booties coordinated perfectly with my favourite teddy coat. To really push myself outside of my texture comfort zone, I selected a pair of kick-flare, fringe hem denim that I typically reserve for warmer months (see how I styled them for summer here) to help call attention to my footwear and help balance the oversized silhouette of my coat. Underneath, I layered my go-to black turtleneck (which is definitely the most versatile piece in my autumn / winter wardrobe!) and my signature jewellery.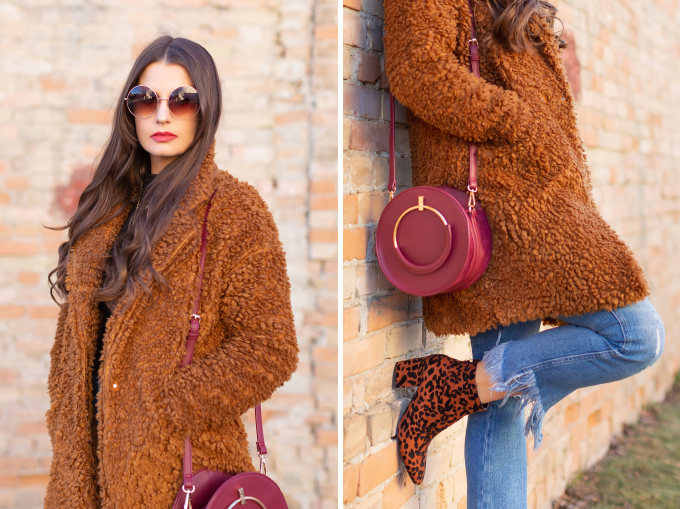 A pair of gold rimmed, brown gradient lens round sunnies (which I've worn many times!) and a circular burgundy cross-body bag (also in action in my Autumn 2018 Lookbook) complete this funky, free spirited winter weekend look — perfect for just-above-freezing temps!

---
CORDUROY CASUAL
---
I love a longline silhouette. It works on us taller gals, but it can also give more petite frames the illusion of extra length! This look came together by combining a few of my favourite cold weather textures — corduroy, cashmere, wool and leather in a desire to be extremely comfortable and cozy yet still feel put together!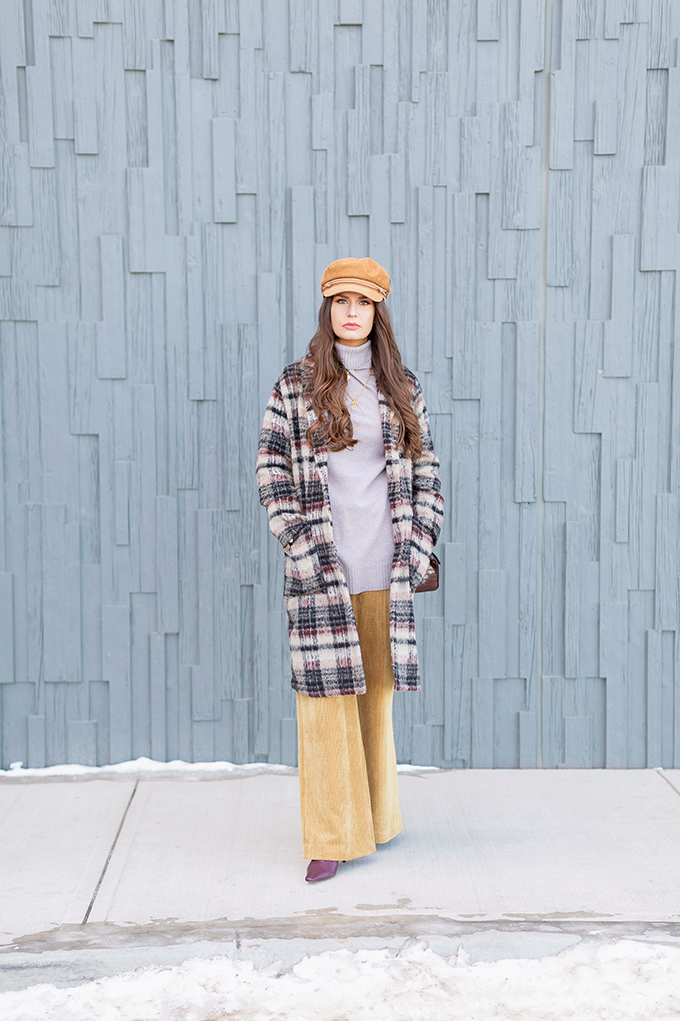 I started with my new corduroy pajama pants (pajama is a huge trend this season!) and teamed them up with my first cashmere piece, which I snagged at Saks OFF 5TH with a giftcard leftover from a campaign we worked on last year. I discovered SAKS 5th Avenue's house brand range of cashmere this past autumn — and resisted the urge to pad my closet with this ultra texture! Along with my beloved H&M sweaters, this buttery soft tunic in a soft lavender grey has been one of my most worn pieces of knitwear over the past few months. If you're looking for some incredible quality cashmere that won't break the bank (they regularly have 30% off sales as well) I cannot recommend the SAKS 5th Avenue brand cashmere at Saks OFF 5TH enough!
I layered on my trusty longline, checked wool coat (see alternative styling options here and here) to tie together the colours in my outfit and interest with a classic winter print. Then, I accessorized with my new ASOS croc-embossed bag and leather Zara boots in a sumptuous shade somewhere between burgundy and chocolate (both which I'm finding to be incredibly versatile staples this winter!). I capped things off with the camel version of my favourite corduroy baker boy hat (which I also own in black and navy).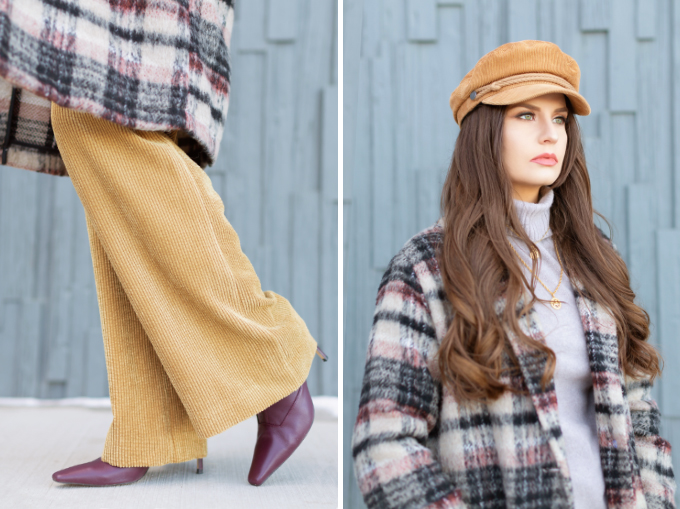 This look is the perfect example of a look I would wear in personal and professional settings, just with slight tweaks! While the way I've styled it here is perfect for casual, cozy winter days, you could simply lose the hat and swap the crossbody bag for a roomier tote to make this outfit formula office appropriate. Try pairing up your wide leg pants with longline tunics this season — it's a relaxed, comfortable outfit base that oozes elegance while making you look long and lean.

---
MODERN WESTERN
---
I felt like a total badass in this outfit — largely in part to these stunning snakeskin western boots, which I used as the anchor piece to build this look around! They've been on repeat since autumn (when I first dabbled in the snakeskin trend) and I find them surprisingly versatile — when you break it down, this print is actually a neutral (as it's comprised of shades of camel, grey and black!). While snakeskin wasn't a print a gravitated towards as first, I think it's so important to push yourself outside of your comfort zone and try something new. You may just find a new favourite!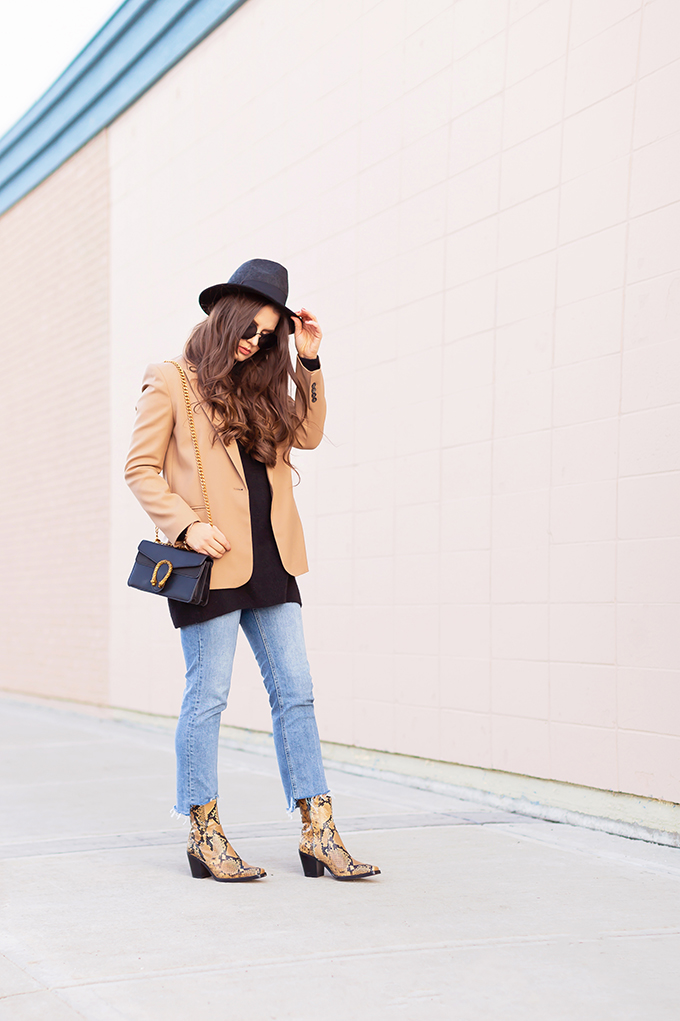 As I explained with my Teddy Texture outfit, I love to utilize cropped denim with unique hems to help call attention to my shoes. While my snakeskin ankle boots certainly command attention, pairing them up with a pair of stem-hem jeans (I actually DIYed them — following the same principles outlined in this post) really draws your eye to my shoe, especially when the rest of this look is so neutral.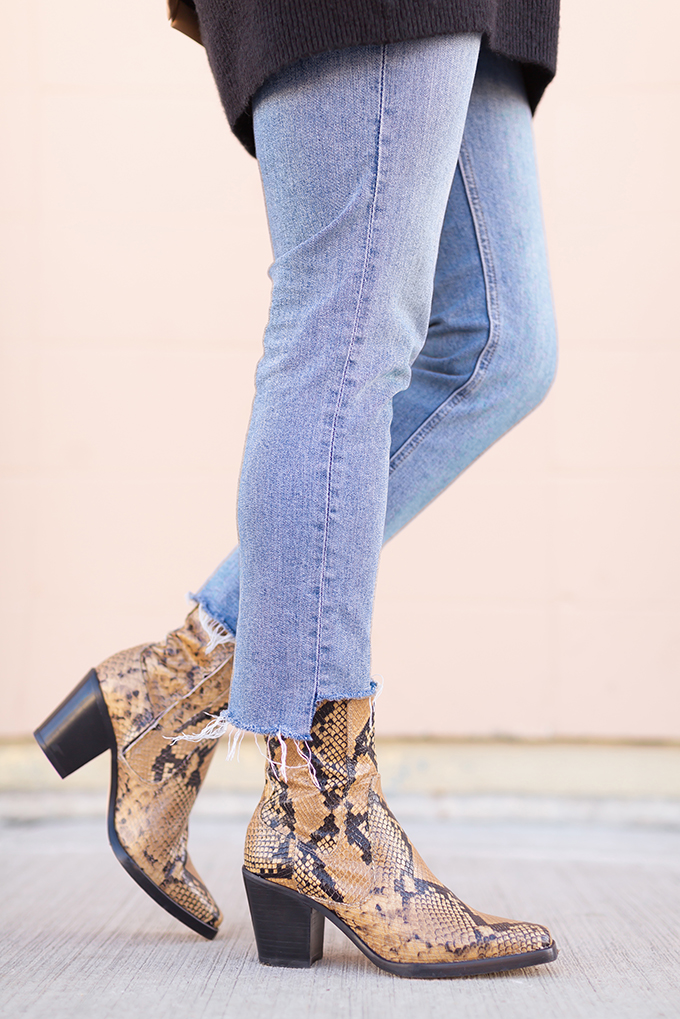 Because it was a balmy 5°C on the day we shot this look, I opted to layer the black version of my beloved H&M sweater underneath a simple camel blazer with a slightly boxy fit. I love layering sweaters underneath my blazers during transitional or mild winter weather and find this combination to be perfectly insulating yet lightweight. To tie it all together, I threw on a flat-brimmed hat, layered on my signature jewellery and accessorized with a bronze and black cross-body bag to unify this neutral look. A pair of round black sunnies with a matte, black frame add an air of mystery to this modern western ensemble!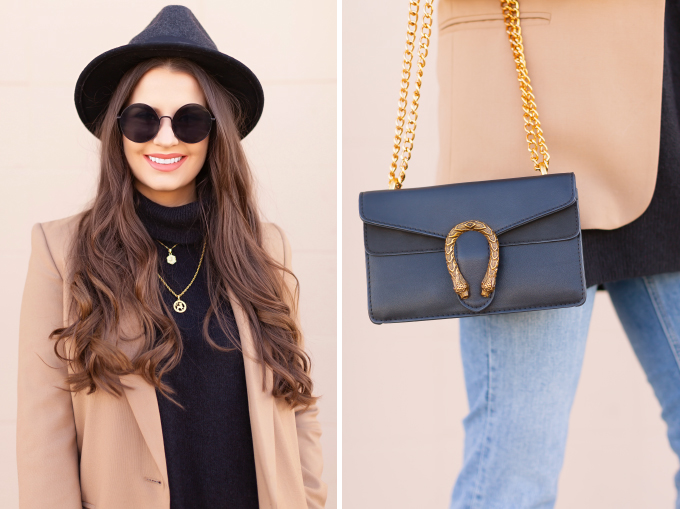 ---
LEOPARD LOVE
---
This has been another go-to outfit formula this winter when I want to be warm, comfortable and casual!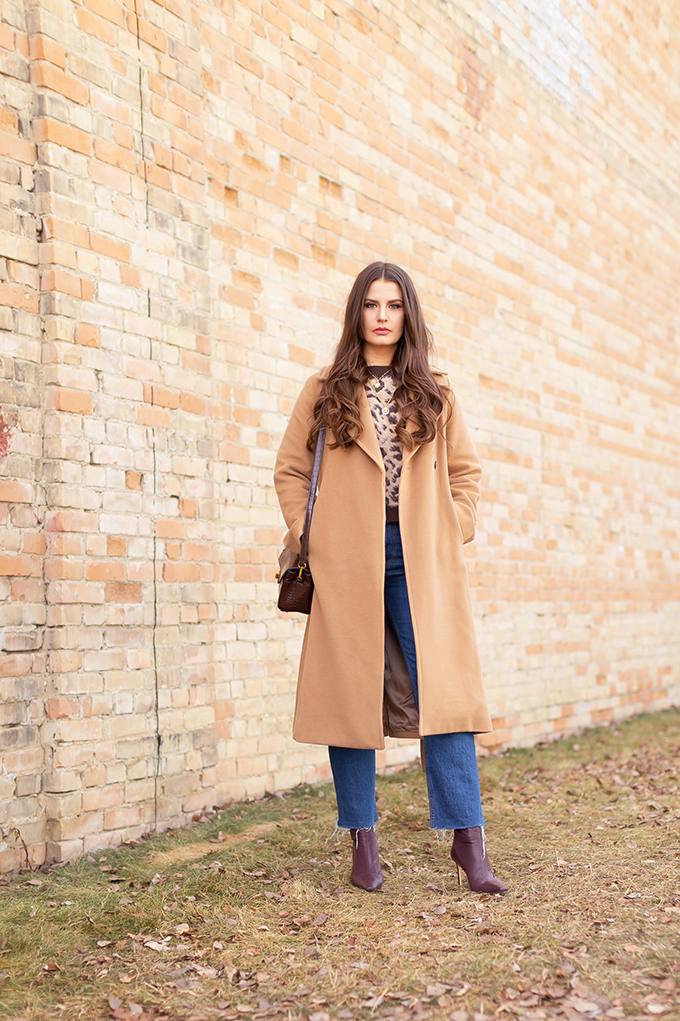 First, I started with this super warm, cropped leopard print sweater from H&M, paired up with dark, high waisted, cropped denim. To ensure my legs were fully covered, I opted for my favourite pair of low-heel leather ankle boots. I love how the elongated, square toe and sleek low heel of these boots creates long, lean legs while being extremely comfortable!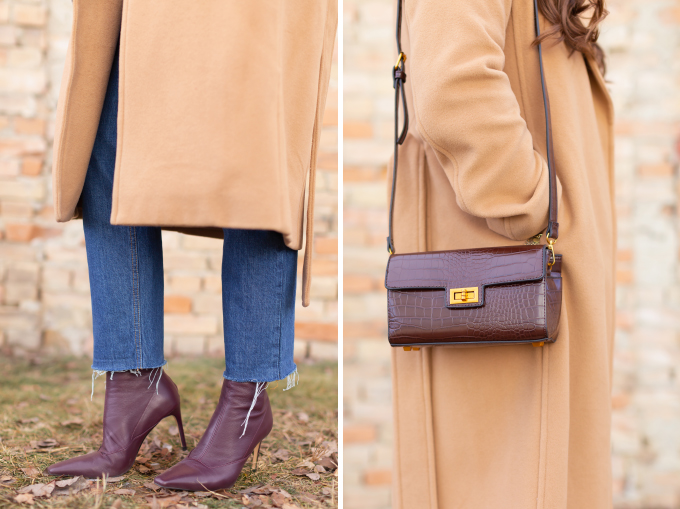 I kept things simple and laid back with my ultra cozy with my Babaton Robbie Wool Coat, croc embossed cross-body bag, signature jewellery and shades. I'm totally obsessed with leopard print this season and have had such good luck finding fantastic animal inspired pieces. I can't wait to share more with you in a new post in my HOW TO STYLE series dedicated to all things leopard! In the meantime, check out my Pattern Play | Leopard post for alternative cold weather styling ideas featuring this season's hottest print.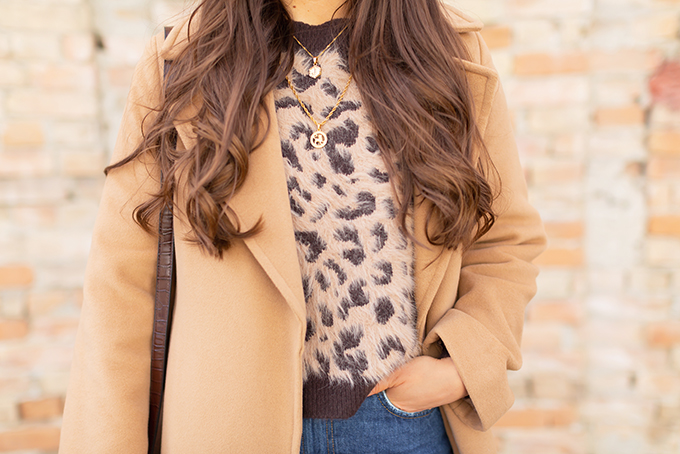 ---
HOW TO STYLE SKIRTS & DRESSES FOR WINTER
---
Whether you've read JustineCelina for years or are just joining me, you've likely noticed my love (obsession?) of flowers. I'm a huge fan of florals year-round — in my wardrobe, our home and even in my fragrances. This section of my WINTER 2019 LOOKBOOK is all about encouraging you to embrace florals in your winter wardrobe — in both personal and professional settings!
---
BOHEMIAN RHAPSODY
---
Pantone's Toffee is a huge colour trend as we transition into spring — and one of my personal favourite shades of brown! This look was inspired by all things Toffee while incorporating a handful of seasonal trends — colourful florals, faux fur, western inspiration and mustard (another major colour trend looking ahead to spring!) while playing with proportion and texture.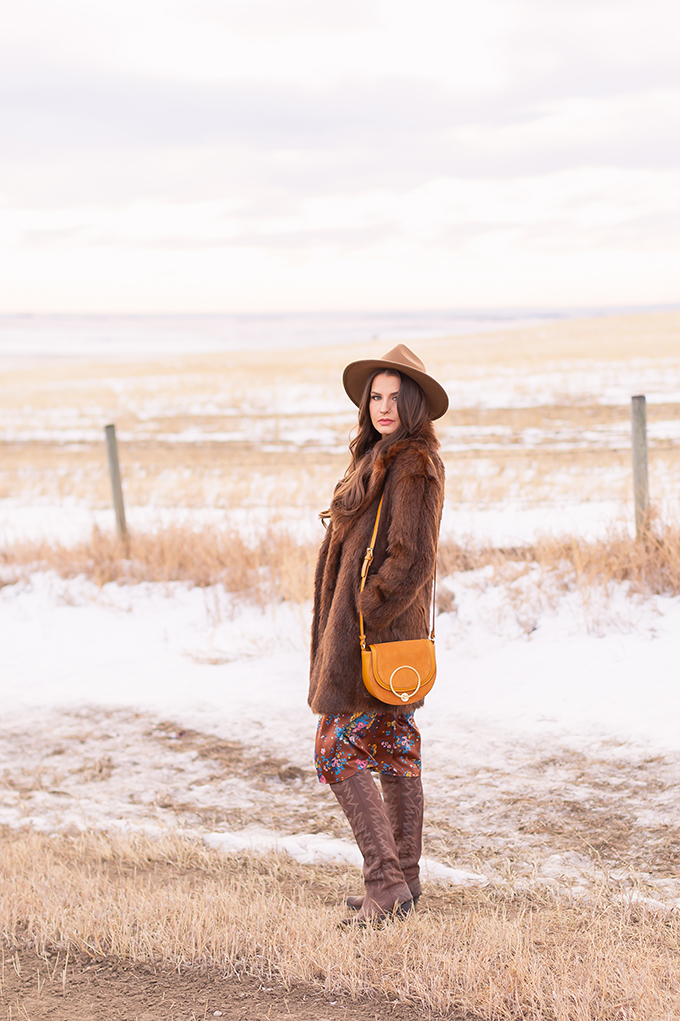 Beginning with this darling satin floral dress that I nabbed during the Zara sale, I pulled out all my toffee brown coats, footwear and accessories. Although I have dabbled in pairing midi dresses up with teddy and faux fur texture, I'd never done a midi dress and faux fur combo — and I love the way they look together (so much, I also worked with this pairing in my In Chains look below!). Not only is adding a layer of faux fur a great way to cozy up your dresses for winter, I adore the juxtaposition of pattern and texture!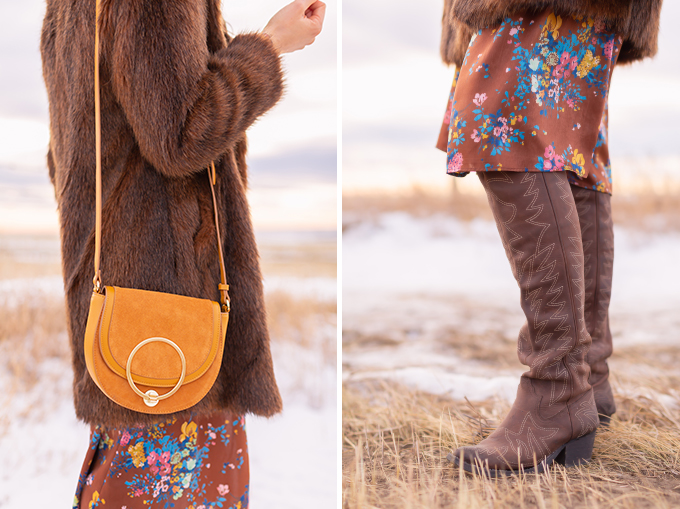 Once I'd decided on the base of the outfit, I experimented with different footwear options — but my beloved, over-the-knee western boots (which I typically reserve for warmer weather) actually worked perfectly to add a bohemian vibe to this outfit. To tie it all together, I selected a wide brimmed toffee hat and a mustard cross body bag. Initially I gravitated towards my blush saddle bag — but then I realized I wore this hat, these boots and that bag in my What to Wear to | The Calgary Stampede, Part 2 post this summer and it was time to switch it up!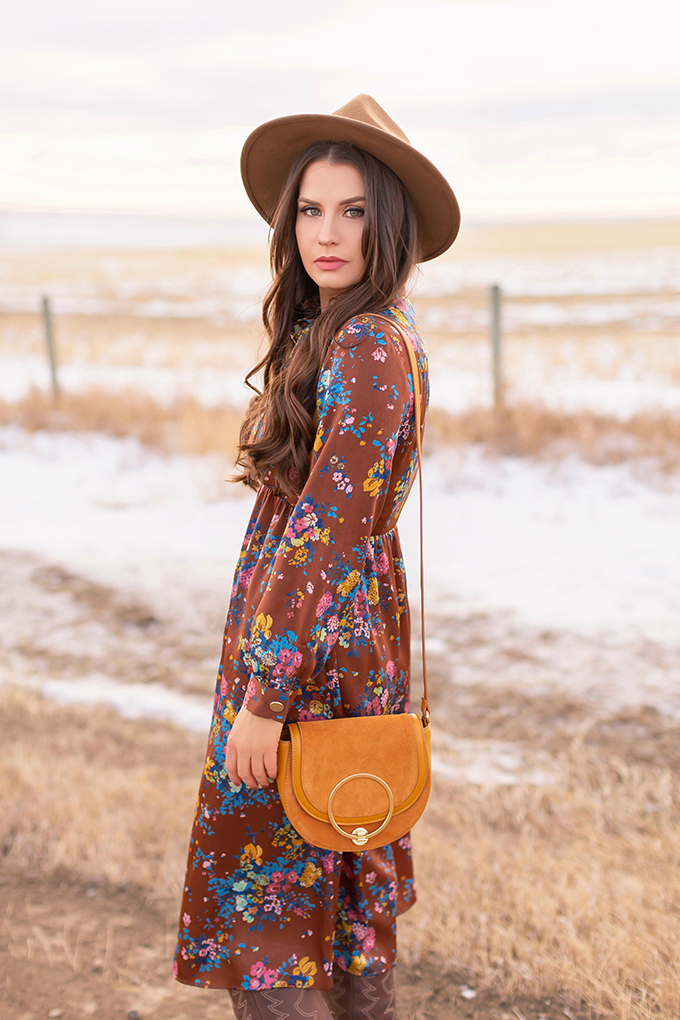 While I wouldn't have normally thought to pair these items together during the winter, the colours in this dress, along with the Pantone's Spring / Summer 2019 Colour Trend Report pushed me outside of my comfort zone. I love looking to Pantone to inspire my personal style, my home and my work — no matter the season!

---
BELTED BLAZER
---
I actually wore this look for my SAKS 5th Avenue panel earlier this winter where we discussed handbag trends. It's the perfect melange of creative, professional and fun — and also another example of how high, low, old and new can intermix to create a unique look. Mixing colours, patterns and textures is totally my jam. I love to create unique combinations and really have fun with my personal style — it keeps me inspired!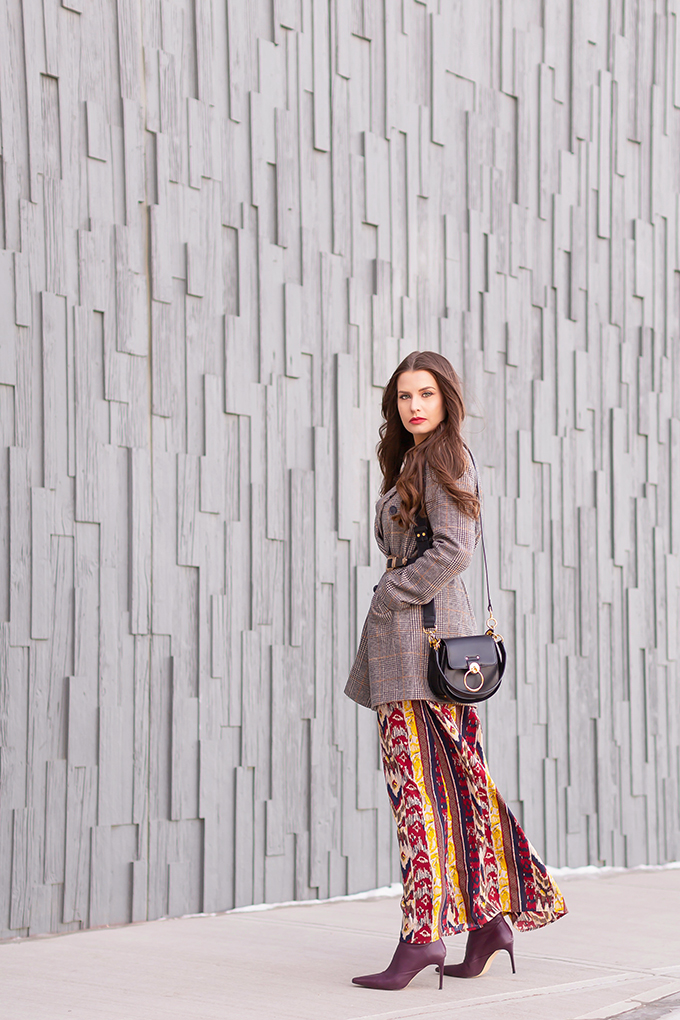 Although ikat isn't a print we see often these days, I will never part with this dress. I've owned her for about 8 years — and I absolutely love the silhouette, palette (which is particularly on-trend right now!) and pattern. It had been awhile since I took her for a spin, so I decided to challenge myself by pairing her up with some new-in items in my wardrobe! Beginning with a base layer of thermal tights, I slipped my ikat maxi on and started looking through my blazer collection to see if I had something in a complimentary palette. This checked blazer / coat cross jumped out at me — I love the way the burnt orange check picked up the warm colours in the print of my dress, although the overall effect of the pattern was subdued and allowed the ikat to shine through as the dominant print in this look. I'll be chatting more about some best practices for mixing prints in an upcoming post!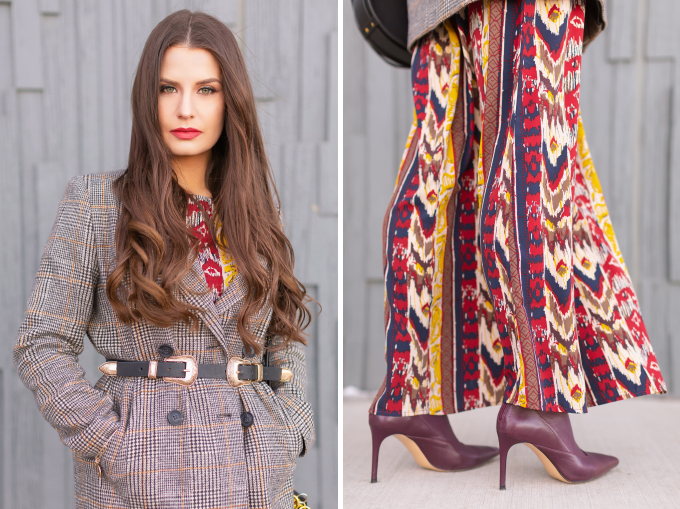 Cinched in, belted silhouettes are having a moment, so I've been experimenting lately with belting unconventional items to highlight the smallest part of my waist. I ended up loving the way this double-buckle western style belt looked with the blazer / maxi combo I had happening! Paired up with my Chloe Tess dupe and favourite pair of leather ankle boots, the accessories bring a subtle bohemian flair to this look, while still keeping it professional.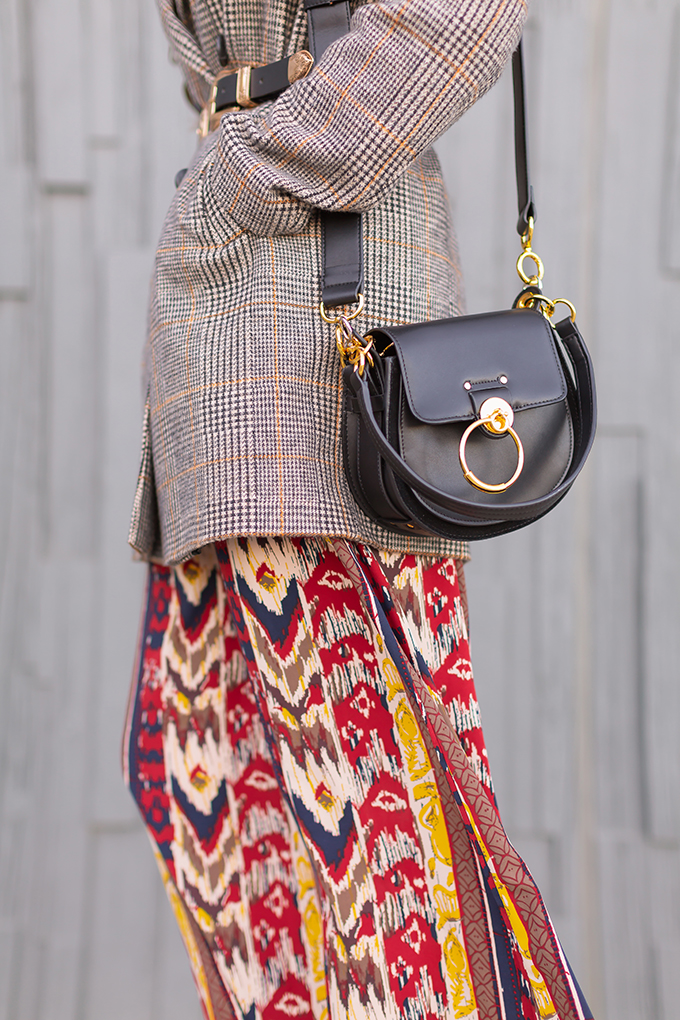 ---
IN CHAINS
---
If you keep an eye on fashion trends, you'll likely have noticed chain print popping up everywhere over the past few months! Although chain print always had a place in my vintage scarf collection, I was thrilled to see a reemergence this season — and in so many fresh interpretations!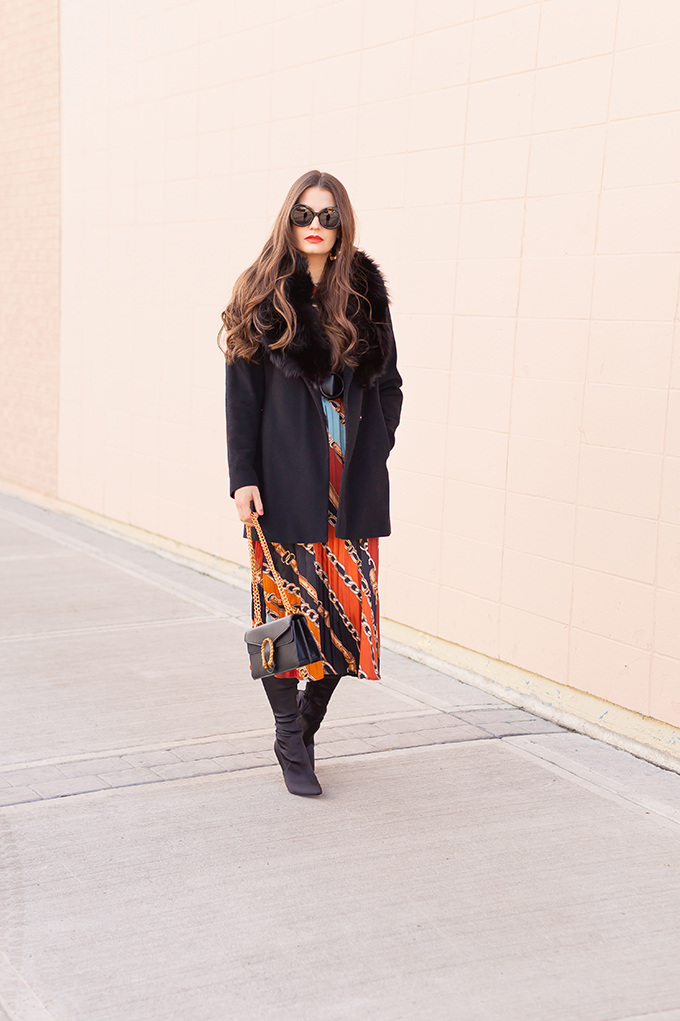 Most recently, I picked up this stunning dress in the Zara sale (which admittedly I've been hitting hard!). I love all the bright colours mashed up with eye catching chain graphics — and while we would typically associate oranges with autumn, they're actually a massive colour trend as we transition into spring — as evidenced by Pantone's Spring / Summer 2019 Colour Trend Report (expect to become very familiar with it over the next 6 months!). In fact, most the colours in this dress appear there — but I've paired them up with all black pieces to keep this look winter appropriate.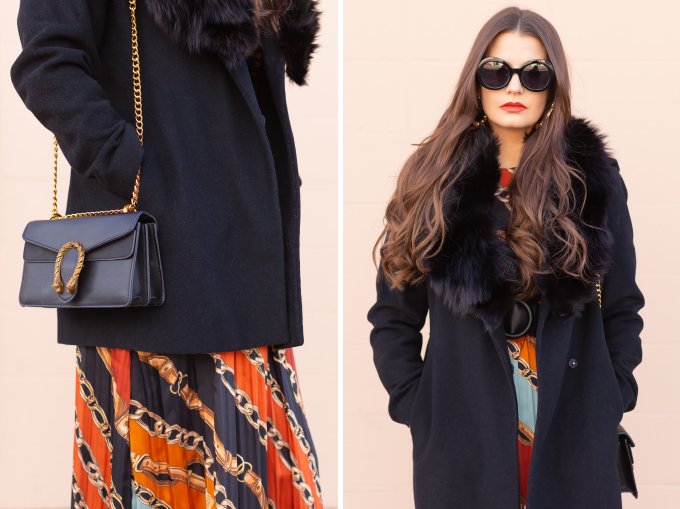 This is one of my go-to winter outfit formulas, especially for evenings out — thermal tights layered with a midi or maxi dress, OTK boots (these are actually satin thigh-highs which you can also see in action here), a classic wool coat (this one has actually been with me for about 7 years, but I actually added a vintage fox fur collar ontop to freshen it up!), a cross body bag and a pair of oval sunglasses (which I also wore to a horse race this past summer!). As usual, this look a mixture of high, low, old and new — and I can't wait to share more details in fresh installment in my PATTERN PLAY series this season, dedicated to chain print!


---
REBEL FLORALS
---
It was love at first sight when I spotted 3rd Floor Studio's Angie — an absolutely stunning wrap skirt in the perfect winter floral print. I love to layer skirts and dresses of all lengths up with thermal tights and boots for cooler weather — and I hope this section of my WINTER 2019 LOOKBOOK inspires you to do the same!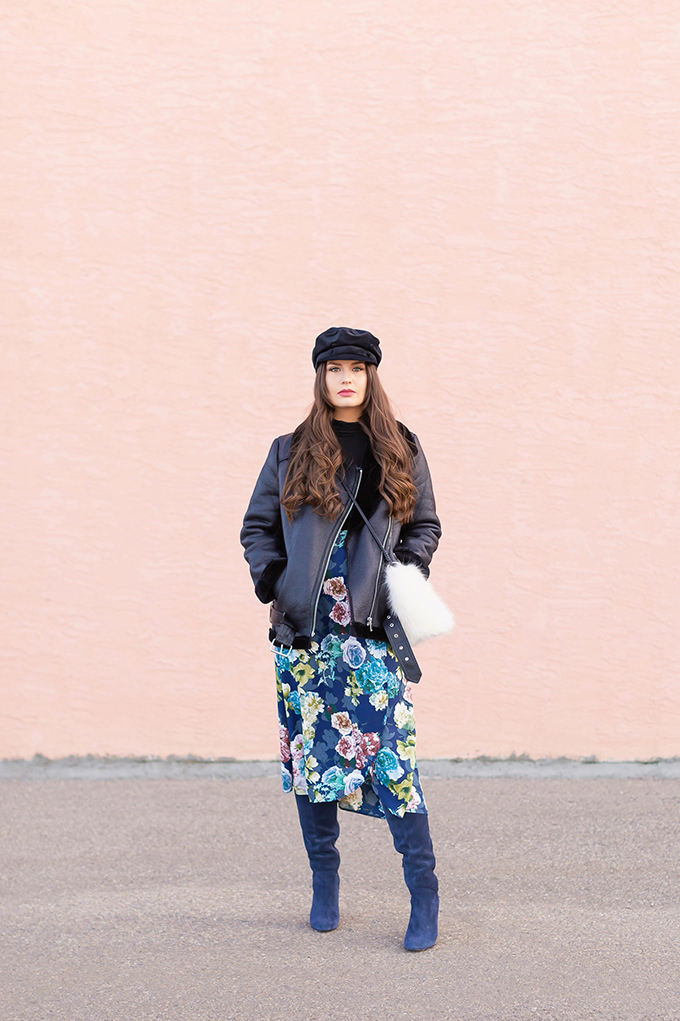 As soon as I tried Angie on, my instinct was that I needed to toughen her up a bit. First, I layered on my black thermal tights and trusty black turtleneck as a versatile base layer. I snagged the blue version Aldo's Maroco Boot (see the grey version in action here) this past autumn and had been dying to take them for a spin — and this was the perfect occasion! Not only is blue on-trend as we transition into spring, I love the monochromatic effect they create when paired with Angie — and how they help to balance my oversized, extremely cozy liner biker jacket with their slouchy silhouette. I'd been eyeing this jacket for forever, but finally took the plunge during the Zara sale — and I'm so happy I did! The unique, longline cut is perfect to keep you nice and warm during the winter and I love the super soft, insanely insulating lining.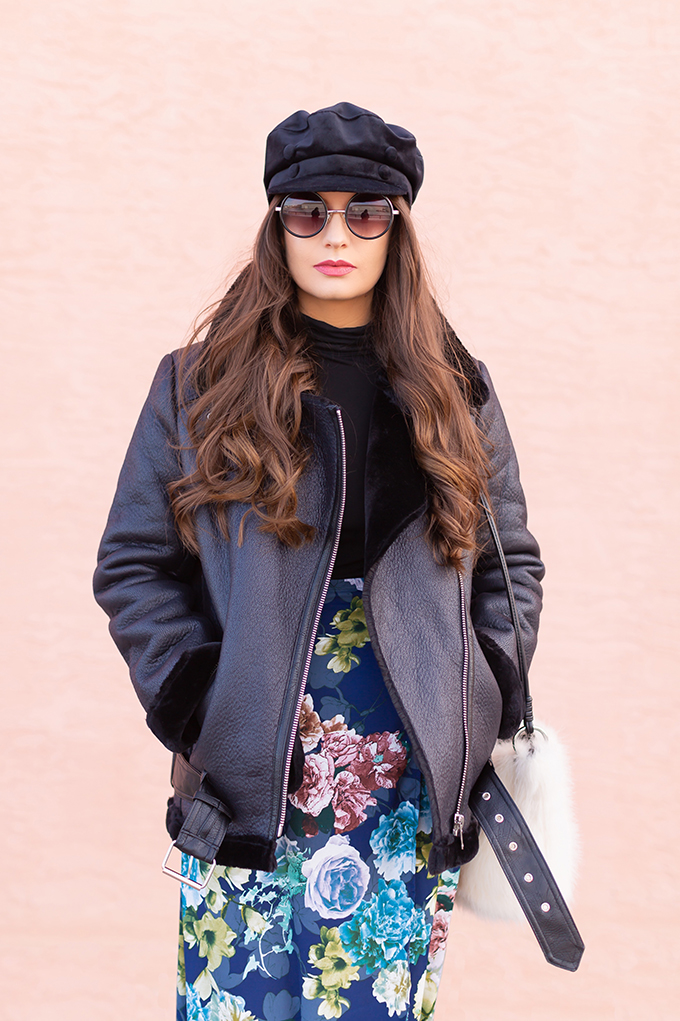 I felt like I needed something on my head to keep me warm, so I settled on my favourite velvet baker boy (also seen here and here). To keep the cozy vibe of this look going, I selected my  faux fur bucket bag (which I also wore here)! A pair of round, silver rimmed black shades complete this edgy floral look to harmonize with the cool, silvery details on my bag. Believe it or not, I'm actually not a huge fan of mixed metals in fashion — on me anyway!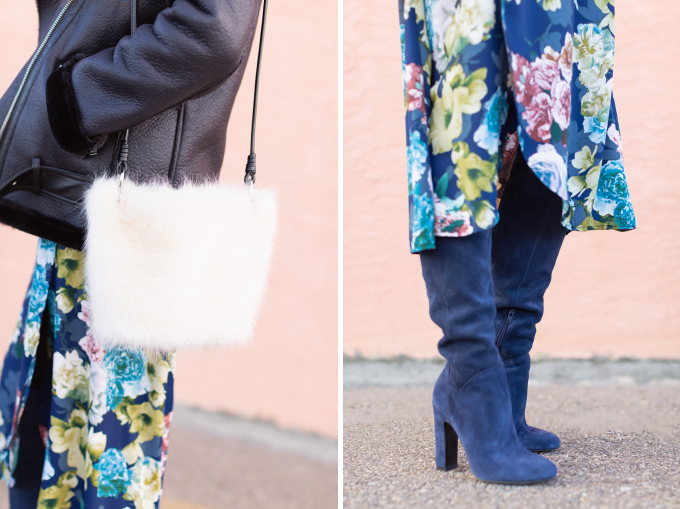 ---
MORE COLD WEATHER STYLE INSPIRATION
---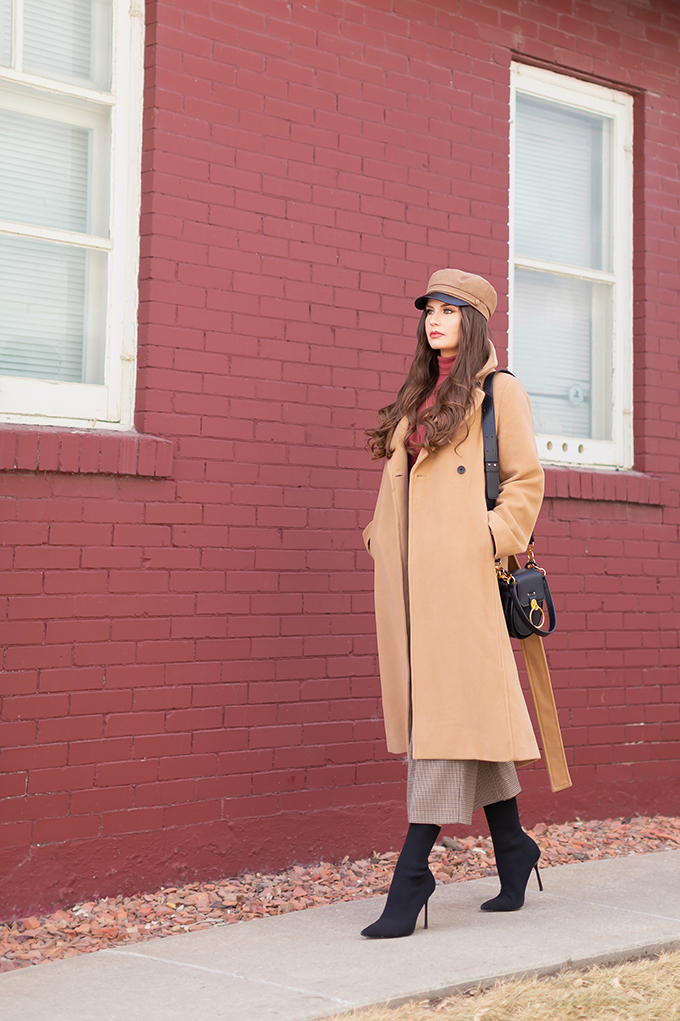 Winter Trend Guide | Velvet Underground
How to Style | Midi Dresses for Winter
---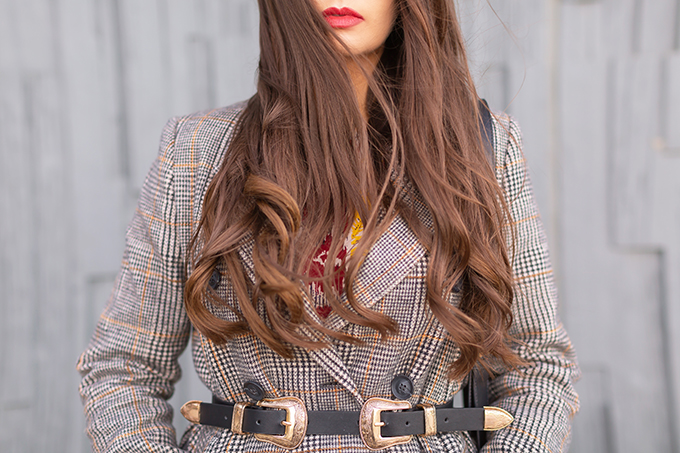 Thanks for stopping by for the first seasonal LOOKBOOK of 2019! If there are outfits you'd like to see more of, be sure to stop by often as each of these looks make their way to JustineCelina in individual outfit posts and various other series!
If you're looking for even more sartorial inspiration in the meantime, you can also follow along with my JustineCelina Fashion board on Pinterest, or my brand new board dedicated this WINTER 2019 LOOKBOOK. And if you want a sneak peek at what I'm wearing before it hits the blog, as well as some exclusive style content you won't see here, come join me over on Instagram for daily posts and BTS / day-to-day life on Stories! I'm feeling super inspired FASHION wise lately and am already planning looks for spring (I need something to look forward to!). So, if you have any requests for upcoming STYLE content, don't be shy. Enjoy your weekend, everyone!
---
Disclaimer: Thank you to 3rd Floor Studio for my Angie Skirt and Saks OFF 5TH for the gift card I used to purchase my cashmere sweater. This post is not sponsored, and contains my genuine thoughts, ideas and recommendations. JustineCelina uses affiliate and referral links, which allow me to receive a small commission when you make a purchase through one of my links. Thank you for supporting the brands and businesses that support JustineCelina!