---
The time of year has come when winter really seems to drag on. Despite actually having pretty nice weather until late January, the past few weeks the have left a lot to be desired (I was snowed in for 3 days last week!). Mid February is typically when I start to crave the more free flowing, bohemian silhouettes and styles I love to wear during warmer weather — and this year, I was determined to wear those dresses and get really creative with my layering, despite the sub zero temps and snow storms! So today, I'm sharing a new post in my HOW TO STYLE series — and this time, I'm chatting about fresh ways to style your midi dresses for winter, incorporating a mashup of winter and spring trends with wardrobe staples in a boho chic look you can wear right now!
So ladies, dust off your midi dresses (mine is on clearance for just $19!) and come hang out with me for a little while on this snowy long weekend as I share my favourite outfit building tips, styling hacks and winter layering techniques to keep you feeling stylish and cozy at the same time! I'm also chatting about a handful of Winter / Spring 2018 trends — including 60's inspired florals, teddy textures, fringe, longline layers, scrunched boots and a few of my favourite transitional beauty products. I hope this post inspires you to reconsider taking those all those gorgeous dresses lingering in the depths of your closet out for a pre-spring spin this February! If you're stuck in a fashion rut somewhere between winter and spring, this post is for you!

---
HOW TO STYLE | MIDI DRESSES FOR WINTER
---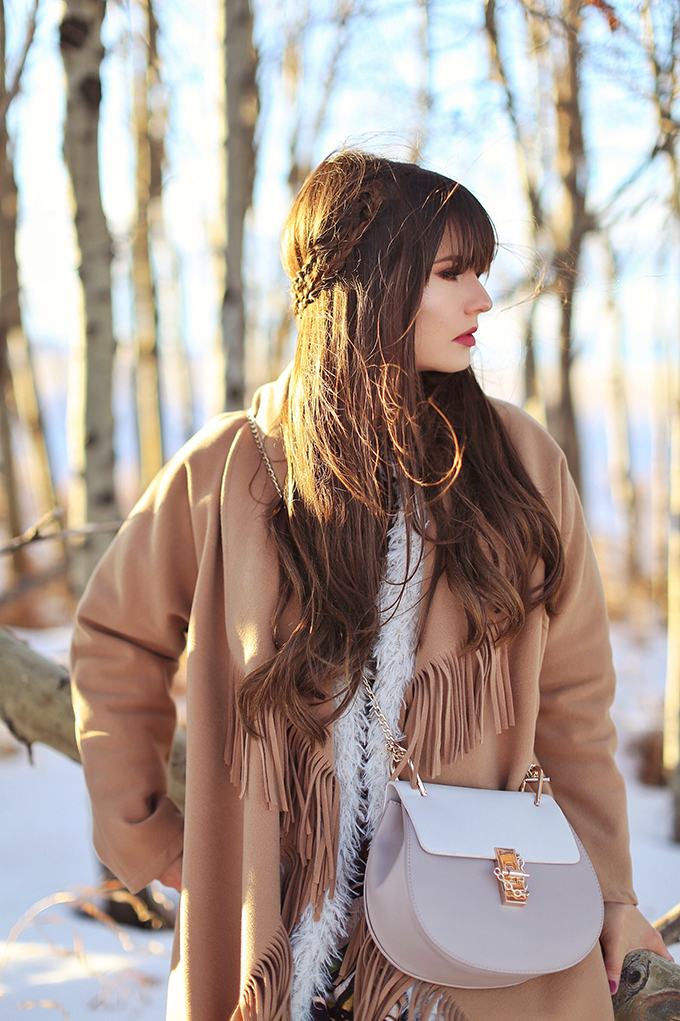 While last winter I was all about cropped denim and ankle boots, this year I'm all about skirts and dresses! Chalk it up to an increase in more formal events or maybe just a small shift in my personal style — but especially as we start to transition into spring, all I want to wear are skirts and dresses!
This winter, I resolved to not let our crazy Calgary weather put a damper on my personal style. I'm sure that most of my local readers can agree, our winters can be downright brutal! Admittedly, it can be difficult to stay inspired. But, I found a new system that works for me — and today I'm going to share it with you!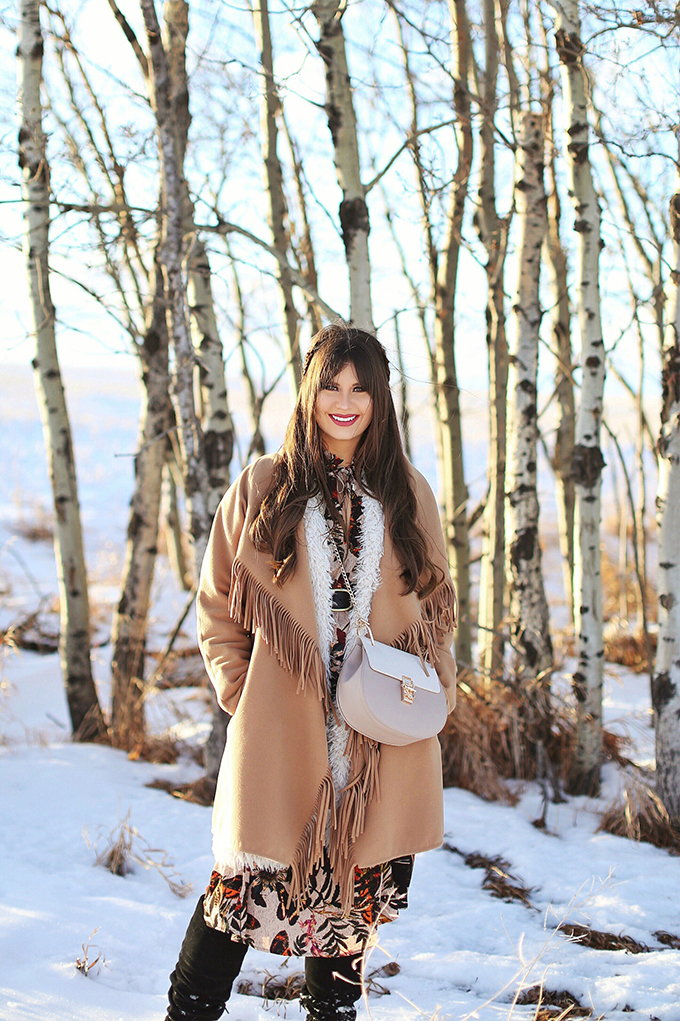 I choose one morning at the start of each month and dedicate it to styling a handful of outfits for that month. Typically, putting together 4 outfits per month works well for me — keeping a variety of scenarios, occasions or dress codes in mind. To begin, I haul out items from my closet that I either haven't worn in a while or have been waiting for a specific season to wear. Then, I style them up with wardrobe staples or pieces that reflect seasonal trends, along with any new in items I have, accessories and all — right on my bed! In my experience, styling outfits on a flat surface allows you to think differently about your wardrobe and come up with more inventive combinations.
Once I have something I'm happy with I try it on, then tweak and adjust as necessary. When I have a complete outfit I like, I snap a quick iPhone photo and save it to my 'Outfits' folder on my phone! I also purchased a garment rack, where I hang my pre-styled outfits for the month (I even put jewellery and lipsticks in pockets or handbags!). As someone who likes to look put together no matter the occasion, I can't tell you how much of a time saver this has been!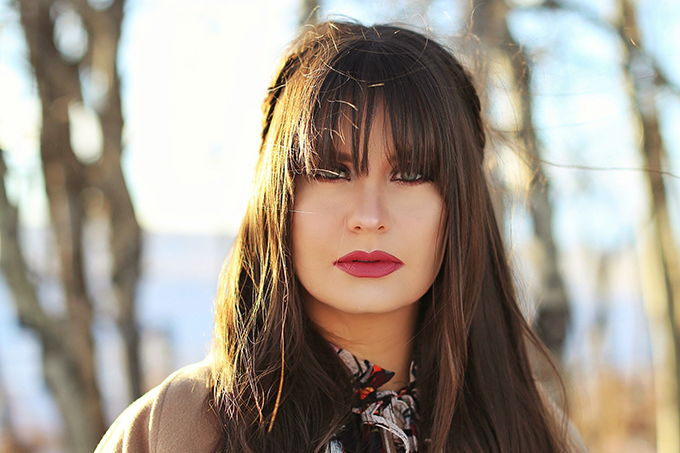 If you follow along via Insta Stories, you'll likely have seen me style outfits on my bed often over the past few months (I actually styled a couple for spring last weekend because the weather was so depressing and it gave me something to look forward to!). Planning my outfits saves me from getting stuck in a fashion rut and I also find it pushes me to be more creative in my pairings. Have you ever seen a really put together, fashionable woman (or man) and wondered how they put their outfit together? Or that you never would have thought to pair those pieces up and it inspires you? I bet they plan their outfits in some way — and you can do it too! In fact, that's how this outfit came together.
Typically, I start with a base piece or a statement piece to act as focus or anchor of an outfit. For this look, it was my floral midi dress that I picked up at H&M in late 2017 — I hadn't had a chance to wear it, but I decided I wasn't going to let winter stop me! Since the dress has long sleeves, a tie neckline and a conservative length, I thought it would work well with boots and tights. So, I pulled out my trusty black suede OTK boots (you've seen them many times here at JustineCelina) and my warmest pair of tights (these ones are lined with a thin fleece layer!). My favourite hack for styling skirts and dresses during the winter is to double up on the tights underneath — especially if you don't have a fleece lined pair. Something about double layered tights really shields you from the wind and cold! For maximum warmth and the most flattering silhouette, ensure the hem of your dress or skirt extends past the top of your boot.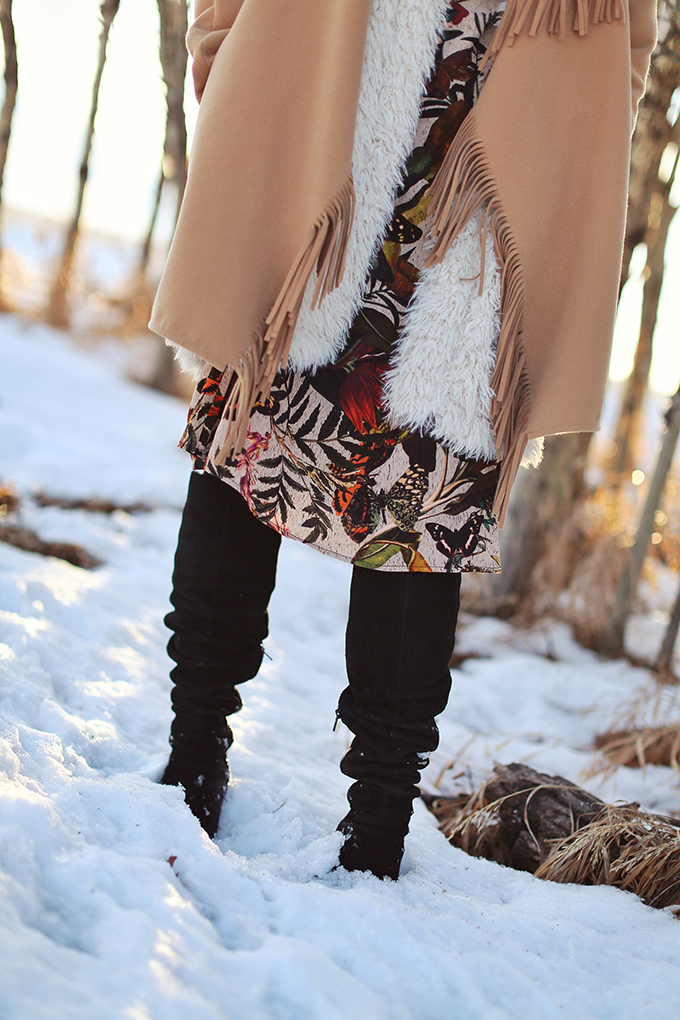 I liked how the outfit was coming together, but knew I'd have to add some cozy layers if I wanted to create a practical outfit for our winter weather! I had just picked up this ultra fuzzy, soft teddy cardigan during the Zara Sale as well and had been dying to style it a unique way. Lately, I've just been wearing it around the house and with more casual outfits — but it's one of those versatile pieces that you can wear with laid back or dressed up looks! So, I threw it onto the bed next to my dress and boots. I loved the contrast of the different materials and textures — and also the way the teddy cardigan picked up on the lighter hues of the dress. I knew I'd need a coat over top — and since the teddy cardigan is so oversized, a piece with a relaxed silhouette!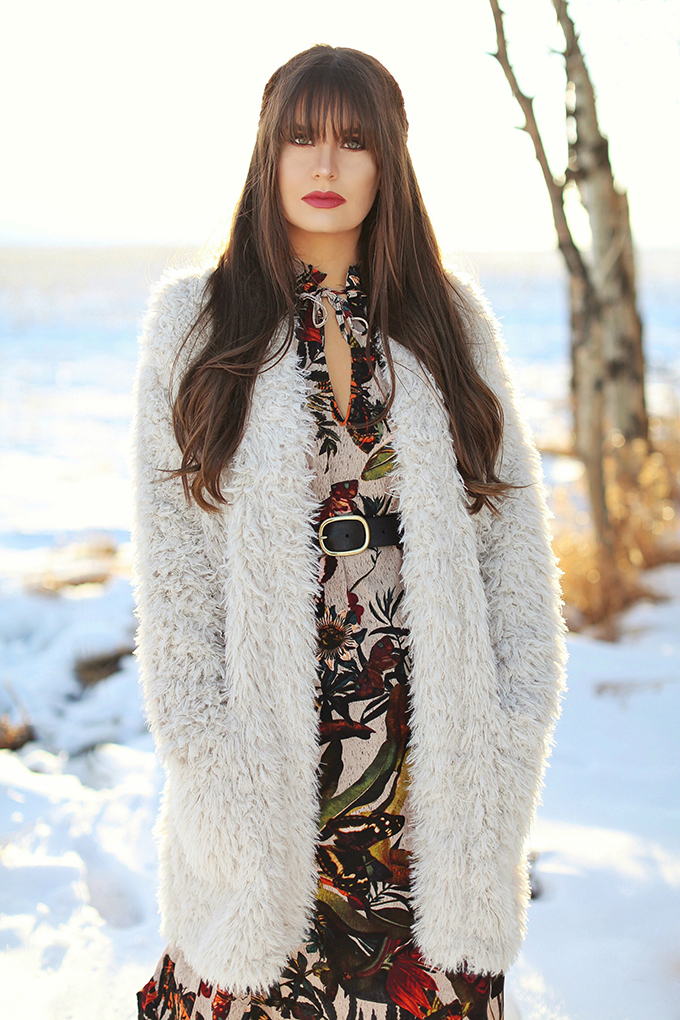 So, I opened the entrance way closet where our outerwear lives and pulled a few options. As I laid my selections out on the bed, to my surprise, the winner ended up being this waterfall fringe camel number — a coat I typically reserve for the fall. It's about 4 years old (I also wore it way back in one of my very first style posts!) — and although I love that coat, I wouldn't have normally considered it during the winter. It added the perfect touch bohemian flair I've been craving after a long winter of being bundled up in more structured jackets. I love the texture and movement it added to the look while letting all my layers peek though — not to mention, it's super warm when paired up with my teddy cardigan.
Lastly, it was time to accessorize! Bag wise, I knew I wanted something smaller and structured to keep things from looking sloppy. As I mentioned in my last fashion post, I recently discovered a treasure trove of designer dupes at SheIn — and I knew this Chloe Drew inspired bag would work well for this look because of its boho sensibilities. The subtle tone on tone design really picks up the light base colour of the dress print and also it works beautifully to tie the teddy cardigan in! I tried this look with a few black and colourful bags, but since the print of the dress is quite bold and we have a lot of different textures going on, I opted for a neutral, tonal palette in my outerwear and accessories to keep things balanced.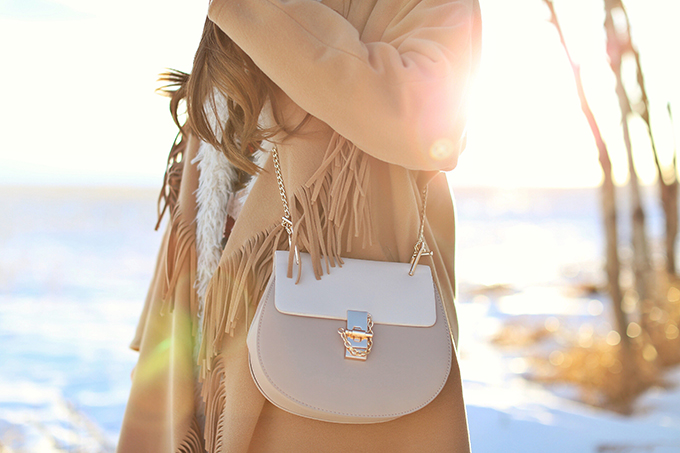 I was pretty happy with the way this outfit was coming together, so it was time to try everything on. The first thing I noticed is that my shape was getting lost a bit in all my cozy, oversized layers (the dress itself is also quite relaxed in fit), so I opted for a simple black belt at the smallest part of my waist to cinch things in. This little tweak made a huge difference — adding a central focal point and helping to balance my black boots. Another small tweak that made a huge difference was scrunching my boots down to help add some texture to my bottom half. Believe it or not, scrunched boots are coming back into style this spring — but you can easily achieve that look with any to-the-knee or higher boots you already own by simply scrunching them down to create folds and gathers in the material!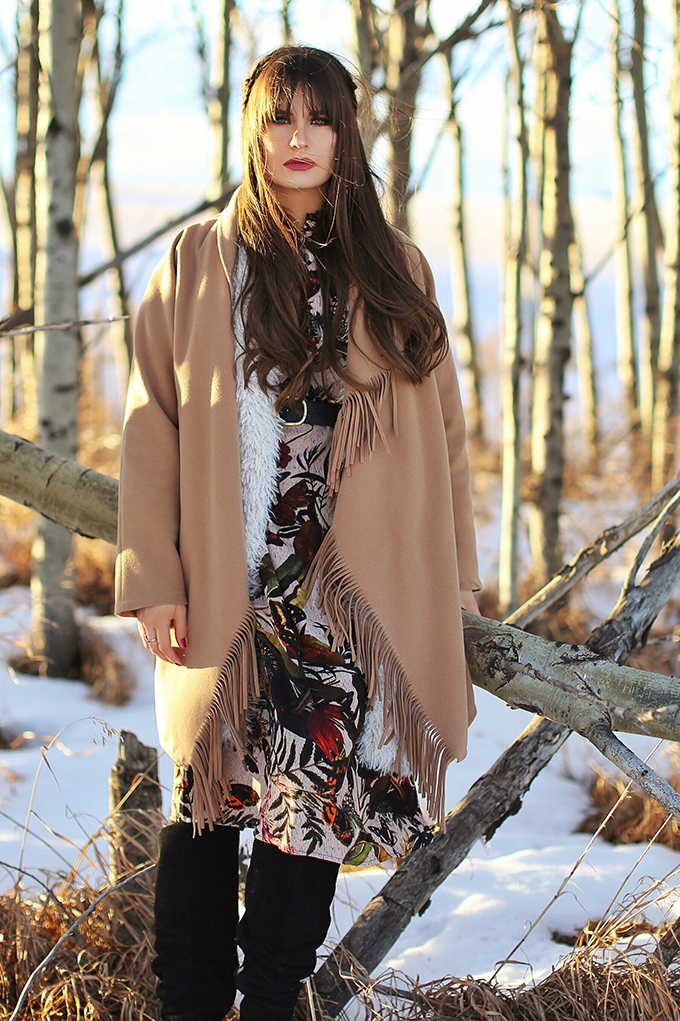 Lastly, to finish things off, I always choose my jewellery, sunglasses and lipstick. For sunglasses, I opted for a round, brown gradient pair with a simply gold metal frame to pick up the golden tones on the hardware of my handbag and my belt. For jewellery I kept it really simple — I'm just wearing gold studs and a simple gold ring. And for my lips, I typically like to pull a colour out of the print I'm wearing (if I'm wearing one). There are some beautiful rosy tones in the 70's inspired print of my dress, so I slathered on my beloved Marc Jacobs Beauty Le Marc Liquid Lip Crème in Slush, Blush (find a review of the entire range here). I've been loving blush and rosy tones lately — even on my lips!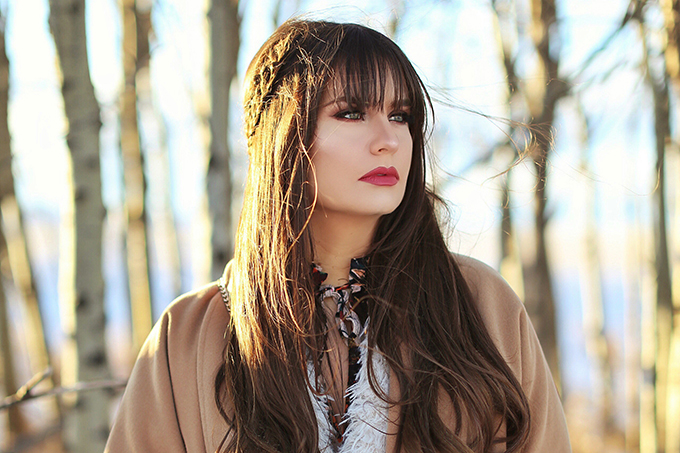 I've worn many iterations of this outfit over the past month or so. That's another perk to pre-styling a handful of outfits per month that you really love — you want to wear them over and over again! Last weekend, I wore this dress to an evening event in Turner Valley (a small town 45 minutes south of the city) with Eau Claire Distillery. But to make it more practical for the setting and more evening appropriate, I swapped out my black belt for a thin, fringed, suede belt (it tied at the waist), opted for my ultra snuggly teddy coat and wore a different, more evening appropriate bag. Once you have an outfit 'formula' down for your anchor piece, the possibilities are really endless and I find myself getting even more inventive in styling it up once I've worn the piece a couple of times!
---
SHOP THE POST
---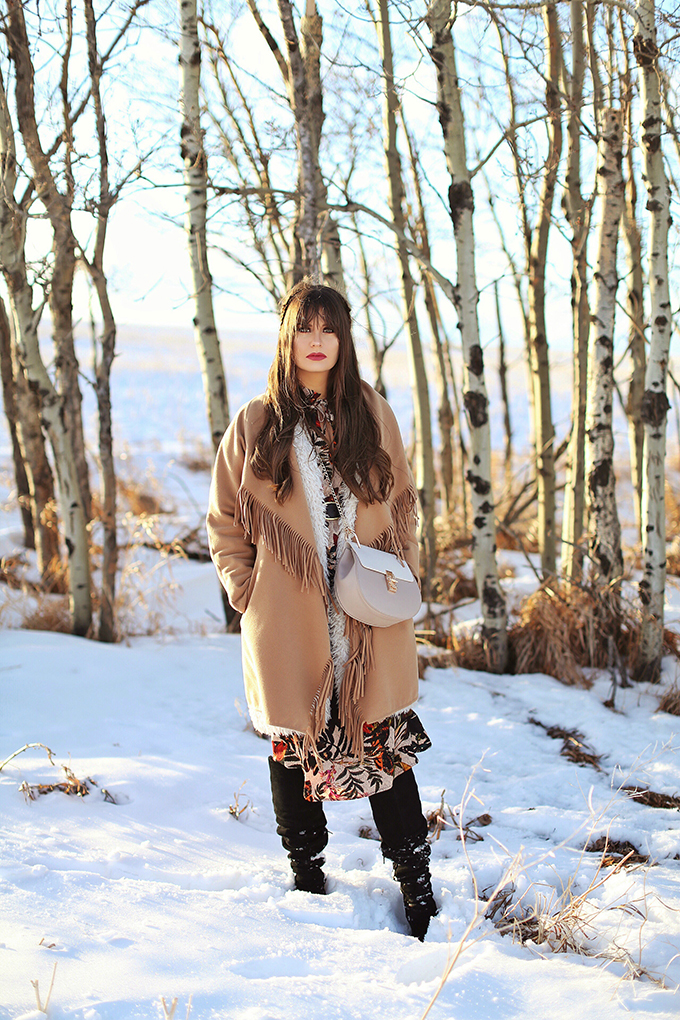 ---
MORE WINTER STYLE INSPIRATION
---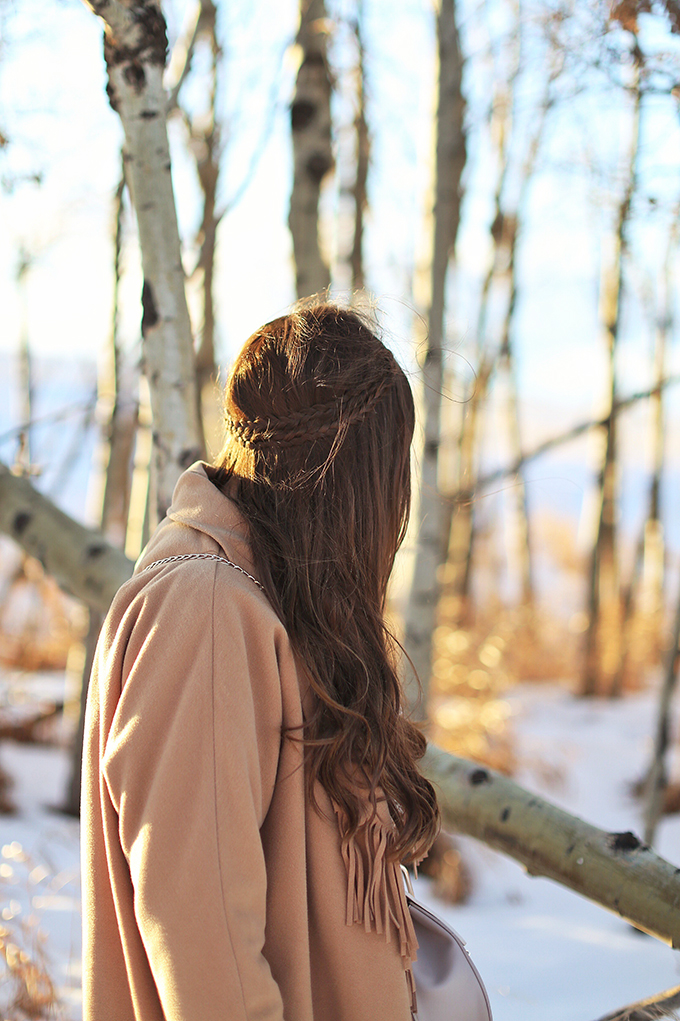 How to Style | Oversized Knits
Winter 2018 Trend Guide | Red Hot
What to Wear to | Casual Holiday Parties (featuring my favourite winter 2018 staples!)
---
Do you like to wear dresses during the winter? What's your favourite way to style them? This year more than ever I'm all about texture — from fashion to home decor! I can't wait to share styling tips for more unique textures here at JustineCelina this year.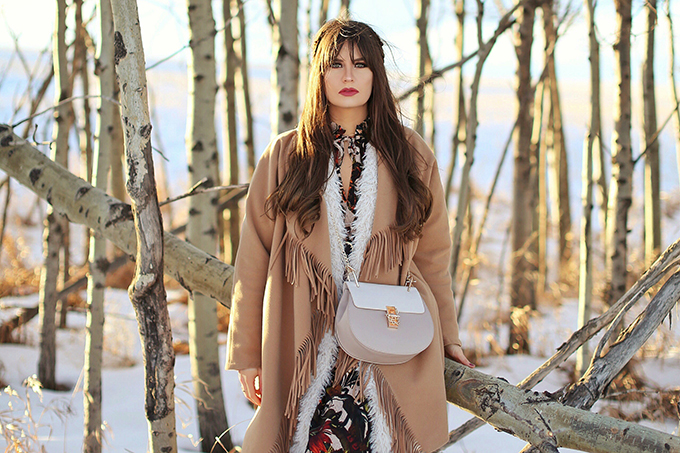 I hope this different style of post was helpful and it inspires you try some of my outfit styling tips! I'm a firm believer in wearing what you love regardless of the season and that if you're creative enough, you really can make pieces you would typically reserve for warmer months work during the winter. As always, if you have a suggestion for upcoming content, just leave me a comment! Thanks for stopping by to share your long weekend with me friends!

---
Disclaimer: This post is not sponsored and contains my genuine thoughts, ideas and recommendations. JustineCelina uses affiliate and referral links, which allow me to receive a small commission when you make a purchase through one of my links. Thank you for supporting the brands and businesses that support JustineCelina.com!