---
Fellow fashionistas, this one's for you! My Autumn 2018 Lookbook has been months in the making and a concept I've wanted to produce for about a year here at JustineCelina — but I could simply never find the time with my previous publishing schedule. While I did take a break from posting during my Intermission due to computer issues, thankfully my camera wasn't affected — and neither was my love of autumnal fashion. In fact, I've mentioned many times here over the years that fall is my absolute favourite time of year to get dressed (we started shooting autumn style content in August!). Well, this year I've compiled a massive 12 outfit LOOKBOOK featuring everything I've been wearing over the past couple of months in both personal and professional settings, sprinkled with an overview of seasonal trends, styling tips and of course, tons of shoppable links!
While this post is getting to you about a month later than I originally intended due the loss of my previous laptop and 4 months of edited, beautifully catalogued style content (that one still stings!), I really wanted to take the time to execute it true to my original vision. Moving forward (dependent on your feedback, of course!), I'd like to publish a Lookbook at the onset of each new season featuring multi-outfit style inspiration — and then break each look out into a subsequent, more detailed oriented post as well as incorporate them into some of my pre-existing series — TREND GUIDES, HOW TO STYLE and PATTERN PLAY (I'm also kicking off a new WORK WEAR series in 2019 — more on that in this post!). That way, you get an overview of everything I'm wearing and loving for the new season at a glance in the Lookbook and can come back for more inspiration or information if you'd like to learn more about one of the looks, prints or pieces. While this post took a considerable of research, organization and coordination to create, I'm extremely pleased with how my first seasonal Lookbook came together — and I hope you enjoy it just as much as I enjoyed creating it! Due to the timing of publication, many of the items featured in the post are currently on sale for Black Friday / Cyber Monday, which I've also made note of (because you know I love a great deal!). Alright, enough housekeeping — let's get to the FASHION, shall we?!
---
AUTUMN 2018 LOOKBOOK
---
Having shot this LOOKBOOK over 4 months, you can literally see the seasons change before your eyes! I didn't realize that until I was putting this post together. It's kind of cool!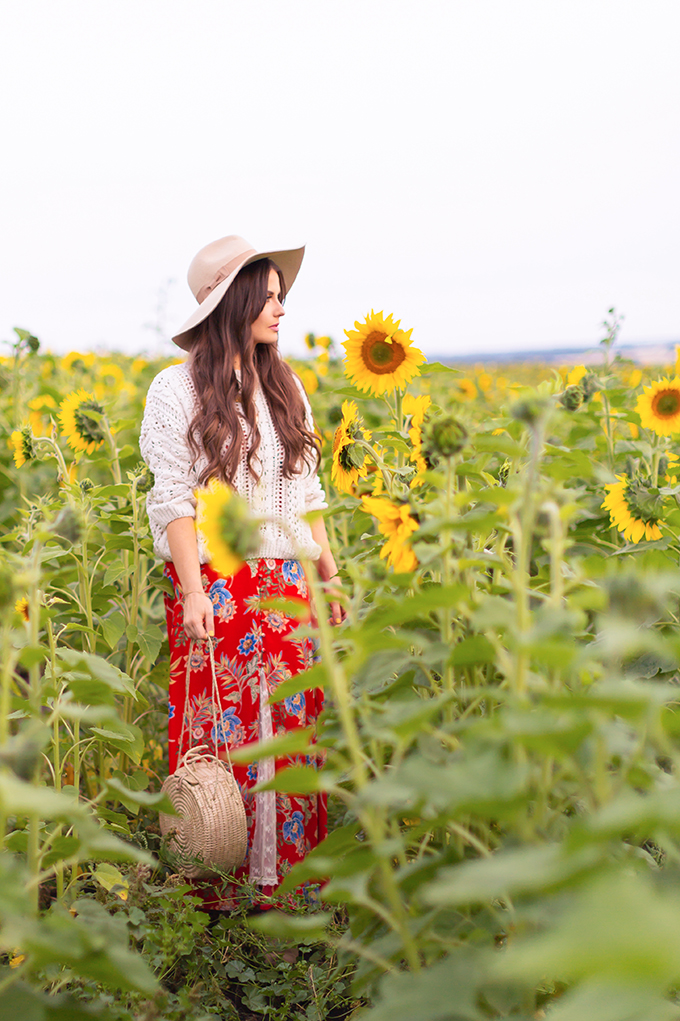 We shot this look at the Bowden Sunmaze back in late August, for up upcoming How to Style | Maxi Dresses for Autumn post. I'm all about extending my maxi and midi dresses into autumn and winter by layering this up and pairing them with cool weather friendly footwear (in fact, you may remember my How to Style | Midi Dresses for Winter post from last February!). To autumn-ize a very summery maxi dress (it features a spaghetti strap neckline with ruffles) I layered a vintage lace slip underneath, added a super soft, open knit sweater on top, accessorized with a floppy felt hat, ankle boots and finished the look with one of my favourite natural material bags from the summer (which I discovered at a local vendor, but is handmade in Africa by a female artisan!). Stay tuned for more from this look coming to the blog before autumn's end, or shop similar items below.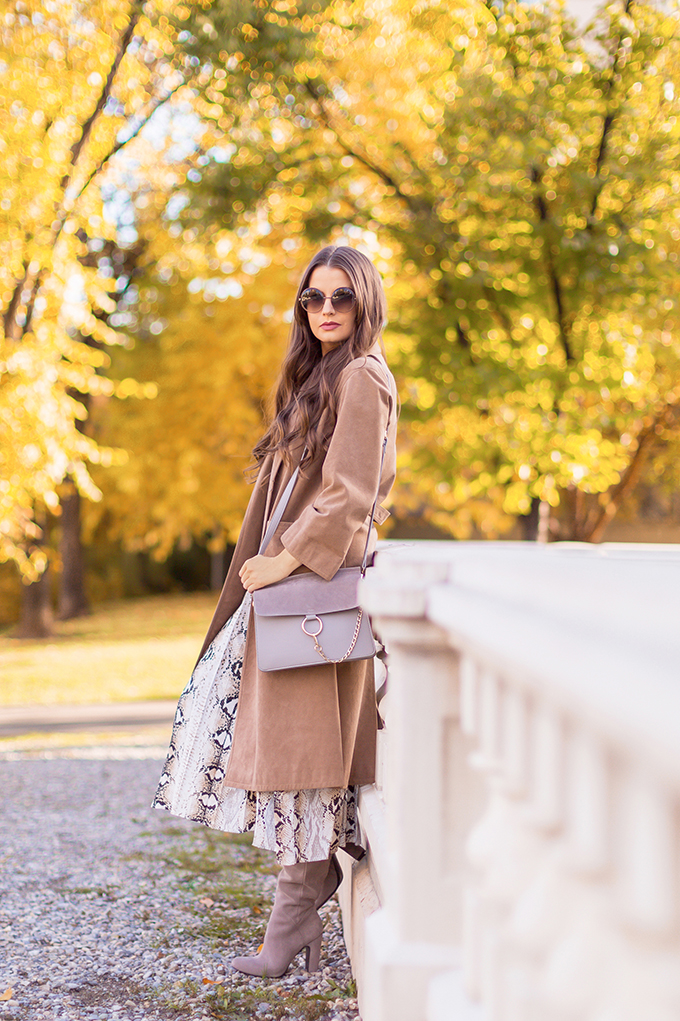 Much to my surprise, I fell hard for this stunning Topshop Snake Print Pleated Shirt Dress earlier this autumn. We snapped these photos on a beautiful late-September day when I was enroute to an event, wearing a melange of high, low, new and vintage –which is my favourite way to dress! By now, you'll know I'm all about experimenting with my personal style and staying inspired creatively, which is why I think it's so important to push yourself outside of your comfort zone. Snakeskin is everywhere this autumn and at first I wasn't sure about the trend — but I absolutely think it can be elegant and beautiful beautiful when styled with a tasteful eye. Since the dress makes such a statement (it has 2 thigh-high slits in the front!), I opted to keep things neutral by teaming it with some slouchy grey boots, my grey Chloe Faye dupe (which is now sold out, but I've linked the real deal for you) and a vintage suede jacket, which was a gift from my grandmother. I'll be sharing more about my favourite ways to wear snakeskin this season in a dedicated PATTERN PLAY post next up at JustineCelina (now live!). This exact dress is now sold out, but I've linked up some alternate options, along with my favourite snakeskin pieces of the season for you below. How do you feel about the snakeskin trend?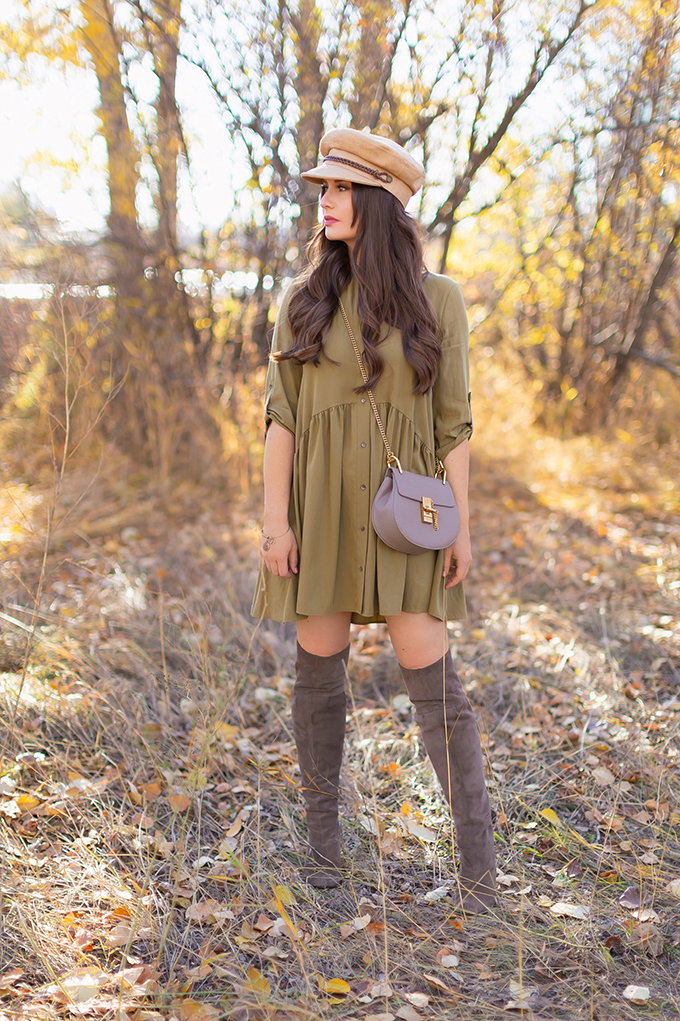 This is one of the first looks we shot during my posting break and it's one of my all-time-favourite outfit formulas for transitional months (case in point — this look from this time a couple of years ago where I'm wearing the same boots, or this look from early spring last year). I love short, flowy dresses paired up with OTK boots — I'm sure I'm not alone in my thinking here, but I tend to wear much shorter hemlines with bare legs in the fall when I can pair them up with OTK boots, since it means I'm only showing a bit of skin above the knee!
While I would never wear this dress bare legged, I love to play with proportion and experiment with different silhouettes during the cooler months. My dress is a newer Zara purchase, my boots are ancient (like, we're talking probably 8 years old!) Free People, my bag is a Chloe Drew dupe (unfortunately it's now sold out, but I've linked the real deal if you're so inclined) and my straw baker boy hat is Brixton. Although it's cooled off now and it's a bit too chilly for bare legs on most days, you could easily use this look as a base and layer it up with some tights, a cardigan or vest and a jacket. I actually have a similar outfit that's more cold weather appropriate a few outfits down if you'd like to see how I've been wearing this silhouette in November.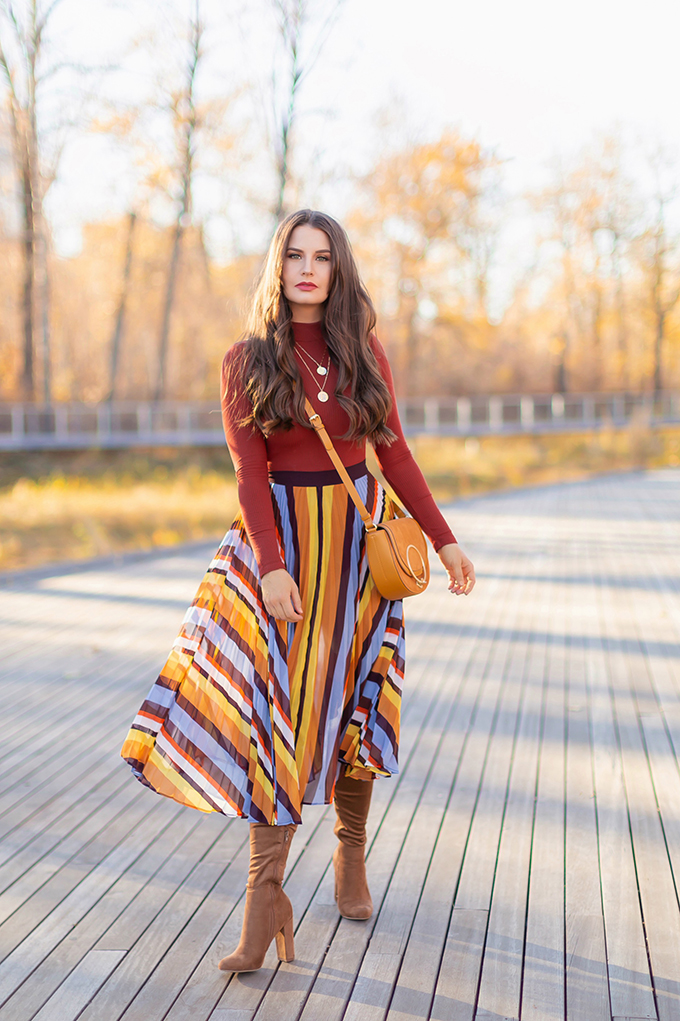 If you've frequented my FASHION section for any length of time, you'll know I have a major soft spot for 70's inspired anything. In fact, I firmly believe I was born in the wrong decade — I would have loved to be a young woman in the 60's or 70's! Although my personal style is eclectic, it has a strong retro sensibility — so when I found this dreamy, 70's inspired striped skirt in the sale section of Forever 21 of all places (I was making a return and it caught the corner of my eye and drew me in like a beacon!) I knew she had to come home with me. As you'll see from this Lookbook, I don't let cool weather stop me from wearing skirts and dresses year round — in fact, I actually think styling them up for autumn is my favourite time of year to wear them! Pleated skirts in particular are a style I think work well year round (remember my What to Wear to | Casual Holiday Parties post from last winter?) because the a-line silhouette means you can wear any style of shoe or boot with them and also go bare legged or layer up with tights.
I pulled this look together by pairing my striped midi skirt up with my favourite pair of OTK boots (in fact, I love them so much I also have them in black — see them in action in my next outfit below!), a ribbed, burnt orange bodysuit (perfect for tucking into high waisted styles!) and Zara's Split Leather Cross Body Bag (I absolutely adore the unique mustard hue and it's still in stock!). I also layered a fuzzy, white longline cardigan overtop for some extra warmth (not show here, but you can catch this full look in a dedicated post coming soon!). As someone who's very inspired by colour (you'll notice I've taken major cues from the Pantone Fall/Winter 2018 Fashion Color Trend Report over the past few month), this outfit typifies autumn for me! We shot in the newly opened St. Patrick's Island Park over by the zoo and managed to catch the last of the leaves — it was such a lovely afternoon!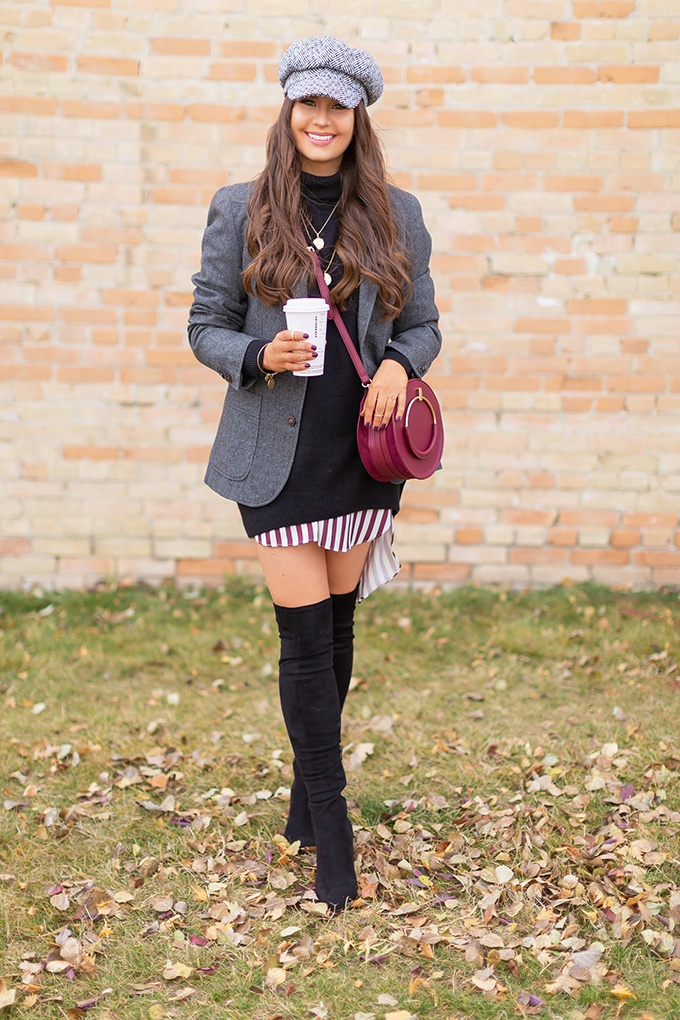 After searching for the perfect boyfriend blazer for years and coming up empty handed, this season I looked to my actual boyfriend's closet for inspiration (why didn't I think of this sooner?!). I was looking for a heavier, neutral blazer I could layer knits under and discovered the boyfriend blazer of my dreams — Adam's RW & CO tweed blazer which is a few years old. It was perfectly oversized with a masculine, streamlined silhouette and made for the ideal layering piece for the season.
I discovered these amazing, softer-than-cashmere (actually — I have a Saks OFF 5TH cashmere tunic and laid them both out for a blind feel-test and was sure this sweater was actually the cashmere one!) Knit Turtleneck Sweater at H&M for $39.99 and purchased 4 of the 5 colours available. Ladies, if there is one item you purchase from this Lookbook, please make it these buttery soft, oversized sweaters! By far, they are my most worn knits this season (and currently 20% off for Cyber Monday!). As you can see, if you're feeling brave and don't mind showing a little thigh, you can also wear them as a sweater dress if you're on the more petite side (for reference I'm 5'8″, wearing a small and it's too short on me to wear as a dress alone). So, I experimented with layering it up with some some of my tunics and was really pleased with this combo, featuring this Dolphin Hem Striped Shirt Dress (which I also wore in this look early last spring). With a focus on cozy textures and a deep, autumnal palette, I finished this look with the black version of my favourite OTK boots, Dynamite's Structured Circle Bag in Berry (which is currently on sale for Cyber Monday!) and a tweed baker boy hat. Expect to see more of my favourite sweaters and more menswear coming to JustineCelina this season!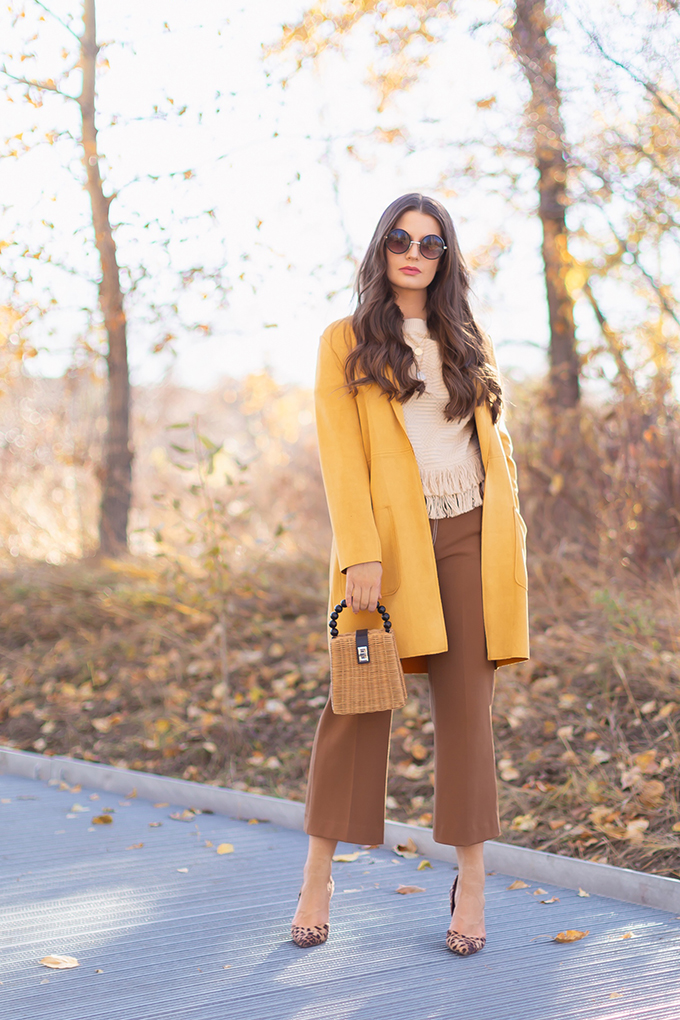 Over the years, work wear focused style content has been highly requested — but since I don't have a photographer on hand to follow me around to meetings, presentations and the like, the more professional side of my wardrobe is definitely something that I've neglected bringing to the blog over the years. That said, my wardrobe is full of piece that I can wear in both personal and professional settings — and this look is a great example of that. No matter the setting, I believe your personal style should shine through — and the first post in my WORK WEAR series will details exactly how to incorporate seasonal trends into your professional wardrobe while choosing pieces that you can wear in both avenues of life for maximum wear.
Using my staple brown culottes (from Zara, of course!) as an anchor for this look, I paired them up with a more trend focused, but neutral, tweed fringe top, a mustard yellow jacket, a pair of my favourite leopard print (another massive trend this season which you'll be seeing a lot more of here at JustineCelina this season!) heels and a darling woven bag featuring both brown and black to tie it all together (actually, I'm wearing Zara from head-to-ankle here!) . Stay tuned for the first installment of my WORK WEAR series dropping soon, or shop some of my favourite professional wardrobe basics below.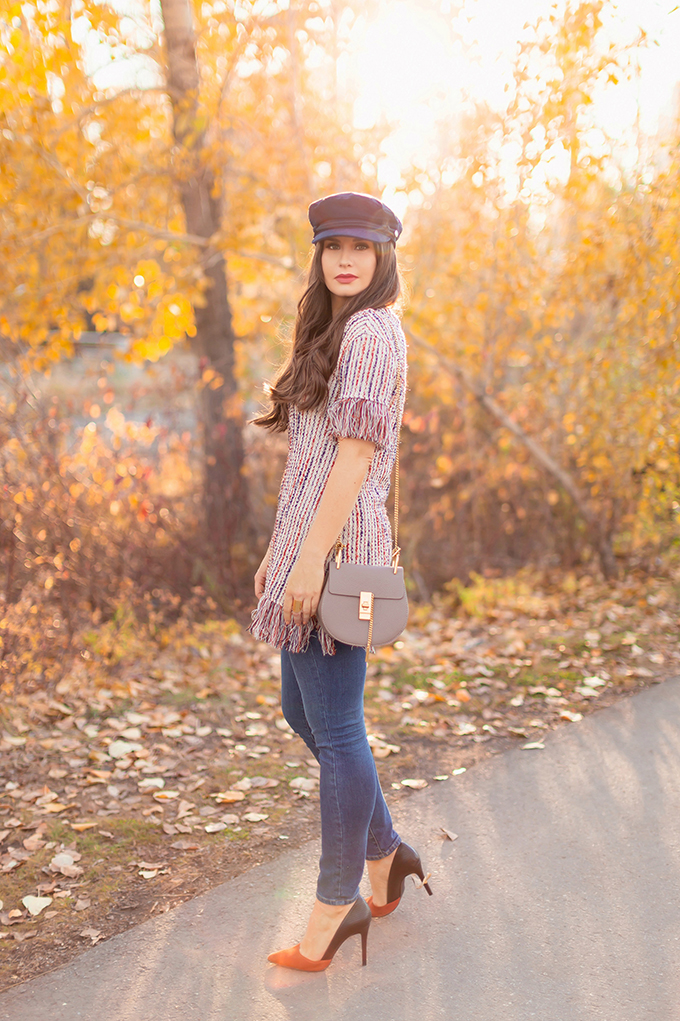 Here's another one of my favourite casual outfit formulas for changing seasons — a tunic length top (it's marketed as a dress, but certainly isn't long enough on me for that!), a classic pair of skinny jeans, a great pair of heels (these are ancient Zara, in fact, I wore them in one of my very first fashion posts!), a neutral, cross-body bag and a baker boy hat. This look was actually completely inspired by colour — I was so intrigued by the mixture of navy, cream and burnt orange in the print of my top that I built an outfit around it!
Longtime readers will know I'm a huge fan of fringe regardless of whether or not it's particularly on trend and I absolutely loved the fringe details on this playful knit. Since my top makes a statement, I paired it up with my favourite pair of classic, medium washed skinnies from Current/Elliot (a Marshalls The Runway find!) and kept the rest of my accessories complimentary or neutral, but played around with texture. I finally found the perfect baker boy hat at Urban Outfitters this season (and, you guessed it, purchased it in 3 different colours!) and while navy isn't a colour I wear often I think it pairs beautifully with burnt orange. We also photographed this look with a burnt orange jacket — but you'll have to come back later this season to see the full look!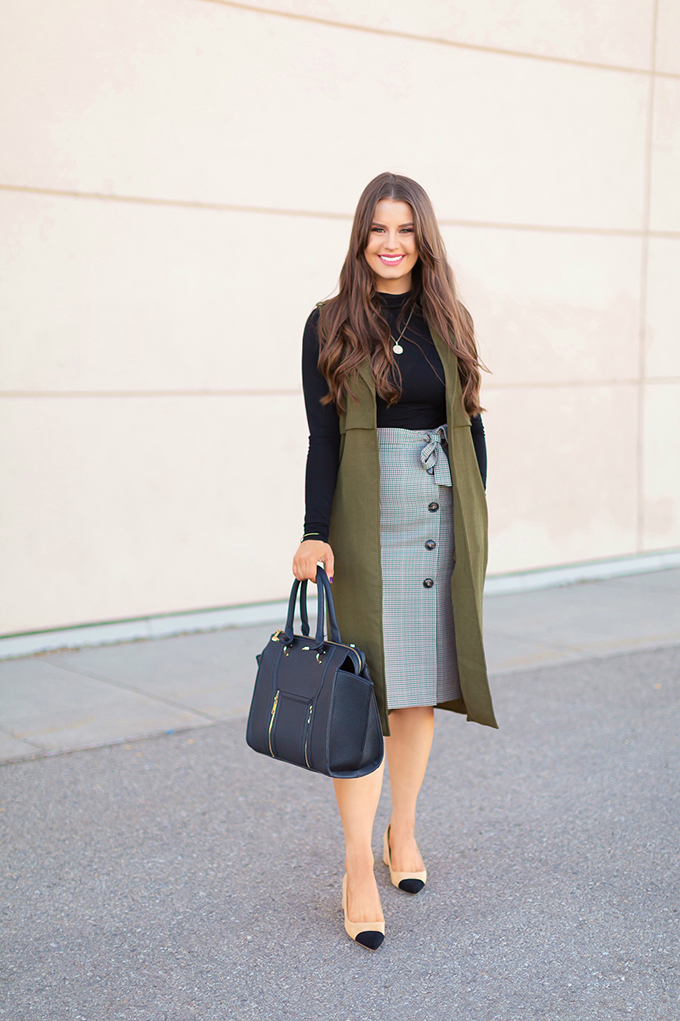 Another look from my upcoming WORK WEAR series and a prime example of how incorporating one new, on-trend item (like my checked midi skirt!) can really upgrade your professional wardrobe for a new season. I added this beautiful checked skirt from Topshop to my closet in early autumn and have worn it in both personal and professional setting — but wanted to style it up conservatively for those of your who have more traditional 9-5 careers. This is an example of something I would wear for a meeting at a more conservative client's office — and while my skirt is new, the black turtleneck top (you'll see it repeated below and many times this season!), cap-toe shoes, longline vest and black carry-all tote (which I also wore here and here — yes, I have it in 3 colours!) I've styled it up with are wardrobe staples that are years old. Again, I wear each of these pieces in both personal and professional settings — I firmly believe that once you've built a wardrobe of versatile, high quality basics, you can really experiment and have fun incorporating seasonal trends in any environment. Stay tuned for more cool weather workwear ideas coming to JustineCelina soon!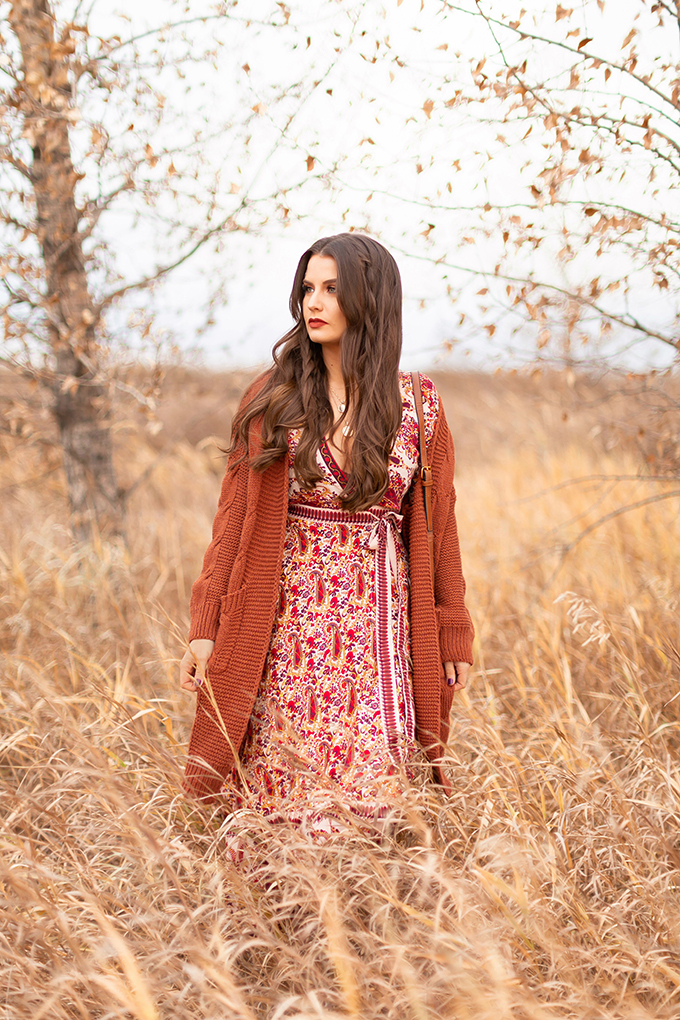 On the completely opposite of my personal style spectrum, we shot the last look for my upcoming How to Style | Maxi Dresses for Autumn post at my childhood home in rural Alberta just before the first major snowfall. This casual, bohemian outfit was inspired by the resurgence of paisley at the beginning of the season — a very vintage feeling, classic print that's always had a place in my wardrobe (remember this post about what I wore the the Calgary Stampede this summer?). When I spotted this dress it was love at first sight and I had so much fun styling her up for autumn in a few different ways — but layered with a slouchy, longline cardigan, paired with a Chloe Pixie dupe (I've really been on a role with finding great dupes this season — the trouble is they always sell out!) and finished with a pair of burgundy ankle boots was my favourite. This shoot was one of my favourite this autumn (I'm a sucker for any look we shoot in the country but the beautiful, golden tones of the dried grass here were to die for) and I can't wait to share more!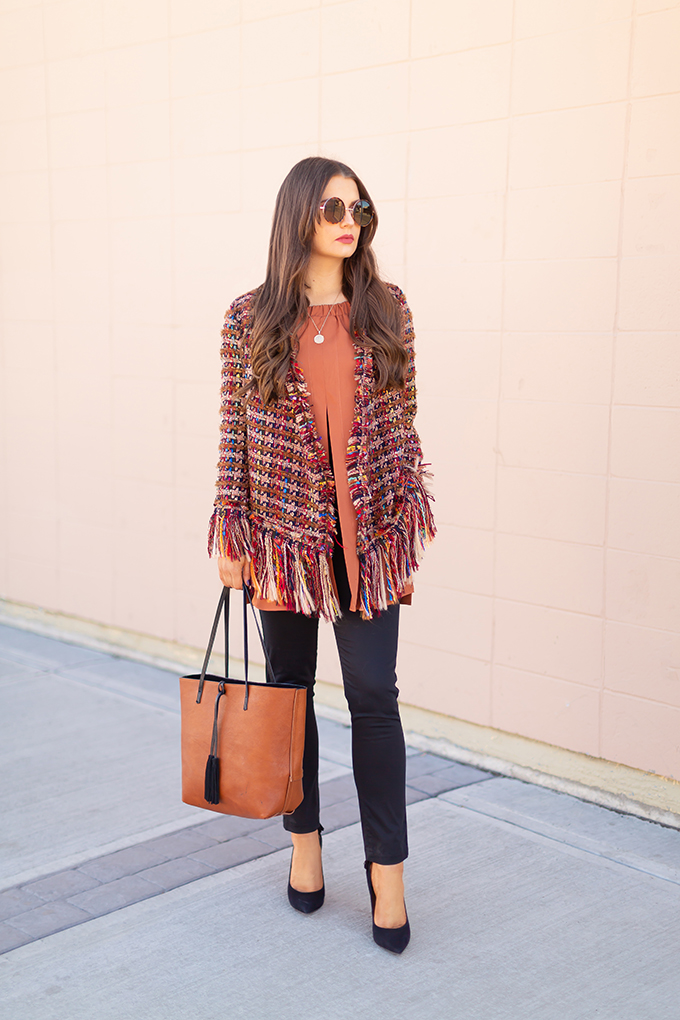 Rounding out my autumnal WORK WEAR looks was this fun, fringed, tweed vibe — another example of how adding one new statement piece to your wardrobe can really enliven old pieces! While this outfit features a similar colour palette to the previous look, you can see how my favourite warm neutrals can be worn professionally as well. My new-ish (it was a Zara sale find from this last January) tweed jacket was the anchor for this look where I dusted off my almost decade old black cigarette pants from Aritzia (a major investment for me as a young professional at the time!) and paired them up with a sienna-hued top, a pair of black, suede pumps (they actually have fringe on the back!) and a reversible carry-all a with free-spirited tassel detail large enough for my laptop, iPad and documents. With the exception of the blazer, everything else I'm wearing has lived in my wardrobe for 5 or more years, but I never would have thought it put it all together without using my blazer as an anchor piece — it's completely made them feel new again! This is an example of an outfit I've wear to meet a not-so-traditional client in-office, or at a more casual setting like a coffee shop. I absolutely adore the colour palette and textures at play here — and I can't wait to share more ideas about how to inject the fun back into your workwear, no matter the season!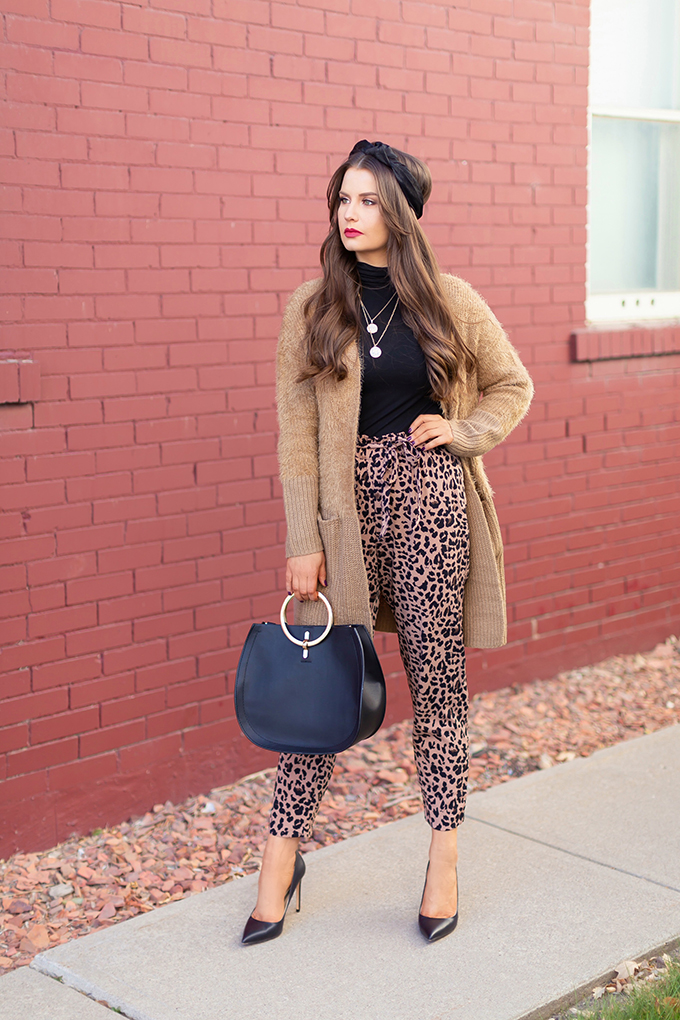 If you follow along with my Instagram Stories, you may remember this look from the shopping field trip (bus and everything!) we took out to the Grand Opening of 7 Saints Boutique's flagship store in Airdrie back in mid October. It couldn't have come at a better time — right in the midst of me sorting through my computer issues (my old laptop was in for diagnostics and I was researching new options) so some good old fashioned retail therapy was just my speed. This is the outfit I wore, just with a different cardigan — but I fell in love with this super snuggly, longline Dex Latte Cardigan. As soon as I tried it on  I knew it had to come home with me and I actually wore it home from the event (for reference, I'm wearing the XS and it fits slightly oversized). Leopard print is a massive trend this autumn  / winter and one that I really love — it's such a classic that can be worn in both personal and professional settings! I'm working on a 3 outfit post dedicated to leopard for an upcoming installment in my HOW TO STYLE series, but in the meantime, I'll run you through my thought process in putting this look together.
My super comfortable leopard paper bag pants (they caught my eye in the window at Dynamite one afternoon and are now on sale for just $18!) are the anchor of this look which I created by pairing them up with my trusty black turtleneck, a classic pair of black, pointed toe pumps, a mid-size bag with a circular handle (which I also wore here), a silky, black, turban style headband and my new Dex cardigan, courtesy of 7 Saints. I actually love to wear black and brown together and think leopard is the perfect print to unite them (I totally think leopard is a neutral — in fact, I wrote more about it in my Pattern Play | Leopard post from last winter). I can't wait to share more leopard-focused looks with you this season, but in the meantime you can shop this one below!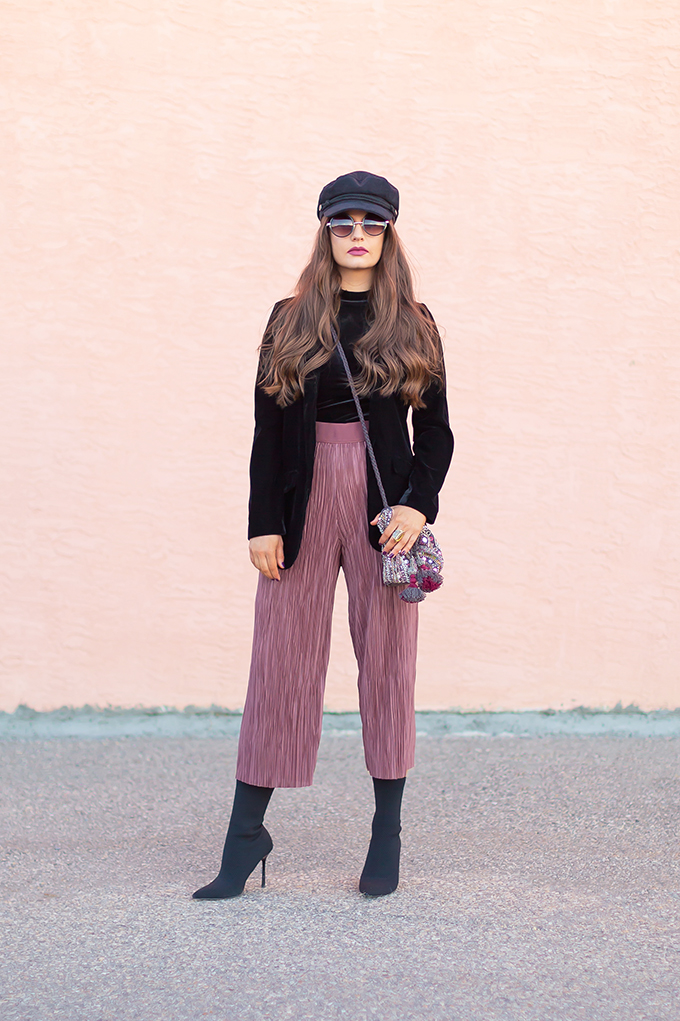 And last but certainly not least is the last look in my upcoming How to Style | Culottes post, which also doubles as cool, casual holiday party inspiration! I actually wore this exact outfit for an evening event earlier this month and had tons of questions about these pants. Another recent Dynamite find, these ultra comfortable Karlie Crinkle Pants ( currently on sale for just $20!) are such a versatile option for autumn / winter (yep, I also grabbed them in black!). I personally love culottes because you can wear them year round — in the summer with sandals, in the autumn or spring with heels and in the winter with sock style boots, like I've done here. Velvet, corduroy and satin are a few of my favourite cold weather textures — and I love to mix them all to create interest, especially in more monochromatic looks like this one. Both my top and my blazer (a gift from Dynamite last autumn) are velvet, my baker boy hat is corduroy and my favourite glitzy beaded bucket bag (it probably looks familiar if you've been here for a few years!) features satin details. I love this edgy-meets-glam look with a touch of boho throw in — it's warm, comfortable and creative!  

---
MORE AUTUMN / WINTER STYLE CONTENT
---
Autumn Trend Guide | That 70's Style
How to Style | Kimonos for Autumn
Autumn / Winter Trend Guide | Falling for Florals
---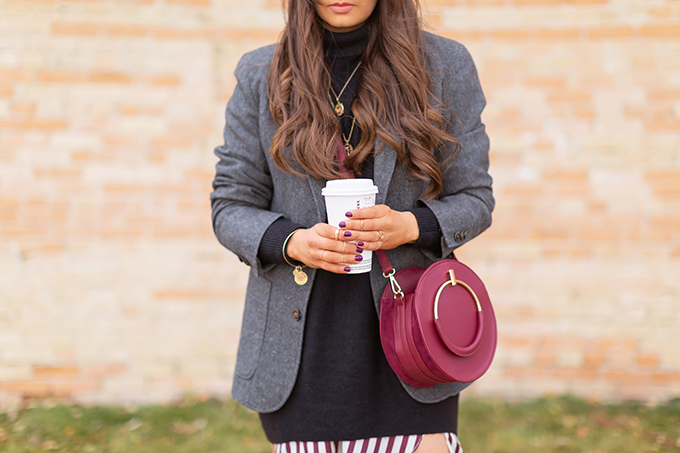 Thanks for stopping by for my very first seasonal LOOKBOOK! I hope you enjoyed this fresh, experimental content. Remember, if there are outfits you're particularly interested in, be sure to keep your eyes on my FASHION section as these looks make their way to JustineCelina in the more comprehensive style posts you're used to! I feel like this set up is the best of both worlds — Lookbooks for those of you who like to browse and get an overview of what I'm wearing and loving each season, coupled with more elaborate posts for those of your who love the details, or certain outfits. The only type of outfits missing from this Lookbook are ultra casual, everyday looks (like, what I wear to run errands, hang out at home, etc.) — which I know a lot of you are interested in, but I never think to photograph, because they don't seem special enough to warrant their own post. So, I'm either thinking about starting a new, seasonal series called EVERYDAY OUTFITS, or incorporating them into my next Lookbook. Let me know what you'd prefer and please leave your feedback on this new format below!
If you're looking for even more sartorial inspiration in the meantime, you can also follow along with my JustineCelina Fashion board on Pinterest. And if you want a sneak peek at what I'm wearing before it hits the blog, as well as some exclusive style content you won't see here, come join me over on Instagram for daily posts and BTS / day-to-day life on Stories! I'm currently gearing up for holiday (we're decorating for the first time in about 5 years!) and winter STYLE content (including my next Lookbook!), so if there's anything in particular you'd like to request, don't be shy! Enjoy the rest of your weekend, friends.
---
Disclaimer: This post is not sponsored, and contains my genuine thoughts, ideas and recommendations. Thank you to 7 Saints Designs for gifting my Dex Latte Cardigan and to Dynamite for my velvet blazer. JustineCelina uses affiliate and referral links, which allow me to receive a small commission when you make a purchase through one of my links. Thank you for supporting the brands and businesses that support JustineCelina!