---
Friends and fashionistas, welcome back for a fresh installment in my PATTERN PLAY series, dedicated to all things chain print! If you keep an eye on fashion trends, you'll likely have noticed a surge of chain print trickling into your favourite retailers since the onset of autumn — and it's hotter than ever as we transition into spring. Although this vintage feeling, designer-inspired print has always had a place in my wardrobe (namely in my vintage scarf collection!), I was thrilled to see its reemergence this season in so many fresh interpretations. That said, I always ensure trends have longevity before integrating them into my personal style and bringing them to JustineCelina — and can confidently declare that chain print here to stay!

While this bold, attention grabbing pattern definitely makes a statement, chain printed garments and accessories are popping up in nearly every colour, scale and fabric imaginable — there's truly something for everyone. Because of the wide range of chain print currently available, I now consider it a seasonless pattern that works year-round! I'm a firm believer that if you're intrigued by a print, there's a way to make it work for you — incorporating it into your personal style in a way that compliments your lifestyle, preferences, body type and budget. Whether you're ready to shackle yourself in chain print this season, simply want to learn more about upcoming SS19 trends (plus, how you can start wearing them right now!), or are here for my best styling tips to make your midi and maxi hemlines work during the depths of winter, you'll love today's post!

---
PATTERN PLAY | CHAIN PRINT
---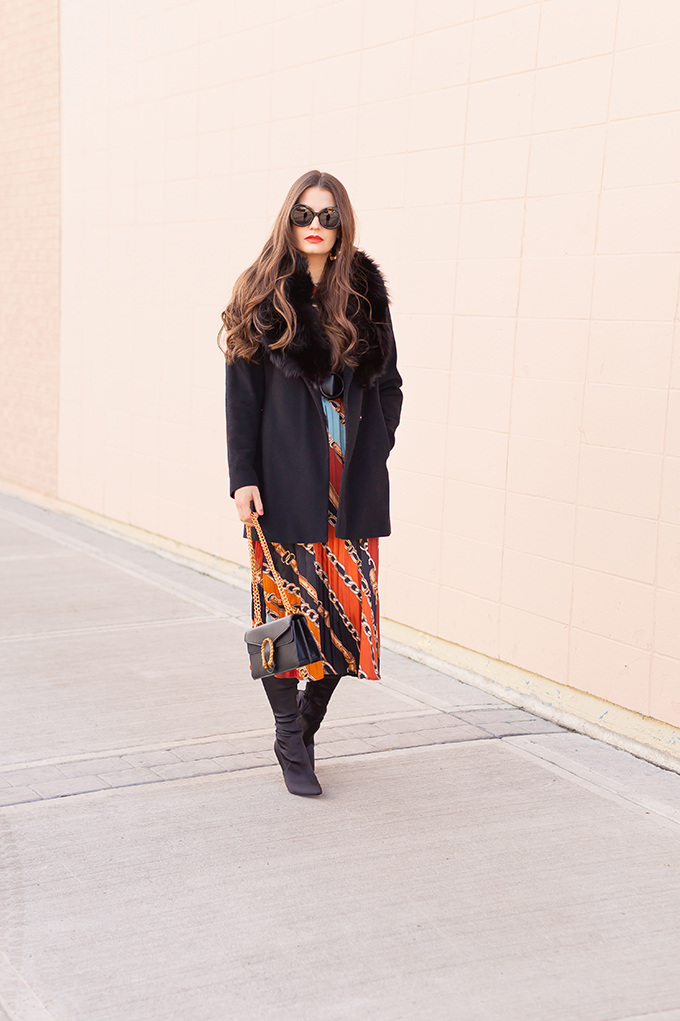 Since publishing my Winter 2019 Lookbook (and being in awe of our unseasonably mild weather!), old man winter has graced us with his presence and appears to be overstaying his welcome. February is often our coldest month in Calgary — infact, I'm currently typing to during yet another Extreme Cold Warning. While many retailers (and fashion bloggers!) are gearing up for SS19, I always dress for our current weather conditions — resolving to not let old man winter put a damper on my personal style!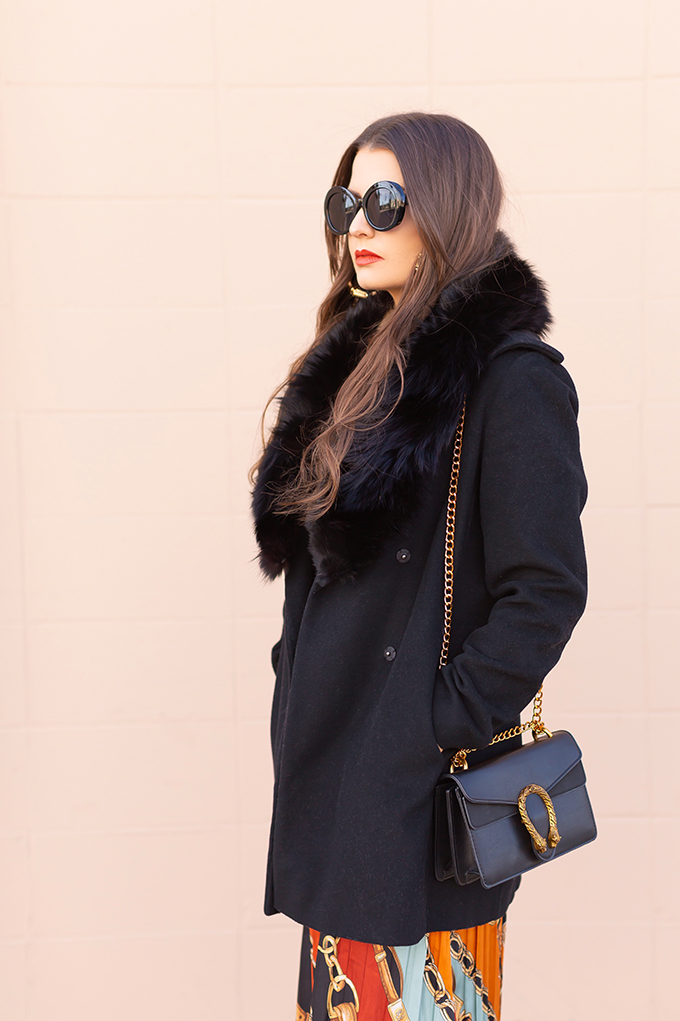 I love looking ahead to upcoming fashion and colour trends, then translating them into my personal style in a way that works for our climate. Although I've seen chain print trickling into my favourite retailers for about 6 months, when I spotted this stunning dress (which I picked up during the Zara sale!), I simply couldn't resist.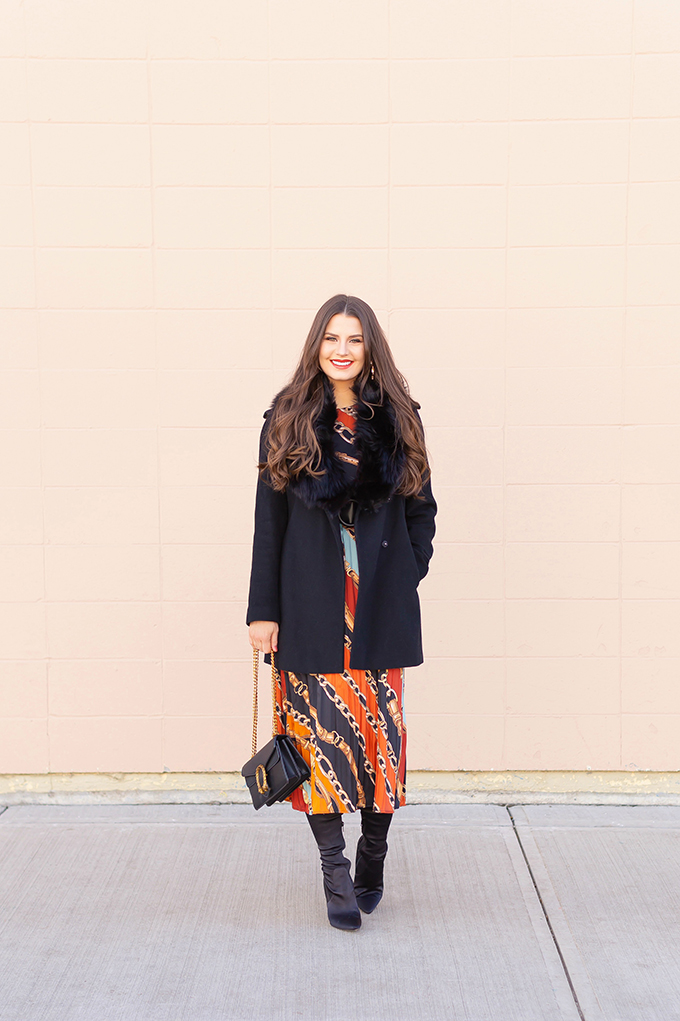 While we would typically associate orange with autumn, it's actually a massive colour trend as we transition into spring — as evidenced by Pantone's Spring / Summer 2019 Colour Trend Report (which you'll be seeing a lot more of across categories here at JustineCelina!). In fact, most the colours in this dress appear there — but I've paired them up with all black pieces to keep this look winter appropriate.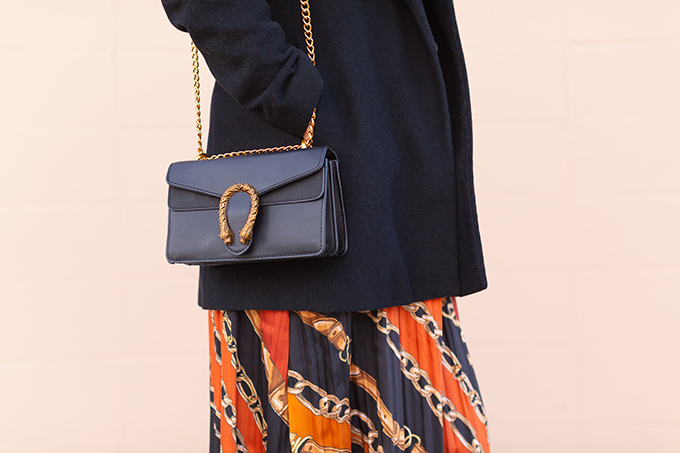 This is one of my go-to winter outfit formulas, especially for evenings out. It's polished and sophisticated with creative flair — not to mention, it's really warm! Whenever I'm dressing for harsh winter conditions, you can bet I have thermal tights layered underneath any dress or skirt you see me wearing. Adding a warm base layer really makes such a difference, especially on your bottom half!
My chain printed midi dress definitely makes a statement — I'm crazy about the bold, luxurious pattern and eye-catching palette. So, I let my dress act as the anchor piece of this outfit — styling her up with understated black outerwear and accessories in classic, cold weather friendly textures.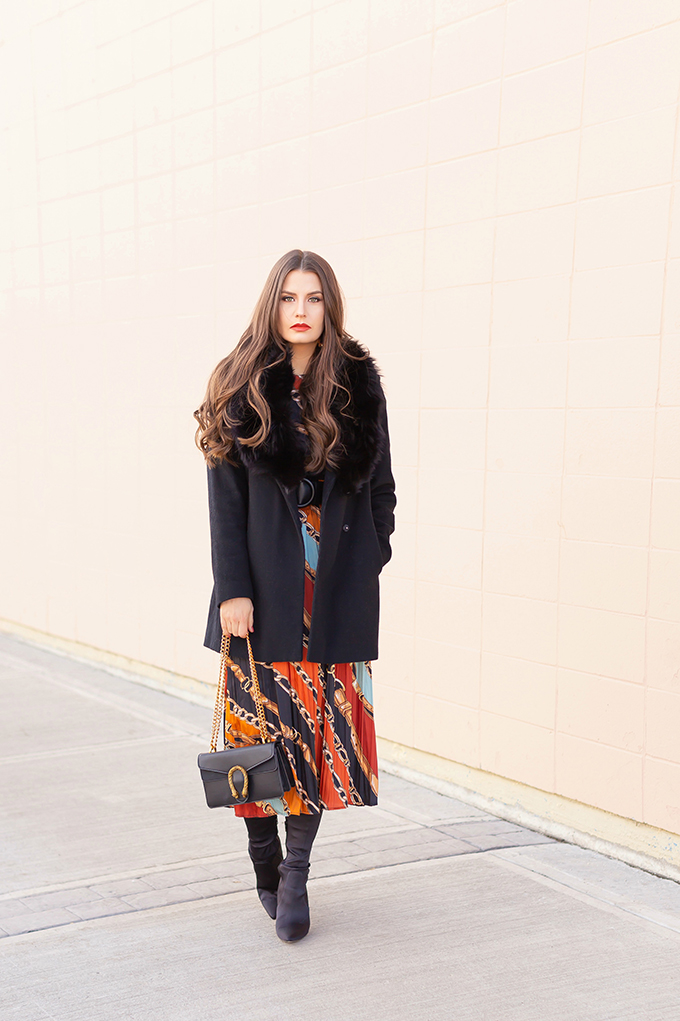 Pairing midi and maxi hemlines up with OTK boots during colder months to create maximum insulation is one of my favourite winter style hacks! These are actually satin thigh-highs (which you can also see in action here) and I love the way they carry the subtle sheen of the dress down to the tip of my toe to create cohesion. My cross body bag with a chain strap and closure detail mimics tones and textures in the print of my dress — those small, thoughtful details are really what makes an outfit appear polished, in my opinion! To accentuate my waist, I selected a thick black leather belt with a ring detail. A pair of black oval sunglasses (which I also wore to a horse race this past summer!) add an air of mystery and an upscale touch.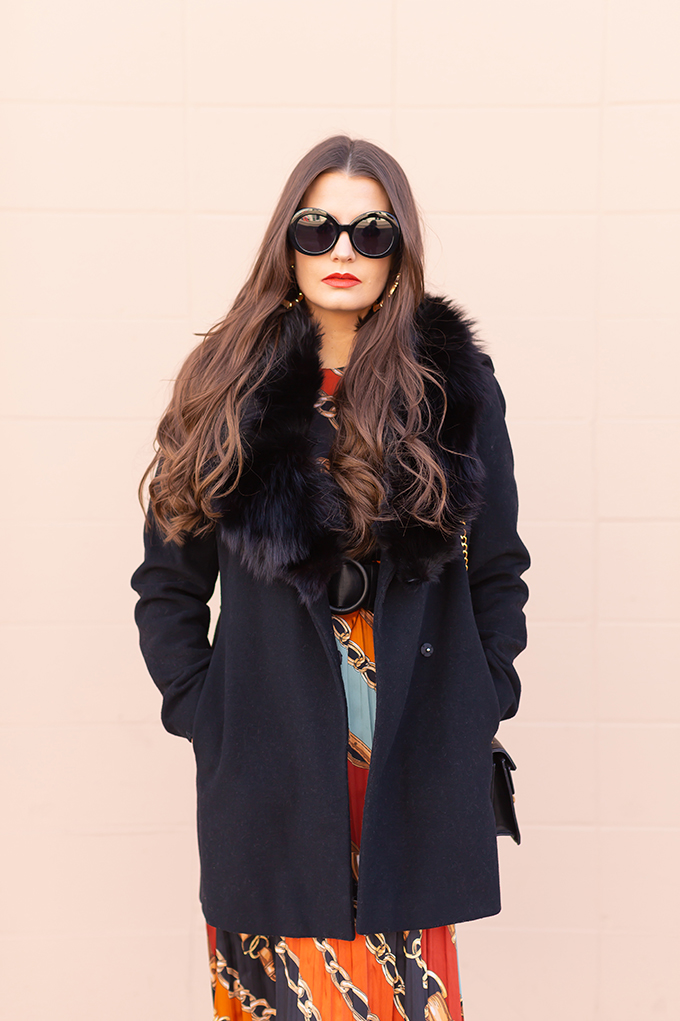 When it comes to selecting a warm outer layer for winter, wool coats are my go-to. Believe it or not, this classic wool coat has been with me for about 8 years! It was one of the first pieces of outerwear I really invested in — and it still looks good as new. To freshen her up with Winter 2019 and layer on extra warmth, I added a vintage fox fur collar on top (which was a gift from my grandmother). When I'm layering the same colour or shade, I love to really play with texture to keep things interesting.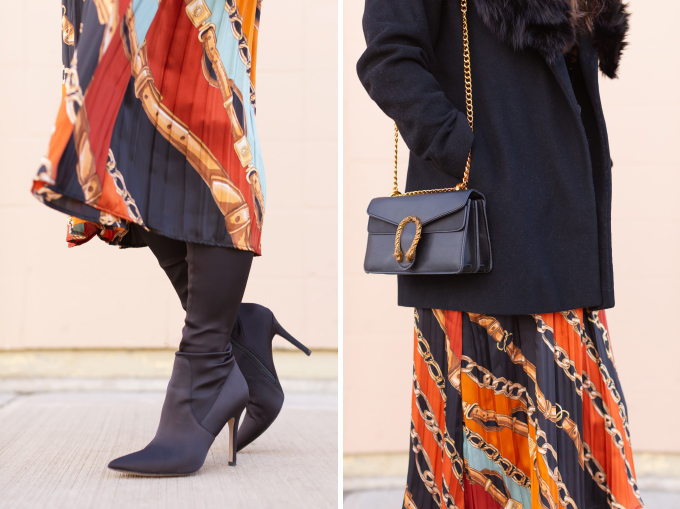 Although I've chosen to style my statement making chain print dress with monochromatic black pieces, you can see how wool, satin, leather and fur combine to create an interesting variety of texture that looks stylish while keeping me nice and cozy. This look a mixture of high, low, old and new — my absolute favourite way to dress!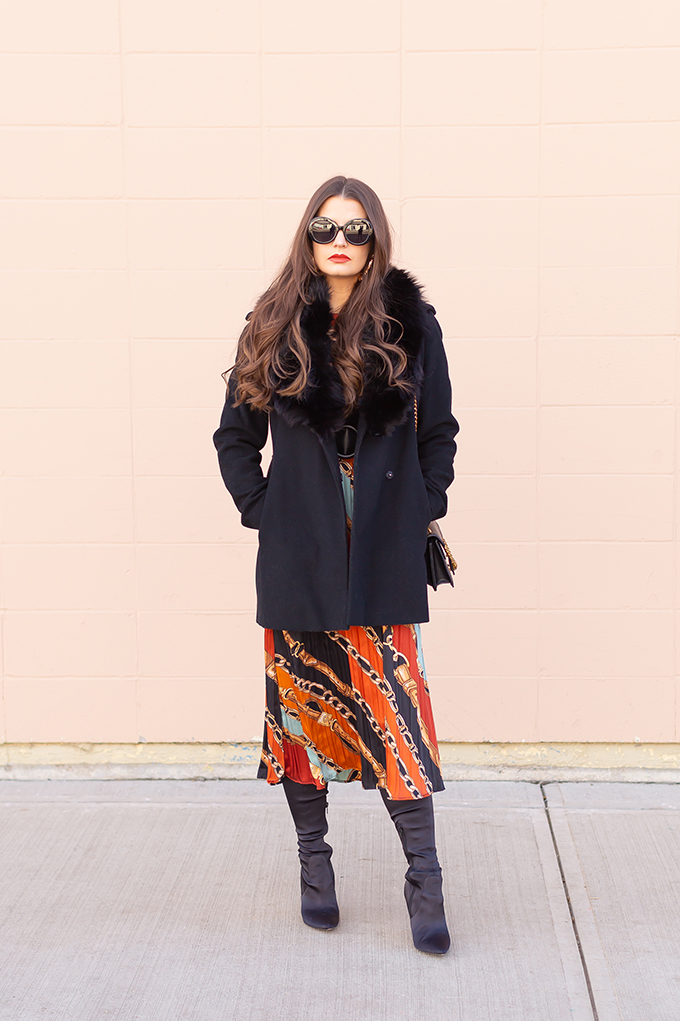 Are you ready to chain yourself to this season's hottest print? A great way to dip your toes into wearing a new pattern is by opting for a chain print accessory, like a scarf (check out this post for chain print scarf styling inspiration!). You can wear it wrapped around the handle of your bag, tied to the strap, tied around your neck (find inspiration here) or even as a headscarf (one of my favourite ways to wear scarves during summer months!). Scarves are a versatile, sophisticated (and very underrated!) addition to any woman's wardrobe.

If scarves aren't your thing, not to worry. Chain printed accessories and garments abound in nearly every colour, scale and fabric imaginable. Simply type it into the search bar of your favourite retailer to see what chain print garments and accessories are available as we transition into spring!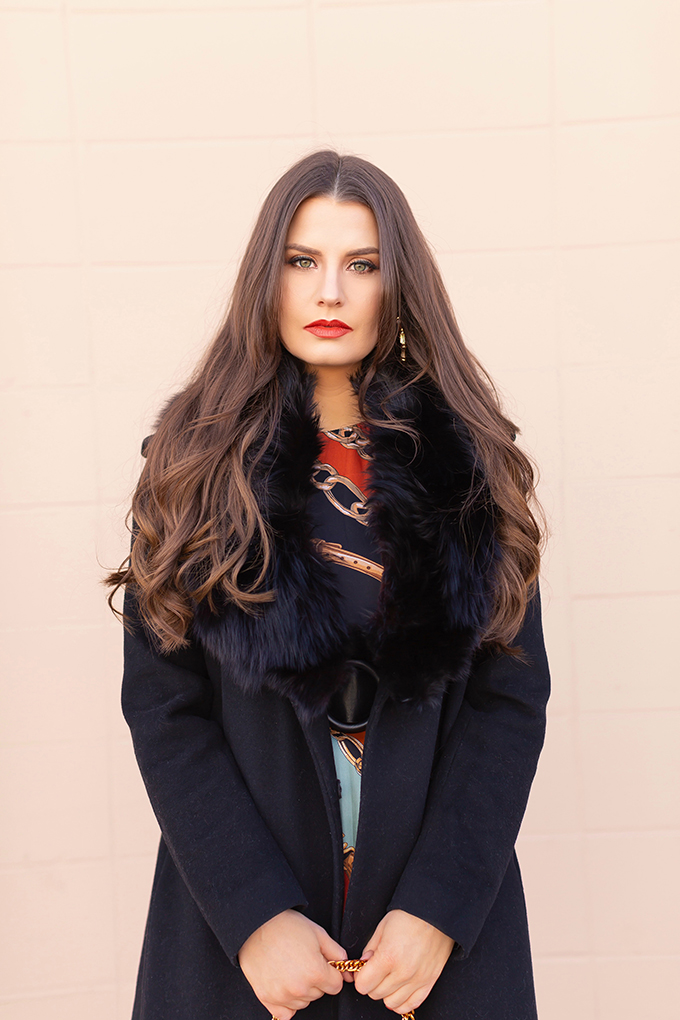 Intrigued by chain print garments but need a few tips to make sure you chose the right one for you? I firmly believe fashion rules were meant to be broken, however, understanding why something works in the first place is essential. One tried and true rule I adhere to is to keep the scale of a print proportionate to your frame. This means that typically, taller gals can pull off larger prints, or all over prints (this look is a great example of that — I'm 5'8″ and feel that this dress doesn't overwhelm me because of my height and also because I broke up the pattern with a solid coat). Conversely, shorter babes should opt for a smaller scale print more in proportion with their silhouette. You should always strive to have whatever pattern you're wearing to compliment you rather than overwhelm you — after all, you should wear your clothes, they shouldn't wear you!

I've scoured the internet to curate a selection of my favourite chain printed pieces (wow, that's a tongue twister!), but dresses and skirts with some movement are my favourite ways to wear it as temperatures start to rise. If you'd prefer a less feminine option, there are also some beautiful chain printed shirts, tunics and scarves hitting retailers in dreamy, spring-inspired palettes (I have my eye on this one from Mango that incorporates a touch of Pantone's 2019 Colour of the Year, Living Coral!).
---
MORE FROM MY PATTERN PLAY SERIES
---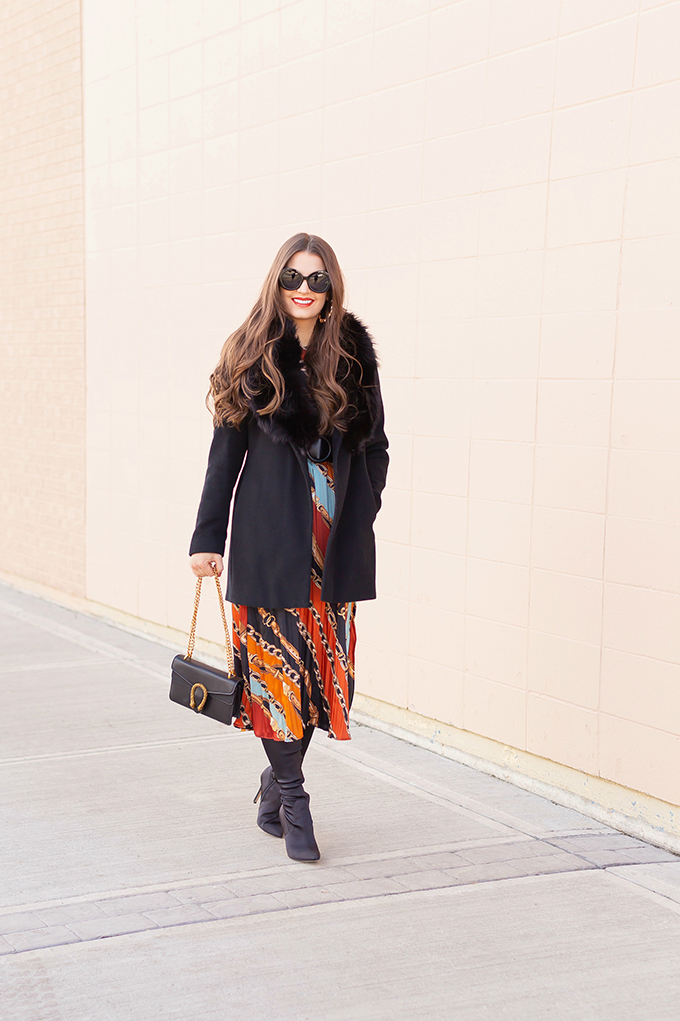 What pattern would you like to see my spin on next?!

---
SHOP THE POST
---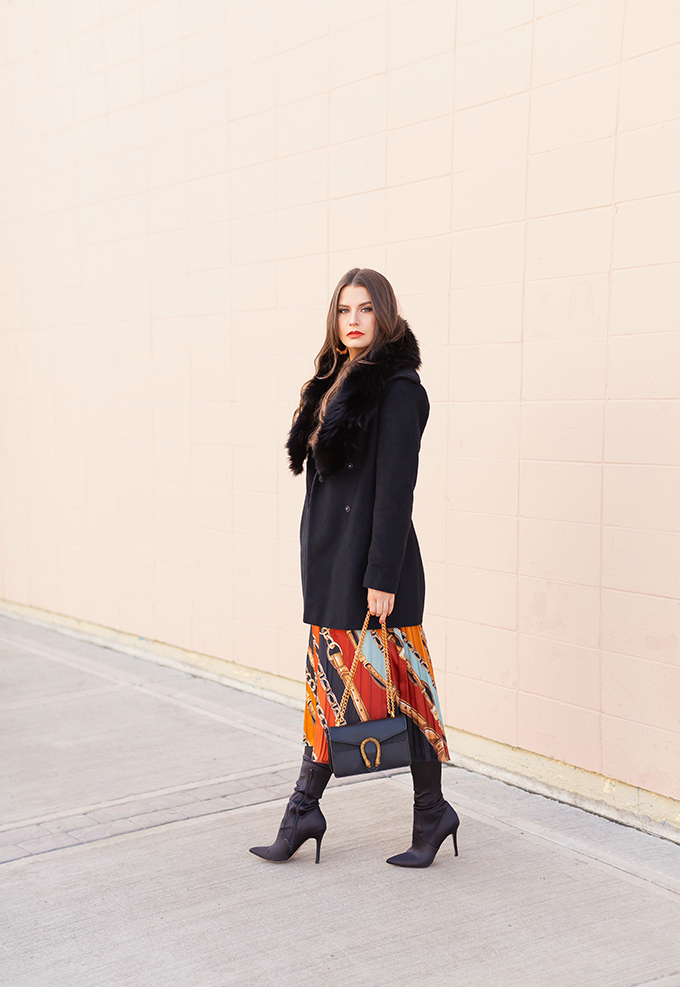 ---
Will you be experimenting with chain print this year? It's such an unconventional, unique print and I love seeing so many fresh interpretations of chain print available at all my favourite retailers. I have quite a few chain print pieces on various wishlists currently, so if you'd like to see some additional styling options as we transition into spring, be sure to check back in with me in upcoming months!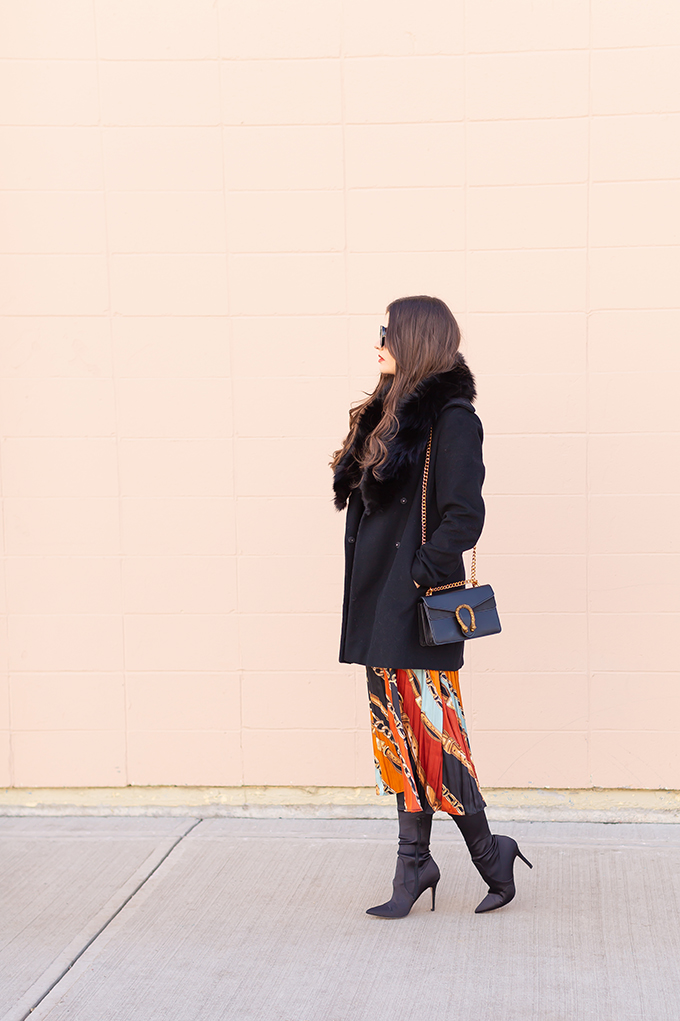 If you're looking for even more sartorial inspiration in the meantime, you can also follow along with my JustineCelina Fashion board on Pinterest, or my seasonal Winter 2019 Lookbook board which I'll be continuously adding to! And if you want a sneak peek at what I'm wearing before it hits the blog, as well as some exclusive style content you won't see here, come join me over on Instagram for daily posts and BTS / day-to-day life on Stories! Thanks for stopping by today, friends. Have a fantastic week!
---
Disclaimer: This post is not sponsored, and contains my genuine thoughts, ideas and recommendations. JustineCelina uses affiliate and referral links, which allow me to receive a small commission when you make a purchase through one of my links. Thank you for supporting the brands and businesses that support JustineCelina!