---
Flower friends, I'm elated to share a fresh installment in our ALL ABOUT series with you — and this time, it's All About Ranunculus! If you've ever downloaded one of our DIGITAL BLOOMS or stopped by to learn more about an arrangement, there's a good chance Ranunculus were present. They're one of our all-time-favourite flowers, they come in nearly every colour of the rainbow and they're now available year round — hence the abundance of Ranunculus here at JustineCelina! Today Rebecca Dawn Design and I are teaming up once again to educate you on an of the moment seasonal flower — we've already covered Anemones, Tulips, Roses and Peonies in this series, so it's about time we dedicated a post to Ranunculus! This post features a variety of shades, hues and varieties of our favourite flower, so get ready for a whole lot of pretty along with a healthy dose of FLOWER EDUCATION!
If you're looking to bring some colour into your home this autumn with affordable, long lasting blooms, consider our All About Ranunculus post your one-stop educational resource to learn everything you ever wanted to know about this popular flower. Today we're sharing alternate names and meanings, colours and varieties available, vase life, what to look for when purchasing, as well as how to care for and condition your Ranunculus so you can enjoy them for up to 2 weeks. Rebecca also shares her insider tips about how to perk up droopy stems! Whether you'd like to learn more about these gorgeous, classic blooms or simply stopped by to brush up on general flower care and conditioning, we're so happy you're here!
---
ALL ABOUT RANUNCULUS
---
Ranunculus are probably my all-time-favourite flower. They're easier to come by than Peonies (which I also love), come in a wide range of colours and varieties and go with everything. Think of them as a great pair of affordable jeans for your flower wardrobe. They're a staple!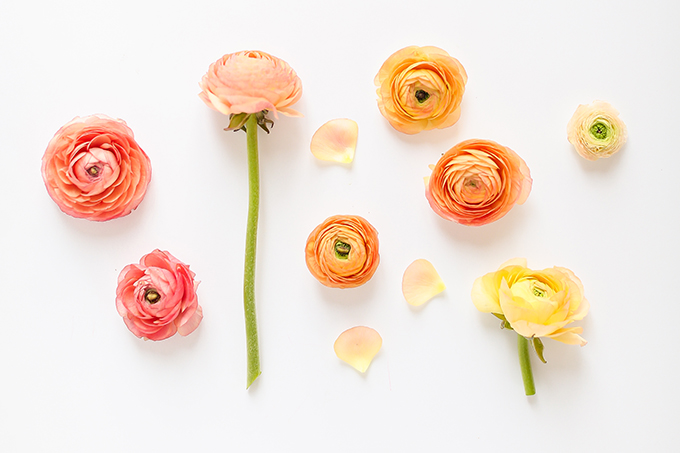 Over the years here at JustineCelina, we've worked with just about every colour, shade, size and variety Ranunculus. Persian Ranunculus are the variety we use most often, but ultra dreamy Japanese Ranunculus also made an appearance in this blushing spring arrangement. I actually shot the primary images we're using for this post just after my 3rd Blogiversary earlier this year — I deconstructed the arrangement Rebecca created and used my vintage milk glass vases to create an ombre colour story.
While this is just a small selection of what's available, believe it or not, these are all technically peach Ranunculus. I love the variance within tone and shade with Ranunculus — each flower, even from the same bunch, is incredibly unique.
---
GENERAL RANUNCULUS INFORMATION
---
Alternate Names & Meanings
Persian Buttercup, Coyote's Eyes
Throughout the years across cultures, Ranunculus symbolize charm and attractiveness.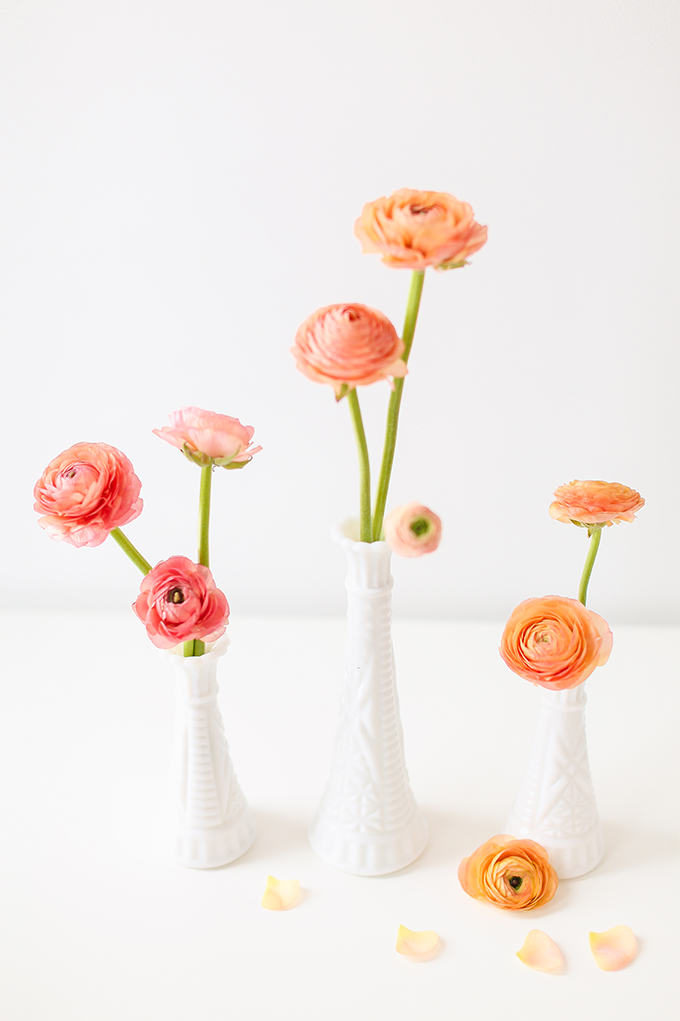 History
Ranunculus are part of the Ranunculaceae family (as are Anemones, another favourite of ours!). There over 600 species of flowering plants in the Ranunculaceae family. Persian Ranunculus are the most common species Ranunculus and the ones typically seen in your local flower shop, as well as here at JustineCelina!
Persian Ranunculus are a cool season perennials native to the Middle East, although they grow wild across much of the United States.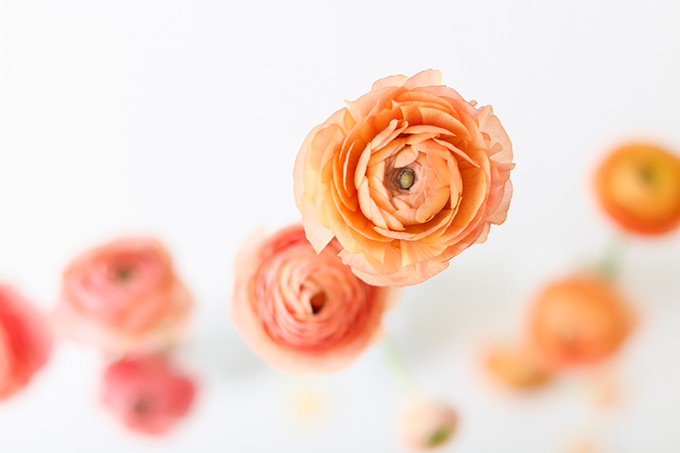 Colours & Varieties Available
Shades of red, pink, orange, peach, yellow, green, purple, wine, white and cappuccino.
In Season
Just a couple of years ago, Ranunculus were available late winter through early spring. Fast forward to 2018 and you'll now find Ranunculus in your local flower shop year round!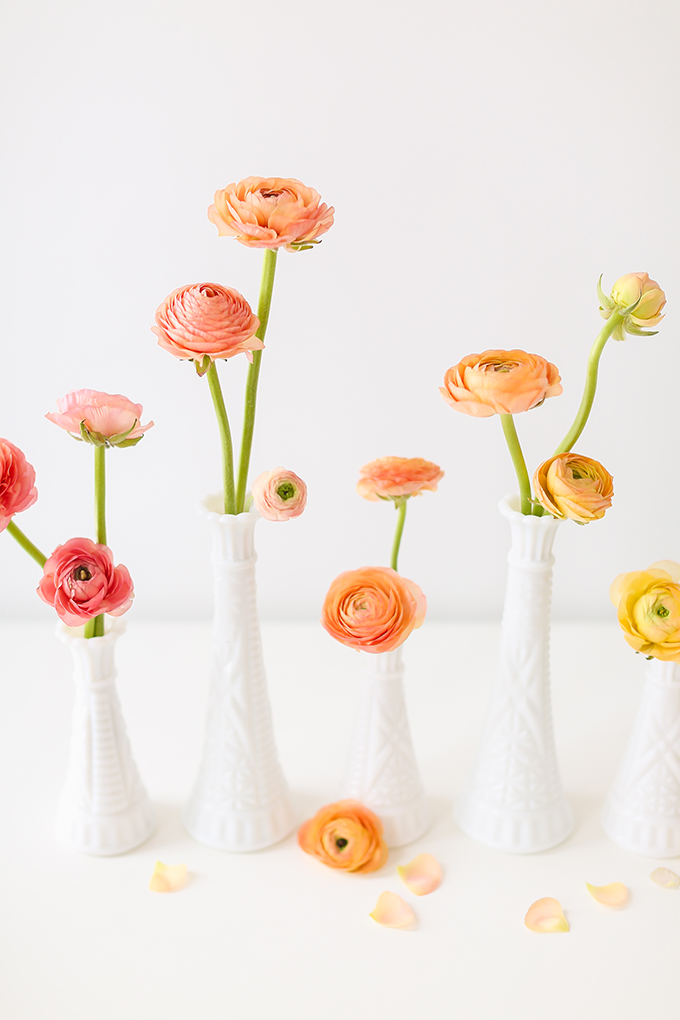 Vase Life
7 to 14 days
Purchasing Tips
Choose flowers them have a firm base when squeezed and are free from discoloration or scratches, all of which indicate age.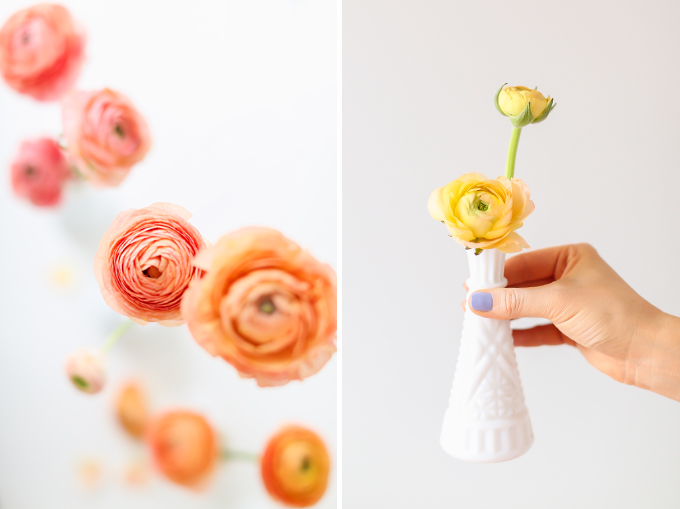 Did You Know?
Ranunculus stems are often hairy! They also produce several flowers on each stem — that's why you'll typically see those cute little buds in our arrangements.
---
RANUNCULUS CARE AND CONDITIONING TIPS
---
If you pamper your Ranunculus, they can last for up to 2 weeks! Utilize Rebecca's expert tips to maximize the life of those beautiful blooms: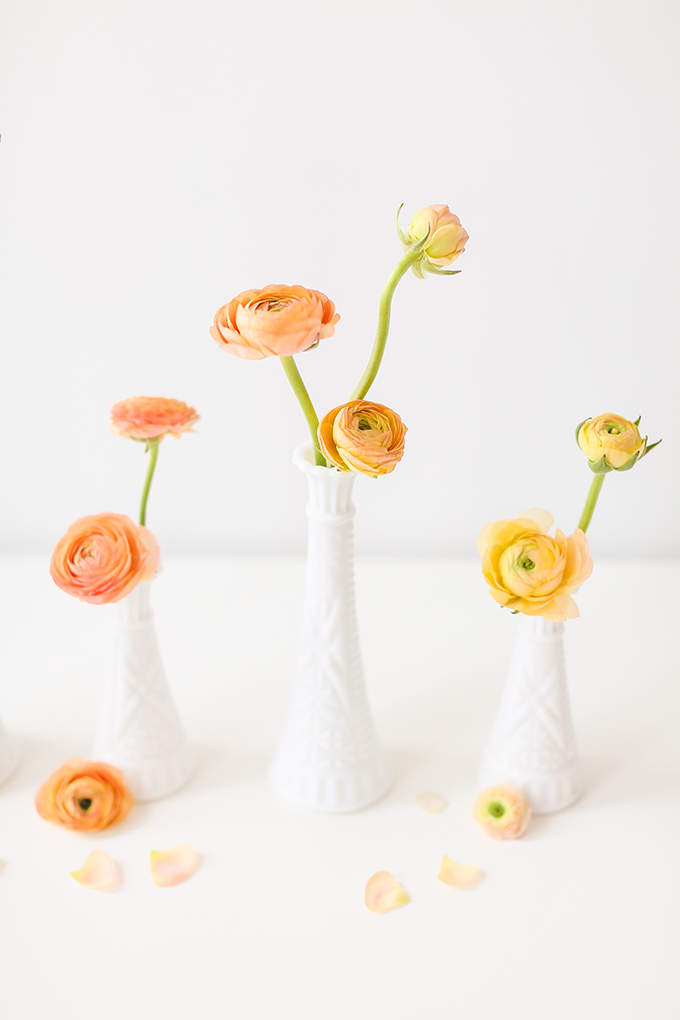 1. Ranunculus usually come wrapped when purchased. Once you get your Ranunculus home, remove the wrapping immediately to allow the blooms to breathe and air to circulate freely.
2. Use a pair of garden shears or a kitchen knife to cut the bottom 1/2 inch off of each Ranunculus stem at a 45 degree angle.
3. Snip off any leaves or flower parts that will fall below the lip of the vase. The only things that should be inside the vase are the Ranunculus stems and water.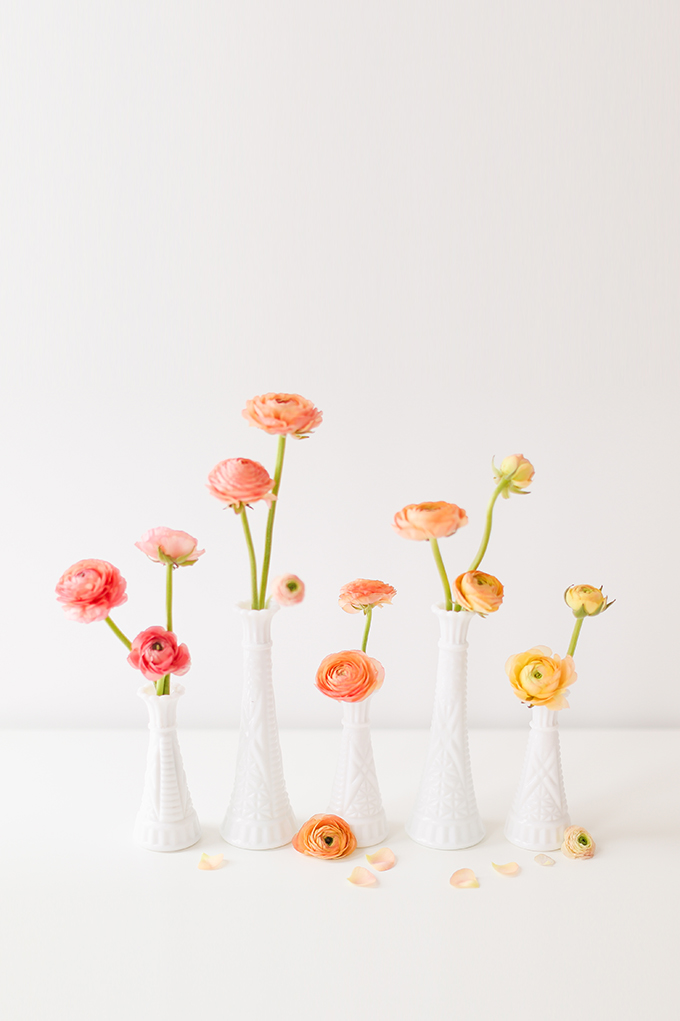 4. Always place freshly cut Ranunculus in lukewarm water. Warm water molecules move faster than cold water molecules, therefore are more easily absorbed. The objective is to get water and nutrients as quickly as possible to the head of the flower. For optimal Ranunculus life, change the water and trim the stems every 2 – 3 days.
5. Add flower food to the water. Commercial flower food will provide nutrients the Ranunculus need to stay fresh for a longer period of time.
Tip: Ask for a few packets of flower food when you buy Anemones at the flower shop — or make your own at home!
6. Set the vase of Ranunculus out of direct sunlight and away from heating vents or radiators. Consistent room temperature (away from doors and cold drafts) ensures happy flowers!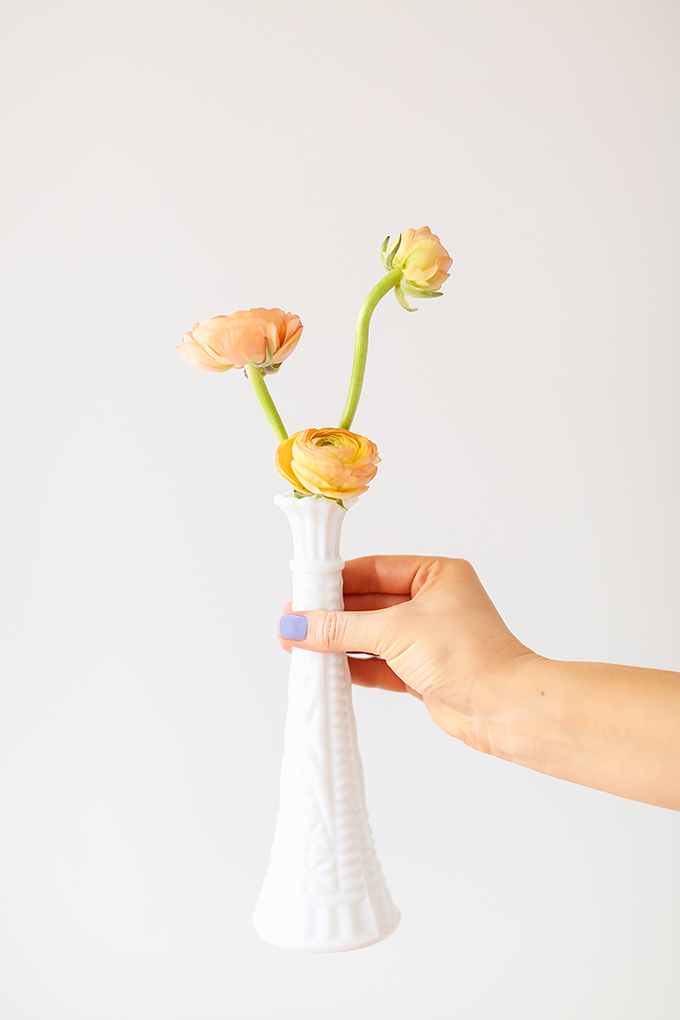 Tips
• If any of the the stems are particularly droopy, you can loosely wrap paper around your Ranunculus for the first 3-4 hours while they are in the water. This will help support the stems upright as they get their initial drink of water.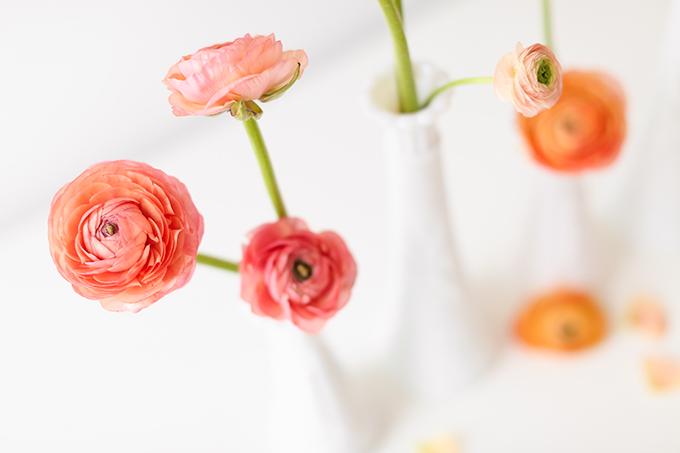 ---
If you're craving more Ranunculus and an autumnal update for your tech, you can download free wallpapers for your digital devices in our September 2018 Digital Blooms post!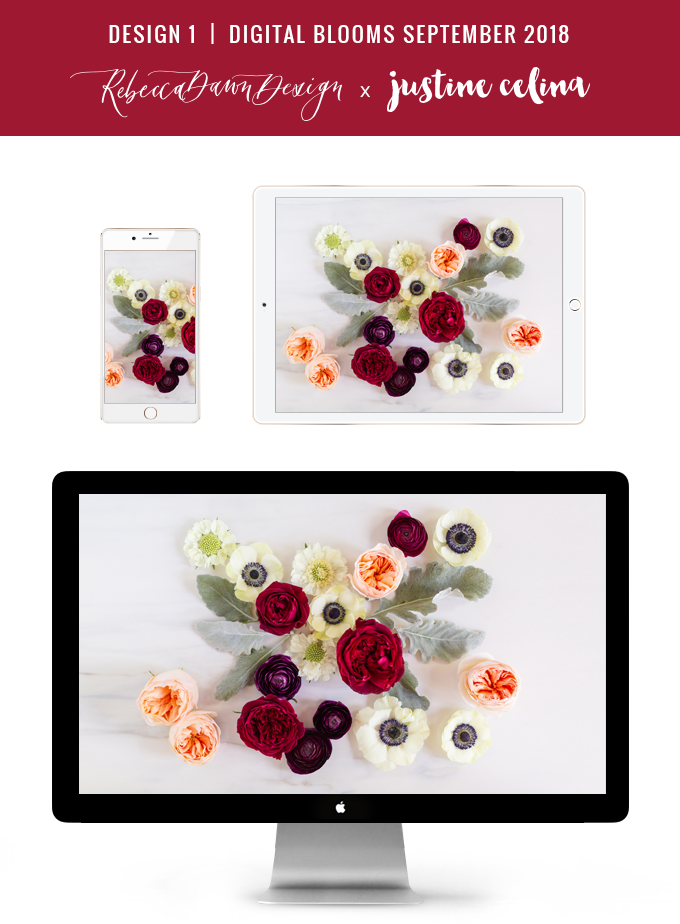 ---
MORE FROM OUR ALL ABOUT SERIES
---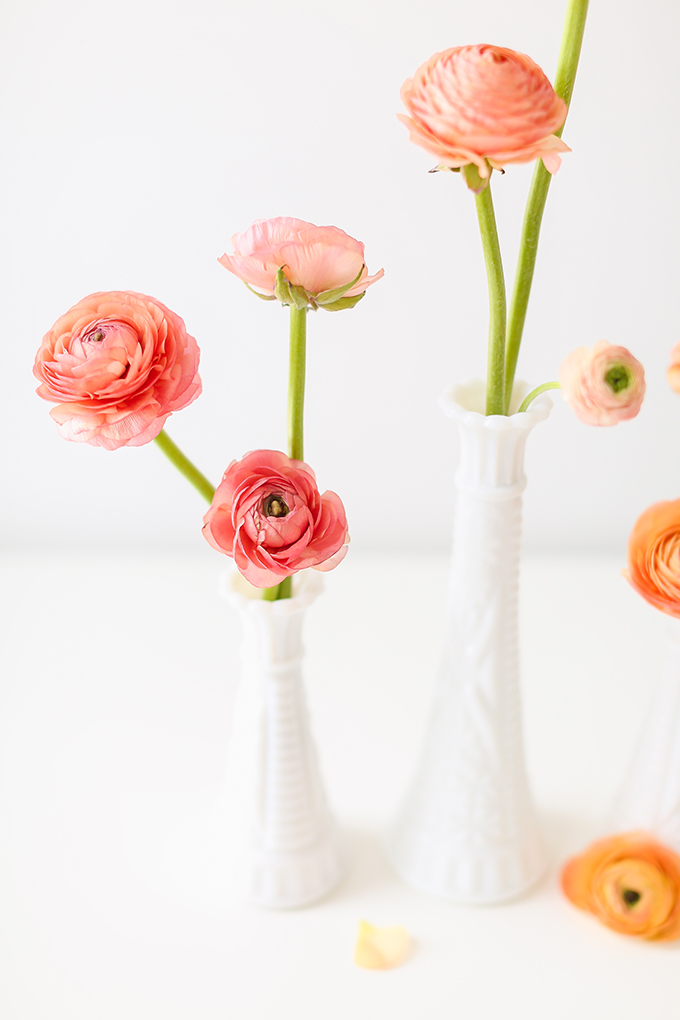 ---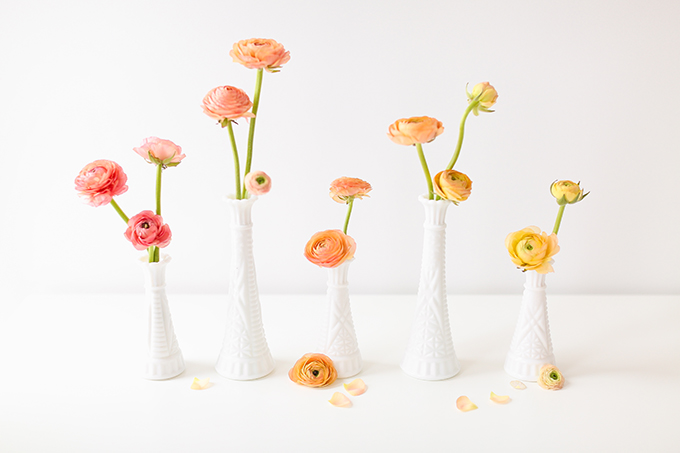 We hope you enjoyed the latest installment in our FLOWER EDUCATION series and learned something new today! Last week we shot our AW18 content and I absolutely cannot wait to share it all with you — we were able to catch fall foliage at it's height and foraged Rebecca's yard for tons of seasonal ingredients!
In the meantime, if you can get your seasonal flower fix by either browsing our FLOWER archives or following along with our Flower Board on Pinterest for more even more floral inspiration. Thanks for stopping by today to learn All About Ranunculus, beautiful people!
---
Disclaimer: This post is not sponsored, and contains our genuine thoughts, ideas and recommendations. JustineCelina uses affiliate and referral links, which allow me to receive a small commission when you make a purchase through one of my links. Thank you for supporting the brands and businesses that support JustineCelina.com!