---
It's mid December and the holiday party season is in full swing, so I thought it was the perfect time to share a new post in my WHAT TO WEAR TO series — this time, to Casual Holiday Parties! I'm all about comfortable, laid back holiday looks remixing pieces from my existing wardrobe. This season, I've picked up a couple of new, trendier accessories to refresh my old favourites — and I'm so excited to share my finds with you! I actually wore this exact outfit to a restaurant opening on Steven Avenue (where we came back to shoot this post) last month and had tons of compliments and questions about it — a few women mentioned wanting to wear something similar to their holiday parties this year! And so this post idea was born. The best part is I put this look together with pieces I already owned — although my boots and hat are newer purchases from earlier this season!
Today I'm chatting about What To Wear To | Casual Holiday Parties and sharing a few of my favourite versatile, cool weather staples you can style a million different ways — during this festive season and beyond! If you're attending a laid back holiday celebration this year and want to dress up a little without going full on glam (or buying an entirely new outfit), this post is for you! Come hang out for some tips on how get creative and shop your closet for items, fabrics and patterns you may not necessarily think to wear during the holidays — including pleated maxi skirts, velvet, baker boy caps, cross body bags, sock boots, checks and wool coats. And if you are on the hunt for a few key pieces to refresh your winter staples for 2017, I've included tons of shoppable links for you at every price point! Let's all eat, drink and be merry in style this season!

---
WHAT TO WEAR TO | CASUAL HOLIDAY PARTIES
---
We've attended our fair share of glitzy corporate holiday parties and galas over the years. But the older we get, the more relaxed the holidays get — and I'm all for it! For the past couple of years, we've been attending fewer formal corporate parties and more casual events and get togethers — and it seems I'm always pulling my outfits together last minute with pieces I already own, which is exactly what I did for today's look!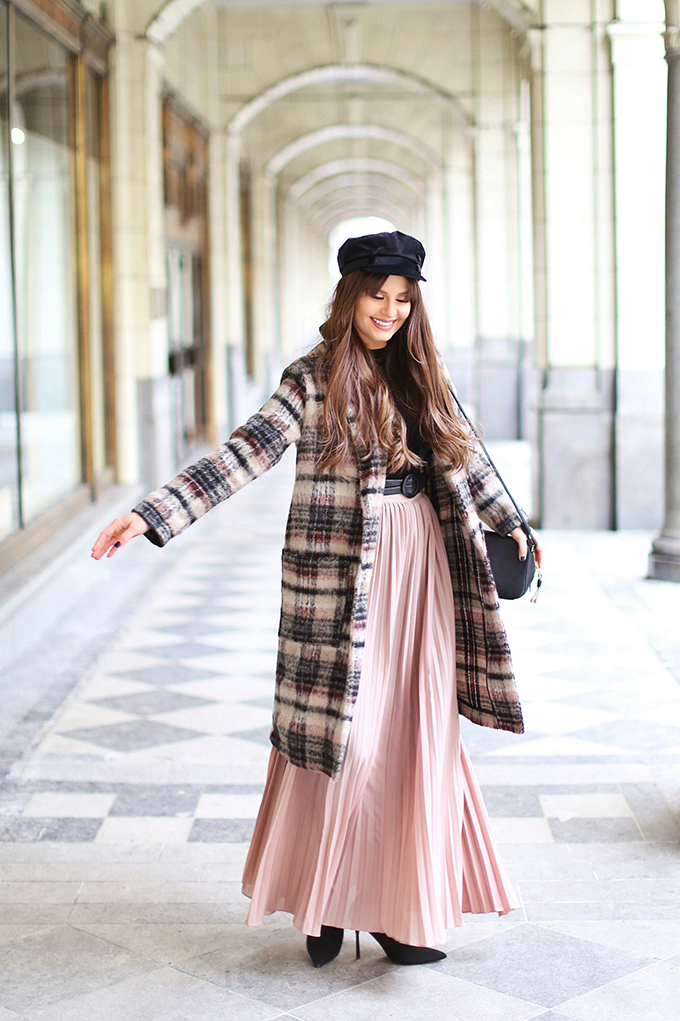 I feel like not having a formal event to shop for actually allows me to get more creative with my existing wardrobe and come up some inventive outfit combinations for the holidays. This year the calendar is packed with everything from blog related events and restaurant openings, to wreath making and cooking classes, to house and dinner parties — and I'd wear this look to every single one! I hope this post gives you some fresh ideas about how you can restyle what you already own through fresh eyes for Holiday 2017 — because sometimes the best place to shop is your own closet!
---
A Baker Boy / Cabbie Hat
---
If you want to be the cool girl at your holiday party this season, pick up a baker boy hat (it's also sometimes called a cabbie hat!). This is a trend I wasn't sure about at first — I tried on countless baker boy caps that didn't suit me at all and started to think they just weren't for me before unexpectedly finding this velvet number at Zara last month.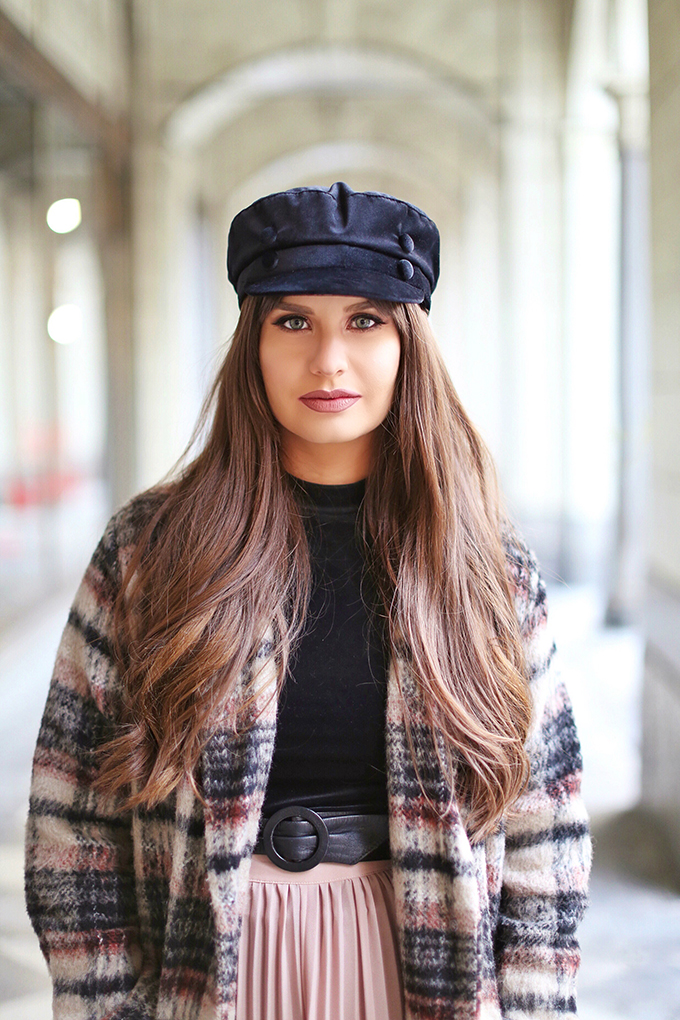 As a hat lover, I'm always down to try a new style, but like every trend you see me wear, it takes me awhile to figure out how to integrate it into my personal style in a way that works for me. I'm actually really surprised by how often I've been wearing my baker boy hat lately — it's a versatile piece that adds a bit of an edge to any outfit, whether it's casual (I also wore it to Canmore a couple of weekends ago for a massage and dinner!) or more dressed up. I love it to balance outfits where I'm wearing black boots and need something black on my top half, or am wearing more feminine pieces. Baker boy hats add an unexpected twist and a bit of mystery to your look — not to mention, they stylishly conceal an unwashed mane. Hey — it's a busy time of year!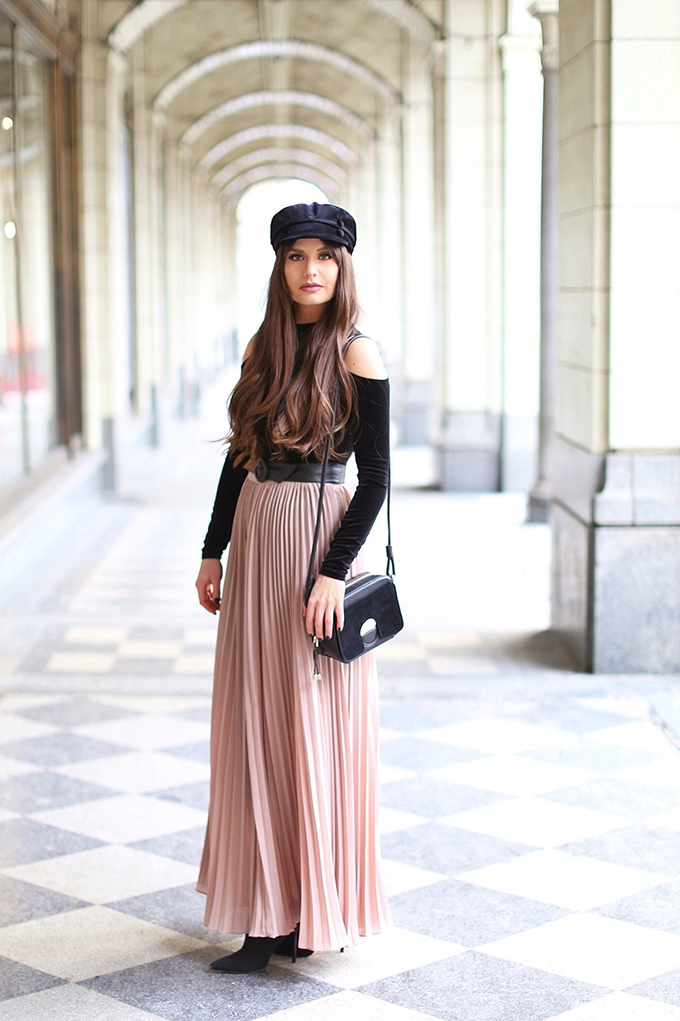 Baker boy hats are a huge trend this season — and although I'm not sure how long they'll stick around for, I'm happy to have found one that suits my personal style! This hat is the perfect example of how incorporating a trendy accessory into your wardrobe can breathe new life into all your winter staples. It's an inexpensive way to make all your well loved pieces new again! If you'd like to experiment with the baker boy hat this season, I've rounded up some similar alternatives for you below — and fellow Calgarians can pop down to our local Zara at Chinook Centre to pick this exact hat up. I'm not able to link to it online, but I spotted a few in stock late last week! I've also linked similar velvet baker boy hats for you below.

---
A Pleated Maxi Skirt
---
I've owned this maxi skirt for about 6 years — and up until this season, it was something I only wore during the spring and summer. It's a timeless piece that I've styled many different ways over the years, but since the fabric is so lightweight I'd never thought to incorporate it into my winter wardrobe.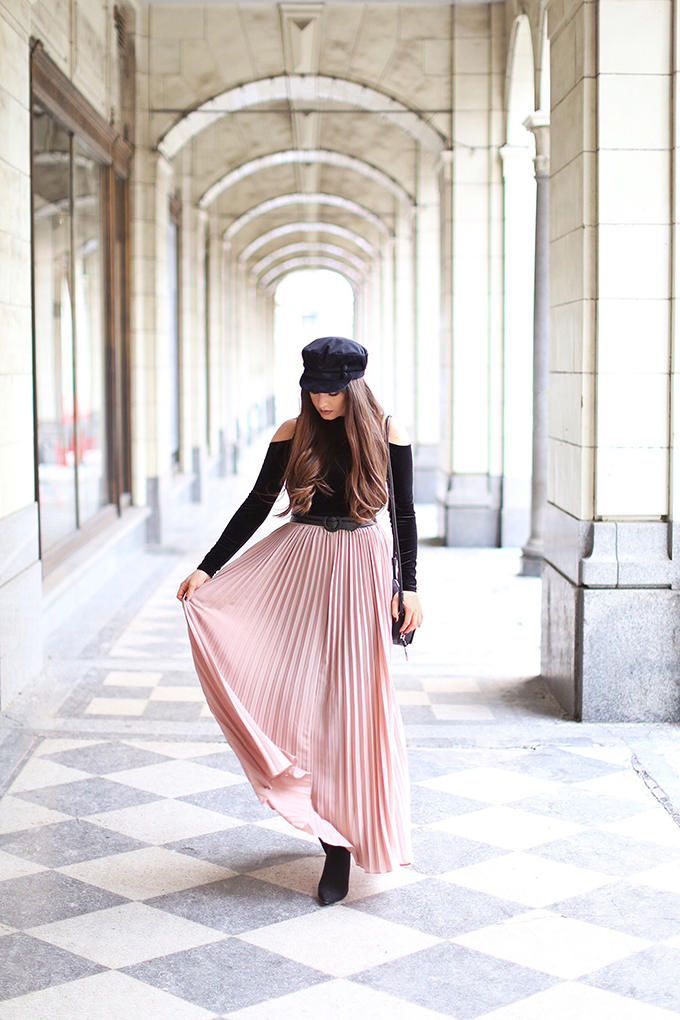 Pleated skirts are everywhere this season — we've been seeing them both midi and maxi lengths, as well as in a variety of fabrics and textures. Instead of purchasing a new pleated skirt in a more wintery colour or fabric (I'd been lusting after a metallic, midi version!) I pulled this piece out from the depths of my closet and started experimenting with different ways I could style it for the holidays. I was so pleased with what I came up with!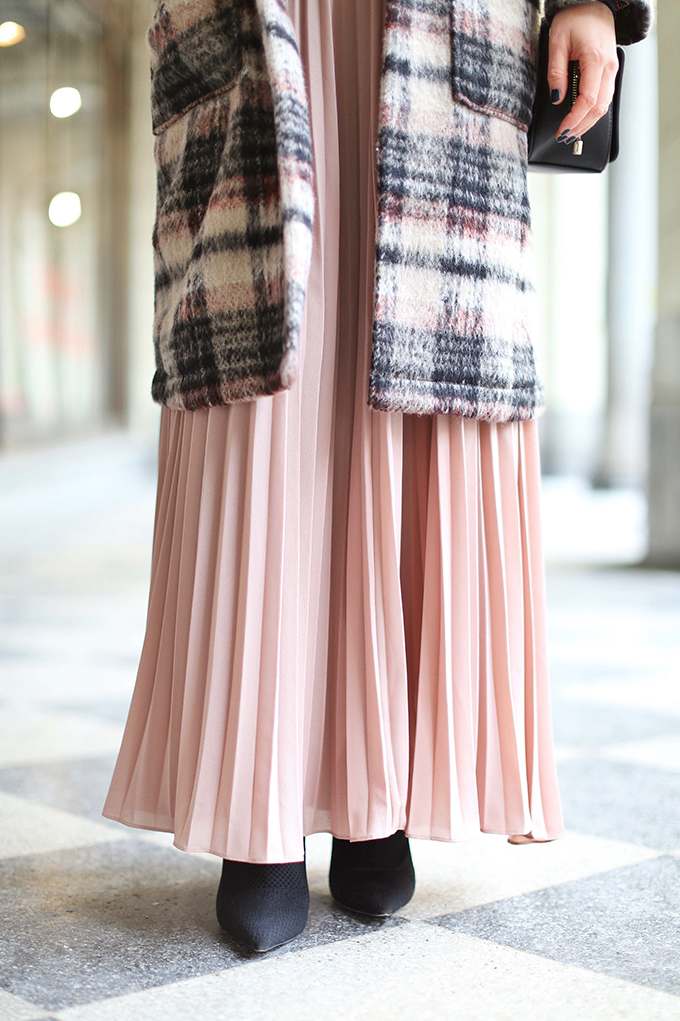 Blush tones have remained a huge trend regardless of the season for the past couple of years — and I love the way I was able to winterize my pleated maxi by pairing it up with black pieces, velvet accessories and a vintage belt. To add some extra warmth and the illusion of a seamless silhouette, I layered some thick black tights underneath my skirt. I love that you can't tell where the boot ends and my tights begin, which my favourite trick for styling my skirts and dresses in the winter. Pairing an extra long maxi skirt with a high heel is also a great way to create a leg elongating effect — ideally you should just be able to see about an inch or two of heel (this ensures you're not tripping over your skirt and it flows nicely when you move)! If you have an old pleated skirt that's dying for a holiday party invite, try dressing her up for winter with a few of my tips! And if you don't, I've rounded up my current favourite offerings for AW17 for you here.

---
A Touch of Velvet
---
When winter rolls around, I'm all about velvet. This probably comes at no surprise if you frequent my FASHION archives — I padded my closet with so much velvet this past year and I'm thrilled to report it's not going anywhere! Now that December is upon us, we have the perfect excuse to deck ourselves out with all our favourite velvet pieces — I totally think you can incorporate a few velvet pieces into your holiday looks this season and not look overdone. Both my hat and my cold shoulder top are velvet, but since they're both black, it doesn't feel like too much. But to be honest, I'd wear velvet head to toe!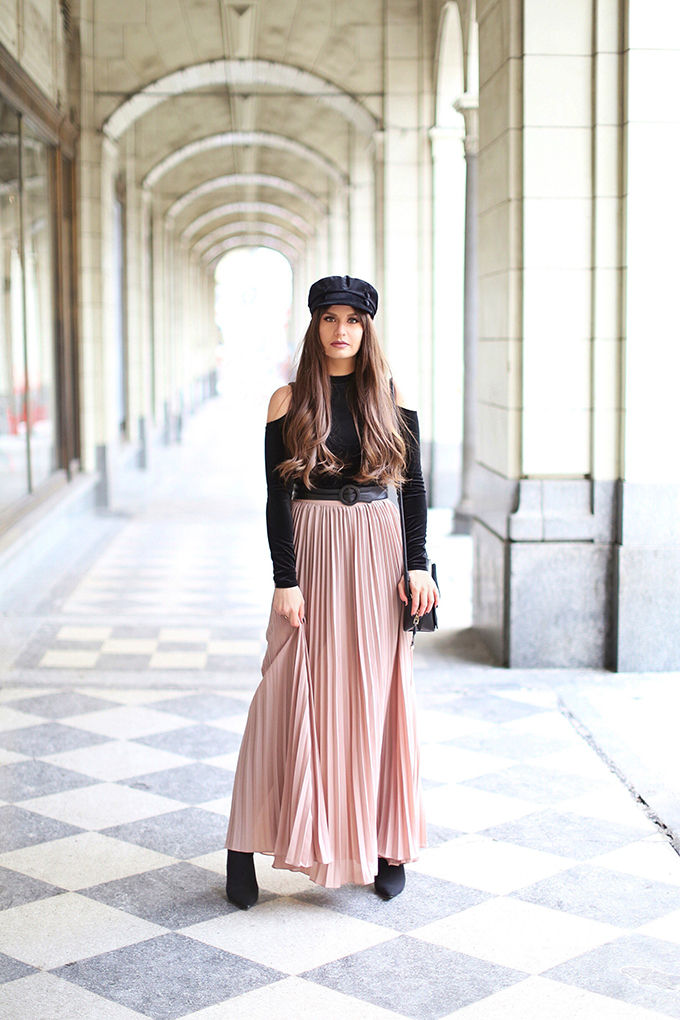 If you didn't jump on the velvet train last holiday season, it's time to hop aboard, girl! I own so many velvet pieces — everything from boots, bags, hats, mock neck tops and blazers. I actually wore this top here at JustineCelina last December, styled more casually. I love it so much that (you guessed it) I also picked it up in another colour! It's not a body suit, but it fits like a glove and I love to tuck it into higher waisted skirts, pants and denim. If you incorporate one new texture into your holiday looks this year, make it velvet! It's a versatile, sumptuous cold weather essential that adds a luxurious touch to any ensemble — I personally wear velvet from autumn through early spring. I've rounded up some similar black velvet tops for you below!

---
A Sleek, Black Cross Body Bag
---
As someone who attends a lot of events, I can't tell you know annoying it is to be carrying around a clutch when you're trying to hold a drink in one hand and a phone in the other! If your party is casual, I totally think a mini cross body bag is the way to go. It allows you to have access to both of your hands and keeps all your essentials tucked away!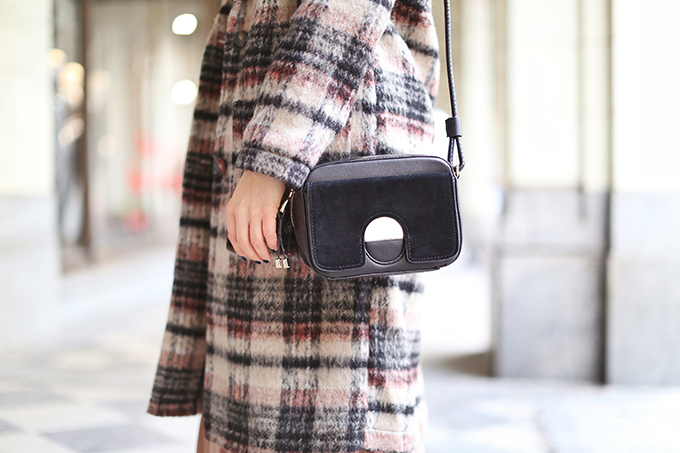 Mini bags have been on trend for the past couple of years and I've worn quite a few styles on these pages. I snagged this bag from Zara around this time last year (see it styled more casually here — and with a faux fur pom pom!) and it's still one of my go-tos. I love versatile bags that I can literally throw on with anything in my closet and this beautiful cross body bag from Zara combines functionality with on-trend circular and metallic details. Although this particular bag is no longer available, check out Zara's current offering of metallic detail cross body bags, or shop similar styles below.

---
Sock Boots
---
Ladies, if you purchase one pair of shoes this season, make it a pair of sock boots! Sock boots are the quintessential boot of AW17 and I'm so happy to have found this beautiful, versatile pair that I've had on heavy rotation since September (if you follow along with my Insta Stories, they probably look very familiar!).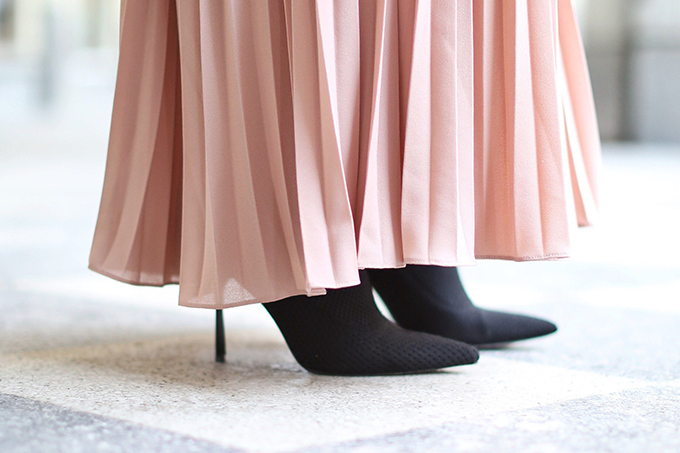 I've owned this pair since early autumn and I've put so many miles on them — you'll be seeing them styled tons of different ways this season. By far, these are my most worn boots of AW17! They're insanely comfortable (truly wear all day boots!), leg elongating and add a polished touch to just about any outfit you'll wear. They're also a fantastic dupe for the Balenciaga's that are nowhere near my price range — and they're amazingly comfortable!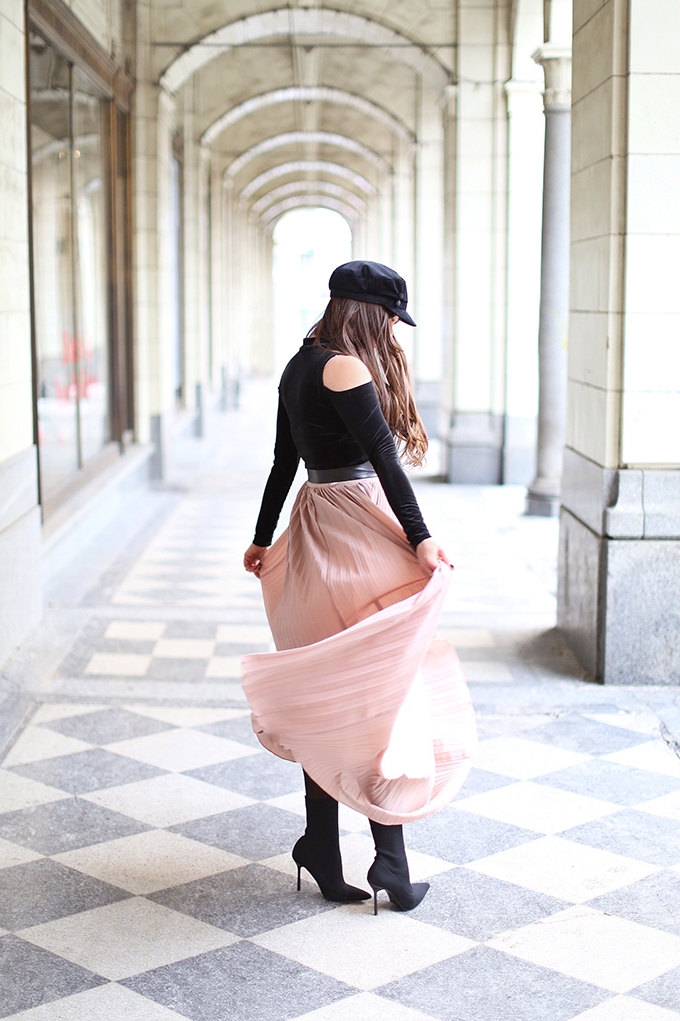 Although I can't find this exact pair online at Zara anymore, they've got some beautiful alternatives currently in stock. Over the last few months that I've owned mine, I haven't been able to find a pair I like better at any price point — I've said it many times here at JustineCelina, but I think Zara makes the best shoes you can buy for the money. I've been wearing these sock boots so often that I've been contemplating another pair in a different colour and fabric — but until then, expect to see this pair on my feet often! They're so easy to style and so flattering on the leg — I also love to wear them with cropped denim and shorter hemlines. Shop similar styles below!

---
A Longline, Checked Wool Coat
---
If you've been with me for awhile may remember this coat from last year — after lusting after it for a couple of months, I waited for a sale and snatched it up. And I'm so glad I did!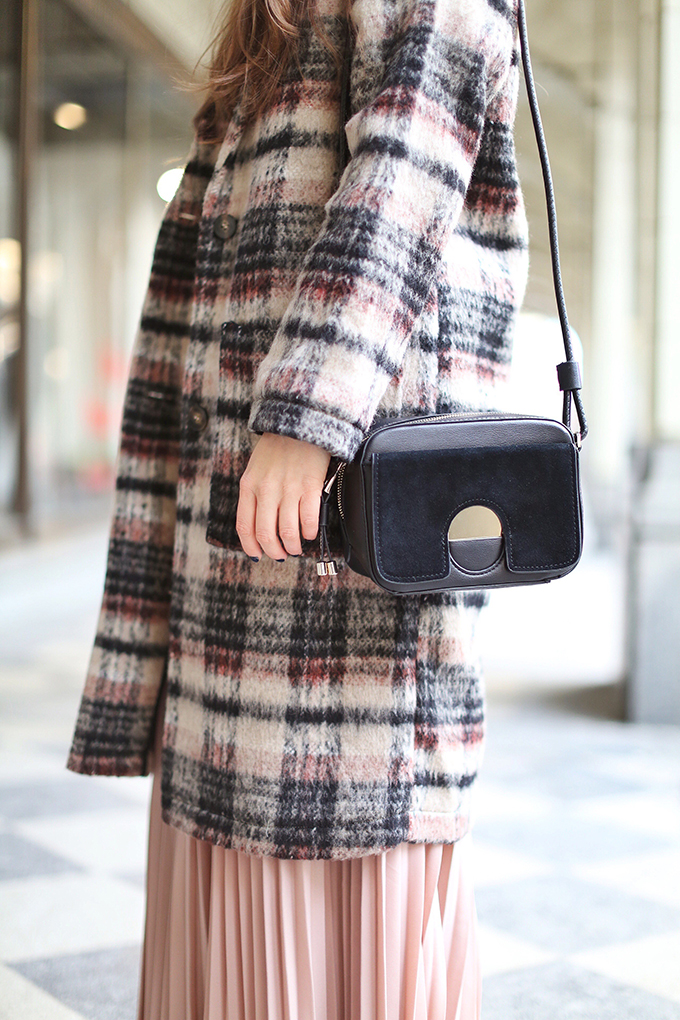 This longline, wool, checked coat from TopShop is one of my most worn pieces of outerwear year round and I get tons of compliments on it (just last night I threw it on over leggings and a sweatshirt with some sneakers to make a quick grocery run — unwashed bun and all — and actually had a few people ask about it!). This coat seriously goes with everything and with checks especially on trend this season, it's been getting a lot of love!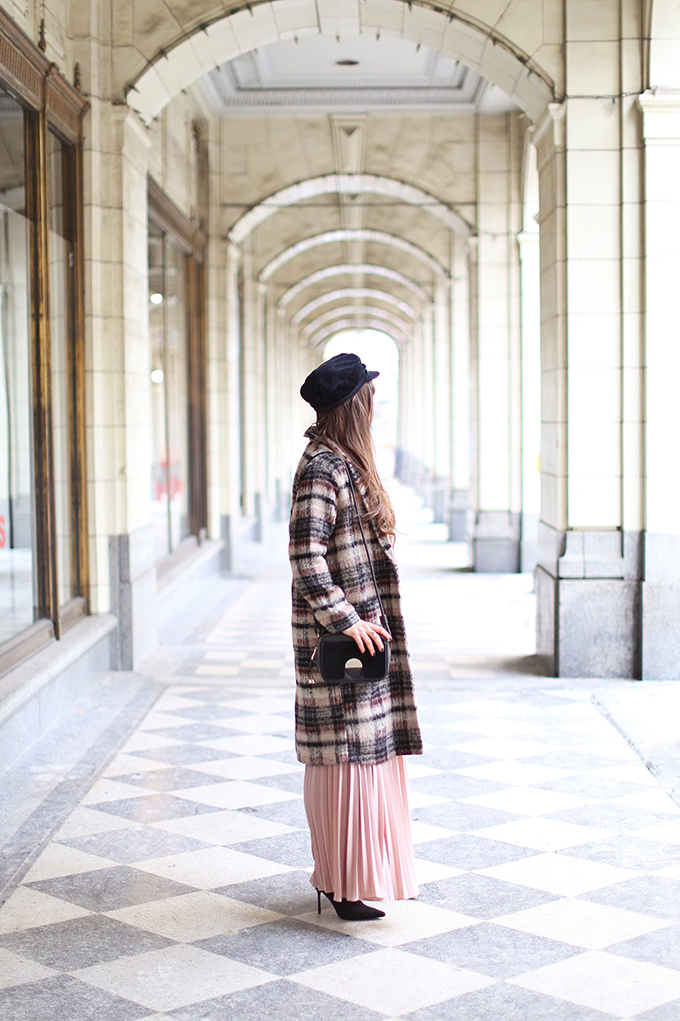 Incorporating a printed coat into your winter wardrobe is a great option for those who want to experiment with a print that you can't commit to in a top or bottom. Once you arrive at your destination you take your coat off, so you only have to wear the print outdoors! My checked coat is so versatile because has all my favourite winter colours in it — tan, navy, brown and black. It really ties together looks when I'm wearing both brown and black, and I love the way it pulls in the dusty blush tones of my skirt while contrasting the luxe fabrics I'm wearing. It also has a bit of a vintage vibe to it, which you know I love! If you already own a longline wool coat, try pairing it up with your maxi skirts and dresses to keep cozy enroute to your holiday parties this season. And if you don't but would like to, I've rounded up some similar alternatives for you below at different price points!

---
A New Lip Colour
---
What better time than the holidays to try something new in the BEAUTY department? If you've read JustineCelina for any length of time, you'll know how much I love my festive red lips for the holidays. But this year I've been attending a lot of restaurant openings and dinner parties, and let's face it — it's not very much fun to babysit a red lip all night! They're gorgeous, but man they're high maintenance. Definitely not my first choice for occasions when I'll be doing a lot of eating, drinking and being merry!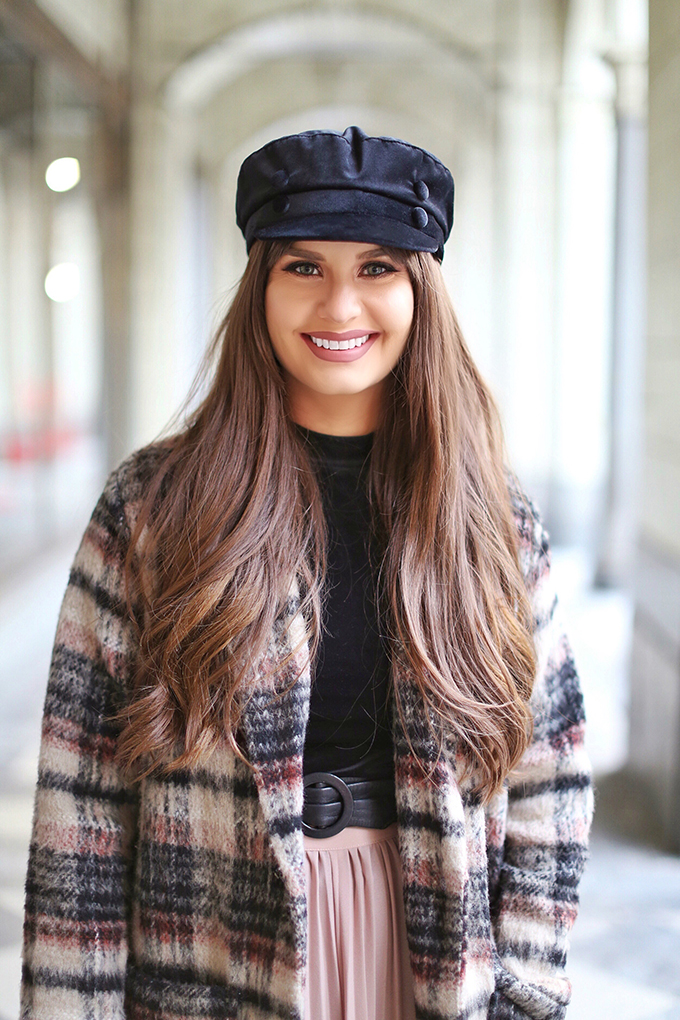 For this look I opted for a cool greige lip, which is definitely a bit out of my comfort zone as a warmed toned gal, but I actually love Huda Beauty's Venus! I knew I loved Huda's Liquid Lipstick formula, so I decided to take an unconventional shade for a spin this season. I get tons of compliments on this lip and it's really low maintenance — it stays put all night without drying my lips out! If you'd like to experiment with a greige lip for the holidays, I've included a couple of different ways to try for Huda's Beauty's Venus below.

---
SHOP THE LOOK
---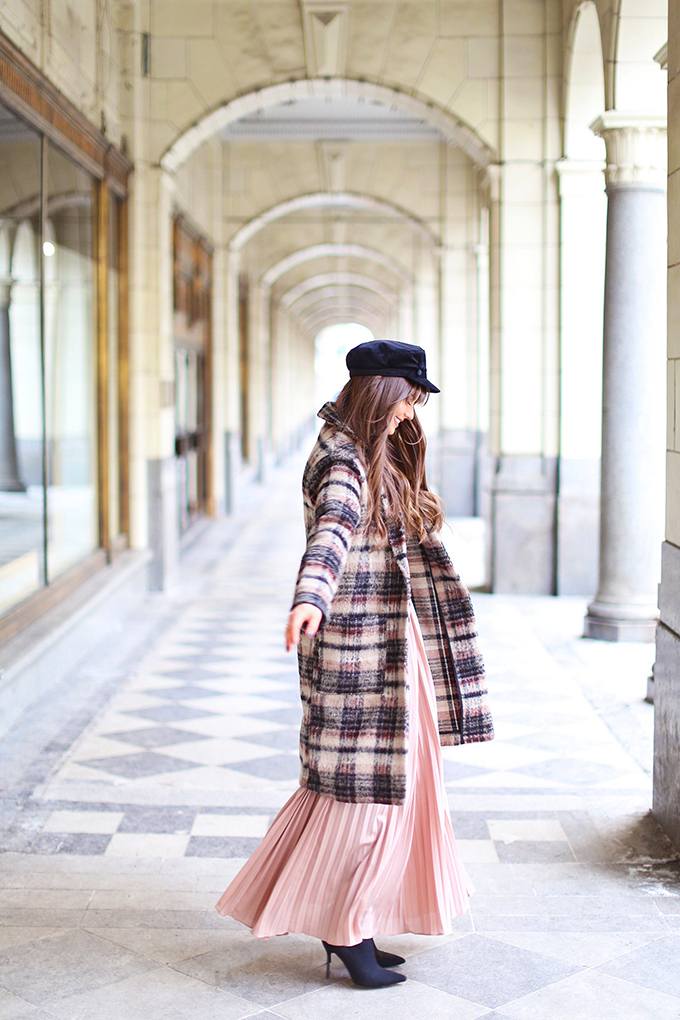 ---
MORE COLD WEATHER STYLE INSPIRATION
---
Autumn / Winter 2017 Trend Guide | Falling for Florals
Transitioning the Trends | Autumn to Winter
---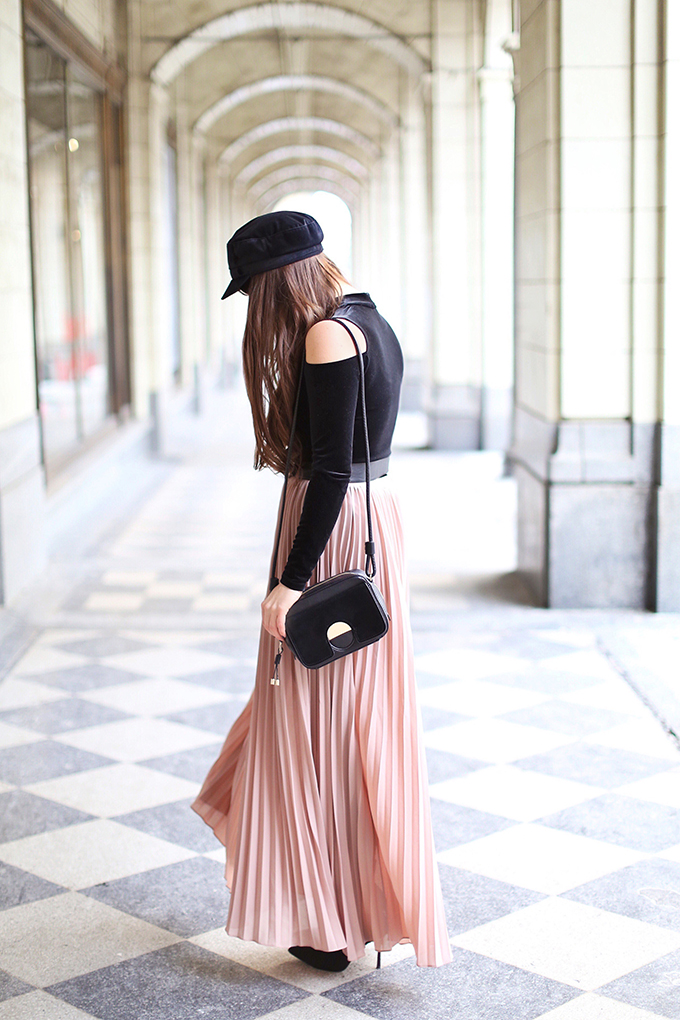 Are you attending any fun holiday parties this year? I hope you found these ideas helpful and they inspire you to get creative with your holiday ensembles! If you end up purchasing anything I mentioned today or have a question, just leave me a comment. Thanks for hanging out with me today friends — wishing you all a fun, festive and stylish holiday season!
---
Disclaimer: This post is not sponsored and contains my genuine thoughts, ideas and recommendations. JustineCelina uses affiliate and referral links, which allow me to receive a small commission when you make a purchase through one of my links. Thank you for supporting the brands and businesses that support JustineCelina.com!