---
In preparation for the holidays each year, I relish in the process of pouring over all the festive content I've created here at JustineCelina over the course of my blogging career to get inspired (now 30 posts and counting!). With each year that passes, it seems holiday content begins trending earlier than ever — so I thought it was the perfect time to compile this Ultimate Holiday Inspiration Roundup post, featuring a collection of my favourite holiday-themed posts across categories, for easy browsing reference! I'm committed to finding joy, continuing to create and make things beautiful, embracing new traditions and making new memories — and I hope I can inspire you to do the same. If you're looking for creative, fun and attainable ideas to inspire you to eat, drink, DIY, decorate, entertain, dress and glam in style this holiday season, you've come to the right place!
Whether you're in search of modern decor ideas, casual holiday-at-home outfit ideas, how to choose the perfect red lip, gift ideas for the ladies in your life, easy cocktails or plant-based festive recipes, simple DIY projects, flower arranging tips, or entertaining inspiration for 2 – 4, I've got you covered! You know the drill — put on your coziest robe, pour yourself a delicious glass of your favourite festive libation (may I suggest my Homemade Dairy Free Coconut Rum Eggnog?) and cozy up with me to celebrate the holidays JustineCelina style. Cheers to a happy, healthy and joyous holiday season!
---
ULTIMATE HOLIDAY INSPIRATION ROUNDUP
---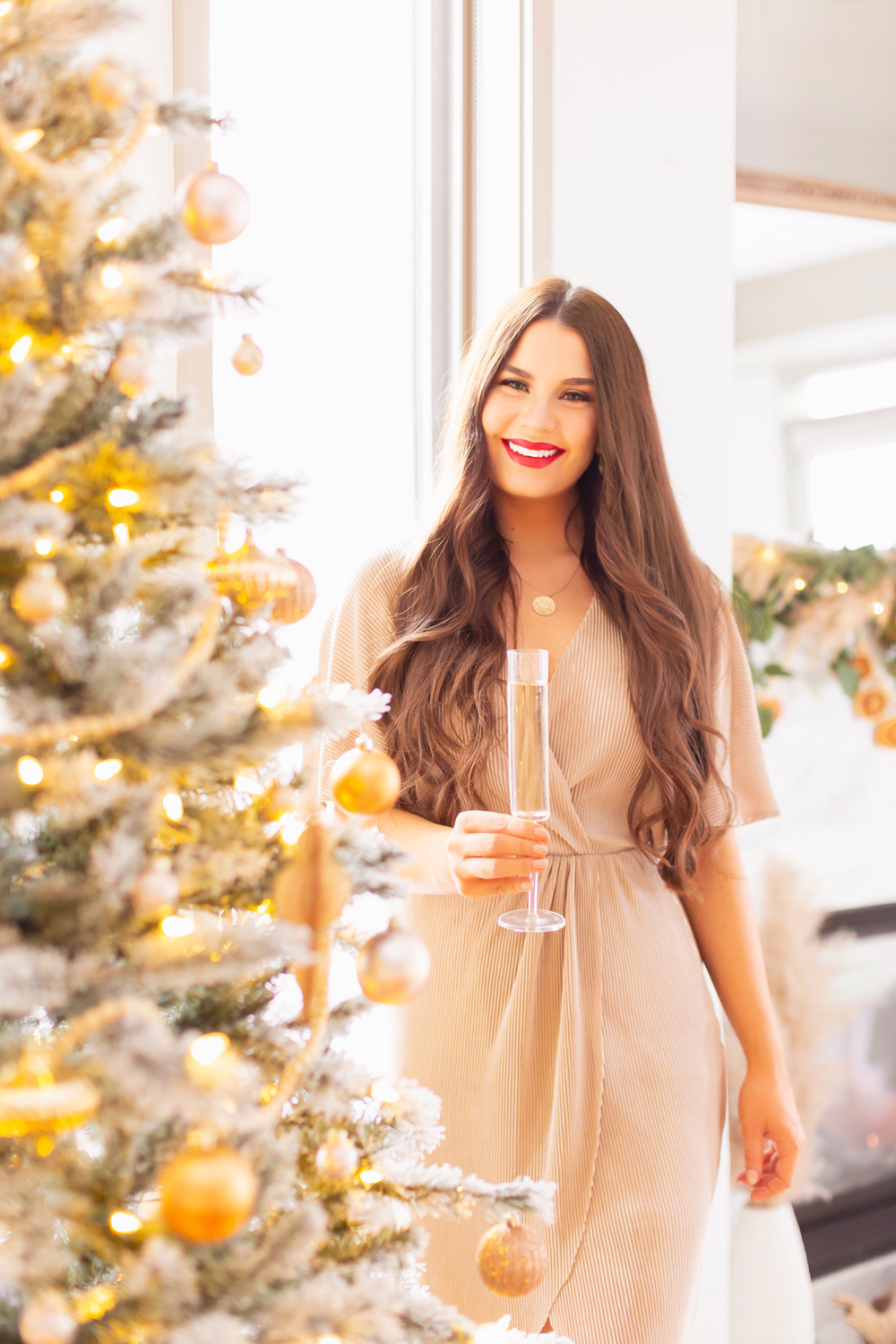 When I asked on Instagram if you were ready to start seeing holiday content in mid-November, I received a resounding yes! So, ahead our 2021 holiday content (which I'm so excited to share), I've updated this roundup to whet your holiday content appetite. This post featured my favourite festive inspiration from 2015 – 2020 — and these ideas, looks, products and projects have become holiday staples. I hope you enjoy my Ultimate Holiday Inspiration Roundup, which I've organized into categories for easy browsing!
---
DECOR
---

If you're an apartment dweller or a fan of mid century modern or more natural, earthy, bohemian elements, this post is for you. This post captures our first time decorating our recently refreshed living room with our first real Christmas tree — and all the realities of limited storage for decor!
Our holiday decor is comprised of lots of living greenery, warm neutrals, natural wood and stone textures, mixed metallic accents and free spirited, whimsical textures. It also incorporates a nod to vintage, mid-century inspired design while keeping a mixture of traditional and contemporary elements and cozy up the space with layers of faux fur, wool and chunky knits.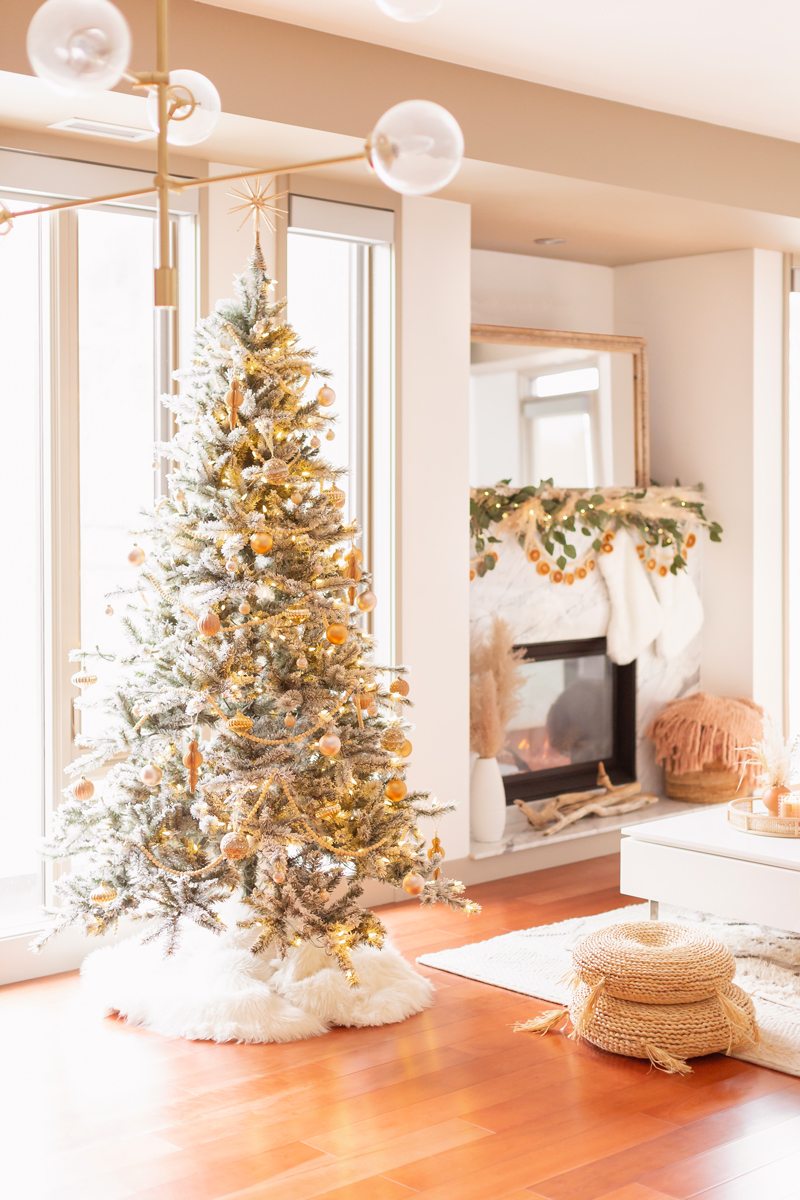 If you're looking for some holiday decorating ideas featuring a flocked artificial tree, pop over to my Mid Century Meets Boho Holiday Decor post! Even though it was just the two of us last Christmas, I knew I wanted to keep things fun, fresh and festive this holiday season. In fact, I think last year's holiday decor may just be my favourite yet! As always, I mixed high, low, old and new to infuse the apartment with Christmas spirit — and in this post I'm detailing exactly how I pulled it all together!
Whether you've been with me here at JustineCelina for years or have just recently joined (welcome!), you'll know I'm all about finding creative ways to make my favourite pieces feel fresh again — be it in my home or in your wardrobe. That said, I knew didn't want to rely on having to shop in person for our holiday tree this year. So, instead of purchasing fresh tree as we've done in years past, I decided to have some fun with it and ordered a flocked artificial tree — and I adore the effect! If you're in search of some creative holiday DIYs and boho Christmas decorating ideas, you've come to the right place — join me for a glass of bubbly as I share how I created a warm, modern and inviting holiday atmosphere in our home this season!
---
DIY
---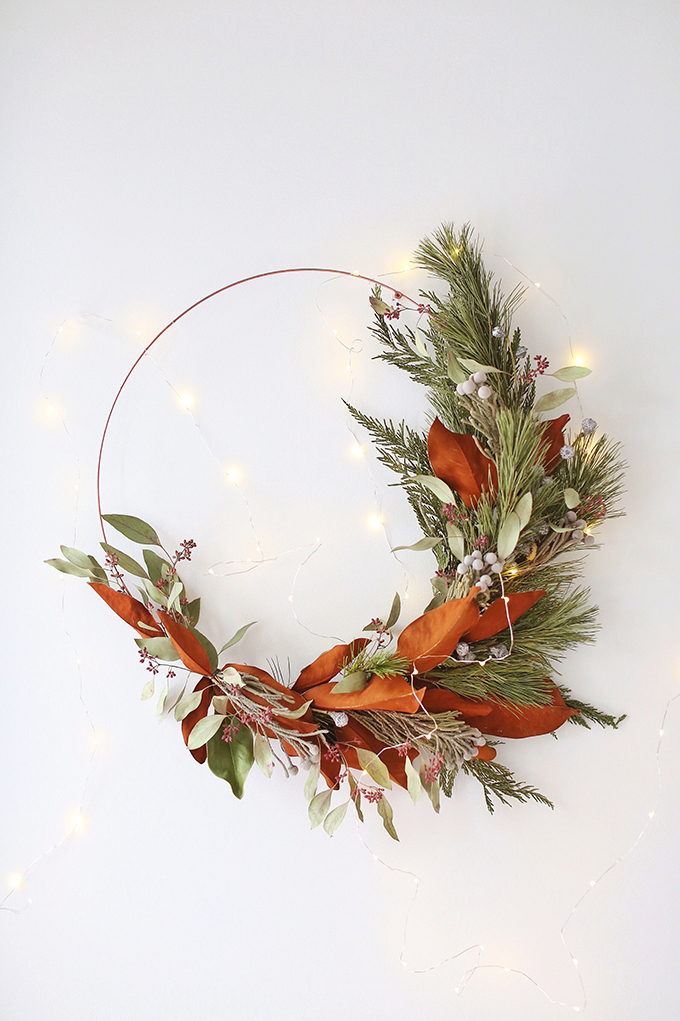 This post is one of my most popular during the holiday season after being featured on Style My Pretty Living (always such an honour!). I created this asymmetrical wreath at a workshop with Rebecca Dawn Design — and I shared the process in a details, step-by-step post if you're feeling crafty this holiday season (it's easy, I promise!). If you're looking for a simple DIY to add a festive touch to your minimalistic decor this holiday season, a fresh wreath is the perfect addition and can be completely customized to suit your aesthetic.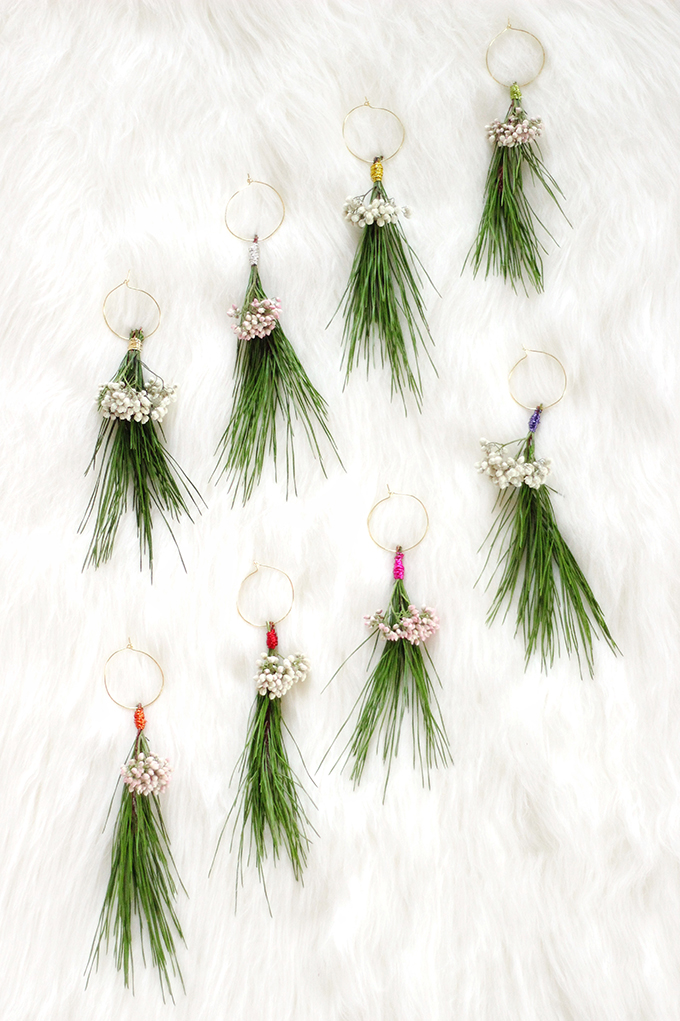 Hosting a New Years Eve or holiday party, and need a last minute idea to kick your decor up a notch? Add a thoughtful touch to your soirée with my DIY Mistletoe-Inspired Wine Charms! They're cute, easy and inexpensive to create — all you need is seasonal greenery and berries, hoop earrings and copper wire in various colours. The best part? You can make them in less than an hour, for about $20! These wine charms are a fun way to help guests keep track of their drinks at a cocktail party, and they can also take them home as a keepsake and dry them. And if you're hosting a New Years Eve Party, they may also come in handy at midnight!
---
FLOWERS
---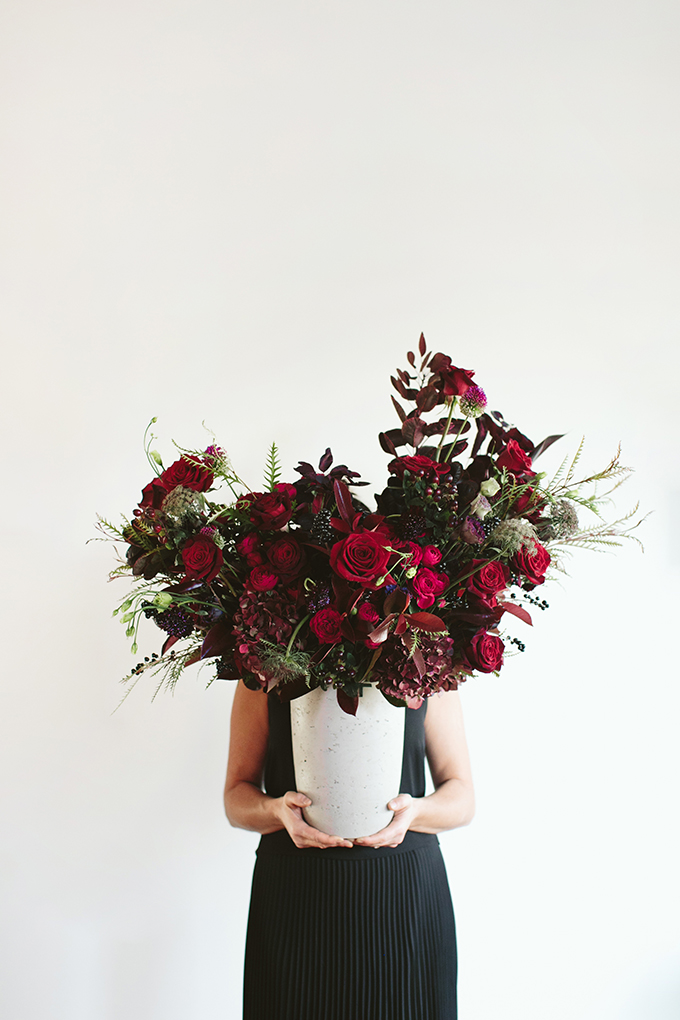 Whether you're creating your own centrepiece for a dinner party, searching for hostess gift ideas or looking for expert care tips to prolong the life of your holiday arrangement, you'll find inspiration in my Luxe Holiday Floral Inspiration post! I teamed up with the ultra talented Rebecca Dawn Design and Genevieve Renee Photographie to create a one-stop resource for your seasonal flower needs.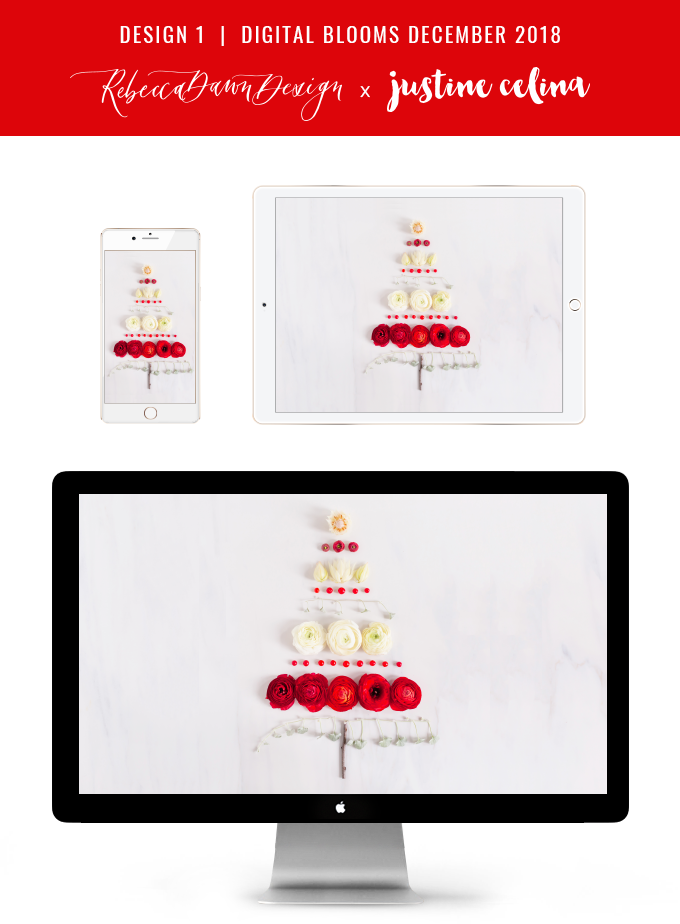 Be sure to visit our December Digital Bloom Archives to download one of 11 free, festive, floral Free Tech Wallpapers! These very merry editions of DIGITAL BLOOMS feature an array of florals, dried florals and foliage, greenery and berries designed to bring the holiday spirit to the background of your phone, tablet or desktop this holiday season!
---
ENTERTAIN
---

Although we typically love to have an apartment full of company eating, drinking and be merry during the holidays, I'm all about making this festive time of year as fun, stress free and healthy as possible — and that's what this post is all about! This Easy Holiday Entertaining Ideas post is complete with my best decor, styling, hosting, food and drink, fashion and beauty tips to create a festive and memorable evening for your household.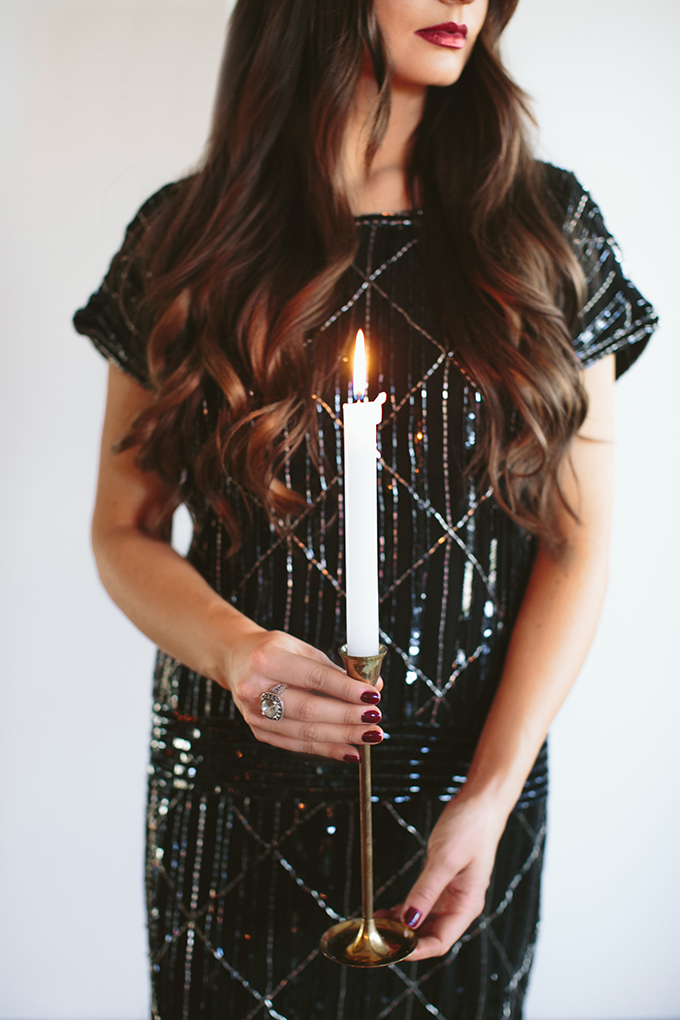 If you're hosting an intimate gathering for NYE this year, you'll find tons of luxe inspiration in this black-tie-with-a-twist inspired party to ring in the new year! This moody, luxe celebration is complete with dramatic florals and modern decor mixed with antique touches, indulgent accoutrements, Vanilla Pomegranate Mulled Wine and no shortage of bubbly. Rich, on-trend textures of velvet, agate and natural stone are layered with jewel tones, gold and antique brass to create a dramatic spread with contemporary flair. If you, too, are craving some drama this season, we invite you embrace your dark side this New Years Eve and celebrate in style!
---
FASHION
---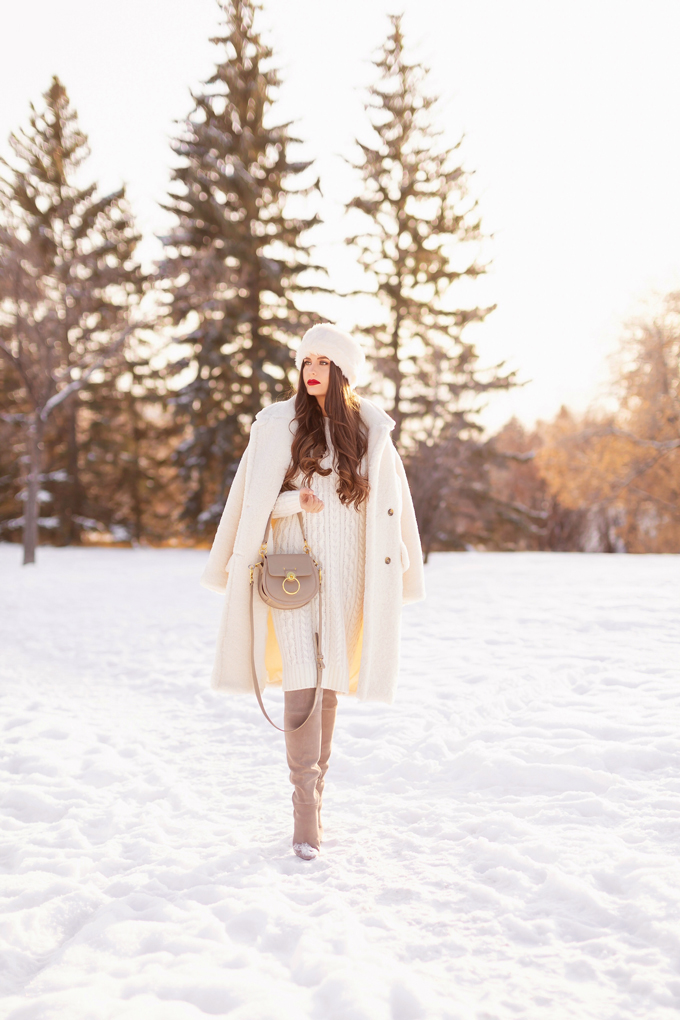 This this ultra cozy, luxe, monochromatic look is what I wore for last year's Christmas dinner in the country, where comfort and warmth are paramount. I'm all about being as comfortable as possible without sacrificing style during the holidays — and I share all my best tips to create polished, wearable and affordable outfits for this festive time of year!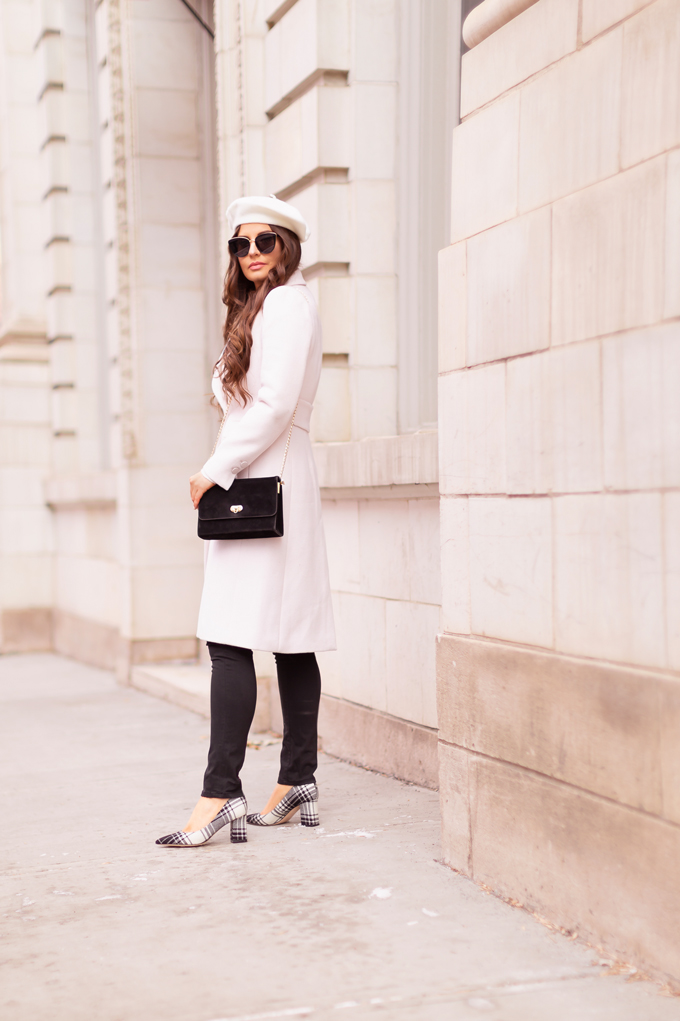 This tonal, monochromatic, and subtly festive look use this beautiful blush coat as my anchor piece! Join me for a crash course on how to accessorize your basics this holiday season to add festive flair to your looks.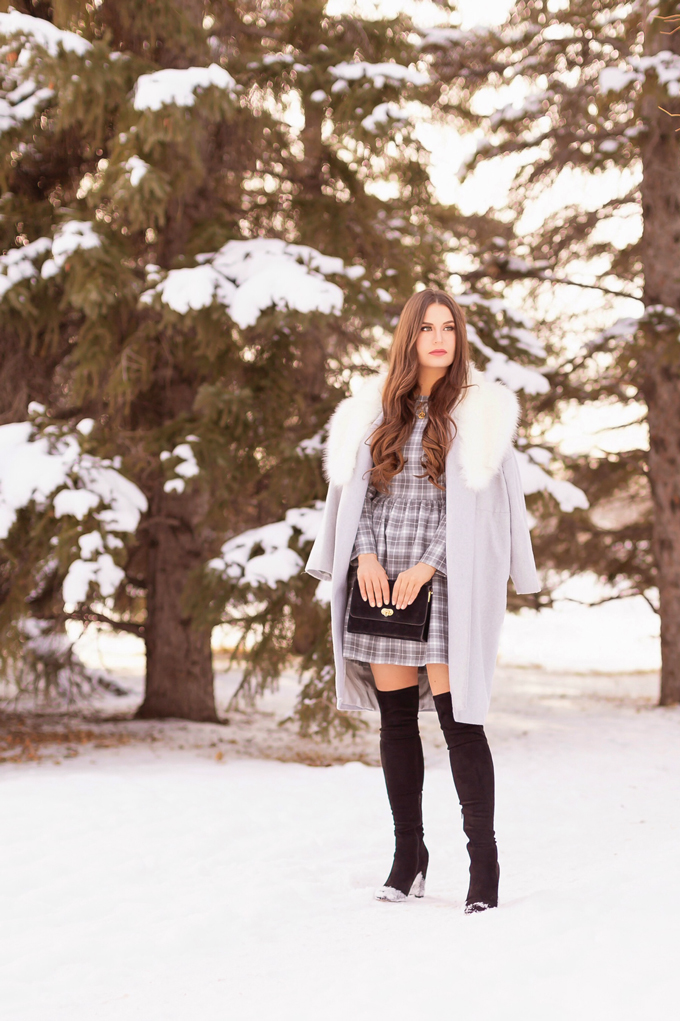 As winter approaches, I find myself drawn to more subdued, tonal palettes — which is definitely out of the ordinary for this colour lover! That said, I still love to experiment with shade, texture and pattern, especially when there's a lack of colour. Wool, faux fur, plaid, and suede all intermingle in this understated, festive look!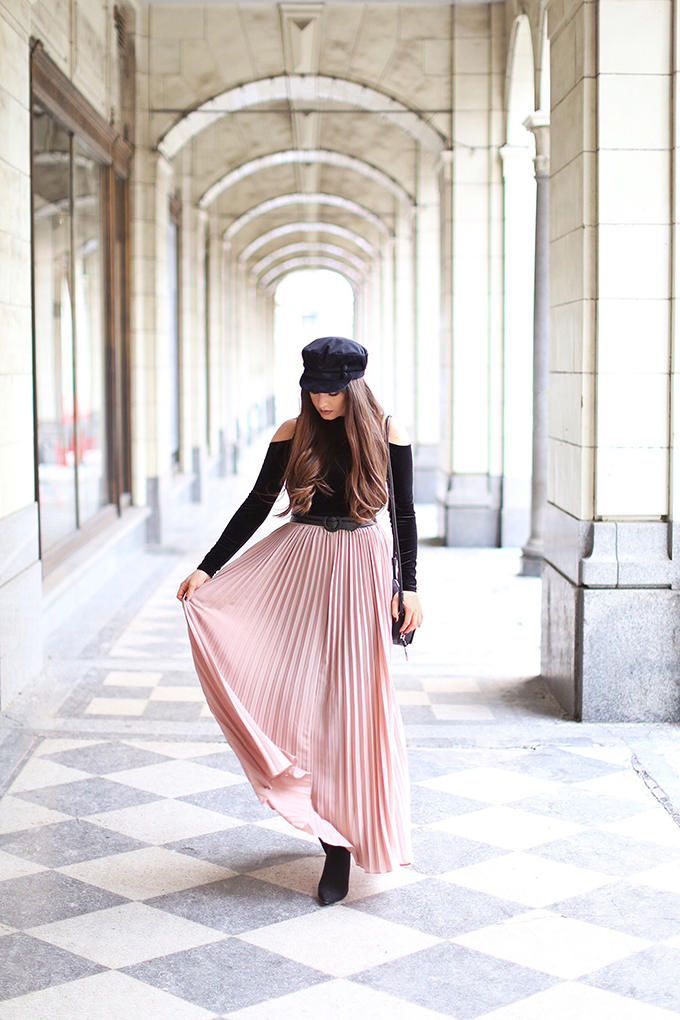 I'm all about comfortable, cool holiday looks remixing pieces from my existing wardrobe! If you're attending a laid back holiday celebration this year (ie: on Zoom!) and want to dress up a little without going full on glam (or buying an entirely new outfit), this post is for you!
Join me for some tips on how get creative and shop your closet for items, fabrics and patterns you may not necessarily think to wear during the holidays — including pleated maxi skirts, velvet, baker boy caps, cross body bags, sock boots, checks and wool coats. And if you are on the hunt for a few key pieces to refresh your winter staples, I've included tons of shoppable links for you at every price point!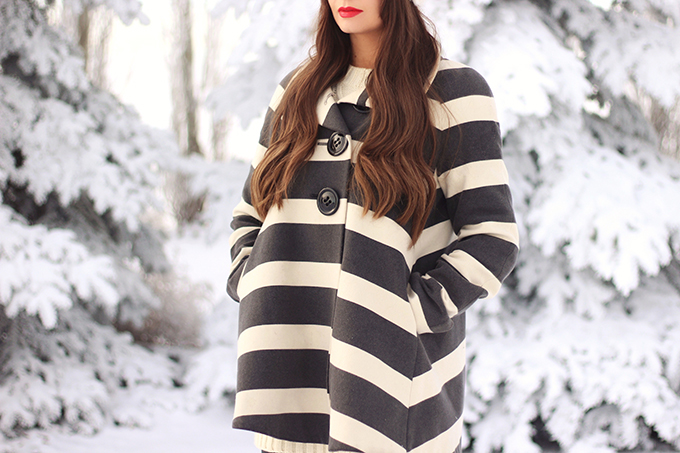 This post is 5 years old, but this look (and this coat) are still a go-to for me, featuring my favourite timeless pieces to wear during the holidays. While I love to get glammed up for holiday parties, this post is about those classic style staples that you can wear to casual get togethers and family dinners — occasions when you still want to look cute and festive, but be comfortable.

This is another go-to look for me over during the holiday season! If you follow along with my FASHION section, you'll know I'm a big fan of the statement coat — especially during the winter when your outerwear is your outfit. In this post I show you how to wear the military-inspired look where I've paired my statement coat with luxe winter accessories in a few of my favourite cold weather textures including faux fur and velvet. I truly believe a well constructed, military-inspired coat is a timeless piece and a fantastic addition to dress up any winter wardrobe!
---
BEAUTY
---

Red lip season is officially upon us — and as a self proclaimed red lip aficionado I'm thrilled to share my all time favourite, festive red lipsticks. These are the true gems of my collection that I look forward to pulling out each holiday season! After years of trying and testing an absurd amount of red lipsticks across an expansive range of shades, undertones, formulas and price points, I'm thrilled to share the absolute crème de la crème with you!
⠀⠀⠀⠀⠀⠀⠀⠀⠀
I've included a variety of products ranging from traditional, long wearing liquid lipsticks, to natural, vegan products to elegant, hybrid formulas. This dedicated review post in my recently introduced MY TOP 5 series is brimming with try-on photos, swatches and application tips — plus lip liner recommendations to pair with each shade to create a full, defined pout that can withstand all the eating, drinking and being merry you'll be doing this holiday season!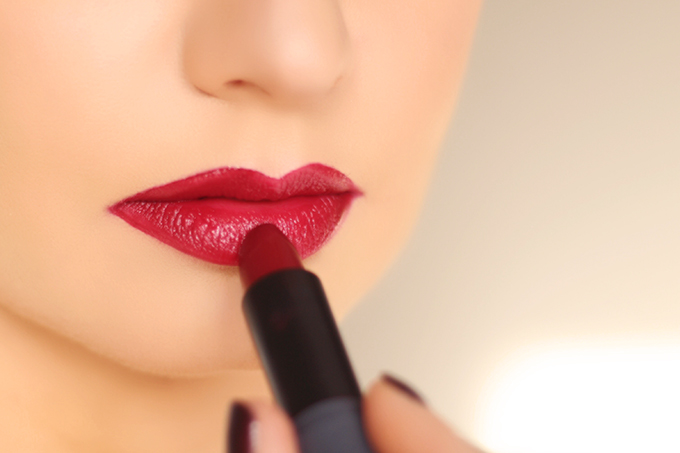 Whether you're a red lip connoisseur or you're still searching for your perfect shade, there's truly something for everyone in this post. I personally believe that a great red lipstick possesses some sort of magical power — anytime I swipe one of these shades on I instantly feel more confident, empowered and beautiful! I share my top red lip picks across categories and in a variety shades, finishes and formulas. If your lipstick game could use a festive touch this holiday season I've totally got you covered!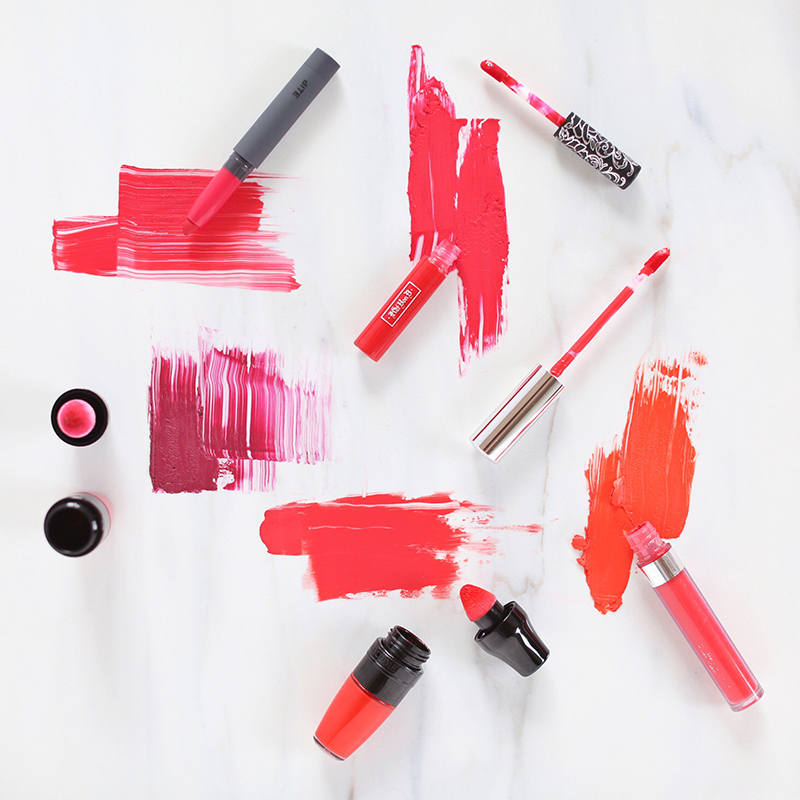 I've always been a fan of the red lip — and this season, rocking a red lip is an easy, budget friendly way to participate in one of Winter 2018's hottest trends without committing to a garment or accessory. I've created the ultimate guide to finding your perfect red lip where I share 5 fantastic red lipsticks in every shade, formula and price point — there's something for everyone (including a natural option and a cruelty free option)! I truly believe every woman should have a red lipstick that flatters her colouring and makes her feel beautiful — and I'm here to help! Come take a seat at my vanity as I break down my favourite formulas, hues and undertones for different skintones — along with and everything else you've ever wanted to know about finding a red lipstick that makes you feel like a million!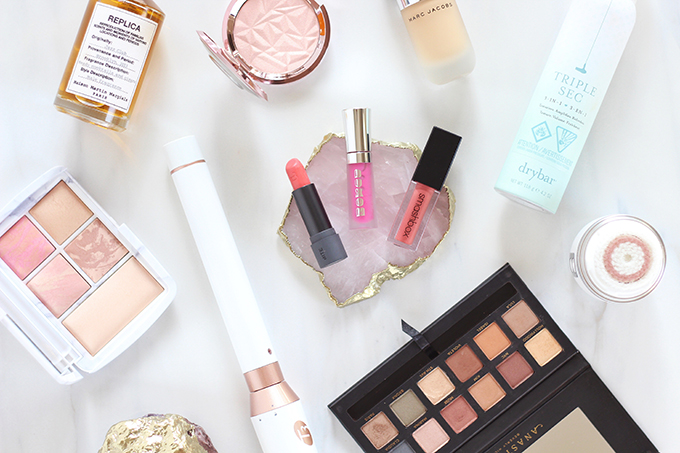 Whenever I'm chatting beauty with someone, the most common question I'm asked what my favourite high end products are from different categories! So, I created a post that my readers, friends and family members can use as their ultimate resource to inform their luxury beauty purchases. This is a comprehensive guide of my all-time-favourite Luxury Products Worth the Splurge — the ones in my stash that I couldn't live without, have repurchased multiple times, use frequently on others, or that have completely wowed me! This mega post is organized into categories to highlight the best-of-the best products in every part of my routine — including skincare, haircare and of course, tons of beauty favourites. Want to upgrade your beauty regime? Looking for some early holiday gifting ideas? Taking advantage of annual sales? My friends, this post is for you!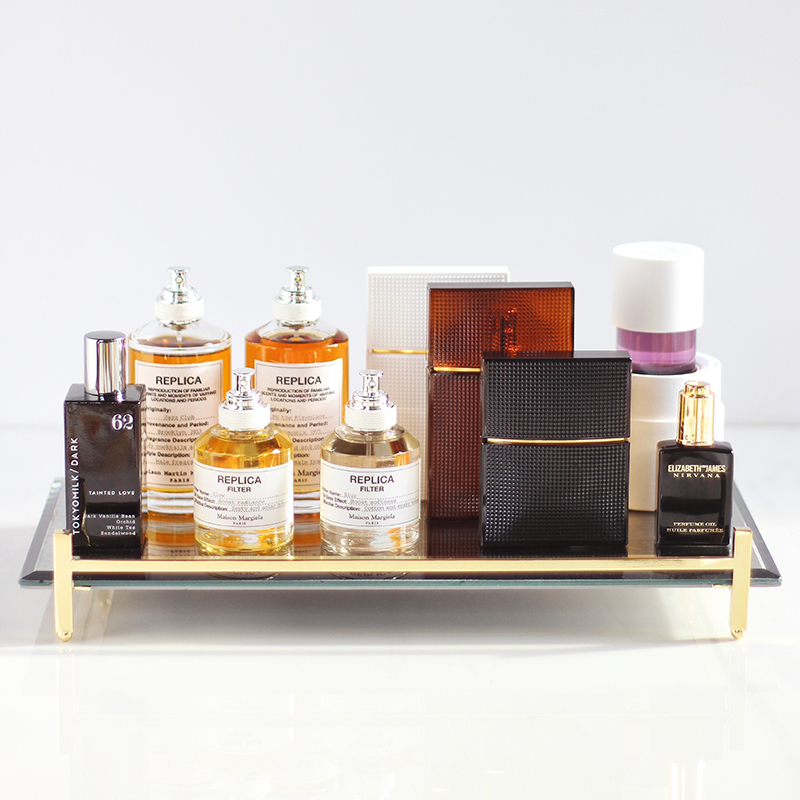 In this post, I share my all-time-favourite cool weather fragrances — you know, the ones that pair well with cozy sweaters, red wine and a toasty fireplace? Like fashion, beauty and food, I also transition my fragrance along with the seasons. My favourite cool weather fragrances are deep, comforting and warm. Many of my choices are unisex, so you can share them with your partner (what's sexier than that?), or keep them all to yourself. Dive into my comprehensive guide to ten of-the-moment fragrances, including holiday gift ideas!

The holidays are the best time of year for beauty lovers — and I'm combined all my holiday beauty recommendations into one mega post to help inform all your holiday beauty purchases! Whether you're doing a little pre-holiday shopping for yourself (hey, I'm not here to judge!) or choosing to give the gift of beauty this holiday season, my Holiday Gift Guide for Beauty Lovers is for you! This comprehensive guide for the beauty obsessed is an overarching look at my favourite holiday-exclusive products and value packed offerings across categories.
---
LIBATIONS
---

Is it even the holidays without eggnog?! My Homemade Dairy Free Coconut Rum Eggnog is a festive holiday beverage that's been in my family for decades, but has recently undergone a contemporary, plant-based makeover! I have so many cherished memories of our neighbours making this eggnog for everyone on our country road to enjoy on Christmas Eve (it never lasted long!). Unfortunately, over the years as I developed a dairy intolerance I was no longer able indulge — that is, until 2018!
I decided it was about time to give my favourite eggnog recipe a clean, dairy-free makeover by swapping milk and heavy creams with coconut-based alternatives, regular eggs for the free-run, local, farm-fresh variety, table sugar with 100% pure Canadian maple syrup, spiced rum for Eau Claire Distillery's seasonal, Limited Edition Gin Rummy, infusing our homemade eggnog with cinnamon sticks and topping it off with decedent dark chocolate shavings. As always, this festive cocktail is free of dairy, gluten and refined sugar — and has become my favourite healthier holiday indulgence!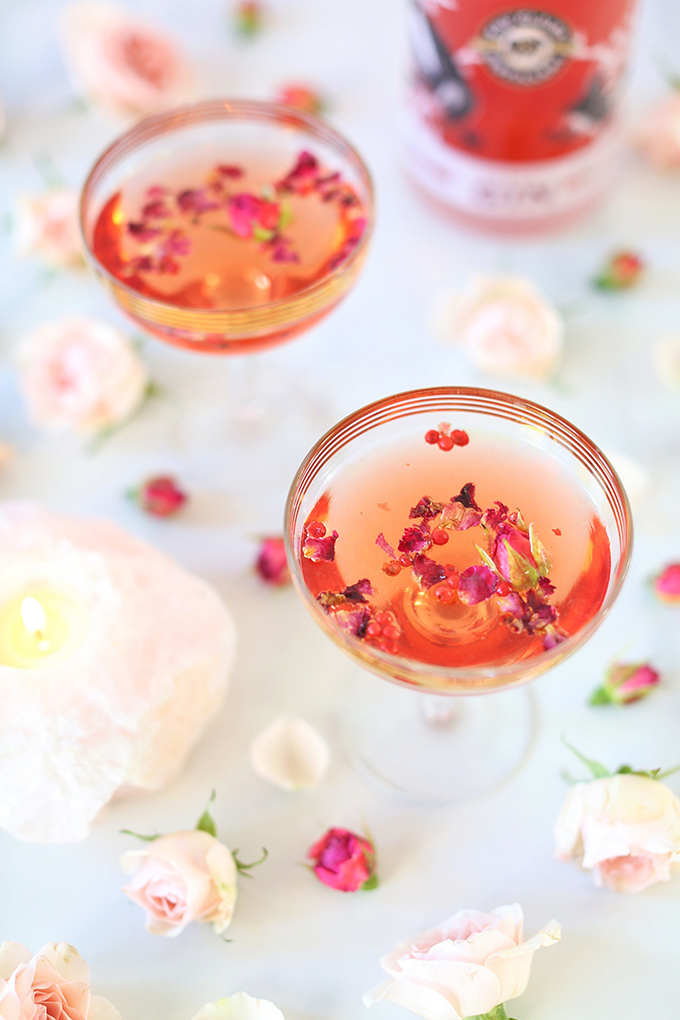 This festive, feminine, fruity and lightly floral cocktail combines Eau Claire's stunning Cherry Gin with my favourite Prosecco, a splash of fresh lemon juice and a Rose & Pink Peppercorn Infused Honey Simple Syrup for a contemporary spin on the classic French 75. My Rose Infused Cherry Gin Fizz is a beautiful addition to your holiday menu, but can be enjoyed anytime you want to indulge in a gourmet craft cocktail at home! As always, it's free of dairy, gluten and refined sugar — and bursting with fruity flavours, floral undertones, unique botanicals and a refreshing effervescence.

My Violette Noir Berry Sangria is a dramatic, berry-infused libation where bold, luscious flavours of raspberry-laden Chambord, floral Crème de Violette, juicy blackberry and a fresh kiss of citrus intertwine over an elegant Pinot Noir backdrop. This sophisticated, Parisian-inspired spin on traditional red sangria is as intricate as it is accessible — seducing both wine lovers and skeptics with each delicious, antioxidant-rich sip. It's the ideal accompaniment to festive cocktail parties, formal occasions, holiday dinners or anytime you're craving a refined, wine-based bracer to delight and surprise even the most discerning of palettes!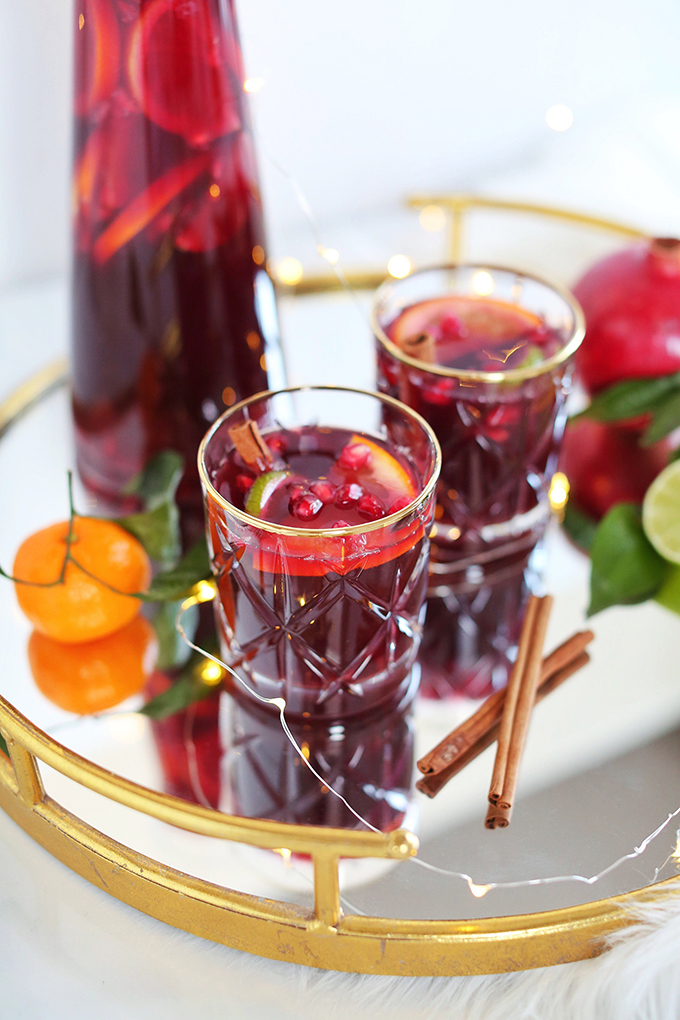 This is the my original sangria recipe — the one that inspired all the others here at JustineCelina, but surprisingly just made it's debut here on the blog last year! It's a quintessential red sangria, marrying fruity zinfandel and apricot brandy with festive, seasonal flavours of satsuma, lime, lemon, pomegranate and a hint of cozy cinnamon. This is my absolute favourite holiday beverage to serve, whether we're hosting or attending a party!

The perfect accompaniment to holiday brunch, my stowstopping Blood Orange Creamsicle Mimosas are made with just 3 ingredients! These elegant cocktails combine vibrant, freshly squeezed blood orange juice and Spanish Cava with a hit of creamy vanilla liqueur for an elevated, seasonal twist on the classic mimosa! Enjoy them over brunch, après dinner, during a candlelit bath or anytime you want to indulge in the beautiful flavour of blood oranges complimented by a healthy dose of bubbles.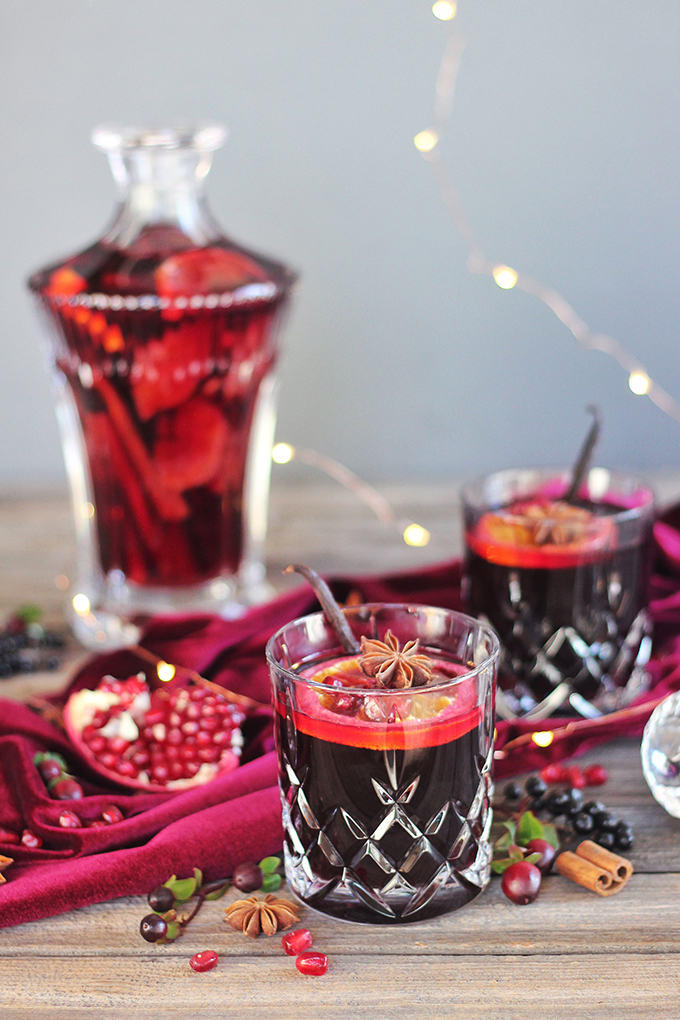 Recently featured in Country Living's 25 Easy Mulled Wine Recipes to Warm You Up This Fall and Redbook's 11 Fall Drinks that will Warm You Right Up roundups this sophisticated twist on a classic is sure to leave you feeling all warm and fuzzy. Luxurious flavours of pomegranate and vanilla mix and mingle with robust Zinfandel, clementines, honey, cloves, star anise and a touch of nutmeg to warm you from the inside out!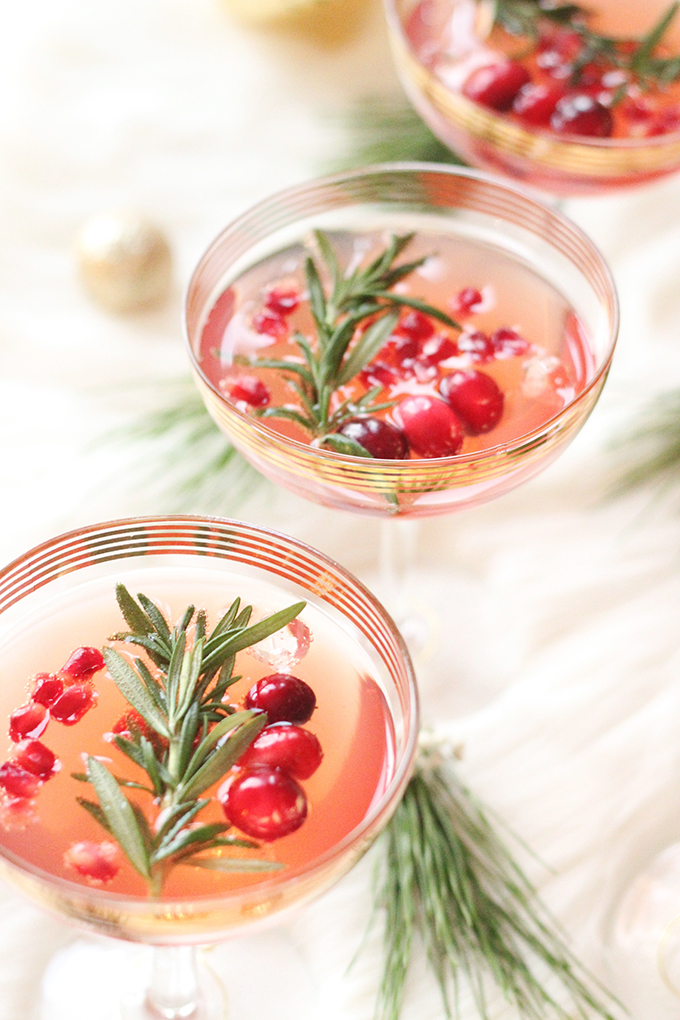 Traditional sangria gets a luxurious makeover in my Sparkling Pomegranate Cranberry Sangria — I'm swapping wine for bubbles and infusing the recipe with flavours of pomegranate, cranberry, orange, and ginger, plus a healthy splash of Grand Marnier to send it over the top. It's been featured in Brit + Co's 14 Herbaceous Cocktails Full of Fall Flavors and You'll Want These 21 Signature Cocktails at Your Fall Wedding roundups— and was in fact one lovely couple's signature wedding cocktail.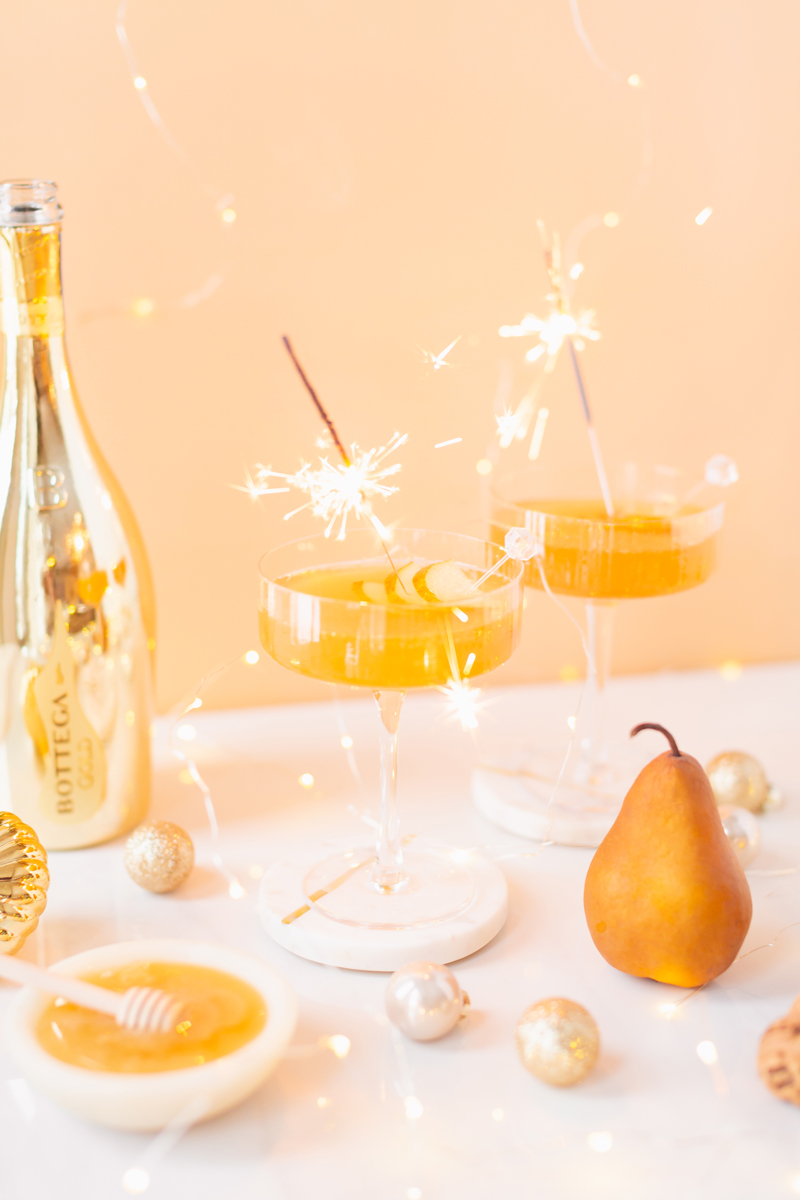 If you're looking for the ultimate New Years Eve cocktail, you'll find it in my Gilded Vanilla Pear Sparkler — a glitzy, French 75 inspired sparkling cocktail nuanced with an elegant seasonal flavour profile and premium ingredients (including Eau Claire Distillery's 24 karat gold infused Christmas Gin!). I invite you to put your best suit or dress on, dust off your crystal and toast the year's departure with me in style!
Inspired by all things glittering and gold, Eau Claire Distillery's Limited Edition Christmas Gin combines with Brut Prosecco, Italian vanilla liqueur, bright lemon juice and a stunning Honeyed Vanilla Pear Syrup where Bosc pears are poached in decadent Canadian honey alongside Tahitian vanilla extract. The result is an opulent, gold infused winter cocktail that's equal parts creamy, crisp and refreshing — and it couldn't be easier to mix up at home!
---
EATS
---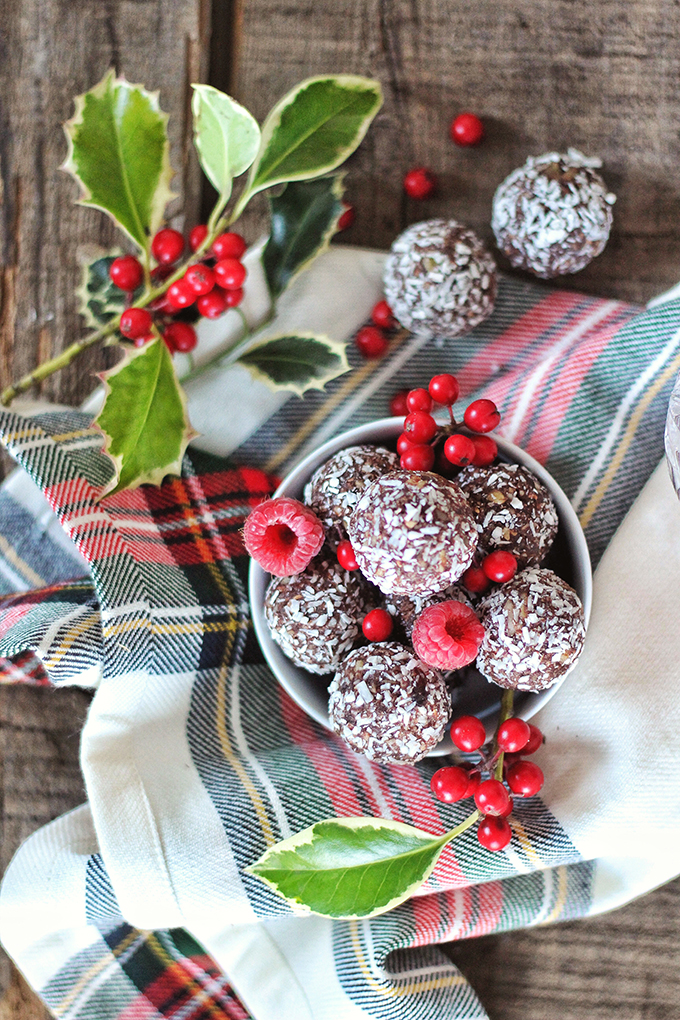 Put a whole food spin on traditional holiday sweets with my Dark Chocolate Raspberry Energy Bites. These are my kind of treats — the ones you feel really good about indulging in (sometimes I even have them with my morning coffee!). Next time you're looking for a quick, no-bake, holiday party treat give this healthier alternative to traditional holiday truffles or rich, chocolate-based desserts a try. They're also vegan and free of gluten and refined sugar — perfect for parties where guests have food sensitivities and allergies. You can whip these festive little bites up in just 10 minutes, and keep them on-hand for last-minute guests, holiday gatherings, or all for yourself!

This is a classic holiday recipe in our family over the holidays! Do you have a plant based eater or vegan attending your dinner party this season, but have absolutely no idea what to feed them?! Eat the rainbow and fuel up on the good stuff during this indulgent time of year — a powerhouse mélange of apples, mandarin oranges, brussel sprouts, shredded beets, roasted acorn squash, toasted walnuts and a tangy Cranberry Dijon Vinaigrette comprise this nourishing holiday salad. It also keeps very well in the fridge for a few days (it's best the next day, actually!).
---
PIN MY ULTIMATE HOLIDAY INSPIRATION ROUNDUP FOR EASY REFERENCE
---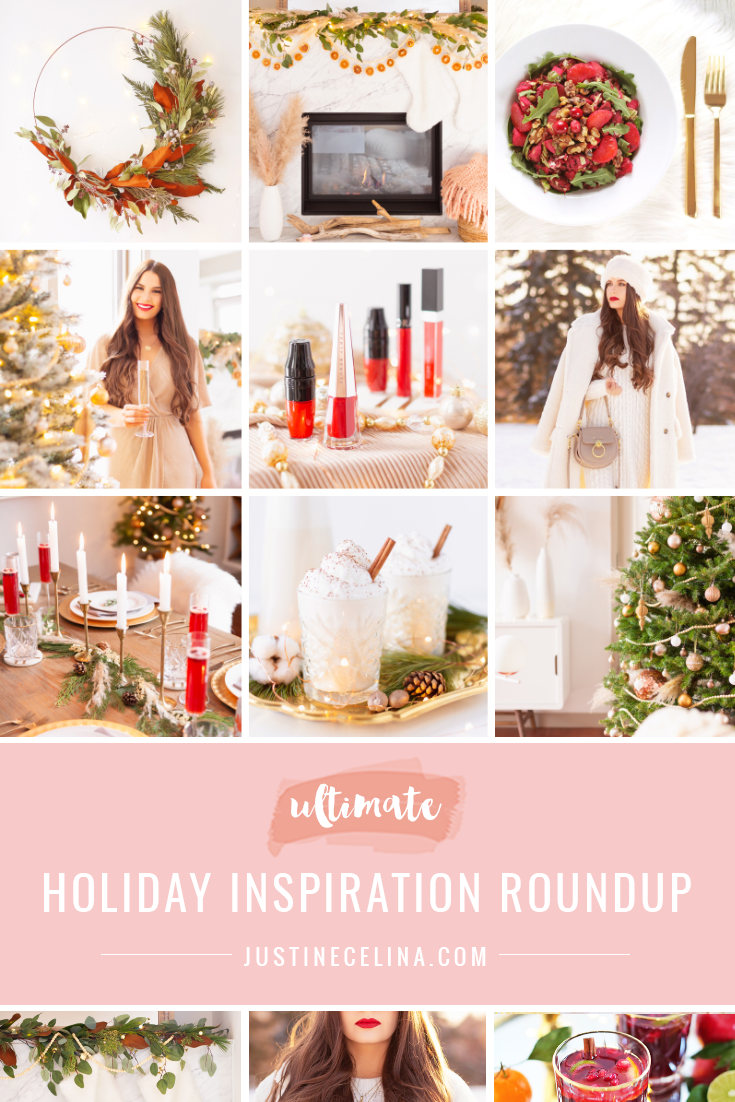 ---
Thanks for stopping by for my Ultimate Holiday Inspiration Roundup, beautiful people! I hope this collection of my favourite festive content was helpful. As always, if you try one of my ideas, recipes, or pick up something that I've recommended please let me know how it worked out for you — I absolutely love your feedback!
If you prefer to keep your holiday inspiration organized via Pinterest, I've pinned all of these ideas to my JustineCelina Holiday Board as well. I have so many festive ideas I can't wait to share with you this season — so check back often for fresh inspiration. Wishing you all a beautiful holiday season ahead!
---
Disclaimer: This post is not sponsored, and contains my genuine thoughts, ideas and recommendations. JustineCelina uses affiliate and referral links, which allow me to receive a small commission when you make a purchase through one of my links. Thank you for supporting the brands and businesses that support JustineCelina.com!