---
We're deep into autumn here in Calgary and I'm back to share what I've been wearing in this 6 outfit Autumn 2019 Lookbook! Over the past couple of months we've been working on capturing style content more seamlessly in our day-to-day lives, popping out to shoot what I'm wearing whenever (and wherever) we have a couple of free hours — and it's been working out well! In September I also experimented with publishing a 6 outfit LOOKBOOK  to celebrate the transition of summer to autumn (my favourite time of year!) and I really enjoyed that process. Although I committed to producing one, 12 outfit seasonal LOOKBOOK here at JustineCelina at the beginning of the year, I find that the weather changes so quickly (and drastically) here in Calgary it can be a completely different season from the time I start working on a 12 outfit LOOKBOOK to the time I actually publish it (they're at least a month in the making!). So, for the remainder of the year, I'm excited to announce I'll be producing 6 outfit LOOKBOOKS with quicker turn around times, to more accurately depict what I'm wearing for each micro-season!
My Autumn 2019 Lookbook features 6 of my favourite fall looks that have carried me from chinooks through snow storms in style! Autumn weather in Calgary is extremely erratic — and over the years I've actually really come to enjoy the challenge of dressing for it. As always, you can expect a mash-up of high, low, old, new and vintage in my Autumn 2019 Lookbook — plus my take on this season's hottest trends, colours, patterns and silhouettes adapted to both personal and professional settings. Just ahead of Black Friday and Cyber Week sales, this LOOKBOOK is complete with tons of shoppable links at every price point, along with my best tips and sources to curate accessible style at a fraction of traditional retail. You know the drill — pour yourself a cozy glass of wine or snuggle up in front of the fireplace with a cup of tea and let's chat about styling autumnal FASHION for unpredictable northern climates!

---
AUTUMN 2019 LOOKBOOK
---
I've mentioned previously that fall is my absolutely favourite time for FASHION — and this year, I'm excited to share more autumnal style inspiration with you than ever before!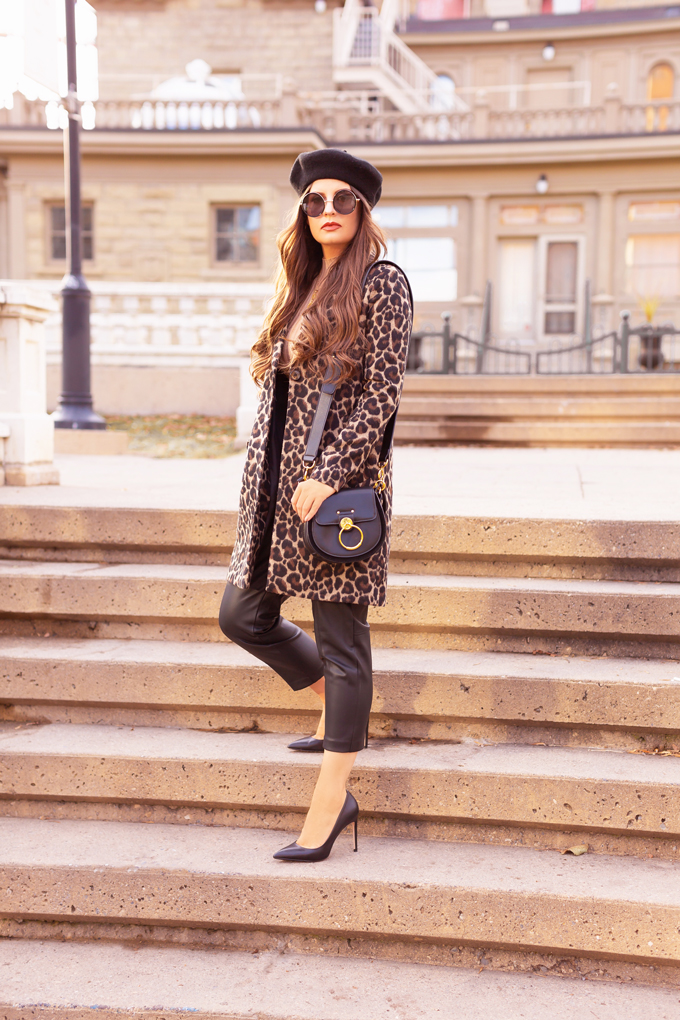 This Autumn 2019 Lookbook follows the same format as my Transitional Summer to Fall 2019 Lookbook — it's not divided into categories as my 12 outfits LOOKBOOKS are, but each outfit is sectioned off with titles for easy browsing. I've also integrated some styling tips to make each of these looks appropriate for cooler weather. I'm so excited to share what I've been wearing with you this autumn!
---
EQUESTRIAN INFLUENCE
---
This look combines all of my sartorial fall favourites — corduroy, cozy knits, paisley and leather, set in a warm, autumnal palette heavily influenced by the Pantone AW19/20 Fashion Colour Trend Report.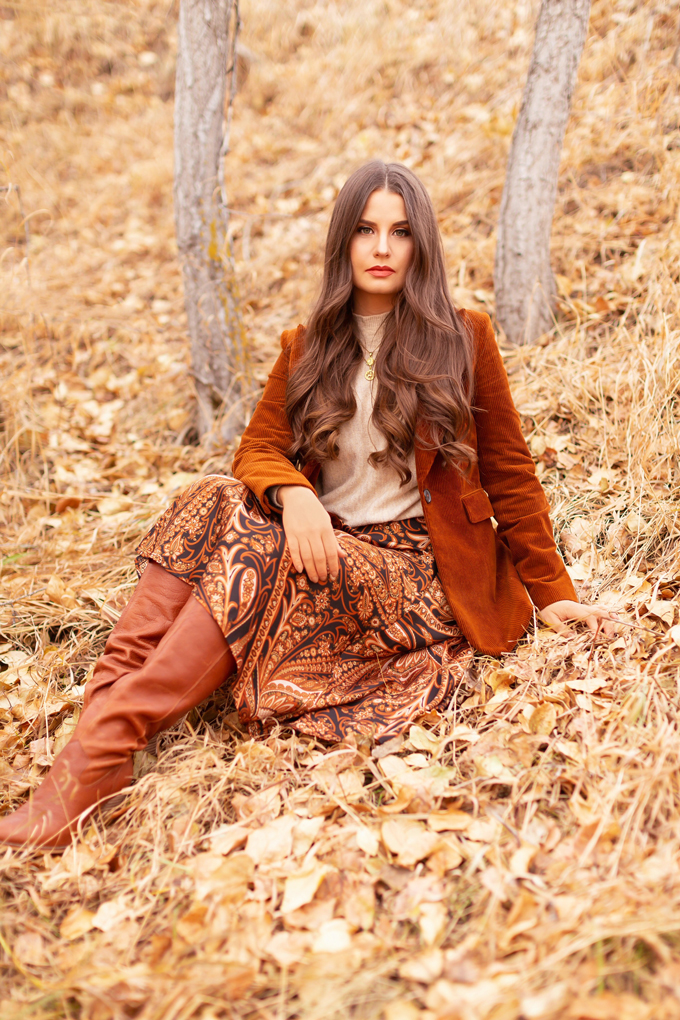 Remember when I mentioned that I went a bit crazy with the H&M x Richard Allen Collection — and you'd be seeing it trickle into my STYLE content for years to come? This dreamy, paisley circle skirt is another piece from the collection that I'm so happy to have. As someone who's always been a fan of this vintage inspired print (in fact, I even dedicated a post in my PATTERN PLAY series to it!), I'm elated that paisley is here to stay for AW19.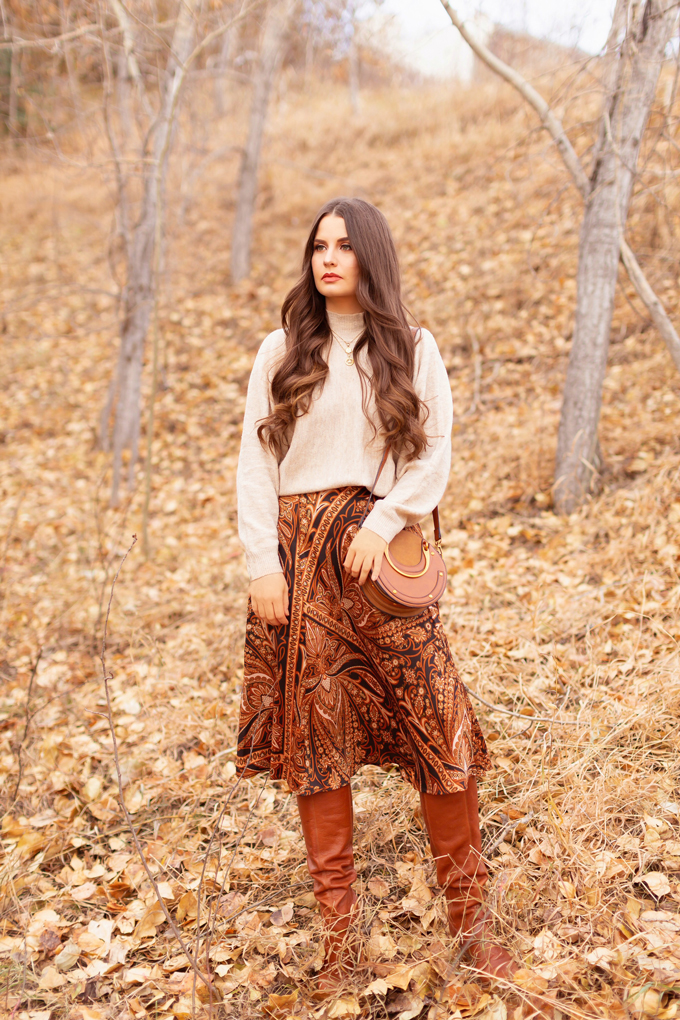 Using this quintessentially autumn, vintage inspired skirt as my anchor piece, I created an equestrian-inspired look featuring some of my favourite fall staples. I'm cozied up in H&M's ultra soft Fine Knit Sweater in Beige (the shorter version of the one I wore in my Casual Fall Style Staples post and own in every colour!), with a cognac corduroy blazer layered over top (it was a Zara sale find at the beginning of this year, but I've linked similar options below).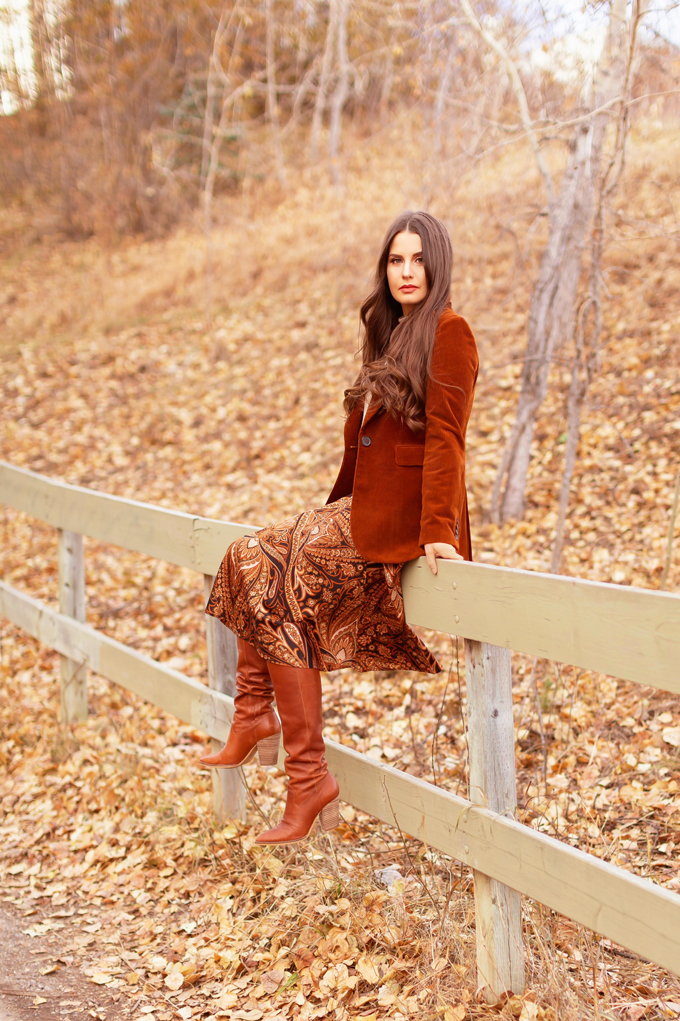 I find the combination of an ultra cozy knit paired with a thick, quality corduroy to be extremely warm and insulating, despite not having a jacket layered overtop (which you could absolutely do as well!).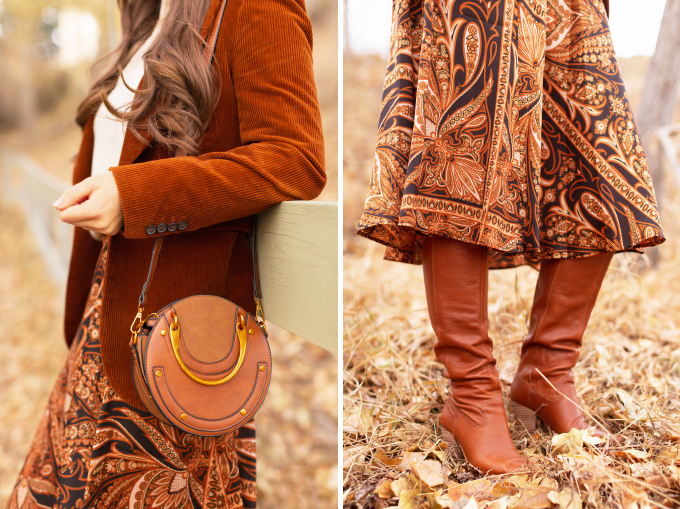 I've accessorized with my beloved Azoola Boots (which I also featured in my Casual Fall Style Staples post), a bohemian circular bag in a coordinating colour, and my favourite pair of brown circular shades.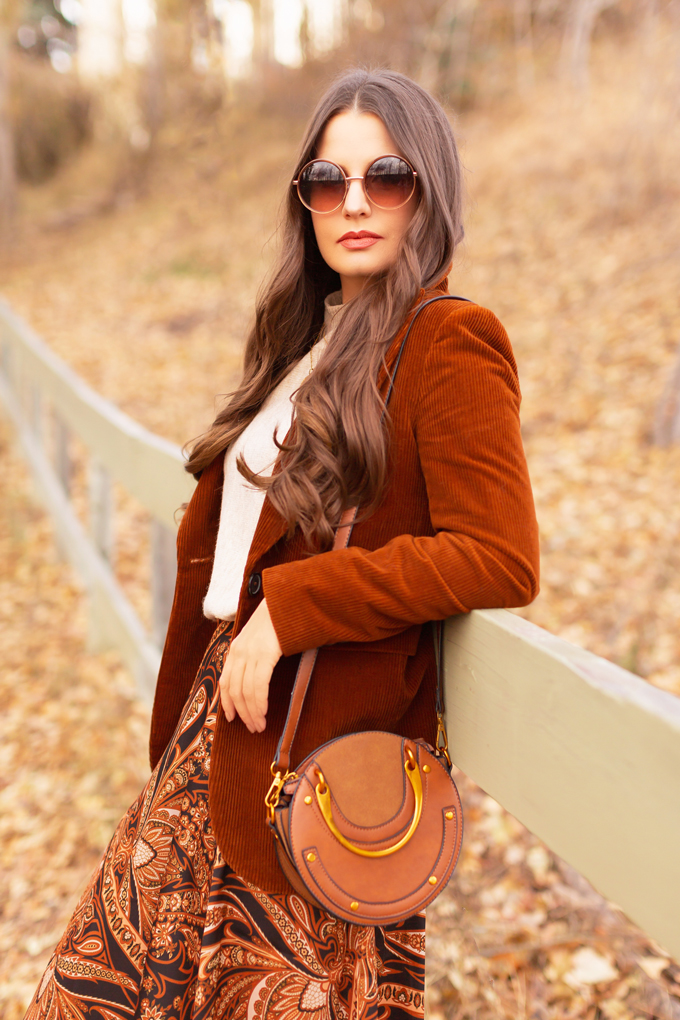 On my lips, I'm wearing one of my to-go fall lipsticks, Lancome's Matte Shaker in Chili Manjaro. I have a fresh BEAUTY post coming your way dedicated to this topic later this month — stay tuned for my top fall lip colours!

---
LEOPARD & LEATHER
---
Vegan leather, leopard and berets — these are a few of my favourite things to wear this fall! As always, this look is a mixture of high, low, old and new styled through fresh eyes to incorporate seasonal trends seamlessly into my personal style.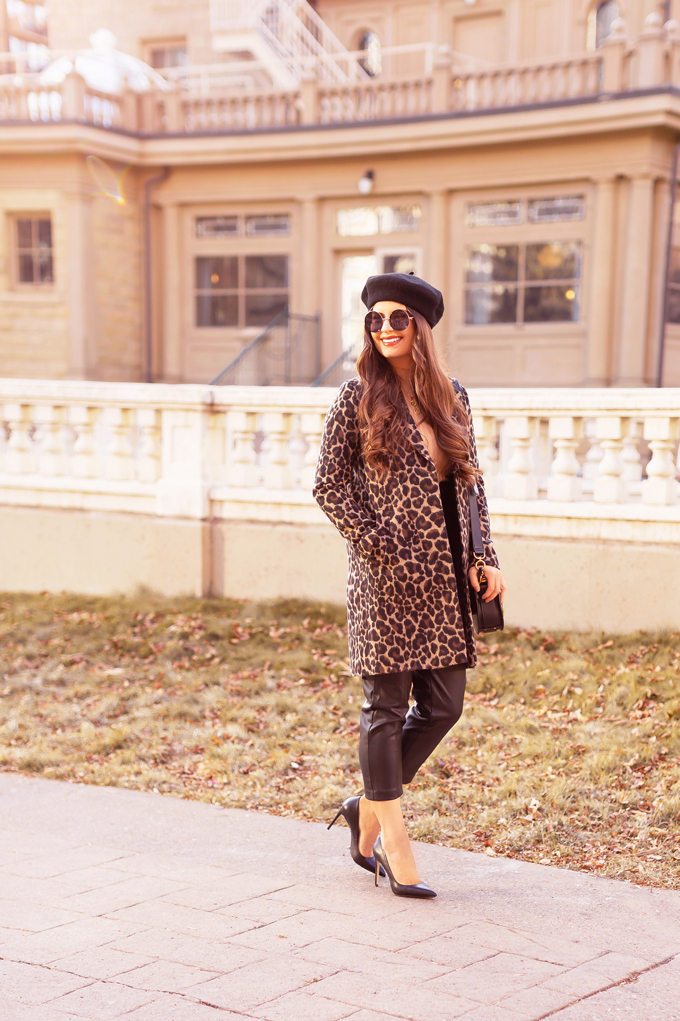 Animal print of every variety is one of AW19's hottest trends (you'll see a lot more of it in this LOOKBOOK!) — but in my wardrobe, it's also a classic. After being on the hunt for my perfect leopard print jacket, I found it as ASOS about 5 years ago and snapped it up immediately. A beautifully made leopard print jacket in a timeless silhouette with never go out of style — and I find myself pulling her out year after year to style up with each season's trends.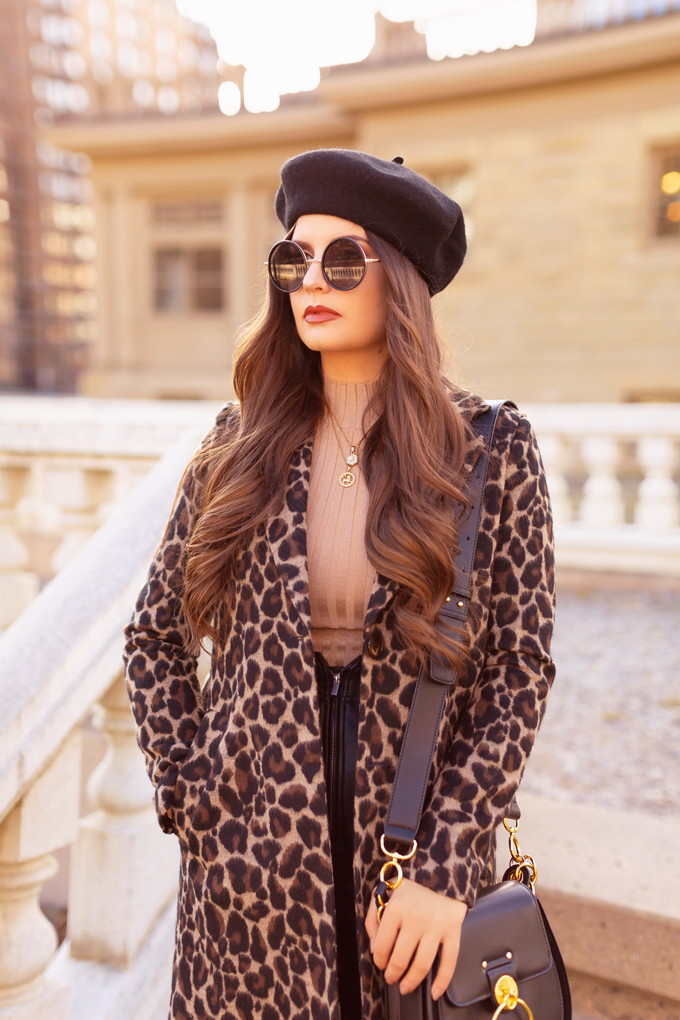 As I mentioned in my Pattern Play | Leopard  post, I consider leopard a neutral — and typically end up styling it in a monochromatic outfit, simply by pulling out all the varying shades of camel, brown and black. And that's exactly what I've done here to keep things looking chic and polished!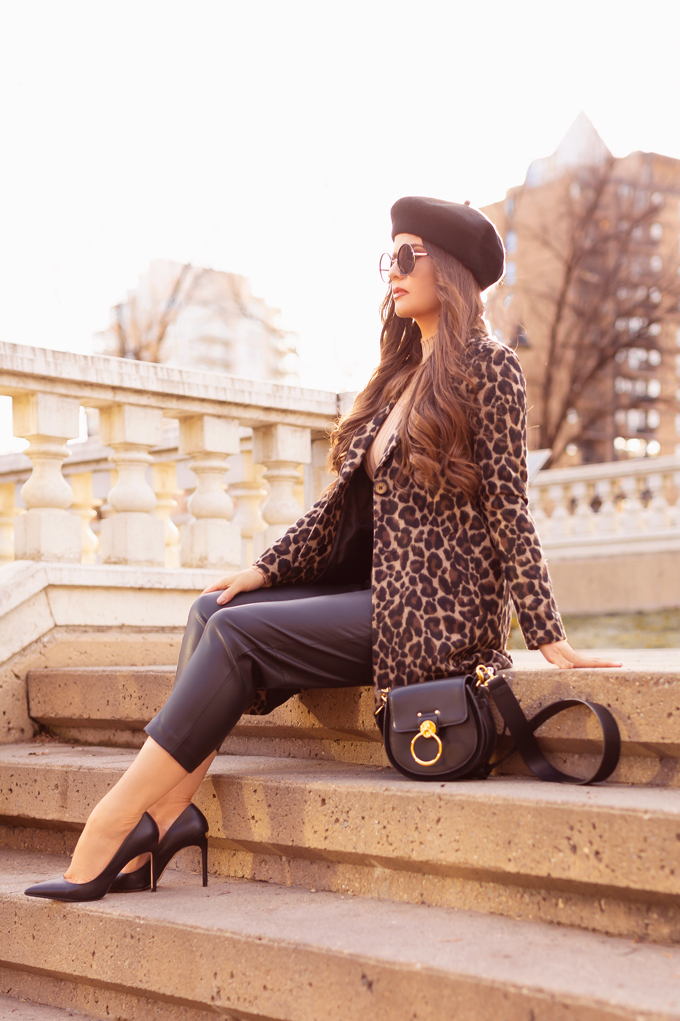 I was so eager to wear my faux leather trousers from H&M that I styled this outfit right after they arrived. (Vegan) leather and suede of all colours and in all garments is another massive trend this AW19 and I couldn't get over how realistic, well constructed and warm (they're lined with a super cozy fabric!) these high-waisted trousers were, especially for the price point. Underneath my leopard coat I'm wearing a classic ribbed turtleneck (also from H&M), in a beautiful camel shade. I own these turtle necks in nearly every colour and they're one of my favourite layering pieces for autumn, winter and even spring!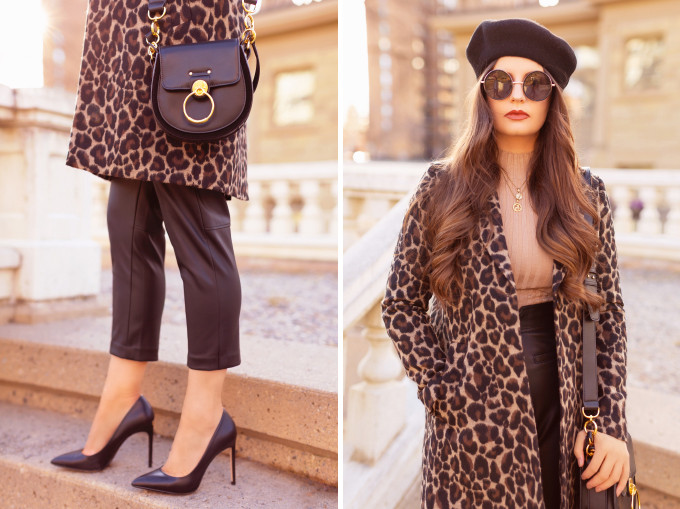 For cohesion, I've accessorized with my Black Artisan Anything Chloe Tess dupe in Black (by now it should look very familiar!), and black pointed-toe leather pumps from Zara (they're a few years old and a fantastic staple!). On the day we shot these photos it was a balmy 10 degrees so having my ankles on show wasn't an issue, but you could pair these cropped trousers with a sleek black cock boot if you'd like a warmer option.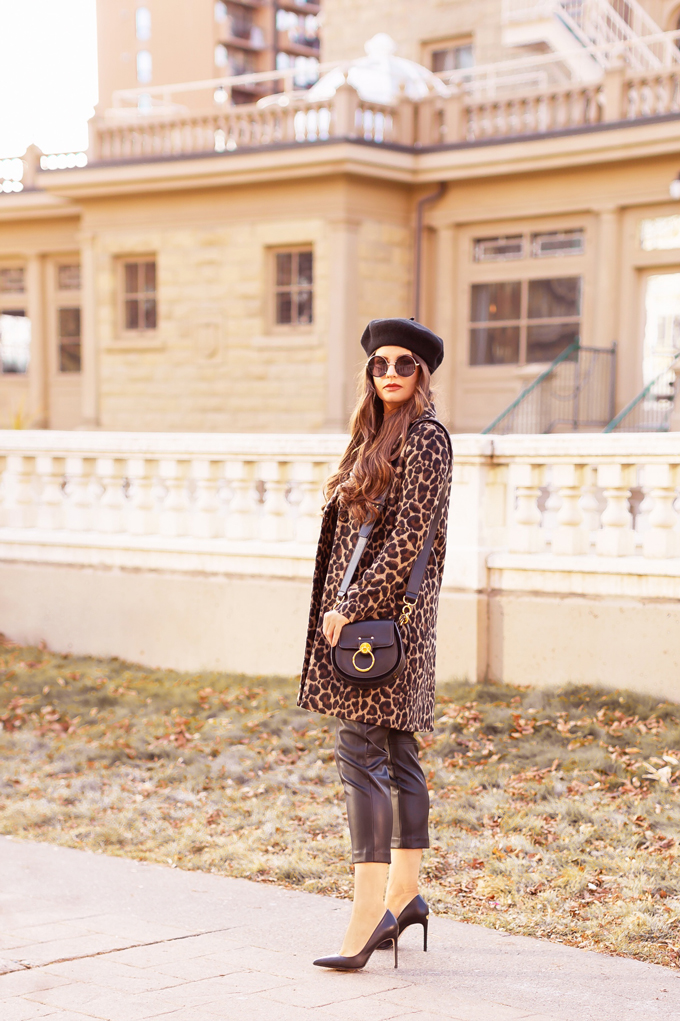 I capped things off with a chic black beret (another cool weather staple from H&M I have in almost every colour!) to stylishly conceal an unwashed mane, a pair of black circular sunnies with gold accents and a glossy chocolate brown lip. I'm feeling so inspired to experiment with my BEAUTY routine this autumn — and while this isn't a colour I would wear often, I actually find it quite flattering! 

---
SNAKESKIN CHINOOK
---
This past Friday I took full advantage of the beautiful chinook in Calgary (it was 12°C!) and lightened things up in another monochromatic look, incorporating one of my favourite animal prints — snakeskin!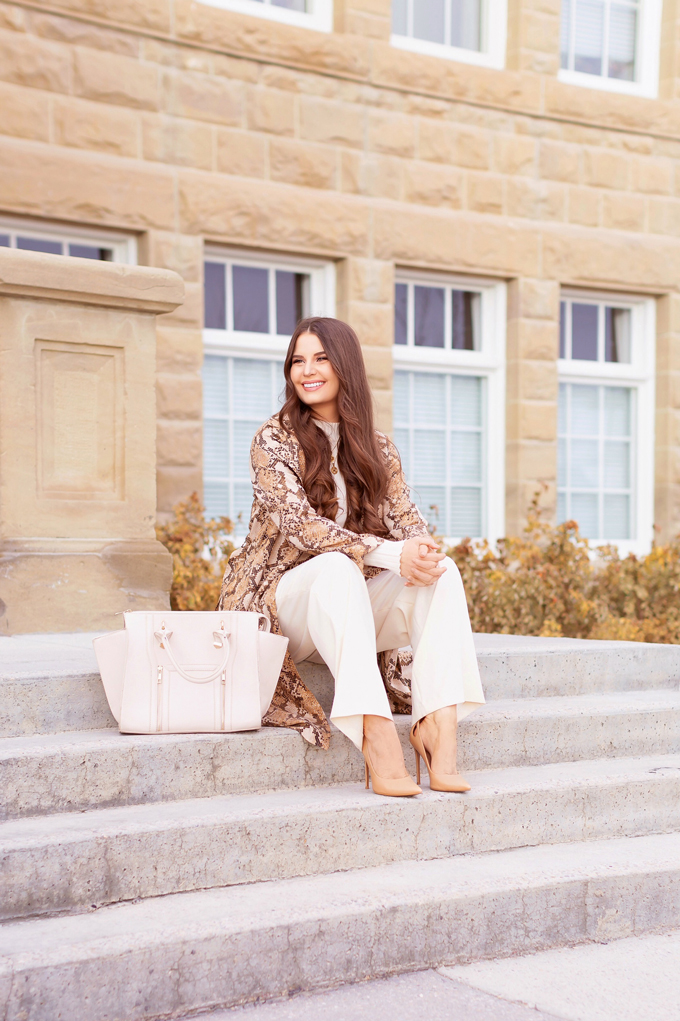 Admittedly, this snakeskin trench was a bit of an impulse purchase from the H&M clearance racks this past spring — but I've actually find it quite versatile. As I mentioned in my Leather & Leopard look, I typically consider animal prints neutrals — and snakeskin is no exception (did you catch the snakeskin instalment of my PATTERN PLAY series?). I tend to opt for monochromatic outfits when I'm wearing a bold animal print and keep the styling tasteful and streamlined, which is exactly what I did for this professional look with trend-focused flair! To allow my statement-making trench do the talking, I styled her up with classic wardrobe staples in creams and camels.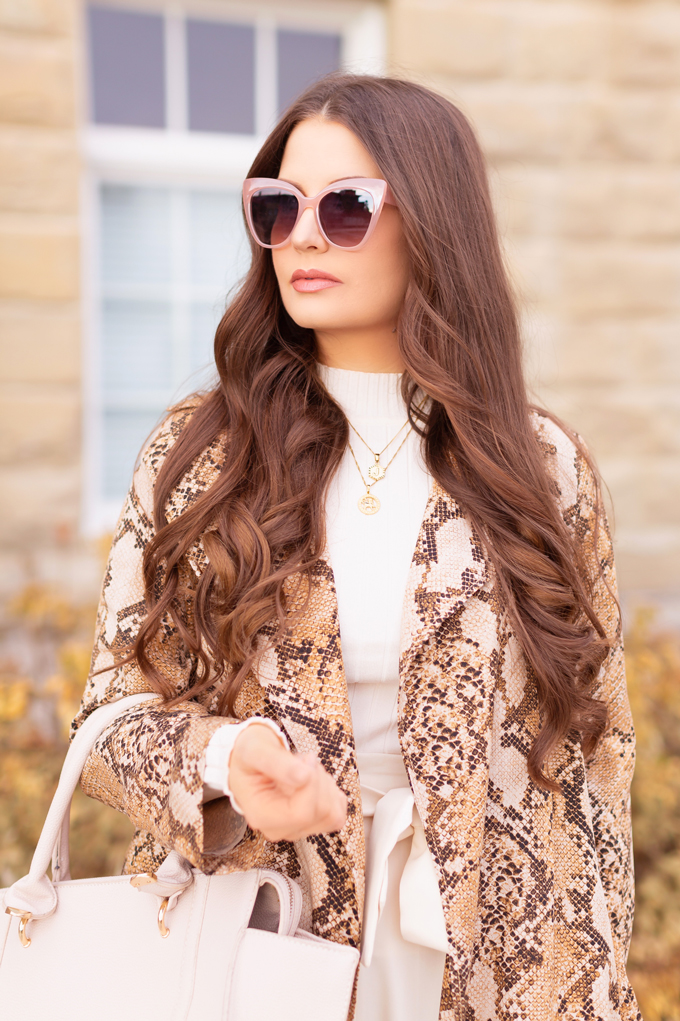 I teamed my snakeskin trench with these dreamy Mango trousers I spotted at Hudson's Bay during our recent trip to Edmonton (who came along to the dressing room on Stories?). They'd actually been on my wishlist since the summer but went out of stock before I could get my hands on them — so I was elated to spot them on a clearance rack during a super quick breeze through! I've been on the hunt for a pair of long, creamy, paperbag trousers for years! Isn't it funny how those pieces you seem to search endlessly for pop up when you least expect it?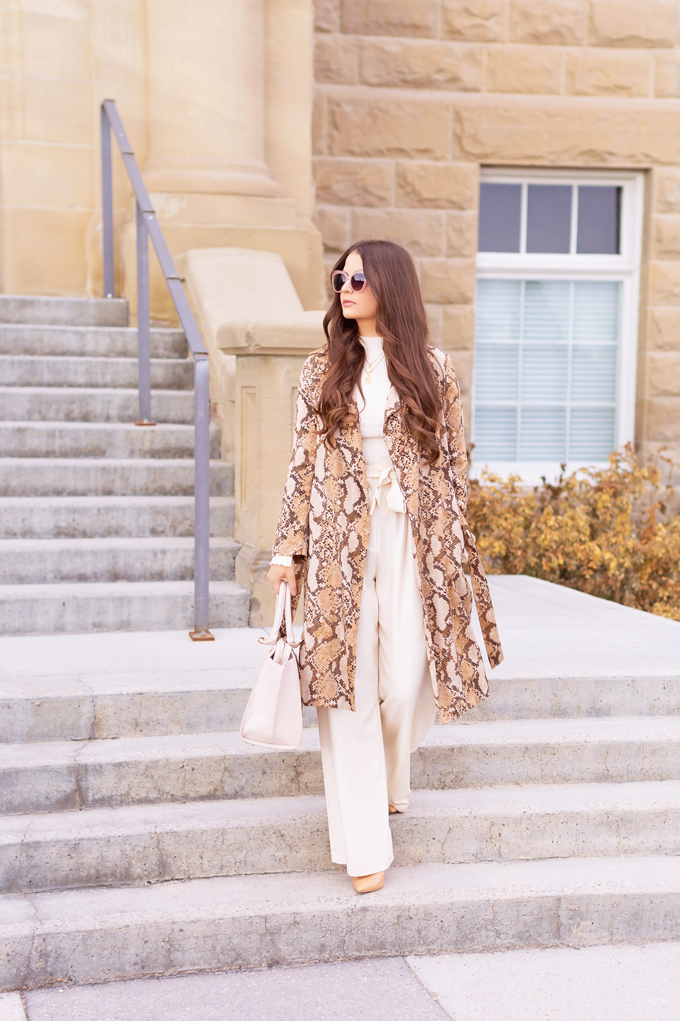 On top, I'm wearing the cream version of the ribbed knit turtleneck I wore in my Leopard & Leather look, with an oversized cream satchel to match (it's actually an ancient Lulu's find, which I also own in black and camel and have worn many times previously here at JustineCelina!). I love that it provides the functionality of a briefcase and a handbag in one (I have my MacBook Pro stashed away inside!).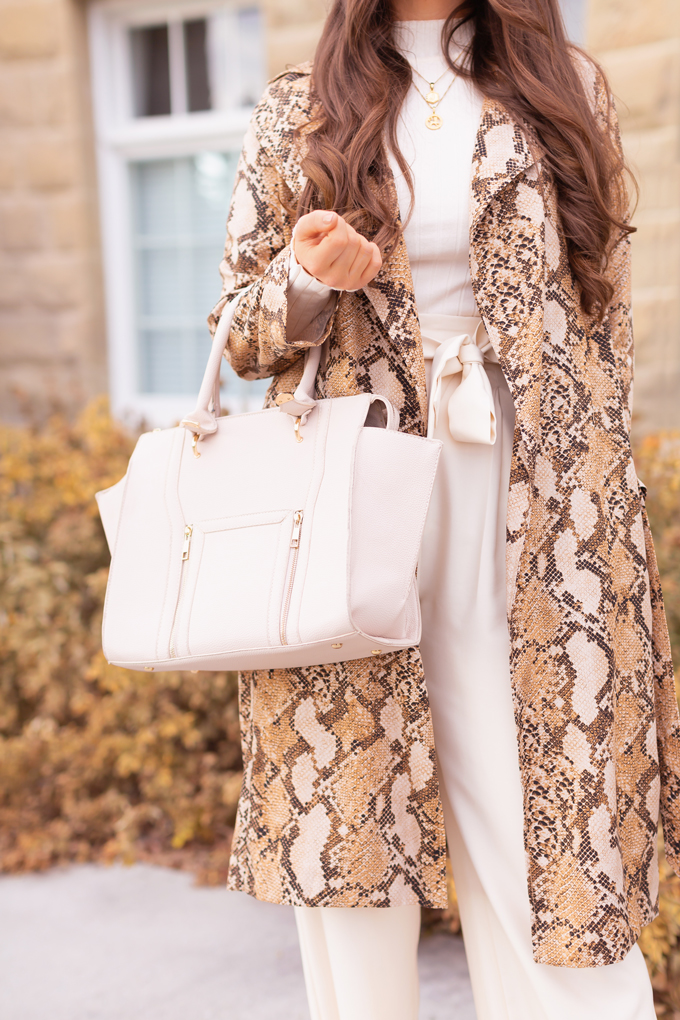 I slipped on a classic pair of camel pumps and some creamy cat-eye sunglasses (I've actually been loving cat eye frames lately!) and I was out the door for an afternoon of meetings. To keep the colour story cohesive, I also experimented with more of a brown-based nude lip than I would typically wear — and I absolutely loved the combination! I'm feeling so inspired to experiment with my makeup routine since bringing BEAUTY content back to JustineCelina.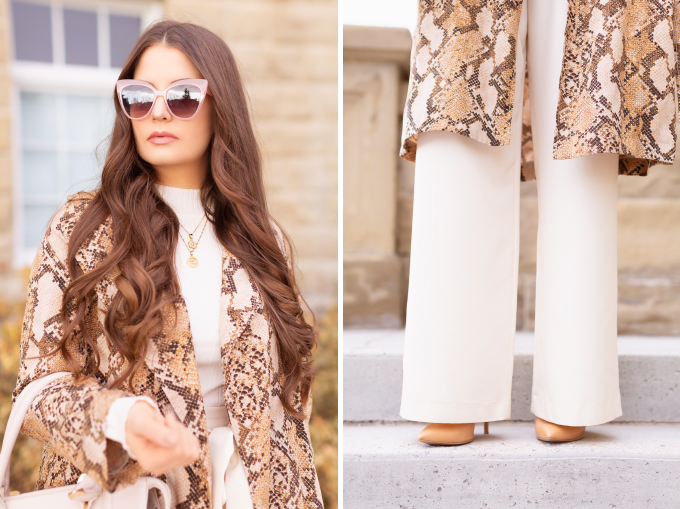 Adapt this look for cooler temperatures by swapping the snakeskin trench for a camel wool coat (like this one), the ribbed turtle neck for a cashmere sweater and the pointed toe pumps for a pair of nude sock boots! 

---
PUMPKIN SPICE
---
This look was created out of a desire to combine all my favourite Pantone AW19/20 Fashion Colour Trend Report warm autumn neutrals — despite our recently chilly weather!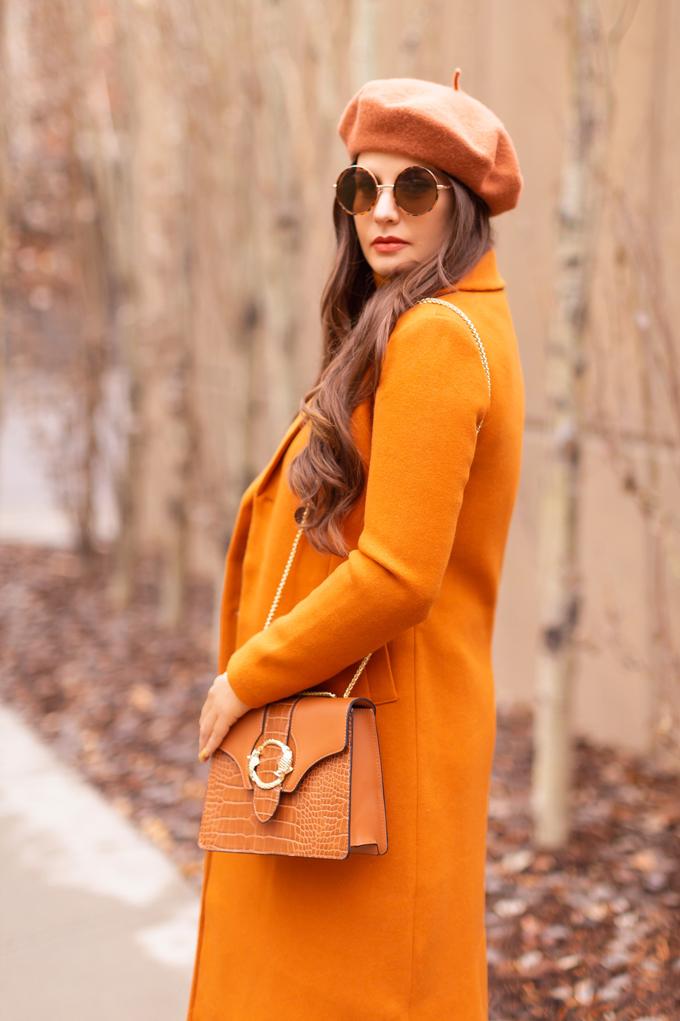 I spotted this delicious, Pumpkin Spice inspired wool coat (that's actually the brand's colour description!) during one of my many trips to Hudson's Bay during Bay Days — and it stopped be dead in my tracks. Although it's not a piece I'd been looking for, I'd never encountered such a unique and beautiful shade of orange in outerwear! So I whisked her off the the change room, she fit like a dream and was elated to bring her home for around $80!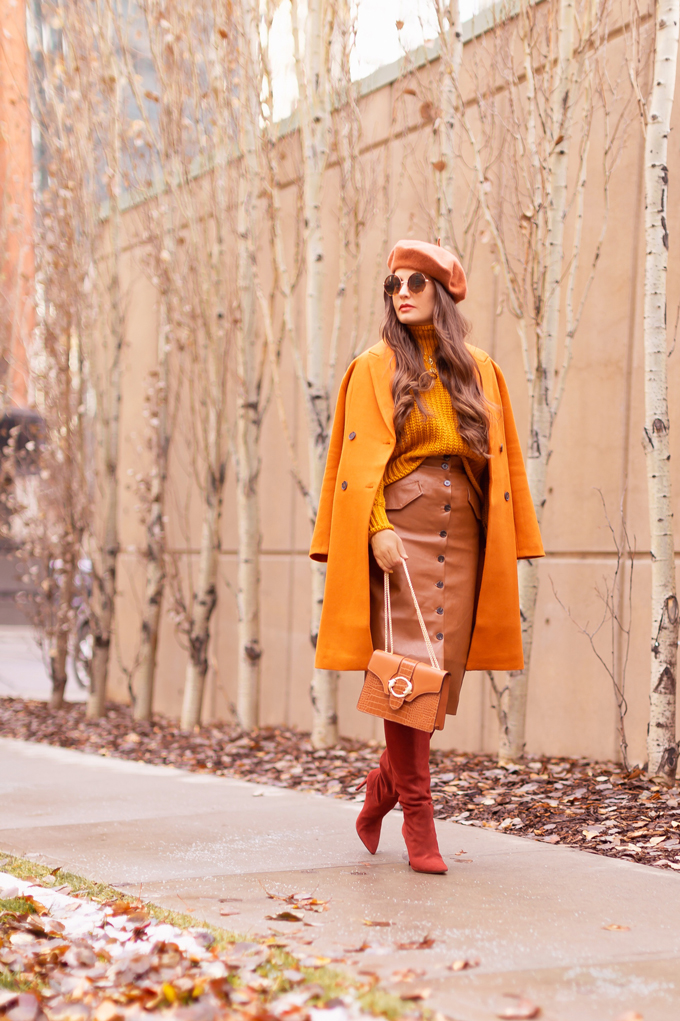 That said, that past month I also discovered a new website that carries some of my favourite Danish fashion brands under one roof at a heavily discounted price — plus, they're based in Canada! Although I picked up the ONLY Essential City Jacket in Pumpkin Spice at Hudson's Bay (who came along to the change room on Stories?), I'm not able to find it online at The Bay, so I've linked it above for you at Best Seller Clothing.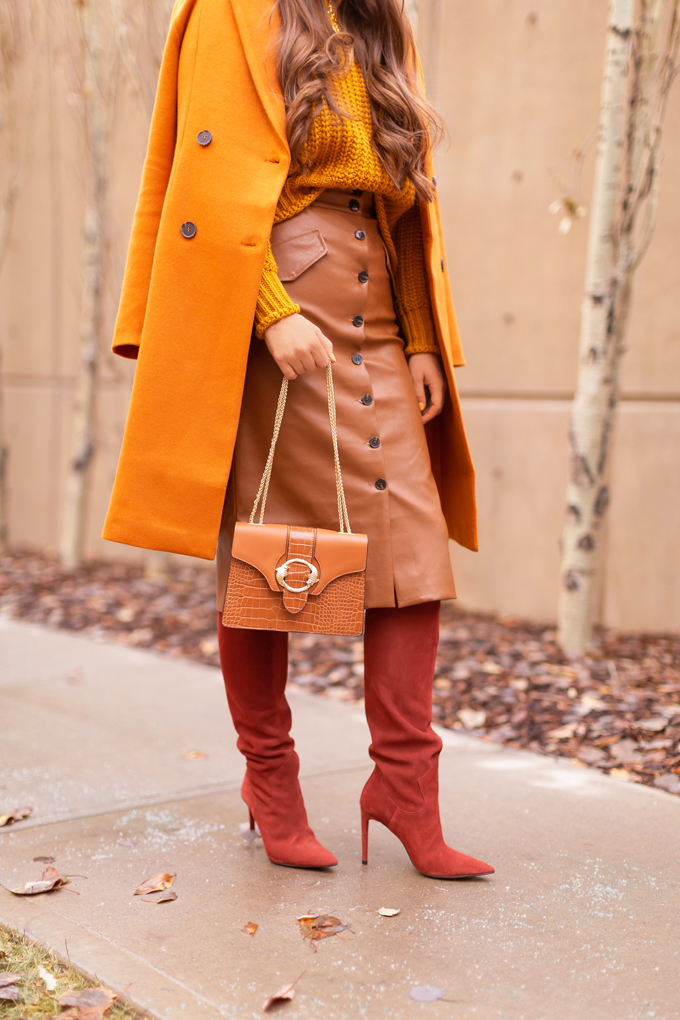 Monochromatic dressing is something I've been gravitating towards more frequently in recent years — I love how chic, yet statement making it is. Although I typically stick to neutral palettes when I'm wearing one colour family from head-to-toe (although not always!), I really wanted to play up all my favourite warm neutrals in this pumpkin spice inspired look. So, I selected my H&M faux leather button-down skirt (another prominent seasonal trend, as mentioned above) and paired her up with a chunky, mustard hued knit (which also happens to be from H&M, and which I also happened to pick up in multiple colours!) for maximum warmth.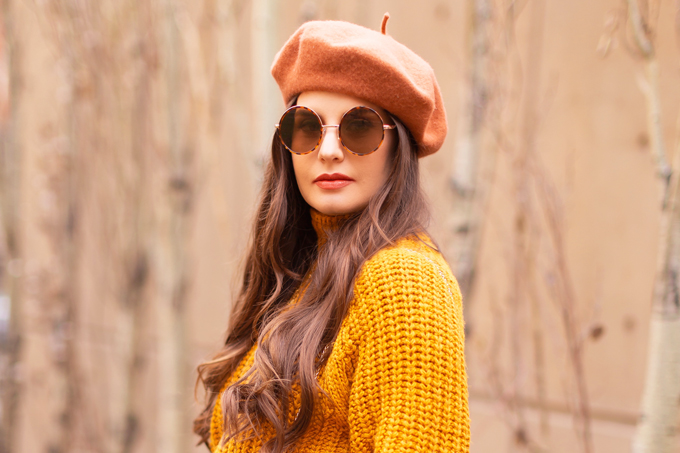 Accessory wise, I opted for a pair of delicious rusty suede boots, a cognac, croc-embossed bag (which I also wore here), a spicy wool beret and my beloved tortoise rimmed round sunglasses. To pull it all together, I'm wearing Bite Beauty's Amuse Bouche Liquefied Lip in Puree (which is sadly being discontinued, so if you want it, grab it now!). 

---
CHEETAH CHIC
---
Autumn always inspires me to get creative with layers, pattern mixing, colour and texture — and that's exactly how this chic evening look came together! I wore this look to the theatre earlier this month, comprised of a creative melange of my favourite fall staples. This chic evening look would also be perfect for casual holiday parties! Satin, wool, velvet and suede are some of my most-worn textures this AW19 — and you'll find them all at play in this look!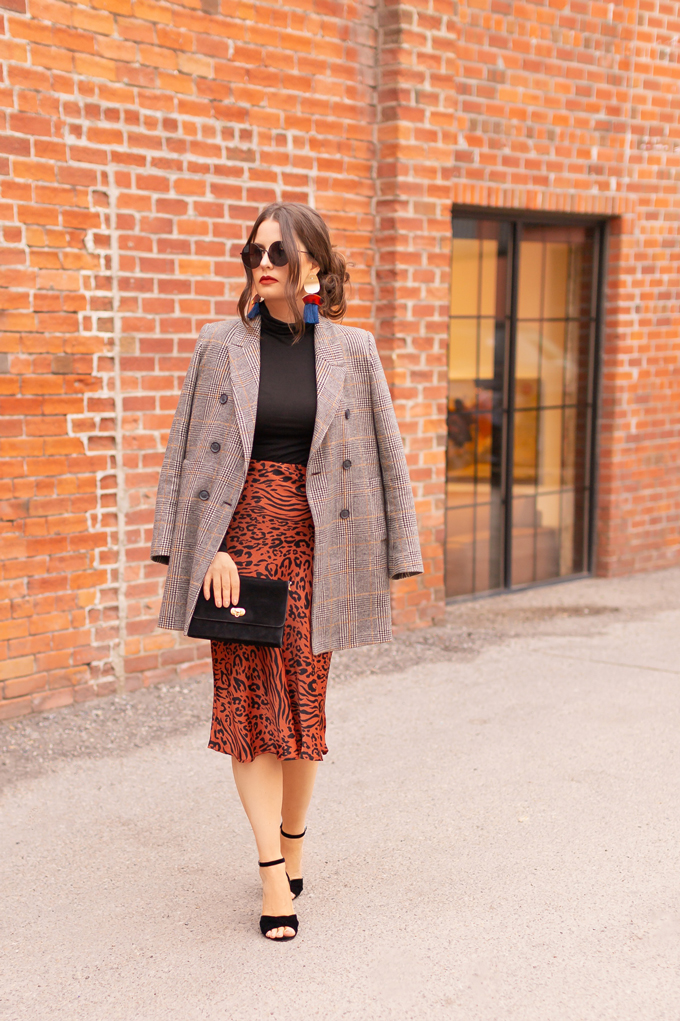 As evidenced by this LOOKBOOK, animal print is hotter than ever this season and although I've padded my closet with leopard and snakeskin over the years, cheetah and zebra are a more recent addition. This skirt combines all three — and I absolutely adore it! I've been really into satin midi skirts this year, from solid colours to patterned renditions. If you don't already own one, I highly recommend picking one up. You can truly wear them year round!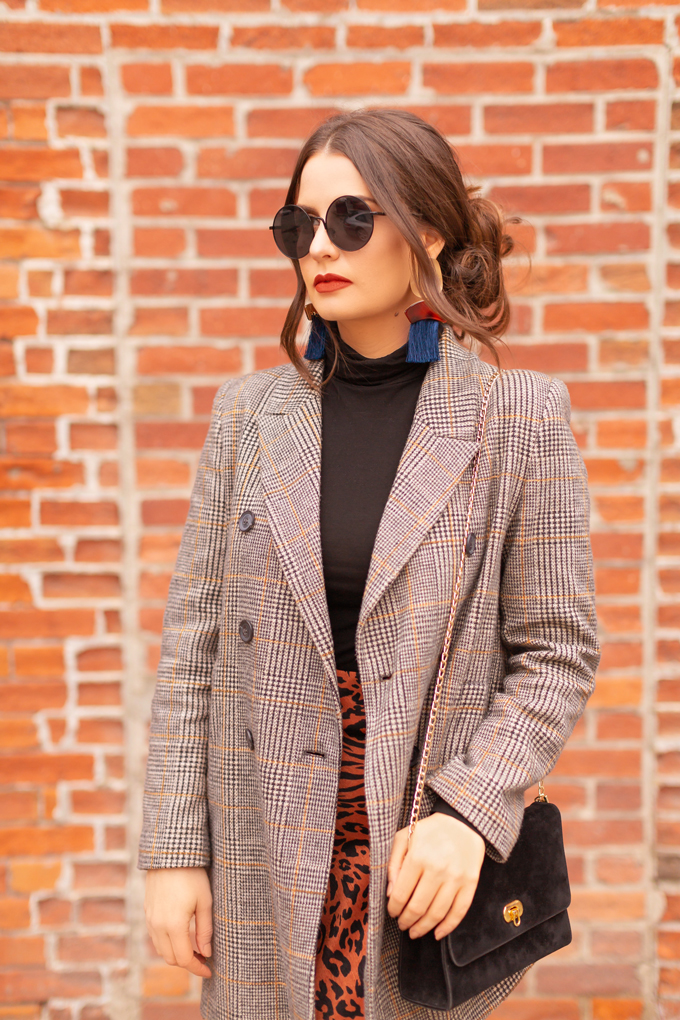 To allow my statement midi to shine, I've layered an oversized blazer from Zara with a subtle plaid print (I also wore it here, and funny enough, also with a bold print!) atop a basic black turtleneck (one of my most worn layering pieces!). I love the way the burnt orange stripe in my cozy blazer picks up some of that gorgeous hue from my satin midi. I have a post planned for my PATTERN PLAY series dedicated to how to mix prints — so stay tuned for most on this topic!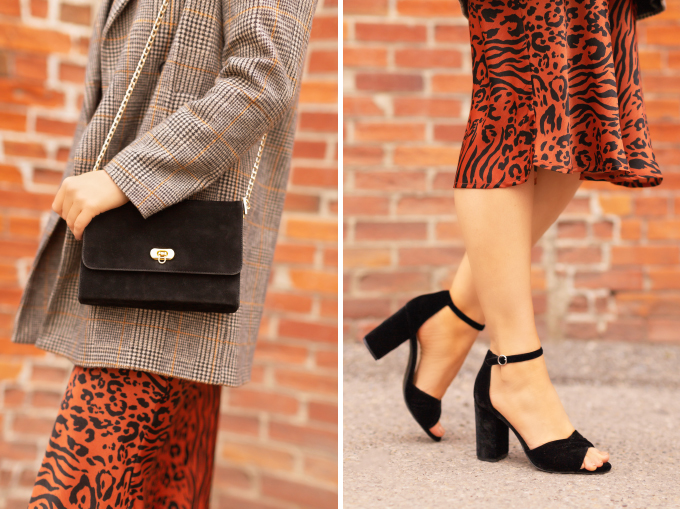 I've accessorized with the comfiest pair of velvet sandals which I picked up at Joe Fresh on clearance at the beginning of the year (and in all 3 colours!). For the most part, the days of being able to wear open-toed shoes comfortably are over here in Calgary, which is why I've also styled this look with with opaque tights. I love the combination of velvet sandals with opaque tights — which is a pairing I wear right through to the holiday season!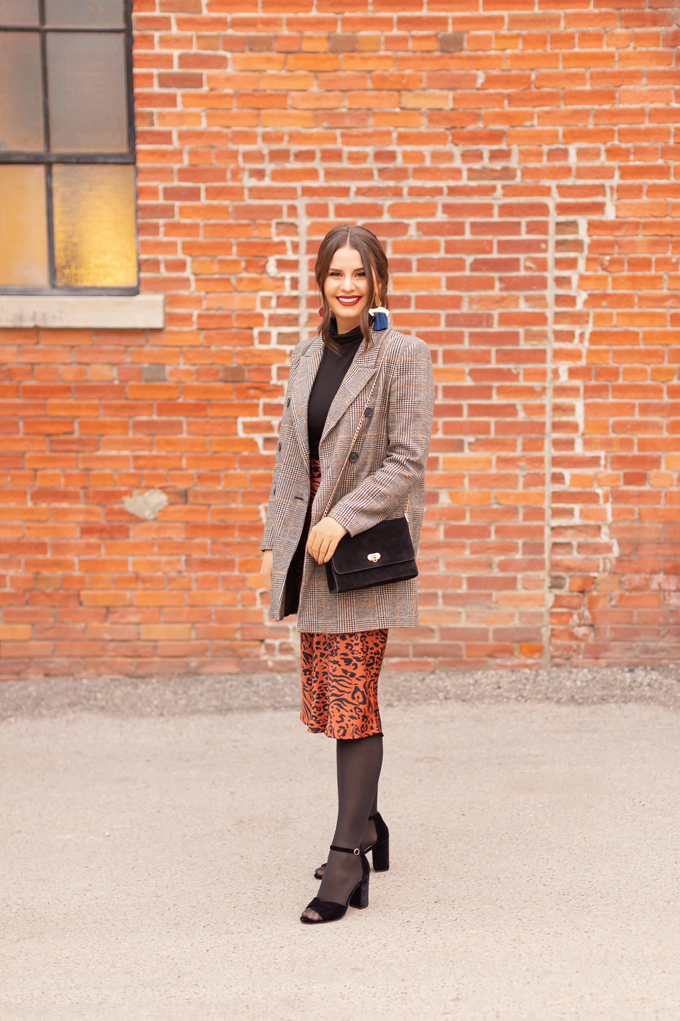 Polishing this look off are my vintage suede bag, black circular shades and a pair of statement earrings from Zara that I purchased last fall. I love the attention they bring to my face with my hair pinned back, especially for evening looks. To infuse a bit of drama, I applied Smashbox's Always On Matte Liquid Lipstick in Out Loud — another one of my favourite fall lipsticks. 

---
VINTAGE VIXEN
---
And last but certainly not least is this glamorous 70's inspired look created to show off this absolutely stunning vintage suede coat, recently gifted to me by my Mother. Whether you've been with me for a month or over the course of my fashion blogging career, my penchant for vintage and vintage-inspired clothing is apparent — and I'm absolutely thrilled to have this jaw-dropping coat in my wardrobe!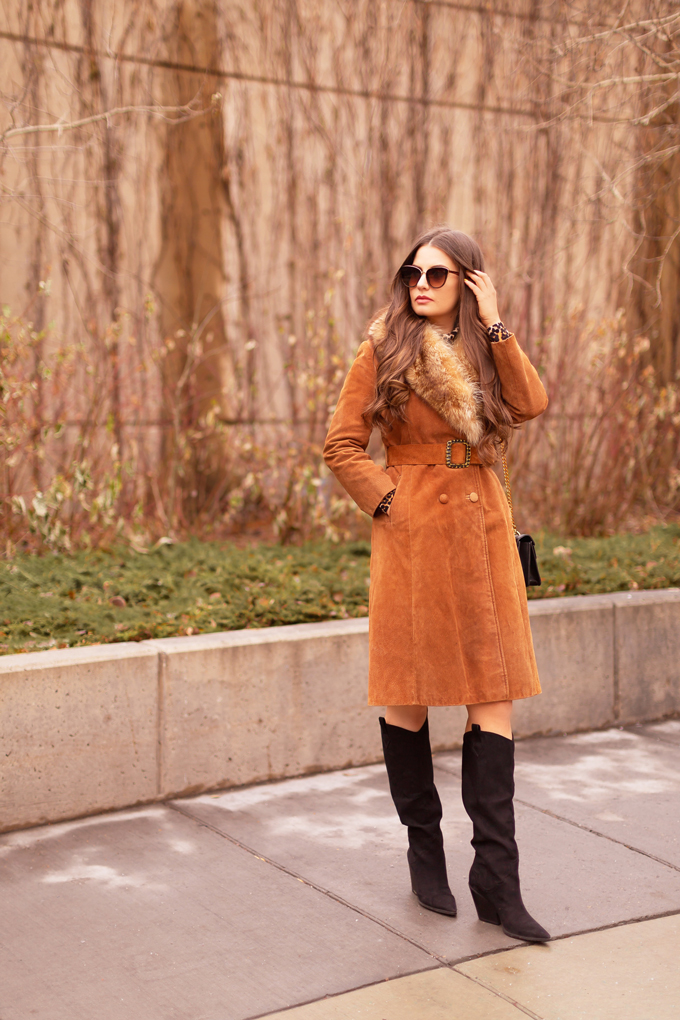 I come from a long line of fashionistas — and this coat was actually gifted to my Mom in her 20's by her friend's Mother. She wore it and loved it as a young woman, but during a trip to my childhood home while we were cleaning out the closets, she rediscovered it — and decided it was time to pass it on. I firmly believe that everything comes back into fashion at come point, but this vintage coat s absolutely on trend for AW19 — doesn't it look like something you'd find at Holt Renfrew or Saks Fifth Avenue this season?!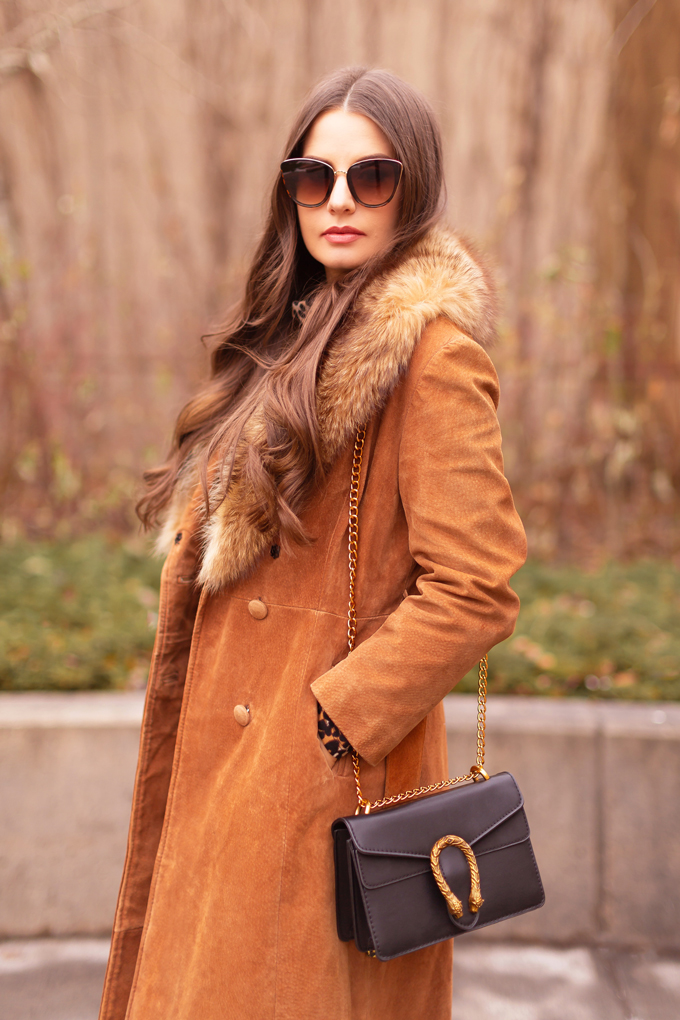 As someone who absolutely adores fashion (as a child I used to draw, paint and play with clothes and makeup rather than toys!), over the years I've come up with a simple method of combining high, low, old and new in my outfits to ensure they feel like 'me'. This formula allows me to experiment with trends, while still grounding them in the cornerstones of my personal style — incorporating an elegant creative flair, along with my love of colour and pattern.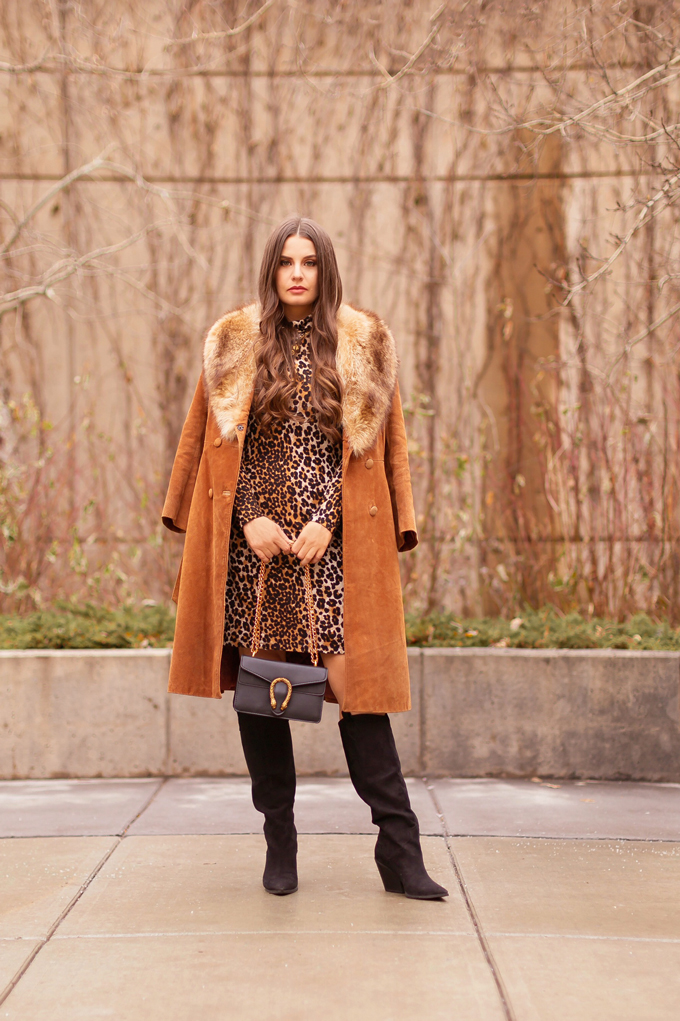 I've styled this gorgeous vintage coat over top of a Vero Moda leopard print dress which I picked up (once again!) at Bay Days a couple of weeks ago (at a steal, may I add!). Although it was a more recent addition to my wardrobe, I've worn a lot of sweater dresses on these pages over the years — and am planning to do so into 2020 and beyond. Whether solid or printed, they're one of my favourite staples from fall through spring!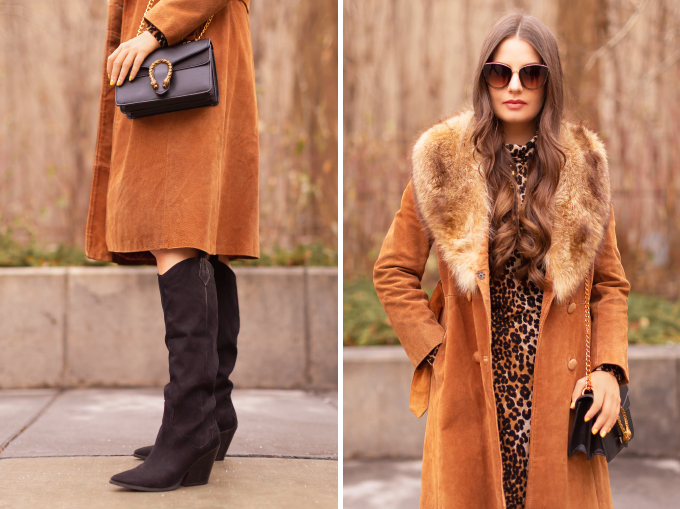 To tie in the black from the leopard, I've accessorized with a black cross body bag that's been with me for a couple of years and these black H&M knee high boots I picked up earlier this autumn (as I mentioned in my Casual Fall Style Staples post, knee-high, rather than over-the-knee boots are on trend this season and these ones are so comfortable!). I'm also wearing a pair of Nordstrom Made Bp. Perfect Cat Eye Sunglasses in Tortoise — which is a new shape I'm experimenting with (and loving!). I finished the look with one of my favourite fall lip colours, Lancome's Matte Shaker in Abrickadabra. 

---
MY SIGNATURE JEWELLERY
---
As usual, I'm wearing my layered, gold necklaces from House of Vi — which have become an integral part of my personal style. Founded by fellow Calgary blogger Vivienne Gliesche, you can shop House of Vi online worldwide — but if you're local, you can pick up in person! I wear the the Alphabet Necklace in J layered with the Zodiac Necklace in Leo almost everyday and I'm asked about them constantly. I can't recommend them enough!
---
MORE AUTUMN / WINTER STYLE INSPIRATION
---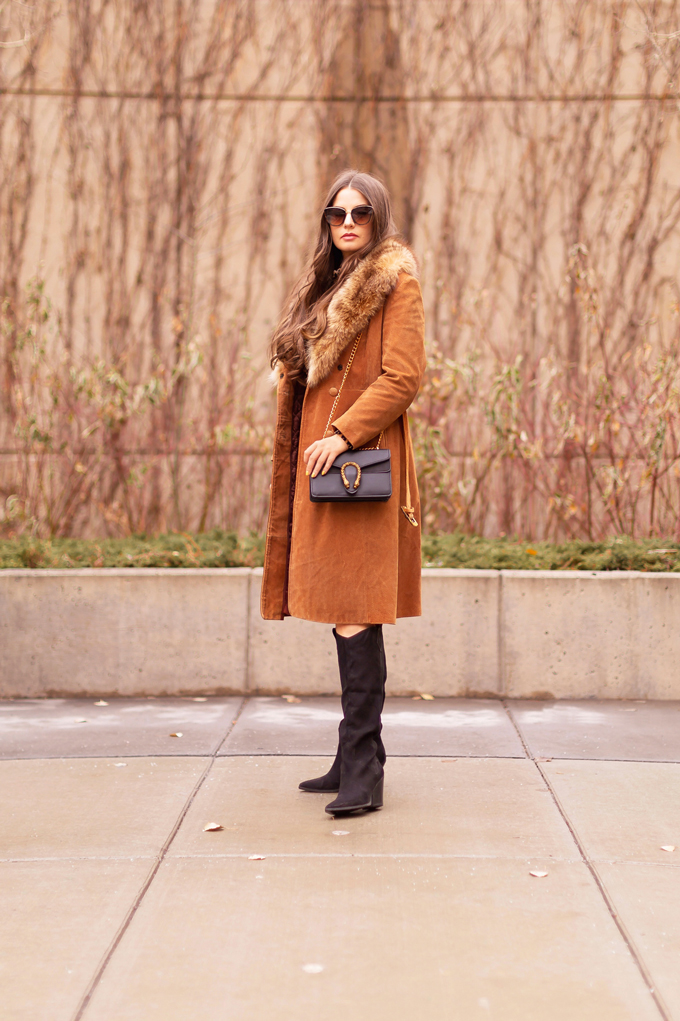 Autumn 2018 Lookbook
How to Style | Kimonos for Autumn
---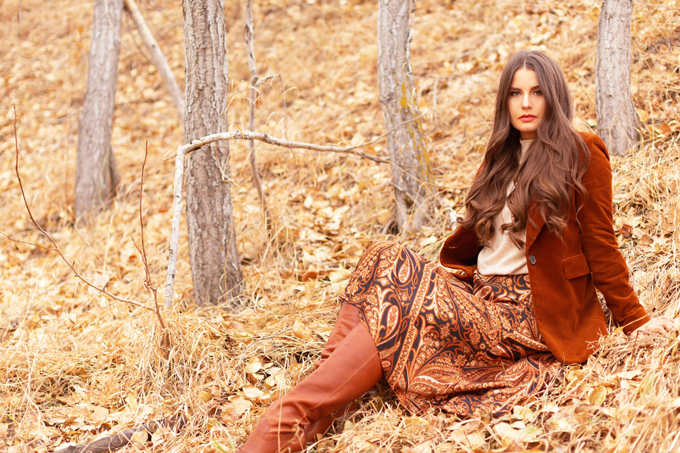 Friends and fashionistas, thank you for stopping by for a fresh dose of fall style today! If there are looks that you'd like to see more of, be sure to frequent my FASHION section as I'll be sharing additional details here at JustineCelina in individual outfit posts and various other series! 
Craving more sartorial inspiration? I'll have another 6 outfit Autumn / Winter 2019 Lookbook publishing before year end, with an emphasis on outfits for cooler weather and snowy conditions. But in the meantime, if you're looking for even more sartorial inspiration, you can also follow along with my JustineCelina Fashion board on Pinterest, or the Fall Lookbook board I created to showcase my favourite looks this season. And for a sneak peek at what I'm wearing before it hits the blog, as well as some exclusive style content you won't see here, come join me over on Instagram for daily posts and BTS / day-to-day life on Stories! 
---
Disclaimer: This post is not sponsored, and contains my genuine thoughts, ideas and recommendations. JustineCelina uses affiliate and referral links, which allow me to receive a small commission when you make a purchase through one of my links. Thank you for supporting the brands and businesses that support JustineCelina!