---
Happy first weekend of… fall?! Somehow, we skipped autumn entirely this week and went straight from almost 30°C weather to snow and frigid, negative temperatures. As we've established, autumn is my favourite time of year, but this week I was forced to bust out my cold weather pieces — I hadn't even finished getting my fall wardrobe together, yet wintery conditions were upon us. It was time to get creative (and warm!) and make the most of my existing wardrobe — but the good news is that our drastic weather shift here in Calgary inspired today's post all about refreshing old favourites for a new season! Absolutely everything I'm wearing today is something I've owned for several months or years — and you've also seen most of these pieces here at JustineCelina previously.
Although I love to shop just as much as the next girl (and now it's even become part of the way I earn a living!), I think there's something to be said for learning how to make the most of your existing wardrobe when the seasons change and looking to new sources of inspiration to inform your sartorial choices. That's exactly what I did for today's look — I can't wait to share how I styled these well loved wardrobe staples through fresh eyes for Autumn 2017 to reflect current seasonal trends! If you're looking to maximize your existing wardrobe this season, get cozy with me tonight as I pull out my coats, sweater dresses, OTK boots, velvet accessories, fall florals and autumnal lip colours!

---
REFRESHING OLD STAPLES FOR A NEW SEASON
---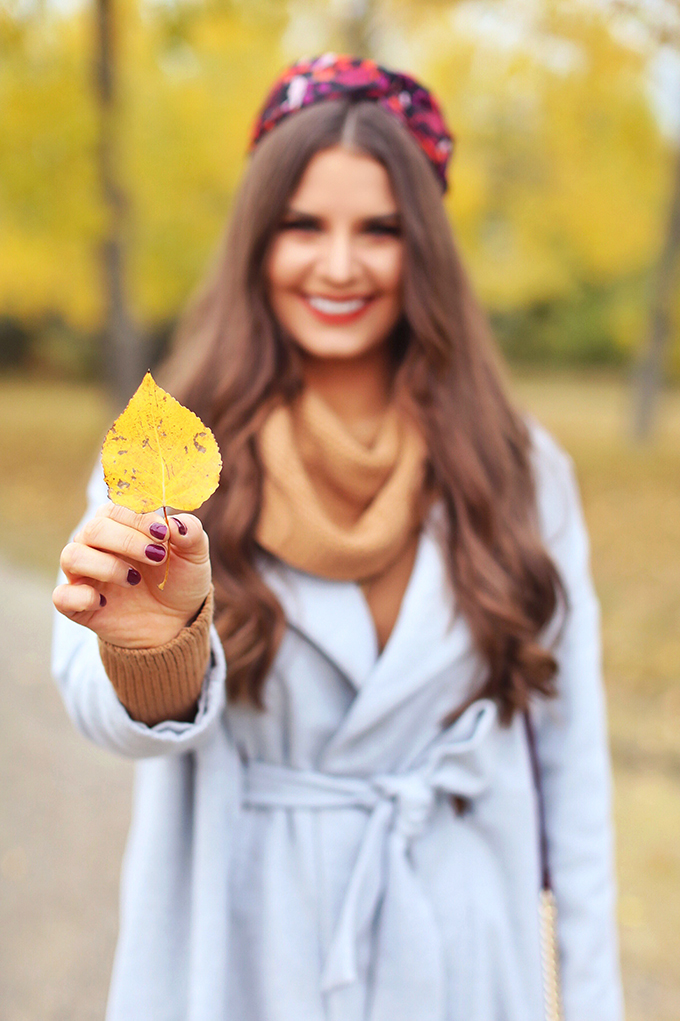 Thankfully the snow and rain subsided here in Calgary while we snapped these photos yesterday — it was only 5°C, but at least we caught some beautiful fall foliage! And to signify the change of seasons, I thought a style post where I'm not wearing anything new would also be a nice change of pace. Although a lot of my style content is trend focused (and I absolutely love publishing those TREND GUIDES for you!), I've been on a mission this year to rebuild my wardrobe with quality basics — and I feel like that's one of the main reasons I was able to dress accordingly this week and still feel up to speed for a new season. I wore a very similar rendition of this outfit to an event earlier this week and received so many compliments on it — I guess it goes to show that perhaps falling back on wardrobe staples that are often overlooked during September when we're bombarded with new trends and styles is actually a fantastic idea! After all, it's just not practical to be shopping all the time — and not even fashion bloggers always have something new to wear.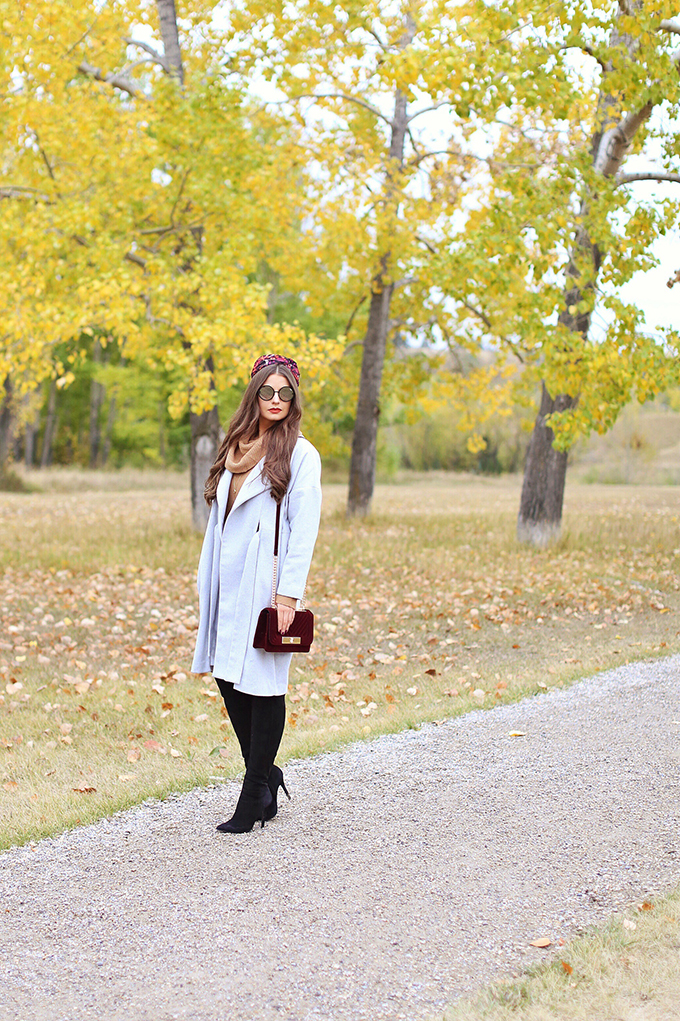 ---
THE FALL PANTONE 2017 COLOUR TREND REPORT
---
If you've been following along this past month, you'll know that I've been working with the PANTONE Fall 2017 Fashion Color Report across categories here at JustineCelina — well, that's actually what inspired this outfit!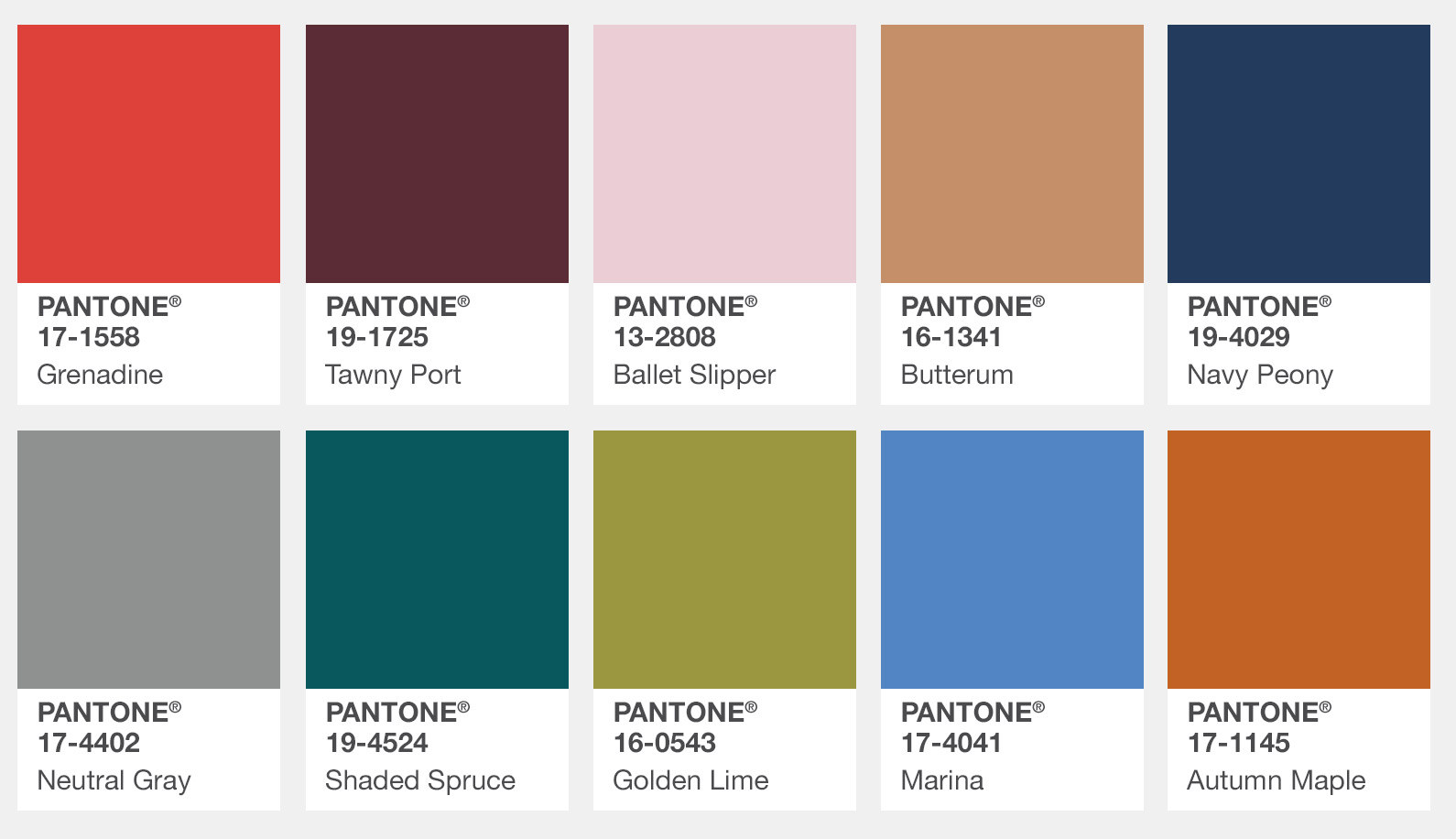 — Pantone Fall 2017 Colour Trend Report courtesy of Pantone.com —
Normally I don't think I would have paired these pieces together, but when I looked at my closet and started pulling out pieces in Pantone's colour selections a whole new world of possibilities opened up for me. If you're feeling like you're in a bit of a rut fashion wise or stumped on how to rework what you already own, take some time to new sources of inspiration that allow you to see your wardrobe in a new light!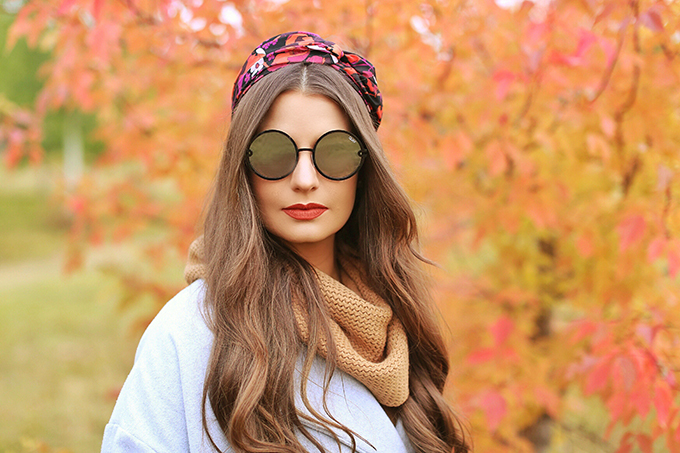 ---
AUTUMN 2017 WARDROBE STAPLES
---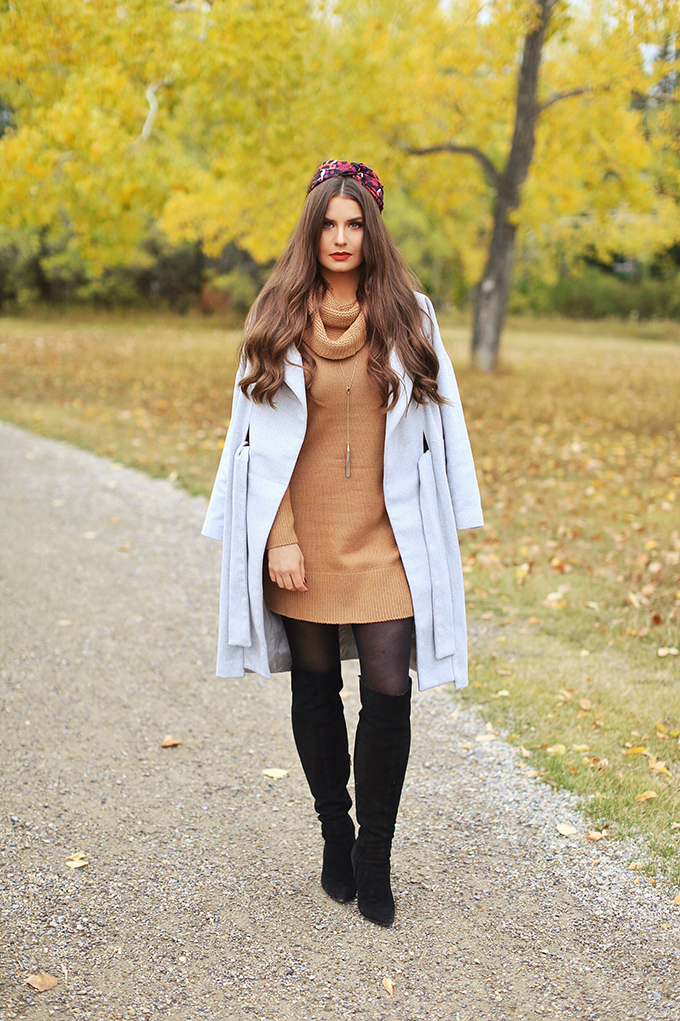 First, let's start with the base of this outfit — my Pantone Butterum inspired sweater dress! I've owned this particular dress for seriously about 6 years and it never goes out of style. I originally purchased it at H&M and love to wear it when I want to be cozy but also feel like wearing a dress. I love the funnel neck (it's like a built in scarf!) and the quality of the knit is incredible — it's held it's shape beautifully over the years. If you own a neutral sweater dress, it's time to bust it out and get creative with your early autumn outfits! And if you don't but would like to, I've linked up similar styles and shades for you below.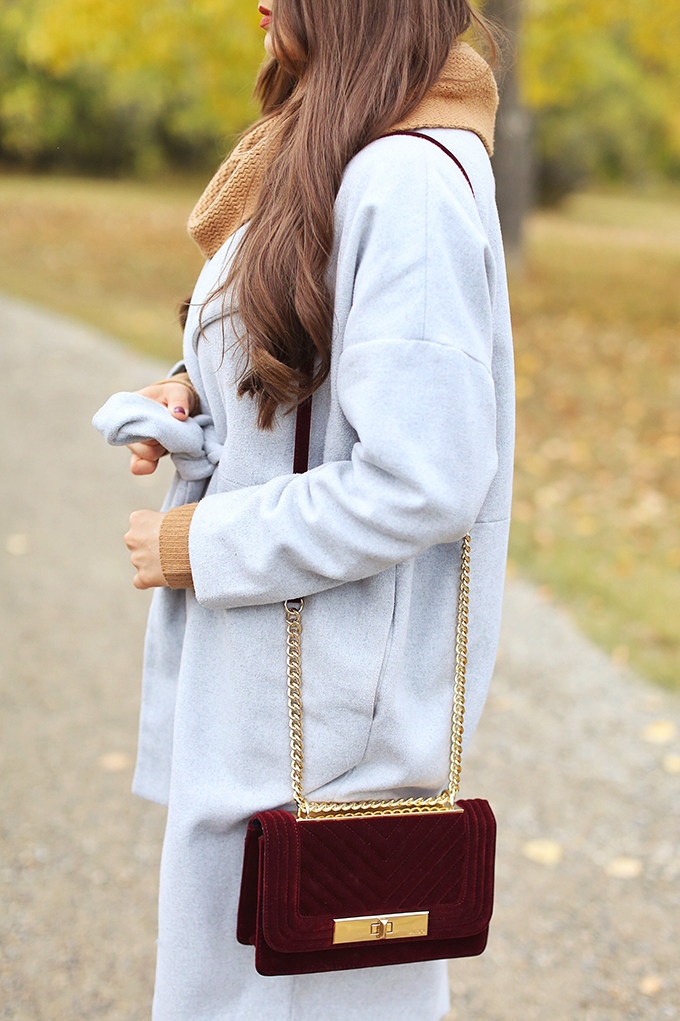 You actually haven't seen me wear this gorgeous grey cocoon coat here at JustineCelina yet, but I picked it up off season in March. While most of the world is gearing up for spring in March, it's actually still quite cold here in Calgary and it's also the best time to shop for end of season sales on outerwear. This wrap cocoon coat is a fantastic transitional piece — and one I wore often during the winter to spring transition. I'll be wearing it through the autumn to winter transition as well! The oversized shape means you can layer even the chunkiest of knits or sweater dresses underneath without looking overstuffed. I'd truly been looking for the perfect grey coat for years when I stumbled on this beauty during one of ASOS's massive end of season sales and it was love at first sight. I managed to snag this almost $400 coat for just over $100 (unfortunately it's now sold out) and can see myself wearing this for seriously the next decade. The tie feature is so unique — you can't really tell from these photos, but on the inside it hugs your waist. It also gives you the options to cinch in the waist and give yourself some shape while also enjoying the roominess of the silhouette — it's the best of both worlds. I receive tons many compliments on this coat and it's so easy to style — the perfect topper for just about any transitional outfit! Grey is a huge colour trend for AW/17 and I think every woman should have a neutral coat in a timeless silhouette in her wardrobe. If you're on the hunt for your perfect grey coat this season to enjoy for years to come, I've scoured the internet for some similar styles at different pricepoints!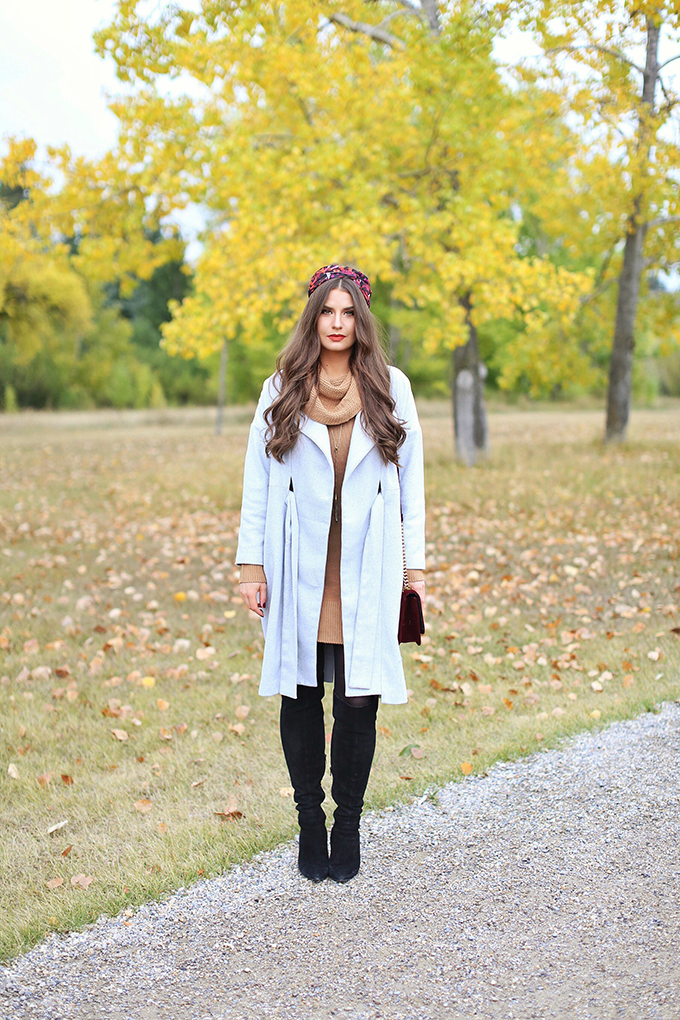 I paired the sweater dress and cocoon coat up with my favourite black suede OTK (or right-at-the-knee if you're on the taller side like me — I'm 5'8″ for reference!) boots which may look familiar because I've mentioned and worn them many times over the years — in a similar look from years back and more recently in one of my Winter 2017 Shoe Guides as well as this past winter's Military Inspired look. Without a doubt, these Aldo classics are my most worn boots year round. The heel is comfortable (I wear them all day), they go with just about everything and the pointed toe is leg elongating and flattering. Since it was so cold this week I opted for semi opaque black tights, because bare legs were certainly not on the menu. I think a continuous black silhouette on the legs peeking out from underneath a longline coat is such a chic look — and a warm one, too! If you're in the market for a great pair of black OTK boots I've linked some similar options for you.

---
ACCESSORIZING FOR AUTUMN 2017
---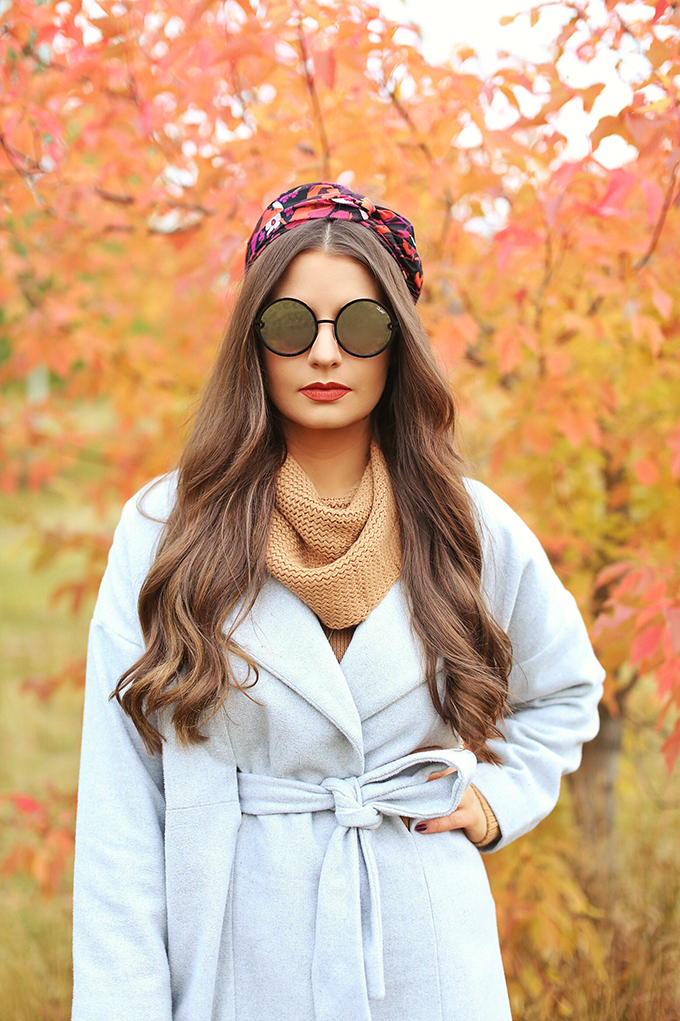 Now, onto accessories. If you frequent my FASHION section, you'll know that if I fall in love with something, I'll pick it up in multiple colours (repeat offender here!). Such was the case with this stunning Vibovalentia handbag — which you saw in my Military Inspired post this past winter (man, that was a cold day!).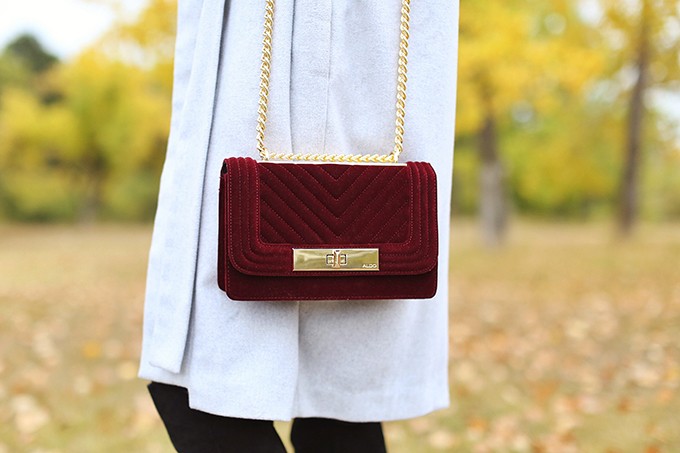 I actually wasn't that interested in this colour until I saw it in person and snapped it up immediately. Velvet is still big this season (and thankfully so — because I padded my closet with velvet everything last year!) and wine coloured hues are all the rage (check out Pantone's Tawny Port), so it the perfect piece to add a luxurious touch and a pop of sumptuous colour to this look. Although Aldo's Vibovalentia is sadly no longer available, I've tracked down some stunning velvet handbag options for you.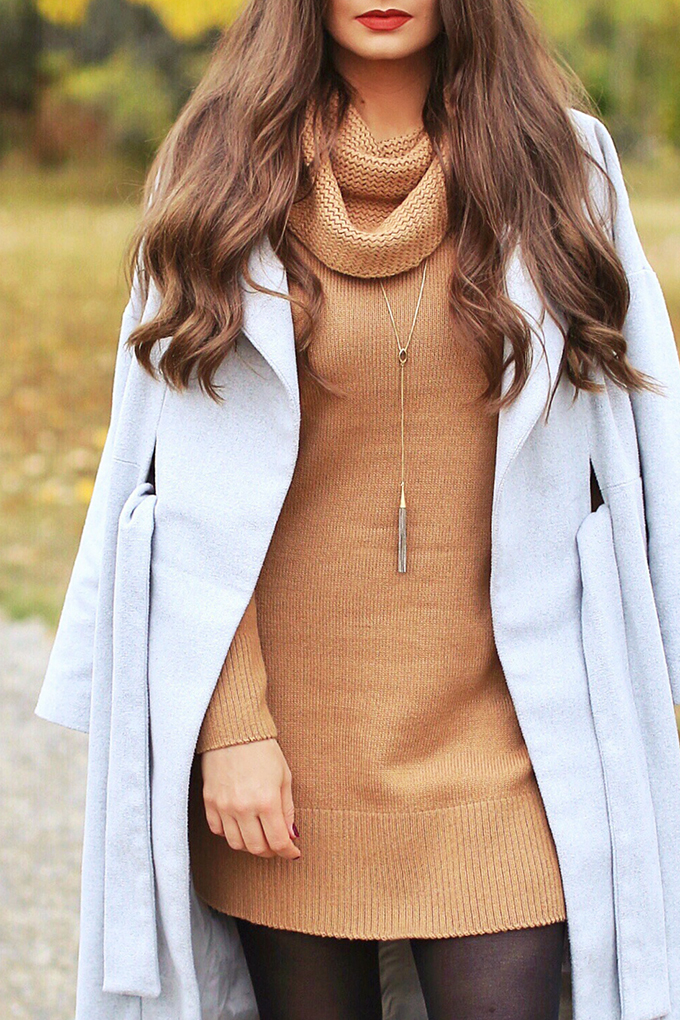 Speaking of luxury, I also accessorized with my Dean Davidson Ornate Tassel Lariat in Citrine, a very generous gift from the brand. You may recall me attending the Dean Davidson trunk show at Joydrop this past spring, where I fell completely in love with all of Dean's gorgeous jewellery. Dean's pieces are made with premium materials (natural, semi precious stones and premium metals) but have a bohemian, eclectic flair often seen in costume (or vintage) jewellery. When the brand offered to send a few pieces of my choice, I couldn't resist the Ornate Collection. This is jewellery I'll own for a lifetime — the Tassel Lariat is casual enough for everyday wear, but also adds a sophisticated touch. If you're a local, I highly recommend stopping in to one of Joydrop's Calgary locations for a beautifully curated selection of Canadian jewellery and on trend accessories (Joydrop also gifted me with these cool Quay Ukiyo Round Sunglasses sunnies they picked out for me — they know me so well, don't they?!).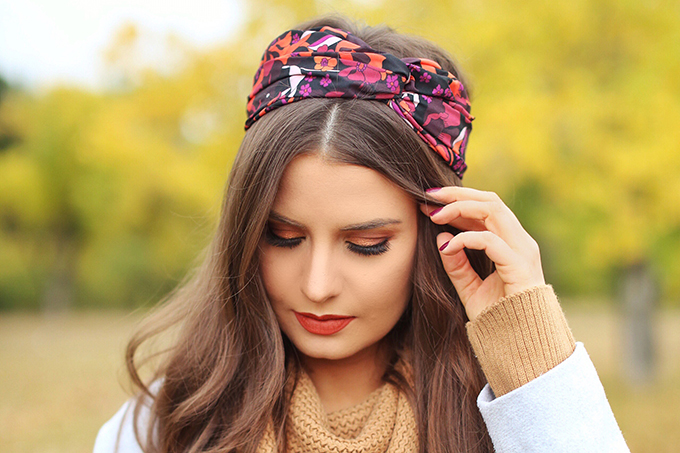 I topped things off with a floral, turban style headband. As someone who loves pattern and colour as much as I love my neutrals, I feel like incorporating these more unique accessories help give my outfits their signature and tie everything together. I'm big on headbands no matter the season (funny enough, I actually own a velvet, wine coloured headband too!) but opted for this vibrant floral piece to bring in some additional, on trend colour and cohesion. Moody, fall florals are here to stay this season (hurray!) and I've linked some similar headbands for you below. If you're looking to add a fun, free spirited vibe to your look this fall, try picking up an offbeat accessory like a floppy hat or headband you wouldn't normally wear! It's minimal investment that can help to revive old basics and inject new life into your autumn wardrobe.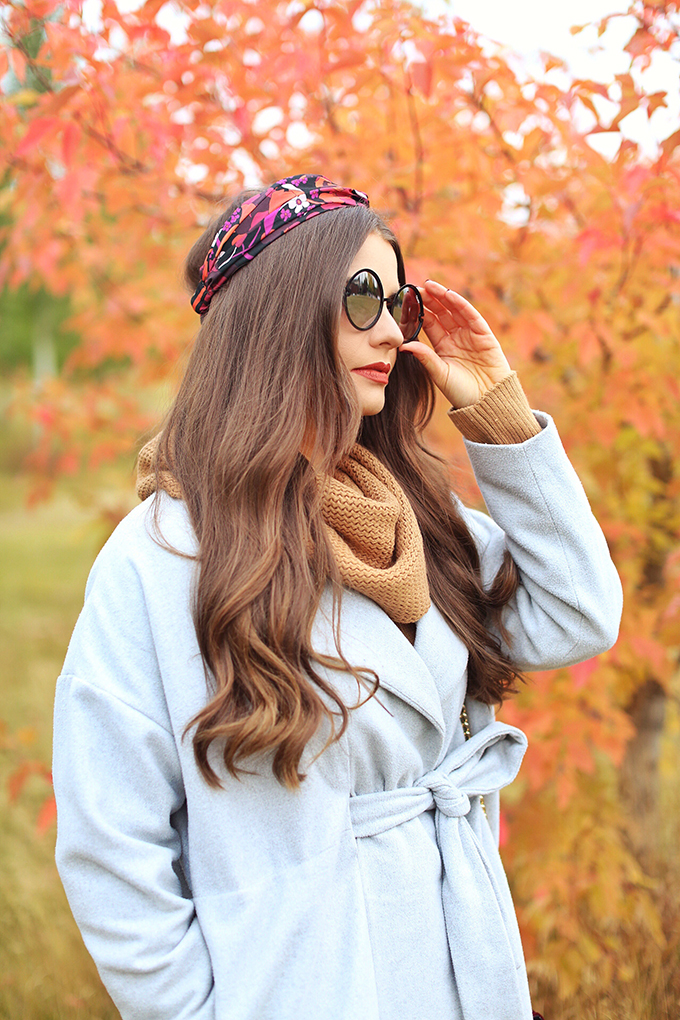 ---
AUTUMN 2017 BEAUTY
---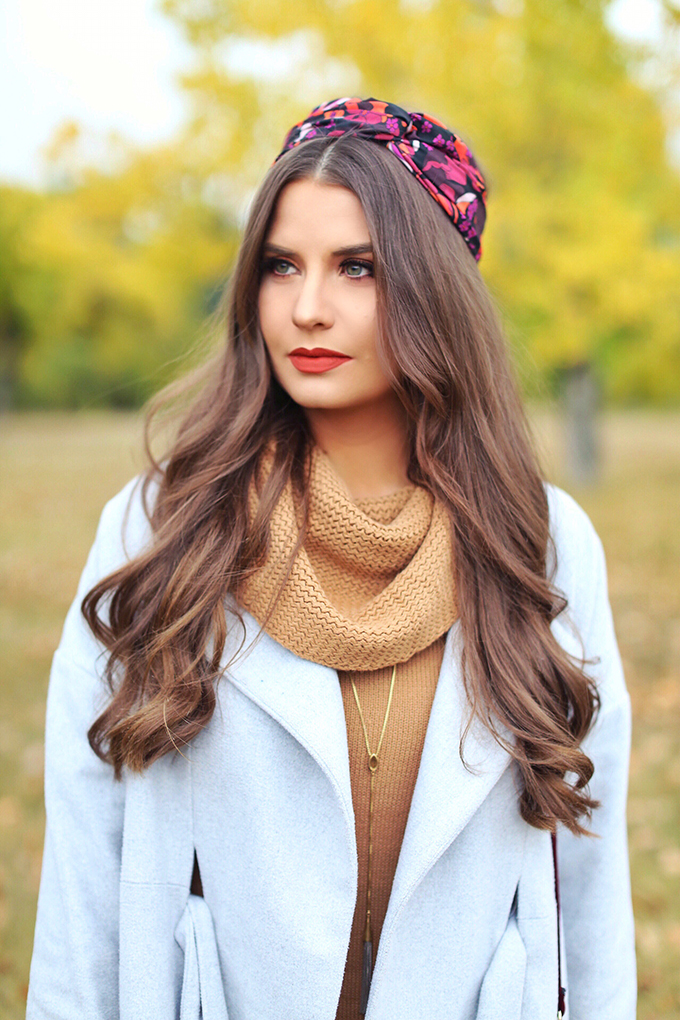 I've been wearing Smashbox's Always On Matte Liquid Lipstick in Out Loud pretty much all month — an absolutely stunning, unique burnt orange shade (and reminiscent of Pantone's Autumn Maple!). It may sound familiar because I mentioned it several times last season in my autumn BEAUTY content. I'm also wearing a new foundation here (so I guess I am wearing something new!) — the FENTY BEAUTY by Rihanna Pro Filt'r Soft Matte Longwear Foundation in 290. It's one of the best matches I've ever found and completely lives up to the hype. It's also what I wore the last entire weekend in Fernie where we attending a friend's wedding. I only wore it once before I trusted it enough for a special occasion — it's that good! Expect a full review and swatches in my upcoming September 2017 Beauty Favourites, but until then I've linked up most of what's on my face.

---
SHOP THE LOOK
---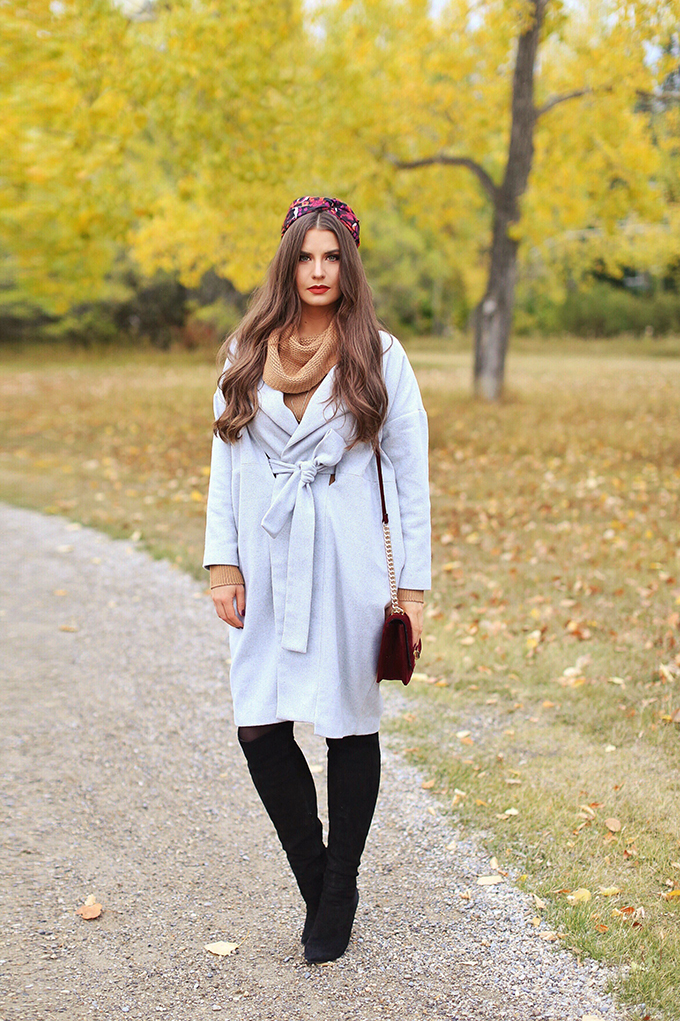 ---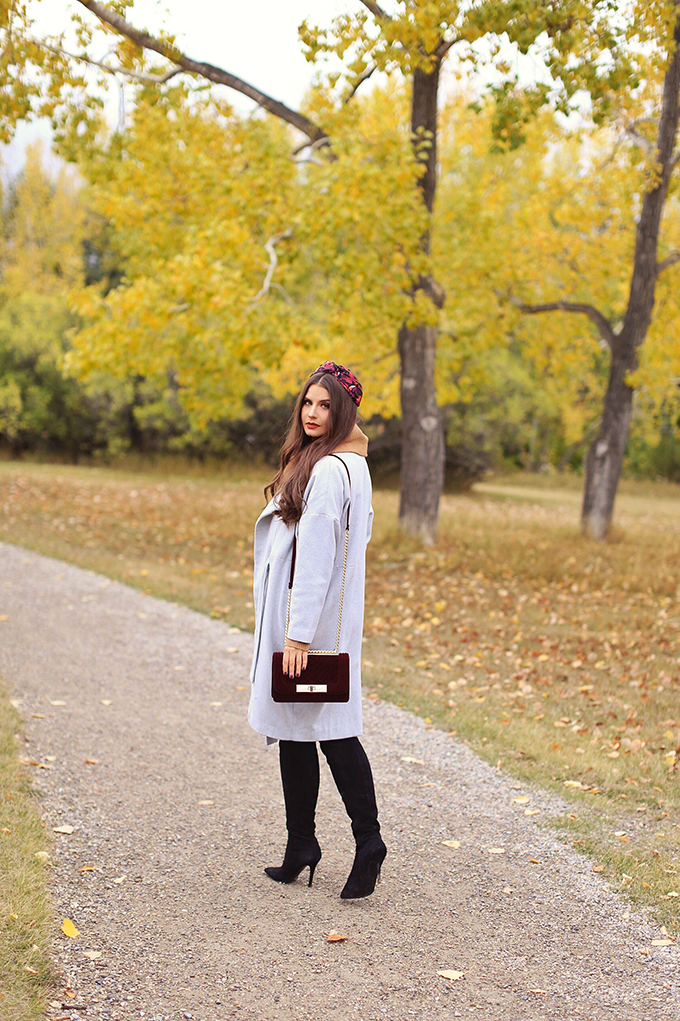 What autumn staples are you looking forward to dusting off this season? I hope this post helps you to shop you own closet this season and make the most of your existing wardrobe — or perhaps update a few key pieces and utilize my smart shopping tips! I have tons of new style content planned for the remainder of 2017 — but if there's anything in particular you'd like me to cover, just drop me a line. Enjoy the rest of your weekend, friends!
---
Thank you to Narcity Canada for featuring this look in their 19 Alberta Ladies Whose Instagrams Will Give You Serious Winter Fashion Inspo roundup.
---
Disclaimer: Thank you to my friends at Dean Davidson for my stunning necklace and to Joydrop for my first pair of Quay sunnies. This post is not sponsored, and contains my genuine thoughts, ideas and recommendations. JustineCelina uses affiliate and referral links, which allow me to receive a small commission when you make a purchase through one of my links. Thank you for supporting the brands and businesses that support JustineCelina!