---
Fall fashion lovers, welcome back for a fresh instalment in my STYLE STAPLES series — this time, highlighting the more casual side of my personal style! We enjoyed this past Thanksgiving weekend completely unplugged in the country — and although I was device free, I brought my professional camera along. I actually had no intention of capturing style content last weekend, but rather, was hoping for some nice family photos since it had been forever since we'd taken some (we're talking 5+ years!). Adam isn't really into being in front of the camera too often — so when he agreed to sneak in a couple of quick photos before heading to Brooks for our second Thanksgiving dinner, my Mom and I killed some time while he was getting ready (believe it or not I'm usually ready before he is!) and also captured what I was wearing. Although this post wasn't originally part of my editorial calendar, I thought it was the perfect opportunity to share a fresh instalment in my STYLE STAPLES series dedicated to relaxed, comfortable fall fashion (the family dog, Charlie, even makes an appearance!).
My Casual Fall Style Staples are my most worn, most loved seasonal pieces that combine to create my go-to casual fall outfit formula — one I've worn various iterations of here at JustineCelina throughout the years! Longtime readers will know that while I absolutely love to dress up, I also love to dress well for more casual occasions. Today I'm sharing what I wore to Thanksgiving Dinner, complete with my absolute favourite fall wardrobe staples and elevated basics — the ones I look forward to repurchasing each year in new colours and textures! This laidback, bohemian look combines core pieces from my casual autumn wardrobe to create an outfit perfect for holiday family dinners, or anytime I want to look put together, but be comfortable and cozy (because I don't believe they should be mutually exclusive). And as always, it's a mixture of high, low, old (even vintage!) and new. Come along to my childhood home in rural Alberta to chat easygoing fall fashion amongst the yellowing Aspen trees and swaying tall grass!

---
CASUAL FALL STYLE STAPLES
---
Any type of holiday occasion is super casual at our family homes in rural Alberta (in the best way possible!). There's a lot of eating, drinking and being merry — and comfort is always top of mind!
We spend a large portion of our holiday weekends road tripping all over the province for multiple dinners, so I pack my favourite cozy basics that I know will keep me warm and comfortable in for hours in the car. Since we stay overnight, I tend to stick to a neutral colour story and choose pieces I can use to create multiple outfits with the same accessories.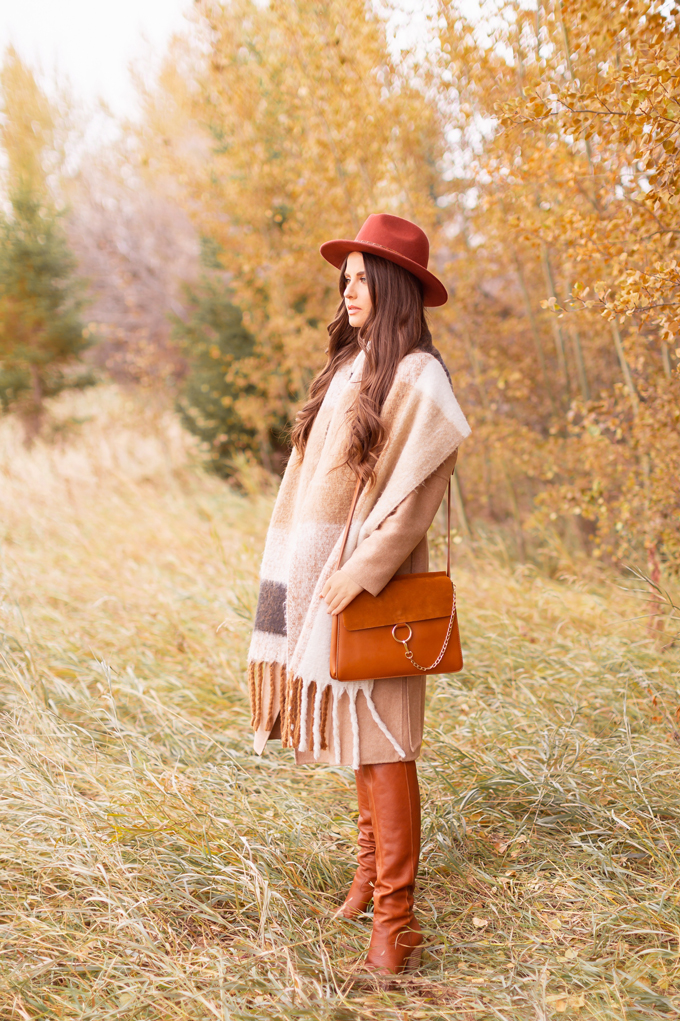 Although I absolutely love to experiment with FASHION and trends, I definitely have a foolproof, casual outfit formula comprised of cozy, versatile layers that I gravitate towards for family dinners, chill weekends and any fall / winter travel. In fact, my Comfort Zone post from 2015 is actually a rendition of the same outfit formula (which I also wore to Thanksgiving dinner) — I update it each year with fresh pieces, colours and accessories!
So without further ado, today I'm sharing my favourite Casual Fall Style Staples for AW19 — including the softest oversized sweaters, comfortable faux suede leggings, knee high boots, cozy scarves, relaxed camel coats, flat-brimmed hats, sunglasses and my go-to nude lip!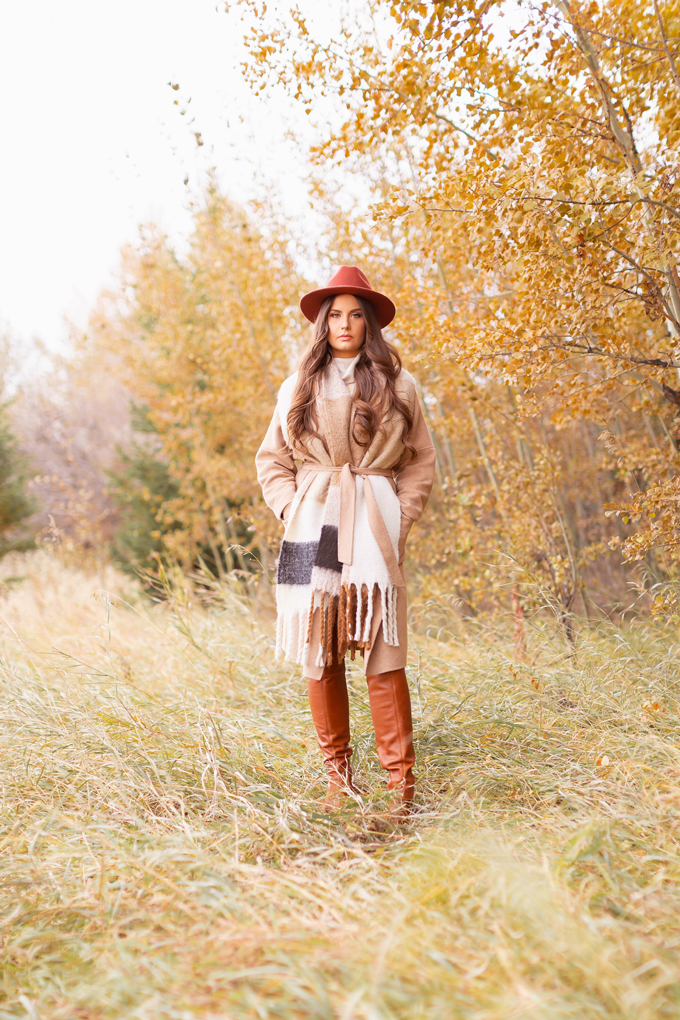 ---
CASUAL FALL STYLE STAPLE 1 | A SUPER SOFT OVERSIZED SWEATER
---
If you've been with me since last autumn, this should come at absolutely no surprise! Autumn 2018 was when I discovered H&M's super soft, oversized, tunic style knits — and I purchased them in every colour (catch the black and burgundy ones in action here, here and here!). I wore them ad nauseam on and off these pages and I know so many of you picked them up as well!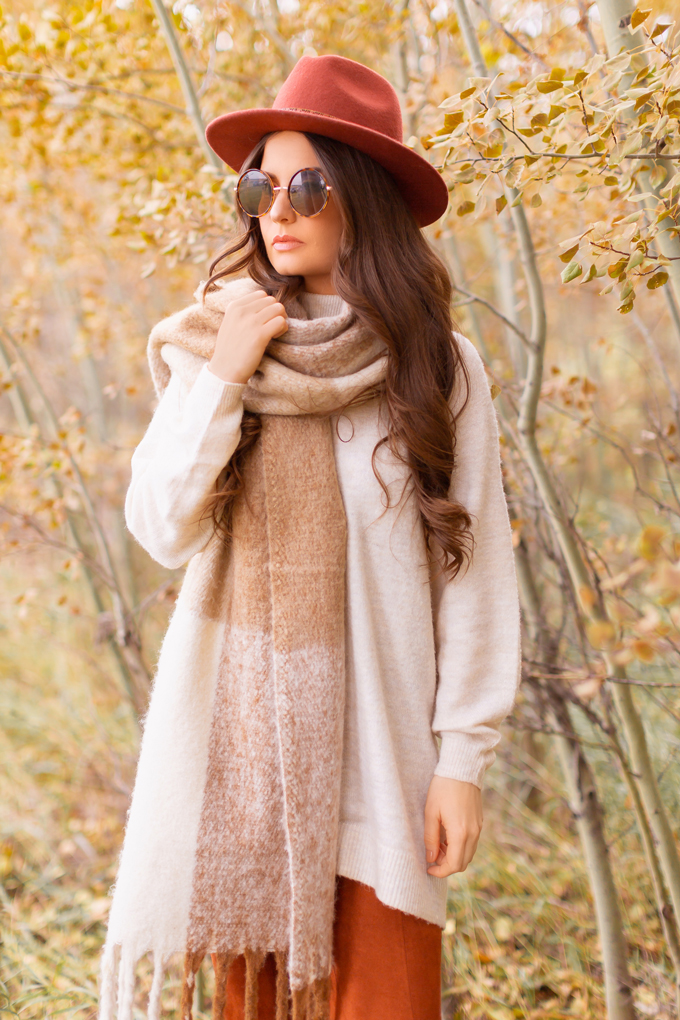 This year I was thrilled to see them bring it back in a slightly different cut (2019's version is a bit less bell shaped and there's more fabric above the cuffs), but they're still just as soft and they've also released a couple of new colours! I'm wearing H&M's Long Turtleneck Sweater in Light Beige here, but I also picked up the Brown Melange shade in a Small for a perfectly oversized fit (I'm 5'8″). By far, these are the most-worn sweaters in my wardrobe during the cooler months — they're ultra soft (they're on par with my Saks 5th Avenue Cashmere sweaters!) and warm, wash well and are perfect for throwing on with faux suede or leather leggings for an effortlessly chic and comfortable look!
I highly recommend you pick one (or a few!) up this year while they're still in stock. If you're looking for the same cozy fabric and relaxed styling in a shorter length or more colour options, check out their Fine Knit Sweater — which I'm not ashamed to admit I picked up in five colours. H&M is my favourite retailer for well-made knitwear that stands the test of time — expect to see a lot of it here at JustineCelina this AW19!

---
CASUAL FALL STYLE STAPLE 2 | A PAIR OF FAUX SUEDE OR LEATHER LEGGINGS
---
Another Casual Fall Style Staple that should come at no surprise to longtime readers are the Joe Fresh Faux Suede Leggings. Joe Fresh makes my all-time-favourite faux suede and leather leggings and ponte pants each autumn at any price-point — and every year I pick them up in a variety of colours. Catch me in previous year's renditions here, here, here, here, here and here!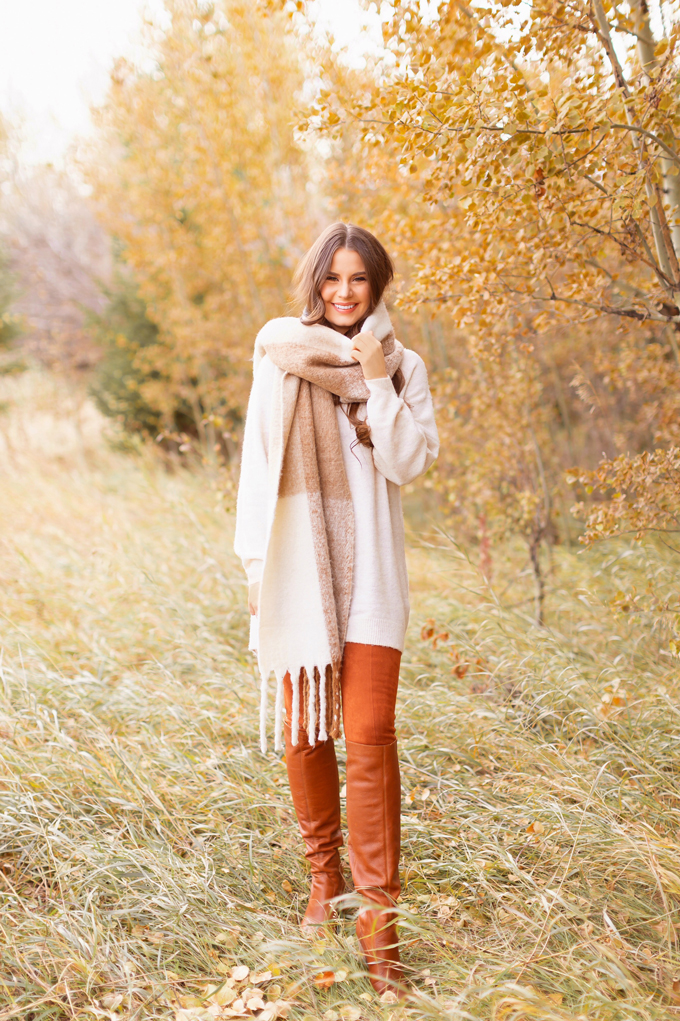 This year I opted for the Black, Slate Grey and Rust (which I'm wearing here). With warm rust, tobacco and cognac shades being more on-trend than ever this autumn, I've been absolutely living in the rust version! They're extremely comfortable and versatile, made of thick, stretchy material that creates a flattering silhouette, wear and wash well and look much more premium than their modest price point. They really are the perfect faux suede legging!
Faux leather and suede is another massive trend this season (stay tuned for tons of styling inspiration coming your way!) and these ultra wearable leggings are a fantastic way to take it for a test drive. I've linked the only colours available online for you, but if you have your heart set on the colour I'm wearing, give your local Superstore a shout and ask for the Faux Suede Leggings (STYLE #: F9WR000178) in rust. These leggings are also available in extended sizes! Alternatively, I've linked other similar styles from other retailers for you below.

---
CASUAL FALL STYLE STAPLE 3 | A PAIR OF KNEE HIGH BOOTS
---
I fell madly in love with the Lucky Brand Azoola Boots in Whiskey last winter. Alas, they sold out across Calgary and online in my size before I could scoop them up — or so I thought!
I was introducing my Mom to the magical world of Saks OFF 5TH one weekend late last year and was absolutely ecstatic to find them stocked in every size in their heavenly shoe aisles. I picked them up at a fraction of their original price — and they've become one of my most-worn pairs of boots this season!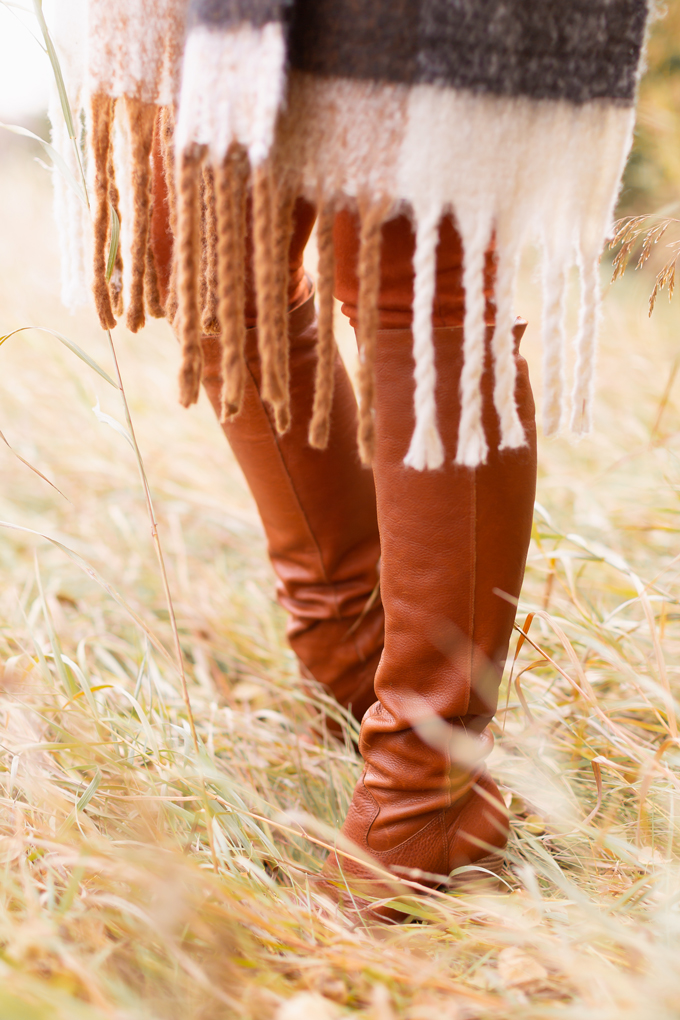 Knee high (rather than over the knee) styles are emerging as AW19's it boot — and I absolutely love the trend, because I know it has longevity! On me, the Azoola hits just below my knee cap, the ideal height for boots this season. The low block heel means they wear all day without discomfort and their versatile cognac hue works incredibly well with my seasonal wardrobe. Here, coupled with faux suede leggings, it creates a monochromatic, leg-elongating effect!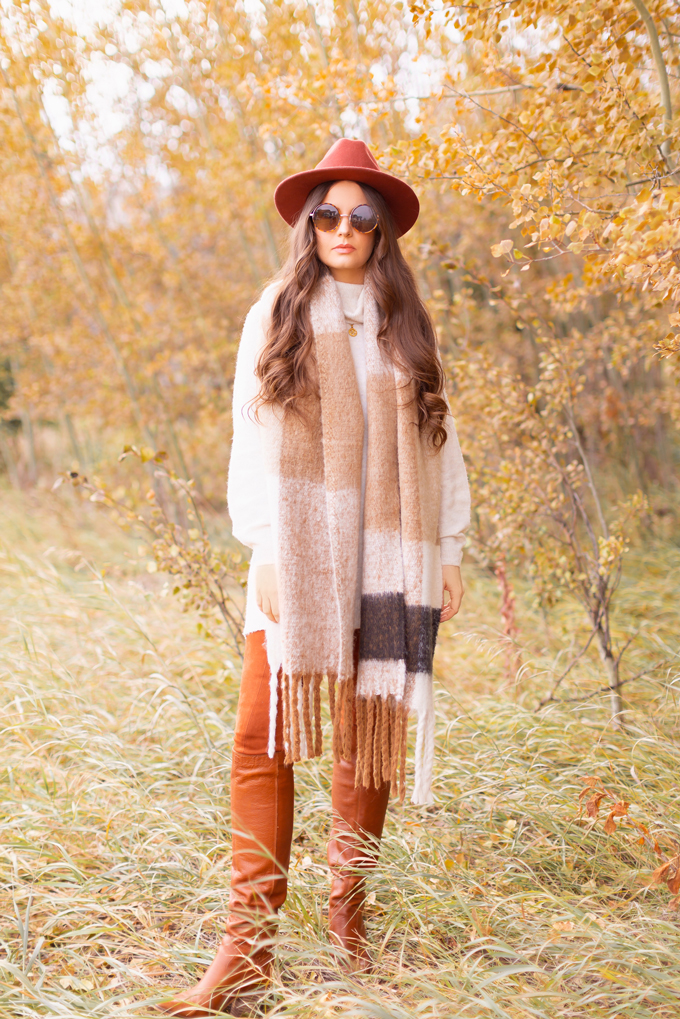 I've linked a few different retailers up online where you can find Azoola, but if you're Calgarian, it would be worth popping up to Saks OFF 5TH at CrossIron Mills (where I purchased mine!), to see if you can snag a pair! Shop a collection of my favourite knee high cognac boots for AW19 below.

---
CASUAL FALL STYLE STAPLE 4 | A COZY SCARF
---
Since we're never entirely sure what Mother Nature will throw at us at this time of year, I like to pack a cozy, oversized scarf in a neutral palette for weekends away.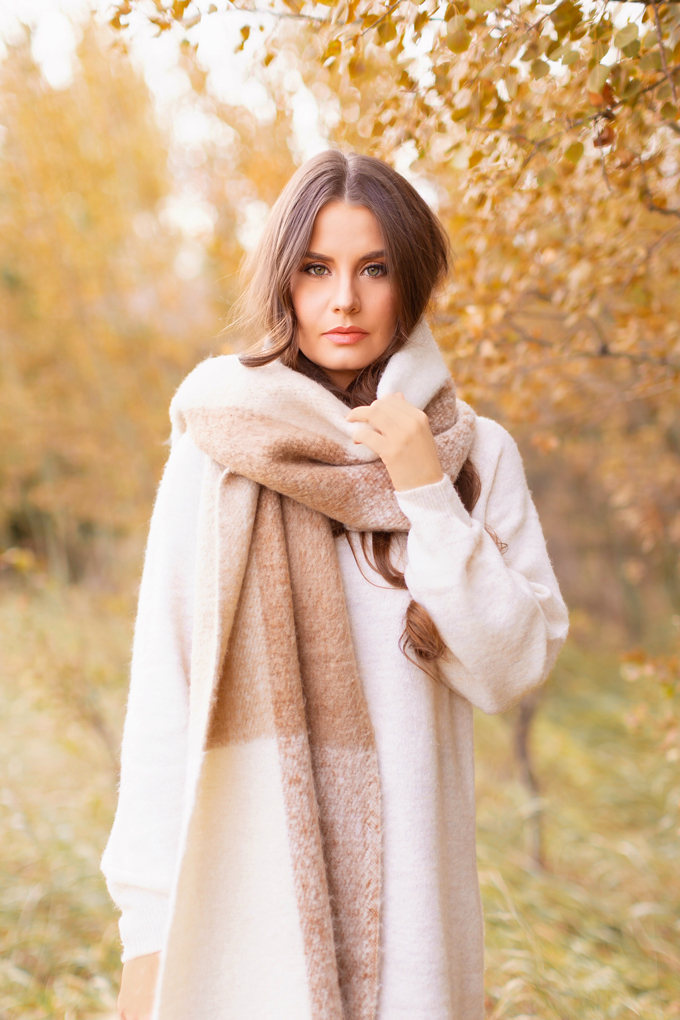 It's such an easy piece to wear with and without a coat, wrapped, loose or belted, or to use as a blanket in the car. An oversized scarf can completely change up a casual outfit! On this trip, I actually used it as a blanket as we sat by the fire after Thanksgiving Dinner #2 — it was a beautifully crisp and clear evening!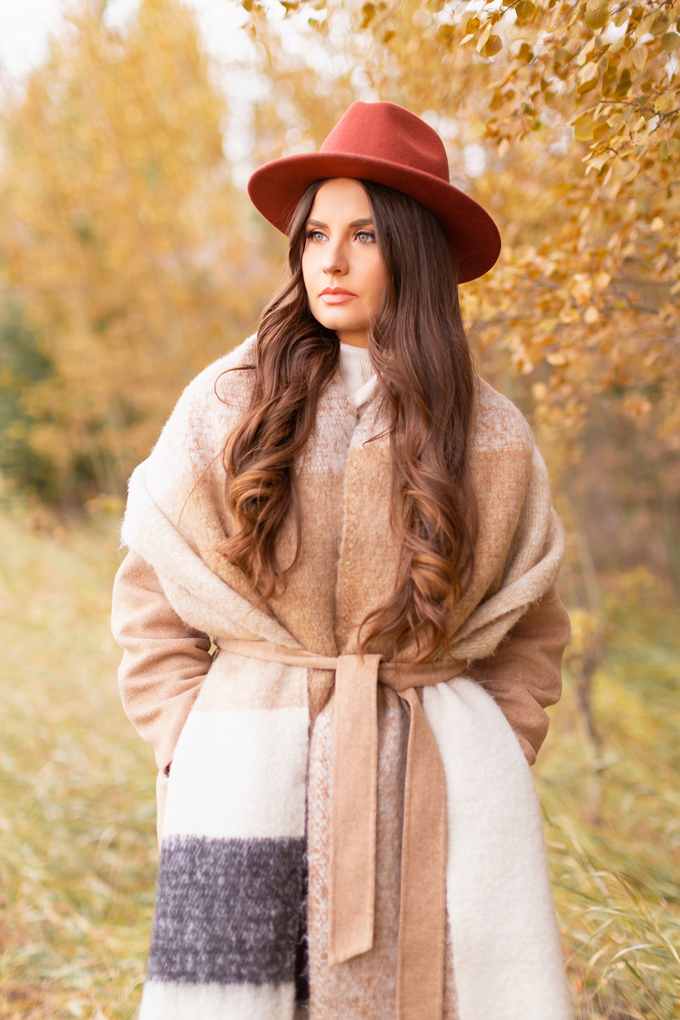 I picked this one up on clearance at Aldo last winter, but they make similar versions each season. They're fantastic quality for the price point and I've linked a few of my favourites up for you below!

---
CASUAL FALL STYLE STAPLE 5 | A RELAXED CAMEL COAT
---
Does this coat look familiar? She's been with me for 6 years and I've worn her many times here at JustineCelina! She was my first camel coat — and her ultra cozy, oversized, relaxed styling in a lightweight wool fabric makes her the perfect candidate to wear for weekend fall road trips (or plane trips!).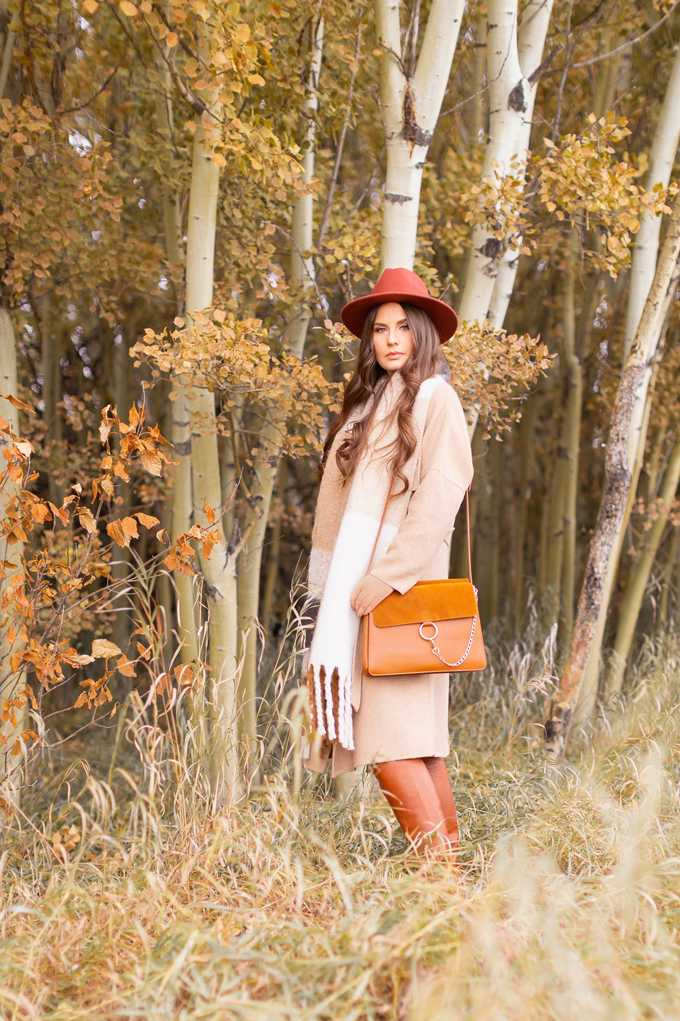 Although I've invested in a few camel coats since this purchase, she'll have a place in my casual, cool weather wardrobe for as long as she holds up — and I have to say, she looks just as good as the day I brought her home! She's my favourite coat to layer oversized knits under, thanks to her relaxed styling and the way her fabric drapes. If you're looking for a more figure-flattering, streamlined silhouette, you can always tie the belt at the smallest part of your waist — and play with belting your scarf, or letting it loose!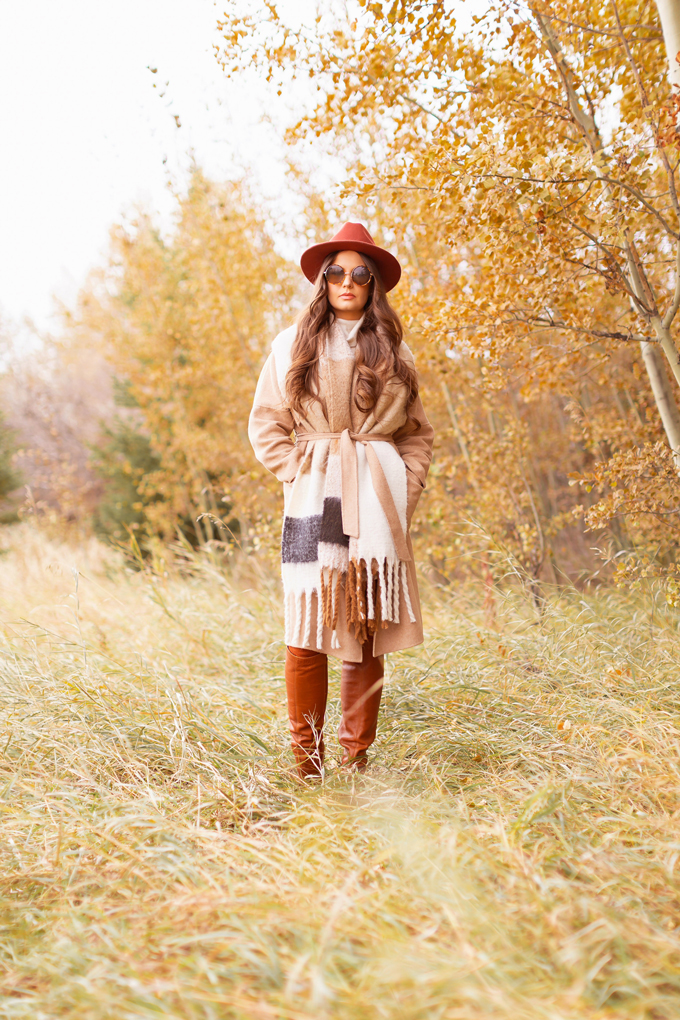 If you don't already have a relaxed, cozy camel coat in your seasonal wardrobe, I highly recommend picking one up. This one is from Zara, and they do make a similar style each season. I promise it will become your favourite piece of fall outerwear!

---
CASUAL FALL STYLE STAPLE 6 | A ROOMY NEUTRAL BAG
---
When I'm choosing a bag for a casual fall outfit or for a weekend away, I always end up with a mid-sized, neutral style with enough room for all the essentials!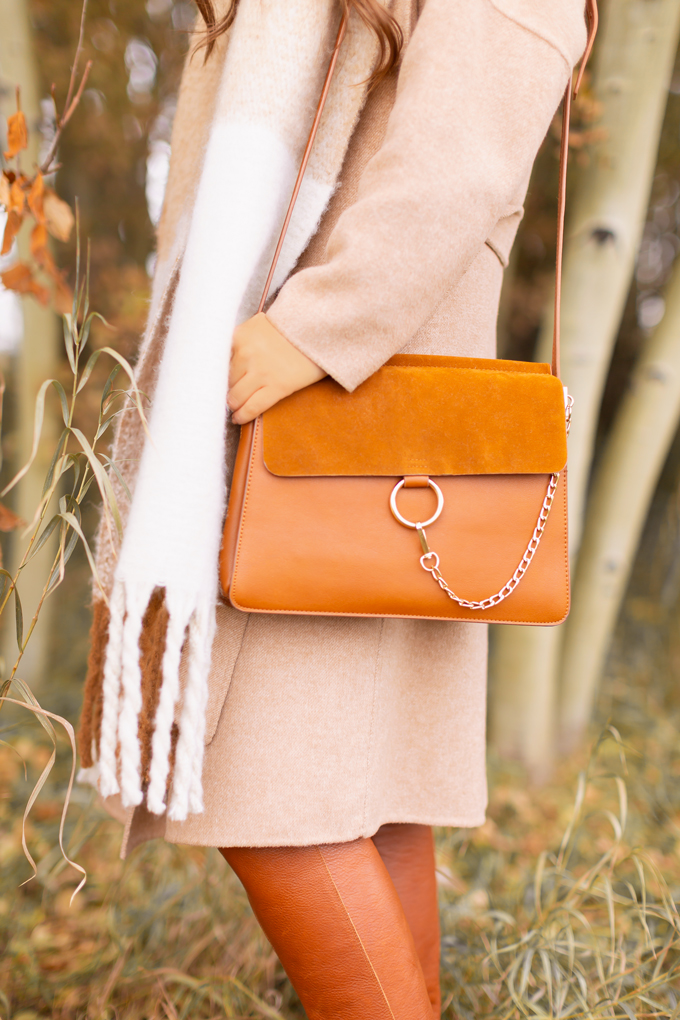 Believe it or not, this is actually a dupe of the Chloe Faye that I picked up years ago (I also have it in grey and unfortunately it's no longer available) — but there are so many similar, designer-inspired styles available this season. If you don't already have a go-with-everything, mid-sized, cross-body bag in a durable material, I've linked some alternatives for you below at every price point (including the real deal, if you're so inclined).

---
CASUAL FALL STYLE STAPLE 7 | A FLAT-BRIMMED HAT
---
Flat-brimmed hats are always something I throw on my head on my way out the door for any kind of trip. I try to leave the house with freshly washed hair when I know we'll be away for a few days, but they always come in handy on days two, three and sometimes even four!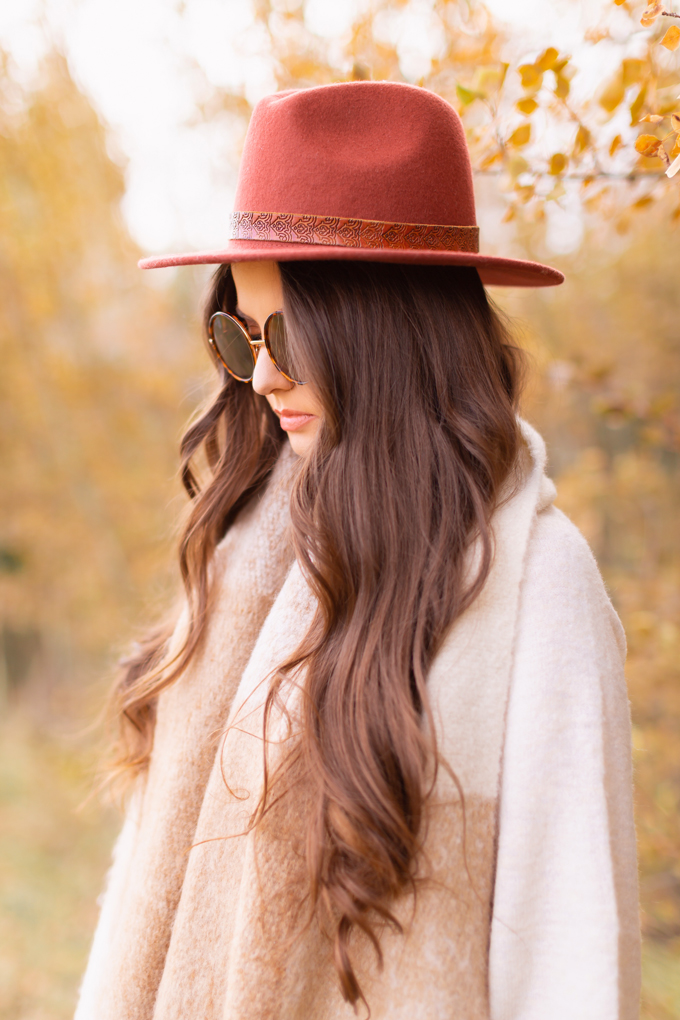 On the day we shot these photos I was rocking second day hair (which I actually prefer to freshly washed!) but I typically like to accessorize with a hat when venturing into third and fourth day territory (which I would be the following day, waking up in Brooks). Not only do hats add some polish to your look, they're a great way to conceal an unwashed mane!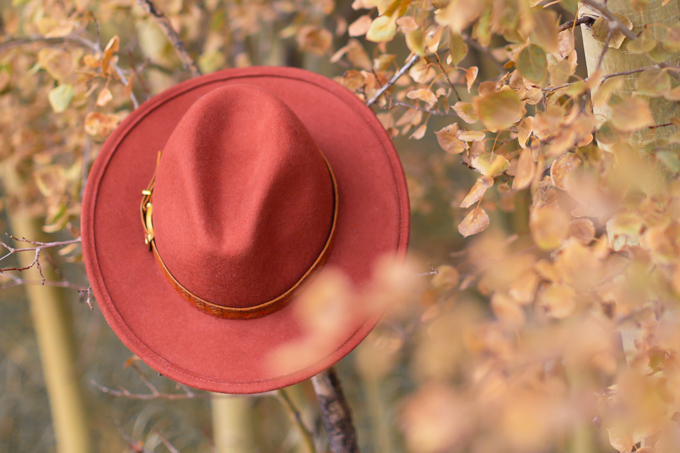 I picked this one up at Forever 21 in the summer, but the band is vintage — which I added to tie the cognac of my boots and bag in. AW19's bohemian hat of choice is a flat, wide-brimmed style — so set your floppy hats aside in favour of this chic, streamlined option!

---
CASUAL FALL STYLE STAPLE 9 | A GREAT PAIR OF SUNGLASSES
---
Another staple of mine that should look wildly familiar if you're familiar with my style content is a pair of neutral, round sunnies. What can I say, they're my signature style!
I gravitate towards this tortoise rimmed pair whenever I want to pull in warmer, brown hues in my outfit — and I've worn them many times here at JustineCelina over the years. I absolutely consider tortoise (just like leopard, snakeskin, or many other animal prints!) a neutral.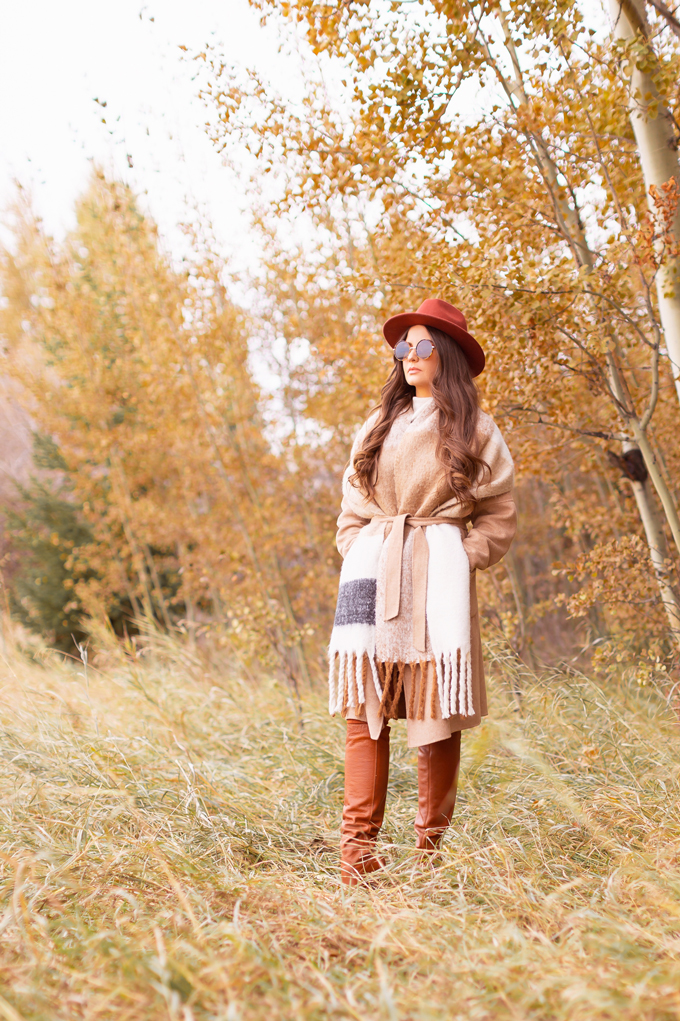 That said, I know round frames aren't everyone's thing. So take some time this autumn to experiment with different frame styles to find one that works for you (I'm partial to all the vintage inspired options available this season!) and pick it up in a neutral brown style. I promise they'll go with everything in your seasonal wardrobe!

---
CASUAL FALL STYLE STAPLE 10 | YOUR SIGNATURE EVERYDAY LIP COLOUR
---
Although I love to wear warmer, deeper, moodier shades during the fall (expect a post covering that topic soon!), I also rely on my everyday staples for casual looks.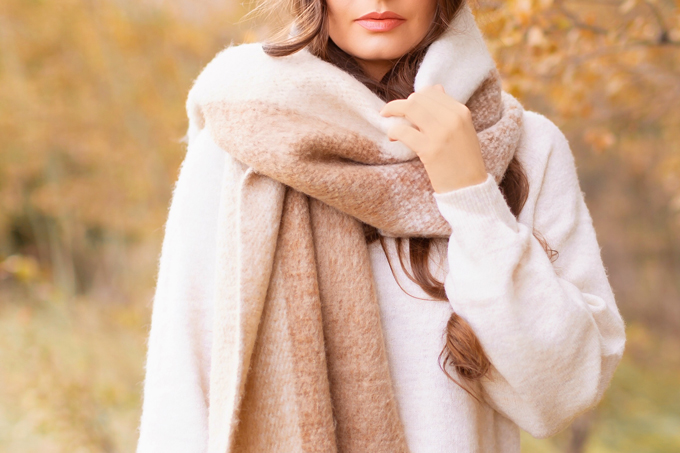 I recently kicked off the return of BEAUTY content here at JustineCelina with a post all about My Top 5 Everyday Lipcolours — and I'm wearing one of them here! I like to stick to low maintenance lip colours that mimics the shade of my natural lip when I know I'll be doing a lot of eating and drinking, so I opted for theLancôme Matte Shaker High Pigment Liquid Lipstick in Nudevolution paired with Essence's Soft Contouring Lipliner in Lost in Love, which creates my current favourite my lips but better nude.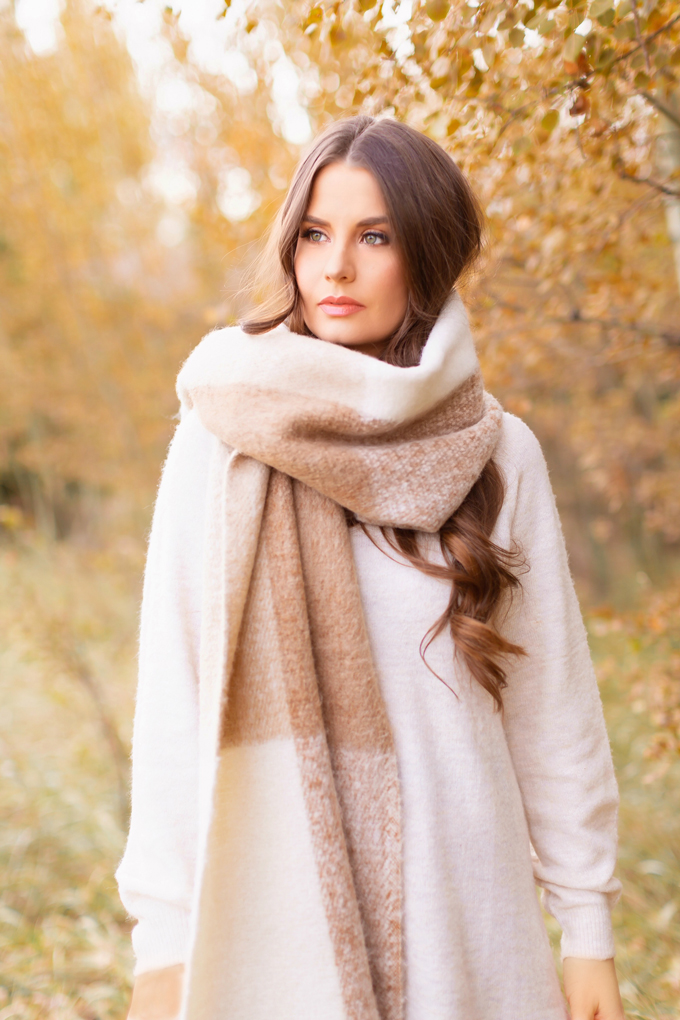 These products (along with the others I mention in that post) typically live in the bottom of my bag so I can throw them on anytime, and they also work with whatever I'm wearing! Hop on over to read more about my most worn lipliners, lipsticks and glosses — or shop them below.

---
SHOP MY CASUAL FALL STYLE STAPLES
---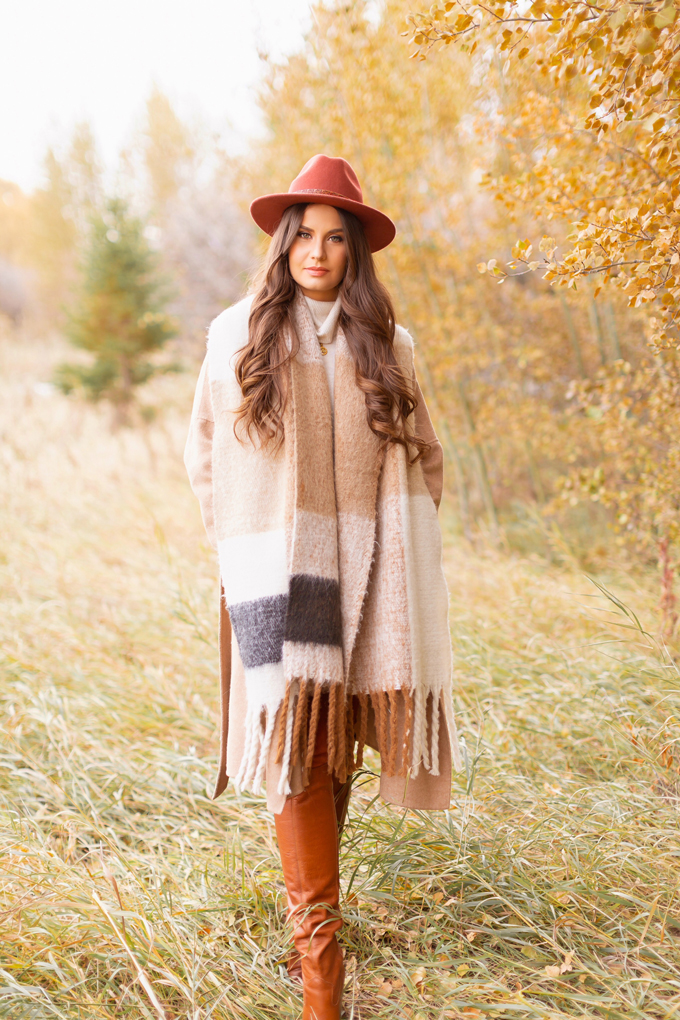 ---
MORE CASUAL FALL FASHION
---
Transitional Summer to Fall 2019 Lookbook
Falling Back | Refreshing Old Staples for a New Season
---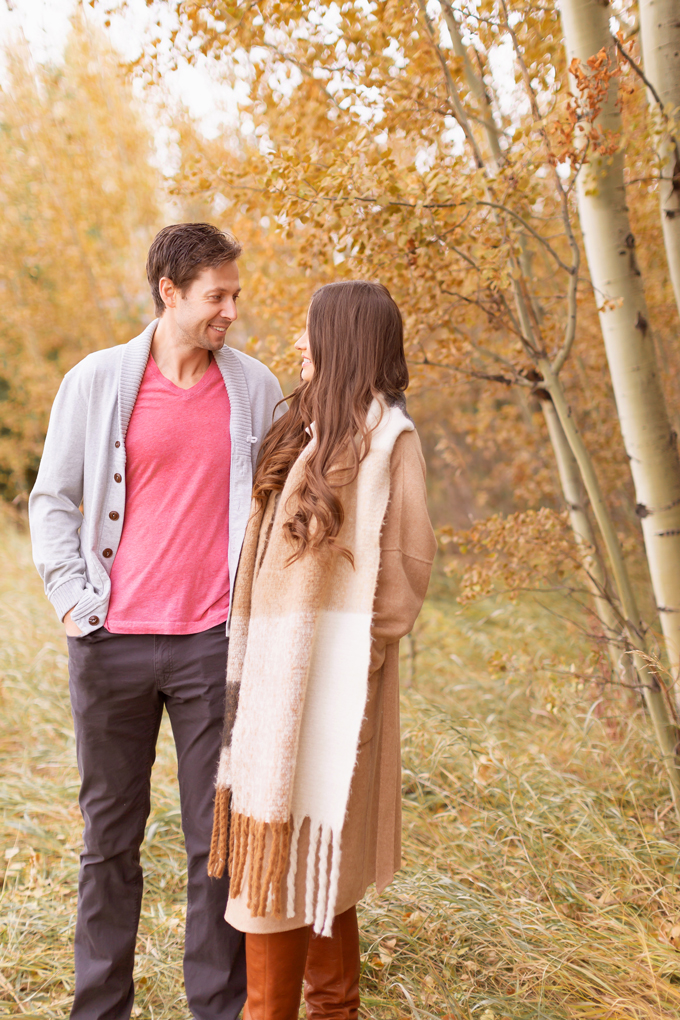 Thanks for coming along to my childhood in rural Alberta for a glimpse of our Thanksgiving weekend! Although I wouldn't exactly call these weekends restful due to us road tripping all over the province to multiple dinners (and the copious amounts of wine and sangria consumed until the wee hours of the morning!), unplugged time in the country is definitely good for the soul and I'm so grateful to have all these beautiful people in my life to celebrate with. I hope you enjoyed this more relaxed look into my personal style and picked up a few cozy wardrobe recommendations or outfit ideas for your next low-key holiday dinner!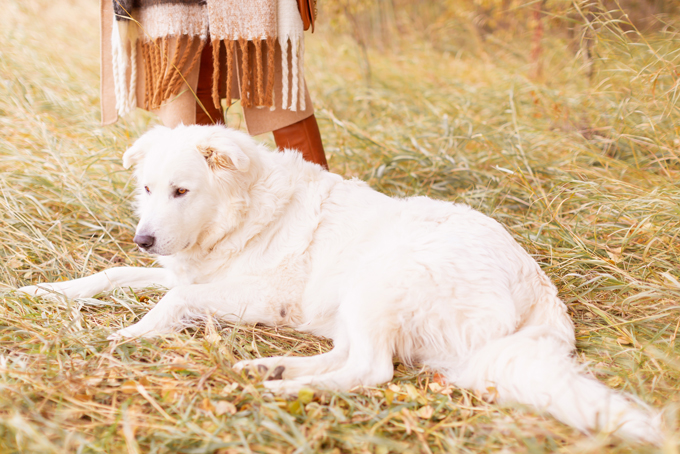 Charlie, my family's Great Pyrenees even made an appearance to check out what we were doing. I don't share photos of Charlie often here at JustineCelina, although he pops up in my Stories often when I'm spending time at my childhood home. Isn't he gorgeous? He's such a gentle giant and I'm so glad he's part of the family. We actually found him on the side of the highway a few miles from our acreage and adopted him!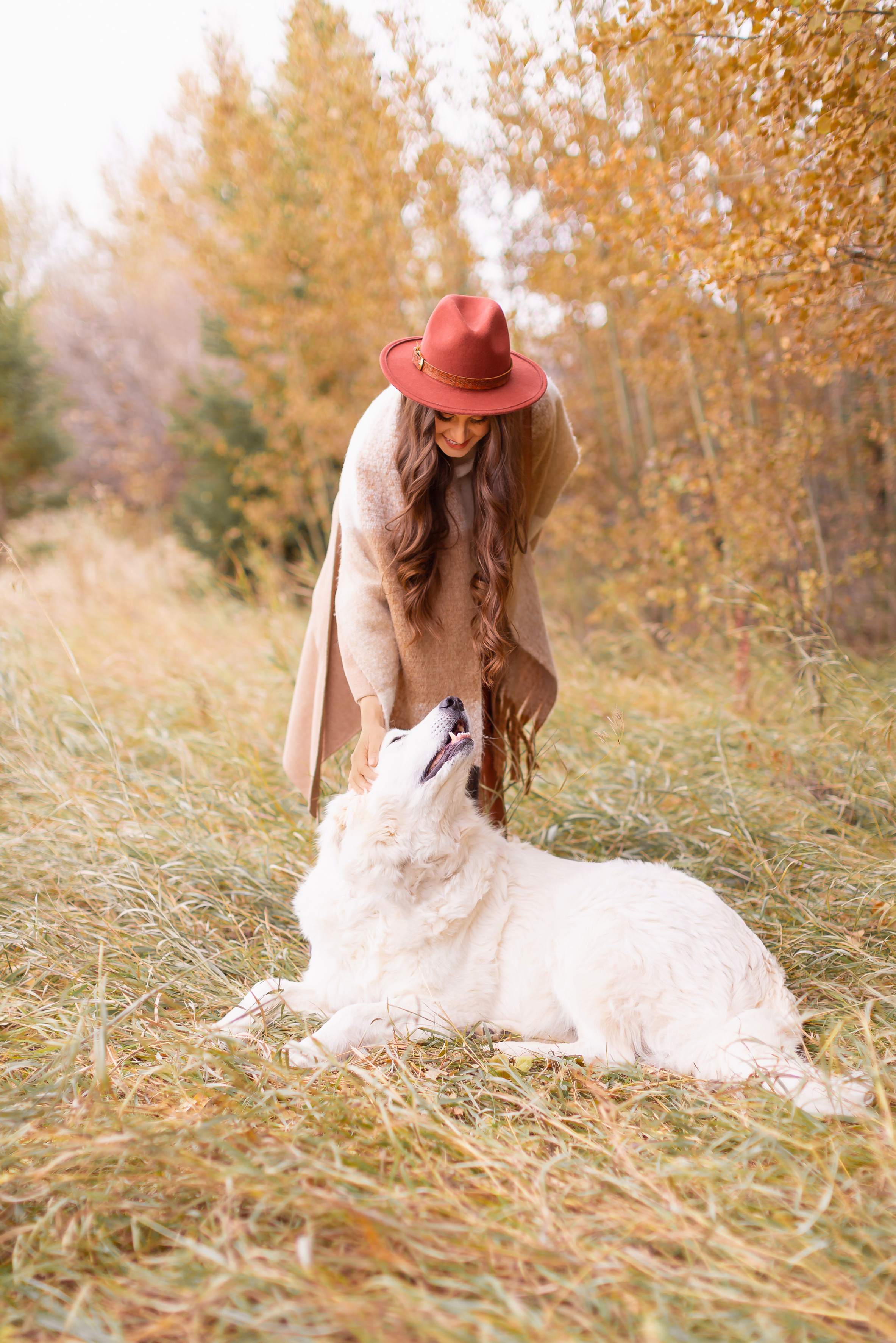 We're shooting my Autumn / Winter 2019 Lookbook next week, which will definitely have more of a cold-weather focus than 2018 version as we've already experienced 2 major snowfalls here in Calgary! Although I think we caught the tail end of any fall foliage in these photos, I can't wait to deep dive into autumnal fashion and share my favourite looks, trends, colours and sartorial recommendations for both personal and professional settings this autumn! Enjoy your weekend, friends!
---
Disclaimer: This post is not sponsored, and contains my genuine thoughts, ideas and recommendations. JustineCelina uses affiliate and referral links, which allow me to receive a small commission when you make a purchase through one of my links. Thank you for supporting the brands and businesses that support JustineCelina.com!