---
I'm spending Good Friday catching up on some editorial content — and I don't mind one bit! It's snowing (again… cue eye roll!) here in Calgary so I'm quite content to be curled up at my desk in a cozy pair of sweatpants and fuzzy socks with my second cup of coffee. Spring has definitely been holding out on us this year — and while most of the world (and the fashion industry) is in full on spring mode, I always dress for our current Alberta climate. Today I'm thrilled to introduce a new series to the JustineCelina FASHION department called PATTERN PLAY — where I dedicate an entire post to a specific pattern — along with tons of styling ideas, curated pieces with shoppable links at every price point and tips for selecting the right print for your lifestyle and body type. And we're kicking things off with one of my favourite classic prints, leopard! I'm also taking this snow covered opportunity to get the last of cold weather textures in — including (faux) leather, satin and wool. Hey — I'm a glass half full kinda gal!
Regardless of whether you're a leopard lover or never thought leopard was for you, there's something for everyone in today's post! I'm chatting about how you can incorporate leopard print into your wardrobe right now as well as transition it into spring (and style it with 2 of my favourite spring prints, stripes and florals!). I've always considered leopard print a neutral (when you break it down, it's just shades of brown and black) — and while it's more popular some seasons than others, this iconic pattern truly never goes out of style. In fact, I've owned my oldest leopard piece for about 8 years! Of course, there are some of the usual suspects in today's look as well — including baker boy hats (but don't worry — I finally trimmed my fringe this week so I'll be sharing some new style content next month where I'm not wearing a hat!), longline coats, OTK boots and a beautiful, neutral lip — but I've also integrated some fun, playful textures in this monochromatic, leopard-centric outfit.

---
PATTERN PLAY | LEOPARD PRINT
---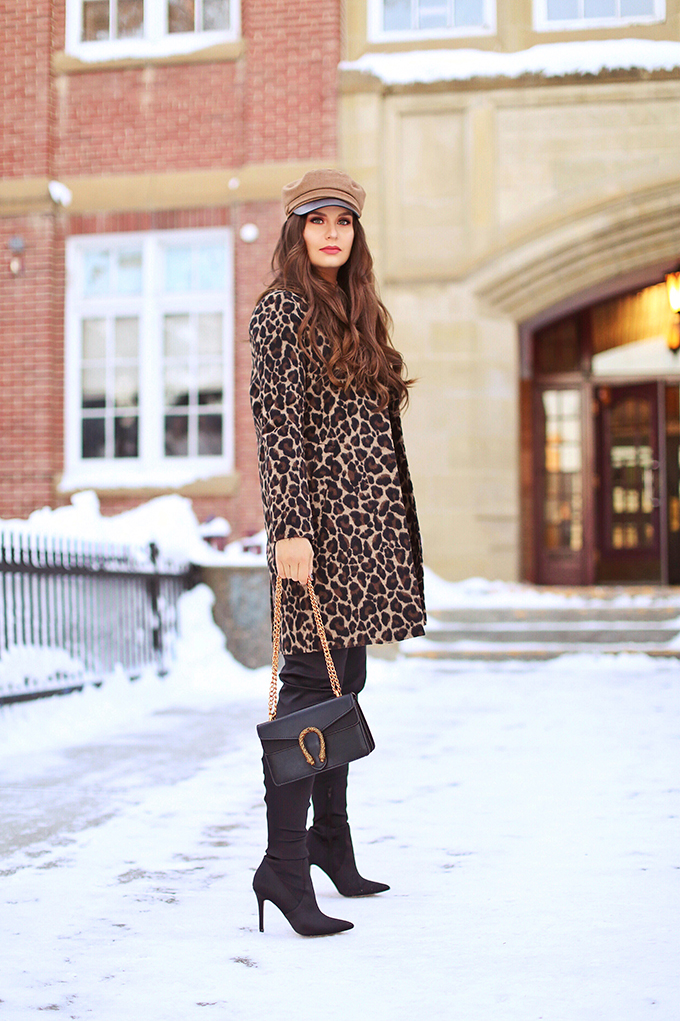 It took me years to find my perfect leopard print coat. While it's one of those iconic wardrobe staples I've always wanted, I'm pretty particular about what I consider to be good leopard. Last year around this time, I was perusing ASOS when I spotted this leopard stunner on end-of-season clearance! If you've been following along FASHION wise for awhile, this probably sounds familiar — and that's because I also picked up this beautiful grey wrap cocoon coat and my go-to winter coat in the same shopping trip for a steal. In fact, I did so well in the outerwear department last year, my only new addition this winter was my red Zara coat. Canadian girls take note — March is the best time to score amazing deals on outerwear at practically every retailer!
While there is an abundance of bad leopard print floating around, I think it can be very sophisticated and timeless when it's done (and styled) tastefully. So, what differentiates good leopard from bad leopard? A realistic looking print in a classic fabric is a great place to start. As I mentioned, I treat leopard print as a neutral — so I look for a print with various shades of brown and black. As you can see, my coat is made up of just 3 colours — camel, medium brown and black. I tend to stay away from coloured iterations — including snow leopard (white on black and grey). What can I say, sometimes I'm a sucker for the classics — but you do you!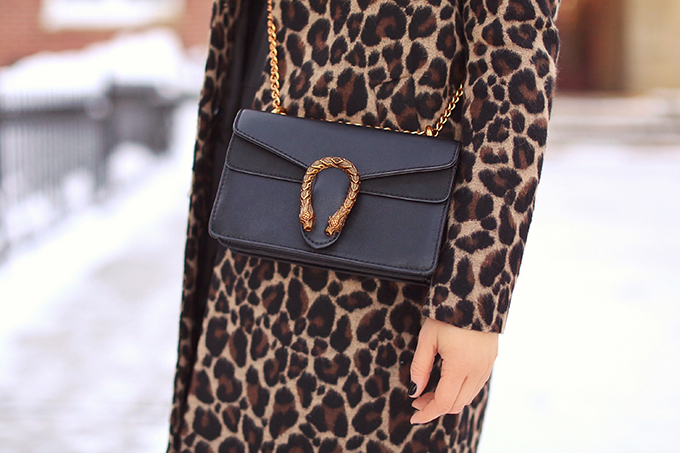 In terms of selecting the perfect print and piece for you, here are some general guidelines — although I'm a big believer in just wearing what you love and feel comfortable in! Typically, taller gals can pull off larger prints, or all over prints (think: a leopard maxi dress!) — while shorter babes should opt for a smaller scale print so as to not overwhelm their petite frames. Now, these rules don't always apply, but they're a good baseline to start experimenting with. Everyone can have fun with leopard accessories — one of my favourite ways to wear leopard and a nice way to dip your toes into a new-to-you print if you're not ready to commit to a piece of clothing! Adding leopard accessories to your wardrobe is also a great way to mix prints — I love to wear my leopard shoes and clutch with both stripes and florals during spring months. In fact, I have 2 pairs of leopard print shoes (a pair of pointed toe pumps and a pair of flats — from the Joe Fresh kids section, no less!) that I plan to style for you as soon is it warms up to show you how you can transition a classic leopard print into spring!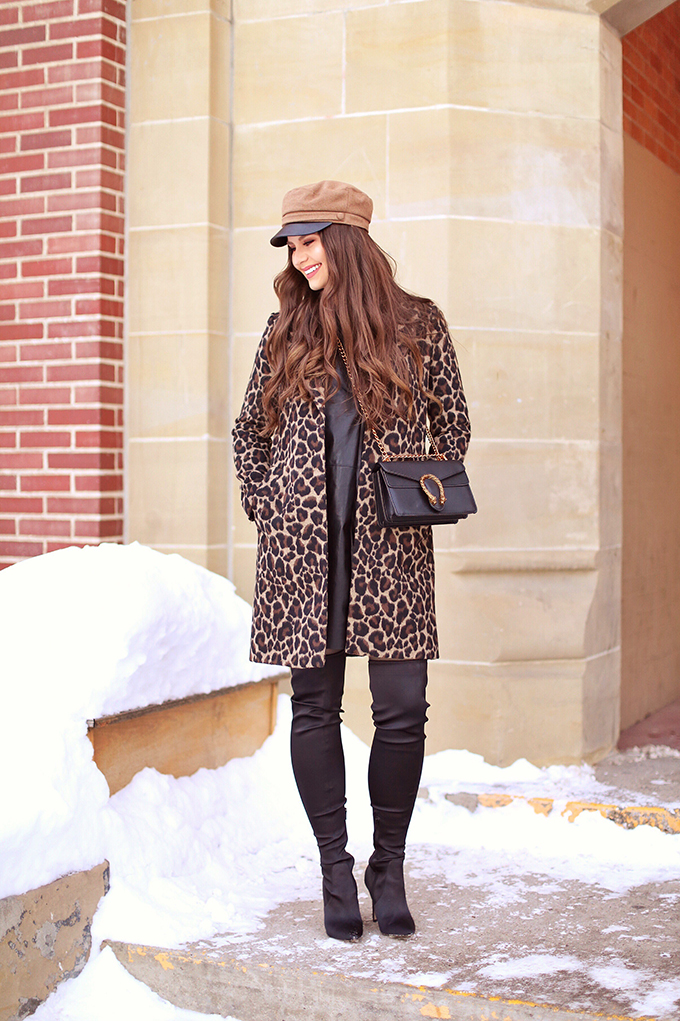 Since leopard print is a neutral, I think you can have a lot of fun styling it! While I've gone for a completely monochromatic look here by sticking to shades of black, brown and camel, it also plays well with other prints. That said, since my jacket features quite a bold, all over leopard print I opted for a tonal outfit to allow my outerwear to be the focal point of this look. Monochromatic dressing is something I've been experimenting with a lot this year and a look I've become quite fond of (if you tune in to my Insta Stories, we've been chatting about a 'red to toe' look this spring!). Not only are tone on tone outfits chic and sophisticated, they're also very figure flattering, slimming and elongating (and who doesn't love that?!). But just because you're going more subdued with your colour palette doesn't mean you can't have fun with texture!
As I'm editing this post, there's another winter storm rolling in — and I've been wearing all the wool, leather, satin and velvet this month! By the time we do actually see some consistent above zero temperatures I'm be more than ready (I'm chomping at the bit to shoot some spring looks for you!), but for now, I'm going to embrace maximizing my winter wardrobe and sprinkling in hints of spring where I can. So, let's break this outfit down!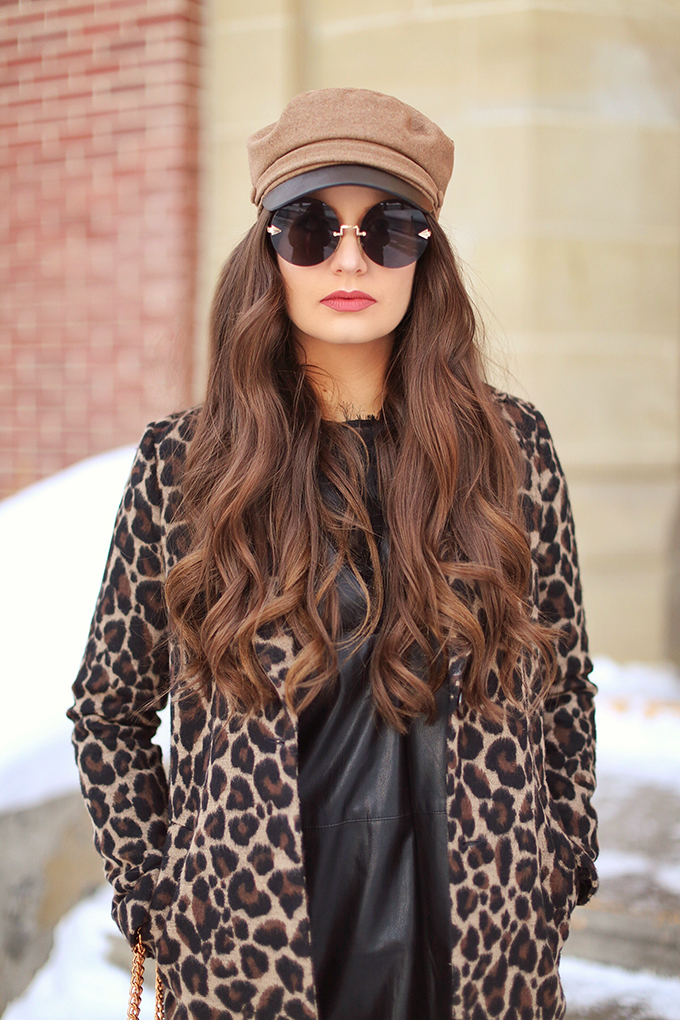 My leopard coat is the focal point of this look, so I styled everything around it, using it to anchor the outfit. I started by pulling out all my shift dresses because I wanted to go for sort of a 60's vibe. I ended up deciding on this faux leather shift dress — which I found on a clearance rack for $10 at Forever 21 in-store (I detest shopping in store there!) on an online return run a few months ago. While it's not a piece I really ever envisioned myself wearing, I'm a big believer in keeping an open mind and trying things on! It's actually very warm and insulating — perfect for chilly weather! Since the neckline is quite low, I knew I would need to layer up underneath to make it seasonally appropriate — and I wanted to keep it tonal, but play with texture. So, I pulled out all my black tops, turtle necks, mock neck and knits — but ended up going for this fun, inexpensive top from SheIn. The texture reminds me of peacock features and I love that it doesn't compete with the leopard, but still adds some interest.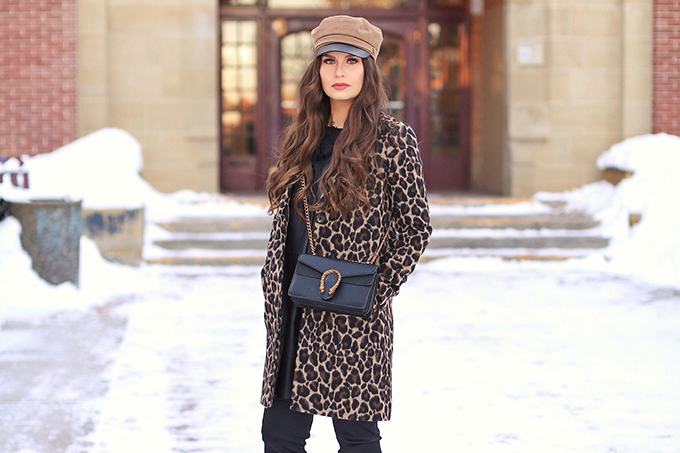 I also knew I wanted to opt for an over the knee boot to keep my legs warm — and again, I wanted to play with texture to break up all the black. So, I chose my ultra tall (I'm 5'8″ for reference), satin thigh high boots (that actually stay up!) from Aldo. I also wore them in this post — but since the hem of my dress and coat extended past the top of the boot, you probably didn't really notice them! My Aldo Sailors have been a major wardrobe staple this winter — and a pair that I'll also wear in autumn. Underneath them, I pulled on a pair of sheer tights. You can't really seem them, but they offer an extra layer of warmth since bare legs are not on the menu just yet — plus, since they're black, they aid in the leg elongating effect of tonal styling.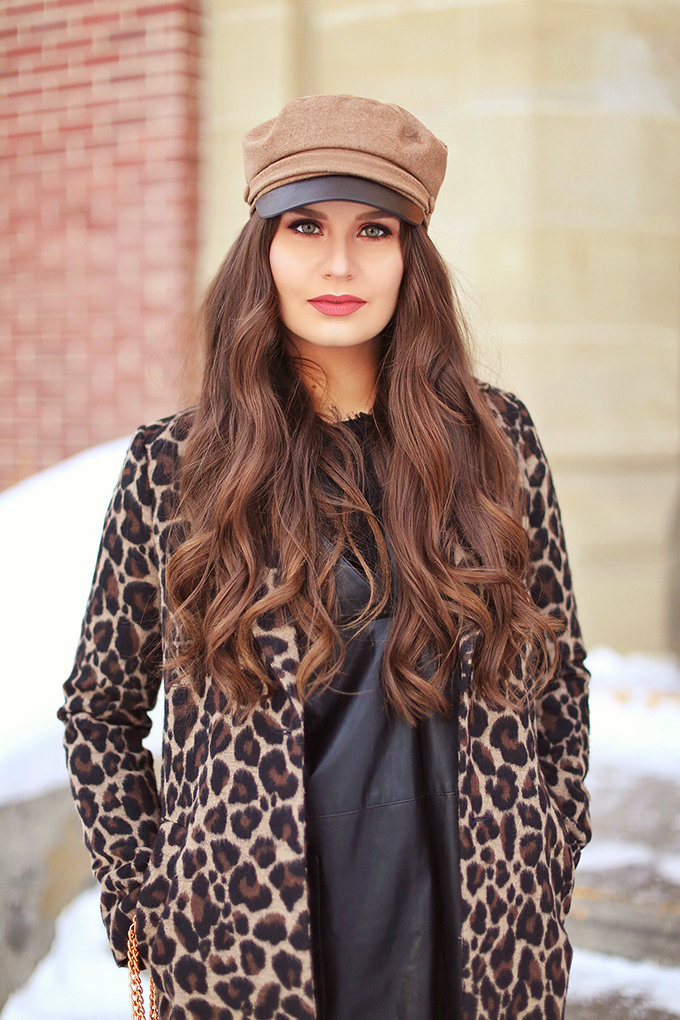 Then, I brought in some brown tones with my accessories to tie it all together. First up, this gorgeous Topshop Baker Boy Hat featuring a warm camel wool top and a contrasting chocolate brown leather brim! On the day we shot this look I hadn't had a chance to wash my hair (or trim and style my fringe!) so I popped on a hat — admittedly, something I've been doing a lot this winter! If you read my last style post, you'll know Baker Boy Hats and Berets aren't going anywhere as we transition into spring, so recently I padded my hat collection with some lighter, brighter options! You can see how my hat it really pulls in the camel in the jacket and the leather of my dress.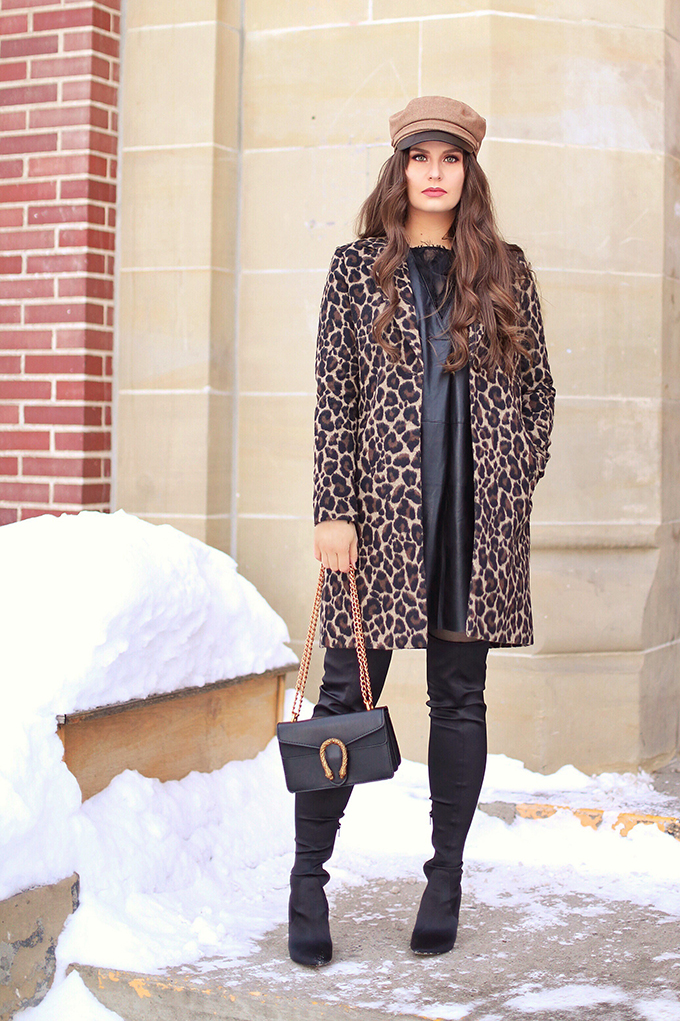 Bag wise, I chose a sleek, cross body style modeled after the Gucci Dionysus that I picked up at SheIn with my last order! Since I don't wear many designer labels, I honestly didn't even know it was a dupe until I did some research — I just loved the design and the contrasting copper hardware because it was so unique! Unfortunately it sold out pretty quickly, but I've linked some similar options for you (as well as the real deal, if you're so inclined) below. Finally, I always choose my lip (and the rest of my makeup) last to polish the look. I knew I wanted to keep things tonal, so I stuck to a bronzy eye and a neutral, brown based lipstick — Huda Beauty's Liquid Lipstick in Trendsetter (one of my all time favourite formulas, but a new-to-me shade!).
---
SHOP THE LOOK
---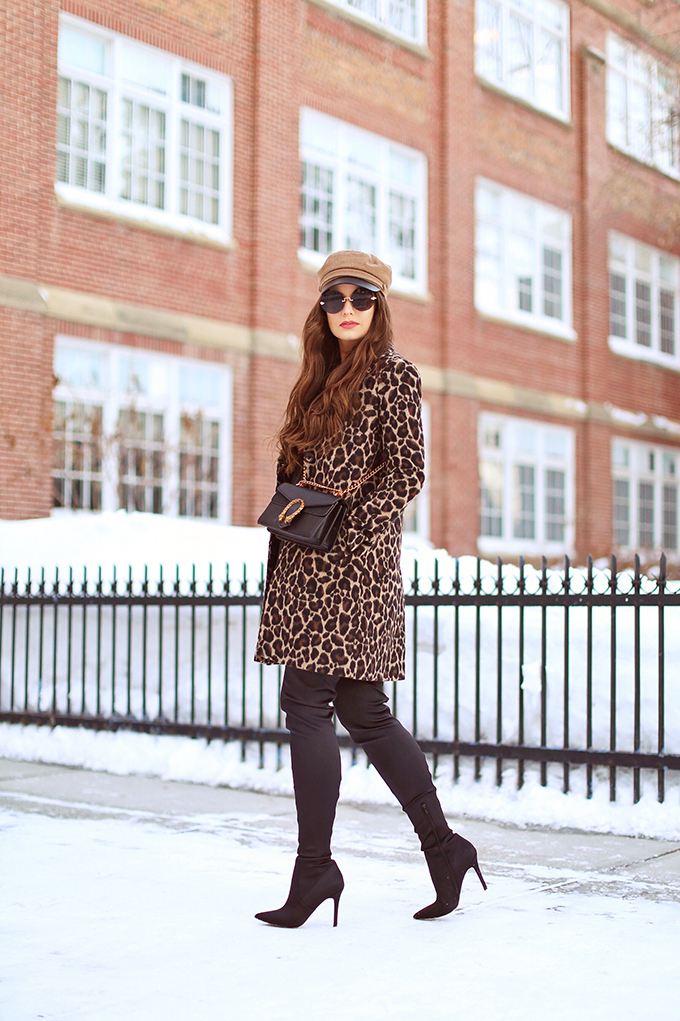 ---
SHOP MY FAVOURITE CLASSIC LEOPARD PIECES
---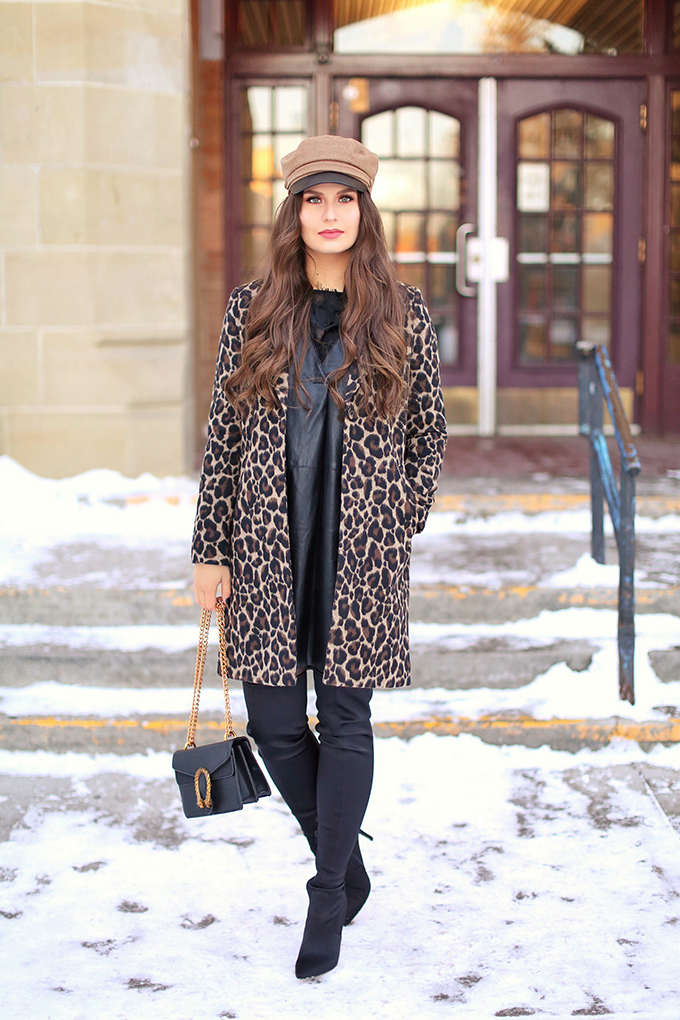 ---
MORE CANADIAN SPRING OUTFIT IDEAS
---
Winter 2018 Trend Guide | Velvet Underground
How to Style | Midi Dresses for Winter
How to Style | Oversized Knits
Winter 2018 Trend Guide | Red Hot
---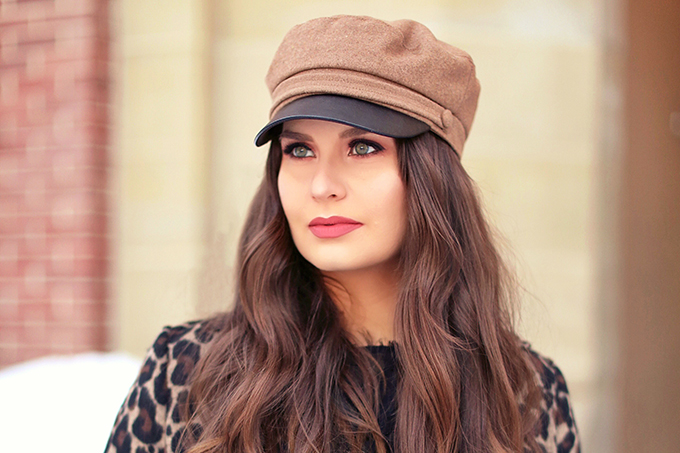 Are you a leopard lover? Although it's a bit of a polarizing print, I hope I've helped shed some light on different ways you can integrate it into your personal style this season! Once all this snow melts (and I can wear my full shoe wardrobe!) I have some additional outfits planned incorporating leopard print accessories — so be sure to check in with me if you're looking for some more spring styling ideas. As always, thank you so much for reading, friends — and enjoy your Easter long weekend!
---
Disclaimer: Thank you to From Rachel for my tights. This post is not sponsored and contains my genuine thoughts, ideas and recommendations. JustineCelina uses affiliate and referral links, which allow me to receive a small commission when you make a purchase through one of my links. Thank you for supporting the brands and businesses that support JustineCelina!