---
Whether you're new to JustineCelina or have been with me for years, my love of colour is evident. In fact, it's probably my biggest source of inspiration across content categories, in my work and in pretty much every aspect of my life! Year after year as we transition into an extremely colourless late winter, I find myself seeing through proverbial rose-coloured glasses and craving all things pink — in my wardrobe (in fact, I published a look wearing this coat exactly 1 year ago!), beauty routine and even my cocktails! This cozy, feminine, monochromatic look is an ode to my current obsession with all things burgundy and blush — capped off with a quintessential Raspberry Beret!
I've had this 'outfit formula' on repeat since the holidays and it features a handful of my winter style staples. In fact, you can also see iterations of it here at JustineCelina over the years and throughout the seasons (here, here and here). I'm all about sharing looks I wear in my day-to-day life and this outfit formula is my first choice on cold, casual winter days when I want to be warm and comfortable while still feeling polished! As FASHION and my personal style evolves, I relish in the process of updating my go-to seasonal outfit formulas to keep them fresh, which is exactly what I've done for this look. If you're craving some laid-back Valentine's Day outfit inspiration for cooler climates, curious about my favourite source for faux leather leggings, the super soft knits I've been living in lately, my holy grail lipsticks, where I score incredible deals on designer shoes (and the it bag of the season!) or how to style a teddy coat for winter, you've come to the right place!

---
RASPBERRY BERET
---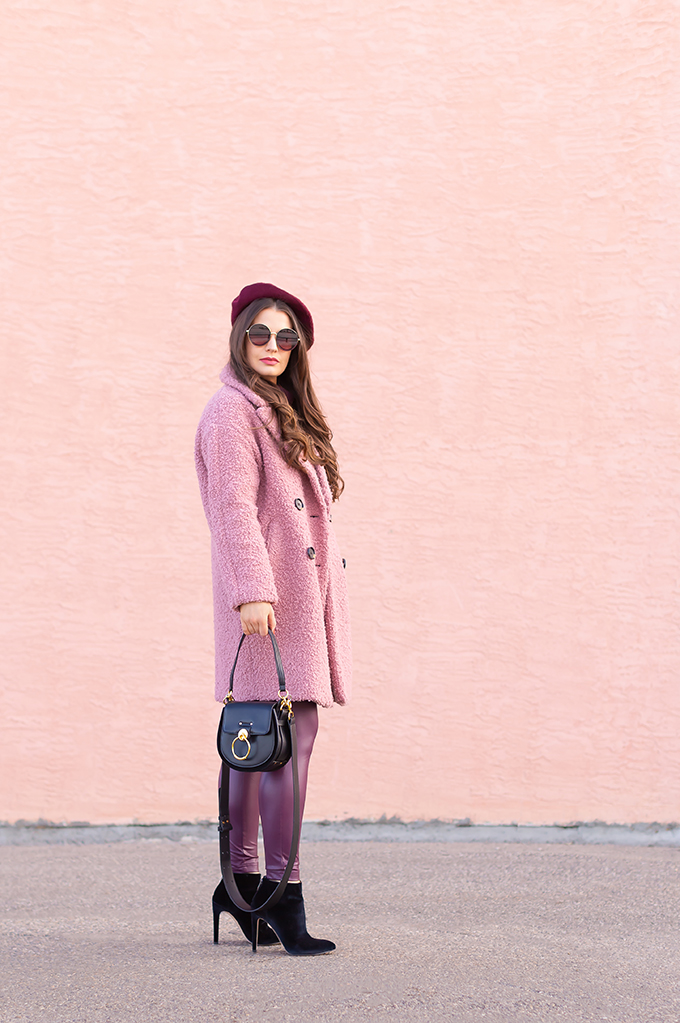 Regardless of the season, I love to experiment with tonal or monochromatic outfits (wearing one predominant colour or colour family head-to-toe). Anyone remember this past summer's red-to-toe look? Monochromatic dressing is figure flattering, chic and elevated — no matter which colour, shade or tone you choose!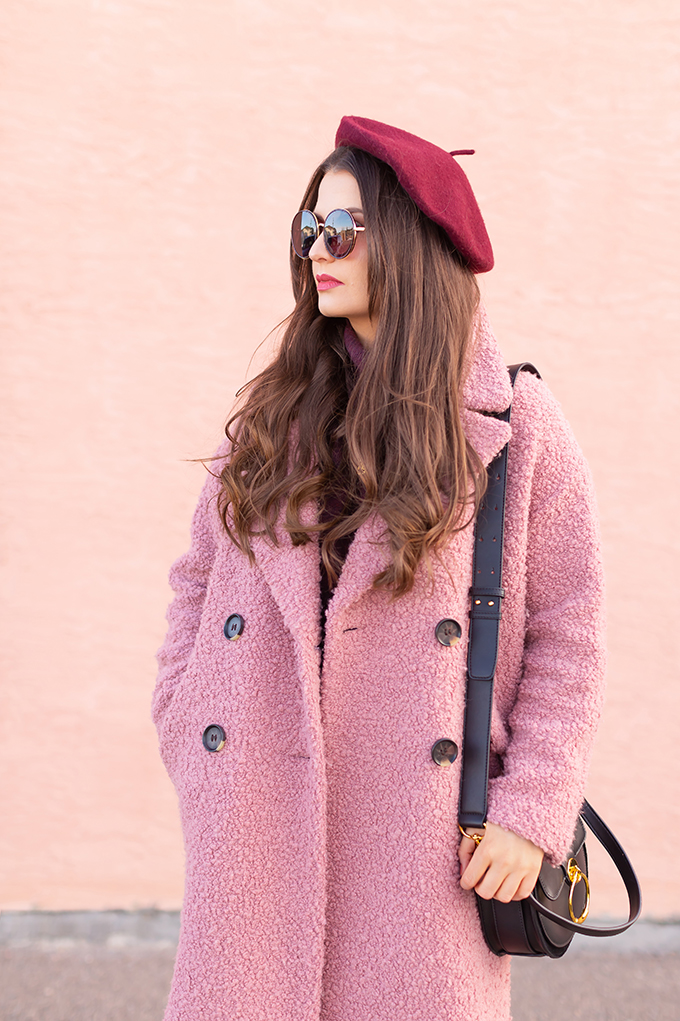 The best part about monochromatic dressing is that it's surprisingly simple to pull together — and likely using existing pieces in your wardrobe. The next time you have half an hour or so to spare, go into your closet and pull out all the similar shades and tones of a particular colour you're feeling inspired by (you can also do this with neutrals — and you probably already do it with black!).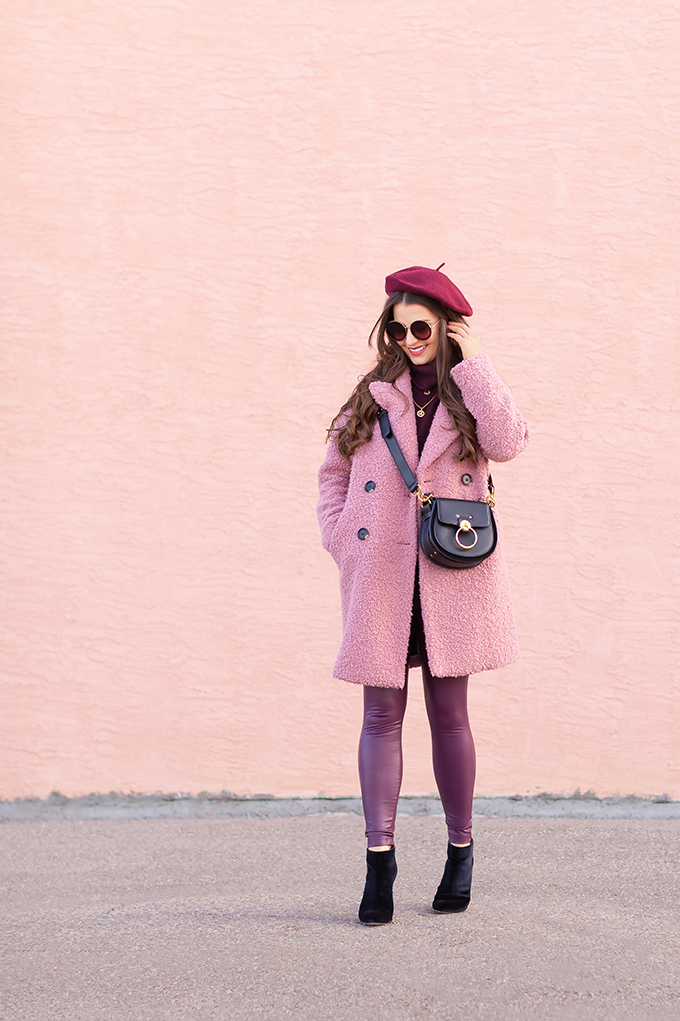 You seriously can't mess this up. Allow yourself to play, have fun and experiment. Feel free to mix and match different shades and tones of the same colour too — because that's exactly what I did for this Raspberry Beret inspired look! So, let's break it down, shall we?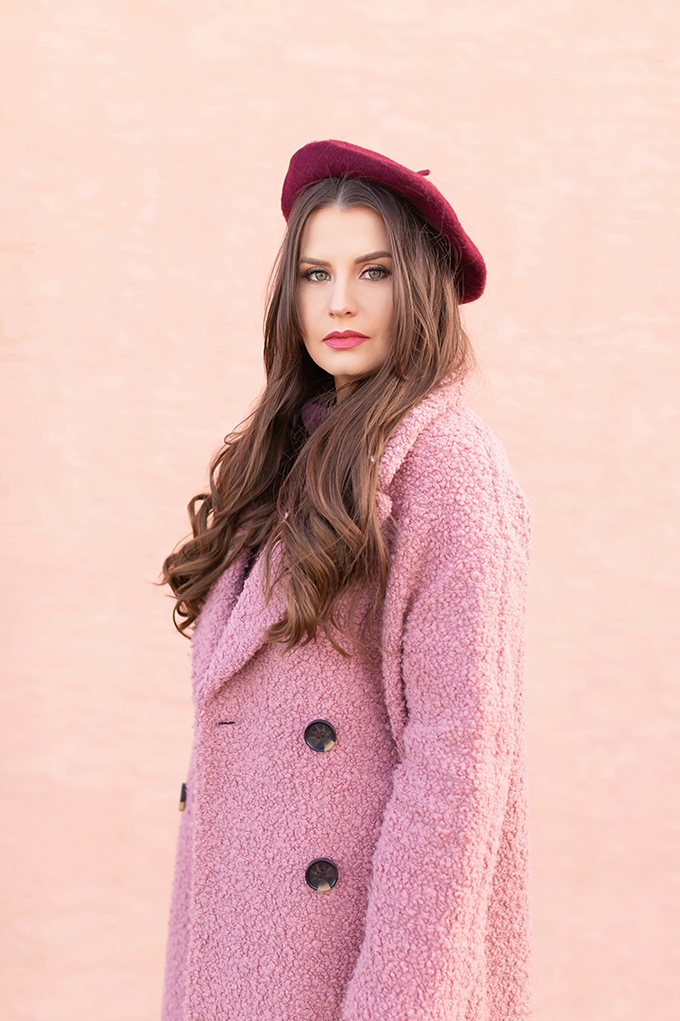 My craving for blush and burgundy prompted me to haul out all my clothing and accessories in this dreamy, romantic palette and start experimenting. I had just picked up my wool Raspberry Beret at Simons and was itching to incorporate her into my winter wardrobe. Naturally, my Topshop Alicia Boucle Wool Blend Coat (which I picked up last season) was my first choice for outerwear! Raspberry and blush are tints of the same colour (imagine adding white to raspberry to get blush!) so when paired together, they create a beautiful, tonal, monochromatic effect.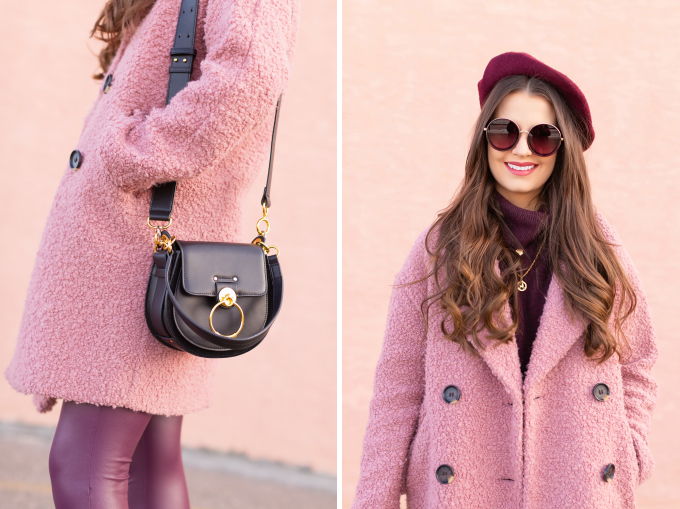 Once I had the anchor of my look nailed down, I explored my knitwear collection. Underneath my teddy coat I have my favourite, super soft H&M sweater on (the one I keep yammering on about and have in 4 different colours — check out the black version in my Autumn 2018 Lookbook and my Winter 2019 Lookbook!). By far, these sweaters are my most-worn of the season and I know so many of you have picked them up as well (and are enjoying them just as much as I am!).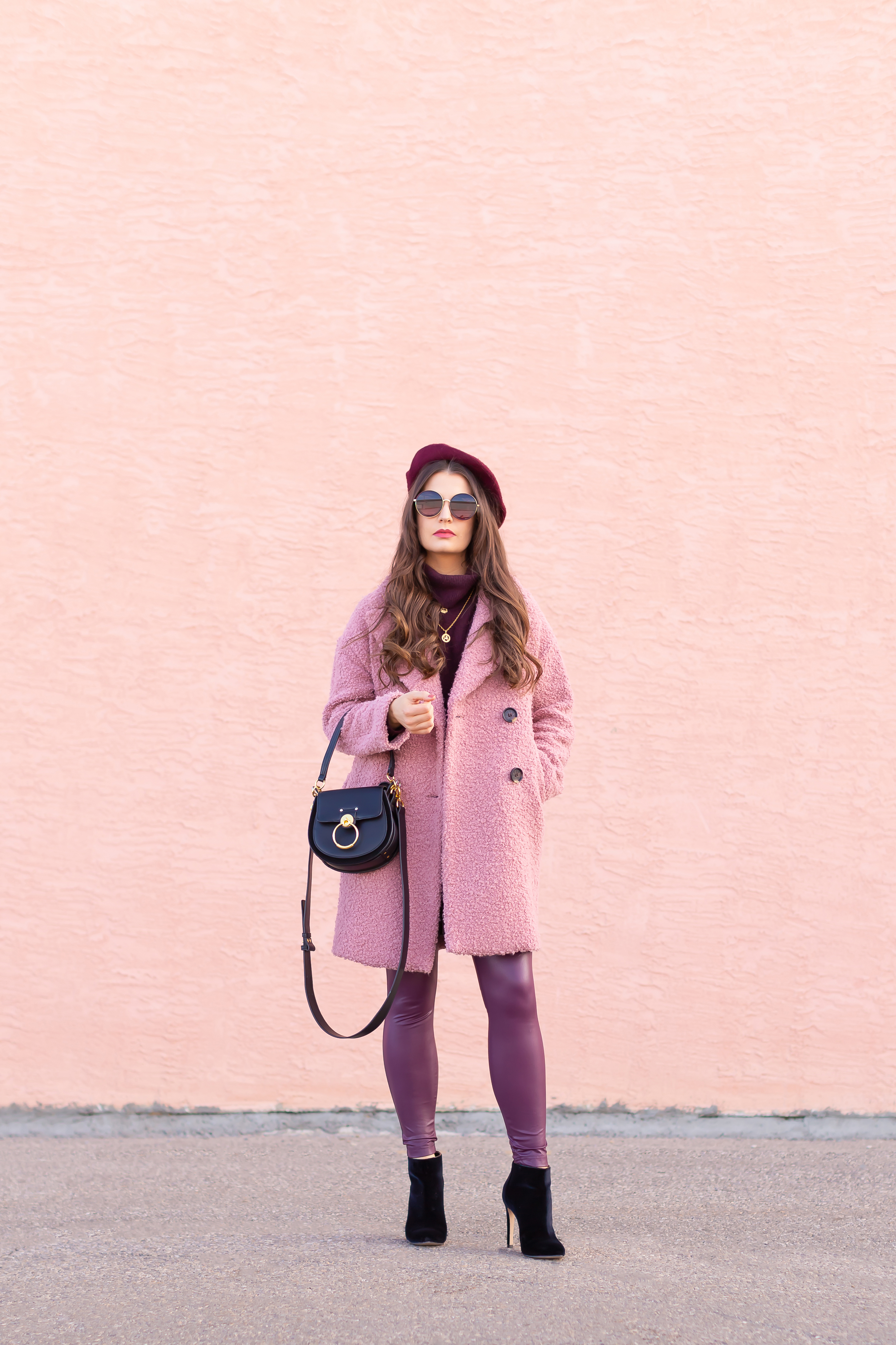 Since my sweater is oversized and more of a tunic length, it was a prime candidate for pairing up with a slimmer silhouette on the bottom. I'm a big fan of faux leather leggings during cooler months and love the edge they add to this otherwise sweet look! Every year Joe Fresh releases an incredible collection of faux leather, suede or velvet leggings and I pick up a few pairs to add to my collection (see more of that in these looks!). I selected this year's burgundy version to create an entirety monochromatic base layer. Unfortunately they're now sold out online, but you may still be able to track them down in store — and if not, I've linked up some similar alternatives for you.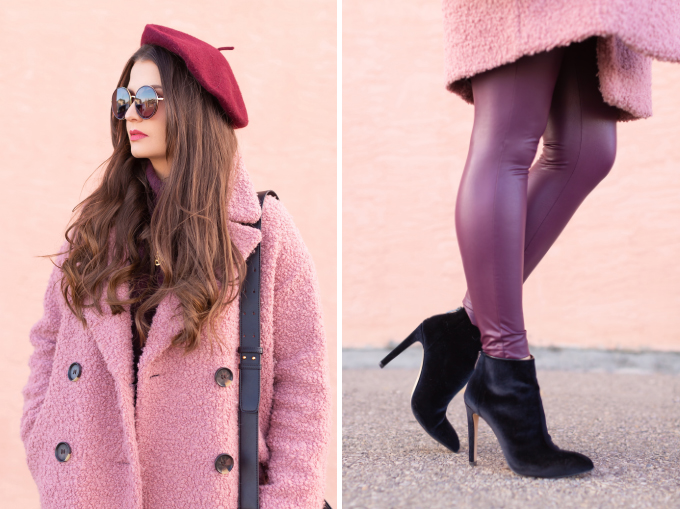 The great thing about monochromatic dressing is that the shades and colours don't need to match exactly — in fact, I think it adds more dimension and interest to an outfit if they don't! To really unite the burgundy and blush palette, I opted for my to-go pair of burgundy shades from Aldo (which is one of my favourite sources for inexpensive, on-trend shades!) and my favourite liquid lipstick formula in a mid-toned pink shade.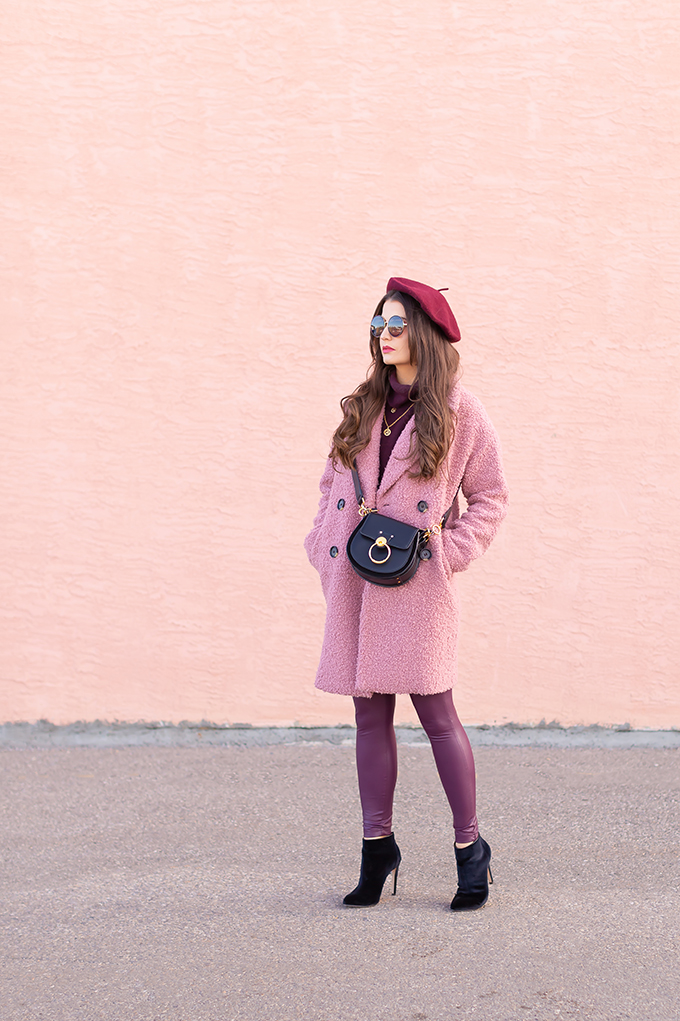 To break up the monochromatic effect of all that blush and burgundy (and add a touch of badass!) I accessorized in black. On my feet are these incredibly comfortable (and surprisingly warm!) Ava & Aiden Melyssa Velvet Ankle Boots that I snagged at Saks OFF 5TH (they fit me perfectly and I can truly wear them all day!). Since I began working with Saks OFF 5TH last year, I've make a point of stopping in seasonally to shop in-store (this post isn't sponsored, it's just become one of my favourite style destinations in Calgary!).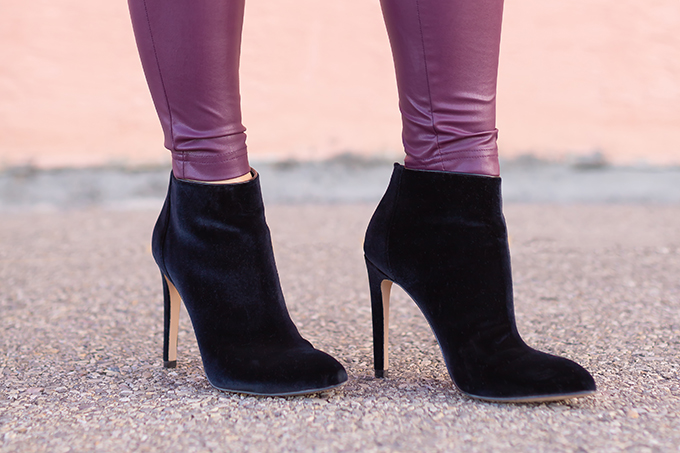 I often find myself getting lost in their heavenly shoe aisles, where there are full rows of designer discount footwear, organized by the half-size (pinch me!). I've picked a few other pairs of OFF 5TH find footwear (and knitwear!), which you can expect to trickle onto these pages over the next few months (or get a preview in my Winter 2019 Lookbook!). If you're a local or have a Saks OFF 5TH location near you'd I'd highly suggest stopping in and exploring their magical world of designer discounts!


Last but certainly not least, I completed this rose-hued look with favourite bag of the season — my black Chloe Tess (just kidding, it's actually an incredible dupe from Artisan Anything!). Although even the dupe version of Chloe's Tess was still an investment, I loved this contemporary spin on the traditional saddle bag enough to try a new source for designer dupes — and I'm so glad I did (I took one for the team you guys!) because it's an incredibly crafted handbag. You'll see it at play in many other outfits this winter because it seriously goes with everything!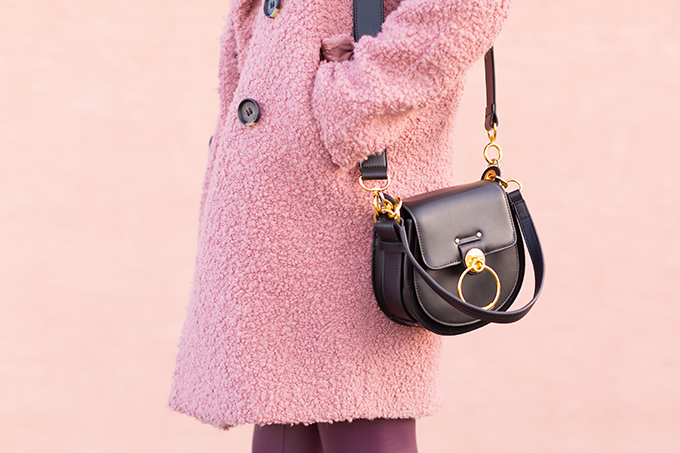 I polished the look off with new jewels from House of Vi — a lovely online jewellery boutique founded by fellow Calgary blogger (and total sweetheart) Vivienne Gliesche. I'm wearing the Alphabet Necklace in J layered with the Zodiac Necklace in Leo on the Amalfi Necklace chain. Again, expect to see a lot more of them here at JustineCelina as they've become an integral part of my personal style!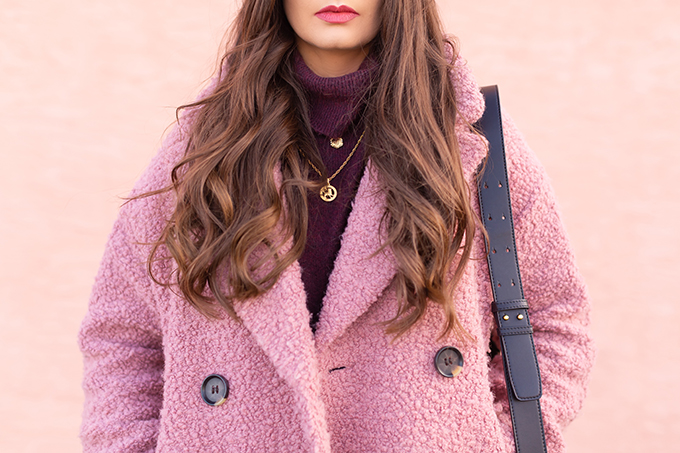 ---
SHOP THE LOOK
---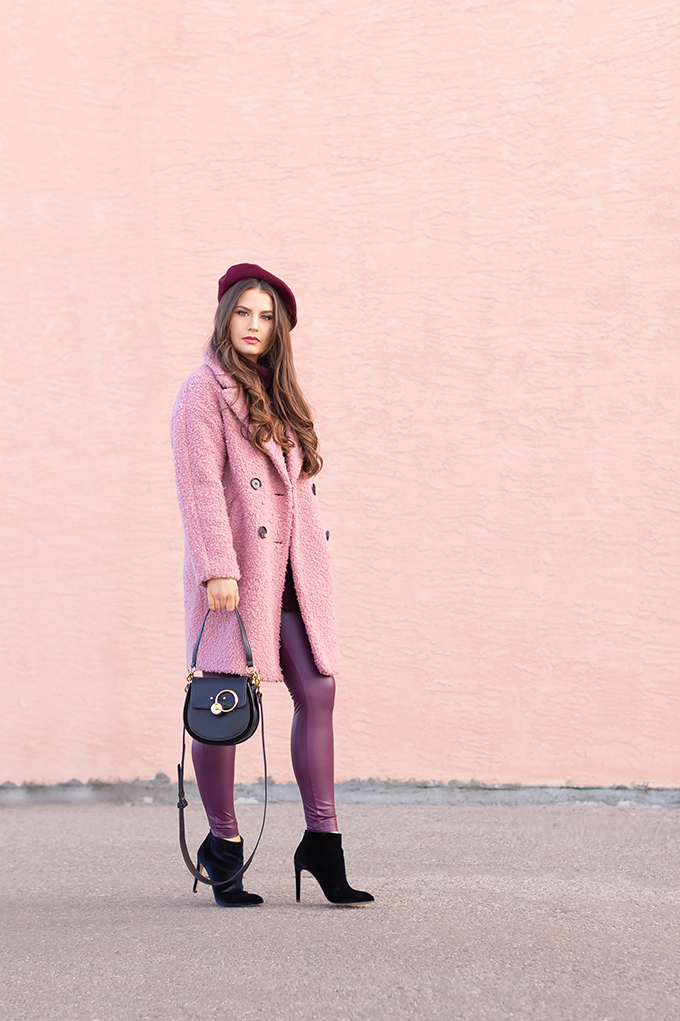 ---
STAY SARTORIALLY INSPIRED THIS WINTER
---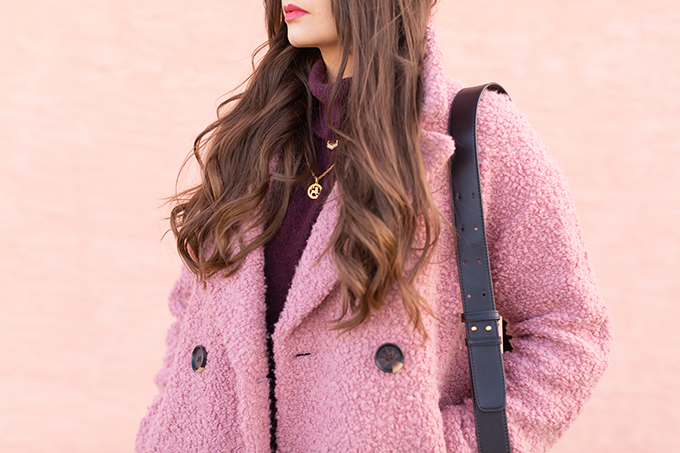 Colour Crush | Blush (an alternate way to style this coat!)
How to Style | Midi Dresses for Winter
Winter Trend Guide | Velvet Underground
---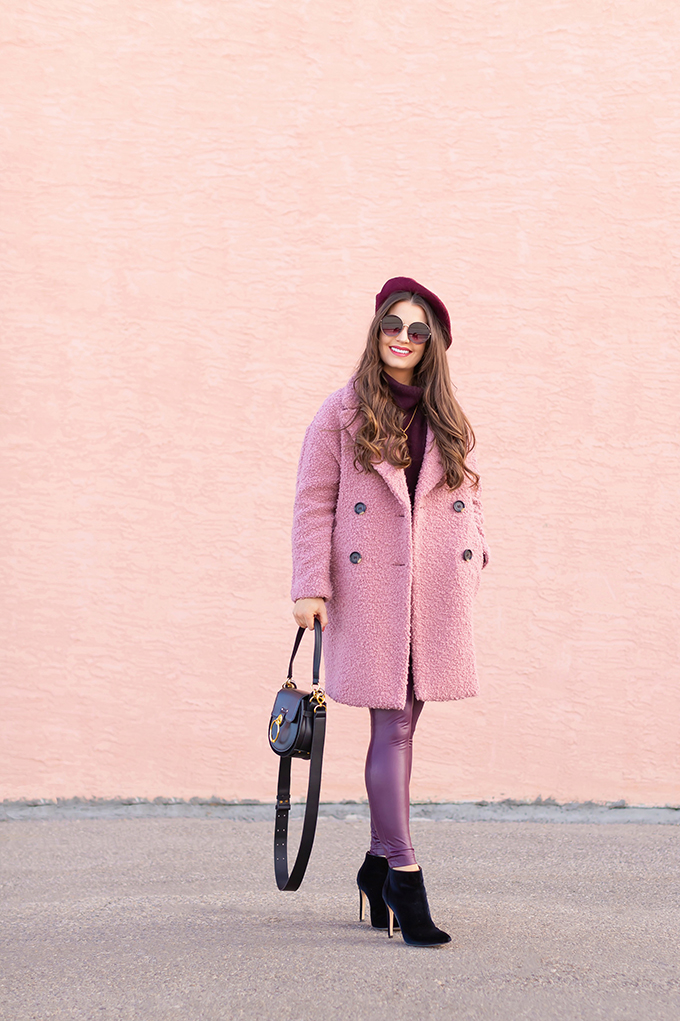 What are some of your most worn pieces this winter? I've been living in teddy coats during this cold snap. I'm actually planning a HOW TO STYLE post dedicated to teddy coats later this season — so if you're looking for some fresh ideas to style one you already own or are in the market for your first teddy, stay tuned! I recently added a super oversized cream teddy to my winter outerwear arsenal — they've become a bit of an addiction, but I think I'll stop at 3 (one per year isn't so bad, right?)!

If you're looking for even more sartorial inspiration in the meantime, you can also follow along with my JustineCelina Fashion board on Pinterest, or my seasonal Winter 2019 Lookbook board which I'll be continuously adding to! And if you want a sneak peek at what I'm wearing before it hits the blog, as well as some exclusive style content you won't see here, come join me over on Instagram for daily posts and BTS / day-to-day life on Stories! Thanks for stopping by today, friends — stay cozy!
---
Disclaimer: This post is not sponsored, and contains my genuine thoughts, ideas and recommendations. JustineCelina uses affiliate and referral links, which allow me to receive a small commission when you make a purchase through one of my links. Thank you for supporting the brands and businesses that support JustineCelina!