---
The Greatest Outdoor Show on Earth is just around the corner — and today, in partnership with Saks OFF 5TH, I'm thrilled to bring you an updated What to Wear to | The Calgary Stampede post! Longtime readers will know how passionate I am about fully embracing the unique sartorial opportunities the Stampede provides. Growing up on the Alberta prairies, I've seen my fair share of western wear over the years and it has undoubtedly shaped my personal style. I'm all about looking the part and dressing your best for any occasion — the Calgary Stampede included! These wild 10 days are packed full of incredible networking opportunities, endless parties, fanfare, live entertainment and world-class culinary experiences — and each year, I curate a few western inspired outfits with a modern, bohemian sensibility to carry me though in style. If you're looking for some fresh Stampede fashion ideas for both personal and professional settings, I've totally got you covered!
This year I've swapped my vintage turquoise for gold accents, my fringe bag for this blush pink beauty, my vintage cowboy boots for my favourite pair of OTK western boots and my undone braids for a flat brimmed hat, but one thing remains — the quintessential little white dress! Many of you came along on my Saks OFF 5TH shopping trip at Cross Iron Mills via Insta Stories earlier this month as I sourced items for this look. I found so many incredible pieces (I actually ended up purchasing a few other items that will be trickling into my style content soon!), but this sweet, flowy little alice + olivia Danna Lace Inset Dress stole my heart! And you know I love a good deal, so I was ecstatic to score it for 60% off (at $147.99 from $370!). Come along with me to the rolling, sunlit fields near my childhood home in rural Alberta today as I break down how to style the perfect LWD for The 2018 Calgary Stampede!
---
WHAT TO WEAR TO | THE CALGARY STAMPEDE, PART II
---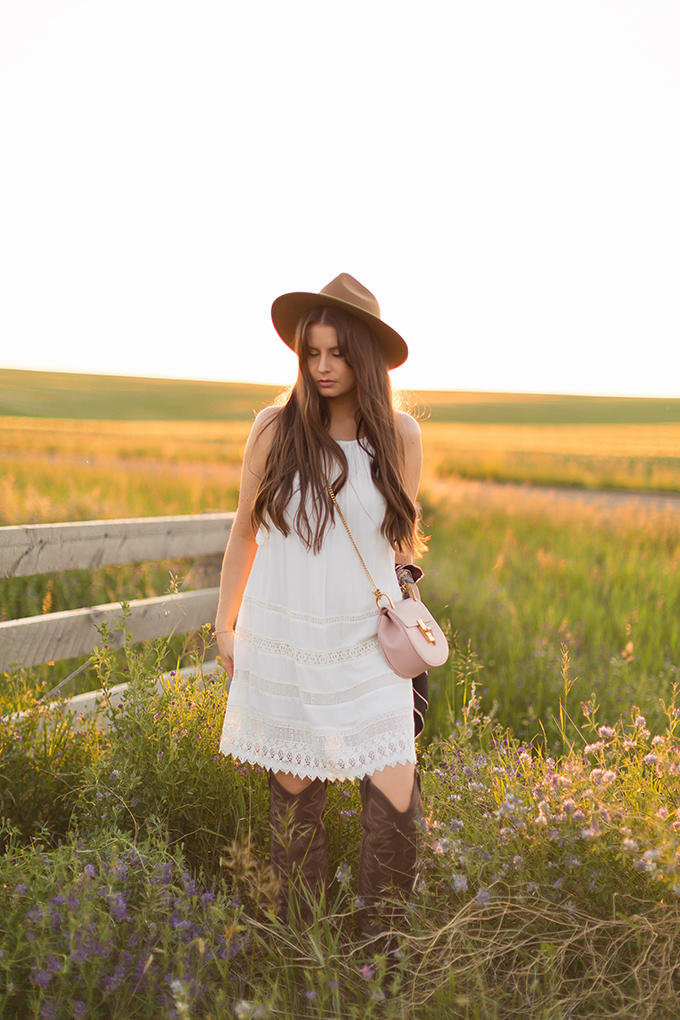 If you're a local, I guarantee you have some sort of preconceived notion about Stampede style (are barely there daisy dukes, midriff baring tops and and endless sea of plaid dancing in your head?!). I personally believe Calgarians can do so much better in the Stampede fashion department by using it as an opportunity to dress really well, getting creative and channeling the roots of traditional western style. Today I'm breaking down how I styled my new alice + olivia LWD from Saks OFF 5TH with my favourite western-influenced, bohemian pieces for an ultra wearable look to take you from Stampede breakfasts, through your workday, to the grounds, to the after party!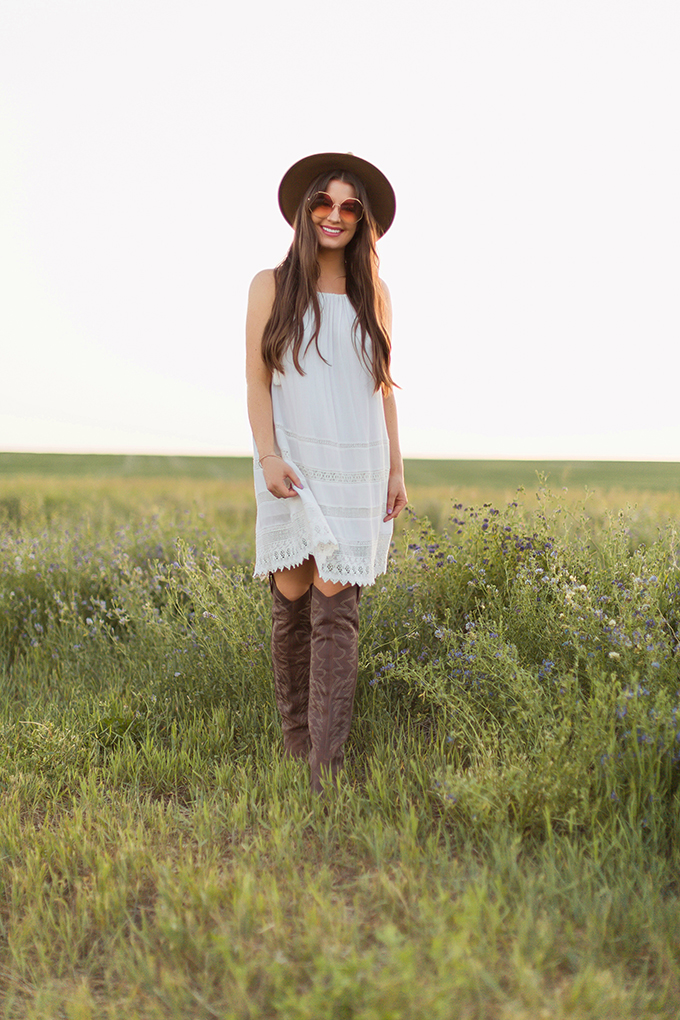 When I purchase investment pieces, they tend to fall into 2 categories — beautifully made, versatile, staple pieces that I know I'll wear for years to come, or unique, statement items that are love at first sight. My alice + olivia dress definitely falls into category 1! If you've followed along with my FASHION content over the years, you'll have seen many flowy, white dresses and tops gracing these pages — what can I say, they're a major staple for me, no matter the season! But over the past couple of years, I've been on a mission to update my wardrobe with quality basics I know will stand the test of time. From the moment I spotted this darling LWD on Saks OFF 5TH's alice + olivia rack, I knew it would make the perfect anchor piece for an updated Stampede look — but that it would also be a fantastic staple. As I tried it on in the change room, visions of all the different ways I could style it for various occasions danced through my head. And that's how I knew she had to come home with me!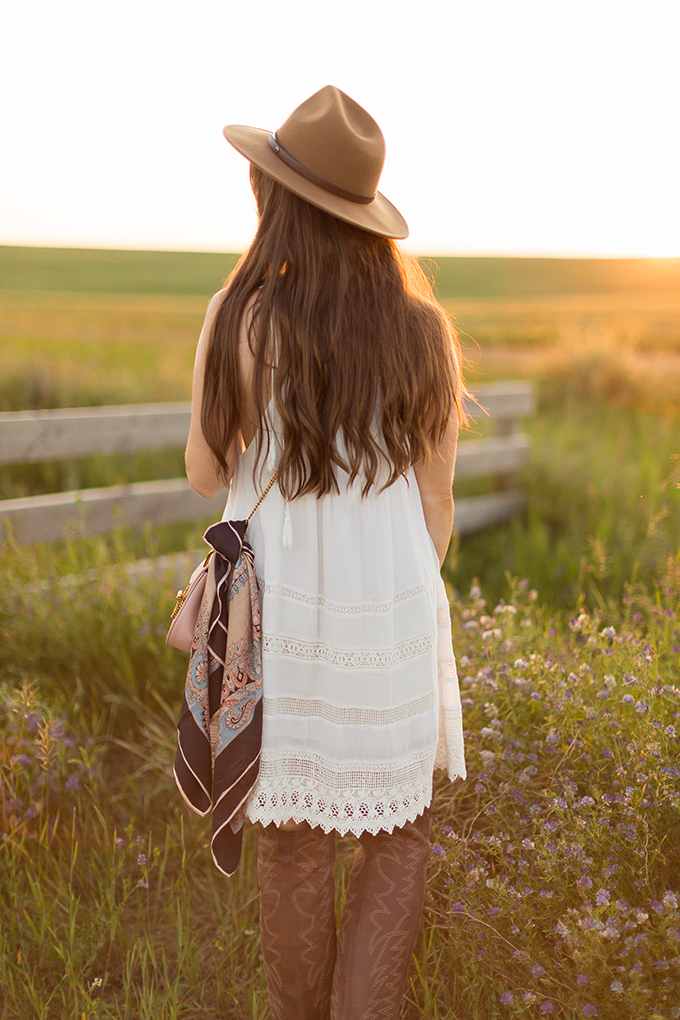 This sweet little dress features a breezy, cotton-blend fabric, tassel self-tie straps, a light, flowy silhouette and beautiful lace insets. It's also double lined — so there's no risk of anything you don't want on display peeking through! But she also has a sexy side, showing off a bit of my back thanks to the breathable, low side seams under the arms — making it an ideal option for our scorching summer weather. I love to mix high with low and old with new — and that's exactly what I did for today's post, using my alice + olivia dress as the perfect boho backdrop for a Stampede inspired look!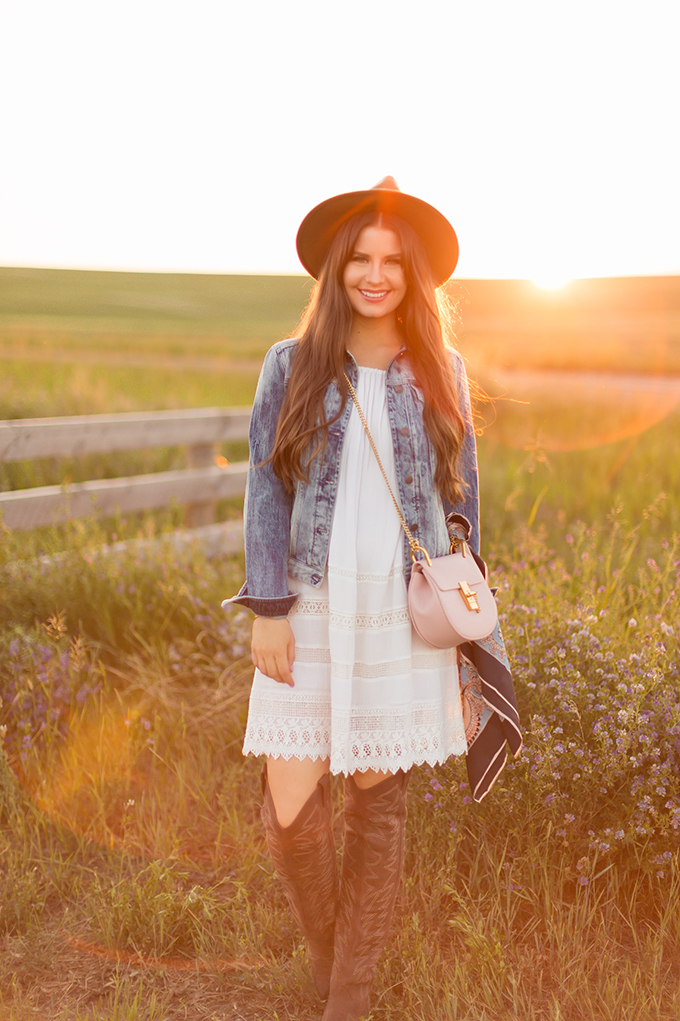 To style her up for Stampede, I knew I wanted to start by incorporating denim. Denim is a huge trend this summer — and a versatile denim jacket is something I'm sure many of us have in our wardrobes! I ended up settling on this slightly acid washed jacket that's been with me for years to add a western-inspired layer. It offers an option to cover up in professional settings (like Stampede breakfasts, offices, and corporate parties) and will also keep you warm while you party-hop into the evening or watch the fireworks! My denim jacket also adds a subtle pop of colour to this otherwise neutral look.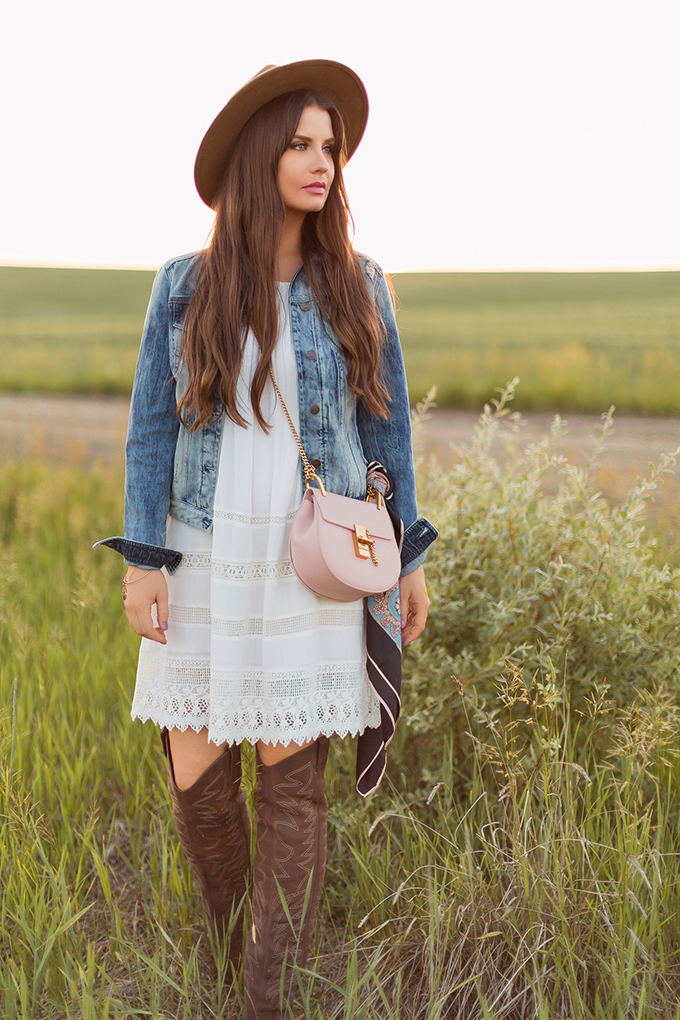 The just-above-the-knee length of this dress makes it ideal for showing off your cowboy-inspired footwear! For this look, I selected my favourite OTK western boots, which are a playful spin on traditional cowboy boots. They've been with me for about 8 years (and may look familiar if you frequent my FASHION archives!) — what can I say, I can't pass up any opportunity to dust them off and take them for a spin! As I mentioned, I love to mix old with new — but if you're after your perfect pair of western-inspired boots, I spotted tons in Saks OFF 5TH's incredibly large shoe section, conveniently organized by size.
To balance out the brown hues on my bottom half, I opted for this flat-brimmed flat. No, it's not an actual cowboy hat — and it absolutely doesn't have to be! When styled with a western sensibility, on-trend flat brimmed hats, floppy hats and even straw hats will allow you to look the part without shelling out for the real deal. Bonus: the also shield your face from our harsh summer sun (you know I'm all about that anti-aging sun protection!).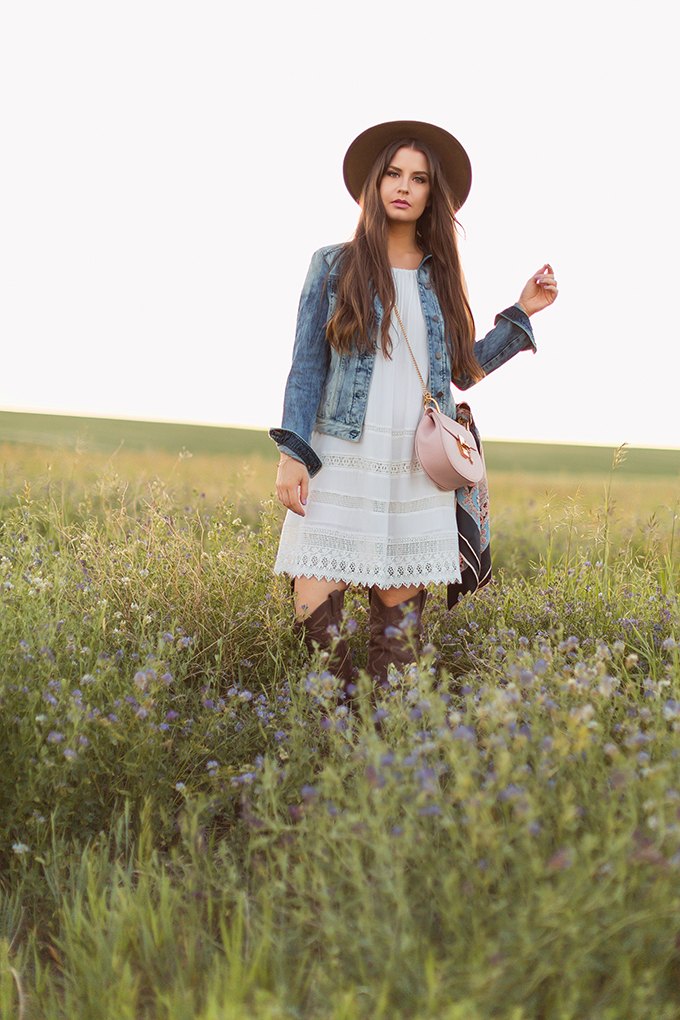 A saddle style, cross-body bag with a turn closure is a great option to keep all your essentials safely tucked away while you experience The Greatest Outdoor Show on Earth. This blush pink stunner adds a feminine pop of on-trend colour (yep, my blush obsession is still going strong!), while allowing you to have access to both of your hands — which is a must whether you're networking at a Stampede breakfast, taking in the sights and sounds of the grounds, or enjoying a free outdoor concert (trust me, clutches are an absolute no-go for the Stampede!).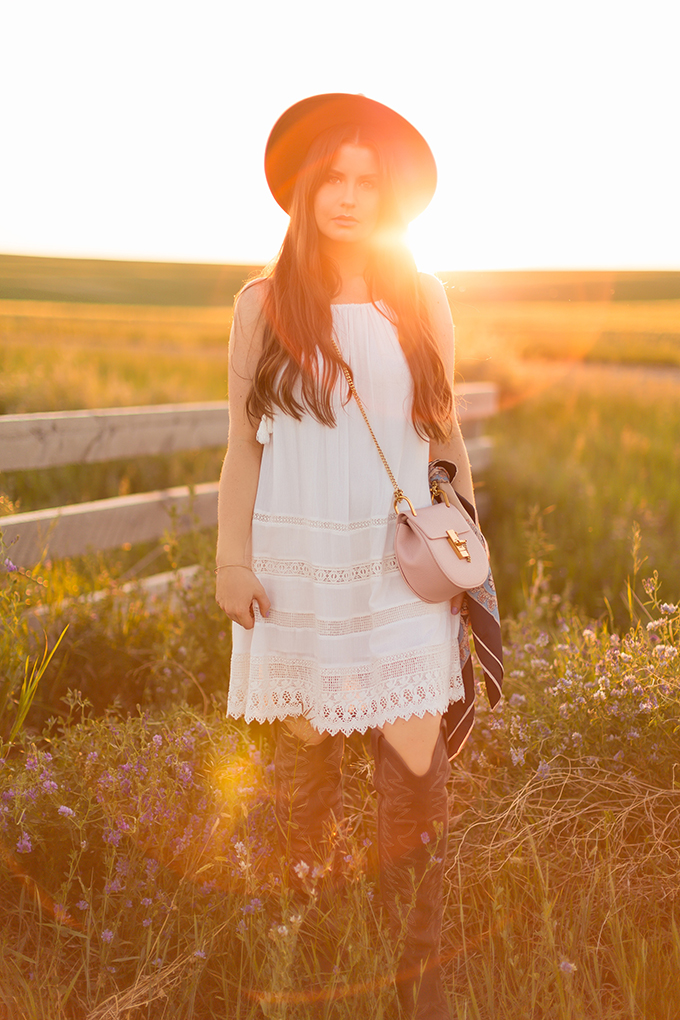 To integrate a bit of a retro sensibility into this look, I tied one of my vintage scarves around the chain strap. I often accessorize with scarves, both on my neck and on my bag — it's one of my favourite ways to tie all the colours I'm wearing together while infusing my signature style into an outfit. This one features blush pink, blue, navy and neutral hues to unite the palette of this Stampede inspired look with a fresh paisley pattern (believe it or not, paisley is making a comeback this summer!). Having a scarf on hand for outdoor festivals is just as functional as it is stylish — you can channel your inner cowboy by  folding it bandana-style to cover your nose and mouth to protect your lungs from dust (this comes in especially hand for live shows!), use it as a shawl to help shield your shoulders from the sun if you forgot sunscreen (another Stampede must!), or as a head scarf if hats simply aren't your thing.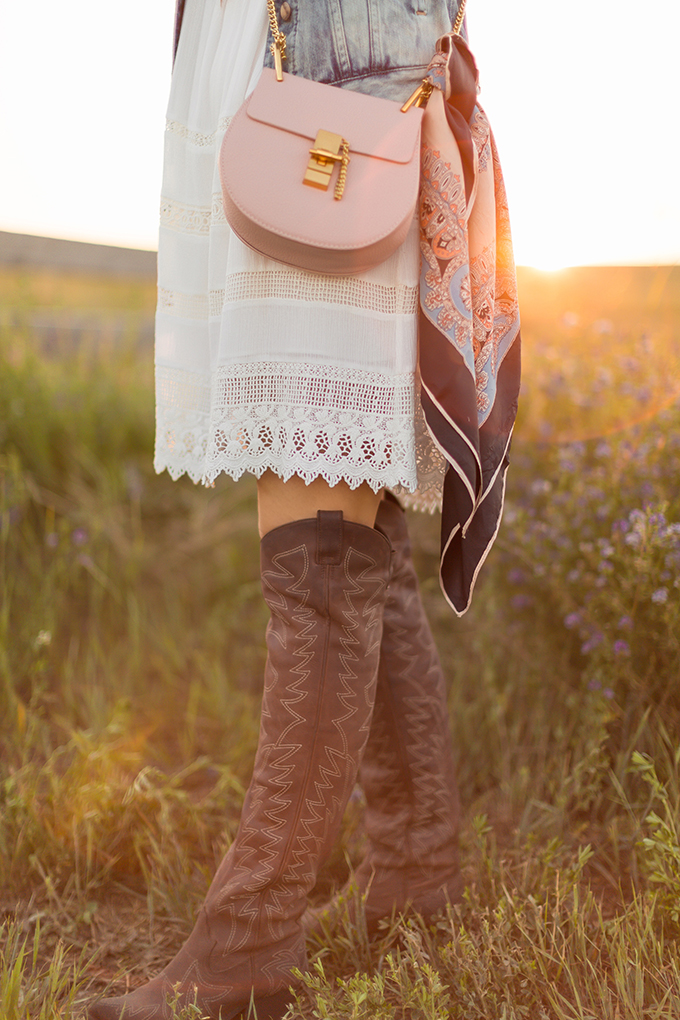 Since the Stampede is a bit festival-esque, you can really have fun with your accessories! I'd been waiting for an occasion to wear these hexagonal, rose tinted sunnies and they were the perfect finishing touch for this modern bohemian look. I love the way they play on the colours of my bag and scarf — plus, the soft blush hue they cast on my surroundings is nothing short of dreamy!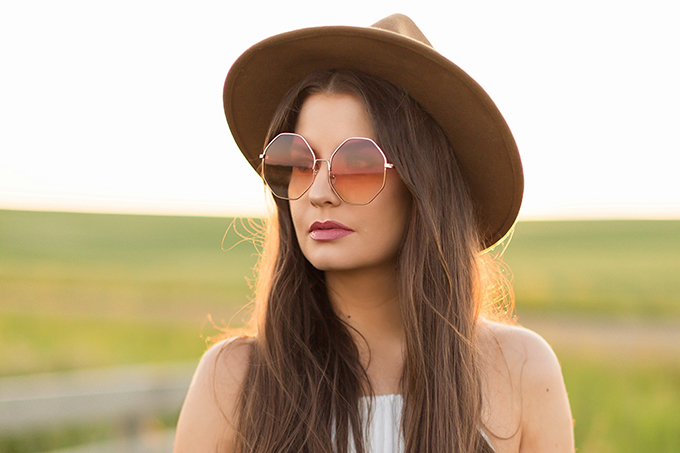 ---
Are you planning to visit the Calgary Stampede or partake in various Stampede festivities around the city this year? If you are, I hope this post gave you some helpful, updated outfit ideas! Saks OFF 5TH is the perfect destination to explore your Stampede style and score some incredible designer deals a fraction of traditional retail. If you take a trip to our local Saks OFF 5TH at Cross Iron Mills or place an online order (you can shop in CAD and enjoy Canadian shipping!) inspired by this post, please report back and let me know what you picked up. Wishing you all a fun (and safe) 10 days of Stampeding!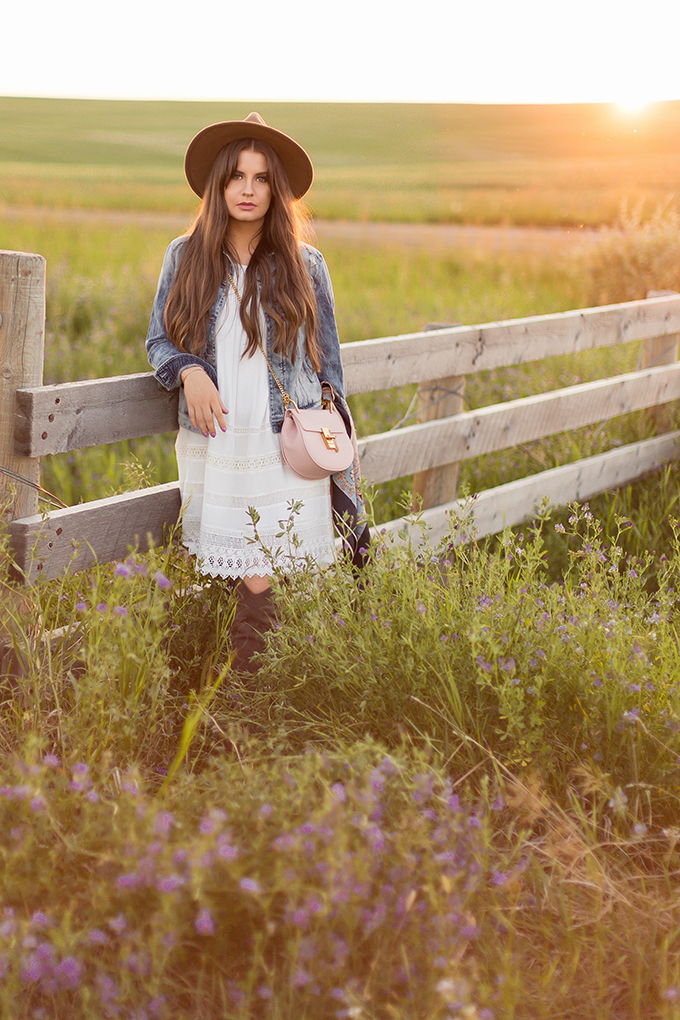 ---
Disclaimer: Thank you to Saks OFF 5TH for sponsoring this post — and thank you for supporting the brands and businesses that support JustineCelina.