---
Longtime readers of JustineCelina will know that drawing inspiration from nature and the transitioning seasons is a cornerstore of both my creative work and personal style. There's just something about the changing leaves and dropping temperatures that always nudges me to channel my inner boho babe — so today I'm elated to bring you 6 Luxe Bohemian Fall Outfits with a modern, elegant flair! This 6 outfit LOOKBOOK features my go-to seasonal outfit formulas reimagined for AW21 with fresh accessories, styling tips, layering techniques, favourite retailers to source quality wardrobe staples and my signature blend of high, low, old, new and vintage. I personally believe that boho style inspiration and a polished, feminine aesthetic can co-exist — and I'm demonstrating that today with these sophisticated bohemian looks!

If you're eager for some fresh styling inspiration to help breathe new life into your seasonal wardrobe this fall, you've come to the right place. One of my absolute favourite things to do when I rotate my wardrobe is to pull out all my most-loved pieces from seasons past and style them up through the current seasons lens — with the help of a few carefully curated new-in additions, of course! While my personal style will always feature a hints of bohemian flair, I love to experiment with seasonal trends and emerging aesthetics to ensure my looks are current and considered. Come along to the beautiful sunlit fields and golden hills of my childhood home in rural Alberta for a serious dose of modern boho fall style inspo!
---
6 LUXE BOHEMIAN FALL OUTFITS
---
As always, because I value mindful purchasing and wear my clothes for many years, the exact items I'm wearing may not be shoppable — but I hope this post inspires you just the same. Although my love of fashion is eternal, my concern for how fast fashion moves these days is at an all time high. While I'll always enjoy keeping up with seasonal trends and mindfully incorporating them into my wardrobe, I'll continue to do so in a way that aligns with my beliefs, values and lifestyle.
I take great pride in I featuring pieces here at JustineCelina I've owned for years (even decades!) — as I lifelong fashionista, I'm extremely particular about what I purchase, wear and share on these pages. I don't allow anything into my wardrobe I don't absolutely love and I'll never tire of styling the same piece in different ways! While I understand it may be frustrating that you're unable to purchase the exact pieces I'm wearing sometimes what I hope to provide you with instead is inspiration to make use of your existing wardrobe, see things through fresh eyes and sustainably purchase pieces that work for your lifestyle and budget as you hone your personal style. Not only is it financially responsible, it's what's best for our planet — and it's an ethos I'll continue to promote on and off of these pages.
---
ELEGANT EQUESTRIAN
---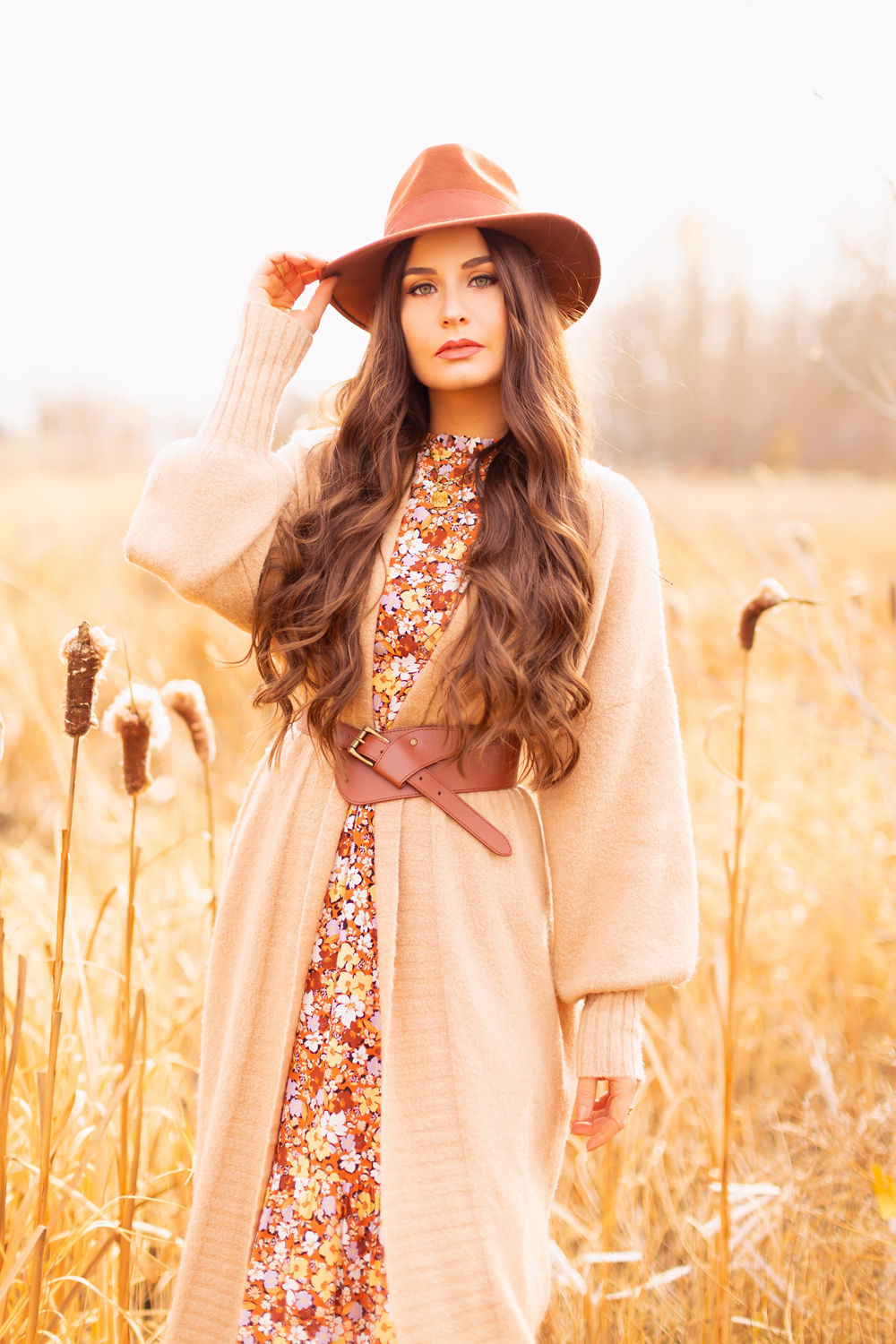 Growing up on the Alberta prairies, equestrian fashion is a constant source of inspiration for me. Not only is my close to my roots, it's also a timeless way of dressing that's authentic to my personal style! A midi dress layered with long cardigan for extra warmth, styled up with carefully curated accessories is one of my most reliable autumn outfit formulas — one you've seen me wear consistently here at JustineCelina throughout the years. I adore the way you can update it each season with on-trend accessories and colour palettes!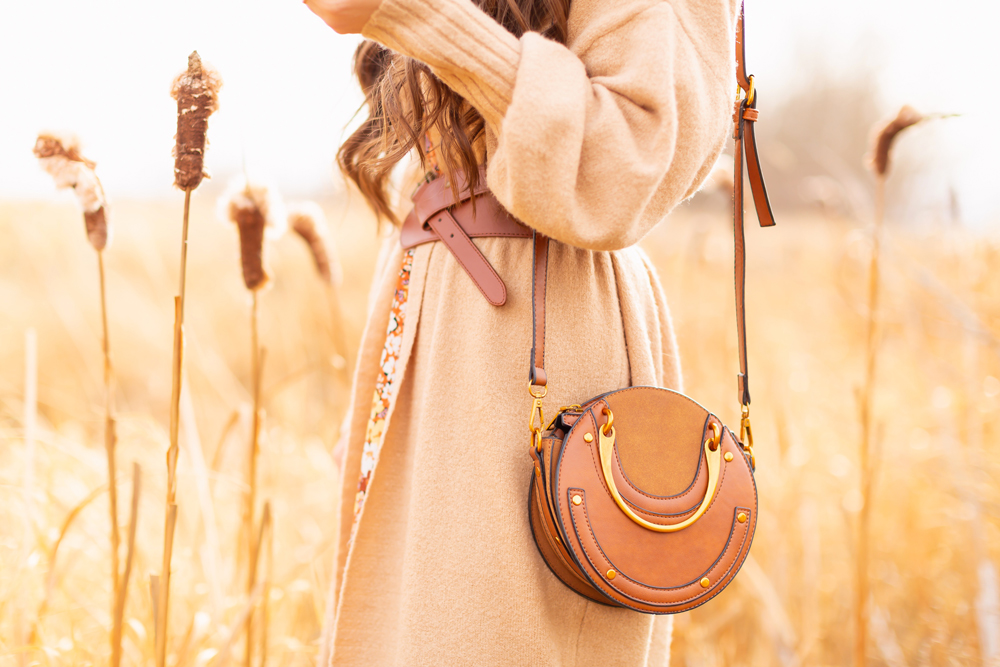 Knee high boots, felt hats and wide waist belts are a few of my AW21 fashion favourites. As always, this look combines a mixture of high, low, old and new styled up for the season through fresh eyes! These pieces have become cornerstones in my wardrobe this autumn and can be worn in so many different ways.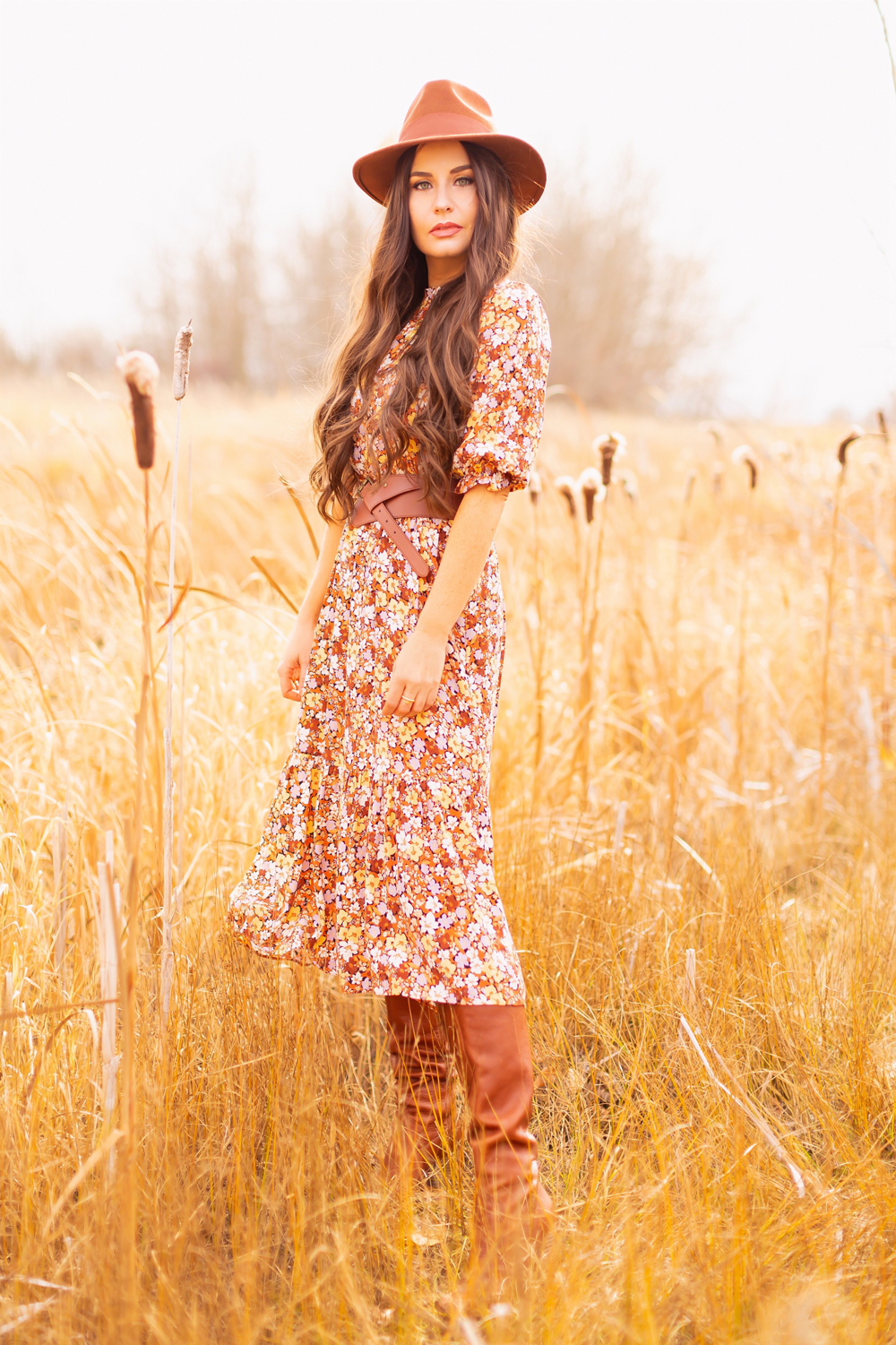 I picked my up this darling midi length floral dress from UK retailer New Look last autumn — it was an instant add to cart situation! Fall is one of my favourite seasons to wear florals — and this unique colour palette of warm neutrals contrasted with unexpected lavender hues really caught my eye. I love that it's light enough to wear alone on a warm autumn day, yet makes the perfect companion for cozy fall layers!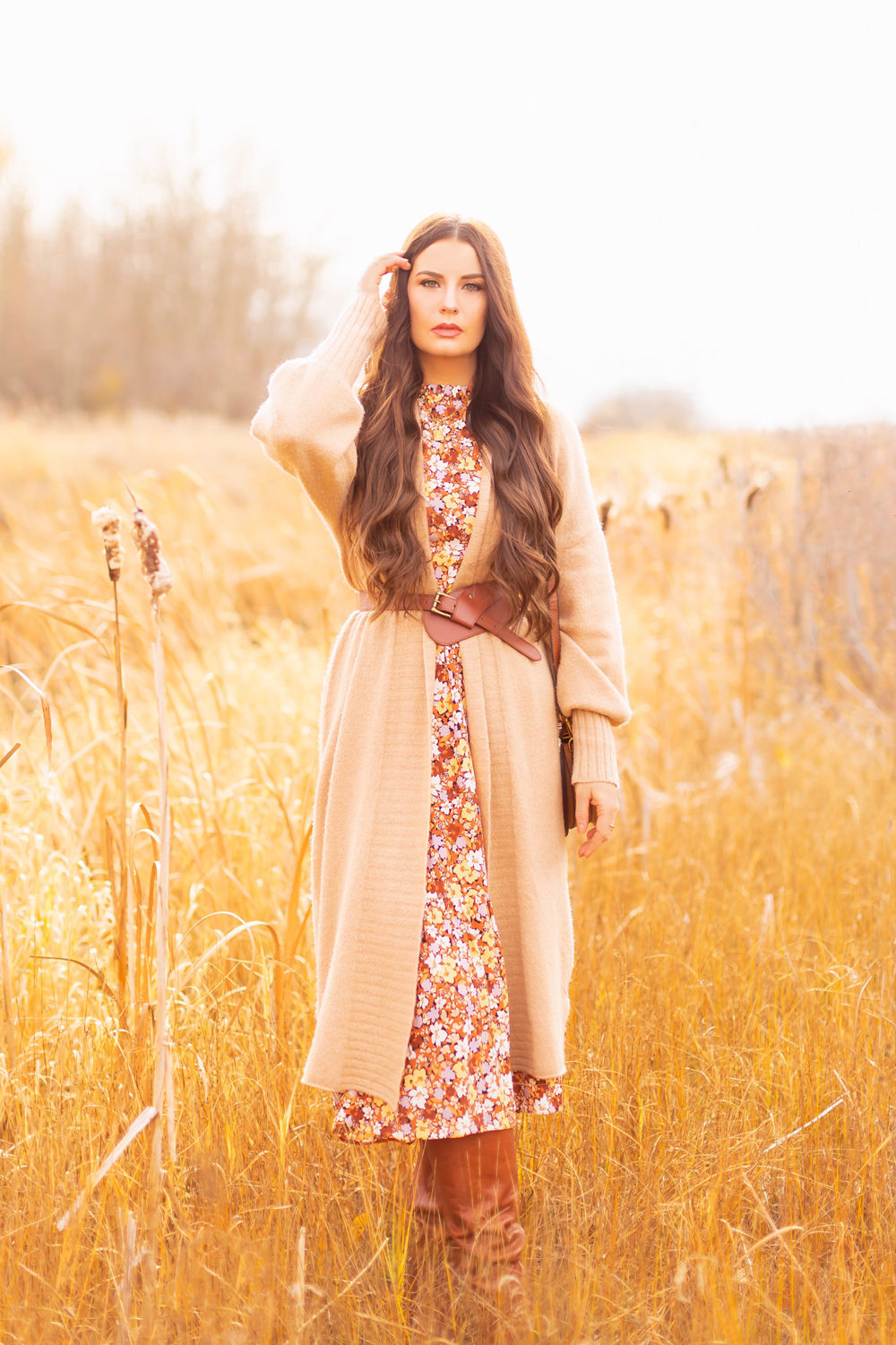 This fall, I've been really into layering my dresses underneath longline cardigans, accessorized with a corset-style statement belt to define my waist and add structure to an otherwise relaxed silhouette. I've amassed quite an array of wider belts to my wardrobe this season — and am having so much fun experimenting with them over cardigans, vests, ponchos and even light jackets. This stunning cognac number is equal parts equestrian and avante-garde — and one of my most complimented autumn accessories!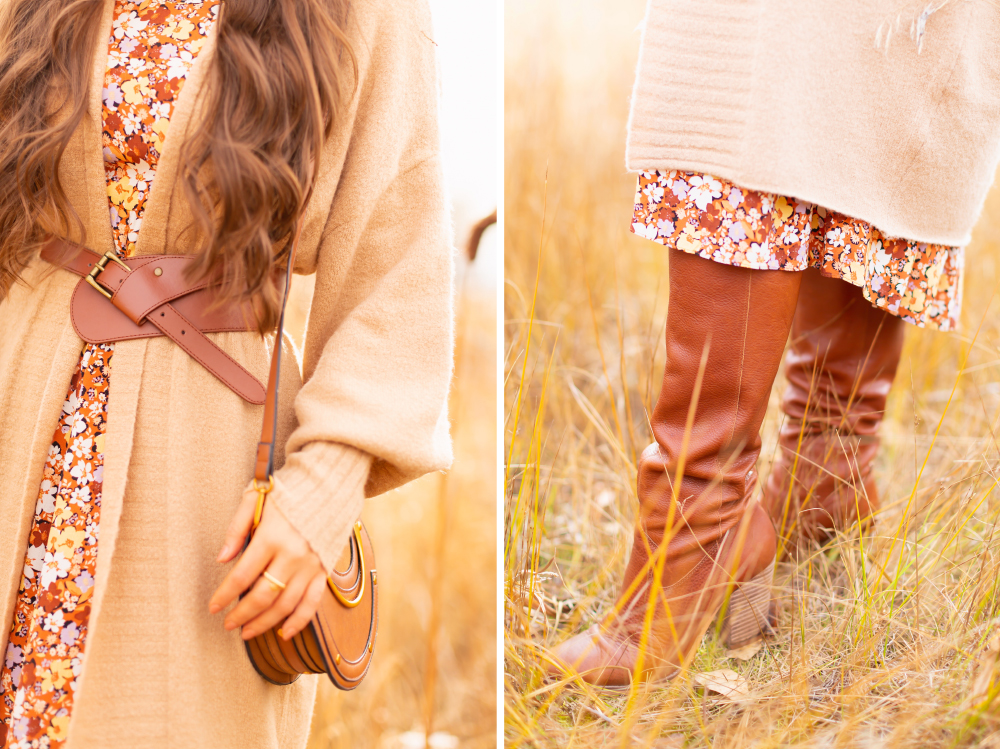 That said, I love pulling out tried and true staple accessories like my bag and boots, which have been with me for years — and pairing them with newer items in my wardrobe. These pieces are some of my most-worn fall fashion staples and a prime example of why I choose to invest in quality accessories made from durable materials. That said, my hat, cardigan (AFRM via The Bay) and belt are new in this season — but in shapes, silhouettes and styles that I know will serve me well for seasons to come!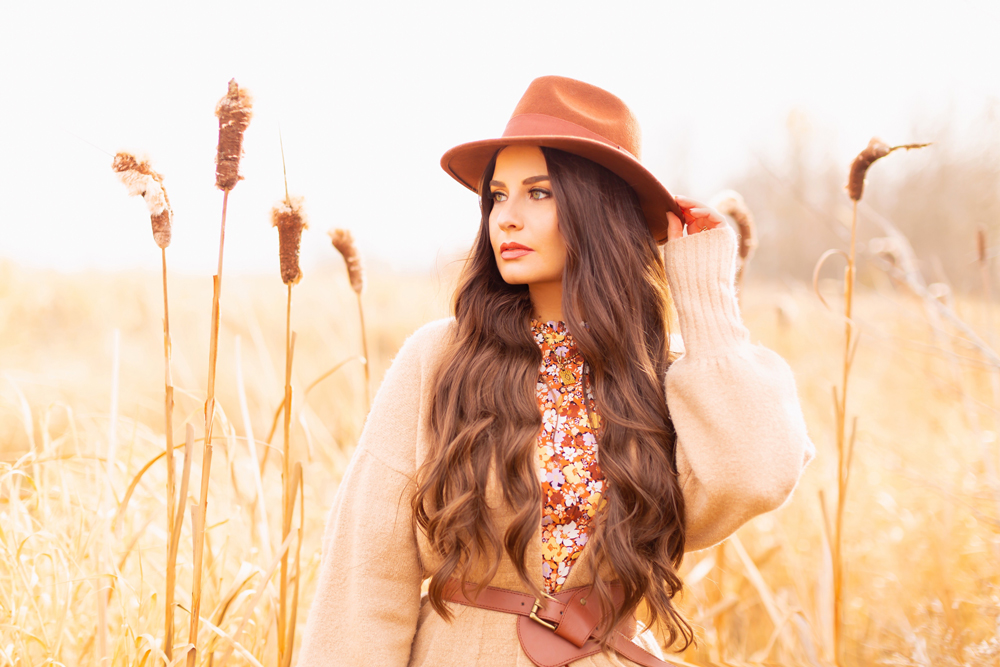 I'm also wearing one of my new favourite everyday lip glosses in an ultra dreamy (yet affordable) formula! Colourpop's Lux Gloss is one of my most-worn formulas as any pricepoint — and this shade, Dream Queen, is ideal for fellow warm neutral lovers.
---
PLAYFUL PONCHO
---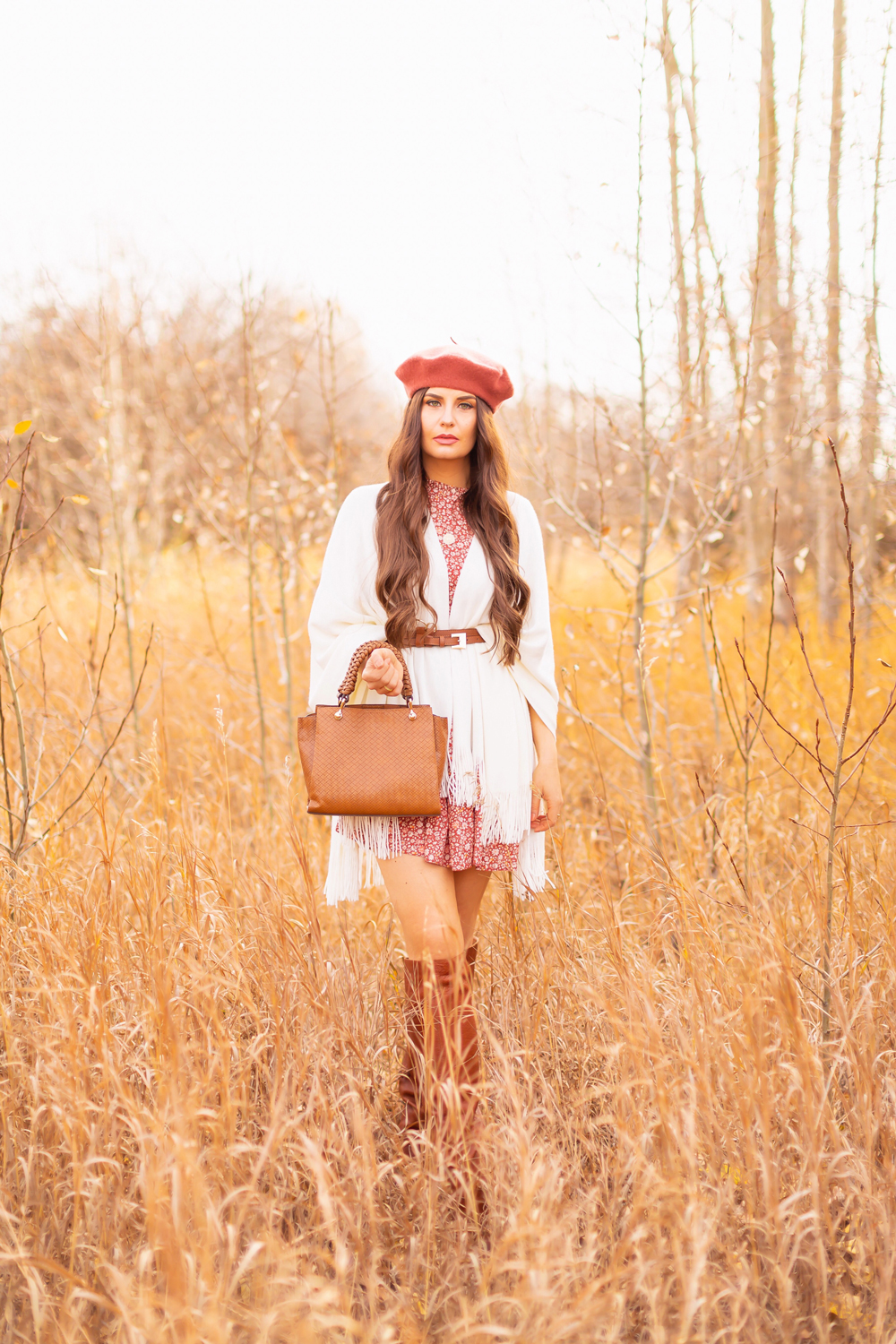 One of the reasons that autumn is my favourite season to get dressed is the ultimate versatility it offers here in Alberta, although it's definitely our shortest season. We can typically expect a wide variance in temperature and weather — including hearty dose of Chinooks, offering a temporary reprieve from cold snaps! Shockingly, bare legs are often on the menu during the fall months — and each season, I challenge myself to find new ways to take full advantage.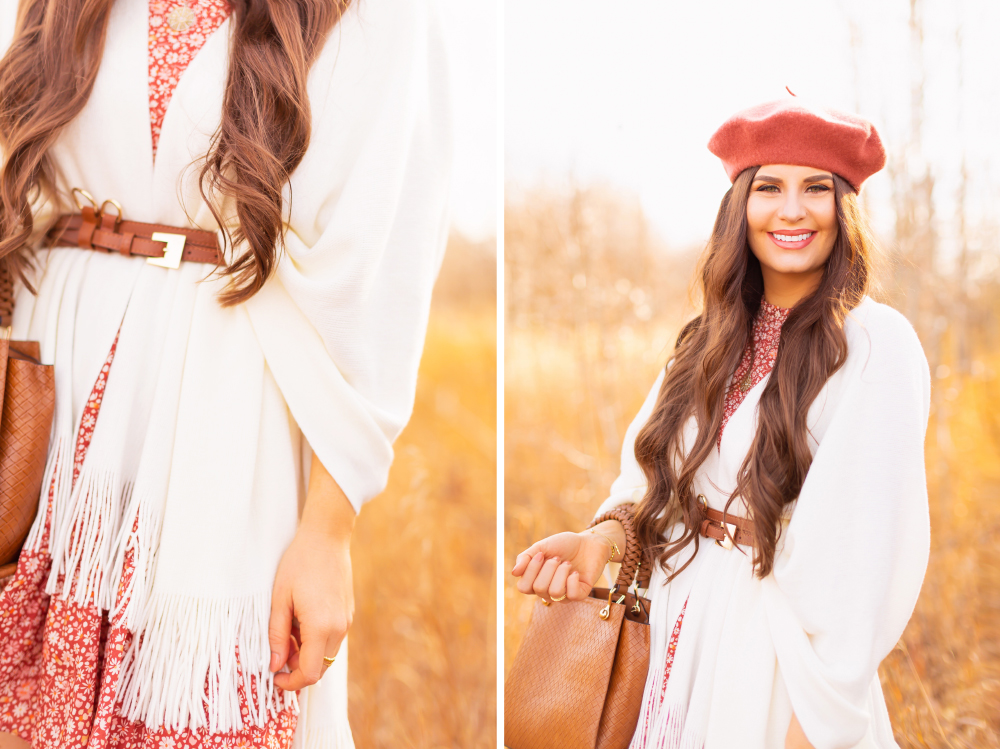 Layering on ruanas, ponchos and knits of all shapes and sizes is one of my favourite ways to help extend the life of my lighter weight dresses into autumn. I'm all about getting creative with my wardrobe when the weather allows and blending the best of both fall and winter to come up with inventive, playful outfit options! I love to pull out all my wool berets and ruanas at this time of year to add a chic, cozy air to my looks.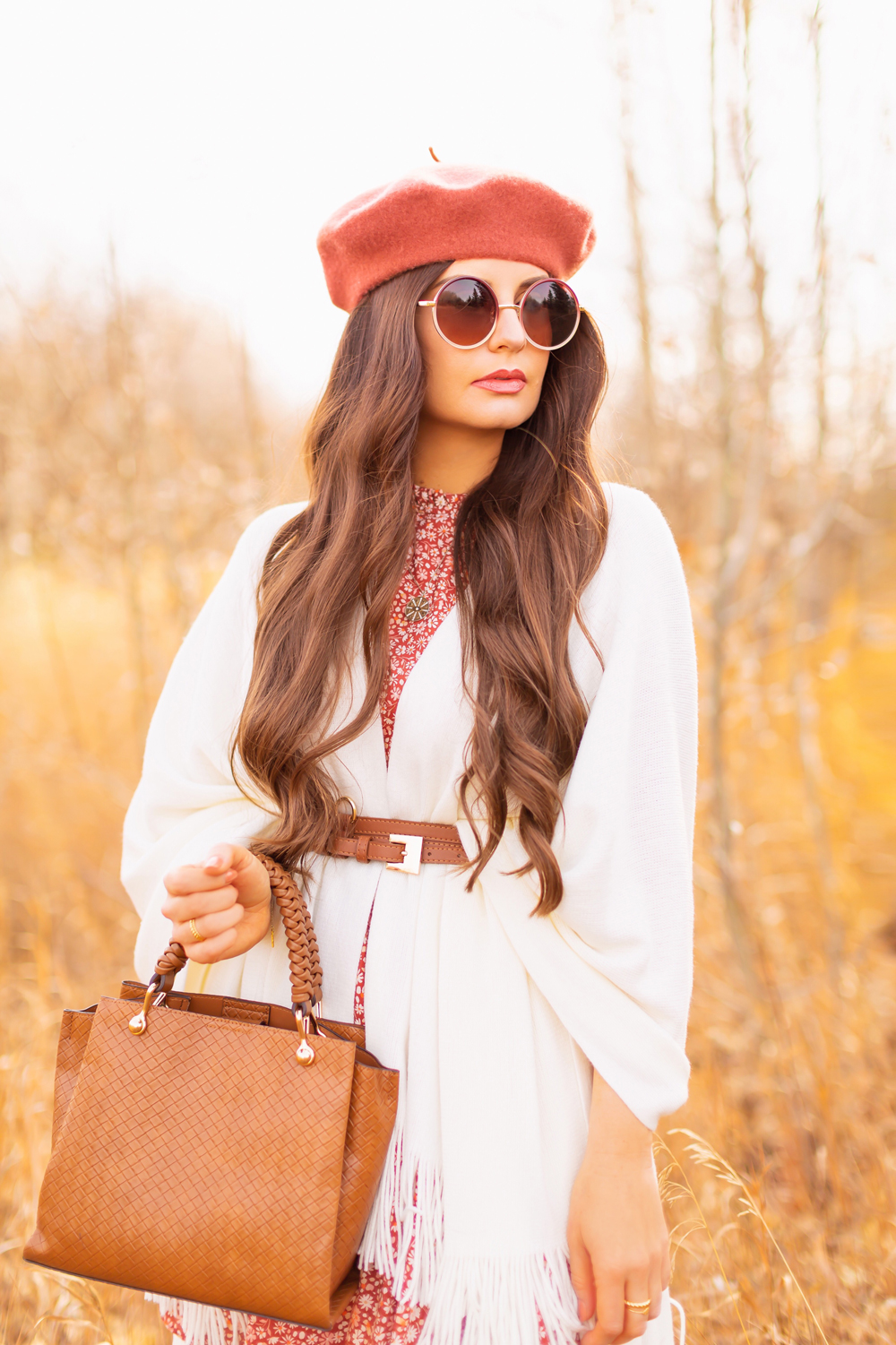 As always (I'm sure I sounds like a broken record by now!), this look is a mixture of high, low, old and new. This breezy little swing dress was an AW20 wardrobe addition, my fringed ruana was actually a recent consignment find, my classic beret has been with me for a few seasons, as have my sunglasses and boots (in fact, they're the same ones I wore in my most recent style post) — while my bag (which I also purchased in black( and belt are new-in this autumn.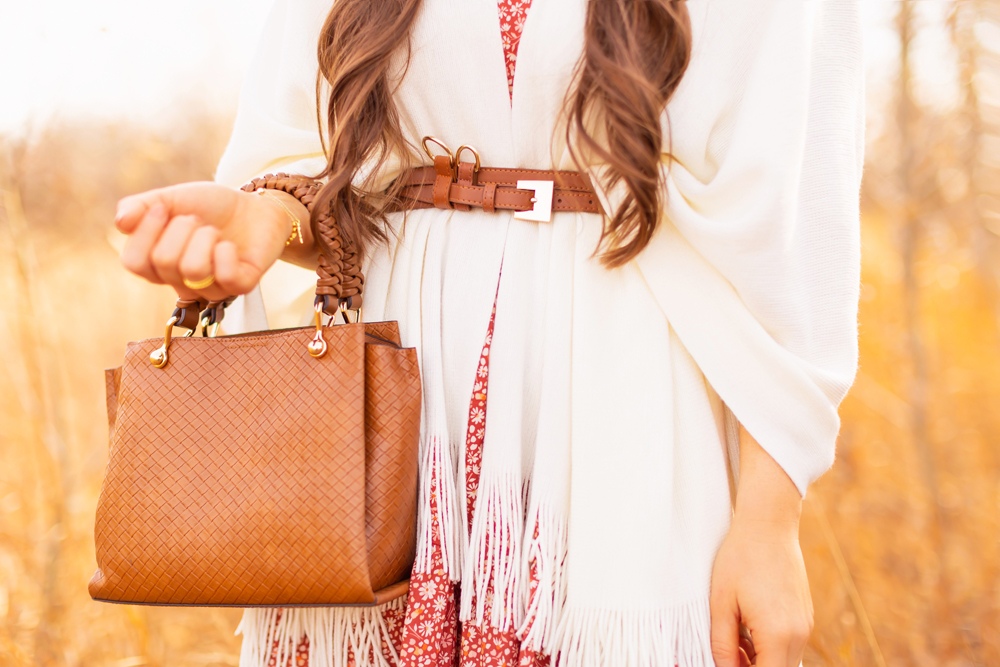 As someone that loves to experiment with fashion, I enjoy the challenge of styling pieces up in different ways and pushing the boundaries of what I would normally put together. I adore the way this creative look came together and felt amazing wearing it — which is the whole point, isn't it?!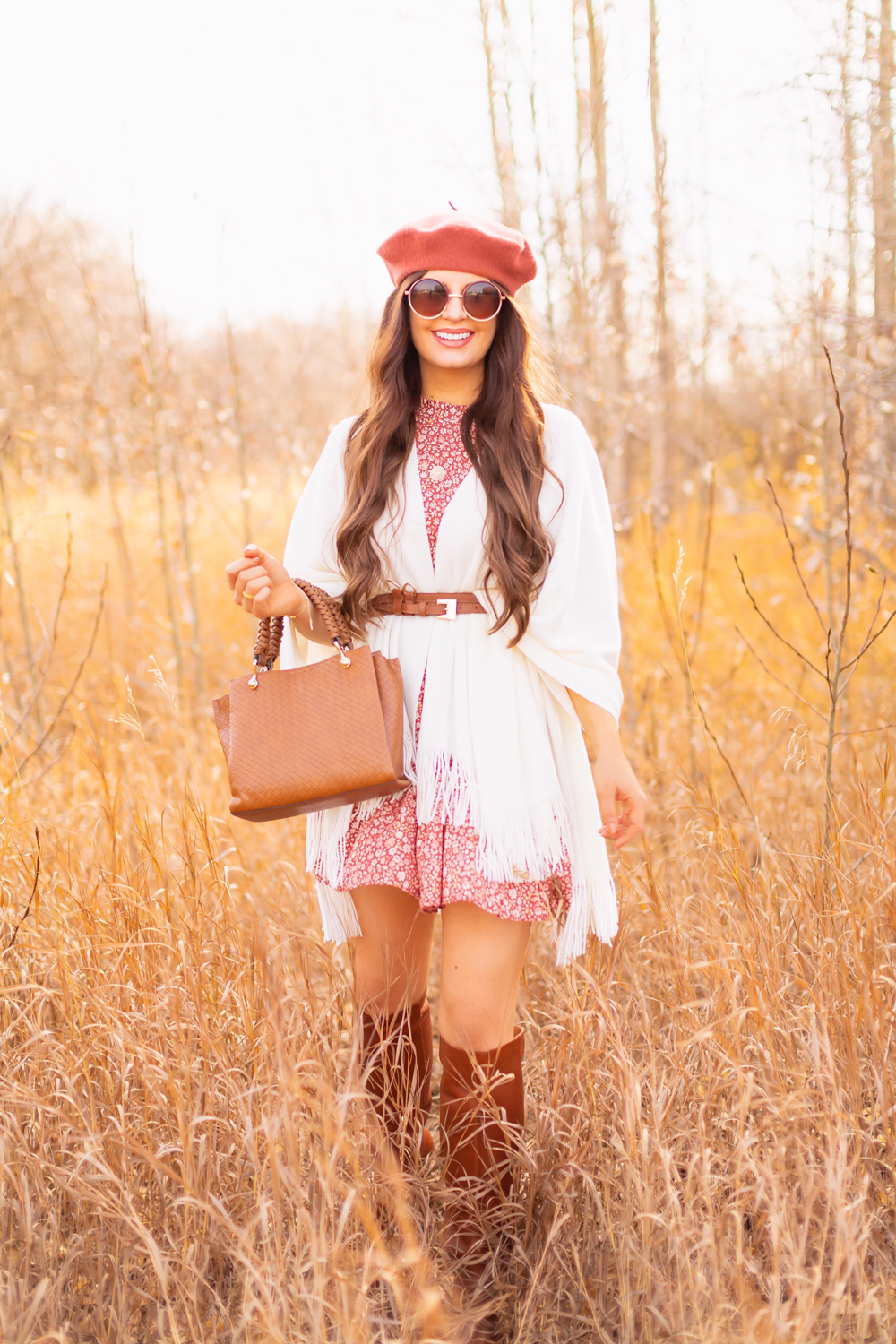 What are some of your favourite ways to extend your lightweight dresses into cooler months? As we tip-toe into winter I'll be wearing all the thermal base layers and chunky knits — but am enjoying bare-legged season just a little while longer!
---
THANKSGIVING CHIC
---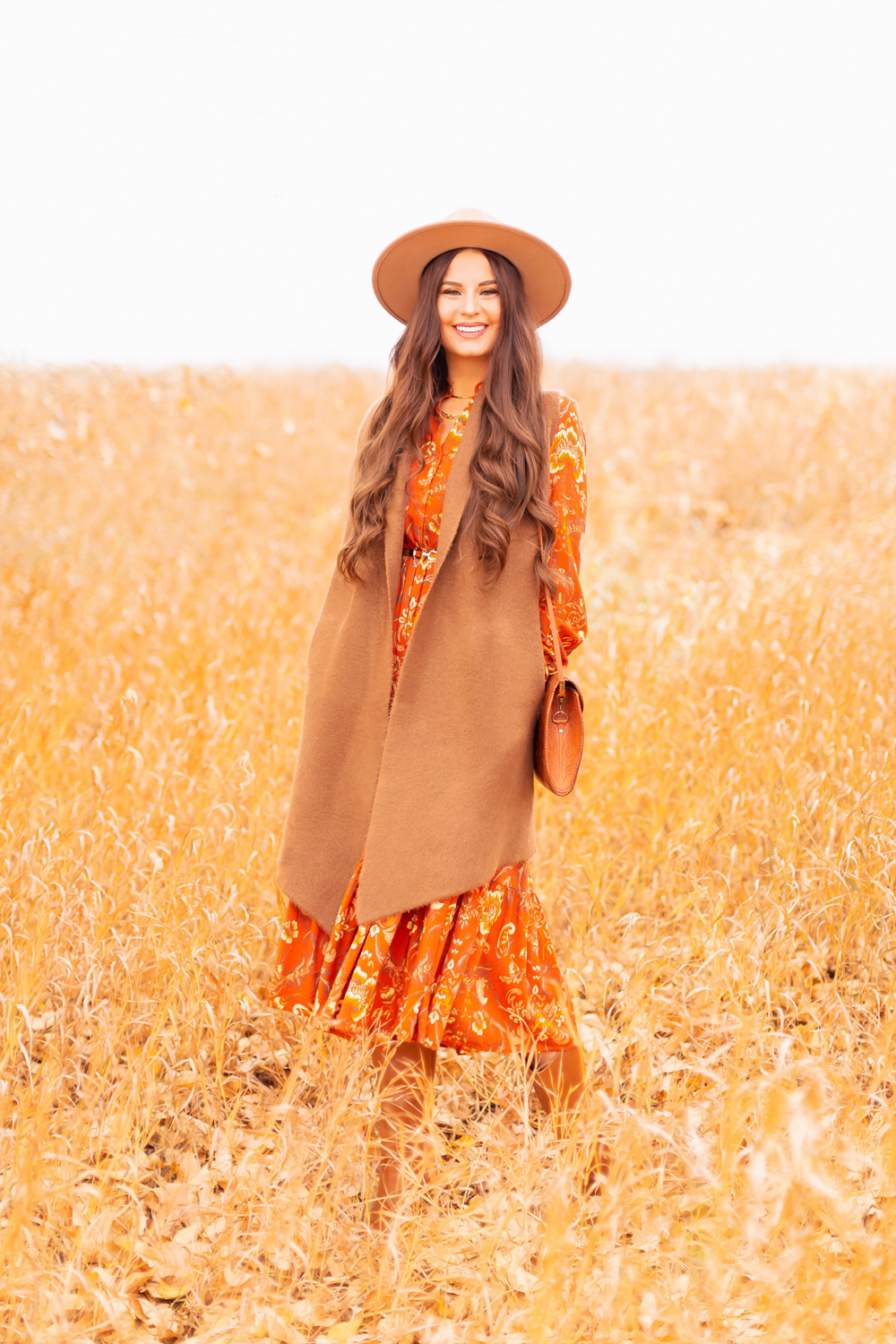 This look features a classic seasonal outfit formula that I fall back on year after year when I want to be comfortable but feel polished. In fact, it's what I wore for our Thanksgiving celebrations in the county this year!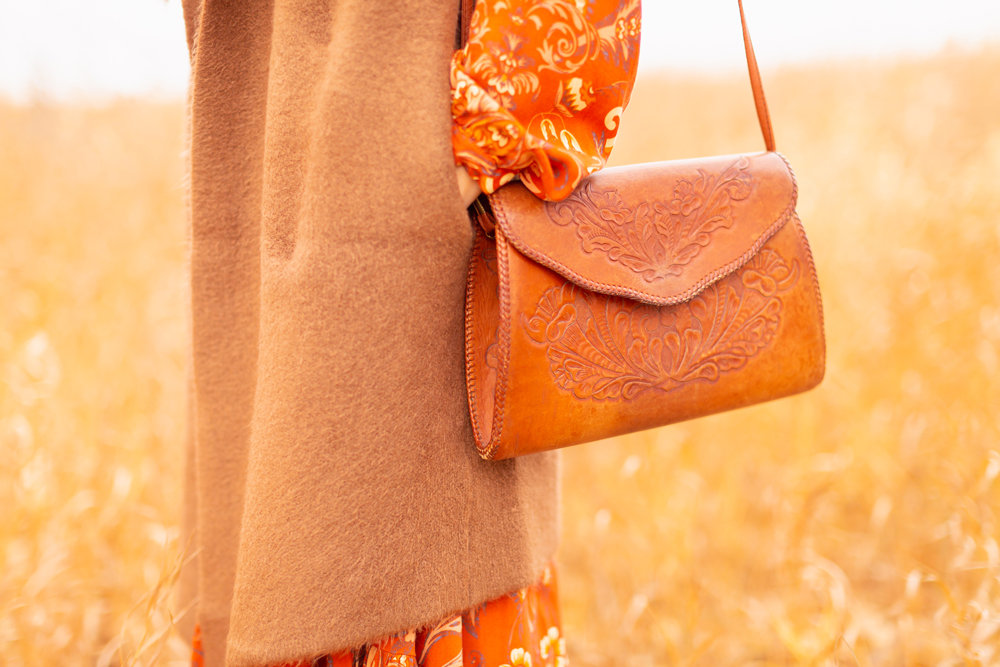 You guessed it — this quintessentially autumn look is a mixture of high, low, old, new and vintage — styled up with a modern bohemian sensibility. It features season-old pieces pieces like my dress and boots, a rancher hat has been around for a few seasons, a hand-tooled vintage leather bag that I've owned for over a decade and a new-in vest and belt.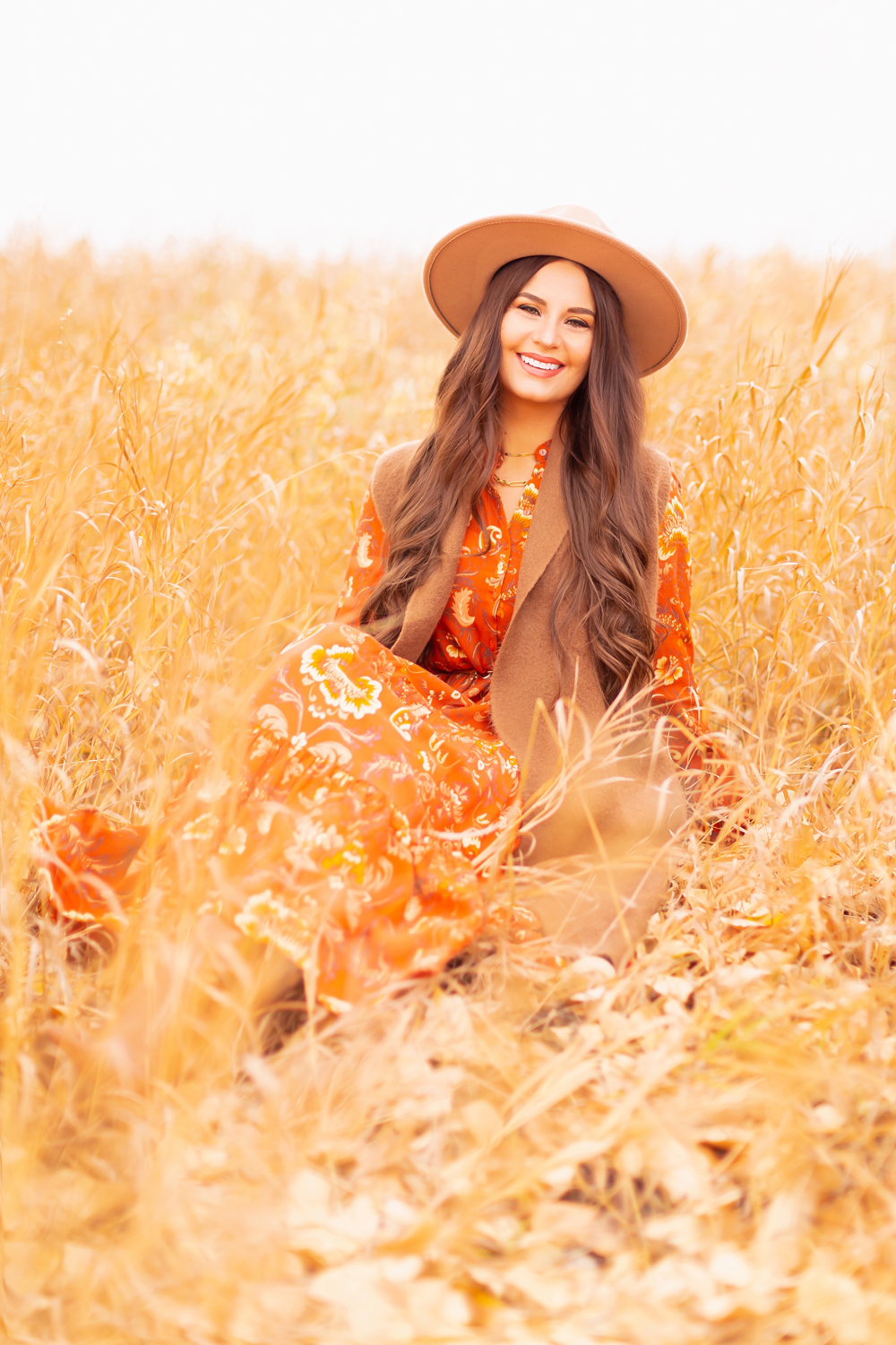 This chic Thanksgiving look typifies everything I love about autumnal dressing — a warm and inviting colour palette, nature-inspired patterns, sumptuous tones and textures and inventive layering. It's a play on the midi dress, cozy layer and belt outfit formula I mentioned earlier, but with a more relaxed sensibility.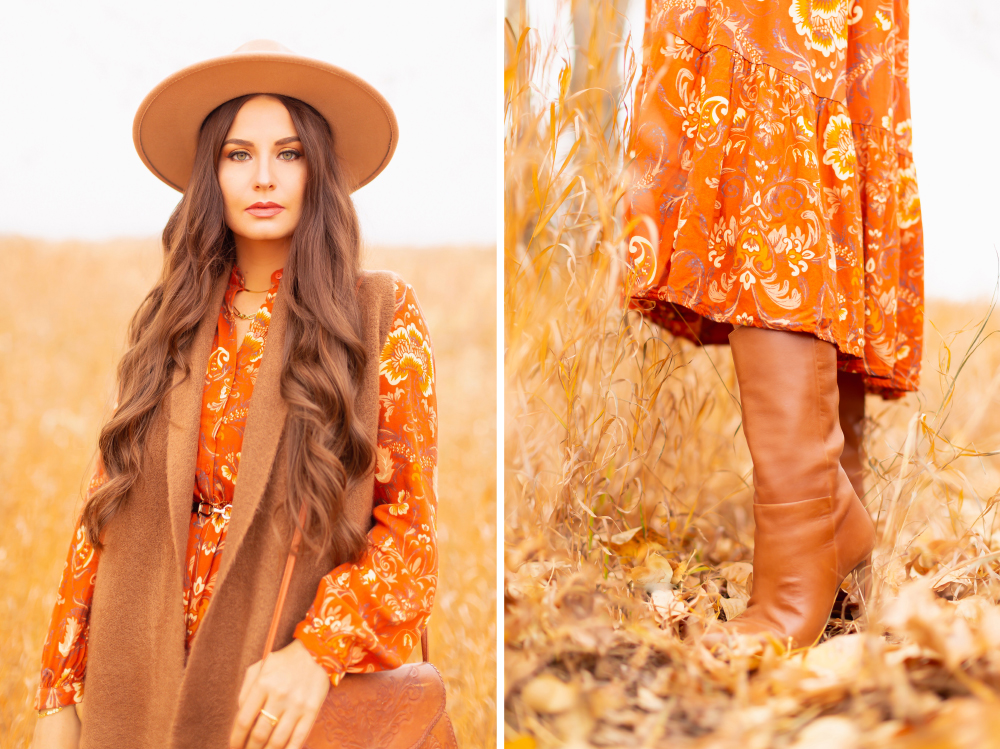 Creative layering allows for a more polished, elegant spin on a typical boho fall outfit, which I often find can feel quite dated and juvenile. This way of dressing always makes me feel my best — and most creative!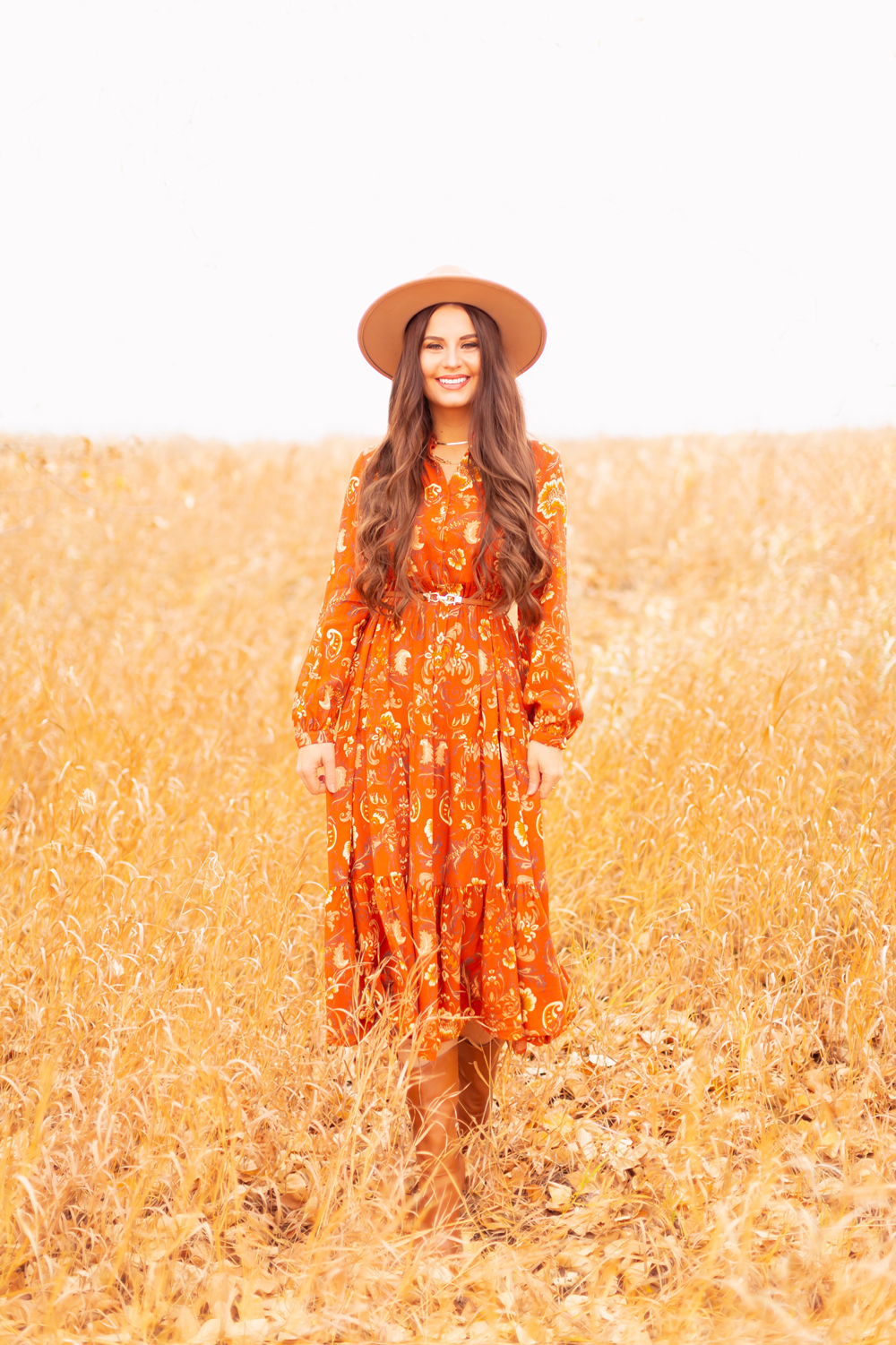 Paisley is one of my favourite fall patterns — and over the years I've amassed quite the collection of beautiful paisley pieces. This gorgeous orange viscose frock will always remind me of fall in the country, celebrating with friends and family!
---
AUTUMNAL OCHRE
---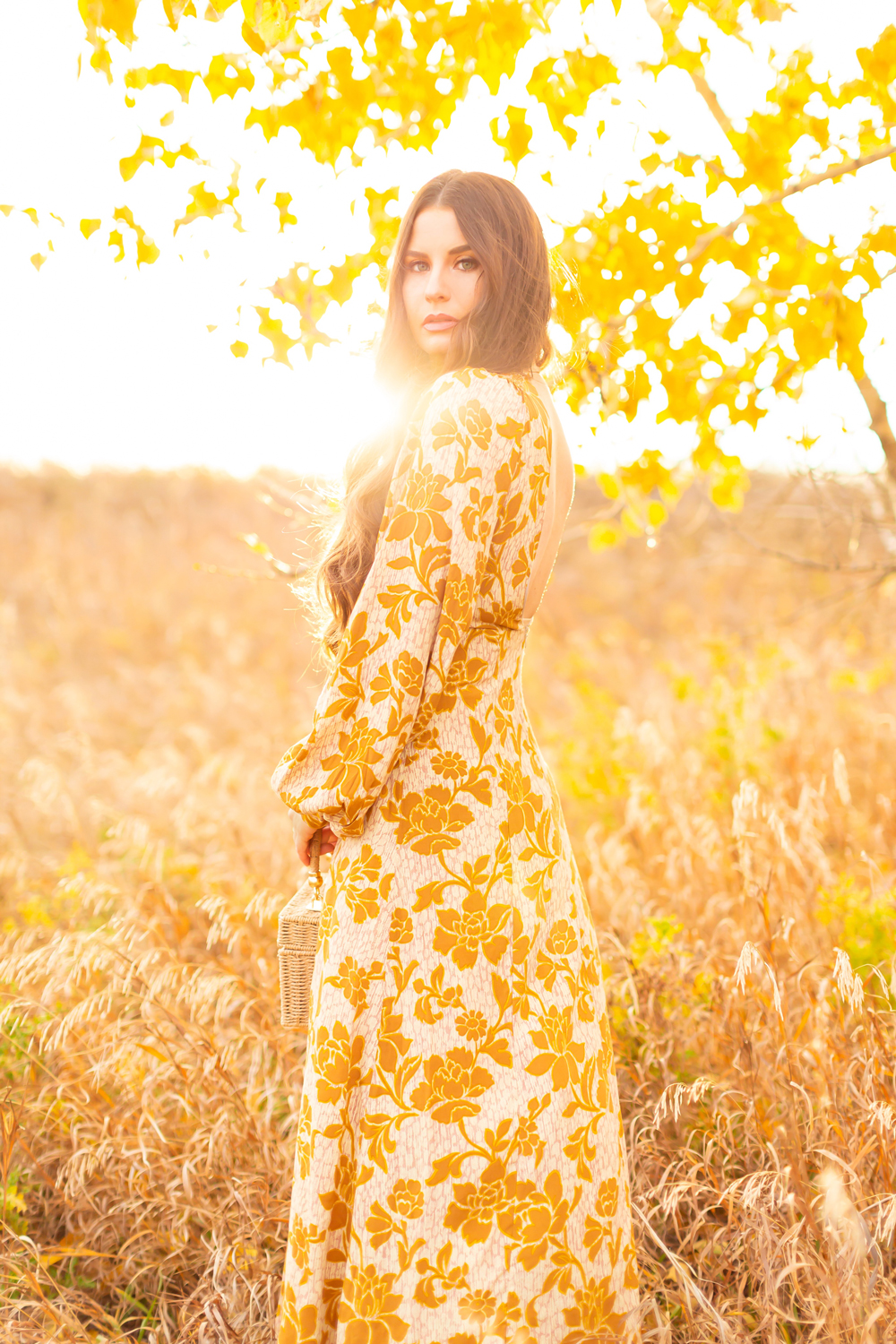 Last week, just days before our first snowfall, we ventured out and and captured the final looks of the season. Since most of the leaves had fallen we challenged ourselves to shoot in unconventional locations — and created some of my favourite images to date! I had a specific vision for how I wanted to photograph this look — and was thrilled to see it come to life against these shimmering yellow leaves, dried grasses and dreamy golden light. As a creative, it's incredibly rewarding when the final product exceeds your expectations after a lengthy planning process!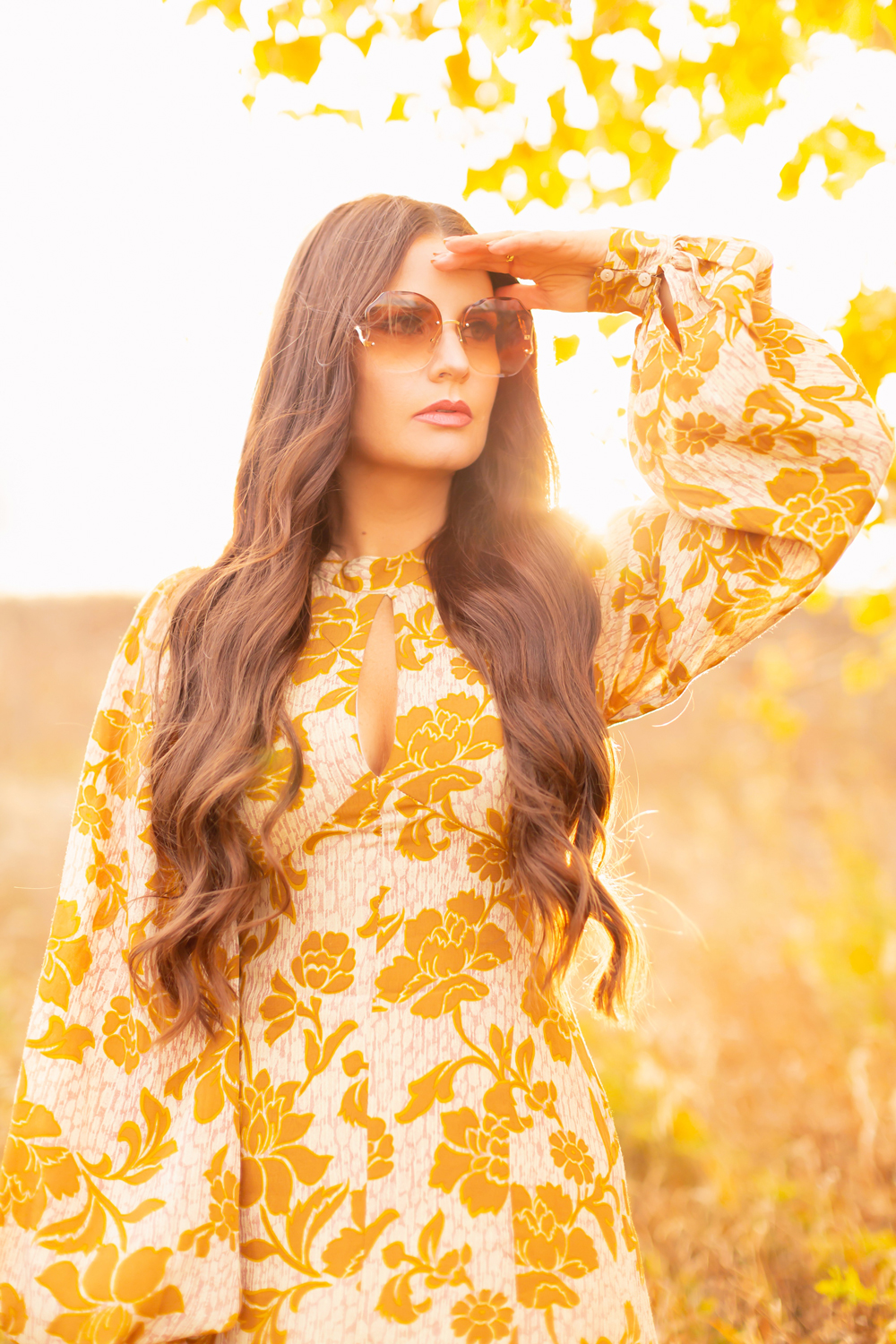 Although my personal style has undergone quite the evolution over the course of the pandemic as my lifestyle shifted, dressing well is something I've always been passionate about — even when I'm at home. That said, it's lovely to be all dressed up with somewhere to go again!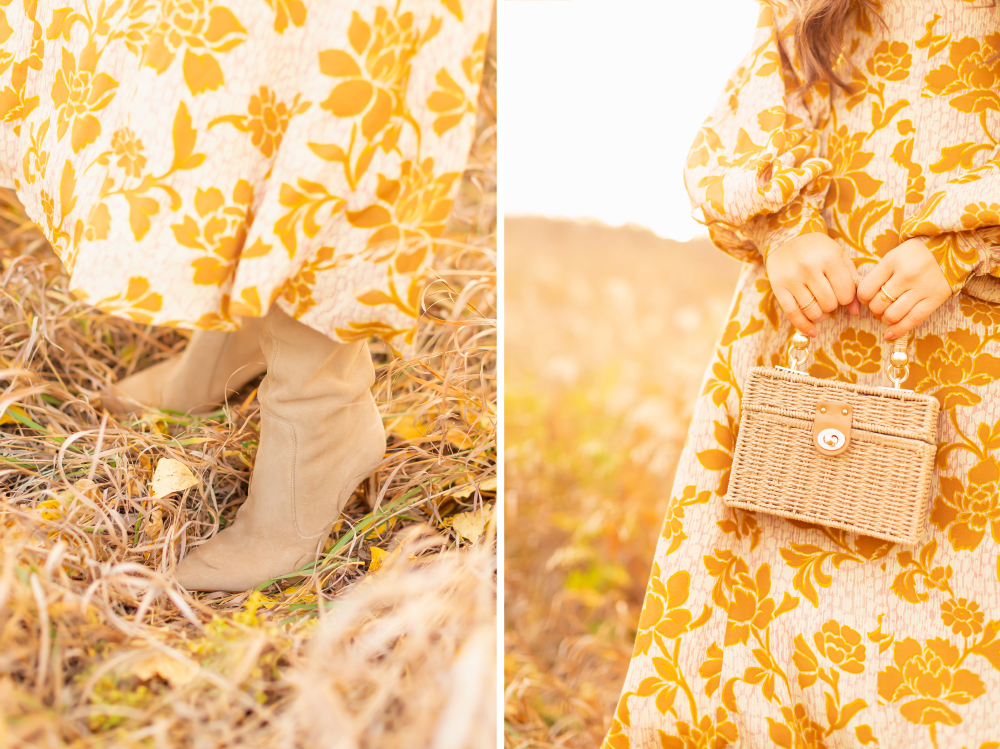 I snagged this stunning, quintessentially autumnal Zara gown online at the height of the pandemic — determined to wear it for a special occasion once we were on the other side. This month, I'm thrilled to be taking her out for an evening at the theatre — our first time visiting in nearly 2 years! As always, this look is a mixture of high, low, old and new — inspired by my favourite tones and textures of the season.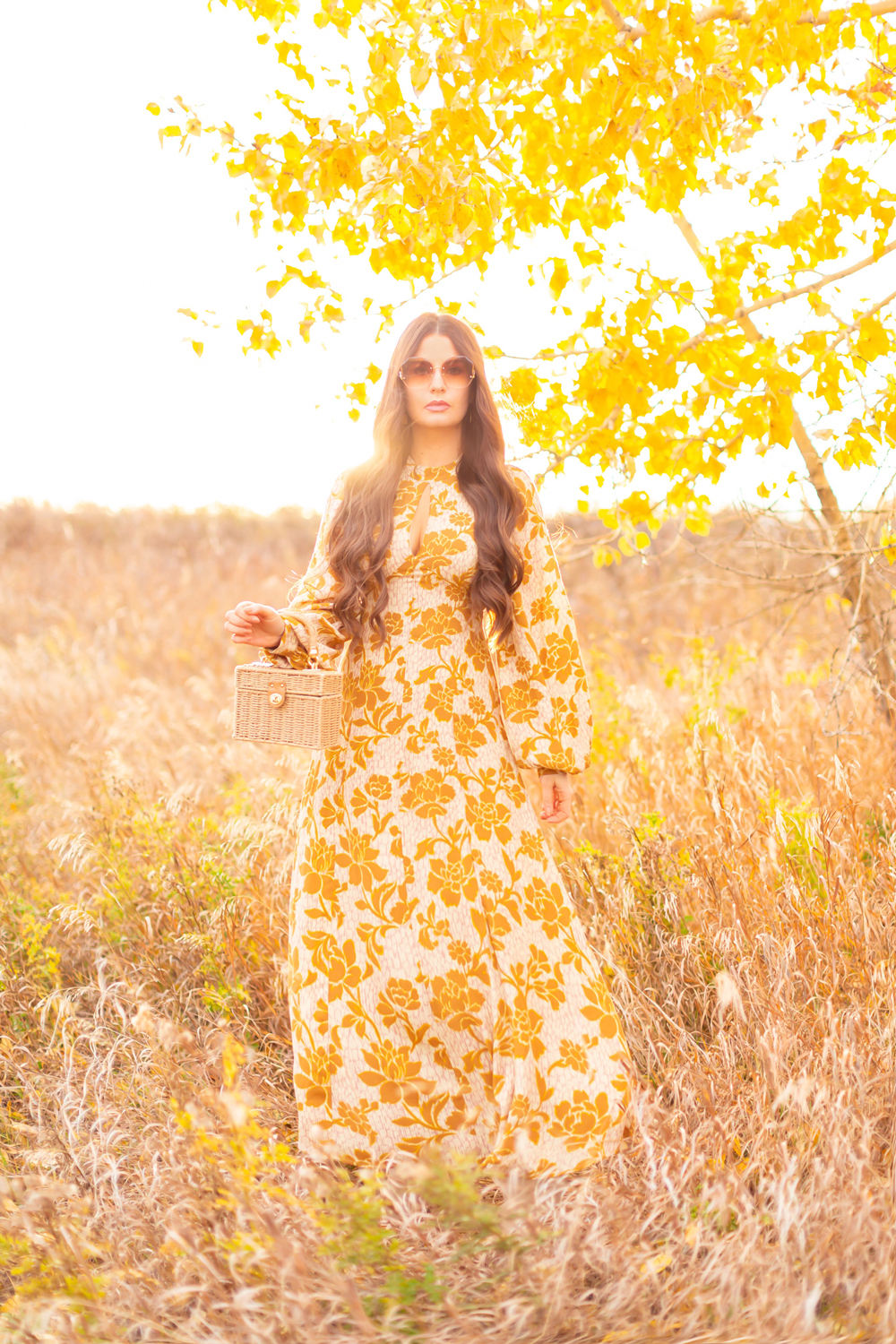 Although November is upon us, I'm still wearing this structured rattan bag often (I also have it in 2 other colours!) — and I adore the unconventional texture it brings to this outfit. My vintage-inspired sunglasses are actually a newer find — and my suede knee high boots are a seasonal go-to. Of course, I'd layer on a cozy, camel wool coat before heading out for the evening!
---
RANCHER REVIVAL
---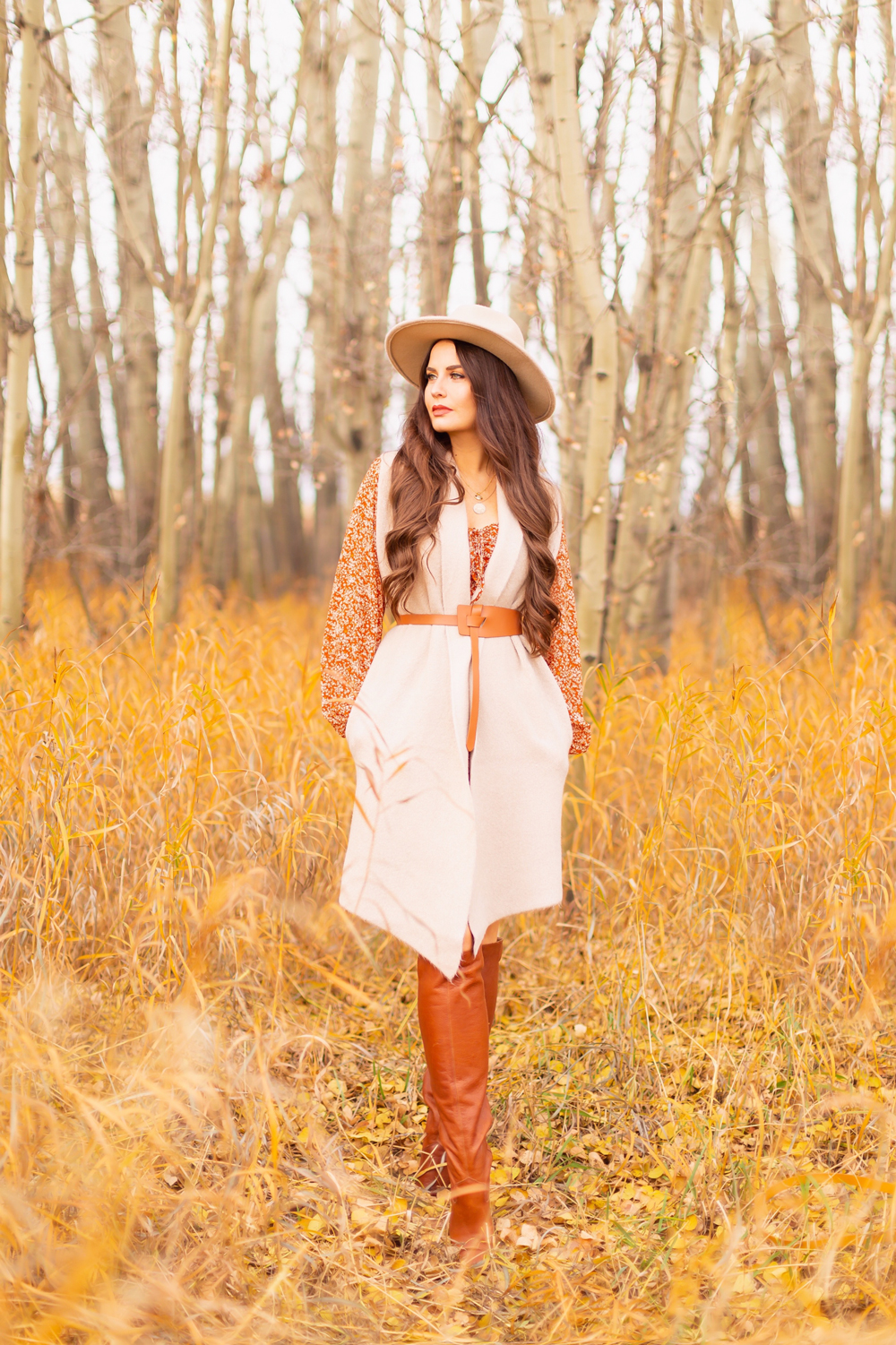 I'm always excited to dust off my collection of wool hats when autumn sets in! As you can imagine, after nearly a decade of fashion blogging I have quite the collection — but my current favourite is this updated rancher style with a tonal band and short, stiff brim.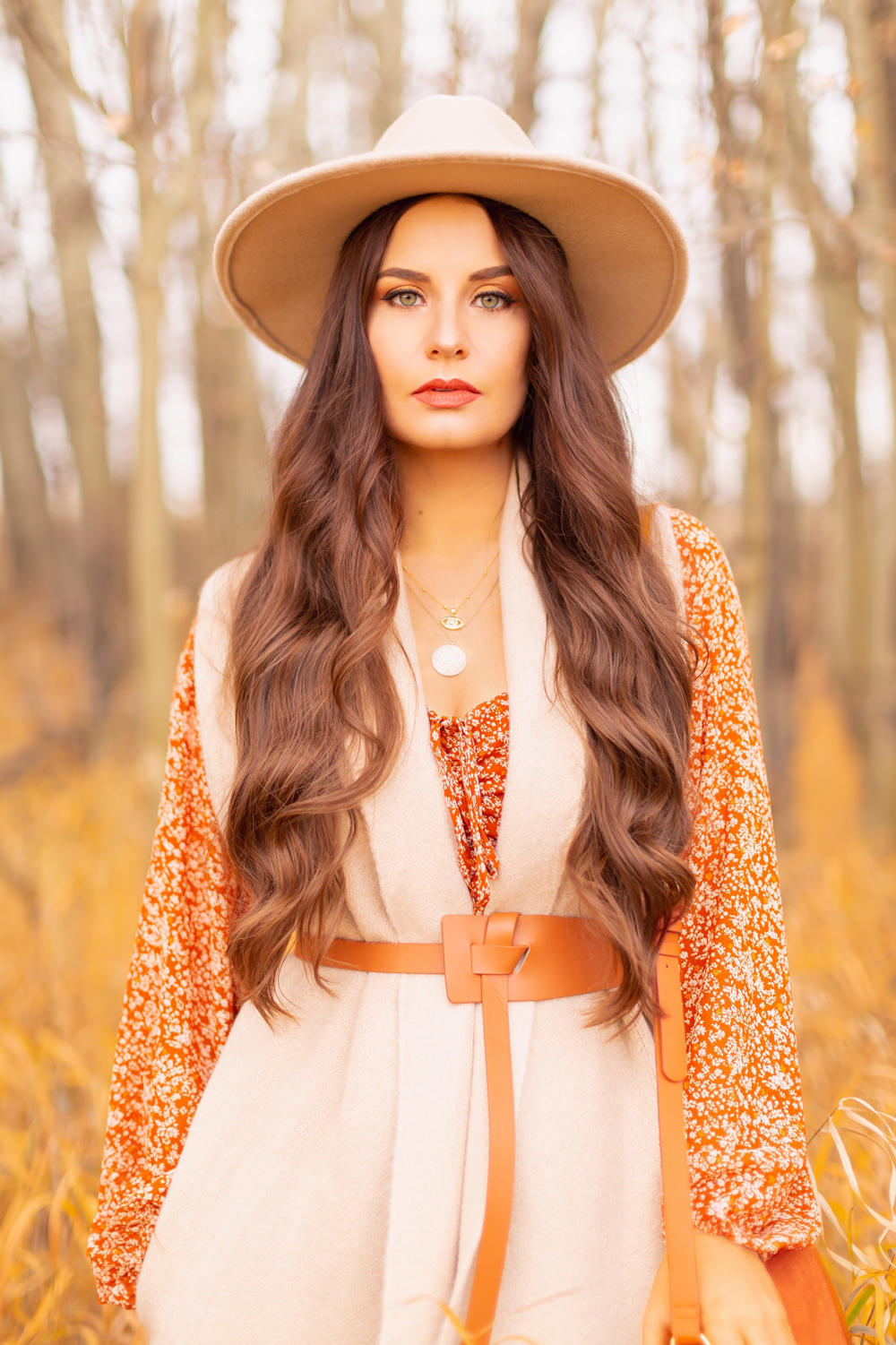 I'm a firm believer in purchasing garments in multiple colours if you love them — which is exactly what I did with this Stockport Vest by Pink Martini (which was featured in brown in my Thanksgiving Chic look). It's ultra cozy, luxurious and versatile — exactly what I look for in a workhorse layering piece!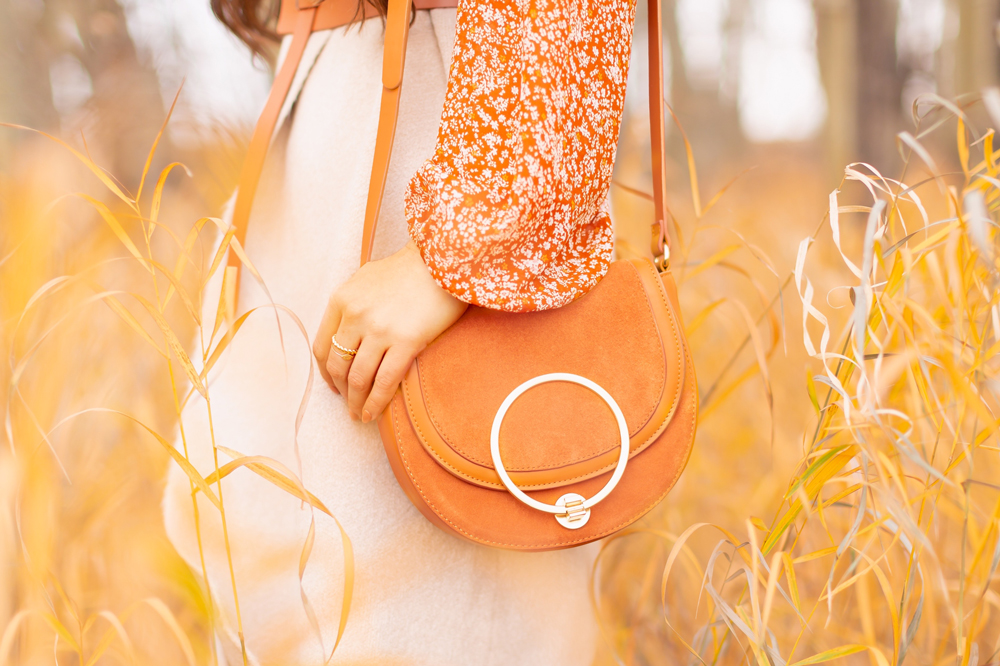 I picked up this sweet little autumn dress for a pumpkin spice inspired beauty shoot earlier this season — and wanted to challenge myself to style her up for cooler weather. Teaming this floral mini dress up with a cozy vest, wide statement belt, wool rancher, knee high leather boots and one of my favourite fall bags was my answer!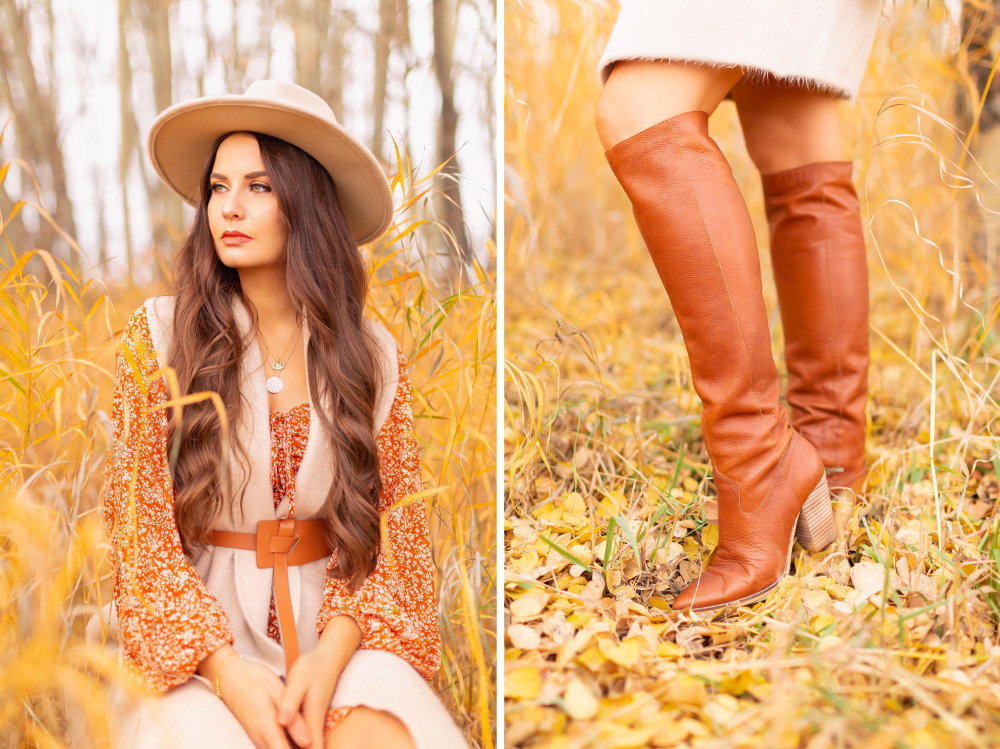 Playing with pattern, colour, silhouette, proportion and length in my autumn outfits is such a rewarding creative expression every time I get dressed. If you're ever feeling uninspired by your seasonal wardrobe, I challenge you to add a couple of new, well-chosen accessories and spend a couple of hours styling them up with existing pieces!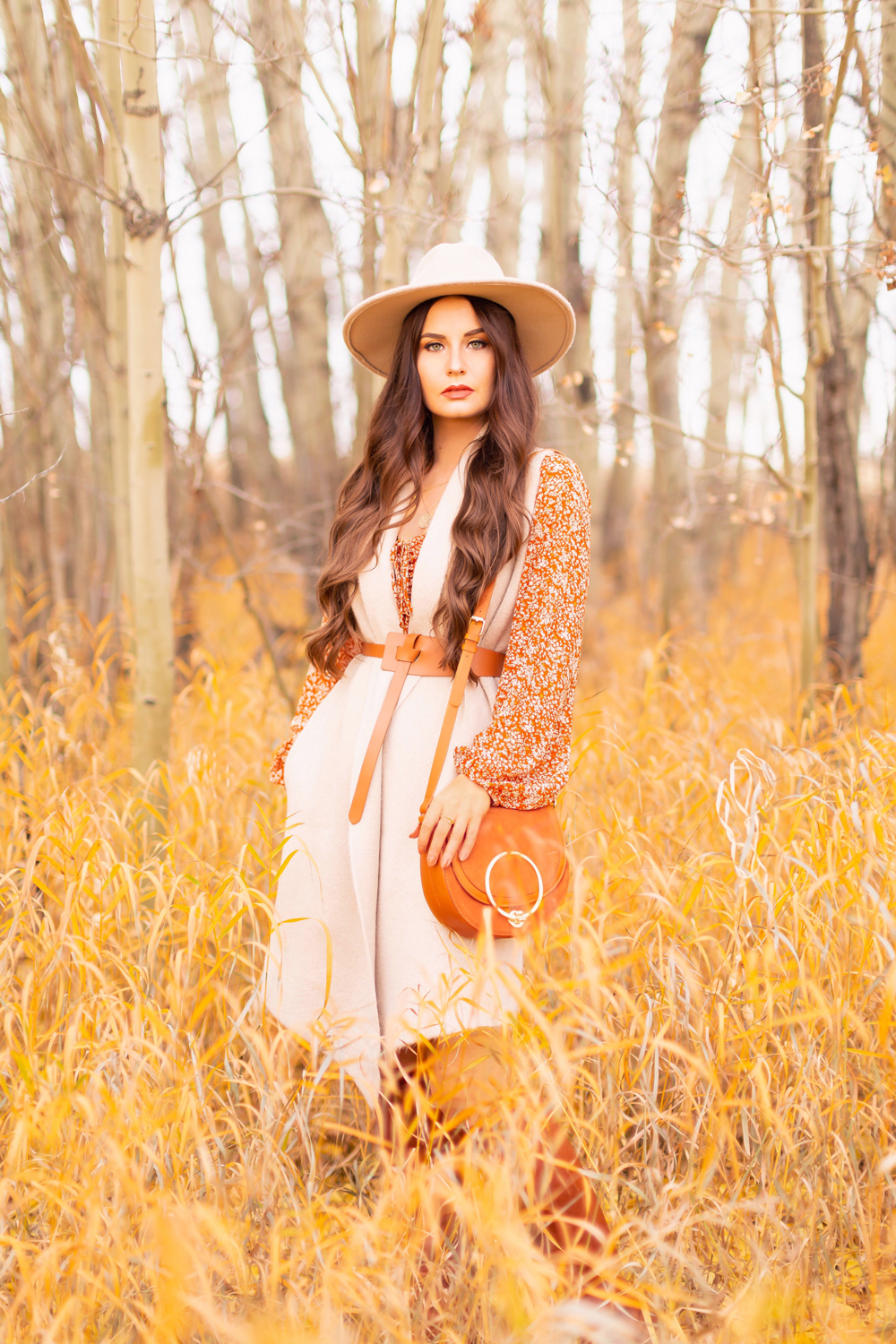 What are some of your favourite ways to extend the wear of your favourite frocks at the temperatures drop? I'll never tire of finding new ways to layer while adding visual interest and warmth!
---
ORGANIC OLIVE
---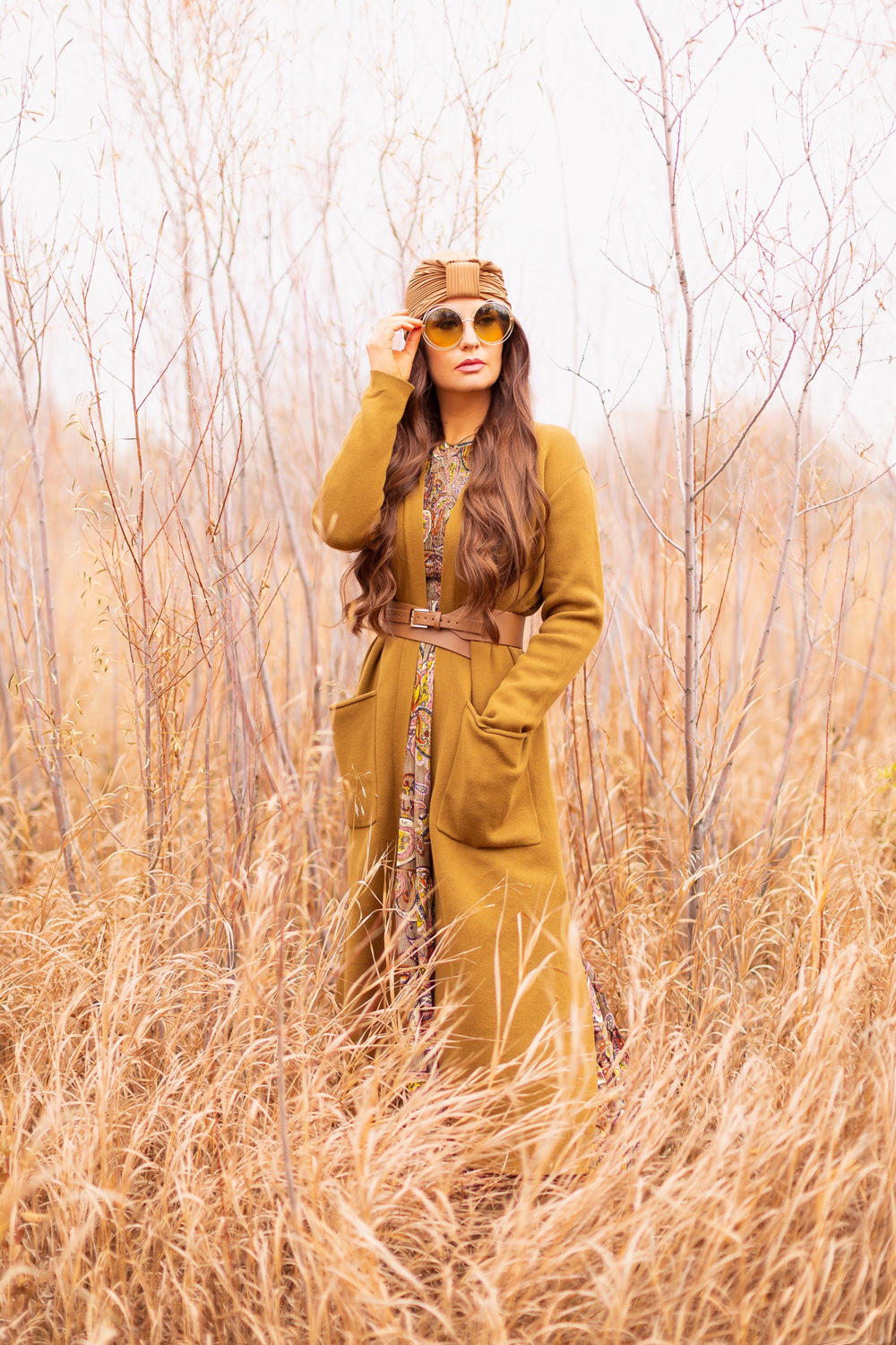 Last, but certainly not least, this ode to bohemian fall fashion is the most unconventional look of the bunch — and inspired by the colour olive. I love to wear earth tones during autumn — and since I'd recently picked up this stunning paisley dress and staple longline cardigan in a similar hue, I wanted to style them together in a fresh fall look!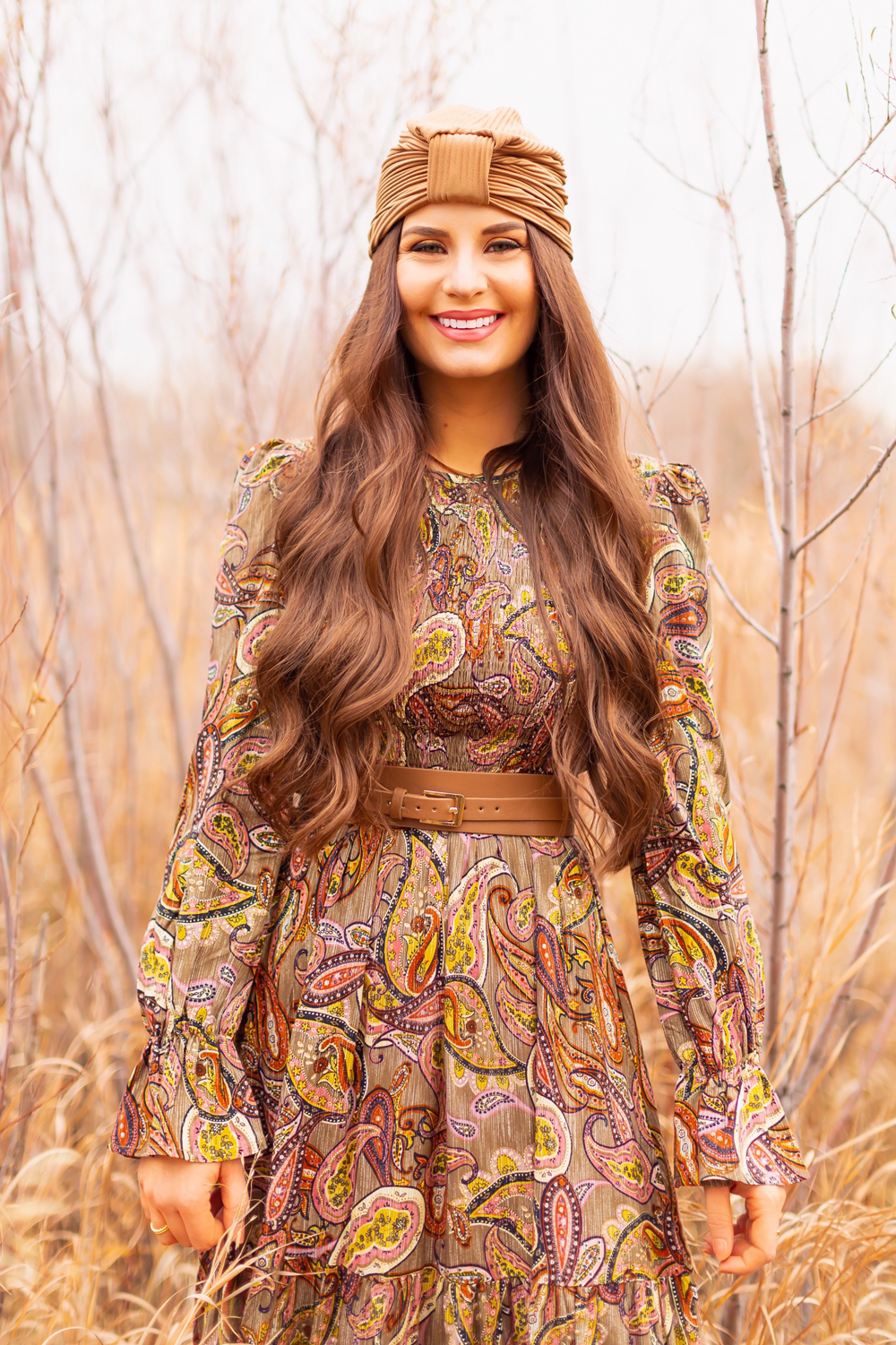 While this olive-inspired outfit is a play on my on of my tried-and-true fall outfit formulas — adding new-in accessories like this wide, corset belt and turban-style head piece for an air of nuance and sophistication. It's definitely not something I'd wear everyday, but I did pick these head pieces up in a couple of other colours — and I'm having so much fun experimenting with them!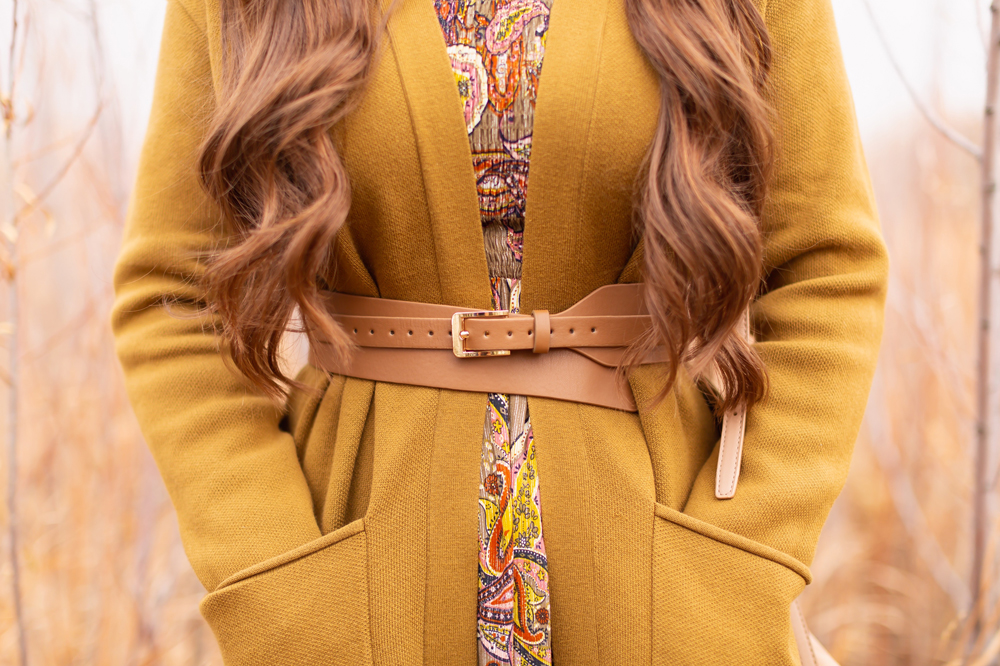 As you may have guessed, I grounded this outfit with staple fall accessories that've been with me for many years — like this bohemian cross body bag and suede knee high boots in a similar hue. I love the way this look photographed against the tones and textures of the dried grasses in our willow grove!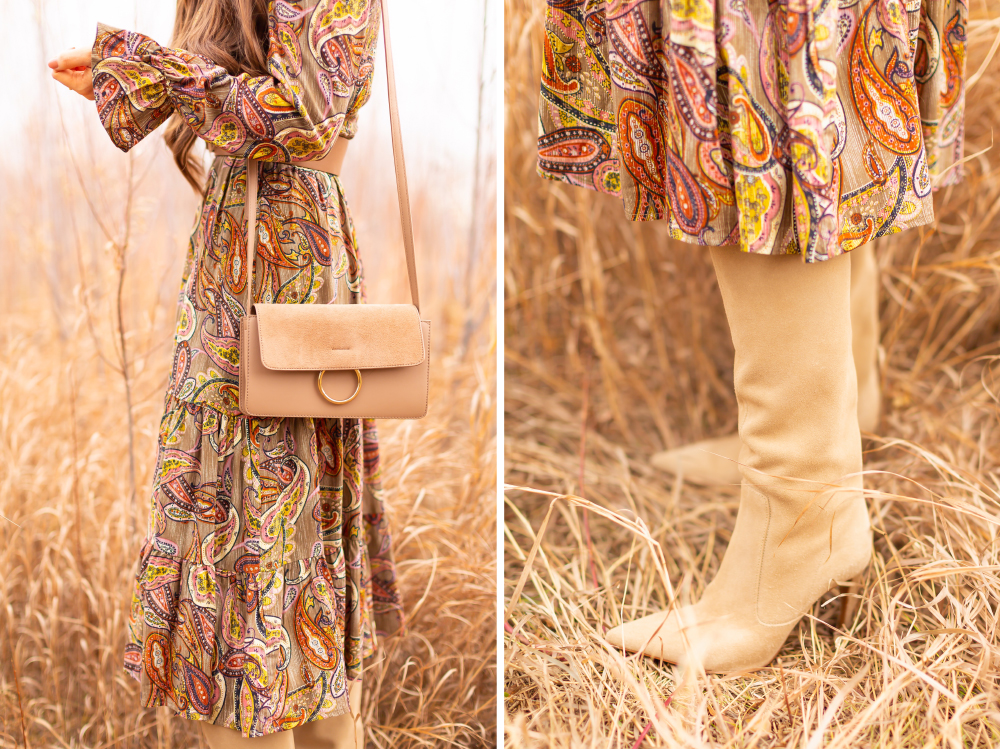 To complete my olive-inspired colour story, I donned this pair of designer-inspired, oversized round shades. I rarely pull them out and I tend to favour black and brown tones in my eyewear, but I was glad to give them their moment in the spotlight today!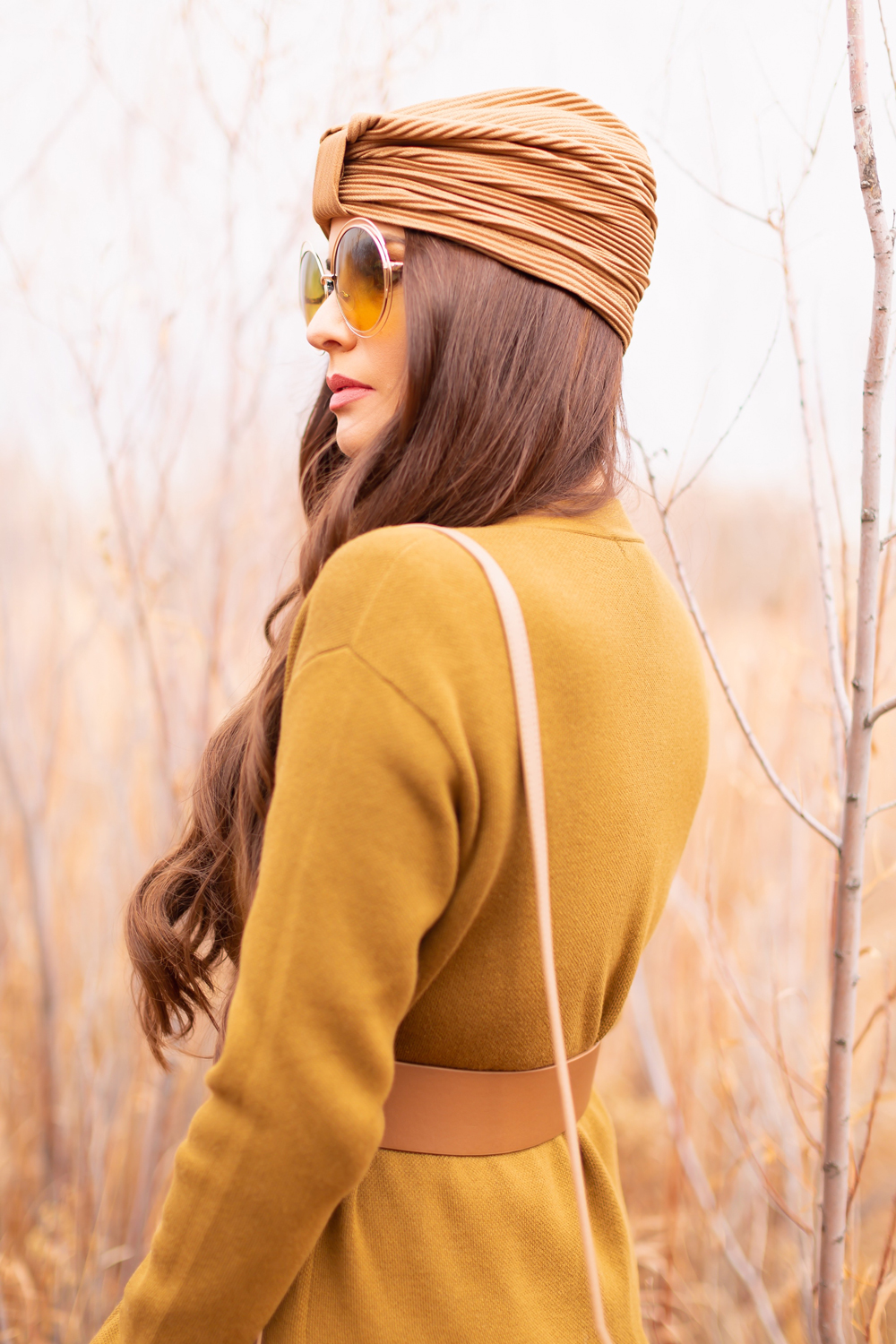 Has this playful fall look inspired you to experiment with more monochromatic dressing this season? Pulling a look together based on a singular colour story is one of my favourite ways to get dressed when I want something unconventional and elevated!
---
MORE FALL FASHION INSPIRATION
---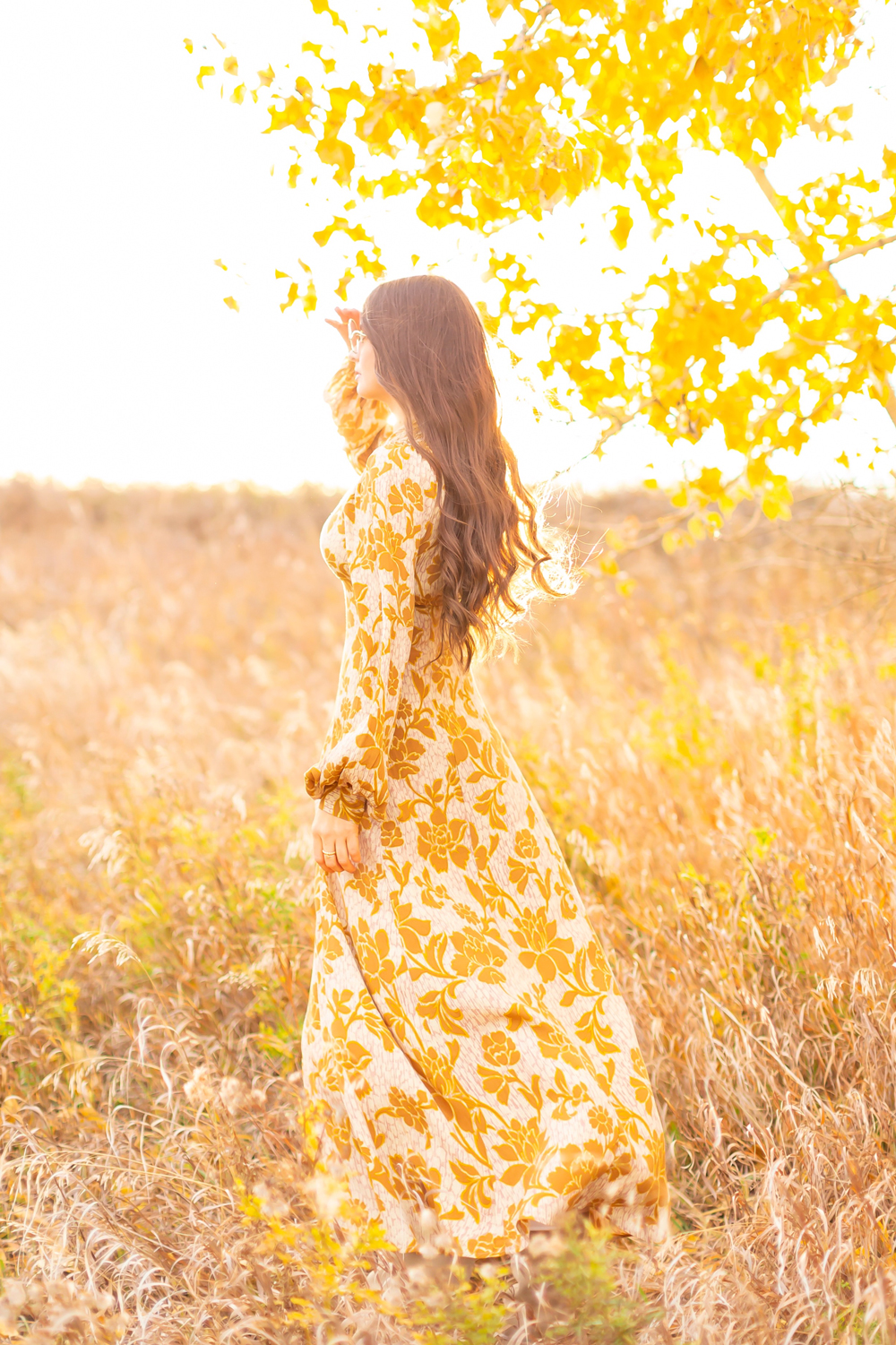 Transitional Summer to Fall 2019 Lookbook
---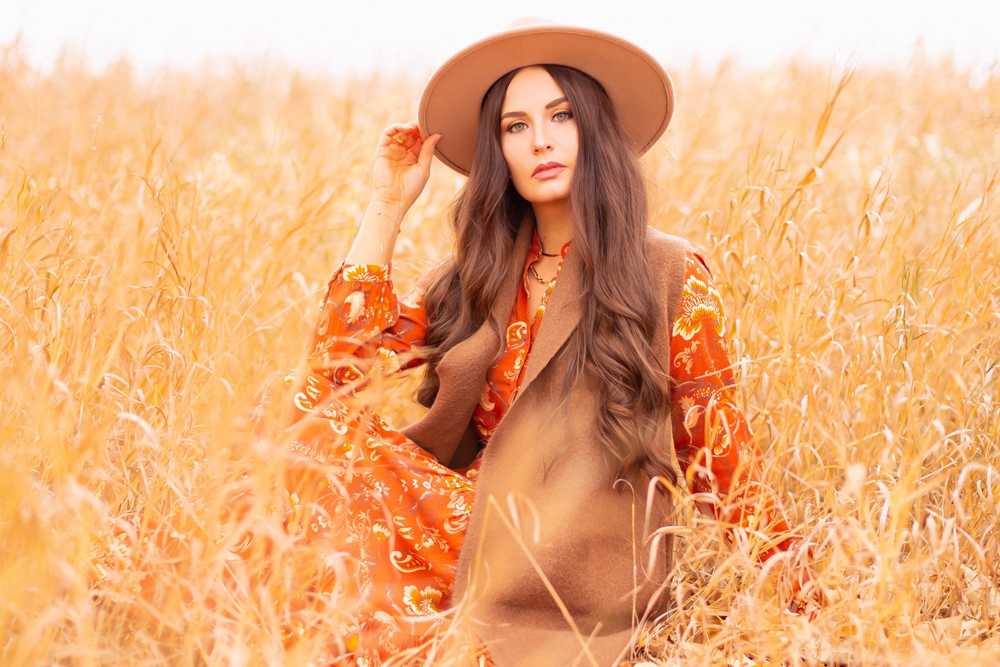 Fall fashion lovers, thank you for stopping by for my spin on luxe bohemian style. I hope you enjoyed coming along to the gorgeous, autumnal landscape of my childhood home in rural Alberta where we captured these images! I also hope this post inspired you to get creative in your wardrobes this season and style some of your most loved pieces through fresh eyes.

As always, if you're looking for more fall fashion inspiration, you can also follow along with my JustineCelina Fashion board on Pinterest, or explore one of my previous LOOKBOOKS, linked above. And for a sneak peek at what I'm wearing before it hits the blog, as well as some exclusive style content you won't see here, come join me over on social media! Wishing you all a safe and healthy autumn season.
---
Disclaimer: This post is not sponsored, and contains my genuine thoughts, ideas and recommendations. JustineCelina uses affiliate and referral links, which allow me to receive a small commission when you make a purchase through one of my links. Thank you for supporting the brands and businesses that support JustineCelina!