---
Colour lovers, today I'm thrilled to bring you a fresh post in my COLOUR CRUSH series dedicated to the Pantone 2020 Colour of the Year, Classic Blue! Selected by Pantone in late 2019 for its ability to 'instil calm, confidence, and connection, this enduring blue hue highlights our desire for a dependable and stable foundation on which to build as we cross the threshold into a new era', it seems especially fitting given the current state of the world. I first introduced you to Classic Blue with January's Digital Blooms (be sure to hop over to download a free, floral, Pantone 2020 inspired tech wallpaper!) and have been working with this comforting, of-the-moment hue across categories since. That said, although blue has always had a small place in my wardrobe (albeit mostly in denim and more formal attire), as someone with warm colouring, it isn't a hue I'm typically drawn to. Longtime readers will know that each year I allow Pantone's selections to inspire and challenge me here at JustineCelina — incorporating the Colour of the Year into my life and content in a way that's congruent to my personal style. Fast forward to March and I'm absolutely crazy about Classic Blue — and today I'm sharing the inspiration with you!
In the midst of another Winter Storm Warning here in Calgary (and after a particularly heavy week in regards to recent news), I thought this weekend was the perfect time to put the finishing touches on a post I've been working on since February. As the way we live continues to change over the coming months, I want JustineCelina to remain a source of inspiration and joy for anyone who needs it — including myself! This instalment of my COLOUR CRUSH series is dedicated to Classic Blue transitional styling, starring one of my favourite casual winter-to-spring outfit formulas, perfect for chilly weather. As always, I'm wearing a melange of high, low, old and new in todays look — a mash up of of transitional wardrobe staples intermixed with trend-forward accessories to create an easy-going late winter outfit that's quintessentially 2020. If you're curious about Pantone's 2020 Colour of the Year how to integrate Classic Blue into your wardrobe as we transition into spring, fix yourself a mug of your favourite tea and settle in for an uplifting Sunday read! 

---
COLOUR CRUSH | CLASSIC BLUE
---
I spotted dreamy, oversized Classic Blue inspired coat in the window at my local Urban Outfitters just before the holidays — and it literally stopped me in my tracks! As soon as I laid eyes on it, Pantone 2020 Colour of the Year Classic Blue themed FASHION content ideas started dancing through my head.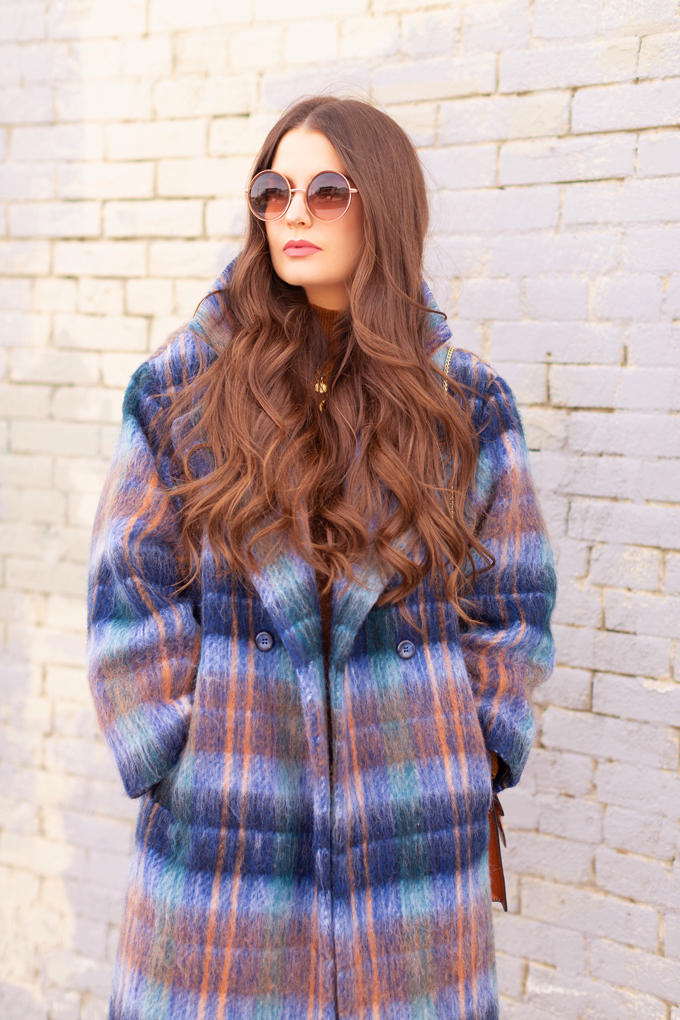 I literally reversed, beelined to the mannequin for a closer look and asked a sales associate if they could pull it for me to try on. Although it was an XS it was dramatically oversized (although the sleeves were a touch too short on my 5'8″ frame), and it was priced in the mid 200's. I was informed it was also the last one in Calgary.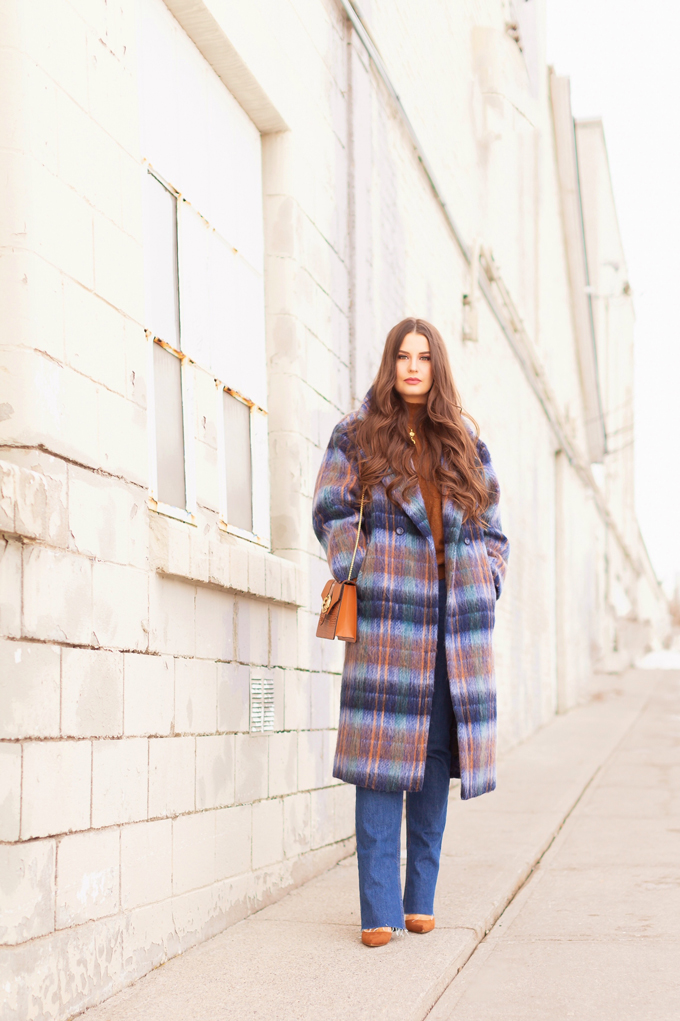 As a lifelong fashionista, I've developed a few rules to help limit impulse purchases (especially on more premium items) and ensure I shop mindfully. First, I don't purchase something unless I absolutely love it, in every detail. And although this statement making coat was drop dead gorgeous, I knew the slightly short sleeves would bother me. Second, I rarely invest in more trend-focused colours or styles at first sight (even though I do consider outerwear pieces like this classics, this colour palette isn't something I would typically be drawn to). So, I resolved to walk away empty handed, but did take note of the style number so I could track it down online and hopefully catch a sale (and an alternate size!).
Fast forward to February and I couldn't stop thinking about it, so I hopped online — and volia! By some grace of the fashion Gods, I managed to snag the last Small at a major discount (there are currently very limited sizes still available at the sale price of $119.99!). It was fashion fate — and the sleeve length of the Small is perfection!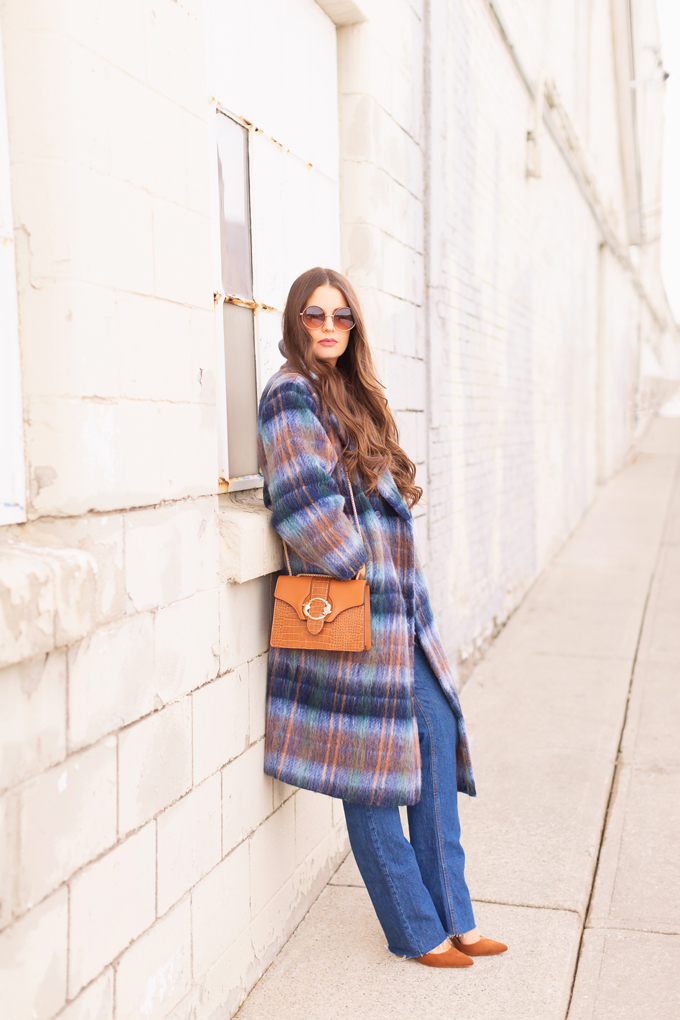 So, what drew me to the latest piece of outerwear in my ever-expanding collection? The unique colour combination, quality material and ultra chic, oversized styling. It's one of my most unique pieces of outerwear and a classic style I know I'll wear for years to come — long after the Pantone Classic Blue craze has faded!
As I continue to explore Classic Blue, I'm inspired to find new ways to incorporate it into my work personal style — and this stunning statement coat is currently on heavy rotation as we transition into spring. As someone who tends to gravitate towards warmer colours, I adore the juxtaposition of cool blues alongside rich cognac brown and vibrant orange (my art college education is prompting me to inform you that blue and orange are complimentary colours!). Since I have many cognac, orange and blue (denim) pieces in my wardrobe, I find this coat incredibly easy to style! If you're looking to integrate a colour you don't often wear into your wardrobe, my best advice is to look for a piece that will work with what you already own. 
Many posts in my COLOUR CRUSH series have been focused on monochromatic dressing (like this summery, red-to-toe look!) — and this transitional winter-to-spring outfit also favours monochromatic styling. As I've mentioned previously, monochromatic dressing is chic, flattering and elevated — no matter which colour, shade or tone you choose!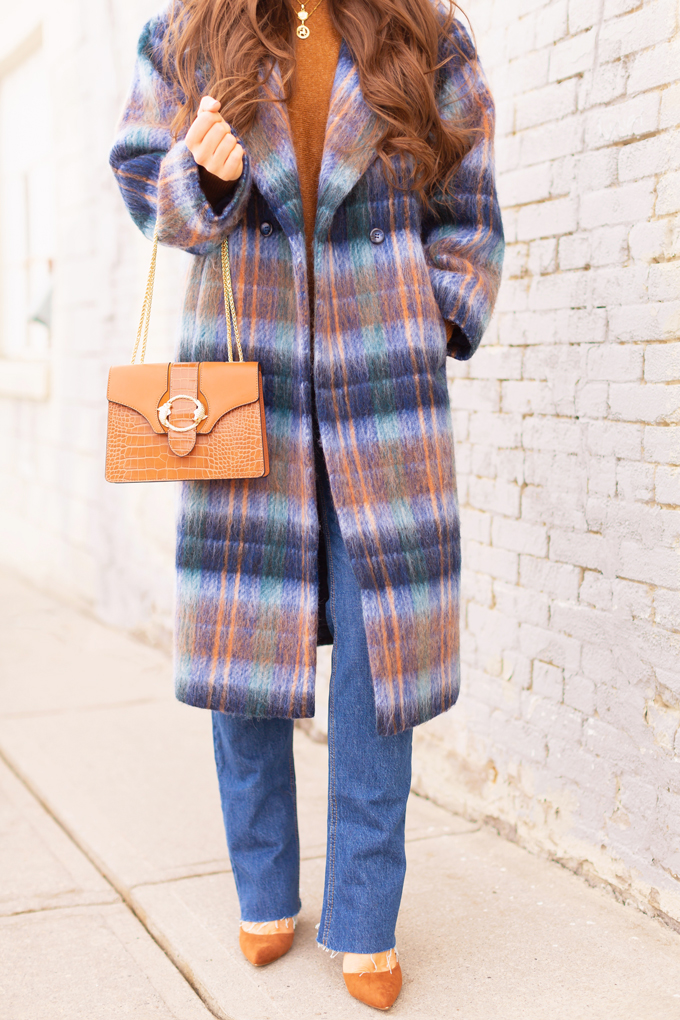 As I typically do when pulling together an outfit, I selected my UO Oversized Plaid Wool Overcoat as my 'anchor piece' — allowing it to shine by selecting complimentary wardrobe staples drawing on the colours of the checked pattern in the brushed wool. This is my favourite way to pull an outfit together and ensure everything looks cohesive. It's also a great opportunity to experiment with texture and pattern — here I've mixed wool, knits, denim, suede and (faux) croc-embossing in a vintage-inspired blue and cognac colour story! The exact coat I'm wearing is in and out of stock at the moment, so I've taken the liberty of scouring the internet for similar alternatives below.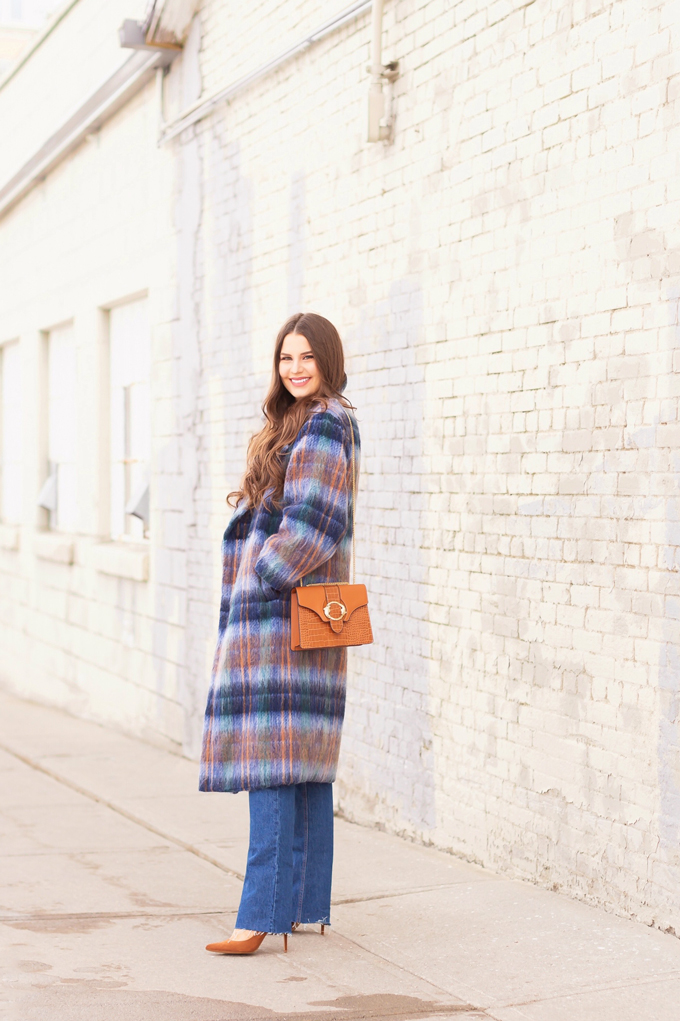 Generally if I'm wearing an oversized, loose-fitting or voluminous silhouette on top, I opt for more streamlined, snug-fitting pieces on bottom — and vice versa. So, to contrast and compliment my dramatically oversized coat, I reached for these Classic Blue inspired, straight legged jeans I picked up at Zara last winter (I actually loved them so much I purchased 2 pairs and cropped one myself — which I've styled here and here!). Denim styles have definitely evolved in recent years — with skinnies taking a back seat to high waisted, straighter legged silhouettes. And personally, I find straight-leggings styles very flattering, especially when worn with a pointed-toe pump! Even if you're not much of a blue wearer, you can easily inject 2020's Colour of the Year into your wardrobe with a great pair of classic blue jeans, no matter which cut you favour. 

Underneath my wool coat, I layered on this ultra-soft Fine Knit Sweater from H&M — which will likely look familiar, as I picked it up in every colour available last year (I wore a beige version here in my Equestrian Influence look). I love the way it pulls out the warm, rich brown tones in my coat and it's cropped silhouette makes it ideal for tucking into high waisted jeans! I own quite a selection of H&M ultra soft fine knits — both in the cropped version, as well as the tunic length you've seen me don on these pages ad nauseam over the years. I find them to be a fantastic wardrobe staple for both chilly and transitional weather, as well as ideal for layering!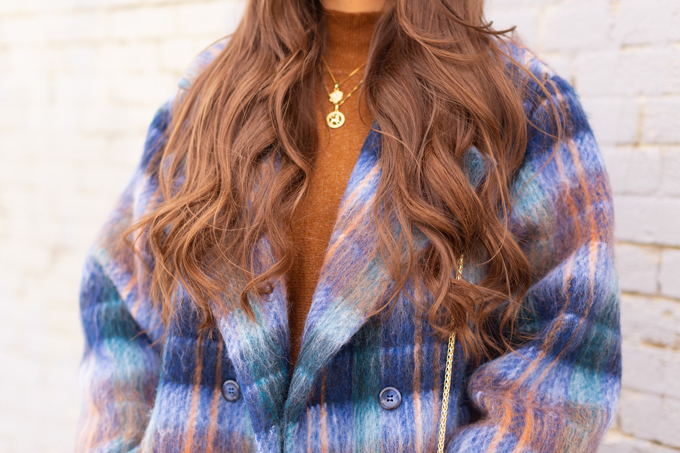 On the day we shot these photos it was a balmy 8 degrees and I was dying to wear anything but boots, so I selected my favourite d'orsay pumps from Mango (which you guessed it, I also picked up in multiple colours — I wore the nude ones here!). I love to pair straight or wide legged denim with pointed-toe pumps (or boots) to create a leg-elongating effect — and again, the cognac hue ties into the print of my coat. That said, you could also opt for a pair of brown, pointed toe sock boots (like the ones I wore in my Apres Ski look) to make this outfit more appropriate for cooler temperatures.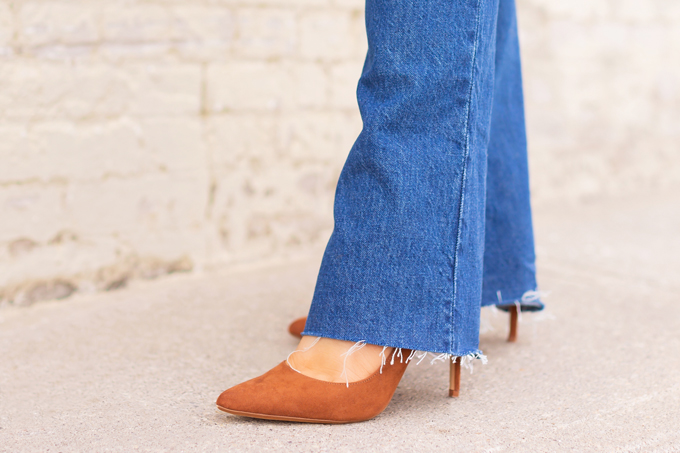 To finish the look, I opted for this croc-embossed crossbody bag from TopShop (which I also wore here), to enhance the orange tones in my coat. One of my favourite things to do when I'm keeping things fairly monochromatic or pulling colours from the palette of a print is to play with texture — and I love the interest this bag adds to the outfit. And last, I polished this modern, Classic Blue inspired look with my go-to pair of brown circular shades (which I've worn countless times here at JustineCelina!) and a mid-toned rosy lip (NARS' Audacious Lipstick in Anita), which you can find a full review of in My Top 5 Rose Toned Lipsticks).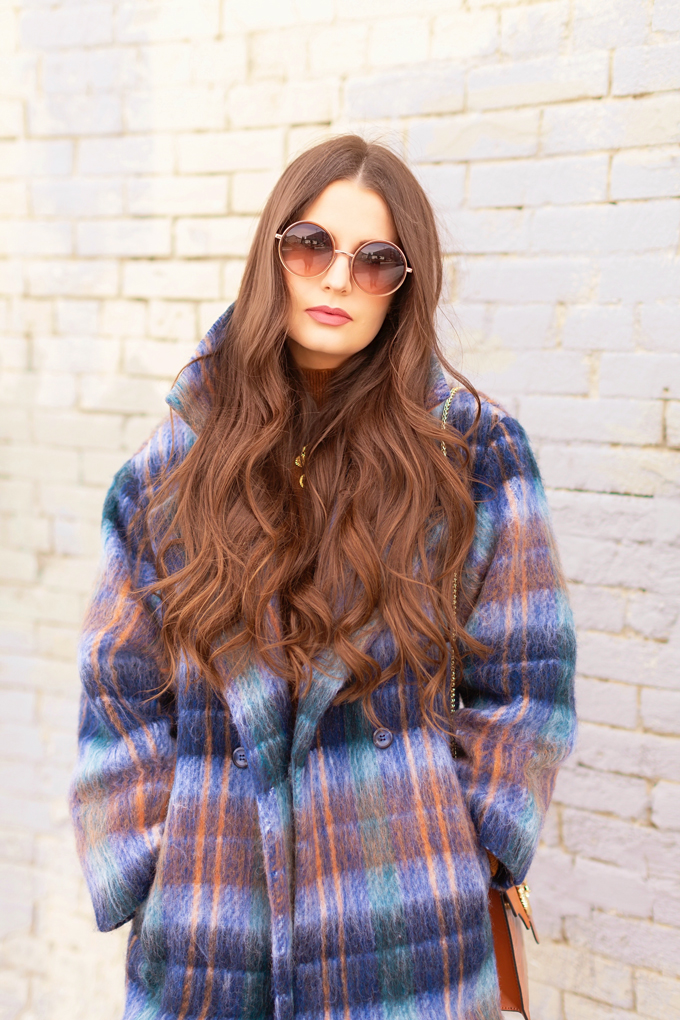 Whenever I'm wearing a newer piece, styling it up with wardrobe staples and signature accessories or lip colours really help an outfit to feel like, well, me! If you're ready to welcome Classic Blue into your wardrobe this season, I hope this post has inspired you to experiment and explore how to make this quintessentially 2020 hue work for you, too.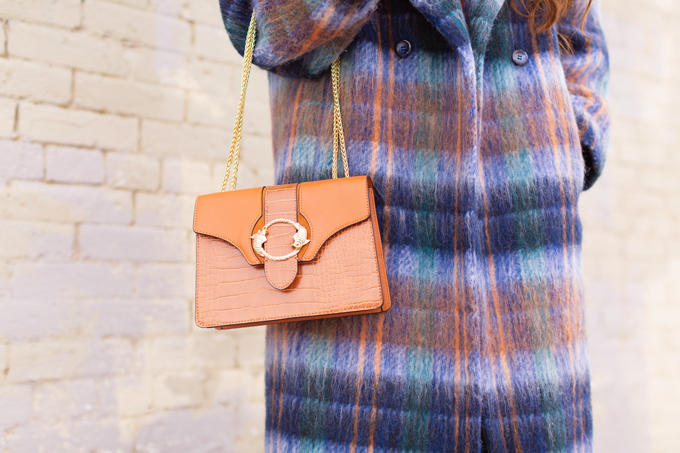 ---
SHOP THE LOOK + MY FAVOURITE CLASSIC BLUE PIECES
---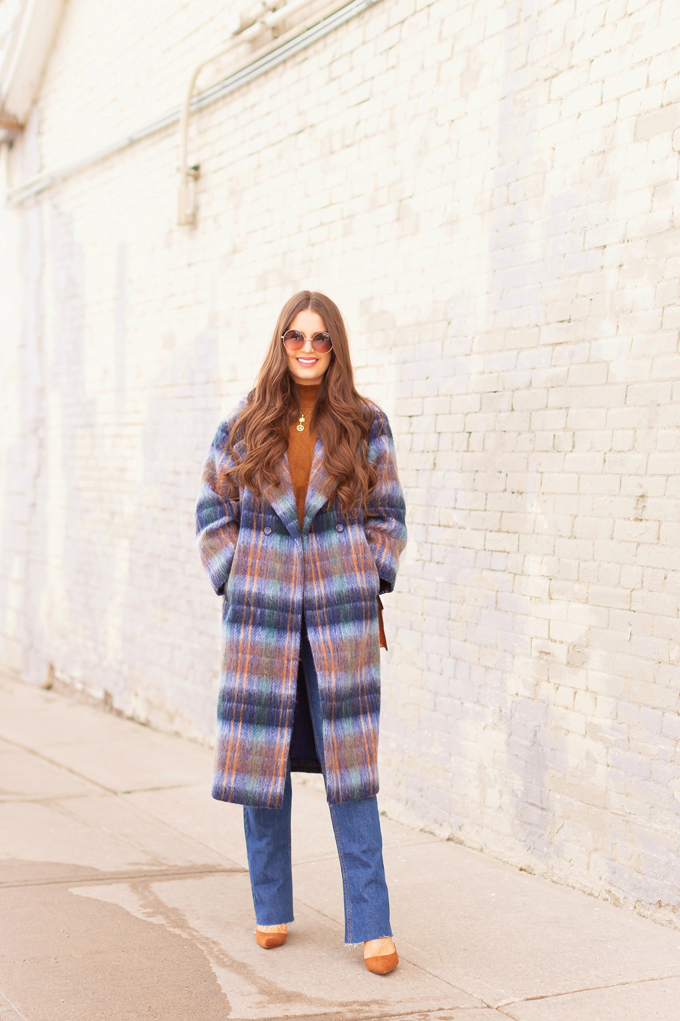 ---
MY SIGNATURE JEWELLERY
---
---
MORE PANTONE 2020 COLOUR OF THE YEAR CLASSIC BLUE INSPIRED CONTENT
---
Digital Blooms January 2020 | Free Desktop Wallpaper
Swing by to download a Colour of the Year themed floral wallpaper
Resort 2020 Lookbook 
Escape to the tranquil shores of Oaxaca, Mexico digitally, where I've styled a tie-dyed Classic Blue kimono
Autumn / Winter 2019 Lookbook
Featuring another transitional Classic Blue inspired look 
All About Anemones
These stunning winter blooms feature Classic Blue centres!
Grey Days 
A throwback style post where I've styled a Classic Blue cardigan in a casual loom
---
Thanks for stopping by to learn more about Classic Blue and how to style it as we transition into spring! If this post inspired you to look at your Classic Blue pieces through fresh eyes for 2020 or influenced a Colour of the Year purchase, I'd love to hear from you! More importantly, I hope it provided a bit of respite from the headlines and a sense of comfort. I'm planning to address this in additional detail next week, plus what you can expect to see here at JustineCelina moving forward (don't worry, things won't be changing too much), but wanted to get this post out of my drafts folder first!
That said, we wrapped shoots for my upcoming WINTER / SPRING 2020 LOOKBOOK last week and I can't wait to share it with you later this month! Until then, get your FASHION fix my following along with my JustineCelina Fashion board on Pinterest, or the Winter 2019 / 2020 Lookbook board I created to showcase my favourite cold weather looks. And for a sneak peek at what I'm wearing before it hits the blog, as well as some exclusive content you won't see here, come join me over on Instagram for daily posts and BTS / day-to-day life on Stories! As always, if you have a request for me (perhaps for the next colour to be highlighted in this series?), please leave me a comment. Thanks for stopping by for a colourful dose of transitional fashion this weekend, friends! Be kind, stay safe and take care of yourselves.
---
Disclaimer: Products marked with * indicate press samples sent for editorial consideration with no obligation for feature or review, or as part of previous partnerships. This post is not sponsored and contains my genuine thoughts, ideas and recommendations. JustineCelina uses affiliate and referral links, which allow me to receive a small commission when you make a purchase through one of my links. Thank you for supporting the brands and businesses that support JustineCelina!