---
I couldn't think of a better time than the first week of February (and during another crazy winter storm — cue eye roll!) to share my latest style obsession with you — blush! Those of you who know me in real life can attest to the fact that I've probably said I 'don't really wear pink' about 1000 times (I've even mentioned that in a few posts!) — but today I'm eating my words! I'm completely obsessed with all things blush right now and have had this stunning Topshop Alicia Boucle Wool Blend Coat (that I snapped up on clearance just before it sold out over the holidays!) on repeat lately, so I thought it was time to share a blush focused look with you. As I mentioned in our February DIGITAL BLOOMS, there's definitely a bit of a theme happening here at JustineCelina this month! So, I thought it was the perfect time to revive my COLOUR CRUSH series — where I highlight an on trend colour and show you how to work it into your personal style!

If all this February snow has you craving spring's pastels, cozy up with me on this chilly Wednesday evening and let's chat about spring colour trends and all things blush! In this post, I'm sharing my favourite blush outerwear pieces — along with some tips on how to style blush pieces in a sophisticated way, my go-to daytime makeup look, where I snagged these gorgeous OTK Steve Madden boots for less than $50 and my favourite retailer for designer bag dupes (that's right, this is not the real deal — and it's under $40!). If you're intrigued by February's quintessential hue and have debated whether or not it's for you or are looking for styling ideas, you'll love today's post!

---
COLOUR CRUSH | BLUSH
---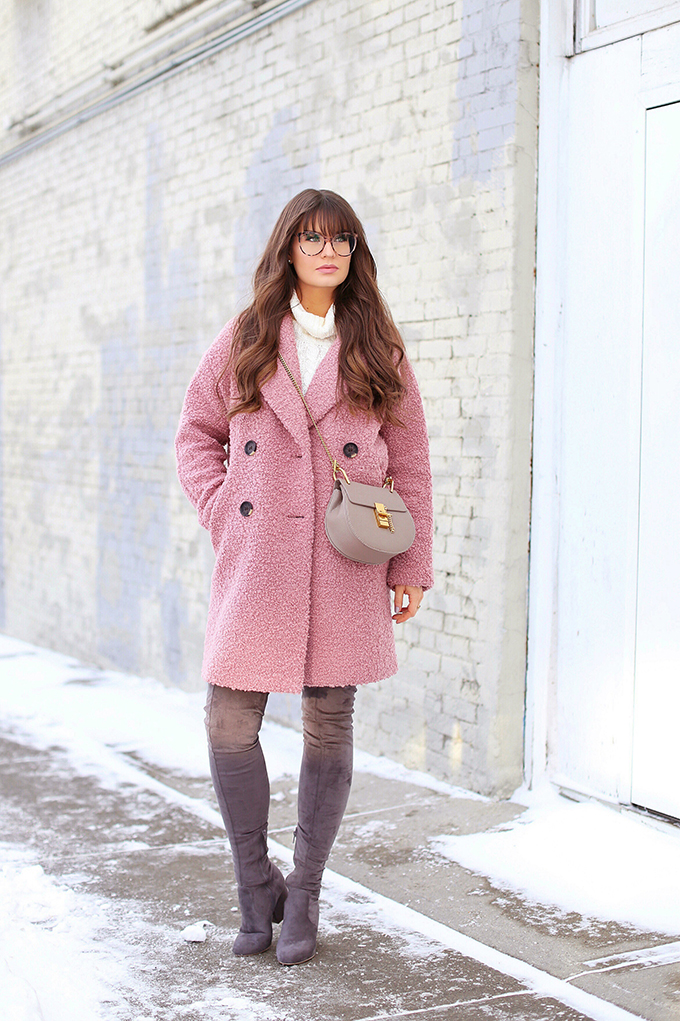 In my 300th blog post, I mentioned I wanted to change up my publishing schedule this year, experiment more and get content out faster. So far this year, we've already started capturing a lot more FASHION content and more of my everyday, casual outfits. Don't get me wrong, I love putting together looks for TREND GUIDES and HOW TO STYLE posts and I always wear everything you see here at JustineCelina in my real life, but this year I want share a more well rounded snapshot of my personal style with you. So, in the spirit of switching things up, here's what I wore last week to run some errands and meet a friend for coffee! I'm also wearing 2 things I don't usually wear — glasses in public and pink!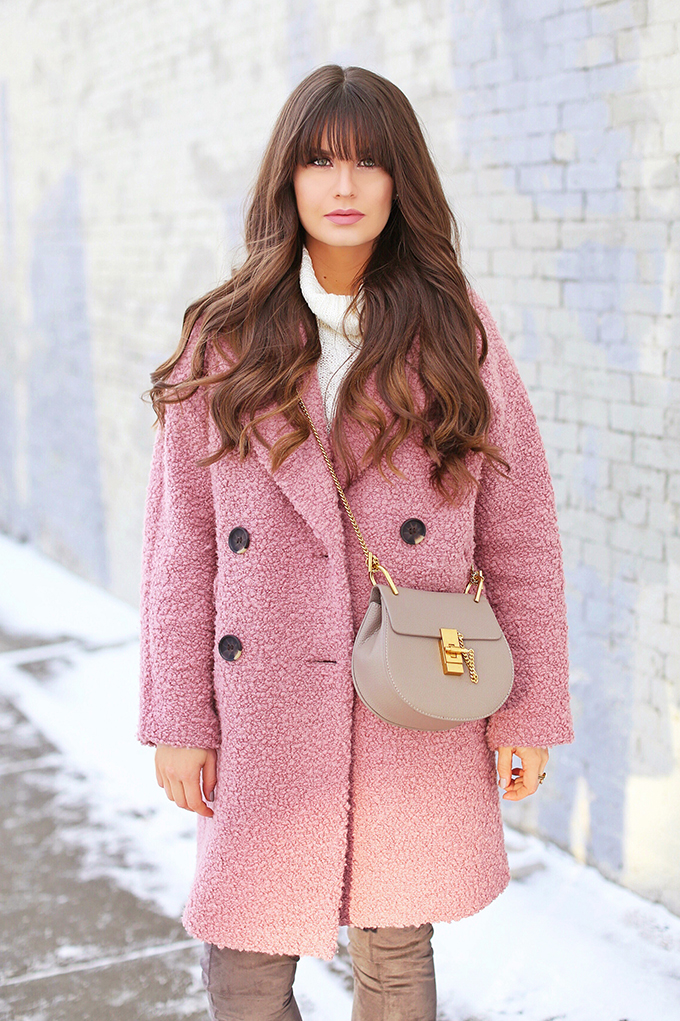 The weather has been downright frigid lately — I always say that February is our coldest month here in Calgary (we're currently expecting up to 50cm of snow overnight!). So while the rest of the world is gearing up for spring, I always dress for the season it is — and it's definitely winter here for at least another couple of months! That said, I'm really inspired by spring trends and colours currently and have already started incorporating them into my wardrobe, in a way that works for the climate I live in. And you can do the same! As someone who's very inspired by colour, I always tend to wear the most colour during the winter, when it's pretty colourless outside!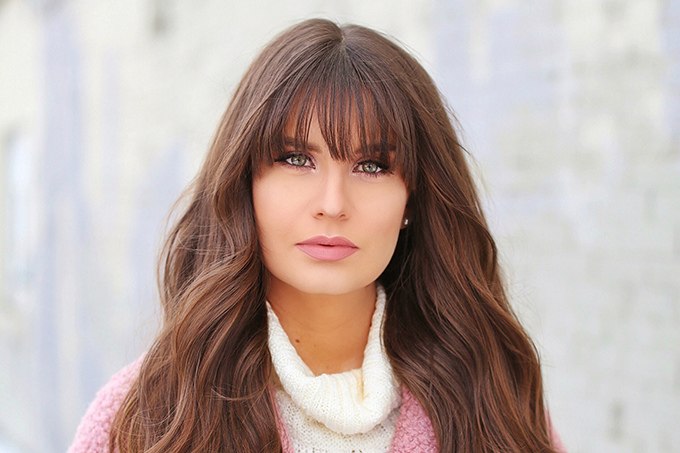 My latest colour crush is soft, pastel blush and lavender hues. And although pink isn't a colour I have a lot of in my wardrobe, I really love it in design (both graphic and interior!). Imagine my surprise when I spotted this darling pink coat at TopShop late last year and completely fell in love with it! I'm a very smart shopper — over the years I've tried to phase out impulse shopping and only add carefully considered pieces to my wardrobe. So, in true JustineCelina fashion I waited for a sale and ended up snagging it on clearance during a pre-holiday mall run in late December. I'm so happy to have the Topshop Alicia Boucle Wool Blend Coat in my wardrobe!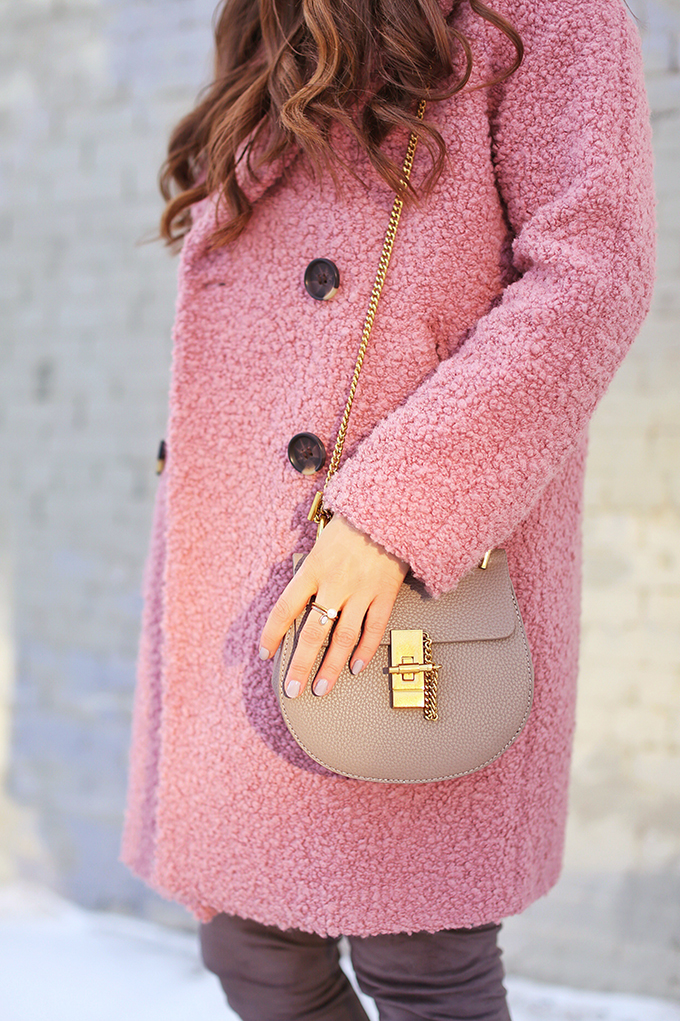 As you already know, I'm a big fan of the statement coat. Millennial pink isn't going anywhere, so if you're intrigued by blush outerwear, I've rounded up a lovely selection of my current favourites for you below. Unfortunately my coat is now sold out online — but if you have a Topshop near you, you may want to pop in and see if you can spot one in store — it's always worth a try!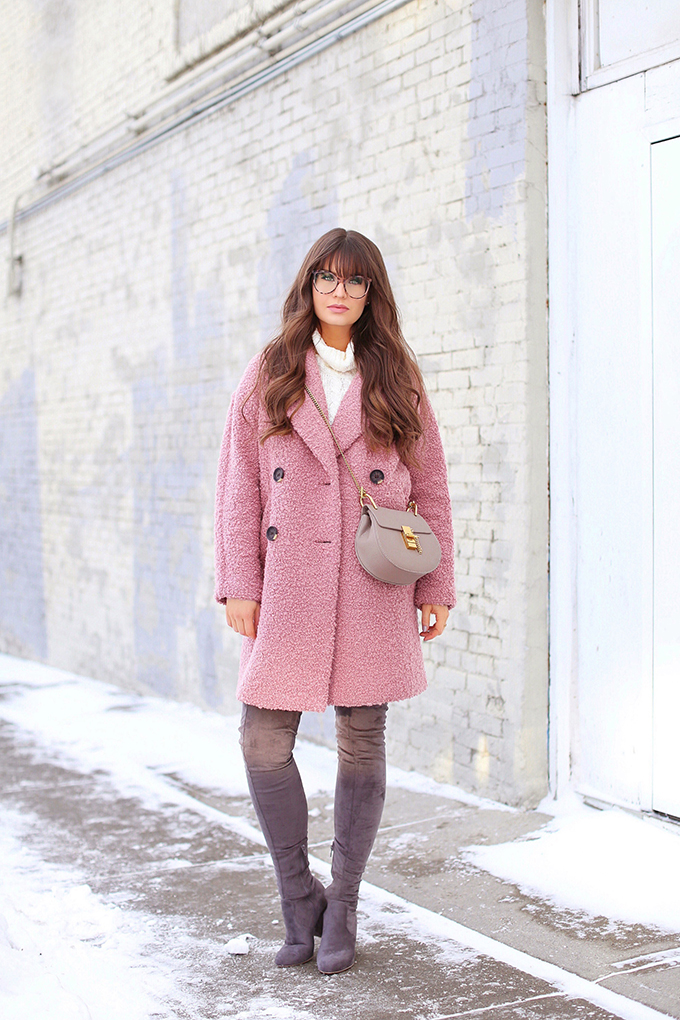 Did you know I'm blind as a bat and usually wear contacts? Admittedly, I don't often wear my glasses in public — but I was gifted a lovely pair of Ollie Quinn glasses late last year after attending the preview of their AW/17 line and I get so many compliments on them. On this particular day contacts just were not happening for me! I have super sensitive eyes, so I love having a pair of stylish frames that I actually like to wear — and these Jelka frames in Pink Spice are definitely the most unique pair of glasses I've ever owned. They're a tortoise print accented with blush instead of a taupe, which makes them a little softer on the face. I absolutely love them!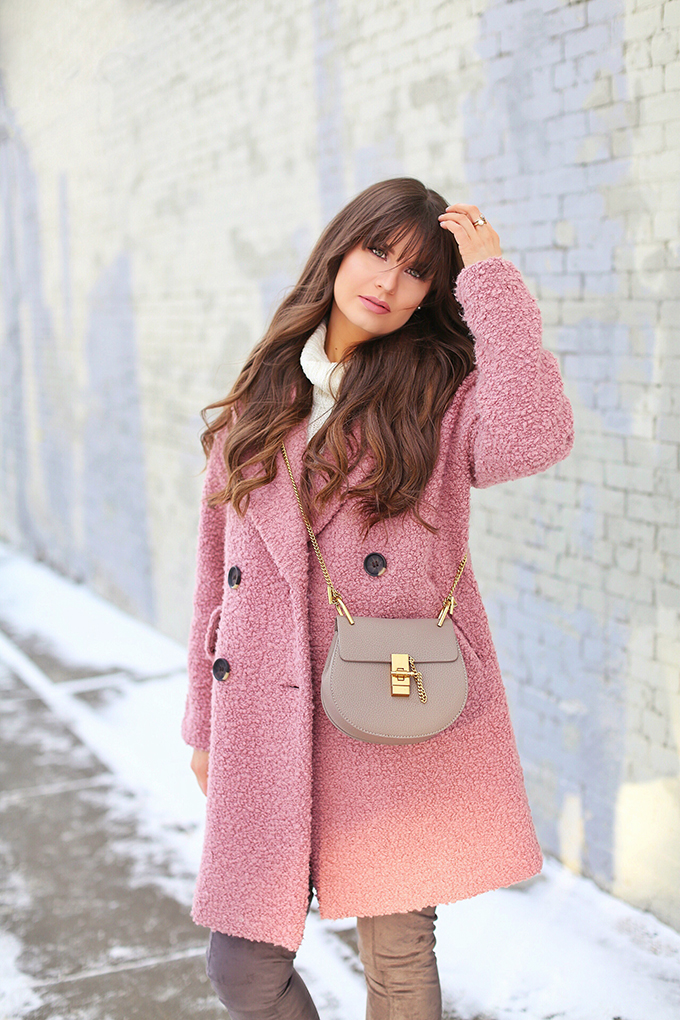 One of my favourite outfit 'formulas' is a great pair of skinny jeans, a long, cozy, tunic style sweater, OTK boots and a statement coat. It feels cute, put together, flattering and so easy to wear! On days when I know I'll be doing a lot of running around, I love easy winter outfits like this one with a comfortable, wear-all-day boot. I was elated to find these grey thigh highs at Steve Madden on clearance a couple of weeks ago — but after I purchased them, I found them on even more of a discount (just $45!) at Hudson's Bay — and there are still tons of sizes left! At first I wasn't sure about them because of the ultra chunky heel, but I'm so glad I tried them on. They're super comfortable — and they actually stay put without falling down my leg. I've linked this exact pair at a few different retailers for you below, along with a couple of other similar style grey OTKs. February is a great time to purchase boots, as many retailers are just wrapping up end of season sales to make way for spring merchandise!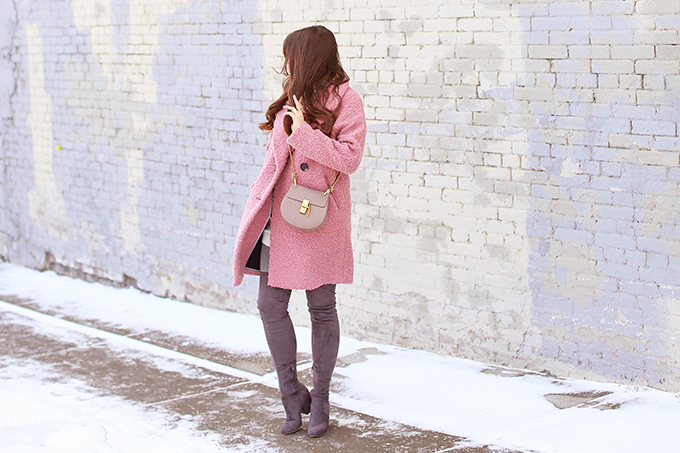 When I wear blush, I like to keep the rest of my outfit neutral, simple and soft. I particularly love the look of blush paired with grey to add sophisticated touch and keep it from looking too young. I also love blush accented with cream — which is actually a very spring inspired palette! Blush and dusty pinks are very flattering shades on most skintones — they're much easier shades to pull off than baby pinks or bright, blue based pinks (especially if you're more of a warm toned gal, like myself!). If you're looking for a bit of guidance in selecting your outerwear as we transition into spring, I always look to the Pantone Spring 2018 Colour Trend Report — I don't think you can go wrong with any of their pastel selections this season!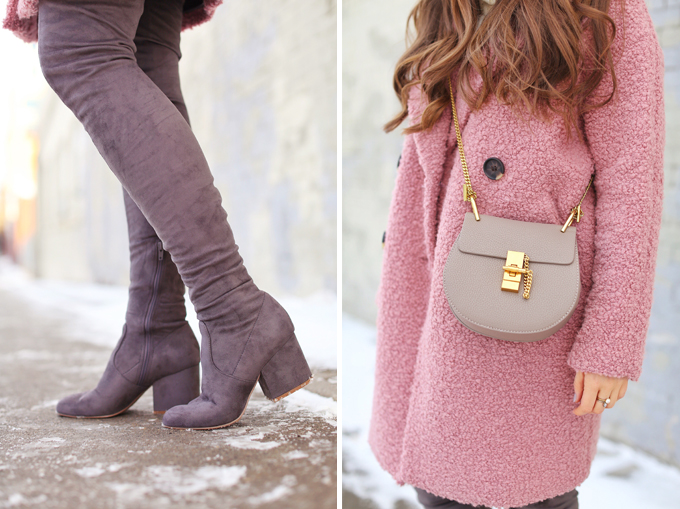 I'm also increasingly drawn to smaller, cross body handbags this season. I've been wearing this particular bag so much recently — and guess what? It's actually a designer dupe! I've mentioned many times that designer bags just aren't my thing — I simply can't fathom spending that kind of cash on a bag, no matter how much I love it. So when I found a series of dupes for the Chloe Drew bag at Shein for less than $40, I decided to purchase a couple and investigate the quality . I'm pleased to say that I'm actually very impressed with the quality of this bag and the other dupes I've purchased from Shein. Although that website is very hit and miss (I've found some unique gems over the years, but also a lot of duds!), I can absolutely vouch for these inexpensive Chloe Drew dupes. I've rounded up a few Drew inspired bags in different colours for you below!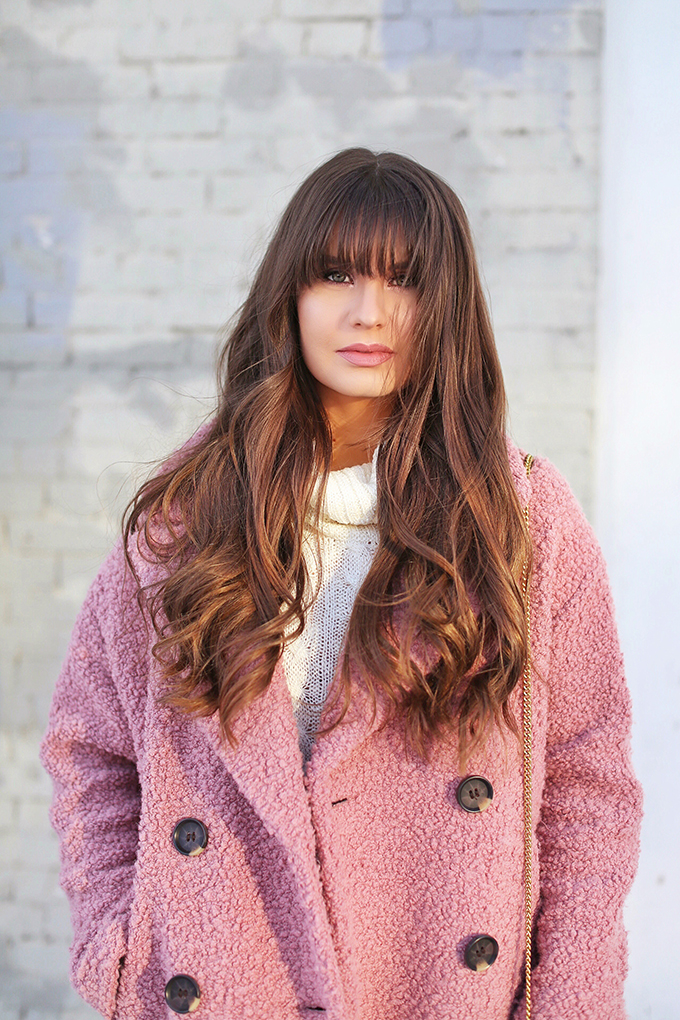 On a day to day basis, this is the type of makeup you'll usually find me in — neutral, flattering and pretty. Although I won't be publishing a Monthly Beauty Favourites post this month (I've decided to forgo my strict publishing schedule to allow for a more natural ebb and flow of content around here this year) I will share a handful of products I've been loving lately until they make their way to the blog in a more formal review! I'm wearing some old favourites (like the Wet 'n Wild Photo Focus Foundation, Hourglass Ambient Lighting Powder in Dim Light, the Kevin Aucoin Sculpting Powder in Medium and the Laura Mercier Eye Art Artist's Palette) and a few more recent loves — like the COVER FX Custom Enhancer Drops Rose Gold (they make for an amazing cheek highlight but I also love to wear on my lids), and my favourite nude pink lip combo combo of the moment. I've linked everything on my face for you below!

---
SHOP THE LOOK
---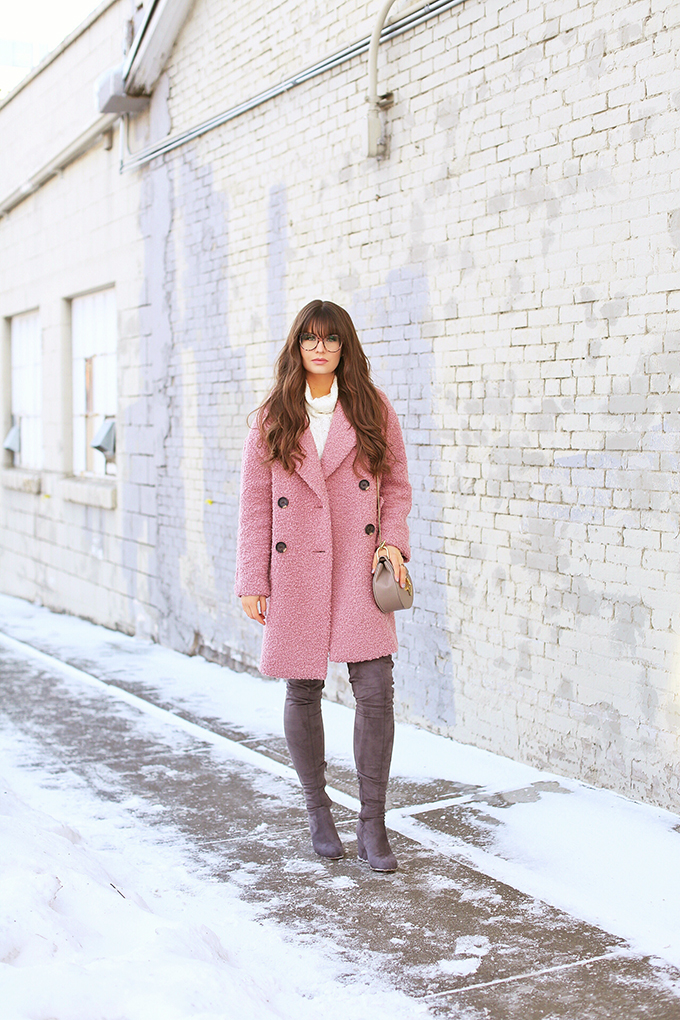 ---
MORE WINTER STYLE INSPIRATION
---
How to Style | Oversized Knits
Winter 2018 Trend Guide | Red Hot
What to Wear to | Casual Holiday Parties (featuring my favourite winter 2018 staples!)
Winter Boho + How to Shop for Great Vintage (this is an oldie, but a goodie — I have an updated winter boho look coming soon!)
---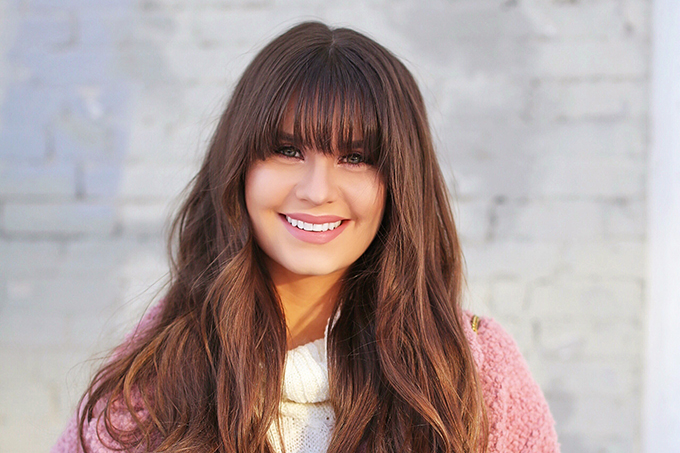 Are you into pastels during the winter? And have you hopped on the blush / millennial pink train yet? I've always been a fan of winter pastels — just check out this post from my early blogging days! Thanks for stopping by to share in my blush obsession today friends — stay cozy and enjoy the rest of your week!
---
Disclaimer: Thank you to my friends at Ollie Quinn for my Jelka glasses. This post is not sponsored, and contains my genuine thoughts, ideas and recommendations. JustineCelina uses affiliate and referral links, which allow me to receive a small commission when you make a purchase through one of my links. Thank you for supporting the brands and businesses that support JustineCelina!