What better time to photograph a style post than during a heavy snowfall / extreme cold warning when you're snowed in in the country… right?! I headed east to my childhood home in rural Alberta this past weekend and took the snowstorm as a perfect opportunity to shoot this Military Inspired look in the crisp white serenity of the prairies. It was a bit chilly, but these photos made it all worthwhile!
While the most of the world is gearing up for spring, arctic Canadian weather is still alive and well here in Alberta and February can often be our coldest month. As such, I'm a big fan of the statement coat — especially during the winter when your outerwear is your outfit. While I've always loved Military Inspired styles (this jacket is about 6 years old!) I was thrilled to see a resurgence of the military trend this winter — and today I'm showing you how to wear it! I've paired a classic Military Inspired statement coat with luxe winter accessories in a few of my favourite cold weather textures including faux fur and velvet. I truly believe a well constructed, Military Inspired coat is a timeless piece and a fantastic addition to dress up any winter wardrobe!
---
Faux Fur Hat | Military Inspired Coat (similar, similar, similar, similar, similar, similar, similar) | Seamed Ponte Pants (similar, similar, similar, similar) | Black Over The Knee Suede Boots (similar, similar, similar, similar) | Vibovalentia Handbag | Anastastia Beverly Hills Liquid Lipstick in Ashton
---
MILITARY INSPIRED
---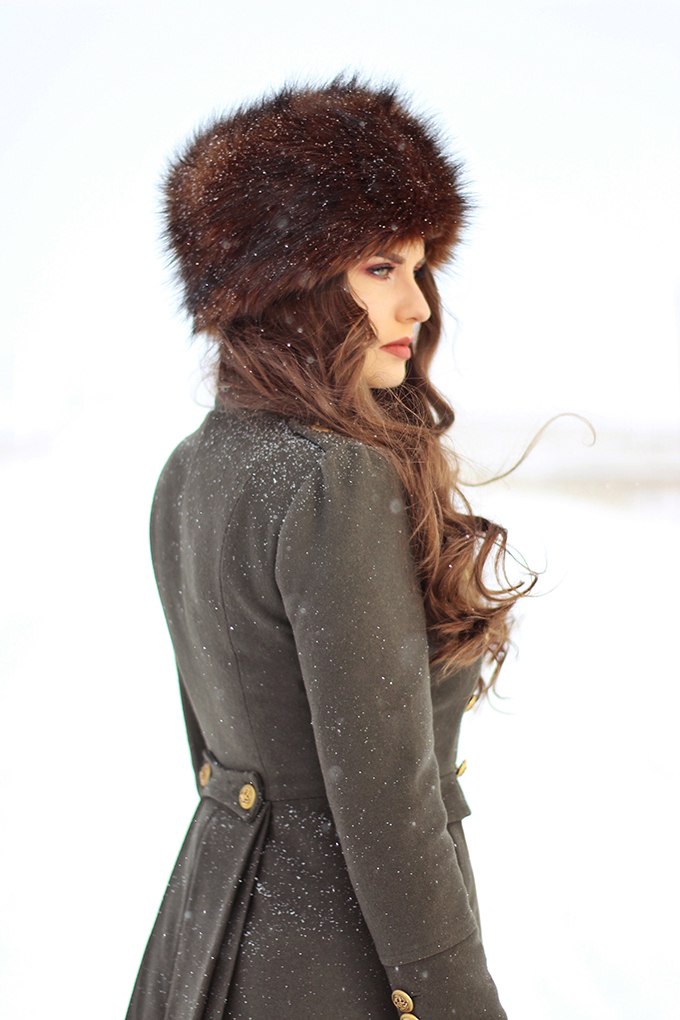 I still remember the day I spotted this stunning Military Inspired coat in the window at Bebe during a late winter sale about 6 years ago (yikes!). I tried it on immediately and it fit like a glove — I fell head over heels for it. At checkout, I discovered it was actually 60% off, making this would-be investment piece a steal. Don't you just love it when that happens? Spoken like a true fashion addict — those serendipitous love stories are how you know a piece was truly meant to be yours.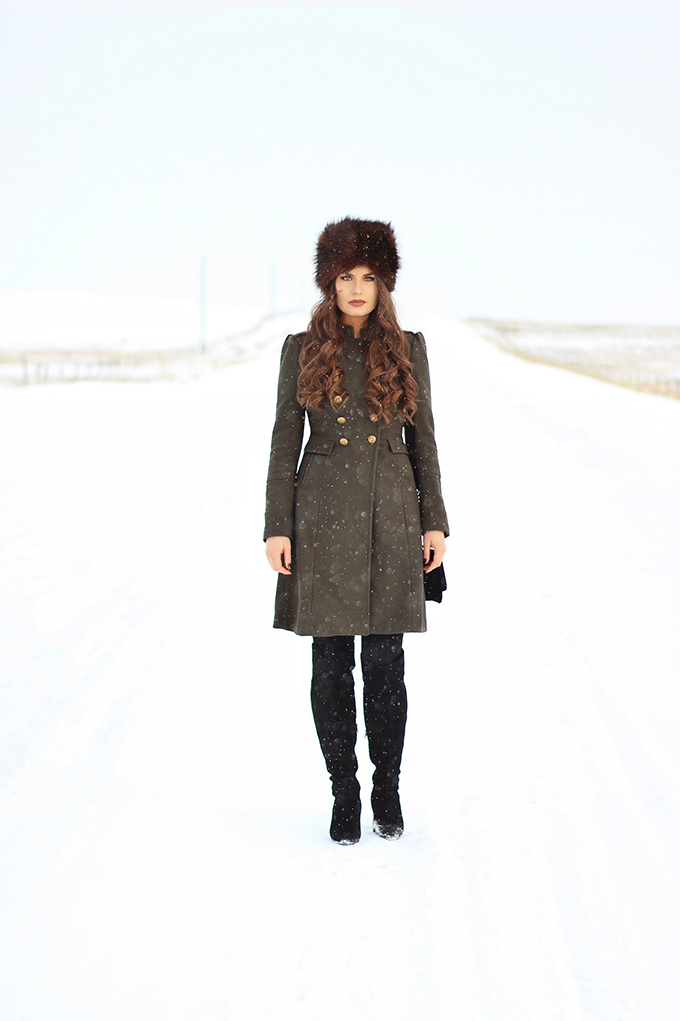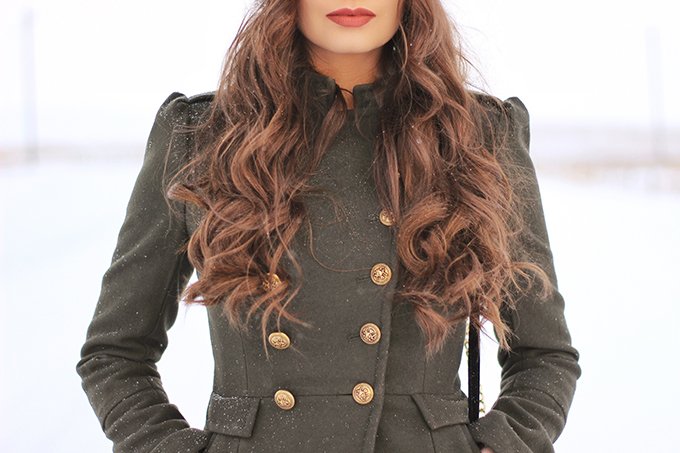 Although I love to keep up with trends, I deem a wardrobe full of quality, basic pieces absolutely essential in order to do so. In pouring over my style content over the last 2 years since I've started blogging, it's clear that investing in statement coats is a wardrobe priority (this coat is another winter staple that I've owned for about the same length of time, this mint number is still on heavy rotation, this classic camel coat is definitely my most worn and this plaid showstopper is my most recent obsession). I feel like I'm introducing you to an old friend in today's post — this Military Inspired coat has always held a special place in my wardrobe and has transitioned along with my personal style beautifully over the years. Truly, I think it's a piece I'll always own. While this particular coat is no longer available for purchase, I've linked my favourite military inspired styles here, here, here, here, here, here and here (most of which are on sale!).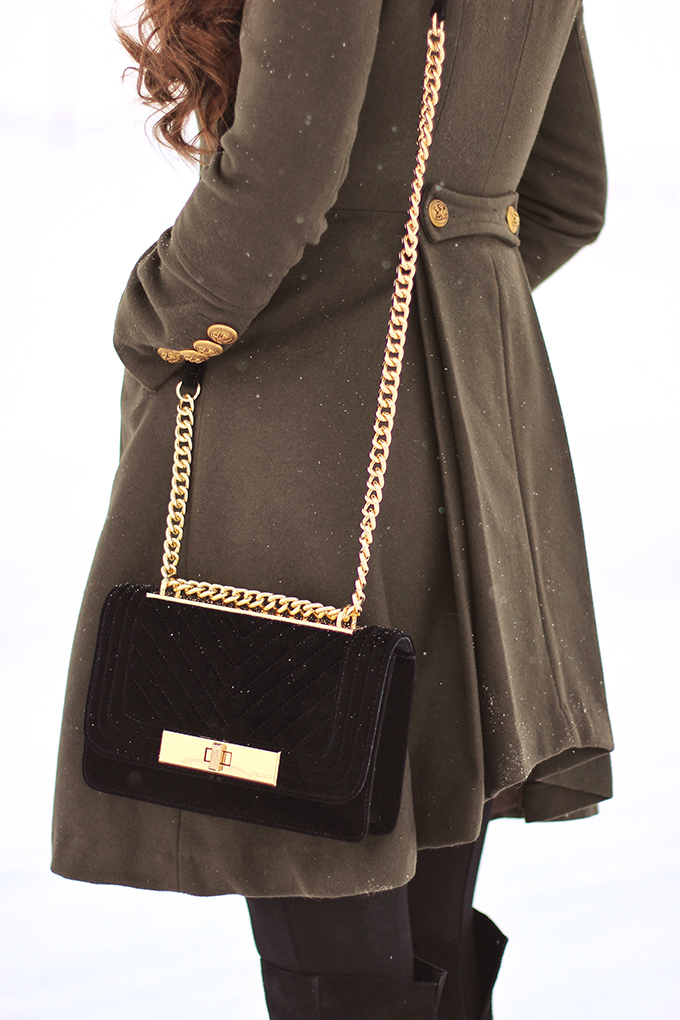 It will come at no surprise when I tell you that both faux fur and velvet are my favourite textures when it comes to winter accessorizing. I've been into velvet since this past autumn — and when I saw this gorgeous Vibovalentia Handbag pop up at Aldo just before the holidays I knew I had to have it. It adds an air of luxury to any outfit without breaking the bank and I love it so much that I also picked up up in burgundy. Aldo makes some of my favourite handbags at any price point — I've mentioned and worn them many times here at JustineCelina over the years.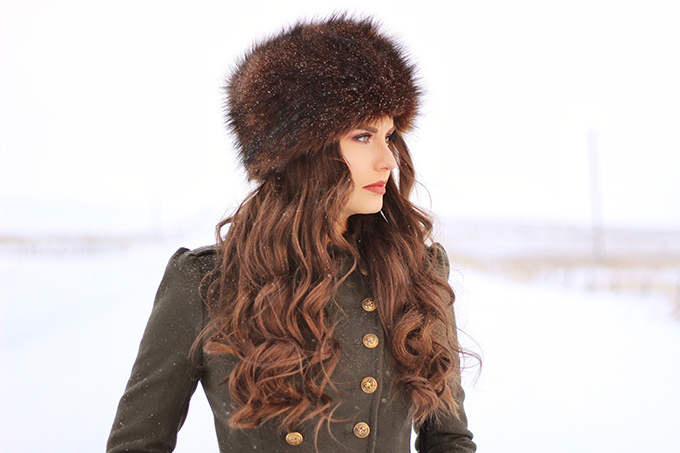 It was a similar story for this incredible Faux Fur Hat. I've mentioned previously that faux fur done right is a fantastic way to elevate your winter style — this hat looks high end, doesn't it? I'll let you in on a little secret — I picked it up for just $21 at Forever21 recently! Forever21 has quickly become my favorite destination for faux fur this season and I've purchased a couple vests and jackets as well (they'll likely trickle into my upcoming style content!). If you're looking for great quality faux fur Forever21 totally has you covered! The hat is a fantastic statement piece and a great way inject some extra style into your look, even in frigid temperatures.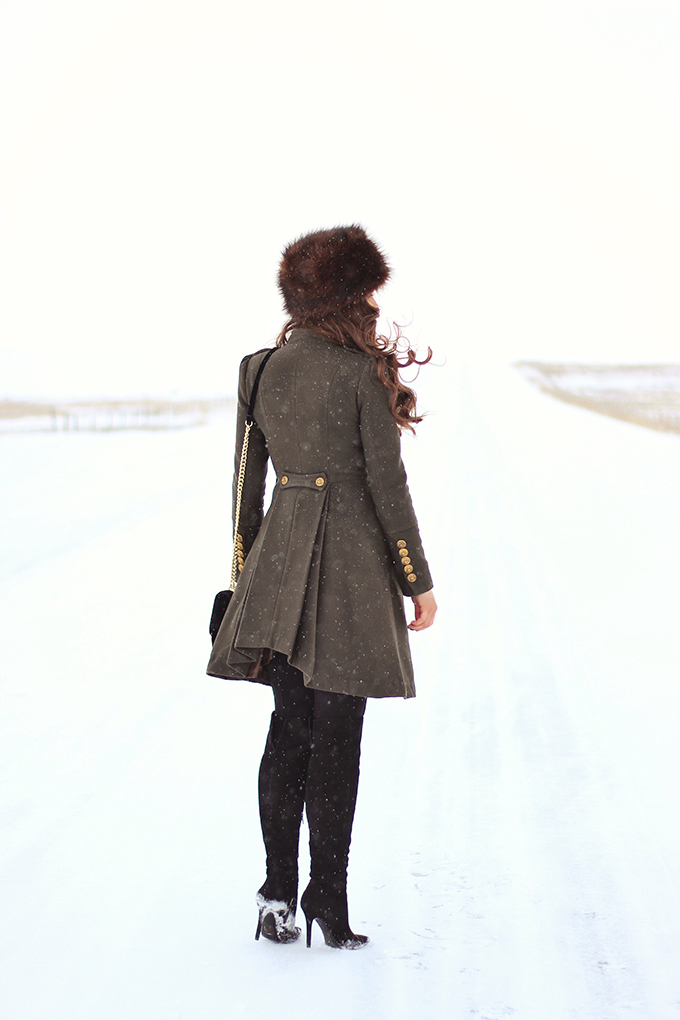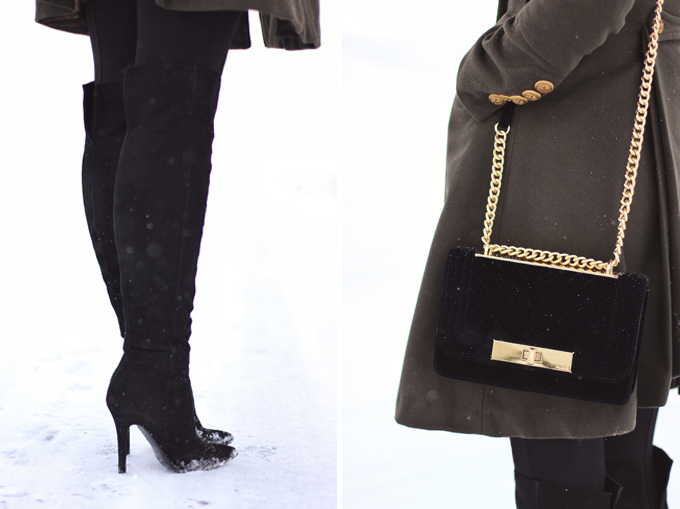 If you read Part 1 of my Winter 2017 Shoe Guide, you'll know how long it tool me to track down the perfect pair of black, flat, over the knee boots (which are also from Aldo!). If the suede OTK boots I'm wearing in this post look familiar, it's because they're one of my all time favourite pairs and I wore them in last February's Cozy in Camel | My Favourite Transitional Pieces post. Aldo has been turning out some incredible booties and OTK boots over the past year — so while this particular pair is no longer available, I've linked similar styles here, here, here and here. Keep an eye out for them in Part 2 of my Winter 2017 Shoe Guide where I'm chatting about cold weather footwear extras (you know, once you have your basics covered!).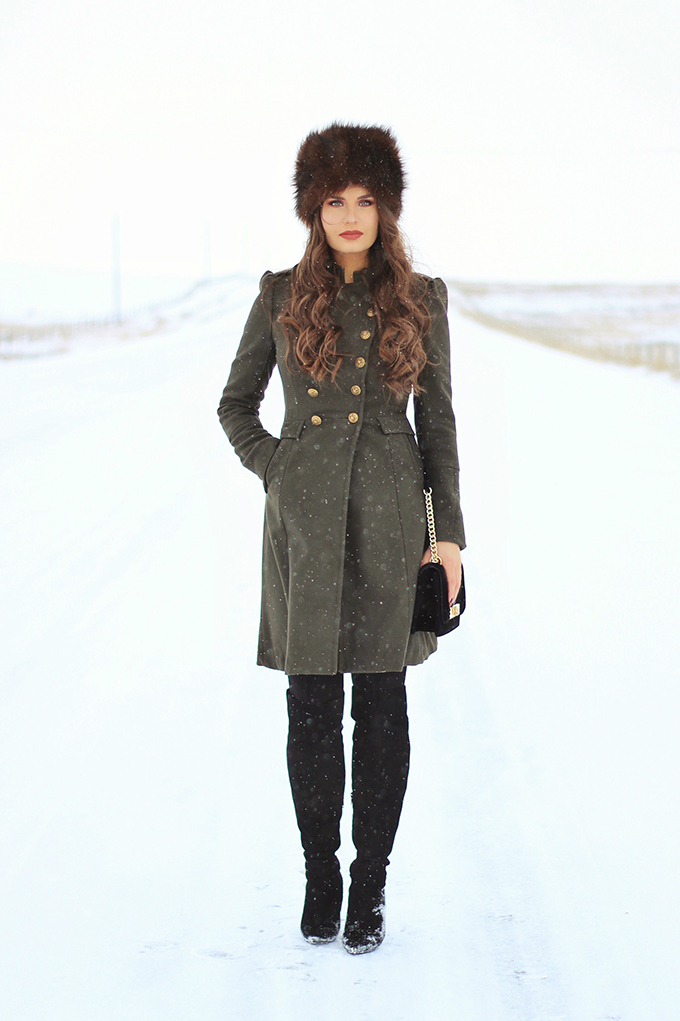 Since this look is a bit avante garde, I wanted to have fun with my makeup and create some drama with a hazy purple smoky eye. I love the way purple and pink hues enhance green eyes, so I used the Anastasia Beverly Hills Modern Renaissance Eye Shadow Palette (which I initially mentioned this past autumn) to create this colourful, blown out eye. I'm a bit of an art history nerd (hey, I did go to art college after all!) and I love the concept behind this palette — a modern spin on classic Renaissance colors used by painters. If you've never tried the ABH eyeshadow formula, it's absolutely incredible and one of my all time favourite for both mattes and shimmers. On my lips I'm wearing the Anastasia Beverly Hills liquid lip in Ashton — a midtone, yellow brown that goes with everything! For full reviews and swatches, stay tuned for my February Beauty Favourites post, which will hit the blog in early March.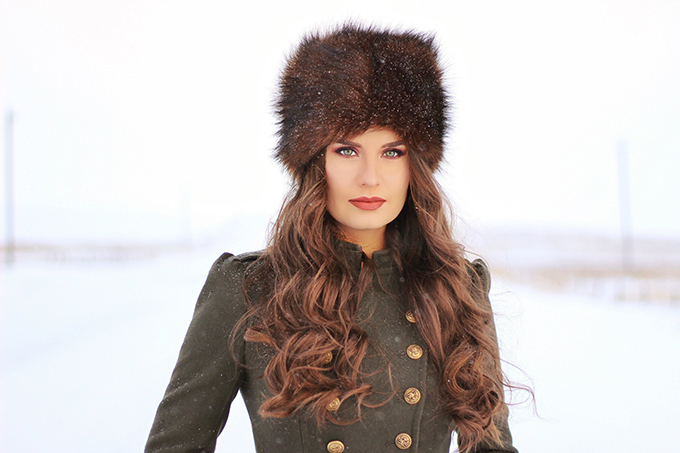 ---
SHOP THE LOOK
---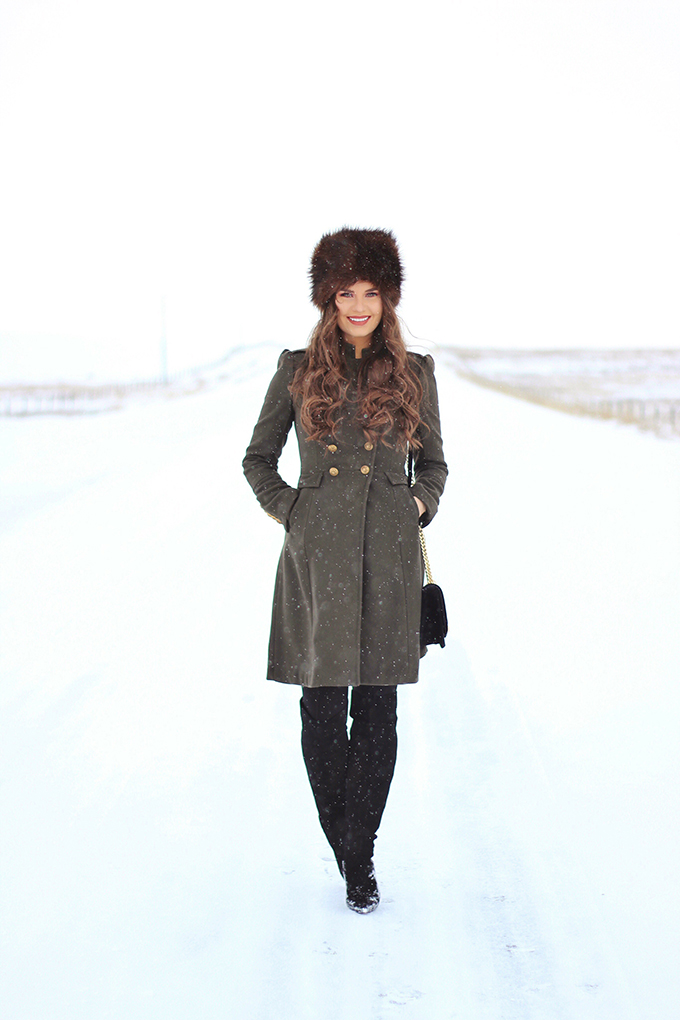 Faux Fur Hat | Military Inspired Jacket (similar, similar, similar, similar, similar, similar, similar) | Seamed Ponte Pants (similar, similar, similar, similar) | Black OTK Suede Boots (similar, similar, similar, similar) | Vibovalentia Handbag
---
HAIR & MAKEUP
---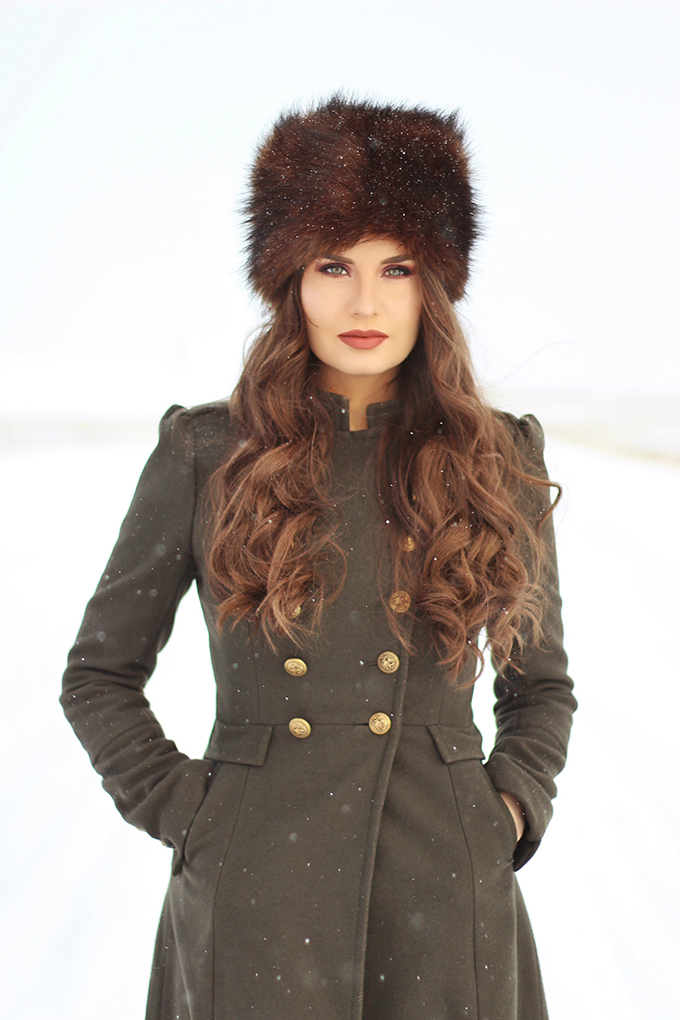 FACE Cover FX Custom Blot Drops | Marc Jacobs Beauty Re(marc)able Full Cover Foundation Concentrate in Bisque Neutral 27 | It Cosmetics Bye Bye Under Eye Anti-Aging Concealer in Medium | Maybelline Instant Age Rewind Concealer in Neutralizer | Tarte Smooth Operator Amazonian Clay Finishing Powder | RCMA Makeup No Color Powder | SEPHORA COLLECTION Colorful Face Powders in 26 Tranquil | Hourglass Ambient Lighting Edit – Surreal Light | Hourglass Ambient Lighting Powder in Dim Light
EYES Anastasia Beverly Hills DIPBROW Pomade in Dark Brown | Anastasia Beverly Hills Modern Renaissance Eye Shadow Palette | Kat Von D Tattoo Liner in Trooper | tarte Tarteist Lash Paint Mascara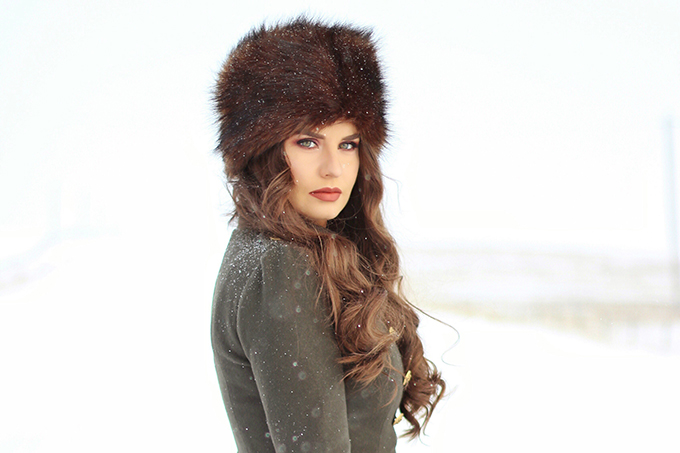 LIPS Anastastia Beverly Hills Liquid Lipstick in Ashton
HAIR T3 Whirl Trio Interchangeable Styling Wand
---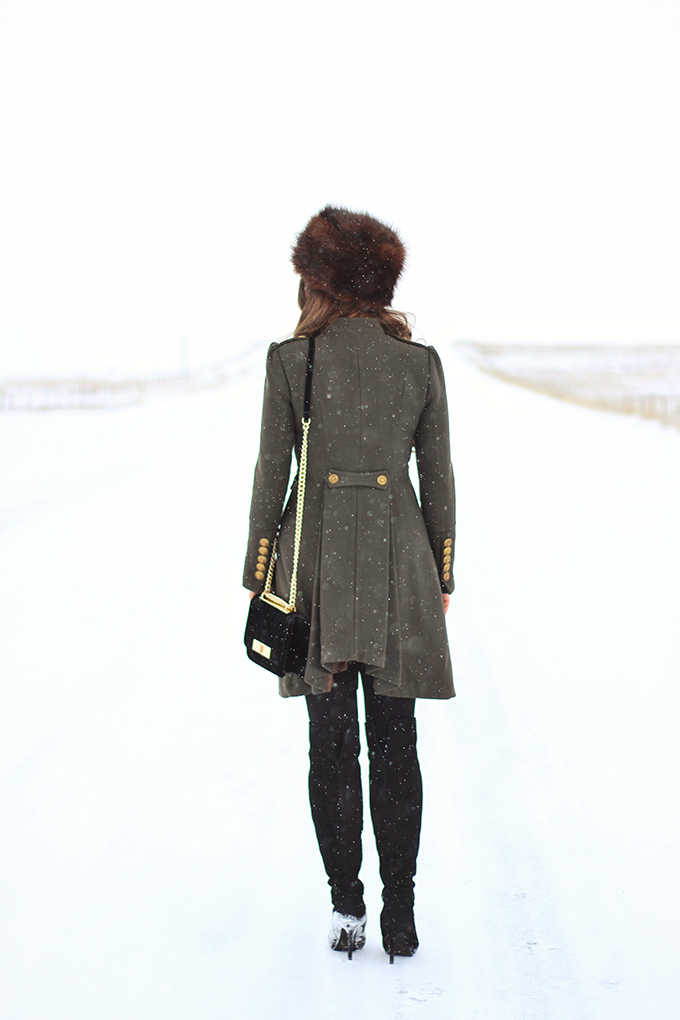 Are you embracing the military trend this winter? If you end up taking the trend for a spin or picking up any of my favourite Military Inspired styles, please let me know. It looks like warmer temperatures are ahead, which I would usually be excited about — but I'm looking for any excuse to wear this hat and coat for as long as possible! Have a great week, everyone.
---
Disclaimer: This post is not sponsored, and contains my genuine thoughts, ideas and recommendations. JustineCelina uses affiliate and referral links, which allow me to receive a small commission when you make a purchase through one of my links. Thank you for supporting the brands and businesses that support JustineCelina!