---
'Tis the for a festive pout — and as a self proclaimed red lip aficionado (I'm not ashamed to admit I own 30+ red lipsticks!) I'm thrilled to share My Top 5 Red Lipsticks for the Holidays with you! Although I don't incorporate red into my holiday decor, it's a colour I love to wear, as well as translate into my BEAUTY routine during this festive time of year. A gorgeous red lip is the perfect way to make a casual look feel more festive — but it's also a sophisticated compliment to your holiday party attire! I firmly believe red lips give you superpowers — and in December, I find myself reaching for my favourite red shades almost on the daily. After years of trying and testing an absurd amount of red lipsticks across an expansive range of shades, undertones, formulas and price points, I've curated the absolute crème de la crème this holiday season!
My Top 5 Red Lipsticks for the Holidays feature my all time favourite, festive red lipsticks — the true gems of my collection that I look forward to pulling out each holiday season! As always, I've included a variety of products ranging from traditional, long wearing (and mask friendly!) liquid lipsticks, to natural, vegan products to elegant, hybrid formulas. This dedicated review post in my recently introduced MY TOP 5 series is brimming with try-on photos, swatches and application tips — plus lip liner recommendations to pair with each shade to create a full, defined pout that can withstand all the eating, drinking and being merry you'll be doing this holiday season! If you're ready to add a bold, seasonal dose of colour to your holiday beauty wardrobe but have never been able to find a shade that works for you, you've come to the right place! Pour yourself a juicy glass of red and get ready for a serious dose of holiday glam, coupled with an introduction to colour theory and my best tips and tricks to find your perfect, festive red lip. My Top 5 Red Lipsticks for the Holidays also make marvellous gifts for the beauty lover in your life!

---
HOW TO FIND THE PERFECT RED LIPSTICK FOR YOUR SKINTONE
---
Did you know I went to art college? In my 4 years at the Alberta College of Art and Design, I learned about colour theory extensively as it applied to nearly every aspect of my studies. Fast forward to 2021 and I still find myself applying it to every facet of my work and personal style, as well as my beauty routine. I've always been very inspired by colour — and teaching others how to utilize it in their lives to look and feel their best is a major passion of mine!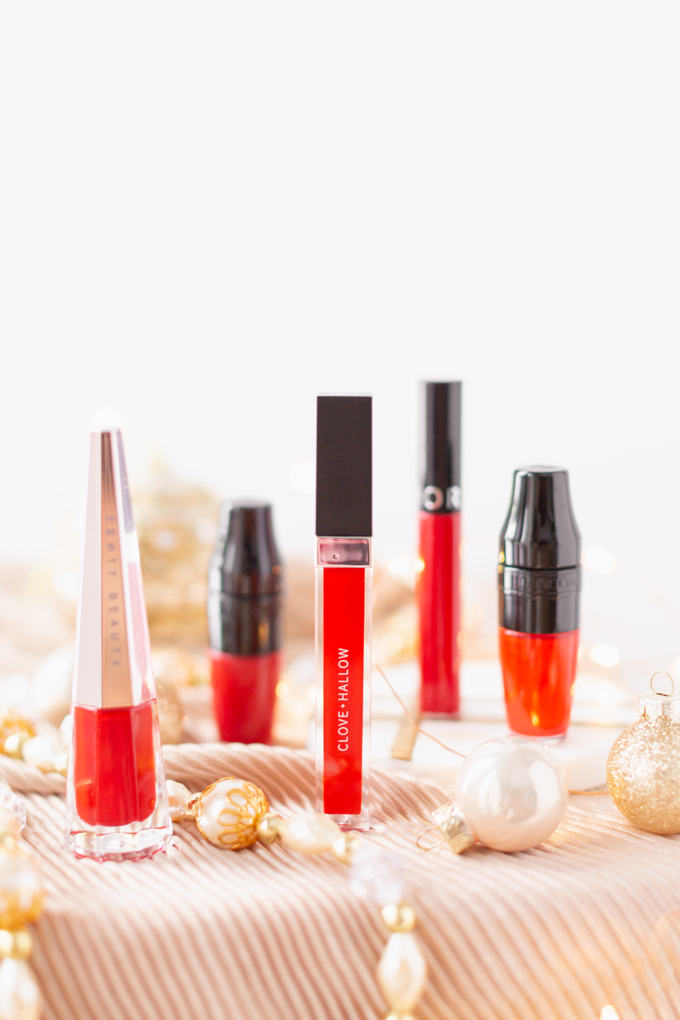 So, how does colour theory apply to finding the perfect red lipstick for your skintone? As a general rule of thumb, if you have warm colouring (you look better in gold than in silver) warmer, richer reds (ie: yellow based reds with orange undertones) will flatter your skintone most. If you're a cooler skinned gal or guy (you look better in silver than in gold) brighter, cooler reds (ie: blue based reds with pink undertones) will suit you best. And if you can rock both gold and silver and look equally fabulous (or you just love to experiment and wear whatever you feel like — like me!) give any red shade that catches your eye a try this season!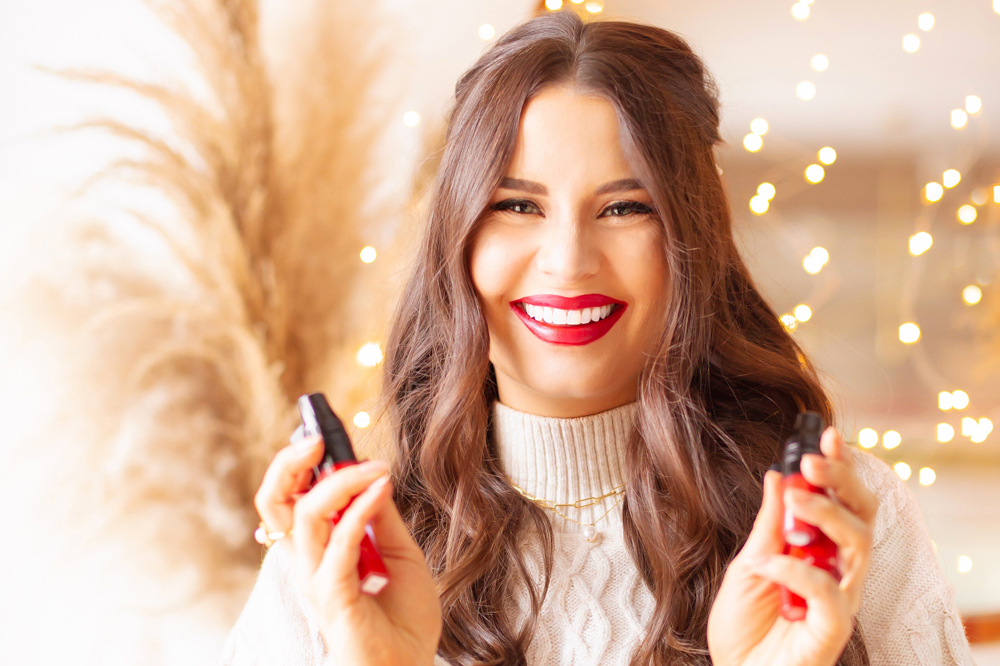 Keep in mind that I have warm / neutral colouring (MAC NC 25-30) and therefore colours will look different on me than they would on you, unless we have very similar colouring. I chose to wear a cream sweater dress in this post and keep the background neutral, so you can see the true undertones of each lipstick today. There are a variety of warm, neutral and cool shades featured in my My Top 5 Red Lipsticks for the Holidays — there truly is something for everyone!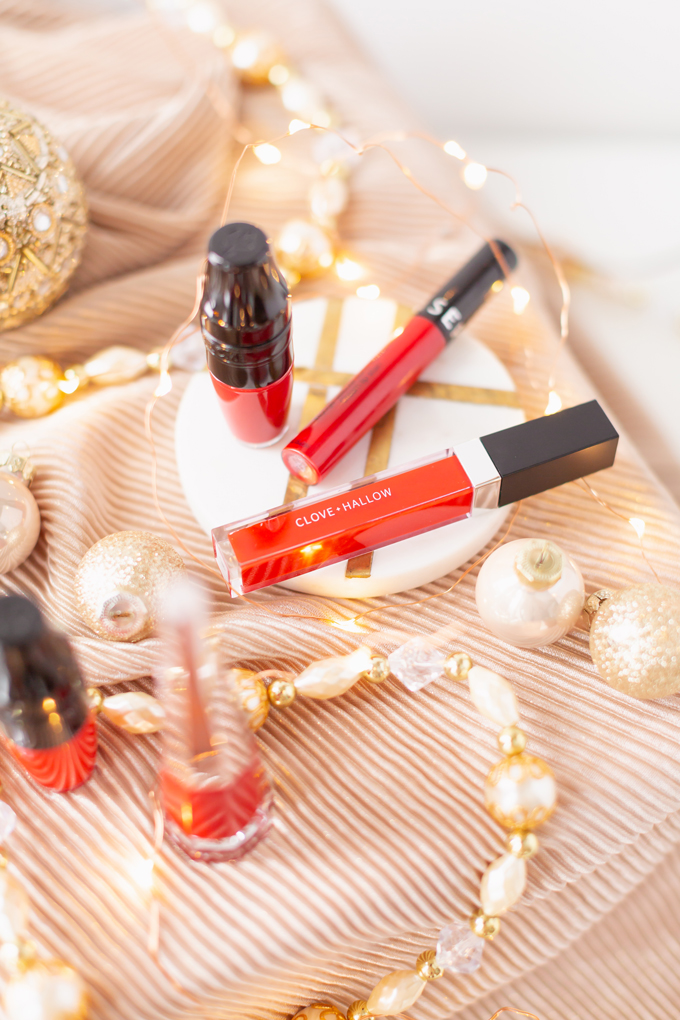 If you're not sure if you can pull a red lip off, I encourage you to give one of these recommendations a spin this season — a true, neutral red is a great place to start. You may be surprised at how easy red lipstick is to wear once you find a shade that suits your skintone and colouring!
---
MY TOP 5 RED LIPSTICKS FOR THE HOLIDAYS
---
I'm so excited to share My Top 5 Red Lipsticks for the Holidays with you today, in hopes that I inspire you to try something new this season and add some festive colour to your beauty routine! I've organized this post in order of undertone — the warmer, orange based reds appears first and we transition into cooler, more pink-based, deeper as the post goes on. And you'll find classic, neutral reds in the middle!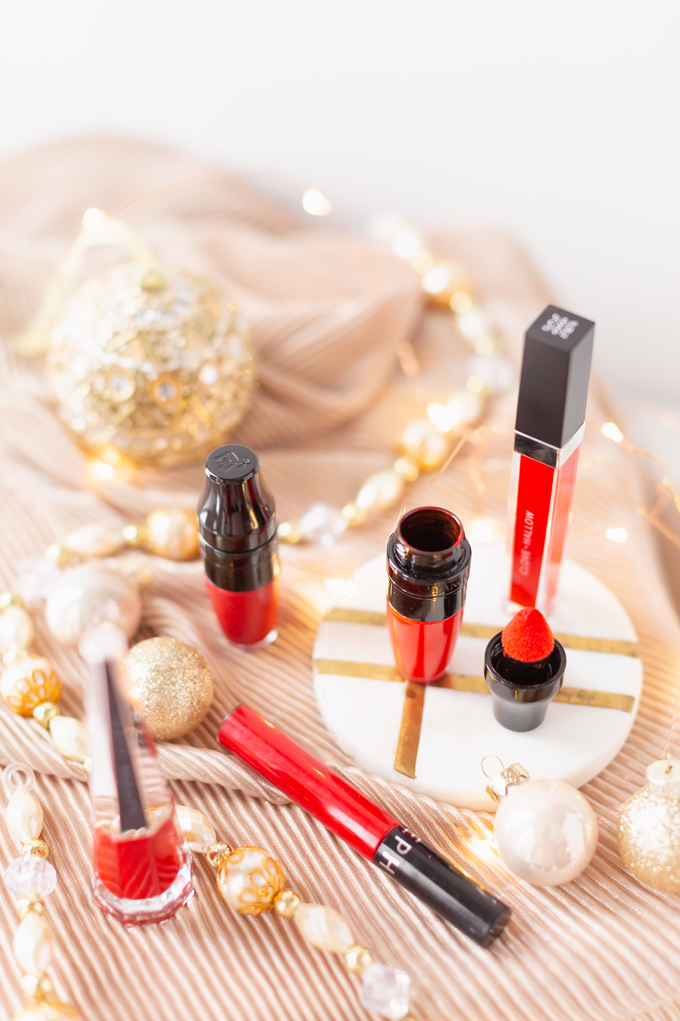 I've also included my top complimentary lip liner recommendations throughout (if you're curious about my method for creating a full, defined pout, hop over to My Top 5 Everyday Lip Colours post, where I created a step-by-step guide!). Alright babes, let's jump in to some festive, seasonally inspired beauty, shall we?
---
---
CDN $33.00 (0.20 oz)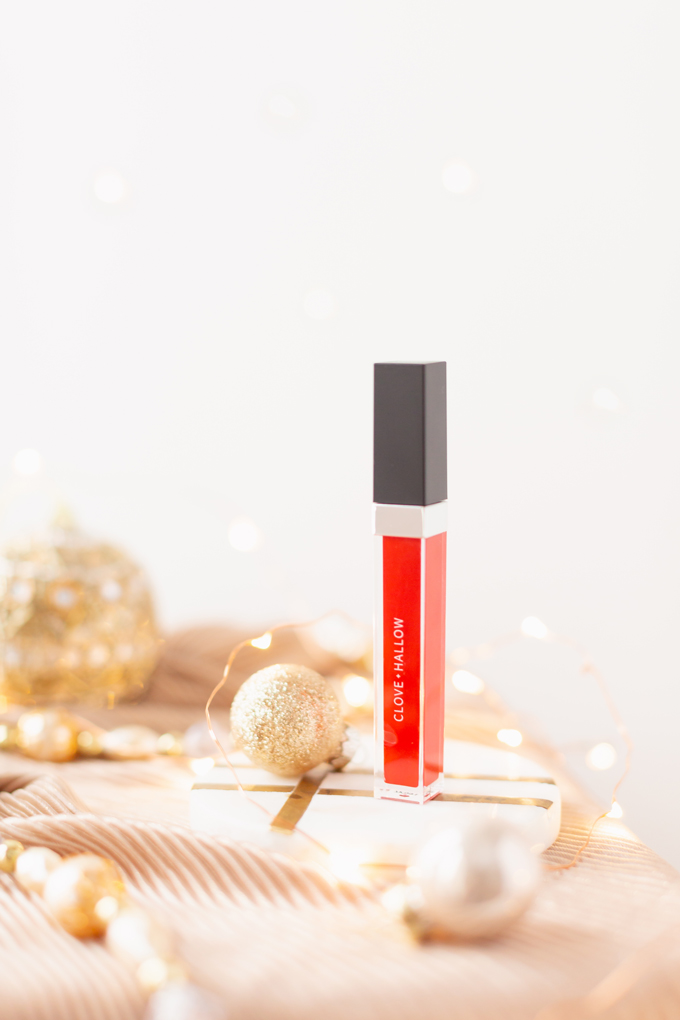 I was introduced to Clove + Hallow last summer, during my hiatus from creating BEAUTY content (for more about the brand, hop over to my My Top 5 Everyday Lip Colours post!). Fast forward a few years and they've emerged as one of my favourite clean beauty brands. Although I love many products from Clove + Hallow, their Lip Velvets are their standout product — particularly Fiesta, my current favourite shade from the range!
The Clove + Hallow Lip Velvets are an incredible, PETA certified, cruelty free, vegan liquid lipstick that dry down to a comfortable, budge-proof, matte finish. Formula wise, it's the most moussey of my recommendations today and feels ultra luxe thanks to an infusion of coconut oil, shea butter and vitamin E. I find the formula quite nourishing for a liquid lipstick, although it lasts for 7+ hours on me without drying out my lips in the slightest — and reapplication is a breeze! It's also mask friendly.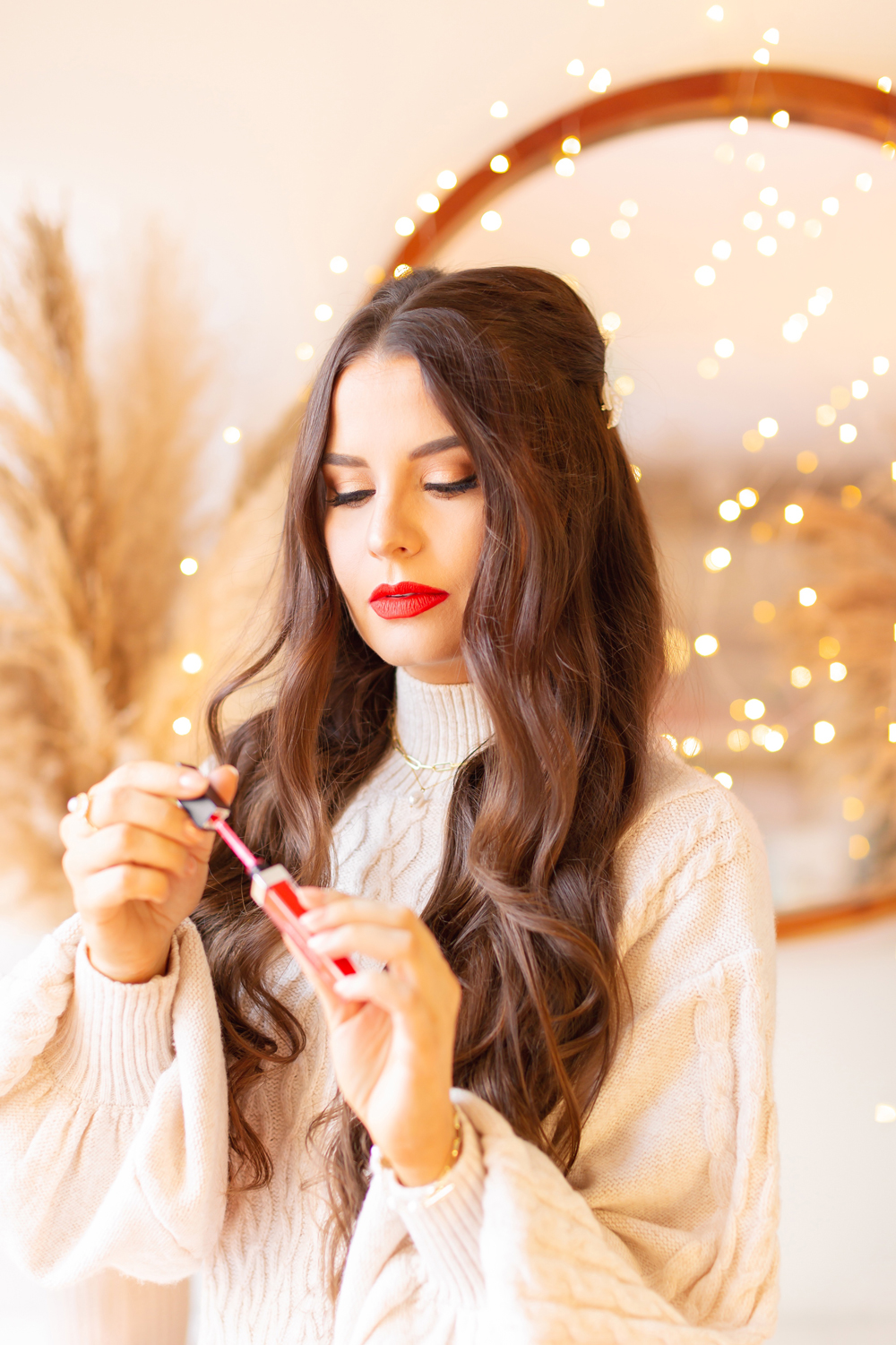 Colour wise, Fiesta is the only warm-toned red lipstick in my collection that I feel is suitable for both the summer and the holiday season (catch me wearing it here back in Summer 2018!). During the holidays I tend to gravitate towards more classic or slightly blue-toned reds, however, I make an exception for Fiesta. It's the brightest (verging on neon) shade of all of my favourite holiday reds — and I absolutely love to wear it with golds, metallics or sequins! It adds such a vibrancy to my complexion and I find it especially complimentary to my favourite golden holiday eye.
If you're a red-orange lover looking for your perfect, clean, comfortable liquid lip this holiday season and you're not afraid to make a statement, look no further than Clove + Hallow's Fiesta. Pair it up with Colourpop's Lippie Liner in Chi Chi (which is also cruelty free) for a vibrant, festive, long wearing holiday pout.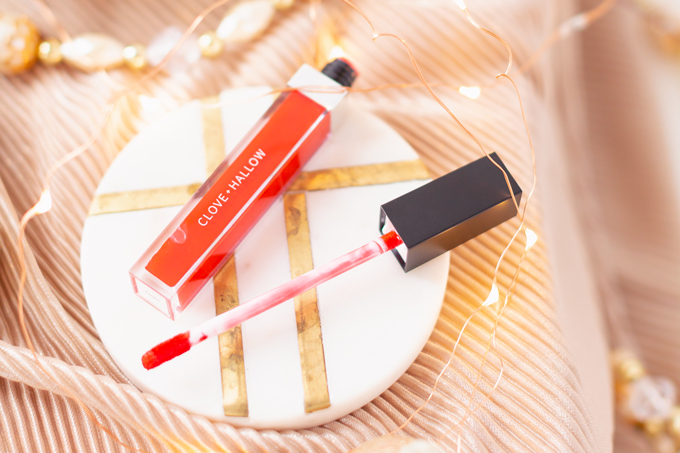 If you're intrigued by the high performing clean beauty world of Clove + Hallow, you can use code JUSTINECELINA15 to save 15% sitewide!
---
---
CDN $33.00 (0.20 oz)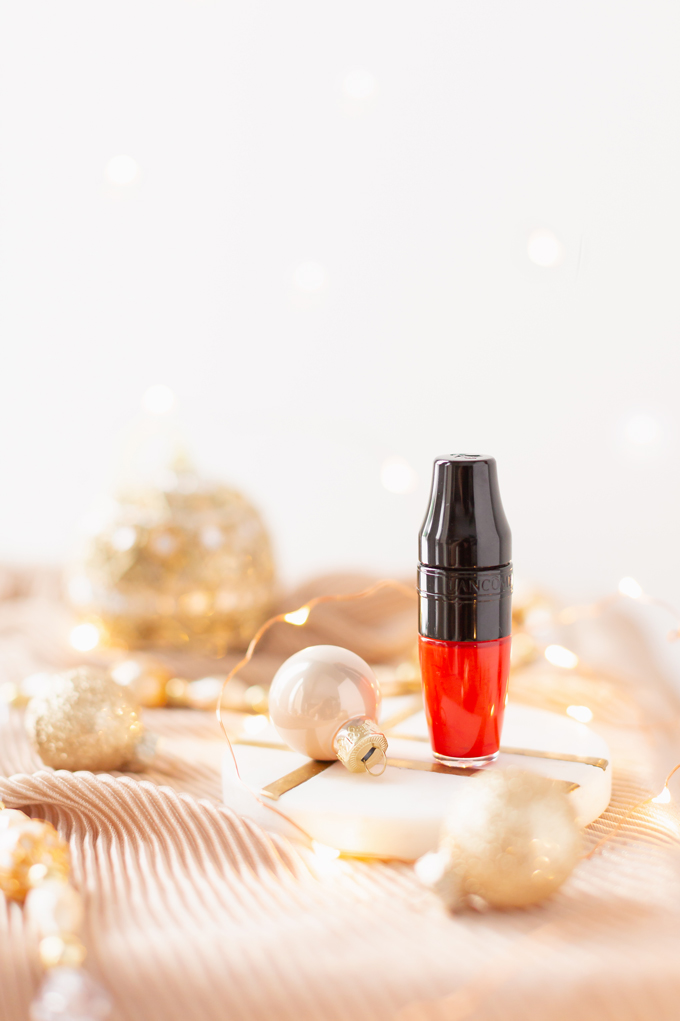 If you've frequented my FASHION and BEAUTY sections over the years, you'll know that Lancôme's Matte Shakers have become my all time favourite liquid lipstick formula. I currently own 11 shades from the range — many of which you've seen be wear over the years here at JustineCelina. They sit front and centre on my vanity, they're what you'll find me wearing most days — and they also comprise 40% of My Top 5 Red Lipsticks for the Holidays!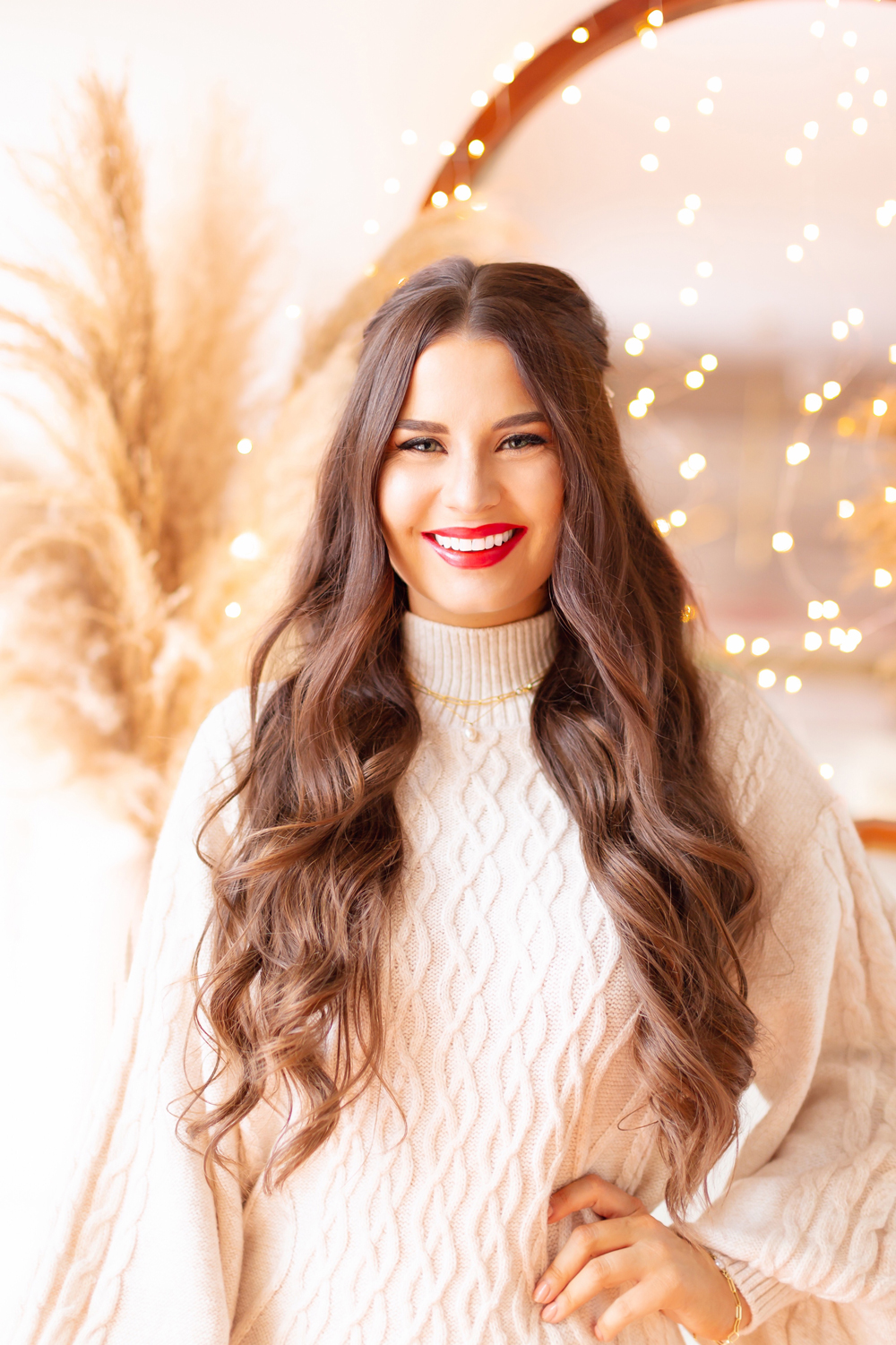 The Matte Shakers are an elegant, hybrid formula that deliver long lasting colour while being extremely hydrating. Since this formula is an emulsion hybrid of pigment and gloss (the pigment seems to instantly saturate and stain, while a glossy coat rises to the surface), I find the Matte Shakers to be the best of all worlds! The stain wears for the better part of the day, but the gloss diminishes after a couple of hours, which is usually when I touch up to replenish the glossy finish and intensify the colour. They're truly one of the most innovative liquid lipstick formulas I've tried — an extremely thin, saturated liquid that applies beautifully to the lips in a single swipe (don't let the applicator fool you, it's so easy to use!).
I love the finish of the Matte Shakers — I find they aren't completely matte (they also don't completely dry down and aren't transfer proof), but they are extremely hydrating and light as air on the lips. They wear for about 6 – 8 hours on me and are a breeze to retouch — no weird bunching, crumbling or flaking. They're a perfect option for events or evenings when you don't wait to babysit your lip colour! Colourpop's Lippie Pencil in Frenchie is the ideal pairing for Red'y In 5 — a vibrant bright red hue that won't break the bank.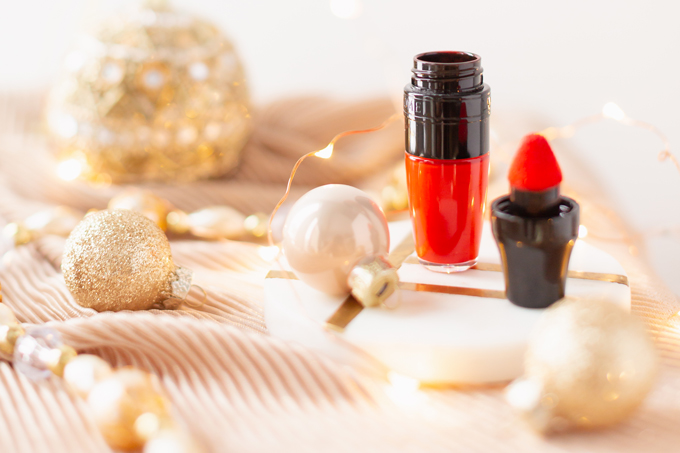 If you're a bold, classic, neutral red lover looking for a different kind of liquid lip, Red'y In 5 is your girl. It's a very fiery, almost neon, classic red erring ever so slightly on the warm side. I get tons of compliments on this lip both in person and online — and over the years it's become synonymous with the holiday season for me. This is a show-stopping, extremely luxurious lip colour that's guaranteed to make you feel like a million bucks — and I seriously can't imagine a skintone it wouldn't would compliment! You can also check out the other times I've worn or reviewed it here.

---
---
CDN $19.00 (0.169 oz)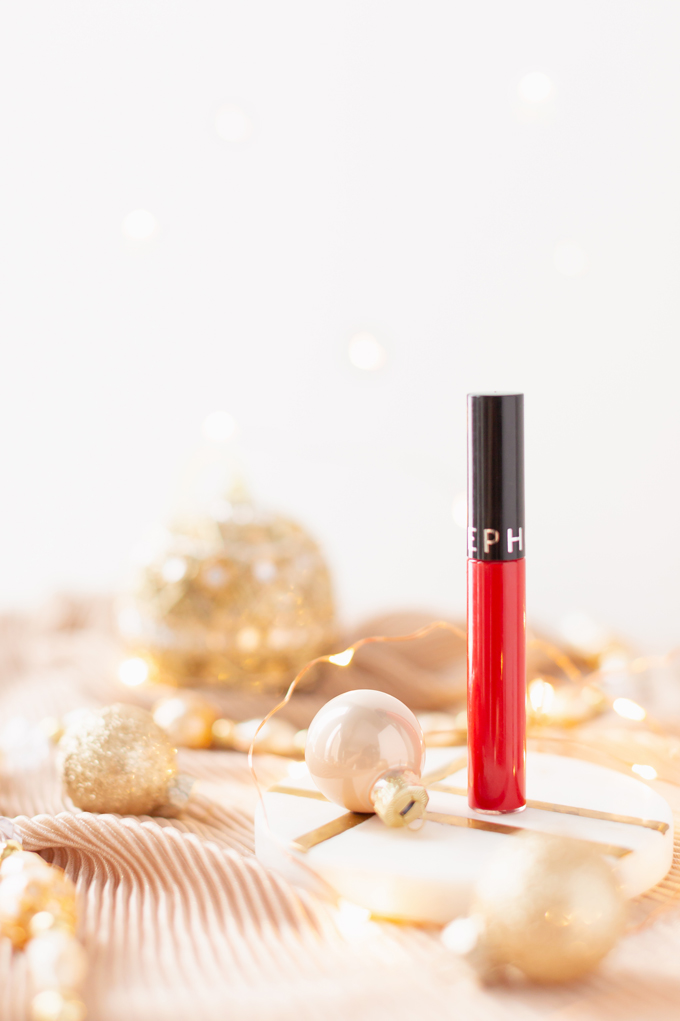 If you stopped today looking for my top matte, long wearing, classic red lipstick recommendation for the holidays, look no further than the SEPHORA COLLECTION Cream Lip Stain in 01 Always Red!
If you're familiar with my BEAUTY archives, you'll likely have heard me rave about the SEPHORA COLLECTION Cream Lip Stains which combine incredible value with one of the best liquid lipstick formulas I've tried to date. Always Red is an absolutely stunning, bold red lipstick that will keep the party going through all the eating, drinking and being merry you'll be doing this holiday season — this formula wears beautifully for about 7 hours on me! This formula is also mask friendly.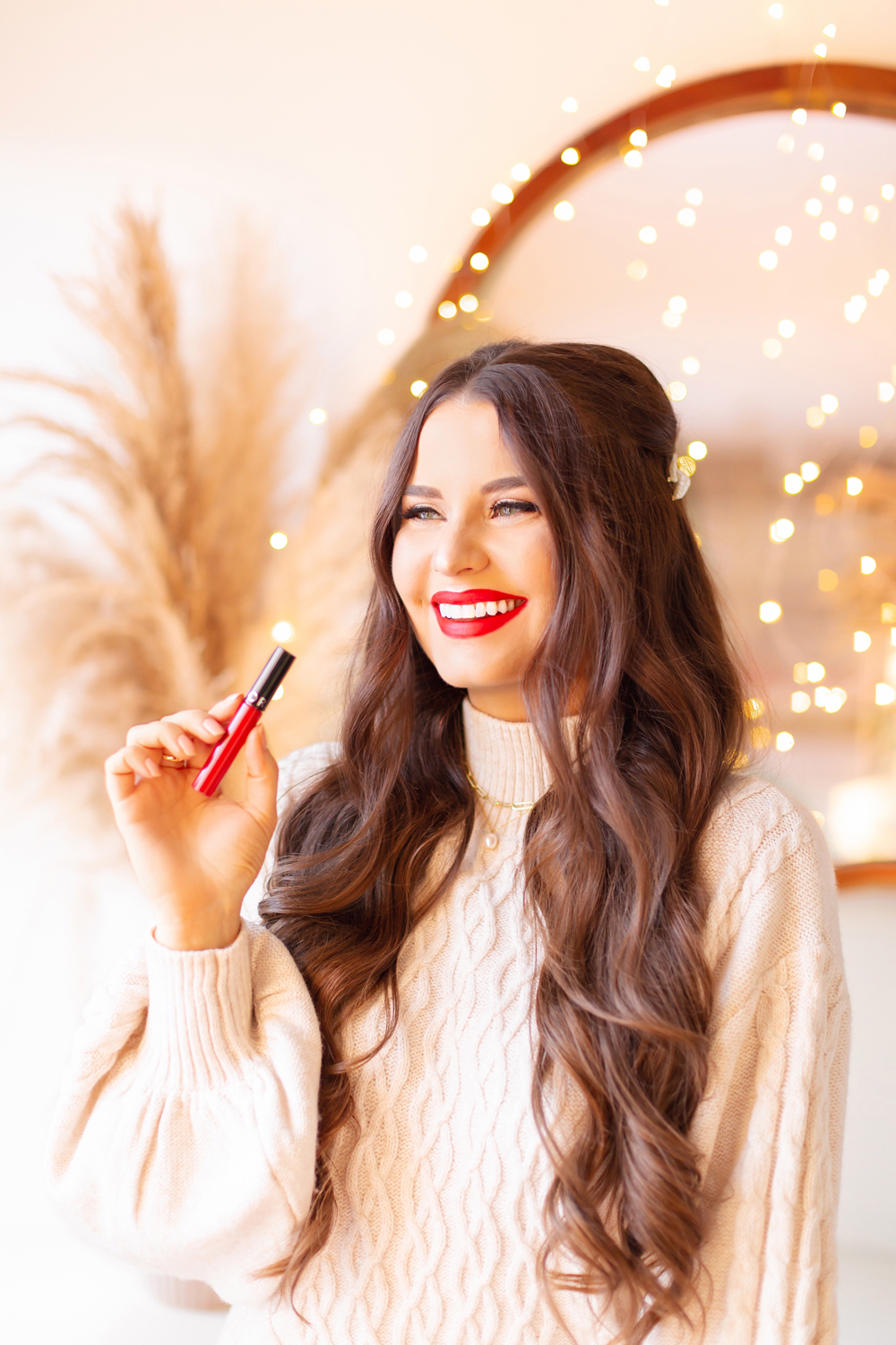 Liquid lipsticks are a great option at this time of year because they're so long wearing — and the SEPHORA COLLECTION Cream Lip Stains never dry my lips out. In fact, they're infused with avocado oil to help the formula remain comfortable for the duration of their wear time (this is essential for me during our frigid Alberta winters!). They're actually quite similar in formula to the Clove + Hallow Lip Velvets — moussey and loaded with nourishing ingredients. Oh, and did I mention they smell exactly like vanilla frosting?!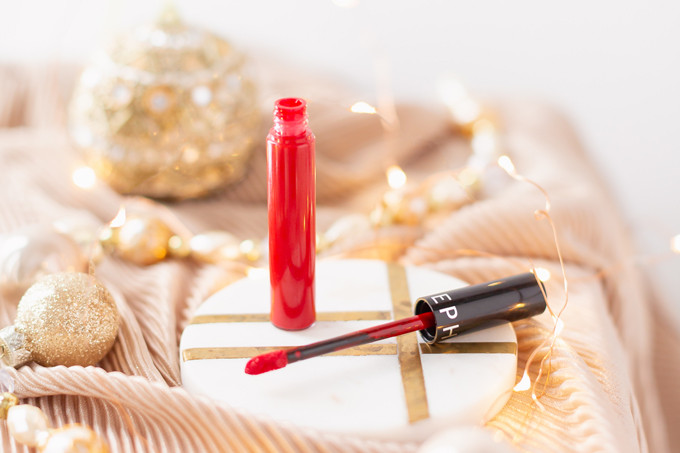 If you've never been about to find your perfect red lipstick for the holidays, I encourage you to give Always Red a try. It's a perfectly neutral, versatile shade in a lovely formula that will suit a wide variety of skintones — plus it makes your teeth look incredibly white (great for all those holiday photos!). Huda Beauty's Lip Contour Matte Pencil in Cheerleader is the perfect compliment to Always Red — and one of my favourite high end lip liner formulas.

---
---
CDN $33.00 (0.13 oz)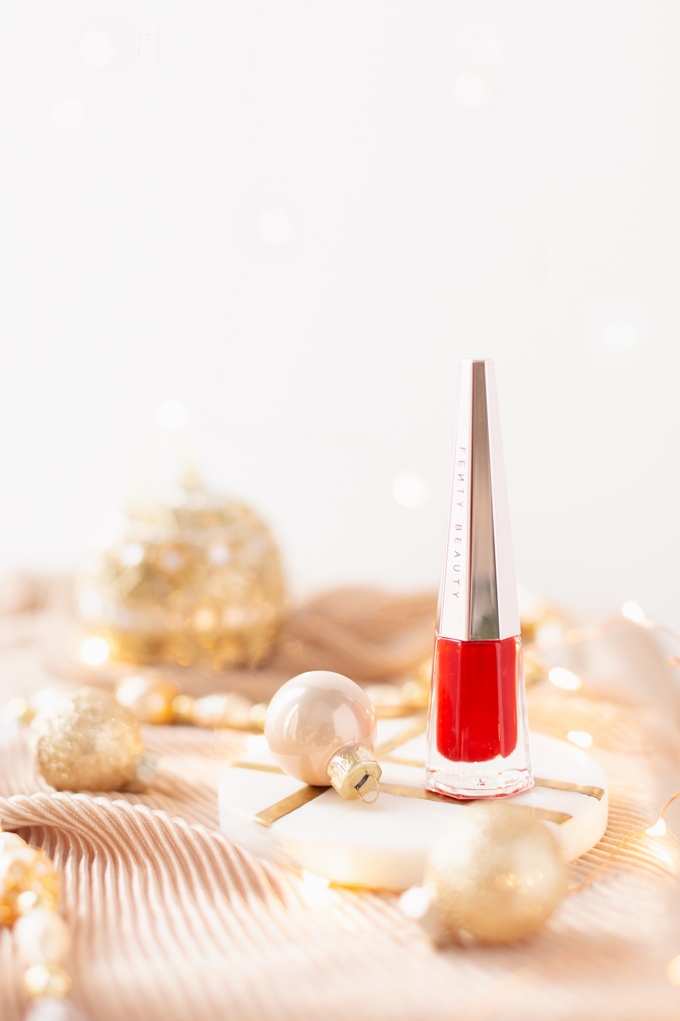 The FENTY BEAUTY Stunna Lip Paint Longwear Fluid Lip Color in Uncensored is another home run product from Rihanna's brand. Admittedly, what initially drew me in was the packaging — I snatched up this stunning liquid lip almost immediately after it's launch a couple of years ago. And while the sleek, metallic silver and glass component is indeed jaw-dropping (it almost resembles a Christmas ornament, doesn't it?!), what's even better is the weightless, long-wearing, soft-matte finish liquid lipstick in a perfect universal red you'll discover inside.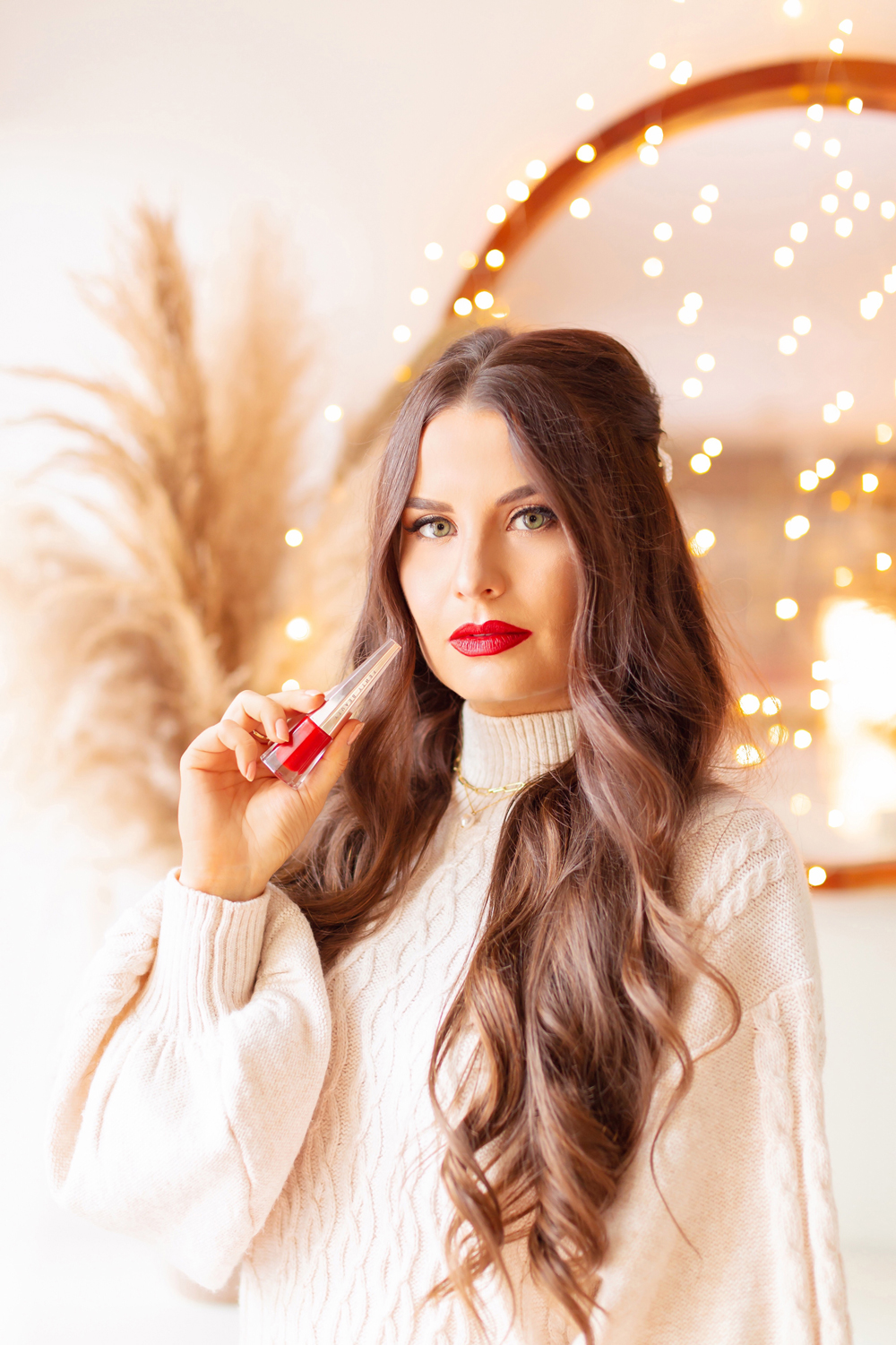 If you're looking to treat yourself (or the beauty lover in your life!) to a beautiful, foolproof, classic red lipstick this season and you're craving a dose of holiday glamour, Uncensored is my top recommendation. It's slightly deeper and cooler than the SEPHORA COLLECTION Cream Lip Stain in 01 Always Red — and it really does look good on everyone. I've recommended it to so many people and everyone loves it just as much as I do! It applies with full, intense opacity in a single swipe, makes your teeth look insanely white, doesn't dry out your pout and also looks incredibly regal when you pull it out of your clutch to swipe on a fresh coat.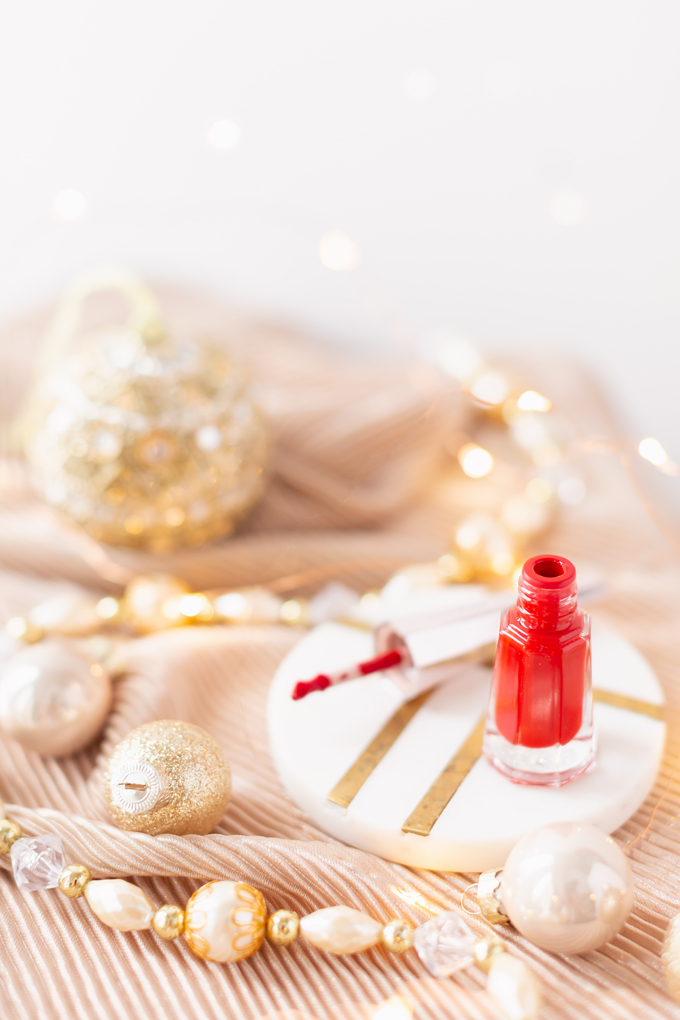 The Stunna Lip Paint in Uncensored delivers high impact color with low-maintenance, long wear — we're talking 8+ hours. That said, I don't find this formula to be completely transfer-proof (and therefore not totally mask friendly), but that's definitely not a deal breaker for me. I will happy trade transfer for comfort — which Uncensored has in spades. She's also cruelty free and free of parabens! Add a base of Huda Beauty's Lip Contour Matte Pencil in Heartbreaker underneath to help with transfer and any feathering you may experience.

---
---
CDN $33.00 (0.20 oz)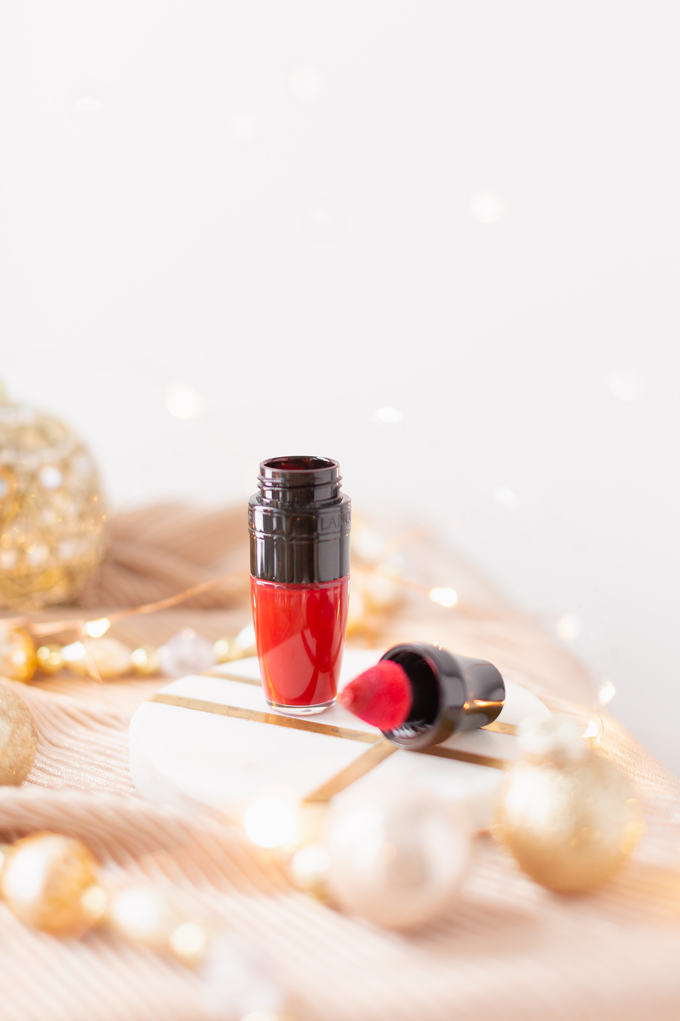 Last but not least in this holiday inspired red lip round up is the Lancôme Matte Shaker High Pigment Liquid Lipstick in Kiss Me Chérie — Red'y In 5's older, more sophisticated sister (I told you I was obsessed with this formula!)! As a warm toned gal, I rarely wear cooler, blue based lipsticks — but this stunning cherry shade is really something special. In fact, it's my all time favourite blue based red, containing strong pink undertones (it actually leaves a magenta stain behind once it fades!) that makes my green eyes pop.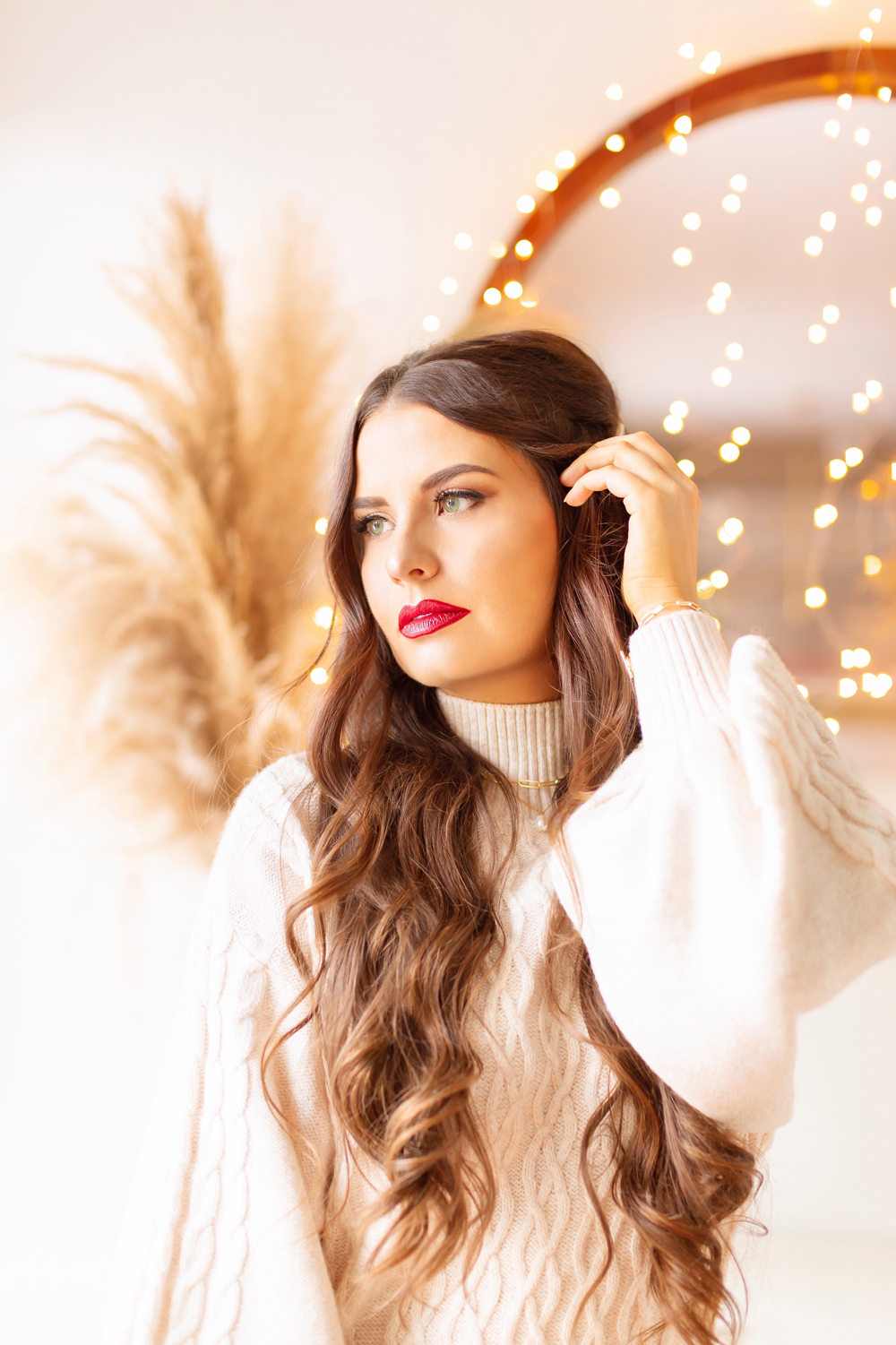 Kiss Me Chérie is a very unique shade that can either be worn as a light wash of colour or be built up to full opacity, like I've done here. This seductive red would flatter a wide variety of skintones — from the very fair to the very deep! I personally love to wear it when I'm wearing cooler or darker tones or looking for an elegant, nuanced red shade for an evening out. It also happens to disguise red wine stained pout perfectly — which definitely comes in handy for holiday events! Extend its wear even further into the evening with Colourpop's Lippie Liner in Bichette — a perfect cherry red in my affordable lip liner formula.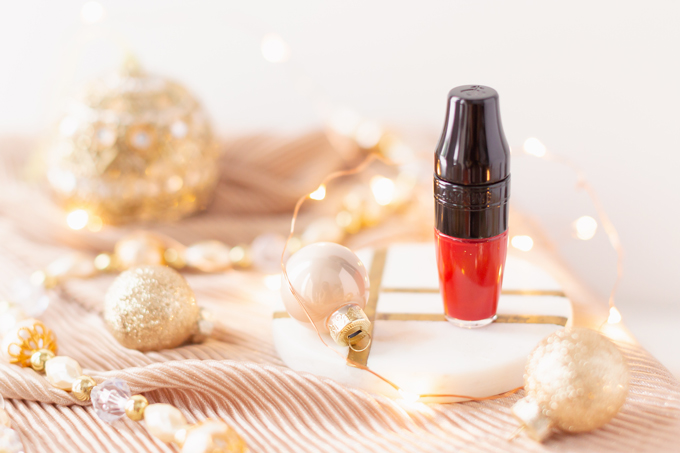 Alternatively, if you're a darker skinned gal (or guy) looking for your perfect holiday red, (or you simply love more depth in your red lipsticks!), opt for Kiss Me Chérie this December. It's a stunning red shade reminiscent of old Hollywood glamour that's perfectly fitting for 2021's glitzy NYE festivities! You can also check out the other times I've worn or reviewed it here.

---
SHOP MY FAVOURITE RED LIPSTICKS + COORDINATING LIP LINES FOR THE HOLIDAYS
---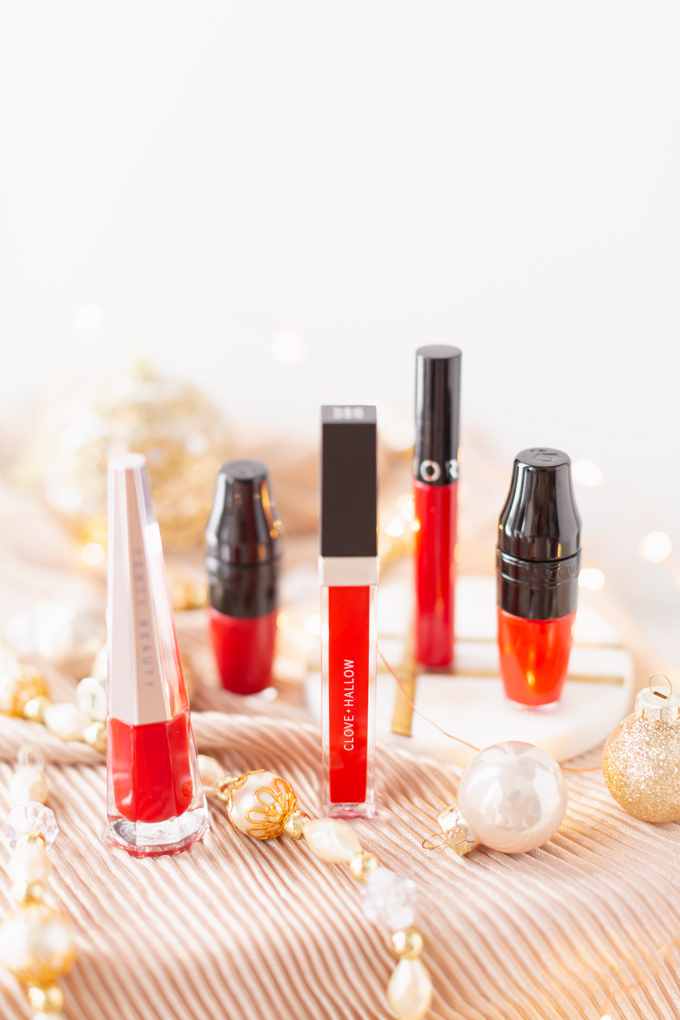 ---
MORE SEASONAL BEAUTY INSPIRATION
---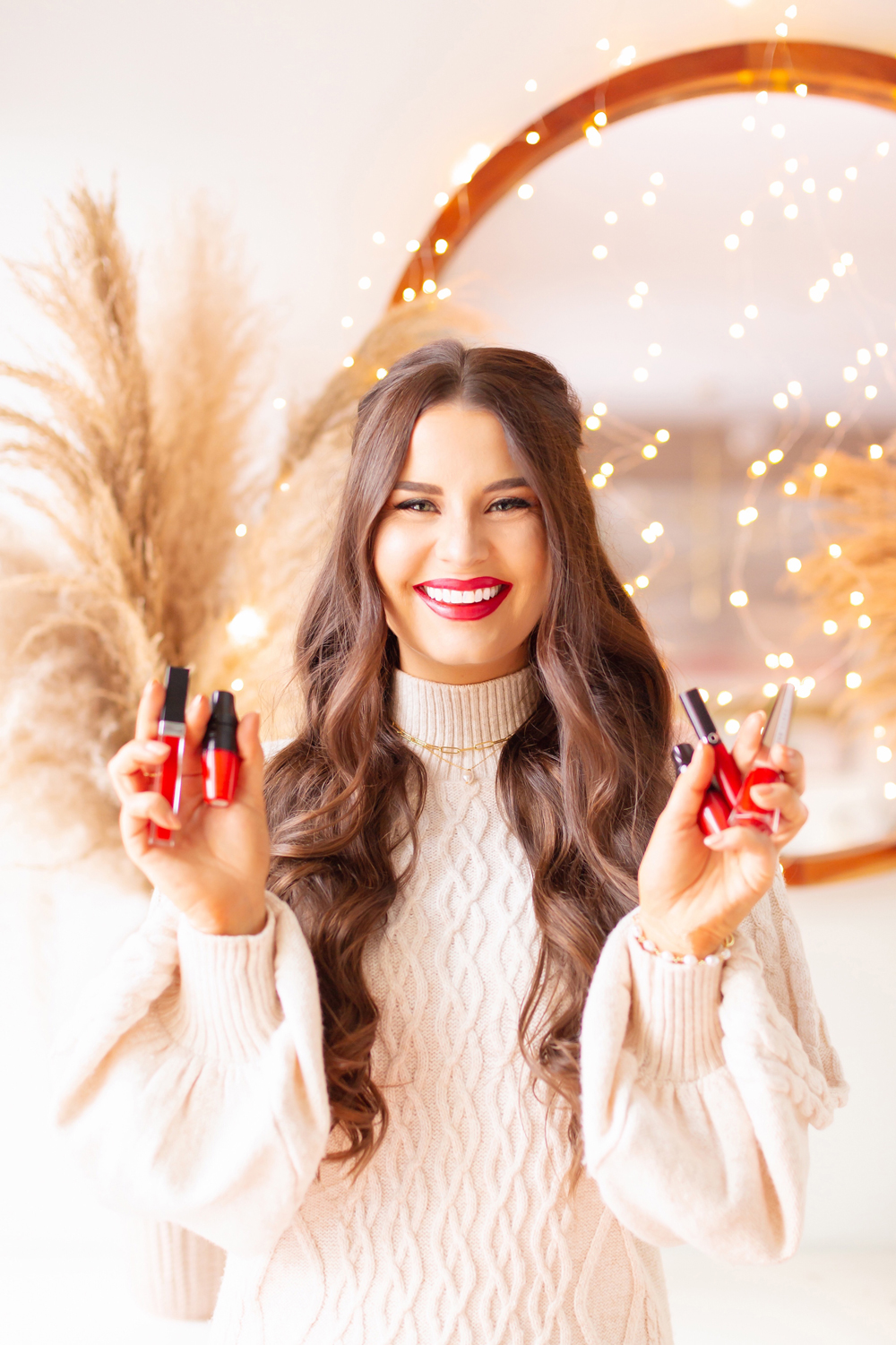 Holiday Gift Guide for Beauty Lovers
5 Festive Lipsticks to try this Holiday Season
Autumn / Winter Fragrance Edit
5 Red Lipsticks to Try this Autumn / Winter
My Routine for Flawless Looking Skin
---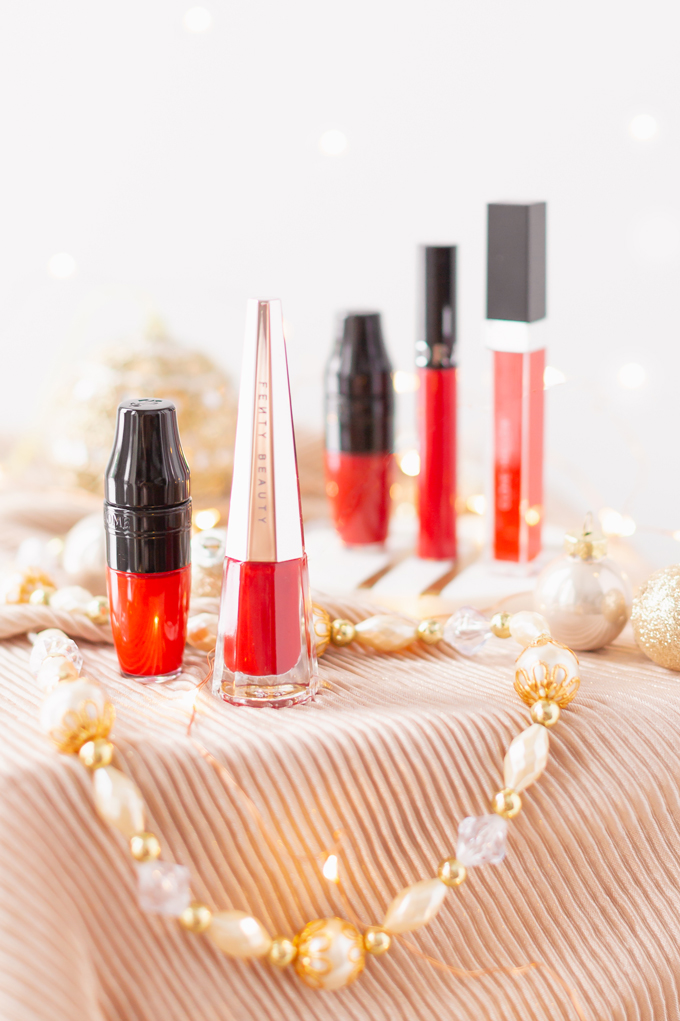 Thanks for stopping by on this snowy December evening to learn more about My Top 5 Red Lipsticks for the Holidays! I hope this post has inspired you to add some fresh, festive colour to beauty routine this holiday season and try a new shade or formula. It always amazes me how even a small tweak to your beauty routine like a new lip colour can really change up your look and re-inspire you! A classic red lip makes a wonderful gift for the beauty lover in your life this holiday season, too.

Craving even more BEAUTY? Be sure to visit the links above for seasonal inspiration, or check out my Pinterest board for all things beauty and skincare. If you try one of my recommendations I'd love you to leave me a comment or hashtag #justinecelinabeauty in your photos across social so I can find them! And for more holiday inspiration, be sure to stop by my Ultimate Holiday Inspiration Roundup for my best holiday style tips, decor ideas, beauty favourites, festive DIYs, glitzy cocktails and seasonal recipes from the archives. Have a lovely weekend, beautiful people!
---
Disclaimer: Products marked with * indicate press samples provided for editorial consideration with no obligation for feature or review, or as part of previous partnerships. This post is not sponsored and contains my genuine thoughts, ideas and recommendations. JustineCelina uses affiliate and referral links, which allow me to receive a small commission when you make a purchase through one of my links. Thank you for supporting the brands and businesses that support JustineCelina.com!