Are you in the holiday spirit yet?! This has been such a busy month for me, and the weather has been so nice that it's hard to believe it's almost that time of year! Today I'm sharing my favourite timeless pieces to wear during the holidays. For me, the holidays are all about spending time with friends and family, and winding down. While I love to get glammed up for holiday parties, today's post is about those classic style staples that you can wear to casual get togethers and family dinners — occasions when you still want to look cute and festive, but be comfortable. I also chat about finding the perfect red lip to complete your holiday look!
---
Mountain Peak Faux Fur Headband | Sunglasses | Killah Striped Swing Coat (similar, similar, similar) | Contrast Cable Knit Sweater | Faux Fur Clutch (similar) | Cocktail Ring | Faux Leather Legging (similar) | Charles David Caterina Pointy Toe Pump (similar, similar, similar) | Bite Beauty Luminous Crème Lipstick in Holly (similar)

---
I actually wore this exact outfit (with different shoes) to a friend's house party a couple of weekends ago. There were two other ladies wearing chunky knits with faux leather leggings — it's a popular look this time of year for a reason! It's chic, but comfortable, and practical. I love pairing a big, cozy sweater with a sleek elements for balance — like these faux leather leggings, suede stilettos and a swing jacket. And of course, you know I'll be wearing a red lip! These are my go-to holiday style staples.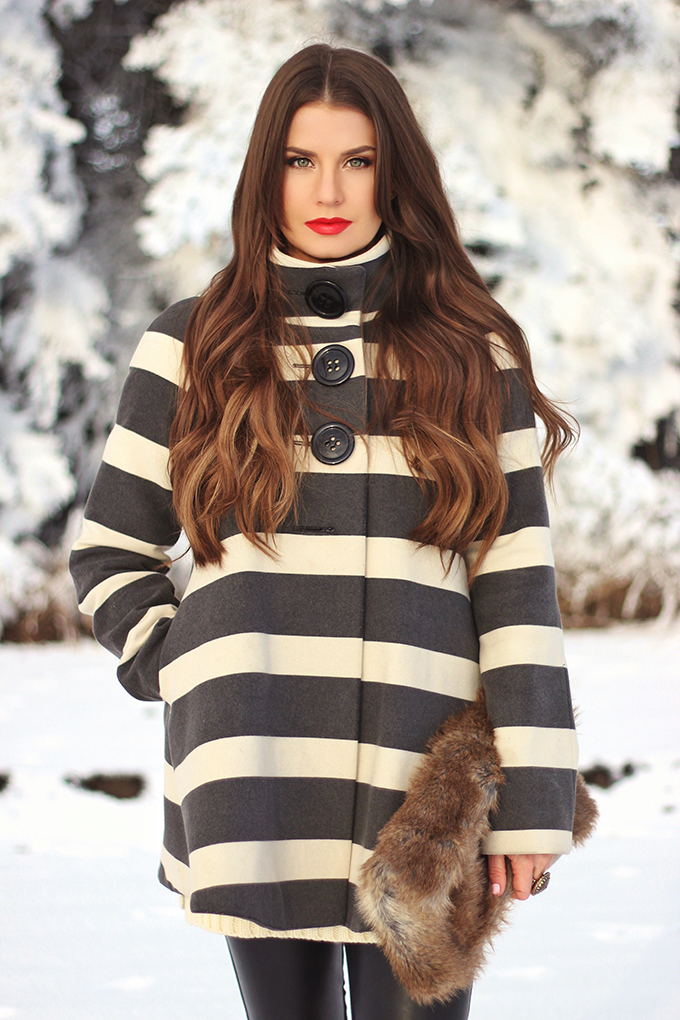 1) A SWING JACKET
I picked this jacket up in Montreal about 6 years ago — it was lust at first sight! It was the only one left, and in my size, too! It was definitely a splurge, but these are the kinds of wardrobe staples I invest in — classic statement pieces that you will literally wear for a lifetime. I've never has so many compliments on a jacket! Unfortunately, it's no longer available for purchase, but I've linked the most similar, striped jackets I can find here, here and here. I personally love swing jackets in mild winter weather, because they allow you to layer thicker knits underneath without adding extra bulk, while maintaining chic silhouette. And I love this jacket paired with leather leggings and stilettos, for a 60's-mod vibe.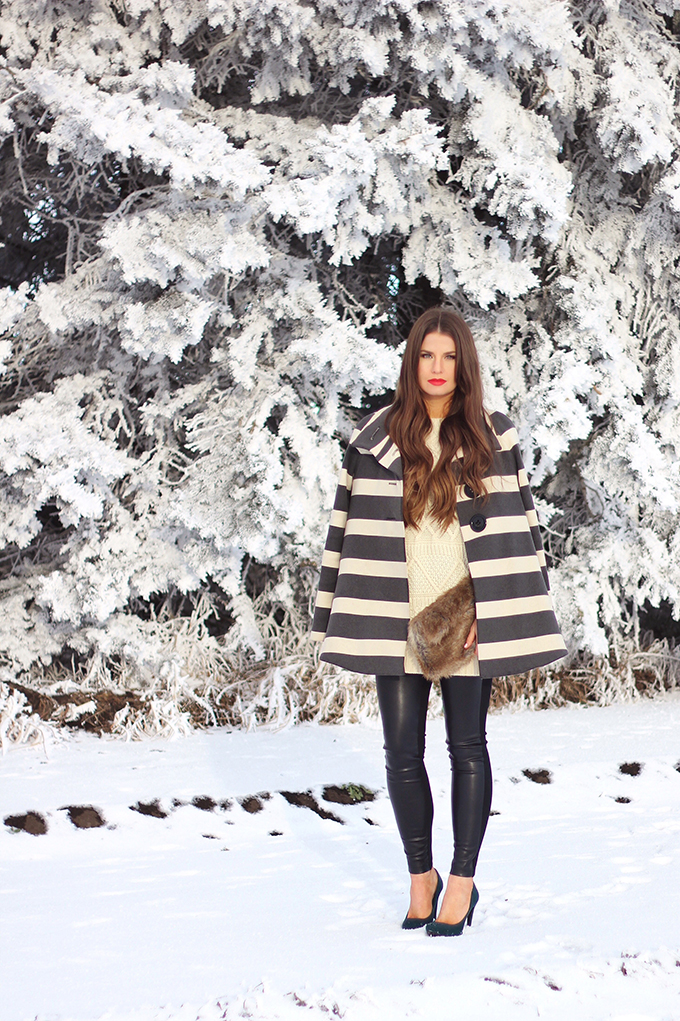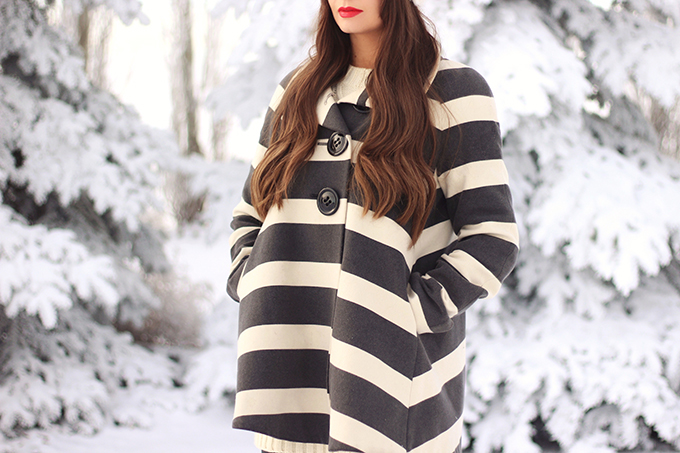 2) A FESTIVE RED LIP
Nothing screams Christmas time like a classic red lip. While I'm a fan of red lips year-round, I especially love them at this time of year. You can throw a red lip on with any outfit and instantly look more festive (and more polished)! I truly believe anyone can wear a red lip — it's all about finding your perfect shade. I prefer warmer, slightly orange-based reds on myself, because I have warm/neutral undertones and green eyes. Generally, those with fairer skin and cooler undertones will look best in blue-based reds, and deeper-complected ladies will suit richer, deeper reds. But, those are just guidelines — if you spend some time experimenting, I guarantee you'll find a shade that makes you feel like a million bucks! I'm wearing Bite Beauty Luminous Crème Lipstick in Holly from their limited edition Mix & Mingle Holiday Collection (which appears to be sold out), but this is a similar shade from their permanent range. I have a full review of all twelves shades from the Mix & Mingle Holiday Collection, if you're interested.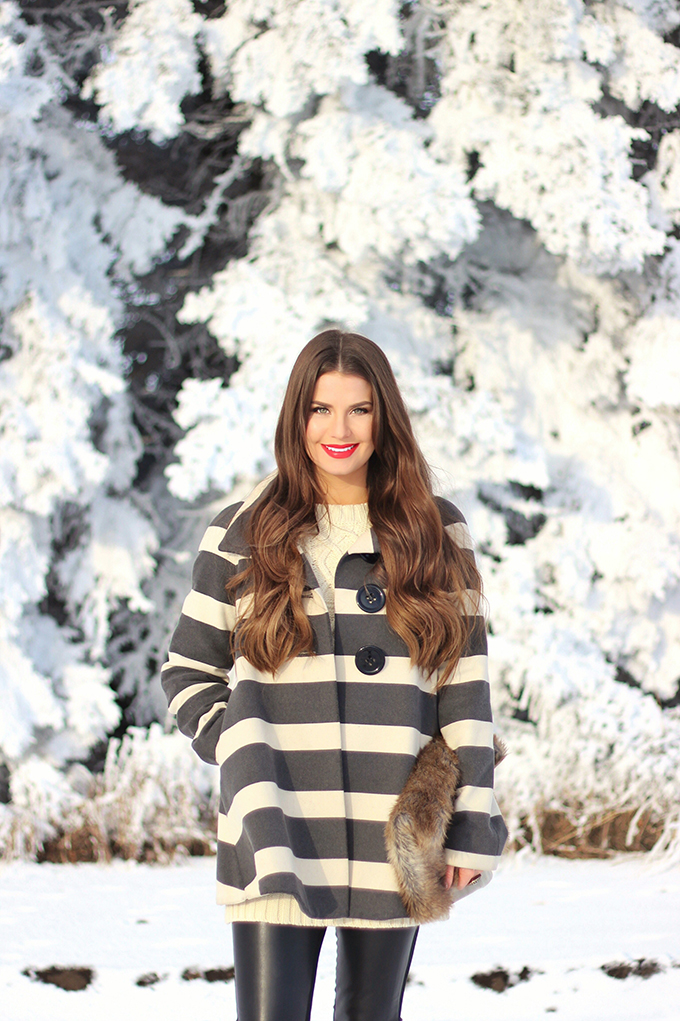 Bonus — red lipstick (especially blue-based reds) make your teeth look super white!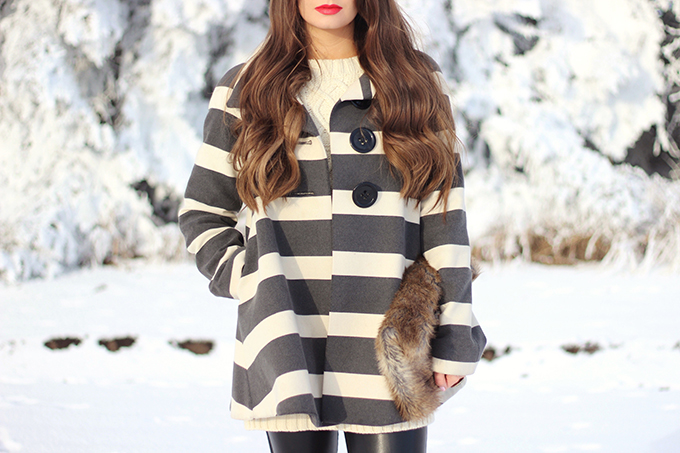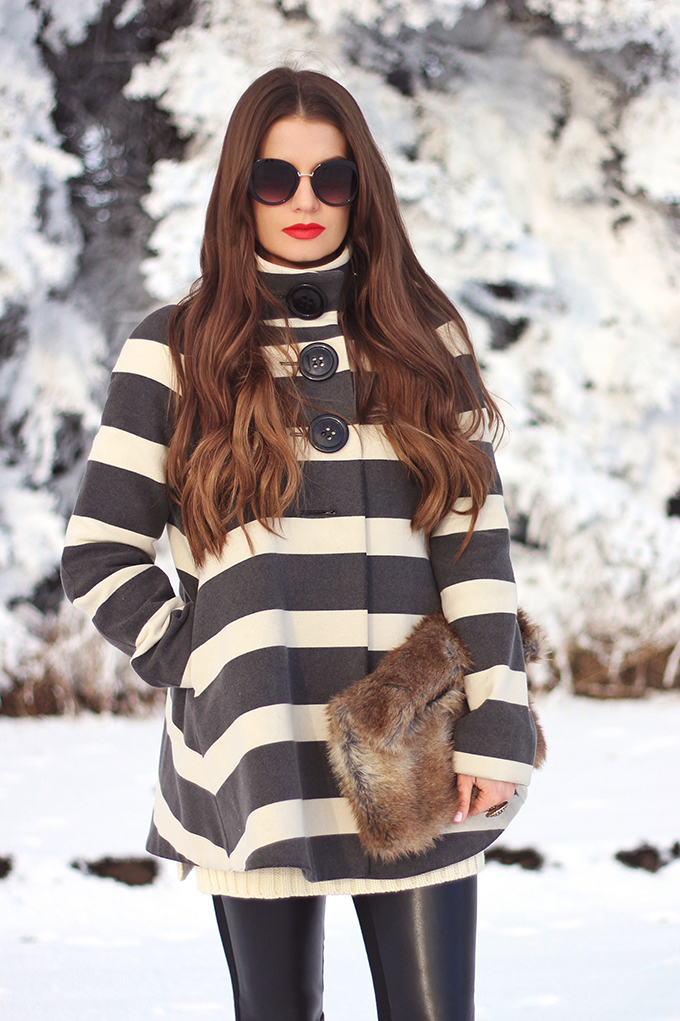 3) OVERSIZED OVAL RIMMED SUNGLASSES
I've mentioned before that I'm a sunglasses girl — not only do they protect your delicate eyes and eye area from harmful UV rays (prevention is key!), they add an air of mystery to your look. I love these oversized, 60's-inspired oval shades because they're simple, chic and they hide a magnitude of holiday sins! I purchase most of my sunglasses from GoJane (this particular style is no longer available, but they have lots of other cute shades in stock!).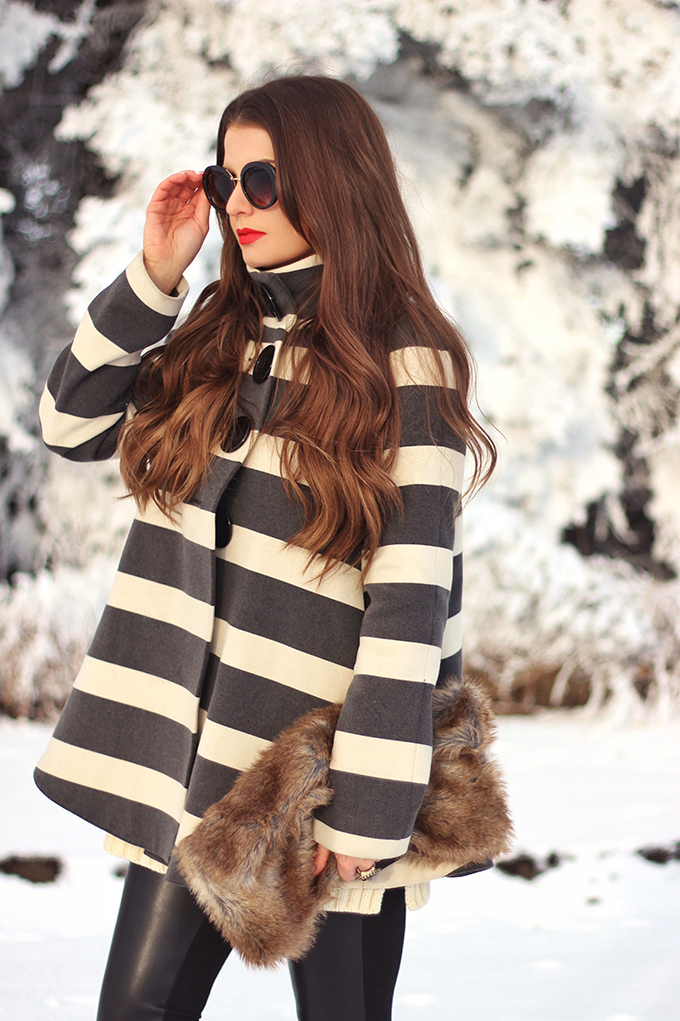 4) A CREAM KNIT
This cable-knit, cream sweater is a winter wardrobe staple of mine. It looks great with leggings, skinny jeans, and layered underneath all of my winter jackets. I purchase a lot of my sweaters at Forever 21 — I think the selection and quality for the price is unbeatable. This sweater has been on heavy rotation lately — it's so versatile and cozy, and can be dressed up or down depending on how you style it. Even though it's long and oversized, the shorter sleeves provide balance to keep things in proportion.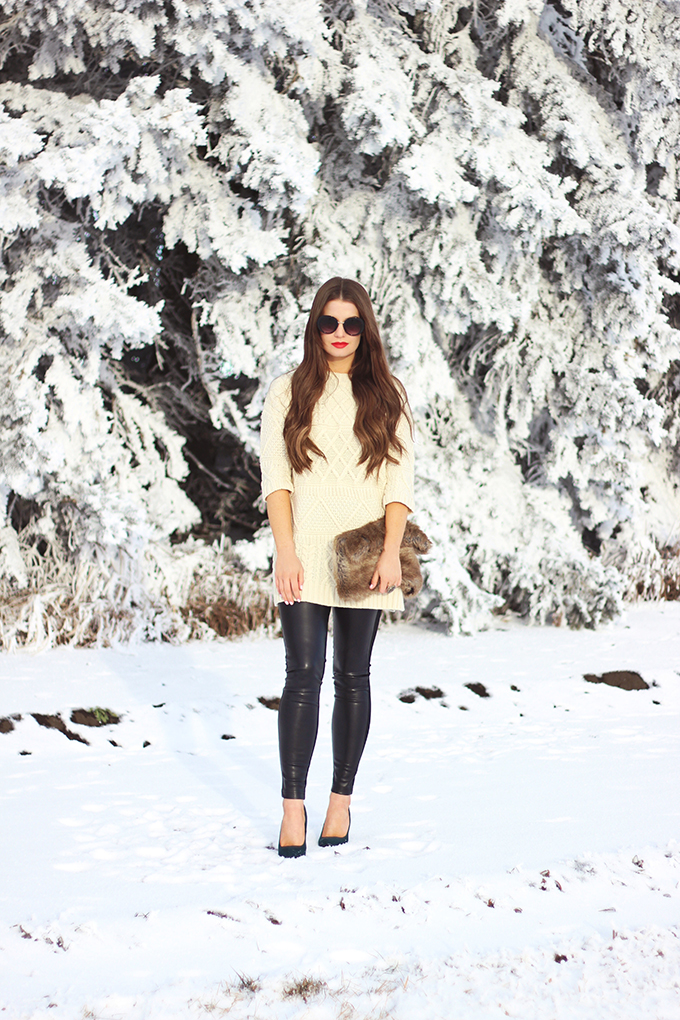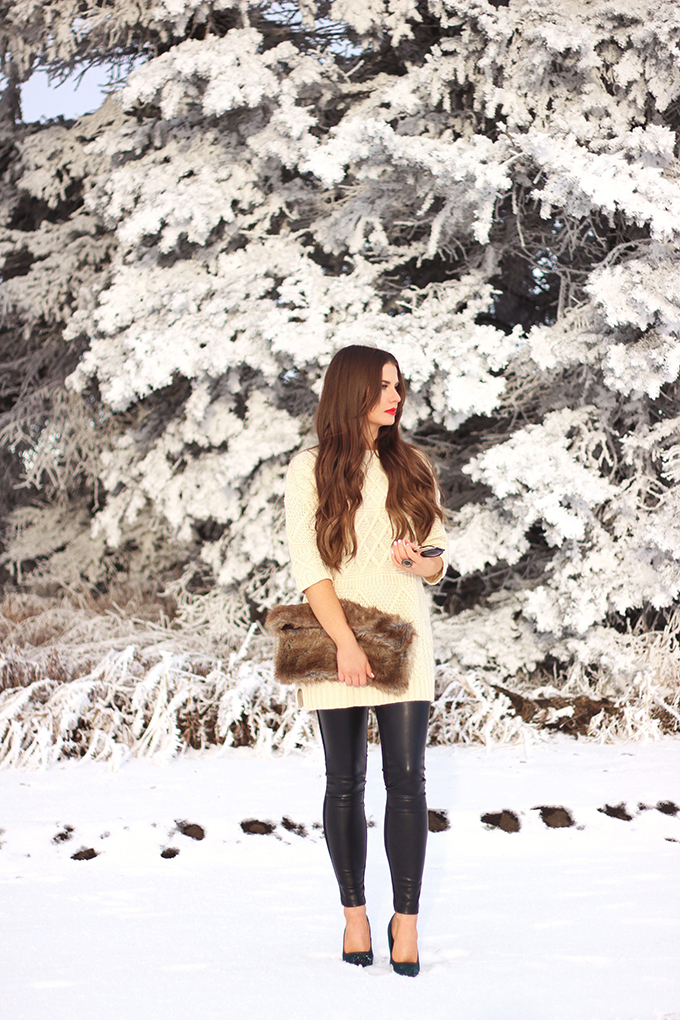 5) A FAUX FUR CLUTCH
This faux fur clutch is so luxurious looking — it's reminiscent of vintage hand warming muffs, which I absolutely love! It adds a softer, cozy texture to the look and helps to balance the sharp lines of the jacket and shoes. I purchased this one online at ASOS many years ago, but they have a similar one in stock. If you've been eyeing one, I say go for it! I wear mine anytime I want to add a little bit of extra glam to my outfit — and because it's a neutral I find myself reaching for it often.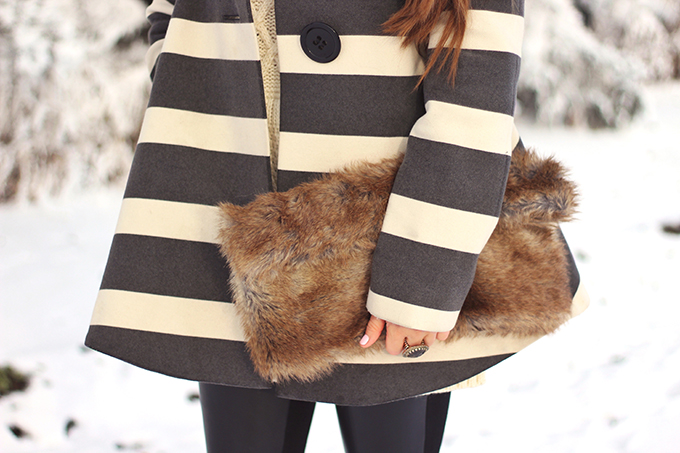 6) FAUX LEATHER LEGGINGS
I've been living in these faux leather leggings lately. The add a little bit of edge to your look, but they're super comfortable! The pair I'm wearing are from Joe Fresh (read more about my love for Joe Fresh leggings here), but they're no longer available in black, so I've linked a similar pair here. Faux leather leggings are a great wardrobe staple that you can wear throughout the year — I highly recommend picking a pair up! But remember — leggings are not pants, so make sure to pair them with a top that covers both your crotch and bum fully!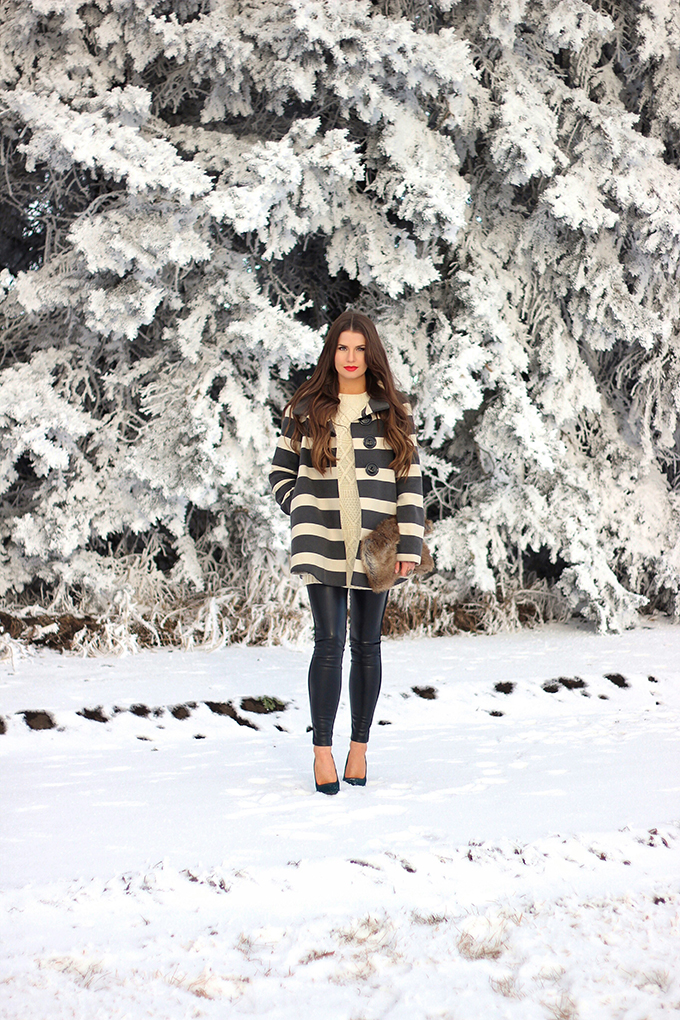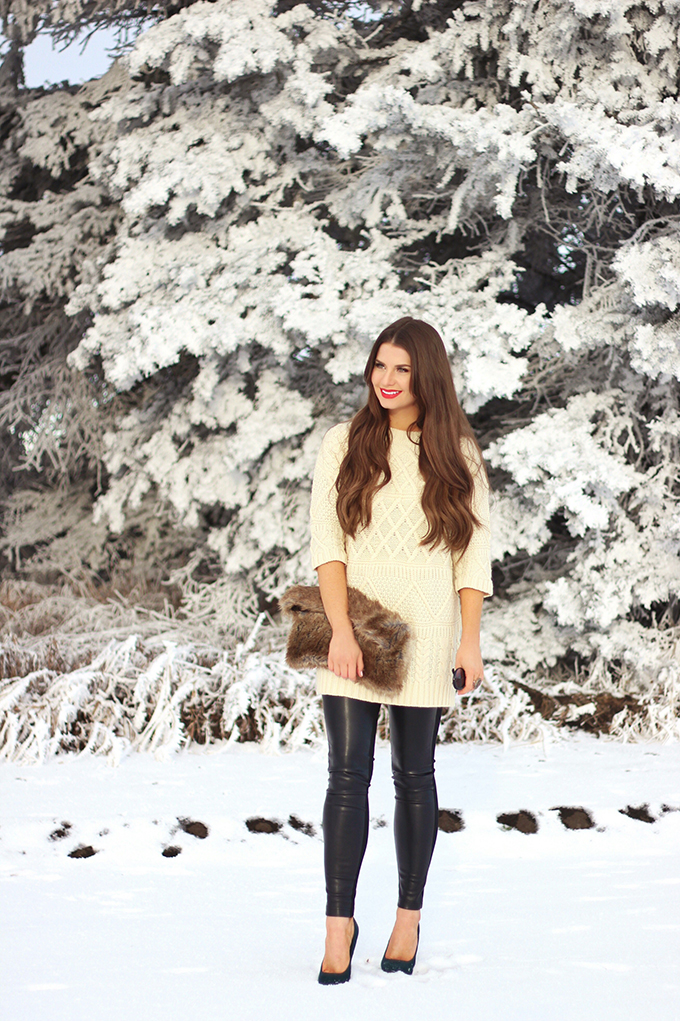 7) A KILLER PAIR OF SUEDE STILETTOS
Admittedly, these are not the more comfortable shoes in the world, but I love the sophistication that they add to this otherwise casual look. I wear them often during the winter months — and while they're not very practical for walking around in the snow, they're perfect for parties, drinks and dinners when you'll be inside most of the time. I like to incorporate traditionally festive colours like red and green into my holiday style in less obviously ways — like the red lip and forest green heels I'm wearing here. I've also linked similar forest green and navy pumps in varying heel heights and price points here, similar, and here.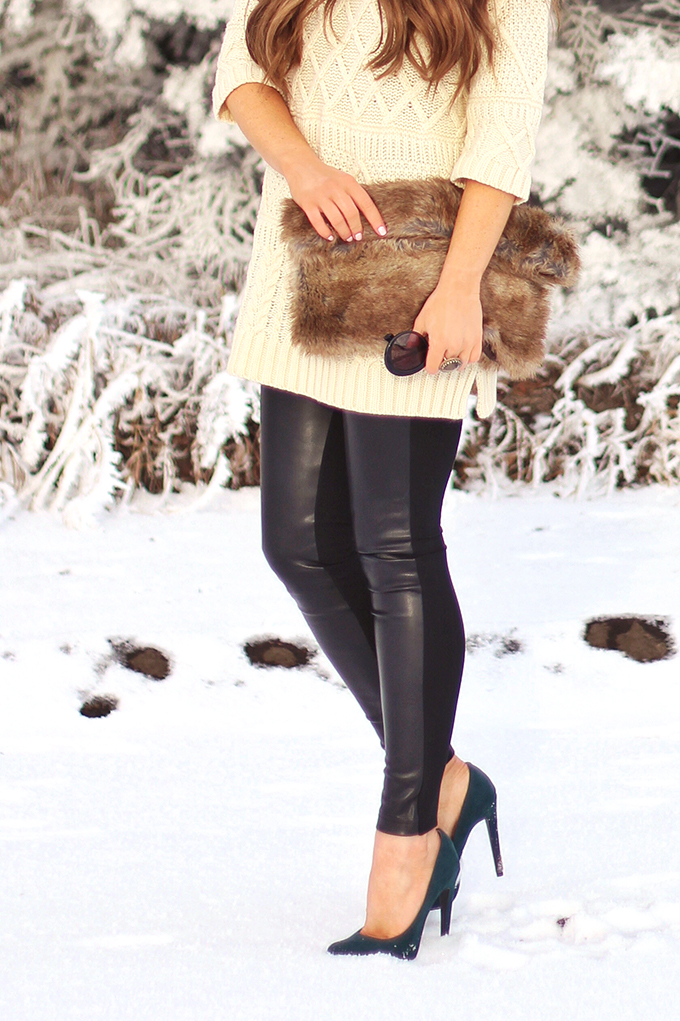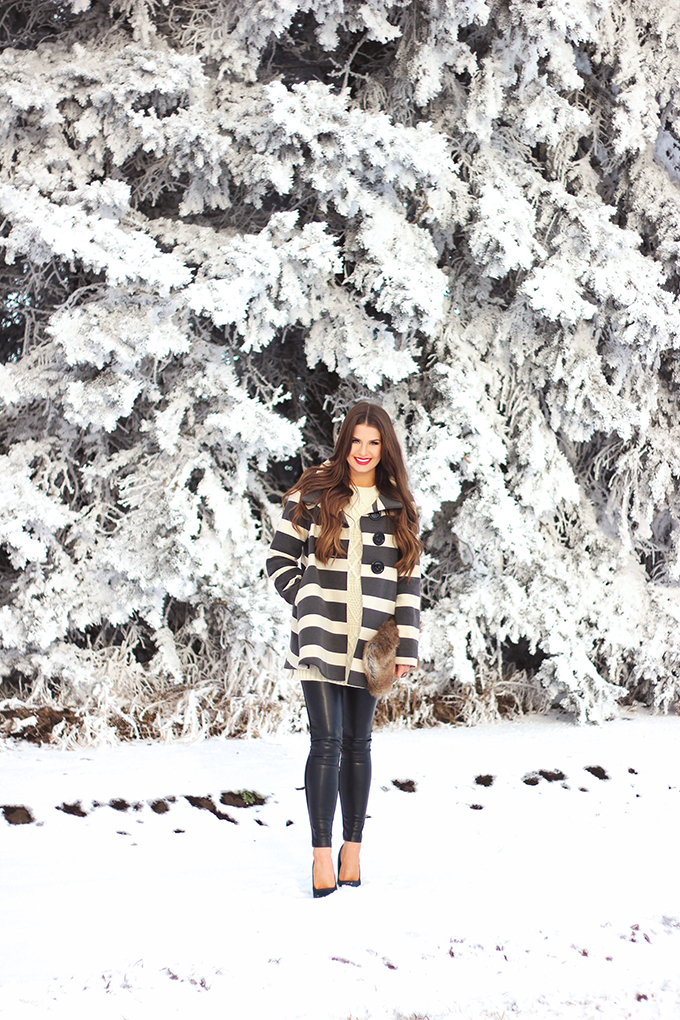 8) A COCKTAIL RING
Add a little extra sparkle to your holiday style with a simple cocktail ring! I have this ring in the grey stone that I'm wearing here, and a topaz stone as well. They're very well loved!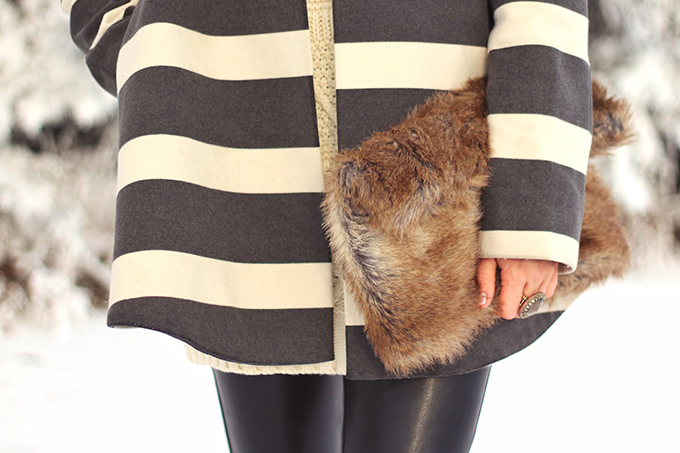 9) A FAUX FUR HEADBAND
Yes, I live in Canada — but I absolutely hate wearing toques, or any type of hat that messes my hair up (and makes it stat-icky!). I'm sure some of you can relate. That's why I love faux fur headbands — they look chic, keep your ears nice and cozy, and don't mess with your hair! This one from Free People is so warm — and I love the contrast of it against brunette hair.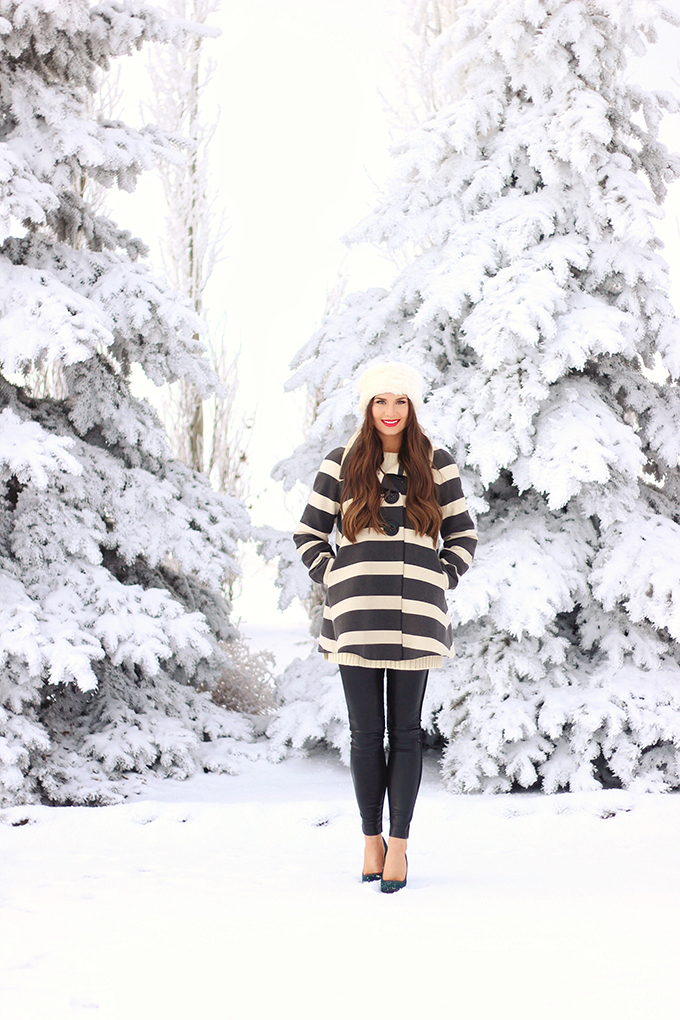 SHOP THE LOOK
Mountain Peak Faux Fur Headband | Sunglasses | Killah Striped Swing Coat (similar, similar, similar) | Contrast Cable Knit Sweater | Faux Fur Clutch (similar) | Cocktail Ring | Faux Leather Legging (similar) | Charles David Caterina Pointy Toe Pump (similar, similar, similar) | Bite Beauty Luminous Crème Lipstick in Holly (similar)
---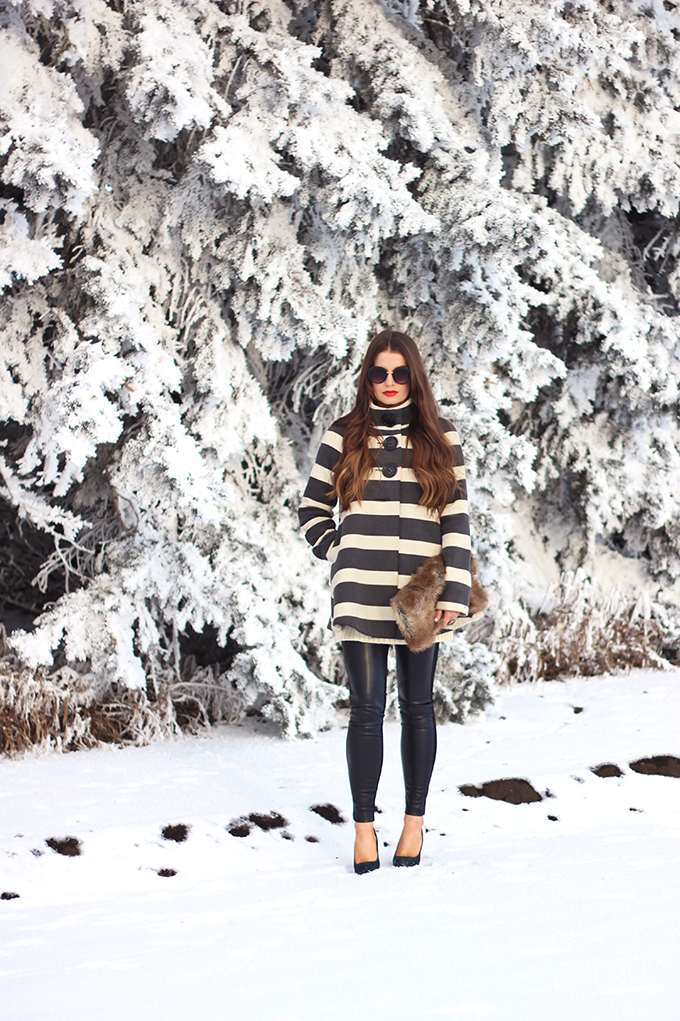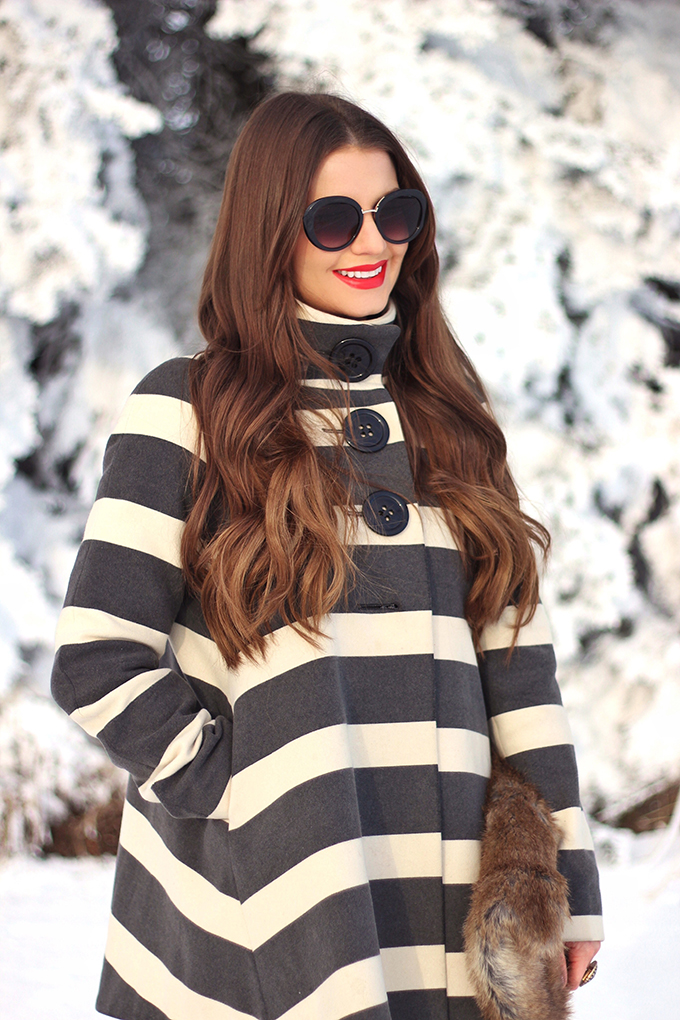 What are your favourite classic holiday pieces? If you have a recommendation, I'd love it if you left me a comment! I hope everyone has a happy, safe and fun holiday season.
---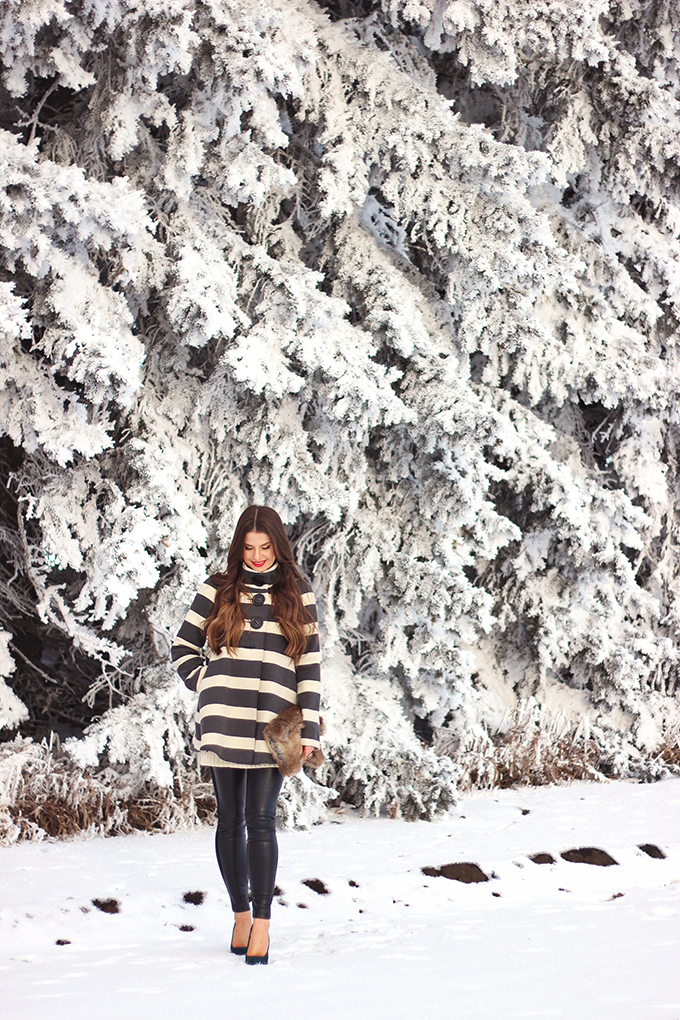 Thank you to The Wheelers for letting us shoot these photos on your (gorgeous) property!
---
Disclaimer: This post is not sponsored, and contains my genuine thoughts and recommendations. JustineCelina uses affiliate and referral links, which allow me to receive a small commission when you make a purchase through one of my links. Your purchases help to support JustineCelina.com!