---
Dry January is almost over — and that means I'm back with 2019's first Monthly Soundtrack! While I'll be very glad to indulge in a glass of wine on February 1st, abstaining from alcohol, getting back into my fitness regime, being more mindful with my time and taking a step back during the first 2 weeks of the month to get re-inspired, set intentions and plan for the for year has made for the most inspired and productive January I think I've ever had. I'm feeling so optimistic and excited to dive into 2019 — and this 3+ hour January 2019 Soundtrack fueled an absolutely fantastic month!

So, what tracks kept my motivation running at an all time high? The War On Drug's Thinking of a Place will always remind me of our magical Canmore NYE getaway (I shared some highlights from our trip in this post) and I had tunes from The 1975, Phantastic Ferniture, Jordan Critz, Evolution of Stars, The American Dollar, Men I Trust, Aphex Twin, Lofive, Barrie, No Rome, Loyle Carner, Moon Moon Moon, KAWALA, flor, SOAK, ayokay, Bearson and Geographer on repeat. I hope you enjoy this lighthearted, eclectic playlist!
---
JANUARY 2019 SOUNDTRACK
---
---
NEED MORE FRESH TUNES? CHECK OUT MY LATEST PLAYLISTS
---
Best of 2018 Soundtrack (or listen on Spotify)
December 2018 Soundtrack (or listen on Spotify)
November 2018 Soundtrack (or listen on Spotify)
October 2018 Soundtrack (or listen on Spotify)
September 2018 Soundtrack (or listen on Spotify)
Or, browse the MUSIC archives here at JustineCelina for almost 4 years of monthly playlists!
---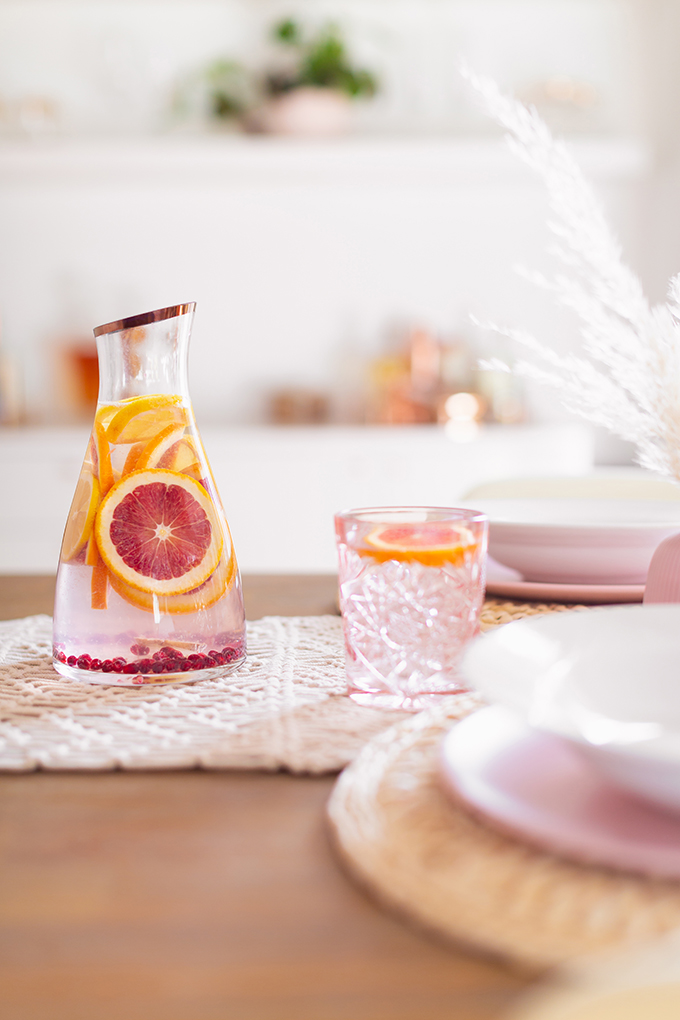 This month's album cover is a quick snap from our dinner table one evening when I hosted my girlfriends for dinner (see more from our Dining Room here!). I had to get really creative with my non-alcocholic beverages this dry January and I've rediscovered my love of infused waters! This one was created by simply using what we had on hand — blood oranges, cara cara oranges, lemons, pomegranate and a cinnamon stick. You guys were really interested in my favourite infused water combinations over on Instagram Stories, so I've scheduled that post in my editorial calendar for 2019!
What have you guys been listening to lately? Leave me your recommendations in the comments, I'd love to hear from you! Do you use Spotify? If you do, feel free to drop some links to your playlists, or playlists / artists you think I'd enjoy. Enjoy the rest of your week, friends!
---
Disclaimer: Some items featured in this space were provided by HomeSense as part of previous partnerships. This post is not sponsored, and contains my genuine thoughts, ideas and recommendations. JustineCelina uses affiliate and referral links, which allow me to receive a small commission when you make a purchase through one of my links. Thank you for supporting the brands and businesses that support JustineCelina!