---
Friends and fashionistas, I'm elated to finally share my SPRING / SUMMER 2019 LOOKBOOK with you! Despite a few delays due to our crazy weather (believe it or not, it snowed in Calgary just a few weeks ago!) we finally wrapped up shooting earlier this month and I've since been hard at work creating this seasonally inspired, sartorial guide for the modern woman. My 12 outfit LOOKBOOK features everything I've been wearing and loving in both personal and professional settings over the last couple of months and as we transition into summer! As always, it's complete with a healthy dose of seasonal trends and practical tips on how to wear them, mashed up with classic wardrobe staples and shoppable links at every pricepoint — including the inside scoop on the best sales of the season! It's been a major labour of love and I hope it's been worth the wait!
Now that summer is officially upon us (although there's no end in sight to the rain here in Calgary!), many of us Canadian girls are finally packing away our boots and knits and pulling out our warm weather pieces from years past. I always like to take this time to clean out my closet, identify holes in my seasonal wardrobe, integrate a few updated basics and experiment with new trends. As always, my SPRING / SUMMER 2019 LOOKBOOK runs the gamut of high, low, old, new and vintage — there's truly something for everyone! It's bursting with bold colour, print and my favourite warm weather fabrics and textures, plus updated wardrobe staples that offer ultimate styling versatility.  Step into my closet this weekend and get ready for a serious dose of seasonal FASHION and I walk you through the cornerstones of my SS19 wardrobe — I hope it inspires your most stylish summer yet!
---
SPRING / SUMMER 2019 LOOKBOOK
---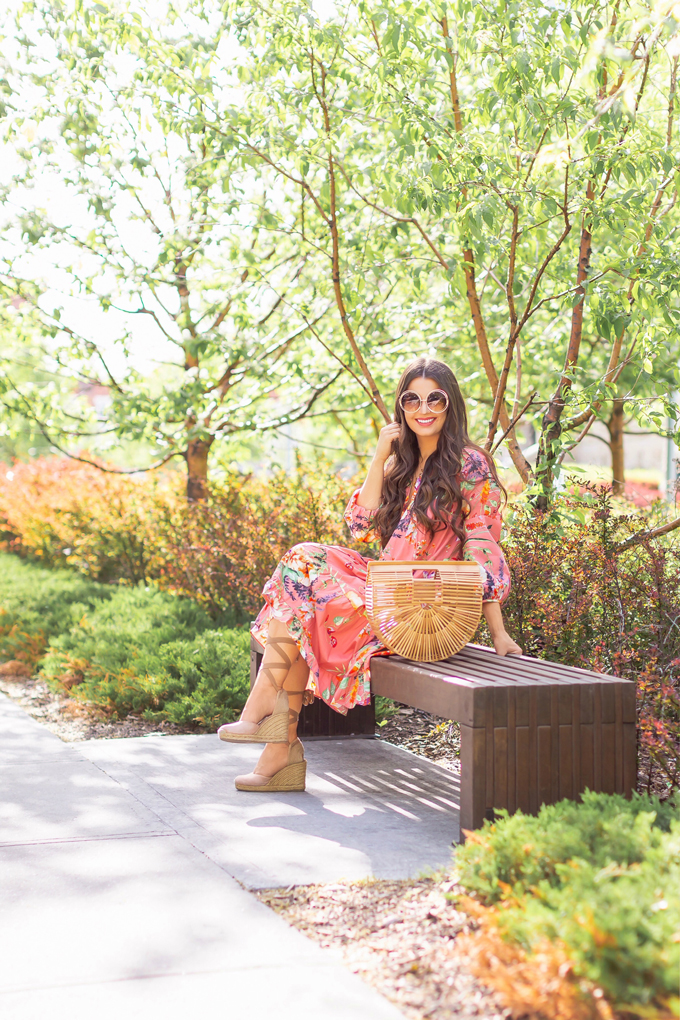 We truly experience all four seasons during a Calgary spring, so you'll definitely find something to suit the climate you live in my SPRING / SUMMER 2019 LOOKBOOK! To help you navigate this mega post and find the types of outfits you're looking for, I've divided this LOOKBOOK up into sections according to different settings they're appropriate for and the types of garments featured. Now, let's jump into some Spring/Summer fashion, shall we?
---
PROFESSIONAL SPRING/SUMMER 2019 OUTFITS
---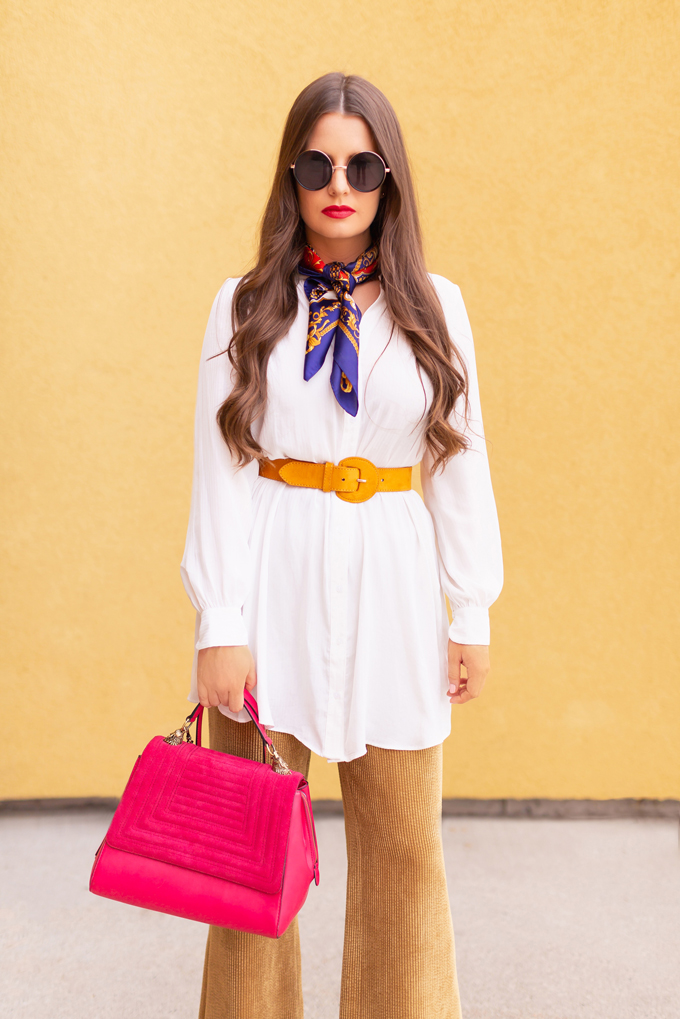 Over the course of my 12 year entrepreneurial journey, I've become accustomed to selecting  pieces I can wear in both personal and professional settings. I've built a wardrobe of versatile garments that allow me to present myself as professional, stylish and creative no matter the environment — and resolved to never allow corporate environments put a damper on my personal style! I firmly believe your personal style should shine through no matter the setting and you can absolutely have fun with your professional wardrobe. Today I'm going to show you how I've updated my WORK WEAR for a fresh new season!

---
KHAKI CHIC
---
This look is a prime example of how you can take a classic outfit formula and update it for SS19 with quality basics and on-trend colours!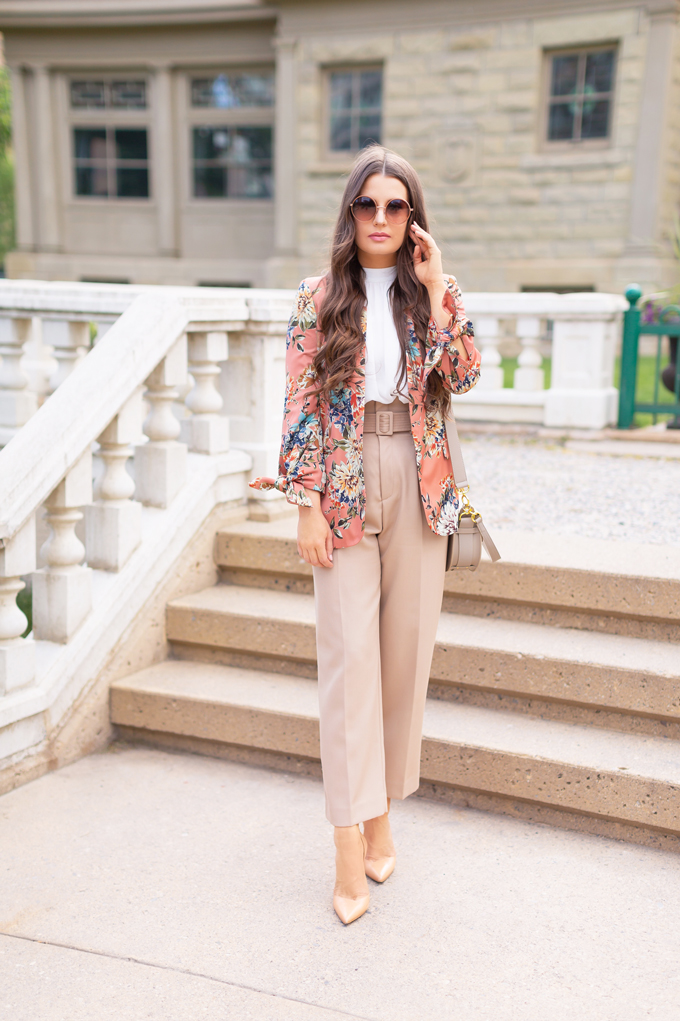 As always, this professional Spring/Summer outfit is a mixture of high, low, old and new. I added these gorgeous paper-bag khaki trousers (if you don't already own a pair of paper-bag waist pants, now's the time!) to my wardrobe earlier this spring and they are seriously the most flattering pair of pants I own! The material has substantial weight and hangs beautifully, while the ultra high waist really cinches everything in. I paired them up with a few older pieces in my wardrobe — a pleated halter cami, a floral blazer in Pantone's 2019 Colour of the Year, Living Coral and my all-time-favourite pair of nude, leg-elongating pointed-toe d'orsay pumps. In fact, they're about 6 years old and I knew the instant I slipped them on they would be one of my most-worn pairs, so I purchased 2. These are the second pair!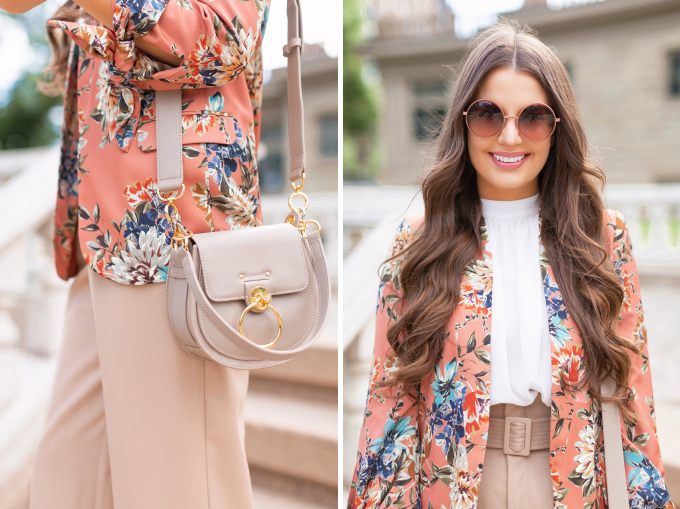 I accessorized with my early birthday present, Artisan Anything's Chloe's Tess dupe in Grey. If you've been following along with my FASHION section this year, you'll have seen the black version grace these pages many times, so I knew I'd get a lot of wear out of this lighter hue for Spring/Summer. To finish the look I thew on my favourite new sunnies and my go-to everyday lipstick, NARS's Audacious Lipstick in Brigitte (hop over this post for a full review). Stay tuned for more from this look coming to a dedicated post in my WORK WEAR series this summer!


---
UTILITARIAN LUXURY
---
While I love to experiment with trends and make them my own, the utility trend for SS19 is one that I wasn't initially sure about at first. But when I spotted this luxe satin Cargo Dress at H&M earlier this spring, it was love at first sight! Juxtaposition is always present in my personal style and I adore the casual, utility-inspired details in a luxe fabric.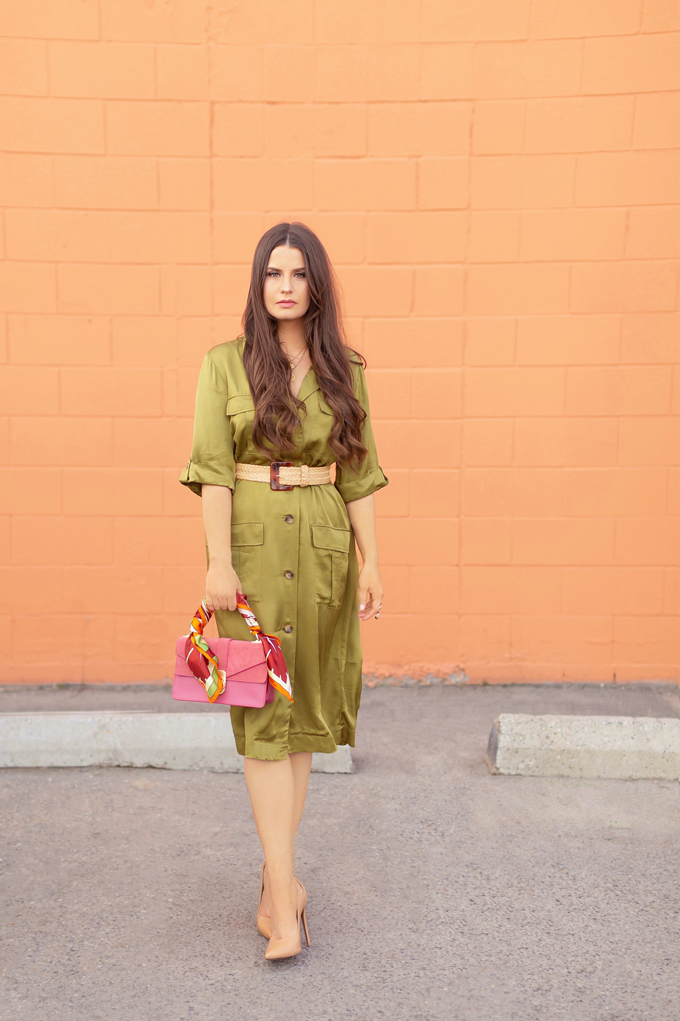 This look is inspired my the Pantone SS19 Fashion Colour Trend Report — a go-to resource when I'm sourcing inspiration for pulling together looks and refreshing my older pieces with updated styling. I never would have thought to pair these contrasting colours together otherwise — but adore this palette of lively greens, pinks and oranges accessorized with neutrals.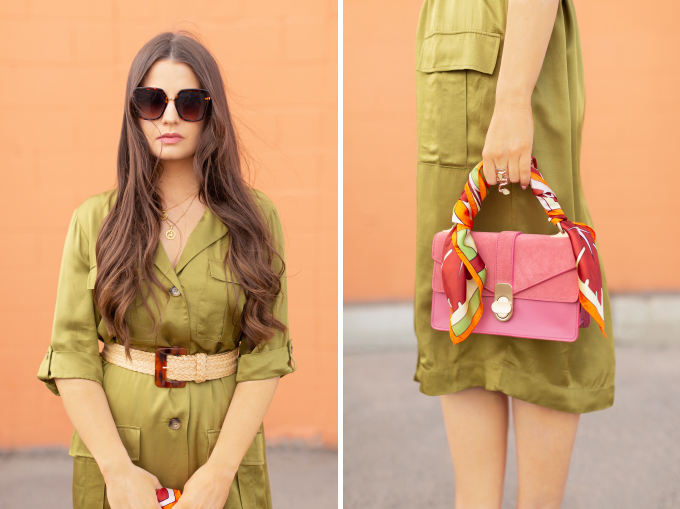 Using my dress as my anchor piece, I pulled out an ancient pink Zara bag and tied a vintage scarf around the handle to bring in some on-trend colour — one of my favourite tricks to instantly update an older bag! I cinched the silhouette with a Tortoiseshell Bucket Belt (tortoise and acetate accessories are another big trend for SS19) and polished this office-appropriate look with a pair of nude, pointed toe pumps that match my skintone perfectly for maximum leg elongation!

---
STRIPED FLORALS
---
When I think of spring prints, florals and stripes are the first that come to mind. So when I spotted this adorable striped floral top, I knew she had to be mine!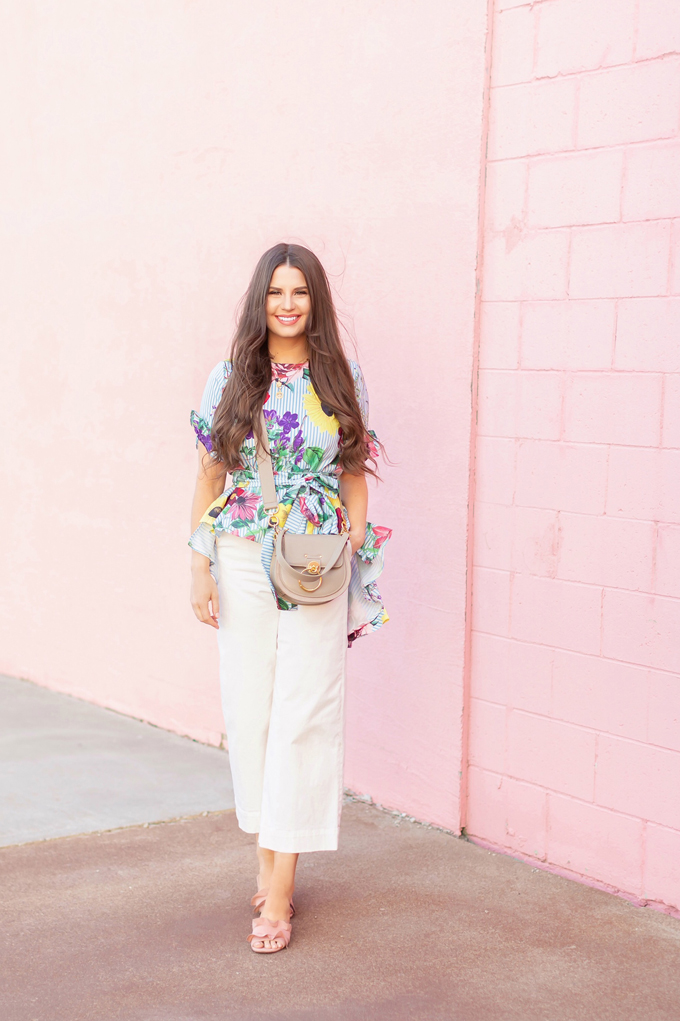 If the rest of my outfit looks familiar, that's because they've worn them here before! My beloved white culottes are a staple year round — although they're a light shade, they're made from a thick, opaque fabric which makes them ultra versatile! I love to wear them in the Spring/Summer with sandals or pumps and the autumn/winter with sleek ankle boots and knits. I styled this simple, feminine look with my new Artisan Anything and a cute pair of ruffled, blush, block heel sandals (hop over to my Transitional Shoe Guide for more details).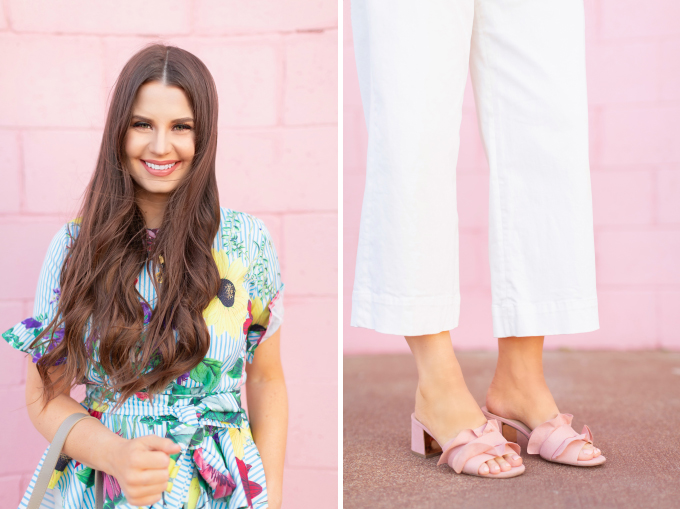 Since this shirt features such a bold pattern and unique silouhette, I let her do the talking by pairing her up with complimentary light neutrals and seasonal blush tones. Although I don't consider my personal style overly feminine, it's fun to experiment and switch things up once in awhile!

---
PRIMARY STYLE
---
I'm always experimenting with different colour combinations and this primary pairing feels perfect for spring (check out this outfit featuring this bag from a couple of year ago)!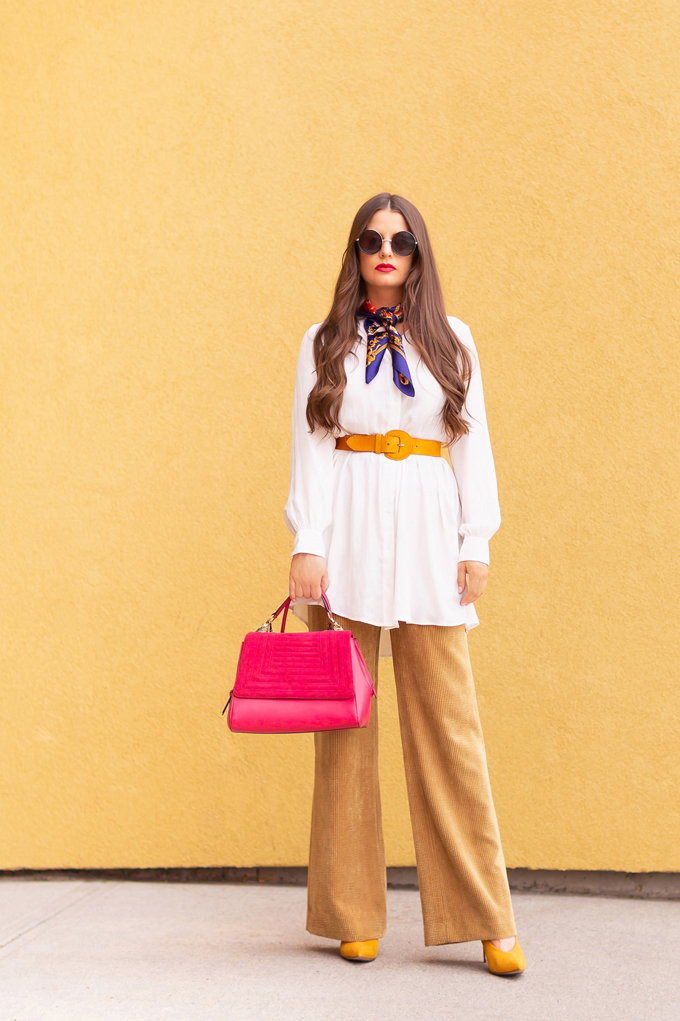 I've been really into tunics lately and found a beautiful style at H&M earlier this season that I purchased in multiple colours and patterns (you'll find 2 of the printed versions present in this LOOKBOOK!). I love the versatility of tunics — you can belt them, let them loose, pair them with pretty much any bottoms or layer them under blazers, jackets and dresses. They're just so comfortable and easy to wear!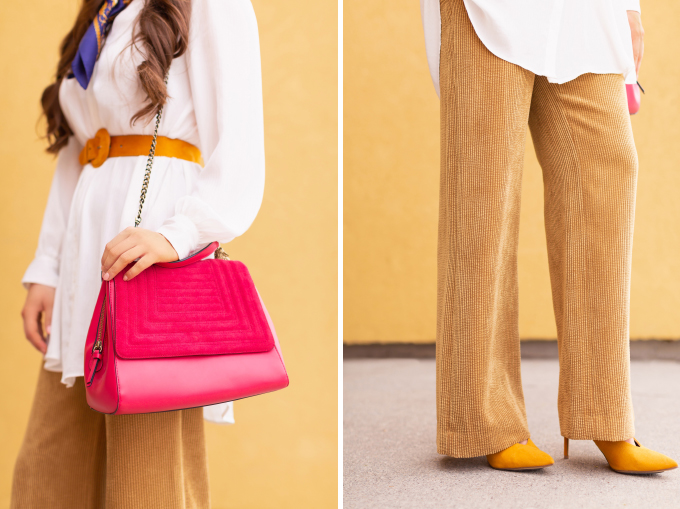 These corduroy pajama pants are ultra soft, plush and versatile — they work in both personal and professional settings (I also wear them during the winter!). Add a belted tunic, a vintage scarf, a cherry red bag (and coordinating lip!) and some comfortable, leg-elongating pumps and you're all set for unpredictable seasonal weather. Seriously, this rain can stop anytime now.


---
CASUAL SPRING/SUMMER 2019 OUTFITS
---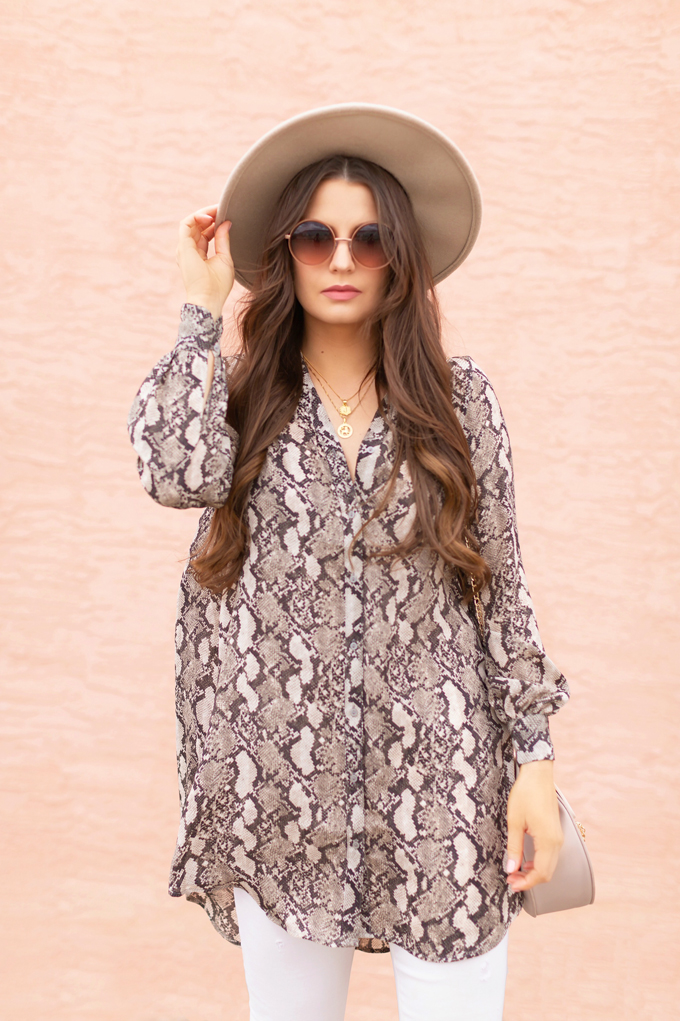 If you're a jeans and t-shirt kind of gal or simply prefer a dressed down look, this more casual section of my SPRING / SUMMER 2019 LOOKBOOK is for you! Each of these looks are laid-back, comfortable and sprinkled with a handful of this season's hottest trends — styled up with classic Spring/Summer pieces.
---
MELLOW YELLOW
---
Without a doubt, yellow is the colour of SS19! Whether it's mustard or bright, I can't get enough of this sunshiny hue lately.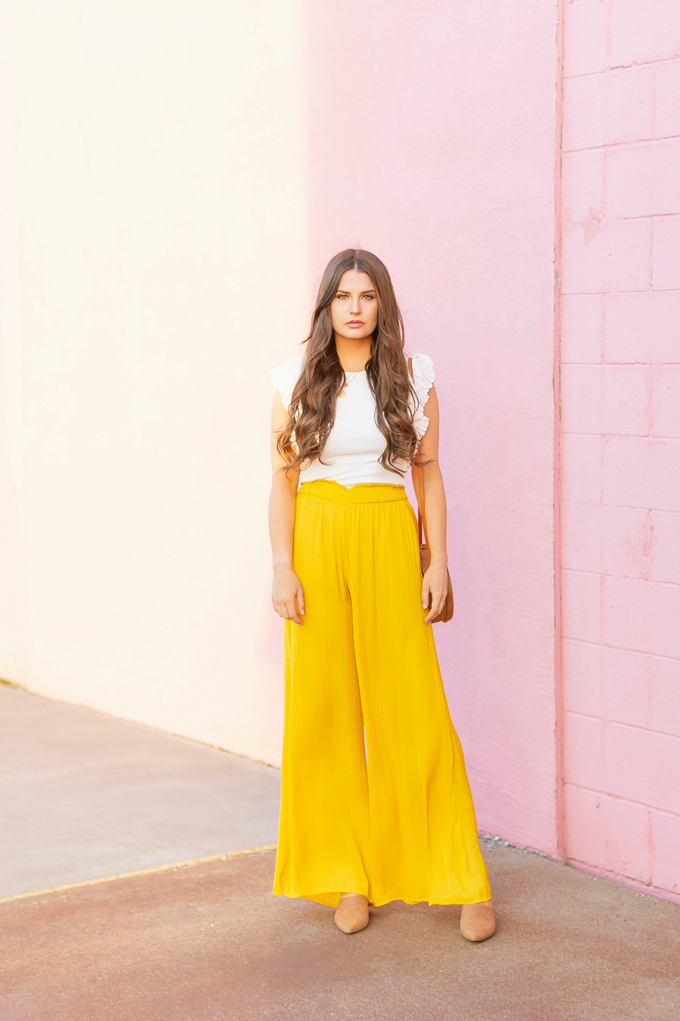 On warmer days, you'll probably catch me in palazzo pants this summer! These ultra comfy Wide Flowy Pants are currently in the Zara sale (marked down to just $29.99!) and made of the dreamiest flowy material. I paired them up with a staple Pleated Sleeve T-Shirt (also maked down!), a woven circular rattan bag (check out my Natural Material Bags guide) and effortless, pointed-toe, low heel mules.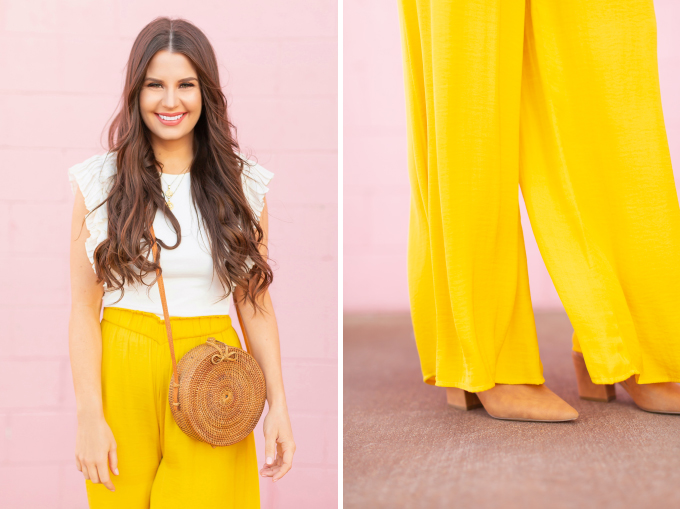 I adore the combintation of yellow with camel and light neutral hues — in fact, I wore a similar colour combination earlier this spring in the first installment of my WORK WEAR series. Depending on your dress code, you could absolutely wear this outfit to the office with a blazer overtop — just swap the bag for a carryall. Hey, I'm all about that versatility!

---
SNAKESKIN BOHO
---
Snakeskin has been around since last summer and is definitely here to stay! I've shown you how to style it for autumn, late winter and now Spring/Summer with this versatile, flowy tunic (the printed version of the white H&M tunic I wore above!).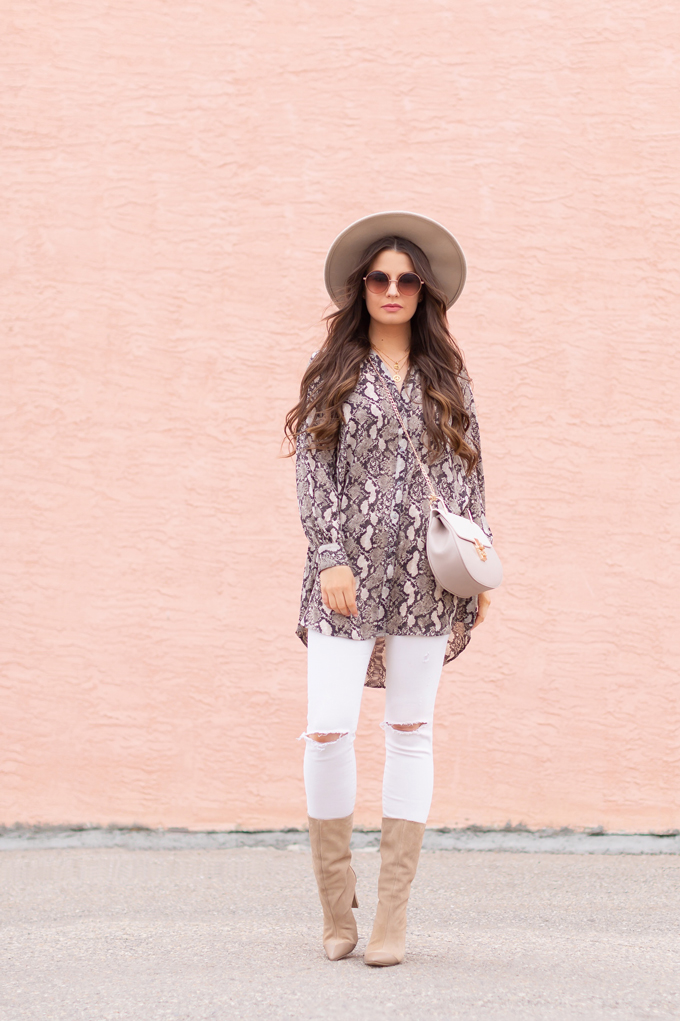 This is a prime example of another of my go-to casual outfit formulas updated with seasonal trends and refreshed basics. A tunic with skinny jeans and comfortable heels is so easy to wear year round — and a look you'll catch me in regardless of the season! This Spring/Summer, I've updated 5 year old jeans with a snakeskin tunic, some suede mid-calf boots (a new boot shaft height for me!) and a fresh, flat-brimmed felt hat.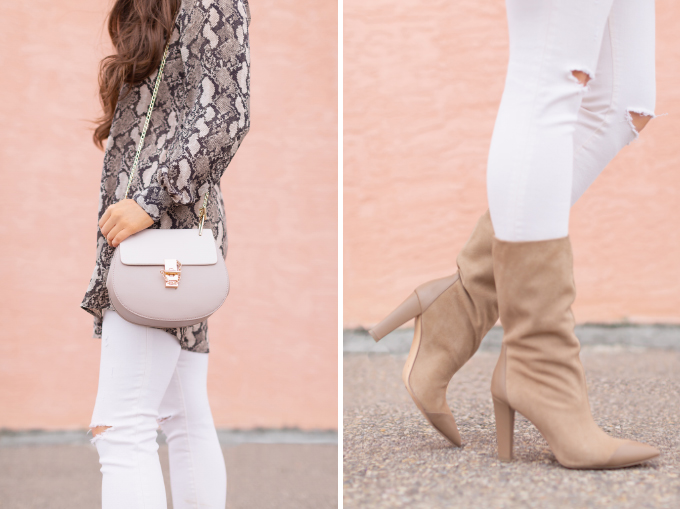 My workhorse, crossbody saddle bag lends a bohemian air to this breezy Spring/Summer look, complimented by my signature round sunnies and layered gold necklaces from House of Vi (check this post out for specifics!).


---
TROPICAL TRENCH
---
This look has become my casual rainy day uniform! If you've been with me for awhile, you'll know this is another one of my favourite outfit formulas — a flowy trench, yet another tunic (this time, a tropical rendition of the white and snakeskin versions worn above!), skinnies that fit like a glove and a great pair of pointed toe pumps (they're currently 50% off!).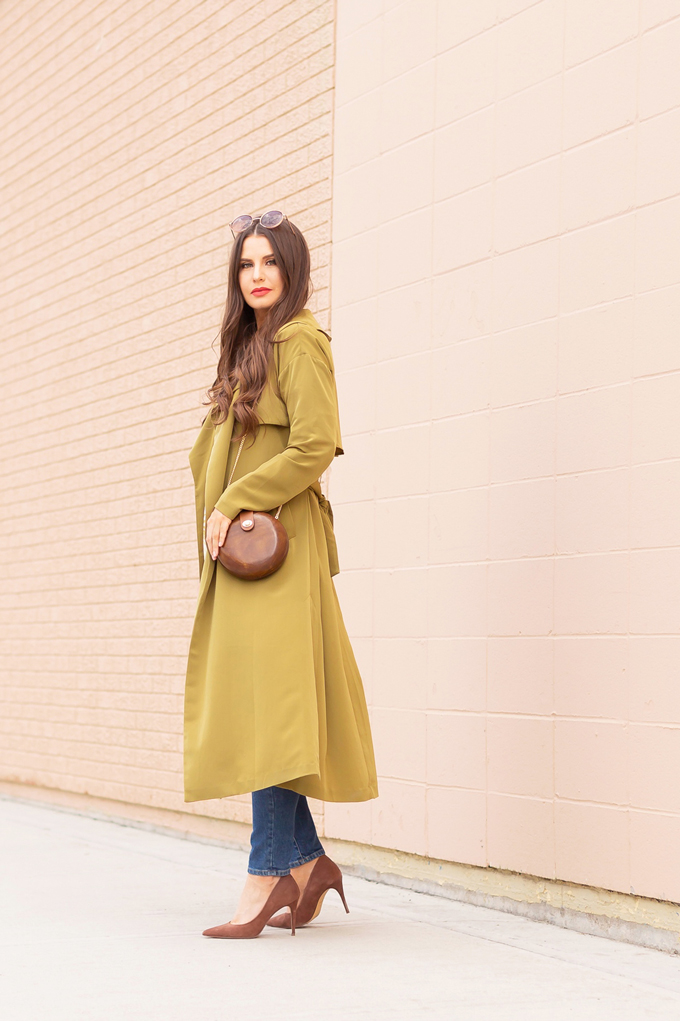 I've been wearing a lot of olive tones this spring — although it's a colour I would typically associate with autumn, olive inspired shades are all over the Pantone SS19 Fashion Colour Trend Report. I love how fresh it feels at this time of year — especially layered with tropical prints. This adorable Wood Crossbody Bag is currently part of the Zara Sale and a fantastic piece to update your SS19 wardrobe with (as you'll see, wooden accessories are a massive trend ths season!).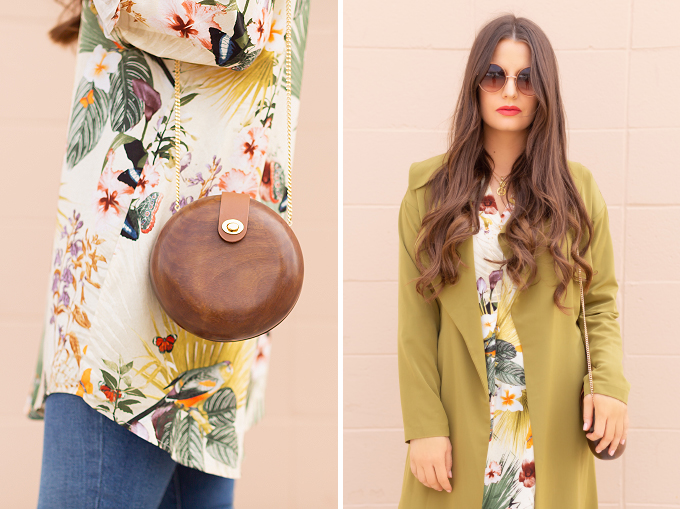 I finished the look with my favourite bright orange lip and a pair of round sunnies. I've worn variations of this outfit many times this spring — it's laid back, current and appropriate for many different settings!

---
PAISLEY PALAZZO
---
I'm officially crazy about paisley! Remember this past autumn when I mentioned I was so happy to see it coming back into style? Paisley prints in every colour imaginable are everywhere for SS19 — and I couldn't be happier about it!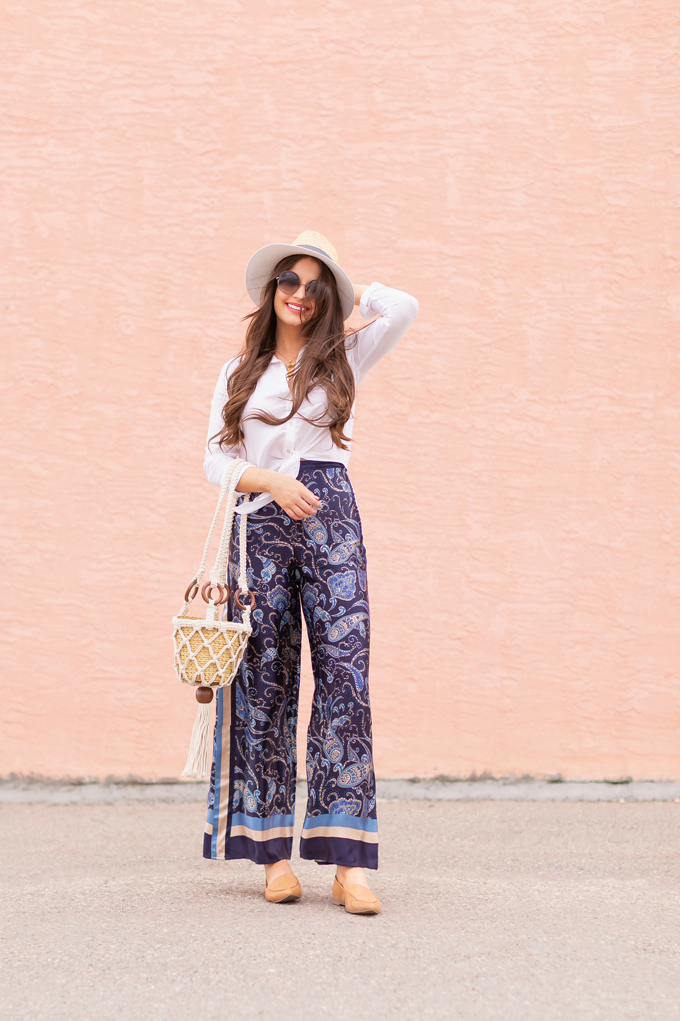 As soon as I saw these satin paisley palazzo pants pop up on the H&M app, I snapped them up! They're so breezy, comfortable and ultra flattering thanks to the striping on the sides and the ultra high waist. Using my pants as the anchor piece of this easy-going look, I pulled in a lightweight linen shirt and my favourite flats (they probably look familiar — I've worn them many times here at JustineCelina I have them in every single colour Aldo has made over the years!). The leather is buttery soft and feels like a second skin while elongating the leg with a pointed toe — you can't go wrong!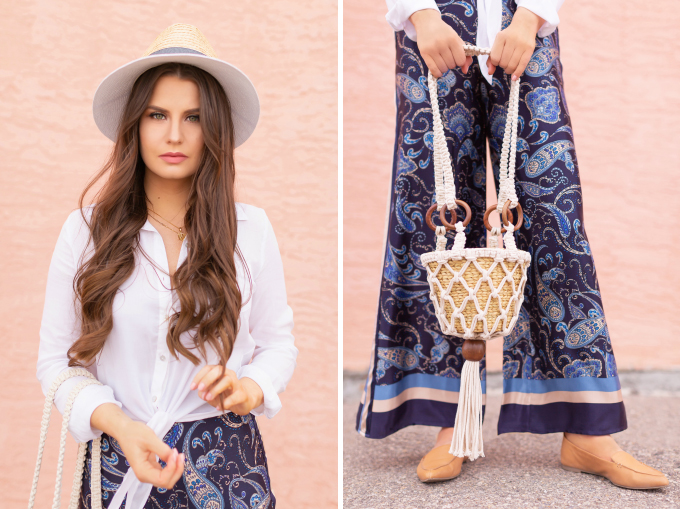 Completing this casual summer outfit are my Natural Crossbody Basket (currently part of the Zara sale!) and white brimmed straw fedora (an oldie but a goodie!). Macrame accessories are massively on trend for SS19 and if you've ever visited my DWELL section, you'll know I'm a huge fan — so I'm thrilled to now have some in my wardrobe!

---
SKIRTS, DRESSES AND JUMPSUITS FOR SPRING/SUMMER 2019
---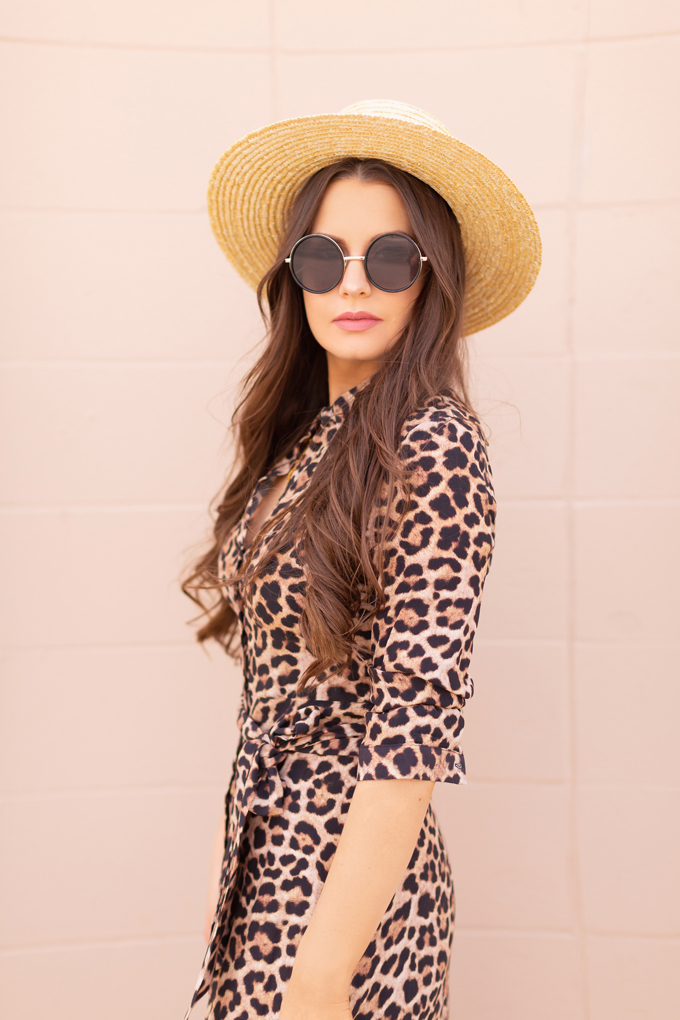 Breezy dresses, skirts and jumpsuits comprise a large portion of my warm weather wardrobe. I love the 'instant outfit' quality they offer, making simple summer styling a breeze! Today I'm showing you how you can style SS19's hottest skirts, dresses and jumpsuits for both personal and professional settings.
---
CORAL FLORALS
---
First up in the instant outfit category is this gorgeous Floral Print Dress, which also part of the Zara sale! As you can see, I'm loving all things Pantone Living Coral and floral inspired lately. This colourful dress really personifies SS19!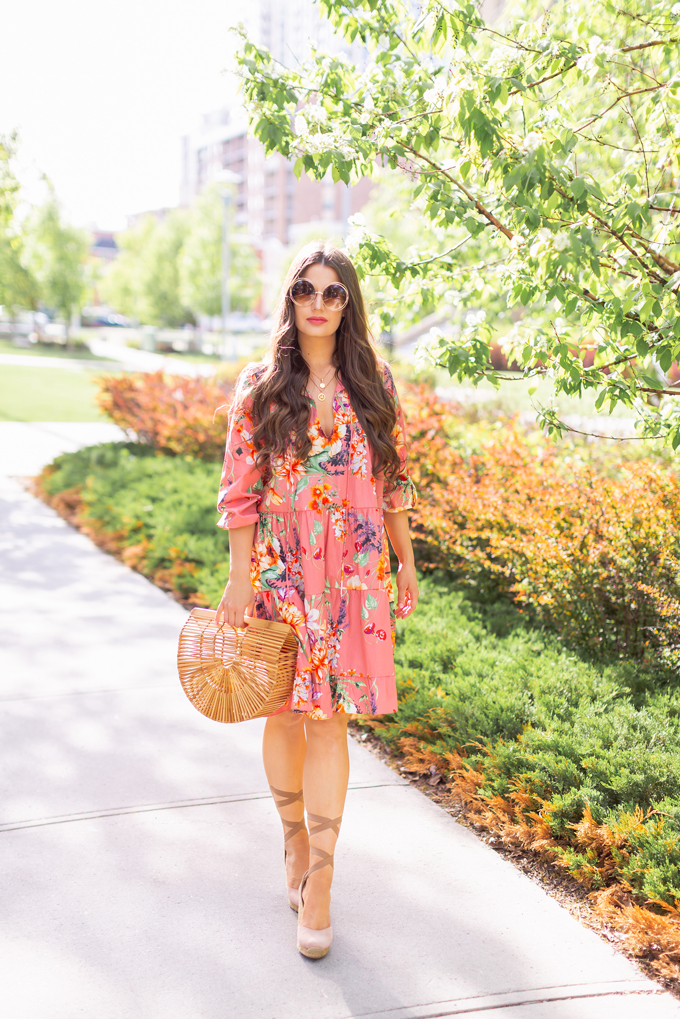 I love this look on days when I just want to throw on a flowy dress and go (although this oversized silouhette also looks great cinched in with a belt!). To keep things light and fun I accessorized with my favourite, classic summer accessories — my large Cult Gaia Ark Bag (2017's birthday present!), my go-to pair of nude wedge epsadrilles (which are incredibly comfortable) and my golden brown Chloe Carlina dupes.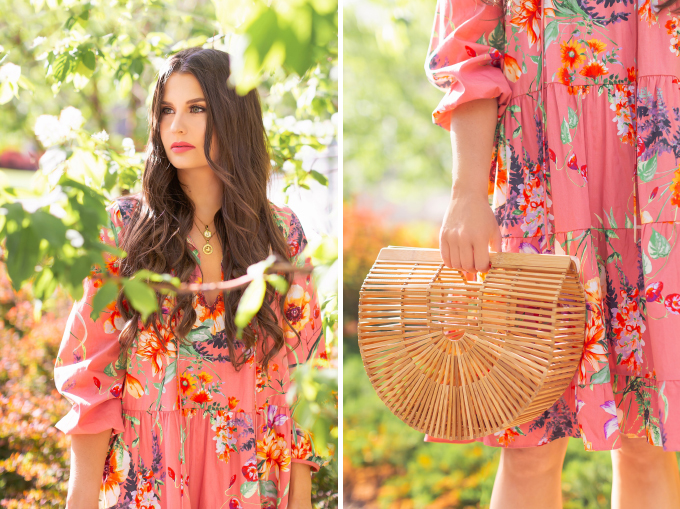 To keep with the Living Coral theme, I threw on a beautiful coral lip to keep things monochromatic and harmonious. Catch me sipping sangria on a patio all summer long in this look!

---
SATIN KNIT
---
This has become a go-to daytime Spring/Summer look of mine when it's a bit chilly or rainy. I love the juxtaposition of a satin midi skirt paired with an open-knit sweater, pointed toe mules and wooden accessories (the same Wood Crossbody Bag I wore above) on drizzly days — plus hair in a low bun to minimize it blowing all over the place / turning into a frizzy mop!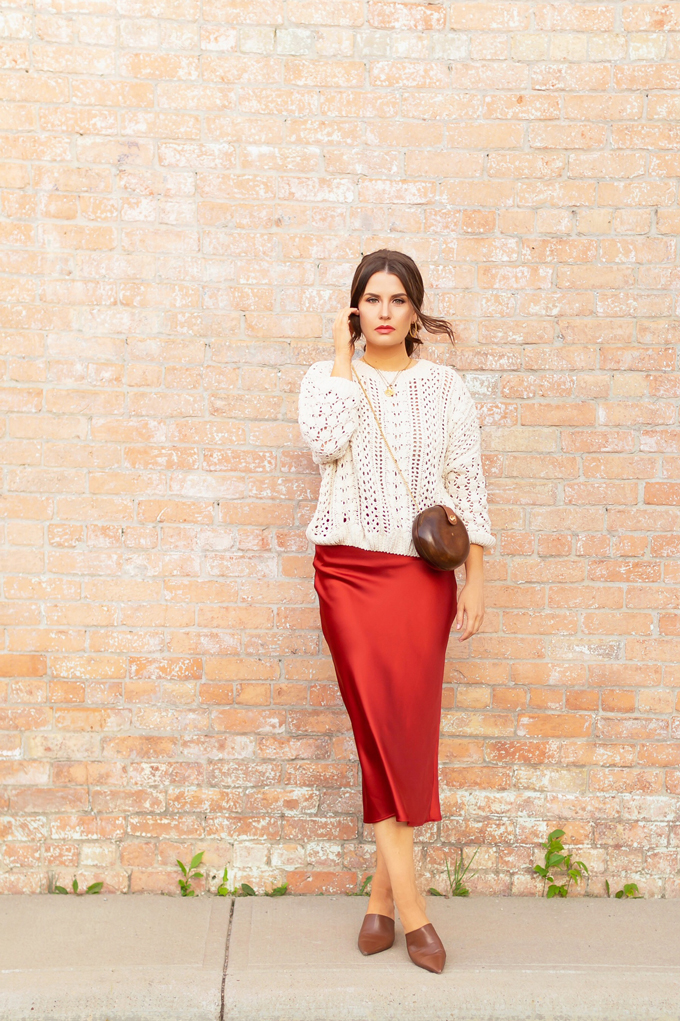 I'm happy to report the insta-famous Topshop Bias Cut Satin Midi Skirts well worth the hype — I also have this skirt in mustard yellow and get so many compliments whenever I wear them! Because they're bias cut, they give even the straightest hipped gals beautiful curves. Although this orange shade is another one I typically associate with autumn, similar hues are all over the Pantone's Spring / Summer 2019 Colour Trend Report — so I'm wearing them into summer!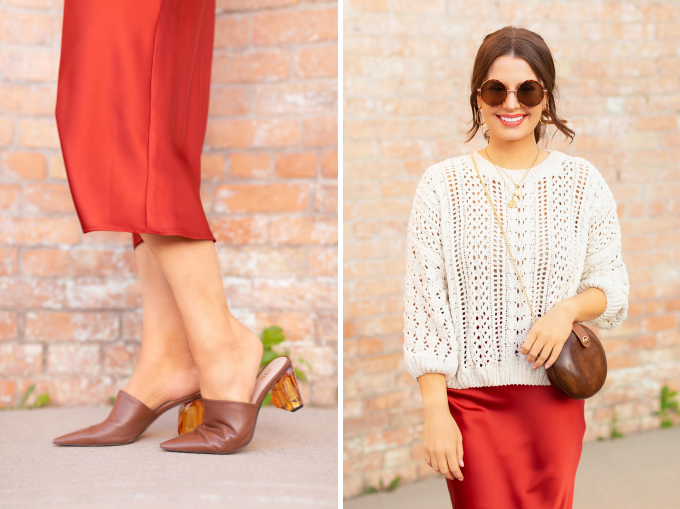 Aren't these Zara Leather Mules with Geometric Heel just stunning? They're designer inspired (giving me major Cult Gaia vibes!) at a fraction of the price and they're also insanely comfortable. I popped on a pair of tortoise-rimmed round sunnies and a creamy, burnt orange lip to pull this look together!

---
ANIMAL INSTINCTS
---
I've been yammering on about leopard print for years here at JustineCelina — and it's bigger than ever as we transition into summer! As with most animal prints, leopard is actually a neutral (consisting of various shades of tan, brown and black) and lends itself well to monochromatic styling, no matter the season.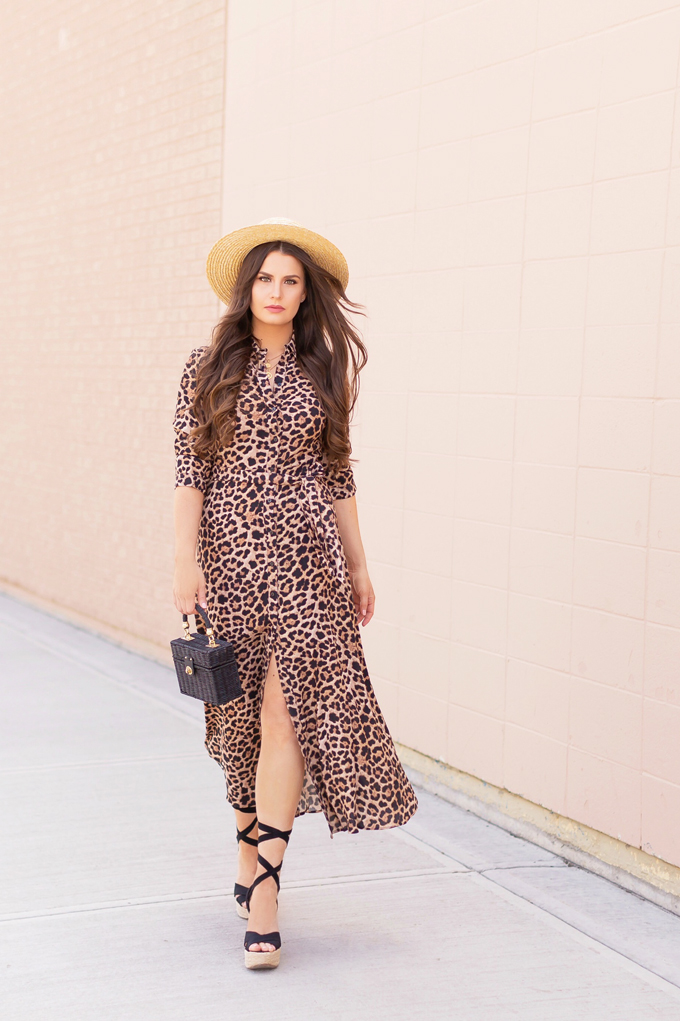 Although I actually purchased this dress in the Zara sale back in February (if you're new here, yes, I really love Zara!), I've styled her up for SS19 with a handful of my favourite warm weather accessories — a flat-brimmed straw hat, wedge espadrilles and my favourite black raffia minaudière bag (which I wore to a horse race last summer!). Although I tend to gravitate towards lighter, brighter shades and prints during the Spring/Summer, I absolutely adore this outfit.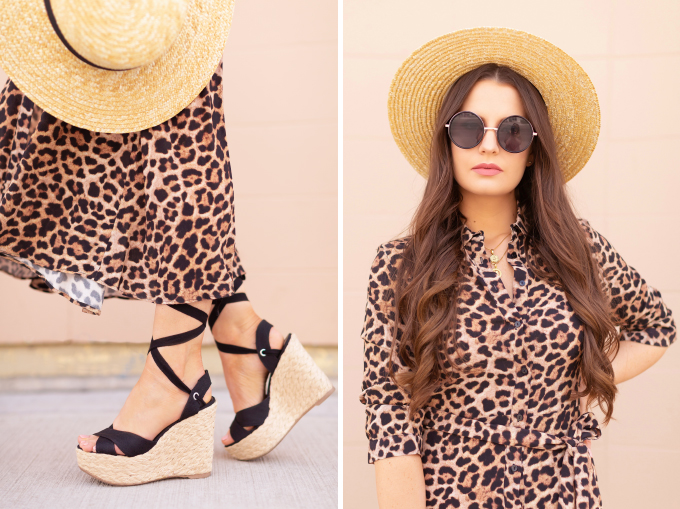 A nude lip and a pair of black, round sunnies complete this leopard-centric summer look!

---
ROSY OUTLOOK
---
I'm a fan of jumpsuits year around — this Jumpsuit With Belt (another Zara sale item) has become a spring staple! It's so comfortable, easy to style and works in both personal and professional settings.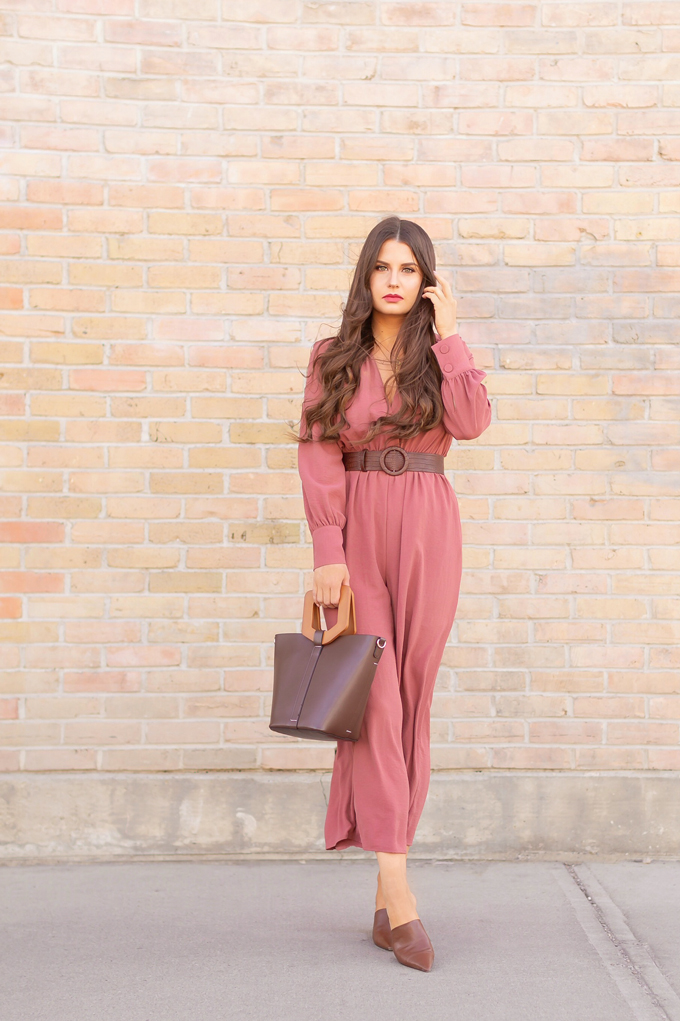 Rosy, mauve shades aren't actually a colour I wear often — but I find this particular hue very flattering. My jumpsuit, Wood Handled Structured Shopper and Leather Mules with Geometric Heel (also worn above) all came in the same order — and although I was not planning to wear them all together, I ended up putting this look together serendipitously as I was trying everything on! Bonus: they're all part of the Zara sale!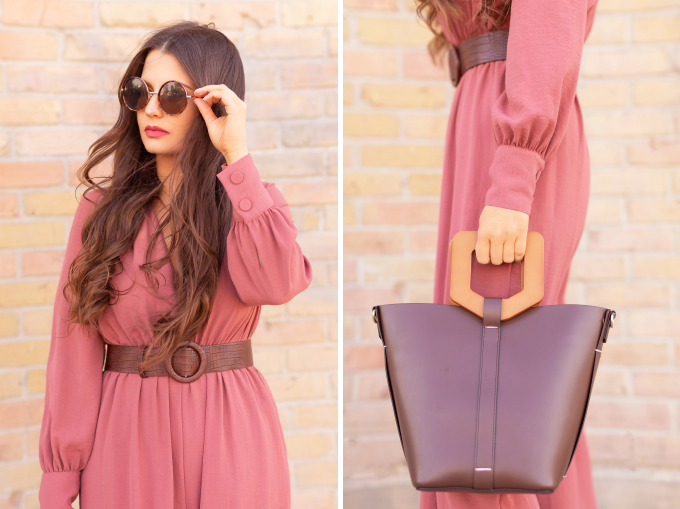 My tortoise sunnies and a complimentary rosy lip in my all-time-favourite liquiid lipstick formula complete this demure Spring/Summer look. Have I convinced you to experiment with jumpsuits this season? Stay tuned for a post about how to style them for a late summer wedding!

---
MORE SPRING STYLE INSPIRATION
---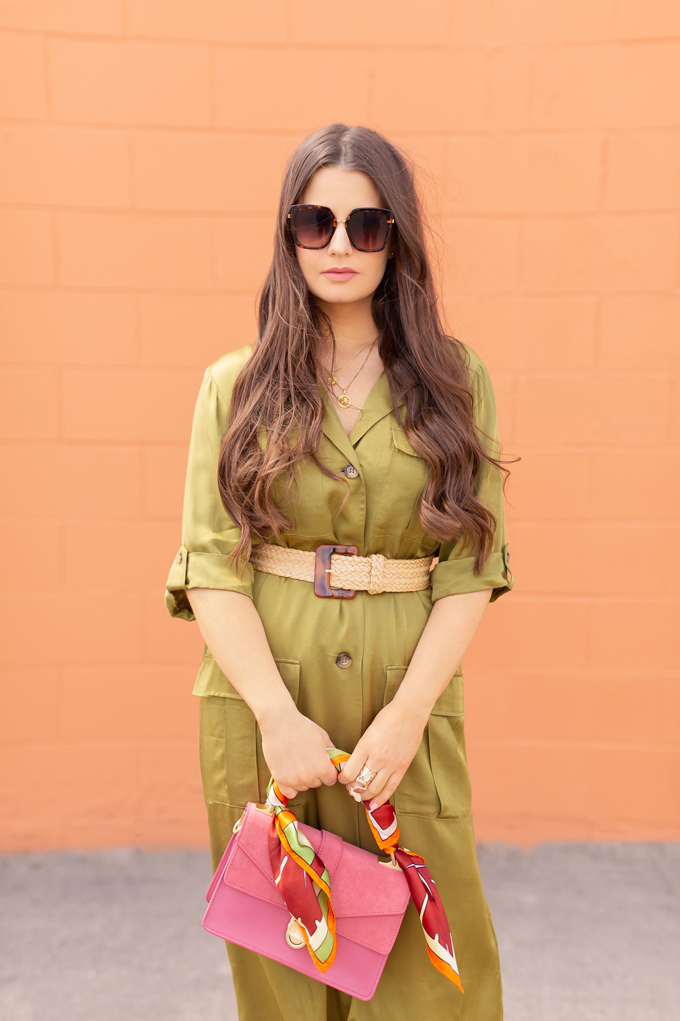 Spring 2019 Trend Guide | Modern Western
Work Wear | Spring 2019 Trends at the Office
Spring Forward + Seasonal Wardrobe Staples
Spring Trend Guide | Gingham Style
---
Thank you so much for stopping by this weekend for a dose of Spring / Summer 2019 style inspiration! If there are looks that you'd like to see more of, be sure to frequent my FASHION section as I'll be sharing additional details here at JustineCelina in individual outfit posts and various other series!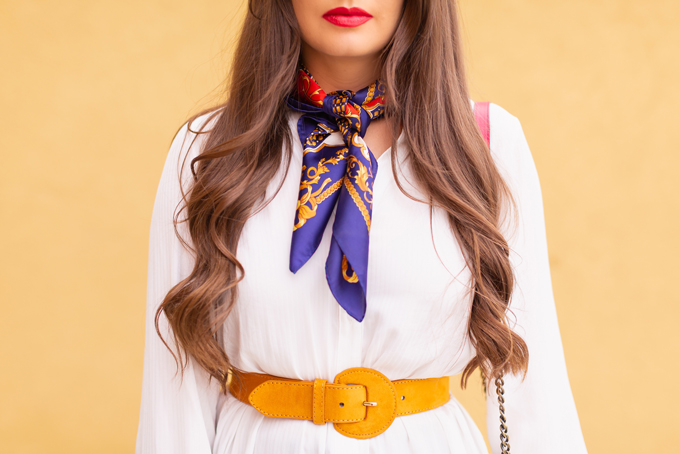 If you're looking for even more sartorial inspiration in the meantime, you can also follow along with my JustineCelina Fashion board on Pinterest, or my brand new board dedicated to my SPRING / SUMMER 2019 LOOKBOOK. And if you want a sneak peek at what I'm wearing before it hits the blog, as well as some exclusive style content you won't see here, come join me over on Instagram for daily posts and BTS / day-to-day life on Stories! I'm already planning for my Summer 2019 Lookbook so if you have any requests for trends or subjects you'd like to see me cover, don't be shy. Enjoy the rest of your week, everyone!
---
Disclaimer: This post is not sponsored, and contains my genuine thoughts, ideas and recommendations. Thank you to Century Casino for allowing us to shoot at my favourite pink wall! JustineCelina uses affiliate and referral links, which allow me to receive a small commission when you make a purchase through one of my links. Thank you for supporting the brands and businesses that support JustineCelina!