---
The bigger the sweater the better… am I right?! This winter, oversized knits are trendier than ever — and I'm all for it. Like any good Canadian girl, I pretty much live in oversized sweaters from November through March — they're another item I've always worn regardless of whether or not they're particularly on trend. In fact, I love this sweater so much I actually own it in 3 different colours (total repeat offender here!) and they're by far my most worn knits this season. As an oversized knit aficionado, today I'm thrilled to bring you How to Style | Oversized Knits and share my favourite ways to dress up your knitwear for maximum versatility! Sure, it's easy to throw on an oversized knit with leggings and OTK boots or your standard skinnies and be out the door (I do this too!), but this winter I've been having fun with my oversized knits and getting creative!
Although it's January, the weather has actually been quite mild and I'm finding myself looking ahead to spring. There's been a lot of talk here at JustineCelina this year about the Pantone Spring 2018 Fashion Colour Trend Report — I'm really craving (and being inspired by) spring's onslaught of pastels and brights! Remember all those times I mentioned that pink isn't really a colour I wear? Well this season, I'm really enjoying all things blush and lavender (seriously… who am I?)! If you're searching for some fun ways to re-energize your oversized knits as we transition into spring, or looking to add some new knitwear to add to your wardrobe (and score some killer deals!), you'll love the latest installment in my HOW TO STYLE series!

---
HOW TO STYLE | OVERSIZED KNITS
---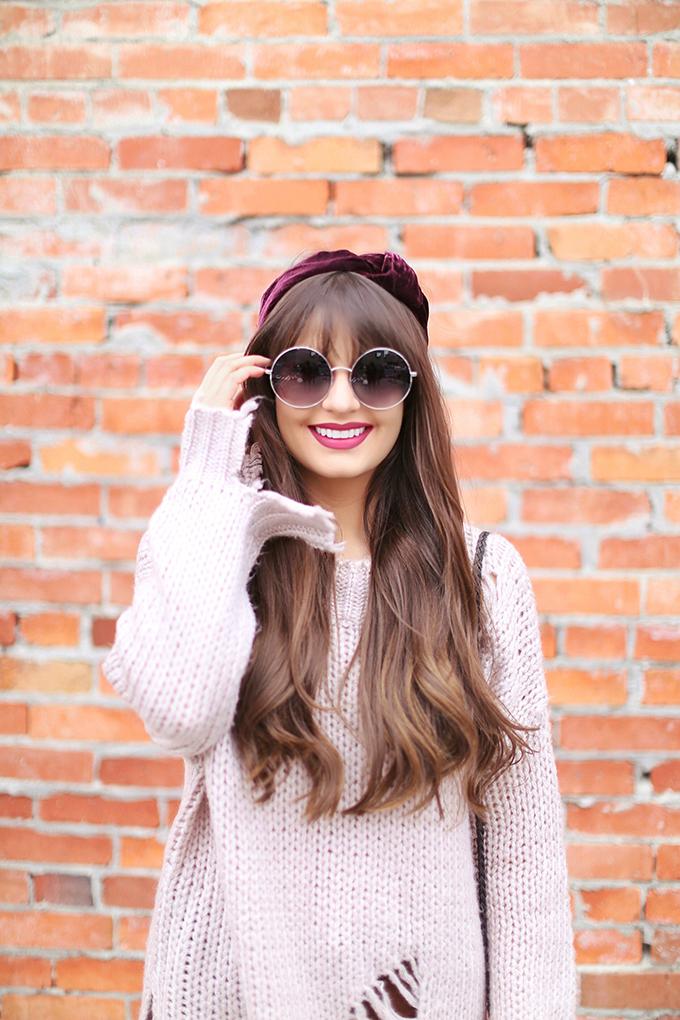 Oversized knits are one of my absolute favourite pieces to wear during the winter. They're comfy and cozy — but I also think they can look polished and be incredibly flattering depending on how you style them! Although this knit is very oversized on my frame, I still find it flattering because of the weight of the fabric, the length of the garment and the way it hangs.
Would you be surprised if I told you my sweater was from Forever21? This season, they have an amazing selection of knitwear (I actually mentioned this in my last style post as well, where I'm wearing one of their sumptuous chenille knits!). I've added over 10 knits from Forever 21 to my wardrobe this season and I couldn't be more pleased with the quality. If it's been awhile since you've shopped there or it's a retailer you tend to overlook, I'd encourage you to peruse their knitwear section! They're been bringing in independent knitwear brands this season (my sweater is from a brand called Hot & Delicious) — and although those items are a higher price point than you may typically associate with Forever 21, the quality is well worth it. All the knits I've purchased wear and wash beautifully and look much more expensive than they were!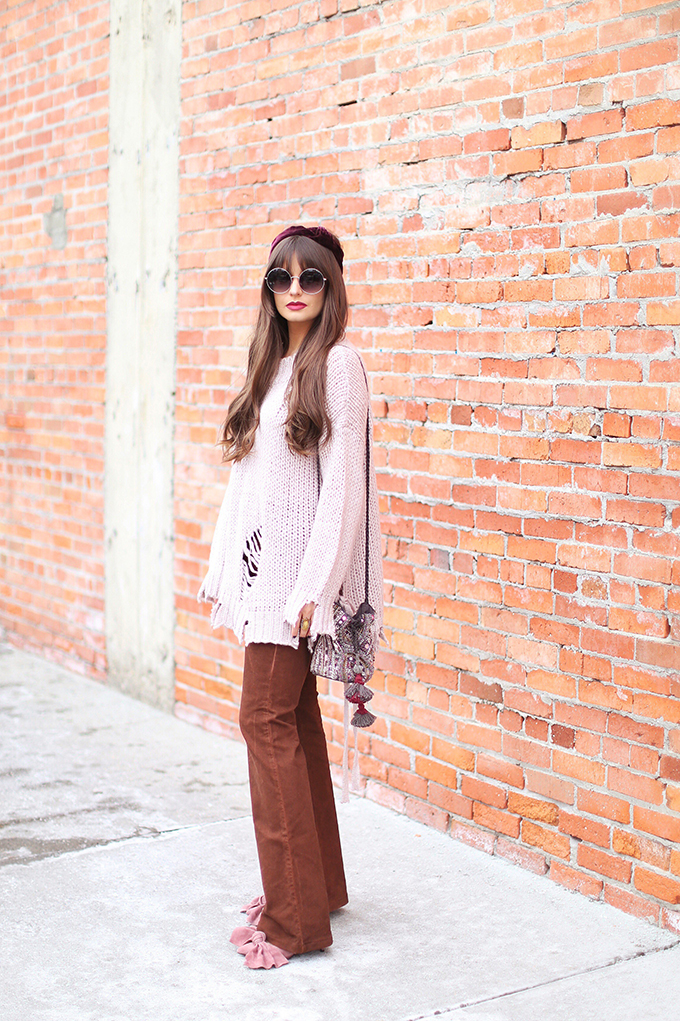 As I mentioned, I loved this sweater so much I also purchased it in black and white. Unfortunately this colour is no longer available, but I've rounded up a handful of oversized knits in soft blush and lavender hues (and some alternate colours in the exact style I'm wearing) for you below. These oversized knits are such versatile statement pieces as we transition into spring — especially in soft pastel hues! Right now, my personal favourites are anything in the Pantone Blooming Dahlia, Pink Lavender and Almost Mauve shade range.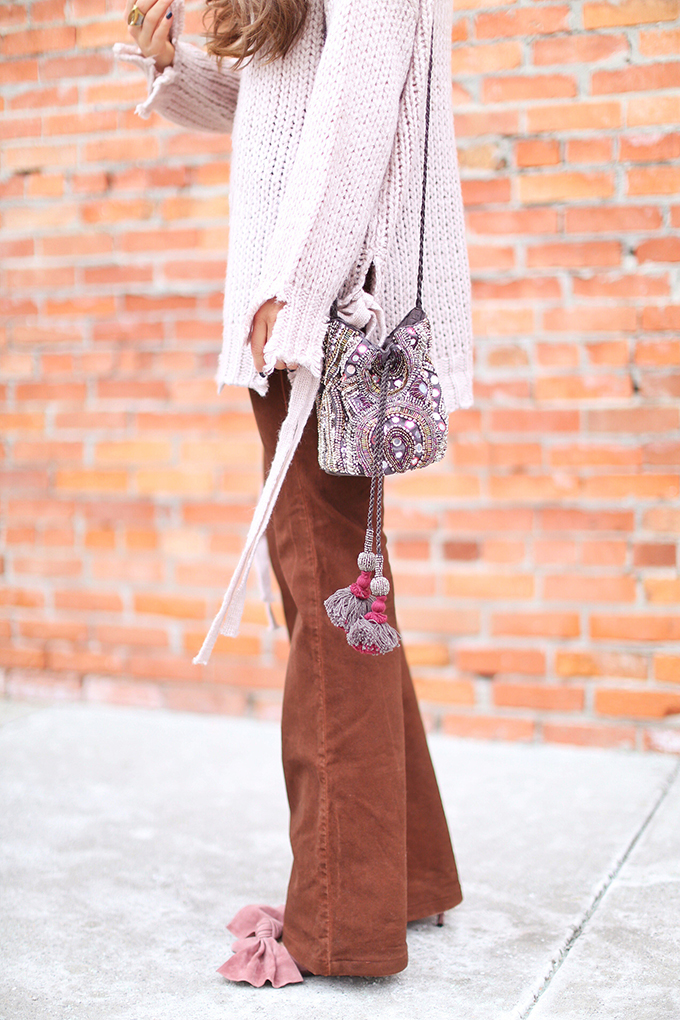 Lately, my favourite way to style oversized knits is with wide leg pants to help balance the oversized silhouette on top. Wide legged, or flared bottom pants also work on any body type (and height) to help elongate the leg when paired with a heel. The key is ensuring that your pants are hemmed correctly for your shoe height so they hover as close to the ground as possible without dragging (or you tripping over them!).
70's inspired wide leg and flared bottoms aren't going anywhere this season and this particular pair has been with me for about 7 years — they were actually a Zara sale find (is anyone surprised?) that were super long for me, even with heels (as a tall gal, that almost never happens!). I finally took them in an had them properly hemmed last year and have been getting so much wear out of them ever since. I wear them in both personal and professional settings and find them completely seasonless! When it comes to selecting wide leg pants, purchase a pair that's longer than you'd like (if possible) and have them professionally hemmed to the length of heel you'll be wearing them with (bring your heels to tailor). Hemming is inexpensive ($15 or less in Calgary!) and a fantastic investment to make your pants look like they were made for you! I've rounded up my favourite wide leg denim for you below.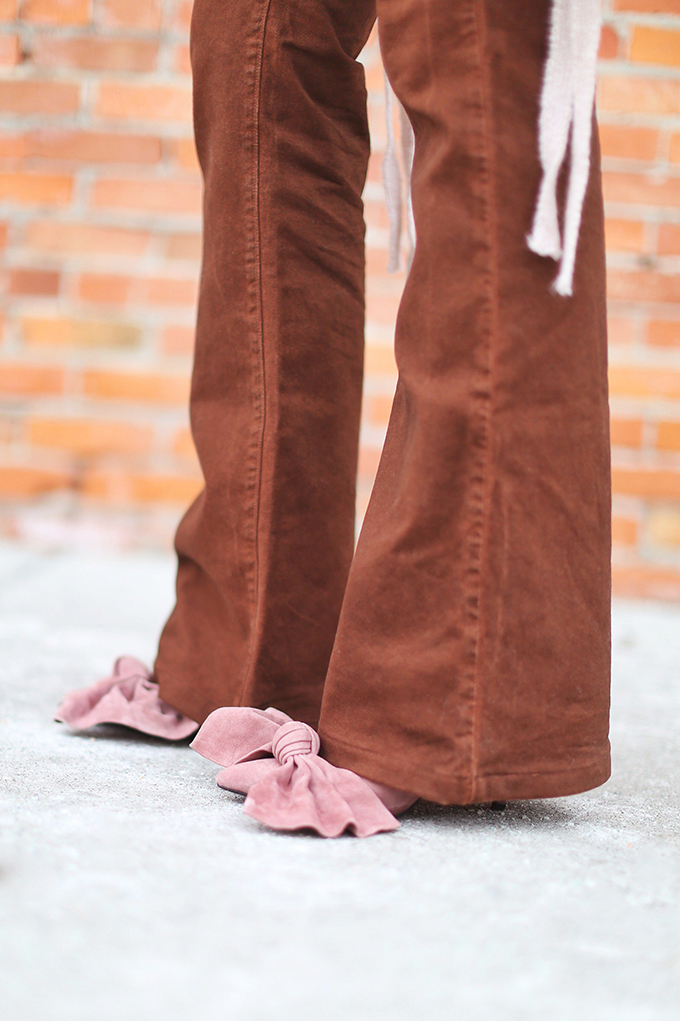 Speaking of heels, these are definitely a statement piece! I snapped them up at Jeffrey Campbell at a major discount a few seasons ago (if I scroll way back on my IG feed I snapped a pic the day I brought them home!). Whenever I want to dress up oversized knits, I pair them up with feminine, glitzy, intricate accessories. These blush, bowed stunners aren't a pair of shoes that I wear often, but do find myself reaching for them whenever my outfit needs a special touch. I wear them a lot during the holidays and in the springtime, but they were just what this boho chic look needed for that bit of extra polish! Although this exact pair of shoes is no longer available, I've rounded up some similar alternatives at all different price points for you below!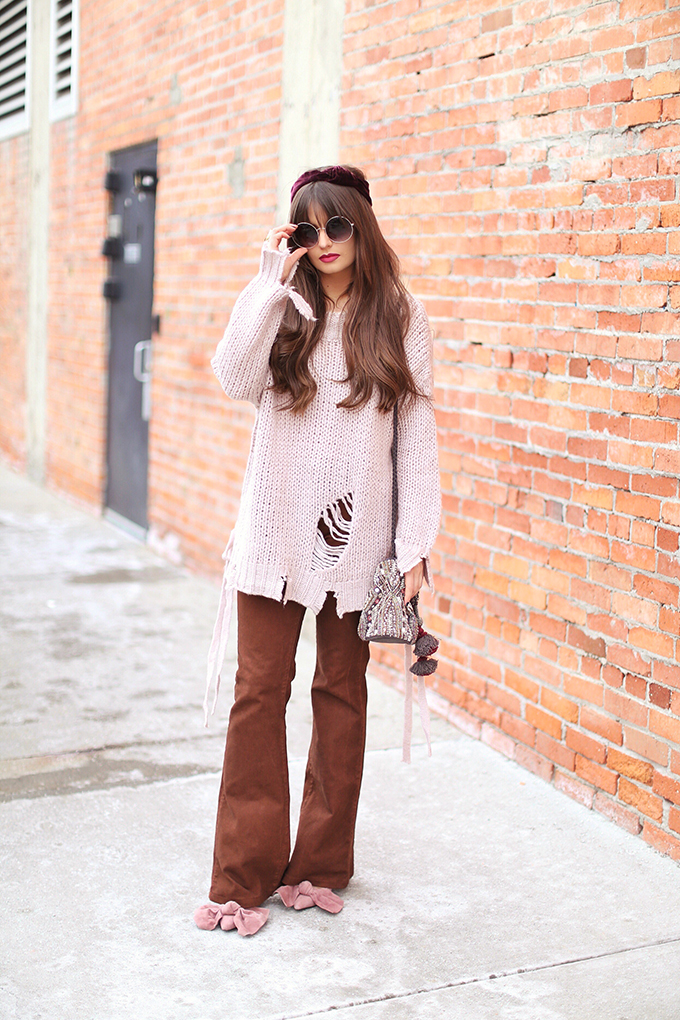 Do a few of my accessories look familiar? I also wore this headband and bag in my Autumn 2016 Trend Guide | Urban Gypsy post. I'm definitely not one of those bloggers who only wears things once. I love to come up with new ways to restyle old pieces over the years! In fact, I still wear pieces I've had for 10 or more years. I'm pretty selective about what I purchase and bring into my wardrobe — and I also clear things out seasonally! So, know that if you see me wearing and recommending something, it's a piece I've thought long and hard about and something I truly think would make a great addition to your wardrobe, as well!
As I've mentioned, velvet is still huge this winter. Over the past couple of years, I've accumulated quite a few velvet pieces, so I don't hold back on rocking all the velvet during cooler months. Velvet is the perfect texture to add an upscale touch to your winter looks — whether it be in headband form like I'm doing here (an extra layer on your head really does help to keep you warm!) or in a velvet hat, shoes, bag or a piece of clothing. I own them all — and you'll be seeing a lot more velvet trickle onto these pages over the coming months as we transition into spring!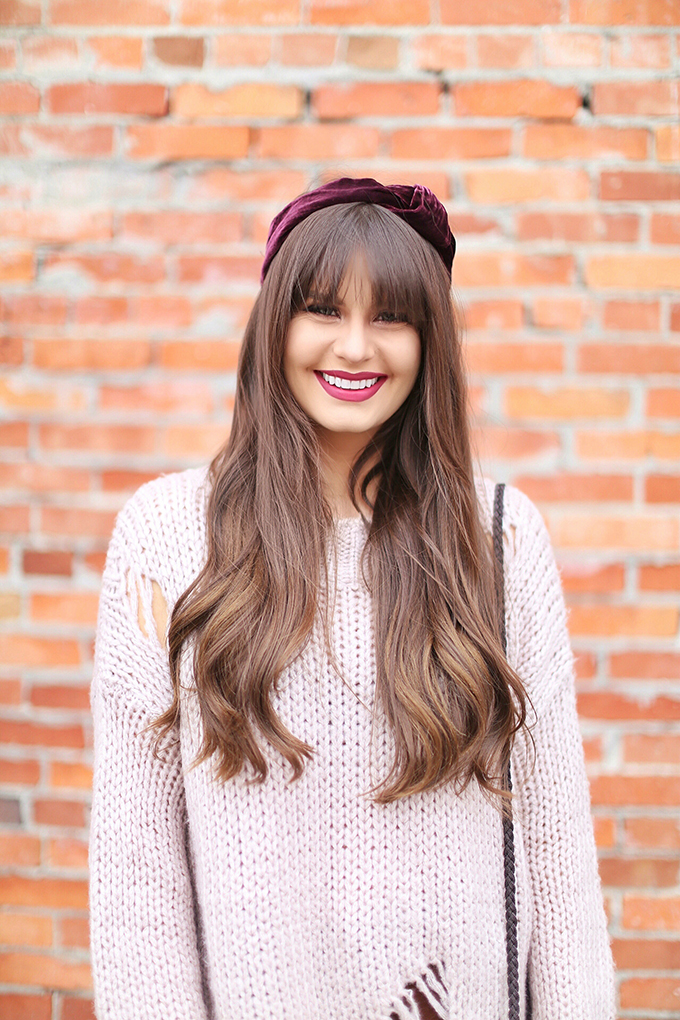 And last but not least is my beaded bucket bag and stunning ring. This bag is another Zara find from last season's sale and one I love to wear! I love the touch of boho glam it brings to almost any outfit — whether or not it's casual or more dressed up. It was such a good find — and Zara always seems to have a great selection of inexpensive bucket bags! I don't think I've lost a single bead or sequin off of this guy.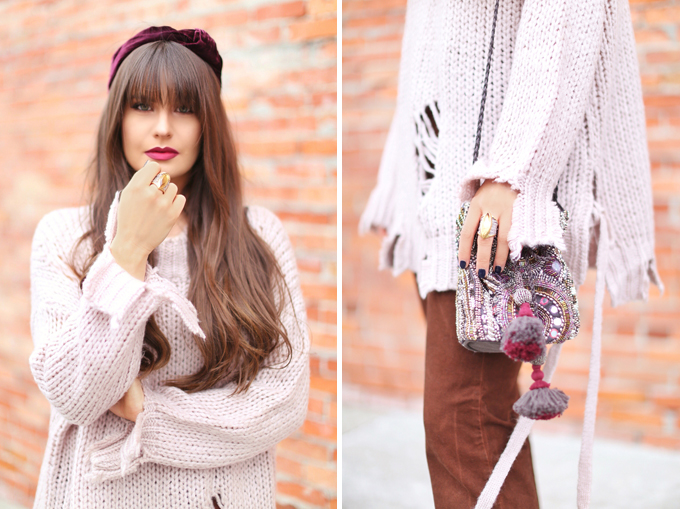 My ring was a gift from my friends at Dean Davidson. If that name sounds familiar, it's because I've worn quite a few DD pieces since discovering them last spring (see how I styled their Ornate Tassel Lariat Necklace from the same collection here — which is still available by the way!). Dean's pieces are made with premium materials (natural, semi precious stones and premium metals) but have a bohemian, eclectic flair often seen in costume (or vintage) jewellery. When the brand offered to send a few pieces of my choice, I couldn't resist the Ornate Collection. This is jewellery I'll own for a lifetime — I put this ring on anytime I want to add a sophisticated touch to an outfit. I love that it incorporates both silver and gold hues — it really goes with everything! Although the Ornate Ring in Citrine is no longer available, I've rounded up some similar statement rings for you below, as well as the citrine pieces that are still available from the Dean Davidson Ornate Collection.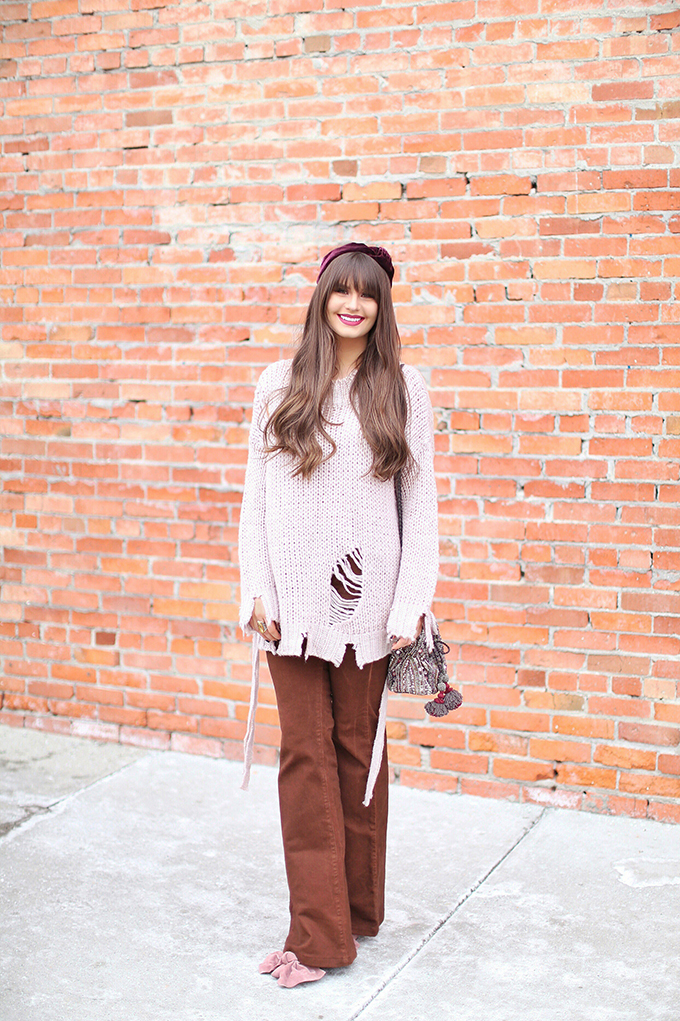 This look is a perfect example of how you can elevate an outfit where you're wearing more affordable pieces with premium accessories. Both my shoes and my ring are investment pieces — and you can see how they really add polish to this ensemble. I'm truly a high-low shopper in every area of my life — whether it's fashion, beauty, decor or food! I think you can find amazing things at every price point — it's all about mixing and matching them and pairing them up in unique ways to really elevate your personal style.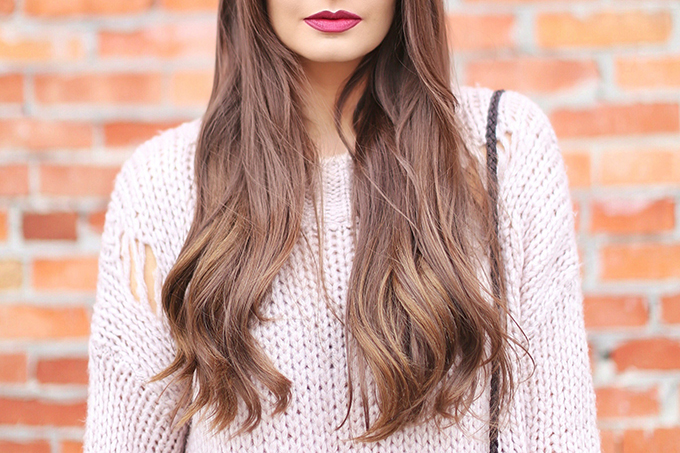 To complete the look, I threw on one of my favourite rich berry shades from Bite Beauty's Amuse Bouche Lipstick range (one of my all time favourite formulas and brands!), Beetroot. In late winter, I'm especially drawn to berry shades and cooler tones on the eyes — although Beetroot is also a shade I love year round! I'm also wearing the rose gold tones from the Colourpop I Think I Love You Palette (review here) and a gorgeous, berry blush from Hourglass (review here).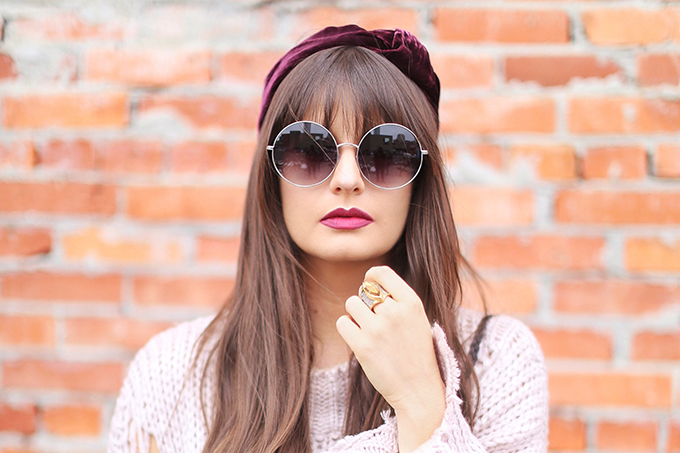 As per usual, I've finished things off with a great pair of round sunnies! Metal frame shades are on trend this winter / spring, and I've recently added a few oversized metal frame shades to my collection. This exact pair, along with 2 other colours (I also grabbed them!) are still available at Forever 21 and are under $10! One of my favourite ways to refresh my wardrobe as we transition between seasons is to purchase a couple of pairs of new sunglasses — and this style has been my go-to so far this January.

---
SHOP THE LOOK
---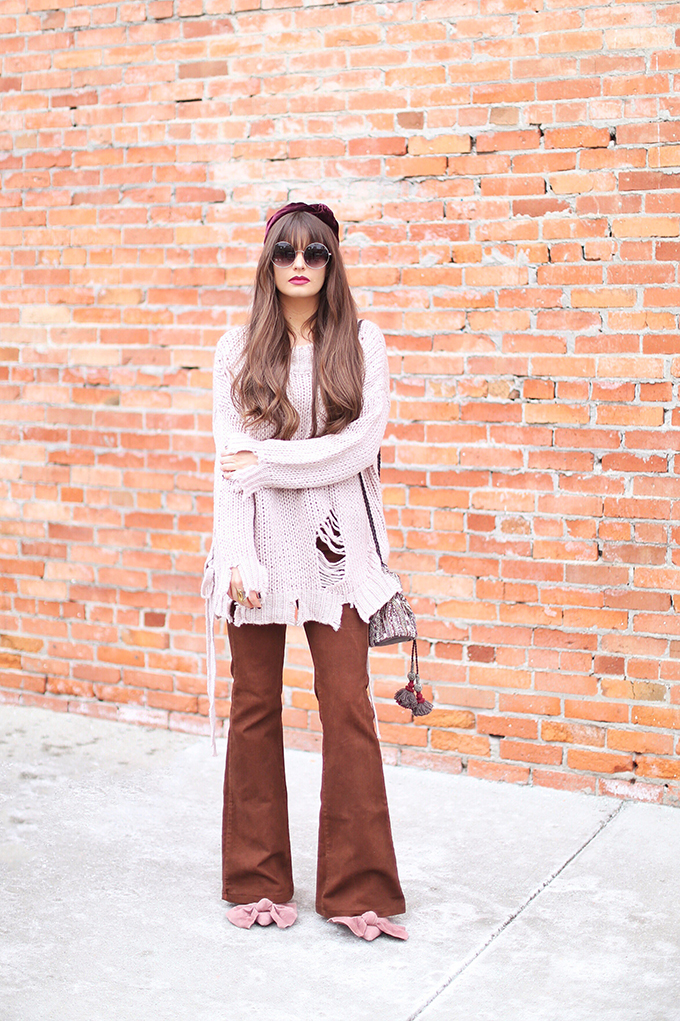 ---
MORE SEASONAL STYLE CONTENT

---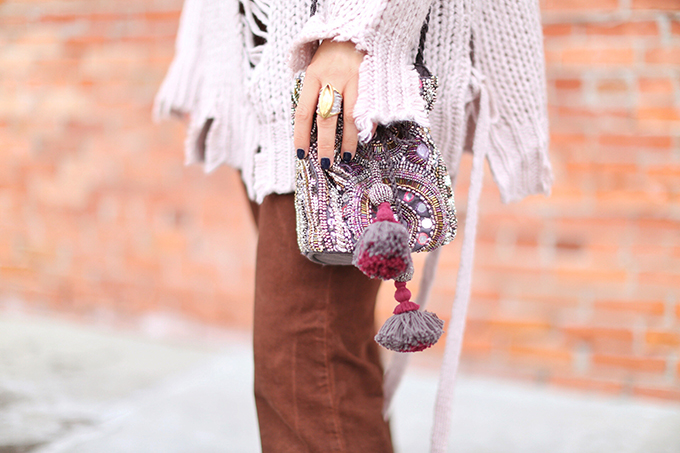 Winter 2018 Trend Guide | Red Hot
What to Wear to | Casual Holiday Parties (featuring my favourite winter 2018 staples!)
Autumn / Winter 2017 Trend Guide | Falling for Florals
Cozy in Camel | My Favourite Transitional Pieces
---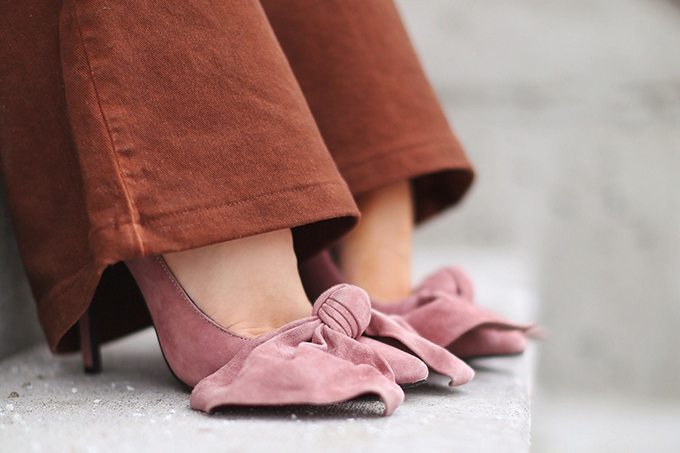 I hope this post has inspired you to mix up the way you style your oversized knits this season! I have tons of STYLE content planned as we transition into spring, but if there's anything in particular you'd like to see from me, just let me know. Stay cozy, friends — thanks for spending your Tuesday with me!
---
Disclaimer: Thank you to my friends at Dean Davidson for my stunning Ornate Ring. This post is not sponsored, and contains my genuine thoughts, ideas and recommendations. JustineCelina uses affiliate and referral links, which allow me to receive a small commission when you make a purchase through one of my links. Thank you for supporting the brands and businesses that support JustineCelina!