Hey shoe lovers — welcome back for the second installment in my 2 part Winter 2017 Shoe Guide mini series dedicated to stylish, cold weather footwear! If you caught the first installment where I shared my favourite winter shoe basics, you'll know that I've gone through a major shoe purge and refresh this season. In rebuilding my cold weather footwear wardrobe, I started with basics first — then I branched out the extras (you know, the fun stuff!). In today's Winter 2017 Shoe Guide | Extras I'm chatting about 5 pairs of versatile statement shoes that add a unique edge to my outfits.
I've always been a fan of statement shoes (but you already know this!) and am a sucker for footwear featuring unique details, textures, colours and prints for its ability to completely elevate a simple outfit to something much more interesting and polished. If you have your basic winter footwear sorted and are looking for some offbeat or elevated options, or simply wanting to inject some extra style into your wardrobe as we transition for winter to spring, I've totally got you covered. Kick back with me tonight and learn more about my favourite affordable (most are on end-of-season clearance!) statement shoes — plus how to style them!
---
WINTER 2017 SHOE GUIDE | EXTRAS
---
As I mentioned in my last Winter Shoe Guide, we really do get the full spectrum of weather from now until spring officially arrives (for example, today it's a balmy 15°C and when I shot my last style post 10 days ago it was -25 °C! — yes, you're reading that correctly!), so I find that I need the same range of options in my winter footwear. Today I've sharing my favourite winter footwear extras ranging from OTK boots, to velvet options, to statement booties, to chrome accents to elevated loafers. Once you have the basics down, it's time to have some fun!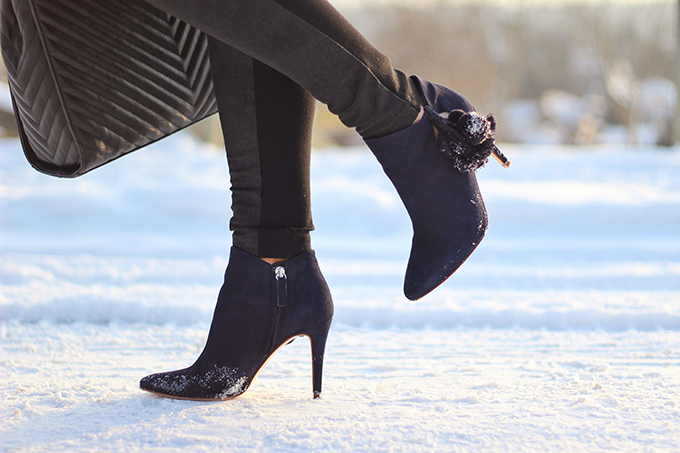 Many of these shoes will look familiar, because I've worn them in my style content since the fall (I'll link back to those posts below to give you some alternate styling ideas!). My favourite places for well made statement shoes that won't break the bank are Zara, TopShop, Nordstrom, Steve Madden, Aldo, Forever 21 and Lulus.
---
Pointed Toe, Over The Knee, Heeled Boots
---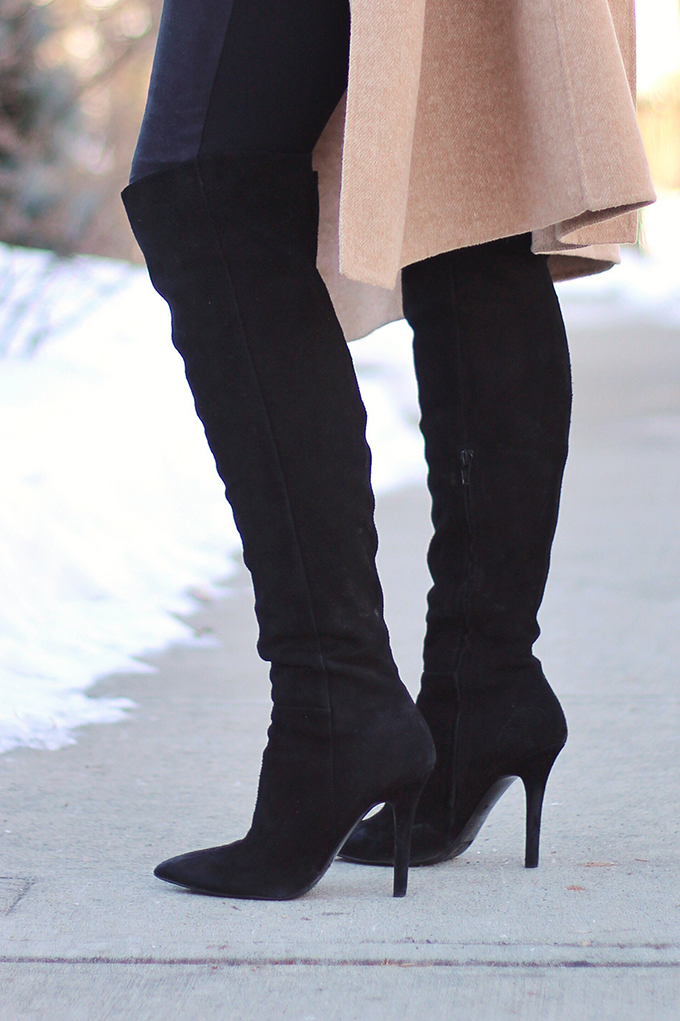 Let's start with my most basic pair of footwear in my Winter 2017 Shoe Guide | Extras! Depending on your lifestyle, you may actually get more wear out of a great pair of black OTK boots with a comfortable heel (I know I do!). While I think a pair of great fitting, flat, black, over the knee boots are essential, I also think a pair of stylish, pointed toe, over the knee boots with a heel are essential. If you've been with me for awhile, you may remember them from my Cozy in Camel | My Favourite Transitional Pieces post from last February, or my latest Military Inspired style post.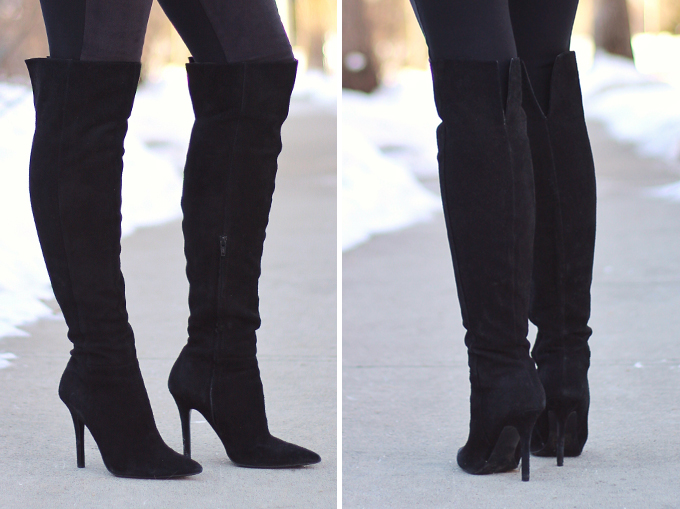 While these are suede, if you treat them properly at the beginning of each season with a good protectant spray, I find that any water / salt stains buff right out. These boots are definitely my most worn pair of OTK's and I plan to keep them on heavy rotation for as long as they last (they haven't shown any signs of slowing down)! Aldo has been turning out some incredible booties and OTK boots over the past year — so while this particular pair is no longer available, I've linked similar styles here, here and here (all of which are on clearance!).
---
Velvet Booties
---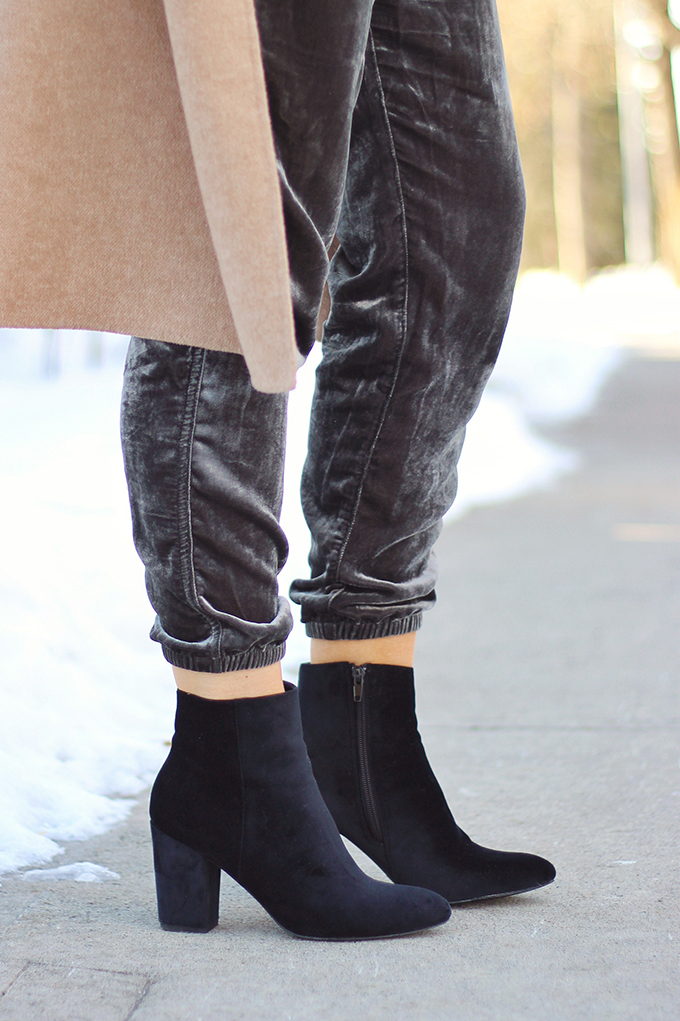 I bet you saw this one coming! Given my recent obsession with velvet and velvet accessories (why yes! I am also wearing velvet joggers), velvet booties were a natural choice for me this winter. This pair from Forever 21 are super sturdy, thick and warm, but I've seem so many interpretations of the velvet bootie this season from almost every designer, at every price point and in almost every colour! They're definitely this seasons 'it' shoe!
If you're looking to add an air of luxury to your winter to spring wardrobe with your footwear, look no further than the velvet bootie. If you pick them up in a neutral colour like I did, they go with literally everything you would wear a booties made from traditional material (leather or suede) with. While this particular pair is no longer available, I've linked similar black velvet booties for you — including this almost identical pair from Lulus and this boho edition from Forever 21. If you're looking to add some colour or pattern to your shoe wardrobe, I love Steve Madden's Cynthiav or Edits, this studded pair from Dolce Vita or this gorgeous embroidered pair from Lulus.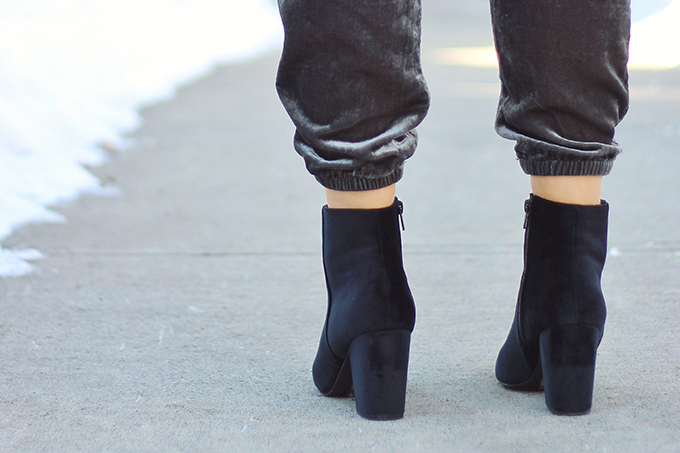 P.S. — Expect to see more of these velvet joggers in an upcoming style post!
---
Chrome Heel Booties
---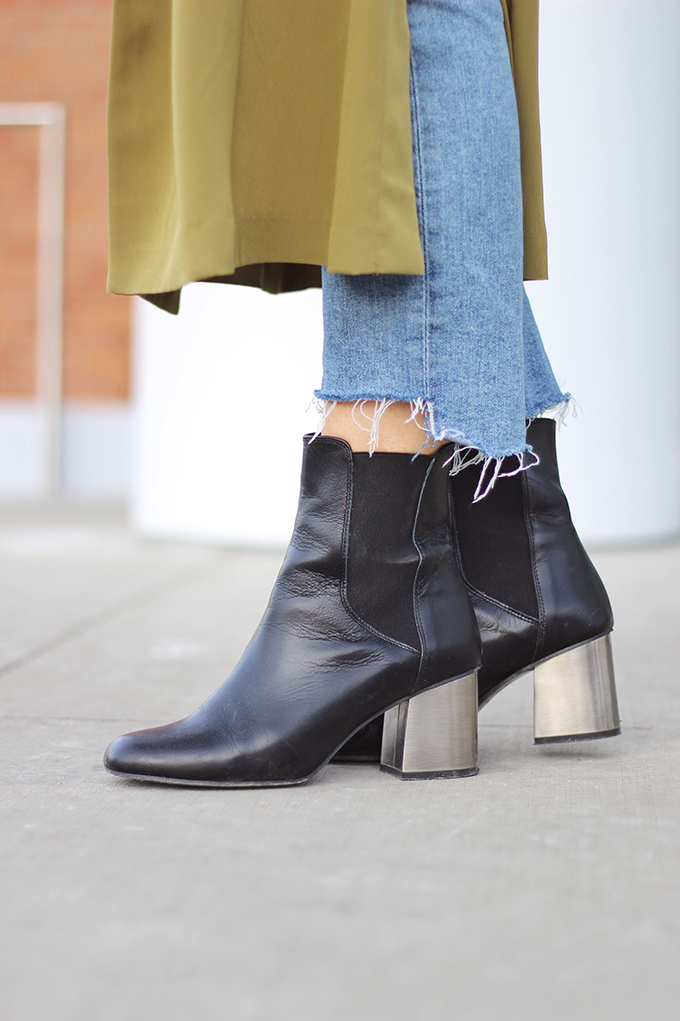 You may recognize these from my Transitioning the Trends | Autumn to Winter post and they've been on heavy rotation ever since I picked them up in early autumn. Surprisingly, they're extremely wearable and versatile — with a bit of extra sass thanks to the statement heel! Square and block heels have been trending since the summer and are much better than stiletto styles in the snow — which is great news for us Canadians.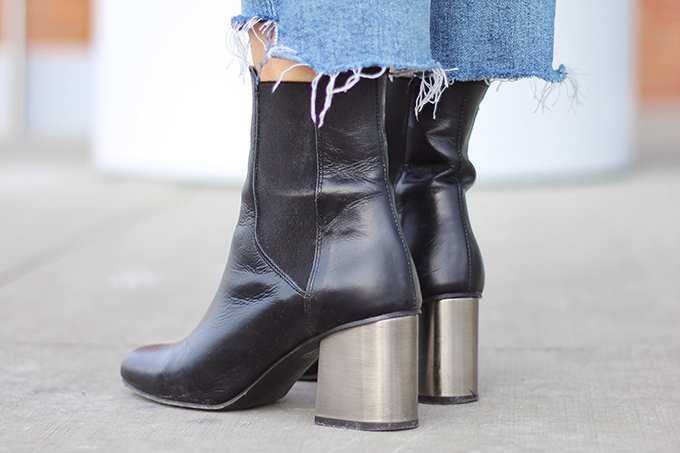 These TOPSHOP Mayfair Chrome Heel Boots are so stylish and they definitely don't sacrifice comfort, either. At first, they were a little bit outside of my comfort zone, but I loved their edgy, futuristic vibe and I'm so glad I picked them up! Unfortunately this particular style is no longer available, but I've linked similar chrome heeled styles here, here and here. This slimmer heeled style with cutouts would also work beautifully as we head into spring! If you're looking to pick up a trendy boot to transition through the remainder of winter in style, a chrome heel leather bootie is my top recommendation.
---
Statement Booties
---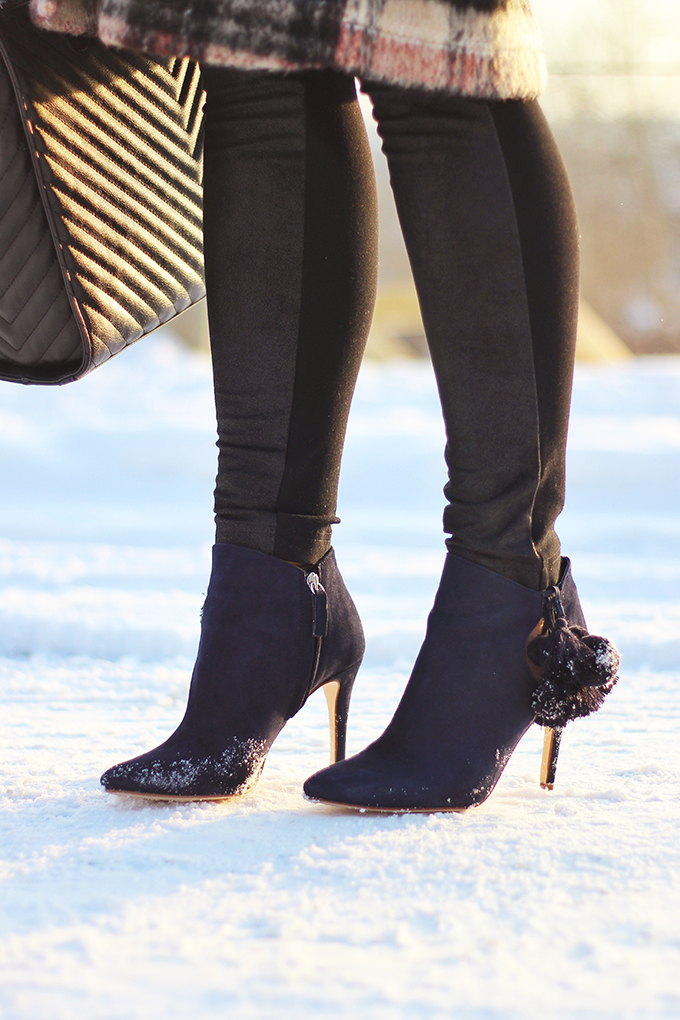 If you caught my Winter Style Staples post, these adorable Leather High Heel Ankle Boots with Pompoms from Zara may look familiar. I get so many questions and compliments on them — and I know a few of you picked them up as well (some of you even managed to snag them on clearance!). While I was happy to pick them up at full price because I love Zara's shoes and think they're some of the best you can buy for the money — but at the time I published this post they're still available online at an absolute steal of $29.99!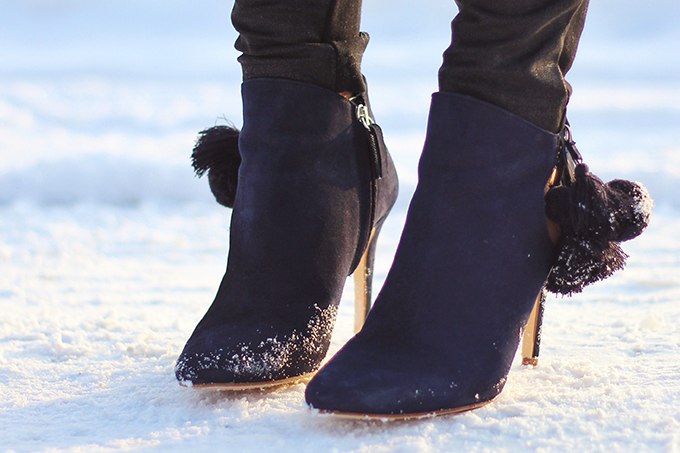 We all know how much I love pompoms, so I knew these booties had to be mine. Although the heel isn't super practical in the snow, these booties fit like a glove, are insanely comfortable (yes, really!) and have been my go-to when I want to be a bit dressier but wearing a pump isn't an option. I also love this rich navy shade to bring a cool, neutral pop of colour to my winter outfits. But if pompoms aren't your thing, I've rounded up my favourite pairs of statement booties this season — including this leopard print pair (expect more leopard coming to the blog this spring!), this embroidered pair and this peep toe, velvet, paisley pair if spring is already in your sights.
---
Elevated Loafers
---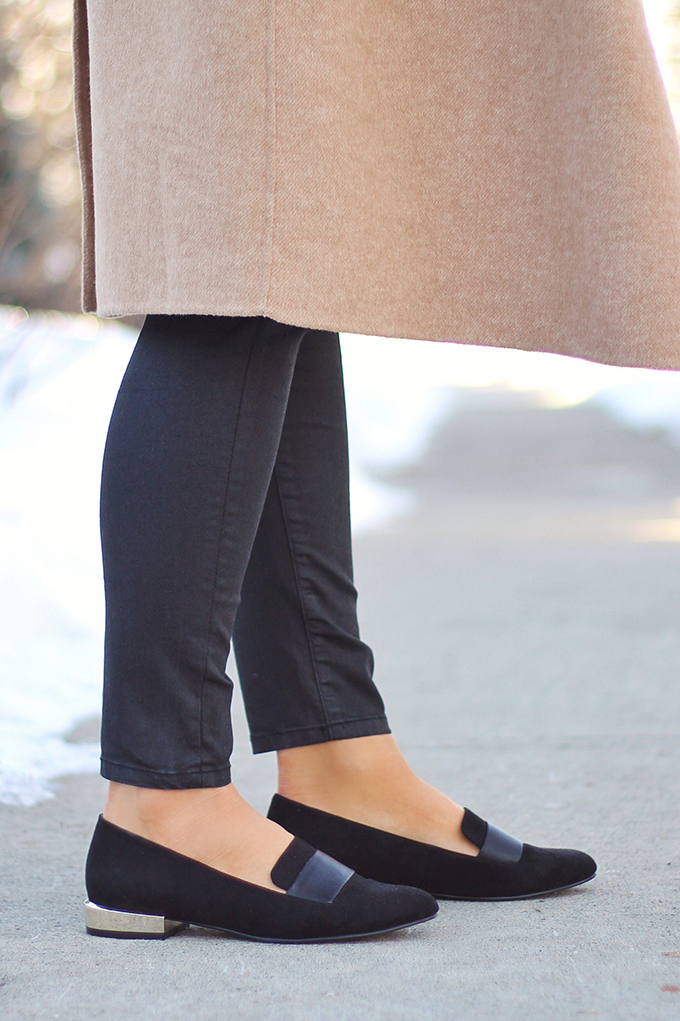 Once you have a great pair of neutral loafers in your shoe wardrobe, I think an elevated pair with metallic details, luxe materials and a comfortable fit is a great option. I fell head over heels for this sleek pair of loafers from Aldo this past autumn and have been wearing them often since. The elevated loafer is a practical, versatile shoe that transitions beautifully through the seasons — and a very welcome addition to my wardrobe when I need a break from heels. These are perfect wear-all-day shoes that don't sacrifice style for comfort!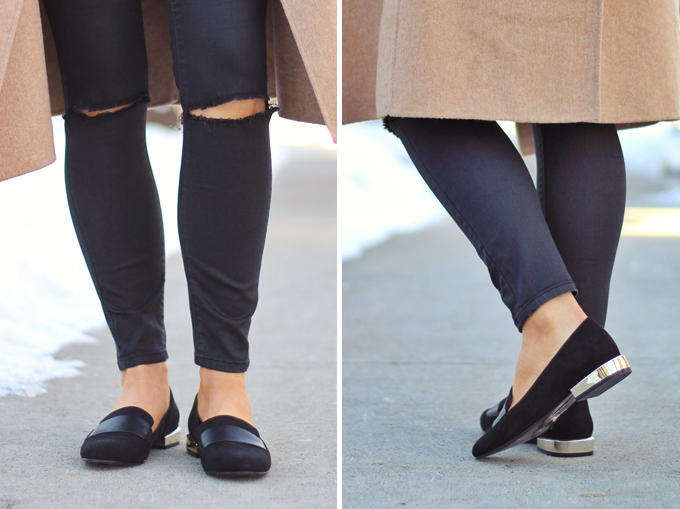 While this particular style is no longer available, Aldo has just released a similar pair with a pointed toe available in Black, Bone, Red and Navy. I mentioned in my last winter shoe guide that I love the way pointed toe flats elongate the leg — Aldo's Abbathas are gorgeous, as are Steve Maddens Faustos!
---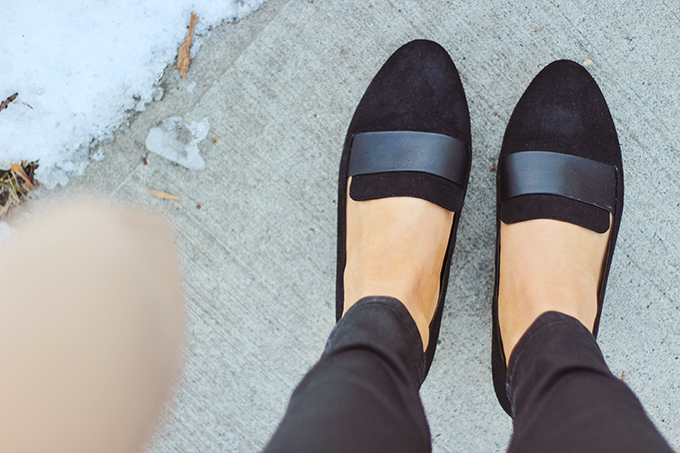 What are your favourite places to shop for unique footwear? If there's something you think I'd love, please leave a recommendation and let me know — I love to explore new retailers and brands! And if you're looking for some more basic winter to spring footwear, be sure to check out my Winter 2016 Shoe Guide | Basics! Have a great week, ladies.
---
Disclaimer: This post is not sponsored and contains my genuine thoughts, ideas and recommendations. JustineCelina uses affiliate and referral links, which allow me to receive a small commission when you make a purchase through one of my links. Thank you for supporting the brands and businesses that support JustineCelina!