---
With Autumn Equinox behind us and my favourite month of the year coming to a close, I'm back today with a bonus, 6 outfit, Transitional Summer to Fall 2019 Lookbook! If you've been following along with my style content this year, you'll know I committed to producing one, 12 outfit seasonal LOOKBOOK here at JustineCelina in 2019. That said, since fall (and this gorgeous month when summer turns to fall!) is the season I feel most inspired FASHION wise, I created this mini transitional lookbook to celebrate the sartorial nuances I adore when blending the best of both seasons! 
It's the magical time of year when we can wear boots with bare legs, espadrilles with chunky knits, felt hats with chiffon, embroidery with corduroy and velvet with florals — and I'm fully embracing it! If you're ready for a healthy dose of fall fashion and seasonal colour trends but not quite ready to retire your favourite summer pieces, you've come to the right place! My Transitional Summer to Fall 2019 Lookbook features everything I've been wearing in both personal and professional settings this month — complete with tons of transitional styling advice and shoppable links at every price point, set against a gorgeous backdrop of our changing inner-city Calgary landscape. 
---
TRANSITIONAL SUMMER TO FALL 2019 LOOKBOOK
---
This year I'm fully embracing the juxtaposition of seasons. We starting shooting transitional style content in early September this year and I'm elated week to share more summer-meets-autumn style inspiration with you this year than ever before! This is my absolute favourite time of year.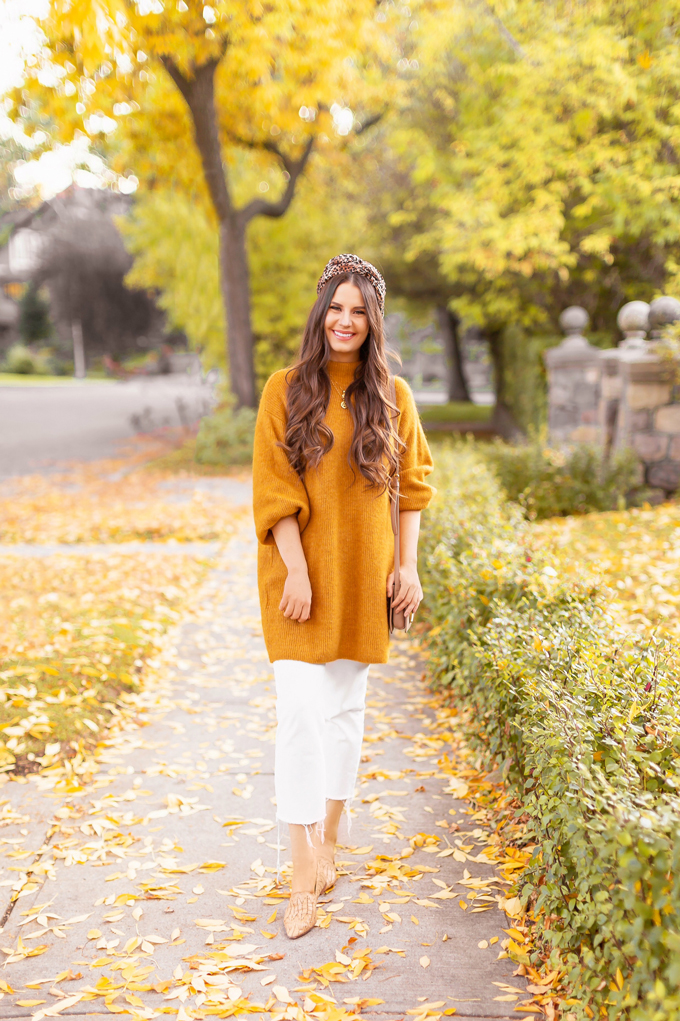 We shot these looks prior to the blizzard that hit Calgary on the September 27th — even with a month of planning ahead, I still can't keep up with our bipolar weather. The majority of these outfits are best suited for the balmy, 12°C – 20°C weather we experienced for the month prior to this weekend's snow storm (and is set to return later this autumn!). That said, I've also integrated some styling tips to make each of these looks appropriate for cooler climates at the end of each section. There's something for everyone in my Transitional Summer to Fall 2019 Lookbook — even if your city currently covered in a foot of snow! 
---
MOODY FLORALS
---
There's something about dark florals, a deep lip and moody accessories that I yearn for as summer comes to a close. Longtime readers will know that I wear florals year round, but I think I actually prefer autumn's moody renditions to the light and bright blooms of spring and summer!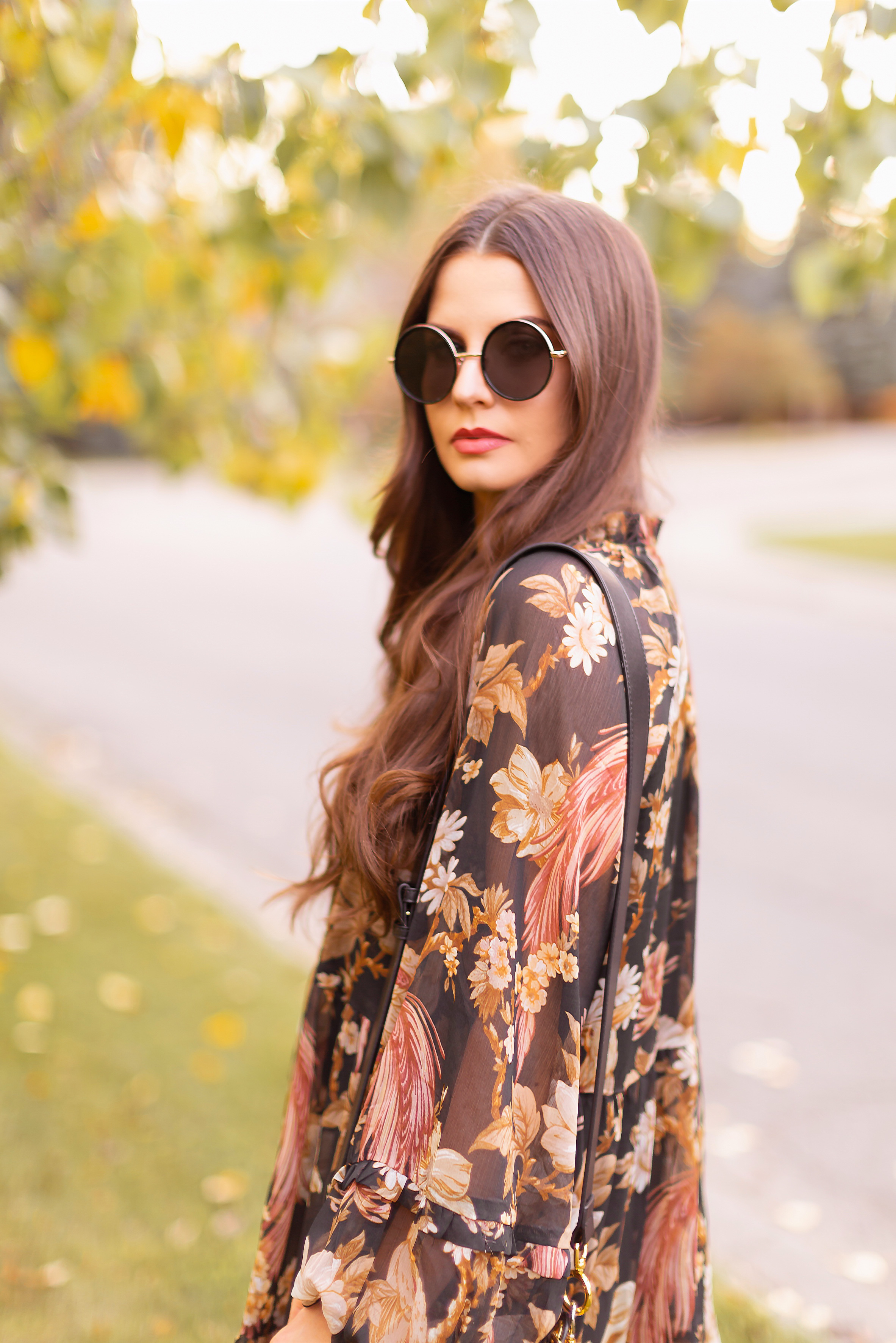 While Moody Florals are everywhere this fall, this is by no means a new trend. In fact, I also wore these dramatic blooms in fall 2016, 2017 and winter 2019 (and I still own and love each of these pieces!). This season, I fell head over heels for this floaty dark floral number I picked up at H&M back in July (I started planning fall style content early this year!) and styled her up very simply for an event in early September, which is when we photographed this look. Everyone at the event couldn't believe my dress was H&M (which has actually become one of my favourite retailers for fall fashion this year) — and I receive tons of compliment whenever I wear it! I love the way it incorporates so many hues from the AW19/20 Fashion Colour Trend Report into the print and works well with my seasonal wardrobe, which largely consists of warm neutrals.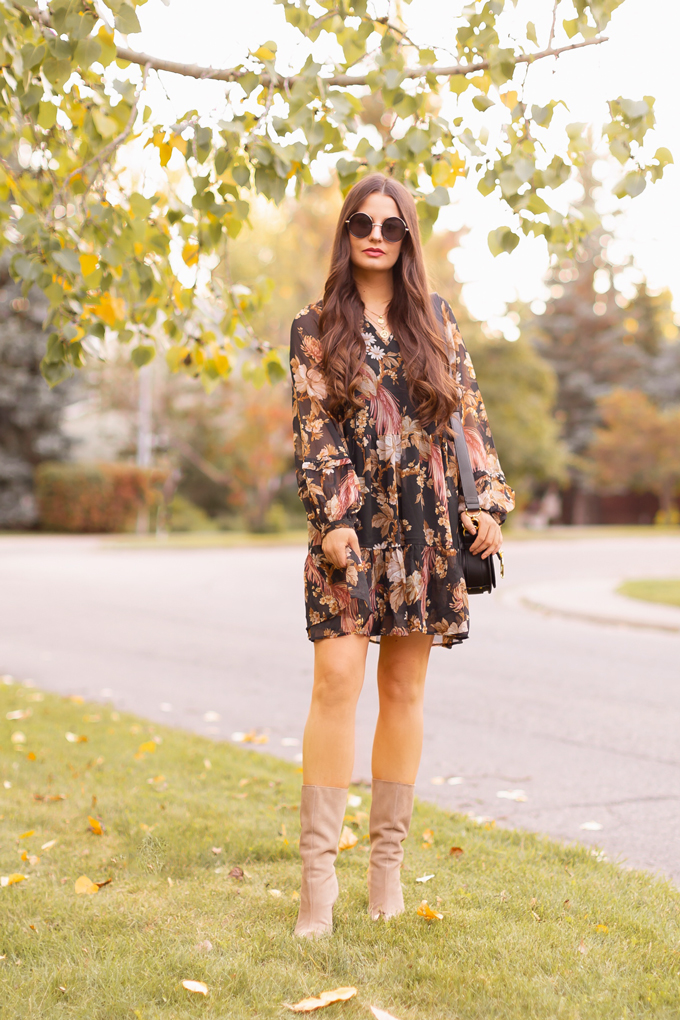 Using this beautiful, moody frock as my anchor piece, I pulled this transitional look together with a pair of tan mid-calf suede and leather boots (do they look familiar?), my black Chloe Tess dupe (I was thrilled to pull her out again after a summer of hibernation!), a pair of gold-rimmed black circular sunnies and a deep, juicy lip colour. It was about 15°C this evening and I couldn't pass up the opportunity to rock bare legs with mid-calf boots — we even grabbed a glass of rose on a nearby patio as the sunset after we finished shooting!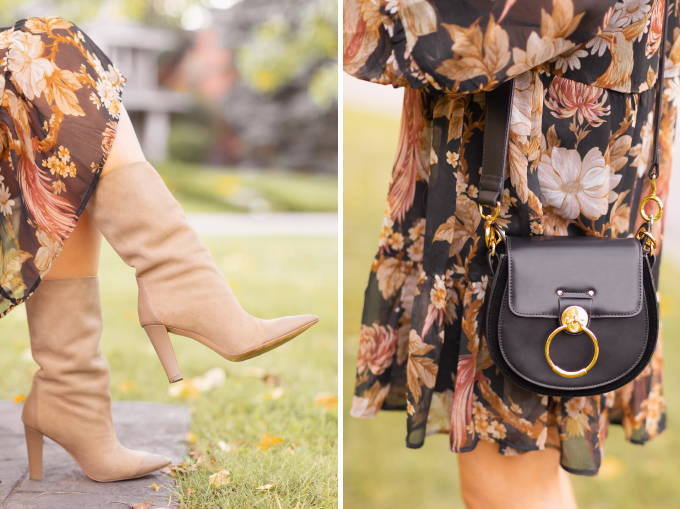 Until this year, my boot collection consisted of over-the-knee, cowboy, ankle and sock boots — but recently I've added some mid-calf styles (like these Zara stunners) and some mod-inspired, under-the-knee options to freshen up my boot-wardrobe for AW19. I love to experiment with different silhouettes and find this mid-calf style surprisingly versatile, both with bare legs and with skinny jeans!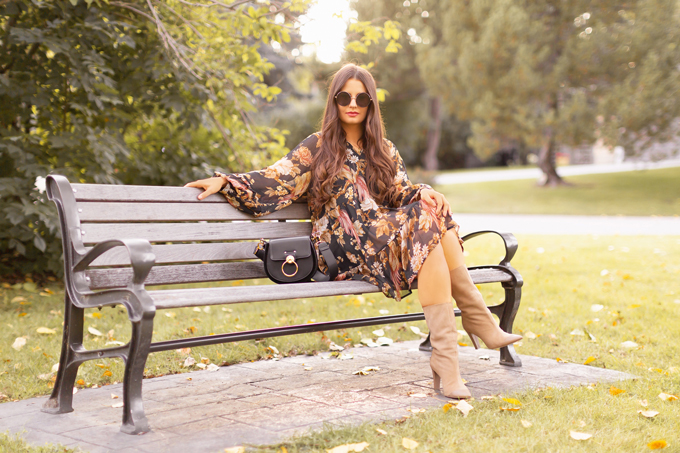 Make this outfit appropriate for cooler climates by starting with a base layer of tights and wrapping this mid-calf boot for a pair of suede OTKs. Add extra warmth by opting for a longline wool coat in a moody hue (black, or any shade from the floral print of this dress would work well!). 

---
SWEATER WEATHER
---
This outfit formula is typically what you'll find me in on late summer and early  weekends — it's comfy, cute and casual, yet pulled together. I'm still into all things mustard as we transition into autumn and love styling it up with white and warm neutrals to keep things feeling fresh and crisp!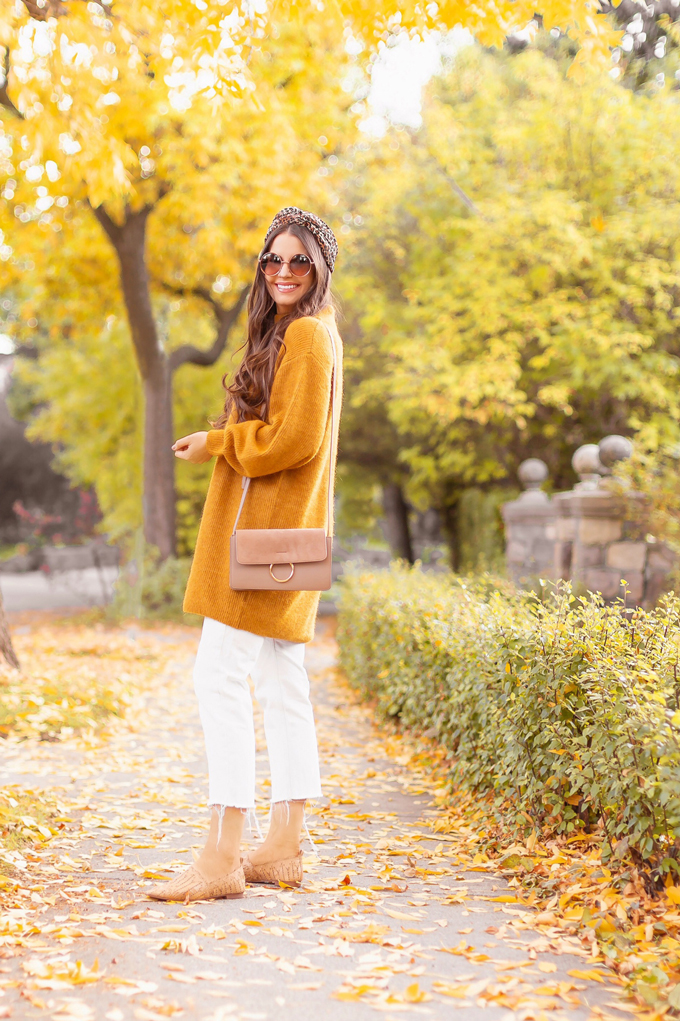 I picked this sweater up at H&M in an end-of-season sale at the end of last winter (I shop this way often!) and love versatility of wearing it either with leggings or denim, or as a sweater dress with OTK boots. It's extremely oversized — so I opted for a pair of slim-fitting cropped jeans (a Zara end-of-season summer find!) to balance things out.
Although I've packed the majority of my woven bags away for the year, I still like to incorporate natural and organic textures into my outfits during these transitional weeks. I've been living in my Braided Babouches  lately — I adore the unique design, plus they're incredibly comfortable and fit my foot perfectly!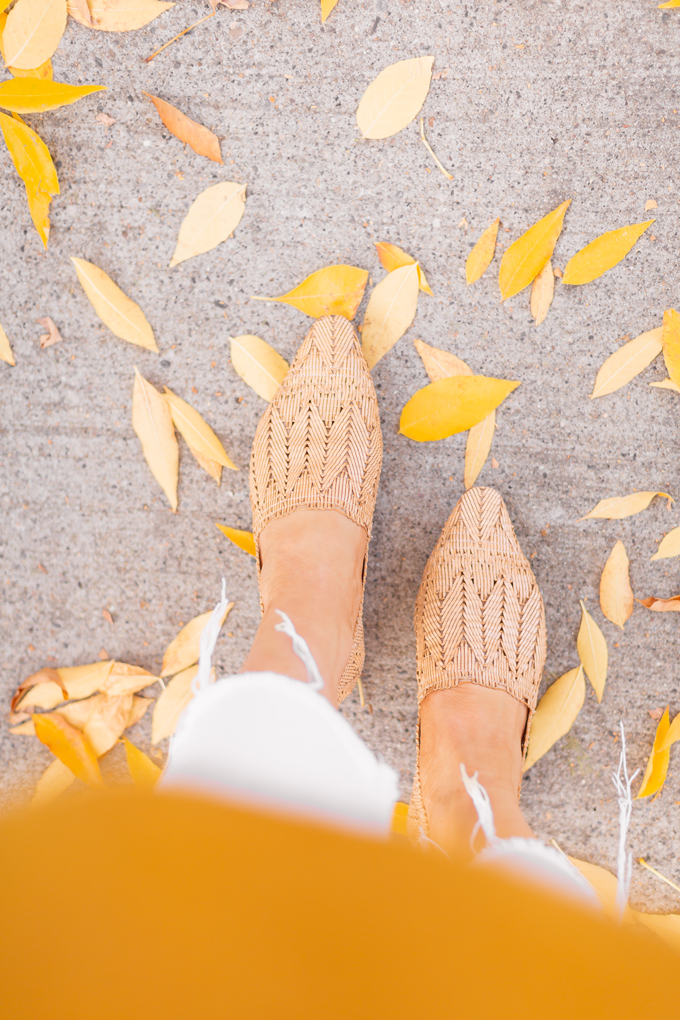 I finished this laid-back weekend look with a cute new bag from Joe Fresh (it caught my eye when I picked up the faux suede leggings I shared on Stories!), a leopard turban-style headband (animal print is bigger than ever this fall!) and my current favourite pair of sunglasses.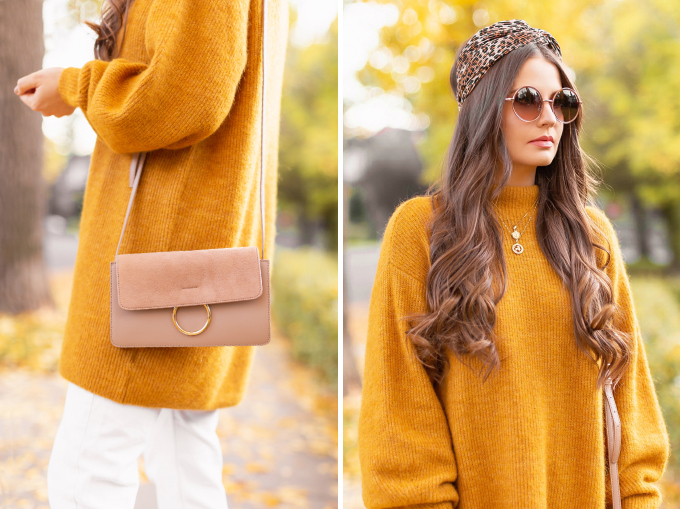 Transition this outfit formula into cooler weather by swapping the cropped ankle jeans for ankle-length skinnies, the babouches for a low-heeled ankle boot and throw a trench over top for a layer of added warmth! 

---
TRANSITIONAL TEXTURES
---
I love late summer and early autumn days when I can play with texture to create interesting combinations! Lately I've been loving corduroy juxtaposed with embroidery in my summer-meets-autumn outfits. It's a bit unexpected but somehow it totally works!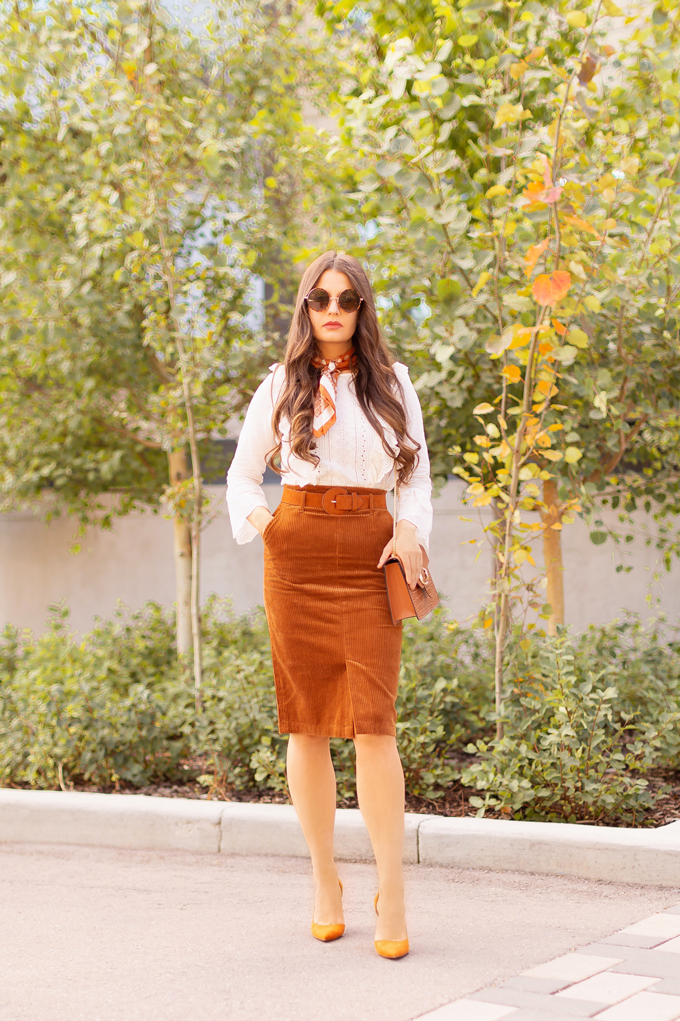 As usual, this texture-rich outfit is a mixture of high, low, old and new all working together in a playful, monochromatic look ideal for professional settings. I felt particularly inspired by Pantone AW19/20 Fashion Colour Trend Report and decided to build an outfit around that very autumnal hue!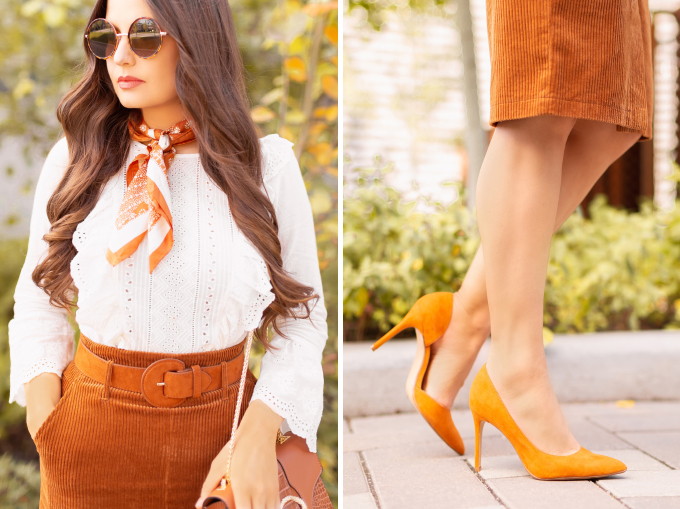 I started with my corduroy pencil skirt as my anchor piece and knew I wanted something lighter (both in colour and material) on top to contrast. Much to my surprise, I really loved the contrast of this embroidered top against my corduroy skirt — so I styled her up with a vintage scarf. I picked this one up recently at Prairie Bazaar — one of my favourite vintage shops here in Calgary. I love pairing neck scarves up with embroidered or OTS summery tops to help bring them into fall!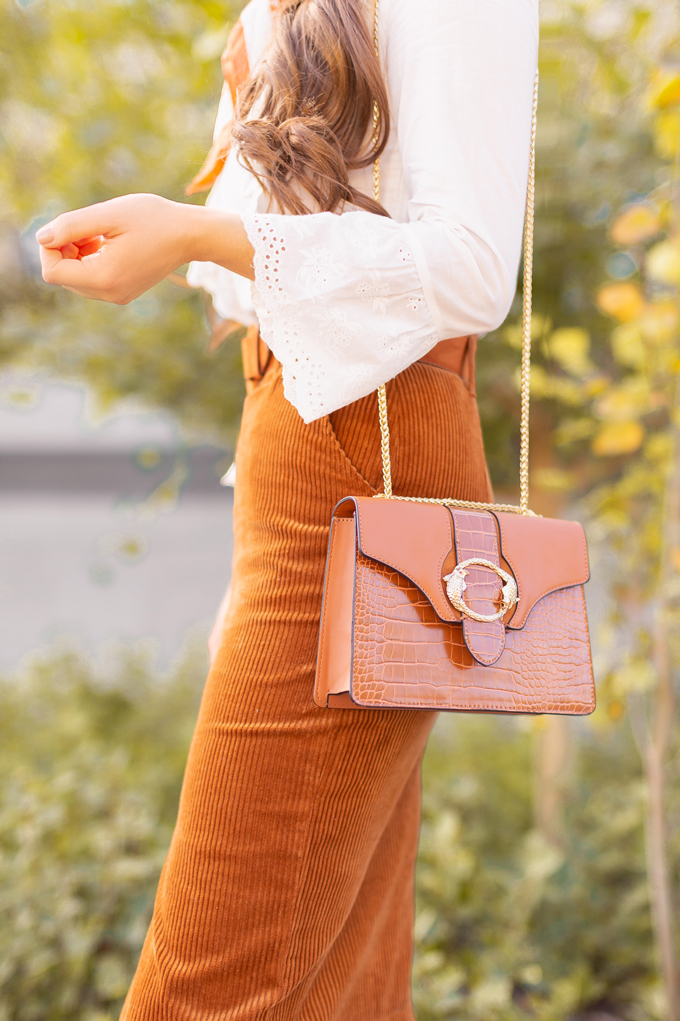 I slipped on the burnt orange rendition of my all-time-favourite pumps (I introduced you to the nude version in this post) and selected a new bag with a touch of croc embossing and a serpentine detail to accessorize. Rounding things out are one of my all-time-favourite autumn lip colours (stay tuned for a fresh beauty post dedicated to that topic coming soon!) and a pair of round, tortoise framed sunnies.

---
AUTUMN FOLIAGE
---
Autumn's warm, neutral tones (seriously, have you checked out the Pantone AW19/20 Fashion Colour Trend Report?!) are some of my favourites to wear. So when I spotted this gorgeous button-down midi dress earlier this month (at H&M, of course!) it was love at first sight — and I knew she would work well with my existing wardrobe!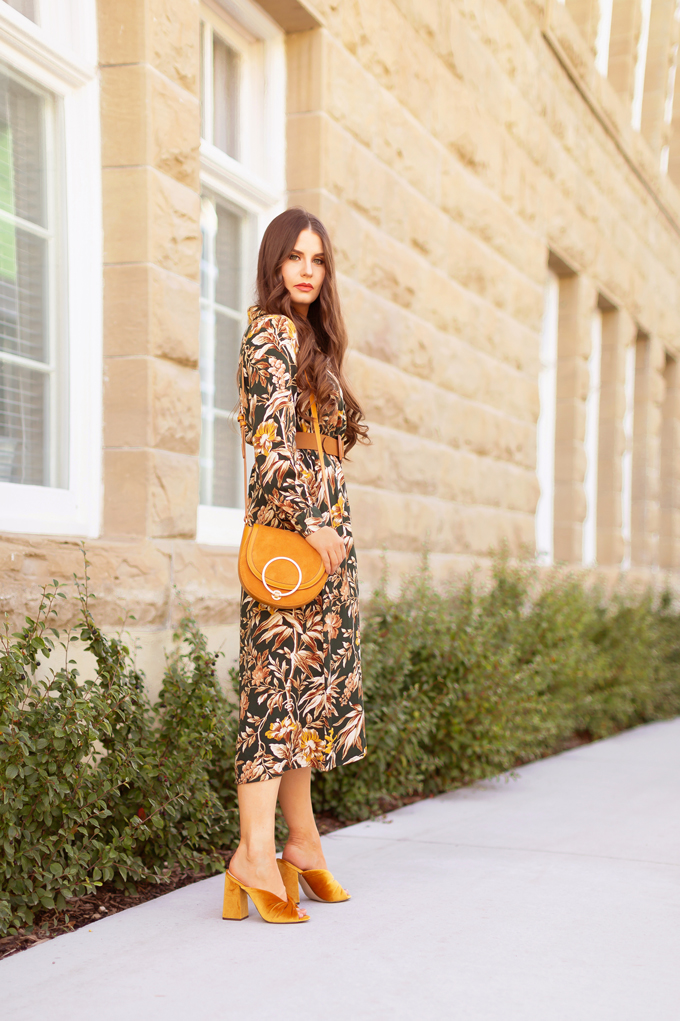 It appears the same palette that's inspiring our Fall Living Room Update (more on that coming soon!) is also inspiring my transitional style! I wore this look to Holt Renfrew's Fall Trend Edit where I had the pleasure of listening to Coveteur, Liv Judd and Jacey Duprie discus key trends for the season (if you're interested, you can catch more in my FASHION Highlight).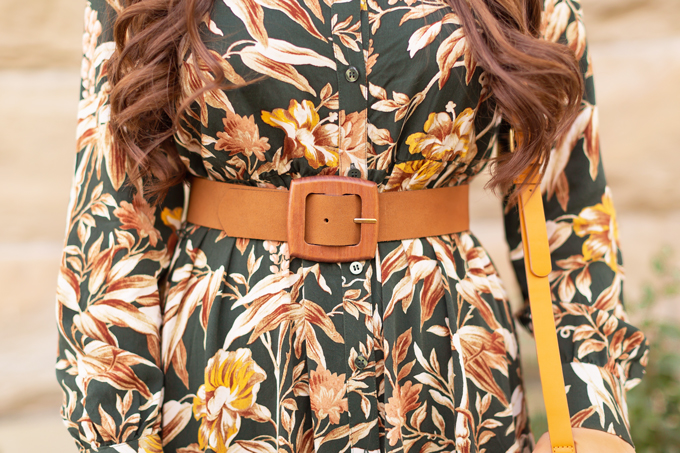 The first trend spotlighted was Warm Neutrals — and they're something I look forward to wearing each autumn, regardless of whether or not they're particularly on trend. This look is an example of how I love to pull warm and earthy warm hues together — give me all the deep greens, mustard, camel and cognac, please!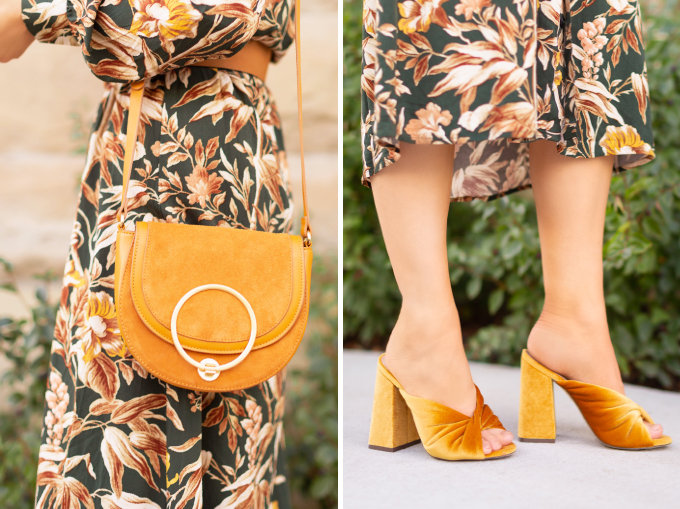 I accessorized this earthy midi dress with a leather, wooden buckle belt, a mustard leather bag and the dreamiest pair of retro, block-heeled, velvet, open toed mustard sandals. Believe it or not, I actually found these on clearance at Forever 21 this summer (I think I paid $17 or something ridiculous like that!). I love wearing open-toed shoes during this transitional time of year, but also incorporating g luxe, cozy materials like velvet during the first weeks of autumn. Pretty much anything goes at this time of year, texture-wise!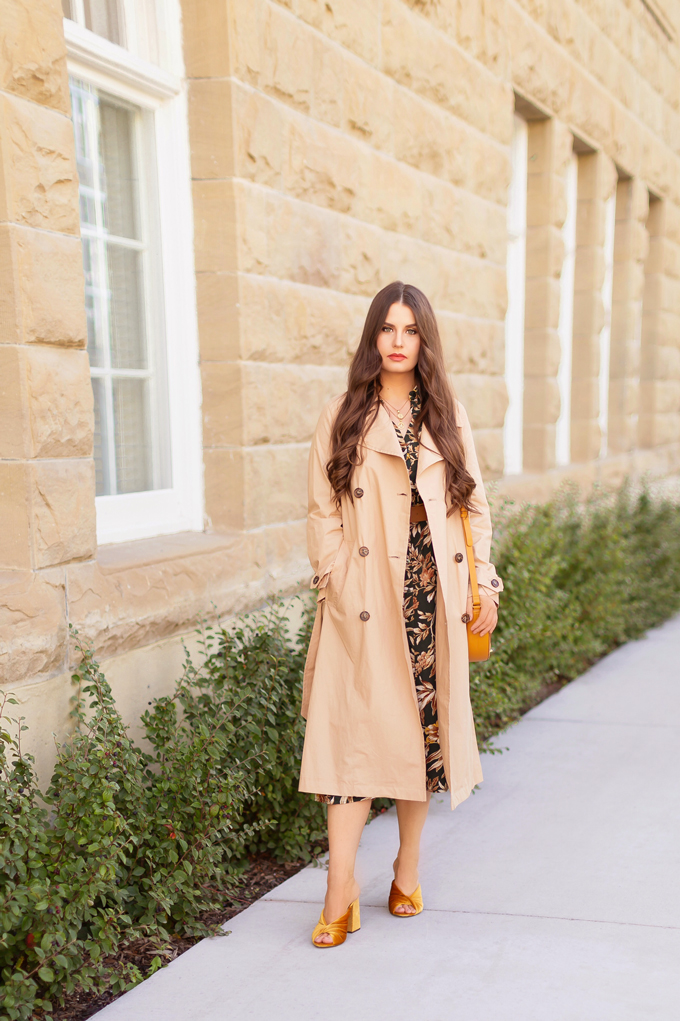 I actually borrowed my Mom's sunglasses when we shot this look (aren't they stunning? I may have to pick up a pair for myself!) and layered my new Classic Belted Trench on top for additional warmth. Of course, to make this outfit even more cold-weather appropriate, you could swap the open-toed shoes for OTK suede boots and select a warmer trench coat — some of my favourites this season are made from faux suede or leather! 

---
BLUSHING BOHO
---
This free-spirited look was born out of a desire to wear my favourite espadrilles (do they look familiar?) and summery pleated skirts into autumn! I love to pair soft, feminine hues with warm neutrals during the beginning of fall — and that's exactly what I did to help transition a few of my summer favourites into a new season.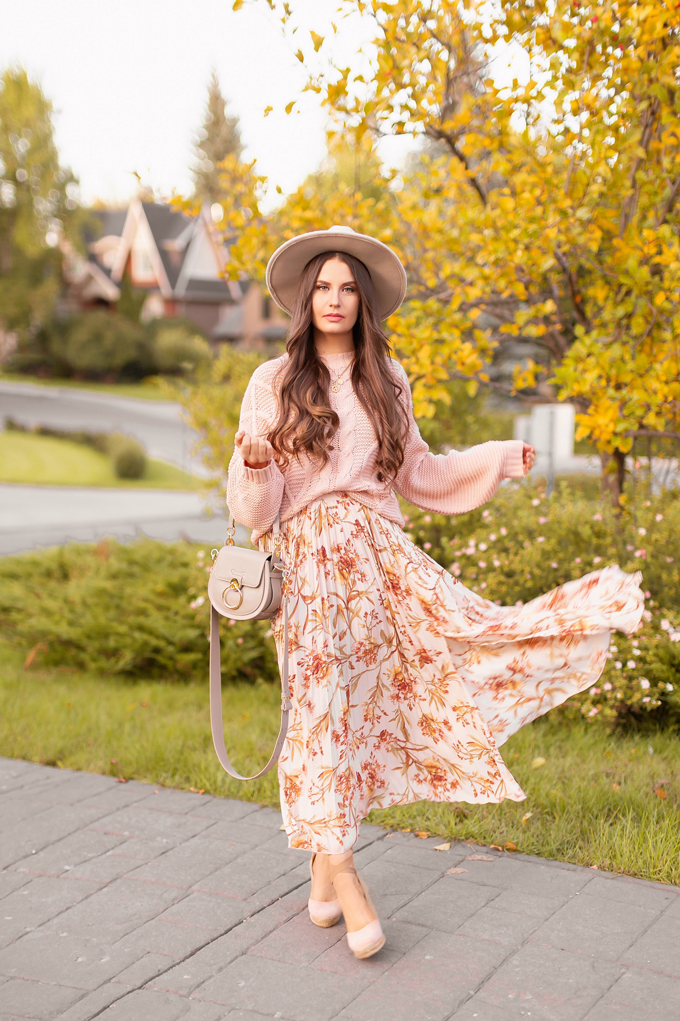 Lighter-hued knitwear is the perfect way to ease into more autumnal styling and colour palettes when the temperatures start to drop — because I'm definitely not ready to deck myself out in black just yet! Pairing knits up with summery skirts is one of my favourite ways to extend their life into fall, plus I adore the juxtaposition of materials.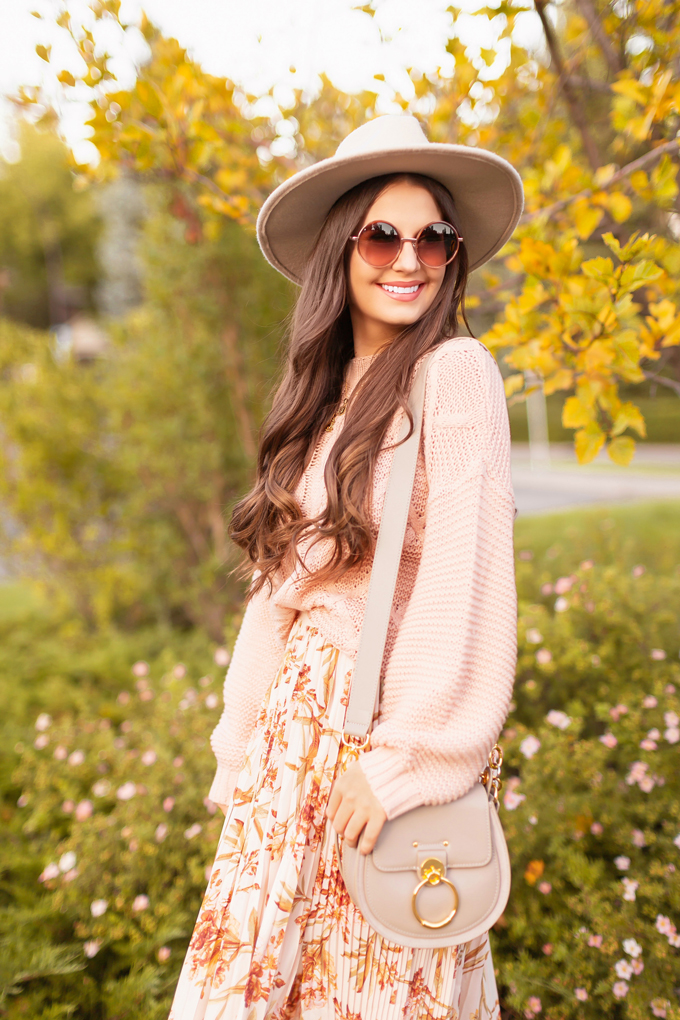 I've also styled this look with a taupe felt flat-brimmed hat (I swear it makes any outfit more polished and is the perfect accessory to help conceal an unwashed mane), they grey version of my Chloe Tess dupe (yes really, it's a dupe and you can find both the black and grey version here!) and my current favourite pair of sunnies.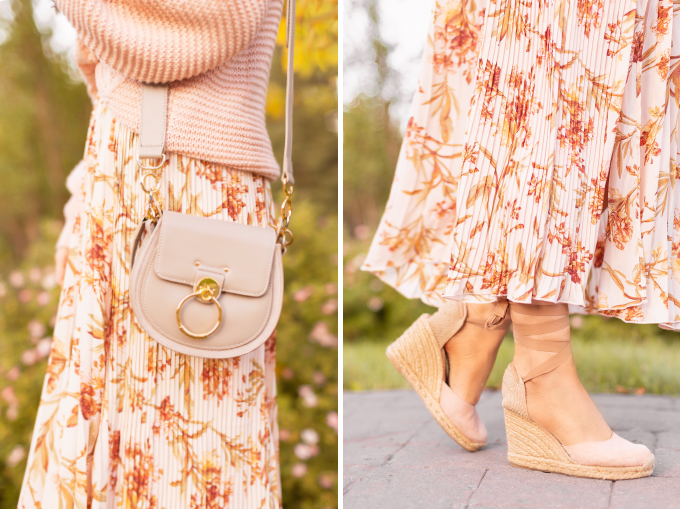 You can make this feminine, bohemian look more cold-weather appropriate by swapping the closed-toe espadrilles for a pair of nude or grey low-heeled ankle boots and layering a thermal top or fine-knit turtleneck underneath your sweater. Alternatively, you could layer a faux-fur vest over your knit — or rock all 3 layers for even more added warmth! 

---
60'S SOPHISTICATE
---
Statement sleeves, vintage inspired prints, croc-embossing and warm neutrals — these are a few of my favourite things as we transition into AW19. I had so much fun wearing this look to the unveiling of a new luxury development in my neighbourhood — and my pants were a great conversation starter!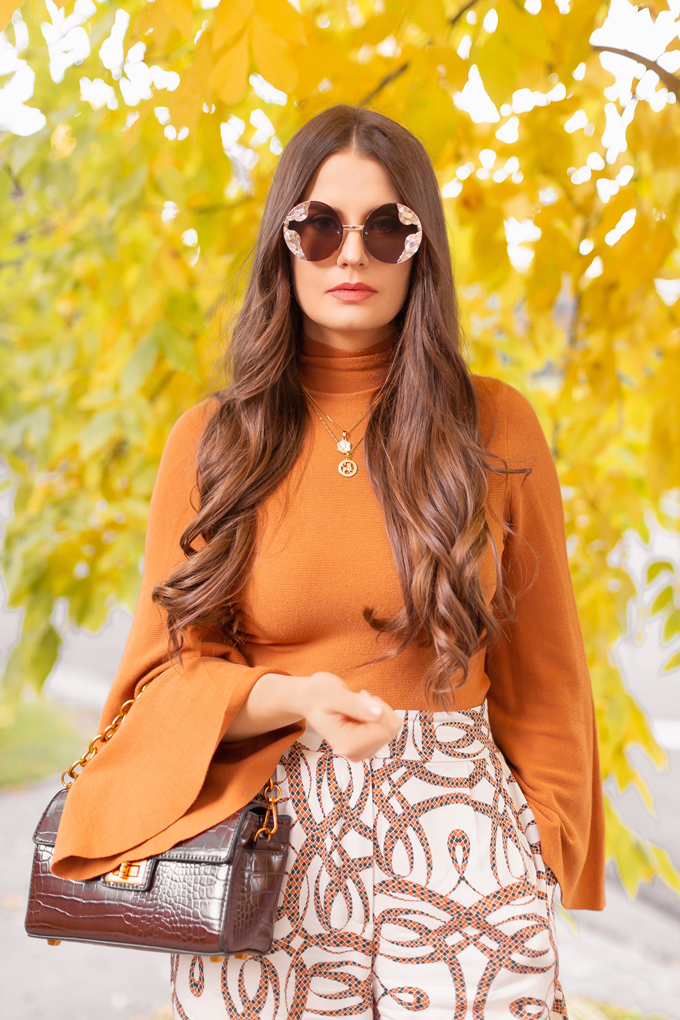 These dreamy, 60's inspired culottes are part of the H&M x Richard Allen collection, which admittedly, I went absolutely insane over. My 60's loving self is completely enamoured with the prints, palette and silhouettes — all offered at an incredible value. You can expect many of of those pieces to trickle in to my style content over the coming months and become staples in my autumn wardrobe for years to come!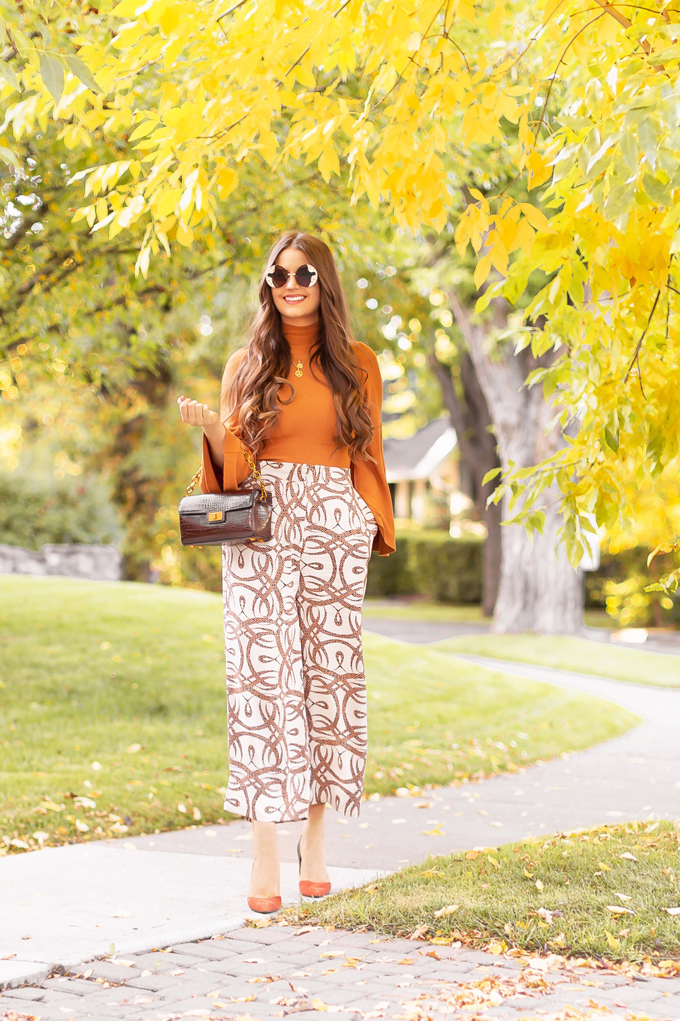 Using these lively culottes as my anchor piece, I built a sophisticated, office-appropriate look around them — pulling in a few of my favourite seasonal trends mixed with wardrobe staples. My bell-sleeved Pantone AW19/20 Fashion Colour Trend Report inspired mockneck was the perfect compliment to my statement trousers, so I decided to have a little fun with my accessories!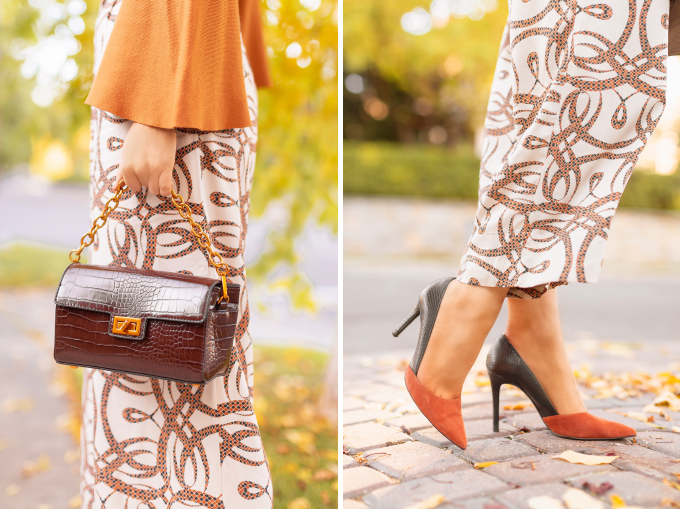 I selected this croc-embossed bag with a stunning chain handle (I also wore it here), one of my oldest pairs of croc-embossed Zara heels (I wore them back in one of my very first FASHION posts, although they've been with me for the better part of a decade!) and a pair of vintage-inspired, statement sunnies (which I've also worn here and here) to complete this groovy outfit! 

---
MY SIGNATURE JEWELLERY
---
As usual, I'm wearing my layered, gold necklaces from House of Vi — which have become an integral part of my personal style. Founded by fellow Calgary blogger (and total sweetheart) Vivienne Gliesche, you can shop House of Vi online worldwide — but if you're local, you can pick up in person! I wear the the Alphabet Necklace in J layered with the Zodiac Necklace in Leo almost everyday and I'm asked about them constantly. I can't recommend them enough!
---
MORE TRANSITIONAL & EARLY AUTUMN STYLE INSPIRATION
---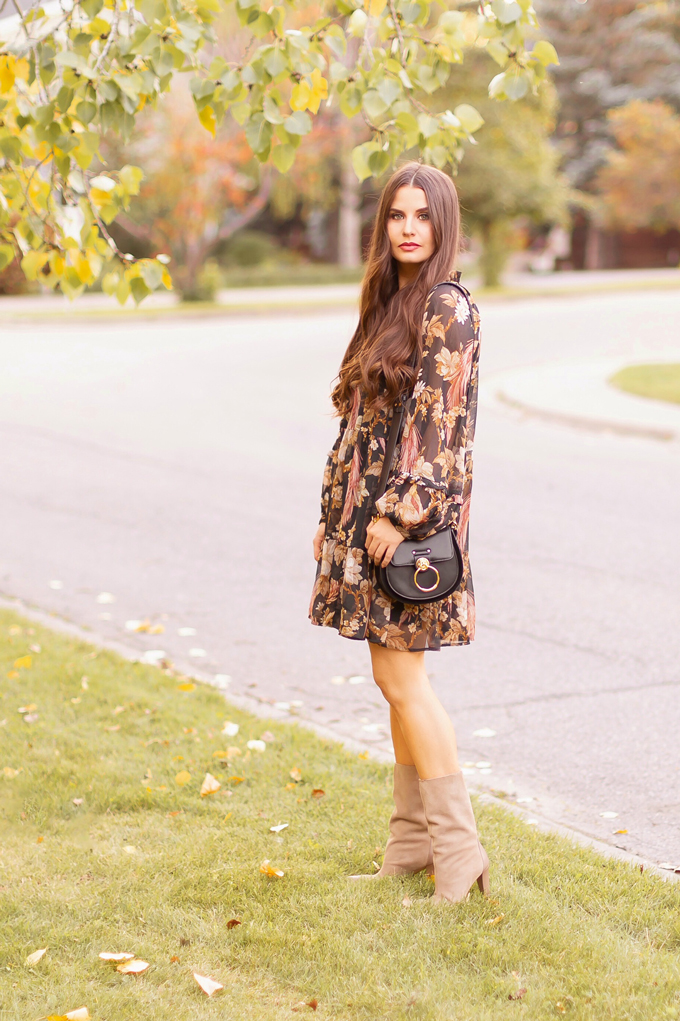 Falling Back | Refreshing Old Favourites for a New Season

How to Style | Kimonos for Autumn
---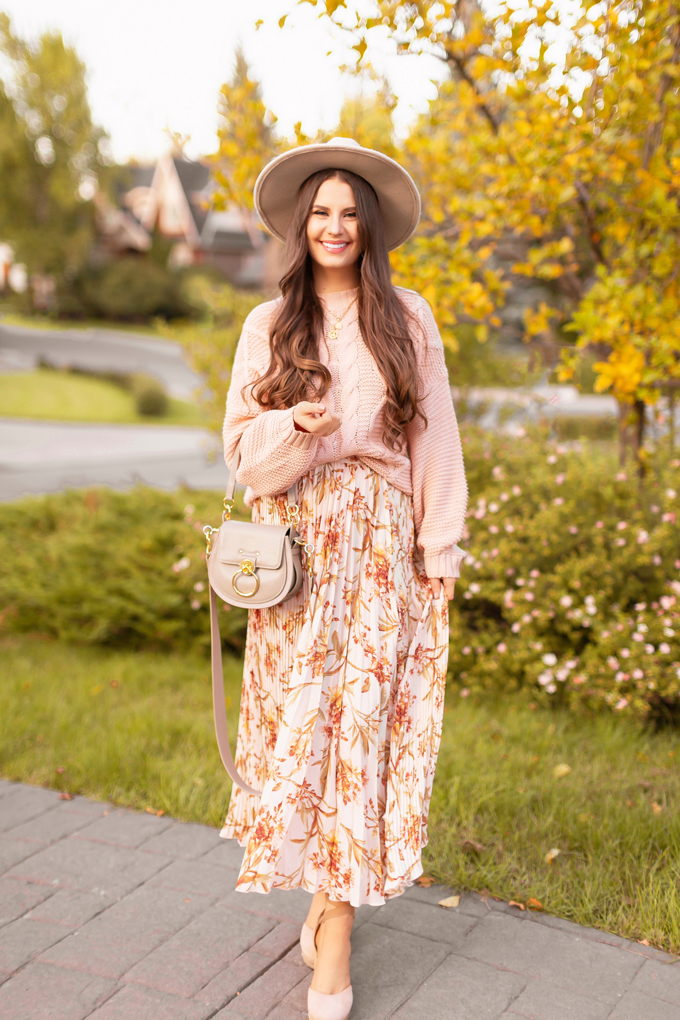 Thank you for visiting me today for some transitional style inspiration, friends! If there are looks that you'd like to see more of, be sure to frequent my FASHION section as I'll be sharing additional details here at JustineCelina in individual outfit posts and various other series! 
I can't wait for the snow to melt so we can resume regular autumn weather — we're scheduled to start shooting fall looks for my upcoming Autumn 2019 Lookbook next week (if you have any requests, please feel free to leave a comment!). If you're looking for even more sartorial inspiration in the meantime, you can also follow along with my JustineCelina Fashion board on Pinterest. And for a sneak peek at what I'm wearing before it hits the blog, as well as some exclusive style content you won't see here, come join me over on Instagram for daily posts and BTS / day-to-day life on Stories! 
---
Disclaimer: This post is not sponsored, and contains my genuine thoughts, ideas and recommendations. JustineCelina uses affiliate and referral links, which allow me to receive a small commission when you make a purchase through one of my links. Thank you for supporting the brands and businesses that support JustineCelina!