---
Animal print is absolutely everywhere this autumn / winter — and I personally couldn't be happier about it! As I slithered through all the animal-inspired goodness this season brought, I have to say the print that surprised me the most was snakeskin. Snakeskin is bigger than ever for AW18 — type it into the search bar of your favourite online retailer and scale-covered options abound in nearly every garment and accessory. Admittedly, I wasn't sure about the trend at first — but I absolutely think it can be elegant and beautiful when styled with a tasteful eye. Although I never thought you'd catch me in head-to-toe snakeskin, I'm all about experimenting with my personal style and staying inspired creatively, which is why I think it's important to push yourself outside of your comfort zone. I was so thrilled to find a frock that I felt suited my personal style and also allowed me to dabble in a trend I wasn't sure was for me — it's since become one of my most worn and definitely my most complimented pieces. This post is all about empowering you to do to same! I firmly believe trends can be adapted to suit everyone's personal style — it's just about finding a piece that suits your lifestyle, integrates seamlessly into your wardrobe and makes you feel amazing!
Today's post is an ode to all things snakeskin, including my favourite ways to wear it for autumn / winter, styling tips for both personal and professional settings and a roundup of my favourite snakeskin pieces plus links to everything I'm wearing (or similar alternatives) at every price point. If you're intrigued by the snakeskin trend but simply aren't sure where to start, this post is for you! Pour yourself a juicy glass of red wine and settle in for a fresh installment in my PATTERN PLAY series dedicated to AW18's breakout print!

---
PATTERN PLAY | SNAKESKIN
---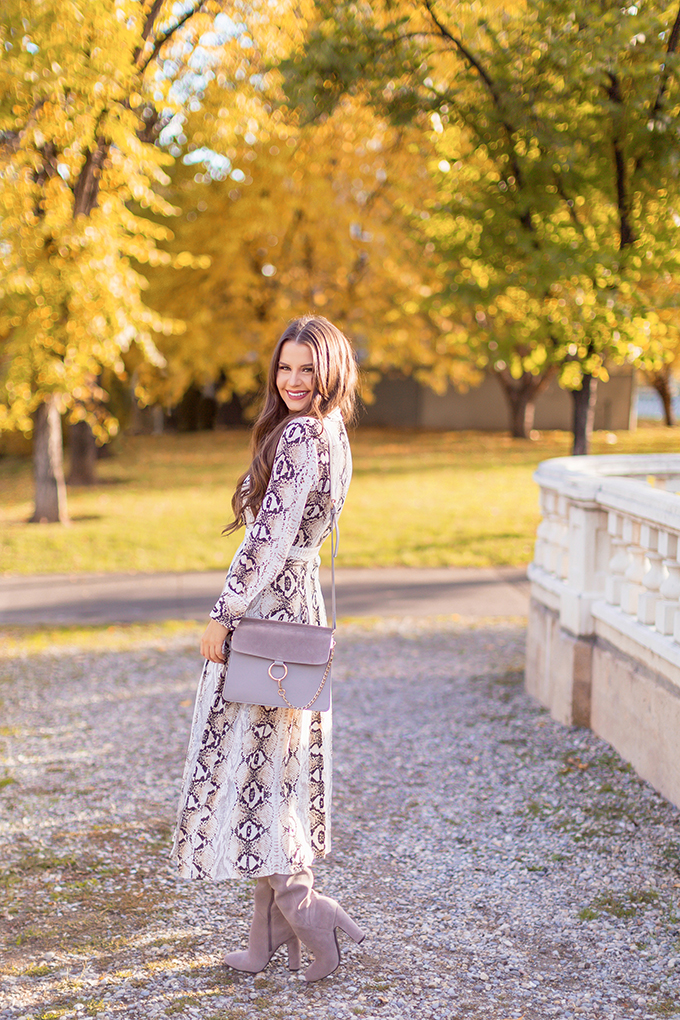 Much to my surprise, I fell hard for this stunning Topshop Snake Print Pleated Shirt Dress earlier this autumn! I originally spotted it online at the onset of the season (every fashion girl's favourite time of year!) when snakeskin was just starting to pop up. Of course, my retro-loving self was instantly drawn to the point collar, long, button sleeves and maxi length with double slights extending up each thigh — such a unique silhouette and unlike anything else in my closet! I bookmarked it and attempted to track it down in-store as I often do when a piece that catches my eye but is a bit outside of my comfort zone — after all, that is a lot of snakeskin and the thigh high slits left me wondering how practical it would be as we transitioned into the cooler months here in Calgary. If you follow along with my FASHION section here at JustineCelina, you'll know the changing seasons don't stop me from wearing dresses and layering them up for fall and winter is actually my favourite way to wear them.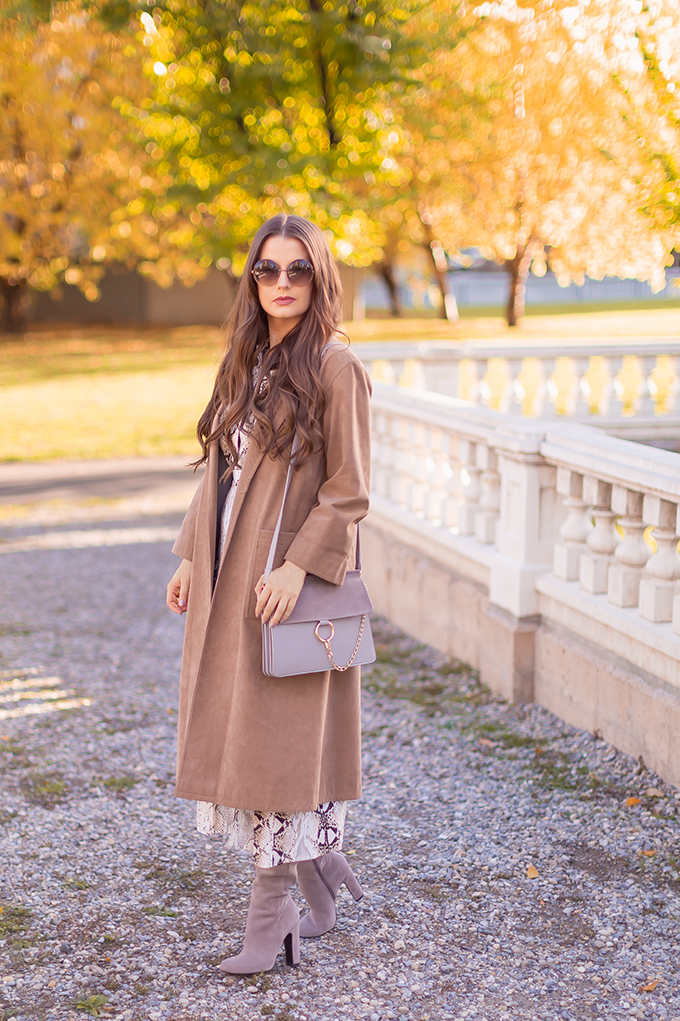 Suffice it to say it was love at first sight when I tried her on. The material hung beautifully, the cut of the dress was very flattering and the daring slits seemed workable for cooler months if I layered tights underneath. Although this snakeskin stunner is a statement piece, it's also a neutral — the print is comprised of various shades of black, black, grey and tan. Visions of all the different ways I could style it up danced through my head in the fitting room and that's how I knew she had to come home with me!
Fast forward to the end of November and snakeskin exists in almost every colour, garment and print imaginable. That said, I'm a bit of a classicist when it comes to animal print (this is also something I spoke about in my Pattern Play | Leopard post). For me personally, animal print integrates best into personal style in realistic-looking patterns and palettes — I like my animal print to be reminiscent of something you would actually see in nature, but hey, you do you! My wardrobe is built around a foundation of mostly light and warm neutrals, I opted for a lighter snakeskin print with seemingly endless styling possibilities as I felt it would be most versatile.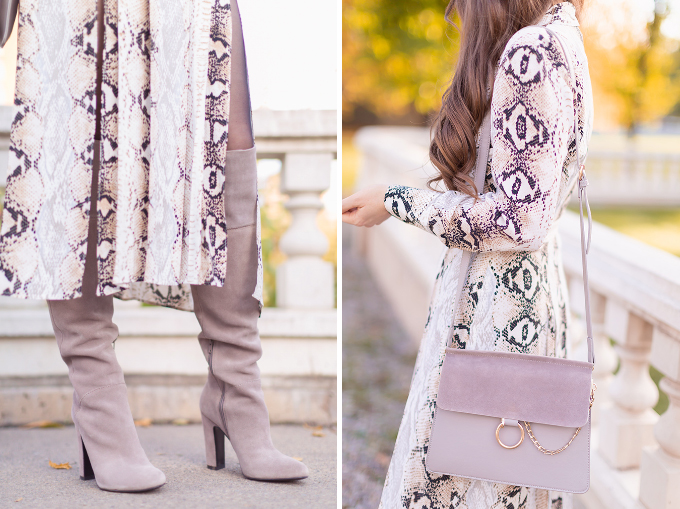 We snapped these photos on a beautiful autumn afternoon as I was enroute to an event, wearing a melange of high, low, new and vintage – which is my absolute favourite way to dress! Since the dress makes such a statement, I opted to keep things neutral by teaming it with some slouchy (a major footwear trend this season!), knee high grey boots and layering semi-sheer tights underneath for warmth. Pairing midi and maxi length silouhettes with OTK or knee-high boots is one of my favourite ways to simply extend their wear into cooler months — and adding a base layer of tights underneath can actually make for a very warm and cozy outfit (for example, I'm wearing fleece-lined tights in my How to Style | Midi Dresses for Winter post from last February!).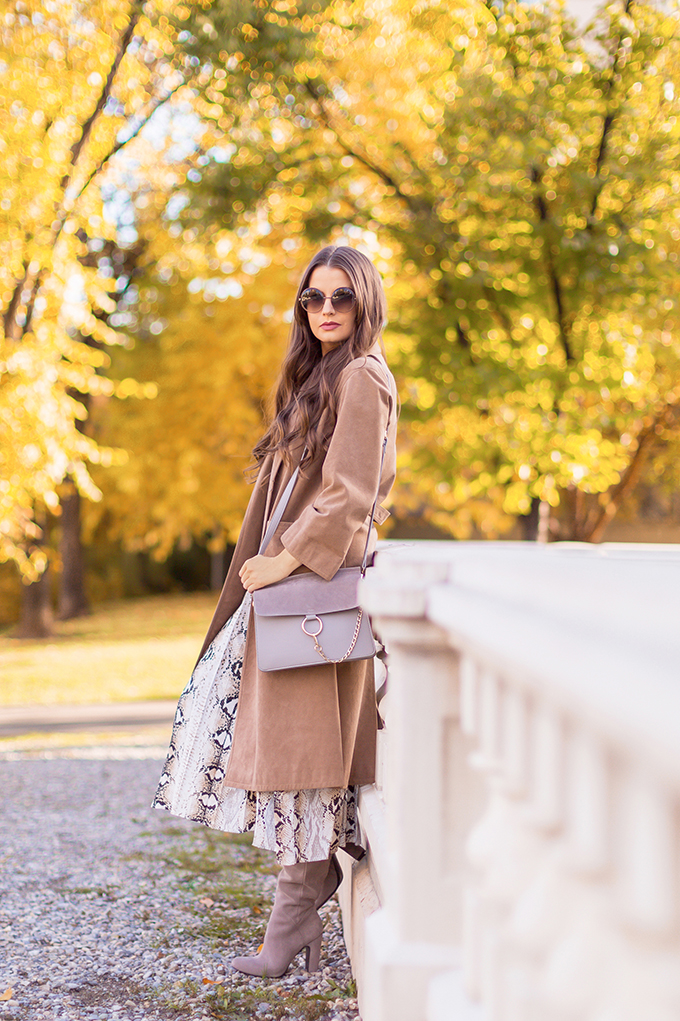 Not only are tone on tone outfits chic and sophisticated, they're also very figure flattering, slimming and elongating — and who doesn't love that?! Going more subdued with your colour palette gives you the perfect opportunity to really experiment with texture — which is exactly what I've done here, where I went heavy on the suede to bring in some autumnal warmth and play up those retro vibes. Monochromatic dressing is something I've been experimenting with a lot this year and a look I've become quite fond of (remember my red-to-toe look this summer?). I'm actually planning a post dedicated to winter friendly monochromatic outfits in various hues — so stay tuned if that's something you're interested in!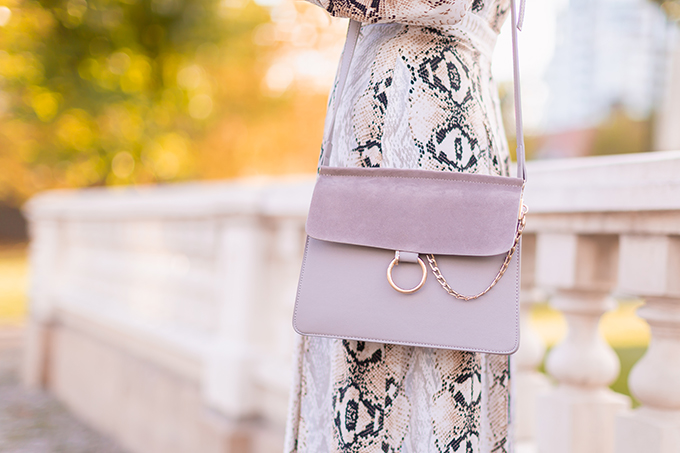 Keeping things tonal, I selected my grey Chloe Faye dupe to accessorize. I've been on a role with finding Chloe dupes over the past couple of months, but unfortunately they always sell out quickly! My exact bag no longer available, but I've linked the real deal for you if you're so inclined — and you can keep checking this link for restocks if you want to snag my exact bag!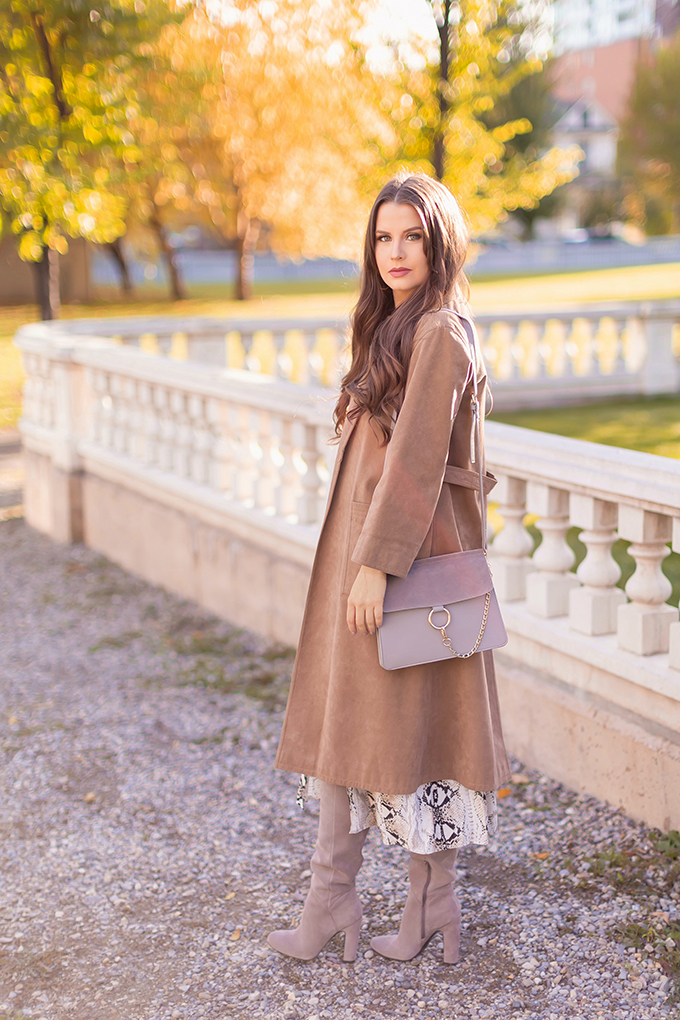 It was about 14 degrees on this particular day so I didn't need a lot of extra warmth. To finish the look I threw on a vintage suede jacket, which was a gift from my grandmother. I love to pair maxi length dresses up with longline jackets to create a long, lean silhouette — something I find universally flattering on any height. Now that temperatures have dropped in November, I've worn this outfit with a few different, more winter-appropriate jackets and coats and it still works beautifully. That said, my favourite way to wear this snakeskin maxi now is paired up with neutral, faux-fur collared coats for an upscale touch.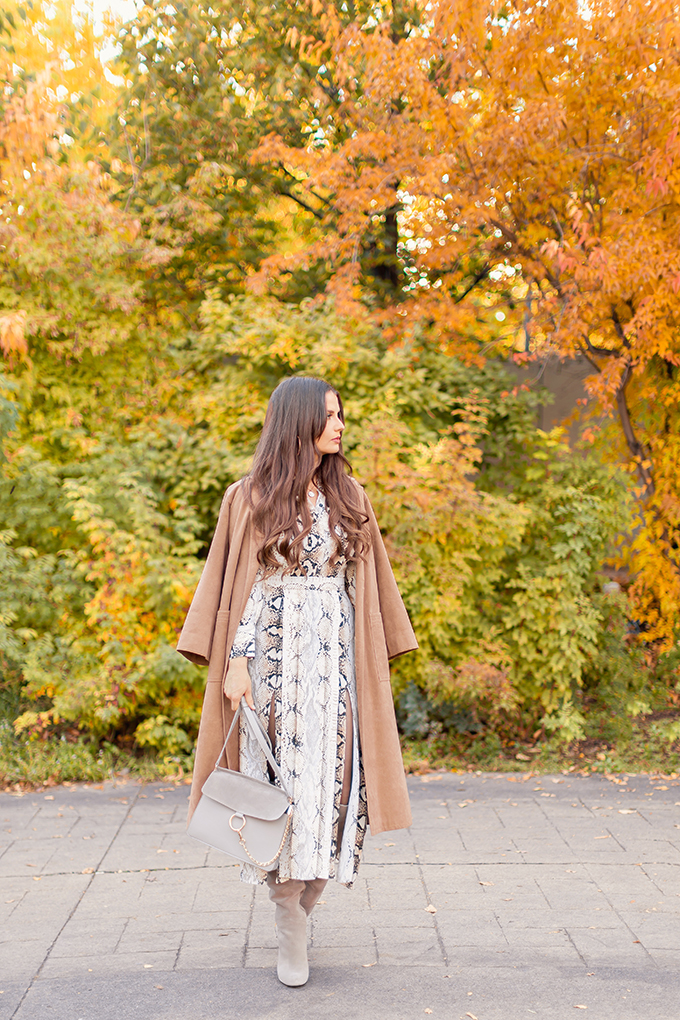 This dress always turns heads and receives compliments from both men and women, many of which asking where I purchased it. Although this exact dress is now sold out online, but I spotted a limited size run in-store just yesterday at the CF Chinook Centre location for my local snakeskin lovers! Zara also has a few lookalikes and tons of other gorgeous snakeskin frocks. As always, I've linked up some alternate options for you, along with my favourite snakeskin pieces of the season for you below.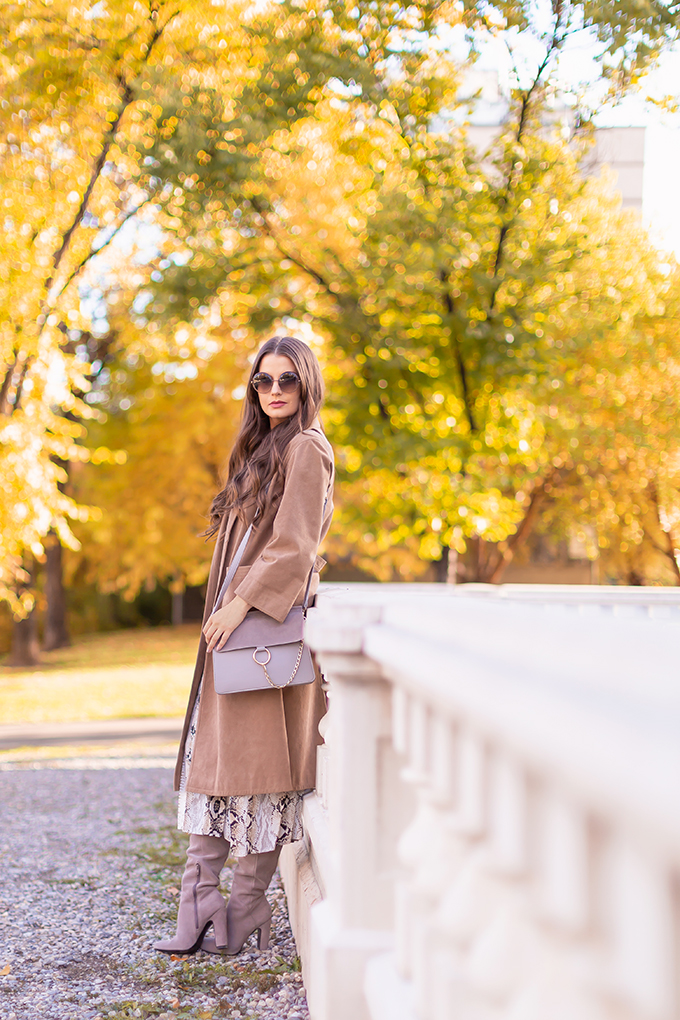 So, how do you go about finding your perfect snakeskin piece? I'm a big believer in wearing what you love and feel comfortable in regardless of traditional 'rules', but  here are some general guidelines you may find helpful if you're relatively new to the world of statement prints! Typically, taller gals can pull off larger prints, or all over prints (this look is a perfect example of that — I'm 5'8″ and feel that I can pull off this all-over snakeskin maxi quite well because of my height) — while shorter babes should opt for a smaller scale print so as to not overwhelm their petite frames. Now, these rules don't always apply, but they're a good baseline to start experimenting with. If you're on the more petite side and want to try a bold, all-over print, try breaking it up with belts or other layering pieces that are appropriate in scale to your frame.
For professional settings, I would personally opt for a snakeskin blouse, a scale-covered dress is a more traditional cut, or accessory in place of your go-to pieces. Zara (sorry for the Zara overload, but it's one of my favourite retailers and they're killing the snakeskin trend this season!) has a beautiful selection of tasteful snakeskin pieces this autumn / winter.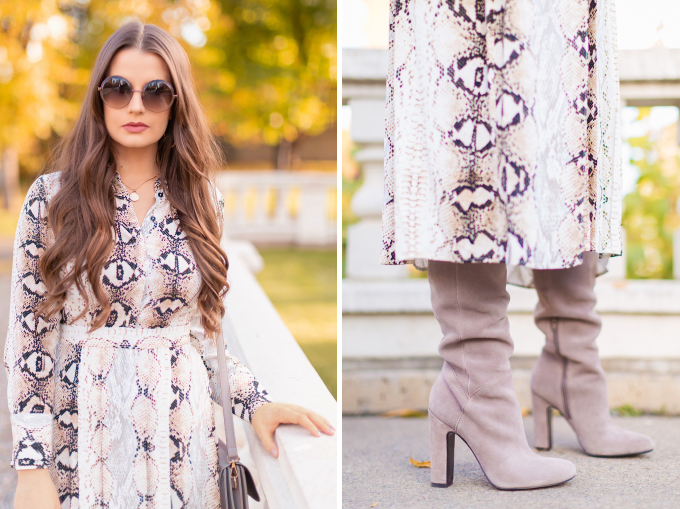 If you want to dip your toes into the snakeskin trend but aren't ready to commit to a piece of clothing, try a snakeskin accessory! This season, they can range in pattern from bold to realistic to tonal — there really is something for everyone. For example, if you love the texture of snakeskin but not the colour palette of traditional prints, why not opt for a black or neutral snakeskin-embossed bag (in fact, I've been eyeing a few myself!). I've linked a handful of my favourite snakeskin accessories for you below, as well as a pair of western-inspired snakeskin booties that I snagged during Zara's Black Friday sale. I cannot wait to wear them!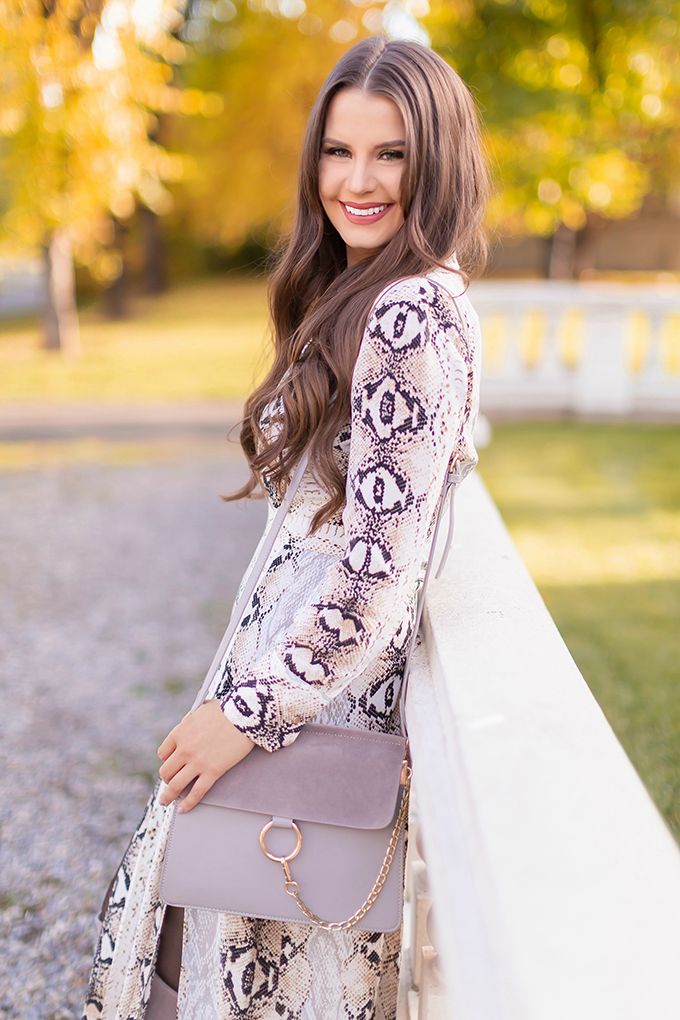 I always choose my lip and sunglasses last to complete an outfit. I kept things tonal with a neutral, brown based lipstick that's actually a bit cooler than I would typically go for — Bite Beauty's Amuse Bouche Lipstick in Chai (one of my all-time-favourite formulas, but a new-to-me, seasonally appropriate shade!). A pair of my signature round sunnies with a tonal wire frame and grey lens keep things monochromatic and also bring a familiar element to this look — something I love to do when I'm experimenting with trends to ensure my outfit still feel, well… like me!

---
MORE FROM MY PATTERN PLAY SERIES
---
Paisley is coming up next (now live!)
---
SHOP THE POST
---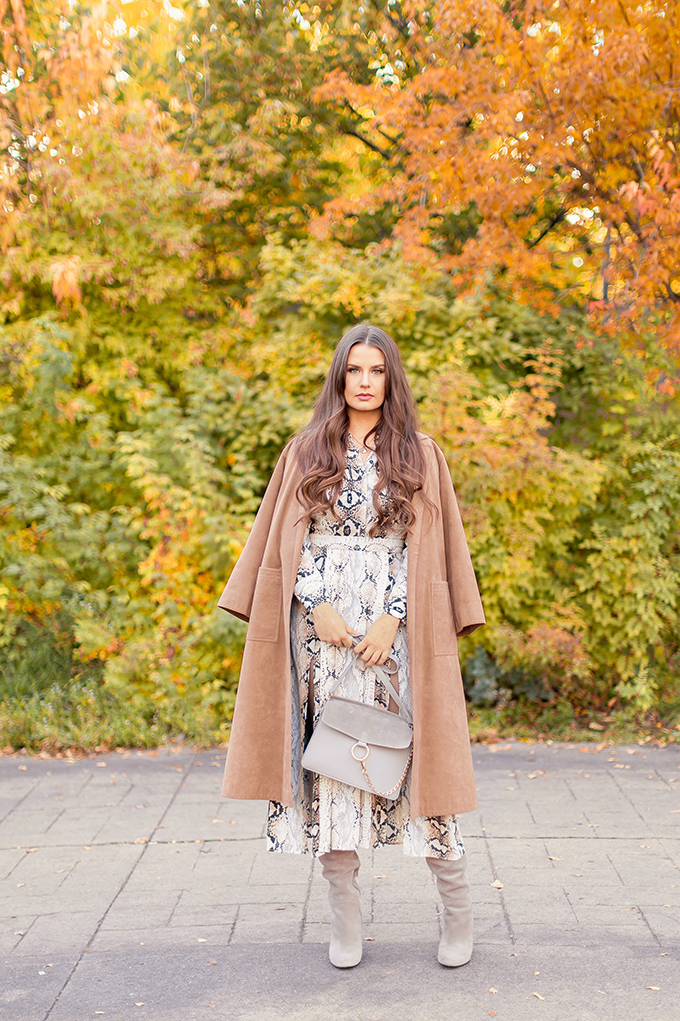 ---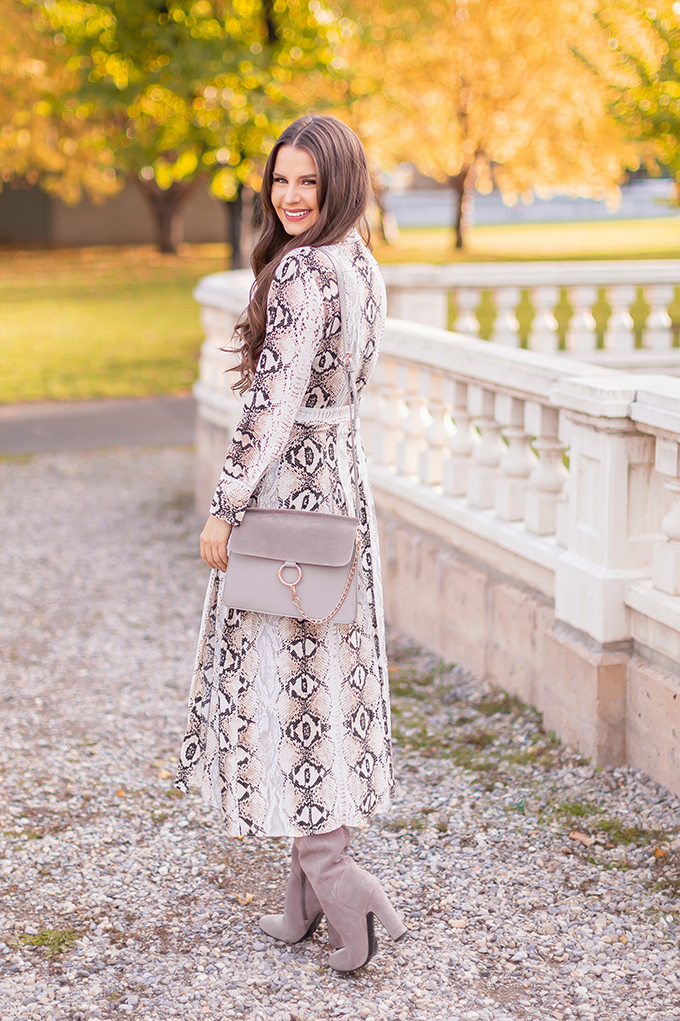 How do you feel about the snakeskin trend? I'm slowly adding more snakeskin pieces to my closet and I have to say it's really growing on me! Stay tuned to see how I style snakeskin as we head into winter — as I mentioned I have the coolest pair of western inspired snakeskin boots coming in my Zara Black Friday order and I can't wait to style them up for winter. Join me on Instagram Stories for lots of FASHION unboxings as my Black Friday / Cyber Monday shopping trickles in, before it hits the blog!
If you're looking for even more sartorial inspiration in the meantime, you can also follow along with my JustineCelina Fashion board on Pinterest. And if you want a sneak peek at what I'm wearing before it hits the blog, as well as some exclusive style content you won't see here, come join me over on Instagram for daily posts and BTS / day-to-day life on Stories! As I mentioned in my Autumn 2018 Lookbook, I'm currently gearing up for the holidays and planning winter STYLE content. If there's anything in particular you'd like to request, just leave me a comment! Thanks so much for stopping by today, friends. If I've inspired you to add a little snakeskin to your wardrobe this season, I'd love to know what you picked up and how you're wearing it!
---
Disclaimer: This post is not sponsored, and contains my genuine thoughts, ideas and recommendations. JustineCelina uses affiliate and referral links, which allow me to receive a small commission when you make a purchase through one of my links. Thank you for supporting the brands and businesses that support JustineCelina!