---
March is upon us, but winter is still very much alive and well here in Alberta. In fact, in all my years living in Calgary, I can't remember a winter when we've had this much snow (I'm not even exaggerating, the piles are taller than I am!). So, what's a fashionista to do? This year, I resolved not to let old man winter put a damper on my personal style — after all, life must go on and I'm a firm believer in looking and feeling your best, no matter the weather. So, for my final TREND GUIDE of the season, I'm sharing a cozy look featuring some of my favourite luxe, winter fabrics — but I'm also taking cues from SS18 trend forecasts. This transitional, winter-meets-spring look is two parts new and one part vintage — with a dash of bad ass thrown in for good measure (and yes, I listened to The Velvet Underground the entire time I edited this post!).
If you're ready to rev up some classic pieces in your winter wardrobe with an infusion of key spring trends, this post is for you! Today I'm chatting about velvet, baker boy hats, millennial pink, daytime sequins, fuzzy fabrics and gold accessories — plus how you can wear these trends right now, as well as transition them into spring. Don't let the March blah's get you down — let's end winter with a bang this season with my WINTER 2018 TREND GUIDE | VELVET UNDERGROUND and tons of shoppable links at every price point!

---
WINTER 2018 TREND GUIDE | VELVET UNDERGROUND
---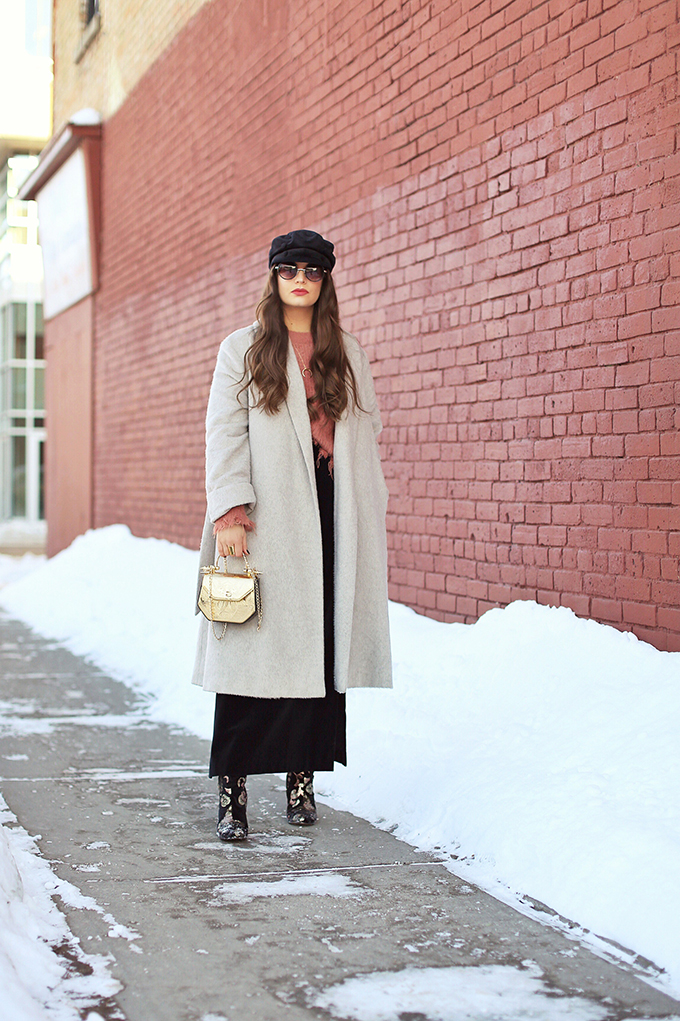 There has definitely been a uptick in fun winter outings on the calendar this year — and this is another outfit I wore to an event recently. The Wednesday Room (one of my favourite spots for mid century modern vibes, inventive cocktails and delicious eats) hosted their Toast & Jam media brunch in mid February, where I donned this look. We joined a table of 6 women to indulge in a 3 course brunch complete with mimosas and chat over the spinning tracks of a live DJ. As we got to talking, they had lots of questions about my outfit! We had a lengthy conversation about almost each item I was wearing, where it came from, the story behind each piece — and I shared a few of my favourite retailers and shopping tips. I absolutely love chatting fashion with other women — in fact, it was one of the reasons I started JustineCelina in the first place!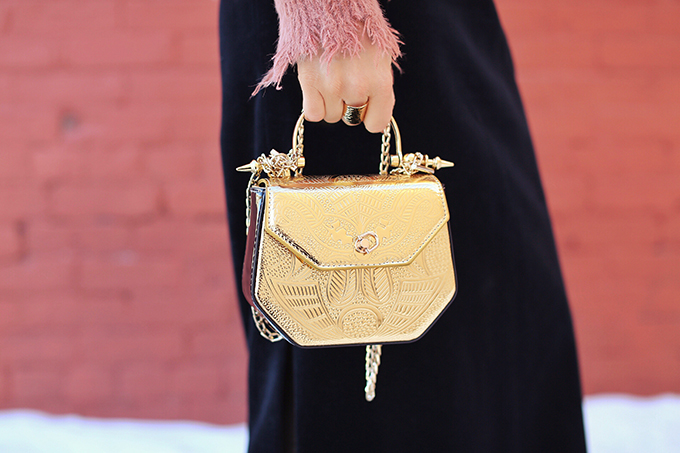 Naturally, I thought this look would make a great blog post. It includes a few of my favourite winter trends mashed up with spring sensibilities, plus a healthy dose of sparkle and glitz — which I thought was perfect a champagne fueled winter brunch! If you want to know how I'm staying stylish during this cold snap, I'm so excited to break this outfit down and share my favourite ways to transition some key winter wardrobe pieces into spring!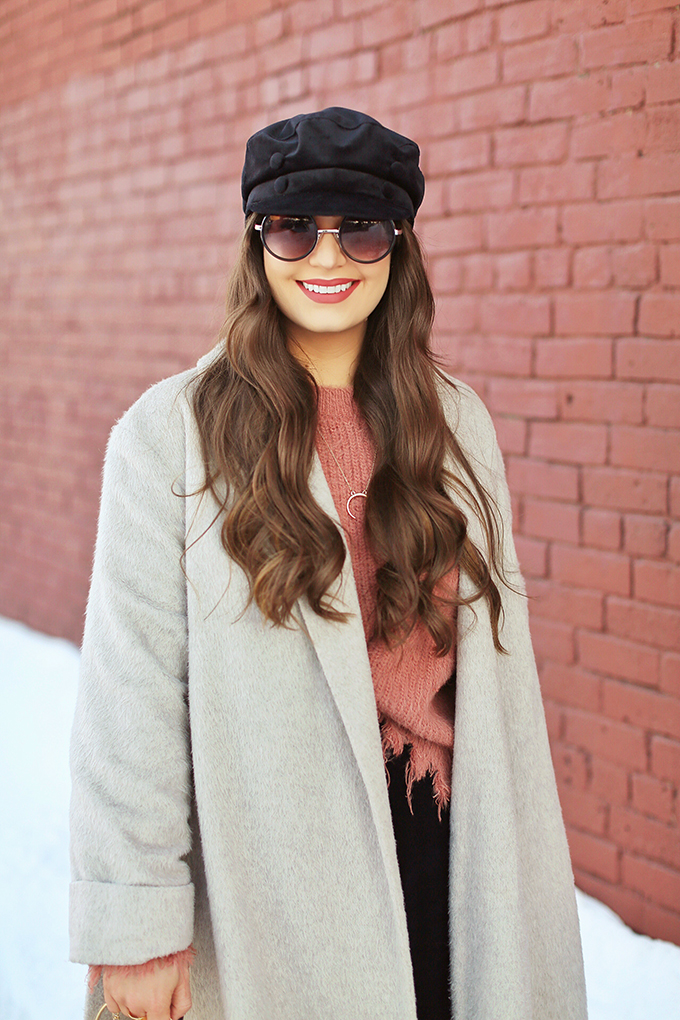 ---
TREND: Velvet
---
If you've been with me for any length of time, you'll likely have seen your fair share of velvet on these pages. But up until this year, I've always considered velvet a cold weather texture. And while my beautiful vintage skirt and hat are definitely items I'd reserve for the autumn and winter months, I've also recently incorporated a few velvet pieces into my wardrobe that I'll be able to transition into spring.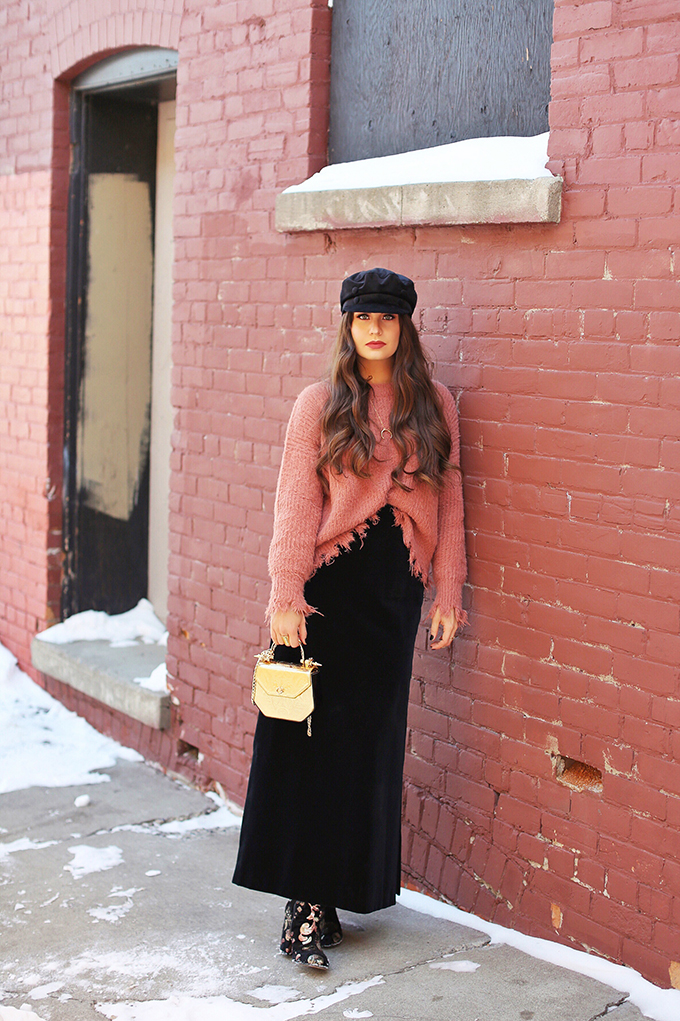 Velvet is such a sumptuous, luxurious texture that my favourite way to style it is to really play up the other textures in my outfit and abstain from wearing bold patterns to let the textures shine. That's exactly what I've done here — you'll notice that both my skirt and my hat are velvet and I've teamed them up with a fuzzy sweater, a metallic bag and sequined booties, but kept the pattern to a minimum. I think velvet is such a versatile texture and one I look forward to wearing well into spring — stay tuned for more velvet styling ideas over the next few months, browse my velvet archives, or shop a handful of my favourite velvet pieces right here!

---
TREND: Baker Boy Hats
---
Love 'em or hate 'em, Baker Boy Hats aren't going anywhere as we transition into spring. If this one looks familiar, it's because I wore it in my What to Wear to | Casual Holiday Parties post — also with a maxi skirt and also with double velvet (remember when I talked about spending some extra time creating outfit formulas that work for you?)! I've mentioned previously that personal style isn't overly feminine, so I like to offset girly with edgy and offbeat to keep my outfits feeling… well, like me. I love the retro 60's vibe my velvet baker boy hat adds to this look — plus, wearing something on your head really does help to keep you warm when it's chilly. Lately, hats have been a lifesaver on days when I don't have time to shampoo or trim my fringe — it's very overgrown at the moment!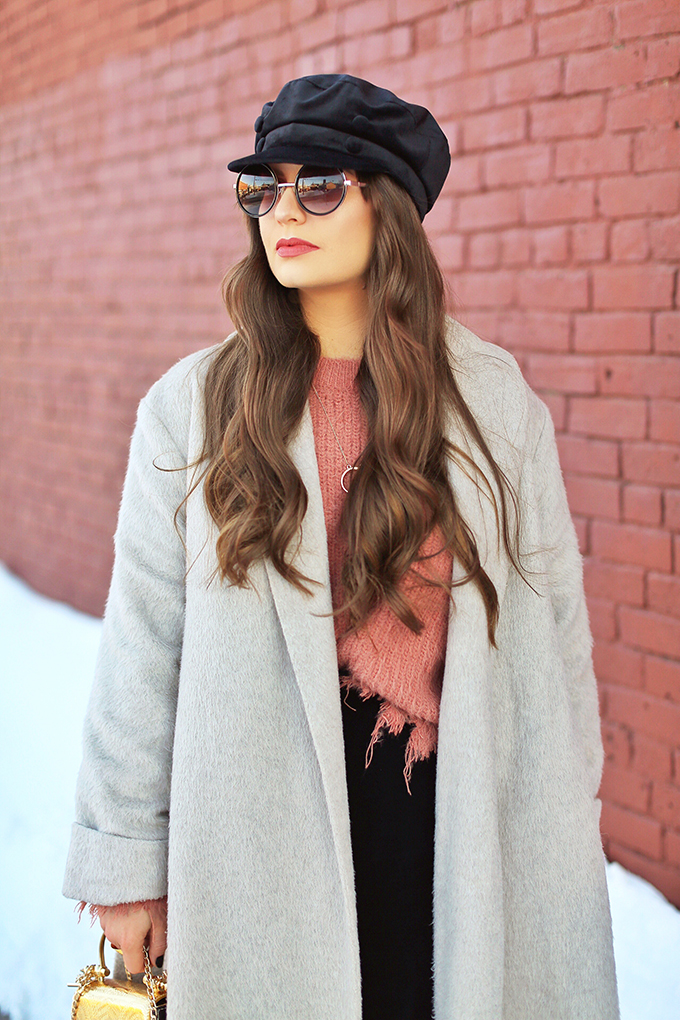 In addition to this black velvet number, I've also added brown / leather, glen plaid and tweed Baker Boy Hats to my wardrobe recently (suffice it to say you'll be seeing a lot of them around here as we transition into spring!). I've also been drooling over both baker boys and berets in brights and pastels — but trying to restrain myself! Especially here in Alberta where spring usually hits in May, hats will definitely be on the menu for months to come, simply from a practicality standpoint. So why not have a little fun with your hat game as we swap seasons? As I mentioned in my first Winter 2018 TREND GUIDE, statement hats are a huge right now — and in lighter fabrics, colours and textures, they can absolutely be spring appropriate as well. Keep your eyes peeled for my favourite ways to style both baker boys and berets for spring over the next couple of months, but in the meantime, I've rounded up the new additions to my closet you haven't yet seen, plus and a handful of other favourites below!

---
TREND: Millennial Pink
---
Who's sick of me yammering on about Millennial Pink?! Well.. sorry, not sorry — it's a massive trend. And after saying that 'I don't really wear pink' for the last few years, I've come to embrace it — I'm a firm believer that if you're intrigued by the hue but not sure if it will work for you, where there's a will, there's a way. After featuring it pretty prominently in my style content over the past few months, here are a few takeaways from a so-not-girly-girl finding a few ways to incorporate it into her personal style.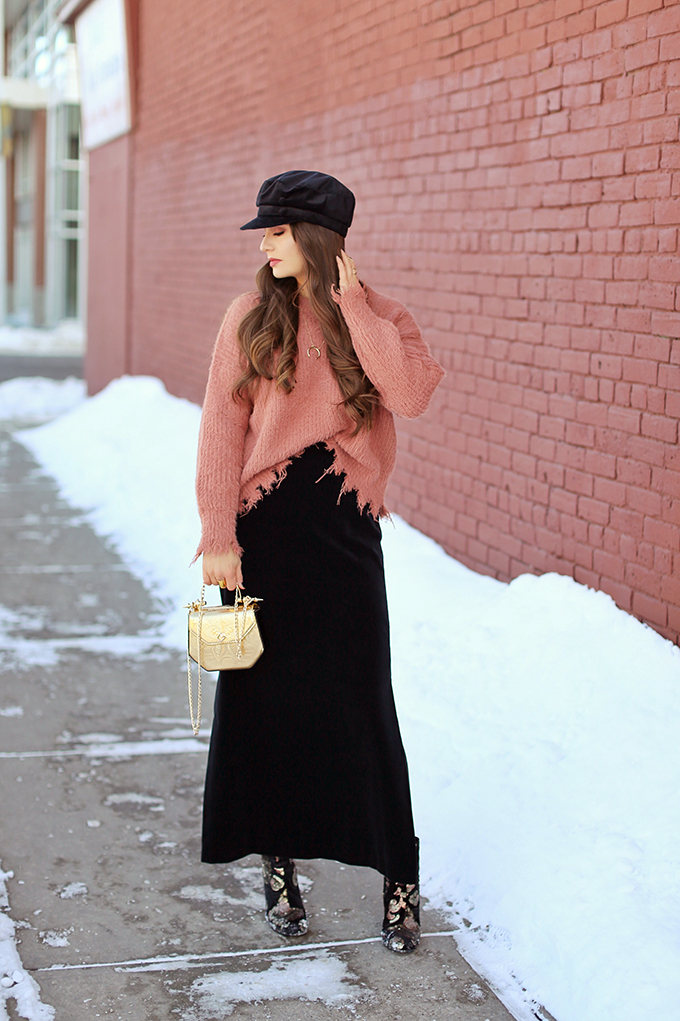 First, I tend to gravitate to Millennial Pink pieces that have have some sort of edge or interesting texture to them — like this pleated maxi skirt, disheveled oversized knit, ultra luxe, 70's inspired teddy coat and the fuzzy, distressed hem sweater I'm wearing here. On my skintone and in my personal style, blue based pinks just don't work — I don't find them flattering and I also find them too feminine. So I tend to stick to pastels, or warmer, mid toned pinks, because those shades really work for me (I love this particular shade because it's a nod to Pantone's Blooming Dahlia!). I also like to style them with neutrals and avoid lots of pattern to keep my pinks looking sophisticated and not sickly sweet.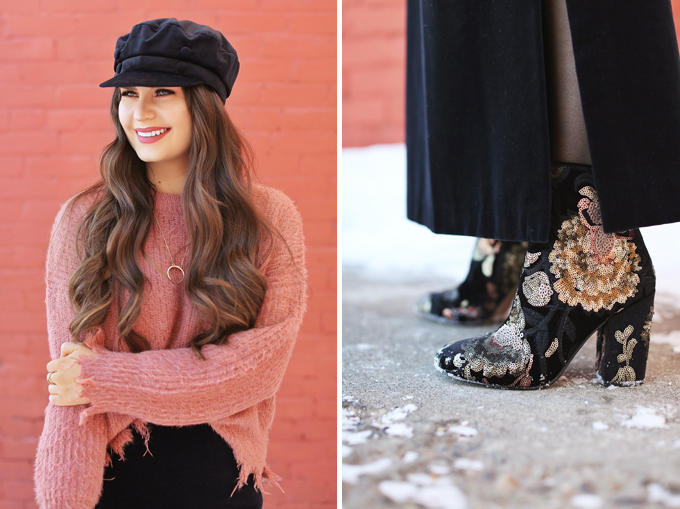 Lastly, I really seem to play up my accessories when I wear pink to give my outfits a unique touch. As my personal style is eclectic and vintage inspired, I can pretty much find a way to make anything work — it's all about how I style it. And I think you can make millennial pink work for you, too! If you're for some more in depth millennial pink styling idea, check out my What to Wear to | Casual Holiday Parties, How to Style | Oversized Knits and Colour Crush | Blush posts. I'm also wearing one of my favourite pink chenille sweaters in my February 2018 Soundtrack, which I just paired up with some mid wash, raw hem denim (this pair, to be exact). Shop my favourite millennial pink pieces of the moment below!

---
TREND: Daytime Sequins
---
I find that sequins are a bit of a polarizing texture. Personally, I definitely think they have a place in every woman's wardrobe when done tastefully — take, for example, this glitzy vintage flapper dress I reserve for special occasions, my sequined boho bucket bag and the killer statement boots I'm wearing in this post, for example. Although sequins aren't a texture I wear often, this glitzy fabric is trending in daytime ensembles as we transition into spring!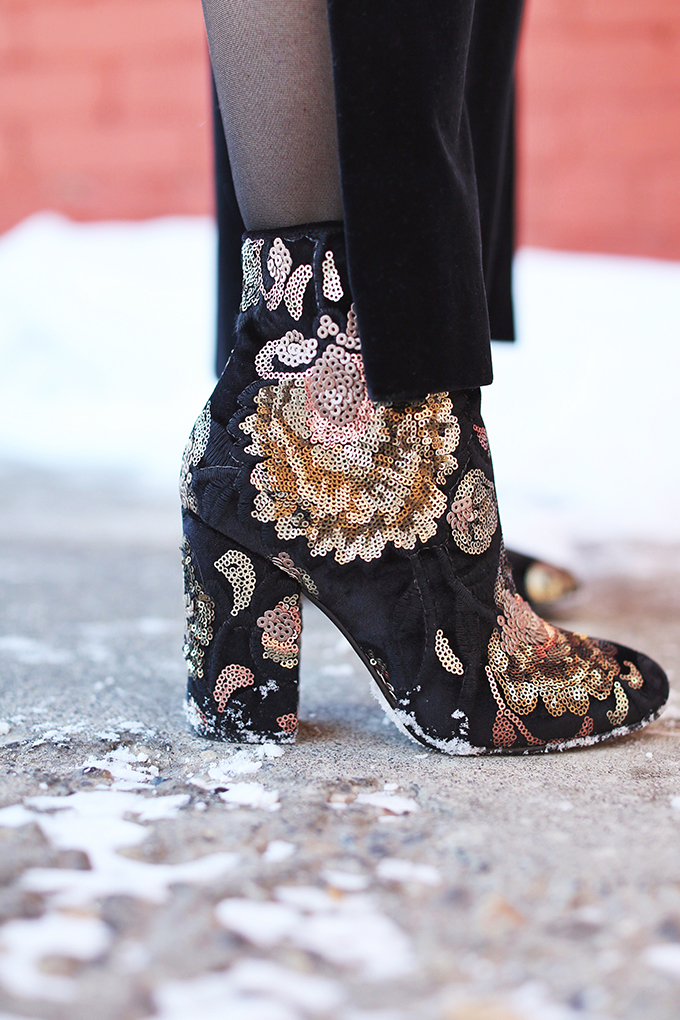 If you follow along over on Instagram, you may remember me drooling over these boots on Stories, then waiting until they went on sale for 50% (which they still are!) off and snapping them up — just before the holidays. They're definitely the boldest shoe in my winter wardrobe this year — but they're also surprisingly comfortable and easy to walk in, making them perfect candidates for daytime wear. As the weather gets warmer and I can bare my ankles, I'm planning to style them up with cropped denim — but in the meantime, I've been rocking them with maxi skirts and tights. Surprisingly, they're quite a versatile shoe that adds a certain je ne sais quoi to whatever I wear them with. My favourite way to incorporate sequins into my personal style during the day is with an accessory — however, if you're feeling bold, go ahead and don a sequined top (or a bomber jacket if athleisure is your vibe!), or pair a chunky knit up with a sequined mini skirt and OTK boots (or layered overtop of a sequined dress!). The possibilities really are endless as we transition into spring — and if you're on the hunt that special sequined piece, I've curated a handful of my favourites for you below.

---
TREND: Bold Gold Accessories
---
As a gold lover, I'm ecstatic that bold, gold accessories are trending at the moment. I spotted this darling gold bag at SheIn when I was purchasing my Chloe dupes and immediately added it to my cart! This is the perfect example of an inexpensive piece that looks high end and can really elevate a look. Whenever I wear her, I'm always showered in compliments and questions, so let me let you in on a little secret — this ornate gold stunner is just $30 and the craftsmanship is outstanding!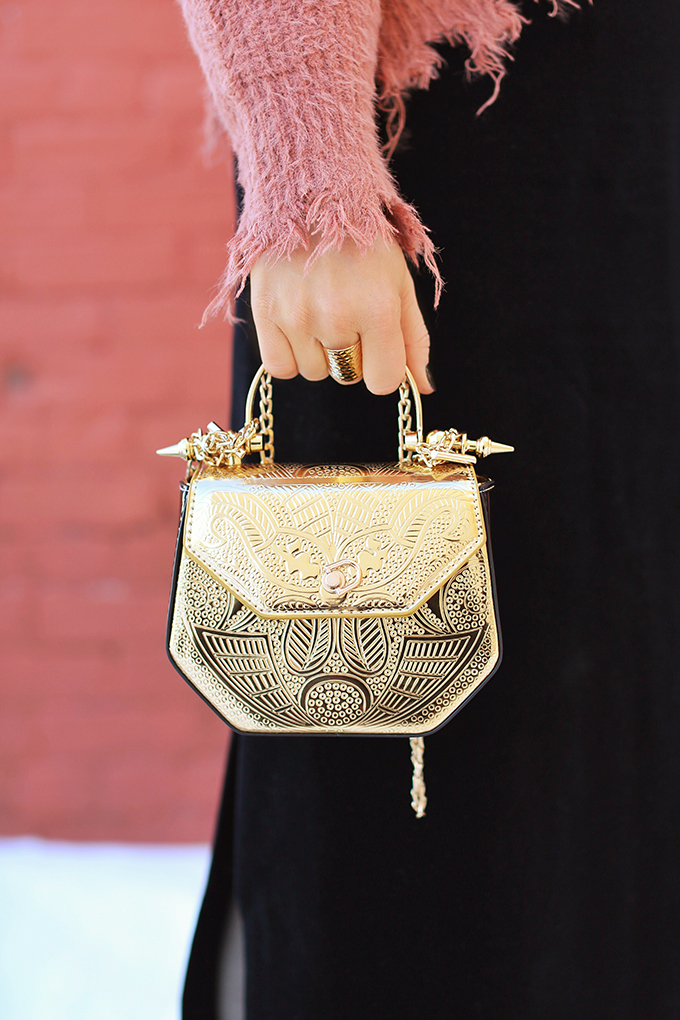 I've also been into layering and stacking my necklaces and rings lately. To pick up the gold in my shoe and in my bag, I've chosen some delicate gold necklaces and a handful of my go-to gold rings — this statement Jools & Joplin ring from my friends at Joydrop (I also wore in in this post) and my favourite layering rings from Coutu Kitsch, including the Midi Circle Ring, Midi Triangle Ring and Pinky Triangle Ring (which I also wore here and wear often in my day-to-day!). Stacking and layering rings is of my favourite ways to add that boho flair I love to any look. If you want to jump on board with spring's gold rush, here are my favourite gold jewellery selects.

---
TREND: Fuzzy Fabrics
---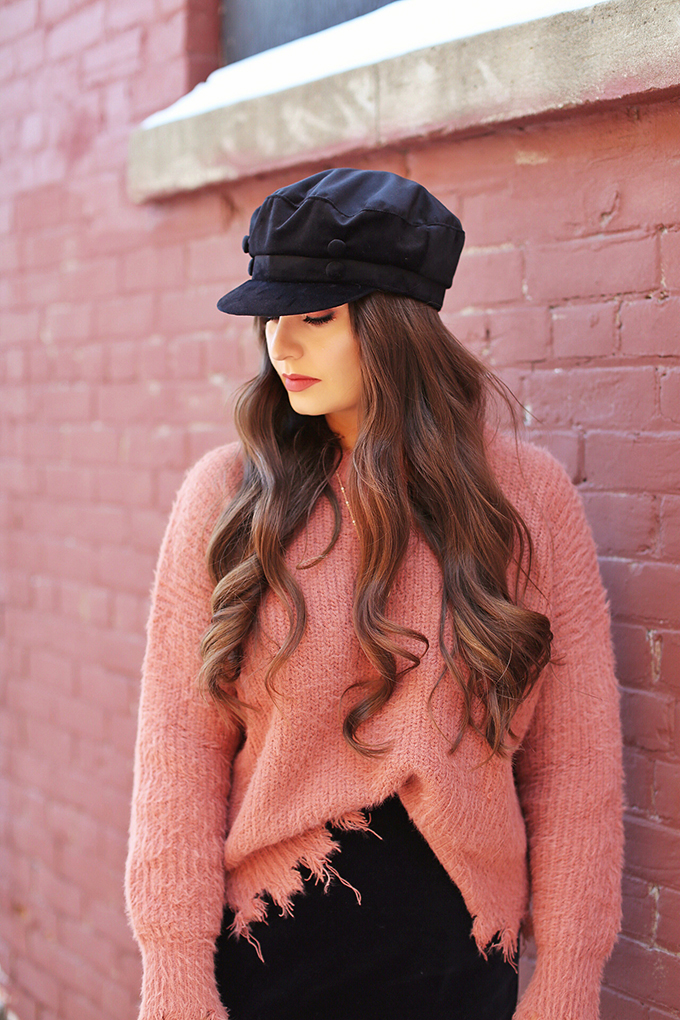 This winter, I've been living in cozy textures — from chenille, to wool, to velvet, to teddy. This beautiful fuzzy sweater is actually another one padding my winter wardrobe from Forever 21, where I did the majority of my winter knit shopping this year! If you haven't checked Forever 21's knits out lately, you really should. As I mentioned in this post, they've started bringing in interdependent designers in addition to their own labels — and I love every single knit I've purchased them year and they've all washed up extremely well. I love the warm rosy hue, the soft, snuggly fabric and the interesting distressed hem, making it ideal for tucking into high waisted bottoms, like my vintage maxi skirt. Fuzzy textures can absolutely transition into spring — in fact, I'll be sharing a post where I'm wearing a brocade mini skirt with a mock neck top, OTK boots and a fuzzy cardigan as soon as it warms up a bit. Shop my favourite fuzzy sweaters in a dreamy, spring palette right here!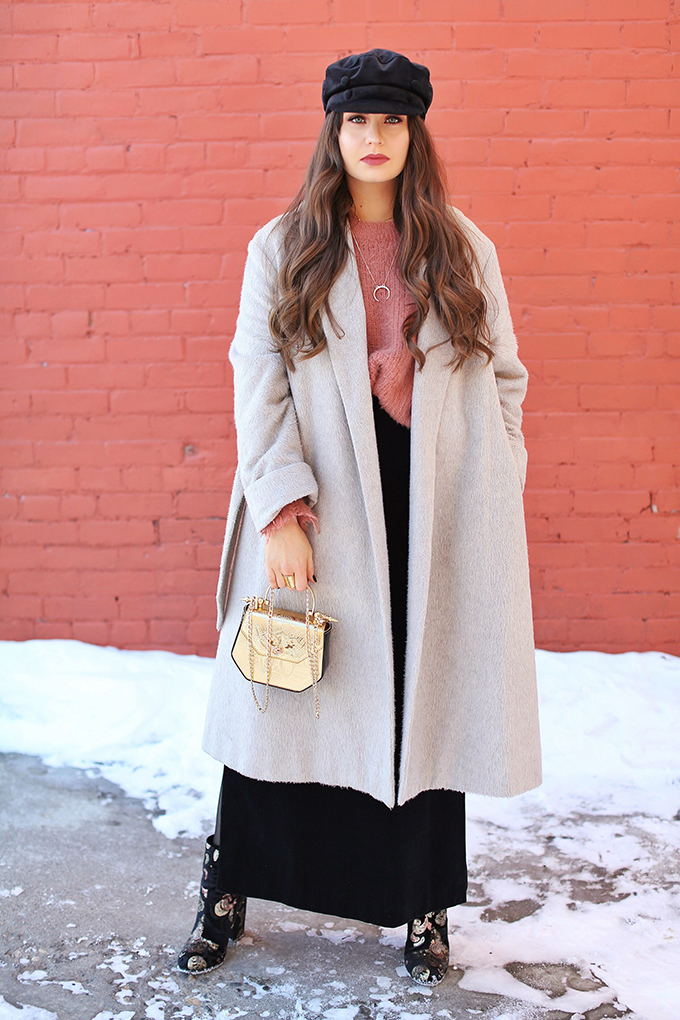 Also falling into the fuzzy category is this stunning longline coat. If it looks familiar, it's because I wore it in my January Blues post (as I've mentioned, I'm definitely not one of those bloggers who only wears something once — I love to show you how to style the same pieces over and over!). I picked it up on clearance around this time last year (end of season sales are my favourite time to pick up majorly discounted outerwear — especially at ASOS, where this beauty hails from) and because of it's oversized silhouette, it's my go to coat for throwing on over cozy knits. I particularly love the contrasting hem lines of it with longer pieces like this velvet maxi skirt — and by a landslide, this is my most worn coat this season! While this exact coat is no longer available, I've rounded up some similar, marked down options for you.

---
SHOP THE LOOK
---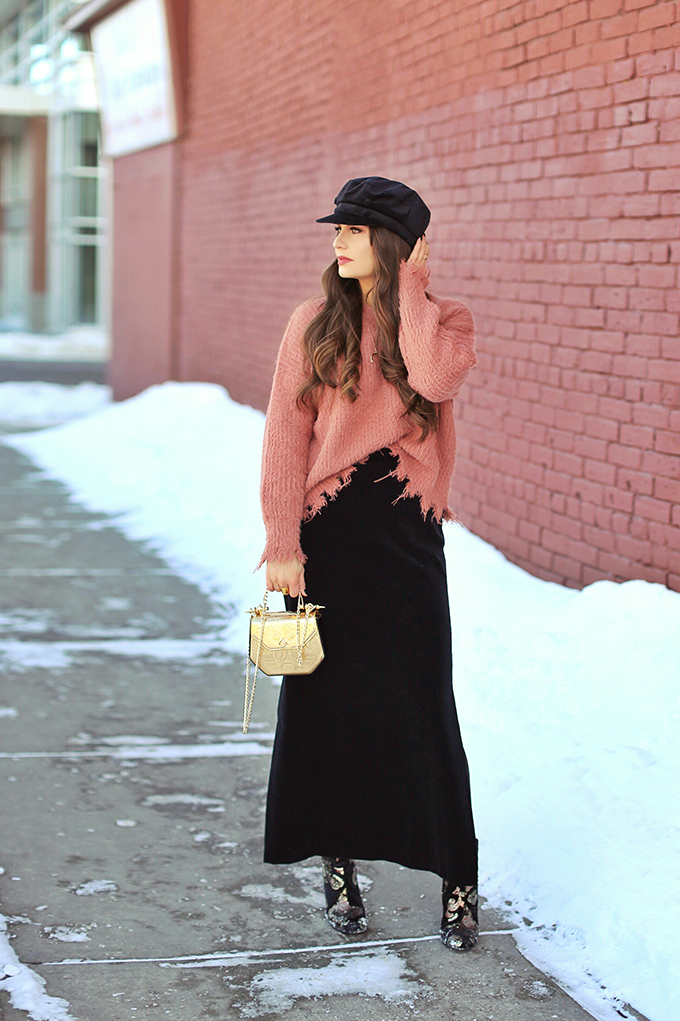 ---
DON'T LET WINTER WIN! MORE COLD WEATHER STYLE INSPIRATION
---
How to Style | Midi Dresses for Winter
How to Style | Oversized Knits
Winter 2018 Trend Guide | Red Hot
What to Wear to | Casual Holiday Parties (featuring my favourite winter 2018 staples!)
---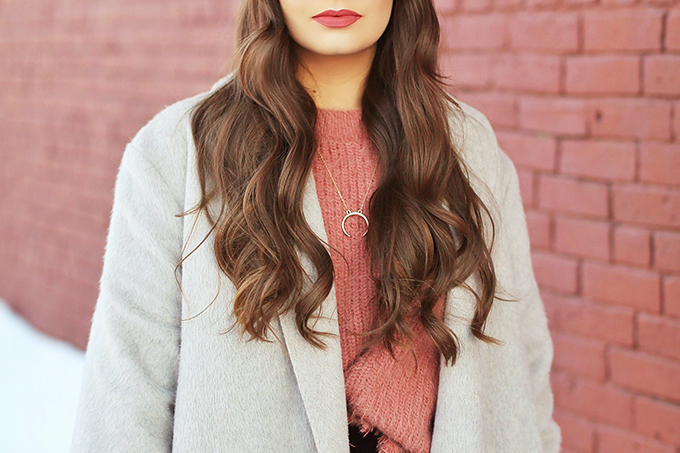 Are you still embracing your winter wardrobe, or looking ahead to spring? I hope you enjoyed my final Winter 2018 TREND GUIDE and found a few trends or styling ideas you'd going to try as we transition into warmer weather. I'm currently planning my sartorial calendar for spring, so if there's anything in particular you'd like to see from me, just let me know! I always love to hear your ideas and I take reader requests quite often. Thanks so much for spending a little bit of today with me, friends. Spring is just around the corner — but until then, stay cozy!
---
Disclaimer: Thank you to From Rachel for my tights, to Joydrop for my gorgeous Jools & Joplin ring, to Coutu Kitsch for my other rings and to my Grandmother for this stunning velvet skirt. This post is not sponsored and contains my genuine thoughts, ideas and recommendations. JustineCelina uses affiliate and referral links, which allow me to receive a small commission when you make a purchase through one of my links. Thank you for supporting the brands and businesses that support JustineCelina!