---
The shortest (and coldest!) month of the year is drawing to a close — and that means it's time for my February 2019 Soundtrack! This cozy, intimate, 43 track playlist makes perfect background music for the office, your daily commute, relaxing at home or entertaining. It's an eclectic, upbeat, chill mixture of everything I've had on repeat for the past month spanning genres — with a heavy focus on instrumental with a free spirited, folk-y twist!
I discovered tons of new tracks during February (and new music from a few of my favourite artists!), but Beauvois's Fall Back, Anna of the North's Leaning on Myself, Brett's Tenenbaum, Star Slinger's Choose Yourself (like the modern day version of Everybody's Free To Wear Sunscreen for creatives — anyone else remember that song?!), Richard Houghten's Wind Travel, Koresma's Canyon Walls, Arms and Sleepers I Miss The Melody Of, Dermot's Kennedy's After Rain, Roo Pains Silver Moon, Rand Aldo's Tomorrow Will Save Us, Airwaves You Gotta Keep Moving, Astron's Astral Projection, alt-J's Warm Foothills, Villager's Nothing Arrived, Jay Wolf & Day Wave's Your Way, EREZ's Runnin, Tim Legend's When The World Ended and RKCB's Flowers for Vases were on heavy rotation. Cozy up in front of the fireplace with a delicious glass of red wine or your favourite herbal tea and indulge your ears in the sweet musical styling of February's Monthly Soundtrack!
---
FEBRUARY 2019 SOUNDTRACK
---
---
NEED MORE FRESH TUNES? CHECK OUT MY LATEST PLAYLISTS
---
January 2019 Soundtrack (or listen on Spotify)
Best of 2018 Soundtrack (or listen on Spotify)
December 2018 Soundtrack (or listen on Spotify)
November 2018 Soundtrack (or listen on Spotify)
October 2018 Soundtrack (or listen on Spotify)
Or, browse the MUSIC archives here at JustineCelina for almost 4 years of monthly playlists!
---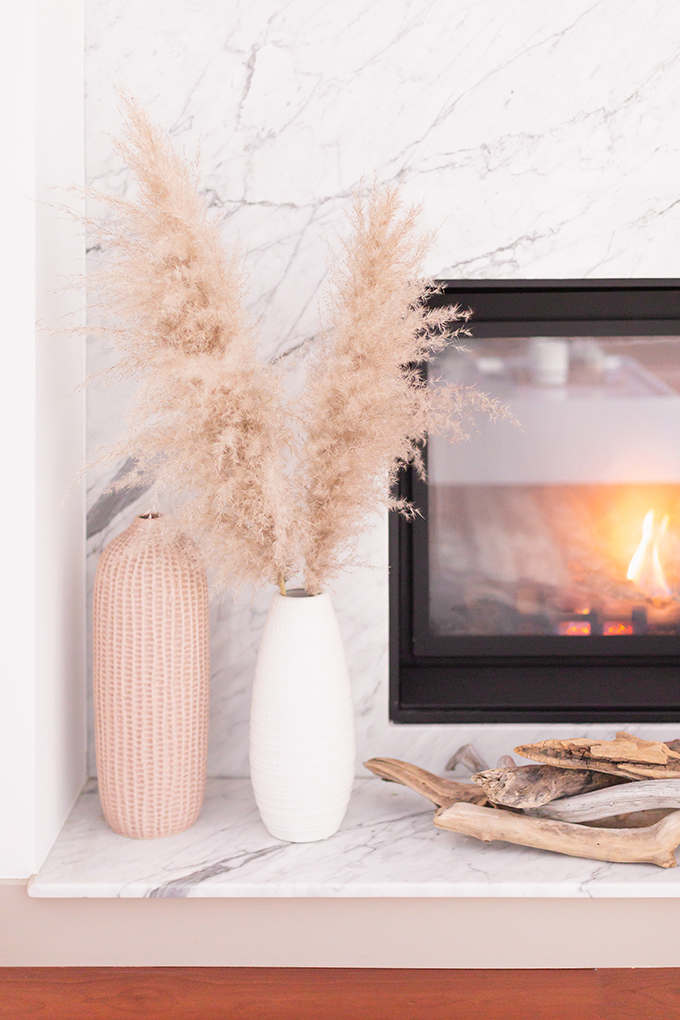 This month's album cover was taken one one of the many evenings we've spent curled up in front of the fireplace this month. It's actually been the third-coldest February on record here in Calgary! So much for that unseasonably mild winter I mentioned back in my Winter 2019 Lookbook — but it's made for lots of cozy evenings in. I've never been so grateful for our fireplace!
What have you guys been listening to lately? Leave me your recommendations in the comments, I'd love to hear from you! Do you use Spotify? If you do, feel free to drop some links to your playlists, or playlists / artists you think I'd enjoy. Enjoy the rest of your week, friends!
---
Disclaimer: Some items featured in this space were provided by HomeSense as part of previous partnerships. This post is not sponsored, and contains my genuine thoughts, ideas and recommendations. JustineCelina uses affiliate and referral links, which allow me to receive a small commission when you make a purchase through one of my links. Thank you for supporting the brands and businesses that support JustineCelina!