---
With 3 weeks of summer still to savour, I'm back today with my Late Summer 2019 Lookbook! We started shooting this mammoth project mid-June — and although it's taken quite some time to process the 2700+ images we took (these LOOKBOOK are definitely labours of love!), I'm absolutely elated to share this 12 outfit, late summer style guide with you today! As usual, it features everything I've been wearing and loving in both personal and professional settings over the last couple of months — plus innovative styling tips to help you extend the life of your summer wardrobe as we transition into autumn! My Late Summer 2019 Lookbook is complete with a healthy dose of seasonal trends, plus practical tips on how to wear them into fall, mixed with transitional wardrobe staples and shoppable links at every pricepoint (plus, insider tips about where to score the best end-of-season sales!).
Since I live in a climate where there's snow covering the ground for 7+ months of the year, I love to make the most of my summer wardrobe (and put as many miles on my open-toed shoes as possible!) while the weather cooperates! Once of my favourite ways to blend summer and autumn is with colour — recently I've been really inspired by the Pantone Autumn/Winter 2019/2020 Fashion Colour Trend Report and am taking cues for my transitional style. As always, you can expect a mash-up of high, low, old, new and vintage in my Late Summer 2019 Lookbook — with the beautiful Alberta prairies and badlands as our backdrop! If you're getting ready to transition your wardrobe into a new season but still hanging onto summer you're in the right place — I'm dishing on how to blend the best of both seasons in this practical, FASHION-forward guide for style savvy.
---
LATE SUMMER 2019 LOOKBOOK
---
Need some help deciding what to wear during these transitional weeks? My Late Summer 2019 Lookbook is equal parts summer and autumn — I love this time of year when I can blend my seasonal wardrobes and come up with some really interesting combinations! I hope it inspires you to get creative and do the same as you're transitioning your wardrobe into fall.
Surprisingly, the weather here in Calgary has been really beautiful lately — hovering right around the between 18°C mark on average. There's been a bit of rain lately, but there's also gorgeous summer days sprinkled in (it's been 25°C and sunny for the past couple of days!).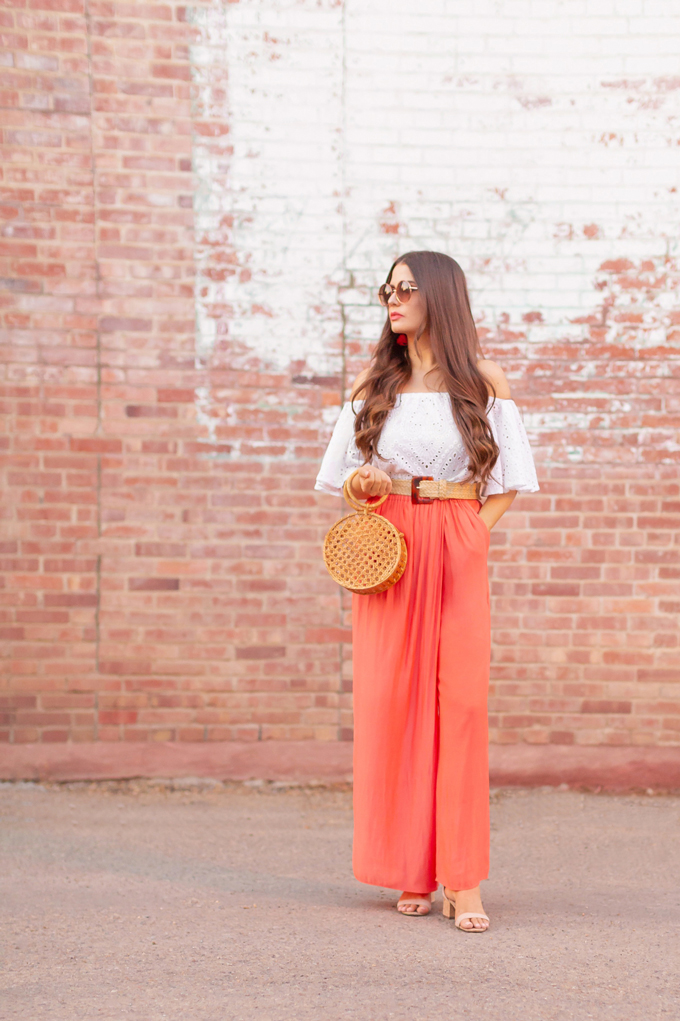 I'm a huge proponent of taking some time at the onset of each season to pull together seasonal a handful of 'outfit formulas' you can fall back on for various occasions. It's something I've done for as long as I can remember — and it's always time well spent! You'll read more about process in putting together outfit formulas in today's post, as I share my favourite outfit building tips, styling hacks and layering techniques!
To help you navigate this mega post and find the types of outfits you're looking for, I've divided this LOOKBOOK up into sections according to different settings they're appropriate for and the types of garments featured. Now, let's jump into some late summer transitional fashion, shall we?
---
PROFESSIONAL LATE SUMMER 2019 OUTFITS
---
If you've been with me for any length of time, you'll know I've built my wardrobe on pieces I can wear in both personal and professional settings. This versatile way of dressing allows me to present myself as creative and professional no matter no matter what the day may hold (because as an entrepreneur, flexibility is key!). Here's how I'm transitioning some of my favourite office-appropriate items into autumn — I hope it inspires you to shake up your WORK WEAR this season!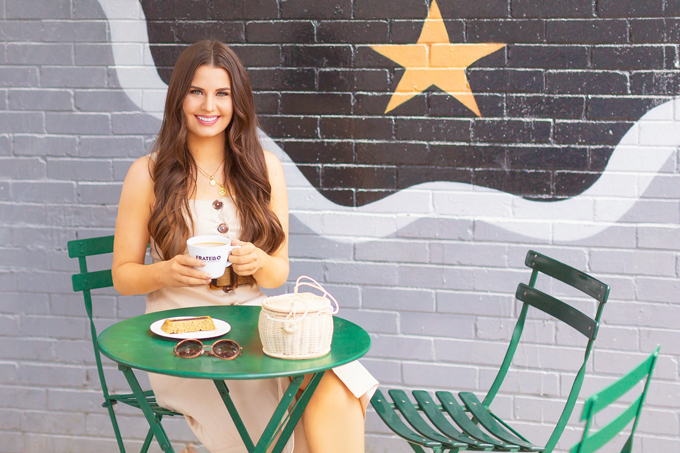 ---
POWER DRESSING
---
Everyone always talks about power suits — but what about power dresses? Without a doubt, this button-down linen midi dress has been my most-worn summer frock in a variety of professional settings!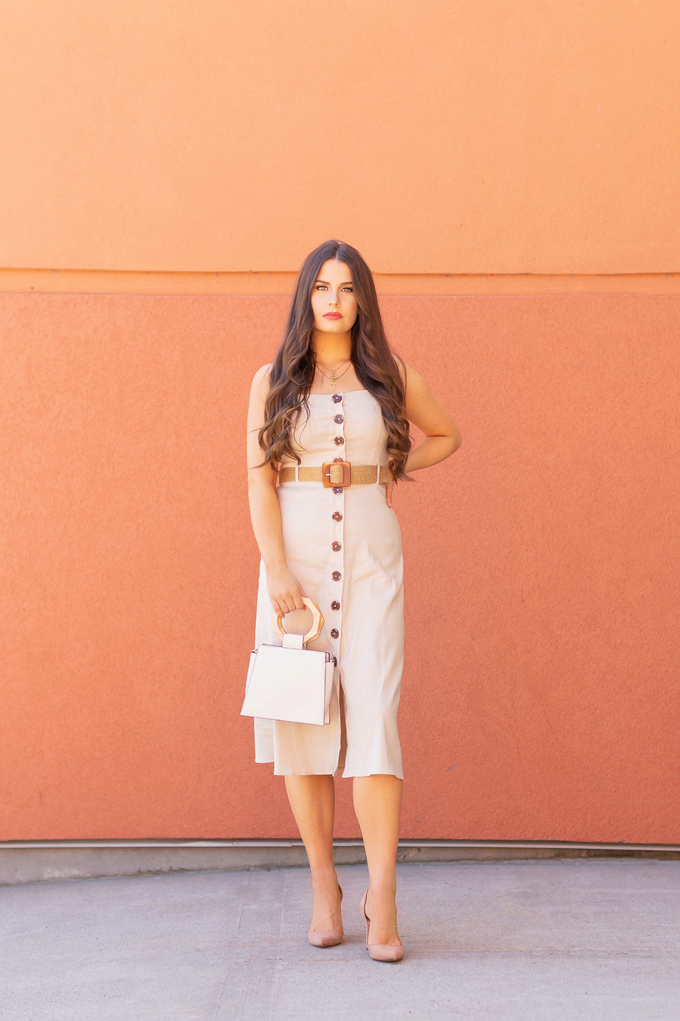 I receive so many compliments on this sleek, button-down linen dress (which came with the belt!) whenever I wear it — I love the breathable fabric and simple, timeless styling! I know it's a piece I'll continue to wear for years to come. It's a fantastic staple for spring through autumn, depending on how you style it. Here I'm wearing her just as she is, but I love to throw a blazer overtop on cooler days!
Here I've accessorized with a pair of tortoise framed sunnies to pick up on the buckle detail of my jute belt and polished things off with my Harper Hexagon Handle Handbag (it also has an attachable strap if you want to be hands free!). I adore natural materials and find myself drawn to pieces that incorporate organic, woven or wooden textures — both in my wardrobe and in my home.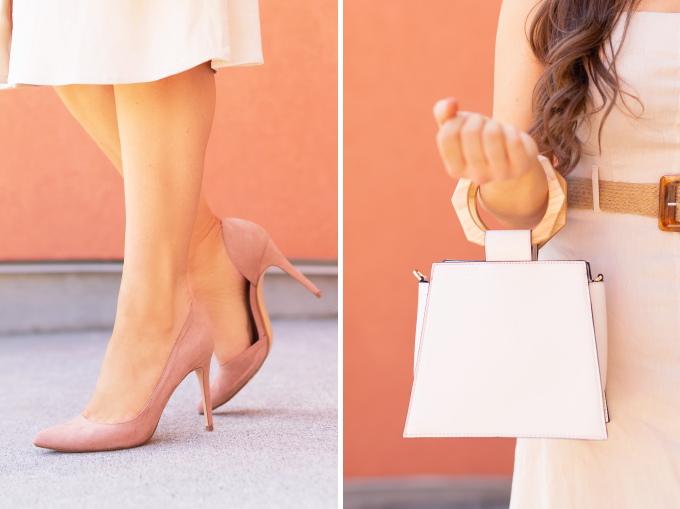 And lastly, I'm wearing a new pair of pointed toe d'Orsay pumps from Mango (my most recent shopping obsession!) that are truly my perfect pump. They're insanely comfortable (yes, really!), mimic my skintone for maximum leg-elongation and the price is right, too! In fact, I love them so much, I picked them up in every other shade available — which is something I do often when I find a fantastic wardrobe staple! 

---
BUSINESS CASUAL
---
I love outfits that do double duty in personal and professional settings, since this is how I spend most of my days. I wore this particular look from an afternoon coffee shop meeting to an early evening event — it's a great option for unpredictable weather!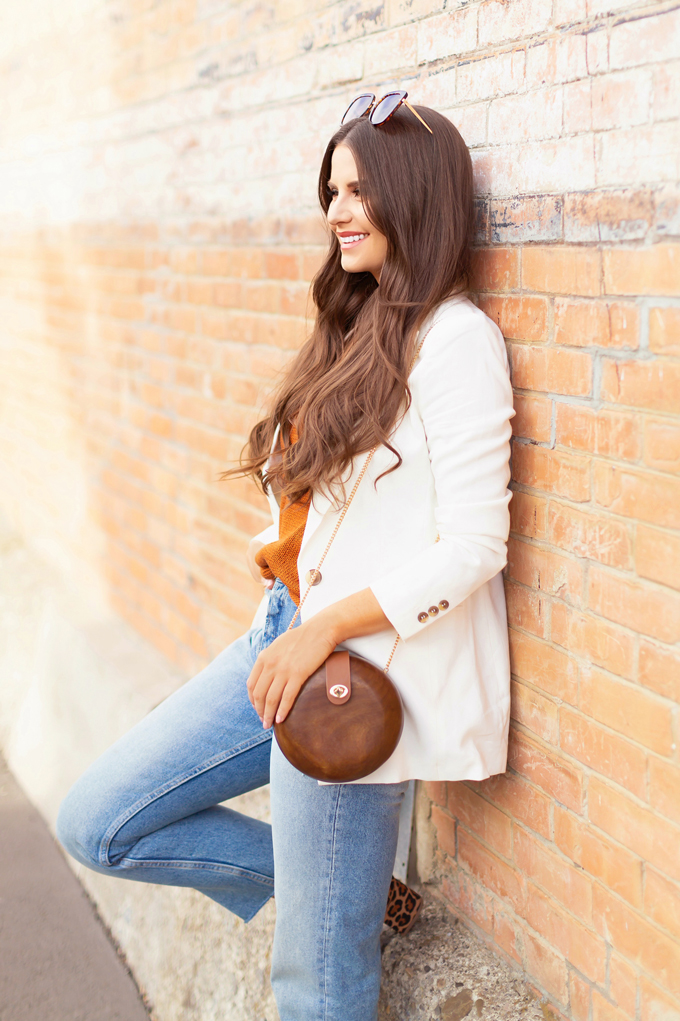 Lately, my business casual style essentials have included cropped mom-fit jeans, knit tanks, linen blazers, low block heeled sandals and tortoise framed sunnies! They create an easy, effortless outfit that's easy to dress up or down with accessories — I opted for leopard and wood (recognize my wooden bag?) for a natural vibe!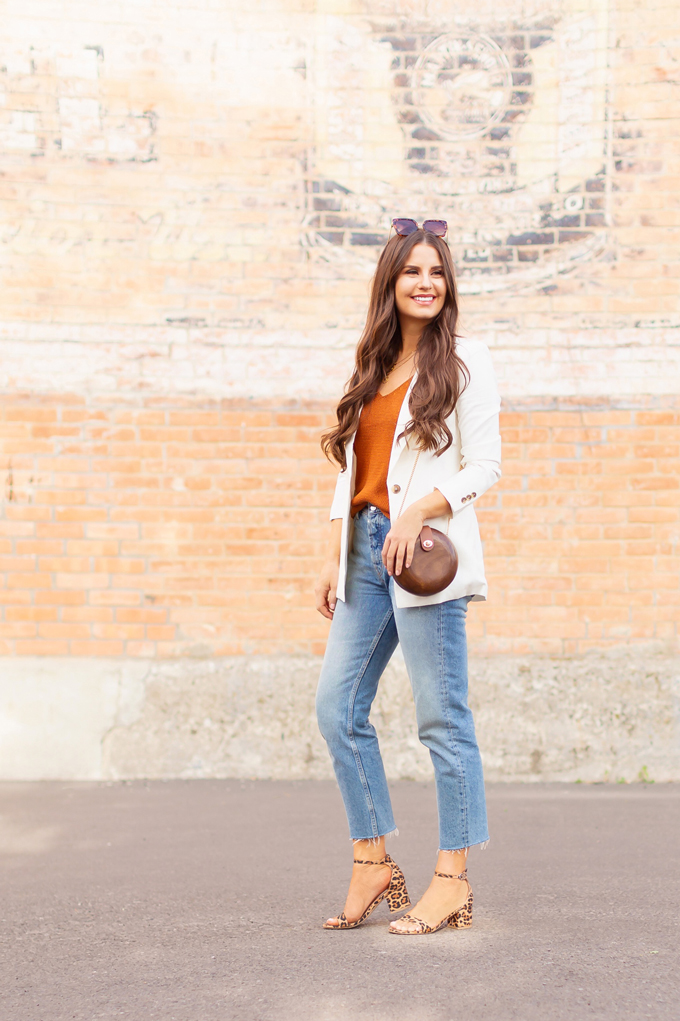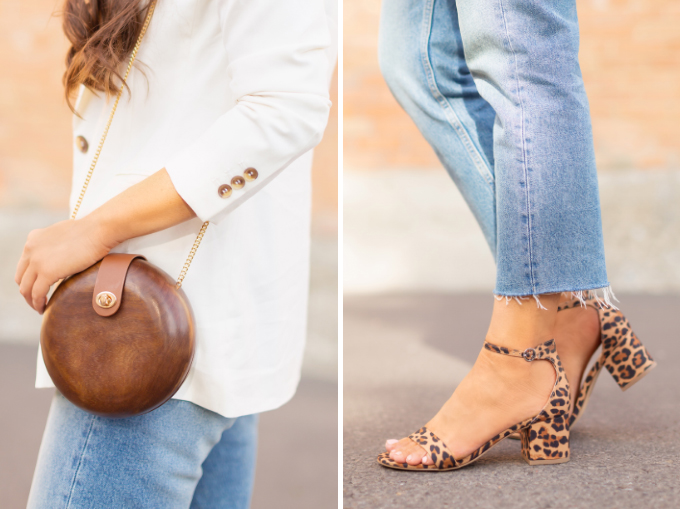 I've been wearing different renditions of this transitional outfit so often this summer — it's comfortable and polished with professional flair! I have this inexpensive (but great quality!) knit tank from H&M in 3 colours (all of which mimic shades from the Pantone Autumn/Winter 2019/2020 Fashion Colour Trend Report), a white and an oatmeal linen blazer (catch the oatmeal version in action in my Seeing Spots look, below) and 3 pairs of high waisted, mom fit light jeans (this one is cropped, one is more of a straight leg with light distressing and I also have a white cropped pair, also below) and I use them interchangeably to recreate the outfit formula over and over. You can easily swap accessories to dress it up or down and and make it more or less professional!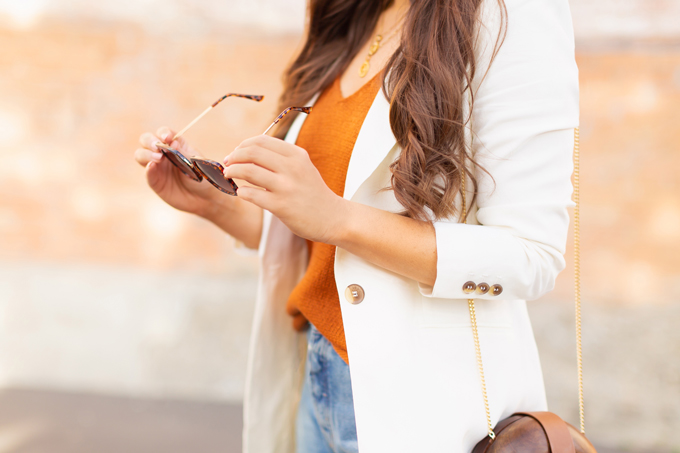 I wasn't exaggerating when I said I really have been living in this outfit formula! Here I'm wearing the mustard version of my favourite knit tank pair up with the white, high-waisted, cropped jeans I mentioned above. I could easily dress it up with a blazer and low-heels for a meeting, or style it for a glass of wine on the patio with a clutch or small bag and a pair of stilettos!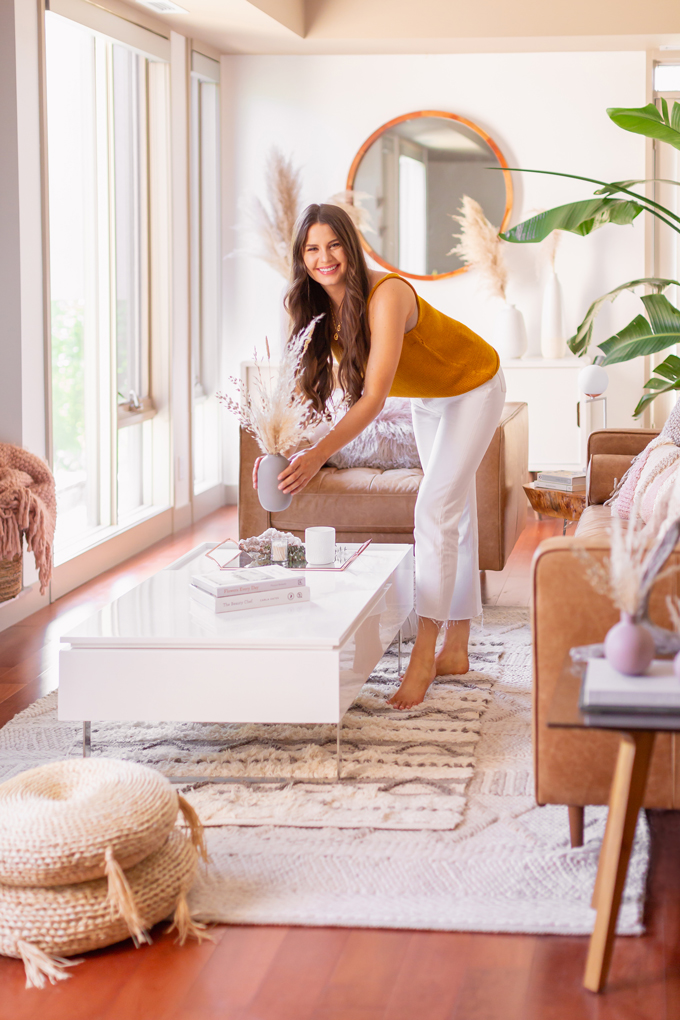 ---
SEEING SPOTS
---
I've been living in linen and breezy dresses all summer long! I picked this adorable polka dot wrap dress last summer after seeing spots pop up everywhere. Although I consider polka dot to be a classic print, it took me awhile to find a piece that I didn't feel was too sweet or traditional for me — I felt like polka dotted pieces in more basic colours (like black and white) just didn't suit my personal style because they felt too rigid.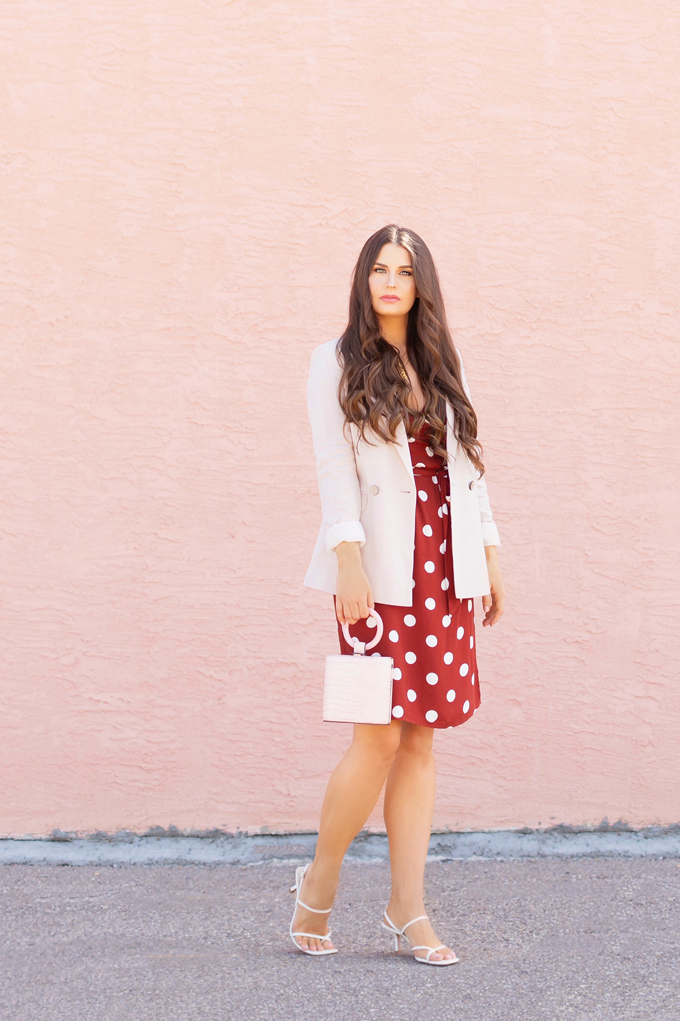 So when I spotted this Pantone Sugared Almond coloured wrap dress, I instantly fell for the unique colour and larger scale of the print — it's a very fun piece to wear! I firmly believe anyone can wear any print or pattern, it's all about finding a scale, colour and silhouette that works for you. I'll actually be sharing more from this look, along with my tips on selecting your perfect polka dot piece, later this month in post from my PATTERN PLAY series, dedicated to Polka Dots (we'll be seeing spots well into 2020!).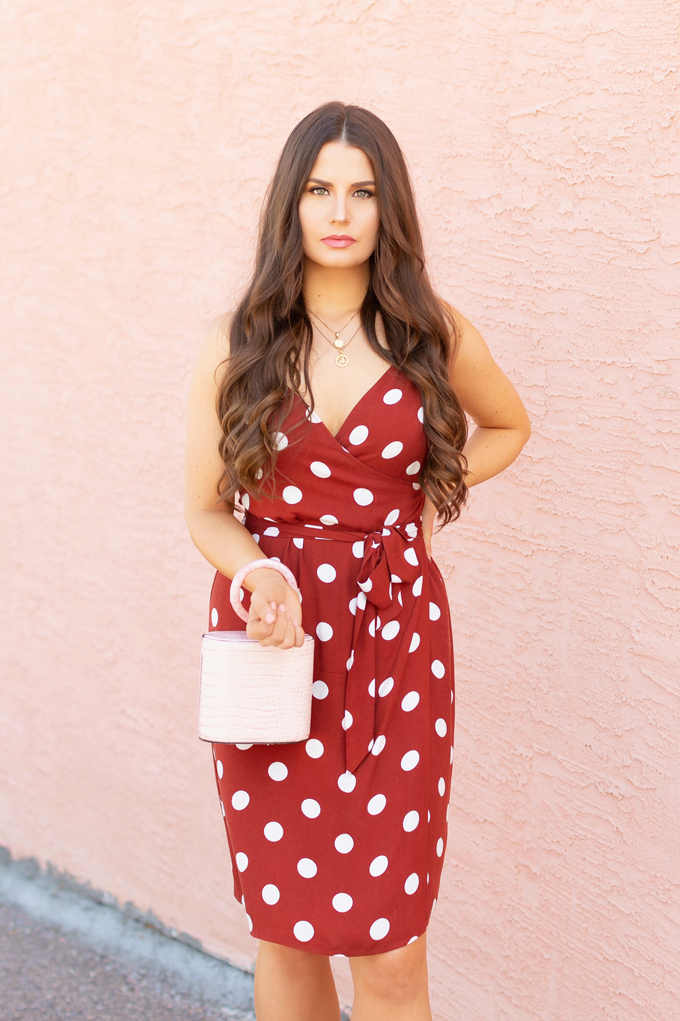 This year I've been on a mission to rebuild my blazer wardrobe — and I finally found the perfect lightweight linen boyfriend blazer at TopShop. I love versatile pieces that can polish up a simple summer dress for professional settings!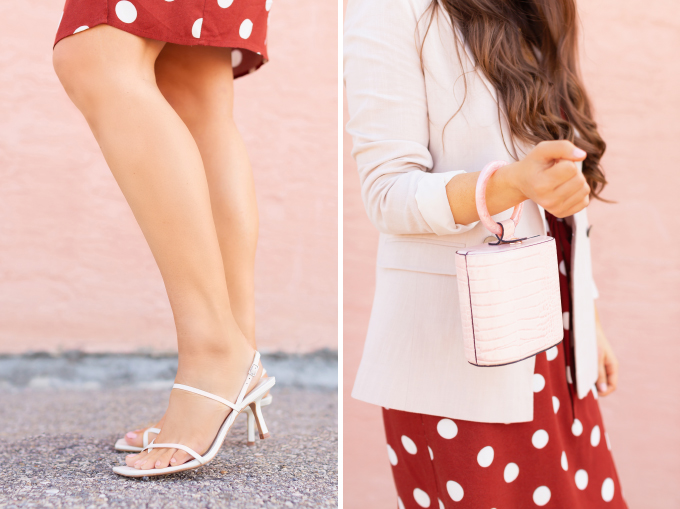 I pulled this office-appropriate look together with a blush pink croc-embossed bracelet bag (which I actually find surprisingly versatile!) and a pair of square-toed strappy sandals (this exact pair is sold out, but they've just released a similar design). White shoes have been on trend for awhile and I wasn't able to find a pair I loved until this summer, but these have become another one of my most-worn pairs when I need something sleek and minimal — the low heels makes them comfortable without sacrificing style.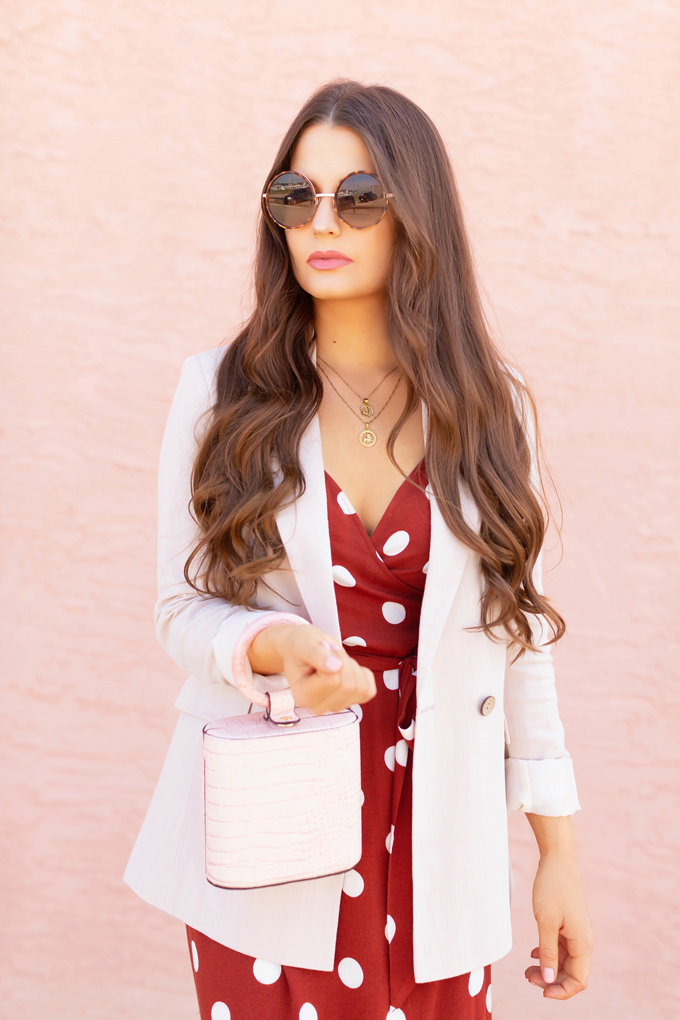 Transition this outfit formula into cooler autumnal temps by layering a cream turtle neck underneath your wrap dress and swapping your strappy sandals for a pair of OTK boots!

---
CASUAL LATE SUMMER 2019 OUTFITS
---
If you're most comfortable in dressed down, simplistics outfits, this more casual section of my LATE SUMMER LOOKBOOK is for you! Each of these looks are laid-back, comfortable and sprinkled with a handful of this season's hottest trends — styled up with classic late summer and transitional pieces!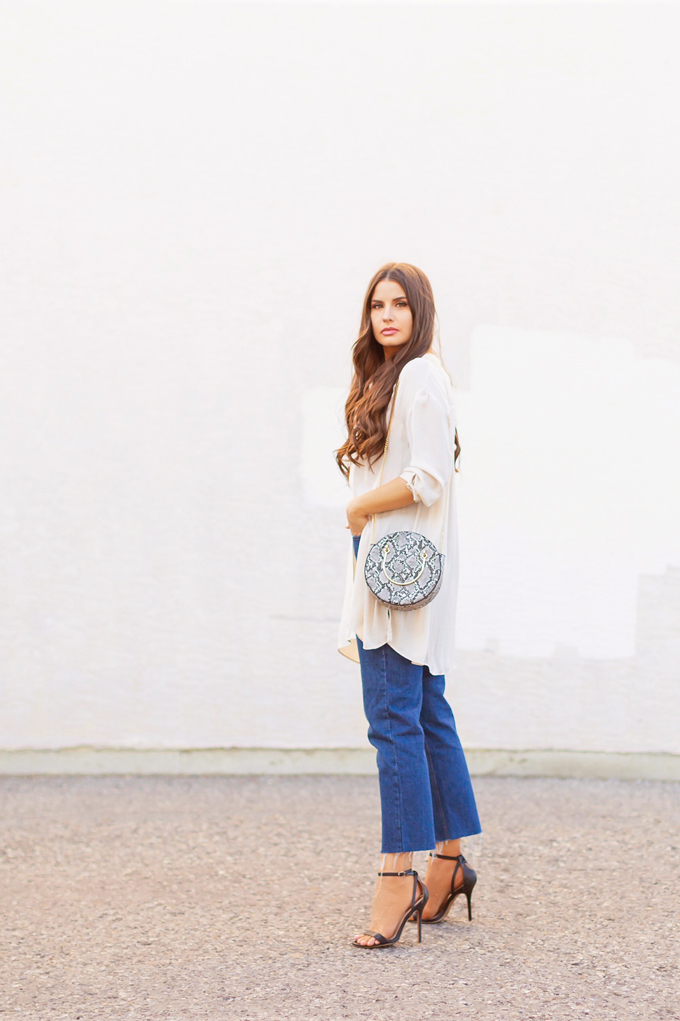 ---
HOT TROPIC
---
I've been making the most of these fleeting summer nights (and the surprisingly beautiful weather!) with easy transitional pieces I can layer up! This Free People tropical print jumpsuit is an older item in my wardrobe (she's been with me for about 5 years) and I adore the colours for the final weeks of summer. Recently I've been really inspired by the Pantone Sugared Almond and am taking cues for my transitional style!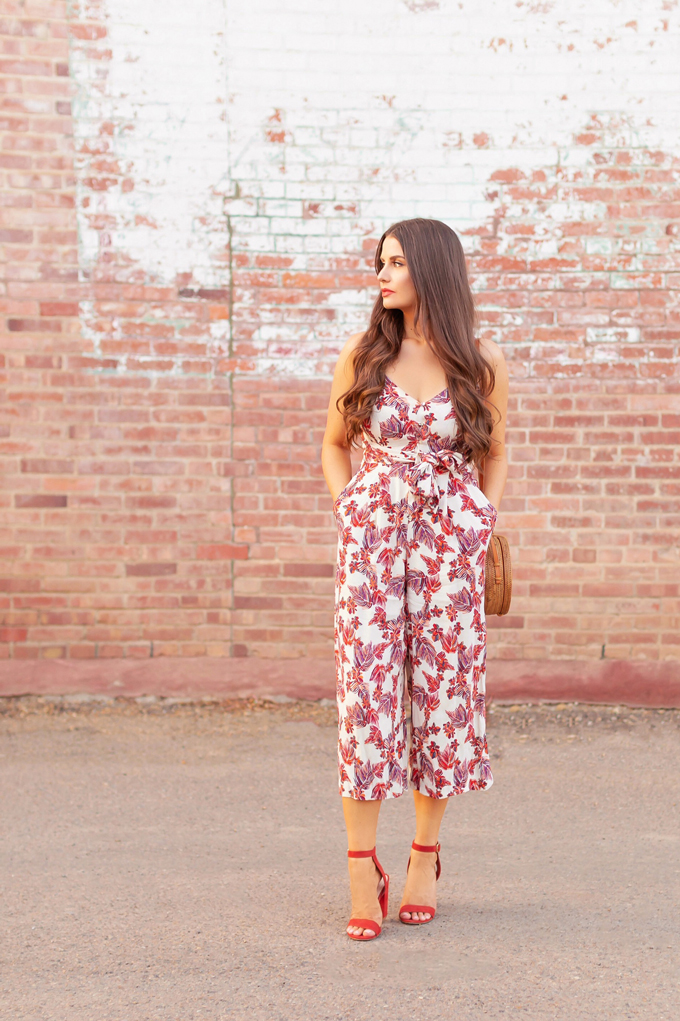 Here I've styled my jumpsuit up with some burnt orange, block heeled sandals, my favourite circular bamboo bag (if it looks familiar, that's because I've worn it here, here and here) and a burnt orange lip (I match my lip to my shoes often!). As always, I juxtapose high, low, old and new when I get dressed. I love that I can throw a linen blazer over top for meetings or layer on light knit for cooler days and I have a versatile outfit that I can wear pretty much anywhere!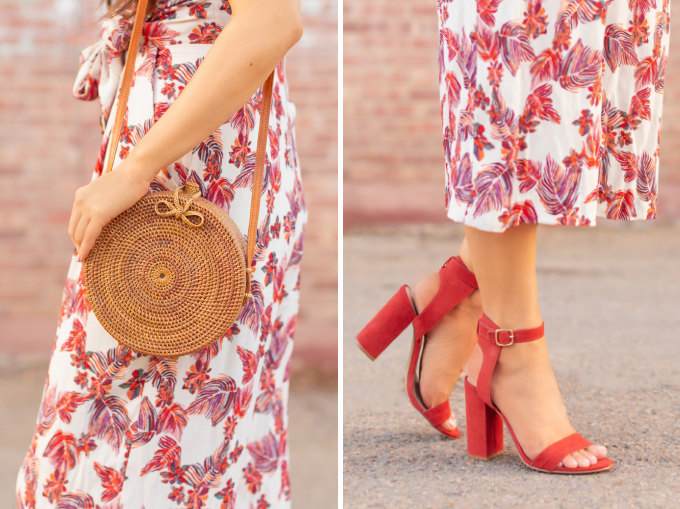 I'm a fan of jumpsuits year-round and wear them in personal, professional, casual and formal settings. I think they're such versatile garments and are a great alternative to dresses when you want to be comfortable but look polished! 

---
SNAKESKIN SATEEN
---
Although I love to dress up, I also love a great pair of denim and a simple button down shirt just as much as the next girl!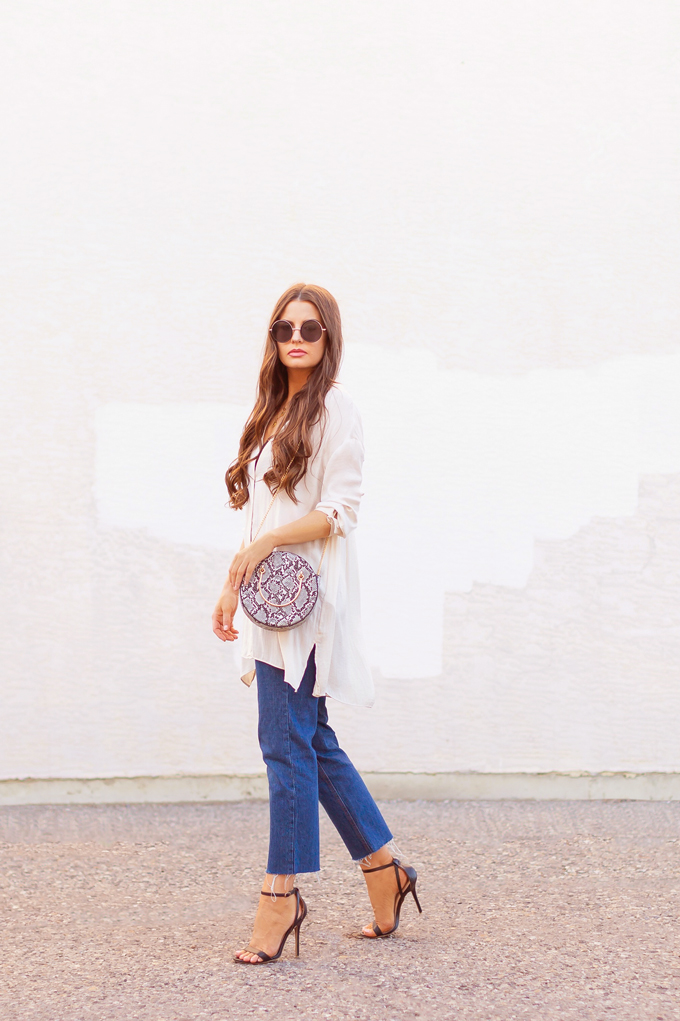 When I shop for basics, I look for high-quality fabrics in unique but timeless silhouettes I know I'll be able to wear for years to come. Both my top and denim are from Zara — I think they make incredible quality garments for the price and they're always my first choice for jeans! Recently I've been updating my denim collection to include some of the straight and wide-legged style's we've been seeing pop up everywhere — but I've owned this particular pair since early this year (check out how I styled them for winter with a sock boot here!).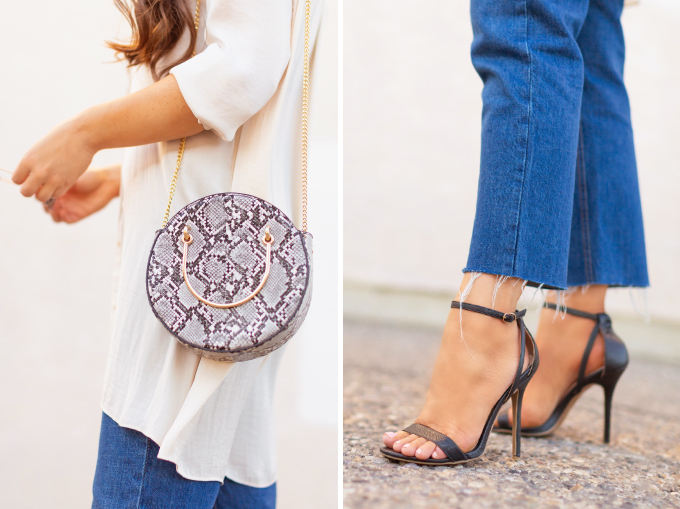 Typically I tend to gravitate towards lighter wash denim in the summer, but I love to vivid indigo tones of this deeper wash juxtaposed with my off-white sateen top (which I've only fastened the middle buttons on to show off my contrasting bralette and high waisted jeans!) and snakeskin pattern on my bag. I finished the look with an ancient pair of black, strappy stilettos and a simple pair of round sunnies with a gold rim to accent the strap of my bag.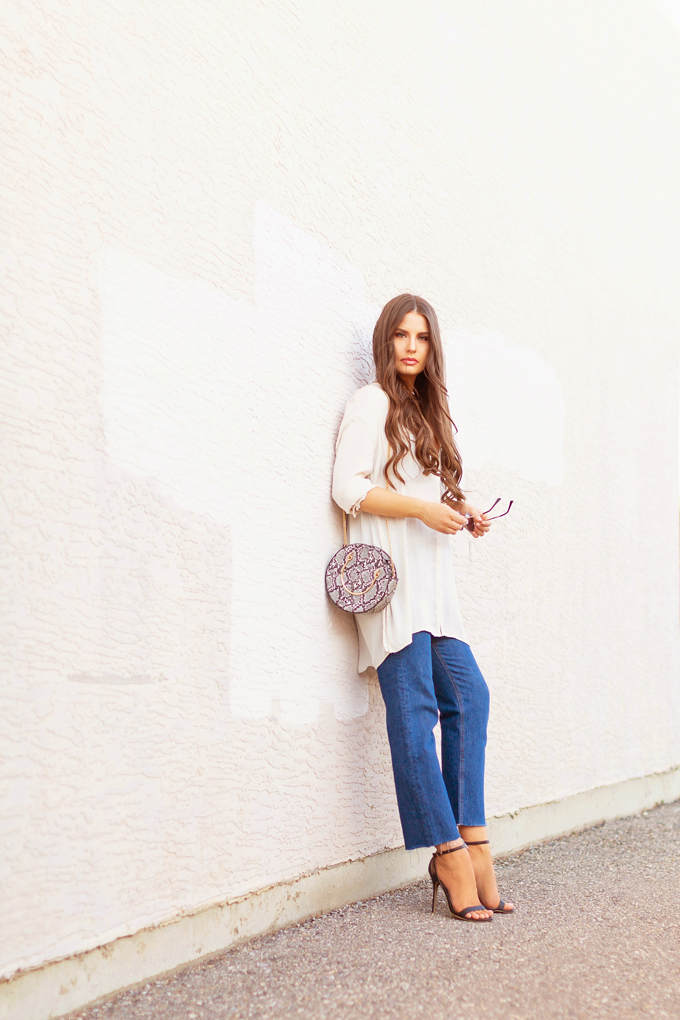 Animal print of all kinds is more on-trend than ever as we transition in to fall — and I'm beginning to think of snakeskin as a classic, alongside leopard! Since it's introduction into nearly every major retailer last autumn (check out this post in my PATTERN PLAY series dedicated to snakeskin), I've padded my closet with quite a few snakeskin pieces and look forward to styling them up into AW19! This fun circular bag is perfect day-to-night companion.

---
LIVING IN CORAL
---
We spent quite a few summer nights out in August and September, taking advantage of the gorgeous weather and enjoying a glass of wine on a patio! I've worn a couple of renditions of this look for casual evenings out — it's breezy, comfortable and incorporates a handful of my faovurite seasonal trends, including Pantone's Colour of the Year, palazzo pants (which I've been loving since Spring!), eyelet / embroidery and natural material accessories.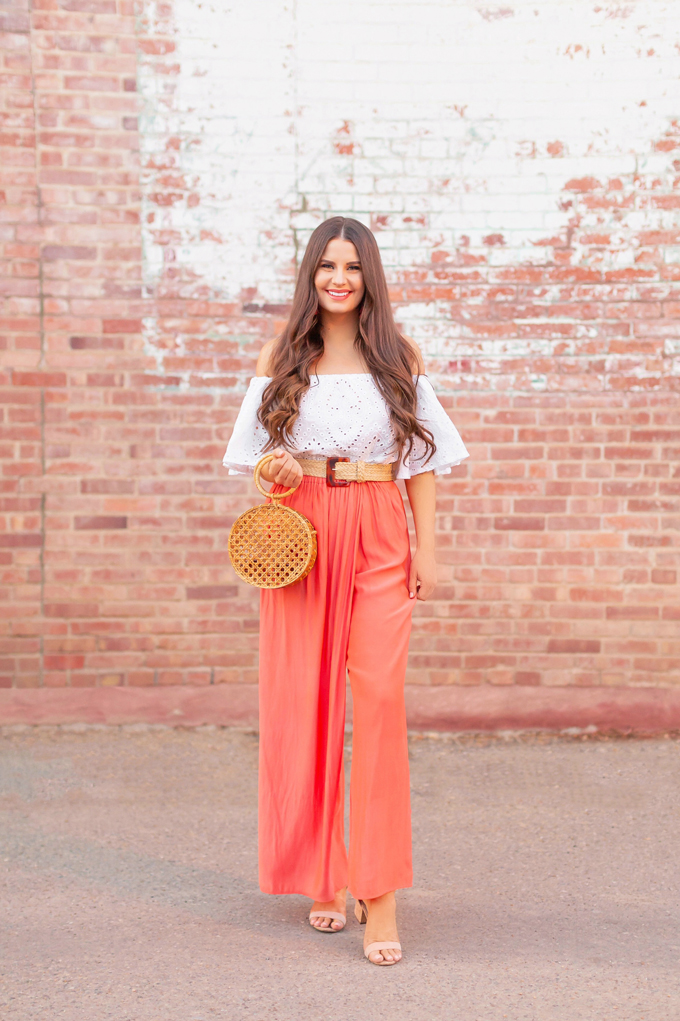 As usual, this look is a mixture of high, low, old and new (these Pantone Living Coral inspired pants have been with me for about 6 years!). I love looking to seasonal colour trends to come up with new outfit ideas and give older pieces in my wardrobe new life by styling them up with more recent additions.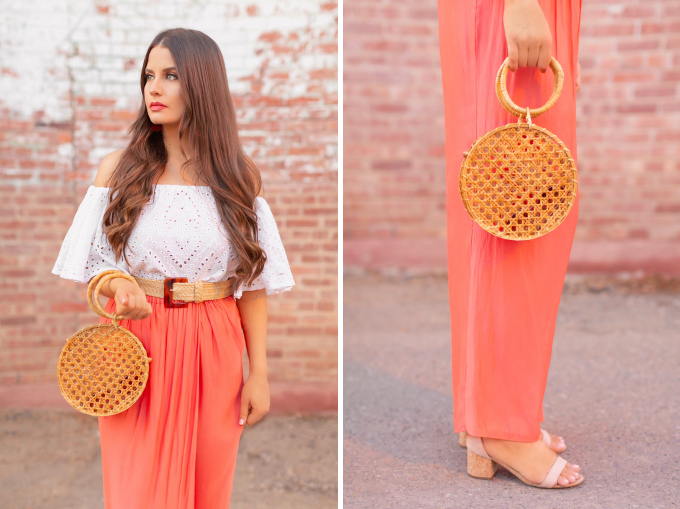 This darling bamboo bracelet bag has been one of my most-worn bags this summer (hop over to this post to see how I styled it for a Casual Summer Wedding) and it's currently half price! My belt was another Zara purchase (I also wore it with a silk green dress in an office-appropriate look) and my cork low heeled sandals are another more seasoned item in my wardrobe. I finished this night out look with a fun pair of colourful fringes earrings and my go-to pair of sunnies. I actually just purchased 2 more as backups because I can't bear the thought of ever being without them!


---
HOW TO TO STYLE SKIRTS AND DRESSES FOR SUMMER / AUTUMN 2019
---
If I had to pick one item of clothing to wear for the rest of my life, I'd probably pick a midi or maxi dress. I love that you can dress them up or down and add layers depending on the weather (if you've been with me for while, you'll know I wear my maxis year-round!). Here's how I'm wearing some of my favourite midis and maxis for remainder of summer and into autumn!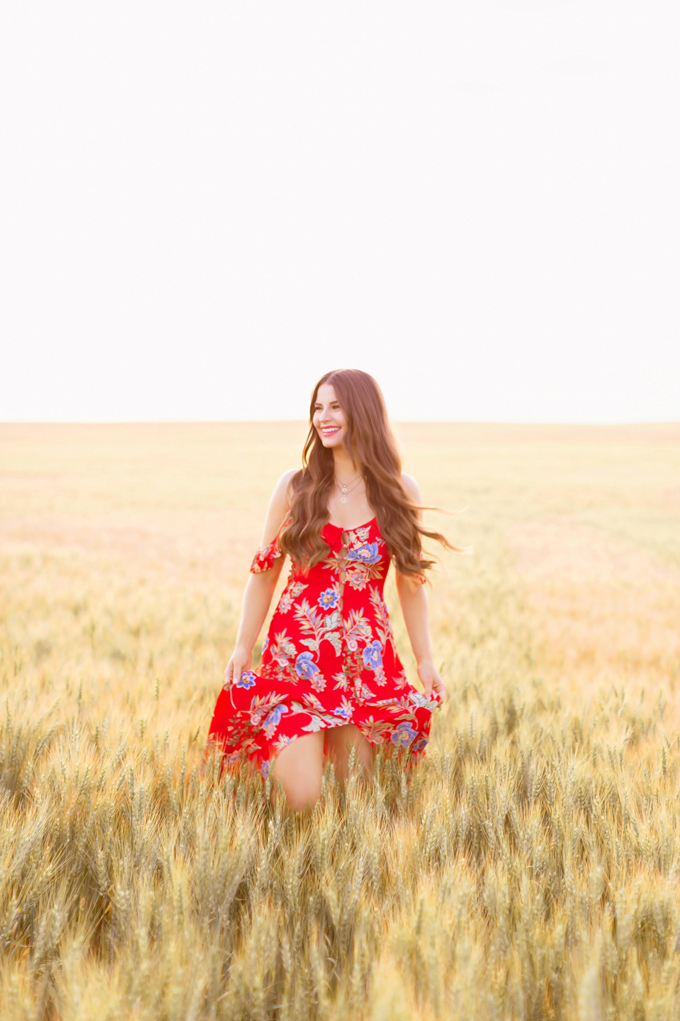 ---
TRUE BLUE
---
I've worn this dress everywhere this summer — it's lightweight, breezy and so easy to style. Most of the time I paired her up with my favourite nude espadrilles, a large natural material bag and a great pair of sunnies for an easy-going, weekend-ready look!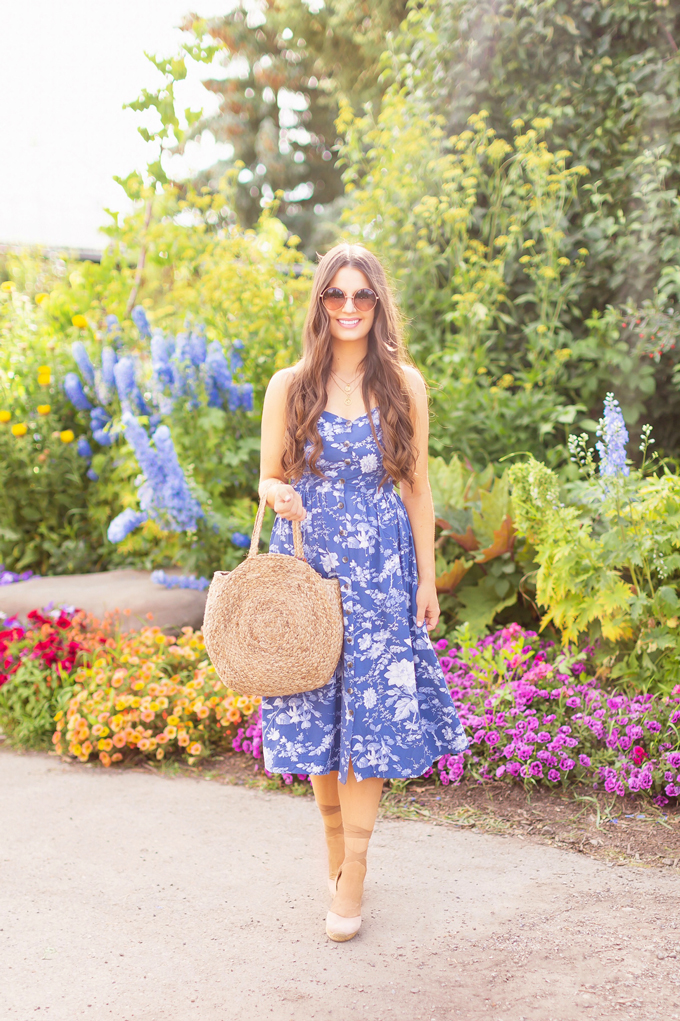 I wore this dress for our annual berry picking adventure at the Saskatoon Farm this year (we snapped these photos in their colourful gardens after we were finished!). It was a gorgeous, sunny day — nearly 30ºC. But I was cool as a cucumber in this breezy, button-down midi!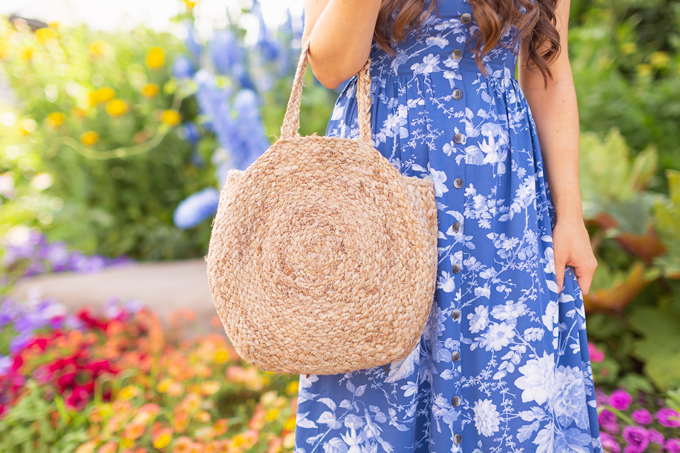 Since I have warm colouring, I tend to gravitate towards warm hues in my wardrobe — I rarely wear blue. But when I spotted this dress it was love at first sight! I love the feminine florals set in this beautiful cornflower blue — a completely new colour in my closet. Isn't it sweet? The fit and material are so lovely, I actually wish I'd picked up another pattern (I've linked this one and the other one I've had my eye on below!).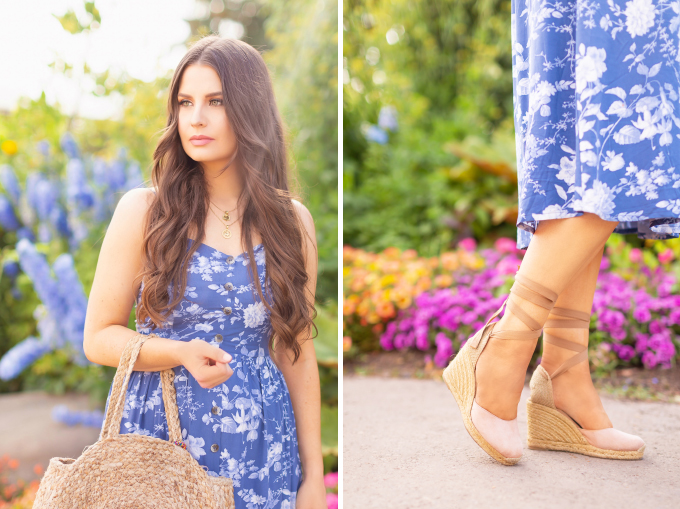 The easy, a-line silhouette and modest midi-length makes it appropriate for many settings and also a great transitional piece to style into the final days of summer. I've also layered loose knits, both in sweater and cardigan form, overtop to create a cozier outfit! Add a felt, wide brimmed hat and you're all set for mild summer-meets-fall days. 

---
WALKING ON SUNSHINE
---
Does this skirt look familiar? I also have it in a beautiful burnt orange (check out a cooler weather styling option here) and they've both become staples in my transitional wardrobe.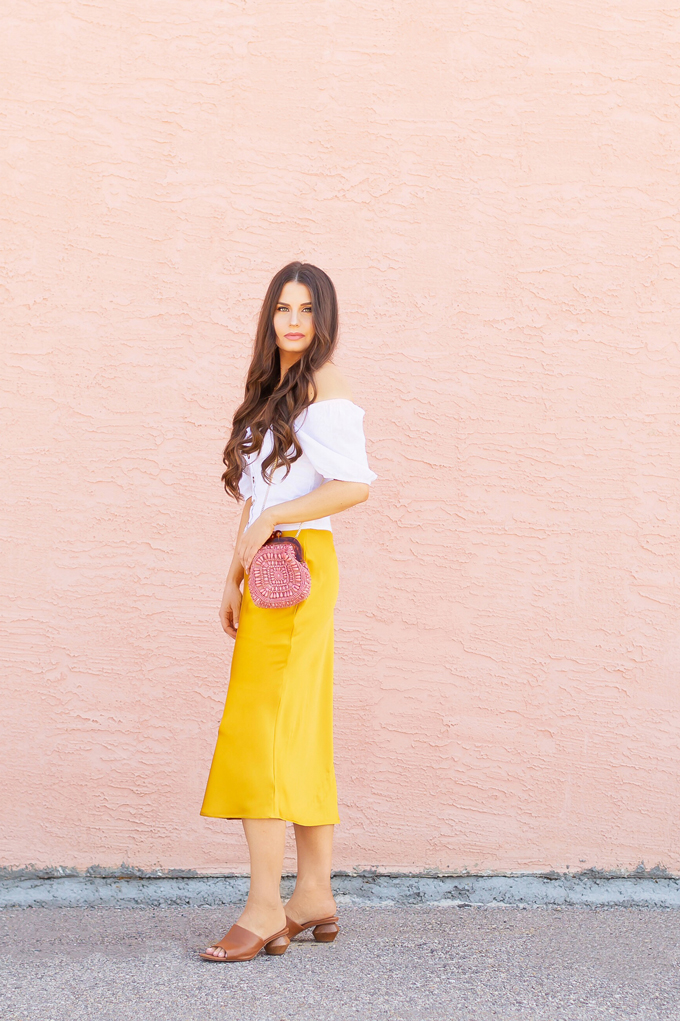 Here I've styled the ochre version up with a button-down bardot top, a Pantone Living Coral inspired beaded bag and the most comfortable pair of sandals I own — from Zara, of course (the bag is too, actually!). As soon as I saw these delicious cognac leather sandals with that unique, sculptural wooden heel pop up, it was an instant add-to-cart situation. They give me major Cult Gaia vibes at a fraction of the cost!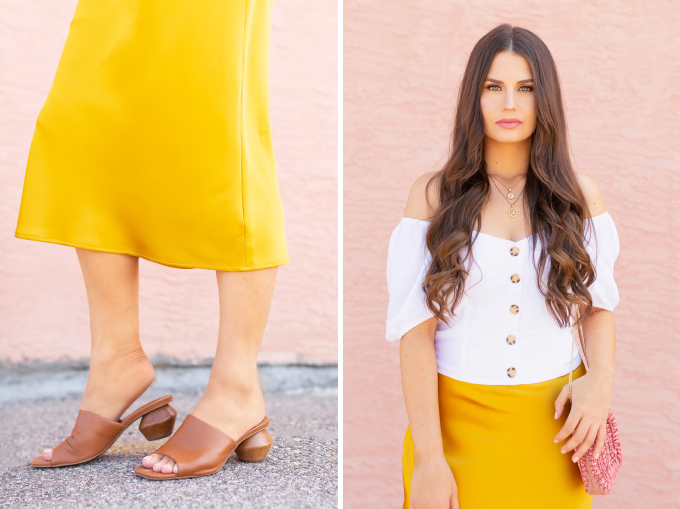 I'm all about juxtaposing colours, materials and textures when I get dressed to come up with unique outfit combinations. I can't wait to style this skirt up for autumn with some chunky knits and boots, but for now I'm enjoying the sunshine, bare legs and open toes!

---
WEEKEND WEAR
---
This outfit formula is my go-to for daytime adventures, farmers markets or anytime I want to be comfortable and casual (but cute!). You can't go wrong with a linen dress, a straw hat and an oversized woven tote (this one is vintage). I pretty much live in breezy summer dresses in late summer — I love that you can just throw them on and go!
My oversized vintage tote is perfect for farmer's market runs or errands — it doubles as a shopping bag / purse! I also love to throw on a straw hat to conceal an unwashed mane (I wash my hair twice a week, max) and oversized round sunnies when I'm running around barefaced. I actually spend most of my weekends makeup-free!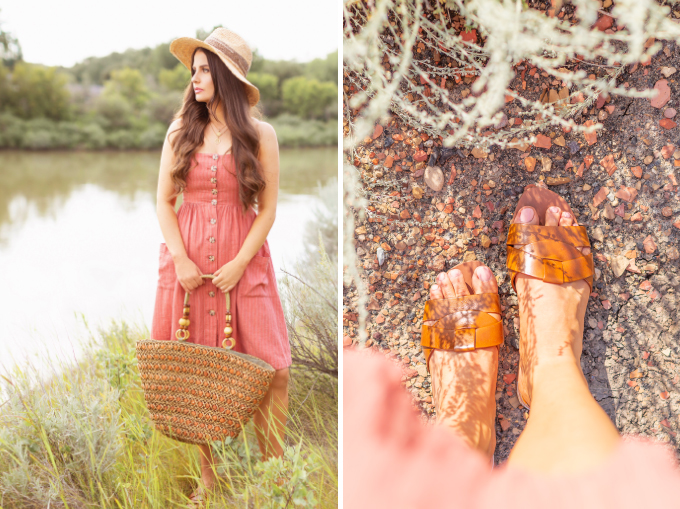 My sandals were another Zara find (I've mentioned adnausem what an incredible value for the price their footwear is!). They're the pair I keep out in the Entrance Way during the summer to just slip on on my way out. They go with pretty much everything in my wardrobe and they're really comfortable, too!

---
CRIMSON & CLOVER
---
This is another garment that probably looks familiar if you've been following along with my FASHION content for awhile. This beautiful, red floral maxi literally makes me feel like dancer emoji in real life — and it's also one of my favourite pieces to style into autumn!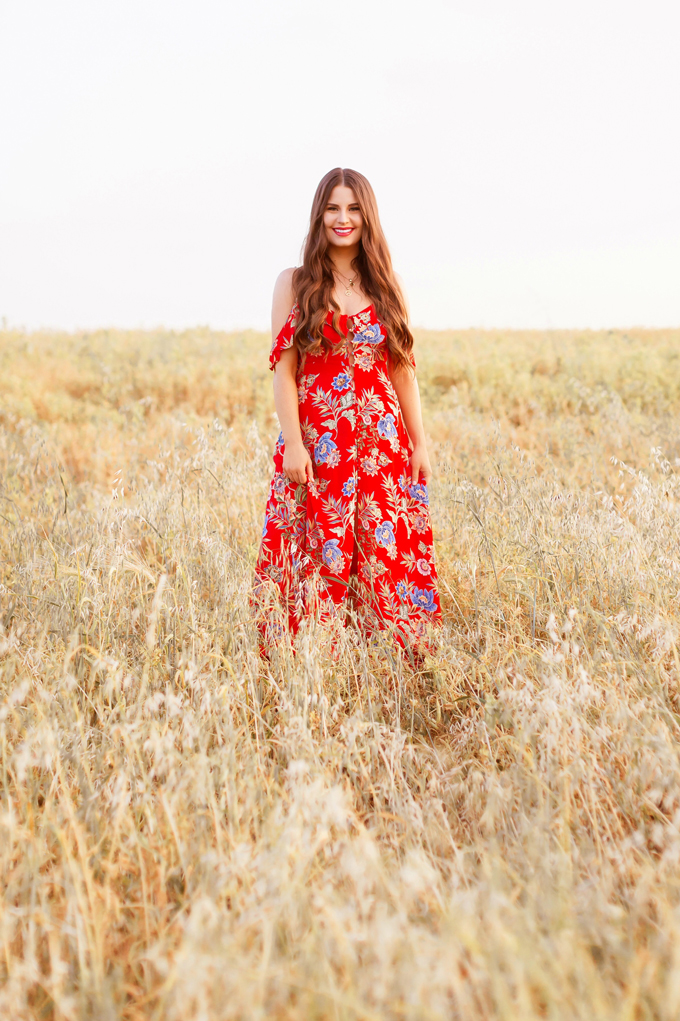 I've mentioned previously that red is my power colour. What's yours? I love dressing in monochromatic red looks that demand attention, no matter the season. Here I've opted for a juicy red lip that mimics the colour of my dress to create harmony — something I particularly love to do with red dresses!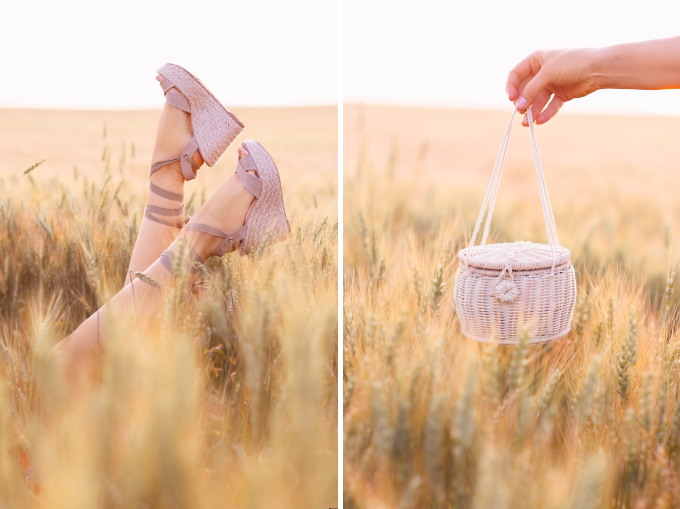 Although I love to wear her just as she as and accessorize with a straw basket bag and a pair of espadrilles for hot summer days, she makes the perfect canvas for layering up and styling with hats and boots for more autumnal weather.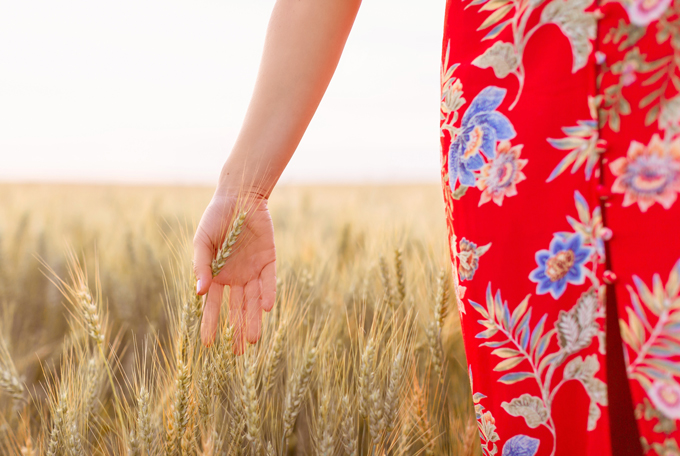 Do you remember this outfit from my Autumn 2018 Lookbook? We visited the Bowden Sunmaze and I was actually wearing this same dress, just styled completely differently. I started with a vintage lace slip as my base layer, then layered my button-down red floral mazi overtop — and to make my outfit extra cozy, I topped it off with my chenille fisherman sweater. 
I accessorized with a floppy felt hat (although if I were to restyle this look for the current season, I'd replace it with a flat-brimmed style!), my favourite large circular bag and a pair of go-with-anything tan suede ankle boots.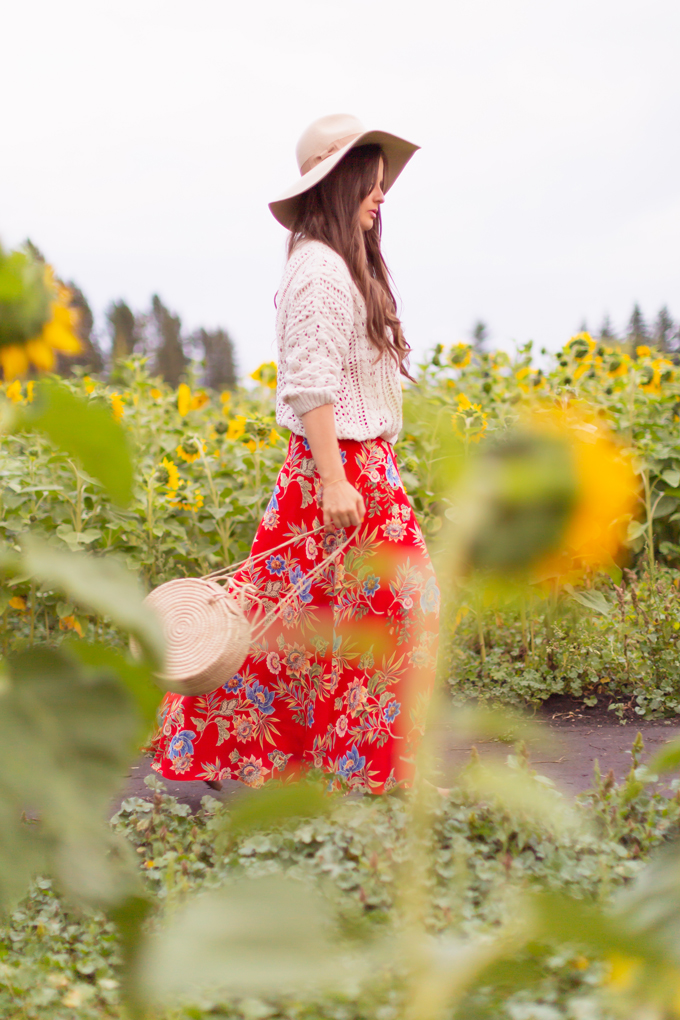 ---
MINT CONDITION
---
It was love at first sight when I spotted this dreamy, light-as-air mint dress. Although I'm very experimental when it comes to colour and definately wear the rainbow, I actually didn't have anything mint until I brought her home. Isn't this shade absolutely stunning?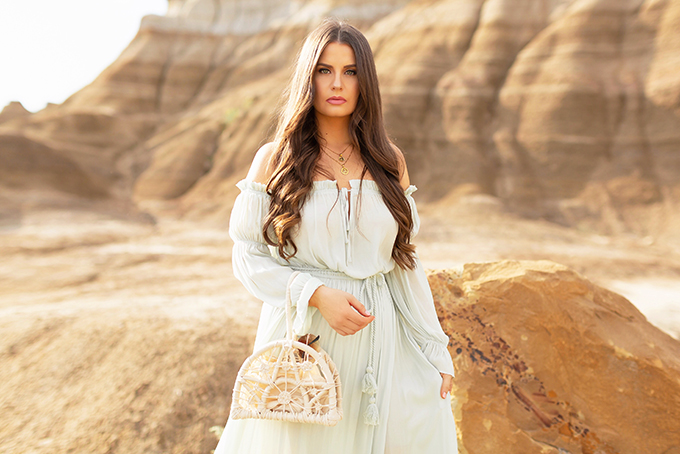 Though mint is a colour I typically associate with spring, I absolutely adore it paired up with these warm browns and creamy tones for balmy late summer days. A maxi dress with a summery bag and wedge heels is a no-brainer outfit formula for me during August and early September — it's perfect for mild weather!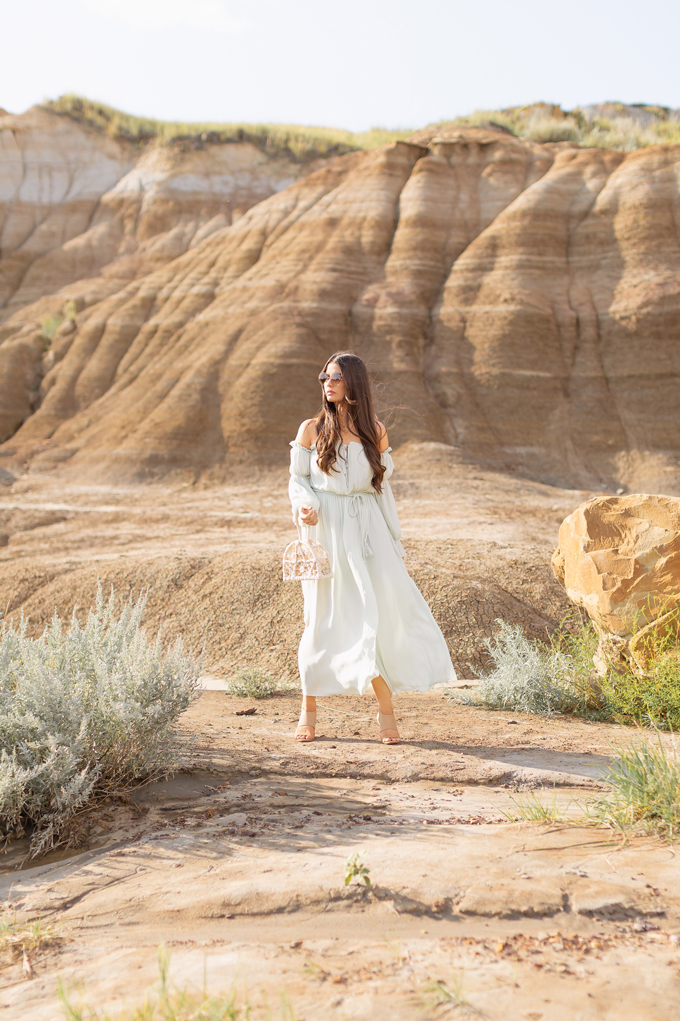 I've owned these CL by Laundry wedge mules for about 3 years. They're a classic, wear-all-day summer shoe that I've put tons of miles on (check out how I styled them with wide leg pants) — and they go with just about everything in my warm weather wardrobe!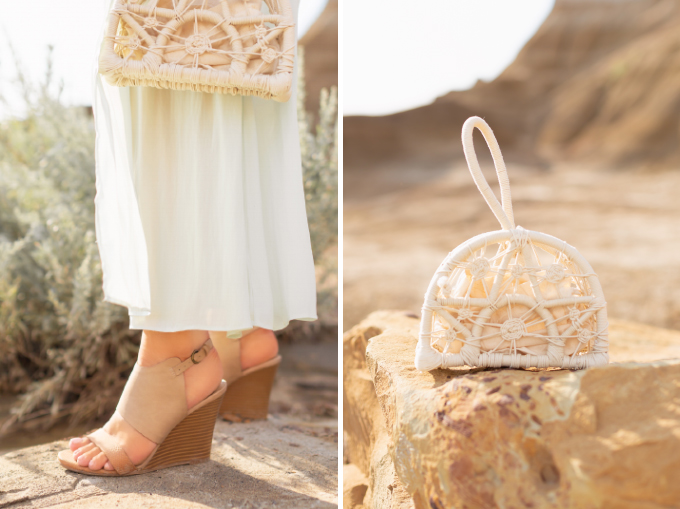 I accessorized this bohemian with a unique Natural String Basket Bag I picked up in the Zara sale a few months ago (it's still in stock and on mega sale now!). Admittedly it's not the most practical bag, but I love how dreamy and whimsical it is! For some extra interest, I finished the look with a fun, ombre pair of round sunglasses with an irregular rim.

---
MUSTARD MOMENT
---
This mustard-hued, aztec printed dress has been one my most worn over the past couple of months. I adore its sunny hue, relaxed silhouette and demure, button-down styling — making her an ideal choice for both personal and professional settings (I've also worn her to meetings with a linen blazer and pumps!).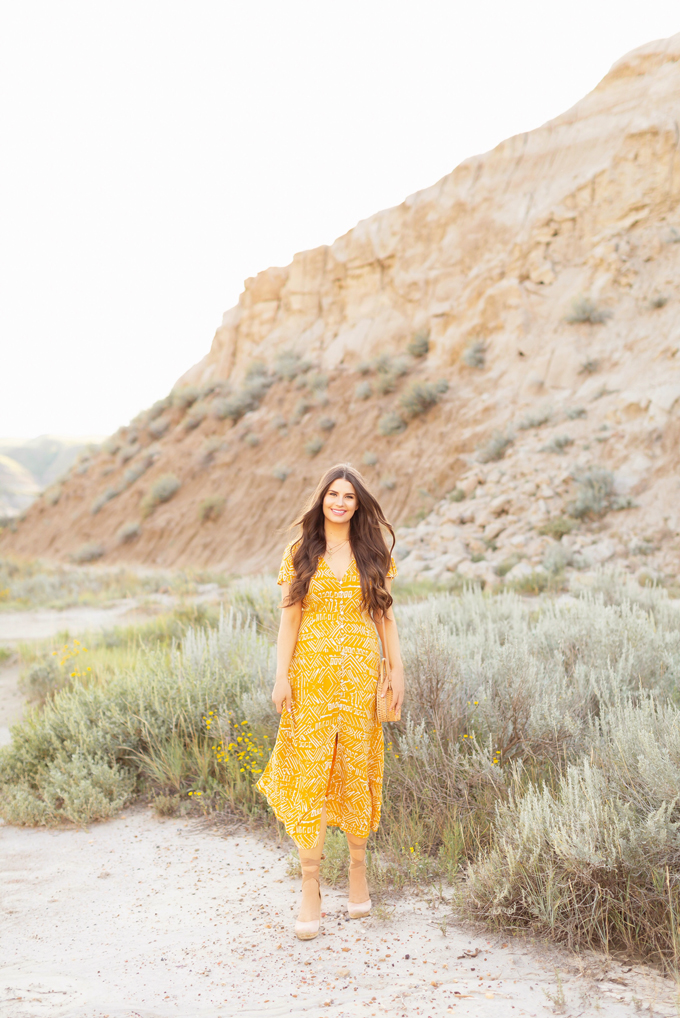 ⠀⠀⠀⠀⠀⠀⠀⠀⠀
I've worn this dress pretty much everywhere this summer (in fact, if we've hung out IRL it probably looks familiar!) and love that it layers well during transitional weather. Here I've styled her with my go-to pair of round sunnies, a versatile woven bamboo bag and my favourite pair of espadrilles for a laid-back look.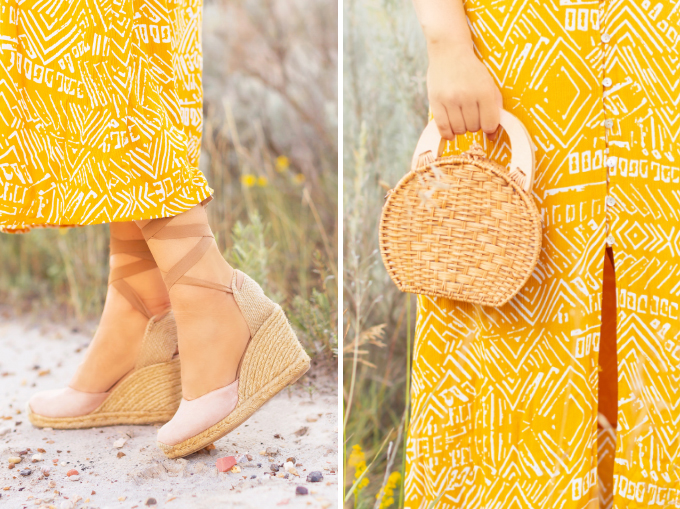 Mustard was a huge colour trend this summer and it's also one of my favourites to wear into autumn. Since we live in a climate where there's snow covering the ground for 7+ months of the year, I love to make the most of my summer wardrobe while the weather cooperates — I find this works best with pieces in autumn-inspired hues!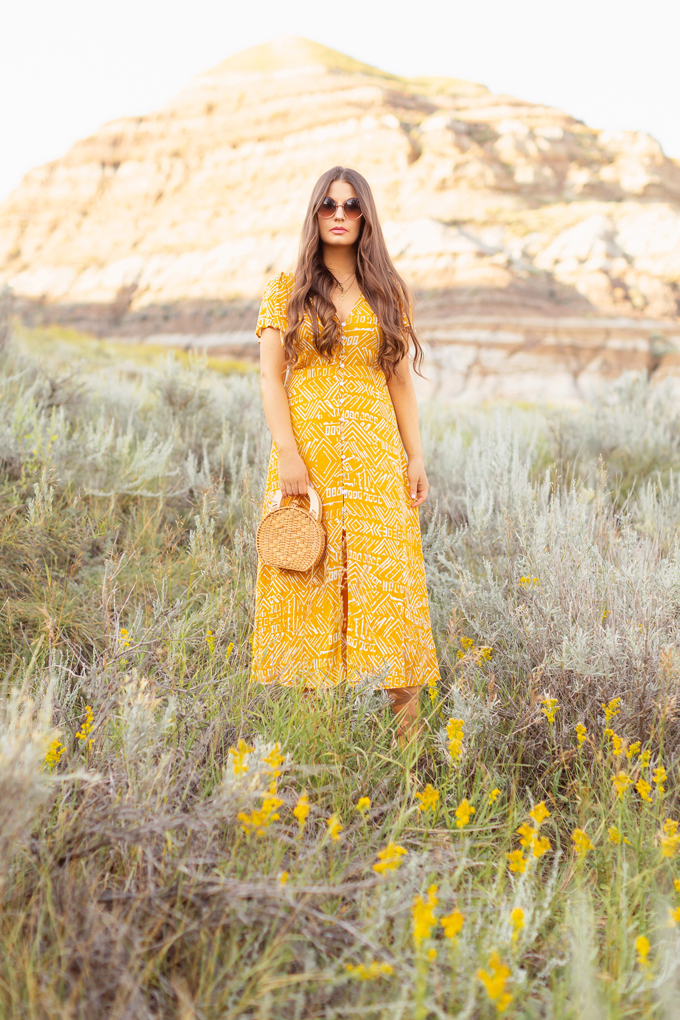 I also wore this dress to The Calgary Stampede this year and I wanted to share that look with you as well, to illustrate how versatile a classic, button down midi dress can be in your transitional wardrobe. I wore this outfit for various daytime professional events right through to evening cocktails and firework watching!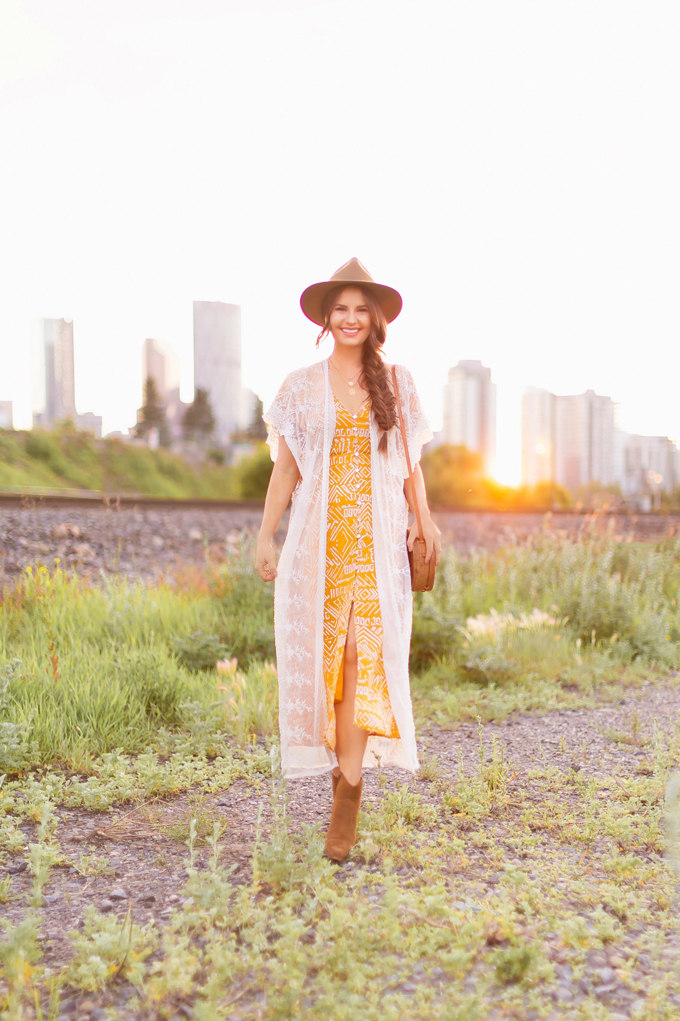 As always, this look is a mixture of high, low, old and new — and I pulled it together by simply combining existing pieces in my wardrobe with a more western-inspired sensibility than I would typically wear. My dress is the newest item I'm wearing, but the rest of these pieces have been with me for years (and many of them probably look familiar, because I've worn them often here at JustineCelina over the years!). A midi or maxi dress paired up with a kimono or cardigan, low-heel ankle boots, a flat brim felt hat and a woven bag is such an easy-to-wear and comfortable late summer / early autumn look. This is another one of my go-to outfit formulas!


---
MY SIGNATURE JEWELLERY
---
As usual, I'm wearing my layered, gold necklaces from House of Vi — which have become an integral part of my personal style. Founded by fellow Calgary blogger (and total sweetheart) Vivienne Gliesche, you can shop House of Vi online worldwide — but if you're local, you can pick up in person! I wear the the Alphabet Necklace in J layered with the Zodiac Necklace in Leo almost everyday and I'm asked about them constantly. I can't recommend them enough!
---
MORE LATE SUMMER AND TRANSITIONAL STYLE INSPIRATION
---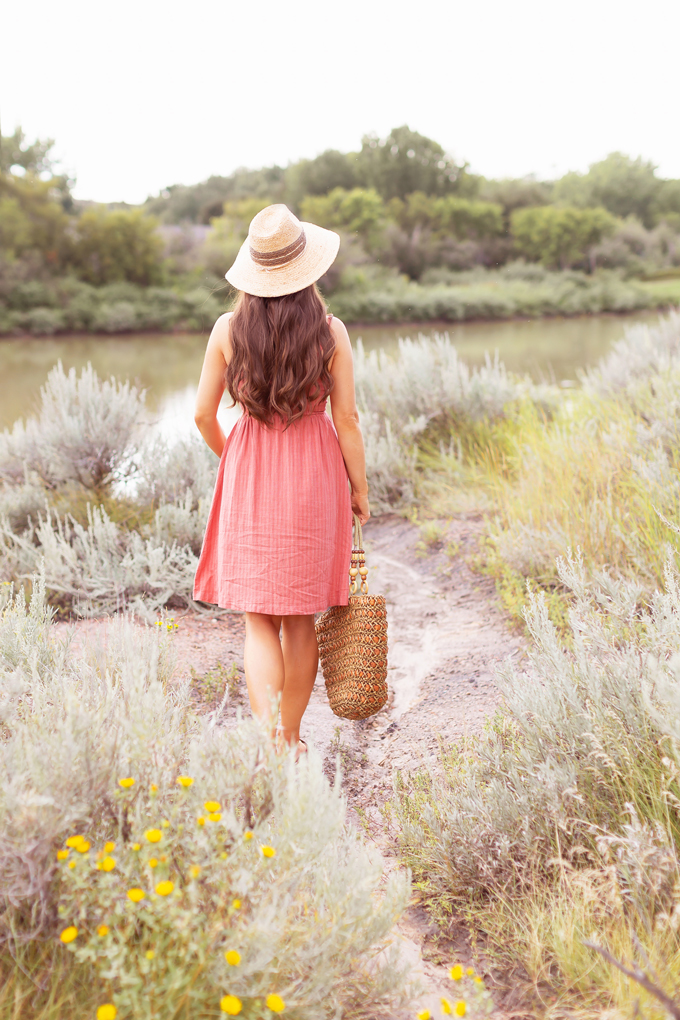 Transitional Shoe Guide | Summer to Autumn

Summer to Autumn Trend Guide | Orange Crush
How to Style | Kimonos for Autumn
Autumn Trend Guide | New Romantic
---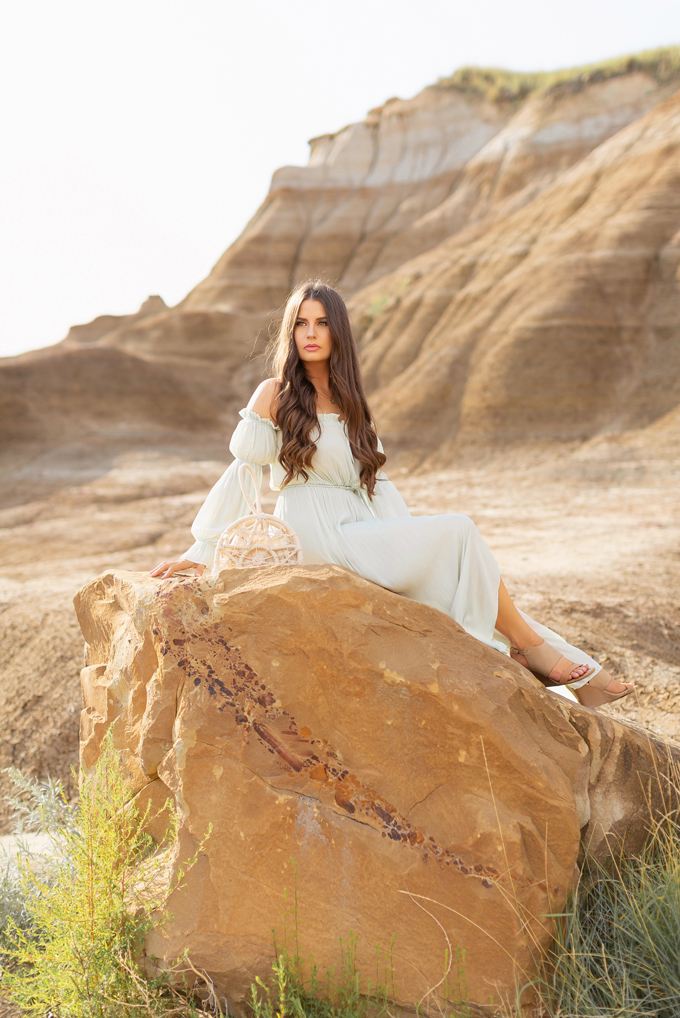 Thank you so much for stopping by today for some late summer style inspiration! If there are looks that you'd like to see more of, be sure to frequent my FASHION section as I'll be sharing additional details here at JustineCelina in individual outfit posts and various other series! 
If you're looking for even more sartorial inspiration in the meantime, you can also follow along with my JustineCelina Fashion board on Pinterest, or my brand new board dedicated to my Late Summer 2019 Lookbook. And if you want a sneak peek at what I'm wearing before it hits the blog, as well as some exclusive style content you won't see here, come join me over on Instagram for daily posts and BTS / day-to-day life on Stories! I'll be sotting more transitional and autumn style content this week, so if you have any requests for trends or subjects you'd like to see me cover, just leave me a comment. Enjoy these final few weeks of summer, friends!
---
Disclaimer: This post is not sponsored, and contains my genuine thoughts, ideas and recommendations. JustineCelina uses affiliate and referral links, which allow me to receive a small commission when you make a purchase through one of my links. Thank you for supporting the brands and businesses that support JustineCelina!