---
The perpetual Extreme Cold Warning finally appears to have lifted here in Calgary — and with temperatures set to rise above O°C this weekend, visions of spring are dancing through my head! Although I typically enjoy dressing for whatever weather mother nature throws our way, after experiencing the 3rd coldest February on record, I'm must admit I'm really looking forward to spring. But because of our cooler, rather temperamental climate, realistically it will be a couple of months before bare legs and open-toed shoes are on the menu. So, what's a girl to wear while she's longing for spring but still experiencing wintery weather?!
While I absolutely love to experiment with integrating seasonal trends into my personal style, I also believe a wardrobe built on a foundation of quality basics is essential in order to do so. This fashion philosophy has inspired me to start a brand new series called STYLE STAPLES here at JustineCelina where I'll be sharing my most worn, most loved, workhorse wardrobe staples, season after season — the ones I would struggle to put outfits together without! Today we're kicking things off with my favourite winter to spring transitional pieces for 2019 to help you navigate unpredictable weather in practical, stylish garments and accessories you can wear for years to come! This outfit formula works in both personal and professional settings with a few tweaks, flatters a wide range of body types and can be adapted to suit both warmer and cooler climates. If you're up for a crash course on chic, pre-spring transitional FASHION, bust out the rosé, curl up in your favourite reading nook and let's dive in!

---
TRANSITIONAL STYLE STAPLES | WINTER TO SPRING 2019
---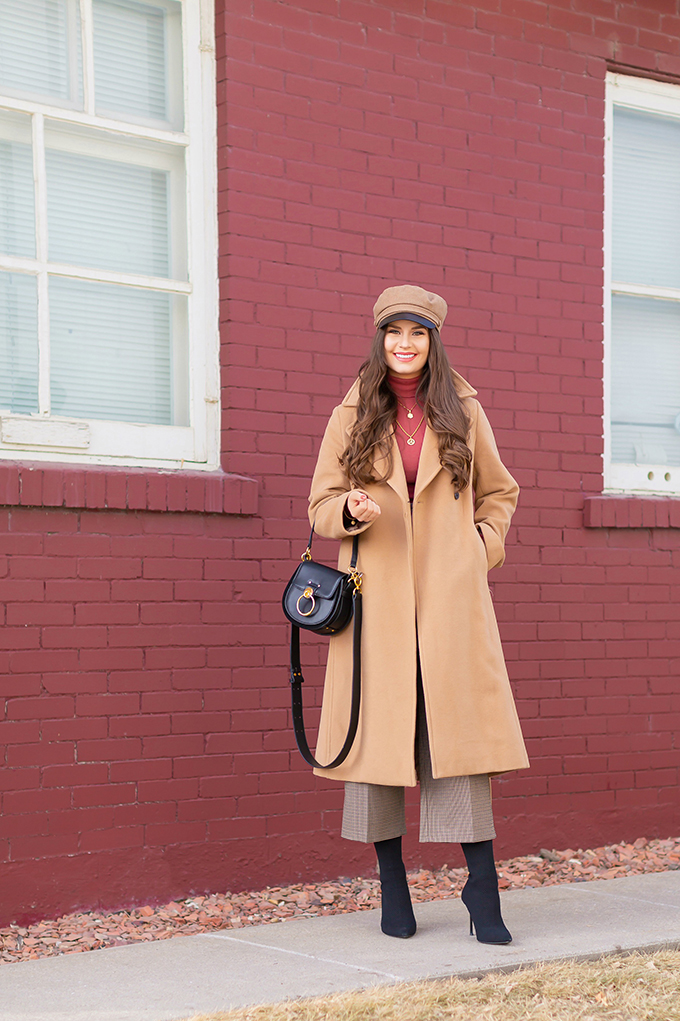 If you frequent my FASHION section, I'm sure most of these pieces will look very familiar! I'm all about mixing high, low, old, new and vintage in my personal style — and these pieces combine to create an easy-to-wear, transitional outfit formula that's polished, stylish and appropriate for personal and professional settings (for the office, I'd simply lose the hat, and swap my camel coat for a camel blazer). They're my no-brainers when it comes to effortless transitional style!
---
THE QUINTESSENTIAL CAMEL COAT
---
Camel is one of my favourite neutrals, especially during transitional months — both winter to spring and autumn to winter. It pairs perfectly with lighter hues, deeper hues, brights, pastels and patterns while instantly elevating any look.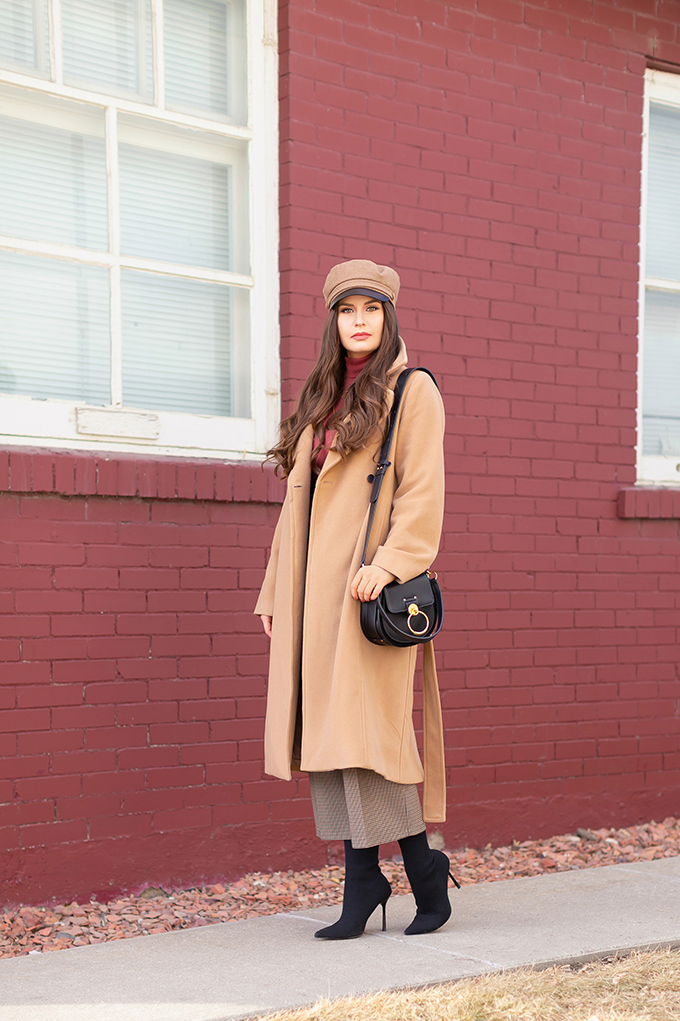 If you don't already own a camel coat, now is the perfect time to pick one up! I'm not exaggerating when I say I've been searching for the perfect winter camel coat for years — and the Babaton Robbie Wool Coat (which I snagged during Boxing Day sales!) checks all the boxes. Although she was still an investment, I firmly believe in investing in classic outerwear, especially when you live in a colder climate. Considering both cost per wear and how much surface area on your body outwear takes up, it's a sound investment! Wearing this coat is nothing short of a luxury experience — it's super soft and plush (even the pockets are ultra cozy!).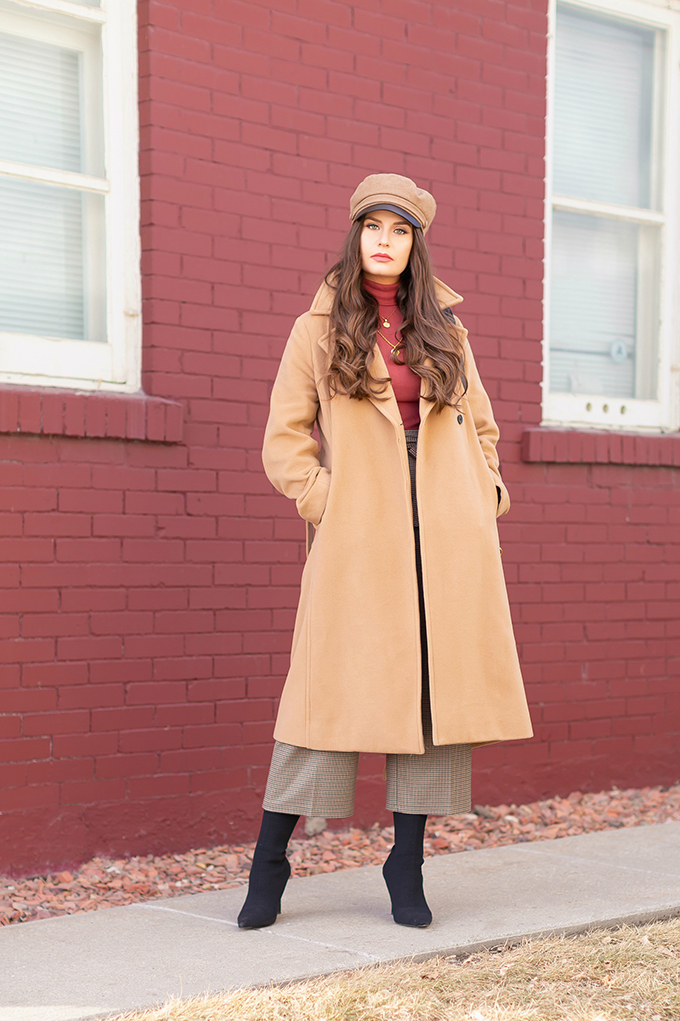 That said, if you don't live in an arctic deep freeze, look for a quintessential camel coat that suits your climate and lifestyle. This could be a lighter wool coat (like this one, which I still own!), a classic trench, a pea coat, or more of a flowy duster style — the possibilities are endless! Look for quality, camel coloured outerwear in a timeless style that offers you versatility as we transition into spring and I guarantee you'll be able to wear her season after season.

---
HIGH WAISTED CULOTTES
---
If you frequent my FASHION section, you've seen your fair share of culottes on these pages. These vintage-inspired cropped trousers are such a versatile garment during transitional weather and one of my personal favourite pant styles to wear in both personal and professional settings! Their high waisted, wide leg silhouette combined with a cropped hemline makes culottes ultra flattering and ideal for showing off footwear.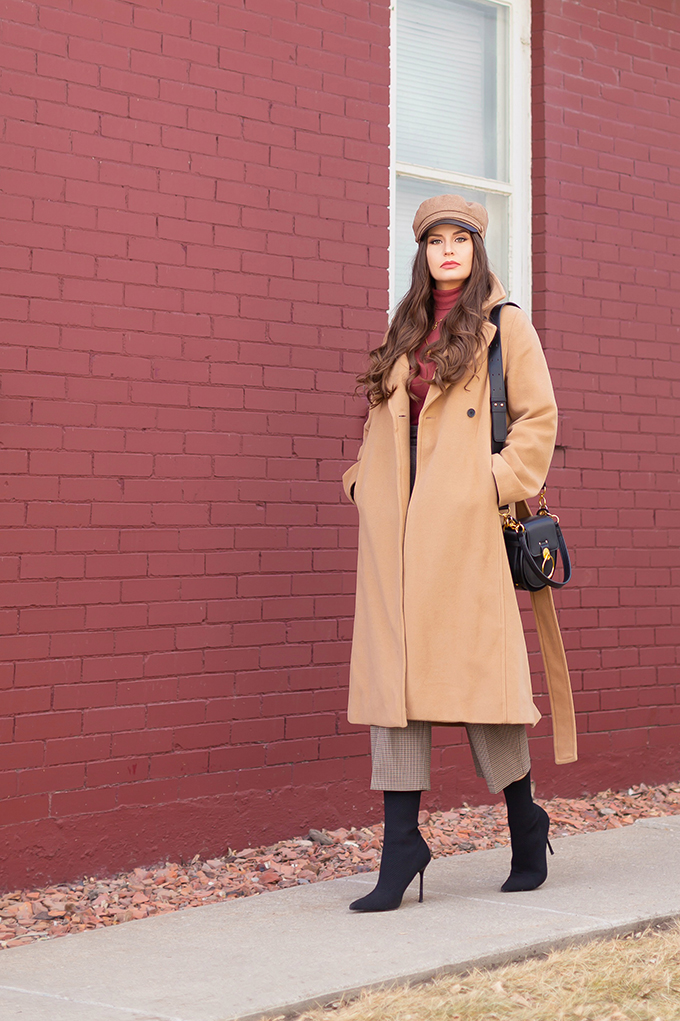 What makes culottes to unique and versatile is that you can wear them with nearly every style of shoe, from sandals through sock boots — making them an ideal candidate for unpredictable transitional weather! When the thermometer hovers right around freezing, my favourite combination is  high-waisted, checked culottes in a thicker fabric paired up with sock boots. This pairing offers full coverage and creates the illusion of an elongated leg — but if you live in a warmer climate, you can also pair your culottes with pointed toe pumps or even open toed sandals (jealous!) to achieve a similar effect. Shop my favourite checked culottes for the winter-to-spring transition below!

---
A FINE KNIT TURTLENECK
---
Fine knit, slim fitting turtlenecks are workhorses in my transitional wardrobe and my favourite piece of clothing to tuck into high-waisted pants. In fact, I own one in nearly every colour! You've seen me wear them many times over the years — and for good reason. This perfectly insulating base layer provides a streamlined foundation for anything you may want to layer overtop, depending on the weather — from vests, to blazers, to dresses, to button-downs, to coats. Not only are they chic and sophisticated, fine-knit turtlenecks have the ability to make nearly any garment in your wardrobe seasonally appropriate. They're the quintessential transitional layering piece and one worth investing in — in fact, I just purchased my first cashmere turtleneck!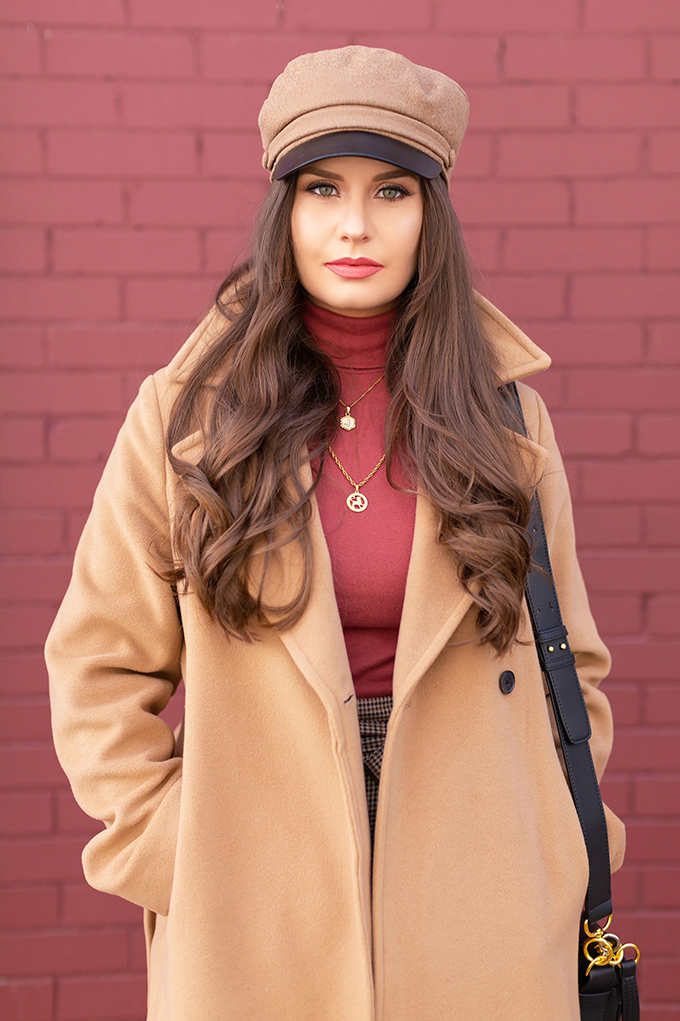 Although I've kept the layering to a minimum here, I loved the way this super snuggly turtleneck in a Pantone Living Coral (the 2019 Colour of the Year!) adjacent hue added a pop of cheerful, spring-inspired colour to this look. While the exact turtleneck I'm wearing here is no longer available, I've rounded up a selection of similar items below!

---
SLEEK SOCK BOOTS
---
By far, these sleek black sock boots that I picked up at Zara last autumn are my most-worn pair of boots, ever (see them in action here, here, here and here!). When they first starting popping up at my favourite retailers a couple of years ago, initially I wasn't sure about the trend — but it's safe to say sock boots are here to stay.  In fact, I now consider them an integral part of my wardrobe from autumn through spring!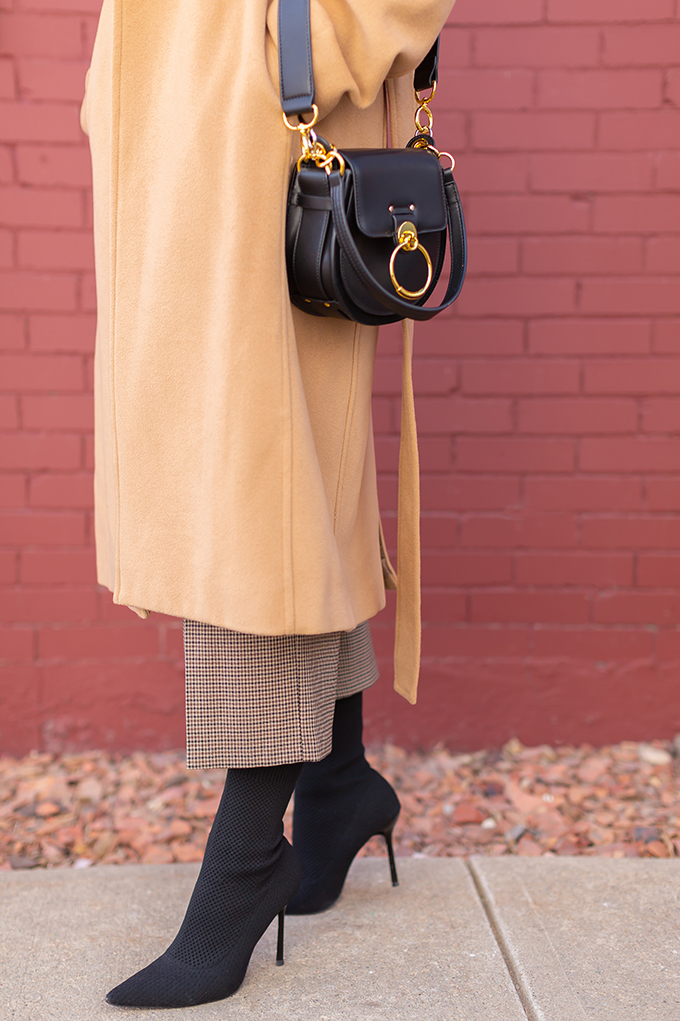 So ladies, if you're looking for one pair of stylish shoes to carry you through winter and into spring, invest in a pair of sock boots. A classic black pair is a fantastic place to start, but I also own a burgundy pair and I'm currently in search of a nude pair (possibly in leather). Whatever colour you choose, keep it neutral and ensure the sock part of the boot hugs your leg to create the most flattering, elongating silhouette!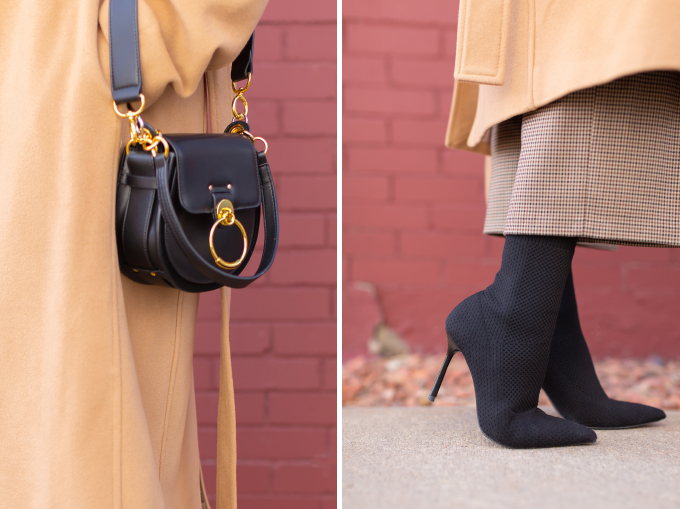 My go-to black sock boots are insanely comfortable (seriously — don't let the heel fool you!) and fit my feet perfectly. Every single time I wear them I'm asked about them and they still look good as new (how many time have I mentioned that for the price, Zara makes the best quality shoes you can buy?!). If I've finally convinced you to pull the trigger on a pair of sock boots, I've rounded up my favourite similar styles for you below.

---
A BAKER BOY HAT
---
Look familiar? While I'm beginning to sound like a bit of a broken record, baker boy hats are a major casual transitional staple for me! While this style of hat has been around for a couple of years, it's definitely still trendy. That said, I now own many baker boys and love to throw them on in transitional months or cooler weather to instantly infuse any look with a bit of cool-girl attitude!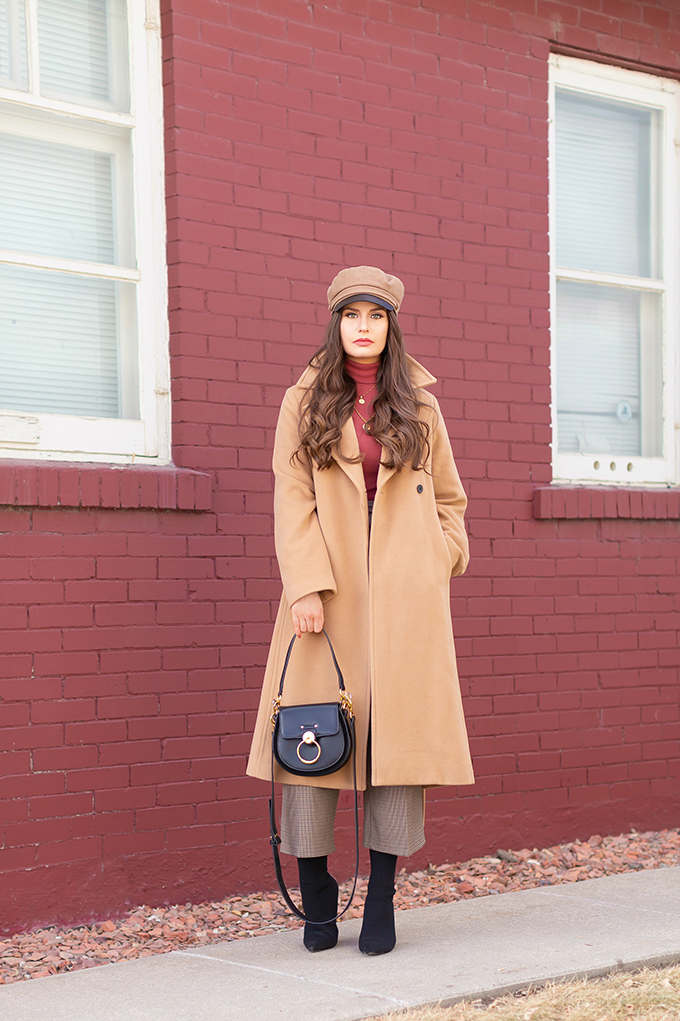 If you haven't already tried a baker boy hat on, what are you waiting for?! This is a trend I wasn't sure about at first — I tried on countless baker boy caps that didn't suit me at all and started to think they just weren't for me before unexpectedly finding my first winner. Fast forward 2 years and my wardrobe now features a healthy selection of baker boy hats!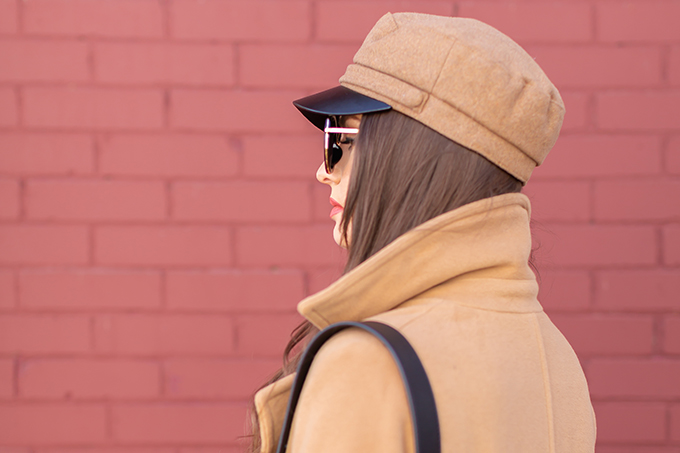 As a hat lover, I'm always down to try a new style, but like every trend you see me wear, it takes me awhile to figure out how to integrate it into my personal style in a way that works for me. I've come to rely on the versatility that baker boys offer — they add an unexpected edge to any outfit, whether it's casual or more dressed up ( not to mention, they stylishly conceal an unwashed mane!). Shop similar styles plus my favourite baker boys of the moment below!

---
A WORKHORSE CROSSBODY BAG
---
I've made my position on designer handbags clear — personally, investing a large sum of money in a bag isn't something I ever foresee myself doing. That said, I can still appreciate designer inspired styles at a more affordable pricetag. I'd found myself lusting after Chloe's Tess since early autumn when I finally decided to try a new source for designer dupes — and I'm so glad I did because this incredible dupe from Artisan Anything is an incredibly crafted handbag, although still an considerable investment.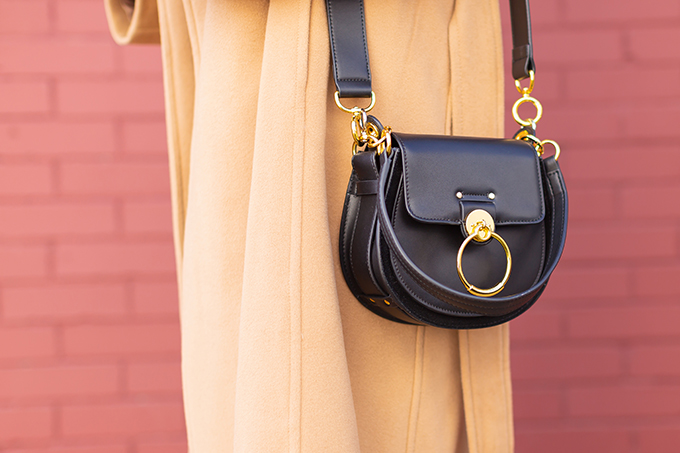 Just this season I've worn this contemporary spin on the traditional saddle bag in 2 previous posts — and you can expect to see a lot more of this style over the next couple of months! In fact, I'm currently eyeing other colours for SS19 because it seriously goes with everything!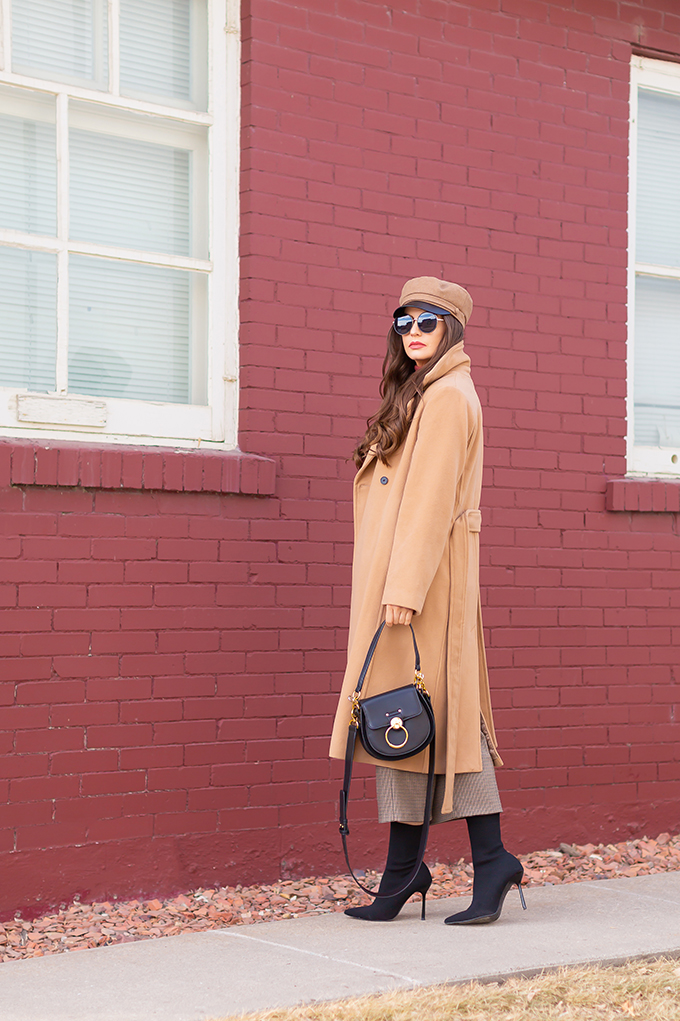 You can shop Artisan Anything's high quality dupes at the links above, or if you're so inclined, the original Chloe Tess below.

---
SIGNATURE JEWELLERY
---
My layered, gold necklaces from House of Vi have become an integral part of my personal style over the last few months. Recently I find myself more drawn to quality, gold and stone jewellery rather than the costume styles I used to love and am so thrilled to have found a fantastic source close to home. Founded by fellow Calgary blogger (and total sweetheart) Vivienne Gliesche, you can shop House of Vi online worldwide — but if you're local, you can pick up in person!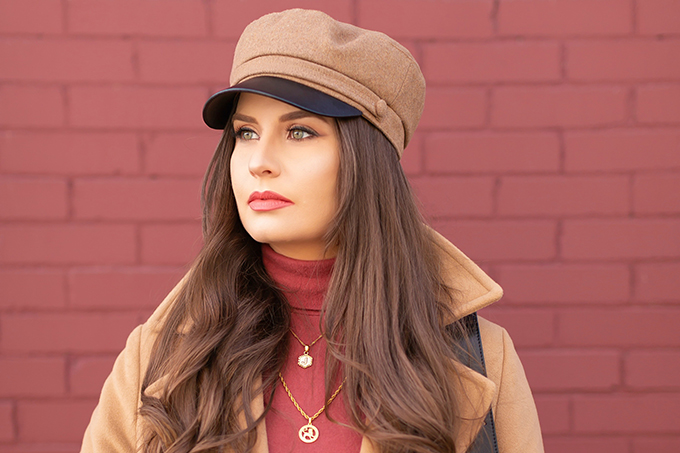 I'm wearing the Alphabet Necklace in J layered with the Zodiac Necklace in Leo on the Amalfi Necklace chain — I pretty much never take them off and I receive compliments on them every time I wear them. For spring, I have my eye on the Evil Eye Necklace and Mini Bamboo Hoops! I think finding a few beautifully made pieces of quality jewellery that you can wear everyday is such a polished, feminine touch to complete any ensemble — and a fantastic gift to give yourself!
---
A GREAT PAIR SUNGLASSES
---
I consider myself a sunglass aficionado — in fact, I don't leave the house without them! Not only do they offer anti-aging protection by shielding your eyes from harmful UV rays, they also add an air of mystery and polish to any look.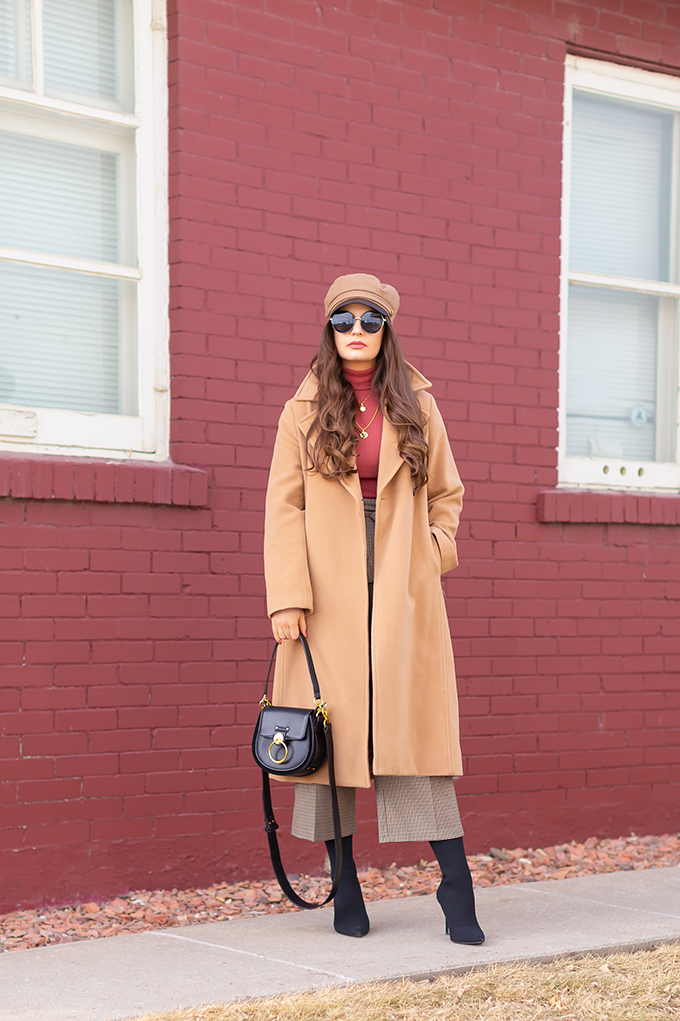 Although I'm partial to rounded frames, I encourage you to experiment with your sunglasses as we transition into warmer weather to find a shape that works best for you. Shop some of my current favourite sunnies below!

---
AN ULTRA WEARABLE EVERYDAY LIPSTICK
---
Although finding your perfect lipstick takes some dedication, having a go-to shade you can swipe on that makes you feel your best no matter the season or what you're wearing is truly a worthwhile investment.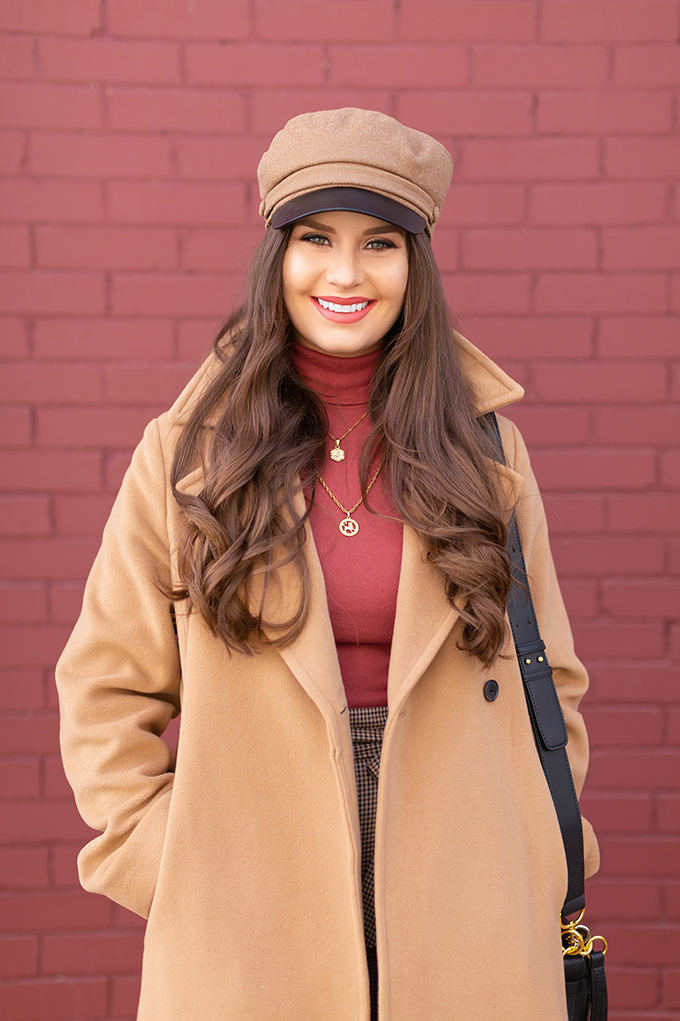 Over my blogging career I've amassed quite the collection of rotating BEAUTY products — I've literally tried hundreds of lipsticks over the last 4 years. So for a product to stand out, it has to be really special. Enter NARS's Audacious Lipstick in Brigitte, which has becomemy ultimate holy grail lipstick. If I was a lipstick, I would be this lipstick — and until they stop making it, I never foresee myself being without a tube!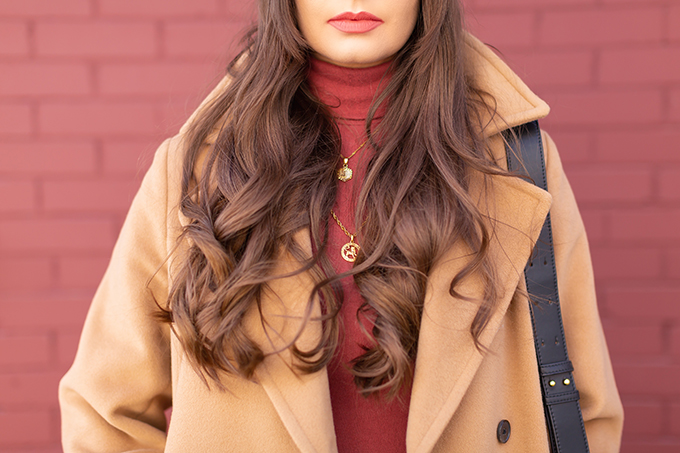 Since discovering Brigitte nearly 2 years ago, I've gone through 2 tubes! She'll always have a place in my beauty routine — this coral-hued nude gives my complexion life, makes my green eyes pop, I can throw it on with anything and the formula is ultra luxurious and hydrating. If you're looking to dip your toes into the Living Coral trend, this beautiful, classic lipstick in a universally flattering shade is a great place to start! Hop over this post for a full review, click here to see all the different times I've worn it over the years.

---
SHOP THE LOOK
---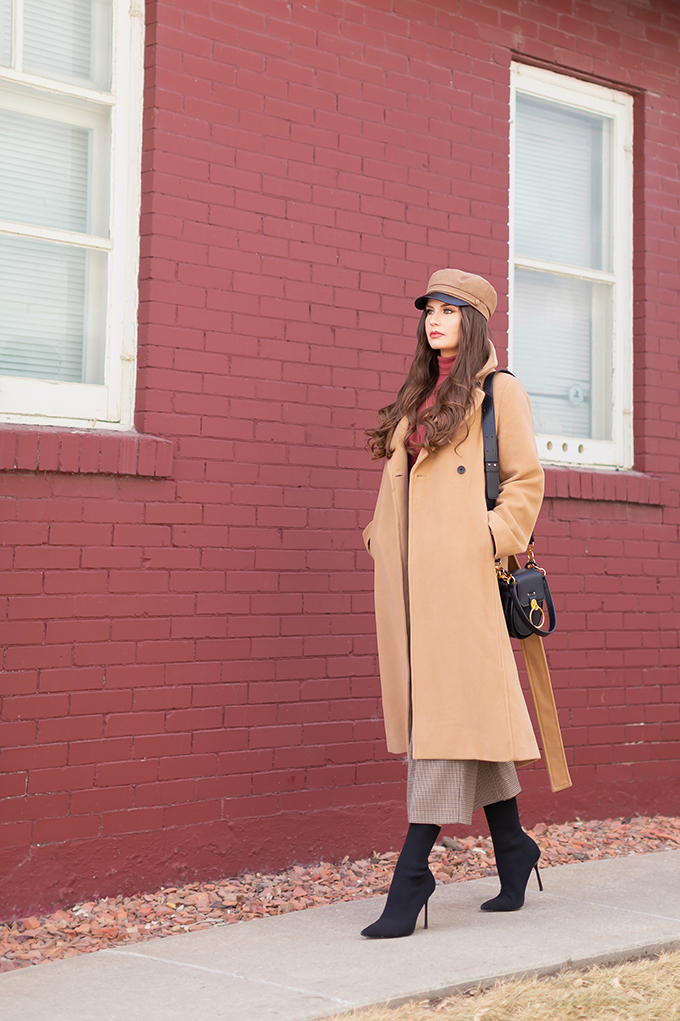 ---
MORE LATE WINTER & TRANSITIONAL STYLE CONTENT
---
How to Style | Transitional Layers
Winter Trend Guide | Velvet Underground
Cozy in Camel | My Favourite Transitional Pieces
---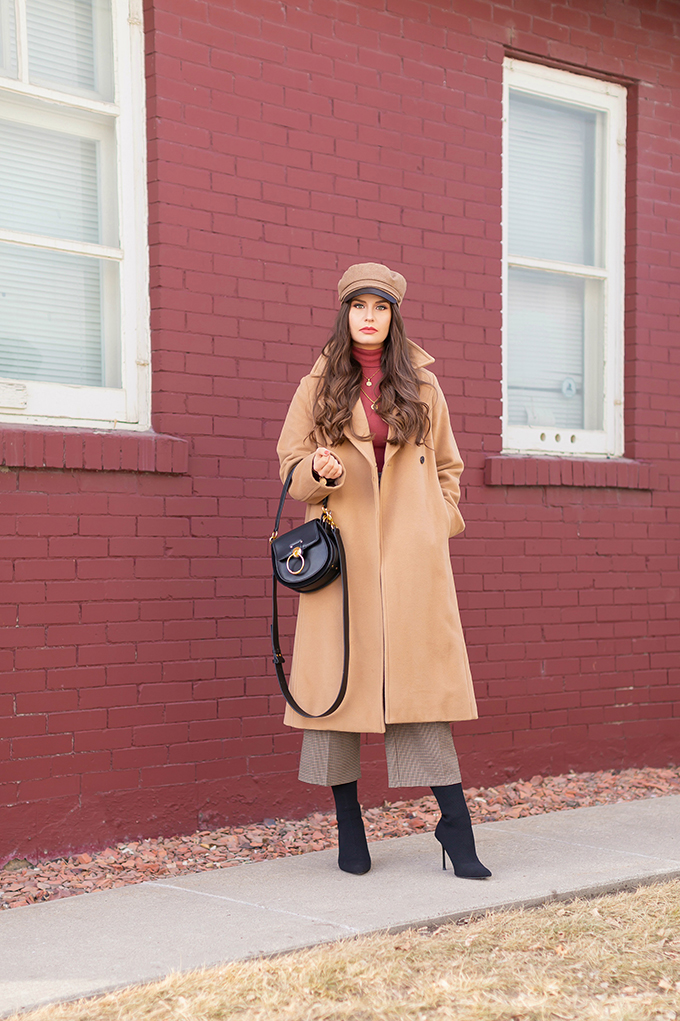 Do you have any go-to outfit formulas for transitional weather? These in-between months where we have the opportunity to blend the best of 2 seasons are actually some of my favourite to dress for — although I must admit I've been planning my upcoming Spring 2019 Lookbook since the day after we shot my last one! In fact, I'm feeling so sartorially inspired lately I may also produce a mini, Transitional Winter to Spring 2019 Lookbook featuring 6 outfits if you're interested in more transitional style ideas. As always, I truly value your input — so don't be shy about what you want to see at JustineCelina over the coming months!
If you're looking for even more style inspiration in the meantime, you can also follow along with my JustineCelina Fashion board on Pinterest, or my seasonal Winter 2019 Lookbook board which I'll be continuously adding to! And if you want a sneak peek at what I'm wearing before it hits the blog, as well as some exclusive style content you won't see here, come join me over on Instagram for daily posts and BTS / day-to-day life on Stories! Thanks for stopping by today, everyone — and enjoy the warmer weather!
---
Disclaimer: This post is not sponsored, and contains my genuine thoughts, ideas and recommendations. JustineCelina uses affiliate and referral links, which allow me to receive a small commission when you make a purchase through one of my links. Thank you for supporting the brands and businesses that support JustineCelina!