---
Can you believe it's been 6 years since I've published a Haircare Routine?! While a lot has changed, my passion for maintaining healthy hair at home with a simple but effective routine (and thoughtfully formulated products) remains. Today, in partnership with Canadian retailer BeautySense.ca, I'm elated to bring you my updated Haircare Routine for Long, Thick Colour Treated Hair — featuring my all-time-favourite Moroccanoil products and how I use them.
My hair is one of the things I'm complimented on (and asked about!) most — and it's something I take great pride in. Despite my wild haircolour and style past, over the course of my 7 year blogging career here at JustineCelina, both have remained fairly consistent (with a couple rounds of bangs thrown in for good measure!). While I truly enjoyed my natural haircolour for as long as possible, as I've ventured into my 30's, I've begun colouring my hair once again (this time to disguise those pesky greys!) and adjusted my routine accordingly. At present day I'm pleased to say that my hair has never been stronger, longer or healthier — and today I'm sharing my best kept hair secrets!
---
MY HAIRCARE ROUTINE FOR LONG, THICK, COLOUR TREATED HAIR
---
Introduction to BeautySense
As a beauty enthusiast with a penchant for supporting local and Canadian businesses, I stumbled on BeautySense earlier this year — and am thrilled to be partnering with them on today's post!
Although fairly new to me, BeautySense was founded in 2013 with the goal of providing Canadians with the same level of customer service and education demonstrated in their spas and salons. I was pleased to find all my favourite Moroccanoil products at BeautySense.ca — priced in Canadian dollars with fast, free shipping and generous samples. In addition to hair products, they also carry a wide variety of beauty and wellness products from both Canadian and international brands — a true destination for us Canadian beauty buffs!
---
SHAMPOO & CONDITIONER
---
CDN $28.00 (8.5 oz)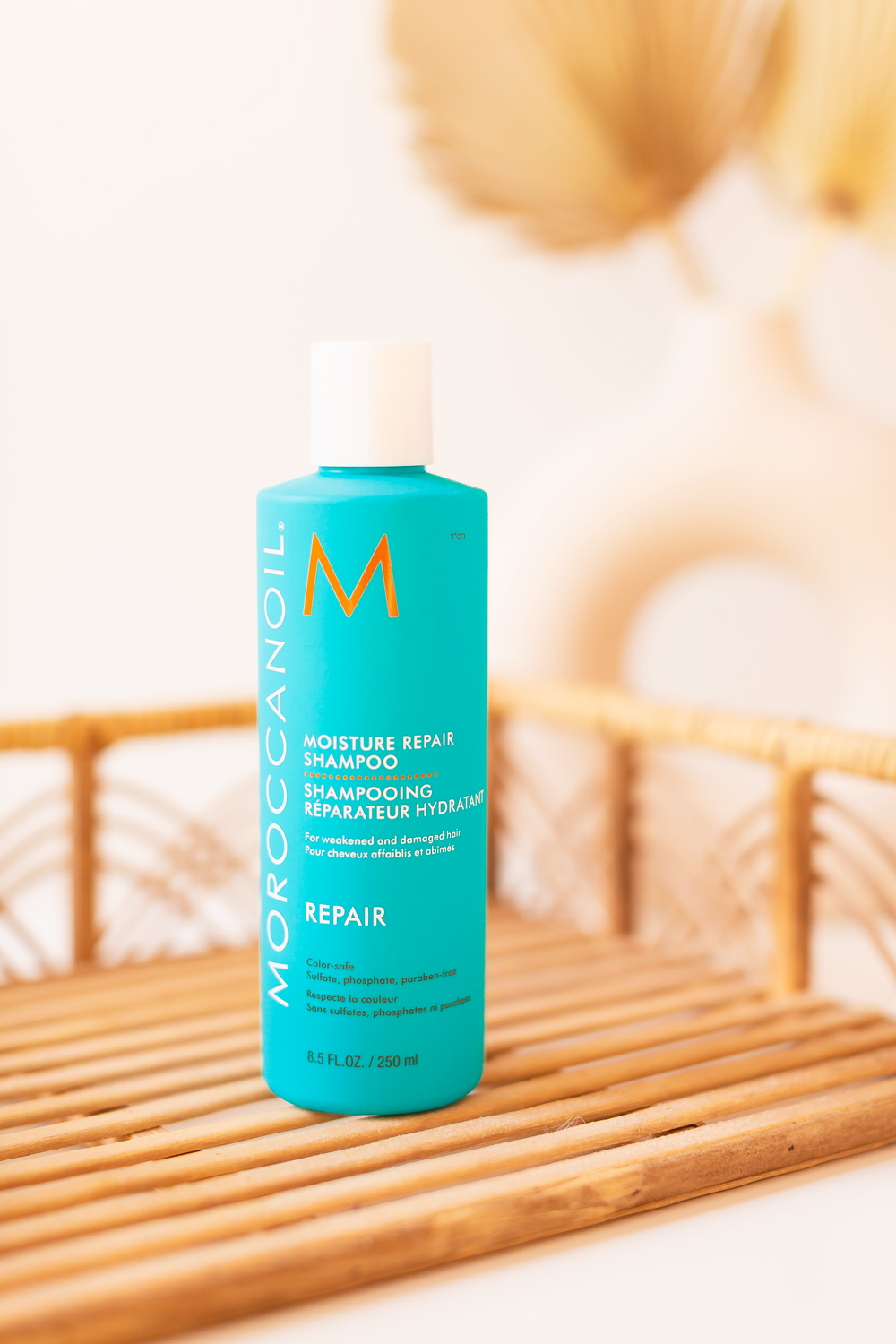 Over the past 6 years, I've mastered the routine of washing my hair just twice a week. Every time I wash, I shampoo twice with lukewarm water to ensure a thorough cleanse. This has been absolutely instrumental in the continued health of my hair as I've transitioned from au naturale back to colour-treated tresses!
My all-time-favourite shampoo is Moroccanoil's Moisture Repair Shampoo — which is safe for coloured hair and formulated without sulfates, phosphates and parabens. As someone with numerous sensitivities and a discerning eye for ingredients, this luxuriously formulated, intoxicatingly scented shampoo checks all the boxes. It provides a beautiful lather (even on the first wash!) while delivering a mega dose of argan oil, keratin proteins and fatty acids.
CDN $48.00 (8.5 oz)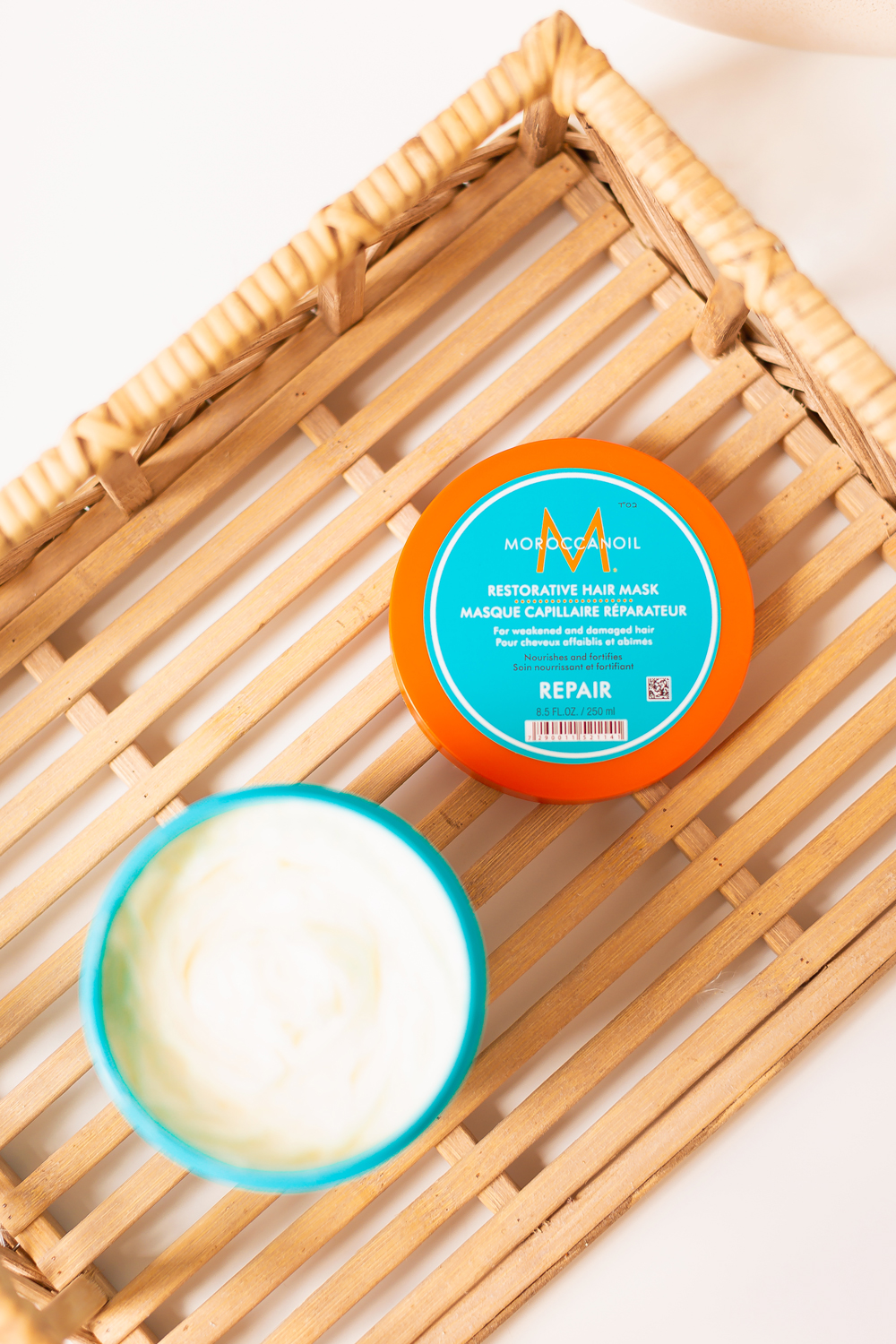 After my second shampoo, I follow up with Moroccanoil Restorative Hair Mask. Since I only wash twice a week, this intensive mask keeps my superfine (but very thick!) hair nourished and manageable but never weighed down — thanks to an intensive blend of argan oil and vegetable protein.
I mask my hair from mid-shaft to ends and then twist it up off my neck and shoulders, securing with a claw clip. Then I complete the rest of my pampering shower routine — including body cleansing, exfoliating and shaving. By time I've finished, the mask has fully absorbed and I rinse with cool water to close the hair shaft.
---
LEAVE-IN TREATMENTS
---
CDN $32.00 (5.4 oz)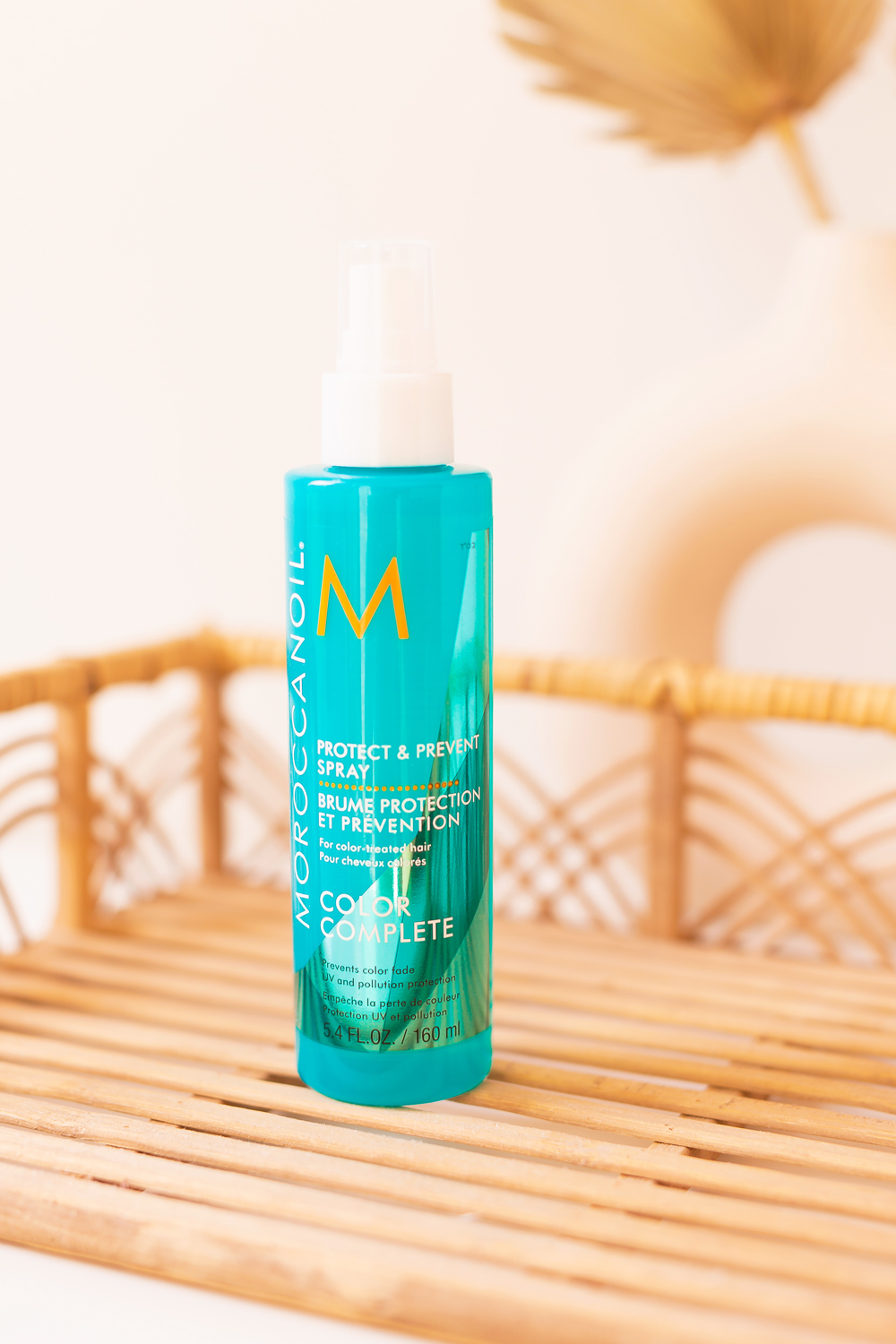 Leave-in treatments are an integral part of my routine to help protect against environmental aggressors, heat styling and our temperamental Alberta climate. After washing and gently towel drying, I spritz my hair generously with the Moroccanoil Protect & Prevent Spray — a lightweight, leave-in conditioner that shields my strands from UV rays, pollution and helps to preserve my colour.
CDN $49.00 (3.4 oz)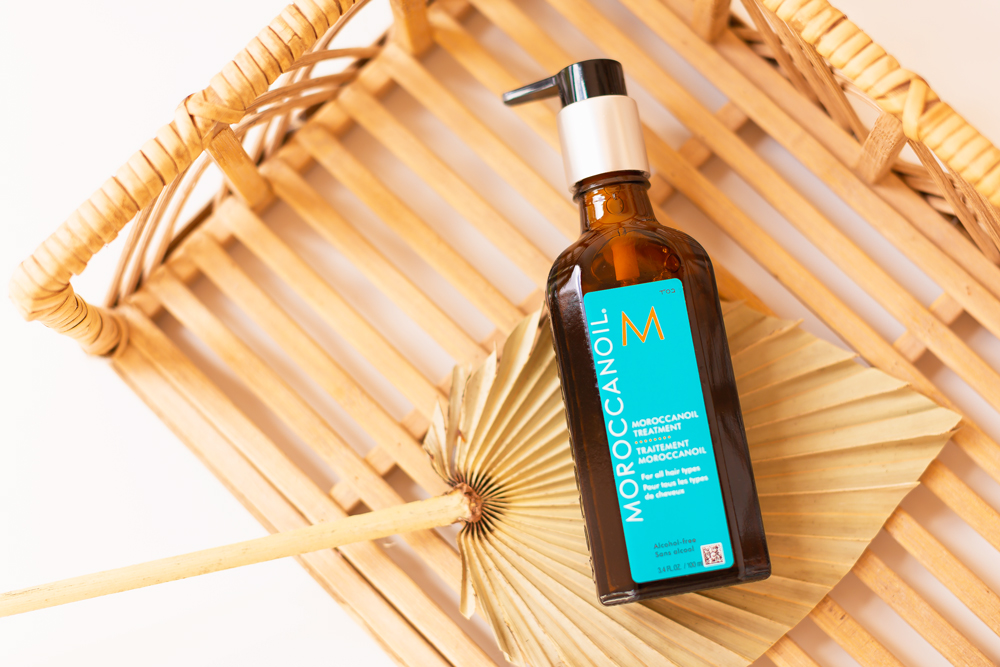 Then, I apply 3 pumps of the iconic Moroccanoil Original Treatment from my mid-shaft to ends to help lock in moisture, shine and enhance manageability. After I've dispersed both of my leave-in treatments, I comb through my hair with a wide tooth detangling comb and let it air dry completely. Although this process takes about half a day, I truly believe less is more when it comes to my mane — and minimizing heat styling is the greatest contributor to its health.
---
DRY SHAMPOO
---
CDN $30.00 (5.4 oz)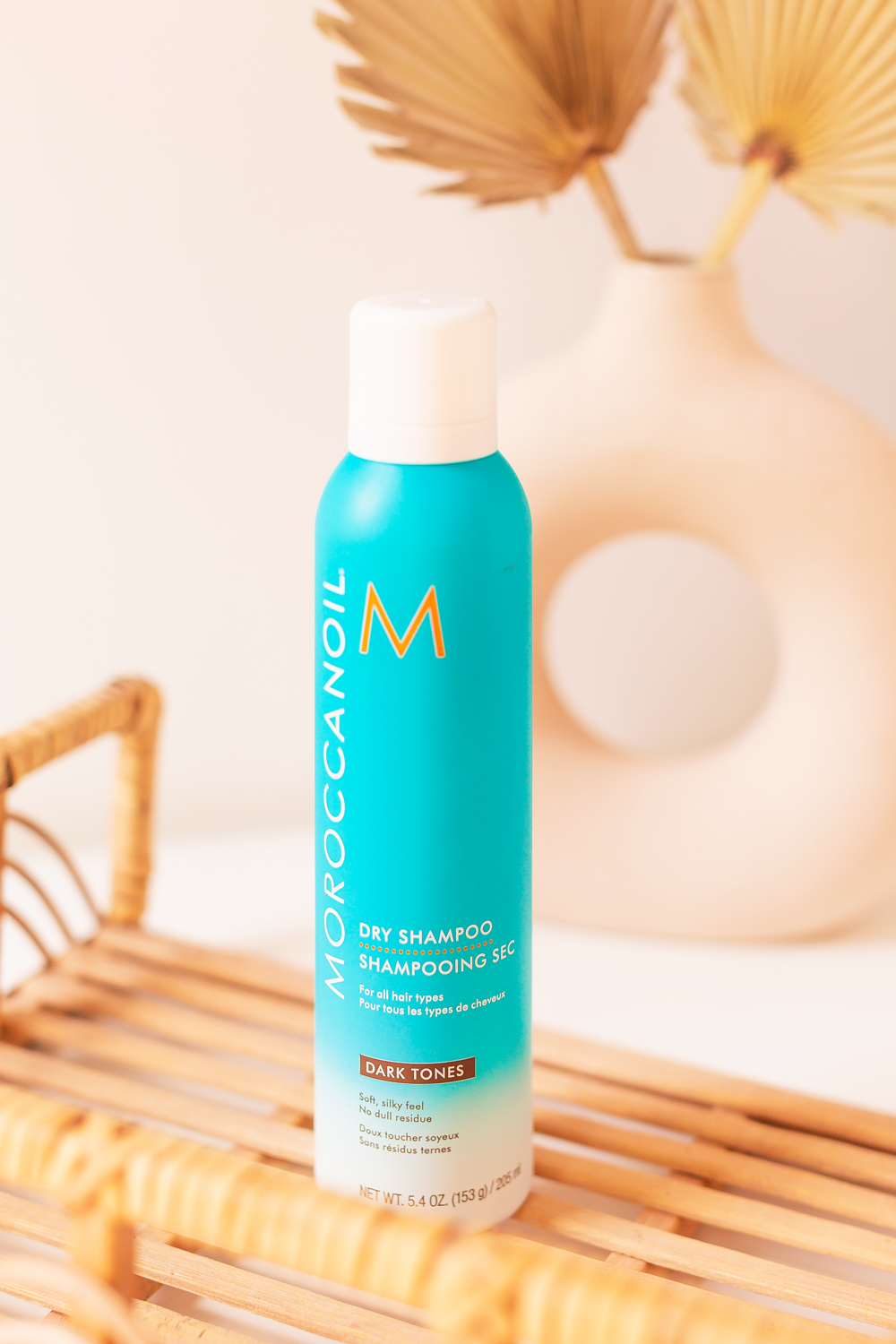 Between washes and after workouts, I rely on dry shampoo to keep my locks fresh and clean. I've used Moroccanoil Dry Shampoo Dark Tones faithfully for nearly 8 years — and I absolutely adore this rice starch based, UV-protecting, argan-infused formula! Thanks to its dark brown tint, this dry shampoo never leaves a white cast or excess residue on my silky brunette tresses and is virtually undetectable.
---
STYLING
---
CDN $28.00 (10 oz)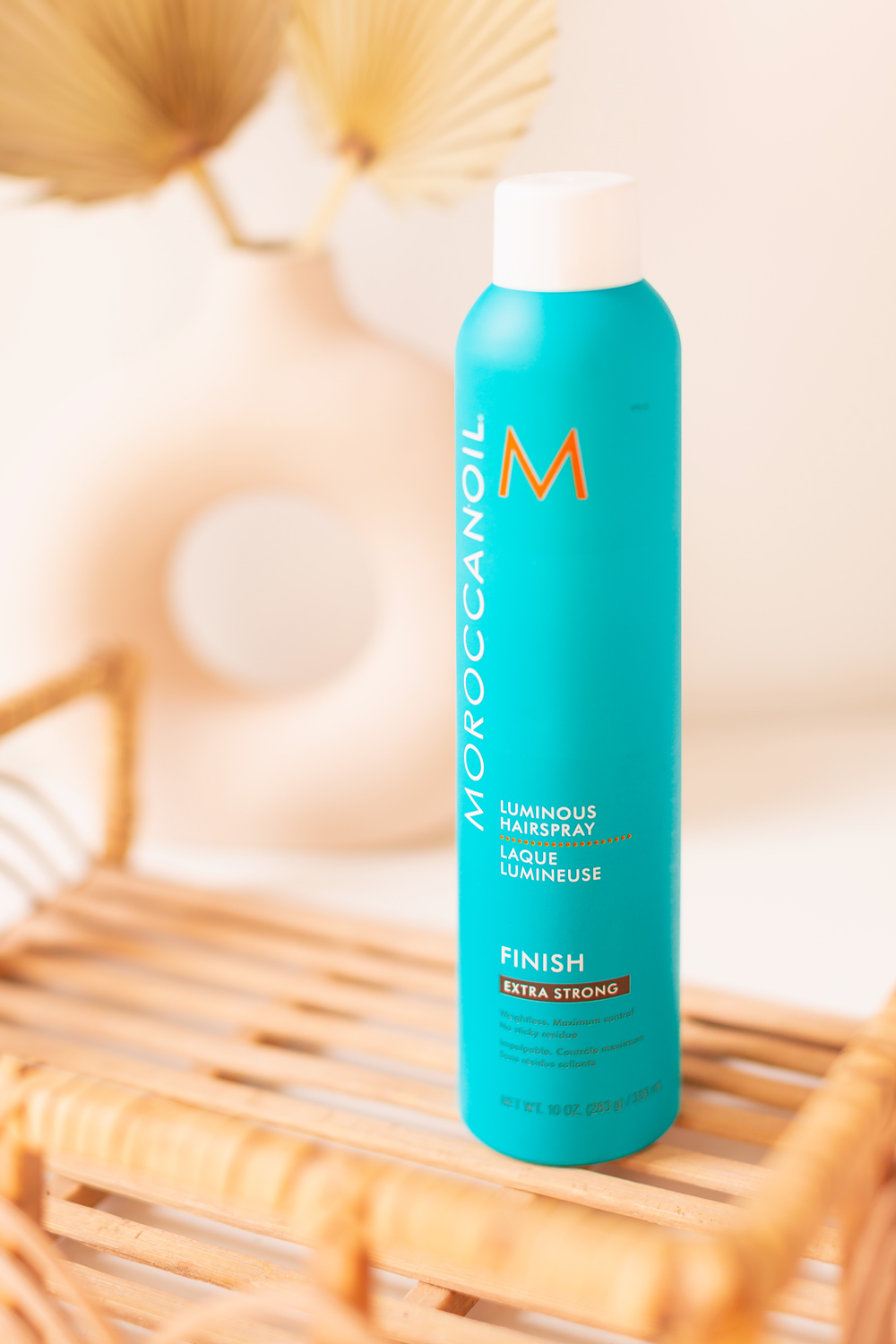 I'm a true minimalist when it comes to styling my hair. Over the years I've honed my hairstyle and use a clipless 1″ wand to create my signature loose waves the majority of the time. I curl my whole head in rough sections, let my curls cool, finger comb them and set them in place with a strong, weightless hairspray — and the Moroccanoil Luminous Hairspray Extra Strong is my all-time-favourite!
This hairspray provides long lasting hold, is never stiff or sticky and brushes out easily. Infused with Moroccanoil's signature argan oil, it also imparts shine while protecting against frizz and humidity. It's truly one of a kind — at any price point!
---
SHOP MY HAIRCARE ROUTINE AT BEAUTYSENSE.CA
---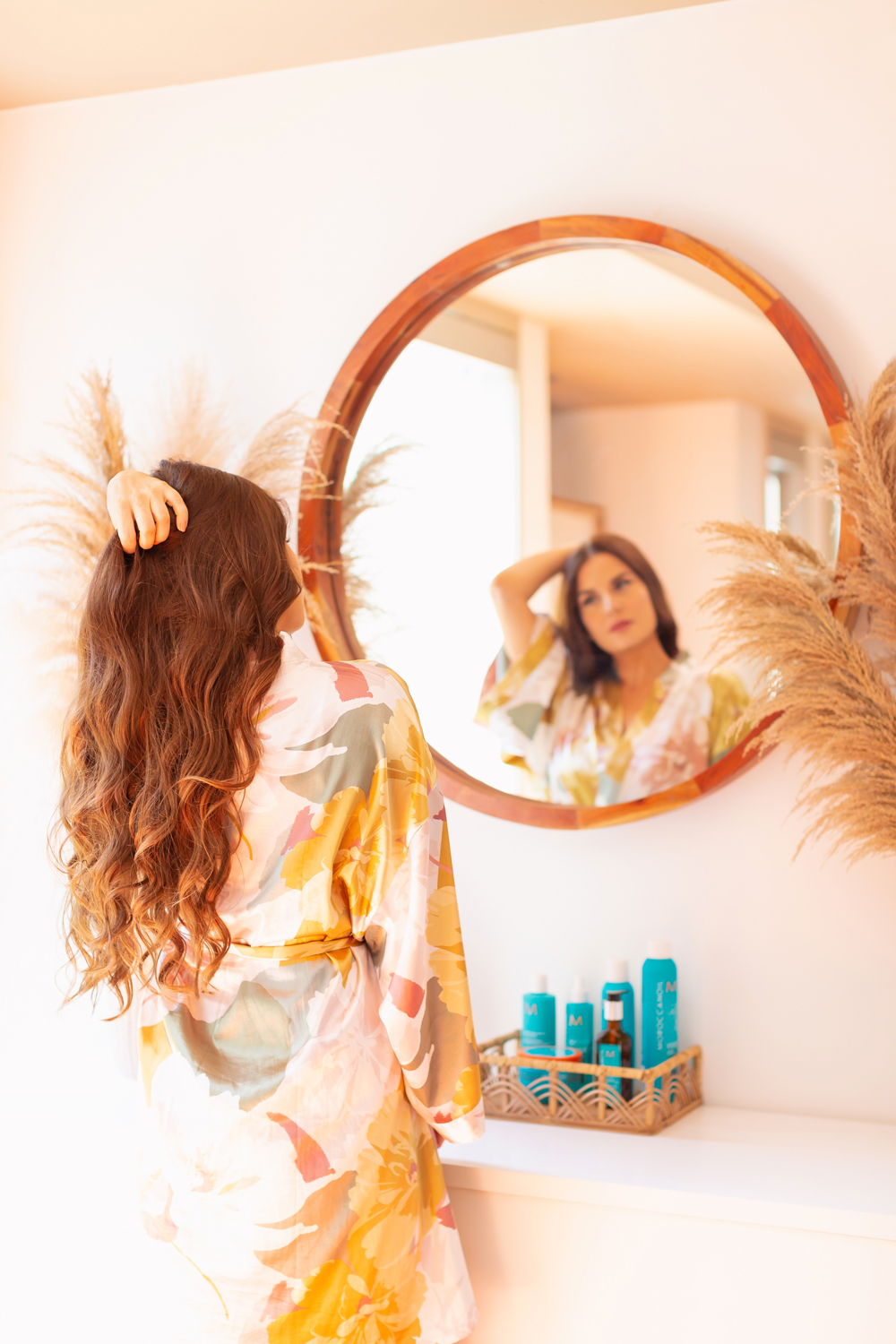 Moroccanoil Moisture Repair Shampoo | Moroccanoil Restorative Hair Mask | Moroccanoil Protect & Prevent Spray | Moroccanoil Original Treatment | Moroccanoil Dry Shampoo Dark Tones | Moroccanoil Luminous Hairspray Extra Strong
---
Friends, thank you for stopping by to learn more about My Haircare Routine for Long, Thick Colour Treated Hair! I hope you found this updated post covering one of my most requested topics informative — and that you consider BeautySense for your next purchase. As always, if you have any questions, haircare or otherwise, please leave them below!
---
Disclaimer: Thank you BeautySense.ca for sponsoring this post. As always, this post contains my genuine thoughts, ideas and recommendations.. Thank you for supporting the brands and businesses that support JustineCelina!
Save