Things I'm happy about today: it's almost the long weekend, the weather is gorgeous, and I'm wearing a kimono! I'm not ashamed to admit I have 13 kimonos currently hanging in my closet — they've been my most worn summer item for as long as I can remember and I love to collect them (I even have a few vintage kimonos!). Naturally, I'm elated to bring you my first SUMMER 2017 TREND GUIDE today highlighting one of my favourite seasonal trends — luxe, loungewear inspired kimonos! Like ponchos, kimonos have always been a staple in my wardrobe, regardless of whether or not they're particularly on trend that season.
Those of you who know me personally are probably used to seeing me in kimonos, especially during the warmer months. So, I used one of my favourite kimonos as a statement piece in today's post and paired it up with a handful of summer trends — including bold botanical prints, fringe hem denim, mules, millennial pink, eyelet, tassels, circular cross body bags, hexagon sunglasses and sunset inspired makeup. I've also included tons of shoppable links and image carousels for you at every price point in today's post — because hey, a girl's gotta have options, am I right?! Fix yourself a refreshing cocktail and let's chat about what's on my hit list this season!
---
Longline Printed Kimono (similar, similar, similar) | Fringe Hem Denim (similar, similar, similar) | Zavaglia Mules (similar, similar, similar) | White Eyelet Top (similar, similar, similar) | Circular Cross Body Bag (similar, similar, similar) | Metal Hexagon Sunglasses (similar, similar, similar) | Vintage Tassel Necklace (similar, similar, similar) | Vintage Red Stone Ring (similar, similar, similar) | Midi Circle Ring | Midi Triangle Ring | Pinky Triangle Ring
---
SUMMER 2017 TREND GUIDE | KIMONO LOVE
---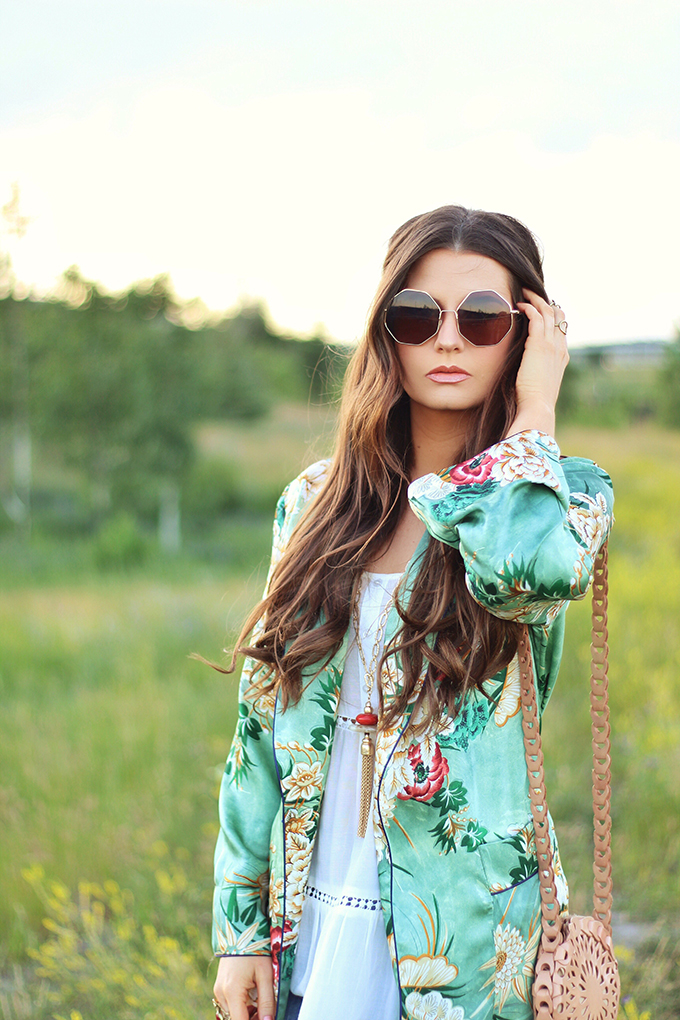 It's been awhile since we shot at sunset, so on Wednesday we popped down to the park area beside Telus Spark to capture images for this post in this glorious golden light (if you look closely, you'll see the headlights at the 16th Avenue / Deerfoot Trail intersection twinkling in the distance!). It was a beautiful evening (although it was crazy windy for while!) and I'm loving these long summer days — we shot these photos at 9pm!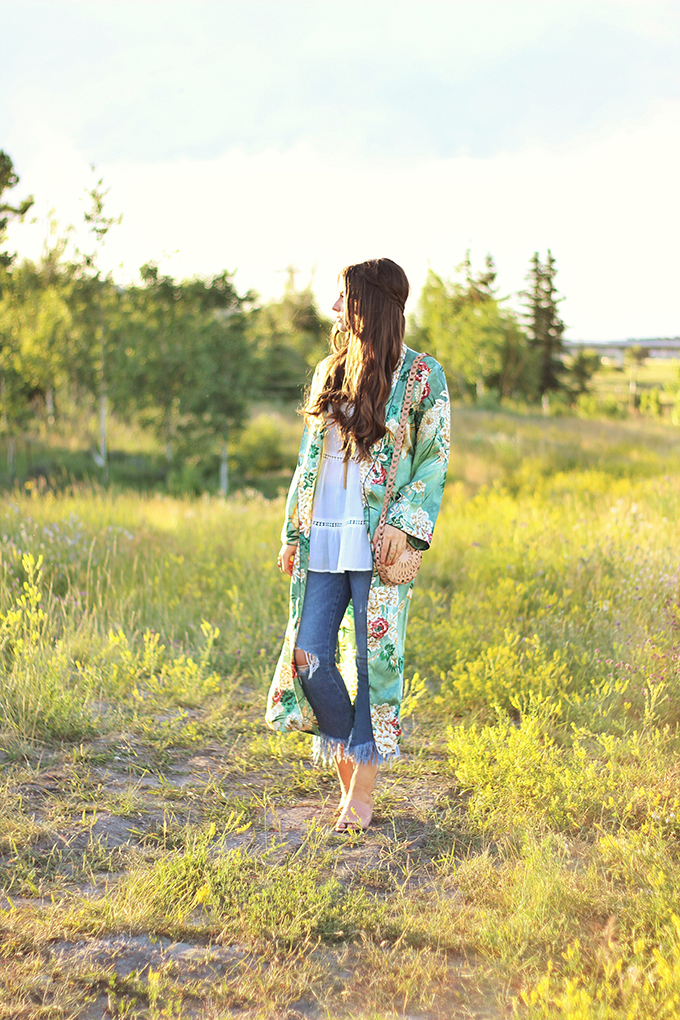 There are so many fantastic trends this summer and I know how overwhelming it can be if you don't live and breathe fashion. But that's where I come in! Today I'm breaking it down for you and highlighting some of my personal favourites in this carefree, bohemian look.
---
TREND: Luxe, Loungewear Inspired Kimonos
---
If you follow other bloggers or fashion lovers, you've likely seen this very popular kimono floating around the internet lately. I spotted it in the window in store and it stopped me in my tracks — I knew I had to own it! Kimonos in silk and satin fabrics that resemble nightgowns are on trend this summer — and it's a trend that I also see going strong into Autumn collections. I love the luxe vibe they add to an outfit and they can easily be dressed up (for professional settings, reach for it this summer in place of your blazers) or worn more casually, like I've done here.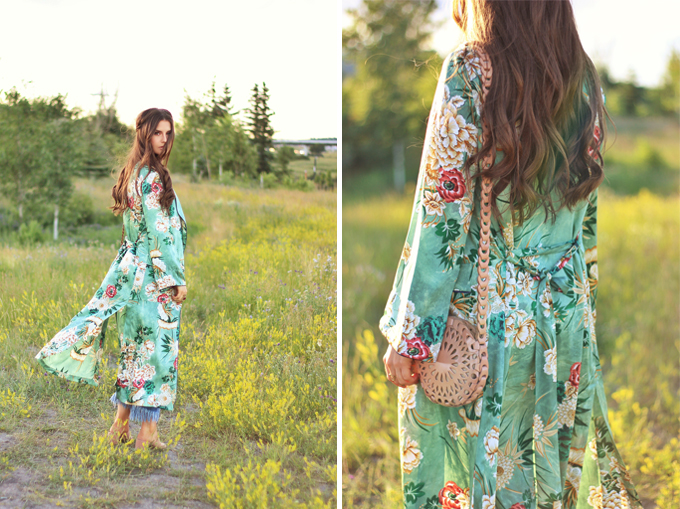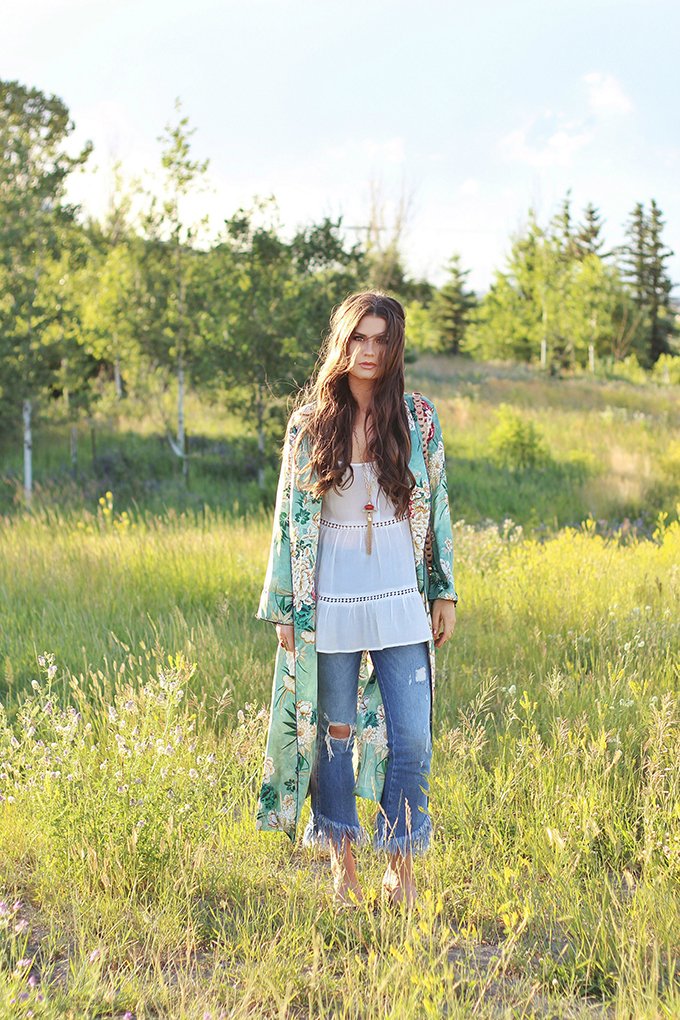 Because it was so popular, this exact kimono is now sold out online at Zara, but I've seen it in store recently (the style number is 2416/641 if you'd like to track it down at a location close to you). If you're looking to add a longline, loungewear inspired kimono to your wardrobe, I've linked some very similar options for you below.

---
TREND: Bold Botanical Prints
---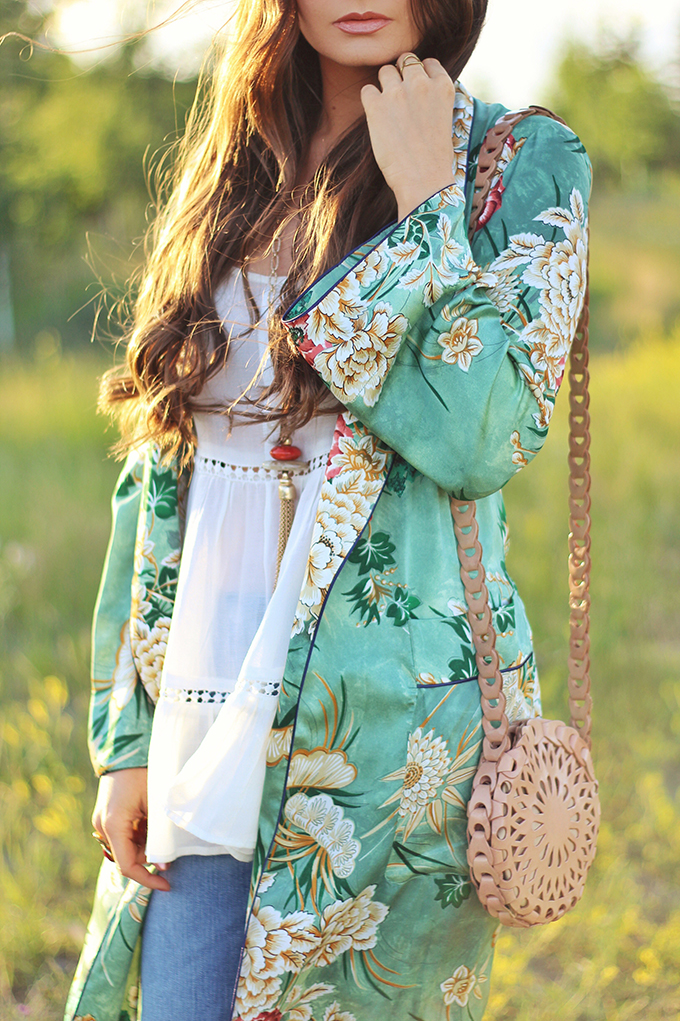 There are so many on trend prints to celebrate this summer — but gingham, floral, and tropical, palm inspired prints are a few of my personal favourite. This gorgeous kimono is a mashup of bold, 70's inspired florals with a tropical vibe and I couldn't be more in love with it. This summer, go bold with allover prints — try a longline kimono, maxi or midi dress or even a coordinated set.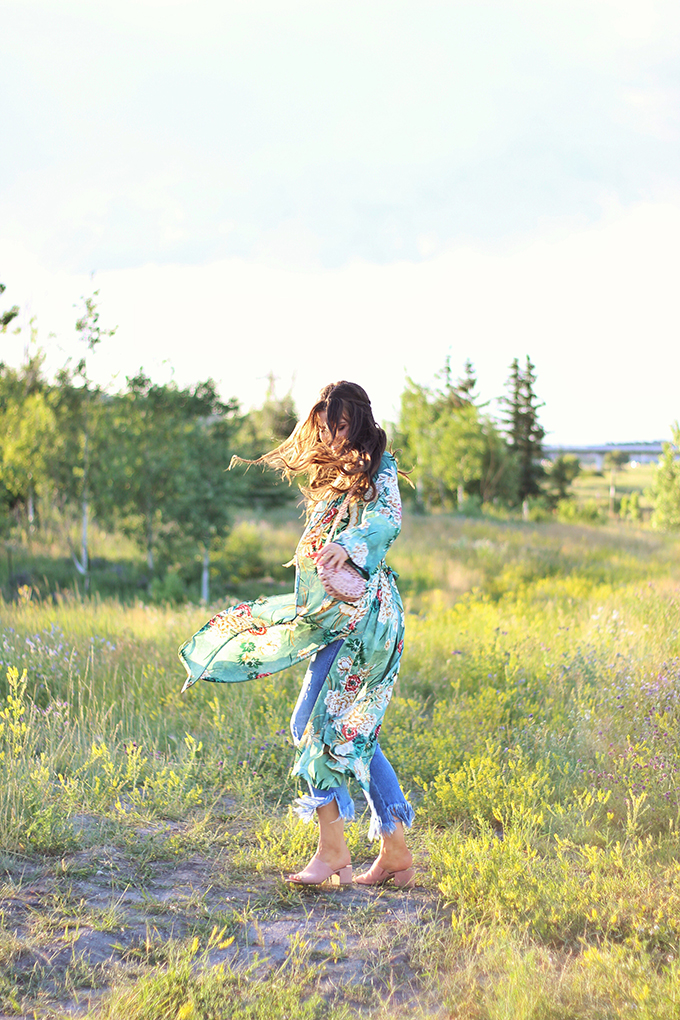 ---
TREND: Fringe Hem Denim
---
I'm sure if you've read JustineCelina for any length of time, you'll understand my love of fringe. So, when summer '17's fringe hem styles started popping up everywhere, I was eager to try the trend for myself! I picked these fringe hem jeans up last month and am surprised by how much I've been wearing them — since the wash is neutral, I find they're actually pretty versatile for a statement piece.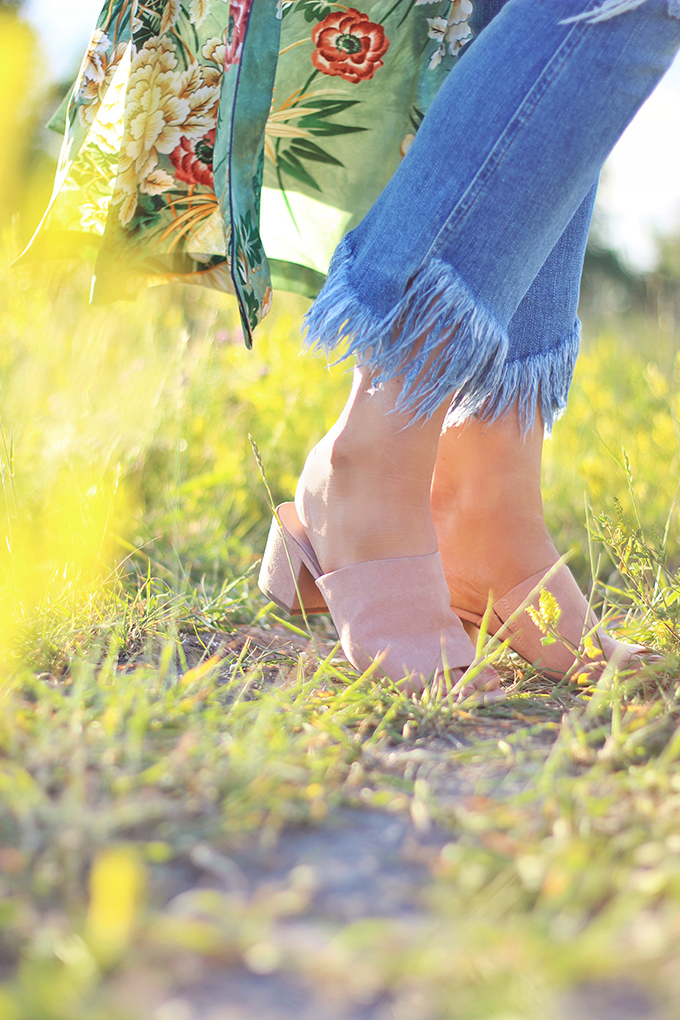 Novelty denim continues to trend and my love of offbeat hem lines lives on! In addition to the extra attention fringe hem denim calls to my shoe, I particularly love the free spirited, playful vibe this denim infuses into my summer wardrobe. This exact pair is from Zara and no longer available online, but I've rounded up some similar options at different price points for you below. Inject some fun into your summer style with a pair of fringe hem denim — I bet you'll be pleasantly surprised at what a great staple they can be!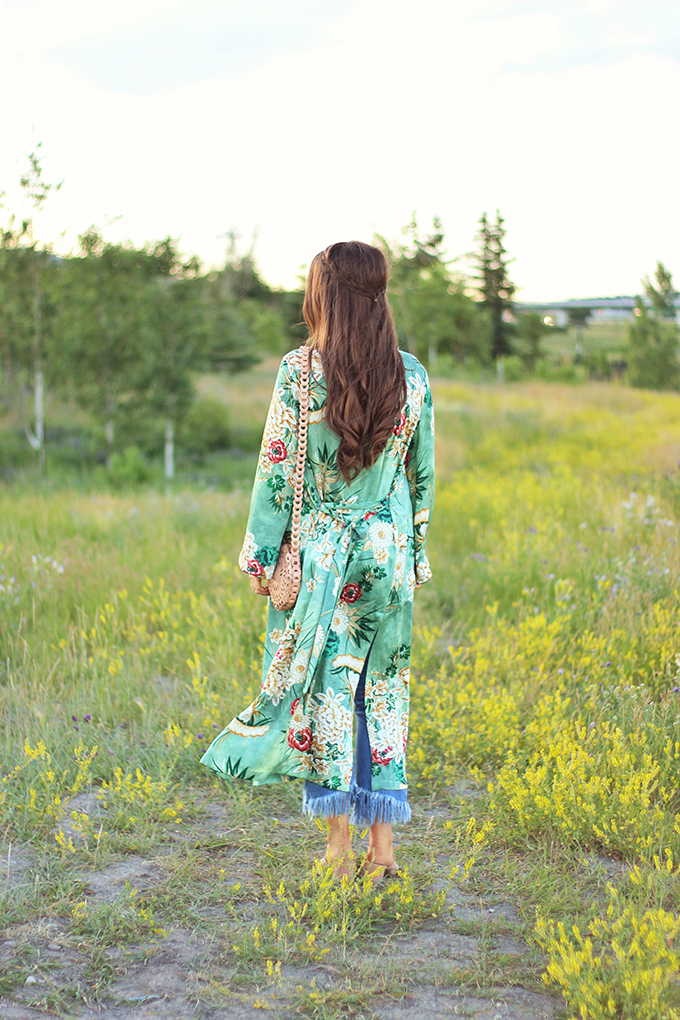 ---
TREND: Eyelet Details
---
White is definitely a hot shade this season and when I'm wearing a bold print, I like to balance things out with a flowy white with simple eyelet details like this one. I think every woman should own a breezy, bohemian white shirt — it's one of my go-to pieces every summer. Eyelet is popping up in shirts, skirts and dresses everywhere, so whether you choose to wear it in a more understated way or as an all over print, you'll be able to find an eyelet piece to suit your personal style. I personally tend to look for pieces with subtle eyelet details to keep things from looking too precious — especially when they're white.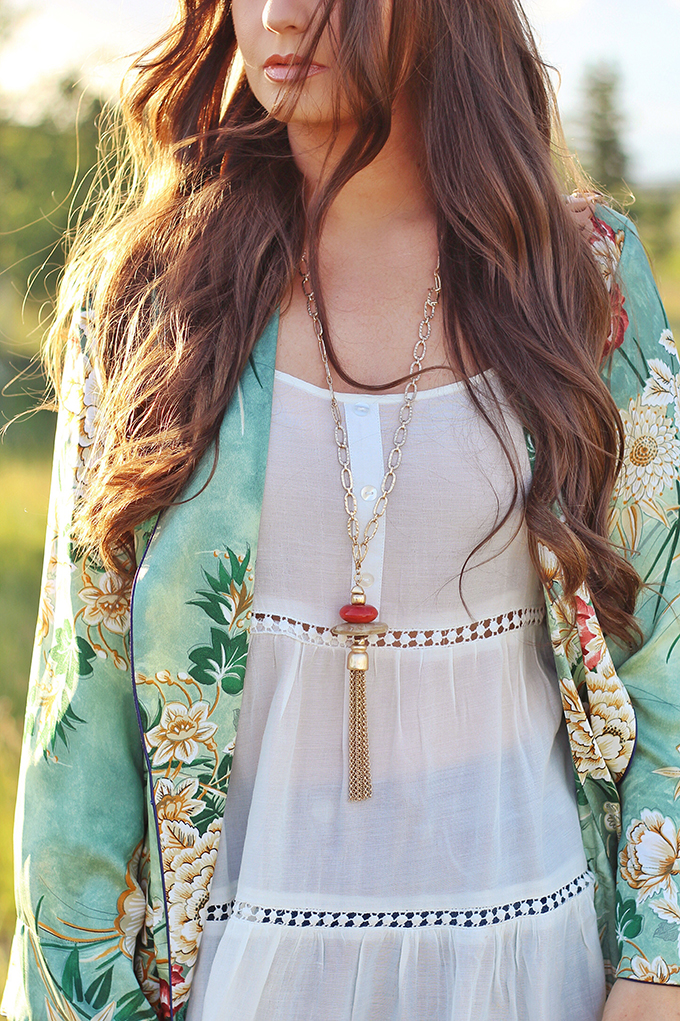 This shirt is about 3 years old — I love the subtle eyelet bands that show just a bit of skin and catch the summer breeze. I've scoured the internet to find my favourite wear-with-anything, flowy white tops with varying amounts of eyelet for you below!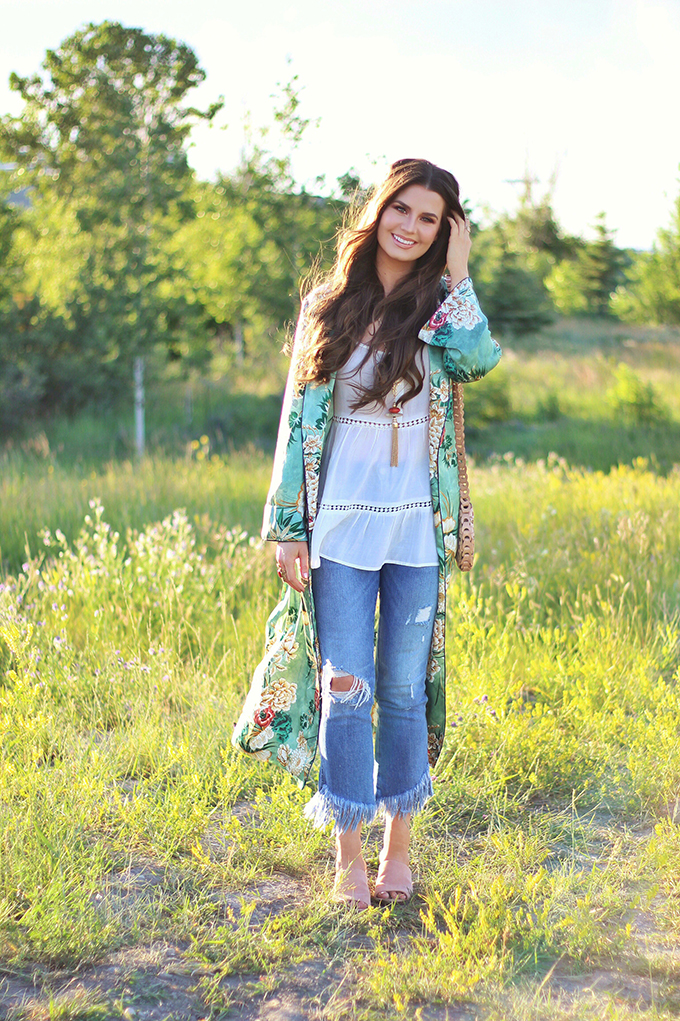 ---
TREND: Mules
---
If you despise wearing heels but like a little extra height, strike a balance with this season's it shoe — the low heel mule. You'll be hearing all about mules in my upcoming Summer 2017 Mega Shoe Guide hitting the blog in July, but until then, mules come highly recommended as the one shoe you need to refresh your summer wardrobe. The Aldo Zavaglia Mules are another pair of wear all day shoes that I personally find just as comfortable as flats.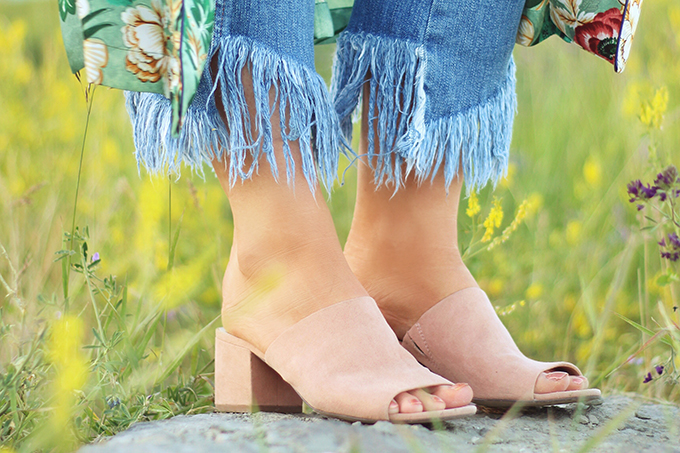 Millennial pink isn't going anywhere this season, and I'm sure by now I sound like a broken record — but if you're wardrobe is lacking this soft summer hue, consider pinking up a muted pink or blush accessory. I've mentioned a few times that although I love pink in design, decor and beauty, it isn't my favourite shade to wear. Thankfully, there are a lot of softer pink options available, so I'm able to infuse a little but of pink into my personal style in a way that I love. My blush mules act as a nude heel and have a similar leg elongating effect that I mentioned in this post, while maximizing comfort.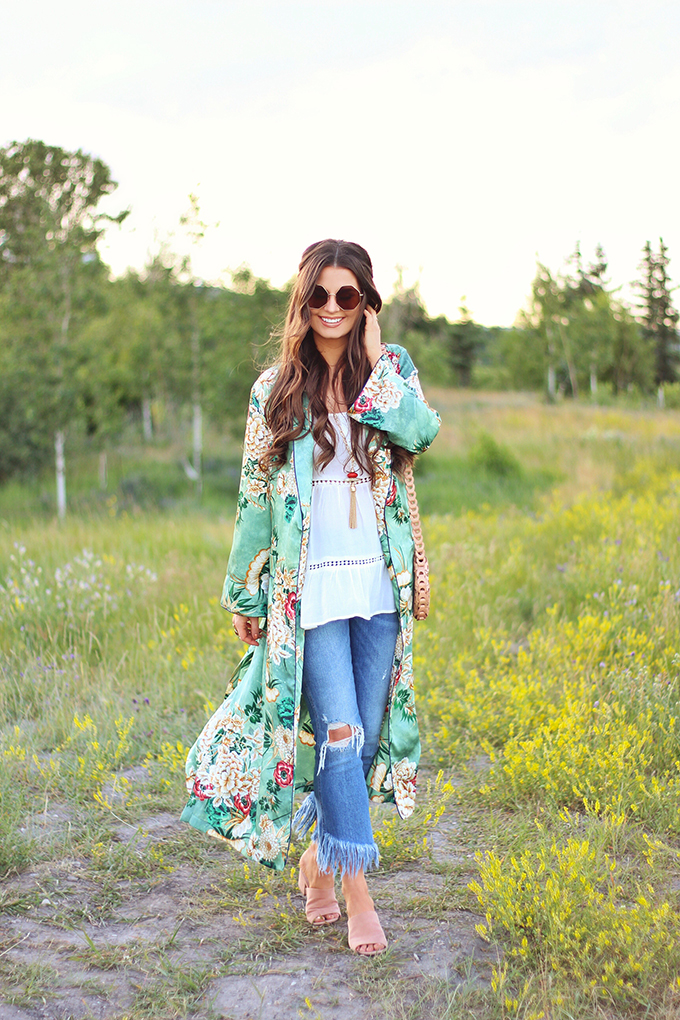 ---
TREND: Tassels
---
Tassels have been on trend… well, basically since I started blogging two years ago. There's something I like to wear often in both my clothing and accessories — so when I spotted this vintage tassel necklace during my last thrifting adventure, I snapped it up immediately!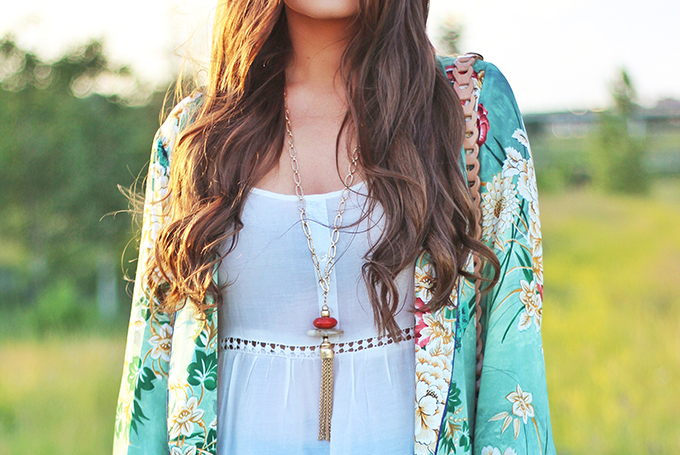 I love to combine high and low with old and new in my personal style. In my last TREND GUIDE, I chatted about how I'm thrilled to see eclectic, vintage inspired jewellery becoming more popular. Longline tassel necklaces will always have a place in my wardrobe and I've linked some lovely options for you below if you'd like to pick one up, but prefer online shopping to thrifting!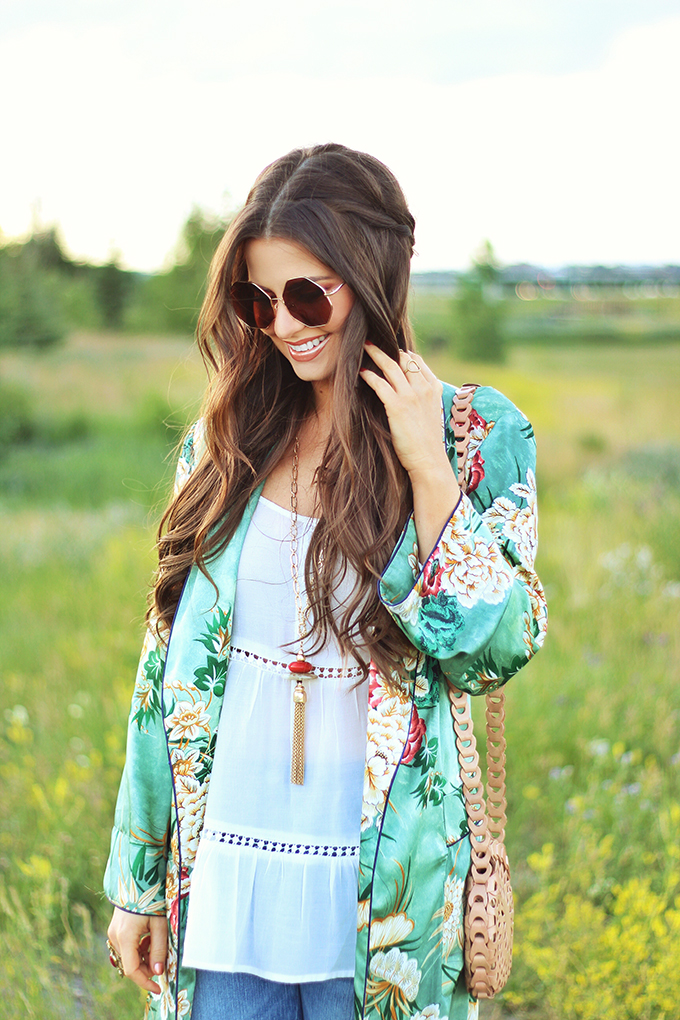 ---
TREND: Circular, Cross Body Bags
---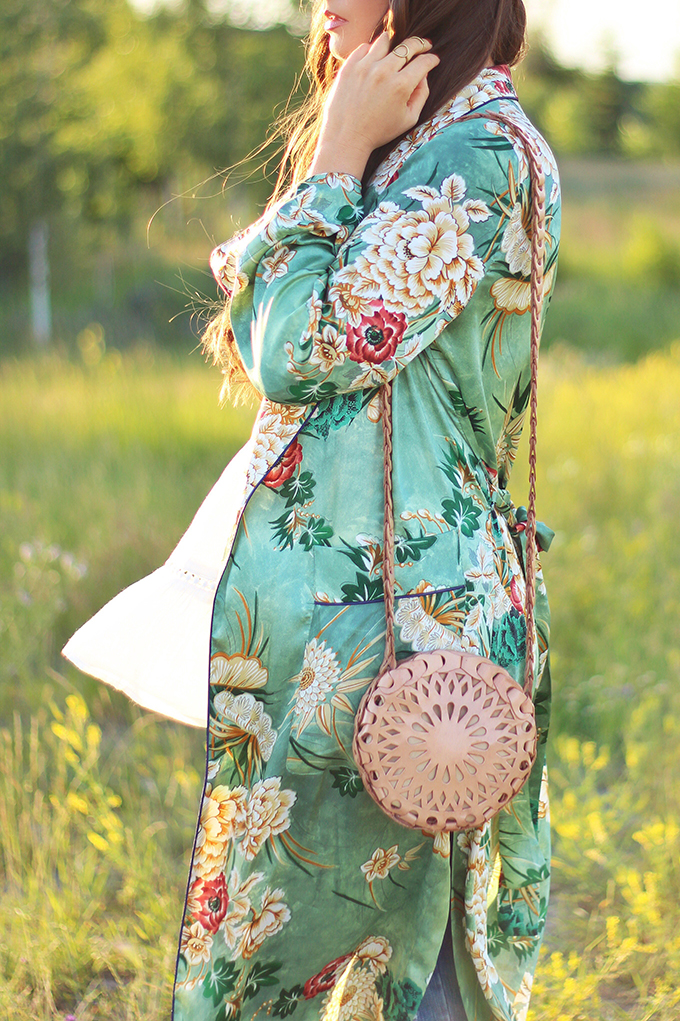 Another trend I love is the resurgence of circular, cross body bags. The one I'm wearing in these photos is ancient (like… almost a decade old!) and it bears a striking resemblance to the ever popular Zimmerman Circular Link Bag! I've hung onto it all these years because it's such an easy bag to wear — especially in the summertime with more relaxed, bohemian outfits. I've mentioned this before, but when I'm wearing trendier items that are newer to me, I love to incorporate items I'm owned for a long time to ensure my outfits truly feel like me. If you too are lusting after this season's it bag, I've pulled my favourite neutral, circular styles for you.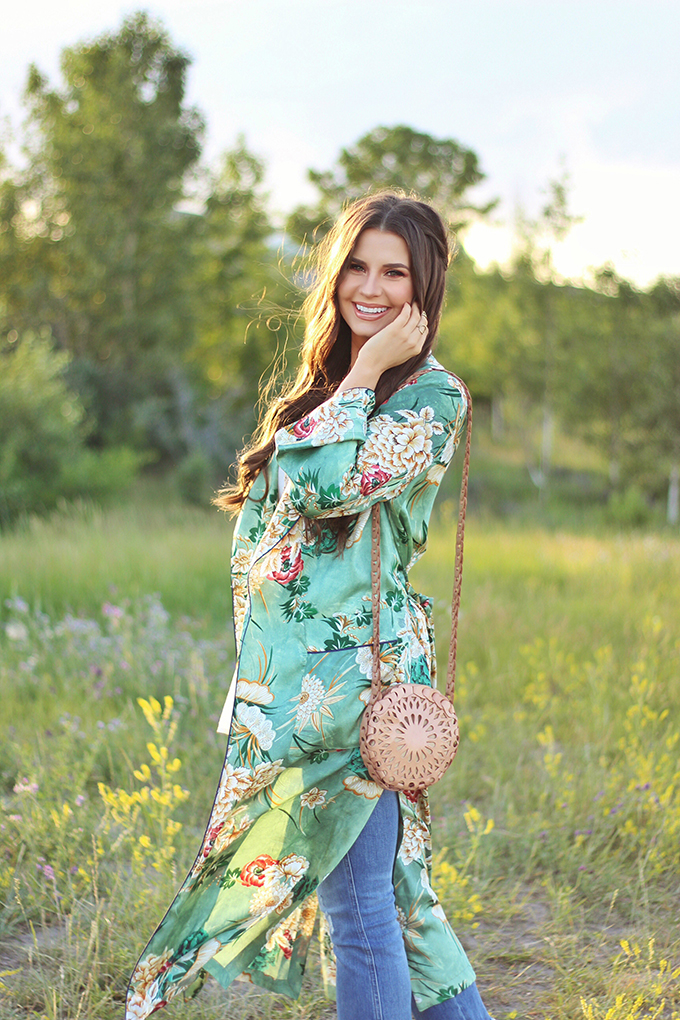 ---
TREND: Metal Hexagon Sunglasses
---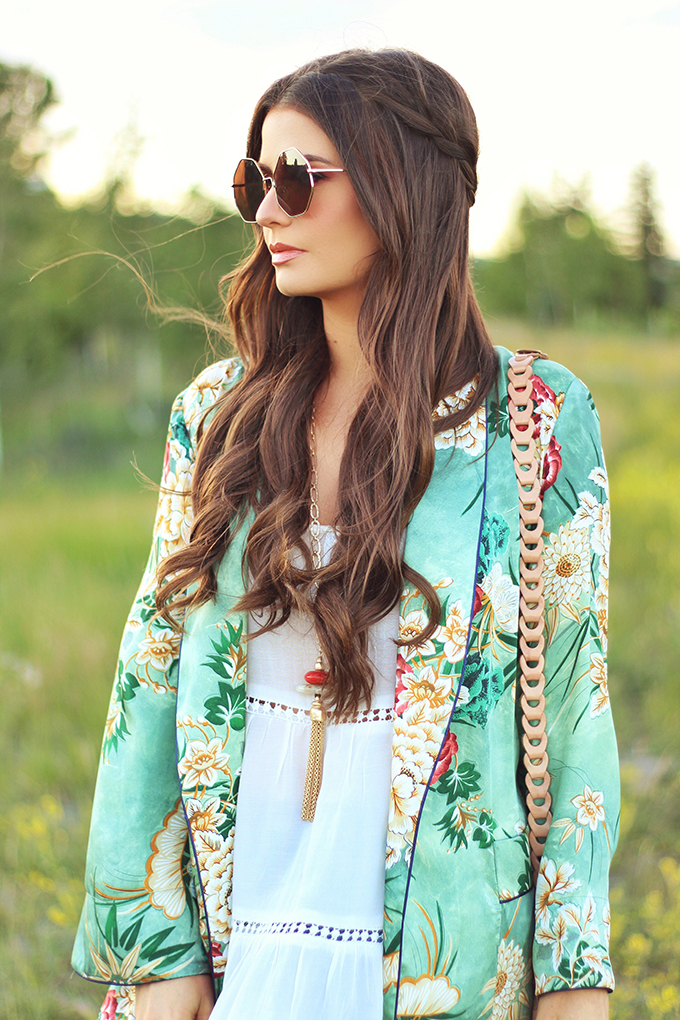 After mentioning and wearing round sunglasses in almost every style post this year, I'm sure many of you are thrilled to see another style on these pages! A close relative of my beloved circular shades, hexagon sunglasses are hot this summer. I love the cool, 70's vibe they bring to an outfit and think they're super fun!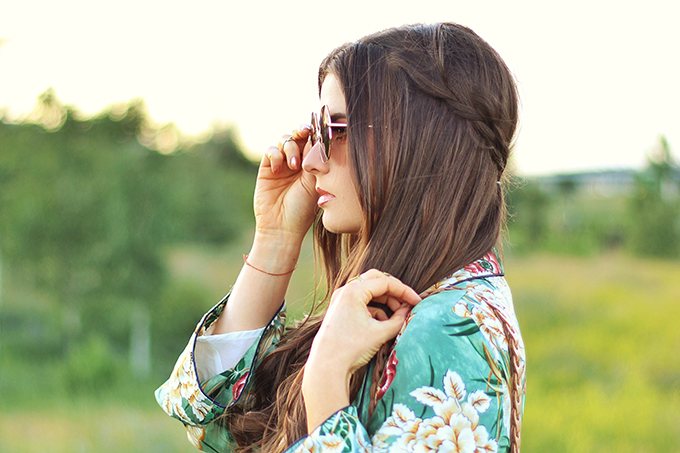 If you follow along with my Insta Stories, you may remember the amazing wall of $10 sunglasses I found at a little shop called Hello Vintage in Canmore (if you're ever in the area, I highly recommend stopping in!), where I picked this style up in 3 different colours. If you, too are a circular shade lover wanting to branch out, I've rounded up my favourite metal hexagon sunglasses for you below.

---
TREND: Warm, Sunset Inspired Makeup
---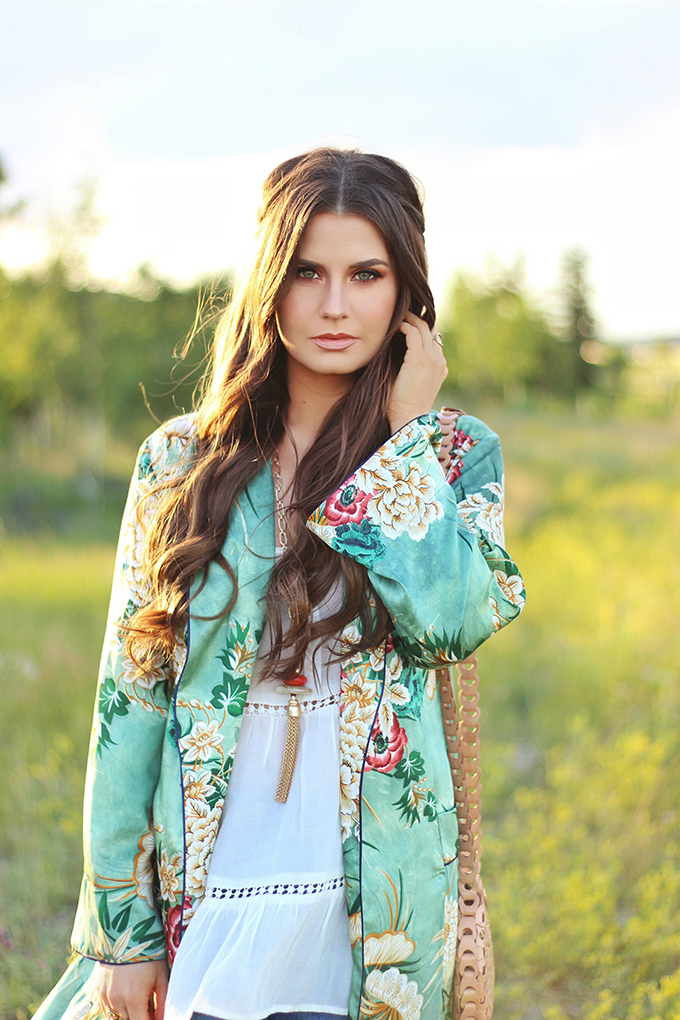 As a warm toned girl, I'm thrilled about all the sunset inspired beauty launches this summer! Although I didn't get my hands on the Urban Decay Naked Heat Palette before it sold out (EDIT: at the time I published this post, it's back in stock — run!), I used my beloved Anastasia Beverly Hills Modern Renaissance Eye Shadow Palette with a couple of metallic shades from my Viseart Theory Palette Theory II Minx (another favourite) to create this warm, blown out smoky eye. These intense warm looks are one of my favourites to wear and I know they're not for everyone (I'm also wearing a red eyeliner!), but warm tones make my green eyes pop. Both palettes also contain less intense shades and I think they'd be flattering on all eye colours if you're looking for some warm shadow alternatives to the Urban Decay Naked Heat Palette. And because more is more, I'm also wearing the most vibrant blush I own — NARS's Exhibit A. I love it in the summertime to mimic the look of flushed cheeks! My glow is courtesy of the Anastasia Beverly Hills Nicole Guerriero Glow Kit — I'm wearing the golden Glo Getter here.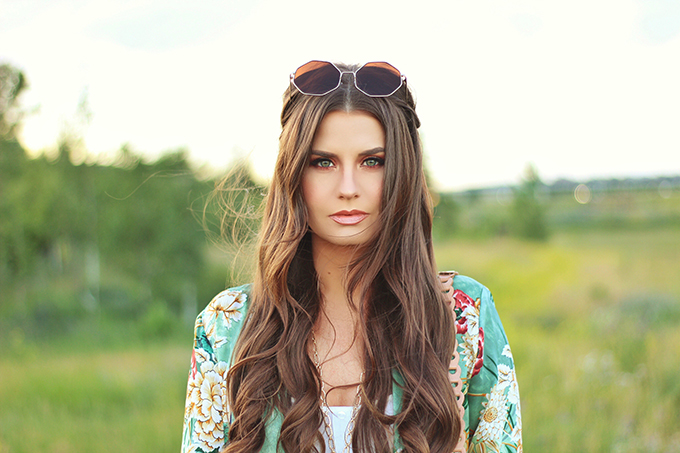 Although you may not guess I'm wearing a golden beige metallic lipgloss in these photos, I am — and I love the effect! I mentioned the Bite Beauty back in my Spring 2017 Beauty Trend Guide and all 3 of them have been on heavy rotation ever since. To make metallic glosses more wearable, I personally love to line, then completely fill in my lips with a creamy lip liner (here I'm wearing Huda Beauty's Bombshell Lip Liner) and then apply the metallic gloss on top (here it's Bite Beauty's Prismatic Pearl Crème Lip Gloss Champagne Pearl), concentrating the most product in the centre of my lips for a plumping effect. If you're feeling a bit darling this summer and want to dip your toes into the metallic lip trend, Bite's metallic glosses are the best I've tried — plus, they're made with natural, food grade ingredients, they taste and smell link pink lemonade and they're Canadian!

---
TREND: Carefree Braids
---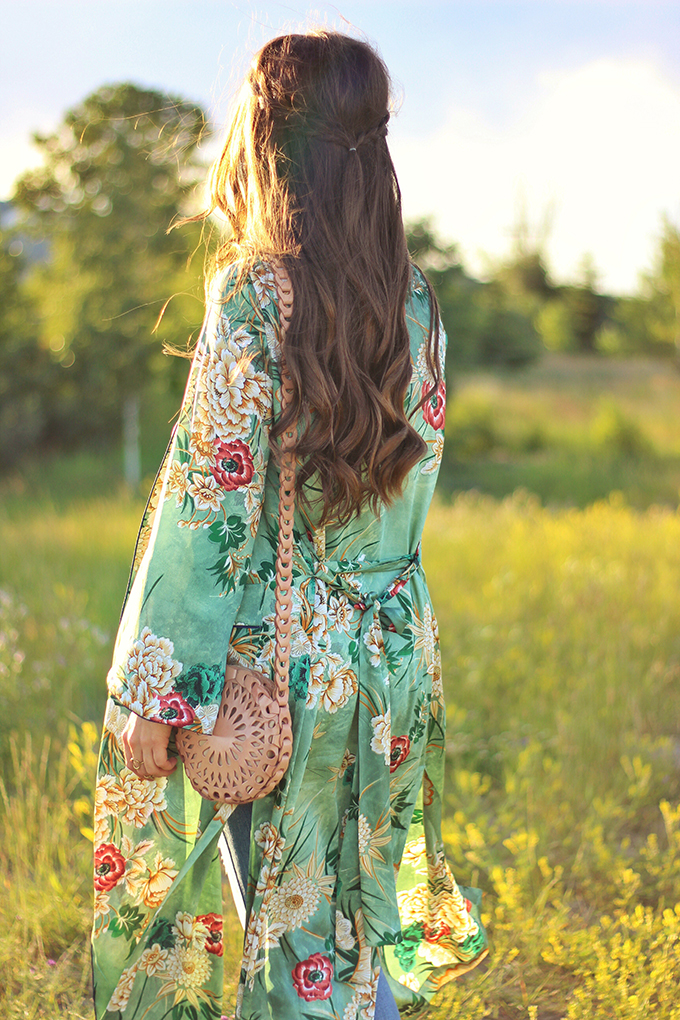 I feel like braids are a pretty easy trend to participate in, even if you typically wear your hair the same way most of the time, like I do. Anytime I want to do something a bit different with my hair but still keep most if it down, I braid or twist pieces of either side of my face back and secure them in the centre of the back of head with a clear elastic. Then, I use dry shampoo it rough up the texture and help to add some grit as I pull the braids apart to create the appearance of a fuller looking plait. It's a very simple style that only takes an extra couple of minutes (really!) — if you have medium / long hair, give it a try this summer!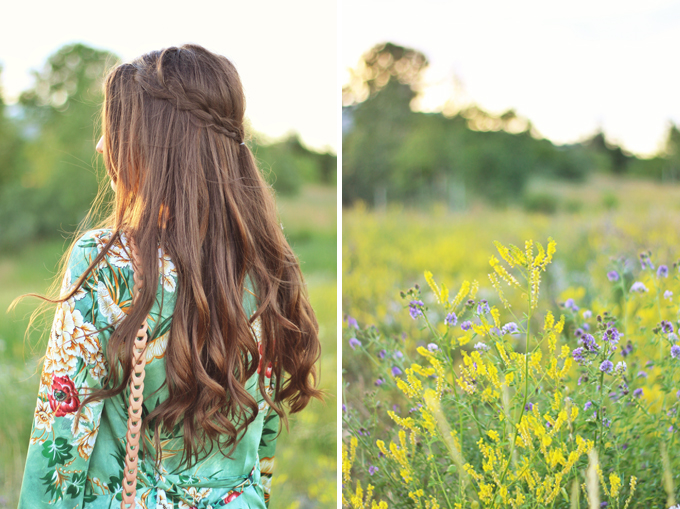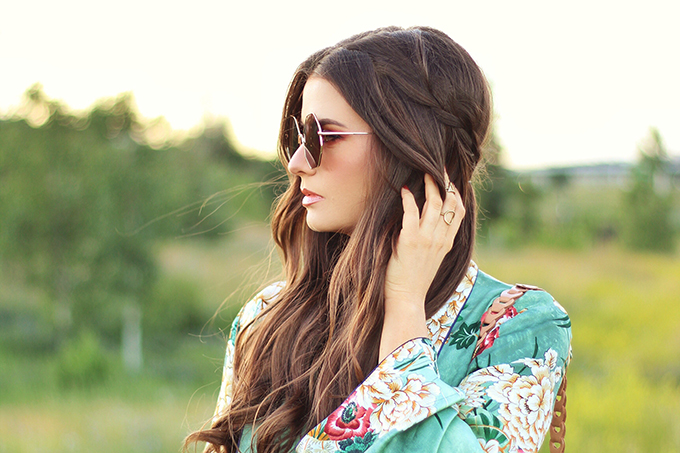 ---
SHOP THE POST
---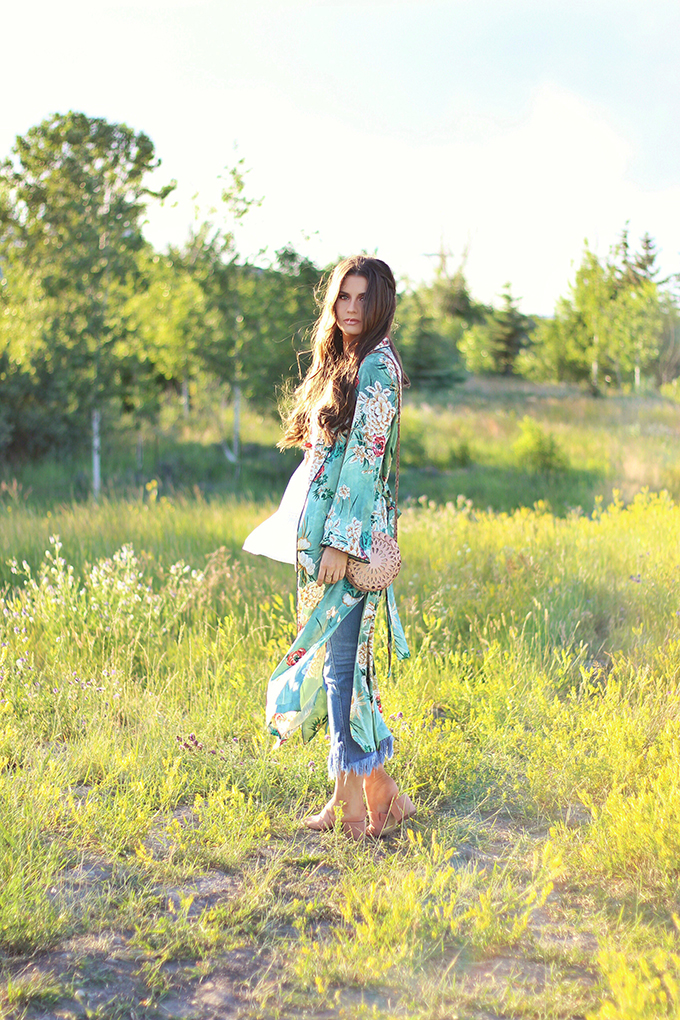 Longline Printed Kimono (similar, similar, similar) | Fringe Hem Denim (similar, similar, similar) | Zavaglia Mules (similar, similar, similar) | White Eyelet Top (similar, similar, similar) | Circular Cross Body Bag (similar, similar, similar) | Metal Hexagon Sunglasses (similar, similar, similar) | Vintage Tassel Necklace (similar, similar, similar) | Vintage Red Stone Ring (similar, similar, similar) | Midi Circle Ring | Midi Triangle Ring | Pinky Triangle Ring
---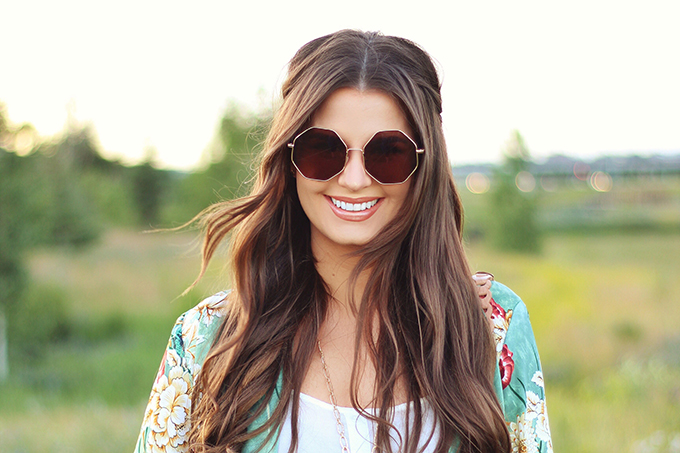 I hope you enjoyed my first Summer 2017 Trend Guide! What summer trends are you loving this year? Did you like the extra shopping options in each section? I'm always striving to improve the quality of my content and make it as helpful as possible, so feel free to leave your feedback in the comments. Thanks for stopping by, everyone — enjoy your long weekend!
---
Disclaimer: This post is not sponsored, and contains my genuine thoughts, ideas and recommendations. JustineCelina uses affiliate and referral links, which allow me to receive a small commission when you make a purchase through one of my links. Thank you for supporting the brands and businesses that support JustineCelina!