---
Fellow fashionistas, welcome back for the first TREND GUIDE of 2018! If the new year has you itching to upgrade your personal style or educate yourself about what's hot this winter, you've come to the right place! Today I'm styling a handful of my favourite winter-to-spring trends in a colourful, artistic look — including red, chenille, berets, circular details, distressed hems and sock boots (I marched right into 2018 wearing my favourite pair!). I'm also sharing some of my favourite cold weather beauty staples and a look ahead at spring colour trends as forecasted by Pantone (because although it's a new year, some things never change!).
Is there any better time than during an extreme cold warning to settle in for my Winter 2018 Trend Guide | Red Hot (sorry, couldn't resist that pun!)? If you have half an hour to spare this weekend, I'd love you to join me in learning how to find the right red for your colouring, my best cold weather layering tips that won't leave you looking overstuffed, where to score the best deals on outerwear and my favourite source for designer sunglass dupes (that's right — mine were less than $20!). I'm also sharing how to style these key trends into spring if you're planning ahead, or, you know, don't live in one of the coldest places in the world. If you're ready to inject some colour and fun to your winter wardrobe, this post is for you!

---
WINTER 2018 TREND GUIDE | RED HOT
---
I'm so excited to finally share this look with you! Truthfully, it's one I've been wearing a lot over the past couple of months. I actually wore this outfit (except I swapped this cozy chenille sweater for a crisp white, button down blouse) when I spoke at Next Big Thing. It's a perfect example of an outfit I've worn in both personal and professional settings (depending on the meeting or client, of course)! It's a fun look with a bit of a creative flair — although I'm wearing a lot of trendier items, it feels very me!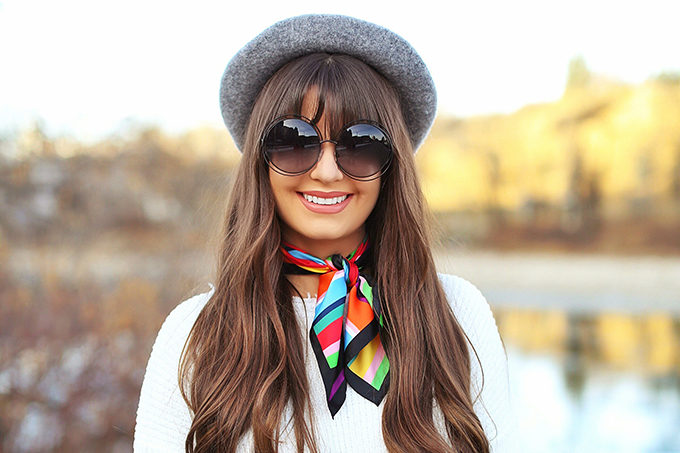 With the exception of my sunnies and my sweater, this outfit is Zara head to toe! Typically that's something I try to avoid when I'm putting together looks, but I've accumulated these pieces since the summer and it just happened to work out that way. When December hits, I always keep my eyes peeled for Pantone's Colour of the Year announcement (hop over to this post if you missed it) and their spring colour forecasts. Our Calgary winters can be a bit colourless, so I've really been enjoying bold colour in my wardrobe lately and always look to Pantone for inspiration! Let's jump into the trends, shall we?
---
TREND: Red
---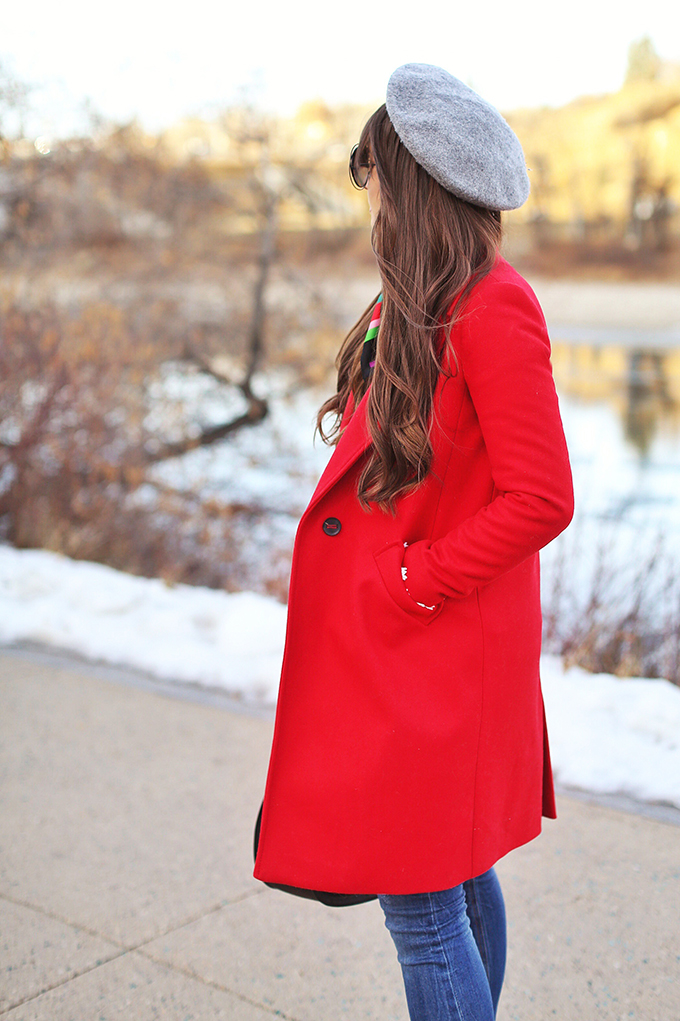 Red has been on trend for a couple of years now and it's a colour I've worked with extensively here at JustineCelina across categories. Funny enough, it's not a colour I really wear in solid garments. This winter, it's bigger than ever — and I decided it was finally time to add a red coat to my wardrobe! I hunted for a long time to find my perfect red coat. I think red can look great on everyone if you select the right shade for your skintone (more on that below). I was perusing Zara looking for something else — and this beauty caught my eye out of the corner of the store and drew me in like a magnet. The instant I tried it on, I knew it had to be mine. My longline, red wool coat is a timeless style and I know I'll own it for at least the next decade (like this striped number — it's our 10th anniversary this year!). If you've been with me through a Canadian winter before, you'll know I'm a big believer in investing in outerwear — cost per wear totally makes it worth it, because often, our outerwear is our outfit from November through March in Canada. This season, I decided to inject a little colour and fun into my outerwear — there's nothing I love more than wearing bold colour when it's dull outside.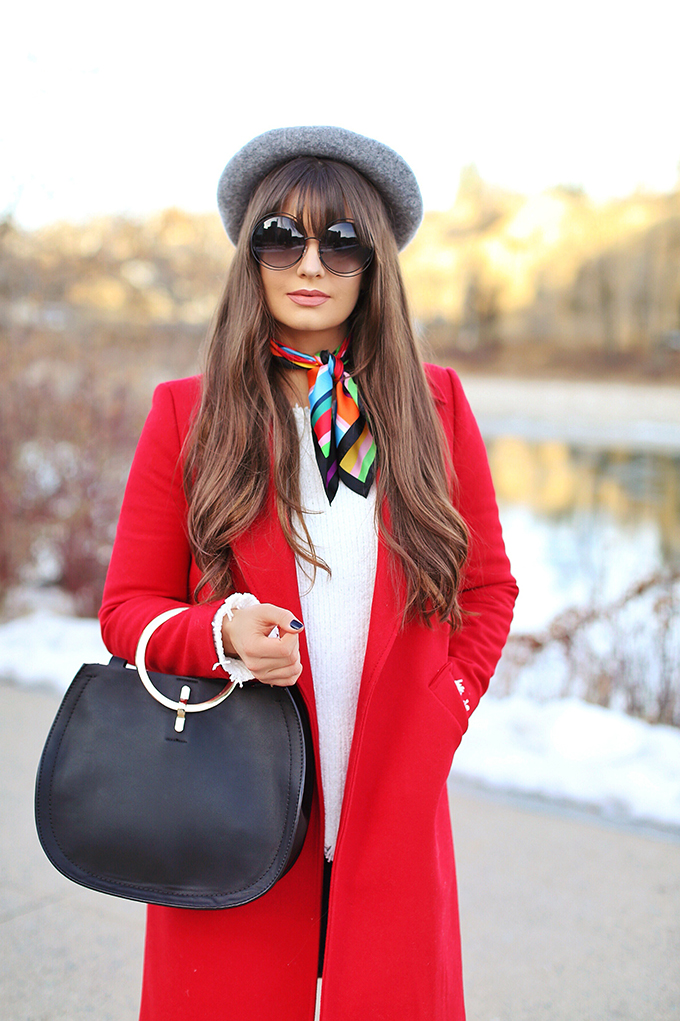 January, February and March are a fantastic time to shop for outerwear because you can catch some amazing mid-to-end of season sales (this is actually when I do the majority of my outerwear shopping). And if red isn't your thing, not worry — my 2018 Outerwear Edit, where I'm sharing my 5 favourite outwear pieces this season (and all the sales!), is coming soon. If it's milder where you live or you're already looking ahead to spring, I think a classic red trench is another fantastic option! Red is here to stay — so if it's a new colour to you and you need some help finding your perfect shade (my tips on finding your perfect red lip also apply to clothing!) hop over to this post for a crash course in colour theory. This exact jacket is no longer available online (although you may be able to find it in store), so I've rounded up all my favourite red coats and jackets for Winter / Spring 2018 (and some killer deals) for you below! And if you are planning to purchase a winter coat, make sure you size up so you can fit all your oversized, cozy knits underneath without feeling overstuffed.

---
TREND: Chenille
---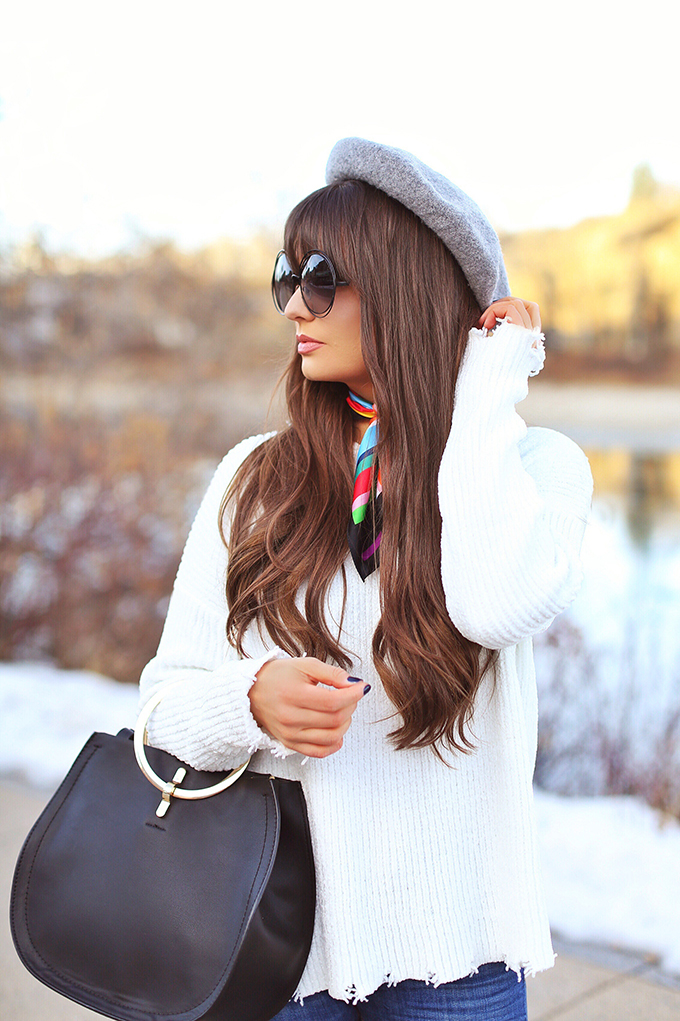 Chenille is totally new to me this season — and I'm absolutely in love with the trend! In late 2017 I found a ton of knits (chenille and otherwise) I loved at Forever 21 and admittedly went a little overboard. Chenille is a fantastic fabric to embrace this winter — it's extremely warm, plush and fuzzy (it's actually French for caterpillar and was a popular fabric for bedding in the 1950's!). You know I love those vintage vibes!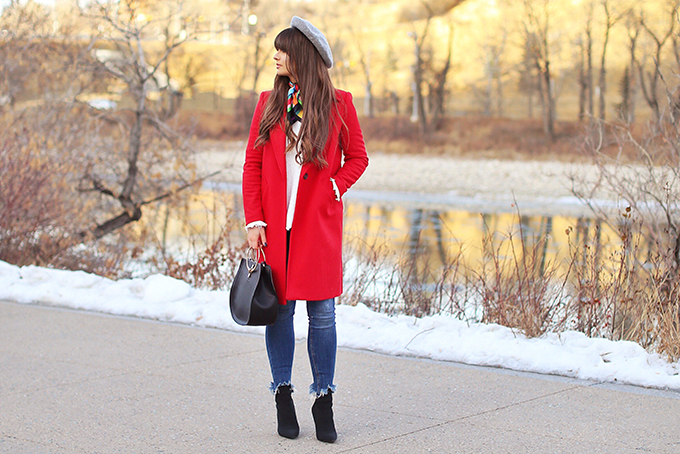 Would you judge me if I told you I now have 6 chenille sweaters and cardigans in my wardrobe?! They're some of my most worn knits this season. Chenille is winter 2018's it fabric — so if you'd like to take this cozy trend for a spin, I've rounded up my favourite chenille sweaters (and winter whites) for you.

---
TREND: Circular details
---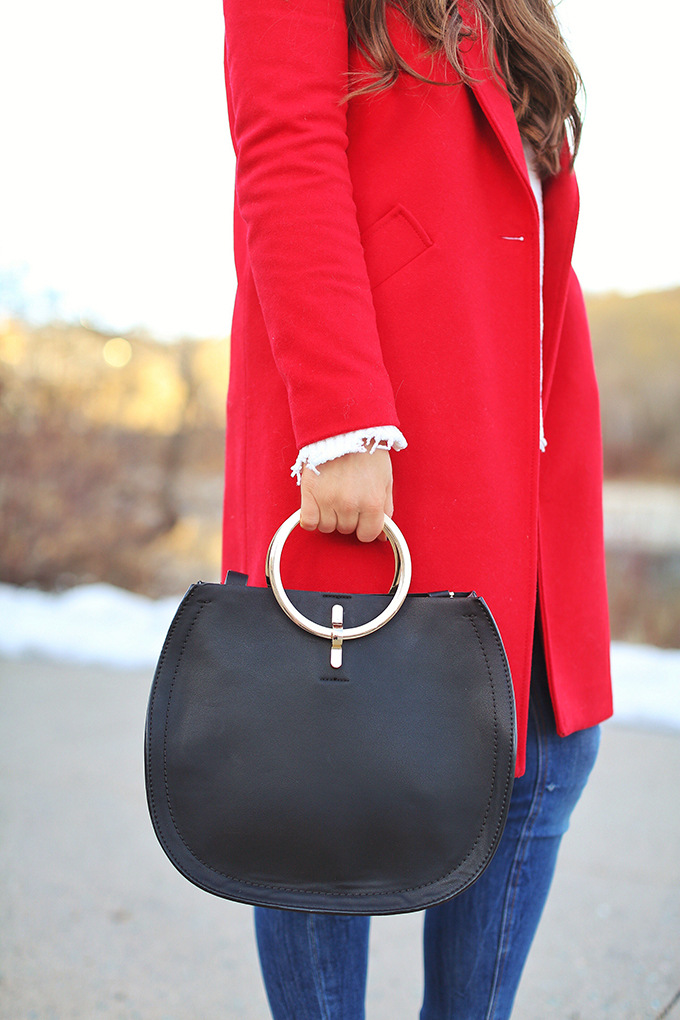 Circular details on bags have been popular for the past year — and when I found this circular handle bag at Zara this past fall, I snapped it up immediately! Although I've been shying away from larger handbags lately, this is a perfect mid size bag that offers lots of room for your stuff with stylish details — it's a versatile bag appropriate for day or night. Hunting for a bag with circular details? I've got you covered, girl!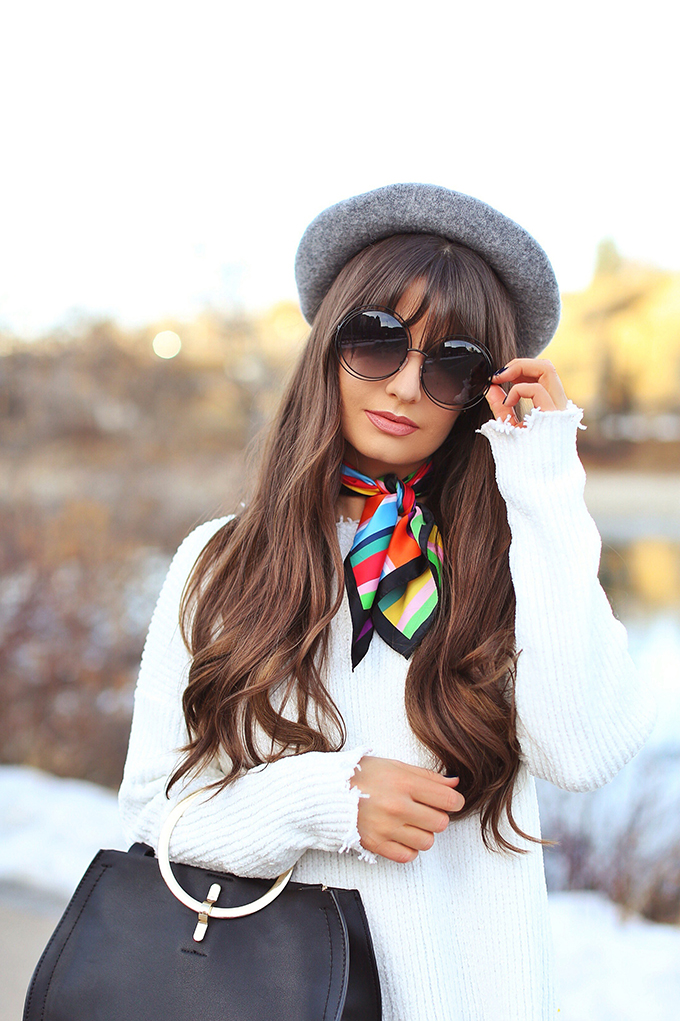 Circular shades are definitely my signature — if you've ever read one of my FASHION posts, there a good chance I'm wearing some form of round frame. I found an amazing dupe for the Chloe Carina's back in the spring at Forever 21 and fell in love with the style. I refresh my sunglass collection seasonally, so I went on an online hunt for similar styles and hit the jackpot on Amazon last month! Expect to see a lot more of these Chloe inspired shades here at JustineCelina from now until eternity! I've linked this exact pair for you. If you're in the market for cool, vintage inspired shades at affordable prices, Amazon in a great resource! Or, if you're so inclined, I've linked the real deals here.
---
TREND: Distressed Hems
---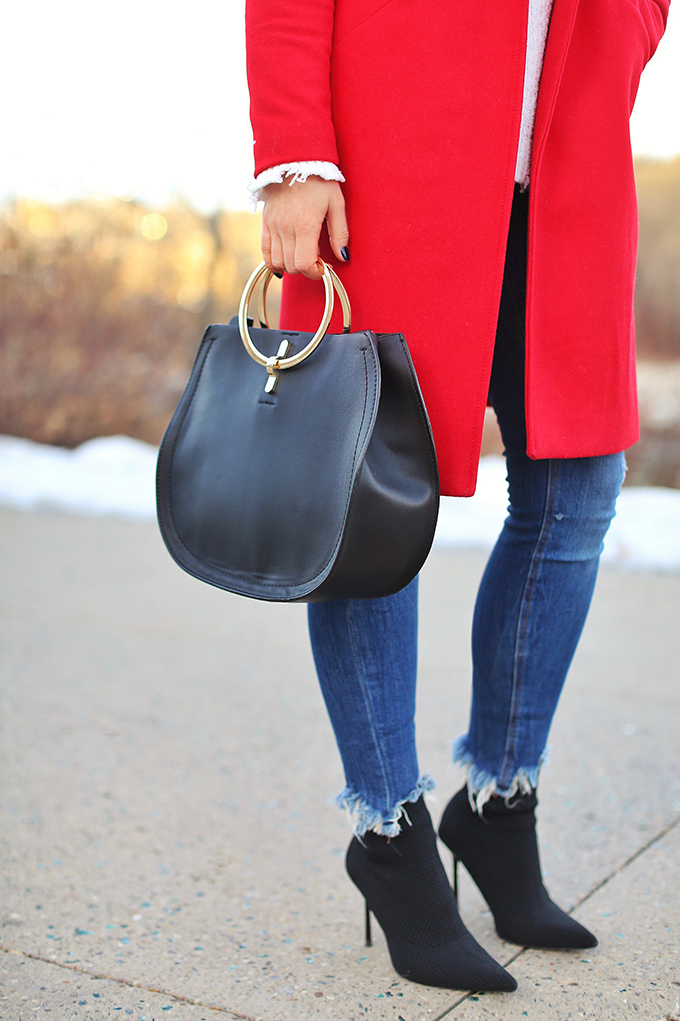 Trashed, irregular hems aren't going anywhere — and I couldn't be more pleased! Both my denim and my sweater feature a raw, irregular hem. I love the subtle edge trashed hems add to an otherwise very polished outfit. The contrast of this luxe, chenille knit with a slightly disheveled hem looks great pulled out from under my wither coats, too. That's one of my favourite layering tricks to add a unique flair to my winter looks if the sleeves are long enough! If you've been with me for awhile, you know I'm definitely on board with tastefully distressed denim as well. Raw hem denim is unique and calls more attention your shoe — which this shoe girl loves! For more ideas on how to style the raw, uneven and distressed hem denim, check out my Transitioning the Trends | Autumn to Winter post. This pair of jeans is from Zara and about 4 months old, so I've rounded some alternatives for you below!

---
TREND: Sock Boots
---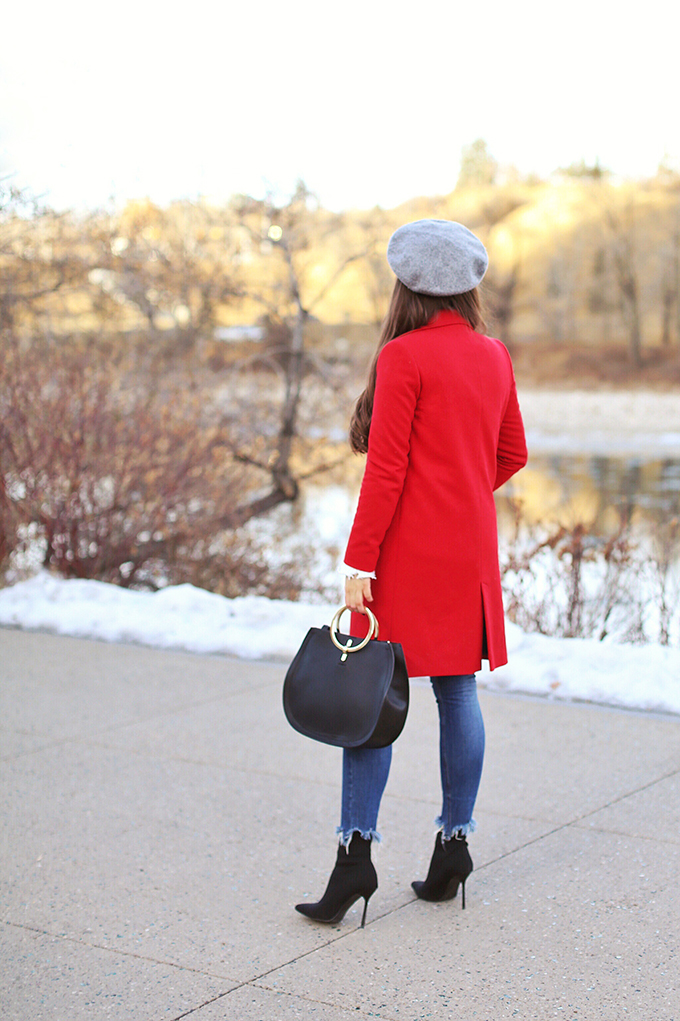 If you frequent my FASHION section, you'll already have seen these beauties in action in my What to Wear to | Holiday Parties post. By far, these beautiful Zara sock boots are my most worn pair of boots this season! They're insanely comfortable (seriously — don't let the heel fool you!) and fit my feet perfectly. Every single time I wear them I'm asked about them! They still look good as new and I've fallen so hard for the sock boot trend, I just purchased my second pair yesterday — and I snagged them for just $19.99 (damn that Zara sale!).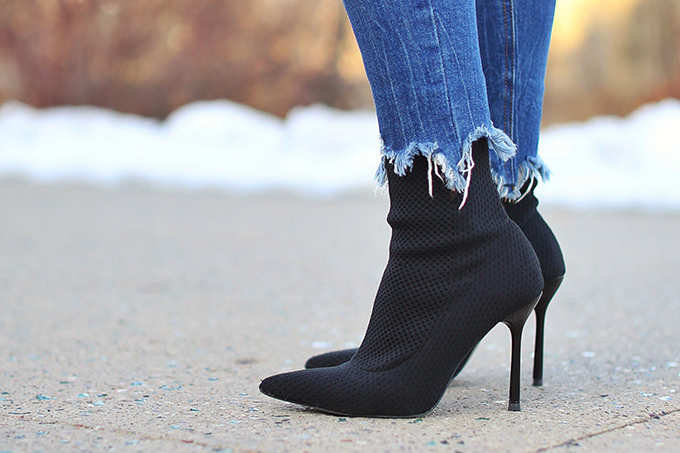 I said it in my last style post and I'll say it again — ladies, if you're looking for one pair of stylish shoes to carry you through winter and into spring, invest in a pair of sock boots. In the winter, I particularly love wearing them with cropped hem denim to show their silhouette off, but they're so versatile you could (and I do) wear them with just about anything (swing by this post to see how I styled them with a maxi skirt!). If I've finally convinced you to pull the trigger on a pair of sock boots, I've rounded up my favourite similar styles for you below.

---
TREND: Berets
---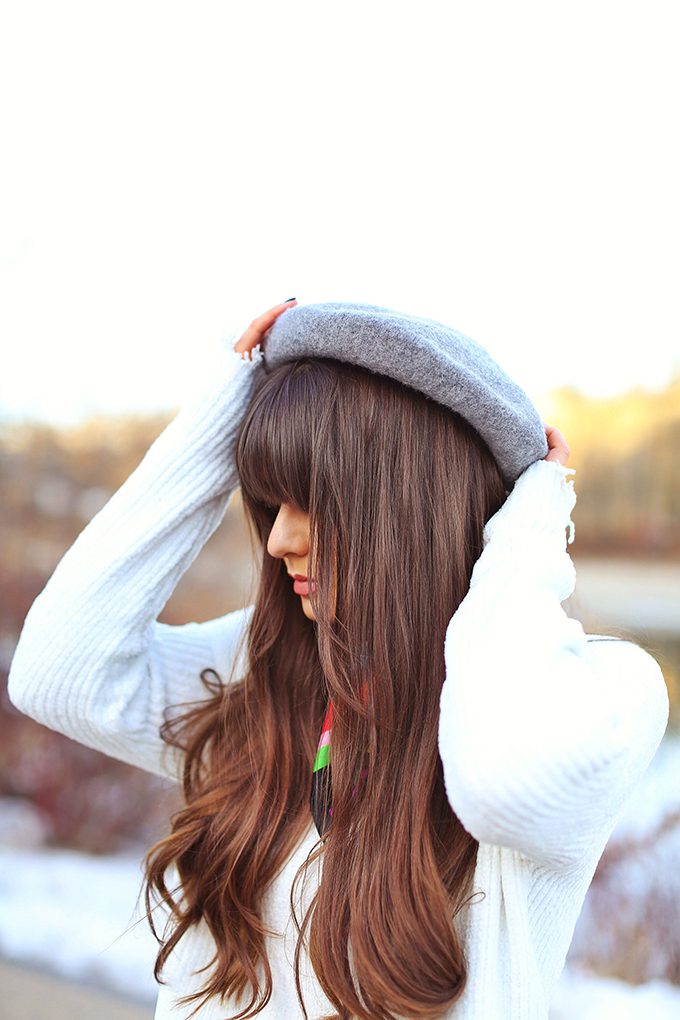 This winter it's all about new hat styles — and I've always been a fan of the beret! I actually have a wide selection of berets in my closet from years past (I wore them a lot in art school!) in both knit and wool interpretations. They're another item I've always worn, regardless of whether or not they're particular on trend — I love the cool, artistic vibe the add to an outfit! This season, my top recommendation is a wool beret in a neutral colour.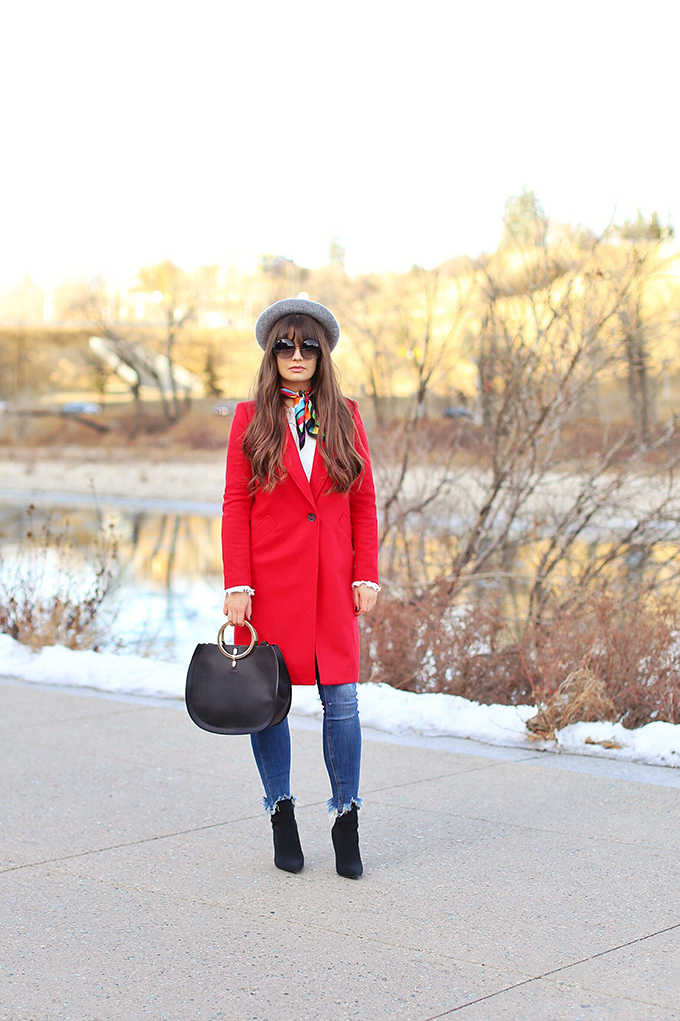 Grey looks great on both dark and fair haired beauties and it's so easy to style (this shade literally goes with everything!). White and red are also fantastic colour options for winter 2018 — and they really do help keep you warm! A wool beret will transition well from autumn to winter to spring, so channel your inner artist with one of my favourite styles.

---
TREND: Bold Colour
---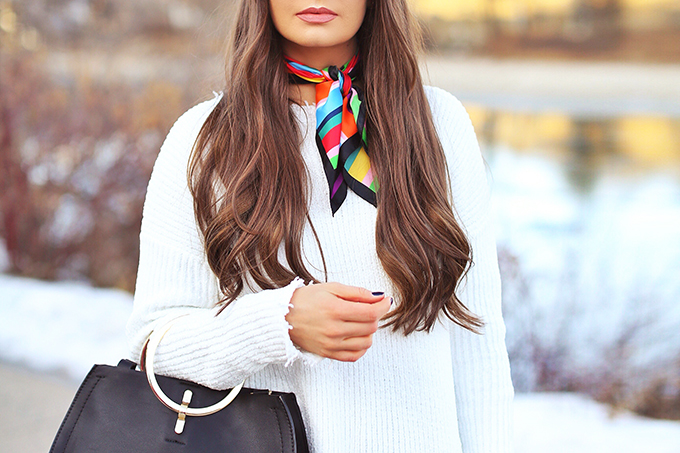 When the depths of winter hit, Pantone also releases their Spring 2018 Fashion Color Trend Report — and this year, it's brimming with bold pops of colour, spirited pastels and classic neutrals. The key take away from Spring 2018 colour trends is a desire for colorful self expression — and I'm starting early this year by incorporating tons of colour into my winter wardrobe.
One of my favourite ways to tie all the colours of my outfit together is with a neck scarf — and the one I'm wearing here just happens to include many of the key shades Pantone has forecasted for spring. If you're not ready to commit to bold colour in a piece of clothing, integrate colourful accessories! A silk neck scarf is a great way to add an air of Parisian chic to your look in the cold weather (even a thin layer around your neck makes such a huge difference in the warmth department!). I actually picked this one up at Zara back in the summer — I love all the colours and the different ways you can style it. Patterned neck scarves are a staple for me during the colder months — you can see how I incorporated a more autumnal, vintage neck scarf (it was actually a $1 estate sale find!) in my Pre Fall Transitional Style post, or another vintage find in a cozy winter travel outfit. I highly recommend a colourful neck scarf or two this season to elevate your look with a sophisticated flair! A chic, silk (or silk like) neck scarf also wears well year round (I wear them as a hair accessory, or tied to my handbags during warmer months!).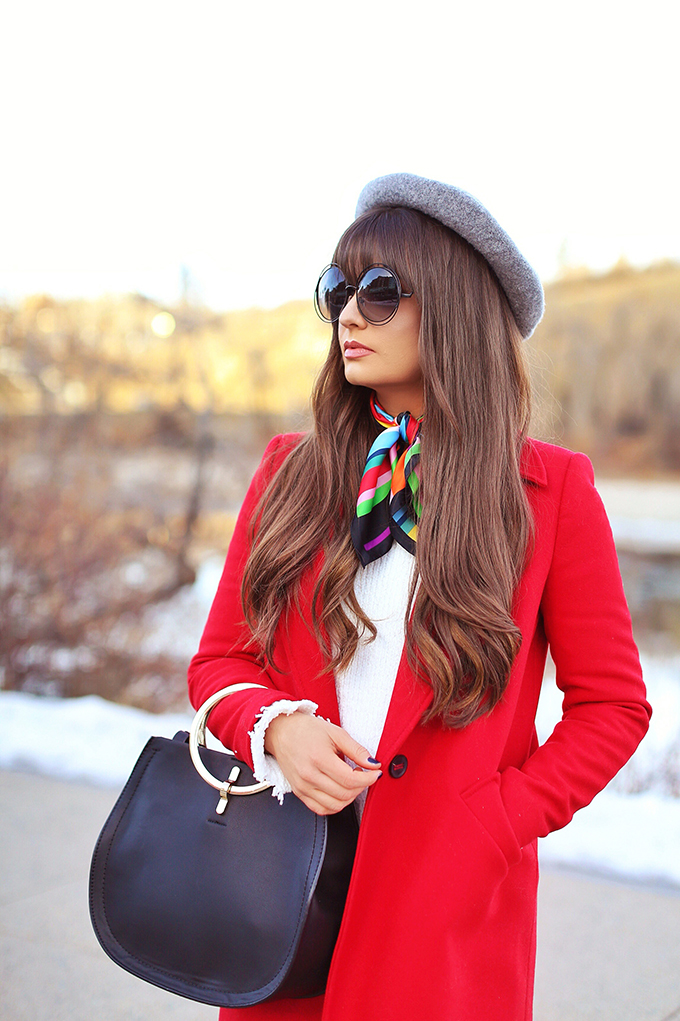 ---
WINTER 2018 BEAUTY
---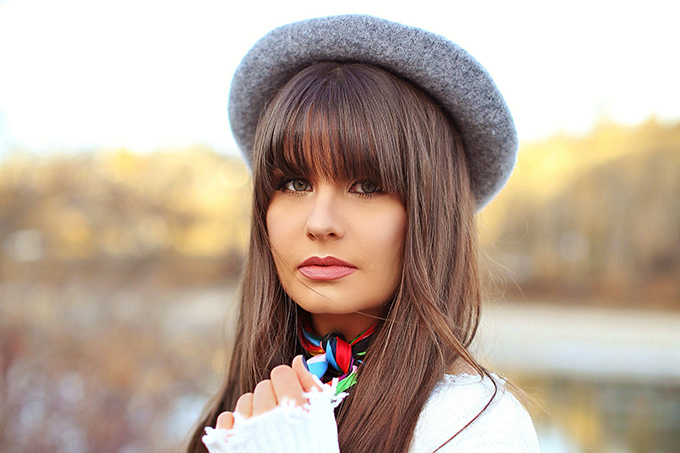 Beauty wise, it's been a while since I donned a nude lip. This winter I've been wearing a lot of colourful and offbeat lips, but with so much going on in my outfit, I opted for a classic nude shade in a luxe, nourishing formula my parched winter pout loves! If you've been with me since last spring, you may remember me gushing about the Hourglass Girl Lip Stylos — here I'm wearing Believer which is a classic, neutral nude. Everything else I'm wearing I've already mentioned in previous beauty content — including the Colourpop I Think I Love You Eyeshadow Palette (review here), the Fenty Beauty foundation (review here) and the rest I've linked up for you below!

---
SHOP THE LOOK
---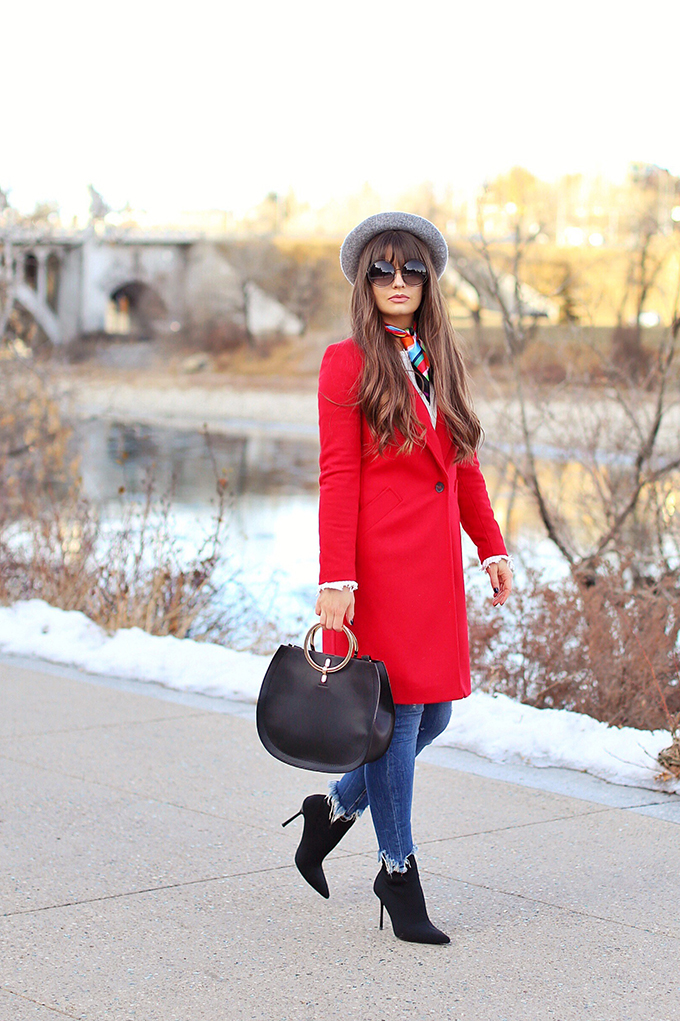 ---
MORE COLD WEATHER STYLE INSPIRATION
---
What to Wear to | Casual Holiday Parties (featuring my favourite winter 2018 staples!)
Autumn / Winter 2017 Trend Guide | Falling for Florals
Transitioning the Trends | Autumn to Winter
---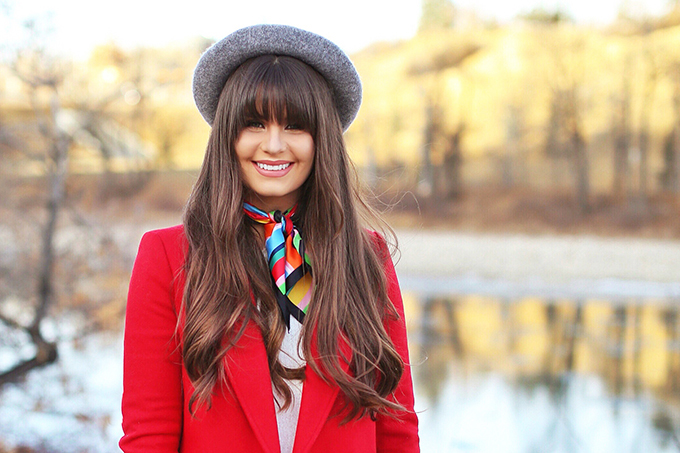 Thanks for stopping by for the first TREND GUIDE of 2018! Are there any trends that you plan to integrate into your wardrobe, or are already loving? Sock boots, berets and chenille are my current favourites. Let me know if you'd like a post dedicated to my favourite sweaters this winter and I can make that happen! Stay cozy, friends!
---
Disclaimer: This post is not sponsored and contains my genuine thoughts, ideas and recommendations. JustineCelina uses affiliate and referral links, which allow me to receive a small commission when you make a purchase through one of my links. Thank you for supporting the brands and businesses that support JustineCelina.com!