---
Fall fashion lovers, I'm thrilled to welcome you back for another seasonally inspired LOOKBOOK! Since publishing my Early Autumn 2020 Lookbook, there have been a few notable developments here in Calgary in regards to new public health measures to combat the second wave of COVID-19 we're currently experiencing. I've been fairly quiet here at JustineCelina as we navigated what Alberta's new restrictions look like for us and our businesses ahead of the holiday season. In light of these recent announcements, we decided against shooting the final three winter looks I had planned for this LOOKBOOK outdoors. As social gatherings of any kind are prohibited both in our homes as well as outdoors, it simply doesn't feel like the right time to do so. As I've mentioned previously, these restrictions are something I take very seriously. These LOOKBOOKS showcase what I'm authentically wearing each season — and getting dressed up with quite literally no where to go simply didn't resonate with me. Since we're all staying in these days, I knew it wouldn't resonate with you either! 
That said, I didn't want that to stop me from from serving up one final dose of late fall fashion here at JustineCelina this season while we're all cozied up at home! Alas, the fall looks we captured earlier this autumn were collecting dust on my hard drive and I wanted to bring them to life, even if this LOOKBOOK doesn't follow my typical 6 outfit format. But hey — 2020 is anything but typical, right?! My Fall 2020 Lookbook features 3 creative, free spirited, trend focused fall 2020 outfits built on foundational, quality wardrobe staples. As always, you can expect a melange of high, low, old, new and vintage — as well as shoppable links at every price point. If you're looking for a sartorial escape during lockdown, join me this evening for  inventive layering tips to get the most of your wardrobe as we transition into winter, my process for pulling together elegant cool weather looks and a chat about how my personal style (and shopping habits) have changed as a result of the pandemic. Pour yourself a juicy glass of pinot noir and settle in for a fleeting dose of late autumn fashion on the Alberta prairies — complete with both rural and urban style inspiration and additional face mask recommendations!
---
FALL 2020 LOOKBOOK
---
While this mini Fall 2020 Lookbook is short n' sweet, I'm thrilled to finally be sharing it! As someone who plans their content quarterly, I'm always sourcing pieces months in advance of when we plan shoots — working a season ahead is not new to me. That said, with all the postal delays we're currently experiencing due extra safety protocols in place, I'm still waiting on parcels I ordered at the beginning of November (which is completely understandable!). Rather than continuing to wait for them to arrive (with no guaranteed ETA) to capture the final three looks I had planned to include in this post, I decided to just publish the three fall looks I have ready!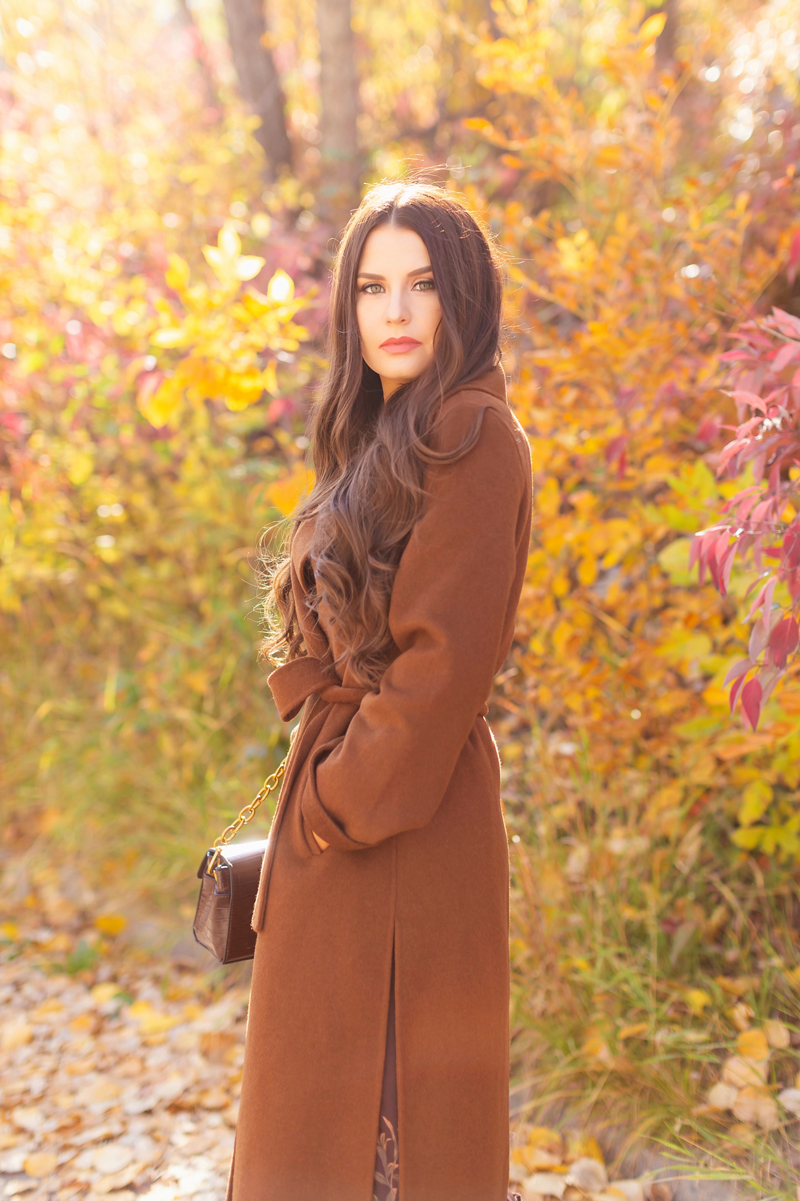 For December, I've decided to focus on shooting home-based holiday content, rather than the original three winter outfits I had planned to include in this LOOKBOOK. Of course, these are minor inconveniences when compared to what's happening in the world at the moment, but I wanted to explain the reason for this modified format. That said,  I hope you still enjoy this abbreviated  Fall 2020 Lookbook ahead of the holiday season! 
---
COMMUNITY GUIDELINES
---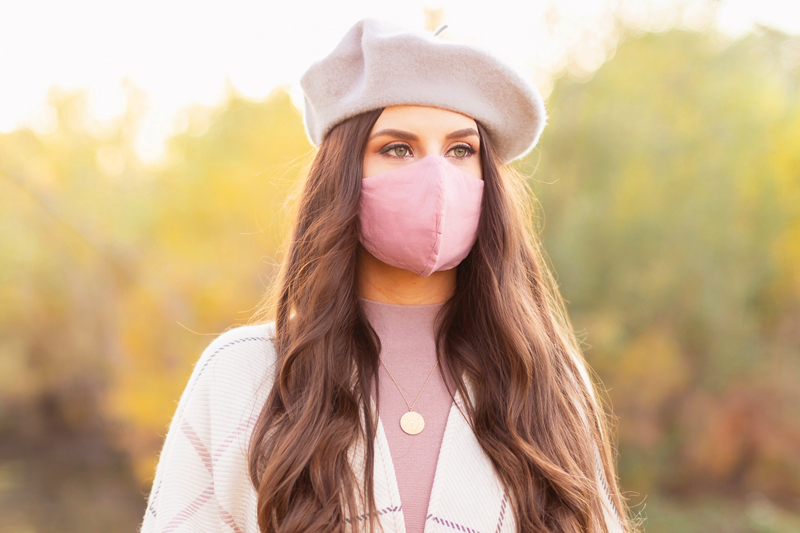 As non-medical face masks are now mandatory in Alberta, I'll be integrating them into my content for the foreseeable future. Please refer to my Community Guidelines regarding safety and mask usage should you wish to engage with my style content moving forward. 
---
A LESSON IN LAYERING
---
One of the many things I love about autumn on the Alberta prairies is the opportunity it provides for inventive layering. Living in this beautiful, but very temperamental, part of Canada means unpredictable weather no matter the season — and over the years I've learned how to get creative with my layering to maximize my wardrobe!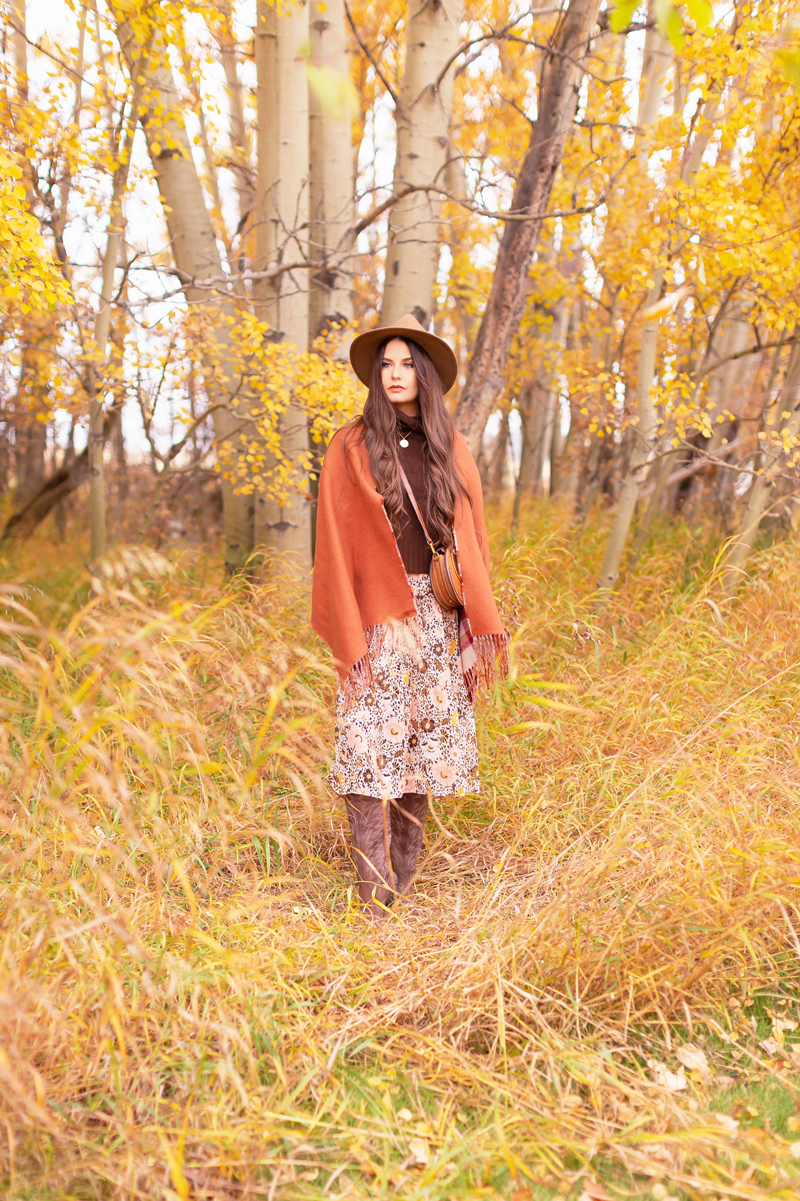 Combining different prints, colours and textures in a consistent colour story is one of my favourite ways to create a considered layered look. If you're new to mixing prints or inventive layering, I invite you to set aside some time to try this technique with items you already own. I'll never tire of styling the same piece in different ways and hope I can inspire you to make use of your existing wardrobe, see things through fresh eyes and sustainably purchase pieces that work for your lifestyle and budget as you hone your personal style.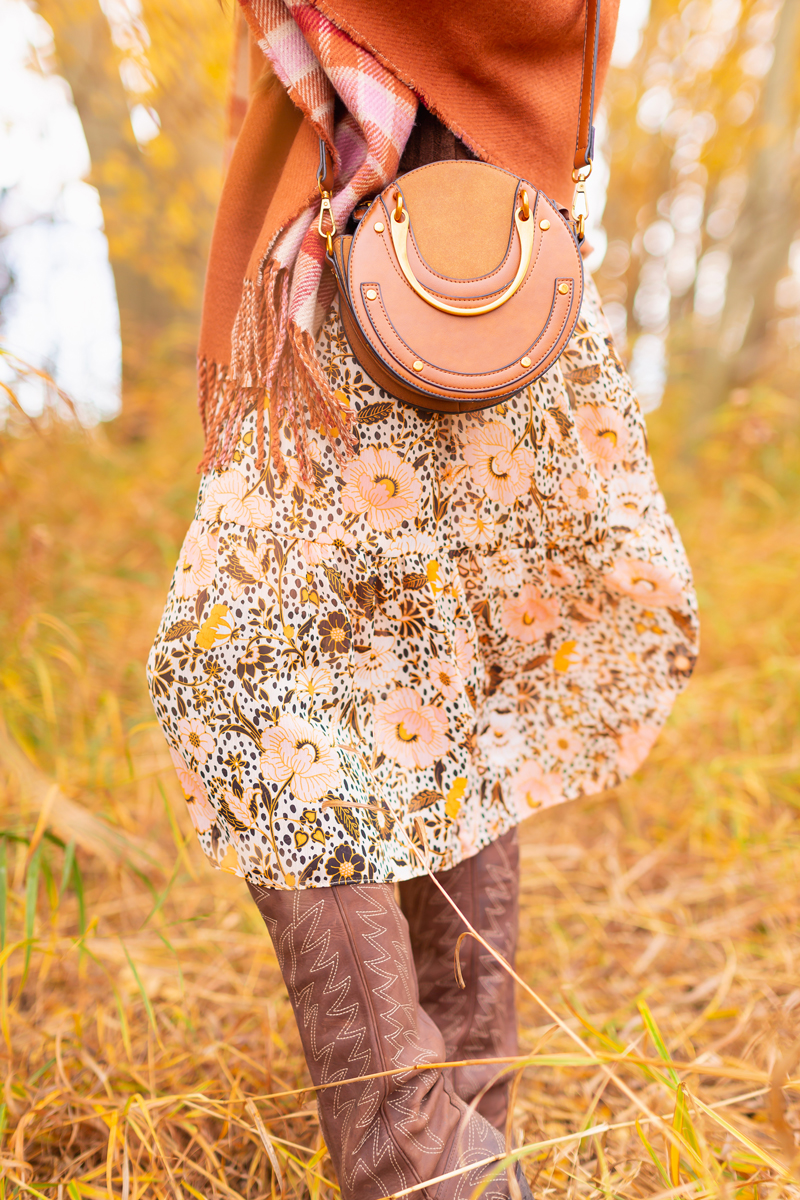 I enthusiastically wear florals year round, but fall is actually my favourite season to rock a floral frock! I truly believe floral prints can be styled appropriately for any season — it's all about selecting a complimentary colour story, hemline and sleeve length for the climate, then layering and accessorizing appropriately.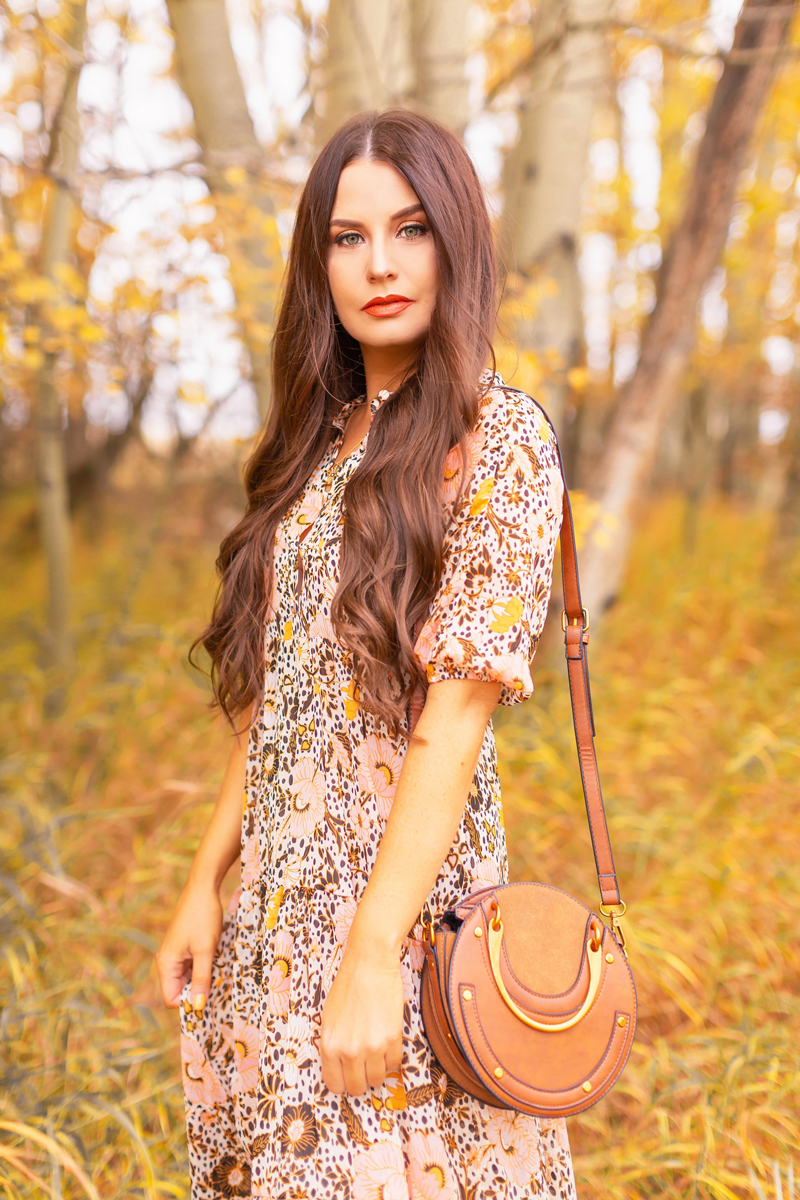 This bohemian fall outfit was inspired by my gorgeous new dress, made from a lightweight chiffon (I also wore a dress of the same silhouette in a different print in my last LOOKBOOK!), that I was determined to style up for autumn. I used it as my anchor piece — pulling out all my knits, scarves and accessories in a similar palette to create this look!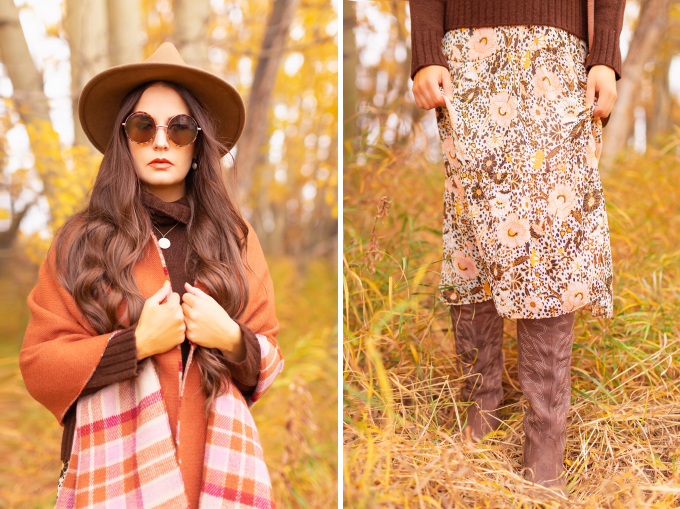 I've started with a base layer of thermal tights underneath my chiffon dress to add considerable warmth. I've added a cozy knit turtleneck sweater in a coordinating chocolate shade overtop, and one of my favourite pairs of OTK boots underneath (an investment piece I've owned them for about a decade!) to keep my legs warm. I actually wear them from summer through late fall, year after year — and I think they look better now than when I originally purchased them!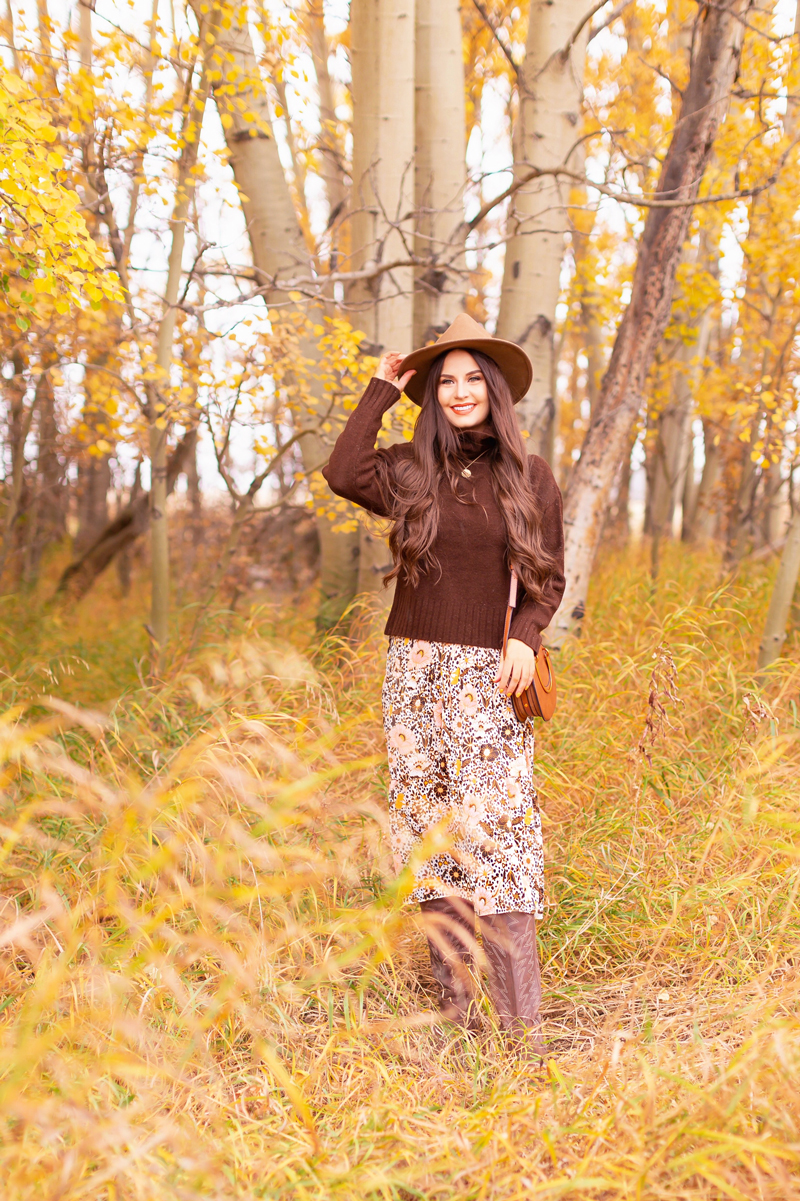 Wearing hats and berets during cool autumn weather is one of my favourite ways to add extra warmth and polish to (almost) any look! I topped this look off with a wool fedora, a pair of tortoise sunnies and a cognac crossbody bag to create a monochromatic effect (what can I say — they appear to be all I'm interested in wearing this season!).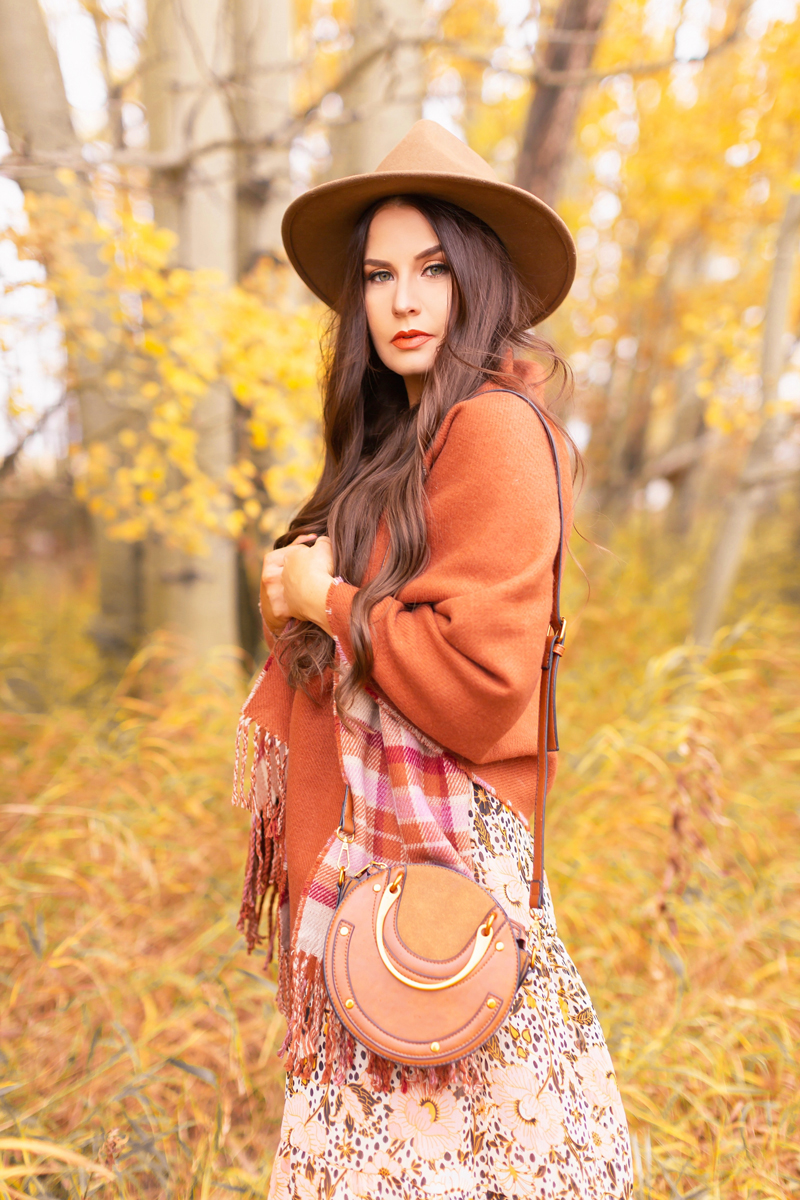 On a cooler day, you could always add a scarf, shawl or ruana (as I've done here) — or a cozy wrap coat (as showcased in my Chocolate Chic look). These innovative, layered looks are some of my favourite to carry me through transitional weather in style — and I love that they can be easily adapted to any climate!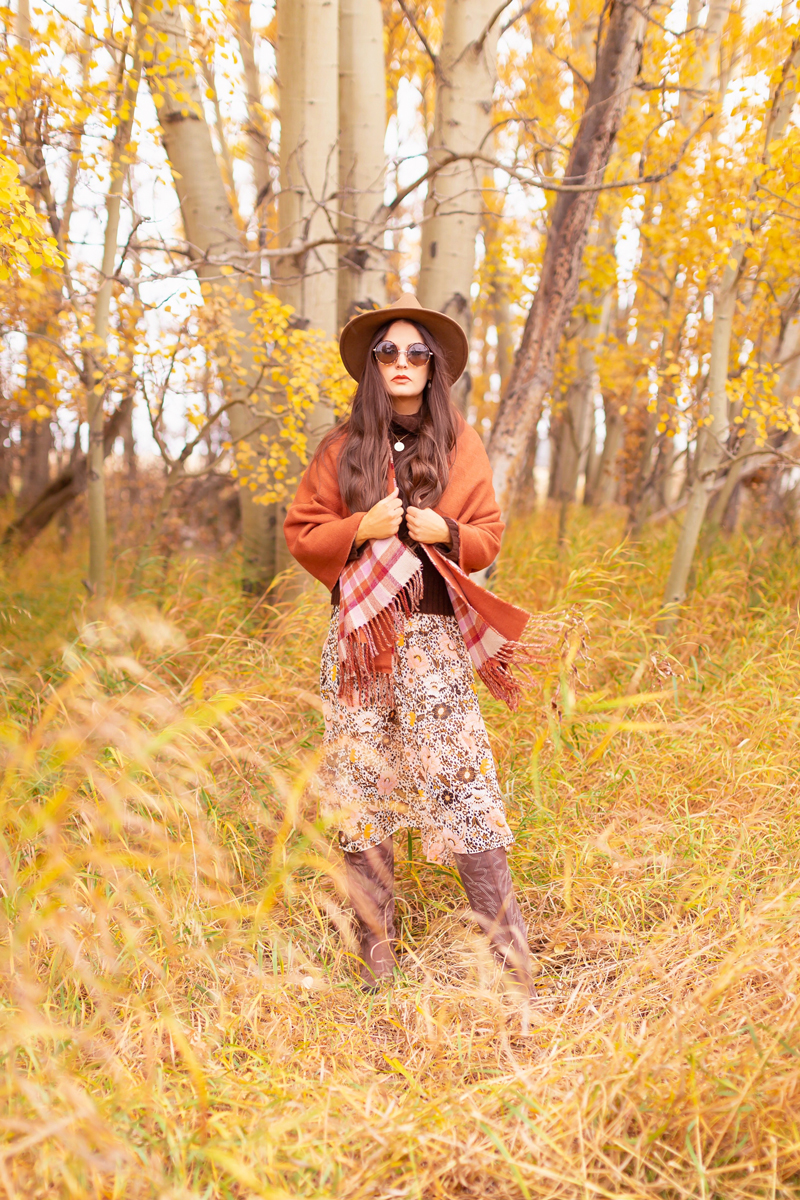 It was actually quite chilly when we shot this look at my childhood home in rural Alberta — but we were determined to capture the beautiful fall foliage before the wind blew it all away! I adore the warm natural textures the prairies in autumn when the sun has bleached the grass and the frost has yellowed the leaves. I'm so happy we were able to make our stunning seasonal landscapes a focus in my STYLE content this year! 

---
RUANA REVIVAL 
---
Fun fact: I published my first ever style post here at JustineCelina back in October 2015 — all about How to Style a Poncho! Fast forward 5+ years and I'm still wearing and loving them for fall — and have added several ruanas (and ponchos) to my wardrobe this season. I'm fully embracing the return of ruana this autumn!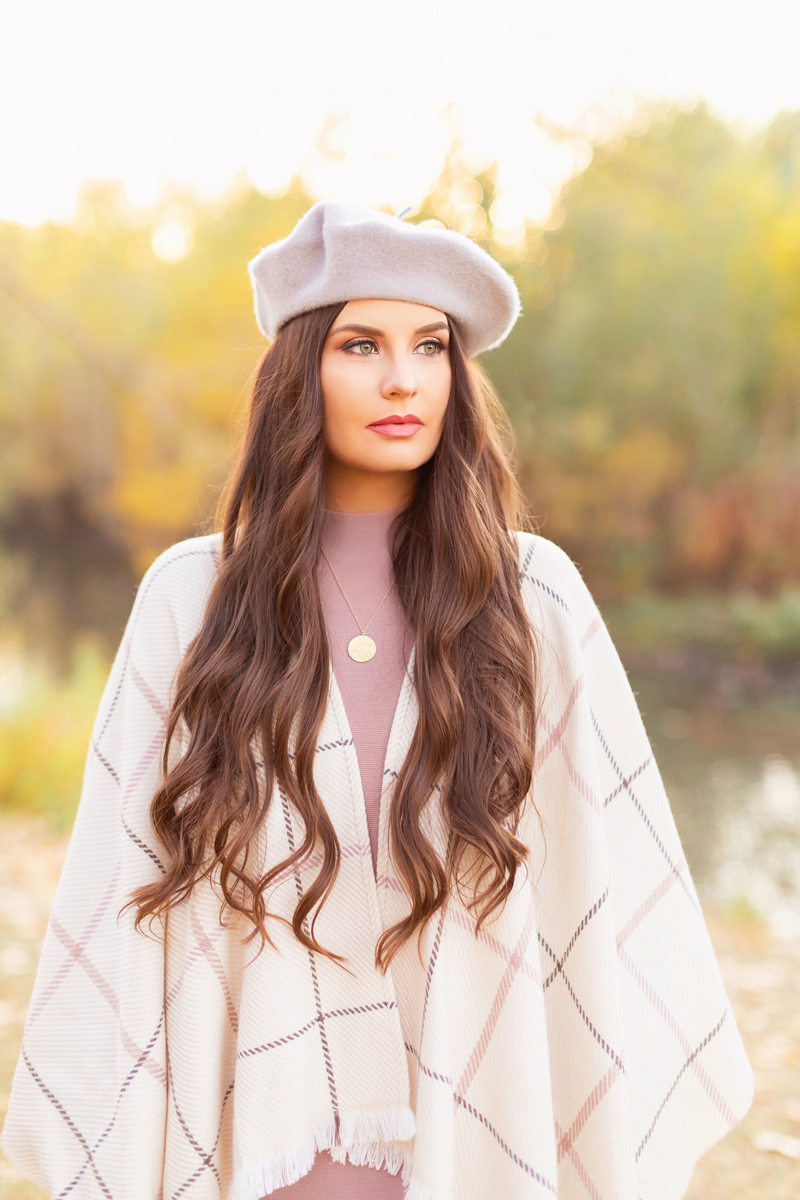 These boho-chic layering pieces are something I've always worn, regardless of whether or not they're particularly on trend. I adore the ease of being about to add a cozy layer overtop of pretty much anything I may be wearing — which is essential for our bipolar Calgary climate! Comfort is my top priority this year, no matter the setting or occasion — and I find myself increasingly drawn to these versatile layering pieces to elevate almost any outfit. I also style this ruana as an oversized scarf — it's definitely a garment that inspires creativity!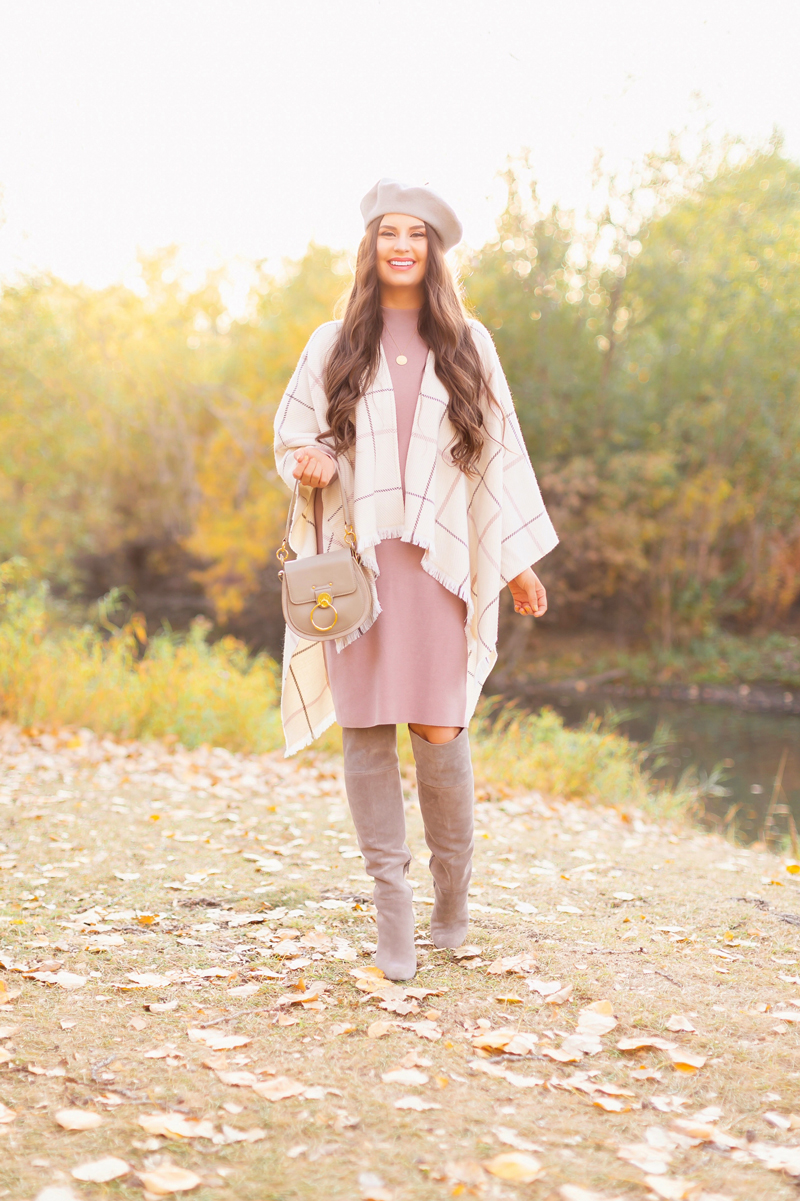 When I look back on my style content this year, there's definitely a common theme — I find myself increasingly drawn to classic pieces made from quality materials. Although this has always been a focus as I've curated my wardrobe, it's something I'm mindful of now more than ever! It's definitely a sign of the times that I'm buying less, consuming fashion more mindfully and discerning my purchases more than ever. While I'll always love a beautiful, bold print or statement piece of jewellery, the majority of items I've added to my wardrobe in 2020 are timeless.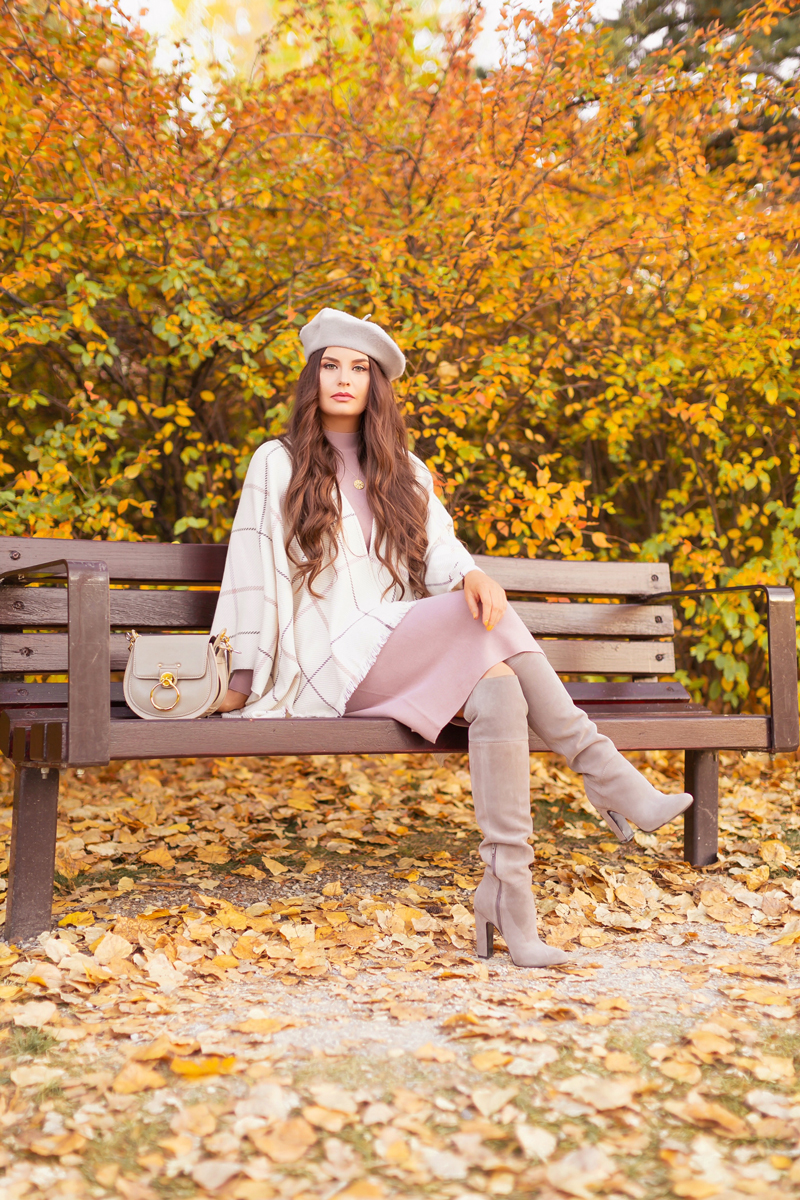 Uniqlo has become one of my favourite retailers for classic, beautiful quality wardrobe staples made from natural materials at an incredible value (which shouldn't surprise you if you frequent my FASHION archives!). Both my sweater dress and ruana are recent Uniqlo purchases — and both are currently on sale! In fact, I love this 3D Knit Cotton Balloon Long Sleeve Dress so much, you guessed it, I picked it up in multiple colours. This dreamy mauve blush shade was my first introduction to the garment, which piqued my interest for it's completely seamless construction (isn't that wild?!) and 100% cotton composition. As soon as I slipped it on, I knew I'd be adding additional colours to my wardrobe — and I just snapped up the Beige and Olive versions at a discount! For reference, I'm 5'8″, wearing the XS and it fits like a dream.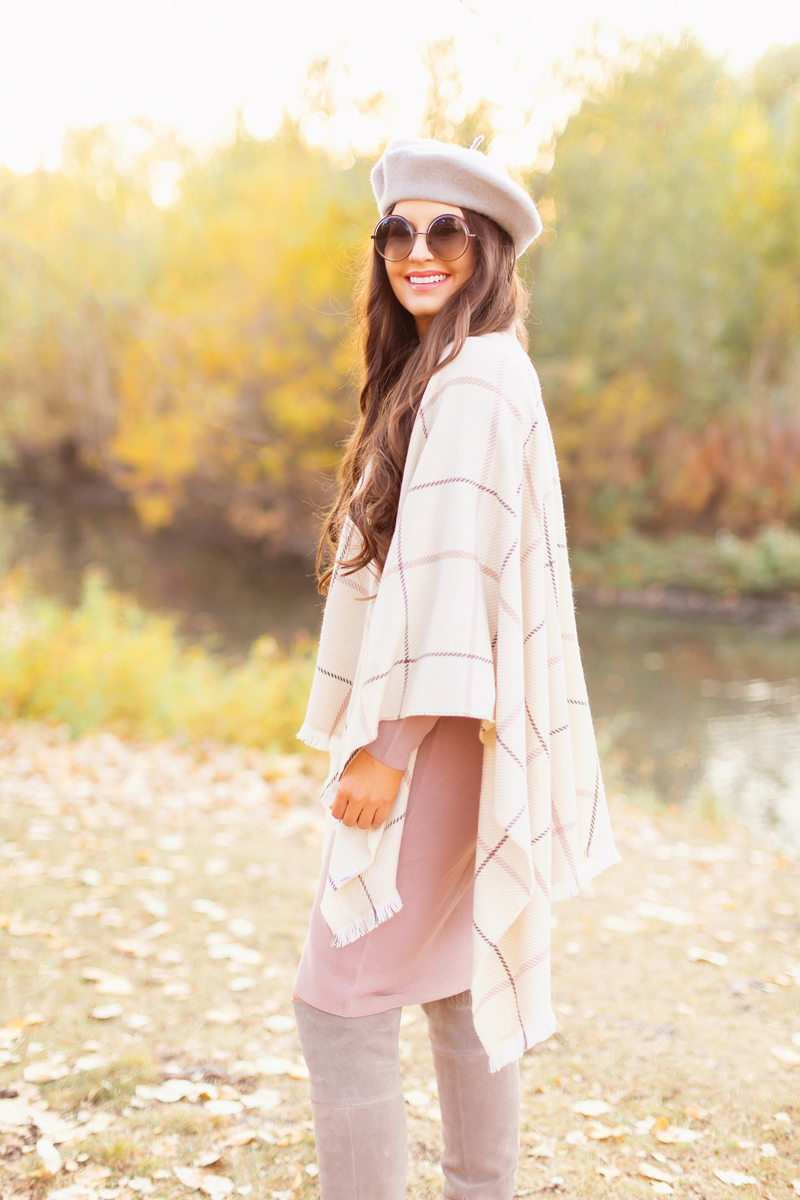 In the same order, I added this dreamy 2 Way Checked Stole (also currently on sale!) to my cart after noticing their resurgence earlier this autumn. Funny enough, it matched my dress perfectly — and I loved the combination as I was trying on items from my order!  I adore the subtly checked pattern, soft grey and blush hues and the flattering draping of the buttery soft material. As we transition into the holiday season, I tend to integrate pieces into my looks that incorporate festive elements (like traditional plaid), in more modern, elegant colour palettes. In fact, the soft, tonal palette of this ruana is what inspired the styling of this look!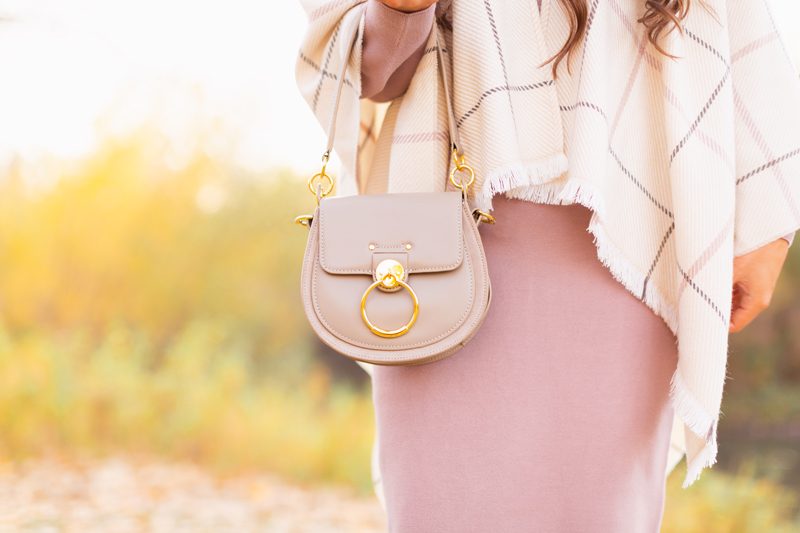 Using my checked ruana as my anchor piece and my cotton sweater dress as a versatile base, I pulled out all my accessories in a similar palette. I ended up going fully monochromatic and selecting a french grey beret, saddle bag and knee high boots to keep this look soft, feminine and chic.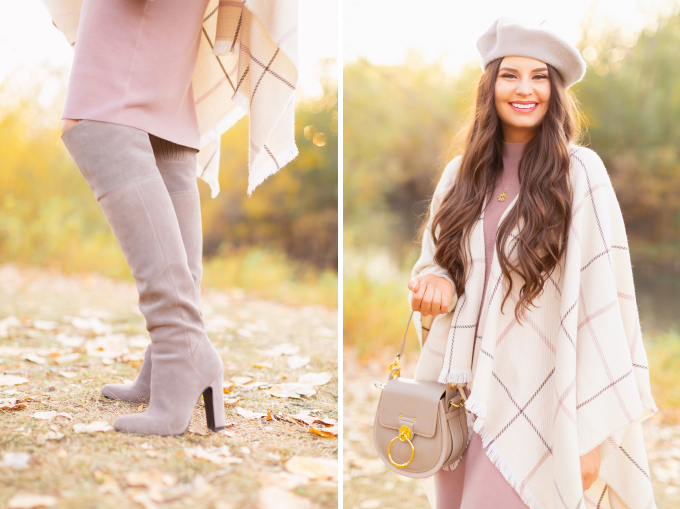 My beret is ancient (I own one in nearly every colour!), my bag was an investment purchase last fall (I'm currently considering the cognac version), and my boots are a few seasons old as well. It never ceases to amaze me how a few well selected pieces can completely update your seasonal wardrobe — including my Gold Coin Eye Necklace, which was a gift from Joydrop. You can learn more about it in the My Signature Jewellery section near the end of this post!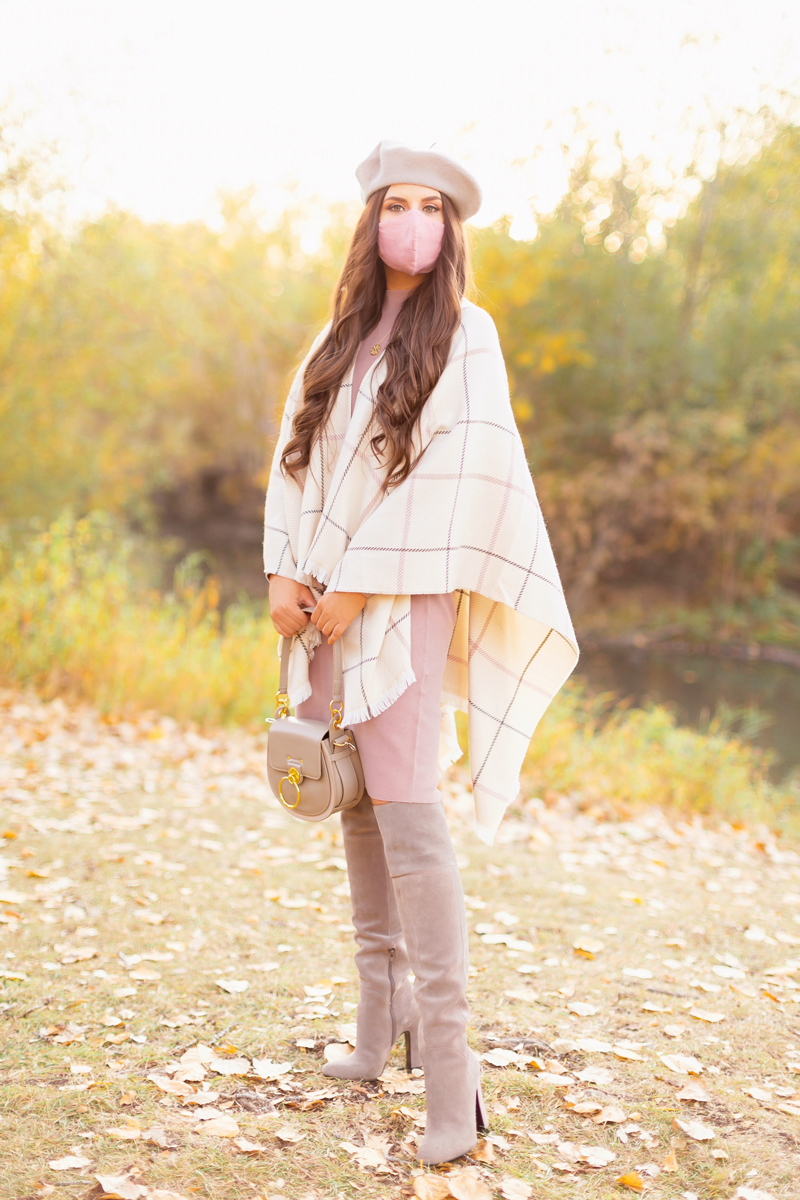 We shot this look at Confederation Park just as the sun was setting — and it was an absolutely beautiful evening. Since we were in an urban setting, I had my 4 layer Linen Face Mask (another generous gift from Joydrop), this time in Blush Pink, tucked away in my bag. These ultra breathable, non-medical mask has become my most-worn daily mask. Made from 100% linen, this is the most practical, breathable mask I've encountered and is my top recommendation for anyone looking to invest in a quality, unisex face mask made from natural materials (while also supporting local!). I now own them in 3 colours — all of which I've worn here at JustineCelina this year!

---
CHOCOLATE CHIC
---
Monochromatic dressing, no matter the setting (or season!), is one of my favourite ways to elevate a look. It's also incredibly chic, timeless and flattering — no matter which colour, shade or tone you choose!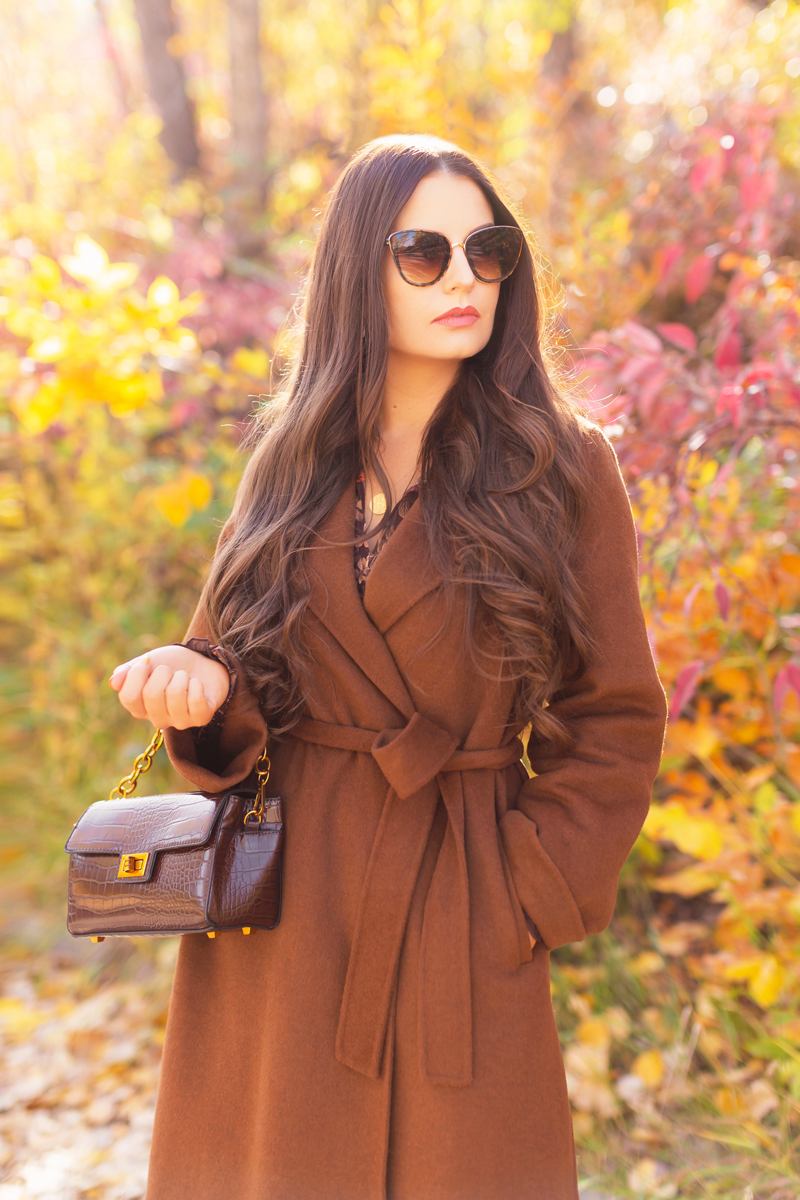 I find myself very drawn to rich, chocolaty shades, moody florals and monochromatic looks as we transition into winter. I've always gravitated towards brown rather than black — both in my wardrobe and in my home. Not only do I find shades of brown more flattering to wear, but I also adore the cozy ambiance they bring to a space!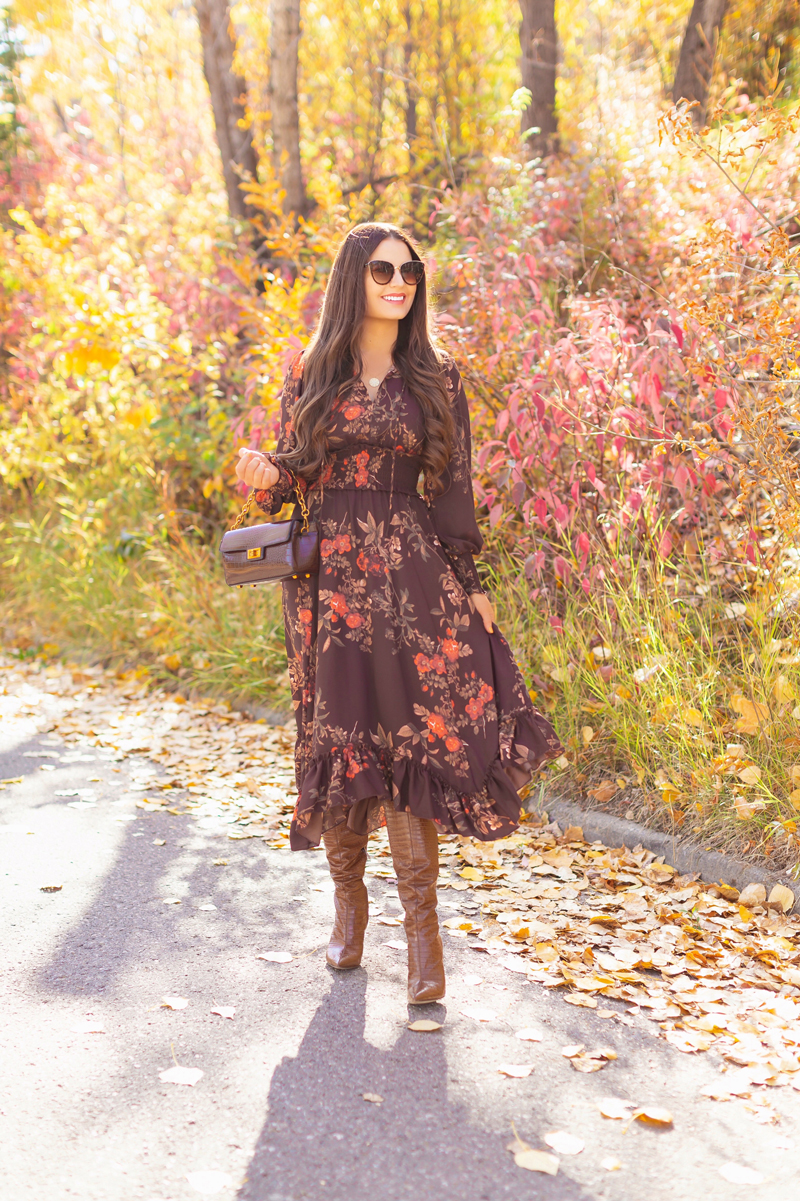 As the seasons change, I always look forward to rotating my wardrobe and rediscovering last year's end-of-season purchases. Such was the case for this gorgeous wool coat and my dress — both of which I picked up at a major discount at the end of 2019. I shop this way often for timeless pieces (and pieces that are larger investments) that I know I'll wear for years to come — and it's one of my best tips to anyone looking to elevate their wardrobe while being mindful of their spending.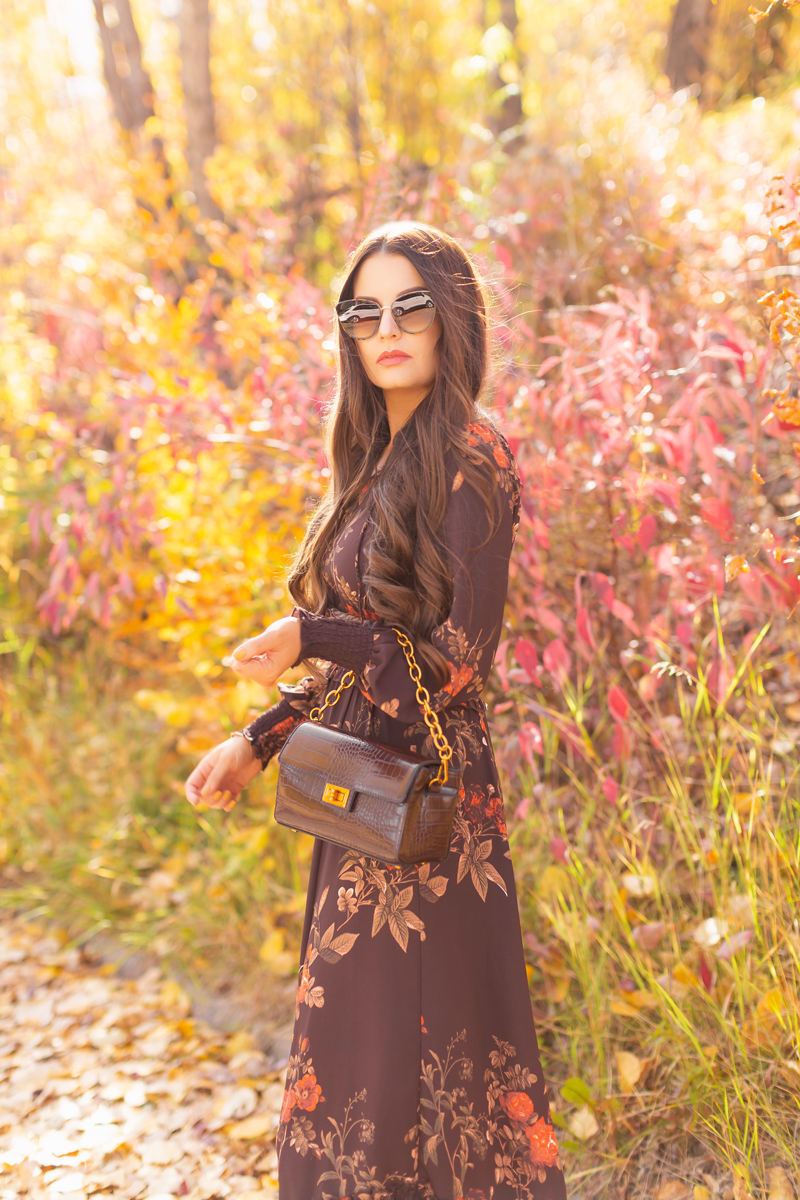 I purchased this dress at the tail end of last autumn and wore it during the holidays (although I've sourced a similar option from the same retailer currently on sale as well!). The smocked waist and flirty handkerchief hemline make it ultra flattering and comfortable — perfect for dressing up or wearing more casually at home during this festive time of year.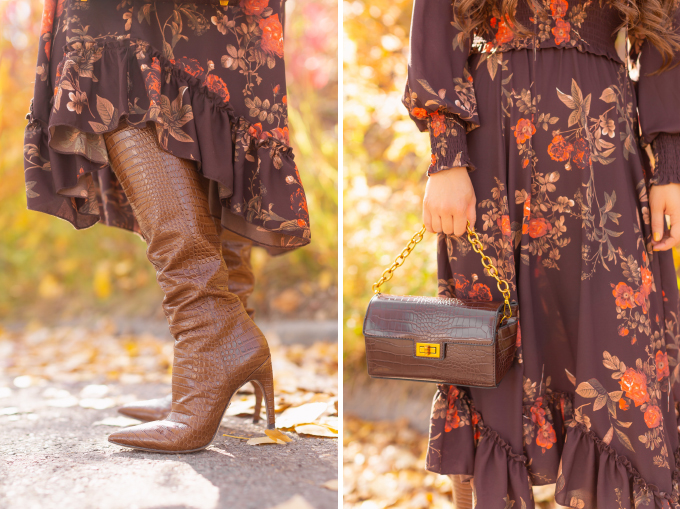 This season, I've refreshed them with the only new pair of boots I've purchased this year (I've been eyeing them forever and finally snapped them up earlier this fall at a major discount!), a coordinating croc-embossed bag and my go-to pair of cat eye shades (I also have them in black!) for a chic, monochromatic look.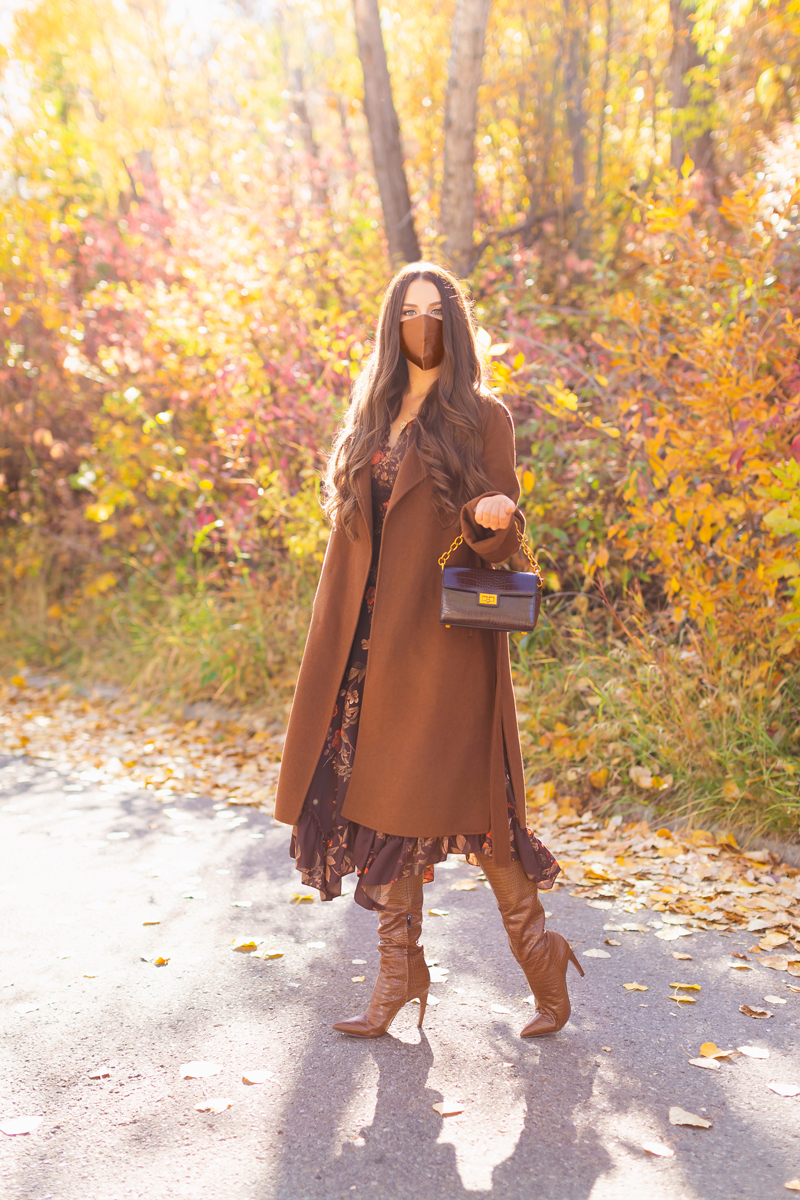 Last but certainly not least, I completed this look with a Mulberry Silk Mask — another one of my favourites in my every growing collection of non-medical face masks! These luxurious masks by Clique (a lovely gift from my friends at JoyDrop) are my go-tos for more formal or evening occasions and what I've worn out to the (very few) dinner dates we've had this fall. I've slept on a mulberry silk pillowcase for as long as I can remember and have experienced the wonderful anti-aging, hair helping benefits they provide — so I was intrigued to explore the world of Mulberry silk face masks, as well!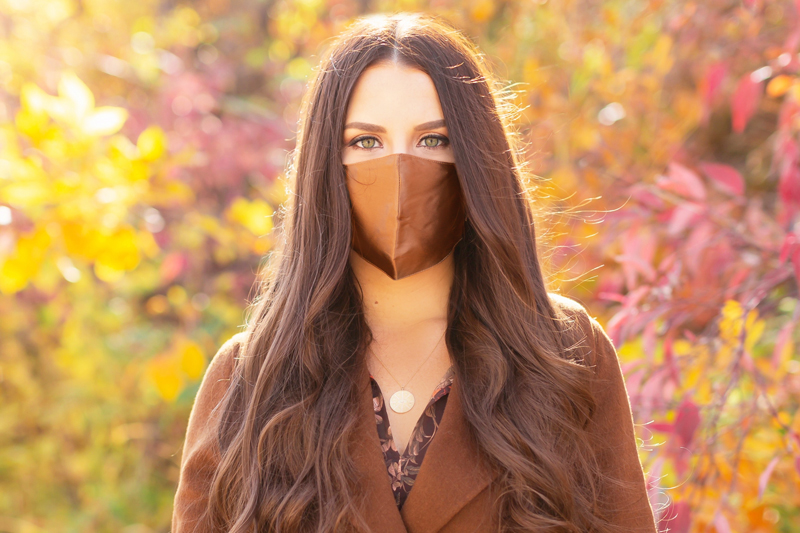 I find these elegant, 100% Mulberry silk face masks to be well-fitting, breathable and ideal for those with sensitive skin (or who have experienced maskne with other face masks!). They also feature a nose-wire and a filter pocket — plus they wash up beautifully! I also own the black version and really look forward to wearing them. These ultra luxe face masks are my top recommendation for anyone looking to infuse a dose of luxury into their collection (Adam also loves the black version!).  

---
MY SIGNATURE JEWELLERY
---
You may have noticed a couple of new additions to my jewellery collection in this LOOKBOOK! Last month I popped by my local Joydrop to select some new accessories that were generously gifted to me — including my Gorjana Reese Pearl Huggies and Tai Rittichai Gold Coin Eye Necklace. Over the past few years I've really paired down my jewellery collection and currently only have a small selection of gold vermeil jewellery on rotation, but I'd been looking for some new pieces to refresh my rotation for autumn / winter. I love the glamorous touch these pieces add to my wardrobe and I know I'll continue to enjoy them for years to come!
Joydrop remains one of my favourite local destinations for beautiful, exquisitely crafted jewellery (and now masks!) from some of my favourite designers. If you're looking to support local as we transition into the holiday season, please consider this incredible, BIPOC woman-owned business. While their gorgeous, in-store boutique shopping experience will always be my preferred way to browse (they have various safety protocols in place), they'e also recently launched a revamped website with worldwide shipping! 
---
MORE AUTUMN / WINTER STYLE INSPIRATION
---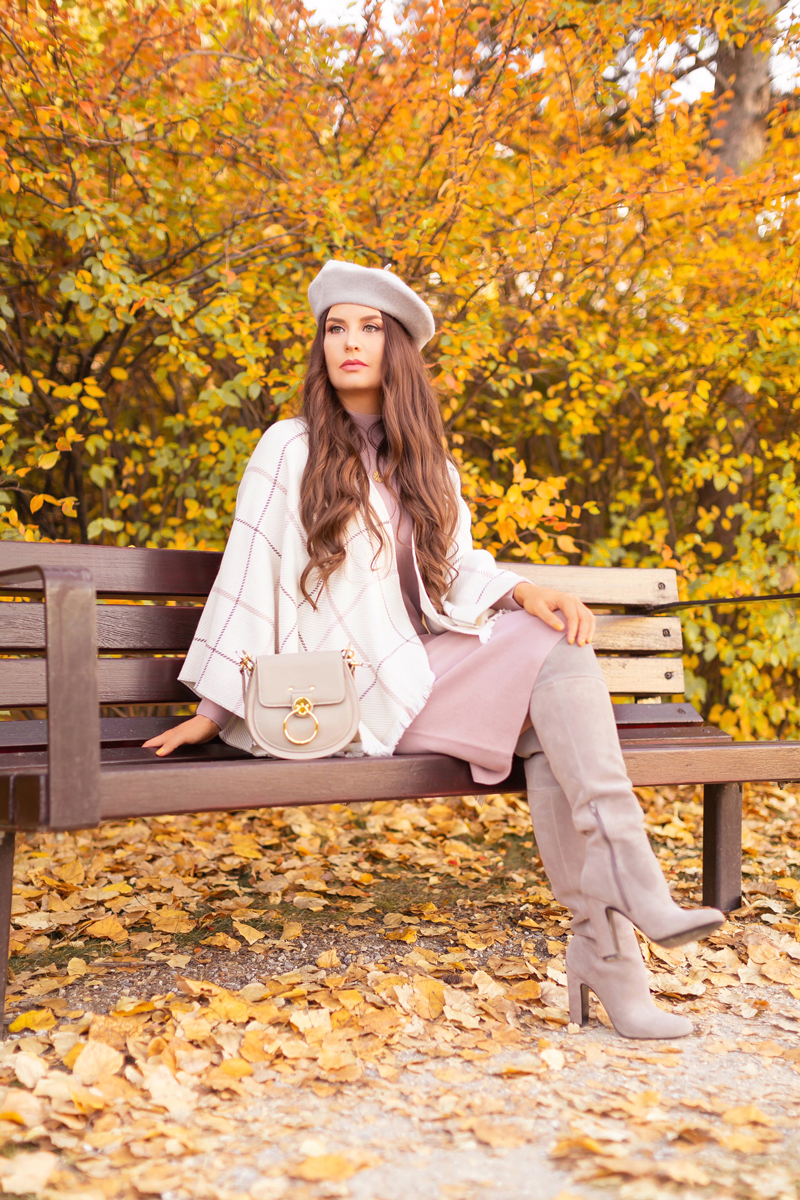 ---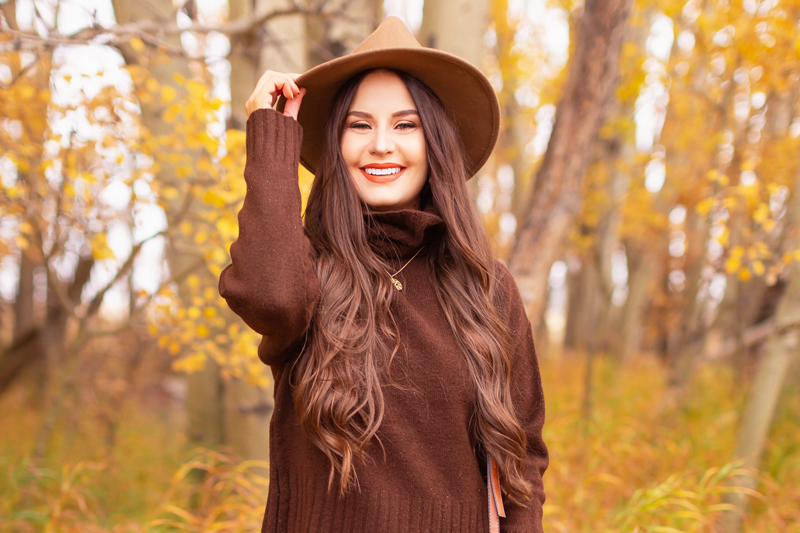 Thank you for stopping by for some cozy fall style inspiration, friends! I hope you enjoyed my Fall 2020 Lookbook as much as we enjoyed creating it. The weather this year was especially beautiful — which has definitely been a very welcome silver lining of 2020. Just last week it was in the low-teens and I've made it a priority to embrace this beautiful weather as much as possible! If you're able to do so safely, I encourage you all to enjoy the great outdoors as we transition into the holiday season. 
As won't be capturing winter looks outdoors until restrictions are lifted,  I'm excited to share more home-based content holiday this season. Funny enough, this is always something I've wanted to do but have never had time for, as the holiday season is always so full with events and gatherings! That said, if you're looking for more late autumn / early winter sartorial inspiration in the meantime, you can also follow along with my JustineCelina Fashion board on Pinterest, or explore one of my previous LOOKBOOKS, linked above. And for a sneak peek at what I'm wearing before it hits the blog, as well as some exclusive style content you won't see here, come join me over on Instagram for daily posts and BTS / day-to-day life on Stories! Wishing you all a safe and healthy November. 
---
Disclaimer: Thank you Joydrop for my facemasks and jewellery. This post is not sponsored, and contains my genuine thoughts, ideas and recommendations. JustineCelina uses affiliate and referral links, which allow me to receive a small commission when you make a purchase through one of my links. Thank you for supporting the brands and businesses that support JustineCelina!