Let me preface this post by saying that I do not like the cold. I tend to run cold in the first place, no matter the season (I seriously sleep big, cozy sweaters and multiple pairs of socks!). But what I do love about winter is the fashion — the opportunity to dress well, bundle up and experiment with layering different textures, fabrics and proportions. And although it still gets dark around 4pm (oh Calgary, aren't you charming in January?!), I also love the warm, golden afternoon light juxtaposed against the frosty, white backdrop of my city! It almost makes up for having to shoot winter style content in -25 °C weather (ha!).
While I'm all for keeping up with the trends, today's post is dedicated to my trusted Winter Style Staples — items I purchase each year in different colours or interpretations, as well as the investment pieces I look forward to pulling out when it gets chilly. If you're looking for some winter fashion inspiration to help you brave these arctic Calgary temperatures in style, you've come to the right place! These pieces combine to create an easy winter outfit 'formula' that's polished, stylish and can transition from personal to professional settings. They're my no-brainers when it comes to effortless winter style!
---
TopShop Check Wool-Blend Duster Coat (similar, similar, similar, similar, similar, similar) | Fine-Knit Jumper | Faux Fur Snood Scarf (on sale!) | Faux Leather Front Pant (on sale! similar, similar, similar) | Aldo Katty Bag in Black | Leather High Heel Ankle Boots with Pompoms | Leather Gloves (similar, similar) | Round Sunglasses | Kat Von D Everlasting Liquid Lipstick in Plath (similar, similar)
---
WINTER STYLE STAPLES
---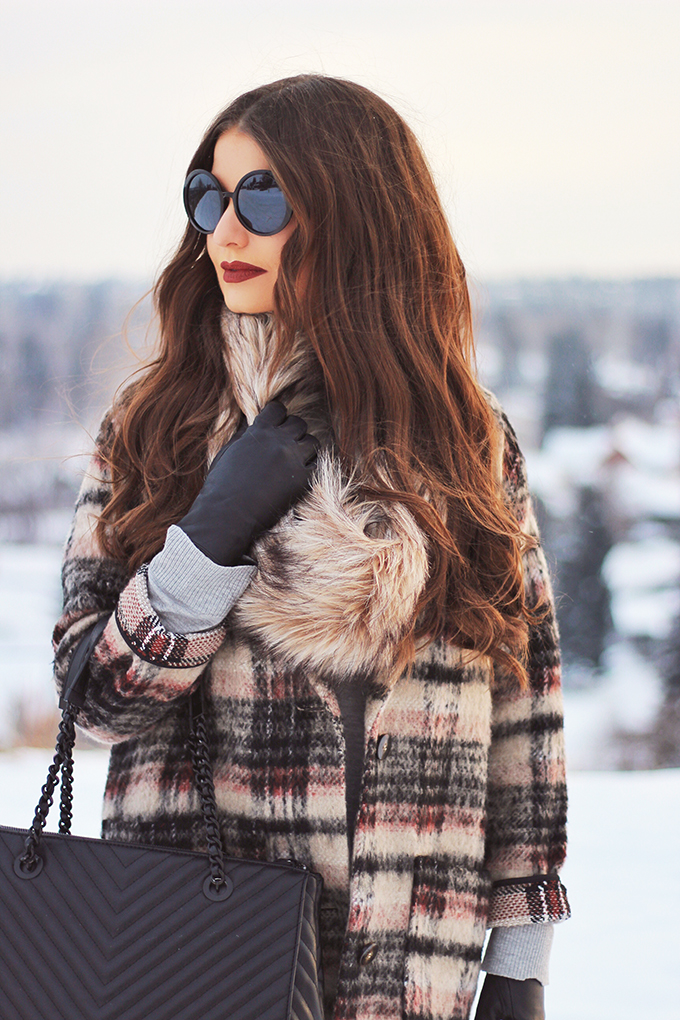 If you're looking to add some great winter basics to your closet, now's the time to do it! With so many end of season sales currently underway, it actually works out well for us Canadians since January and February are our coldest months (and almost everyone else is gearing up for spring!). Many of the items I'm wearing or link to in the post are on sale, so hopefully you're able to snag some Winter Style Staples at a discount!
---
Longline Wool Coats
---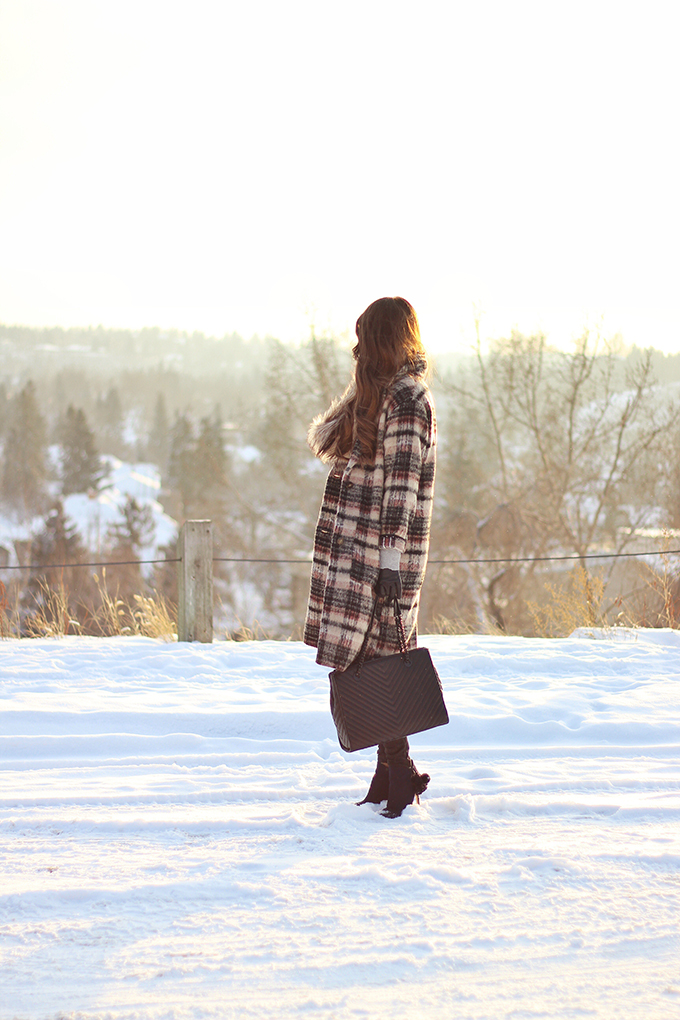 While super warm jackets are an absolute necessity to survive our Canadian winters, I've found that I actually get the most wear out of my lightweight wool coats year round. My last style post also featured a longline duster — it's just a silhouette that works for me! By far, my tan wool jacket from Zara is my most worn piece of outerwear (every time I wear it I get tons of questions and compliments), followed closely my the latest addition to my closet — this beautiful Check Wool-Blend Duster Coat. If we've hung out lately, there's a good chance I've been wearing it! I originally spotted this beautiful plaid duster at TopShop last winter — it sold out before I could get my hands on it and I've been thinking about it ever since! I was so surprised to see it pop up in in stores again this season, so I snagged it during their Black Friday sale for 40% off. Score!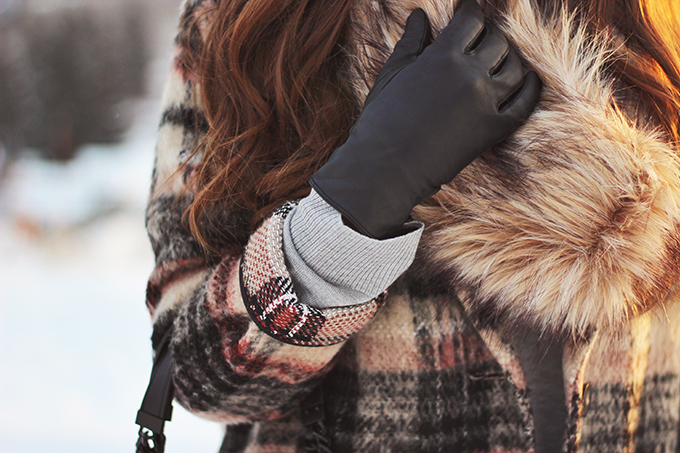 I love absolutely everything about this coat — the print, the colours, the vintage-inspired silhouette and the slightly oversized fit that allows it to become such a versatile layering piece during the winter (I can layer really thick sweaters underneath without feeling overstuffed!). Unfortunately it appears to now be sold out online — both through Hudson's Bay (for us Canadians!) and also through the TopShop website. If you're a local, I did just spot some on clearance at TopShop Chinook Centre this week, so I'd encourage you to go track this duster down in store if it's stolen your heart! Or, I've rounded up my favourite plaid coats and dusters at different pricepoints here, here, here, here, here and here. I think any one of these coats are truly classic pieces that will never go out of style!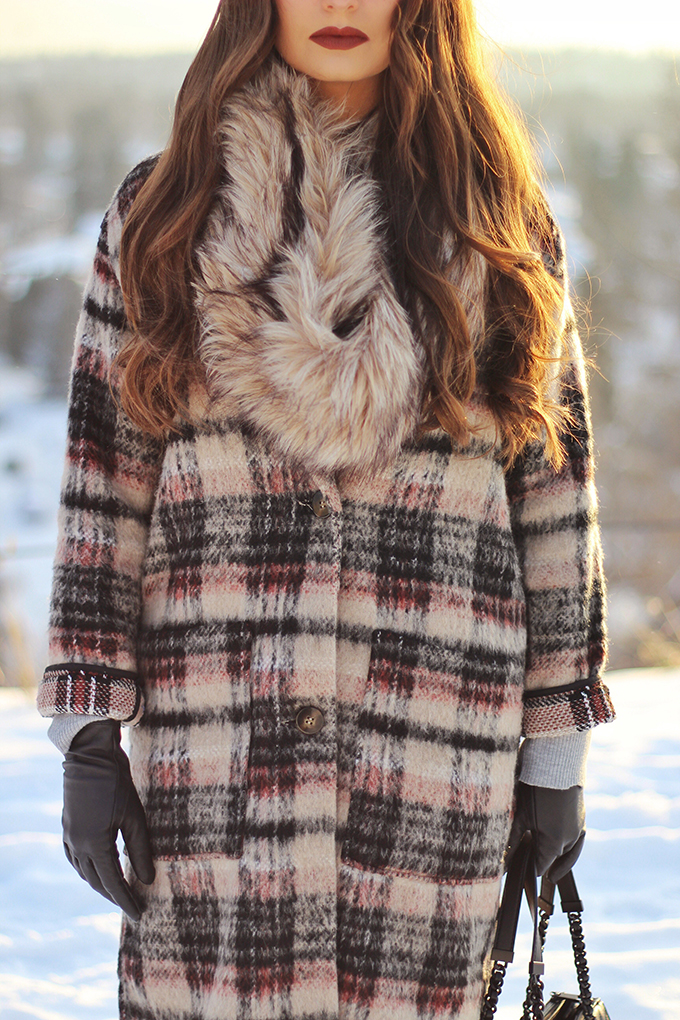 ---
Cute Booties
---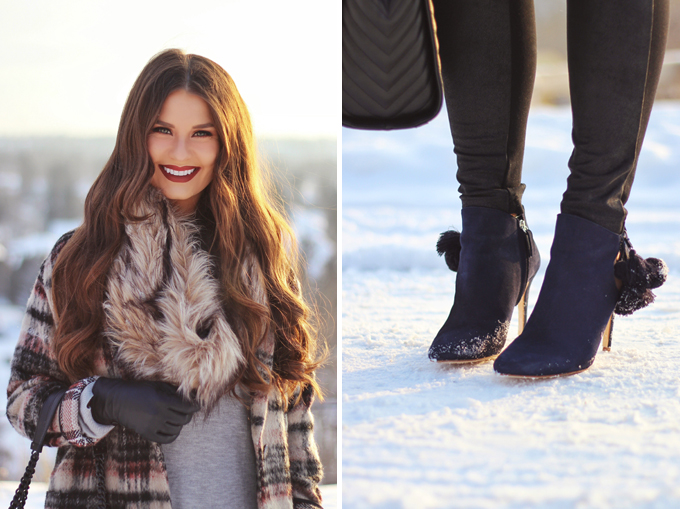 I live in booties in the fall and winter. And when I spotted these Leather High Heel Ankle Boots with Pompoms at Zara, it was love at first sight. Because pompoms. Although the heel isn't super practical in the snow, these booties fit like a glove, are insanely comfortable (yes, really!) and have been my go-to when I want to be a bit dressier but wearing a pump isn't an option. I also love this rich navy shade to bring a cool, neutral pop of colour to my winter outfits. I know you guys love shoes as much as I do, so I'm working on a Winter Shoe Guide for us Canadian gals — that will be next up in my FASHION department!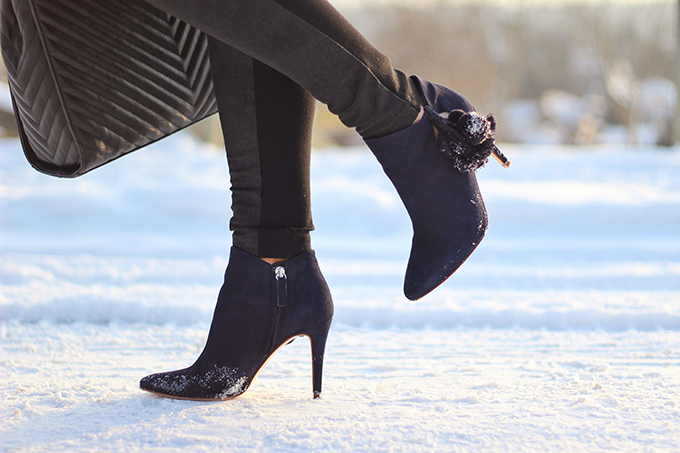 ---
Faux Leather Pants
---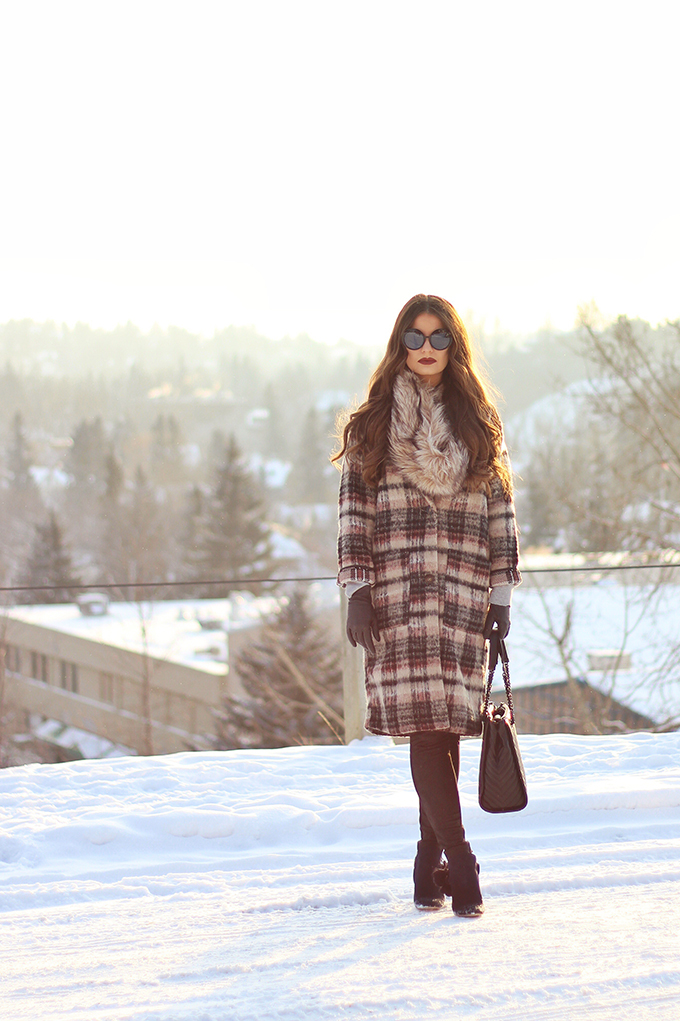 I love me some faux leather pants and leggings in the winter. I think it's the juxtaposition of the sleek leather against cozy textures of wool and chunky knits that I adore so much. If you've been with me for awhile and this particular pair looks familiar, it's because I wore them way back in my Comfort Zone post (which was my second style post for JustineCelina — back when I first started blogging!). I know so many of you picked them up too — well, I've been wearing them in black, navy and brown ever since and they're some of my all time favourite pants! These ponte pants are a happy medium between real pants and leggings that can still look professional when styled accordingly. Joe Fresh has created a similar style this year, and I've also linked the most similar styles I can find at different price points here, here and here. Invest in a pair of (faux) leather ponte pants or leggings and I guarantee you'll get so much wear out of them during the winter — they're surprisingly cozy and so comfortable!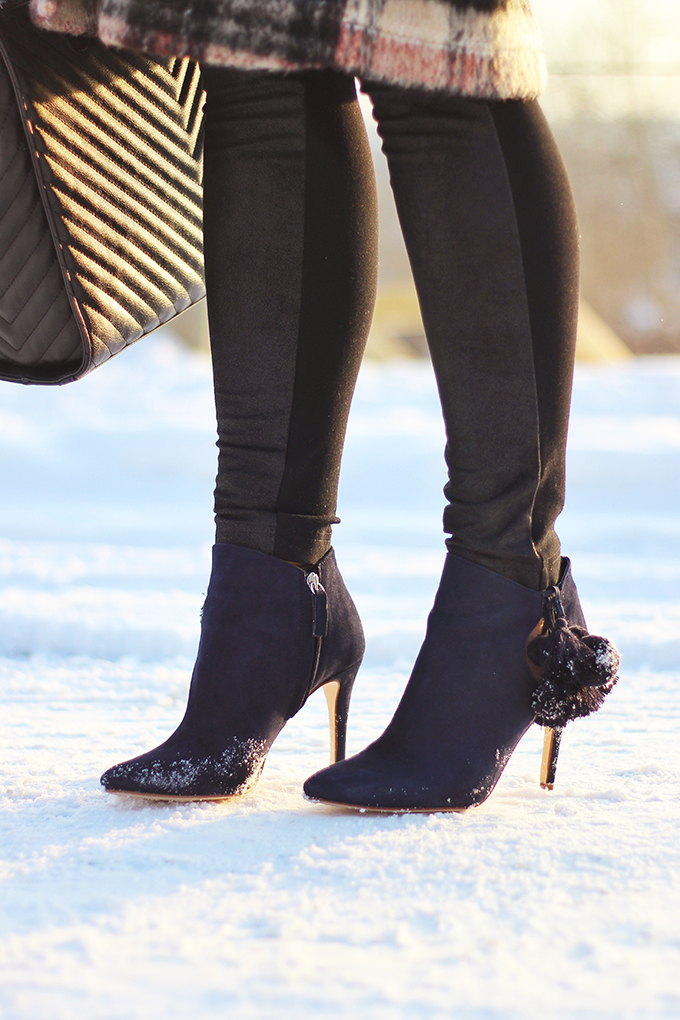 ---
Lightweight Knits
---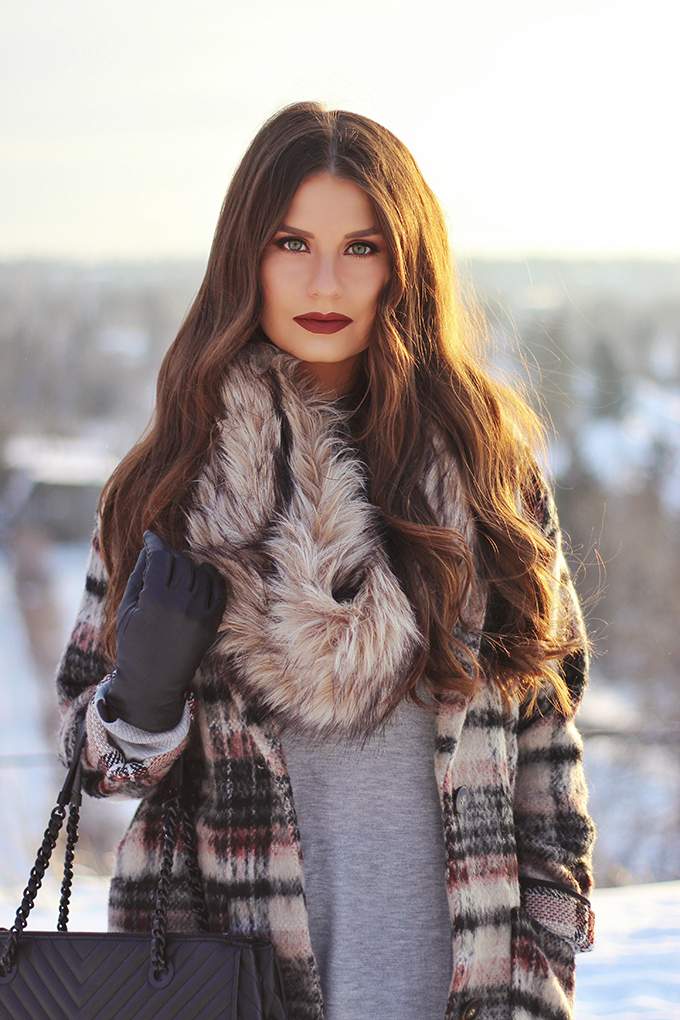 I purchase this same Fine-Knit Jumper from H&M every winter in different colours — this style is a true staple in my wardrobe that transitions from autumn, to winter, to spring. H&M is one of my favourite destinations for knitwear. The price is right, they wear and wash like a dream and I love the way they drape over the body — plus the high side slits are a bit unexpected. During the winter, I particularly love these sweaters for layering. I wear them with anything and everything — under wool coats like I'm doing here, under vests and under leather jackets! While I've been loving mock and turtle neck styles lately, a classic, round-neck knit will never go out of style. I always have a few different colours in my winter wardrobe!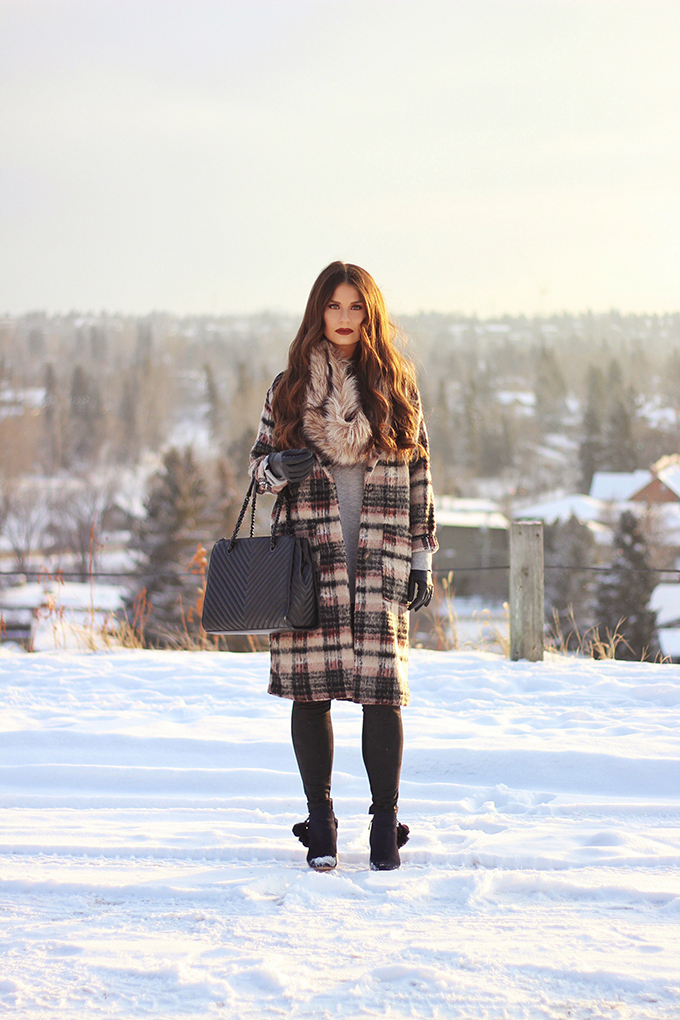 ---
Faux Fur
---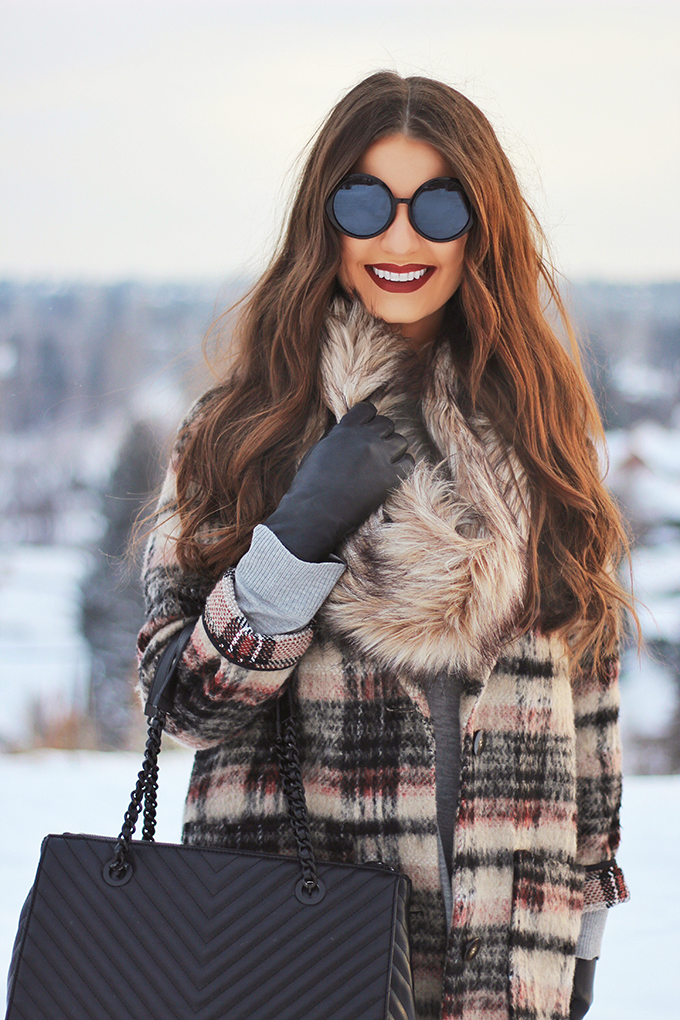 If you've been reading JustineCelina for any length of time, you've likely seen your fair share of faux fur. I love faux fur in many different interpretations — I own a few faux fur vests, a faux fur clutch and other faux fur accessories. Faux fur is ultra cozy and luxe — it instantly adds an air of sophistication to an outfit when done right. And it seems like every season, faux fur just keeps getting better and better! When I spotted this super soft Faux Fur Snood Scarf late last month while I was Christmas shopping, I immediately tried it on and was wowed at the quality (and now it's on sale!). If you're looking for a twist on basic scarves this January, why not pick up in inexpensive faux fur option? I've had mine on heavy rotation lately!
---
A Classic Black Bag
---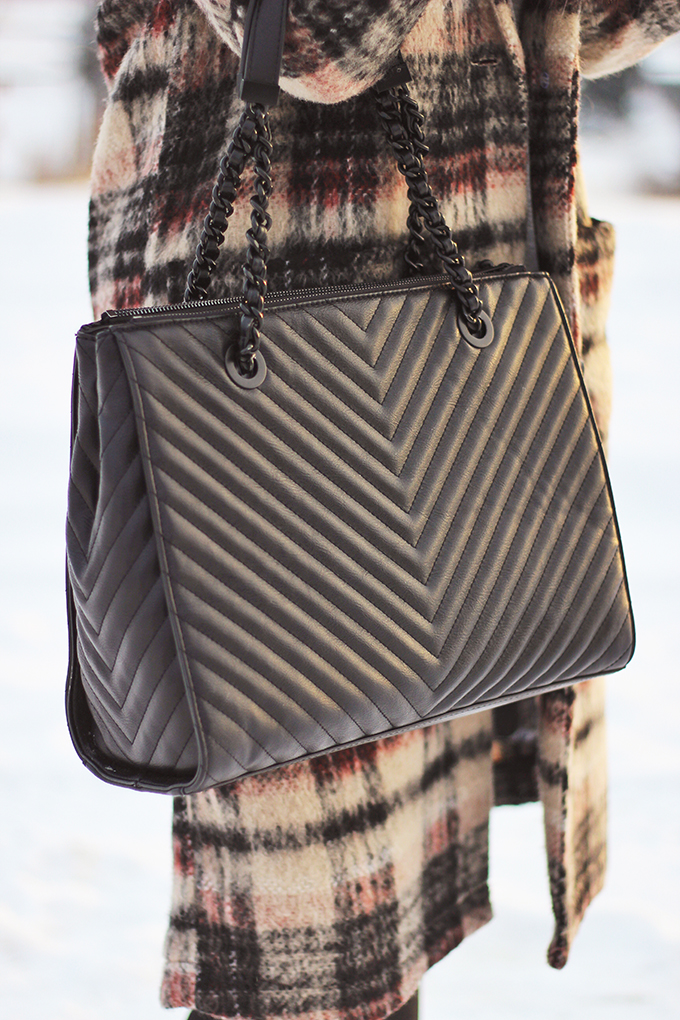 Here's an example of a wardrobe staple that I freshen up a couple of times a year. Last February, I was carrying a tasseled version that doubled as a briefcase and late this summer I gravitated towards a more streamlined bag with gold hardware. I still own and love those bags, but this winter I wanted something just a bit smaller, structured and without any metallic hardware — and I found it in Aldo's Katty Bag in Black. I love the diagonal pattern of the bag and the versatile compartments! I find myself reaching for this bag often lately when I'm wearing neutral outfits to add some extra interest and I receive so many compliments on it. If you've never purchased a bag from Aldo, stop in sometime to check out the quality — they're exquisitely made for the price!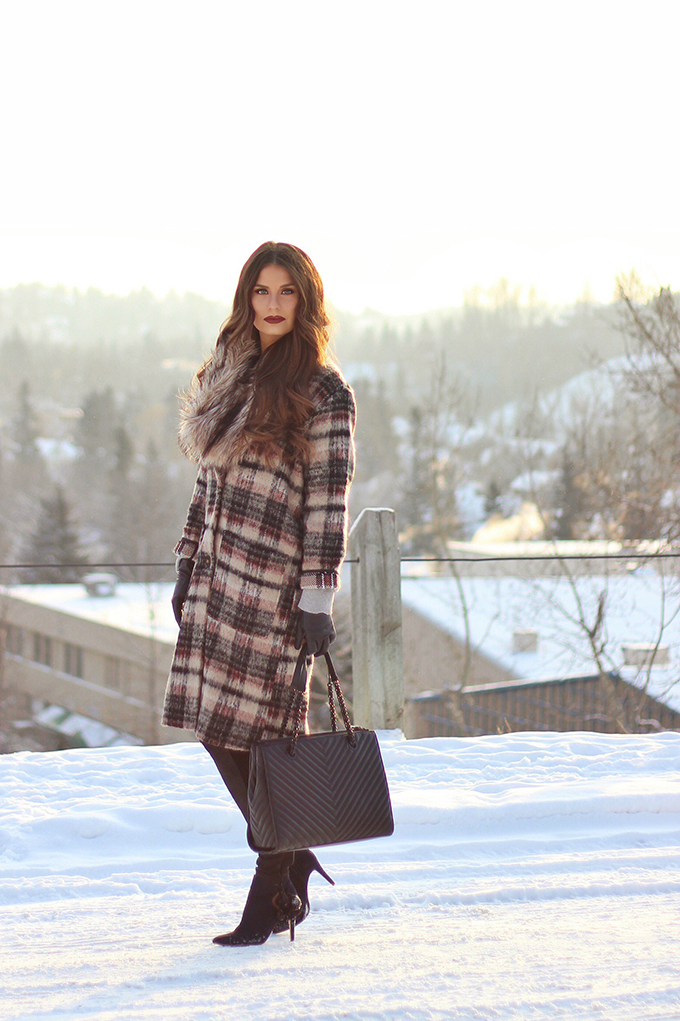 ---
Leather Gloves
---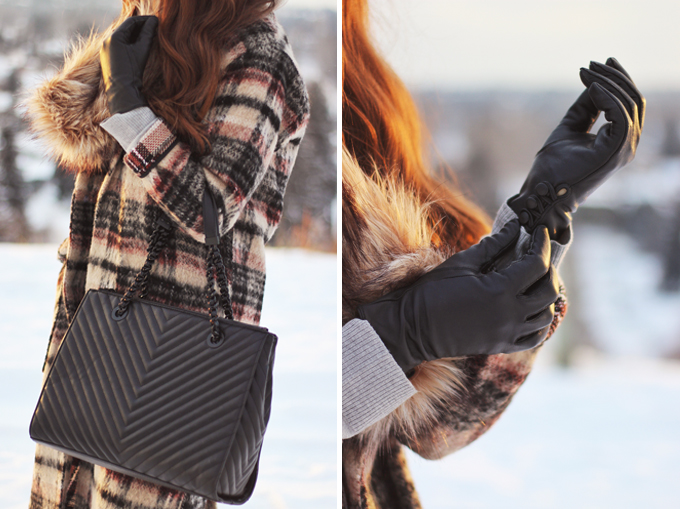 I never see bloggers wearing gloves during the winter and I have absolutely no idea why. In my opinion, leather (or faux leather) gloves are a definite must have for Canadian fashionistas — they're warm, chic and versatile. I've had this classic black pair for years and wear them almost daily, but I've linked similar styles here and here.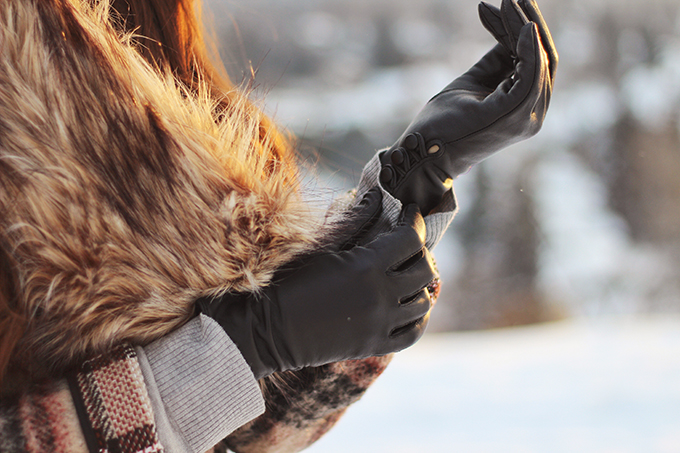 ---
Round Sunglasses
---
'Nuff said. I picked this inexpensive pair up at Forever 21 this autumn!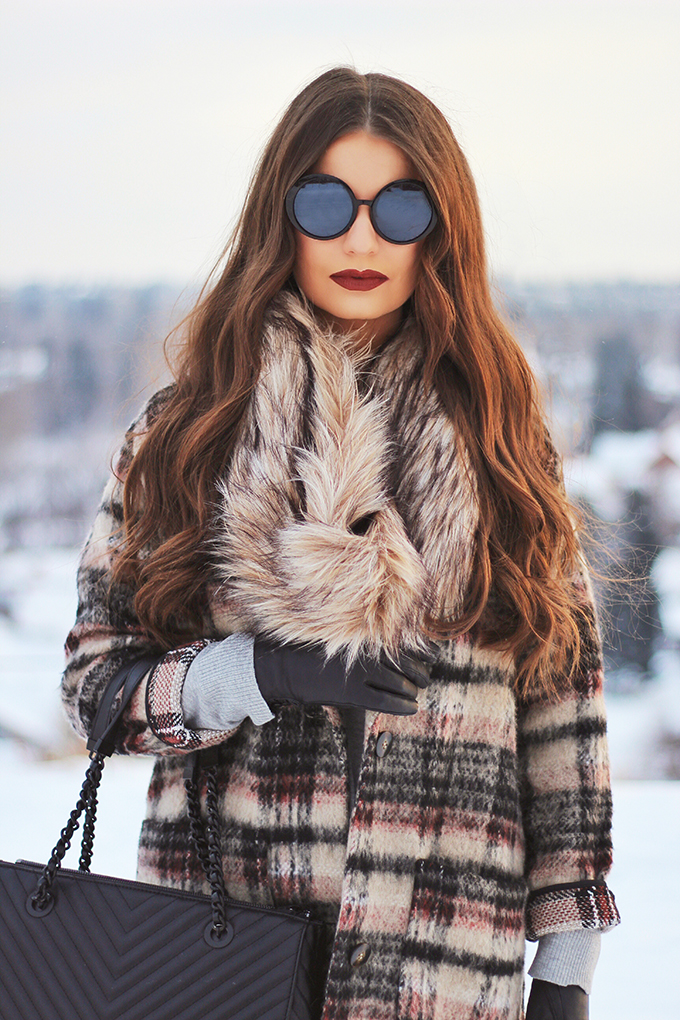 ---
A Deep, Vampy Lip
---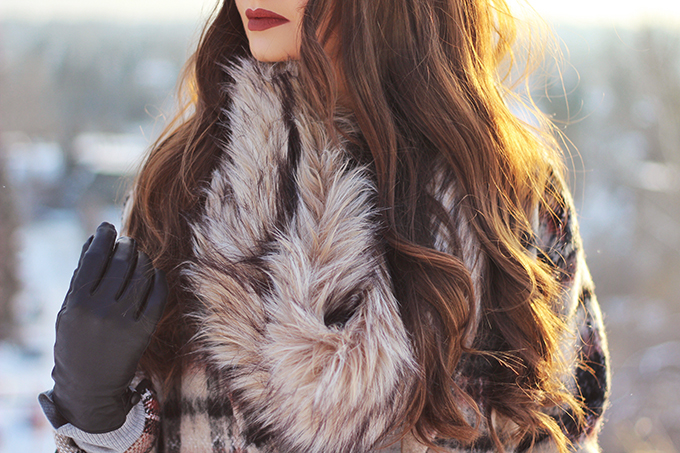 I love some drama on my lips during the winter and have found myself especially drawn to browns and burgundies lately. It's no secret that I'm crazy about vintage and vintage inspired styles — there's something very 70's about browns and burgundies that I just love during the winter, especially on my colouring! The Kat Von D Everlasting Liquid Lipstick in Plath I'm wearing here was limited edition and part of the now sold out Everlasting Mini Liquid Lipstick Set (which was a holiday beauty exclusive that I mentioned here and here). The good news is that I found 2 similar alternatives for you — Colourpop's Ultra Matte Lip in Love Bug (which is just $6!) and Kat Von D's Everlasting Liquid Lipstick in Vampira. If you're not sure you can pull a dark lip off, try it with more minimal makeup or a simple winged liner — you may be surprised!
---
SHOP THE LOOK
---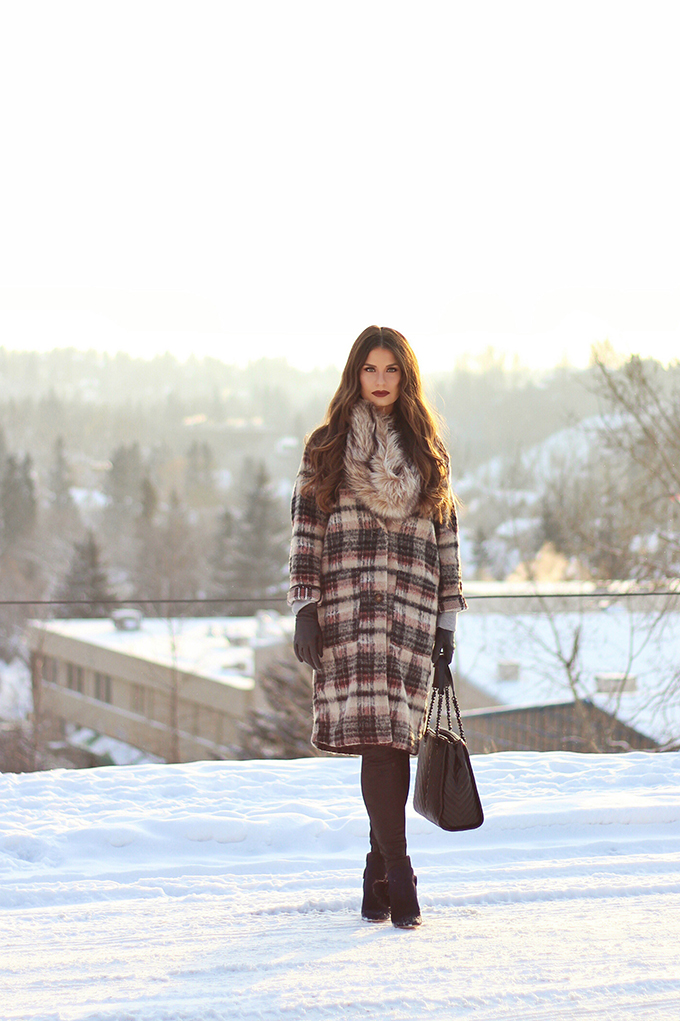 TopShop Check Wool-Blend Duster Coat (similar, similar, similar, similar, similar, similar) | Fine-Knit Jumper | Faux Fur Snood Scarf (on sale!) | Faux Leather Front Pant (on sale! similar, similar, similar) | Aldo Katty Bag in Black | Leather High Heel Ankle Boots with Pompoms | Leather Gloves (similar, similar) | Round Sunglasses | Kat Von D Everlasting Liquid Lipstick in Plath (similar, similar)
---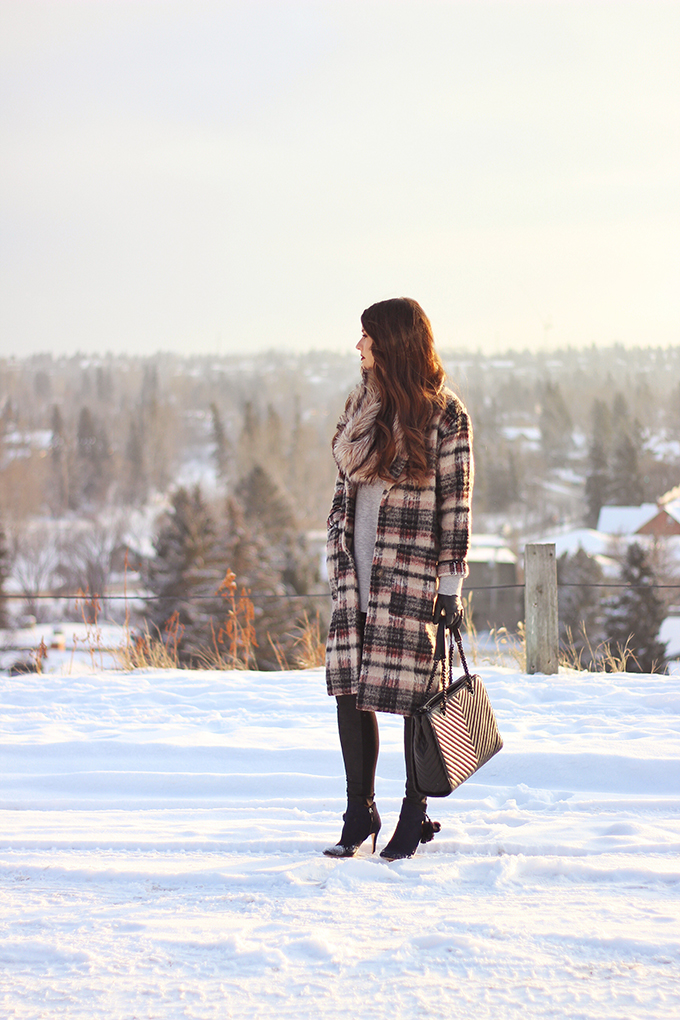 Do you have an outfit 'formula' when it comes to easy winter dressing? I love to hear what works for other women, so let me know what some of your favourite winter pieces are! And if you pick up anything I mentioned, definitely let me know how it works our for you. Stay cozy and enjoy your weekend, everyone!
---
Disclaimer: This post is not sponsored, and contains my genuine thoughts, ideas and recommendations. JustineCelina uses affiliate and referral links, which allow me to receive a small commission when you make a purchase through one of my links. Thank you for supporting the brands and businesses that support JustineCelina!