---
Fellow fashionistas, welcome back for my third AW17 TREND GUIDE and final set of photos we shot in the Alberta Badlands — this time, at dusk! Tonight I'm thrilled to share a bit of an edgier look than you're typically used to seeing here at JustineCeina, but as I mentioned, I've been totally reinspired fashion wise this autumn and really experimenting with my personal style (and having tons of fun in the process!). It was also a lot of fun to experiment with different lighting conditions — since we shot this look in the last 15 minutes before the sunset, these photos have a bit of a moodier vibe to them. I think it suits the outfit perfectly!
Tonight I'm Falling for Florals all over again and styling a selection of seasonal trends through fresh eyes — including autumn / winter florals, soft leather, velvet, faux fur, circular shades and red. If you're looking to elevate your personal style or refresh some wardrobe staples as we transition into winter, this post is for you! Tonight I'm wearing a both old and new favourites — this is a look I've worn quite a few times this season and received tons of questions about. If you've always wanted to explore moody florals, find your perfect (faux) leather jacket or red lip and aren't sure where to start, you've come to the right place! Pour yourself a delicious glass of vino (or fix yourself big mug of herbal tea!) and get cozy for an in depth style chat, complete with tons of shoppable links and alternatives for every price point and body type (would you believe my dress is under $30?!).

---
AUTUMN / WINTER 2017 TREND GUIDE | FALLING FOR FLORALS
---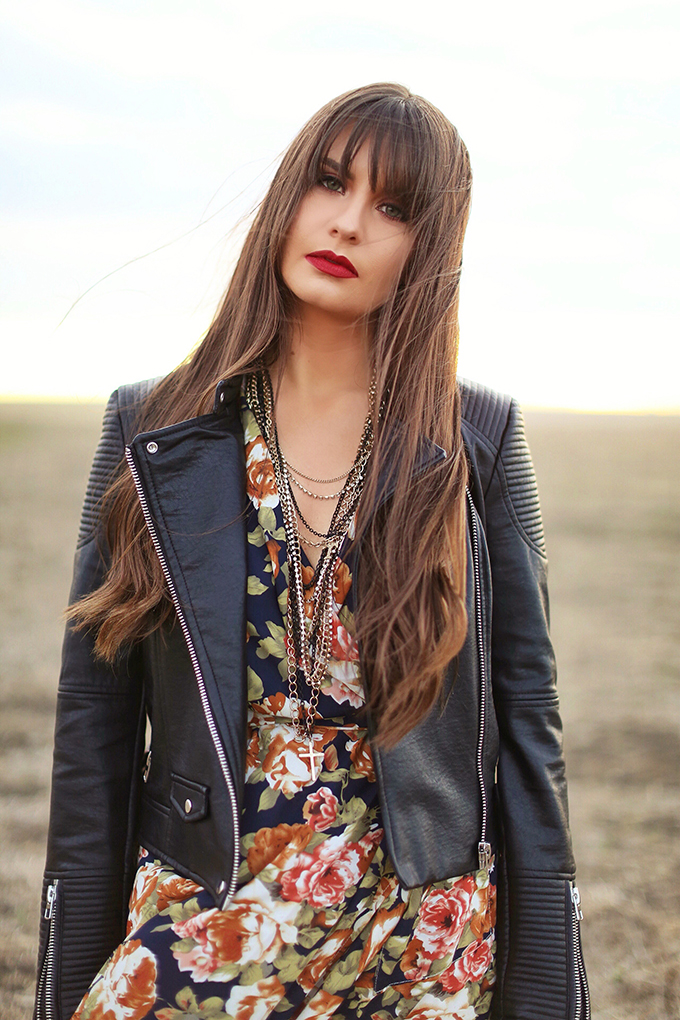 This day was such a whirlwind — definitely a bit crazy, but also a lot of fun! Rather than just shooting outfits as I'm wearing things (which is usually what we do!) we decided to pack up 3 looks and venture out to the Drumheller area for a change of scenery. I've actually posted content from our trip in the order we shot it — first, How to Style | Kimonos for Autumn near Hoodoos Trail, then my Autumn 2017 Trend Guide | That 70's Style at the Star Mine Suspension Bridge in the Red Deer River Valley, and finally, this look.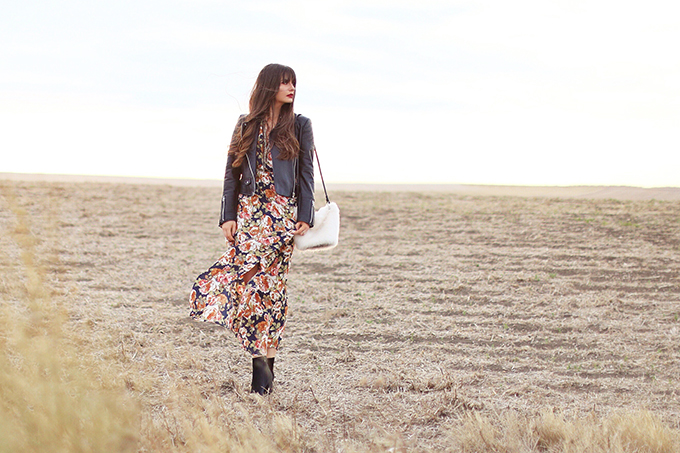 We raced out of town, chasing the sun out of the valley and over the badlands in hopes of being able to capture one more look that day. I changed my outfit and my lipstick in the back seat as I brushed out my hair (the chinook winds were really intense and my hair was in borderline dreadlocks — I guarantee you blogging is not as glamorous as you may think!). Windblown and a little scraggly (but determined!), we had about 15 minutes of daylight available. So we pulled over in the first available field to capture these images — as one of the most beautiful sunsets I've ever seen danced on the horizon! I managed to snap decent photo of it out the window as we headed back to Calgary, which you can see at the bottom of this post. Most times, it takes us about an hour and a half to shoot a look, so this was very in the moment — but I loved the spontaneity and the way these photos turned out!
The point of this story is although we captured my Autumn / Winter 2017 Trend Guide | Falling for Florals in a field at sunset, I mentioned that I've worn this outfit (or similar variations) a few times this season and it's become a bit of a go-to for me. You'll never see me wearing things here at JustineCelina that I don't wear in my real life — my personal style, although very eclectic, is also practical for my lifestyle and my aim is to inspire you with wearable looks and tips you can incorporate into your personal style. I wore this exact outfit to ParkLuxe earlier this autumn and received tons of questions and compliments about what I was wearing — people were shocked when I told them where things were from, so I figured it would make for a great blog post! Let's dive into it, shall we?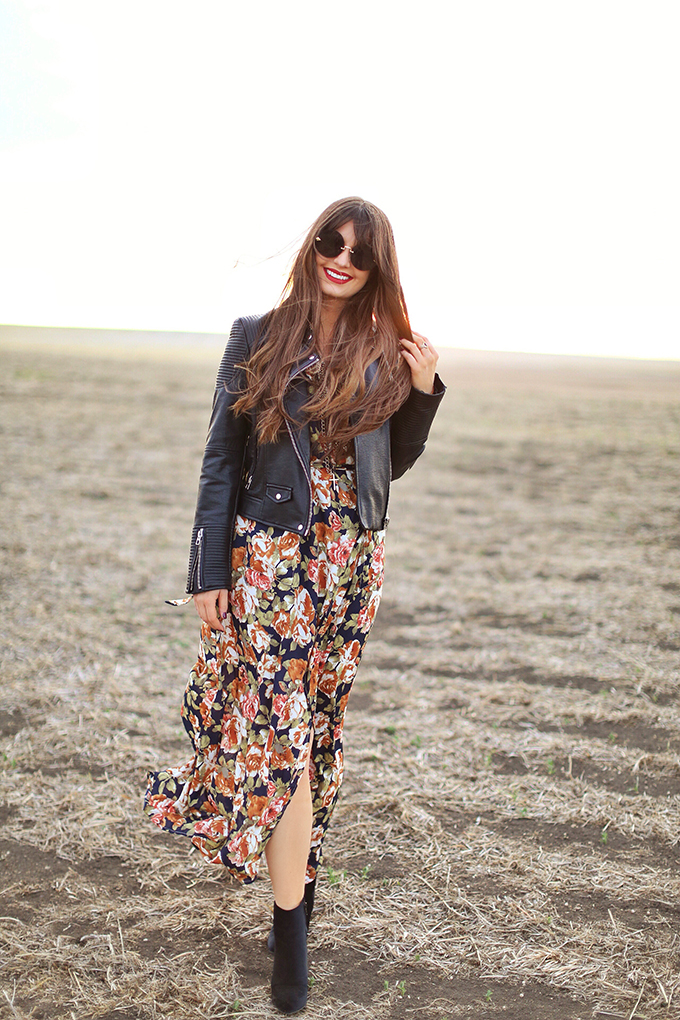 ---
TREND: Moody Fall / Winter Florals
---
If you've read JustineCelina for any length of time, you'll know how much I love flowers. And, I also love to wear them. Fall and winter florals been on trend for well over a year now — and they're actually my favourite type of floral to wear! My personal style isn't overly feminine, so soft, pastel florals aren't really my thing. However, I can completely get on board with a rich autumnal colour palette, or deep, wintry hued florals! Last autumn I donned this moody floral number, I wore an autumnal, floral kimono, I picked up a fall floral turban style headband at the beginning of the season and in my last style post I also wore a floral dress — but in a completely different silhouette.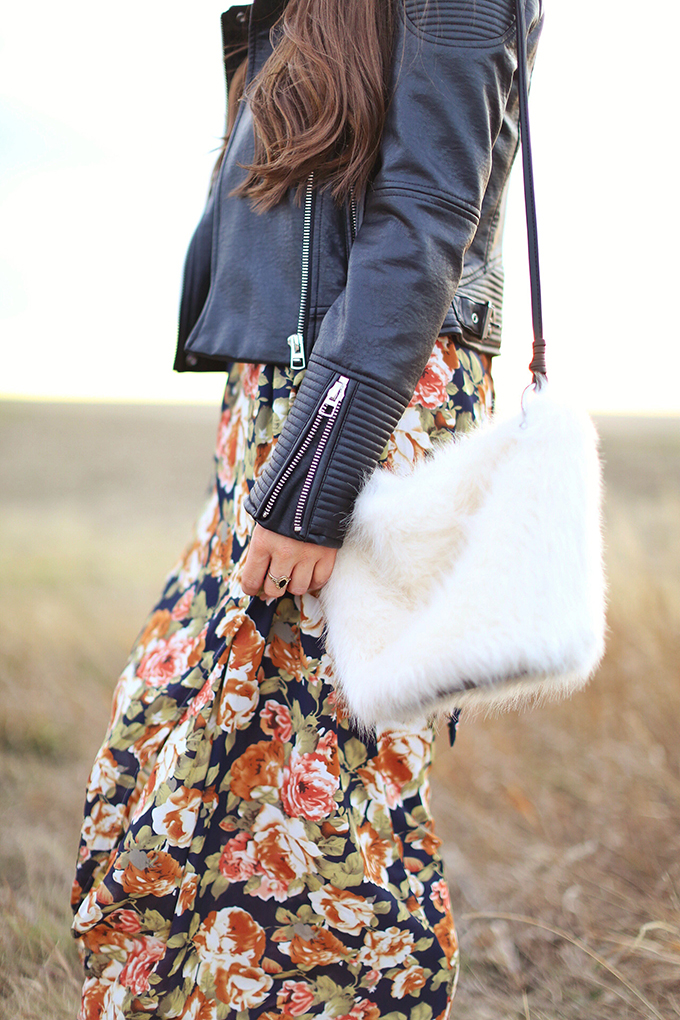 I'd been on the hunt for a darker floral maxi dress when I stumbled on this number from SheIn, which is actually a duster that I wear as a maxi dress! I love the length (I'm 5'8″ for reference), freedom of the wrap silhouette and the option to actually wear it as a duster if I like. The best part it's under $30! I've linked this piece up for you below, along with a handful of my favourite floral maxi dresses at different price points. A moody floral maxi is a great piece as we transition into winter — it can be layered up with tights, vest, coats and boots of all lengths (stay tuned for more maxi length skirts coming to JustineCelina this winter)!

---
TREND: Soft Leather
---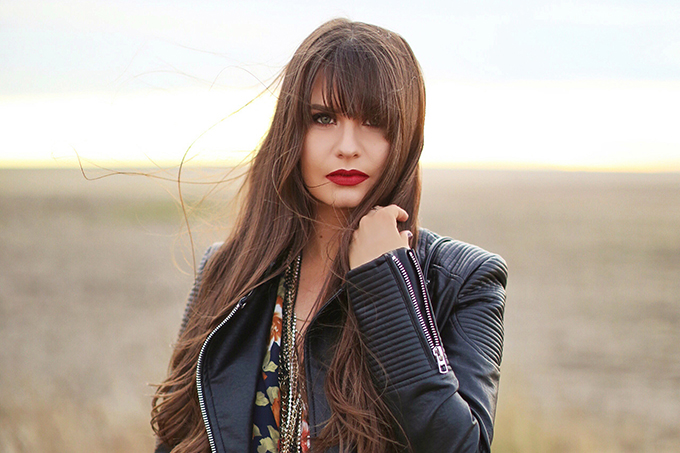 Leather is a huge trend this season — you may remember a different interpretation of leather in my first Autumn 2017 Trend Guide | Street Chic and it's a trend I've mentioned in my style posts ever since. I'm sure most of us have tons of leather (or leather like) pieces in our wardrobes! This year, I set out on a mission to revamp my wardrobe and reinstate it with quality basics. A leather jacket was on my list of staple items to refresh — I ended up sending 2 old jackets I never wore to consignment and happily purchasing this one early this spring. It's actually a Zara faux leather jacket — I tried on tons of cropped, biker style leather jackets and fell in love with the details and the soft, buttery leather vegan leather. It totally looks like the real deal for a fraction of the cost and I love the edge it lends to more feminine pieces!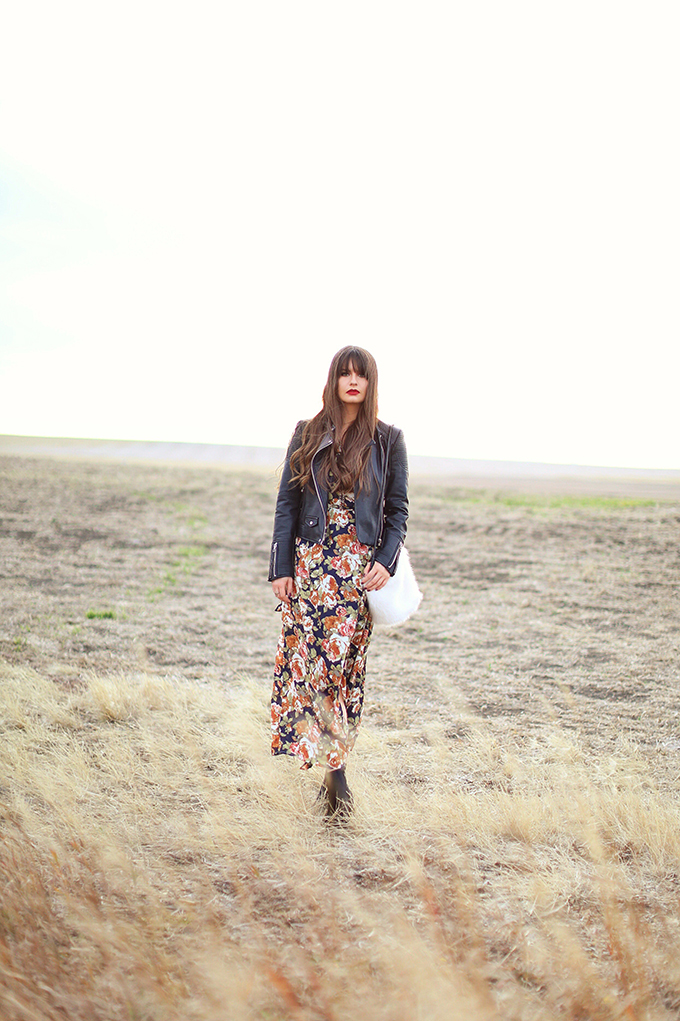 A great (faux) leather jacket is a warm, the quintessential cold weather layering piece — I love styling this one up so many different ways! Pair it with dresses for a playful mixture of feminine and masculine, throw this edgy topper over winter knits or wear a slim mock neck underneath and faux fur vest overtop! If you're on the hunt for a stylish leather jacket to see you through the seasons, I've linked my favs up for you below.

---
TREND: Faux Fur
---
I don't think good faux fur really ever goes out of style — it's a timeless texture that's been cropping up in unexpected places this season! This white faux fur bag was a random Zara find and at first I wasn't sure about it (I actually almost returned it!), but I've been wearing it so often this season. It's actually really easy to style and I love the luxe vibe it adds — plus, it's incredibly soft!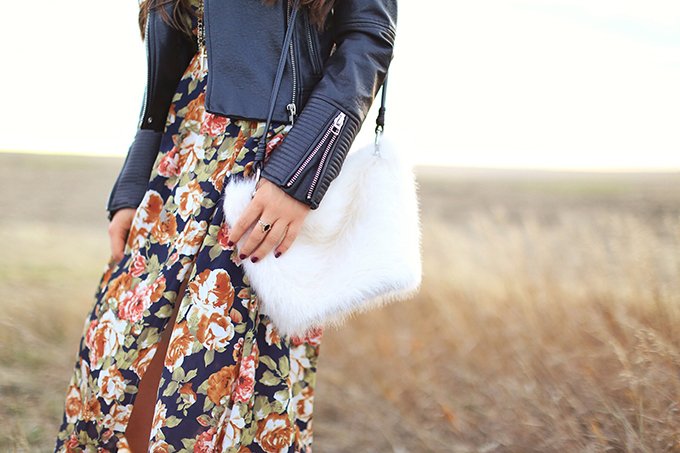 If you're on the hunt for some new accessories to add to your wardrobe as we transition into winter, I vote for a little faux fur to your life in the form of bags, stoles, scarves, vest and capes. My faux fur pieces get a lot of love during the winter — and for good reason! They're warm, practical and stylish — and I've rounded up my best white faux fur bag look alikes for you below.

---
TREND: Circular Shades
---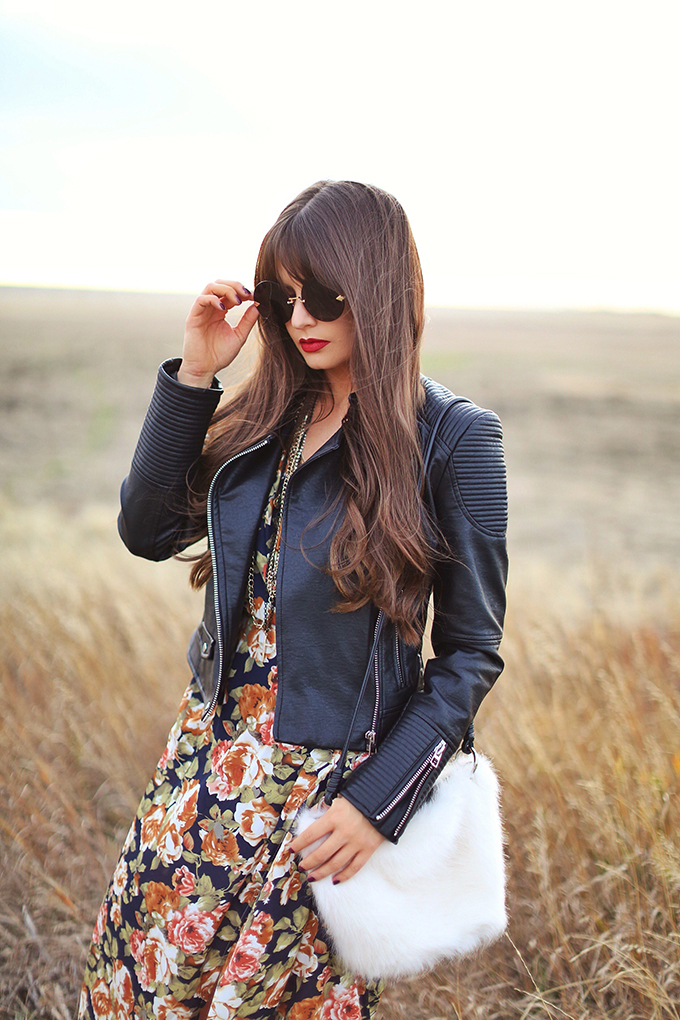 There's really nothing left to say about round sunglasses that I haven't already said in literally almost every single style post I've published over the past couple of years. I'm a die hard fan and this pair has been on heavy rotation in my wardrobe all season (they also come in a mirrored finish and I have those ones too!). I love this particular pair for their unique metal details and cool, vintage vibe — oh and did I mention they're under $15?

---
TREND: Velvet
---
Have you noticed that most of these trends are things I've mentioned and worn before? That's because here at JustineCelina I don't just jump on any trend bandwagon! In producing these TREND GUIDE for you, I spend a lot of time researching seasonal trends and figuring out which ones I'd like to infuse into my personal style, as well as showcase on these pages. In doing so, I also embrace trends I think have longevity. After all, what's the point in purchasing pieces (and recommending pieces to you) that I'm never going to wear again? I'm so not one of those bloggers that only wears an item once — I love to show you how to style pieces over and over again as they become part of my wardrobe!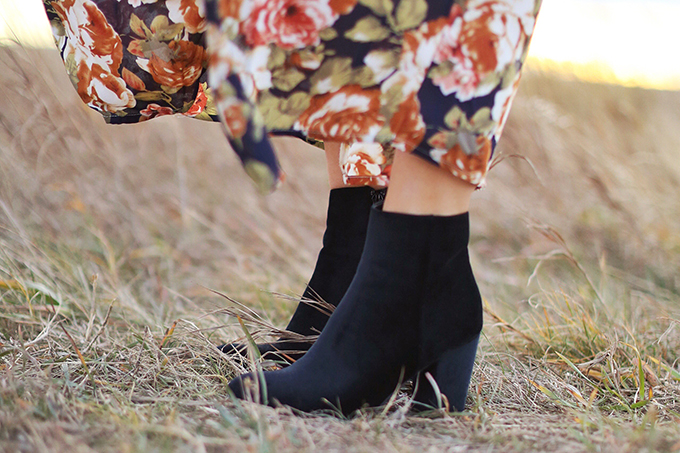 That said, I've spoken about velvet many times on these pages. Velvet is still big this season and thankfully so — because I've padded my closet with a whole lot of velvet since last season! One of my favourite velvet pieces are these statement boots you may remember from an early Winter 2017 Shoe Guide (I actually have a brand new Shoe Guide set to publish next month!). I highly recommend picking up a velvet accessory this season if you haven't already — I love the luxe texture it adds to my outfits during the cooler months. If you're on the hunt for adorable velvet booties, you know I've already scoured the internet for you!

---
TREND: Red
---
Red is another huge seasonal trend that you're probably pretty familiar with by now if you hang around my FASHION or BEAUTY archives. However, isn't actually a colour I wear often, so it took me awhile to hunt down my favourite red pieces (prepare for an tons of red coming your way this winter!). But to hold me over in the meantime I've been fully embracing the trend on my lips! In fact, I published an entire blog post dedicated to finding your perfect red lip, along with 5 of my favourite shades to represent Pantone's Grenadine from the Fall 2017 Fashion Colour Trend Report!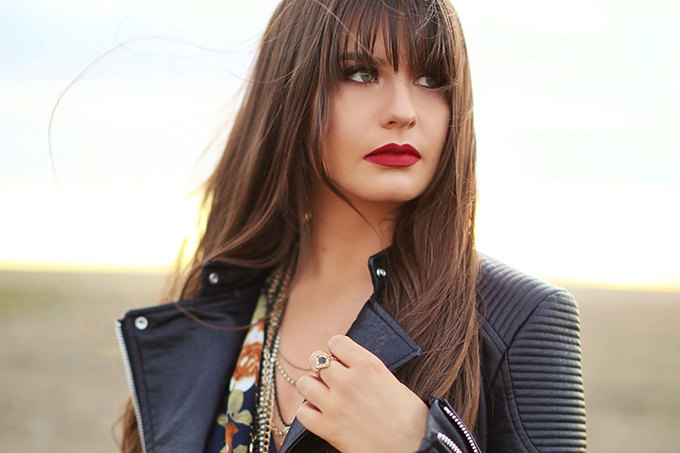 I've always been a fan of the red lip — and this season, rocking a red lip is an easy, budget friendly way to participate in one of AW17's hottest trends without committing to a garment or accessory. Here I'm wearing the Anastasia Beverly Hills Liquid Lipstick in Sarafine — a deep, moody crimson red that I reach for whenever I'm craving a bit of drama. It's perfect for nights out and transitions beautifully into the holiday season! Find Safafine, along with a handful of my favourite reds the season, below.


---
SHOP THE LOOK
---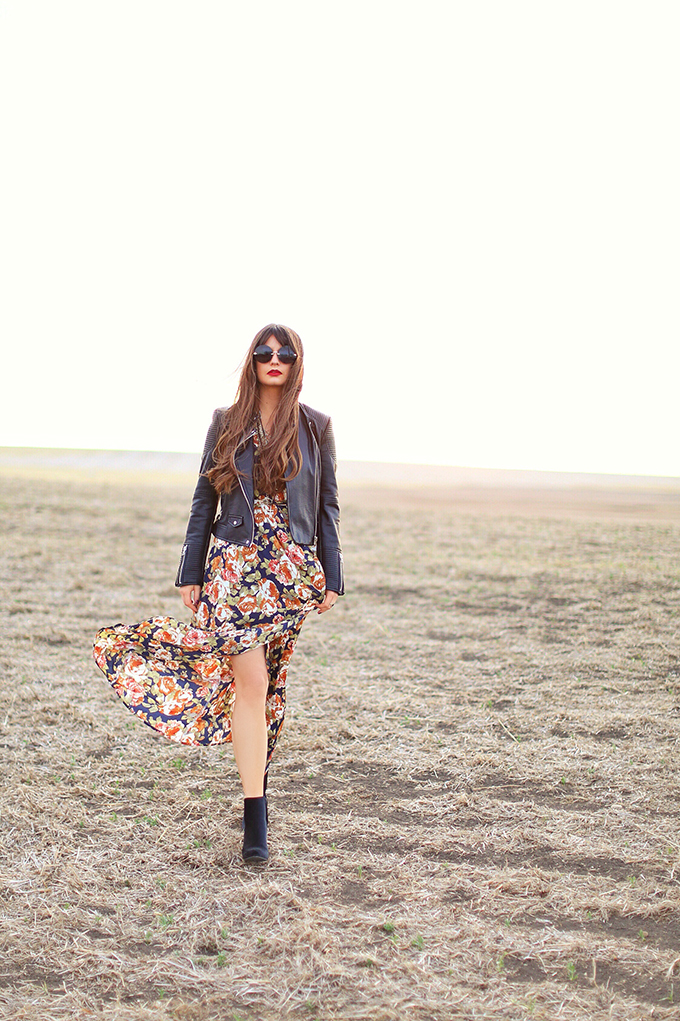 ---
GET YOUR FASHION FIX WITH MORE SEASONAL STYLE CONTENT
---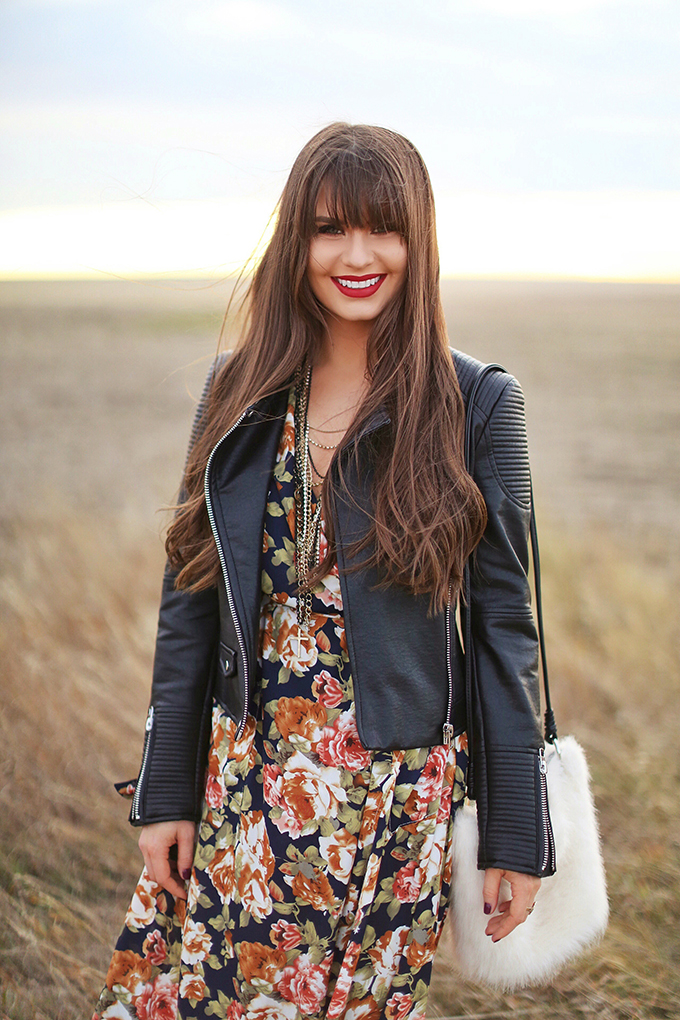 Autumn 2017 Trend Guide | That 70's Style
How to Style | Kimonos for Autumn
Autumn 2017 Trend Guide | Street Chic
Falling Back | Refreshing Old Favourites for a New Season
Transitioning the Trends | Autumn to Winter
---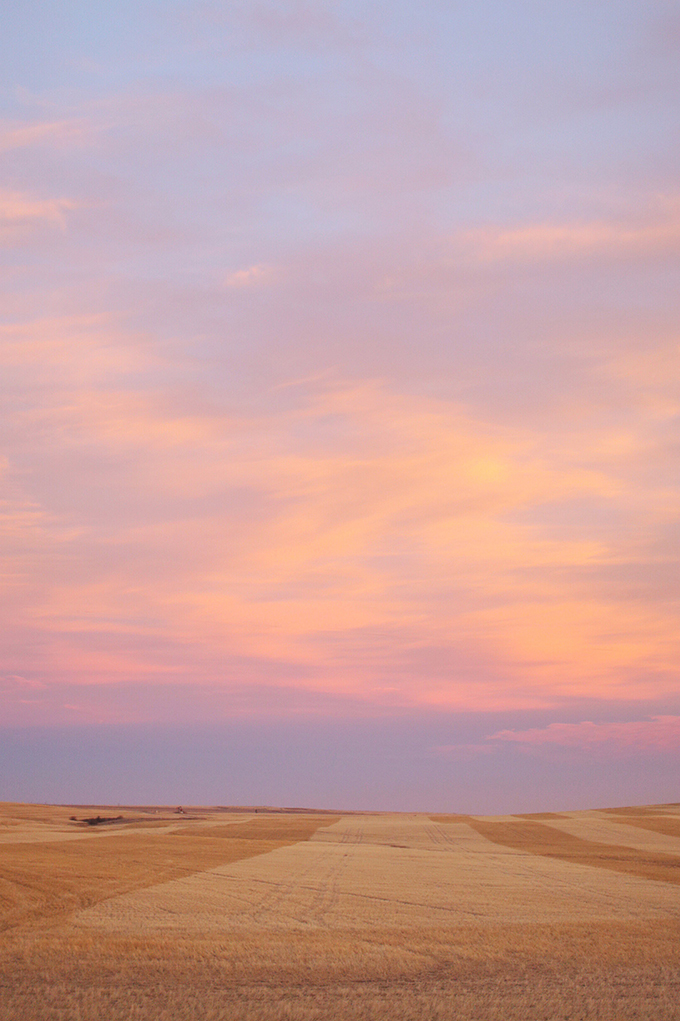 How have you guys been liking my AW17 TREND GUIDES? They're some of my favourite content to produce — just wait to see what I have up my sleeve for winter! I'm currently planning style content into February, so if there's anything in particular you'd like to see my spin on, just leave me a comment. Enjoy these last couple days of November, friends — I'm back with a fresh Monthly Soundtrack for you tomorrow!
---
Disclaimer: This post is not sponsored and contains my genuine thoughts, ideas and recommendations. JustineCelina uses affiliate and referral links, which allow me to receive a small commission when you make a purchase through one of my links. Thank you for supporting the brands and businesses that support JustineCelina.com!