---
It's mid April… and I'm editing this post during yet another Snowfall Warning here in Calgary! I don't meant to give you a mini weather update every time I publish new style content — but the weather greatly impacts what I wear, and therefore share with you FASHION wise here at JustineCelina. And to be completely honest, this has been the longest winter I can remember… like, ever! The silver lining is that our chilly, temperamental 'Canadian spring' has forced me to get really creative when it comes to dressing myself for these transitional months. We shot these photos on a beautiful, 11°C spring day last week — followed by a winter storm and freezing temperatures that evening. This outfit is one I've worn several iterations of over the past couple of months — a mashup of winter coziness with an infusion of spring trends!
So, what's a girl supposed to wear when she experiences each of the four seasons in one day? This versatile, layered look with an air of cool sophistication is my answer! In this edition of my HOW TO STYLE series, I'm chatting all about Transitional Layers and how to make them work for you this April in our unpredictable climate. I'm also dipping my toes into a few spring trends you can wear no matter the weather — including longline layers, baker boy hats (yep, still loving them!), dark denim, contrast stitching and statement sleeves, paired up with classic spring staples like trench coats, versatile knits and pointed toe shoes. I'm also mixing prints and using this moody spring weather as one last excuse to rock a vampy lip! Navigate the changing seasons and our crazy Canadian spring in style with a simple outfit formula that can be adapted to both personal and professional settings!

---
HOW TO STYLE | TRANSITIONAL LAYERS
---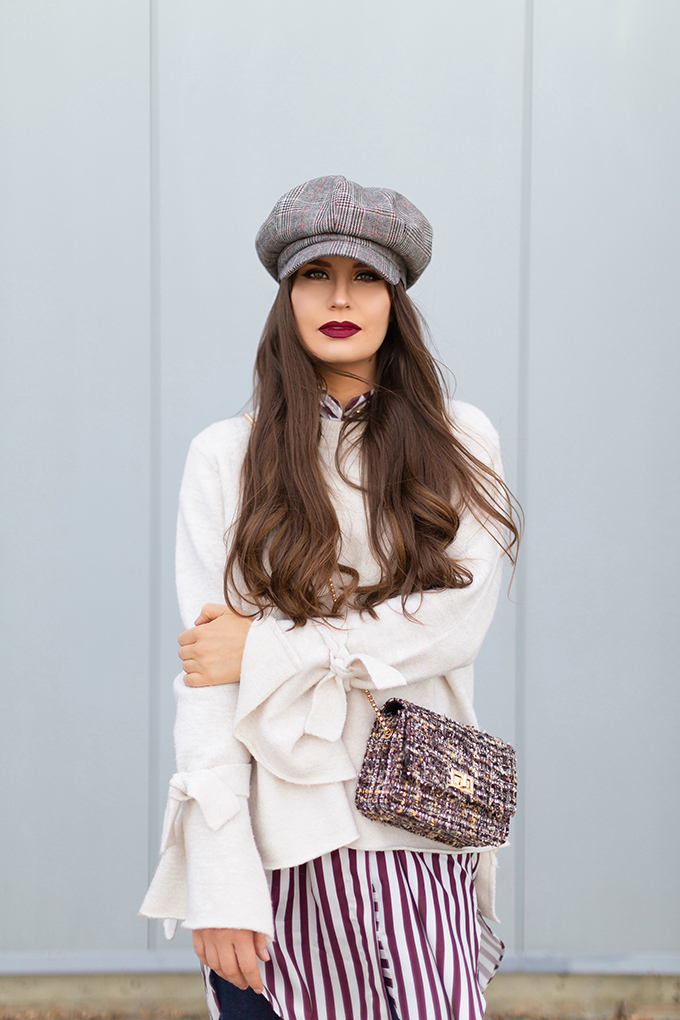 This look is a classic example of one of a go-to 'outfit formula' I know works for me. In fact, I wore this exact pair of denim, a similar style jacket and a similar shoe in one of my very first style posts here at JustineCelina in October of 2015 called Fall Style Staples. Last year around this time when I was in Vancouver, I also wore this exact sweater with a striped tunic layered underneath, skinny jeans, flat pointed toe shoes and a similar style of coat in my Effortless Travel Style post. You see, as much as I love to shop, experiment with trends and refresh my wardrobe season after season — I also have certain looks I know I can fall back on during these transitional months!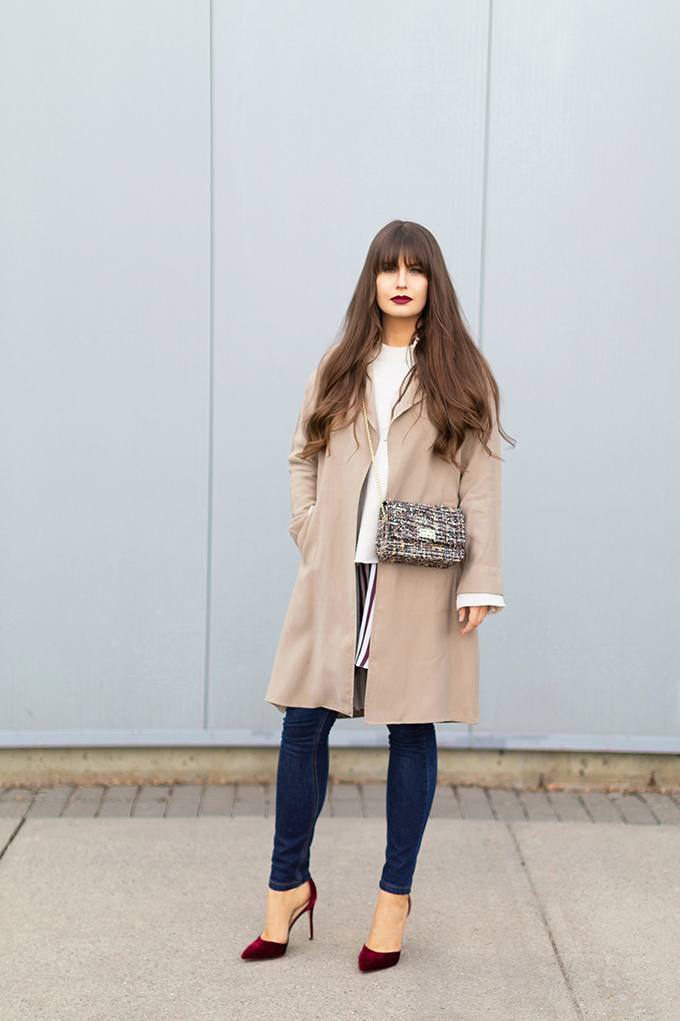 So, what do each of these outfits have in common? Lots of versatile layers paired up with wardrobe staples, refreshed with a few on-trend seasonal accessories, prints or colours are my perfect fashion concoction for these transitional months! I've worn a few versions of this outfit lately — both for daytime and evening events (including a fun project with Tourism Calgary and SAKS Fifth Avenue!), and to casual meetings as well. Although this particular outfit is reflects a few key spring trends, these basic outfit building tips and layering principles will work during the winter to spring transition, and the autumn to winter transition. Let's break it down, shall we?
In my last HOW TO STYLE post where I shared my process for styling outfits, I mentioned that I haul out items from my closet that I either haven't worn in a while or have been waiting for a specific season to wear. Then, I style them up with wardrobe staples or pieces that reflect seasonal trends, along with any new in items I have — flat lay style on my bed! To pull this look together, I had several new accessories I wanted to style and they were really the foundation of this look. First, I grabbed my Sam Edelman Harlow Pumps — which I actually picked up late last year, wore to a holiday party and hadn't had the chance to wear since due to the weather. I decided they'd sat in my closet for long enough and I was done waiting for all the snow to melt — so I built an outfit around them! Without a doubt, these are the comfiest pair of heels in my shoe wardrobe currently — and although the velvet version of this style is now sold out, this style is available in so many different colours (I'm lusting over the lavender version currently!).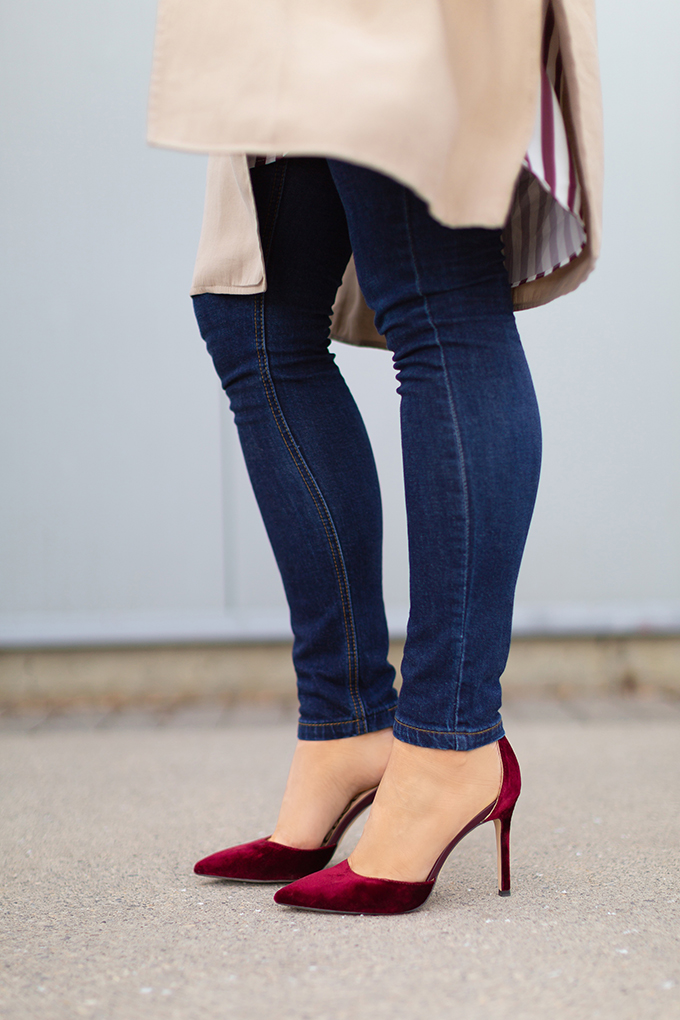 I also had a checked Baker Boy Hat and a tweed cross body bag that were newer to my wardrobe — and as I styled this outfit up, they paired with my shoes really well. If you've been following along with my FASHION archives this winter, you'll be no stranger to the Baker Boy Hat! Although we did try some shots without the hat, I feel like it adds so much to this look — and I love the instant update it brings to this classic outfit formula with its on-trend style and print! It also ties in the burgundy of my shoes in the print subtly and pulls in the neutral tones of my bag.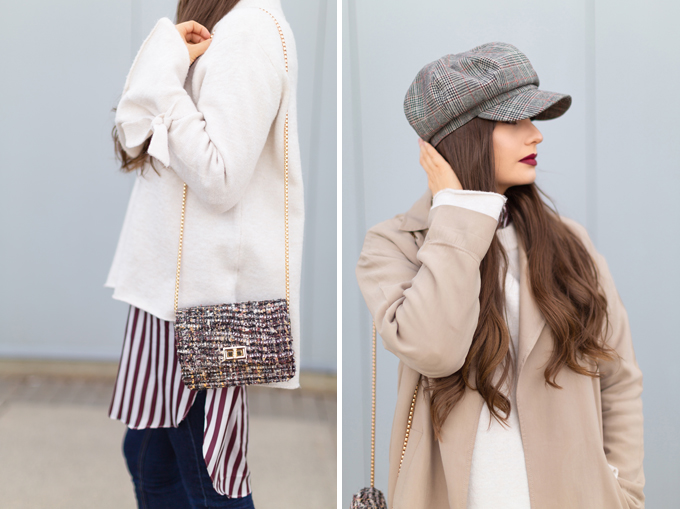 And I selected this Multicolor Tweed Box Bag With Chain Strap for the same reasons! It adds an interesting texture while anchoring the neutral tones of this outfit. I also love the glitzy strap and the way it coordinates with the oversized gold button on my collar. Paying attention to these subtle details really makes an outfit feel polished, classy and elevated — and it's something everyone can do when they're styling themselves, no matter their budget. In fact, each piece I'm wearing here is under $100, except my shoes!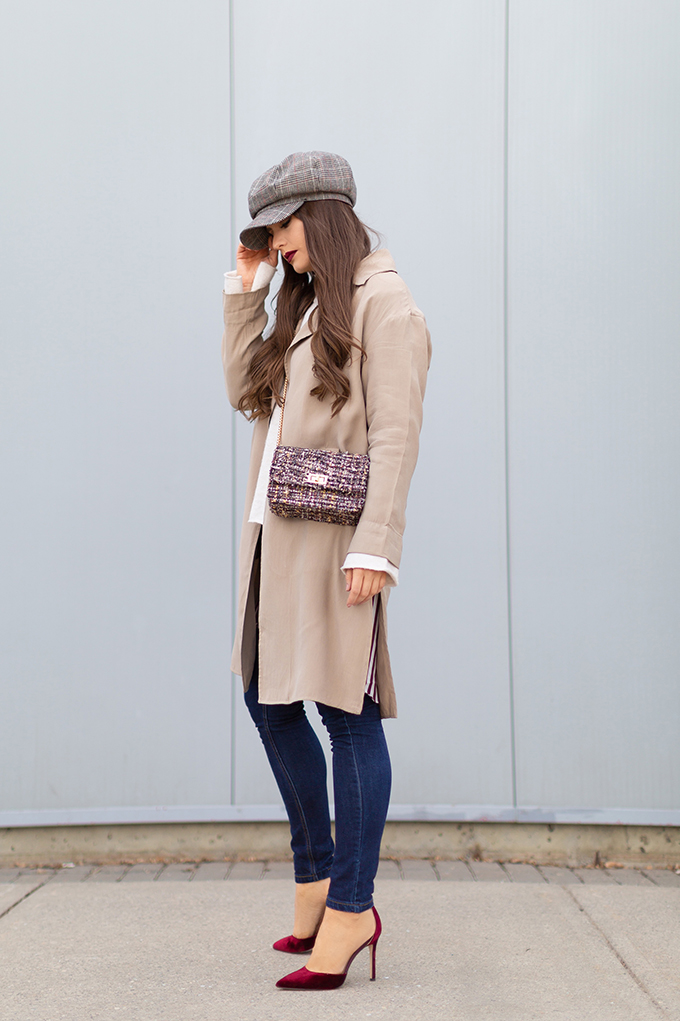 Once I had my accessories sorted, I pulled the rest of this look together — with versatile layers being my top priority. To add more cohesion to this look and have some fun with mixing prints, I reached for this Dolphin Hem Striped Shirt Dress (since I'm tall, I've never sure how long dresses will be on me — I'm 5'8″ for reference!). For me, stripes are synonymous with spring — and I thought the rich burgundy hue would work well with my accessories, while also adding a focal point to this outfit. Since the print of my hat and bag are subtle, adding a bold stripe was just what this look needed for a bit of punch! To mix prints like a pro, pair a bold print (like my shirt) with more subtle prints (like my hat and bag) in a complimentary colour palette (both my hat and bag feature a hint of burgundy)!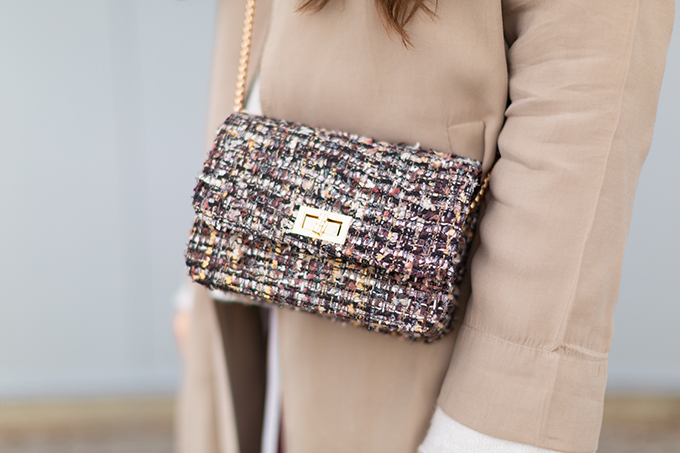 Longline layers are a big trend this spring — but this trend is a cornerstone of my personal style, no matter the season! Not only do I find flowing, playfully layered outfits flattering and fun to put together, they're also one of my favourite ways to stay warm while looking stylish. Since I'm never really sure what Mother Nature is going to throw at us these days, I knew I wanted to do some cozy layering but also incorporate a trench coat. Trench coats are another spring style staple rich in versatility — and since this particular trench has a relaxed, casual silhouette, I knew I'd have room to layer a cozy knit underneath.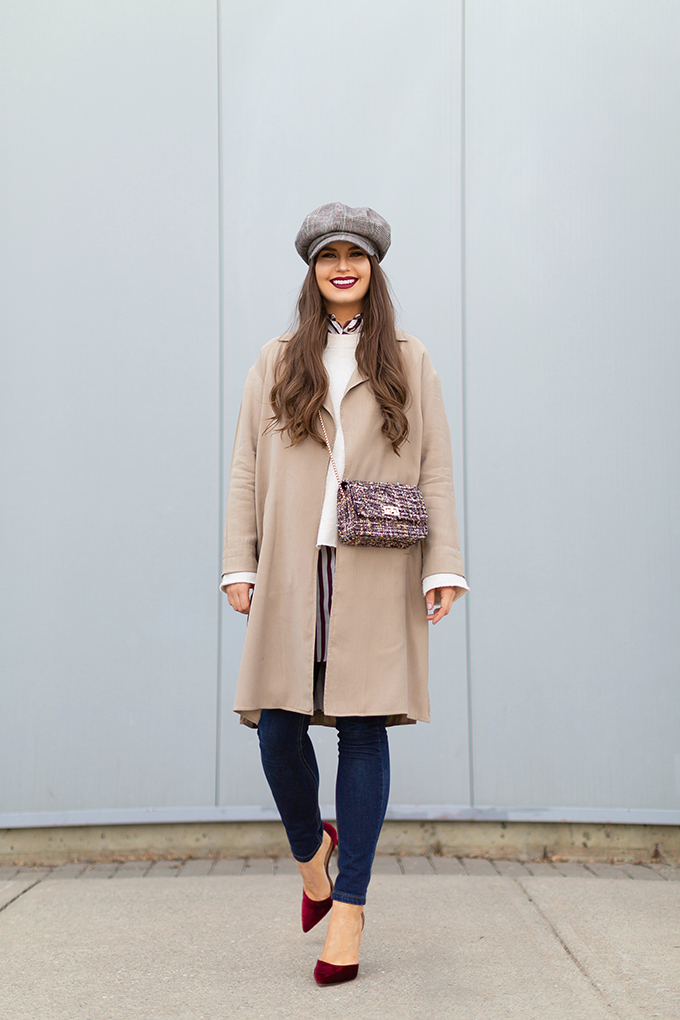 I reached for one of my favourite sweaters, an oversized tie sleeve number that I picked up at Zara last season (does it look familiar?), because I knew it played well with longer tunics layered underneath. It also allowed me to layer a lightweight trench overtop and still be warm! Statement sleeves continue to trend this spring — and while this exact sweater is no longer available, I've rounded up the closest look alikes I could find for you below. They're a fantastic layering piece during the transitional and winter months! I also love the versatility that this combination provides — I can lose a layer by removing the sweater when I'm too warm, or lose the coat when I'm in-doors to show off my sleeves.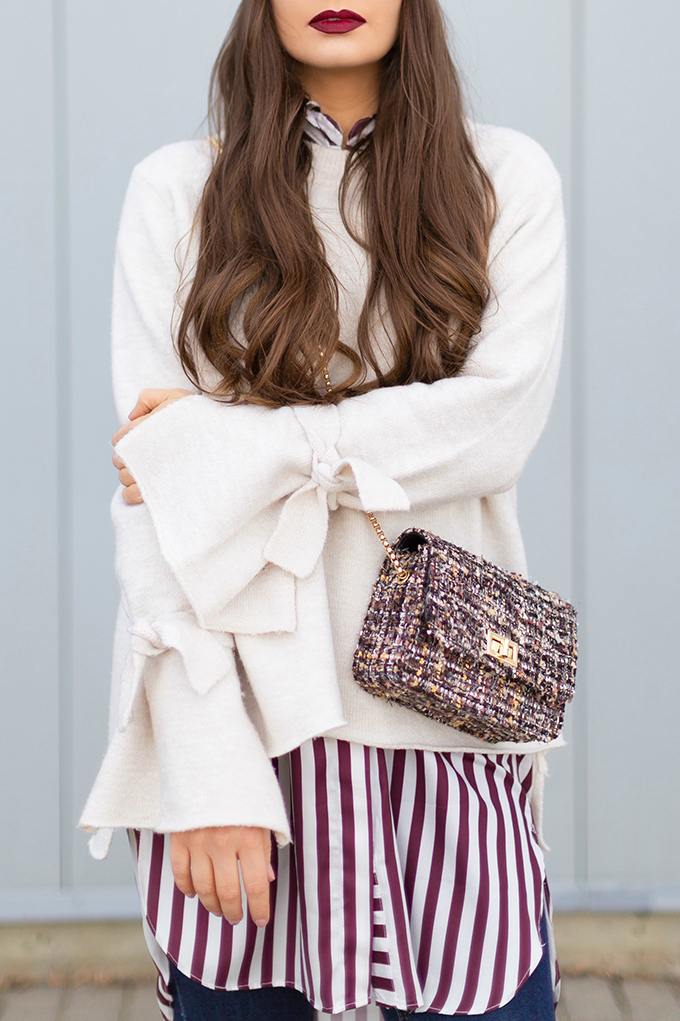 To complete the look, I selected a classic pair of dark denim with contrast stitching. Believe it or not, spring denim trends are actually leaning towards dark, uniform washes — a major contrast to the distressing and lighter washes of seasons past! I've owned this particular pair of jeans for about 5 years — they're a timeless style that fit like a glove and I always come back to them when I need a foolproof denim pairing. While I'm totally up for trying new styles of denim each season and experimenting with seasonal trends, I always keep a few staple jeans in my wardrobe. This outfit is the perfect example of how I like to integrate seasonal trends into my personal style in a way that feels authentic — for me that means pairing up newer, trendy items with classic, well loved staples and a silhouette I know flatters me.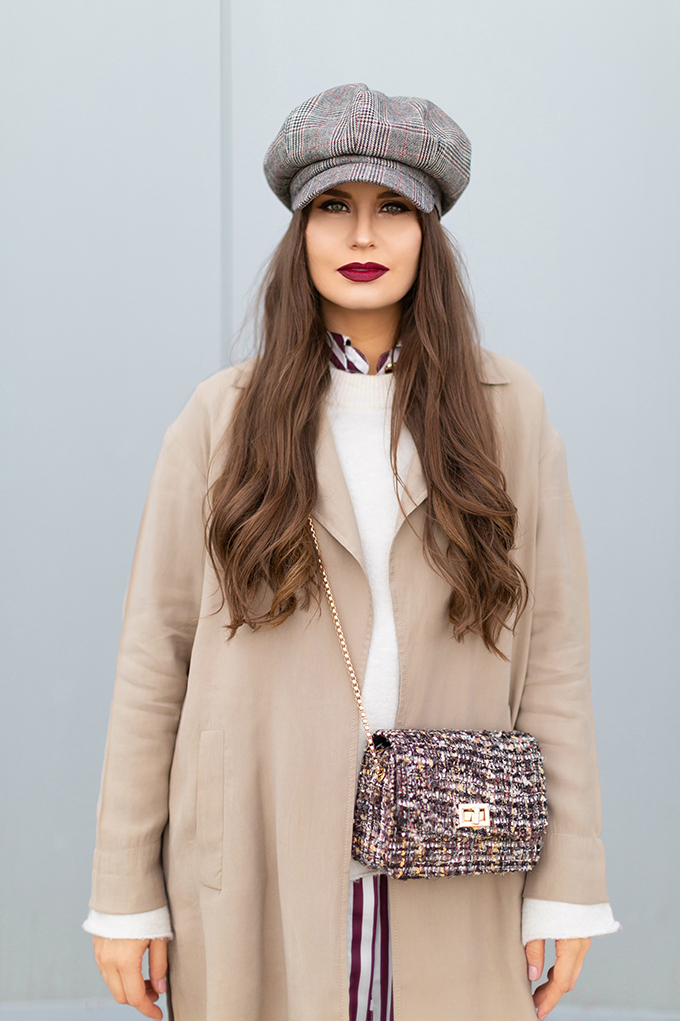 And last, I'm taking this snowy spring weather as one last excuse to rock a vampy lip! I threw on Huda Beauty Liquid Matte Lipstick in Famous to unite the burgundy tones of this look — a longtime favourite formula of mine (many reviews here) and also one of my favourite statement shades (I've also worn / reviewed it here). While this is definitely an unconventional choice for a spring lip, I love the drama it brings to this look — and when there's still feet of snow on the ground in April, I think a moody pout is totally justified!
---
SHOP THE LOOK
---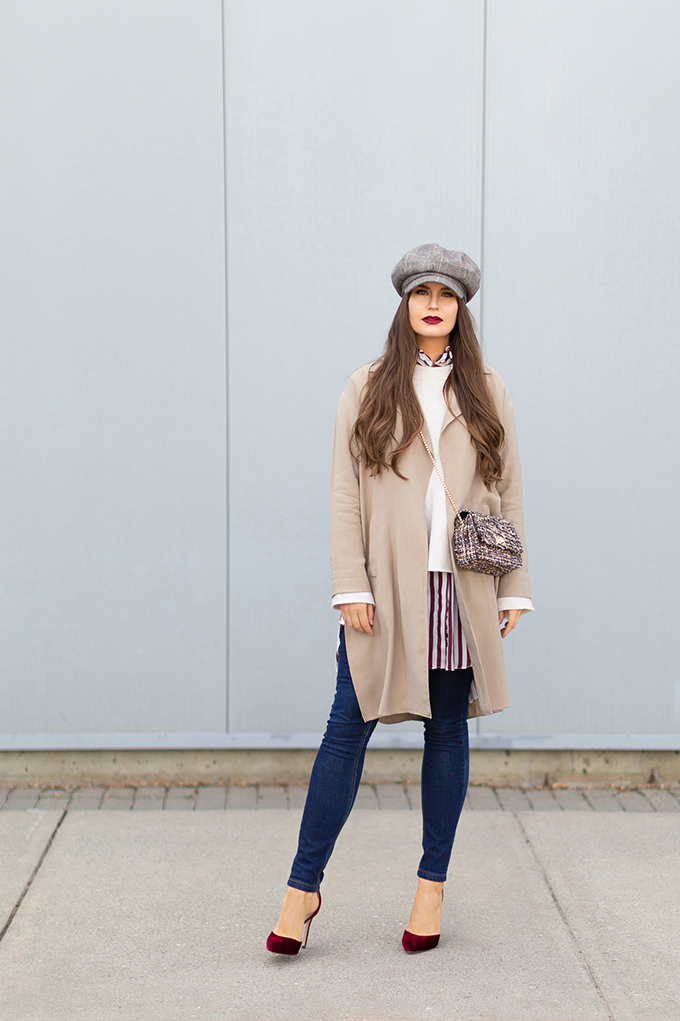 ---
MORE TRANSITIONAL STYLE IDEAS
---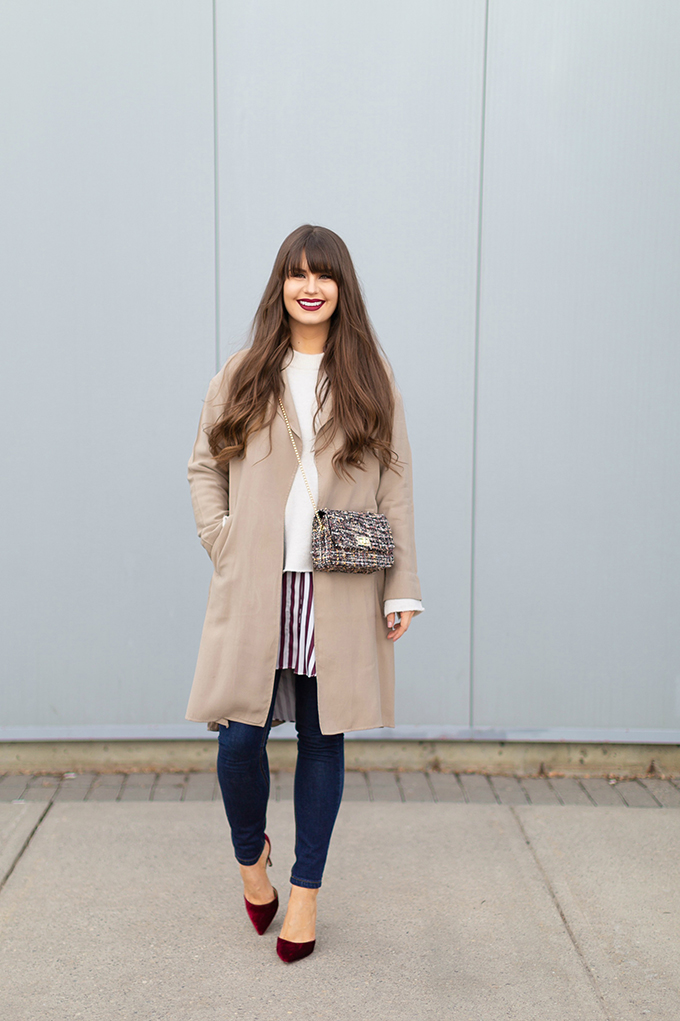 How to Style | Oversized Knits
Refreshing Old Favourites for a New Season
Spring 2017 Trend Guide | Gingham Style
---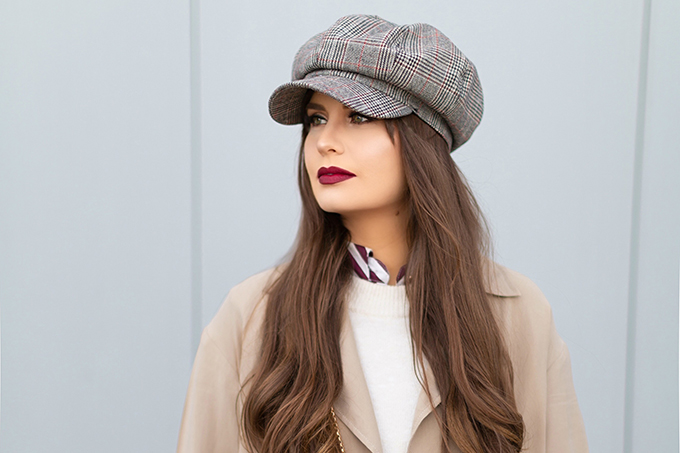 Thanks for stopping by for this chillier-than-usual April style post today, friends! I can't wait for balmier weather — and lots of fun travel fashion adventures later this season. I'm feeling so inspired photography-wise and can't wait to take some fun day trips in this beautiful province (and hopefully beyond!) to experiment! I'm currently planning my sartorial calendar into the summer — so if you have a specific request, feel free to leave a comment or shoot me a message. Enjoy the warmer weather that lies ahead this week!
---
Disclaimer: This post is not sponsored and contains my genuine thoughts, ideas and recommendations. JustineCelina uses affiliate and referral links, which allow me to receive a small commission when you make a purchase through one of my links. Thank you for supporting the brands and businesses that support JustineCelina!