I'm so excited to share the first post in a of a series of AUTUMN 2016 TREND GUIDES here at JustineCelina, where I'm breaking down this seasons biggest trends and showing you how to wear them! I've mentioned previously that fall is my favourite time of year for many reasons and fashion in definitely one of them. There's just something about autumn that makes me want to start anew and refresh my wardrobe to reflect current trends — so today I'm sharing a few of the updates I've made and how I like to style my new additions. Today we're chatting about the new romantic trend and combining 70's inspired fall florals, waistcoats, rich reds, military greens, statement sleeves, mini bags, velvet, matte lips, chokers, shades of grey, over the knee boots and suede to achieve the look! Oh… and you didn't think I want going to publish a post without mentioning the Fall 2016 Pantone Fashion Trend Report, did you?
---
Contemporary Floral Dress | Ecru Waistcoast | Grey OTK Suede Boots (ancient! similar, similar, similar) | Tasseled Saddle Cross Body Bag (similar, similar, similar) | Velvet Choker (DIY — similar, similar, similar) | Dark Khaki Floppy Hat | Gold Faux Stone Ring Set (similar) | Black Frame Round Lens Retro Style Sunglasses c/o SheIn | Kat Von D Everlasting Liquid Lipstick in Nahz Fur Atoo
---
AUTUMN 2016 TREND GUIDE | NEW ROMANTIC
---
Is it just me, or does it seem like there are so many new trends this season? Maybe I'm simply paying more attention to them now that I'm creating style content, but I can't recall a previous autumn with so much newness on the fashion scene. Today I've combined a handful of my favourite trends for Autumn 2016 to create this free spirited, new romantic look inspired by both the 70's and 90's with a modernized twist.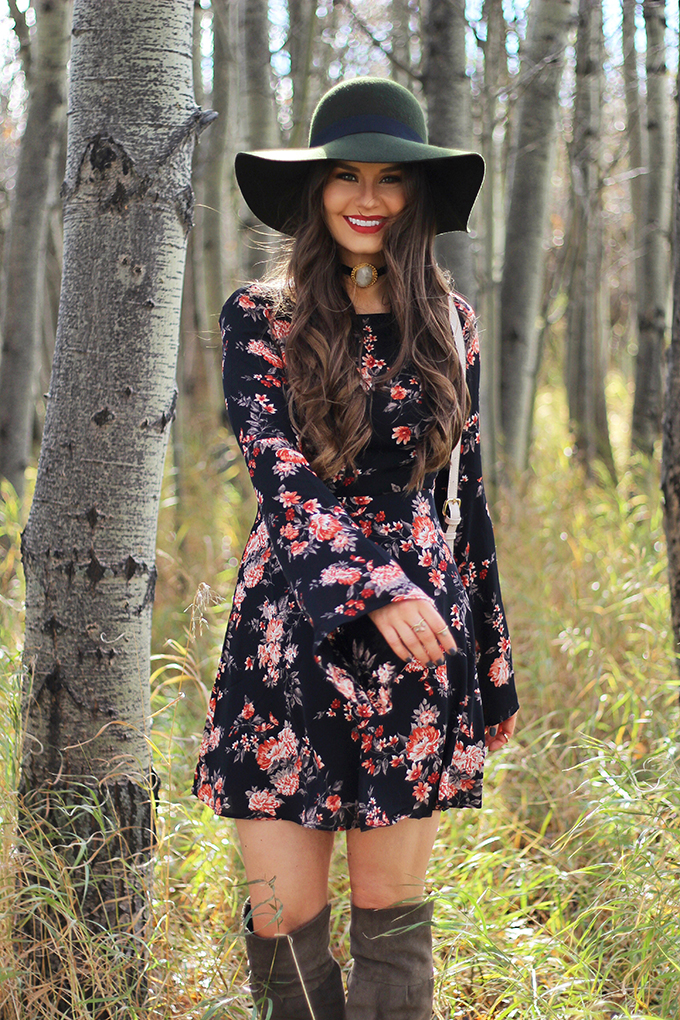 Did anyone else used to watch Charmed growing up? I've totally got some witchy 90's vibes happening in this style post — and I love it! I wore this exact outfit (sans the hat) to the Best Coast show hosted by Fido Mobile at The Palomino earlier this month. It's been forever since we've been to a live show in Calgary, which is something we used to do all the time! It was such an intimate show and I've been listening to my fair share of chick rock ever since. Without a doubt, that's inspired this post!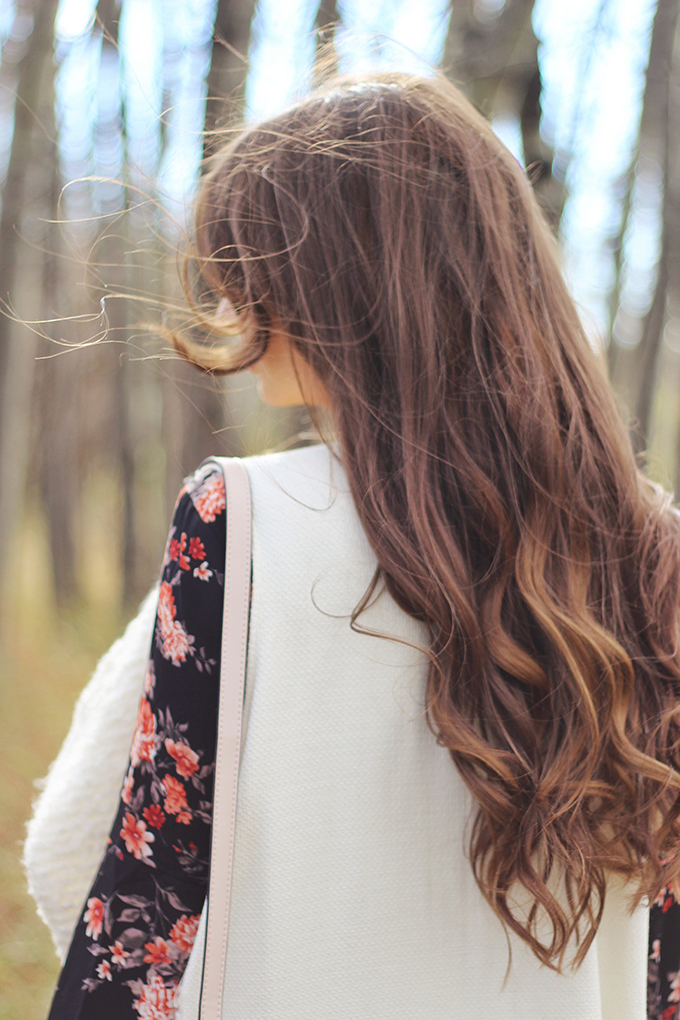 We always seem to shoot style content on the windiest autumn and winter days — but hey, I'll take the wind over the snow! You may remember me mentioning that this post was originally scheduled for last week, but we were greeted with our first heavy snowfall in Calgary on October 7th, which also happened to be our shoot day. So although this post is a bit delayed in getting to you, we did have a beautiful autumn day to capture these images last weekend.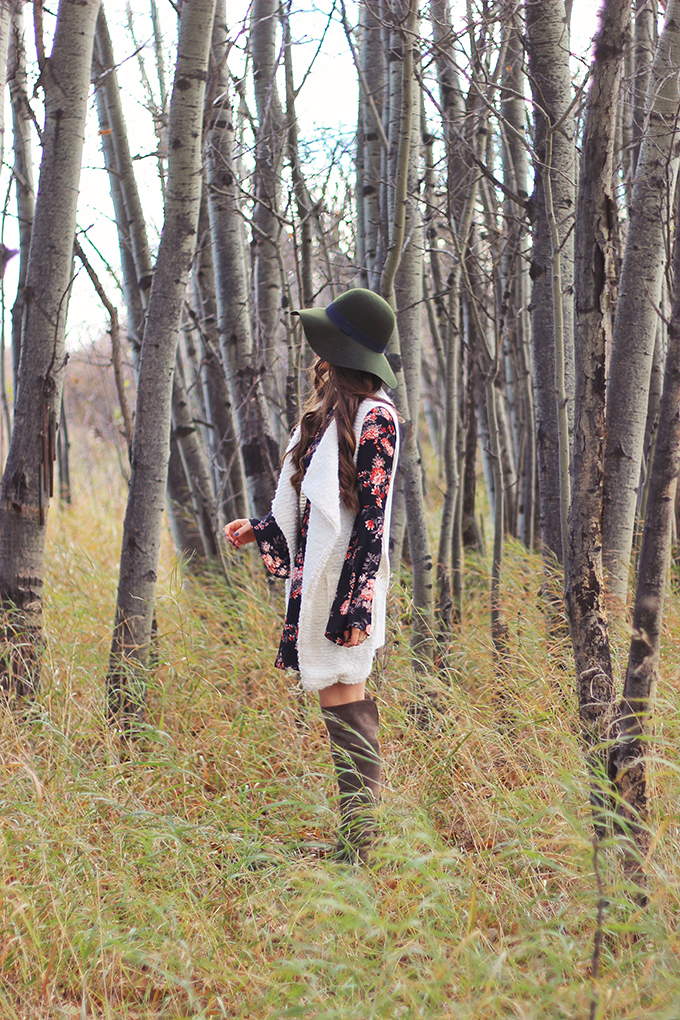 Does the setting look familiar? If it does, that's because we've shot tons of content for JustineCelina here — it's the 'backyard' of my childhoood home in rural Alberta! Usually, these aspen trees are full of gorgeous golden leaves at this time of year (we shot my very first style post on the back side of these trees along the canal almost exactly 1 year ago!). I also created both my Al Fresco Summer Dining Inspiration and Rosé Lychee Elderflower Sangria posts here. I love this place and the interesting texture of the bare trees — plus you can't beat the convenient location. Come along to the Alberta prairies and let's chat about the seasons biggest trends and how to wear them this autumn!
---
TREND: 70's Inspired Fall Florals
---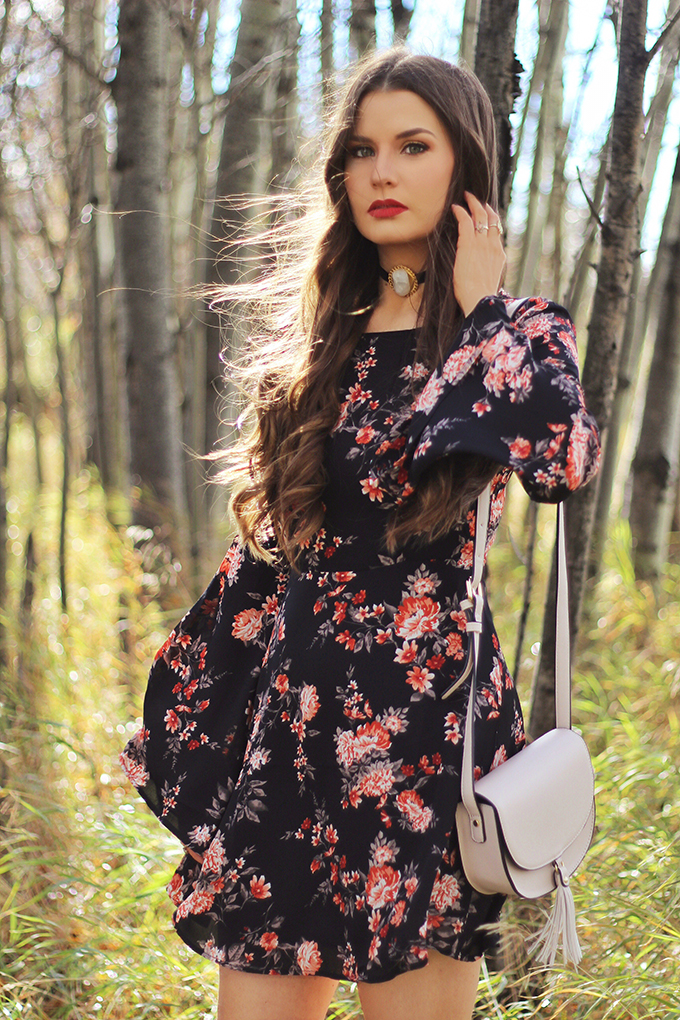 If you've read JustineCelina for any length of time, you've probably heard me mention that I think I was born in the wrong decade — I would have loved to be a young woman in the 1970's! 70's inspired styles have been big for awhile now (I also chatted about my love for 70's fashion in my Summer 2016 Trend Highlights and How to Style It | Jumpsuits posts), and I'm personally thrilled that they're here to stay this autumn.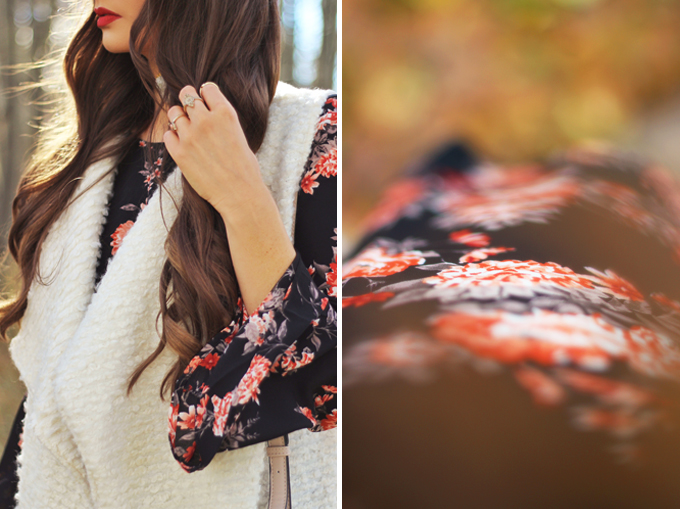 One of the biggest ways the 70's is making an appearance this season is in vintage inspired floral dresses and blouses. I love a good floral print, and although it's something we're typically used to seeing in the spring, I think fall florals are such a fresh trend and a beautiful way to transition from summer to autumn. Embrace your darker, moodier side this fall with a floral dress or top in a rich, autumnal palette for an updated twist on a classic print! My favourite florals this season are set in black, red, terracotta, rust, mustard, brown and dusty rose shades. Basically, if you choose a vintage inspired, floral print in any combination of colours from the Fall 2016 Pantone Fashion Trend Report, you're all set to embrace the trend!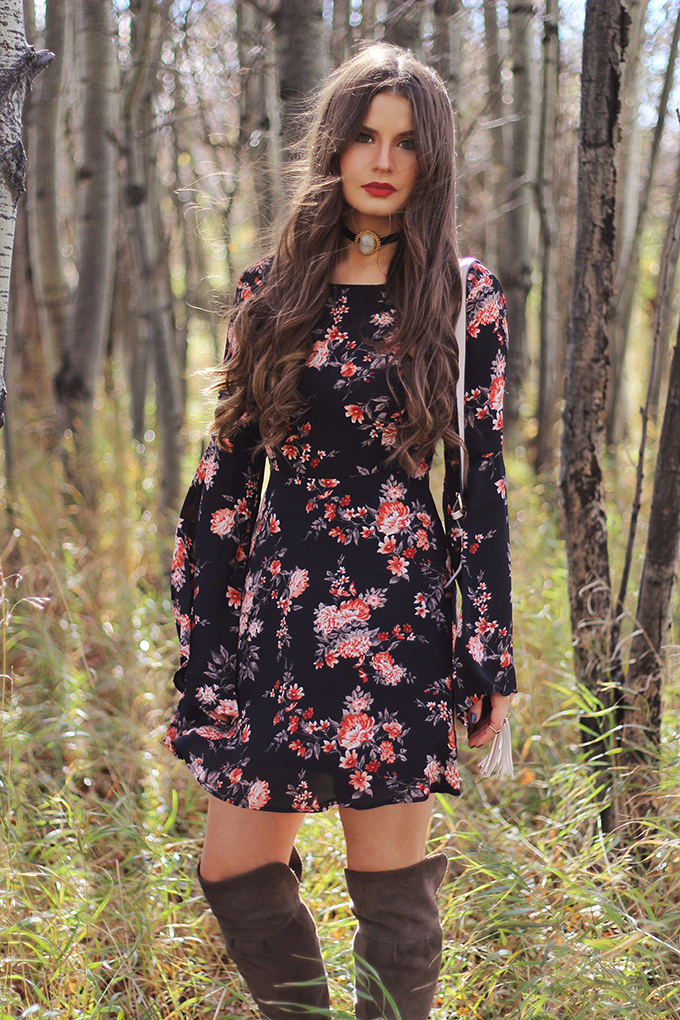 Believe it or not, I picked this adorable Contemporary Floral Dress up online at Forever 21 and it was just $30! I love the flirty, versatile cut and the extra long bell sleeves (which are another trend we'll be chatting about in a moment!). It's a great, updated basic that lends itself so well to layering and allows you to play with proportion — I know I'll be able to wear this well into winter by layering sheer nylons underneath a cozy longline jacket overtop.
---
TREND: Statement Sleeves
---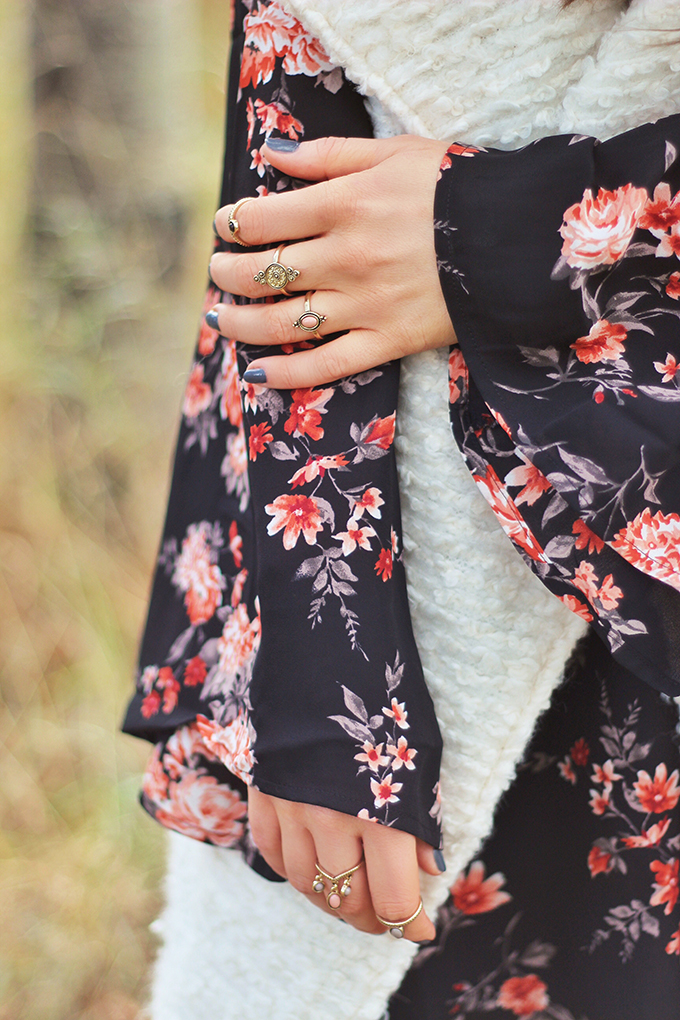 Statement sleeves are everywhere this season — whether they're extra long, bell shaped, ruffled or feature a unique detail like ties or embellishment! I personally love the trend and think it's a great way to add a bit of extra interest to your outfits when you don't have to be all bundled up in heavy jackets and can let your sleeves loose! My dress features extra long bell sleeves and I find them so slimming and elongating to the arm — plus I love the extra bit of drama they add to this look. I also mentioned this trend in my Pre Fall Transitional Style Post where I wore a knotted, tie sleeve, off-the-shoulder top (which I'm still wearing often!) so hop over there if you'd like to see a different interpretation of the statement sleeve trend.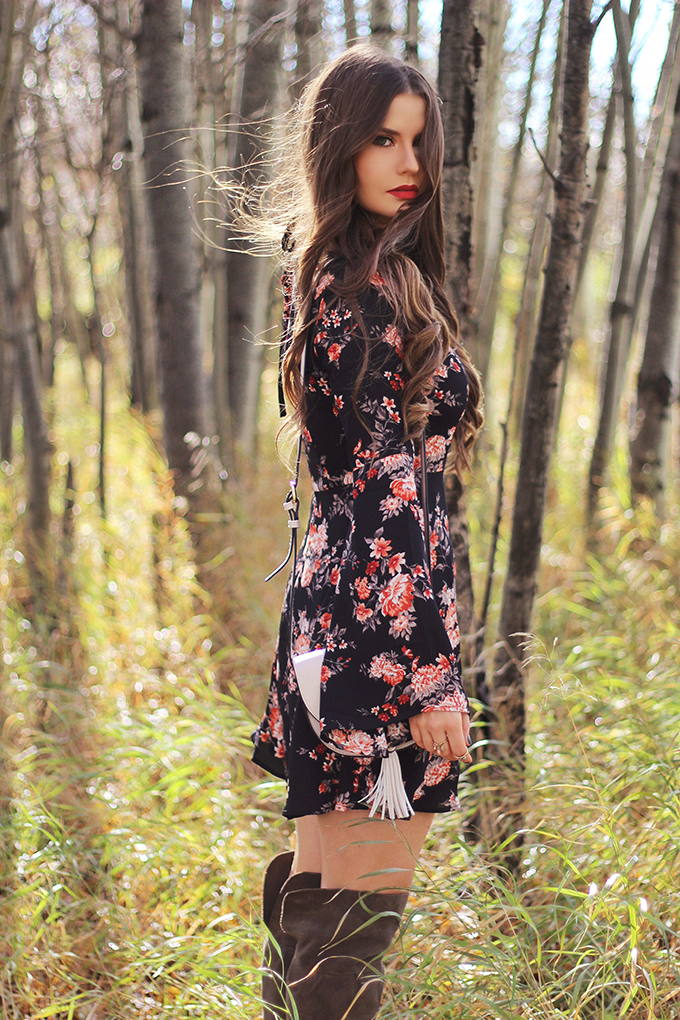 I've styled this look with one of my signature ring sets. They're totally my thing and I like to incorporate styles I wear often into looks where I'm wearing a lot of new pieces or playing around with trends to make sure my look feels.. well, like me. I actually just picked this set up in-store at H&M over the weekend for under $10 — I love the combination of grey, blush and black stones! They also have it in silver. I can't find that exact set online, but I've linked a similar set from H&M.
---
TREND: Waistcoats, Vests & Sleeveless Trenches
---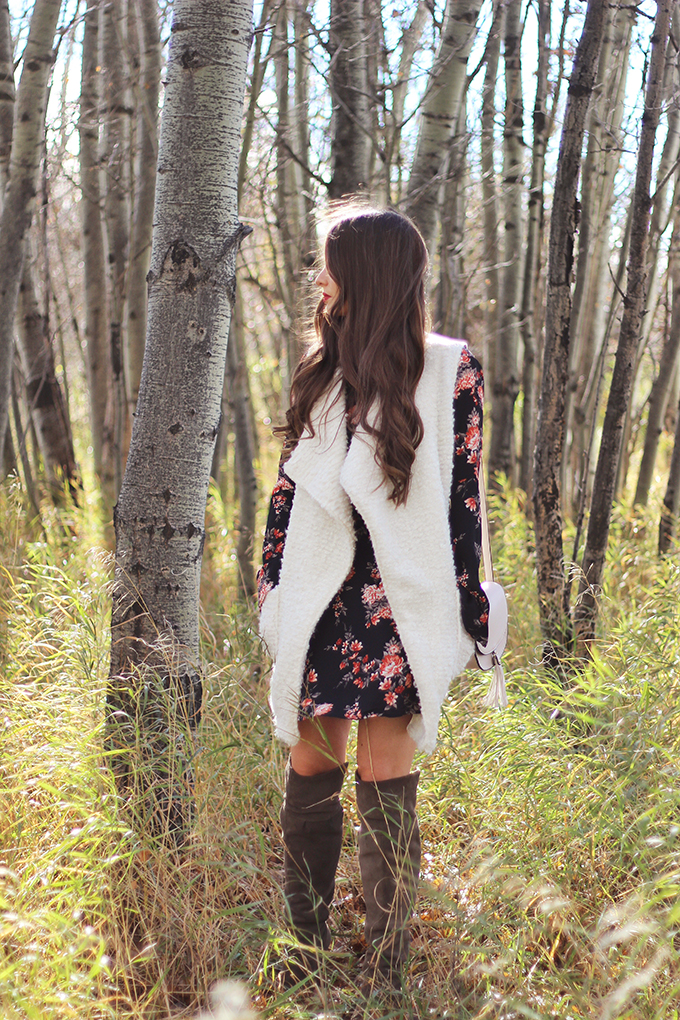 I'm a bit obsessed with waistcoats this season — Autumn 2016's waistcoats, vests and sleeveless trenches are available in every size, shape and colour imaginable (I also wore a more streamlined style in my last fashion post). This ultra cozy Ecru Waistcoast from Zara comes with a belt to add more structure to your look if you desire, and I know I'm going to get so much wear out of it this Autumn! I love to throw it on over light knits (in fact I just wore it that way, belted, for a meeting today!), printed tops, dresses and light jackets to add a cozy layer without having to be all bundled up. I'm always adding a third layering piece to my outfits to give them a polished, put together vibe and I love vests, waistcoats and sleeveless trenches for that purpose. Waistcoats are a perfect partner for the statement sleeve trend because you can layer them over top and keep cozy at the same time!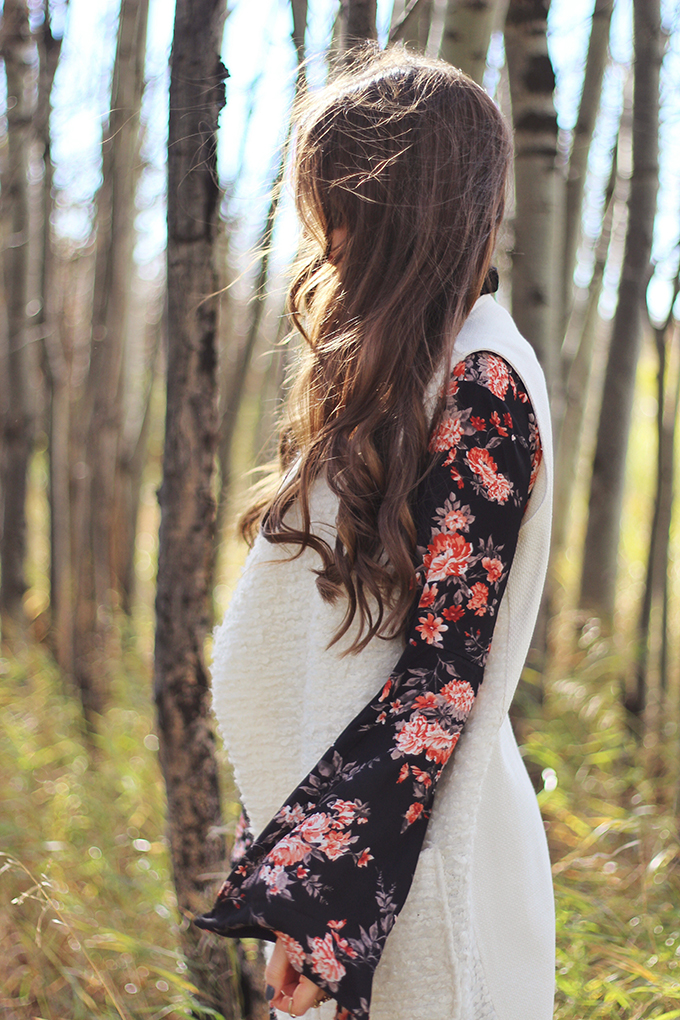 ---
TREND: Velvet & Chokers
---
Velvet and chokers are both huge trends this autumn and I've chosen a velvet statement choker for this look to combine them both. I know what you're probably thinking… chokers?! Yes, chokers — and I promise they can be more sophisticated than what we wore in the 90's! It took me awhile to personally come around to this trend, but I've found myself loving choker styles combined with velvet textures this autumn.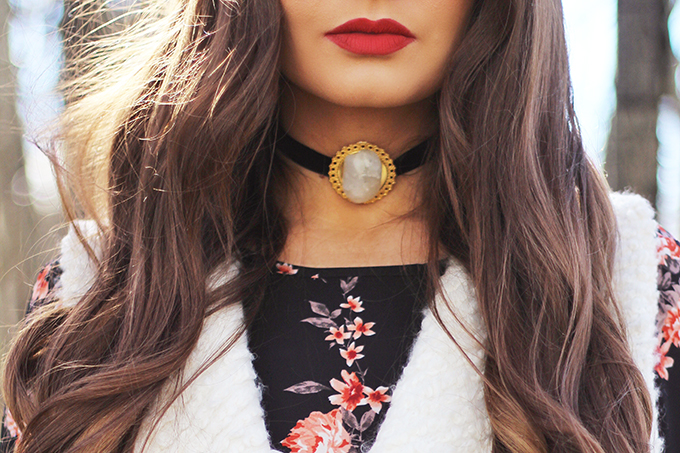 The choker I'm wearing here is a simple (and inexpensive) DIY — often when I can't find exactly what I'm looking for, I just take matters into my own hands! I visited a local fabric store to grab a piece of black velvet trim, then used tacky glue to adhere a vintage stone pendant I had kicking around (a thrifted find from Creston, BC) to the velvet. And voila — an on-trend velvet choker is born! If you're not big on DIY, I've linked some similar options for you here, here and here. Velvet textures also translate to the lips this season — we continue to see a major shift towards matte, velvety lip colours, which is what we're chatting about next!
---
Colour Trend: Rich Red
---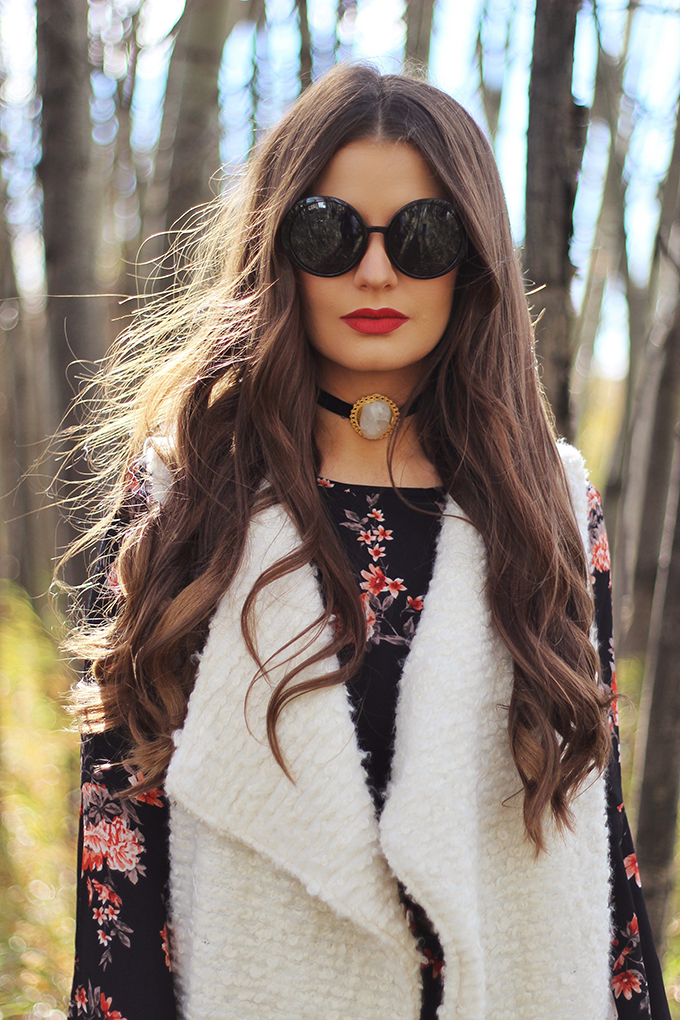 How many times can I mention that red is a huge colour trend this autumn? Pantone has called out Aurora Red as the shade of the season — I chatted about this in more depth in my September Beauty Favourites post. I think these rich, warm reds are a perfect colour to translate to your beauty routine this autumn! I've combined the velvet and red trends on my lips in this style post with the Kat Von D Everlasting Liquid Lipstick in Nahz Fur Atoo, which is an absolutely stunning, rich blood red shade that dries down to a budge-proof, matte finish. I'm a bit obsessed with red lips at the moment and you can read more about Nahz Fur Atoo, along with my favourite liquid lipsticks for Autumn 2016 in my 5 Liquid Lipsticks to Try This Fall post!
---
TREND: Mini Bags
---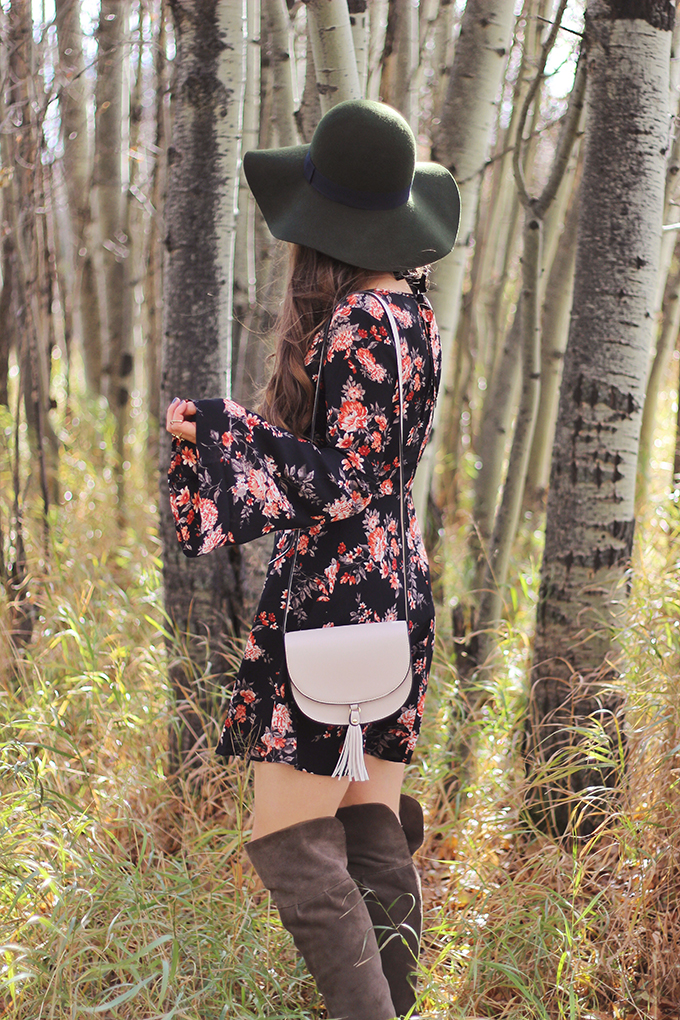 For many seasons, oversized handbags have been popular. Personally, I still love oversized handbags, especially for daytime wear, because they often double as briefcases for me! However, this season there's a shift towards mini and cross body bags — and that ties into the trend towards minimalism we're seeing. Less stuff = the need for a smaller bag, right? I'll always have a balance of both styles in my wardrobe, but I've been loving mini and cross body bags lately — especially in combination with more bohemian looks like this one (and you know me… I can't resist a good tassel detail!). My Tasseled Saddle Cross Body Bag is no longer available online, but I've linked similar styles here, here, and here.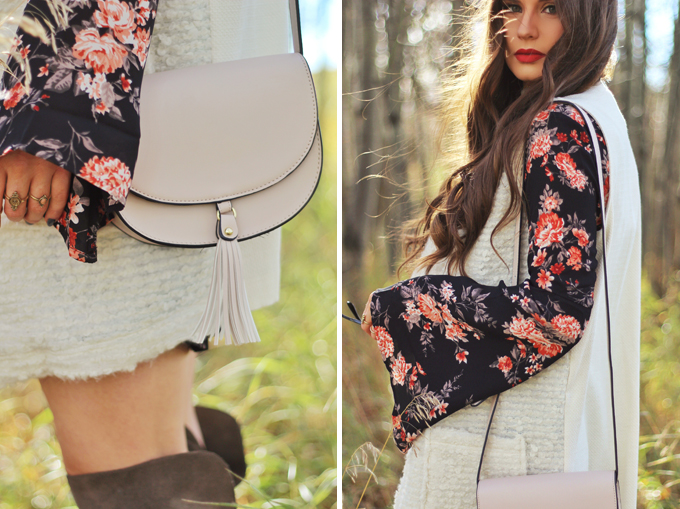 ---
TREND: Suede, Grey & Over the Knee Boots
---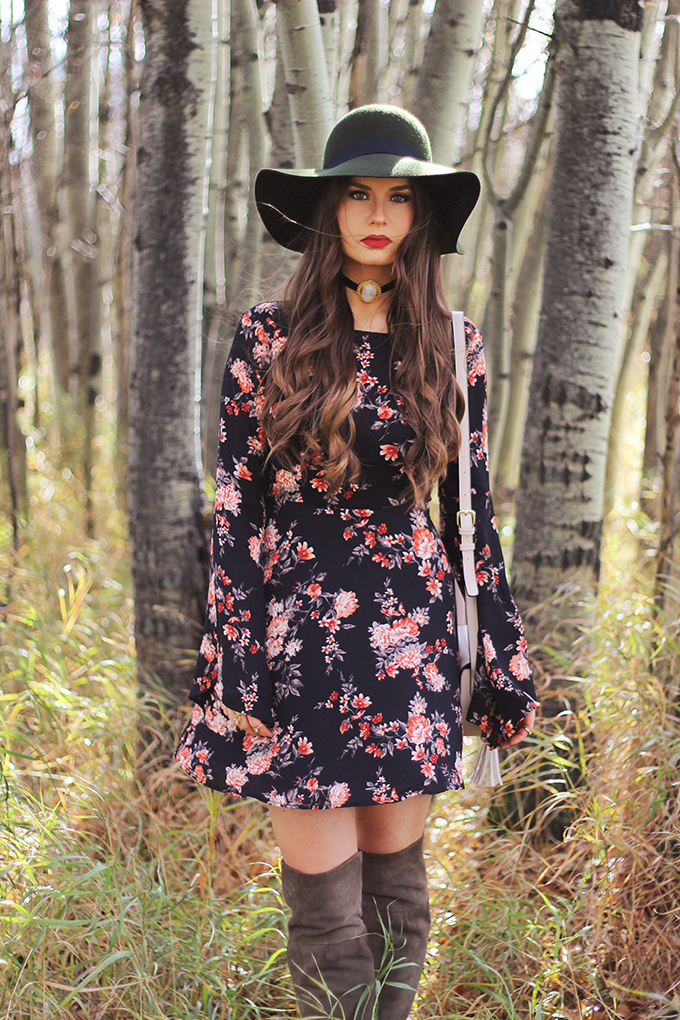 It's officially suede season and I love a chic, neutral over the knee boot for the fall. They're such a versatile piece that I pair up with dresses, skinnies, and leather leggings. My grey suede boots combine a few of this seasons trends, which is funny because this particular pair is ancient (and originally from Free People). They were a major investment at the time but I've worn them every season for about 7 years. They continue to stand the test of time — I truly believe good footwear in a timeless style is worth investing in! I've linked the most similar pairs that are on par with quality that I can find here, here and here.
---
COLOUR TREND: Military Greens
---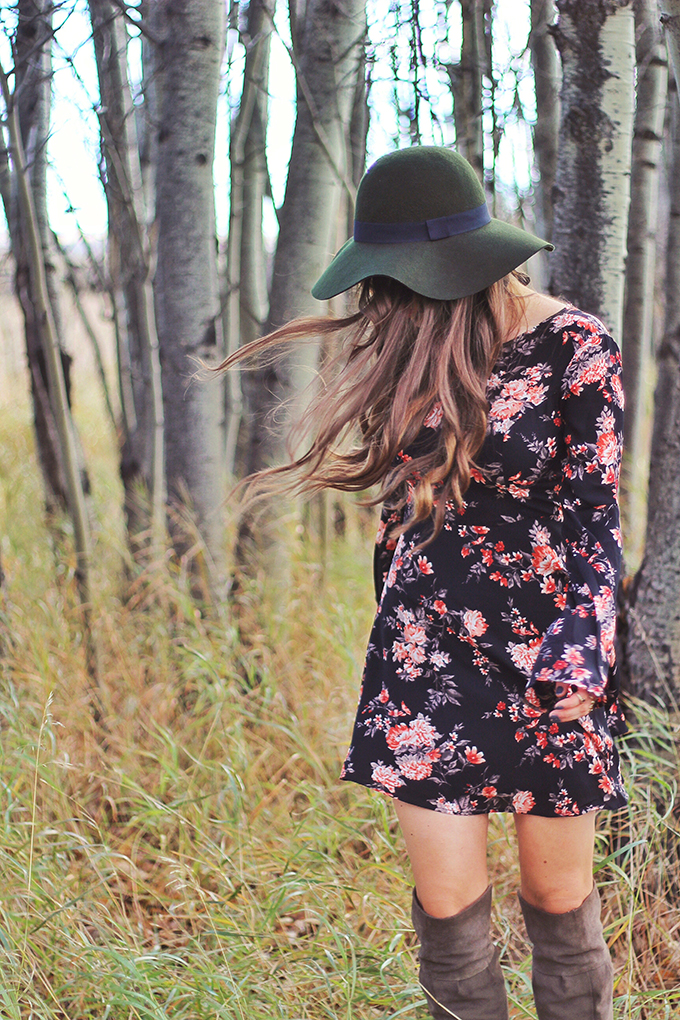 Military greens always seem to be big when autumn rolls around, but this year especially we're seeing a huge trend towards deep, rich greens. I have a lot of green pieces in my wardrobe — I love that it's a colour that can act as a neutral, like it does here. My Dark Khaki Floppy Hat from Joe Fresh is the perfect fall hat and I could literally throw it on with almost anything in my closet to add a boho touch. I'm definitely a hat girl — but if you're looking to dip you toes into the military green trend this autumn, try testing the waters with an accessory!
---
TREND: Circular Shades
---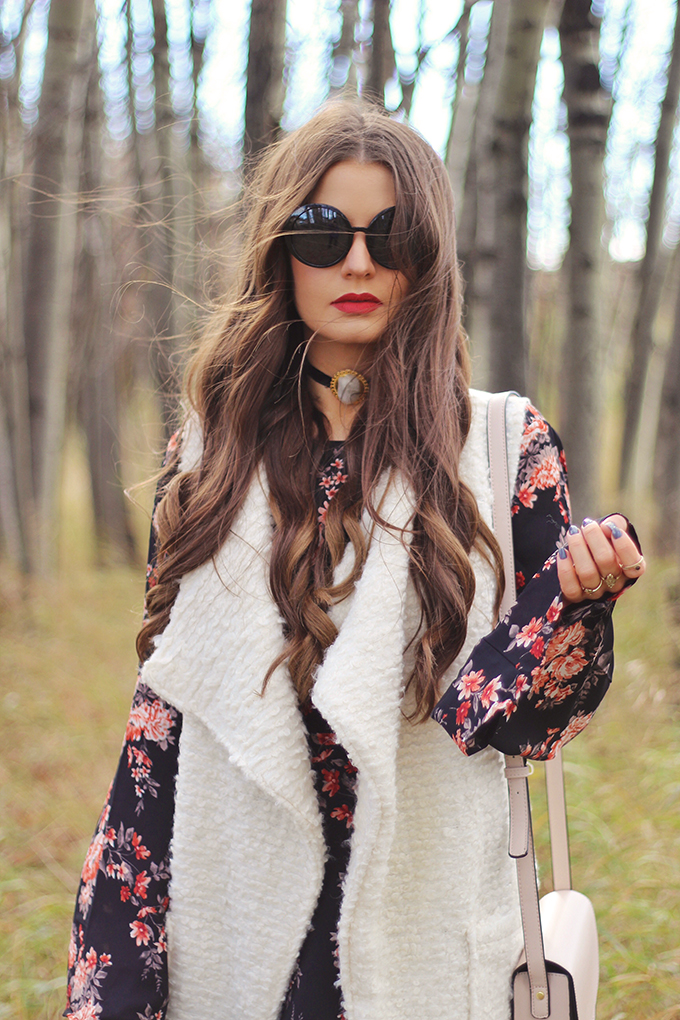 I'm also happy to report that round sunglasses aren't going anywhere and continue to share the stage with cat-eye styles this autumn. Online retailer SheIn has become one of my favourite online destinations for inexpensive, vintage-inspired, good quality shades. I've mentioned previously that I have an entire sunglasses wardrobe and like to be able to switch my styles up often — I'm always on the hunt for new sunglasses (they're kind of my thing!). I've been wearing this pair of Black Frame Round Lens Retro Style Sunglasses often, along with another pair of my favourite cat-eye shades from SheIn, which will be trickling into upcoming style content this autumn!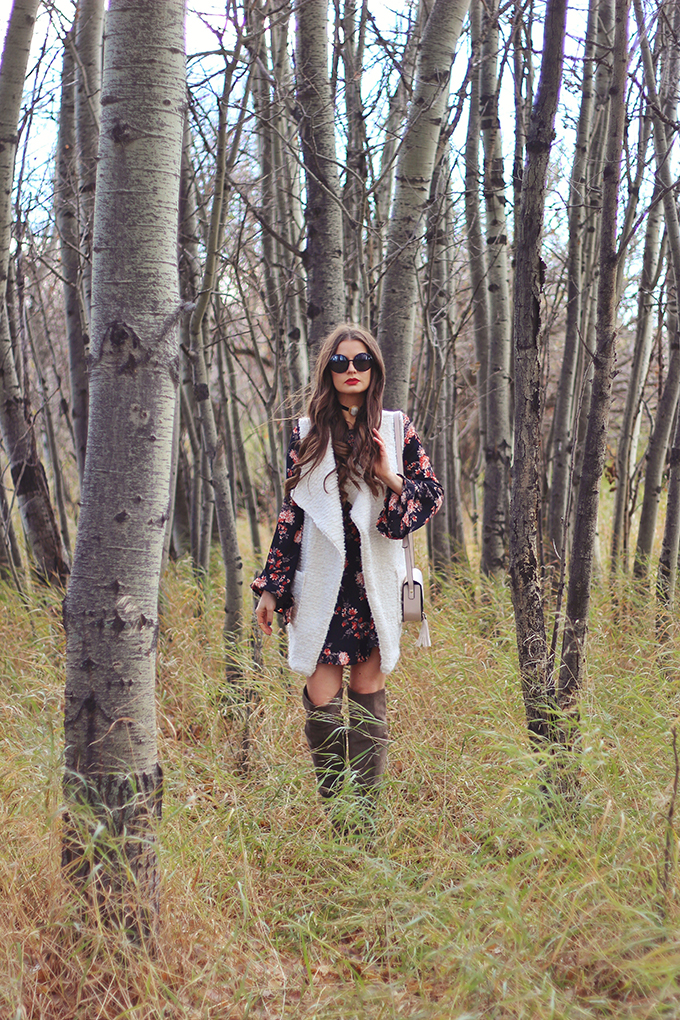 ---
SHOP THE LOOK
---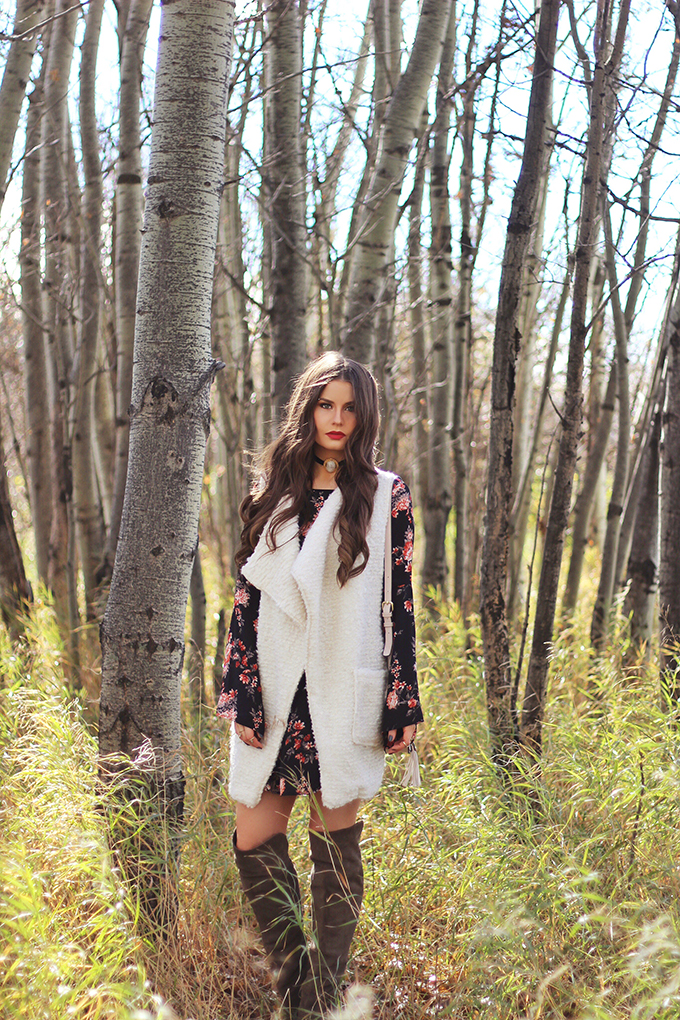 Contemporary Floral Dress | Ecru Waistcoast | Grey OTK Suede Boots (ancient! similar, similar, similar) | Tasseled Saddle Cross Body Bag (similar, similar, similar) | Velvet Choker (DIY — similar, similar, similar) | Dark Khaki Floppy Hat | Gold Faux Stone Ring Set (similar) | Black Frame Round Lens Retro Style Sunglasses c/o SheIn | Kat Von D Everlasting Liquid Lipstick in Nahz Fur Atoo
---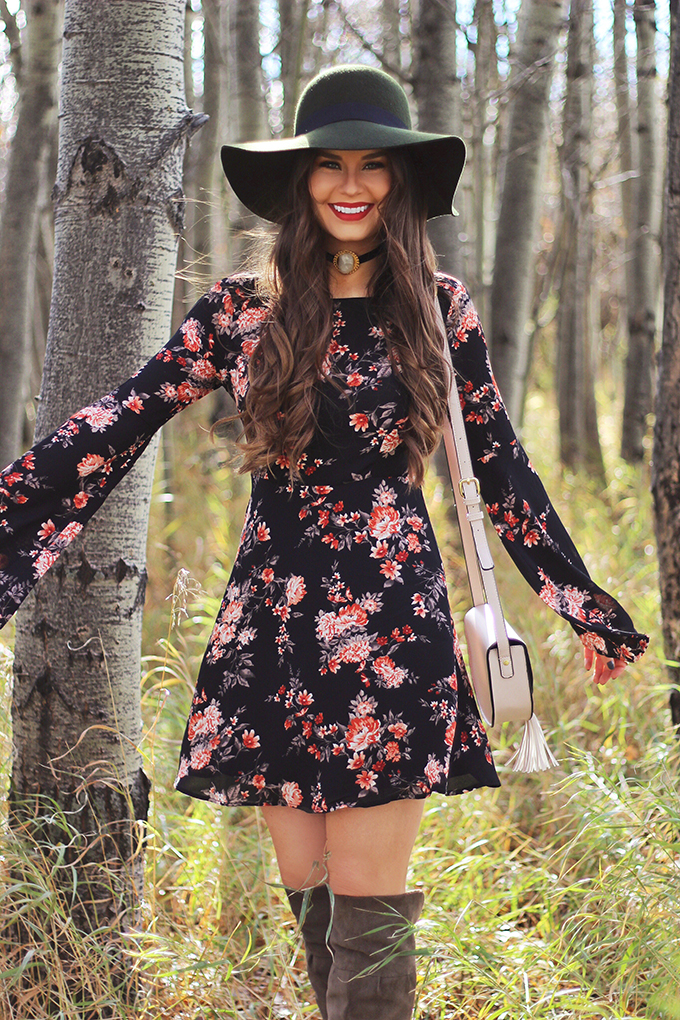 What are your favourite trends this season? I have more autumn trend guides coming to JustineCelina soon that I absolutely can't wait to share — they're so much fun to plan, style and shoot! As always, if you have a question about what I'm wearing or a request for upcoming style content, just leave me a comment. I hope you're enjoying autumn — snow and all!
---
Disclaimer: This post is not sponsored, and contains my genuine thoughts, ideas and recommendations. JustineCelina uses affiliate and referral links, which allow me to receive a small commission when you make a purchase through one of my links. Thank you for supporting the brands and businesses that support JustineCelina.com!