Friends, I've never been more excited to share a FASHION post here at JustineCelina as I am today! If you follow along via my socials, you'll know that we took a trip to the Alberta Badlands on an unseasonably warm (and windy!) day last week to shoot some new autumn style content. This look is the first of 3 captured against this stunning landscape that will be rolling out over the next month or so — and they're some of my favourite images we've ever created, fashion wise! Today's post also marks the revival of my HOW TO STYLE series — where I take specific on-trend item that you might not think you can pull off, may be intimidated by, or may not think is wearable for a certain season. If you frequent my style archives, you'll know just how much I love kimonos — but did you know they're actually one of my favourite pieces to wear year round? Today I'm sharing my best tips and tricks for styling kimonos for autumn, as well as a handful of my favourite casual fall wardrobe staples!
I mentioned earlier in October that since cutting my fringe I feel completely reinspired fashion wise. I'd always wanted take a trip to the Badlands to capture style content and I figured an 18°C day in October was as good a time as any! Typically, we photograph style content as I'm actually wearing things (it's more authentic to me that way), but I was itching to try something new. So, I packed up the car with outfits and gear — and we headed an hour northwest of my childhood home in rural Alberta to the Drumheller area for a change of scenery. As we journeyed into the desert and beautiful backdrops unfolded around every turn I marveled at how traveling just a couple of hours can really inspire the content and it's something I want to do a lot more of in the future! Come along with me on a virtual adventure to the Badlands as I break down this free spirited autumn look — complete with tons of shoppable links at every price point, plus tips on how to distress your own denim (I DIY'ed this pair myself)!

---
HOW TO STYLE | KIMONOS FOR AUTUMN
---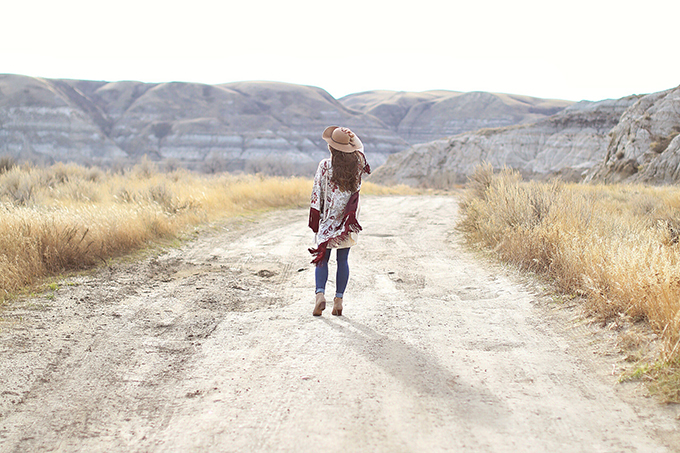 Have you ever visited the Alberta Badlands? When I was a child we took a few day trips to Royal Tyrell Museum, but I've really only passed through as adult — I'd love to go back one day to do some hiking and explore. We shot this look just up the dirt road (literally!) from Hoodoos Trail, but since it was a Tuesday afternoon we had the place all to ourselves!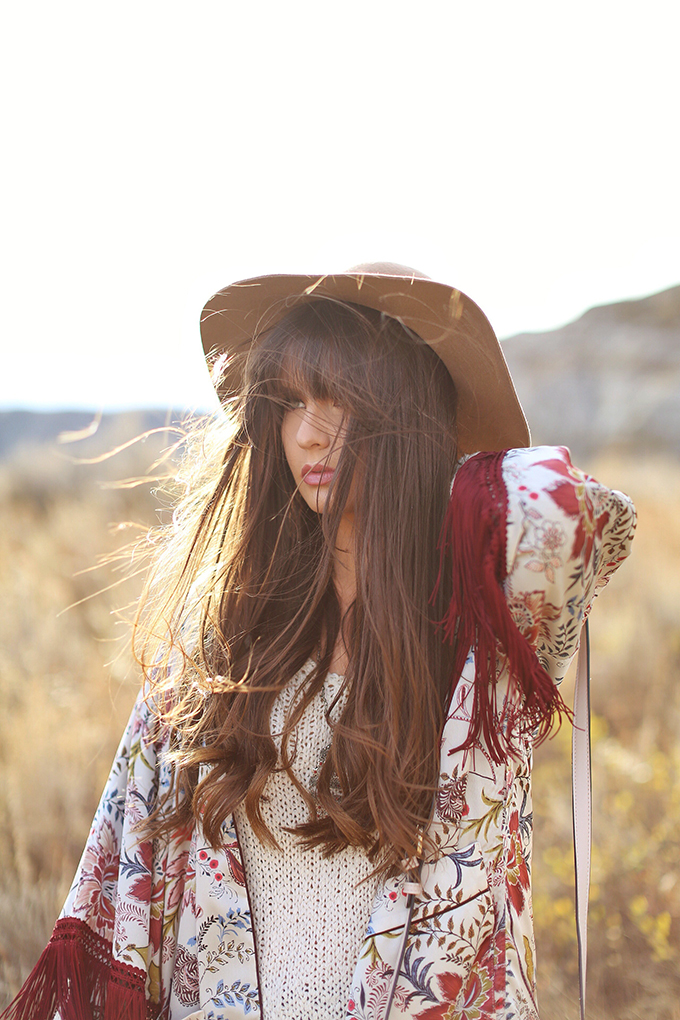 It was also crazy windy, pretty much the entire day — and although can be extremely annoying (and challenging) to shoot in the wind, I love the animated effect it has in these photos. I spent 15 minutes brushing my hair out after this shoot, but I think it was totally worth it!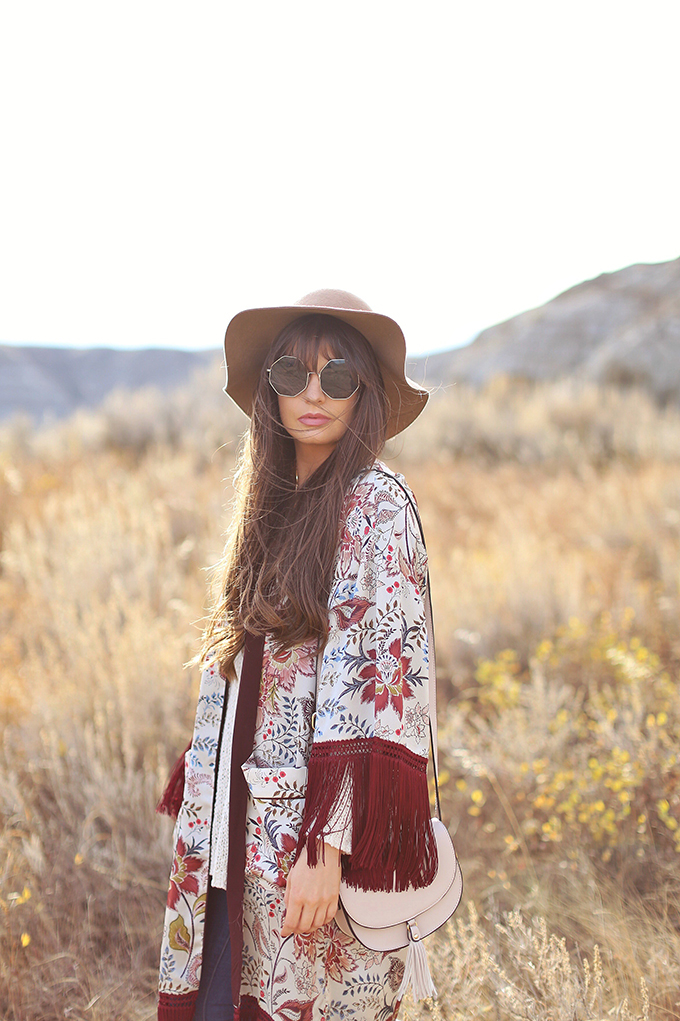 ---
The Best Kimonos for AW17
---
So, let's chat about this gorgeous kimono, shall we? I actually picked it up at Zara earlier this month because (cue eye roll) the colours in the pattern are dead ringers for the Pantone Fall 2017 Colour Trend Report — and my mind starting immediately started swimming with all the different ways I could style it for autumn! Bold, botanical prints had a major moment this summer, and so did luxe, loungewear inspired kimonos. If you're been with me for awhile, you'll know I have a major soft soft for fringe and florals, so this kimono really spoke to me.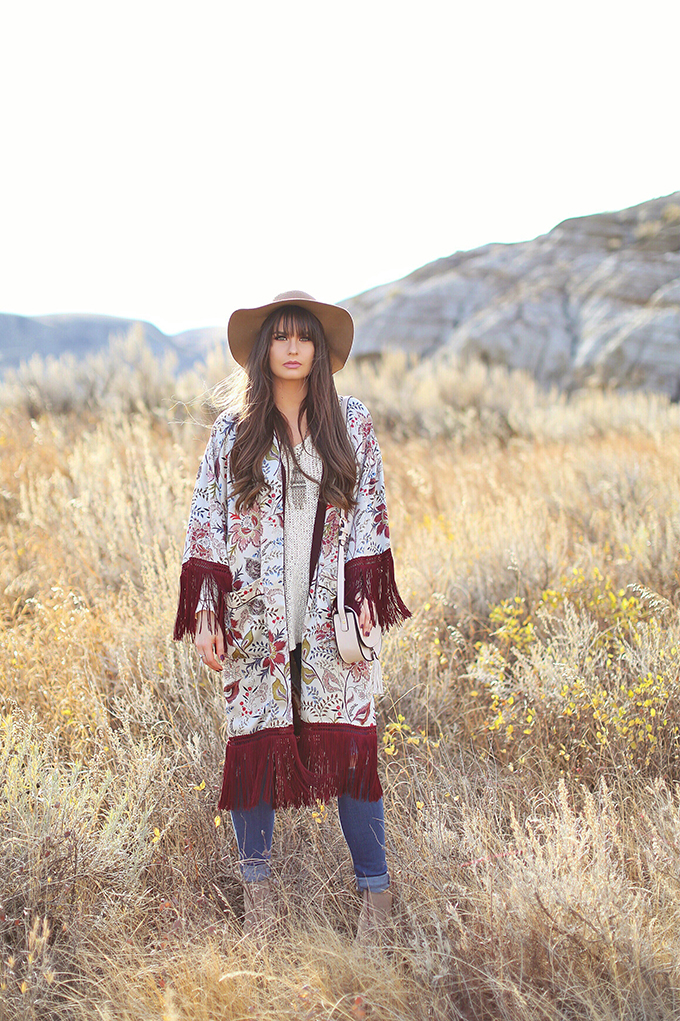 My kimono is double lined (that gorgeous Pantone Tawny Port inspired lining runs all the way through the garment), making it really thick and completely opaque . It hangs beautifully and I think it's the perfect layering piece — it's practically begging for a chunky knit, don't you think? I've taken the guesswork out of which kimonos work well in colder months — you can shop my favourite styles (including an identical replica of this Zara kimono from SheIn at less than half the price I paid!) below.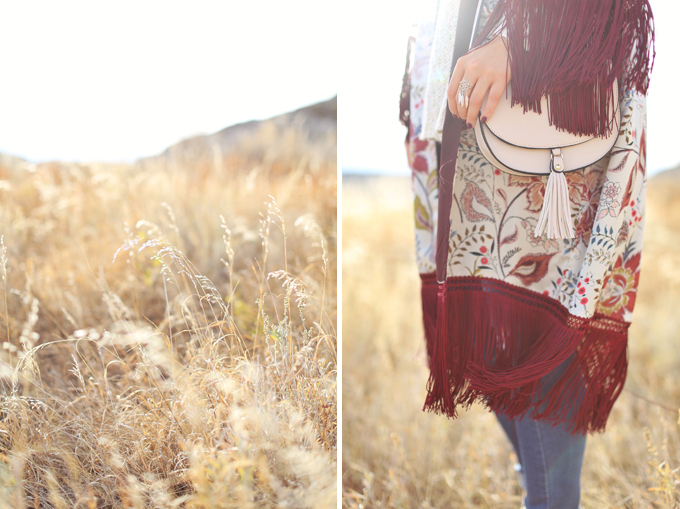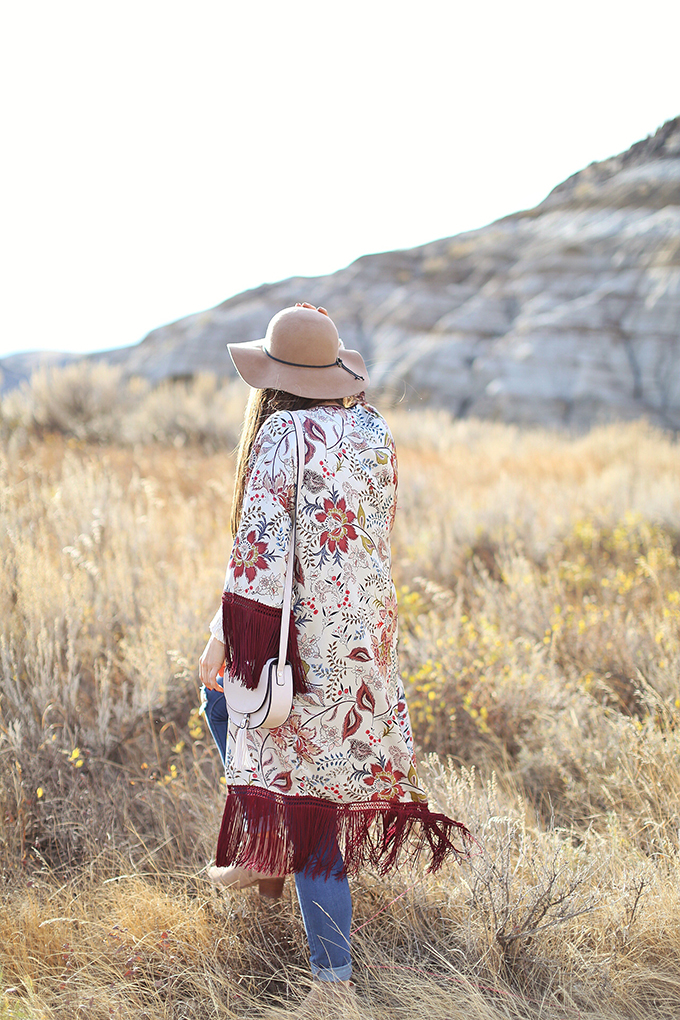 I have my eye on a couple of those gorgeous velvet options and think they'd totally be appropriate for winter — especially paired with deep hues, knee high boots, cowlnecks and a beautiful, vampy lip!

---
Layerable, Neutral Knits
---
My biggest tip to styling your kimonos into fall is to choose styles in a darker, autumnal colour palette with luxe details. Then, pull out all your neutral (or any shade from the print of your kimono) knits and start layering and experimenting! It doesn't matter if the sleeves of the knit poke out from underneath the kimono if it's 3/4 sleeve like mine — I actually really like that effect and the way it shows off the textures of both garments.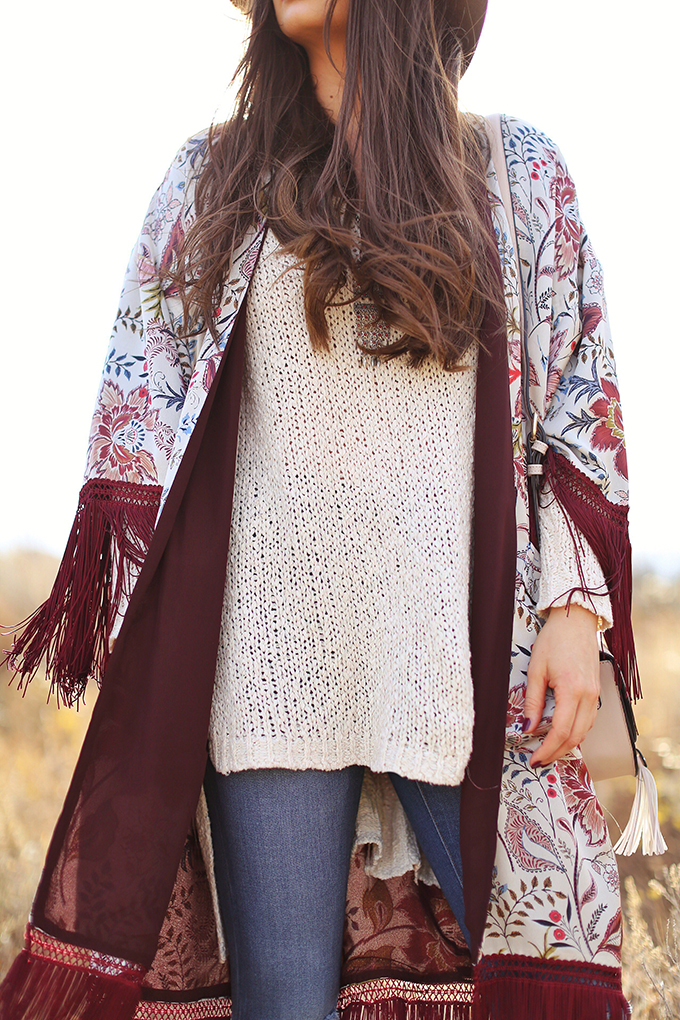 The sweater I'm wearing was gifted to me by Kersh last year around time time — I wore it in my Cozy Girls Night In post and it's definitely a staple in my autumn wardrobe, although I never thought to team it with my kimonos until recently. The loose knit airiness of this sweater! If you're on the hunt for neutral, layerable knits I've linked up some of my favourites for you.

---
Quintessential Tan Floppy Hats
---
I love hats, but actually didn't have a tan floppy hat without any black details until the lovely team at Joydrop picked this one out for me this autumn (you may remember it from Insta Stories) — and I'm so happy to have it! Floppy hats are a great way to add a more autumnal vibe to your look, especially when you're styling lighter pieces — and they also happen to be my favourite way to disguise an unwashed mane!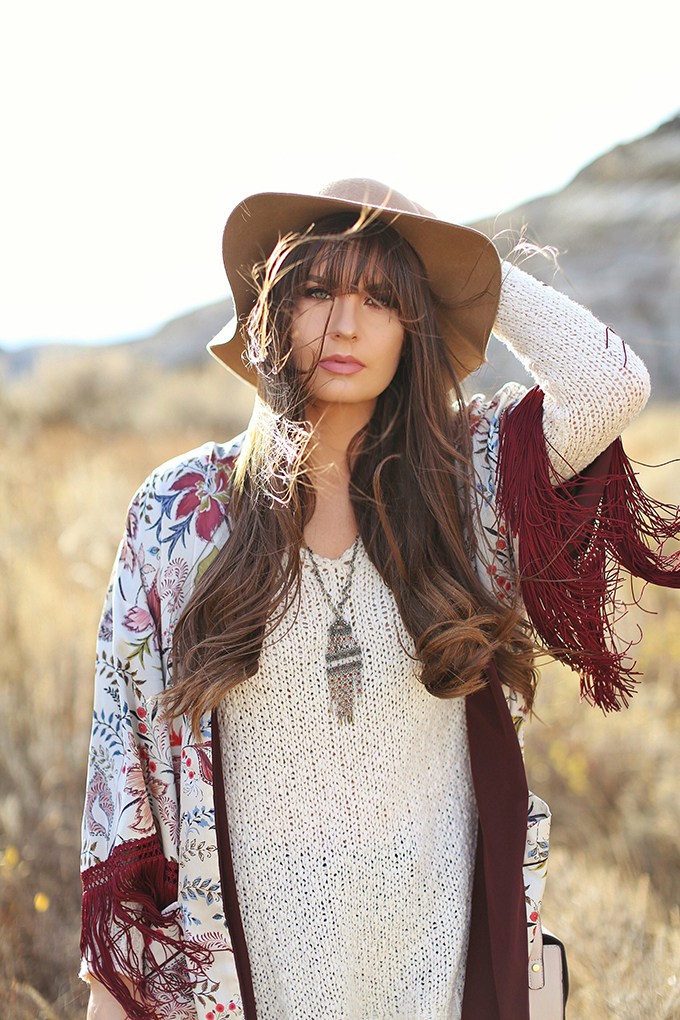 I've mentioned Joydrop a couple of times previously, but it's one of my favorite destinations for local and Canadian jewellery and accessories. Everything is beautifully curated and I've discovered some of my favourite designers there — it's definitely worth a stop if you're a local! This hat is from a brand called Delux and I wasn't able to find this exact one online, so if you have your heart set on it and you're a local, definitely pop in to Joydrop. And if you prefer to shop online, I've rounded up my best look alikes for you below.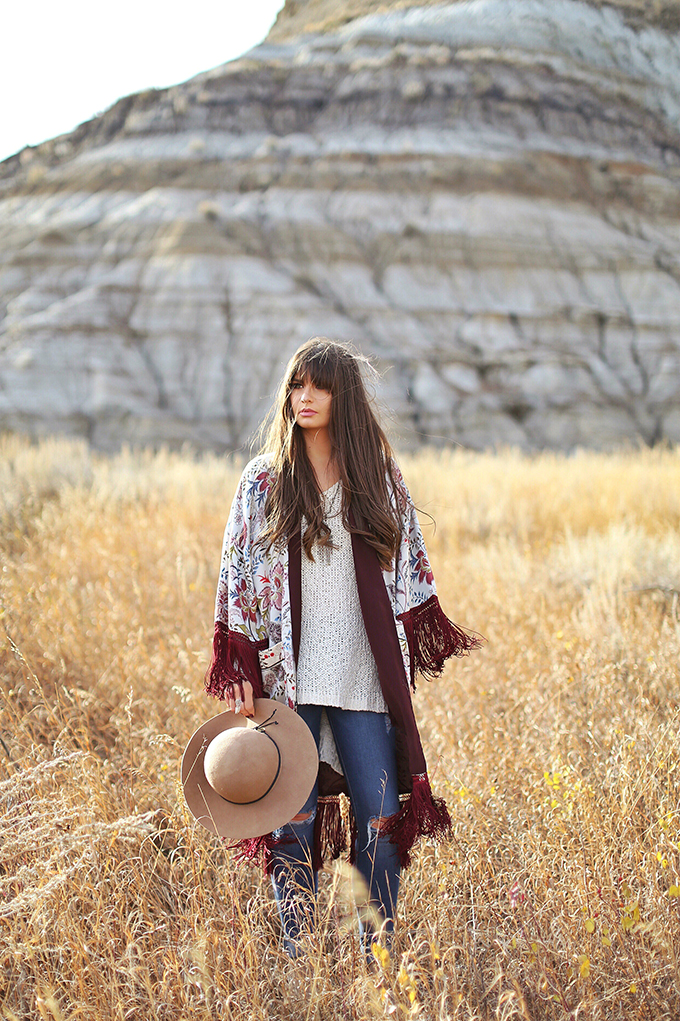 ---
Vintage Inspired Silver Necklaces
---
My necklace is a vintage silver piece — and a very old vintage at that. It's extremely delicate and I actually couldn't wear it for a long time because it needed repair, but now that it's back in action I love to throw it on anytime an outfit needs a touch of patina to make it looked lived in! I've mentioned this many times, but one of my favourite ways to balance newer items in outfits is to style them with pieces that are either vintage or that I've owned for a long time. That tip always works to make my looks feel like me and add a unique flair!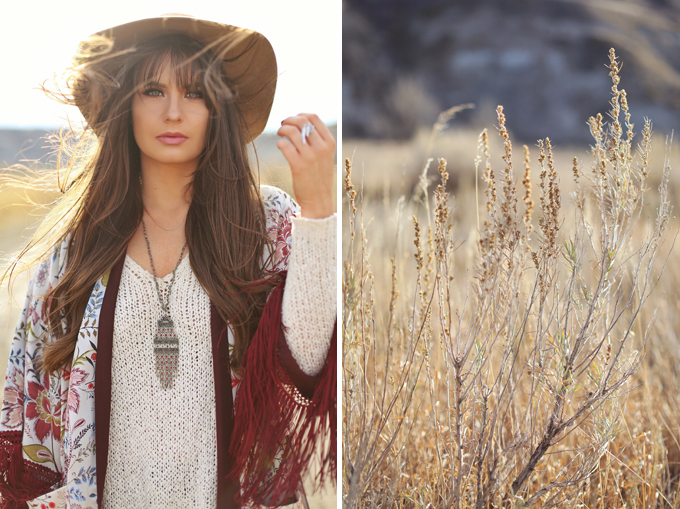 I tend to wear a lot more gold than silver, but love vintage silver — I'm sure over the years I'll get around to sharing most of my vintage jewellery collection with you here at JustineCelina (did you know I almost started an online vintage boutique about 5 years ago and can't bring myself to part with the inventory?!). However, if you'd like to purchase a similar piece to the one I'm wearing, I've provided some alternatives.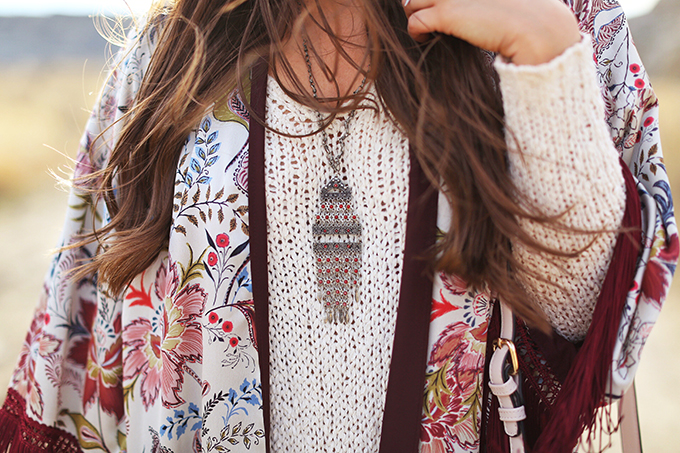 ---
Blush Boho Bags
---
This cute little blush tassel bag has been with me for a couple of years now — it's from Forever 21 (I actually love their bags!) and it's an extremely versatile piece! Blush pink (or millennial pink) isn't going anywhere — and although I'm actually not a big fan of pink garments on myself, I'm crazy this subdued blush tone.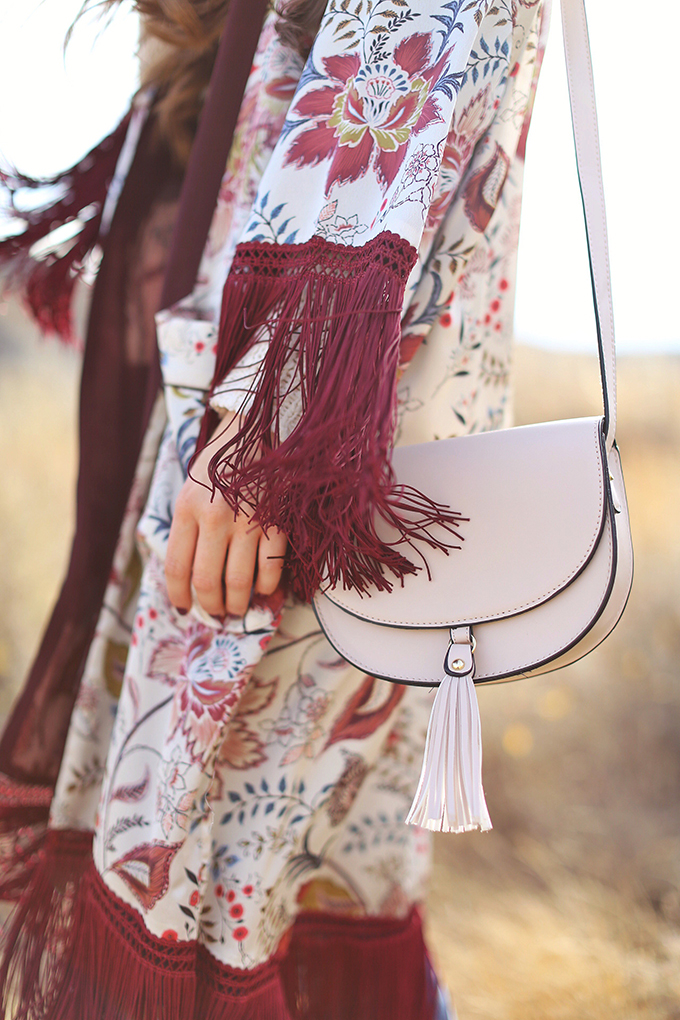 This sweet little tassel bag adds just the right boho touch to almost any casual outfit (I styled it here at JustineCelina last autumn, too) — and I love the way it compliments both my tan accessories and the print of the kimono without overwhelming anything. This exact bag is no longer available, but I've rounded up some cute, cross body boho options in a similar palette for you below!

---
Tastefully Distressed Mid Wash Denim
---
Yes, I distressed this pair of jeans myself! I also wore them in another casual style post a couple of summers ago — and since, they've become my absolute favourite pair. At the time, I picked up a pair of these Low Rise Medium Wash Jeggings from Joe Fresh (now sold out) — they fit like a glove and are so comfortable that actually I purchased 2 pairs — the ones I distressed and am wearing in this post and a pair that I kept intact.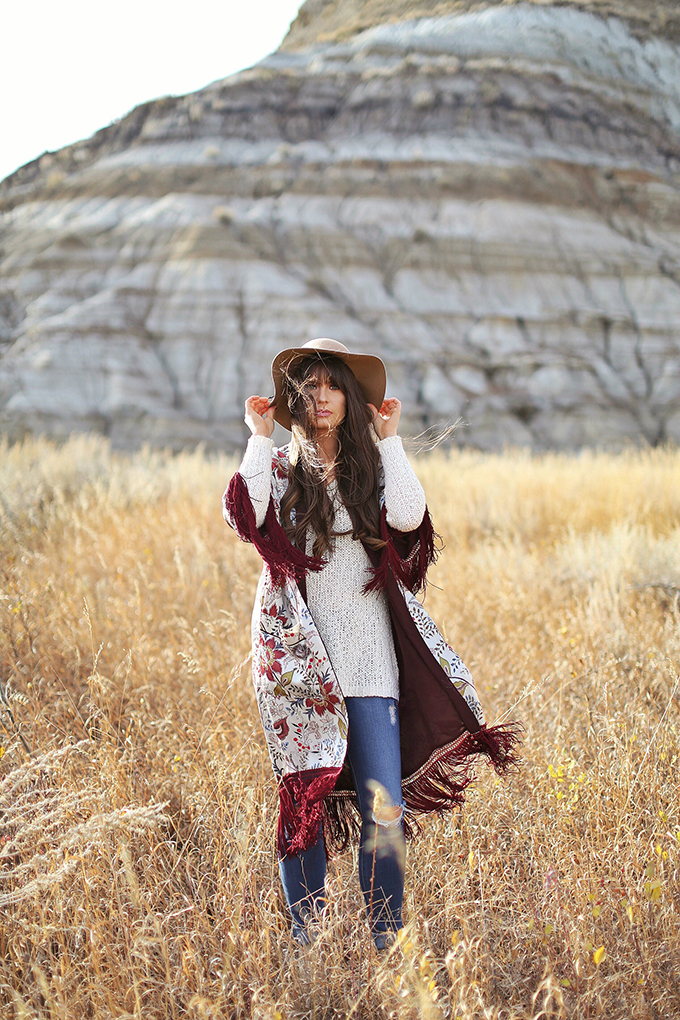 I know you feel me when I say that a great pair of denim is hard to find — let alone a well-fitting pair with tasteful distressing. That's why I prefer to distress denim myself sometimes and I created a blog post with a step-by-step guide illustrating how to do it! However, if DIY isn't your thing, I've scoured the internet for similar styles — tasteful distressing is here to stay and a quality pair of medium wash skinny jeans will be a fantastic staple for years to come!

---
Go-With-Everything, Low Heel Tan Booties
---
And finally, let's chat about my boots. At this point, they're pretty much surgically attached to my feet — I've been wearing them on most casual days this month and tons of you had questions about them yesterday via Insta Stories!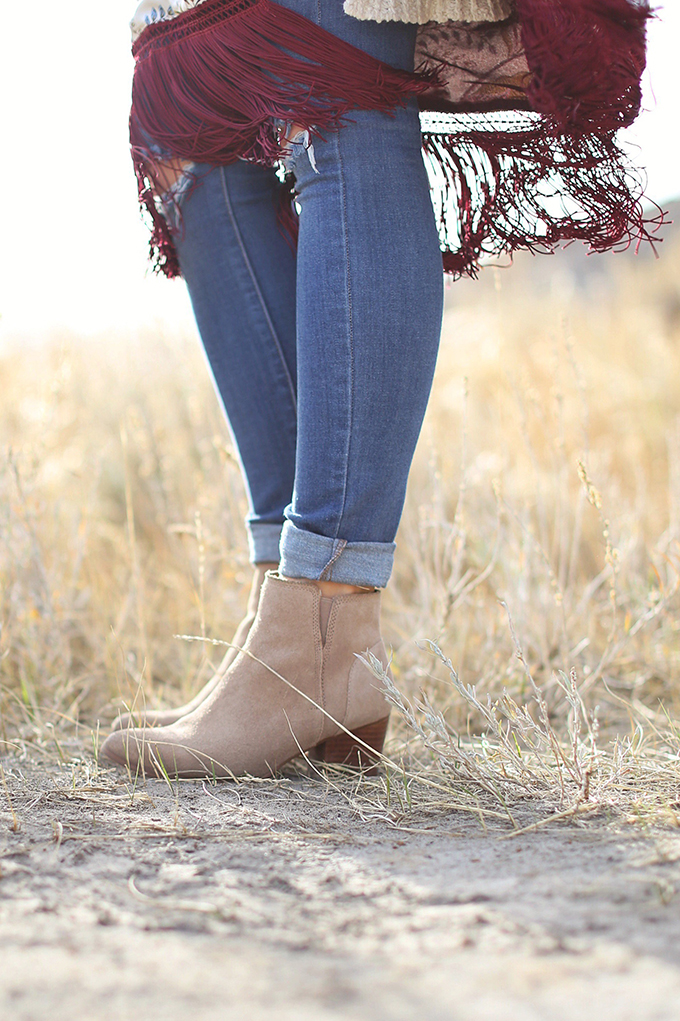 If you've ever read one of my SHOE GUIDES you'll know what a huge fan I am of Aldo's shoes — and in true JustineCelina fashion I stalked these stunning Larissi boots online until one of their 50% off sales, then used eBates to get an additional 7% cash back (yes, I'm a major bargain shopper and I'm not ashamed to admit it!). They're the perfect, how heel, wear-all-day suede bootie that go with my entire casual wardrobe — and I highly suggest you get yourself a pair (but wait for a sale if you can!).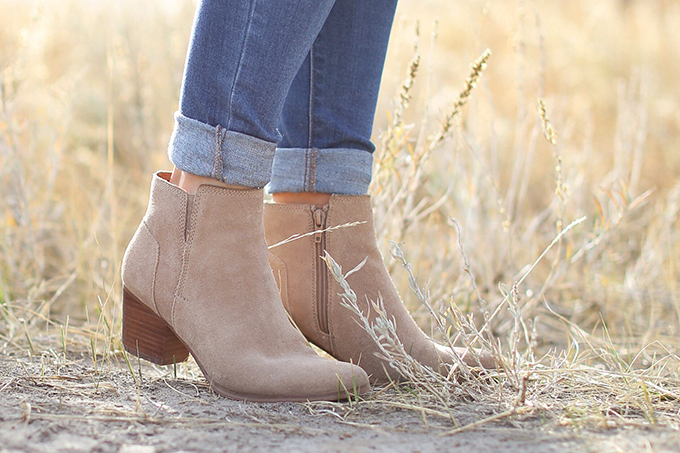 The Larissi also comes in navy and khaki suede, black suede and black leather (I'm seriously considering a khaki pair as well!).

---
Wearable Autumn Beauty
---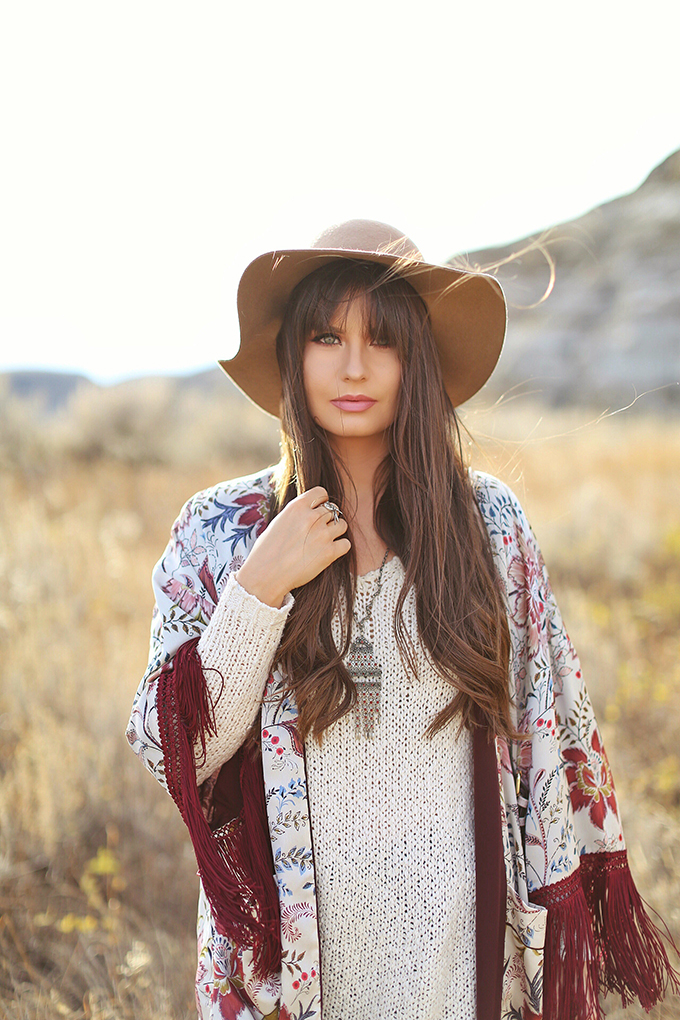 Beauty wise, I'm wearing a full face of my current favourites — some I mentioned in last month's BEAUTY FAVOURITES and some that will be coming up in October's. I'm still obsessed with FENTY's foundation (it's all I've been wearing since I purchased it!) and Universal Gloss Bomb paired with Jordana's Easyliner For Lips in Tawny. I'm also still practically bathing in Colourpop's Super Shock Cheek highlighters! Here I'm wearing Lunch Money, a stunning golden champagne that truly has a wet look on the skin that will be making an appearance in my upcoming October Beauty Favourites. On the eyes I'm rocking the smokier shades of Urban Decay's Naked Heat Palette (review here), along with my new favourite Kiss Blooming Lashes (hop over to my September 2017 Beauty Favourites post for deets!). They look like my own, but just a little longer and more luscious — and they photograph beautifully!

---
SHOP THE LOOK
---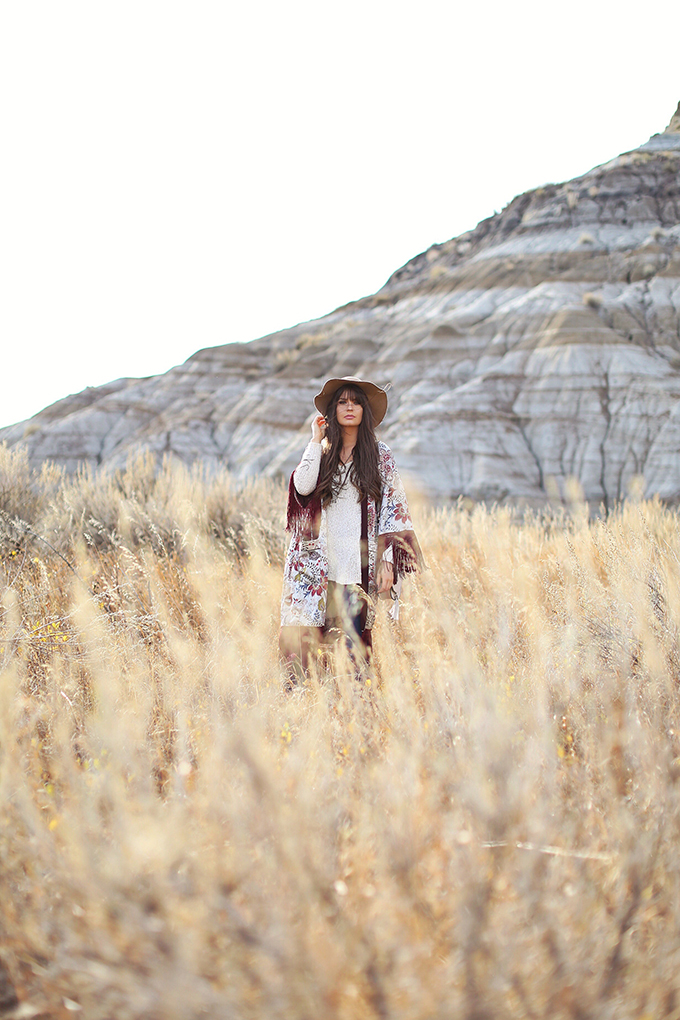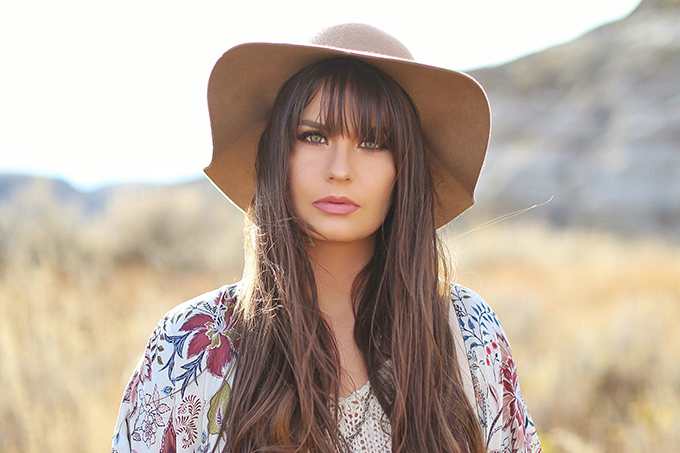 ---
MORE FROM THIS SERIES
---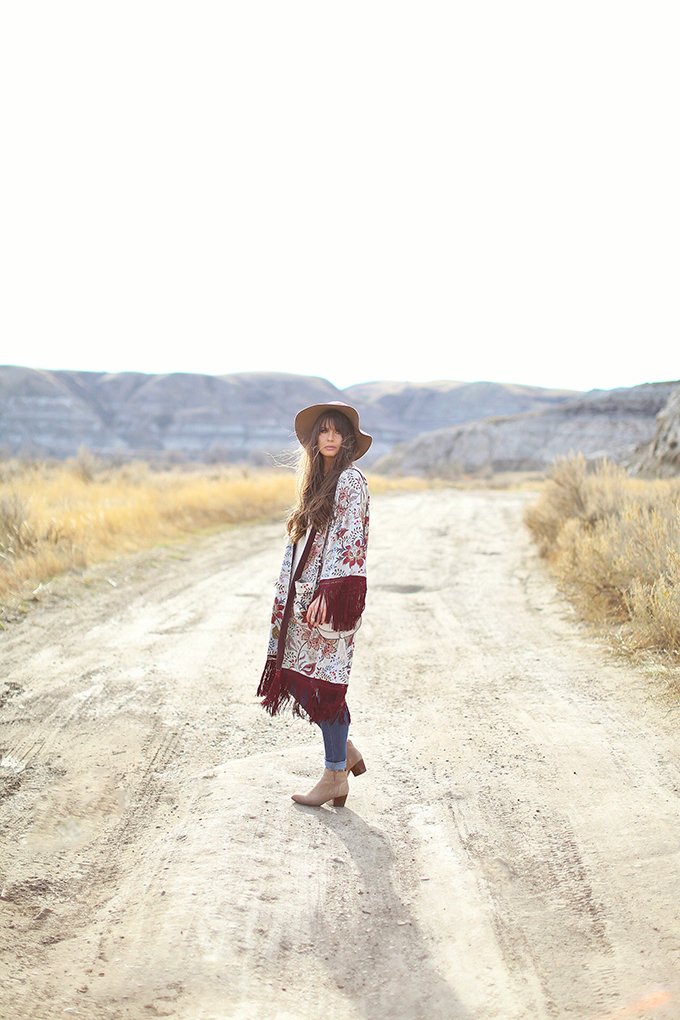 HOW TO STYLE | Ponchos
A major throwback to my very first style post — shot at my childhood home in rural Alberta almost exactly 2 years ago!
---
Do you wear kimonos year round, or reserve them for the warmer months? I wore this exact outfit (minus the hat) shopping with my little sister last weekend and got tons of compliments on it — it's such a simple, comfortable look that's perfect for the weekend. If this post inspires you to put together a similar look, I'd love it if you let me know. It's such an easy one to wear! I totally feel at home in kimonos — in fact, if I could choose one item of clothing to wear for the rest of my life, it would probably be a kimono!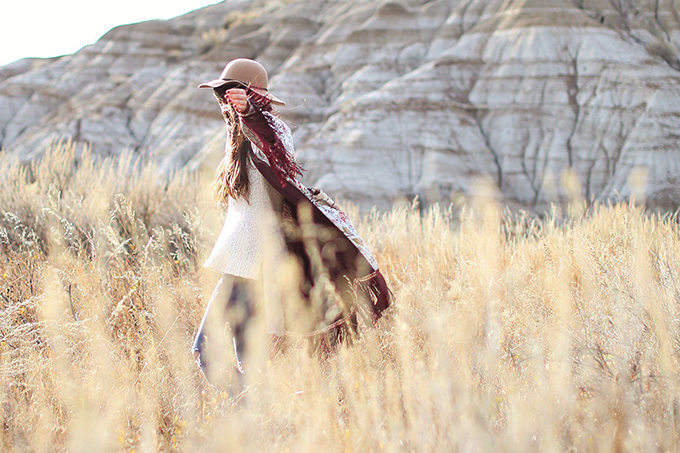 If you have any specific requests for me about items you need help styling, or upcoming content you'd like to see, just leave me a comment. I'm planning a HOW TO STYLE | Leopard Print post for the winter — I think it can be so sophisticated when it's done correctly! Stay tuned for more fashion content than ever coming to you over the next couple of months here at JustineCelina, as well as more scenery from the Alberta Badlands. I hope you enjoyed the first post in this refreshed series — have a fantastic week, everyone!
---
Disclaimer: Thank you to my friends at Joydrop for my gorgeous hat and to Kersh for my sweater. This post is not sponsored, and contains my genuine thoughts, ideas and recommendations. JustineCelina uses affiliate and referral links, which allow me to receive a small commission when you make a purchase through one of my links. Thank you for supporting the brands and businesses that support JustineCelina!