---
Fellow boss babes, this one's for you! Over the years, more office-appropriate FASHION content has been highly requested here at JustineCelina — but since I don't have a photographer on hand to follow me around to meetings, presentations and the like (#bloggerproblems!), the more professional side of my wardrobe isn't something I've been able to bring to these pages in a meaningful way — that is, until now. Today I'm kicking off my WORK WEAR series by sharing my best tips and tricks on how to wear seasonal trends in professional settings — a topic I'm very passionate about!
Since beginning my entrepreneurial journey nearly 12 years ago (gulp!), I've built a wardrobe of garments that I can wear for both work and play — and resolved to never allow corporate environments put a damper on my personal style! While I completely believe in dressing the part and respecting more formal dress codes, I also firmly believe your personal style should shine through no matter the setting. WORK WEAR | Spring 2019 Trends at the Office details exactly how to incorporate seasonal trends into your professional wardrobe while choosing pieces that you can utilize in both avenues of life for maximum versatility. If you're intrigued by mustard, shades of brown, culottes, fringe, leopard and natural material bags this spring but aren't sure how to translate these trends into office-appropriate attire, you've come to the right place!

---
WORK WEAR | SPRING 2019 TRENDS AT THE OFFICE
---
For me, this look is the perfect balance of seasonal trends mixed and matched with classic transitional staples. I've worn it to afternoon meetings and also felt completely comfortable meeting up with friends for a drink afterwards — during the week, I tend to gravitate towards outfits that can do both!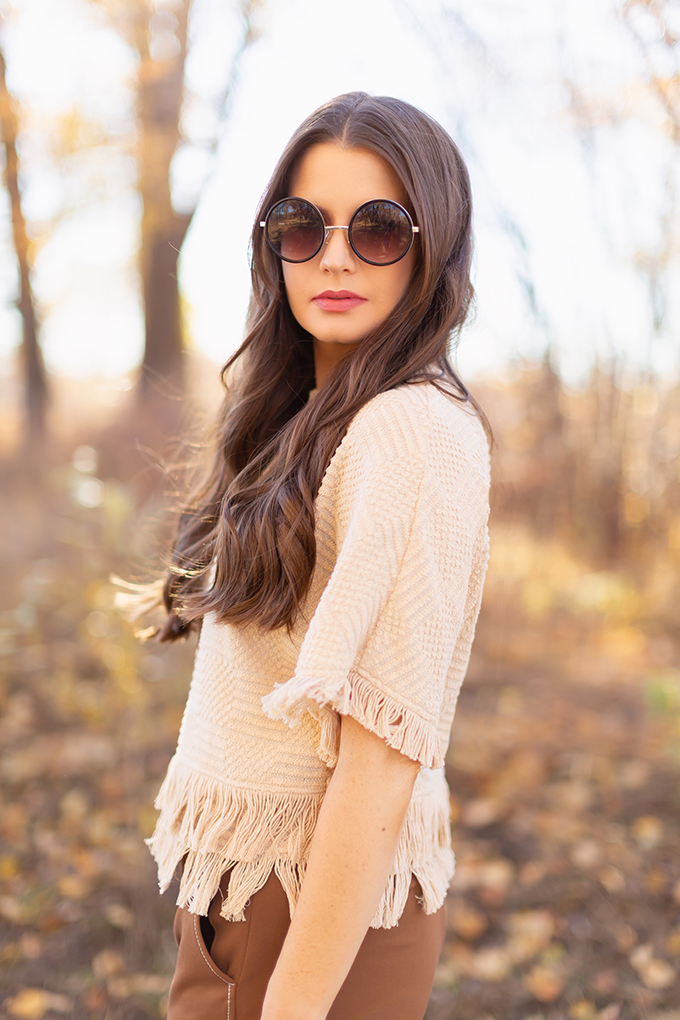 Using my staple brown culottes as an anchor for this look, I paired them up with a more trend focused, but neutral, tweed fringe top, a mustard yellow jacket, a pair of my favourite leopard print heels and a darling woven bag featuring both brown and black to tie it all together (actually, I'm wearing Zara from head-to-ankle here — but I bet many of you aren't suprised!).
So, how can you wear SS19 trends to the office? Let's break this look down, trend-by-trend!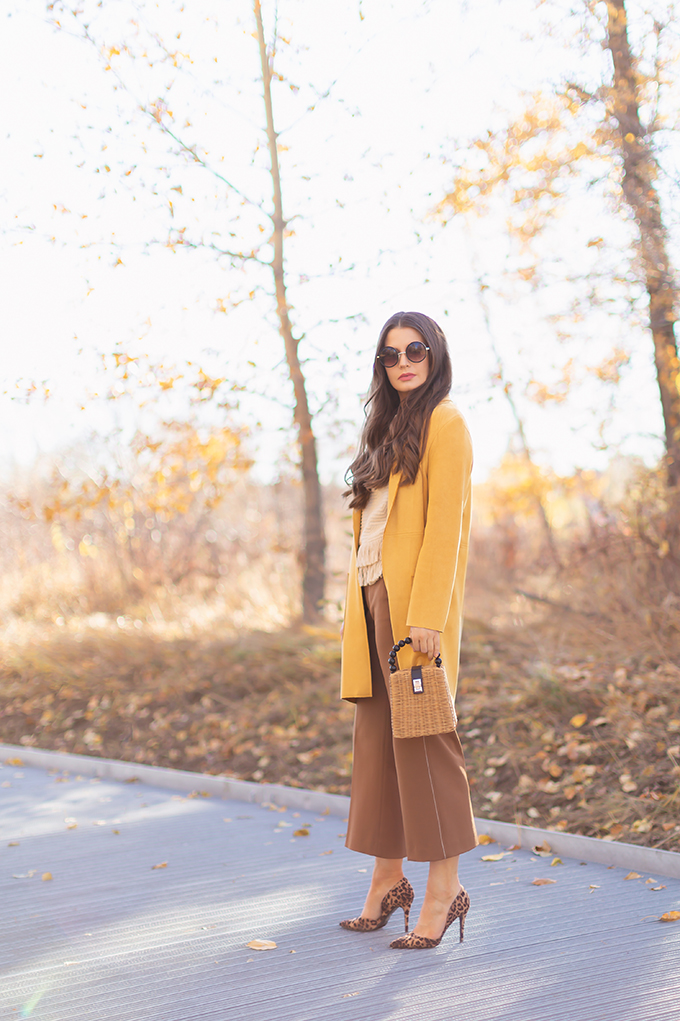 ---
SPRING 2019 COLOUR TREND: MUSTARD
---
Are you getting sick of my yammering on about how mustard is SS19's hottest hue?! I sure hope not — because there's lots more mustardy goodness coming your way this season!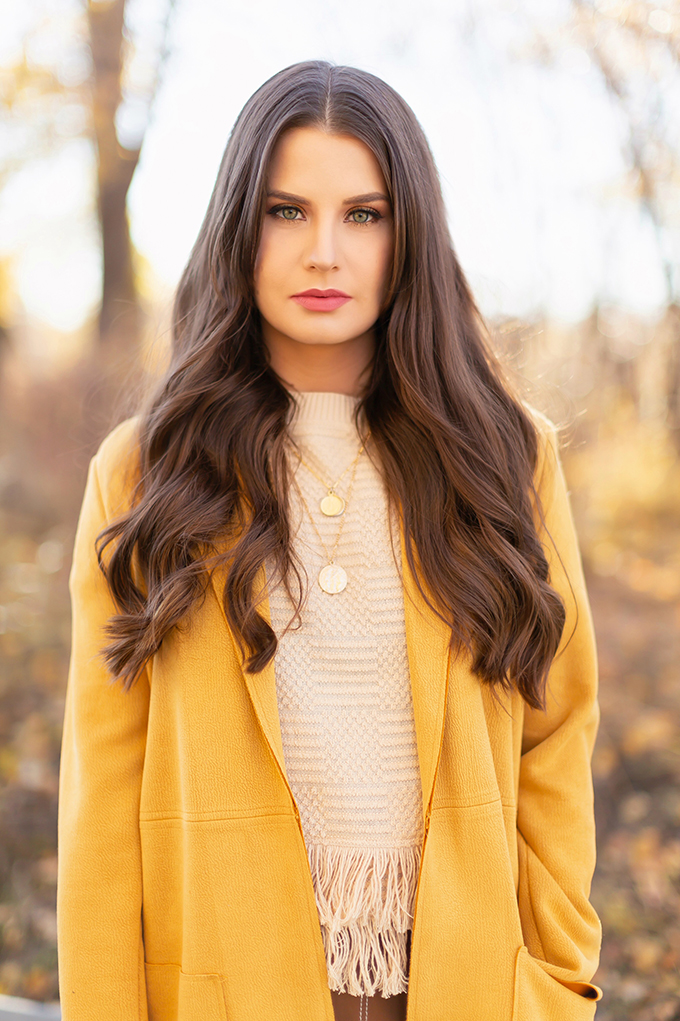 Although mustard is a colour we typically associate with autumn, prepare to see it absolutely everywhere this spring. Yellow hues have always been one of my personal favourite to wear, but I know not everyone feels the same way. Whether you're a yellow lover or could never find a hue that works for you, I encourage you to experiment with mustard this spring! I like to think of it like a neutral yellow — it's so much easier to wear (and to style) than it's sunny counterparts.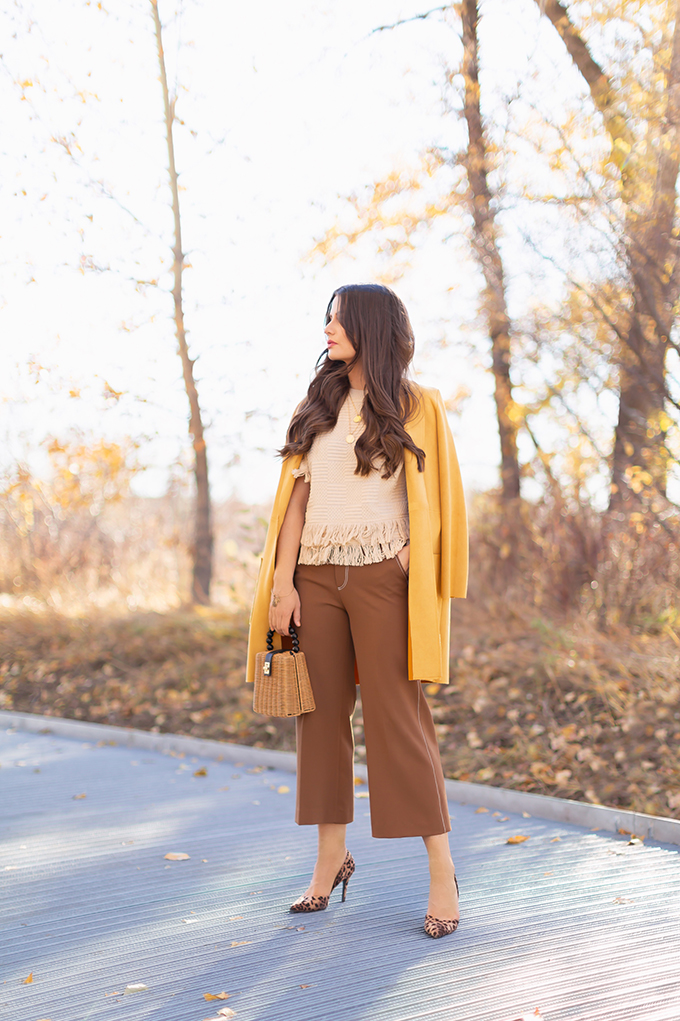 I've chosen to drape this gorgeous faux suede mustard jacket over an otherwise neutral ensemble to add a pop of cheerful colour. I love the soft, earth-toned palette of yellow, cream and brown mixed with leopard and rattan textures — it feels so fresh and not overly feminine, which is a refreshing change from the inundation of pastels we experience at this time of year.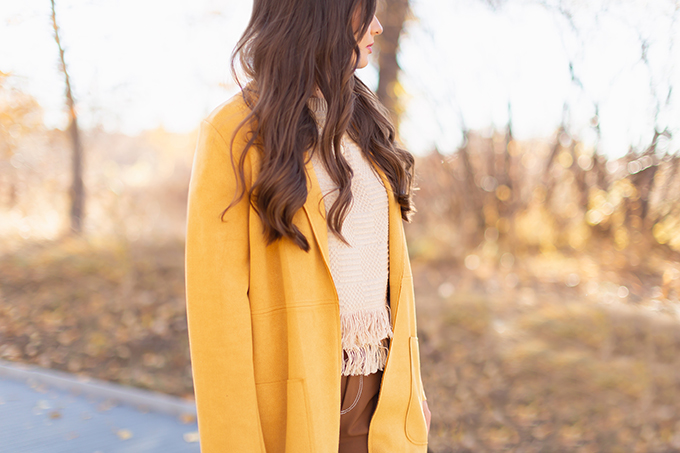 Whether you already own a couple of mustard pieces or are looking to add this cheerful hue to your seasonal wardrobe, a splash of mustard will go a long way in re-energizing your personal style this spring! And if a solid garment is too much mustard for you (although I love it in jackets, blazers, skirts and blouses!) you can always opt for a bag (hop over to this post for some mustard bag styling inspiration!) or shoe. Shop my favourite mustard pieces of the moment below!

---
SPRING 2019 COLOUR TREND: SHADES OF BROWN
---
Shades of brown ranging from chocolate through tan are a a major trend this spring — and I couldn't be more thrilled! As someone who has always preferred brown and earthtones over black, I'm fully embracing the brown colour trend this season.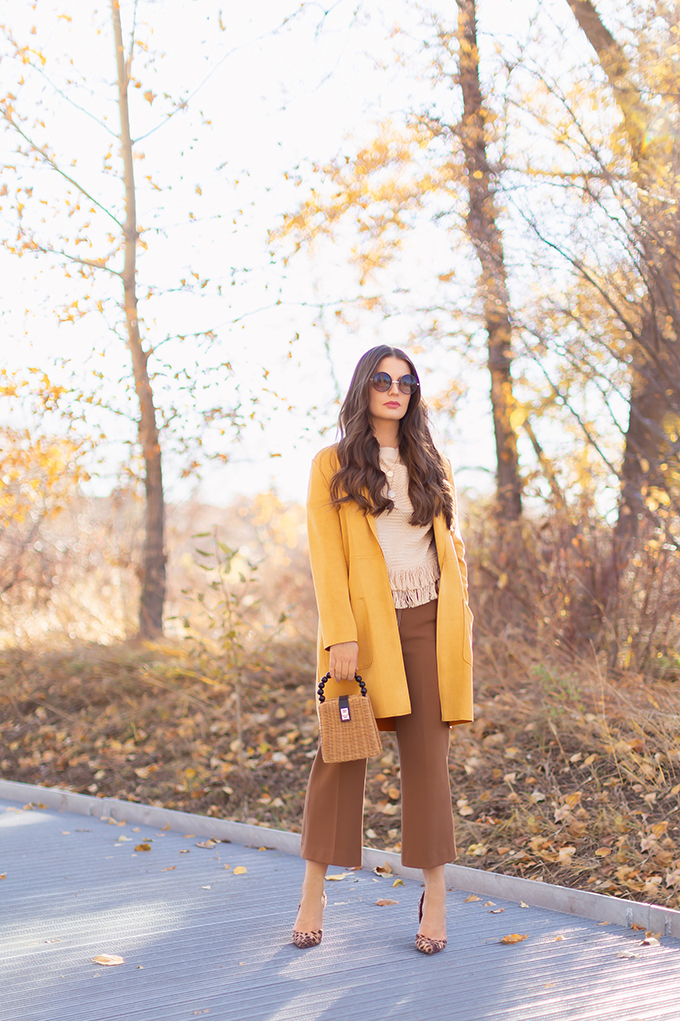 These culottes in a beautiful milk chocolate brown are another incredibly versatile transitional staple of mine. Since I picked them last summer, I've worn them countless times in personal and professional settings! I also love the subtle contrast stitching (another trend that I haven't really experimented with otherwise!) — but it feels just right on this garment!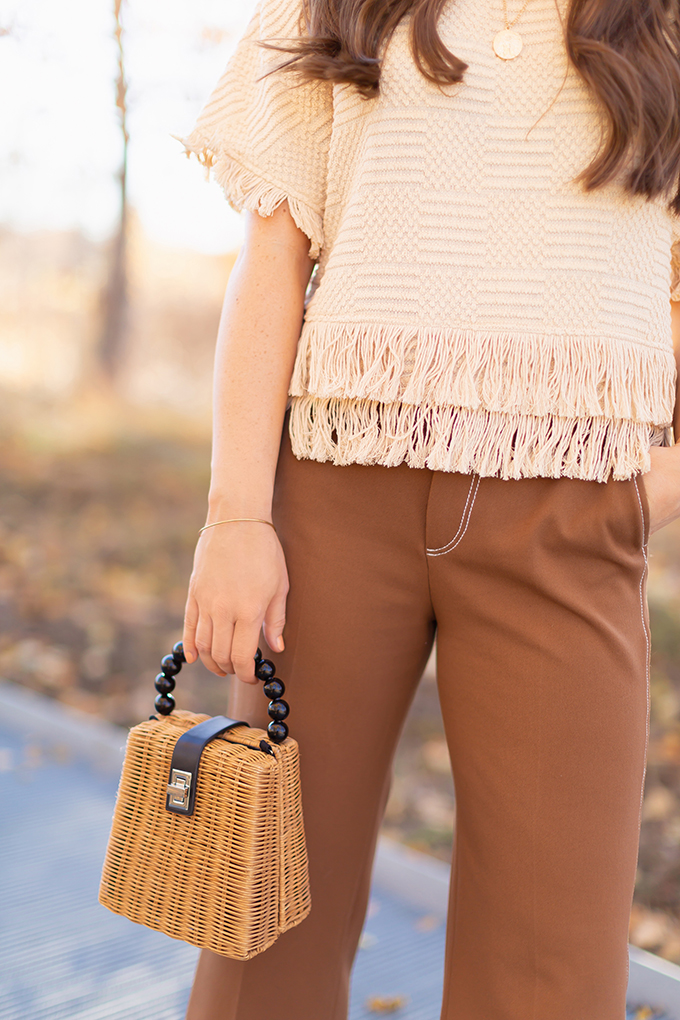 So ladies, if you're looking to add a new pant style to your closet this spring, try experimenting with a pair of culottes. They look great with pumps, sock boot and sandals — they're truly the most versatile pant style in my wardrobe (in fact, there's a new installment in my HOW TO STYLE series dedicated to culottes coming soon!). I've curated a selection of gorgeous culottes for your browsing pleasure in a variety of fresh, spring-inspired shades below!

---
SPRING 2019 TREND: LEOPARD PRINT
---
While you wouldn't normally think of leopard print as being the first choice to wear to the office, it's a massive trend this season — and one which can absolutely present you in a professional light when styled with a tasteful eye.
I experiment with more daring trends in my professional wardrobe by opting for statement accessories — like these beautiful leopard d'orsay pumps that have been with me for the better part of a decade! Longtime readers will know I consider leopard a neutral (when you break it down, it's really just shades of black and brown) and I love to accessorize with it when I'm wearing both black and brown to tie an outfit together.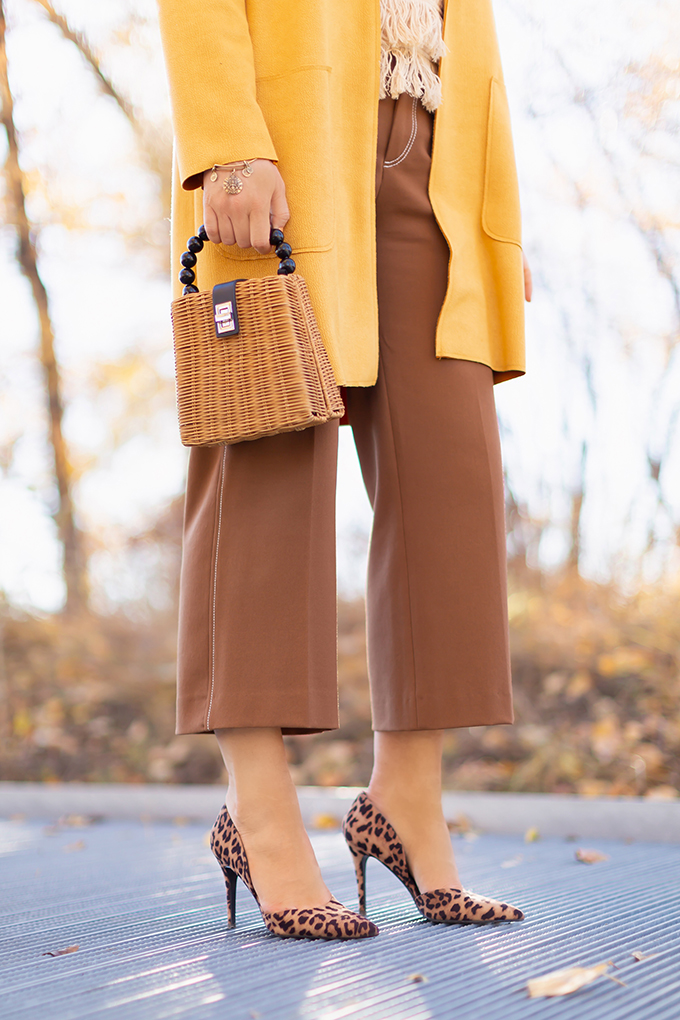 If you'd like to dip your toes into the leopard trend in an professional way this spring, I've rounded up some of my favourite speckled shoes, accessories and a few office-appropriate garments for you below. You can also check out my Autumn 2018 Lookbook for more sophisticated leopard print inspiration, where I styled a pair of leopard print paper bag pants!

---
SPRING 2019 TREND: FRINGE
---
Is fringe a trend you wouldn't normally consider wearing to the office? Fringe comes in and out of style, but it's always been a favourite of mine — although, usually in garments I wear in personal settings. So when I spotted this creamy fringed-hem knit top at Zara this past autumn, I knew it would make for such a versatile staple that could do double duty!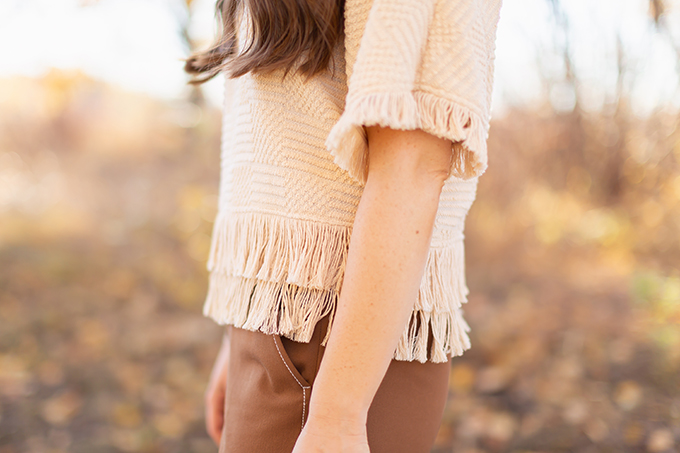 My wardrobe is built on versatile pieces I can wear in both personal and professional settings, depending on how I style them. Although my career is less traditional than most, I present myself as polished and professional with a creative flair at all times — and I look for pieces that I can make more or less formal depending on the setting. This sweet little top has become a staple piece in my transitional wardrobe!

---
SPRING 2019 TREND: NATURAL MATERIAL BAGS
---
Although I typically opt for larger satchel or tote style bags that I can fit my laptop, iPad and stationary into if I've out for multiple meetings, I like to switch it up when I don't have as much to carry around! If you've followed along with my FASHION content over the years, you'll know how much I love my natural material bags (in fact, I published an entire post dedicated to them last summer!) and I absolutely think they can be worn in professional settings as well. Their natural structure and clean lines lends them well to infusing any professional spring wardrobe with an updated, earthy twist!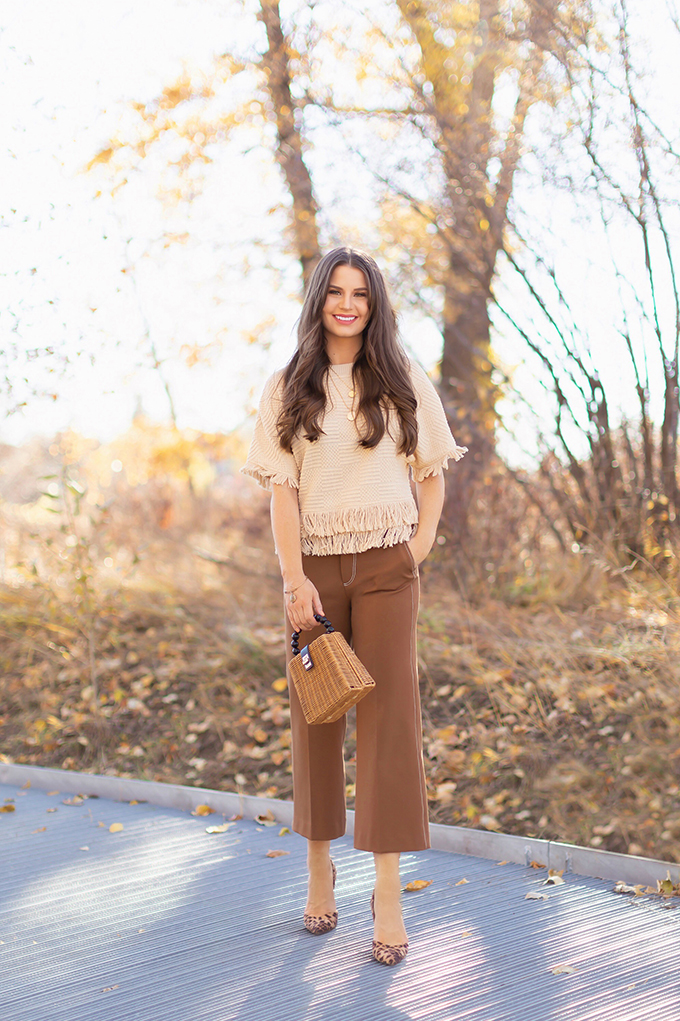 Natural material bags have been on trend for a few years now, but I've worn and loved them long before they were trendy (hence my large collection!). If you haven't picked one up yet, now is the perfect time as they're currently trickling in to all your favourite retailers for spring!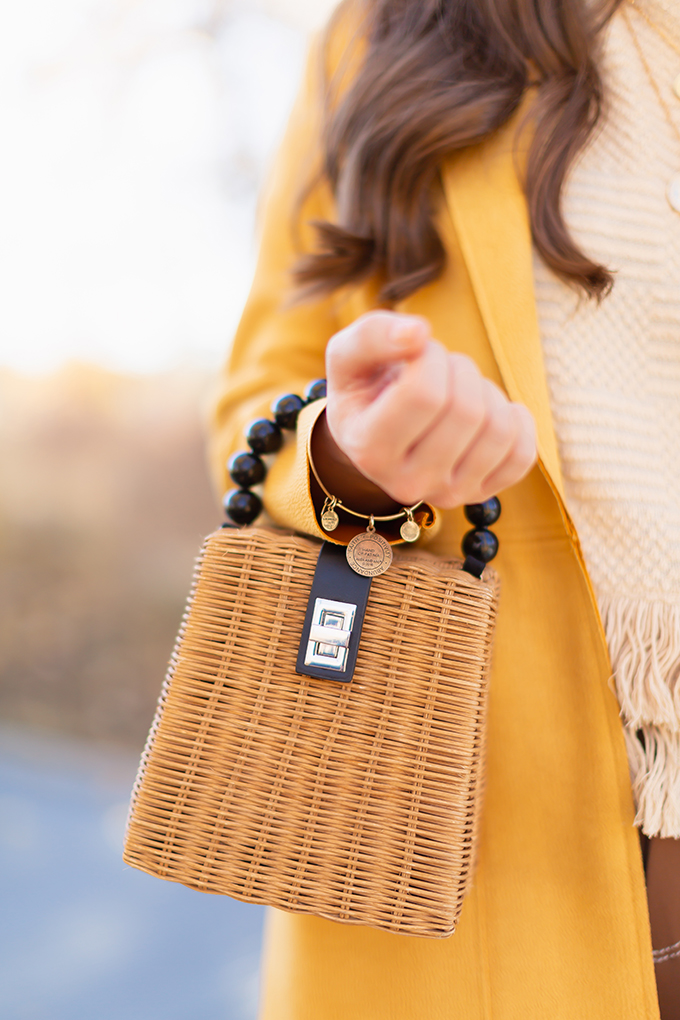 My darling Woven Crossbody Box Bag is still available online at Zara for a fantastic price! I love that it features both brown and black — and like leopard print, I tend to wear it to tie outfits together where I've incorporated both neutrals. I've also rounded up a selection of my current favourite woven box bags for you below (and you can also check out these post for additional styling inspiration!).

---
MY TOP TIP FOR INFUSING YOUR PERSONAL STYLE INTO YOUR PROFESSIONAL WARDROBE
---
And last but not least, the best tip I can give you the ensure your personal style shines through at the office to incorporate signature pieces into your WORK WEAR. For me, that's round sunglasses (you know how much I love them!) — adding them to any ensemble instantly makes it feel, well, like me!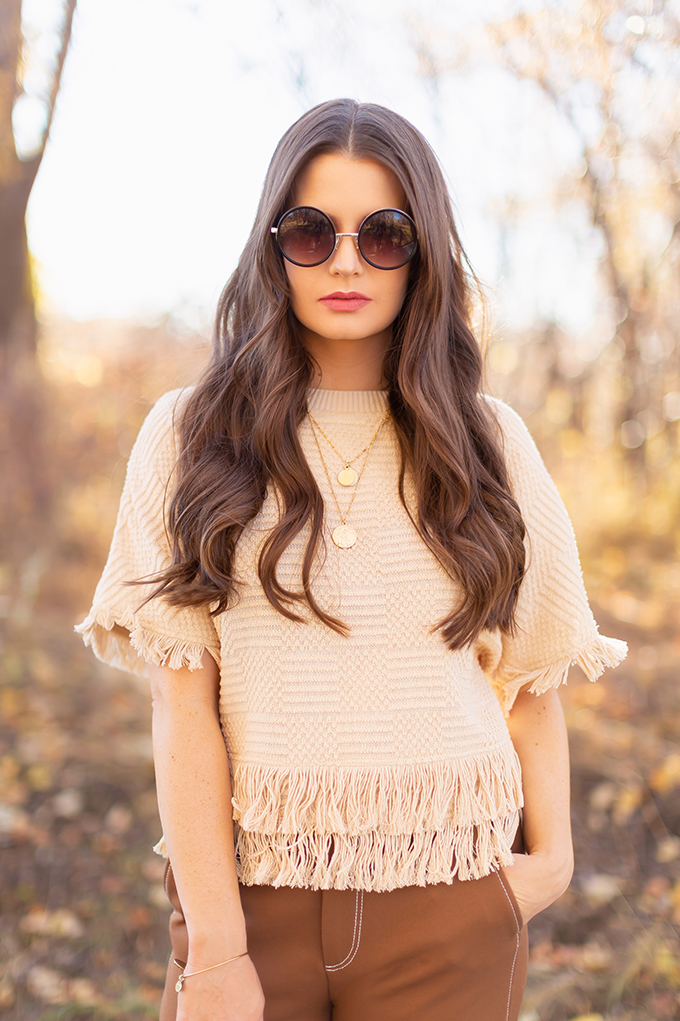 But for you, that could be anything! Do you have signature jewellery you always wear? My Hand of Fatima bracelet and gold pendant necklaces are practically grafted to my body! Or a particular way you wear your hair? A centre part and loose, cascading waves are my signature. Carrying through cornerstones of your personal style into professional settings will allow more of your personality to shine through and for you to feel more comfortable in your office attire.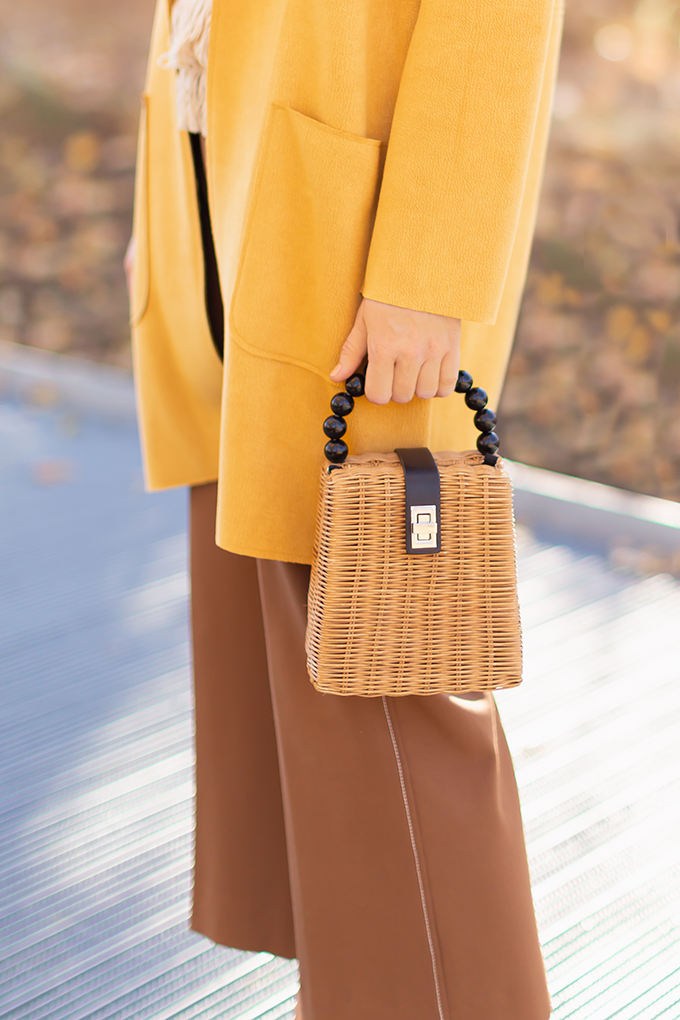 If there is one takeaway I can offer, it's to not let stigmas around WORK WEAR dampen your professional style. I truly believe in always presenting yourself in a way that makes you feel confident, empowered and beautiful — no matter the setting! After all, empowered women empower women and you never know who you may inspire to step outside of their comfort zone or be a little more stylish at the office. I love chatting FASHION and divulging outfit details with clients, women on the street that stop to ask about a particular garment or ladies I meet in coffee shops while I'm at a meeting — infact, that's one of the reasons I started JustineCelina in the first place!
---
SHOP THE LOOK
---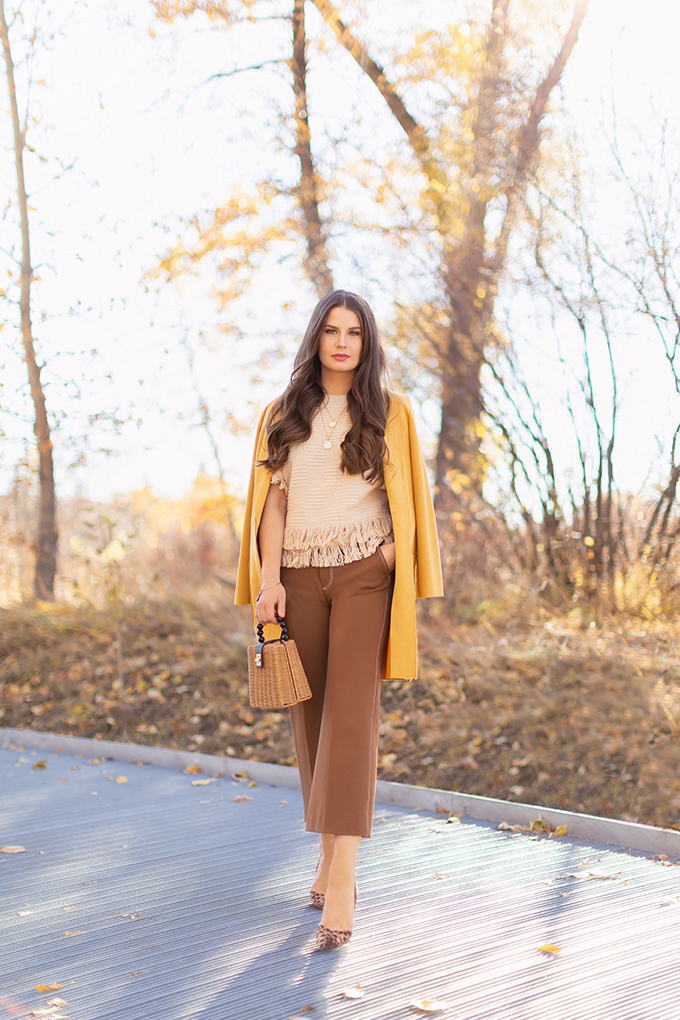 ---
MORE TRANSITIONAL & EARLY SPRING STYLE CONTENT
---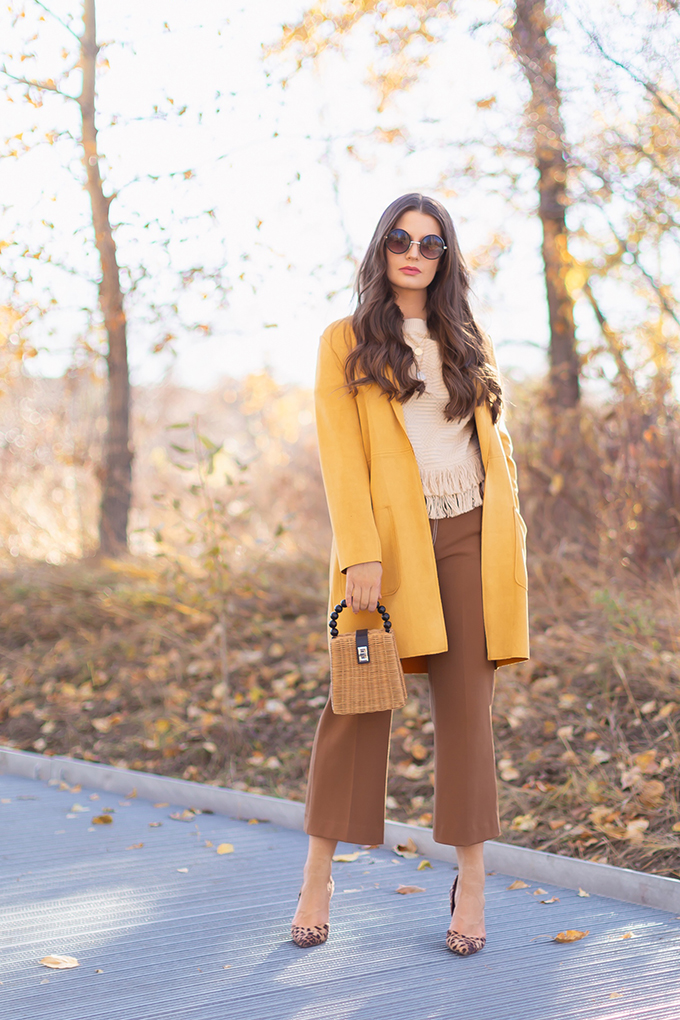 Pre Spring 2019 Trend Guide | Bohemian Rhapsody
Transitional Style Staples | Winter to Spring 2019
How to Style | Transitional Layers
Spring Trend Guide | Check Yourself
---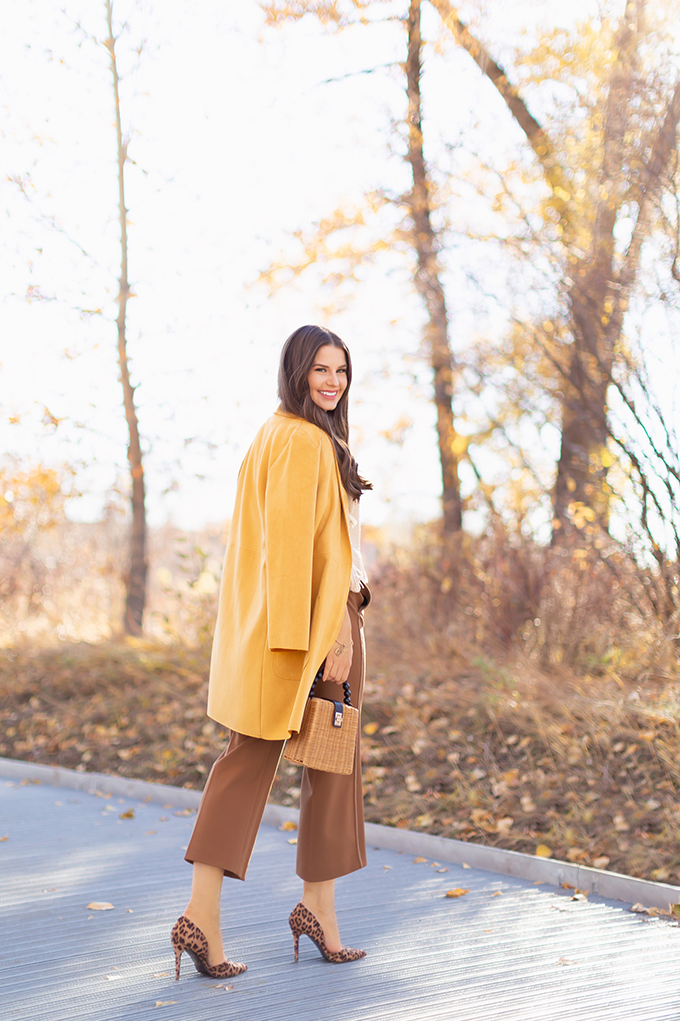 Thanks for stopping by for the first installment in my WORK WEAR series! Bringing the more professional side of my wardrobe to JustineCelina in a series is one of my focuses for 2019 — so if you have anything in particular you'd like to me put my spin on, just let me know! We're gearing up to shoot tons of spring style content mid-month and I'm always happy to take your requests.
If you're looking for even more sartorial inspiration in the meantime, you can also follow along with my JustineCelina Fashion board on Pinterest. And if you want a sneak peek at what I'm wearing before it hits the blog, as well as some exclusive style content you won't see here, come join me over on Instagram for daily posts and BTS / day-to-day life on Stories! Enjoy the rest of your week (and our gorgeous spring weather!), ladies!
---
Disclaimer: This post is not sponsored, and contains my genuine thoughts, ideas and recommendations. JustineCelina uses affiliate and referral links, which allow me to receive a small commission when you make a purchase through one of my links. Thank you for supporting the brands and businesses that support JustineCelina!