---
If you've been following along with my FASHION section (or Instagram feed) this summer, you may have seen this post coming! Over the past few years, I've accumulated quite the collection of natural material bags — we're talking everything from raffia, to wood, to jute, to straw. In fact, I've fallen so in love with them that I was inspired to start a brand new series here at JustineCelina called THE ACCESSORY EDIT, where I dedicate an entire post to a standout accessory (or possibly accessories!) of the moment and how to style them, along with my best shopping tips, killer sale alerts and tons of shoppable links at every price point. The first post in this series is an ode to my love of natural material bags of all shapes, sizes, colours and ages!
Natural material bags are something I've worn since long before they were particularly on trend — in fact, I've owned some of my vintage straw bags for nearly a decade! I love organic looking, natural details and textures both in my wardrobe and in my home. Last summer, I decided to finally pull the trigger on the iconic Cult Gaia Large Ark Bamboo Handbag (a birthday splurge!) and it reignited my love for natural materials bags! Over the past year, natural material bags have been spotted everywhere — on the arms of your favourite bloggers, celebrities and fashionistas alike. Today I'm sharing my entire collection of natural material bags (that's 19!) with you, along with all the different ways I've worn them, plus how I plan to style them up into AW18. If you, too, are a lover of natural materials, hang out with me while I spill the details on everything you wanted to know about the bags of the moment!

---
THE ACCESSORY EDIT | NATURAL MATERIAL BAGS
---
This post was definitely a labour of love and I'm so excited to publish the first post in my ACCESSORY EDIT series, dedicated to NATURAL MATERIAL BAGS! As per your request, I've finally rounded up my collection, photographed it (although we did get kicked out of this dreamy shooting area, complete with a blush pink wall — so excuse the 2 images with different backgrounds!), scoured the internet for shoppable links, dupes and alternatives! To keep things organized, I've divided this post my material, with a large vintage section at the end of the post. I've also referenced posts where I've worn or styled each bag — or will be doing so this autumn!
---
RAFFIA
---
Oddly enough, each bag in this section is from Zara (or maybe not oddly enough… it's one of my favourite retailers!) — and they were all purchased within the past year. Although these exact bags are now sold out, I've linked up tons of similar alternatives for you! Raffia is a versatile, durable material that can be dyed to any colour of the rainbow. I love its natural tones, but I also love it in colour!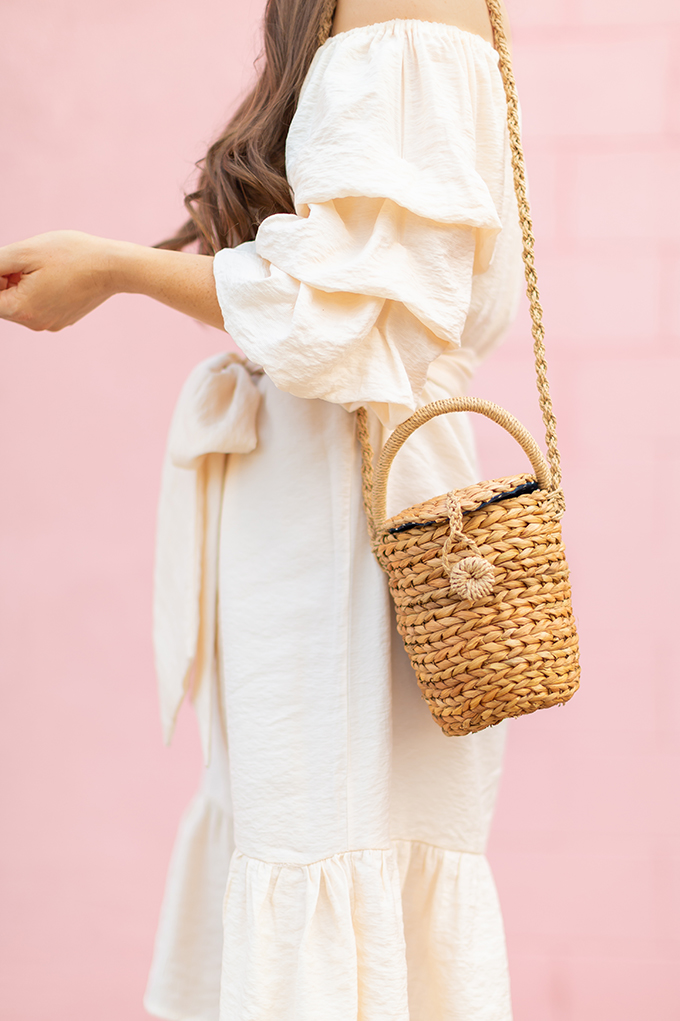 If you're in the market for a go-with-almost-anything natural material bag, this Raffia Straw Bucket Bag is a fantastic option. Originally she made her debut in my first Spring 2018 Trend Guide and has remained a favourite over the summer months. I find bags like this a breeze to incorporate into your personal style from spring to autumn — I find they compliment most of my seasonal outfits, casual or formal. If you love this one just as much as I do, SheIn created a nearly identical dupe that's still in stock (I removed the polka dot tie — but it's super cute!).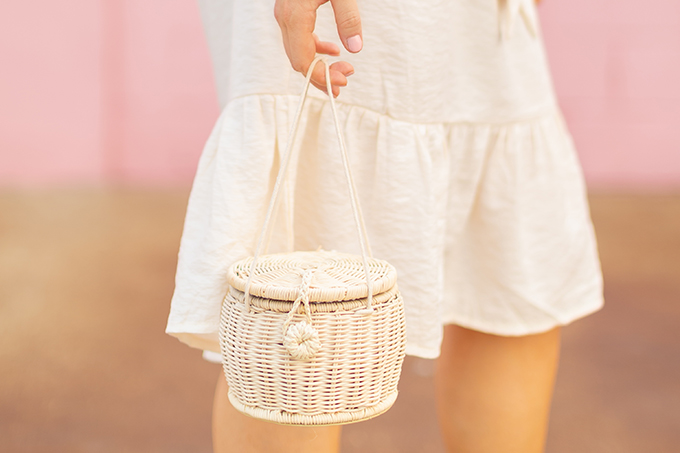 I got so many compliments on this darling Raffia Basket Bag, which I originally wore in my Colour Crush | Red post. I love the free spirited vibe it add to an outfit and find the light, natural tone so easy to style. Again, this is another bag I'll be wearing from spring though autumn — so stay tuned to see how I style her up for cooler temps!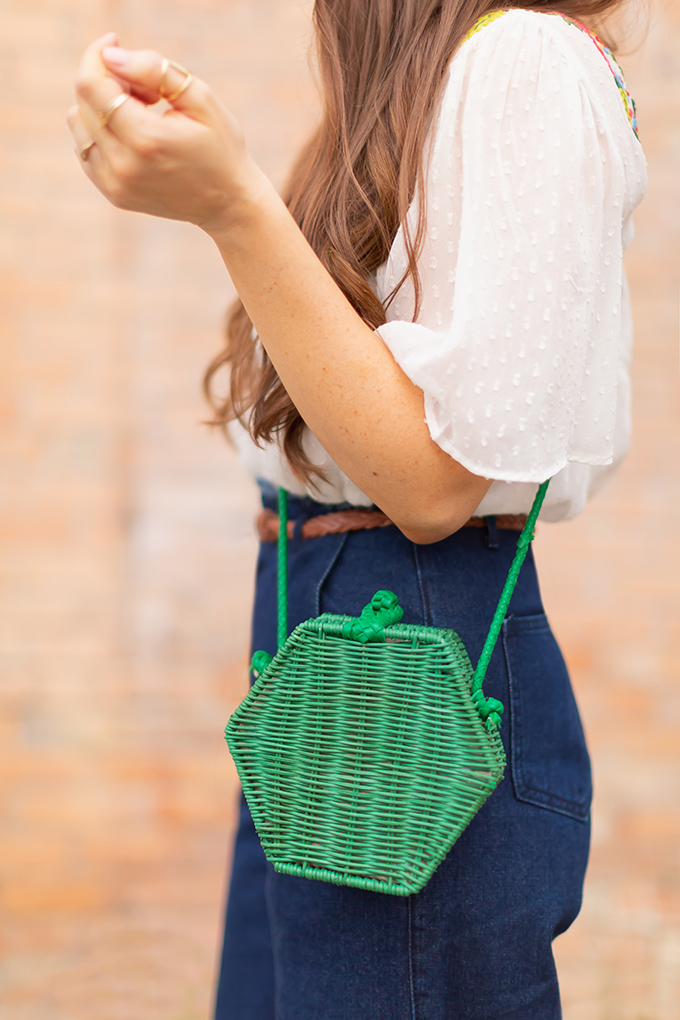 I fell hard for this hexagonal, kelly green stunner — and many others did as well, because it sold out almost immediately! I feel like we don't really see this shade of green often, especially in accessories, and I knew it had to be mine! Because of the bright, offbeat hue I actually feel like this bag will work year round to add a playful pop of colour to almost any look. Stay tuned to see how I'm wearing it this autumn in my upcoming How to Style | Culottes post!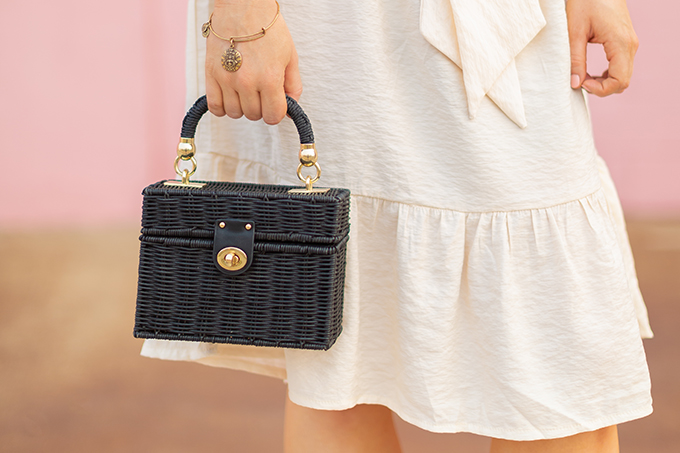 And last but certainly not least in the raffia section is the most recent addition to my wardrobe — my Black Raffia Minaudière Bag. You may recognize her from my What to Wear to | A Horse Race post, but I've worn this bag so much this summer and always receive so many compliments and questions about it! Because of the hardware, detachable, cross-body gold chain and structured shape, I feel it looks much more expensive that it was and adds an air of sophistication (and fun texture!) to any look. The size and versatility of of the minaudière is something I look for year round — and I will definitely be wearing this beauty season after season!
— SHOP MY FAVOURITE RAFFIA BAGS —

---
WOOD
---
Although I love all the natural material bags in my collection, my wooden bags are some of my my most treasured pieces. Each of these bags are hand crafted by skilled artisans and the detail, care and attention that went into each one truly makes me feel as though I'm wearing a piece of art. I cherish each of these bags and know they'll remain staples in my wardrobe for years to come!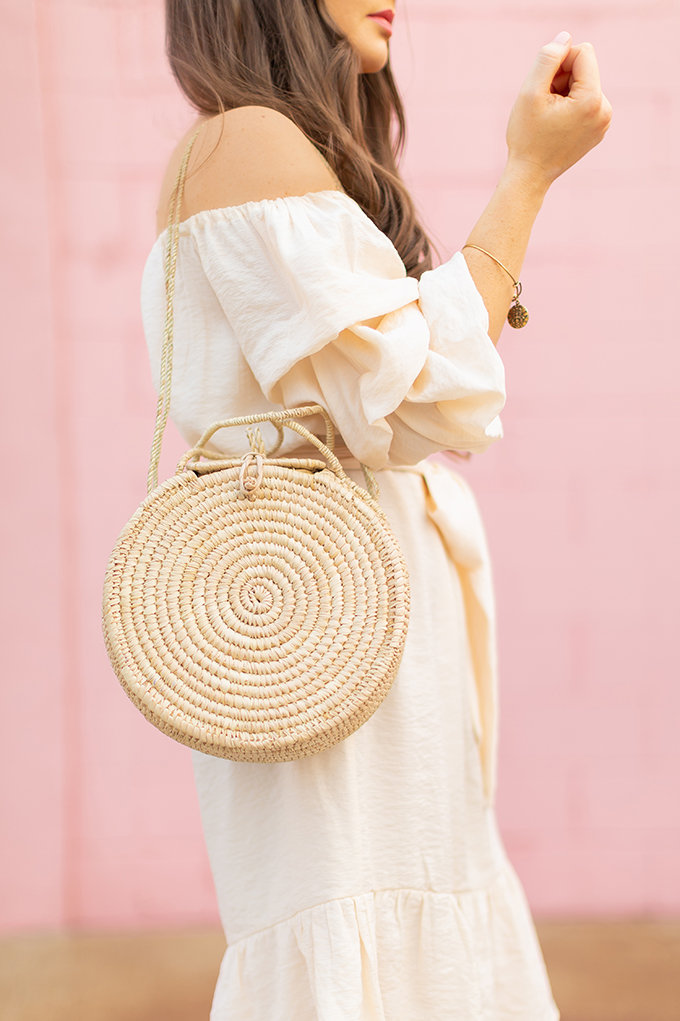 Everyone, meet my birthday present to myself this year — a jaw-dropping, hand woven, circular bag sustainably made in Africa by a female artisan and magically transported to Canada for me to enjoy! I originally spotted her via Prairie Bazaar's Instagram account this summer (they were one of the shops I profiled in my East Village Junction article for Tourism Calgary) and knew she had to be mine. It turns out that Prairie Bazaar stocked a few of Shop Demiie's bags for a weekend — and they sold out immediately (I was out of town!). So, I contacted Shop Demiie, desperate, to see if they had any left in stock — and they did! Shop Demiie is a new retailer based here in Calgary, but with roots in Africa — and each of her pieces is to die for. This particular bag comes in a few other colours and sizes, so if you love it as much as I do, you can pre-order through DM on their Instagram page. It's been my go-to bag this summer and I've been reaching for it often as we transition into autumn as well. Stay tuned to see how I style her up over the coming months!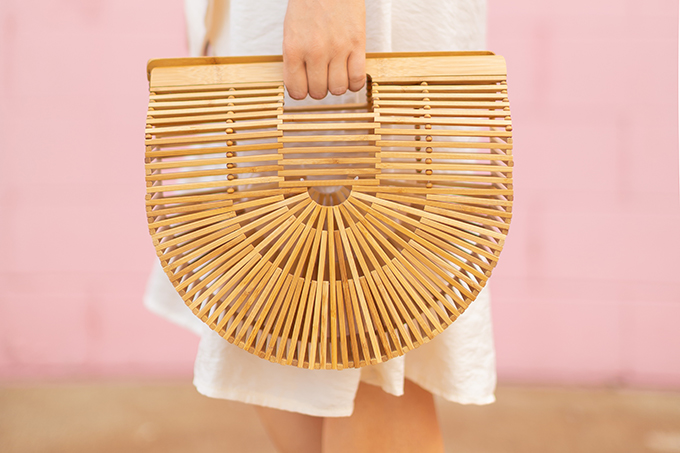 Ah, the bag that reignited my love for natural materials — the Cult Gaia Large Ark Bamboo Handbag. Originally featured in my Colour Crush | Orange post that published around this time last year (and shot at the same location) and worn countless times since, it's no wonder this infamous bag has a cult following. There are tons of dupes on the market now and everyone seems to have it — but mine is the real deal and I don't regret the splurge one bit! Gaia's Ark isn't the most practical bag to wear, but I truly love the design, it's proven to be durable and get asked about it everywhere I go. Since making this birthday purchase last summer I've become obsessed with literally everything Cult Gaia makes — like… I'll take one of each, please! I'm already considering the Lilleth for my next birthday (in August!). Isn't she stunning?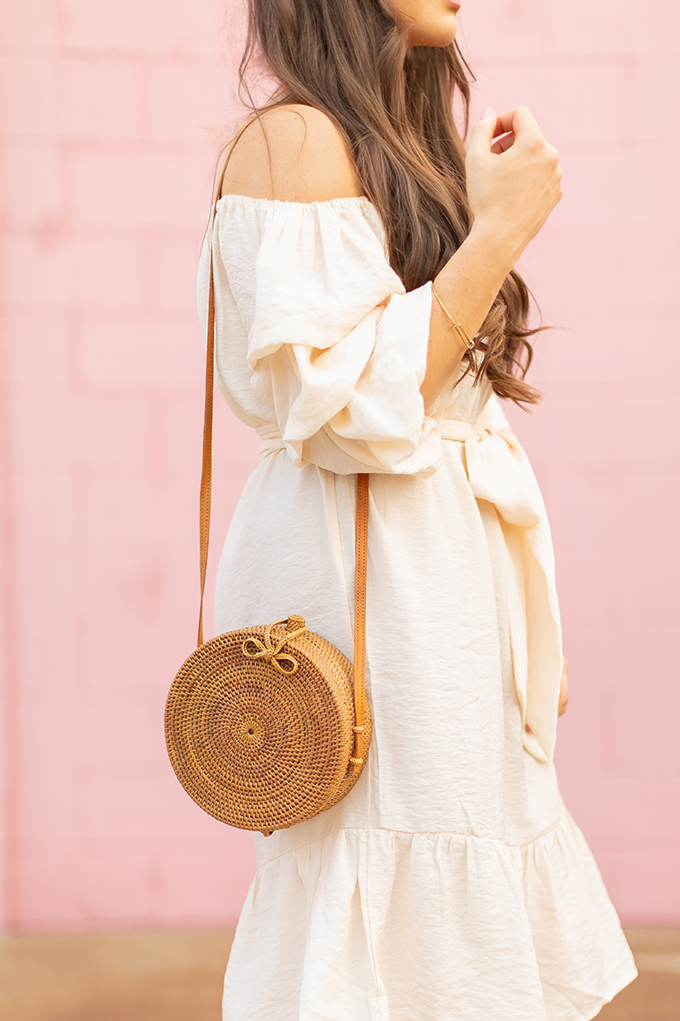 Instagram made these wooden, Balinese bags famous this year — and I'm fully embracing the trend! You first laid eyes on this intricately woven Bali Harvest Round Woven Rattan Bag in my What to Wear to | A Garden Party post. Balinese rattan bags are everywhere right now, but after some investigating, this was the most inexpensive option I could find at just $53 (some stores are selling this exact bag for up to $168!). It took forever to ship, however, the shipping time listed was accurate. It also has a beef jerky smell when it arrives, but airs out after awhile (if you order it, you'll know what I mean!). I love the way the warm wooden tones of the rattan compliment almost everything in my wardrobe! I've also linked identical and similar bags for you below.
— SHOP MY FAVOURITE WOODEN BAGS —

---
STRAW
---

As someone who gravitates towards warmer neutrals in accessories year round, this summer I found a happy medium in adding an injection of black natural texture into my wardrobe. This Round Straw Tote Bag has been a great option over the summer when I needed a black bag, but my minaudière felt too dressed up. Because of the inky hue, it's a perfect candidate to transition into AW18 as well!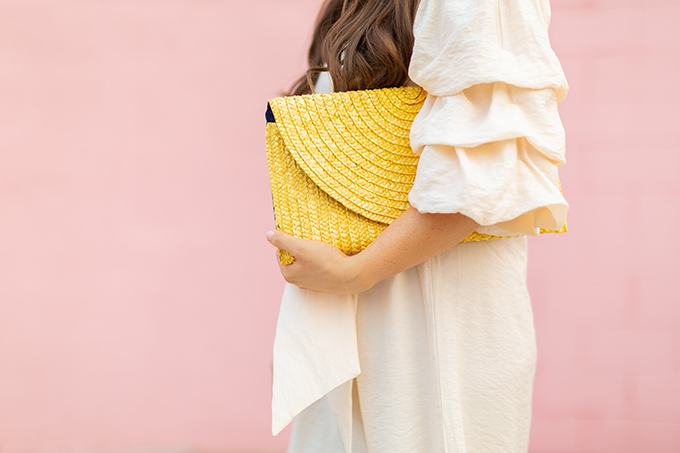 I picked up this sunny, oversized straw clutch on a girls trip to Napa Valley a few summers ago, and each year I look forward to styling her up when temperatures rise! In fact, if you've been with me since the beginning, you may recognize it. I love the bright pop of colour it adds to my ensembles from spring to autumn and the generous amount of storage it provides!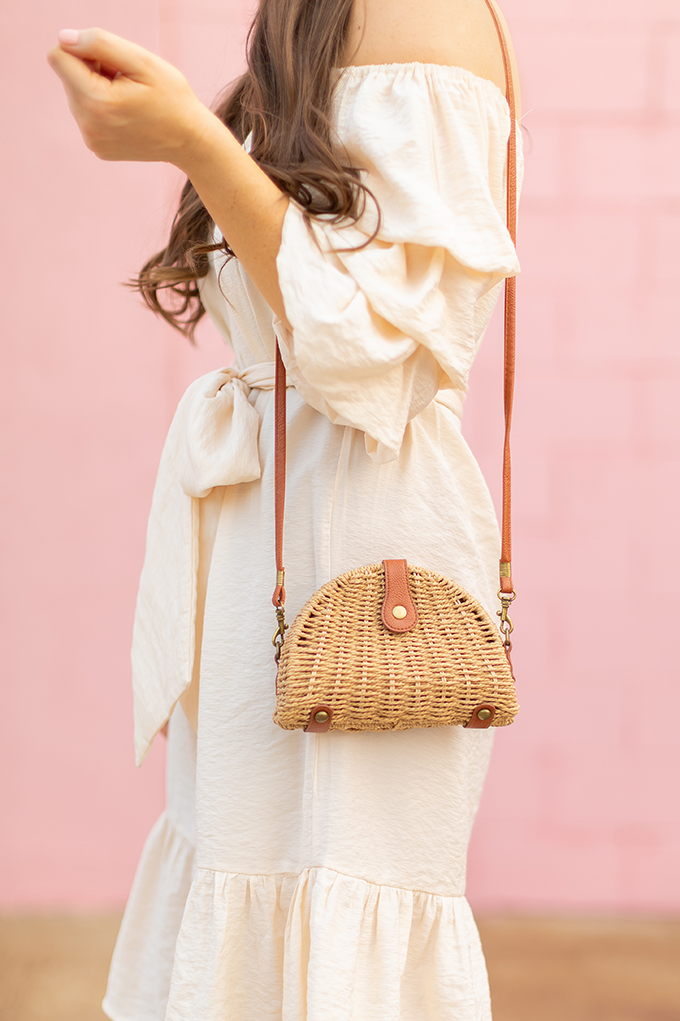 I impulsively added this Semicircular Straw Crossbody Bag during my most recent SheIn order — I loved the design, but since it was priced at just $15, I wasn't sure about the quality (ordering from that site is like playing fashion roulette!). Much to my surprise it arrived exactly as pictured and the quality is fantastic! I've been reaching for it often as we transition into autumn — stay tuned for some additional styling inspiration coming soon!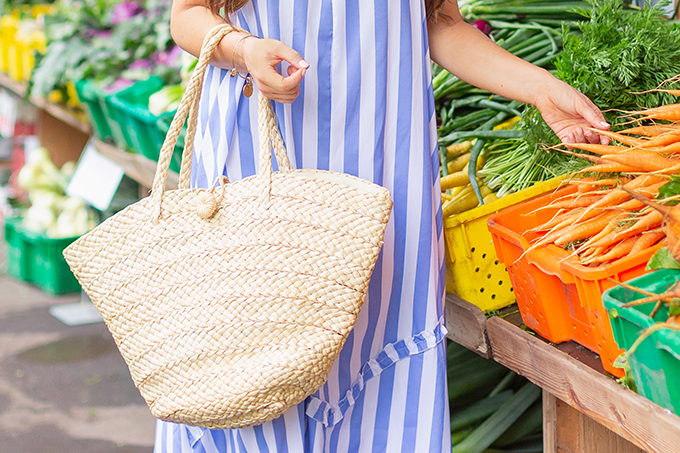 This oversized straw tote has been with me for years — and it's my to-go bag of choice for farmers market runs! I actually don't use it as a purse very often, but love it as a more stylish (and eco-friendly) alternative to shopping bags. I think a basic, good quality straw tote is a fantastic addition to every woman's wardrobe — no matter how you use it!
— SHOP MY FAVOURITE STRAW BAGS —

---
JUTE
---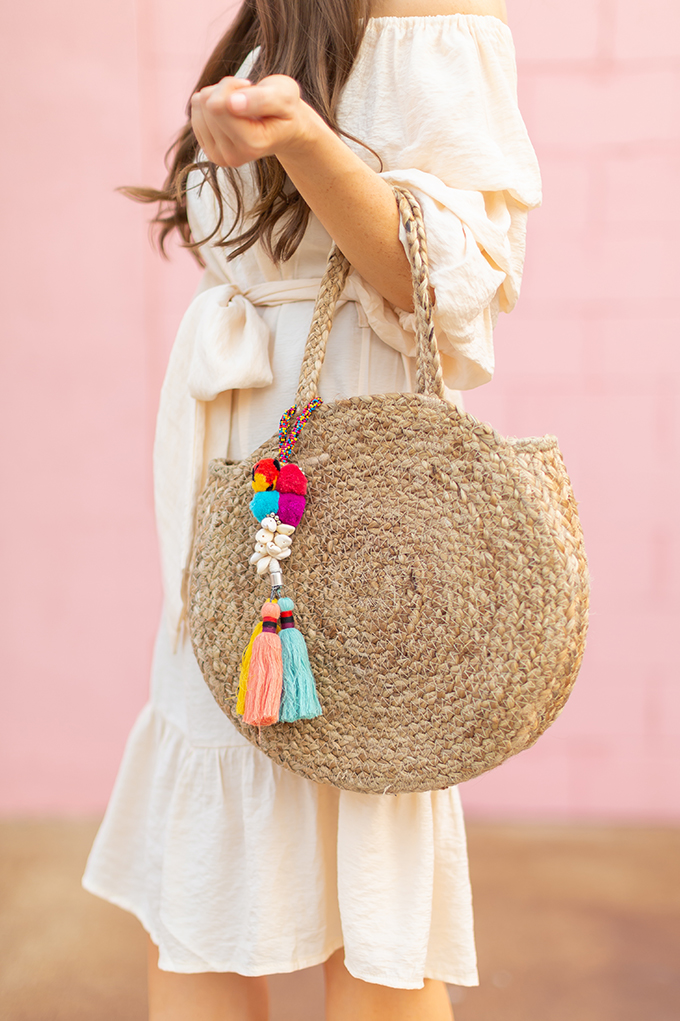 What my jute section lacks in quantity it makes up in fun — am I right?! Seriously, just looking at this bag conjures up happy summer memories! I Originally worn in my first Summer 2018 Trend Guide, this jubilant number made it's way in to so many of my summer ensembles — and I love that I can simply tuck the charm inside if I want a more neutral option. I love the size for daytime — it's not as large as a tote, but offers more space than a cross body. This woven jute is super durable and forgiving — and still looks as good as new!
— SHOP MY FAVOURITE JUTE BAGS —

---
VINTAGE
---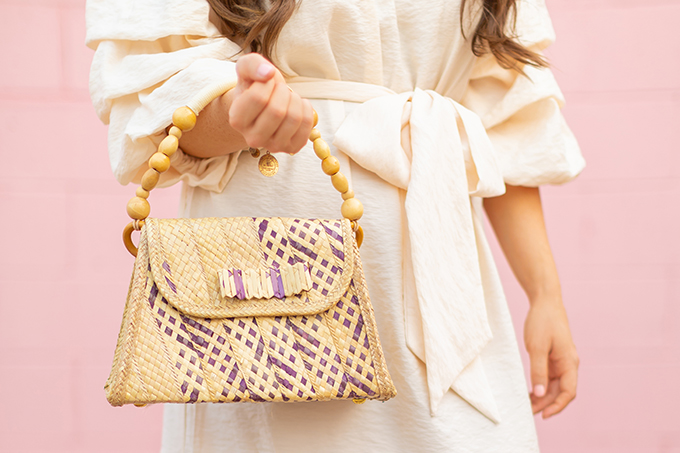 I've always had a soft spot for vintage. Did you know I nearly opened an online vintage shop about 6 years ago? It didn't end up working out, but before selling off my inventory, you better believe I had a comb through and kept my most treasured pieces for myself. Most of my vintage natural material bags were estate sale finds — some from I've owned for nearly a decade and some that are more recent additions! Because of the nature of vintage I wasn't able to link these exact bags up for your shopping pleasure, but I hope the stories and anecdotes behind each of them inspire you to scour your local thrift shops, estate sales and flea markets for some natural material gems of your own!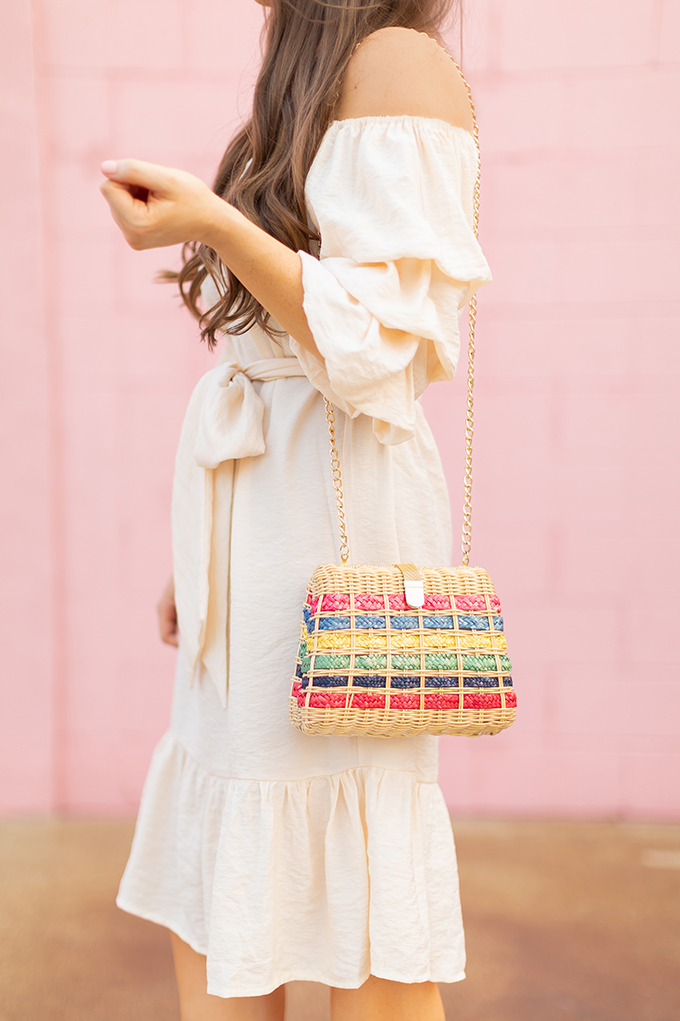 One thing is for sure, vintage natural material bags are unique, well made and always have a story to tell! The first bag in this section was an estate sale find and I love the fun splashes of purple intermixed with the wooden, beaded handle, while the second was a colourful, $6 Value Village find earlier this summer.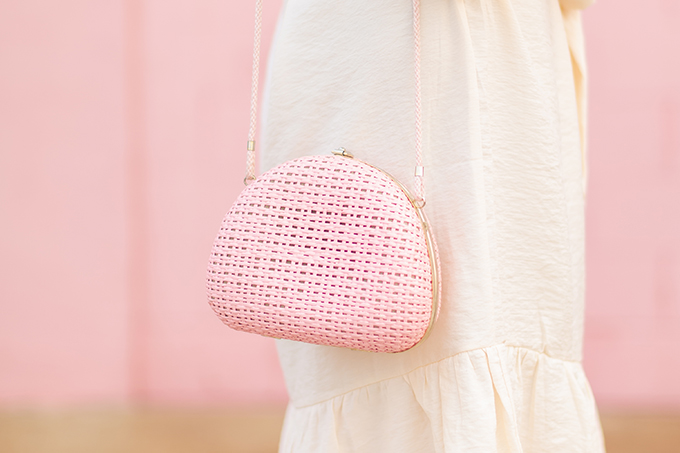 This darling, pink, Italian made straw bag was a gift from Ellen at Prairie Bazaar — it caught my eye as I was photographing the container for my Tourism Calgary article. I made a mental note to come back for it after I was finished with work for the day, but she beat me to it and came over to our picnic table with this bag all wrapped up for me (what a sweetheart!). While East Village Junction is now closed for the summer, Prairie Bazaar has a beautiful online store where you can continue to shop their unique boho treasures.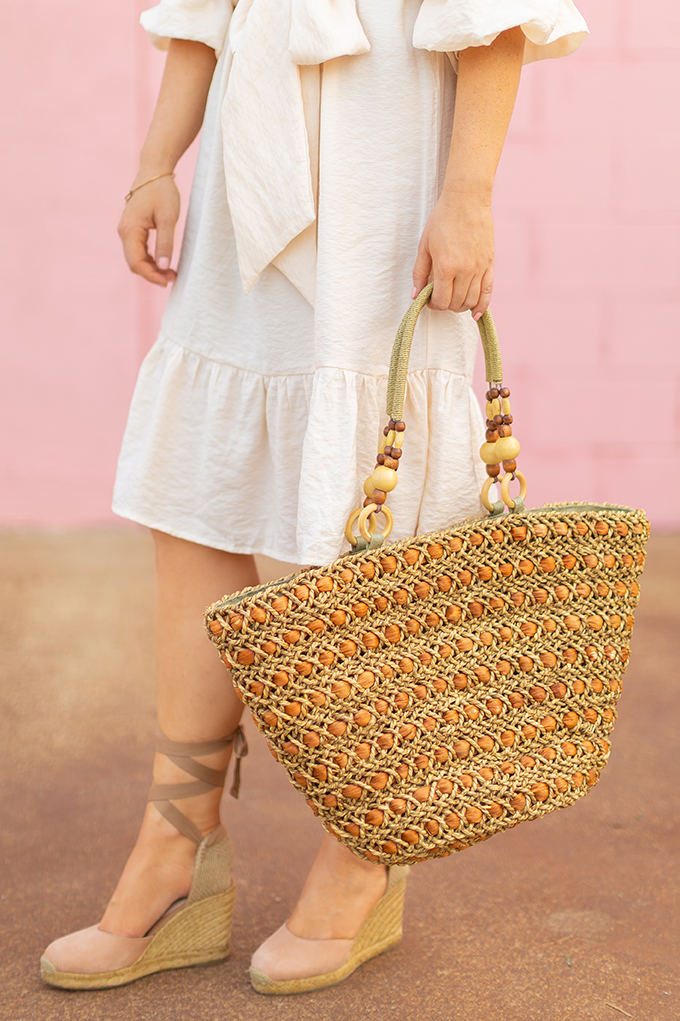 This woven tote was actually another inexpensive thrifted find — and I styled her up last spring here at JustineCelina when natural material bags were first starting to trend. Believe it or not, this bag actually doubles as a briefcase for me from spring though autumn in more casual settings. I have room for my laptop, iPad, chargers and even my camera!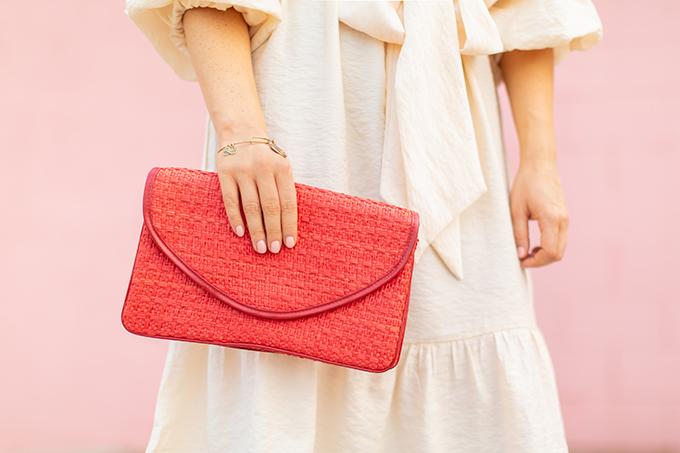 This sweet little red clutch is another Italian made estate sale find that continues to be a fantastic option when I'm looking for a bold pop of colour, year round. I also attach a gold metallic chain to the hidden clasps for a hands free option!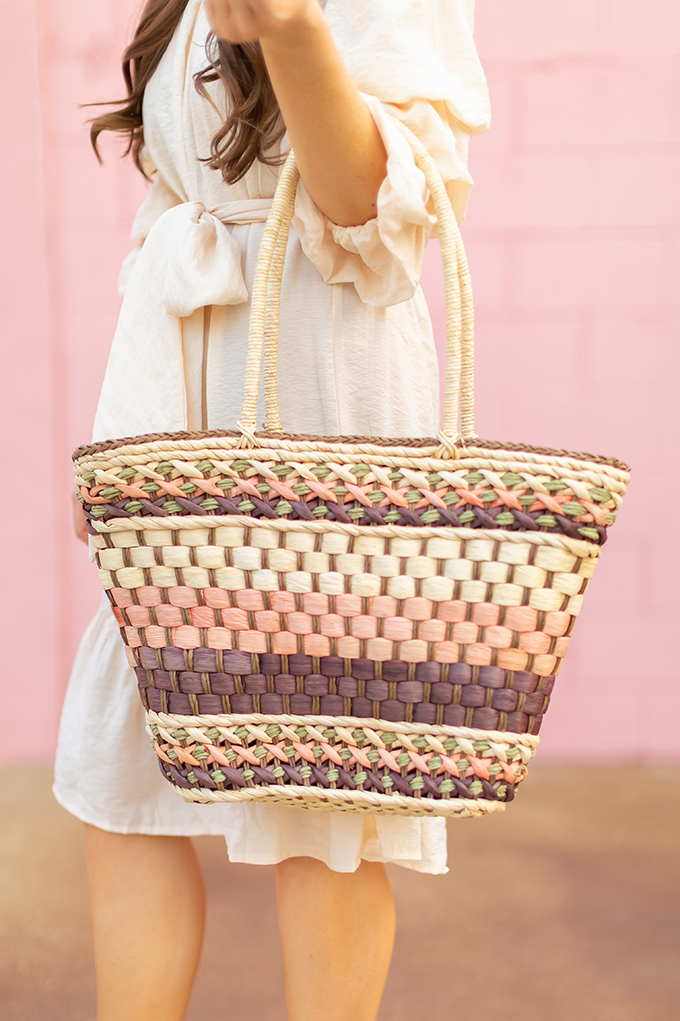 I love the autumnal colour story of of this oversized, vintage straw tote that I picked up recently during a Value Village run! Isn't it gorgeous? You'd be amazed at what you can find at your local thrift store for just $5!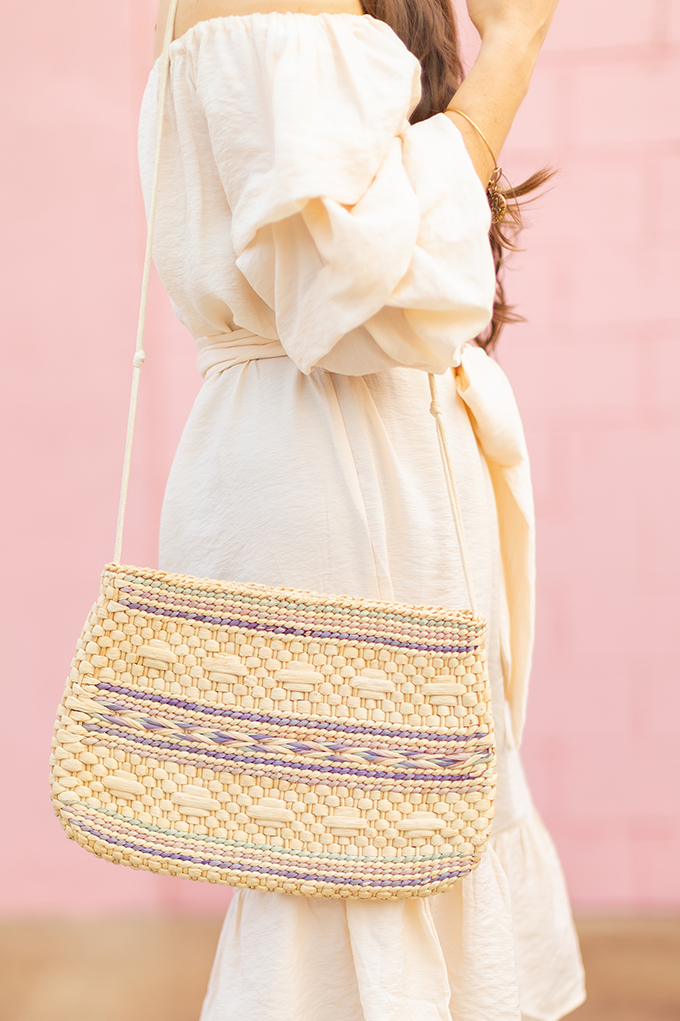 Last in my vintage section is this aztec, pastel dream — another estate sale find. A quintessentially summer bag, she's been with me through many seasons and I always look forward to dusting her off and pairing her up with all my little white dresses!
— SHOP MY FAVOURITE VINTAGE NATURAL MATERIAL BAGS —

---
SHOP MY FAVOURITE NATURAL MATERIAL BAGS
---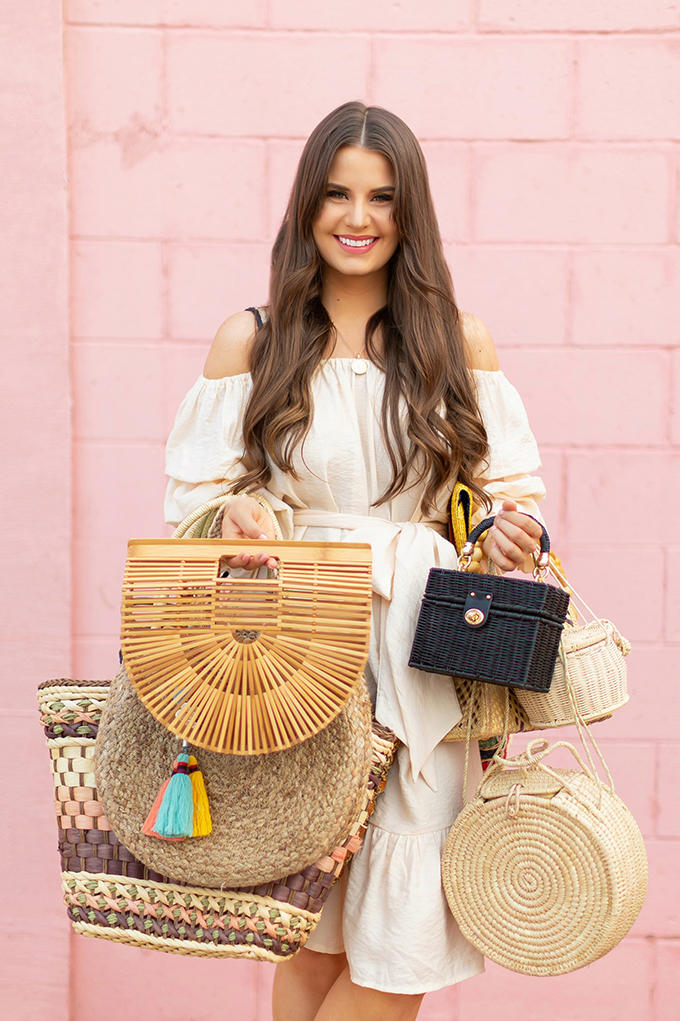 — Outfit Details —

---
MORE TRANSITIONAL STYLE INSPIRATION
---
What to Wear to | A Garden Party
Transitional Shoe Guide | Summer to Autumn 2018
What to Wear to | A Horse Race
---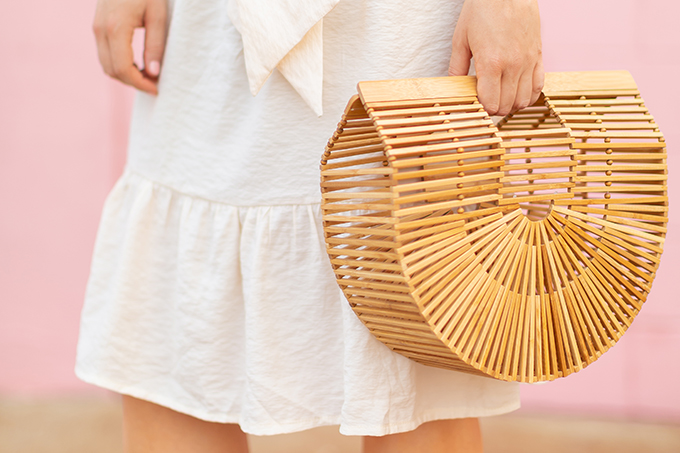 Are you on board with the Natural Material Bag trend? I hope this post inspires you to get creative and search for your perfect natural material bag in unexpected places, or support local businesses and artisans! Stay tuned for tons of fresh styling inspiration as I style these beauties into autumn — we've been working hard to bring you tons of transitional style content this year and I cannot wait to share it.
If you're looking for even more sartorial inspiration, you can also follow along with my JustineCelina Fashion board on Pinterest. And if you want a sneak peek at what I'm wearing before it trickles onto these pages, as well as some exclusive style content you won't see here, come join me over on Instagram. I'd love you have you!
---
Disclaimer: This post is not sponsored and contains my genuine thoughts, ideas and recommendations. Thank you Prairie Bazaar for gifting my beautiful pink straw bag. JustineCelina uses affiliate and referral links, which allow me to receive a small commission when you make a purchase through one of my links. Thank you for supporting the brands and businesses that support JustineCelina!