---
Welcome back for a fresh installment in my PATTERN PLAY series today, friends! Earlier this autumn, we discussed all things snakeskin — one of AW18's hottest prints. While the pattern we're focusing on in this post isn't nearly as statement-making, I was absolutely thrilled to see a resurgence of paisley this season. Paisley is a very vintage feeling print that's always had a special place in my wardrobe — but when I spotted this dress earlier this autumn (which I think would make a stunning holiday dress for you fellow bohemian beauties!) it was love at first sight! In true JustineCelina style I ordered her in 2 different colour stories and I have so much fun styling her up this autumn / winter. Today's post, shot at my childhood home in rural Alberta, is dedicated to all things paisley — including the history of the print, styling options, tips to help you select your perfect paisley piece and tons of shoppable links at every price-point for your browsing pleasure!
Although I consider paisley to be a classic print, it's also a polarizing one — you either love it or hate it. I personally love it! Paisley has graced the pages of JustineCelina many times, but made less of a statement (like in my vintage scarves, for example). It also has quite an interesting history! Although of Persian origin (the buta shape is characterized by an almond-shaped motif with a curved tip), paisley became popular in psychedelic culture in the 60's thanks to The Beatles. The buta traditionally symbolizes fire and commonly makes an appearance on Persian carpets, rugs and textiles — but this season, we've seen it popping up more frequently in the form of dresses, skirts, blazers, scarves and ties. If you're intrigued by this unconventional pattern and have been coveting a paisley piece of your own, settle in for a educational, fashion-focused read!

---
PATTERN PLAY | PAISLEY
---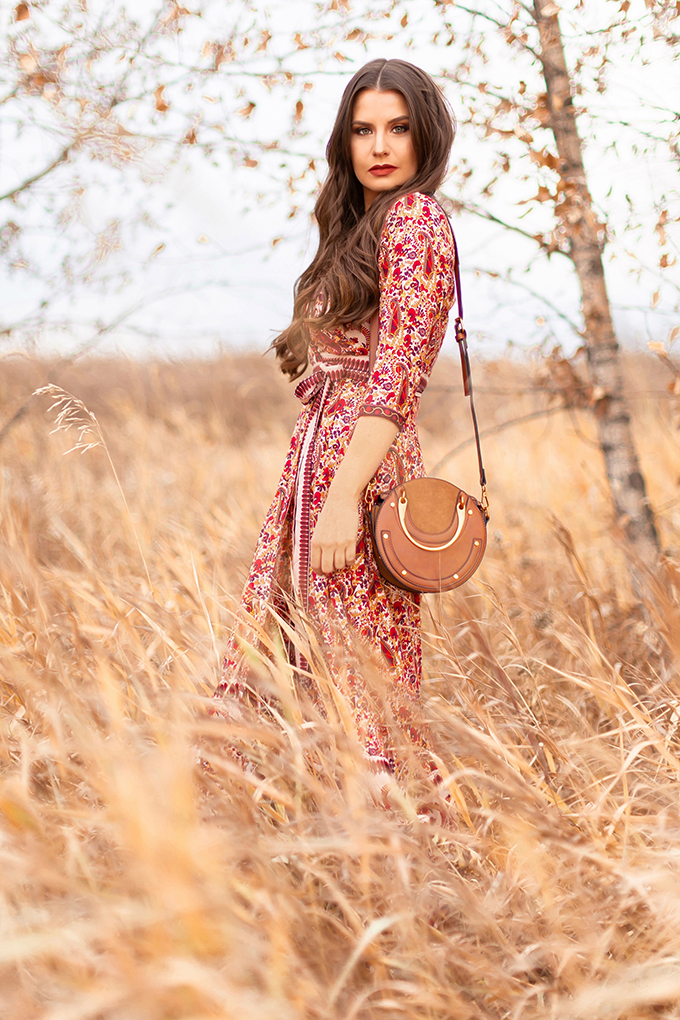 I'm so excited to share this set of images with you today! We're gearing up to begin shooting winter style content this week, but I wanted to publish these photos before autumn's official end on December 21st (although, it's felt very wintery here in Calgary for quite some time!). We captured these images just before the first major snowfall while the last leaves were still hanging on during my tech-induced posting break. Looking back at all the style content we shot over the course of that month, I have to say these images are my favourite. I always love shooting in the tranquility of the country — but the golden tones of the dried foliage here were to die for and I feel they compliment this bohemian look beautifully!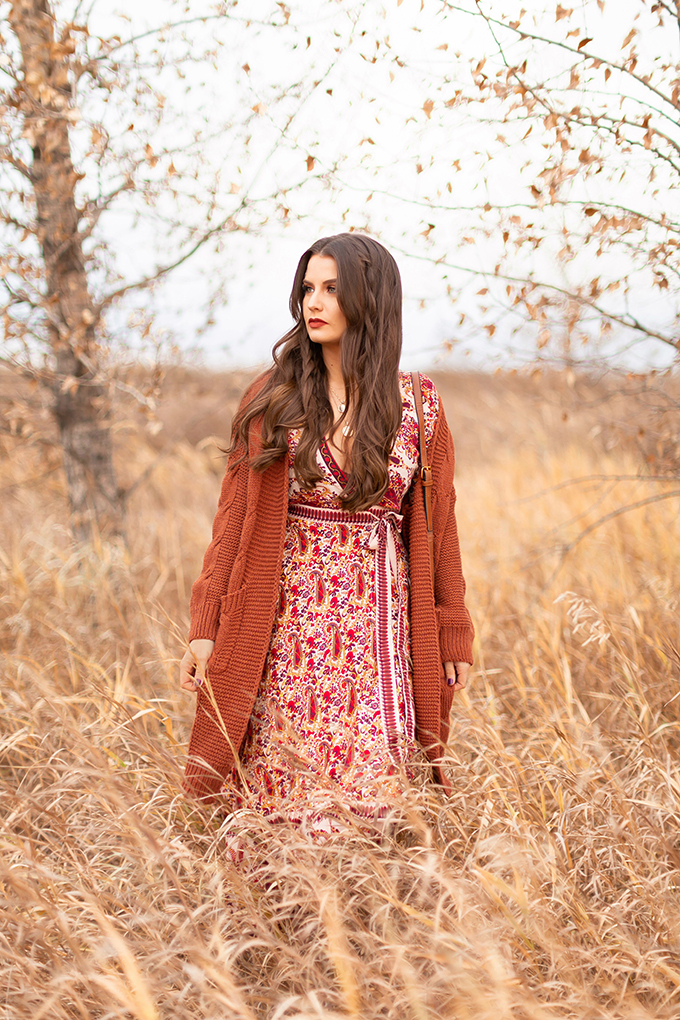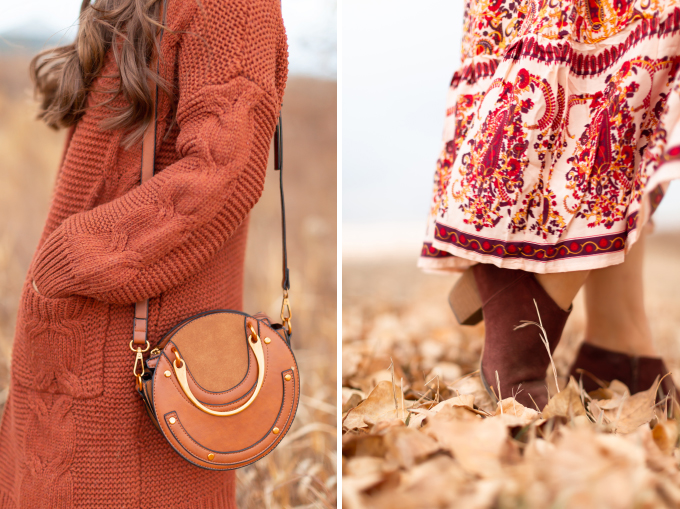 This casual, free-spirited outfit was inspired by the gorgeous tones and texture of my Paisley Print Wrap Dress (which is just $36 at SheIn, believe it or not!) along with the changing autumn landscape. I absolutely love to style maxi dresses for cooler temperatures and this is a prime example of a one of my go-to, daytime autumn looks when I feel like taking one of my maxis out for a spin! By layering her up with a pretty bralette for some extra coverage (this is a true wrap dress and very low in the front!), a slouchy, longline cardigan and a pair of my trusty, low-heel burgundy ankle boots (which I wore in one of my very first style posts back in 2015!), I was warm and cozy.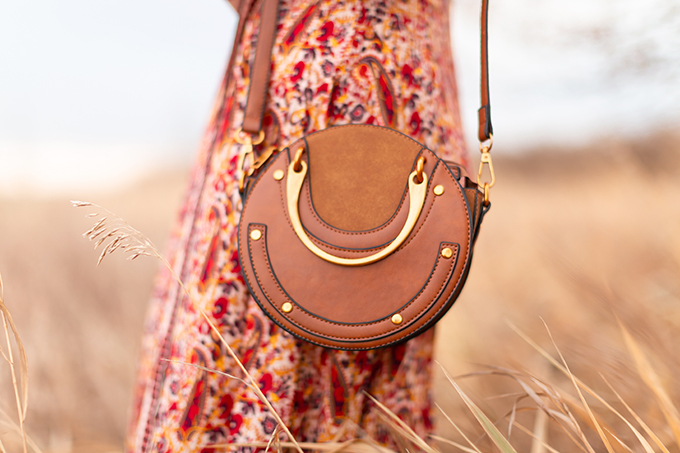 Bag-wise, I opted for this yummy, rich caramel Chloe Pixie dupe (I've really been on a role with finding great dupes this season — the trouble is they always sell out!) to keep things feeling monochromatic and bohemian. You guessed it — I love this bag so much I also managed to snag it in a delicious forest green hue before it sold out!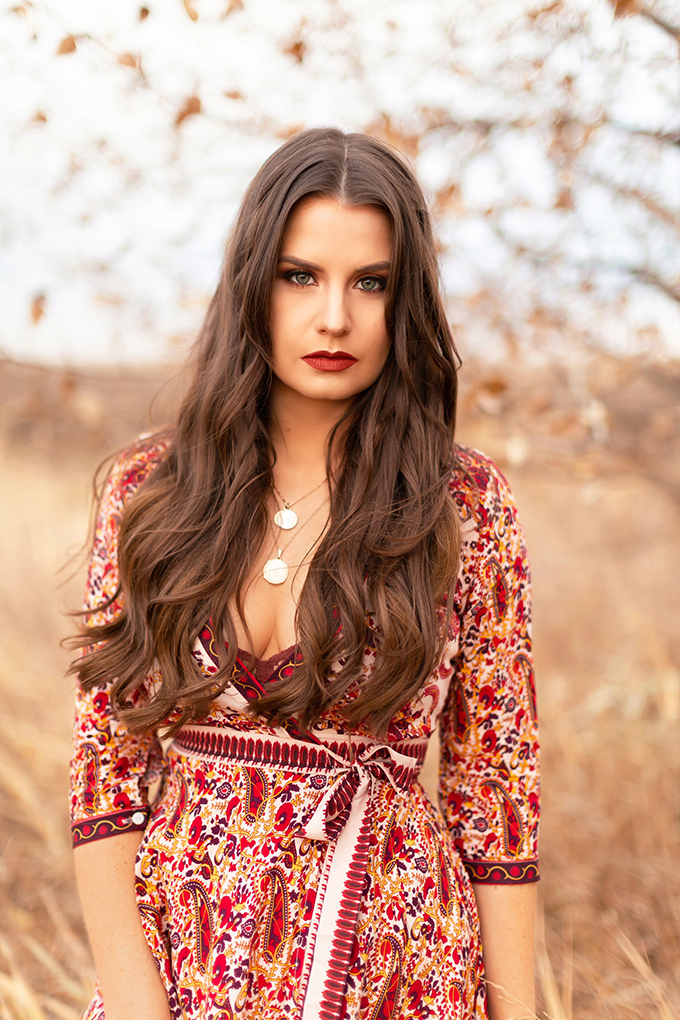 I finished the look with a warm, rusty smoky eye and one of my favourite autumnal liquid lipsticks — Smashbox Always On Matte Liquid Lipstick in Out Loud (find reviews, additional photos and swatches here, here and here). I love the way orange-based tones complement my green eyes and always receive so many compliments whenever I wear them! I also wanted to add lots of texture to my hair so I experimented with adding a few random braids and twists, then back-combing the ends for that free-spirited, tousled look.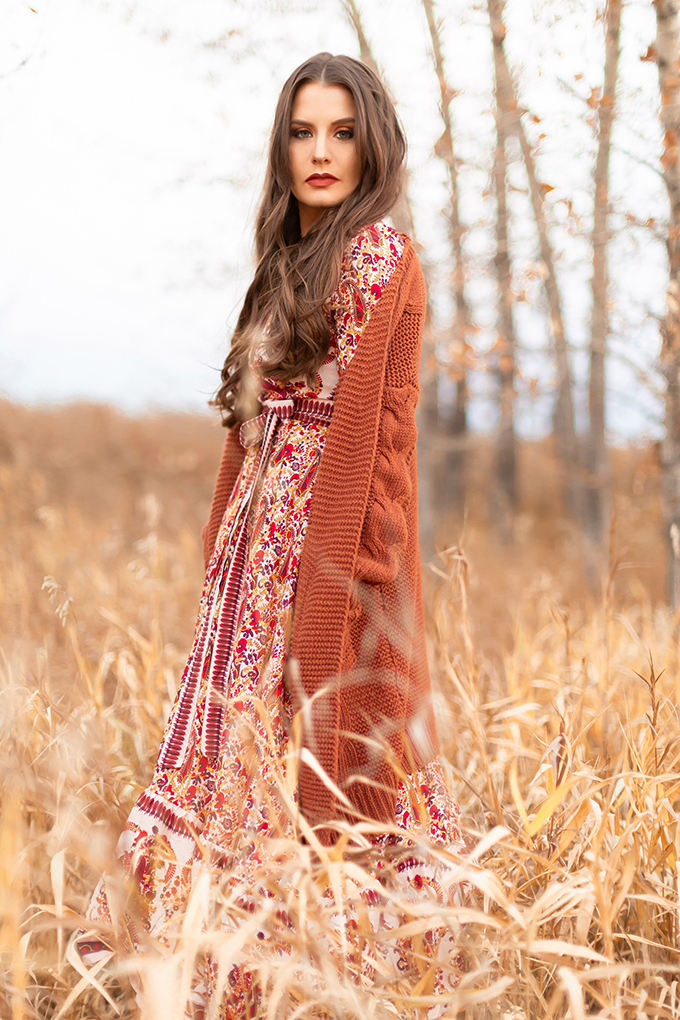 Although I've styled this dress in a daytime-appropriate, autumnal way, you could easily winterize her! I'd start with a base layer of insulated tights, swap the cardigan for a longline wool coat, select a pair of brown, OTK boots and experiment with different hats or headbands — a beret would work well. You could even layer a slim-fitting turtleneck top underneath the dress if you live in a particularly chilly climate! I shared my favourite pairs of OTK boots (I own them in black and brown!) as well as my go-to layerable turtlenecks in my Autumn 2018 Lookbook, if you're looking for more styling options or cool-weather wardrobe basics!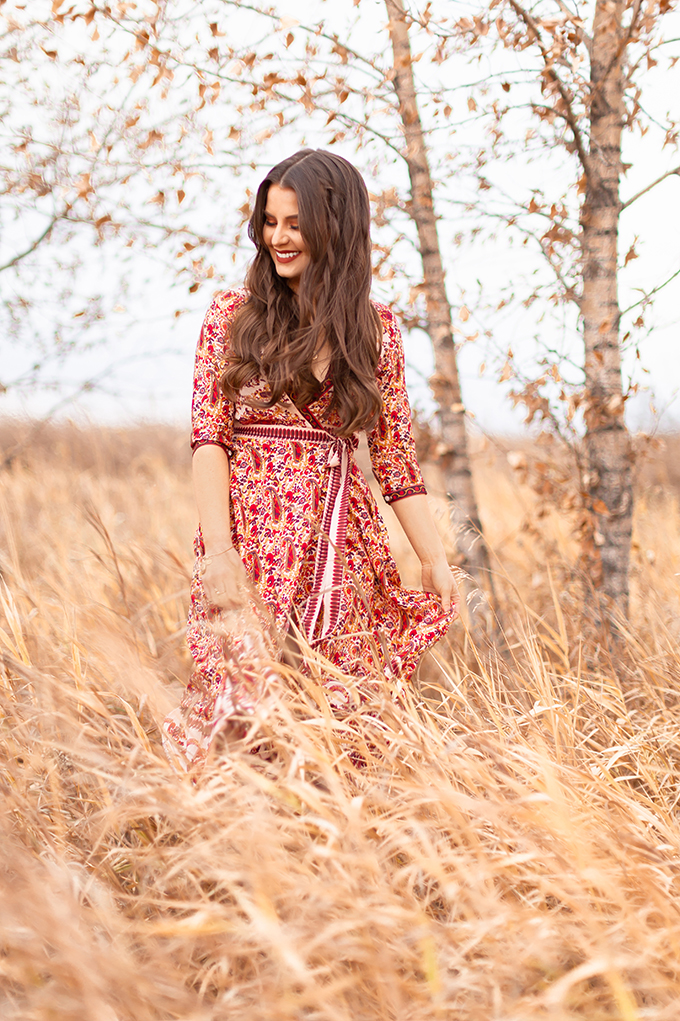 Are you ready to take the paisley plunge? As always, there are so many different ways to incorporate any print into your wardrobe in a way that harmonizes with your personal style, body type and lifestyle. A great way to get started is by opting for a paisley accessory, like a scarf (click here for styling inspiration). Paisley is one of those seasonless prints that works year-round, especially in scarf (or headband) format!

If you're intrigued by paisley printed garments, here are a few general rules that may help inform your selections. Typically, taller gals can pull off larger prints, or all over prints (this look is a perfect example of that — I'm 5'8″ and feel that this dress doesn't overwhelm me because of my height — and also because I broke up the pattern with a solid cardigan) — while shorter babes should opt for a smaller scale print more in proportion with their silhouette. Of course, rules were meant to be broken, but these suggestions are a great place to start!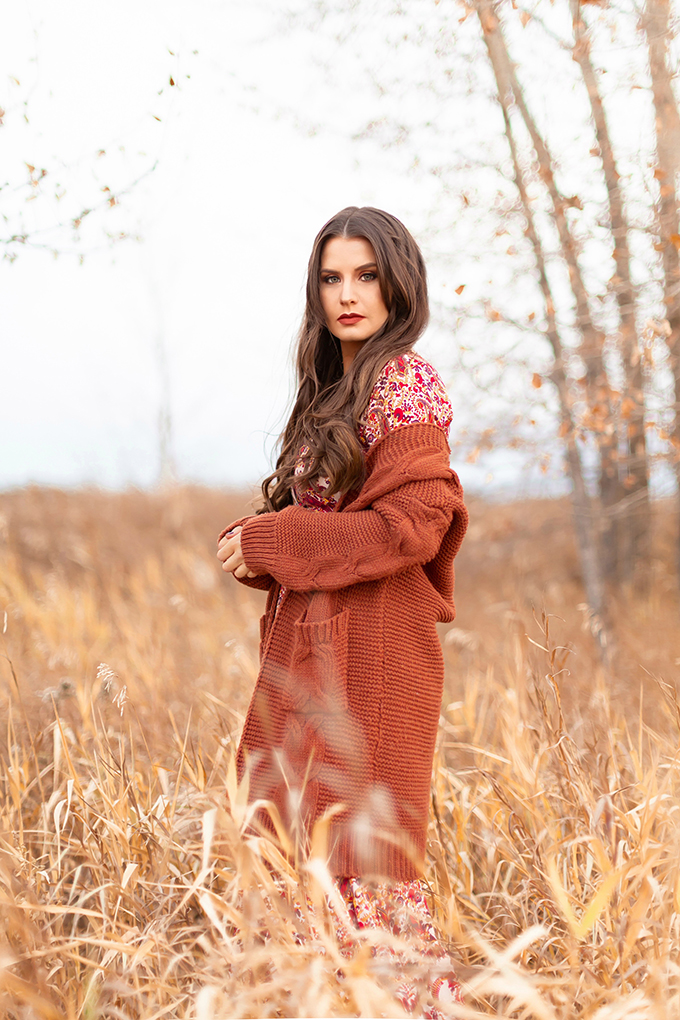 I've scoured the internet to curate a selection of my favourite paisley printed pieces (wow, that's a tongue twister!), but I can't recommend my gorgeous dress enough. As I mentioned, I purchased it in the alternate colour way and love both equally! This dress is 95% cotton, cut beautifully and fits like a dream (for reference, I'm wearing a small and have a 34 C / 32 D bust). It is quite low on me, but wearing a pretty bralette underneath (the FP One Adella Bralette has quickly become my all-time-favourite!) is the perfect solution for more modesty.

---
MORE FROM MY PATTERN PLAY SERIES
---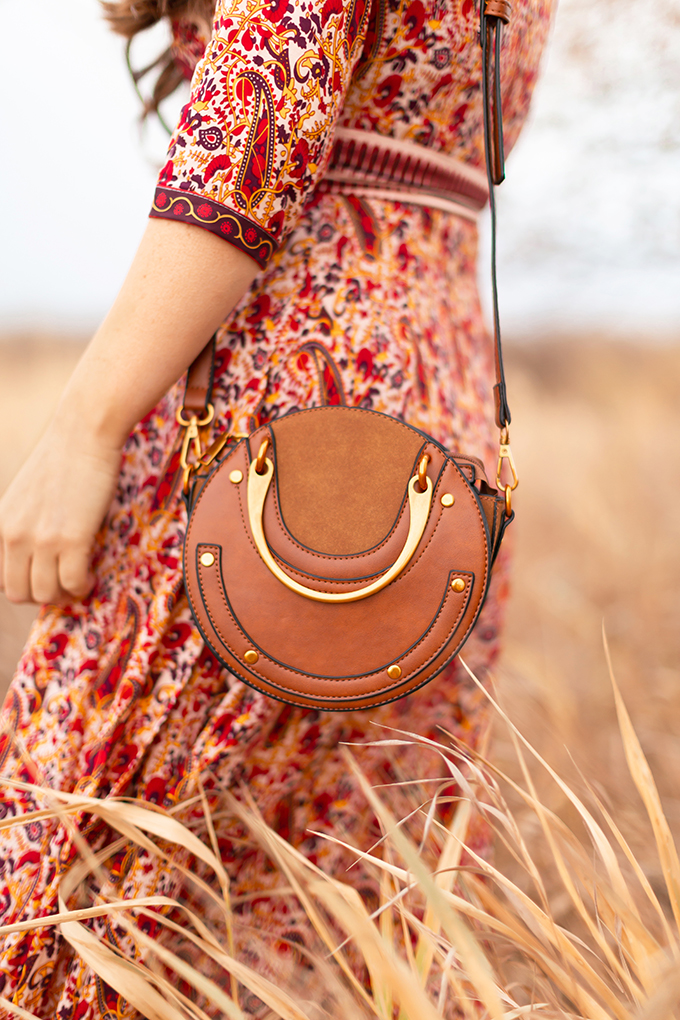 What pattern would you like to see my spin on next?!
---
SHOP THE POST
---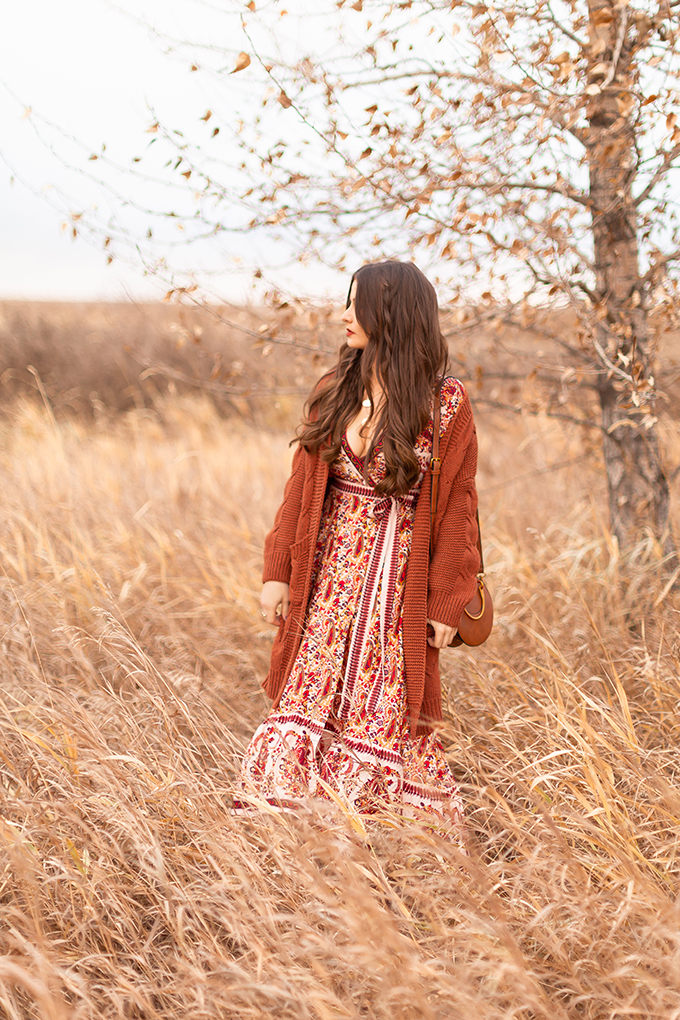 ---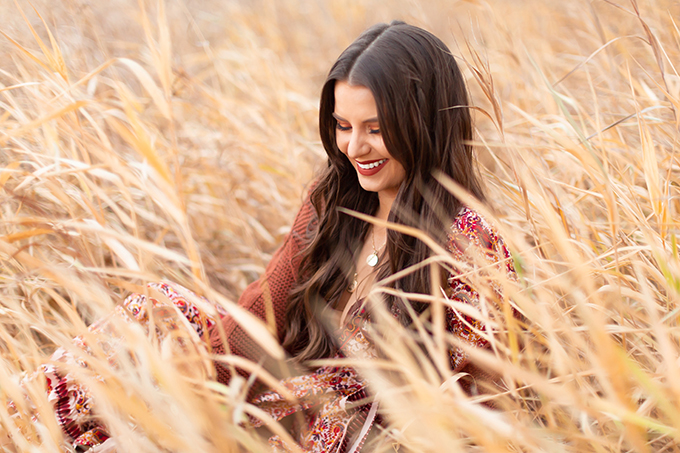 Have I convinced you to experiment with paisley? Although paisley will always have a place in my wardrobe, I'm happy to see it trending this season in so many fresh interpretations. In fact, I found an incredible, corduroy paisley blazer as a vintage shop during my art college days and wore it to death (it actually had a very similar colour story to this dress!). With all the moving I did in my 20's it must been lost somewhere along the way… but I still think about it! Hopefully one day we'll be reunited or I'll be able to find a similar piece somewhere — but in the meantime, I'll be wearing these paisley dresses every chance I get!
If you're looking for even more sartorial inspiration in the meantime, you can also follow along with my JustineCelina Fashion board on Pinterest. And if you want a sneak peek at what I'm wearing before it hits the blog, as well as some exclusive style content you won't see here, come join me over on Instagram for daily posts and BTS / day-to-day life on Stories! As I mentioned I'm in full-on holiday mode and planning winter STYLE content, so if there's anything in particular you'd like to request, just leave me a comment! Thanks for spending a little bit of your Tuesday with me today, friends.
---
Disclaimer: This post is not sponsored, and contains my genuine thoughts, ideas and recommendations. JustineCelina uses affiliate and referral links, which allow me to receive a small commission when you make a purchase through one of my links. Thank you for supporting the brands and businesses that support JustineCelina!