Welcome back for another installment of my AUTUMN 2016 TREND GUIDES — where I break down this seasons biggest trends and show you how to wear them! With so many great new sartorial trends cropping up this season, I've chosen another handful of my favourites to style for you — this time in a boho-luxe look with urban flair. Today we're chatting bomber jackets, velvet and satin, mini bags, square and block heels (yep, they're back!), mock necks, jewel tones, circular shades and matte, velvety lips! If you're looking to update your personal style with some versatile staples this season, you'll love this post — each piece I'm wearing has been on heavy rotation in my autumn wardrobe. And of course, I'll be referencing the Fall 2016 Pantone Fashion Trend Report — it's been a major source of inspiration to me in all creative avenues this autumn!
---
Bruers Velvet Headband in Burgundy | Round Sunnies (similar) | Satin Bomber Jacket (similar) | Tissue T-Neck Pullover c/o Kersh | Cropped Trousers with Slits | Medium Heel Pointed Shoes (similar) | Beaded Bucket Bag | Kat Von D Everlasting Liquid Lipstick in Lolita
---
AUTUMN 2016 TREND GUIDE | URBAN GYPSY
---
I totally felt like an urban gypsy in this look — and I loved every minute of it! When putting together these trend guides for you, one of the biggest challenges is to figure out how I can best showcase seasonal trends while remaining true to my personal style. It's actually so much fun and this one in particular was quite challenging — but I love the way it came out!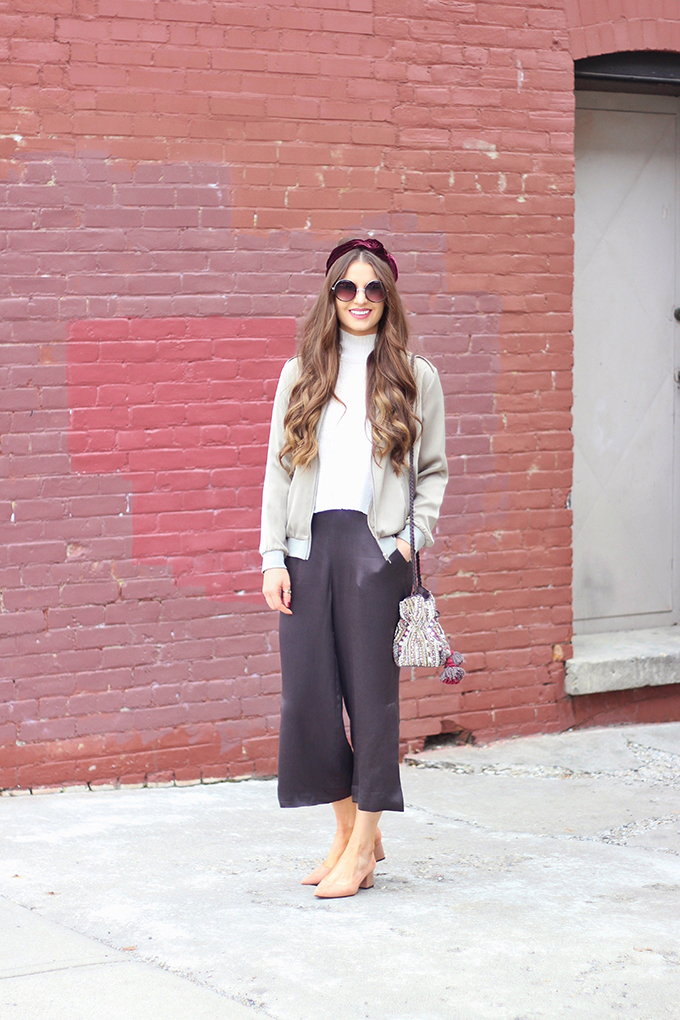 One of the biggest themes we're seeing this autumn is classic pieces (like a jacket, accessory, pant or a shoe) revisited in luxurious fabrics — enter velvet and satin. I've mentioned many times that I like to mix high and low in my personal style and I'm doing that here today — in terms of price, but also terms of fabric and texture. I love knits against satin, bomber jackets complimented by luxurious velvet and beaded details alongside patent leather. Playful juxtapositions like these really allow you to put your own personal signature on a look — I actually chatted about this very thing at the same time last year!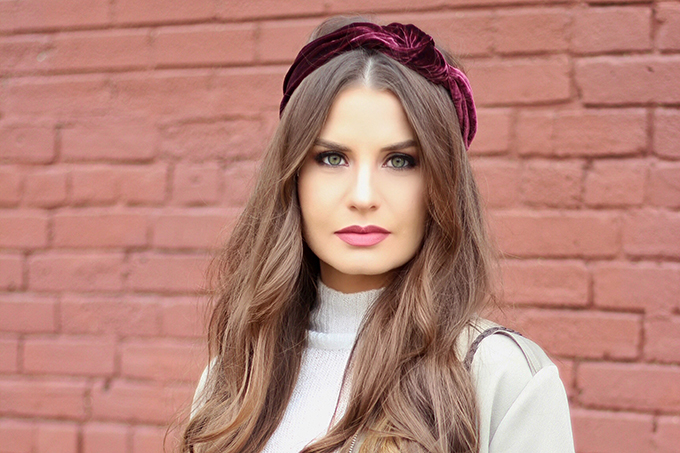 If there's one thing I hope this post encourages you to do, it's to step outside of your comfort zone this season and experiment with your style. There are so many great trends to make your own this autumn — why not pick up a piece you never thought you'd wear and challenge yourself to style it? You might be surprised at what you come up with — just like I was in creating this post!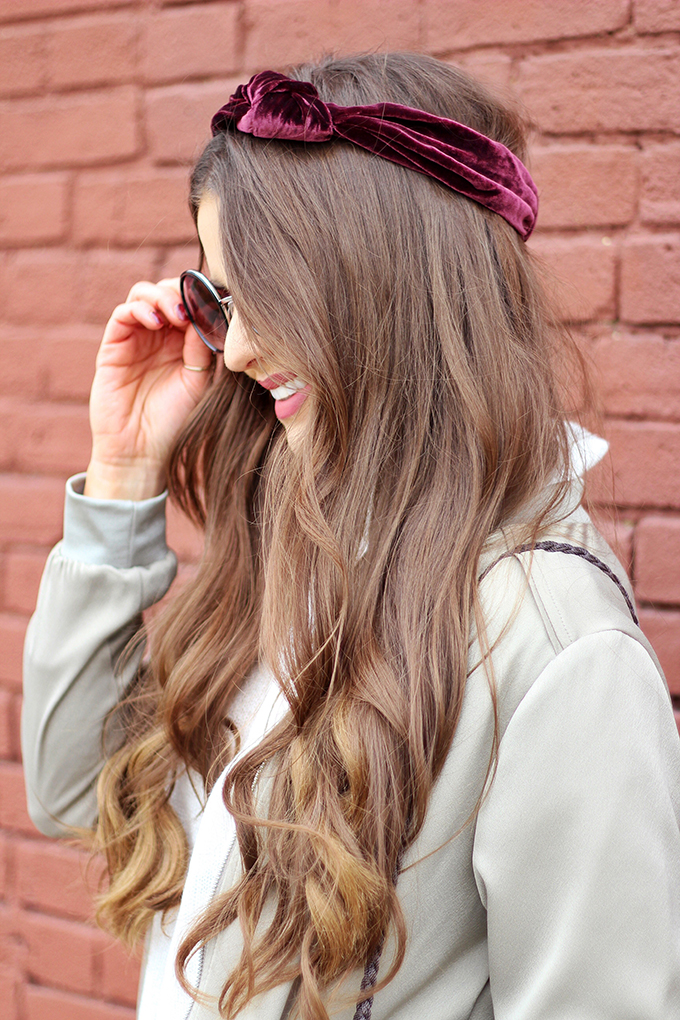 ---
TREND: The Bomber Jacket
---
The bomber jacket the quintessential trend of Autumn 2016 — they're everywhere this season! At first, I thought the trend wasn't for me and almost wrote it off (if you've been keeping up with my style content, you'll know that although my personal style is pretty eclectic, it's definitely not sporty!) — until I spotted this gorgeous sage green Satin Bomber Jacket. The satin fabric and simple styling lend an almost posh vibe to this otherwise sporty silhouette — and I'm a big fan of the casual but sophisticated vibe of this bomber! Autumn's bomber jacket are literally available in every colour, fabric and design imaginable, so I encourage you to hunt for a bomber that suits your personal style.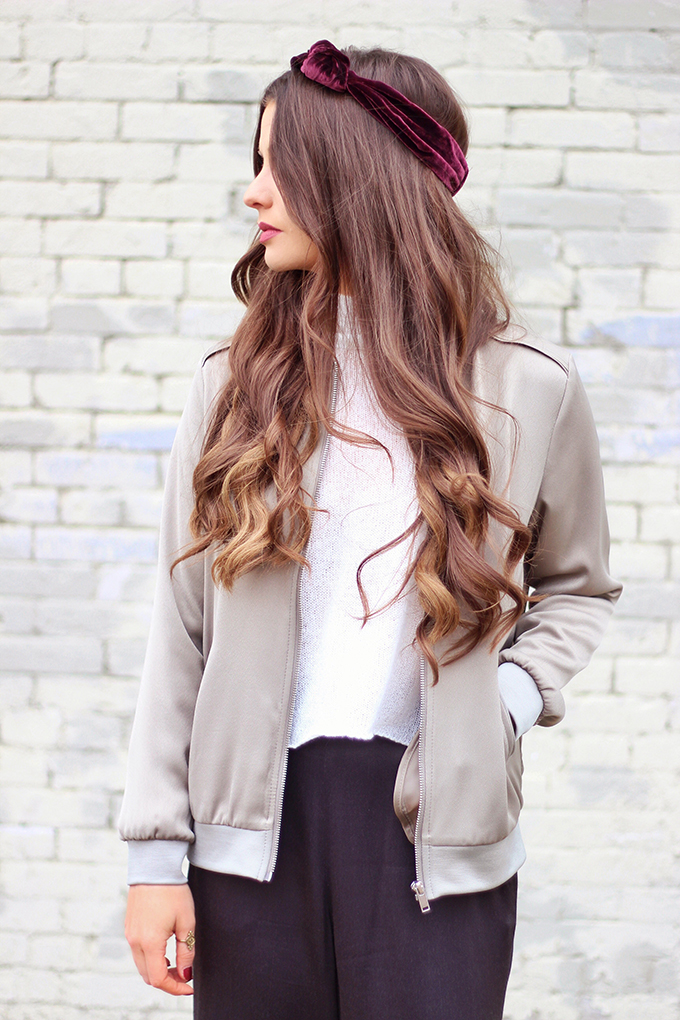 This bomber was the piece that was out of my comfort this autumn, but I'm so glad I picked it up because it's become a staple! If you're not sure how to style a bomber jacket, I personally think it can take the place of almost any cropped jacket in your wardrobe — I've been substituting it in place of my blazers and leather jackets. I love the luxurious yet cool vibe it adds to this look and find myself reaching for it when I want to dress an outfit down but not lose the polish. Plus, I'm crazy about this softer side on military green (another one trends I chatted about in my last Autumn 2016 Trend Guide)!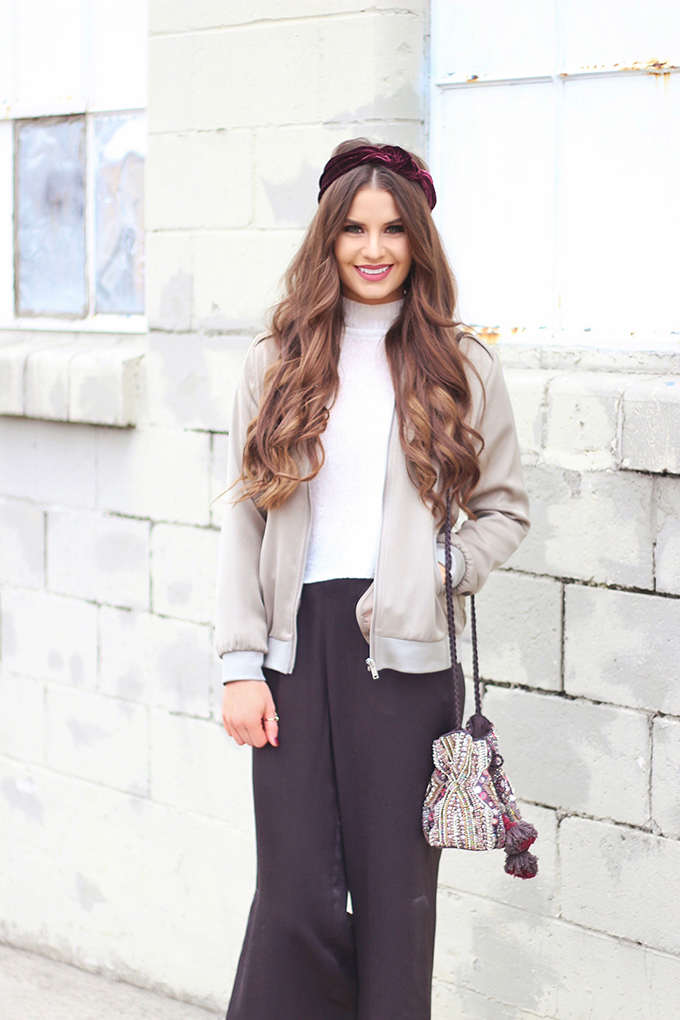 ---
TREND: Mock Necks
---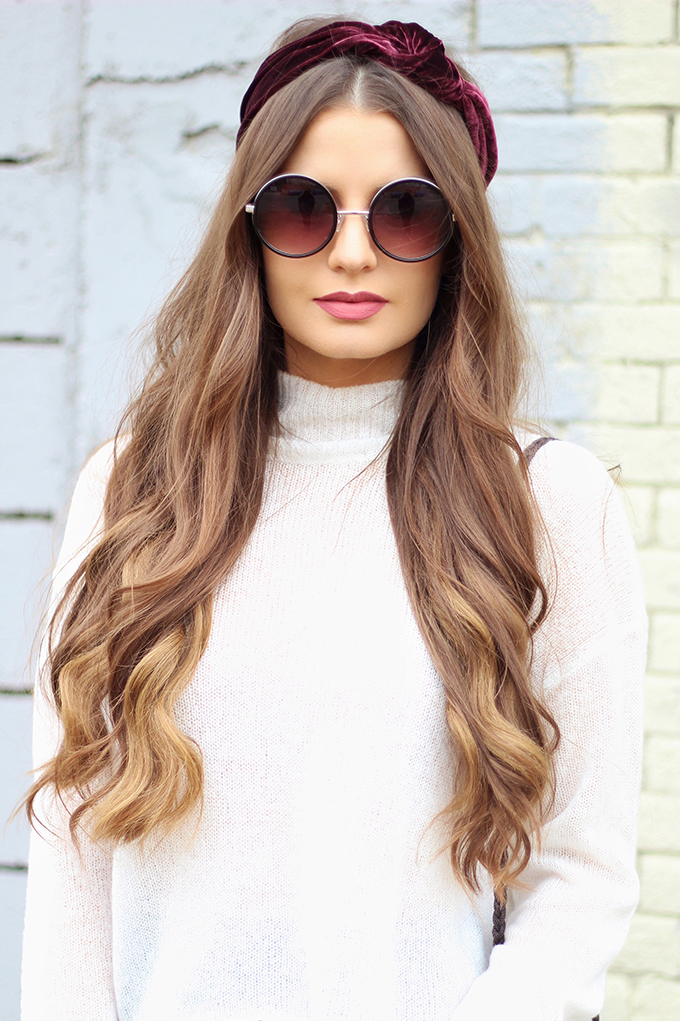 If you like the look of turtle necks, but aren't crazy about how tightly they hug your neck, try a mock neck top this season! They're a slouchier, less structured turtleneck — think of them like a turtleneck's laid-back sister. I've added a few mock neck styles to my wardrobe this season — I love them because they're cozy and comfortable. I also find them a little less stuffy that a regular turtleneck (although I've also been wearing and loving turtlenecks this autumn!). This gorgeous, ethereal Tissue T-Neck Pullover from Kersh adds cozy texture to my outfit without overwhelming the delicate satin fabrics. I think you can tell by the photos, but it's as light as a cloud and so, so soft. I'm a huge fan of Canadian brand Kersh (especially their tissue knit collection — seriously, I'll take one of everything, please!).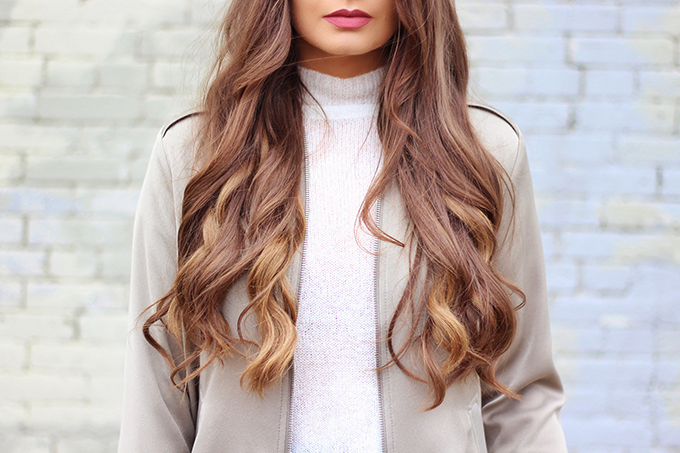 ---
TREND: Velvet
---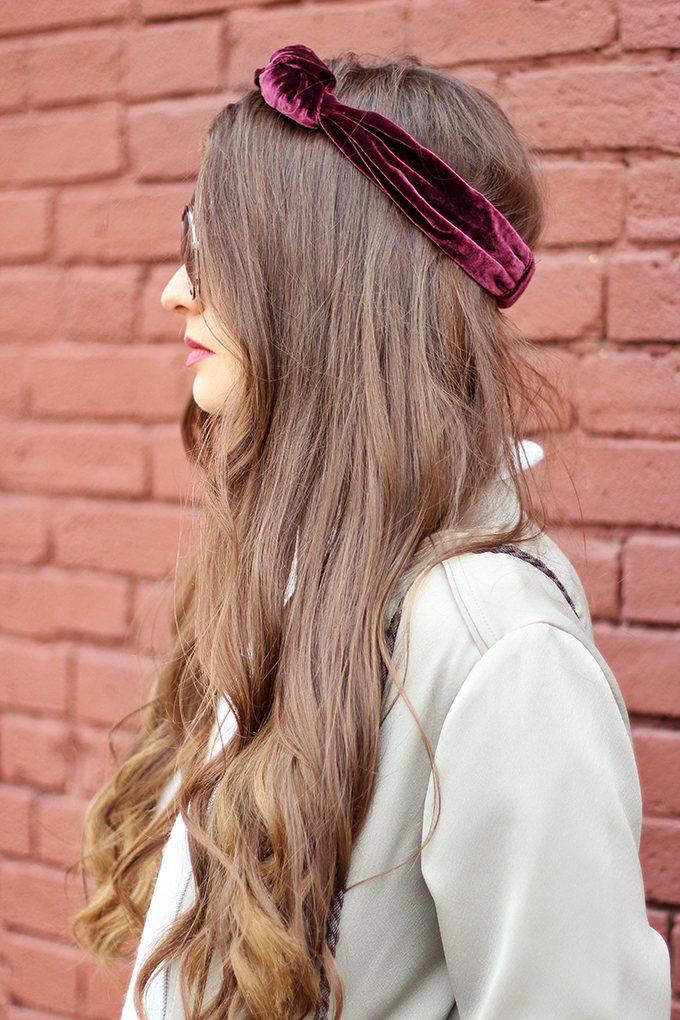 I've really come around to velvet this season (if you would have told that a year ago I would have called you crazy!). Velvet is another mega trend for Autumn 2016, in keeping with the resurgence of luxurious materials we're seeing. My favourite way to wear velvet is as a statement piece — whether it be an accessory (like my Bruers Velvet Headband) or a piece of clothing (I also have a velvet cold shoulder top that I've been loving, especially in combination with these culottes!). Since velvet is everywhere, you'll have no issues in finding a velvet piece to add to your wardrobe this autumn. Some of my favourite ways to incorporate a pop of velvet are in headbands, tops, blazers, shoes, chokers, bags and even in leggings (you'll probably see my velvet leggings at some point closer to the holidays)! I'm a sucker for jewel-toned velvet textures and the air of luxury they add to my style.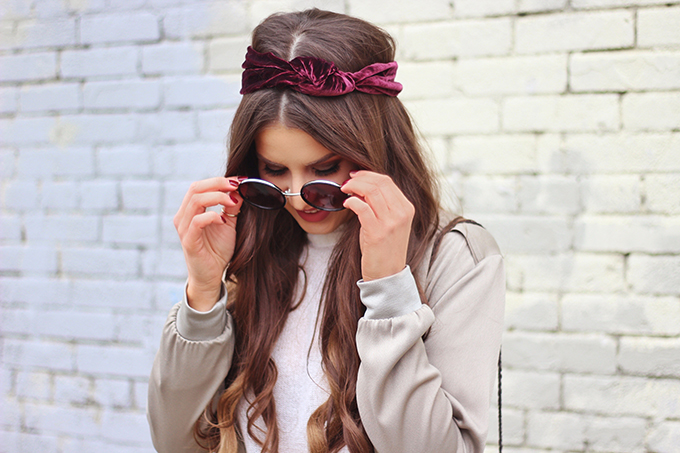 ---
TREND: Satin & Luxe Fabrics
---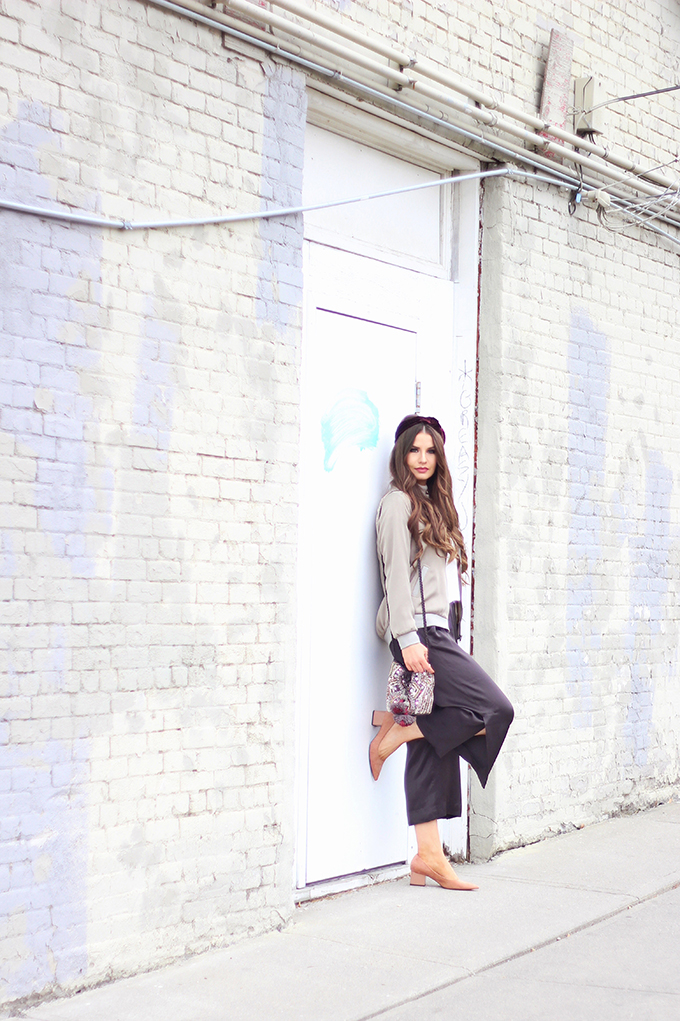 Luxury meets comfort in autumn's 2016 it fabric — satin! Satin never really goes out of style, but we're seeing it everywhere this season — whether it be in tops, pants, blazers, bombers or dresses. I love satin for it's soft, feminine quality — not to mention, it's extremely comfortable to wear! My bomber jacket, my culottes and my bag all feature satin details, which really contributes to the luxurious feeling of this look. Personally, I could dress in head-to-toe satin and not feel overdone — it's all about how you style it. While I would stick to a maximum of one velvet piece per outfit, I feel like satin is more of an understated texture that gives you some room to play. Because the satin fabrics in this outfit are different colours and textures it creates cohesion without looking too matchy-matchy. If you want to elevate your style this season, treat yourself to some satin threads!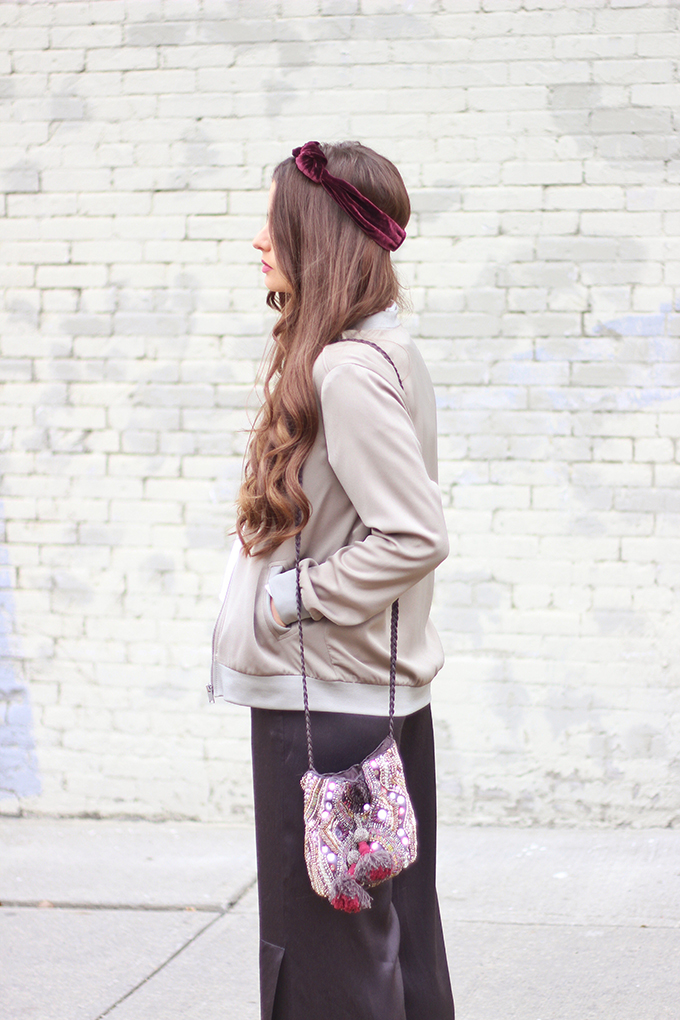 ---
TREND: Culottes
---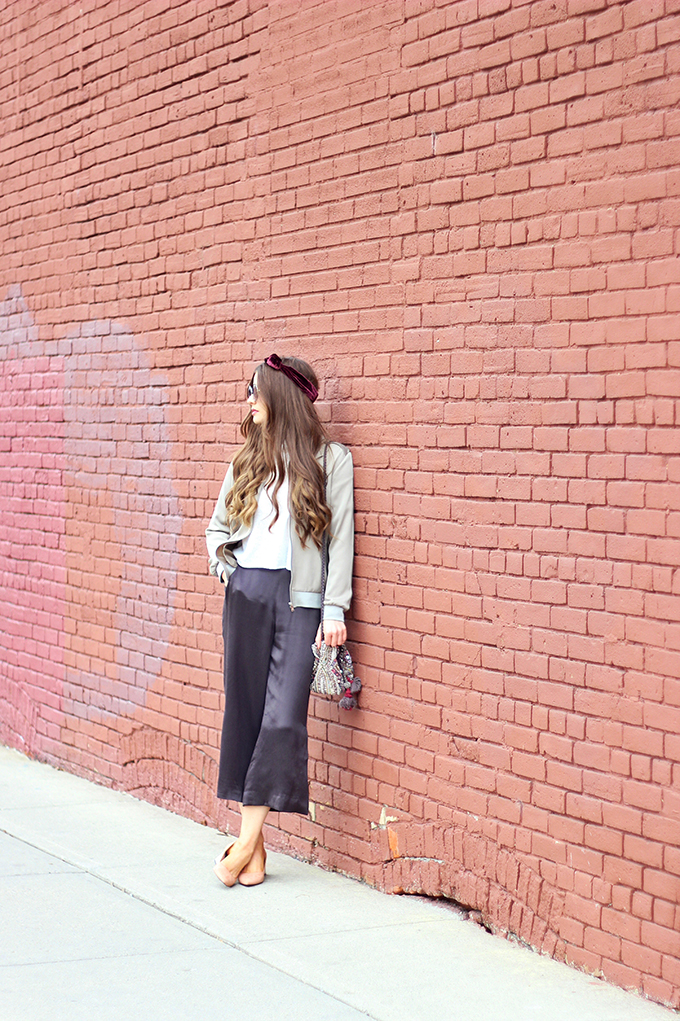 Culotte silouhettes here to stay this autumn and they've secured permanent place in my wardrobe! I've been running these culottes all season — by far, they're my most worn piece of clothing over the past 2 months. I've worn them to meetings, events and even formal dinners (I wore them to a dinner at Christmas in November last weekend and they were a hit!). These Cropped Trousers with Slits are a great way to test drive both satin and culotte trends this season without breaking the bank — plus, they're so comfortable and easy to style! I've paired them up with knits like I'm doing here, body suits, velvet, blazers — the list goes on. These satin culottes have such a chic, easy elegance to them. If you haven't jumped on the culotte train yet, now's the time my friends. They're an easy-to-style silhouette that can transition from day to night and casual to professional!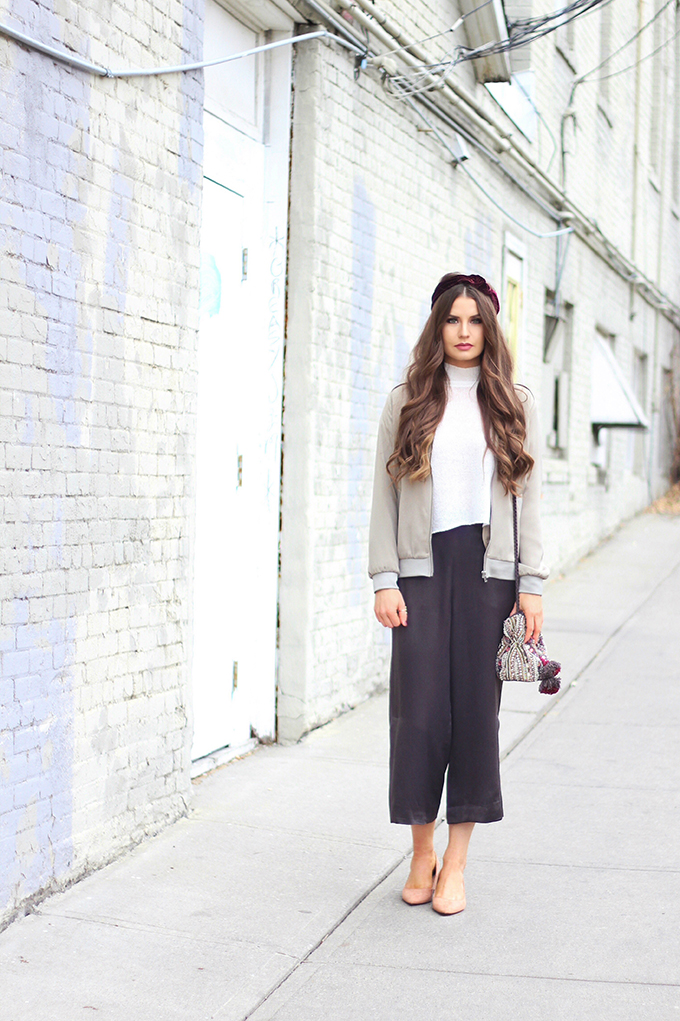 ---
TREND: Square & Block Heels
---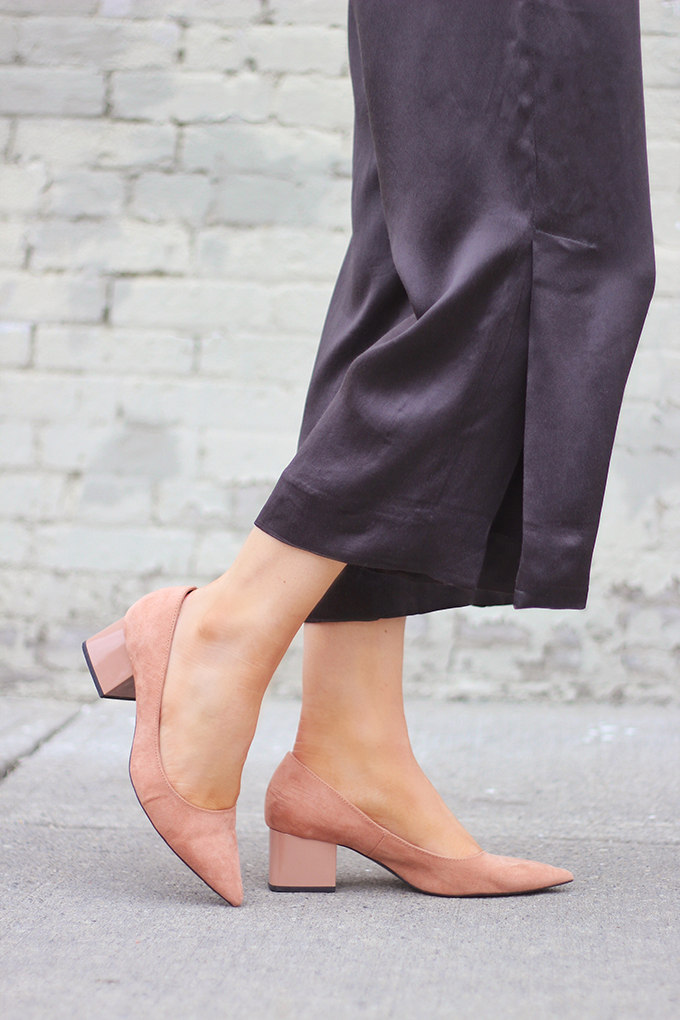 You guys, square heels are huge this autumn — although I've been wearing this particular pair from Zara since the summer (you've definitely seen me scurrying around in them in my Instagram Stories!). I wear them a lot during the day because they're super comfortable. The lower heel height is easy on my feet and the square heel makes them a breeze to walk in. If you know me at all you know I love my heels and despite being 5'8″ I've never been one to shy away from a stiletto! This autumn however, things seem to be taking a more casual turn in the shoe department and I'm all for it. I love the slick, almost architectural feeling that square heels have and personally like to wear them in softer hues to elongate the leg and also to avoid them looking too mature. I've mentioned so many times that I think Zara makes the best heels you can buy for the money — so it will come at no surprise that I own the Mid Heel Shoes with Contrasting Toe Cap, too. They're also on heavy rotation this season!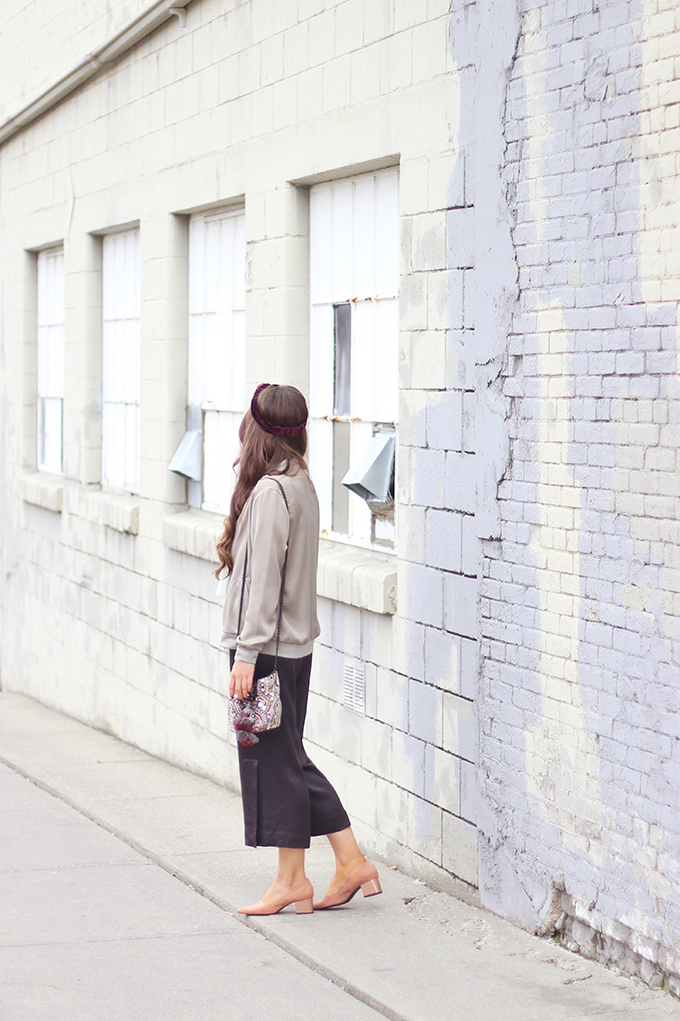 ---
TREND: Circular Shades
---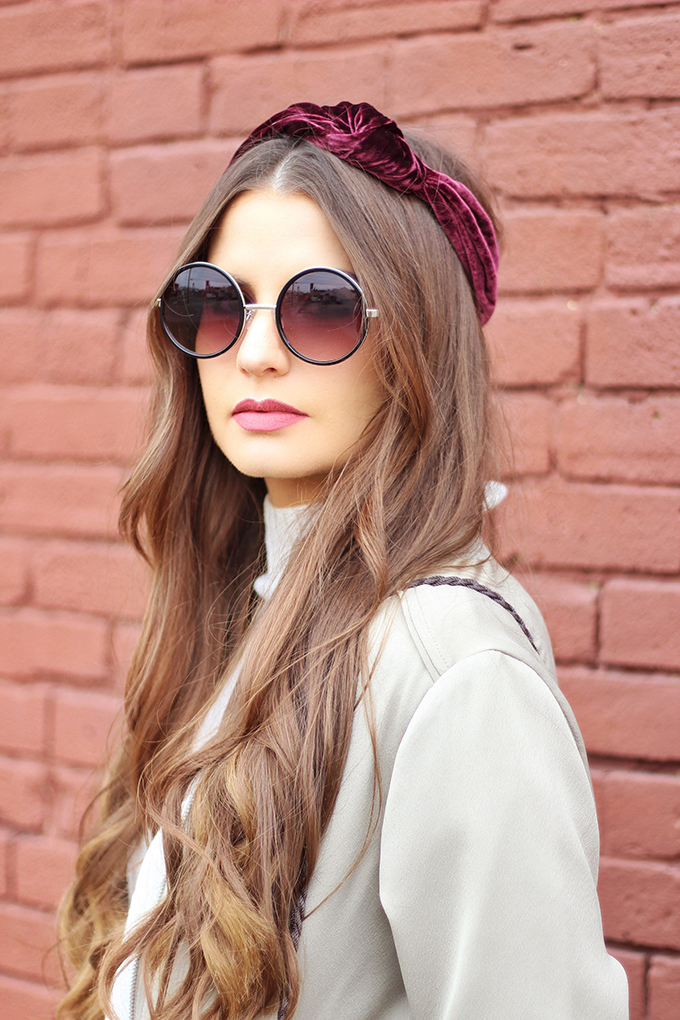 As I reported in my first Autumn 2016 Trend Guide — round sunglasses aren't going anywhere this season (which is great news for me, because you know I love circular styles!). I have to commend Forever 21 on their recent selection of shades — I picked up a few fresh pairs last month. In my eyes, there's no simpler, more inexpensive way to update your look than with a pair of on-trend sunnies! You can't beat the price of Forever21 sunglasses (I'm notorious for losing and scratching my sunglasses to I tend not to invest unless I find a really unique pair). I love the cool, 60's vibe these shades add to my look and they've been my most-worn pair of sunglasses lately. In fact, they're the only pair I brought along to Jasper last weekend, which is saying a lot — usually I pack 2 – 3 pairs of shades with me when I travel (hey — a girl's gotta have options!).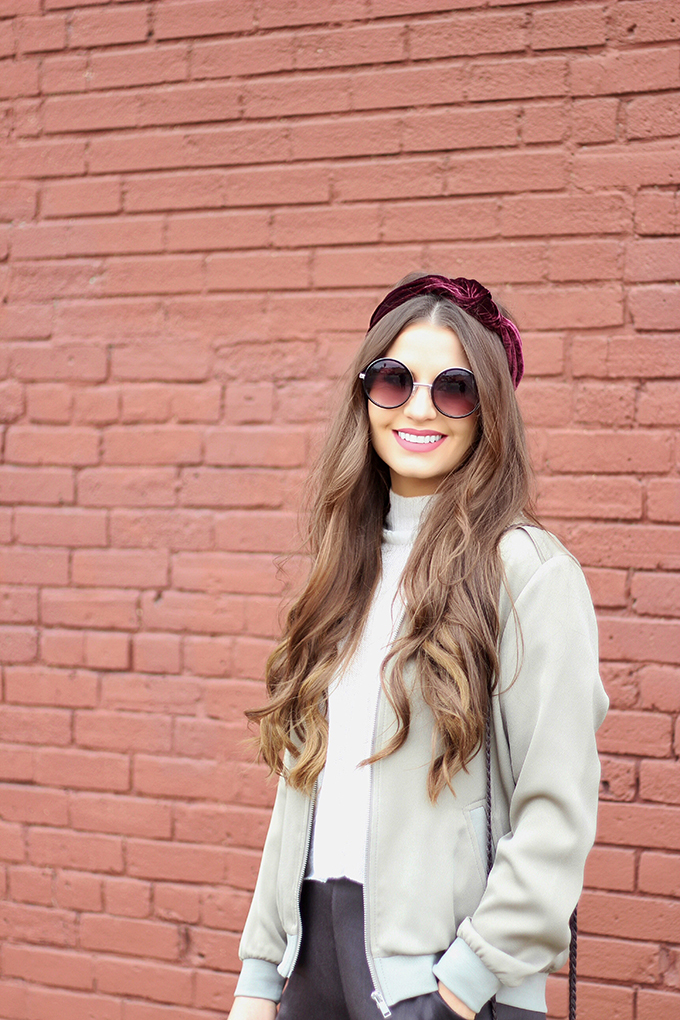 ---
TREND: Mini & Bucket Bags
---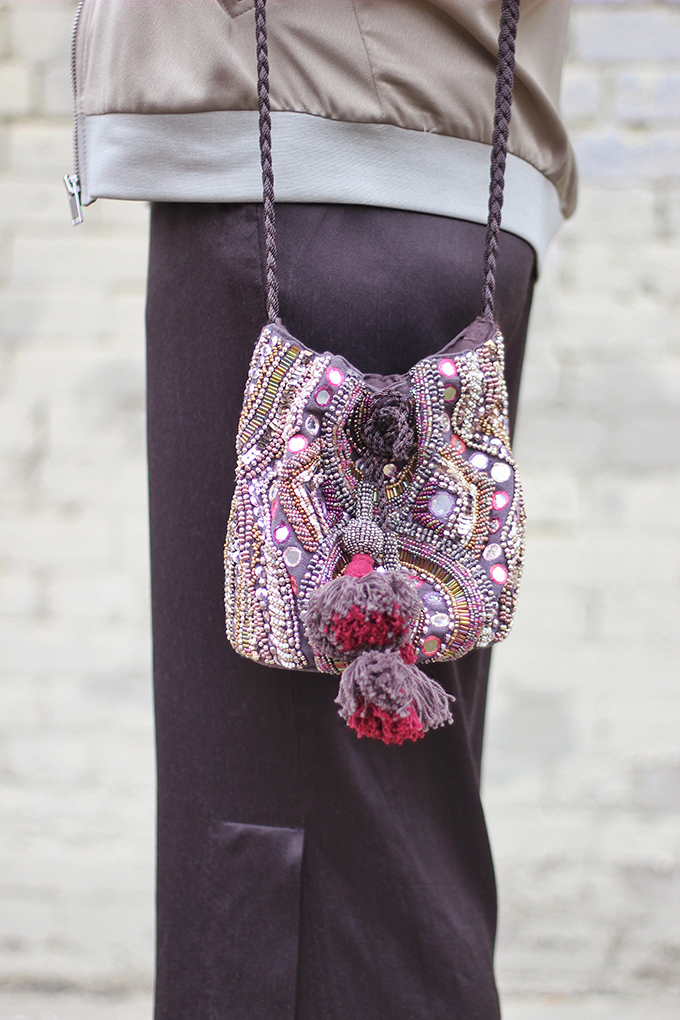 Mini and bucket bags continue to trend this season — and when I spotted this Beaded Bucket Bag at Zara, I couldn't resist! Seriously, how cute is it? It combines a bucket bag structure with intricate beadwork and tassel details — all things I love (not to mention, I love the braided strap in that luxe, satiny fabric!). Upon first glance, you may think this bag is a little crazy, but I find it surprisingly versatile because of it's neutral and jewel toned colour palette. I've been wearing it every time I want to add a pop so colour and a bit of sparkle to an outfit. I receive so many compliments on it every time I wear it! If you're looking to infuse a bit of boho-glam into your personal style this season, pick up a statement mini bag — Zara has an amazing selection!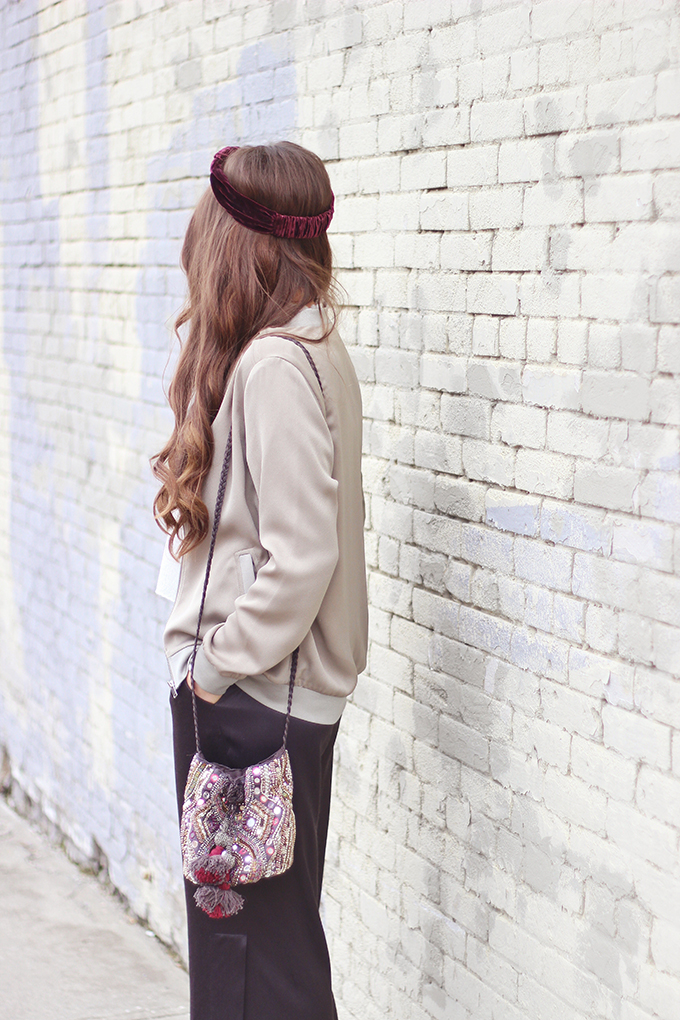 ---
TREND: Matte, Velvety Lips
---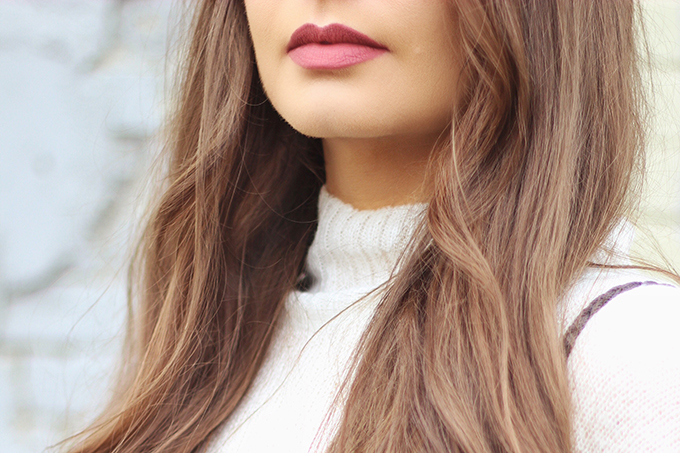 There are 2 major lip trends this autumn — one being matte and velvety and the other being metallic (I'll be debuting metallic lips here at JustineCelina next month!)! Today I'm wearing another one of my all time favourite matte liquid lip colours for the fall — Kat Von D's Everlasting Liquid Lipstick in Lolita, which I featured in my 5 Liquid Lipsticks to Try This Fall post. Lolita is a cult classic for a reason — this neutral, marsala shade looks beautiful (and very different) on almost every skintone. It's a perfect colour match for PANTONE 18-1630 Dusty Cedar (hop over to my 5 Liquid Lipsticks to Try This Fall post if you have no idea what I'm talking about). On me, it's a true 'chestnut rose' as the brand describes and I find myself reaching for it when I'm craving something neutral and sophisticated. It's just easy to wear!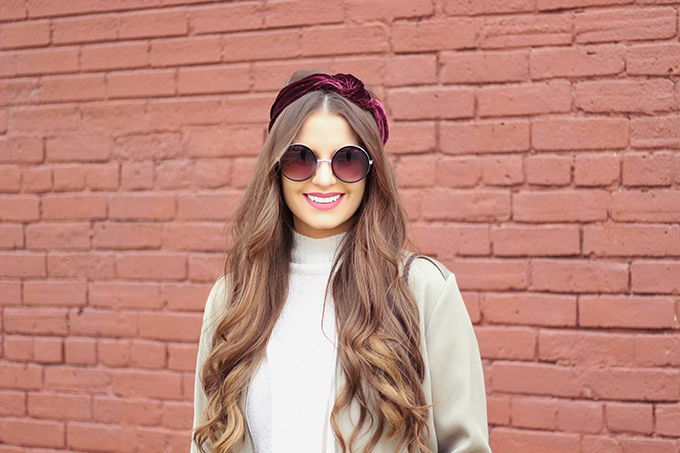 ---
SHOP THE LOOK
---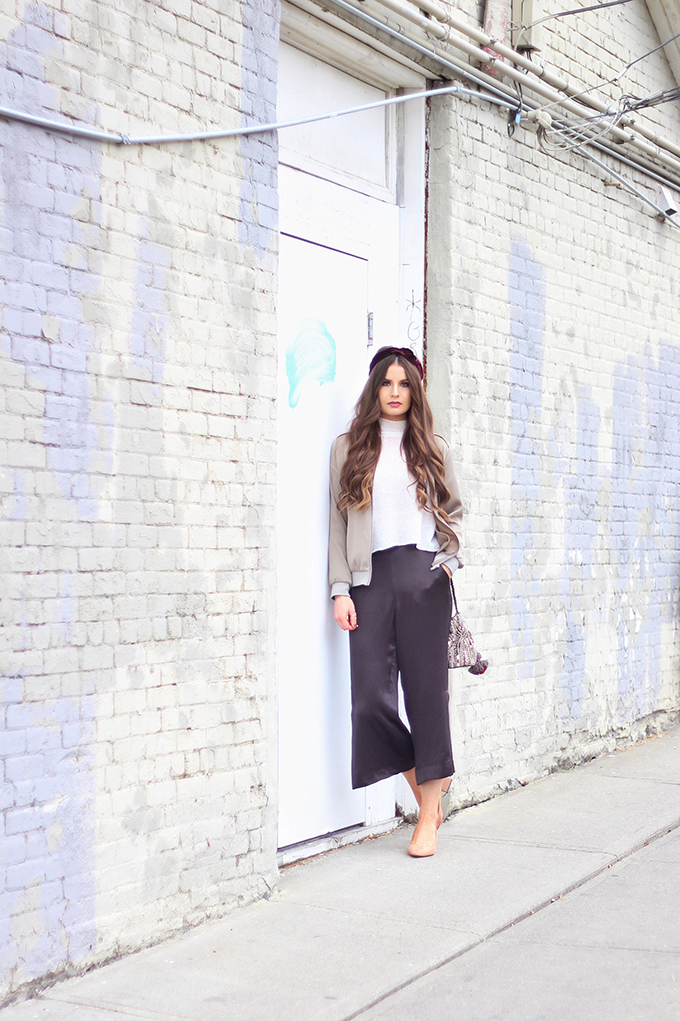 ---
Bruers Velvet Headband in Burgundy | Round Sunnies (similar) | Satin Bomber Jacket (similar) | Tissue T-Neck Pullover c/o Kersh | Cropped Trousers with Slits | Medium Heel Pointed Shoes (similar) | Beaded Bucket Bag | Kat Von D Everlasting Liquid Lipstick in Lolita
---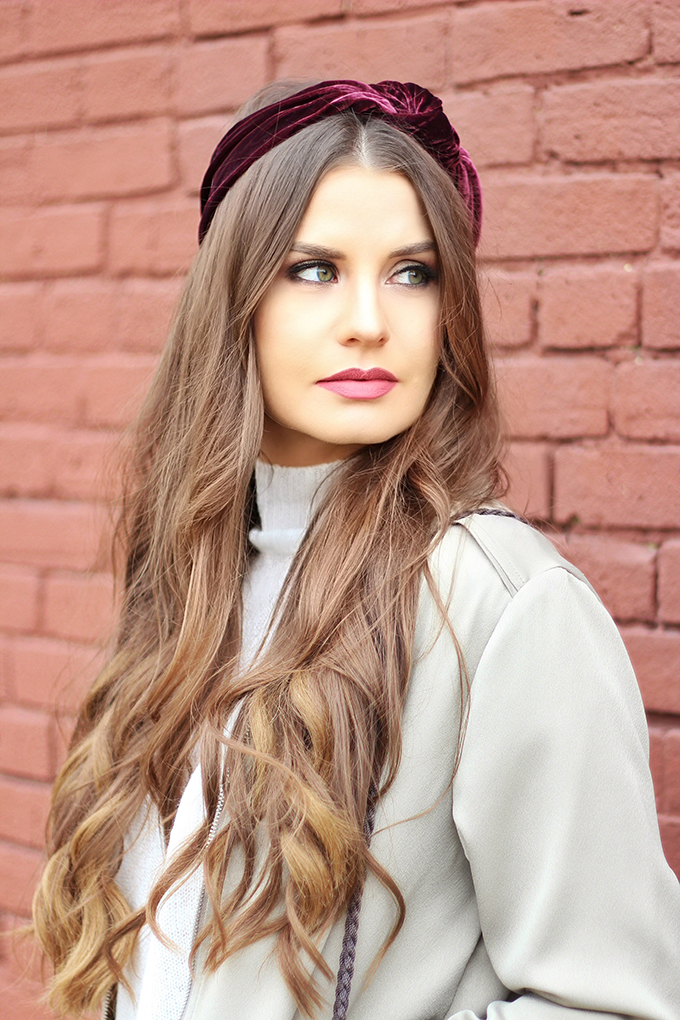 Hair & Makeup: Estée Lauder Double Wear Stay-in-Place Makeup in 2W2 Rattan | SEPHORA COLLECTION Colorful Face Powders in 26 Tranquil | Hourglass Ambient Lighting Edit – Surreal Light | Anastasia Beverly Hills DIPBROW Pomade in Dark Brown | Anastasia Beverly Hills Master Palette By Mario | tarte Tarteist Lash Paint Mascara | T3 Whirl Trio Interchangeable Styling Wand | Drybar Triple Sec 3-in-1
---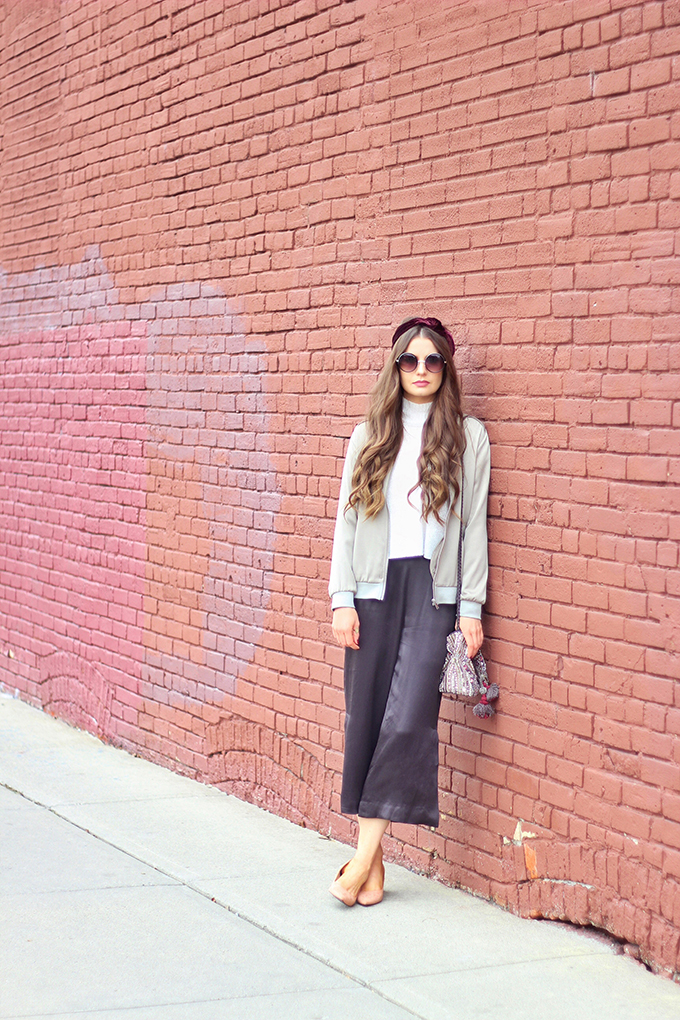 What are some of your favourite trends this autumn? I have one more trend guide coming to JustineCelina as we transition into winter later this month that I can't wait to share! As always, if you have a question about what I'm wearing or a request for upcoming style content (or any content, for that matter!), just leave me a comment. I hope you enjoyed the second installment in this new, trend focused series!
---
Disclaimer: This post is not sponsored, and contains my genuine thoughts, ideas and recommendations. JustineCelina uses affiliate and referral links, which allow me to receive a small commission when you make a purchase through one of my links. Thank you for supporting the brands and businesses that support JustineCelina.com!