I, along with almost every other woman on the planet, will tell you that fall is my favourite time of year, especially for fashion. But September specifically is my favourite month — well, for almost everything (except Pumpkin Spice Lattes… I may be the only woman on the planet who's not a fan of those!). It's nice enough outside that we don't have to be totally bundled up, but cooler temperatures call for more autumnal, layered style. It's the perfect opportunity to maximize wear time on your favourite summer pieces, but also to begin playing with autumn fashion. So, today's post a fall-inspired outfit with wear now appeal — a summer-meets-autumn mashup that we only get to wear for a brief window of time here in Calgary! I'm also chatting about some of fall 2016's biggest trends and giving you tips to incorporate them into your personal style, right now.
---
Spitfire British Riviera Gold and Brown Round Sunglasses | Long Waistcoat in Nude provided by Marc Cain (similar, similar, similar) | Grey Long Sleeve Off The Shoulder Knotted Blouse | High Riser Coated Skinny Jeans (similar, similar) | Wing-Woman Black Handbag | High Polish Analog Watch | Contrast High Heel Shoes | Sonia Kashuk Lip Definer in Rosewood
---
PRE FALL TRANSITIONAL STYLE
---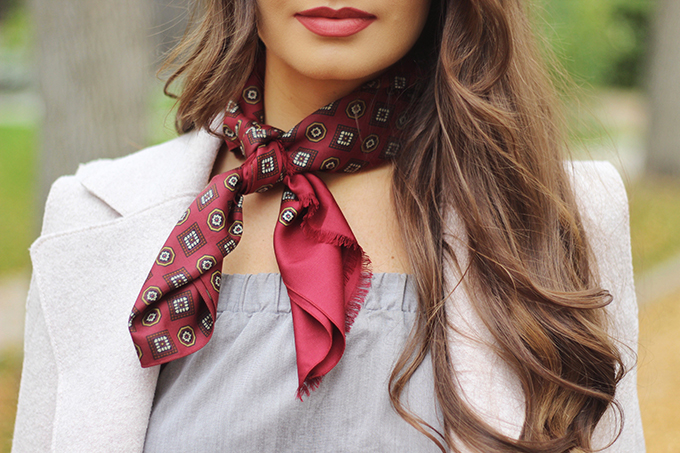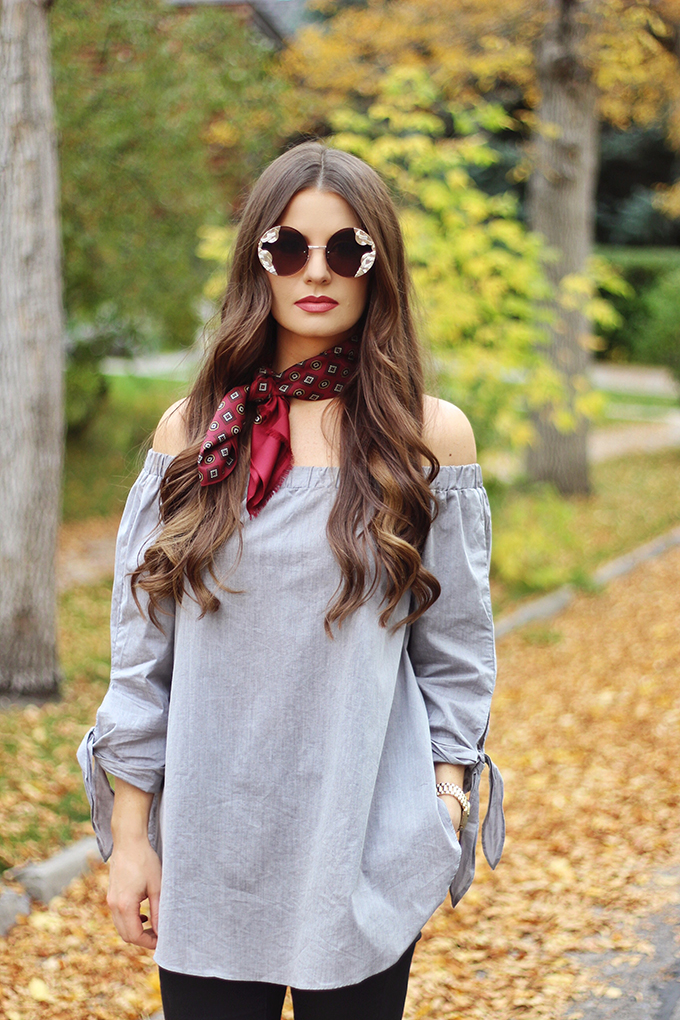 Can you believe autumn is almost here? Although I do love summer (and this summer was a great one), there's just something amazing about the fall — and definitely many sartorial moments to look forward to. One of my most recent obsessions is necktie scarves, which were popular this summer as well. I've been incorporating them into my wardrobe often this September. I think they're a great way to add polish and a European flair to your look — plus they really do keep you a little more warm and cozy!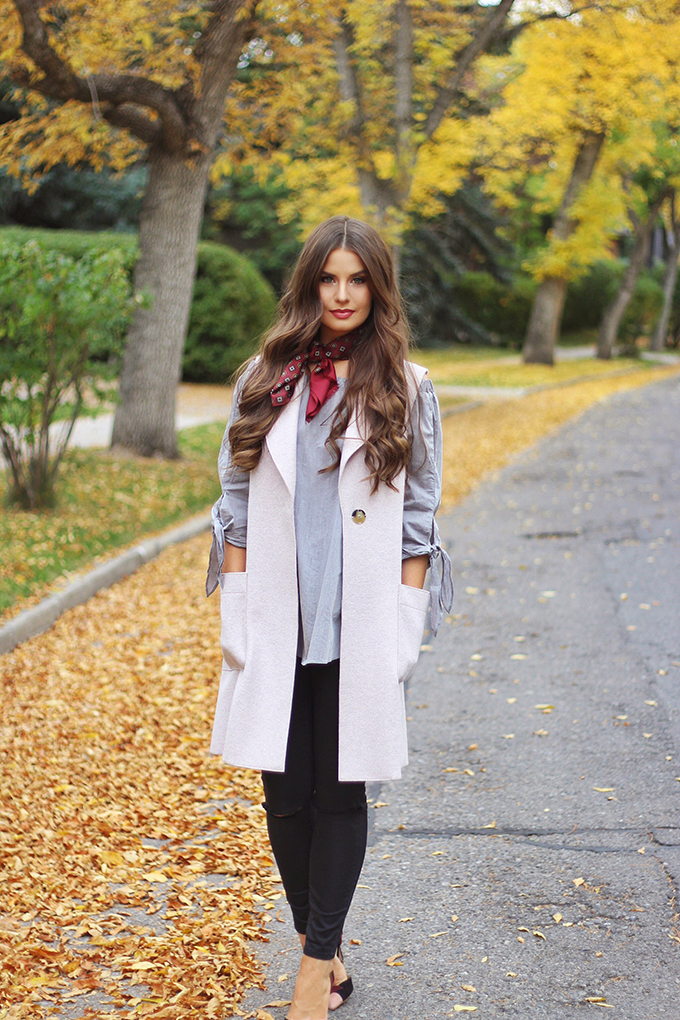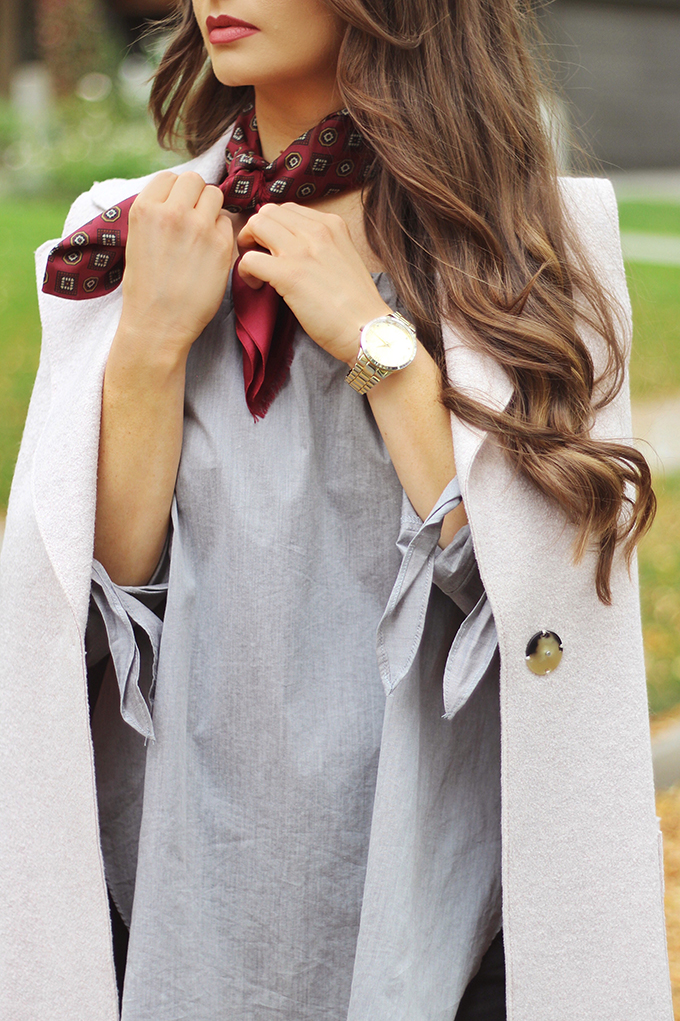 My necktie scarf is a $1 estate sale find and my boyfriend and I actually share it! Originally I grabbed it for him to wear as a pocket square for more formal events, but I ended up loving it so much that I've been wearing it lately, too. I'm all about getting creative and exploring different avenues to achieve the look for less, so if you're on the hunt for patterned necktie scarves this fall, try thifting, vintage hunting or hit an estate sale — usually you'll find scarves just like this in the dollar bin! They're a great way to transition lighter tops into autumn and inject a little extra style into your look.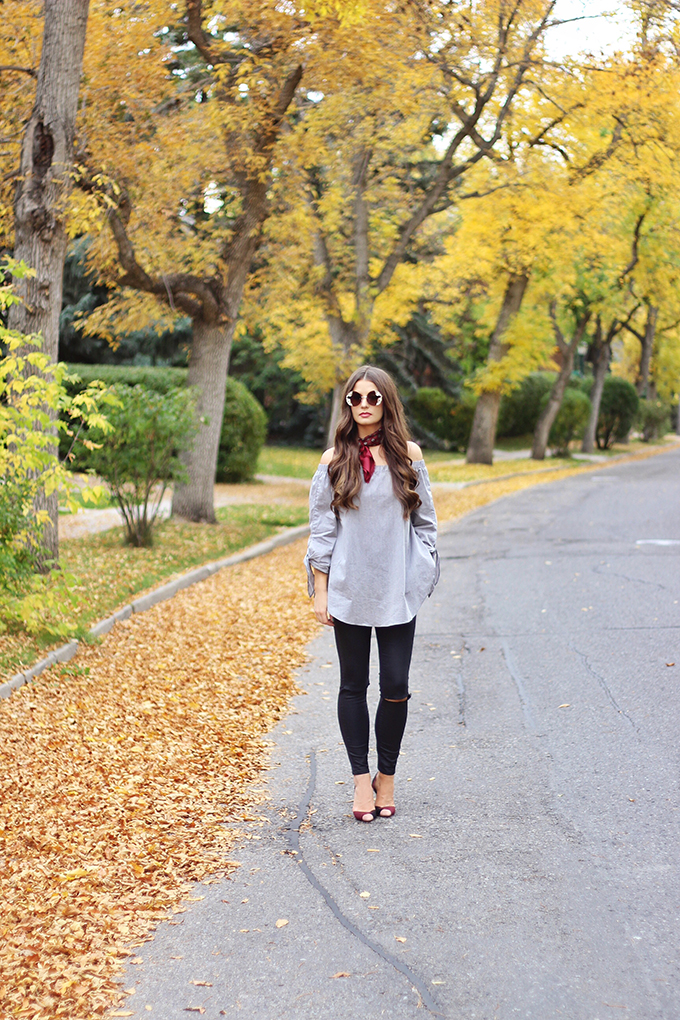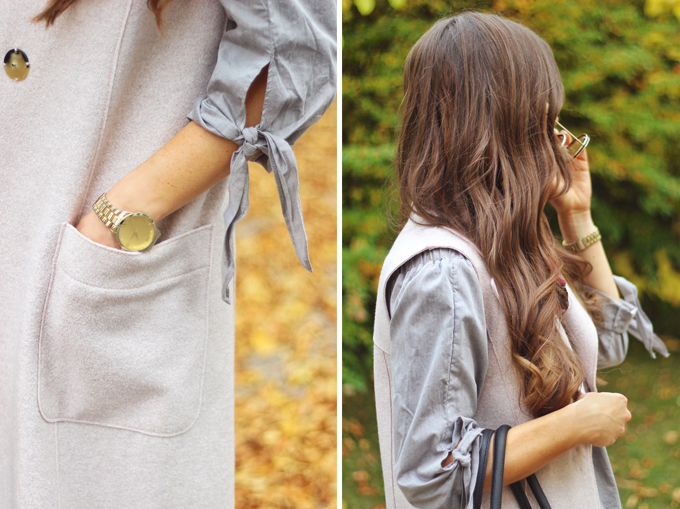 I placed a massive order from SheIn this summer (as you've probably noticed, because I've been wearing their items in almost all of my recent style content). Of my 20+ item order, this Grey Long Sleeve Off The Shoulder Knotted Blouse has been my most worn piece. I wear it everywhere — to meetings, to events and just casually. It's so versatile that I'm probably going to order it in every colour! I love the oversized fit because I'm able to slide it up and down my shoulders to show more or less skin depending on how I'm styling it. Cold shoulder and off-the-shoulder styles are still big this fall (think of them translated into knits, mock necks and dresses), and you can definitely style your summery off-the-shoulder tops into autumn by pairing them up with scarves and vests. I'm all about mixing fast fashion with investment pieces — high and low intermingle often in my personal style, as they do in this outfit.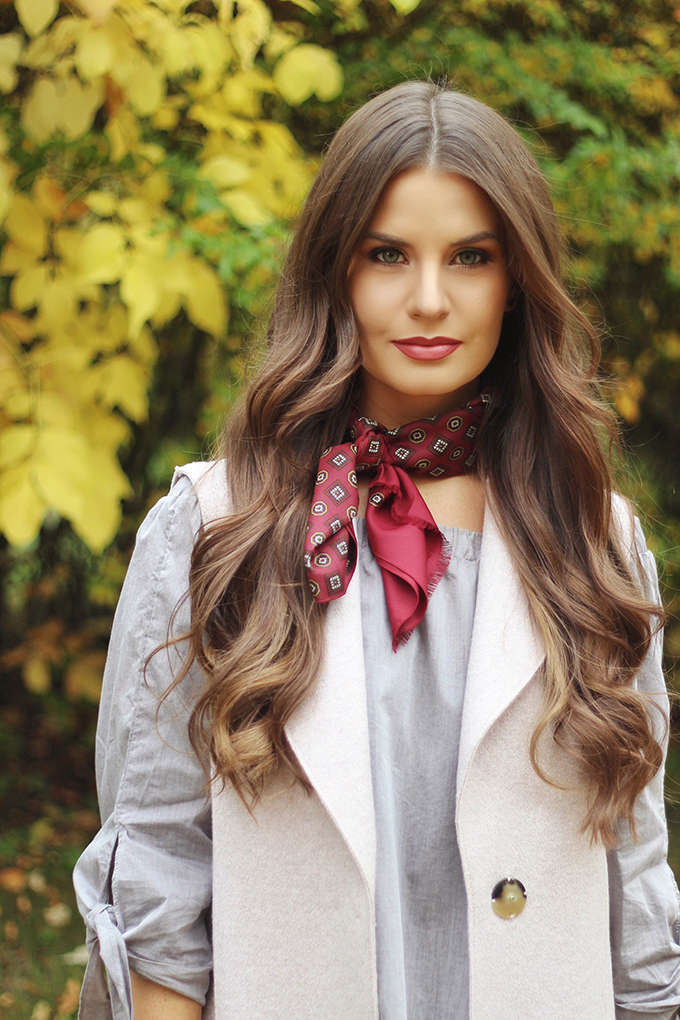 Statement sleeves are another one of my favourite trends this autumn — extra long styles, bell sleeves and knotted details are everywhere right now. You can tie and scrunch the sleeves of this shirt so many different ways to make it look like an entirely different shirt all together! Interesting sleeve details also make layering so much more fun because styling options begin to open up.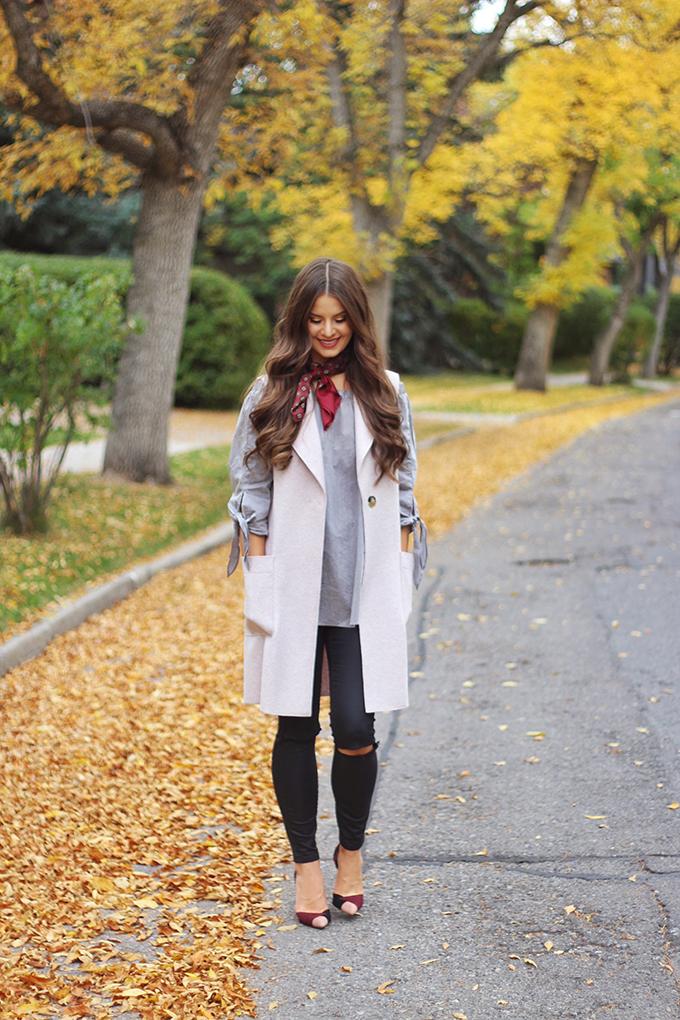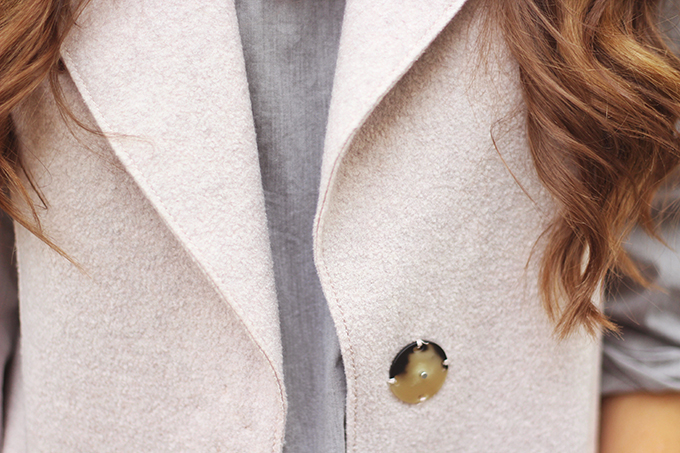 Okay, so let's chat about investment pieces! I stopped into Marc Cain last week for a fall fashion presentation and ended up trying on a few pieces from the German luxury brand. Of course, I totally fell in love with them! This ultra luxurious Long Waistcoat in Nude was my favourite piece from the new autumn collection — but to be honest with you, it's a bit outside of my budget at the moment. Marc Cain allowed me to pull the vest to style for this post (thanks to Seleen for helping me out!) — isn't it gorgeous? It's essentially a fall coat without sleeves. I think a utility vest is the perfect piece to invest in this fall, because it can single-handedly transform your summer pieces into autumn appropriate outfits. I love menswear inspired pieces in lighter, feminine colours — and I also love the contrast of this soft nude pink against the deeper hues I'm wearing. If you're looking to splurge on a quality vest this season, I've linked the vest I'm wearing, but also included several more affordable options here, here and here.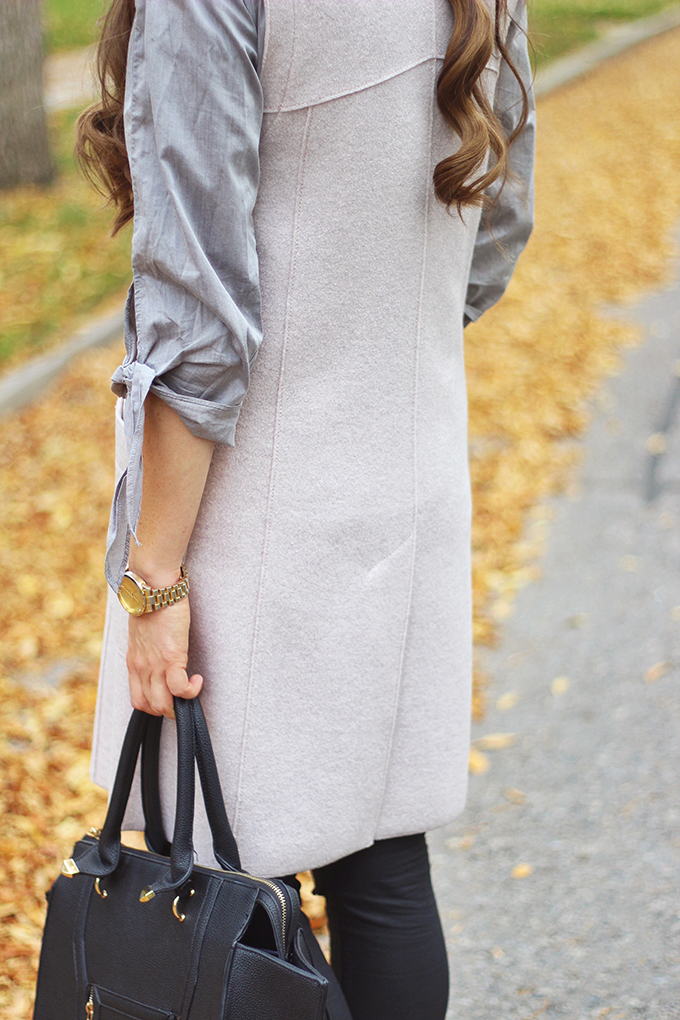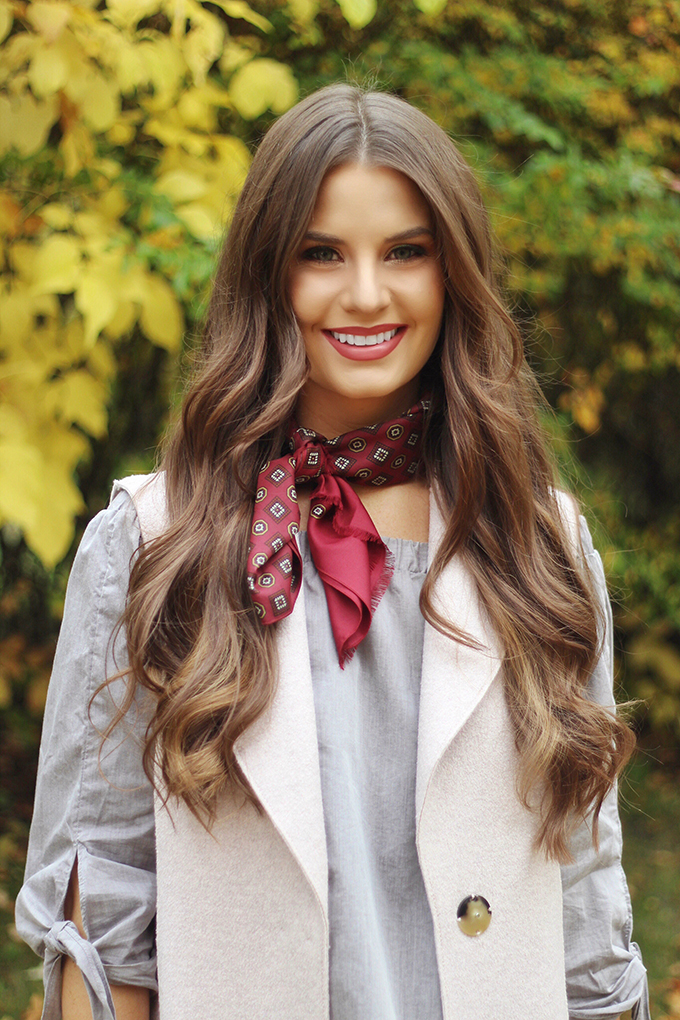 I mentioned in my last style post that I like to wear more fall toned makeup during this transitional month because it helps to give summery clothing a richer, autumn feeling. Believe it or not, my lipstick is actually the Sonia Kashuk Lip Definer in Rosewood — a lipliner that I used to line and completely fill in my lips for a matte lipstick effect (that's one of my favourite tricks!). It's such a gorgeous, flattering hue that falls somewhere between a marsala and a burgundy — and it's perfect for the season. It's also insanely long wearing! For foundation, I'm wearing the Marc Jacobs Beauty Re(marc)able Full Cover Foundation Concentrate, which I wear often if I know I'll be photographed because of the flawless appearance it gives the skin. If you're interested in a full coverage foundation that's actually comfortable I have a comprehensive review. I also wearing a MakeupGeek pigment in Hologram on my eyes. It's a duochrome shade that reflects orange, pink, green and gold, depending on the lighting! I'm totally crazy about it — and you can expect to read more about it in my September Beauty Favourites post at the end of this month.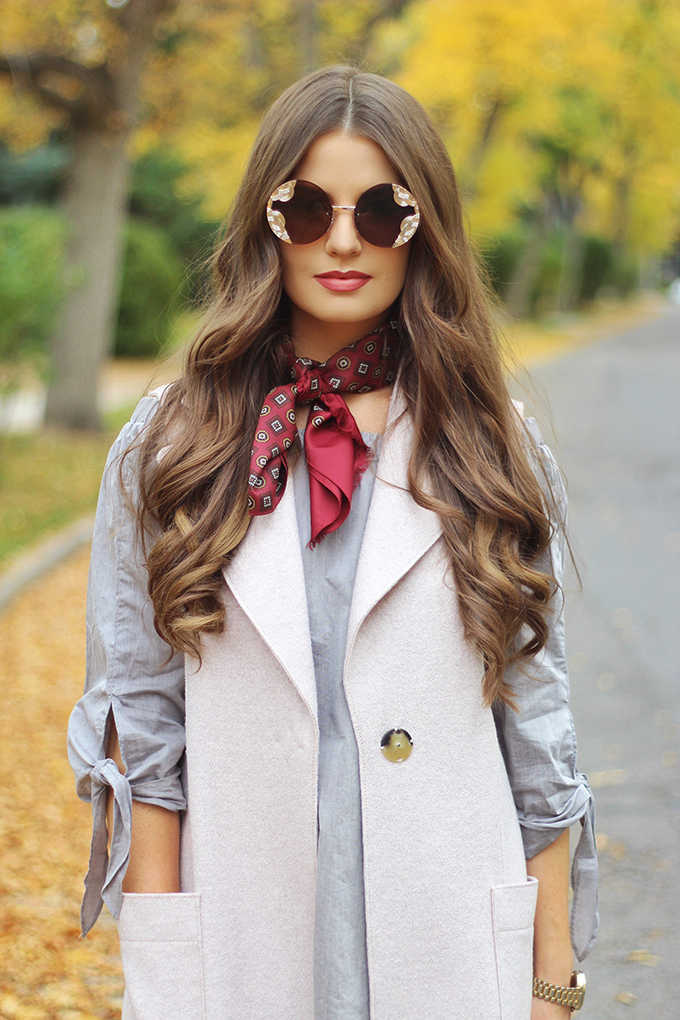 These. Sunglasses. How could I not? I've been talking about my obsession with round frame sunglasses for quite awhile now — and these are the ultimate pair! While the ornate, metallic detail may not be super practical, I love the art deco feeling it adds to these shades. I'm all about finding unique pieces to personalize my outfits and love the extra bit of interest these sunglasses add to an otherwise very neutral look. I'm happy to report that vintage and 70's inspired styles are here to stay this autumn and I'm so happy I picked the Spitfire British Riviera Gold and Brown Round Sunglasses up! I've been receiving so many compliments on these statement shades.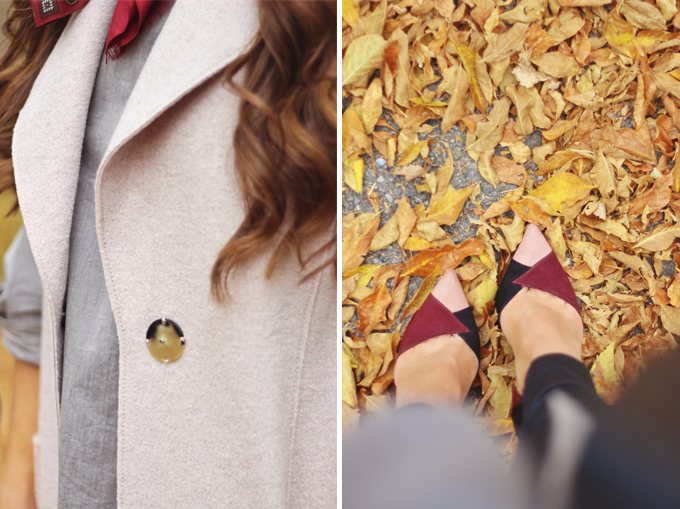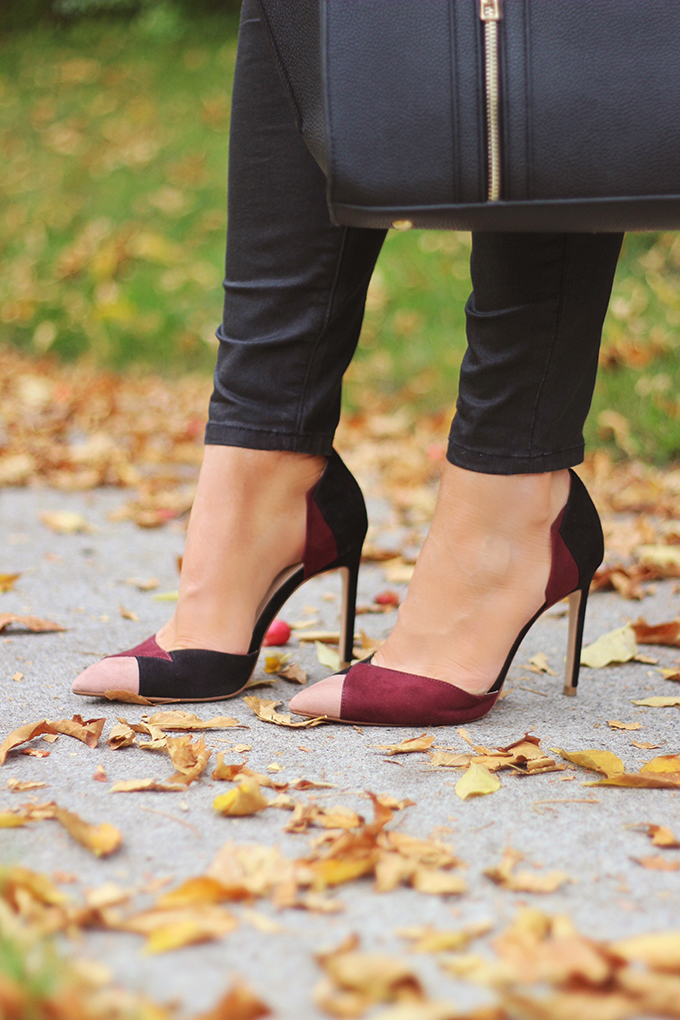 Since Calgary is covered with a white, fluffy blanket for about half of the year, I'm not about to start wearing boots before it's necessary! How cute are these transitional, suede heels from Zara? They have a peep-toe effect thanks to that nude triangle but offer the appeal of a more autumn appropriate shoe. If you've been following along with my Instagram Stories, you may recognize them from an impromptu shopping trip last week after the Marc Cain presentation at Chinook Centre. It was love at first sight and they absolutely had to come home with me! I love the autumn colour combination and sleek, geometric lines. There's a major block heel trend happening this autumn — and while block heels are super comfortable, I think every woman can benefit from a gorgeous, high heel, pointed toe shoe in their closet this season. If they look sort of familiar, it's because I actually wore a similar pair from Zara last autumn in my Fall Style Staples post (what can I say, I love Zara shoes and know what works for me!). My Contrast High Heel Shoes are currently price reduced in-store (and I spotted some still there just this weekend) so be sure to snag them soon — they won't last long.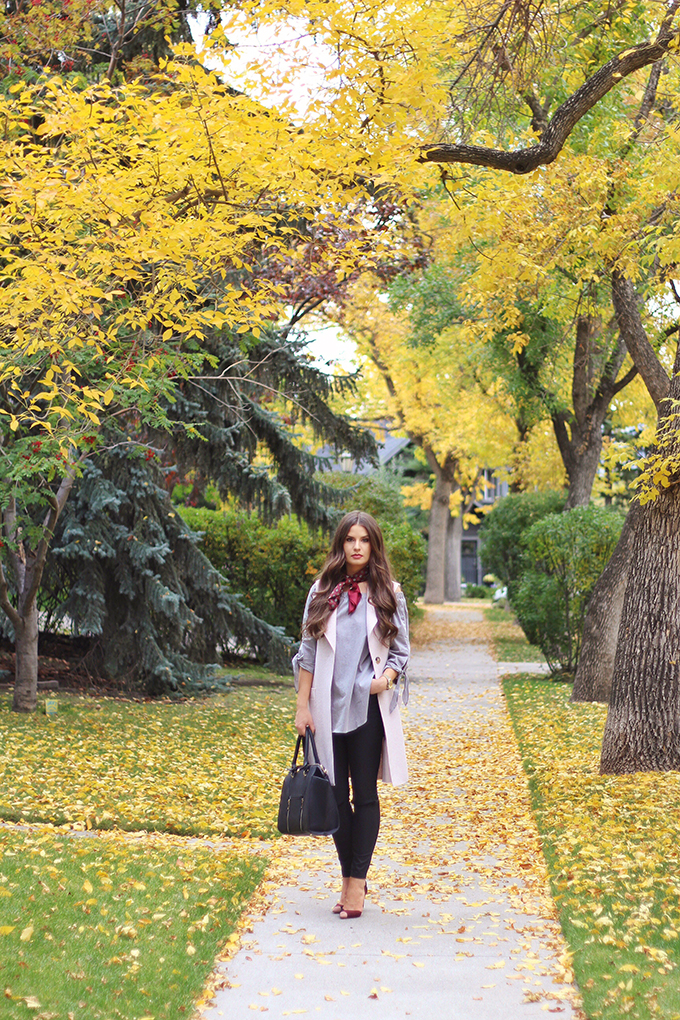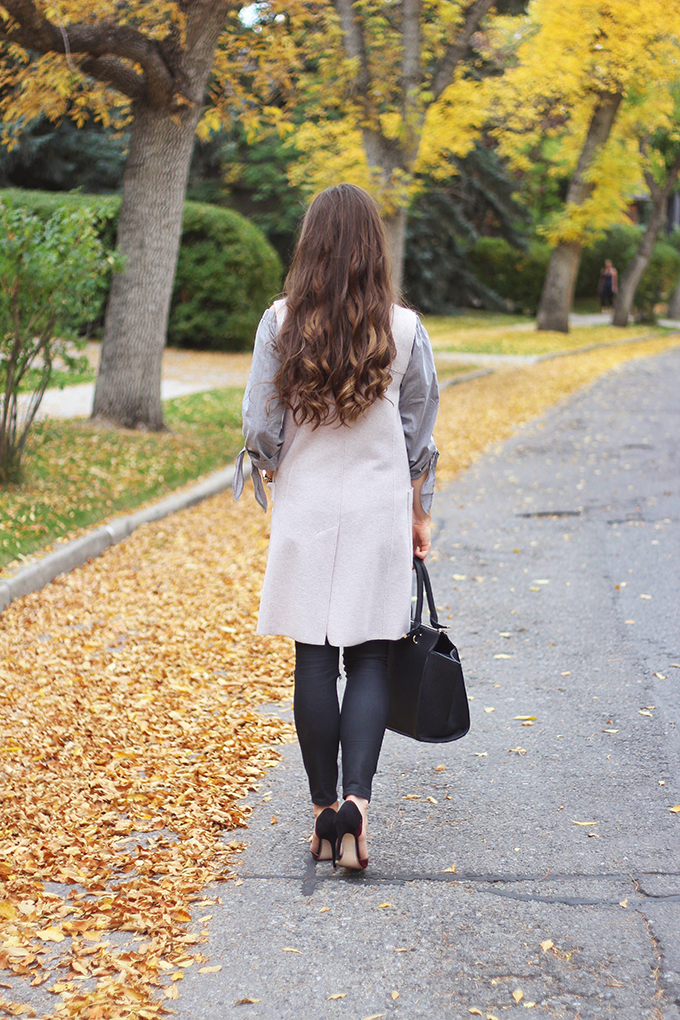 And, again, if you've been following along with my Instagram Stories, you've probably seen me dashing all over town in these high rise black coated skinny jeans — which I busted the knees on myself to rough them up a bit. Luxe, shiny fabrics like velvet and satin are having a major moment in fall fashion, so I translated that trend into this coated black denim. They're such a versatile pant that I wear in both professional and personal settings. I think a classic, flattering skinny jean is a timeless staple — and you can shop my favourite coated skinnies here, here and here. If you're looking to bust the knees or distress denim this fall, I have a step-by-step illustrated tutorial about how I do it (I promise it's simple!).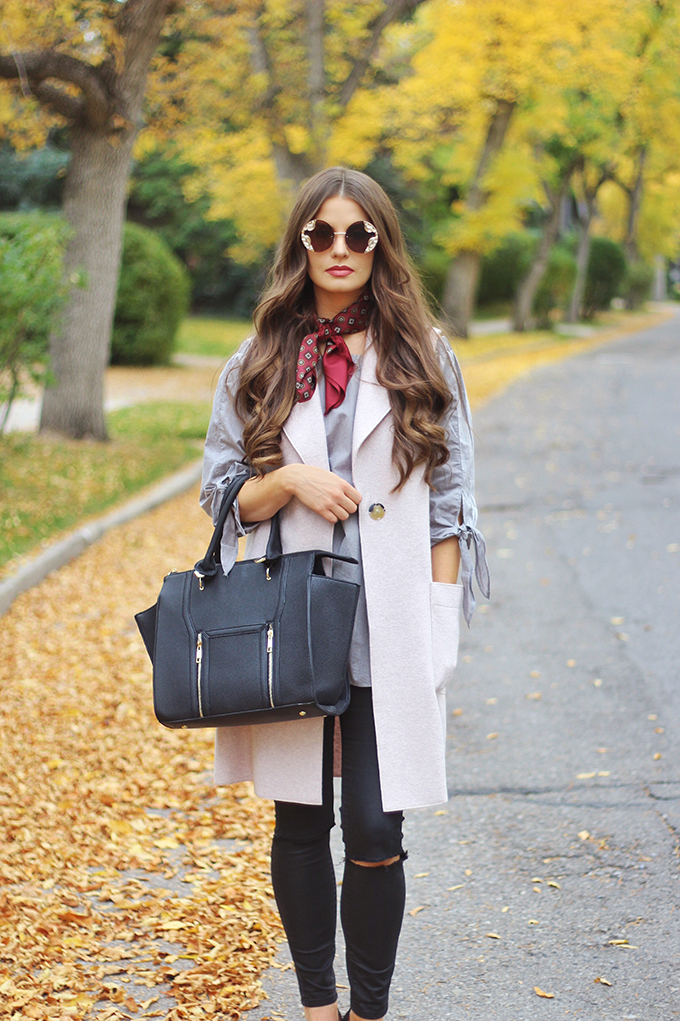 Let's talk seasonal polish colours. I love this military green shade in the fall — I consider it a neutral. On the nails it's unique, but coordinates well with autumn's palette of earthtones. Expect lots more military green (when happens to be very on trend at the moment) coming to JustineCelina this fall!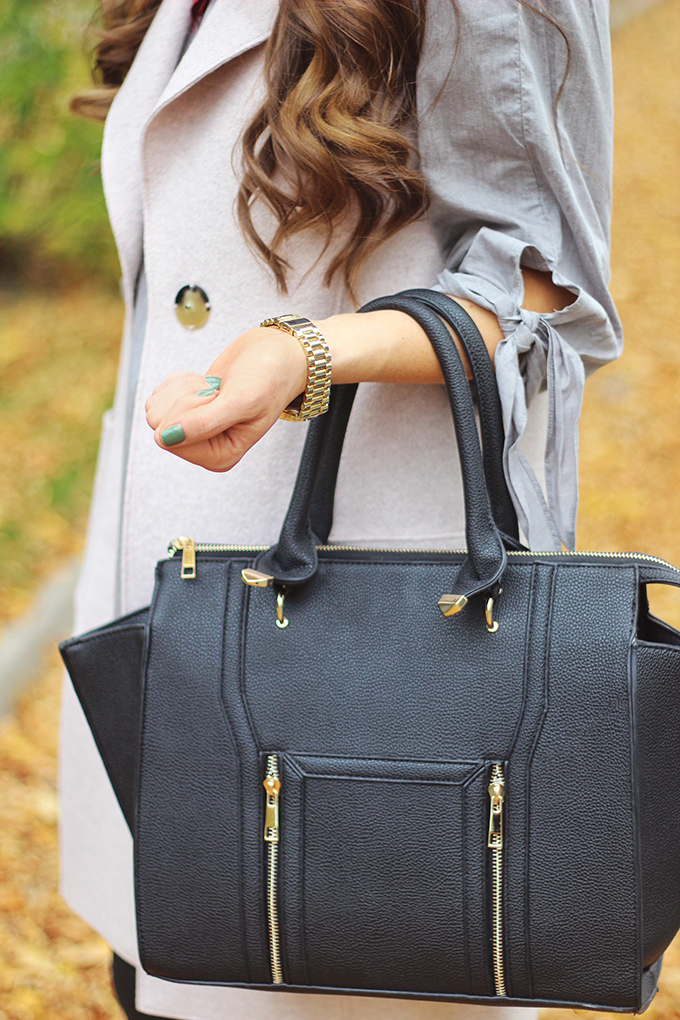 I love a really enjoy an oversized handbag for the daytime, no matter the season. This one is large enough to fit my laptop, iPad and other essentials in, — so it also doubles as a briefcase for me. I ordered Lulus Wing-Woman Handbag in 3 colours earlier this summer and have been wearing them non-stop. Although there's a shift in handbags this season towards mini-bags (which I can totally embrace sometimes) I also think a roomy, black handbag is an essential for the working woman. Although the Wing-Woman Handbag is now only available in nude, it's a great buy. I've also linked my favourite black handbags at Lulus — my favourite destination for affordable, well made bags (most of which are vegan leather).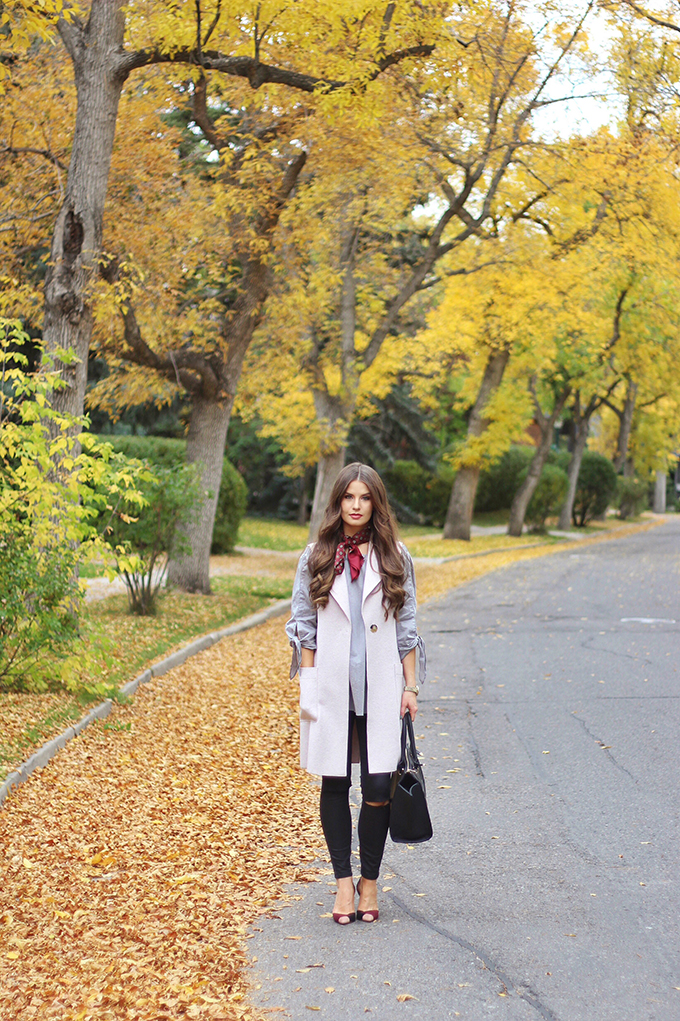 We shot these photos on one of my favourite streets in Calgary — Montcalm Cresent in Lower Mount Royal (which is one of Calgary's most historic areas). I'm not sure how much longer the leaves are going to stay like this, so I wanted to take full advantage of these old, arching trees full of autumn leaves while we still have them!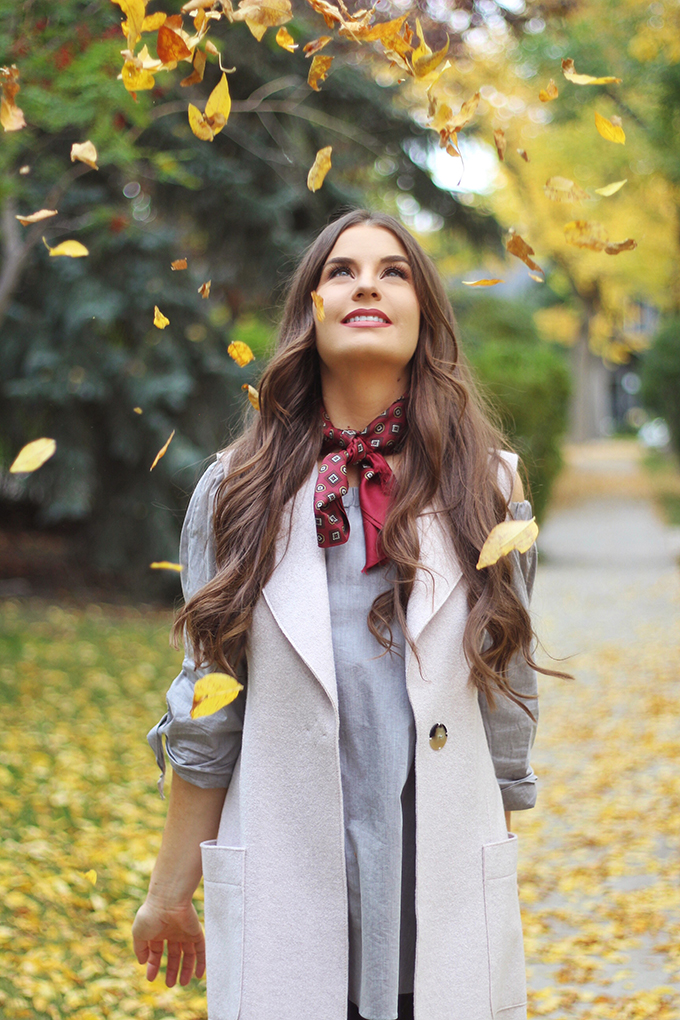 ---
SHOP THE LOOK
---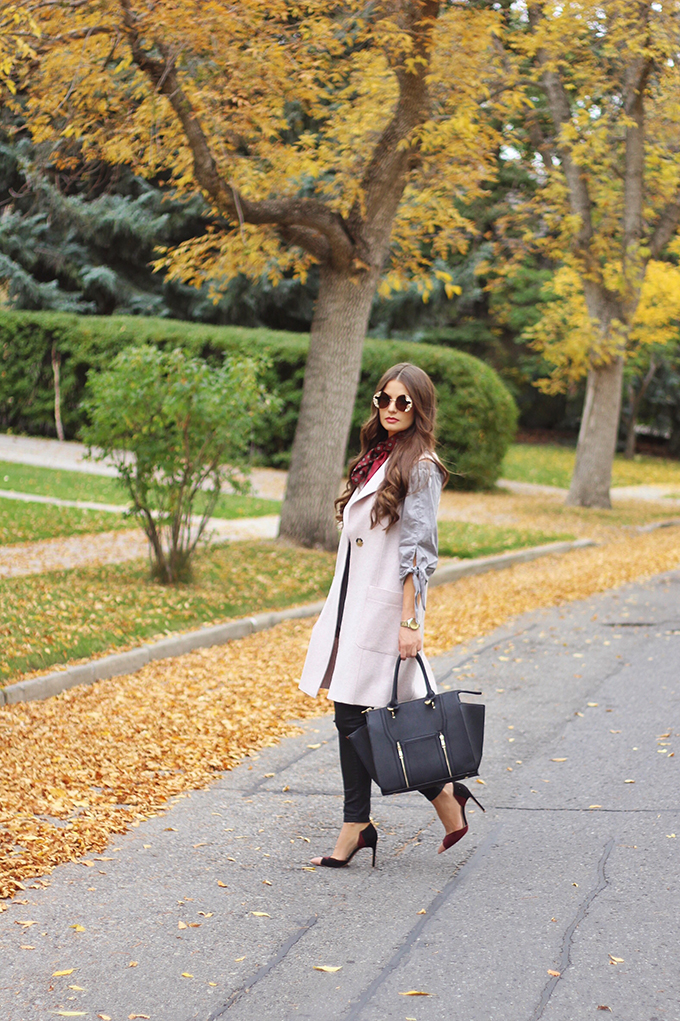 Spitfire British Riviera Gold and Brown Round Sunglasses | Long Waistcoat in Nude provided by Marc Cain (similar, similar, similar) | Grey Long Sleeve Off The Shoulder Knotted Blouse | High Riser Coated Skinny Jeans (similar, similar) | Wing-Woman Black Handbag | High Polish Analog Watch | Contrast High Heel Shoes | Sonia Kashuk Lip Definer in Rosewood
---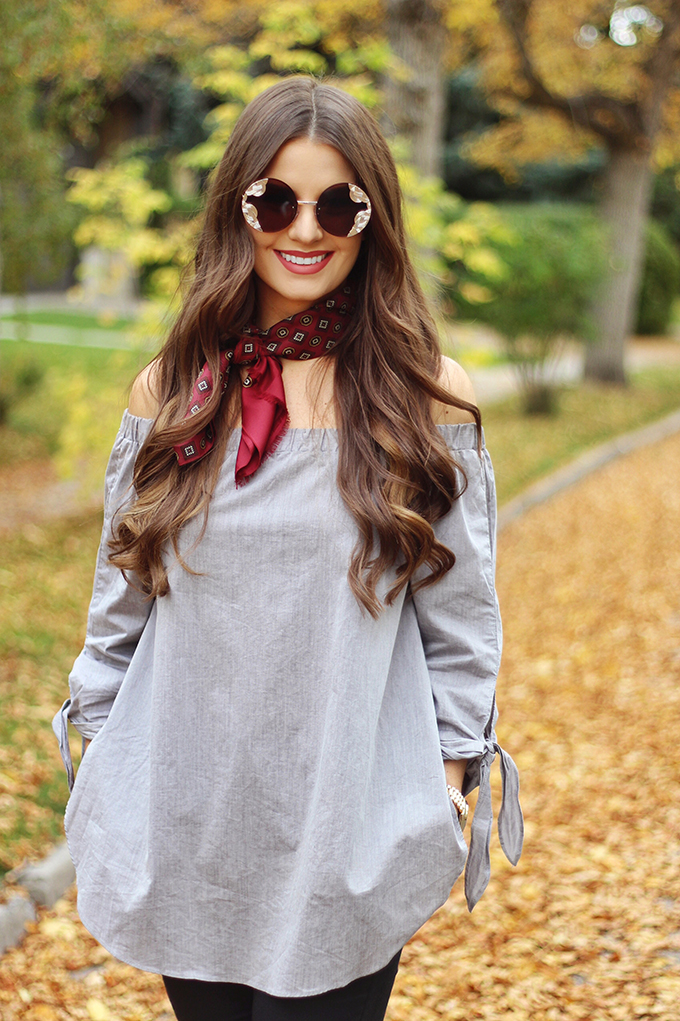 What have you been wearing this month? Any particular pieces or trends you're looking forward to incorporating into your autumn wardrobe this year? As always, if you have a question about what I'm wearing or a request for style content, please feel free to leave me a comment! I hope you enjoy the last few days of summer and the beautiful transition into autumn 2016.
---
Disclaimer: Thank you to Marc Cain for allowing me to pull this gorgeous vest. This post is not sponsored, and contains my genuine thoughts, ideas and recommendations. JustineCelina uses affiliate and referral links, which allow me to receive a small commission when you make a purchase through one of my links. Thank you for supporting the brands that support JustineCelina.com!
Save
Save
Save
Save
Save
Save
Save
Save
Save
Save
Save
Save
Save
Save
Save
Save
Save
Save
Save
Save
Save
Save
Save
Save
Save
Save
Save
Save
Save
Save
Save
Save
Save
Save
Save
Save
Save
Save
Save
Save
Save
Save
Save
Save
Save
Save
Save
Save
Save
Save
Save
Save
Save
Save
Save
Save
Save
Save
Save
Save
Save
Save
Save
Save
Save
Save
Save
Save
Save
Save
Save
Save
Save
Save
Save
Save
Save
Save
Save
Save
Save
Save
Save
Save