Last month I received a request via Instagram about what items I consider to be fall fashion staples — so that's what today's post is all about! Each of these pieces are on repeat in my fall wardrobe, and transition through the seasons. I chat a little bit about which pieces I invest in, and which inexpensive pieces I incorporate into my personal style. I also break down a few of this seasons trends and show you how to wear them!
---
Purr-haps Black Sunglasses | JOA Road West Tan Fringe Coat | Silence + Noise Cross-Neck Tunic | Longline Faux Stone Necklace | Doheny Mid-Rise Jeans in Dark Huntington | Mid Heel Combined Court Shoe | Bite Beauty Maple Matte Crème Lipstick in Warmed Maple
---
I've mentioned before that fall is my favourite time of the year for fashion. But in Calgary especially, fall is a short season — we only have about 2 months between the sunny days of summer, and our snowy Alberta winters. So, a lot of my fall fashion staples are really just general wardrobe staples! This fall, I've been loving 70's inspired styles and fringe details (read more about my fringe obsession here) — I like to combine trendier items with sophisticated basics. Most of the time, I wear outfits that I could go to a client minute meeting in, or wear to meet friends — I don't have many pieces that I segregate into professional or personal categories. Here are the pieces that I think make great fall staples!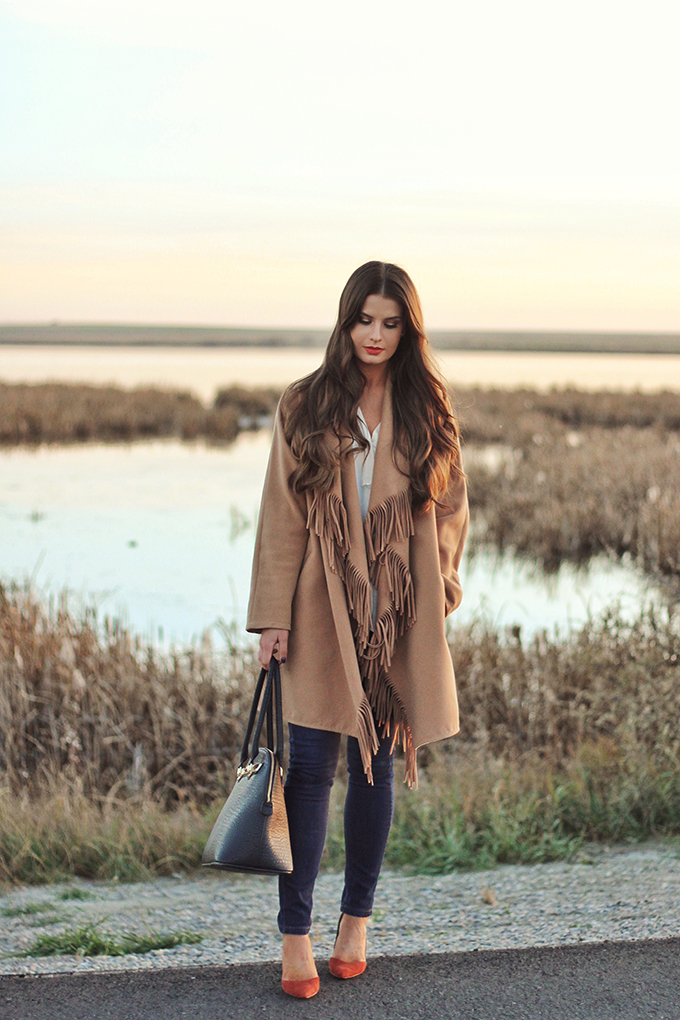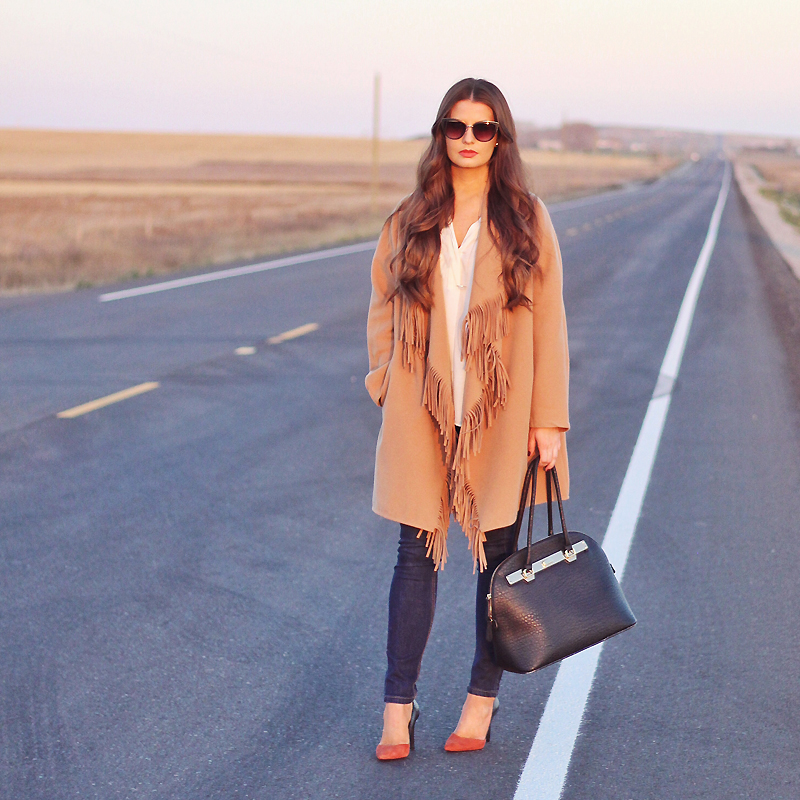 When I first spotted this jacket, it was lust at first sight. I immediately ordered it, and I'm so glad I did — I've been wearing it non-stop! Yes, my obsession with fringe is still going strong into autumn, and I love this oversized jacket in a warm camel colour because it goes with everything. Even though it's quite roomy, I think it hangs so nicely — which makes the oversized silhouette flattering. Even though it's a trendier item (and definitely the focal point of this outfit) you can easily style to look sophisticated by pairing it with classic, elegant pieces like I've done here. Alternatively, you could throw it on with more bohemian pieces and it would look like a completely different jacket. I tend to look for unique jackets that have this kind of versatility. If you're wanting to try the fringe trend, but looking for a piece that's really easy to style, try a neutral jacket with fringe details.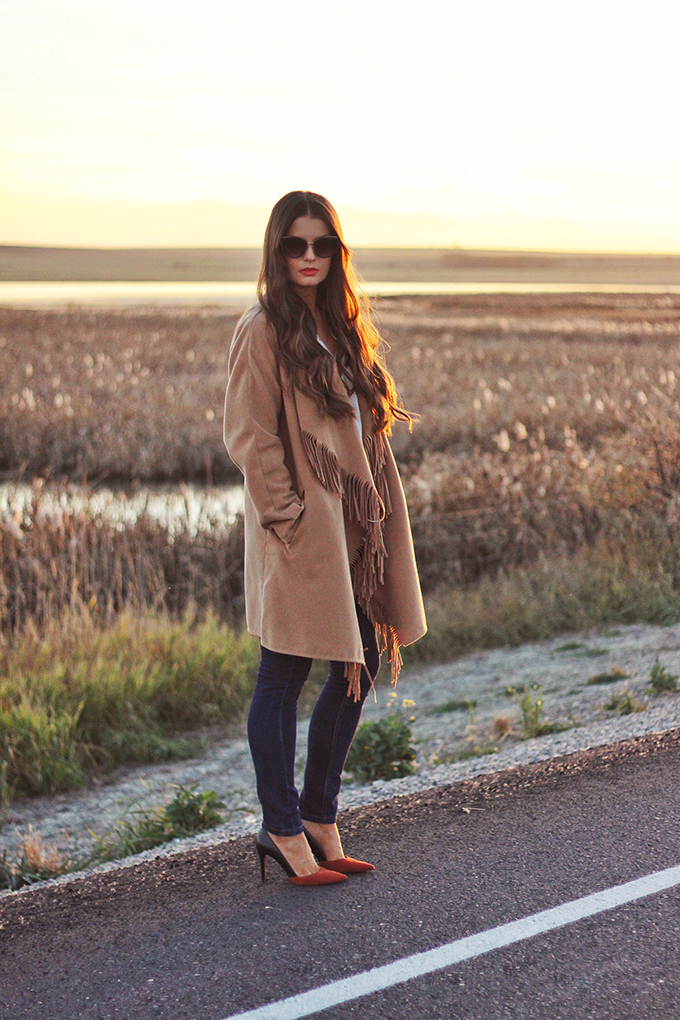 Everyone that knows me knows I love a great pair of sunglasses. Nothing makes you feel more badass than the perfect pair of shades! This season, I've been into cat eye shapes — I love the retro vibe they give an outfit, and this season I'm definitely embracing the 70's trend. I'm notorious for losing sunglasses, so I tend not to invest in them. With accessories, usually I prefer to have lots of variety than be limited to a few expensive options. Sunglasses add a bit of mystery to your look, while protecting your delicate eye area from harmful UV rays (and we all know I'm a stickler for sunscreen and skincare), so I'm never without sunglasses when I'm outdoors. Not sure if you can pull off the cat-eye shape? Try an inexpensive pair like these ones from Lulu*s — I think you'll be surprised!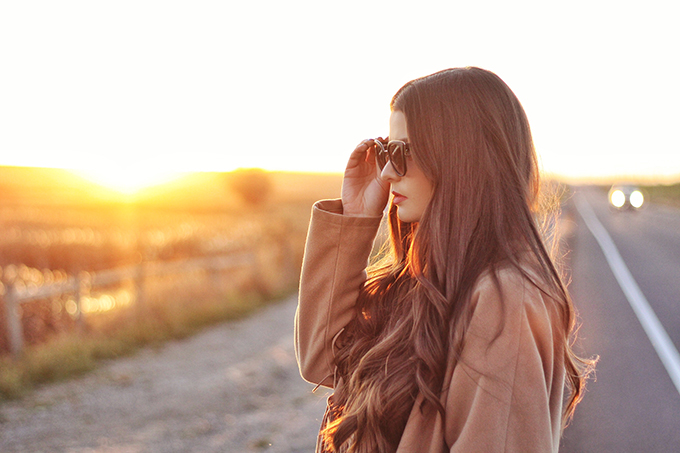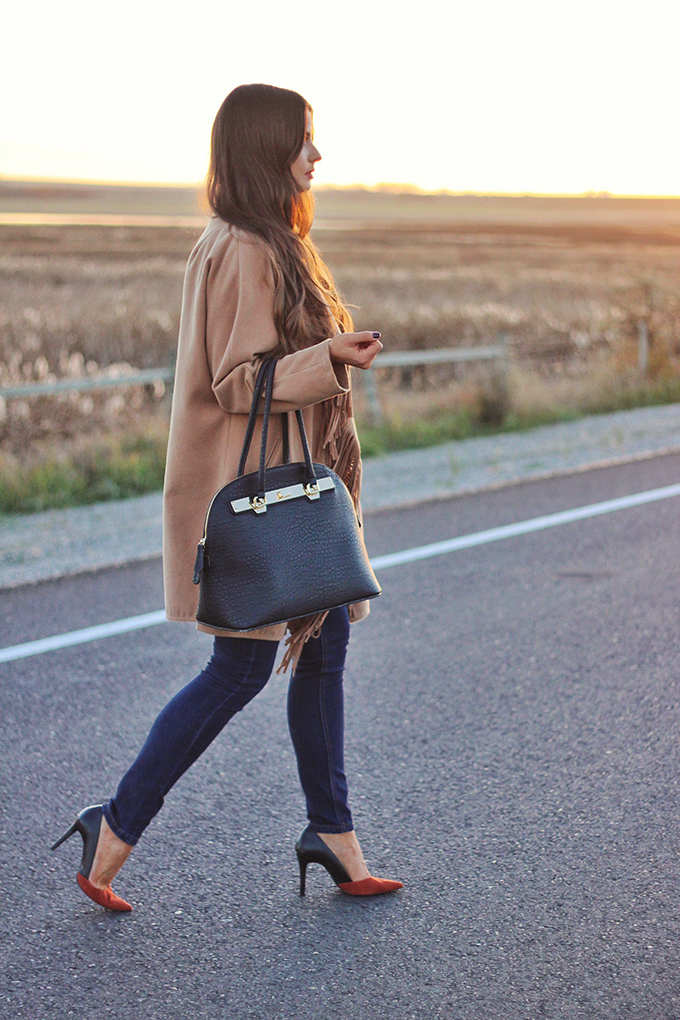 This oversized bowling bag is a workhorse item in my wardrobe. It's large enough that I can throw my laptop or iPad in and head to a meeting, and there's still lots of room for all my stuff. I love Aldo's handbags, and purchase most of my bags there. The bag I'm wearing in these photos is last seasons, but I've linked a similar one here. I rarely splurge on authentic leather handbags, unless they're really unique (I only own two leather bags). This one is faux leather, but it's very well made and super durable. I love the vintage feeling of the bowling bag style, and the way the clean lines of the bag balance the organic fringe details of the jacket.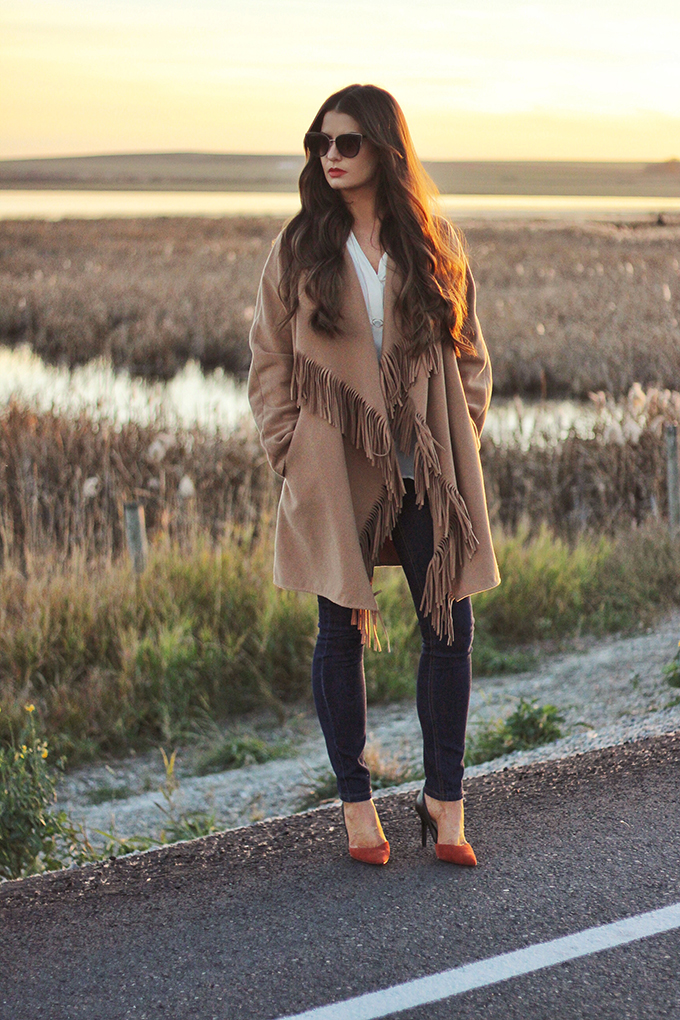 If there's one wardrobe staple I think every woman should own, it's mid-rise dark denim that fits like a glove. I guarantee that once you fit the right fit and wash, they'll flatter every body type. These Doheny Mid-Rise Jeans in Dark Huntington are my absolute favourite pair of jeans, and they're relatively inexpensive for the quality. I'm not one to invest in designer jeans or handbags (mostly because I refuse to wear visible logos), so a lot of my favourite pairs of denim are in the mid-range category. I think the key to pulling off oversized pieces like the jacket is to pair them with more streamlined pieces like this dark denim to add structure and balance to the look. These jeans are comfortable, sleek and go with literally everything in my closet. They're sophisticated enough to wear for business meetings, and they're casual enough to look great with a t-shirt. A lot of pieces in my wardrobe are versatile, easy-to-dress-up-or-down pieces like these jeans.
P.S. — If you decide to place an order on Tobi.com, you'll get 50% off your first order when you use the code TOBI50. I purchased these jeans in my first order and got them for 50% off — what a steal!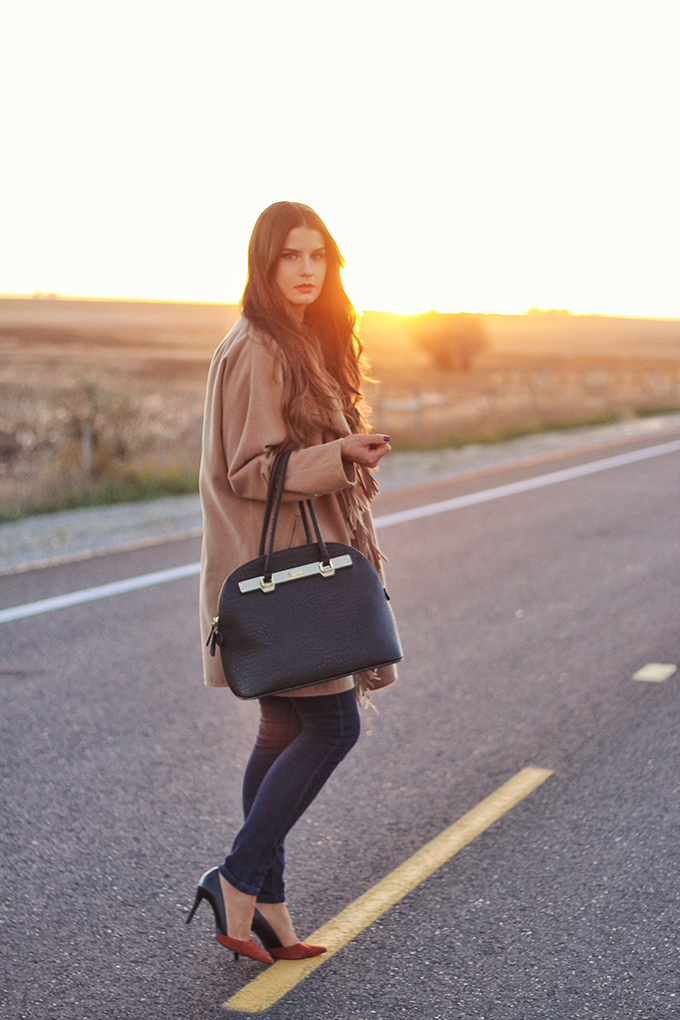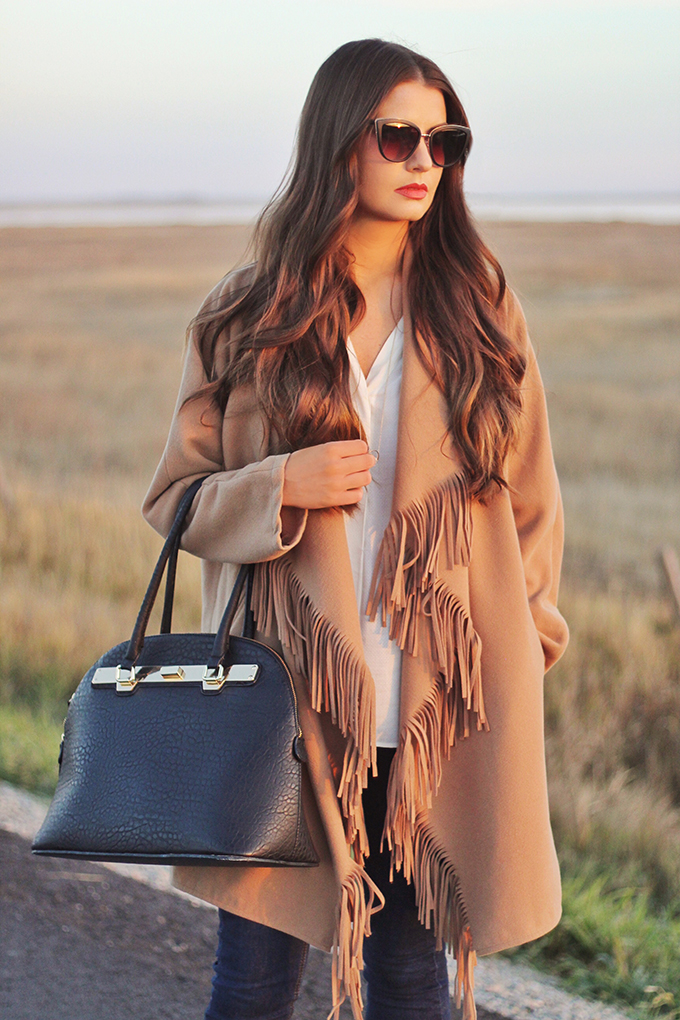 I've got a lot of love for breezy, minimalist tunics. I wear them often –I think they're so easy to style, and such a versatile, staple piece in every season. On most body types, I find a looser fitting style that sits just above widest part of the hip to be the most flattering. This light coloured tunic keeps the look crisp, and the deep V neckline helps to elongate and slim the silhouette. The one I'm wearing in these photos is from H&M (last season), but I've linked a similar one here.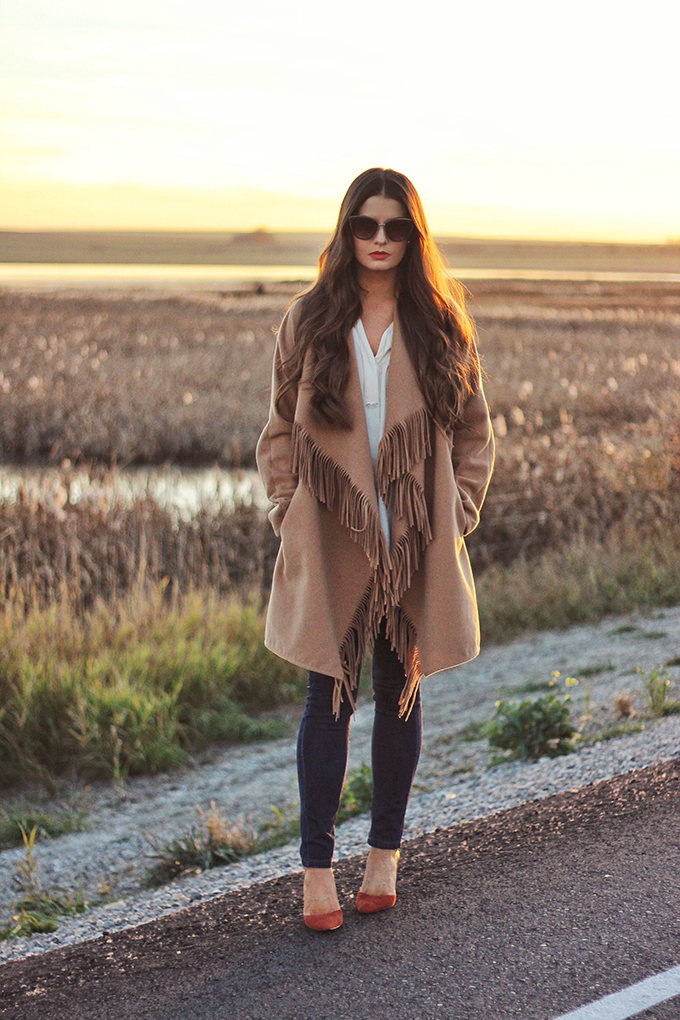 I know that not everyone is as beauty-obsessed as I am — but I think a finding a signature, bold lipstick shade for fall in a luxurious, matte formula can really elevate your look. I love transitioning into warmer, deeper shades in autumn — like this rich orange from Bite Beauty in Warmed Maple (it actually tastes and smells like maple syrup and was inspired by the changing colours of fall leaves!). I mentioned this shade in my Best in Beauty | August post, so if you're looking for a full review, head over there to check it out. Most people are intimated by orange shades, but I actually find that they flatter most skin tones. Colourpop's Chi Chi is really similar in colour to this Bite lipstick, but the formula isn't quite as unique or luxurious (even though it's still awesome.) I reviewed it here. If orange really isn't your thing, try a red or berry. This limited edition set from Bite Beauty (which I reviewed earlier this week) has some beautiful options. Something I do a lot is match my lip colour to an accessory I'm wearing — like the shoes in this look. It ties everything together without being too matchy-matchy.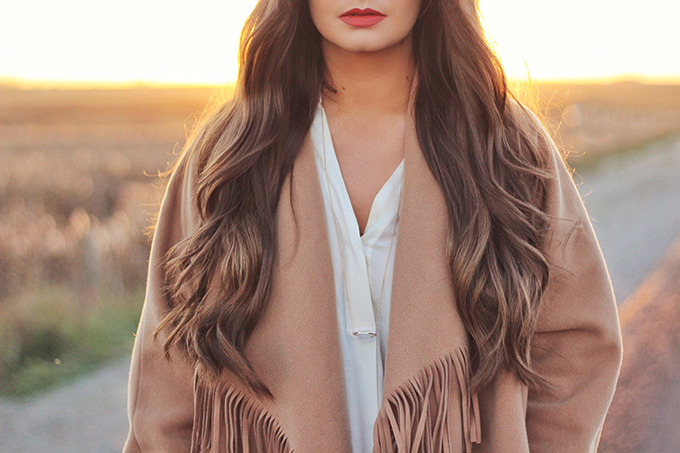 Most of my jewellery is either inexpensive, or vintage (or both) — personally I'd rather have a lot of unique pieces to choose from and than a just a few expensive pieces. I really love longer styles with simple stone details — they add just a bit of interest to a simple shirt. This particular necklace is from Forever 21 and it's no longer available, but I've linked a similar style here. I purchase a lot of trendy jewellery at Forever 21 — the trick there is to buy online rather than in-store, to ensure that items aren't damaged or picked over. This necklace is delicate and feminine, and I like the bohemian vibe that the natural stone gives the outfit.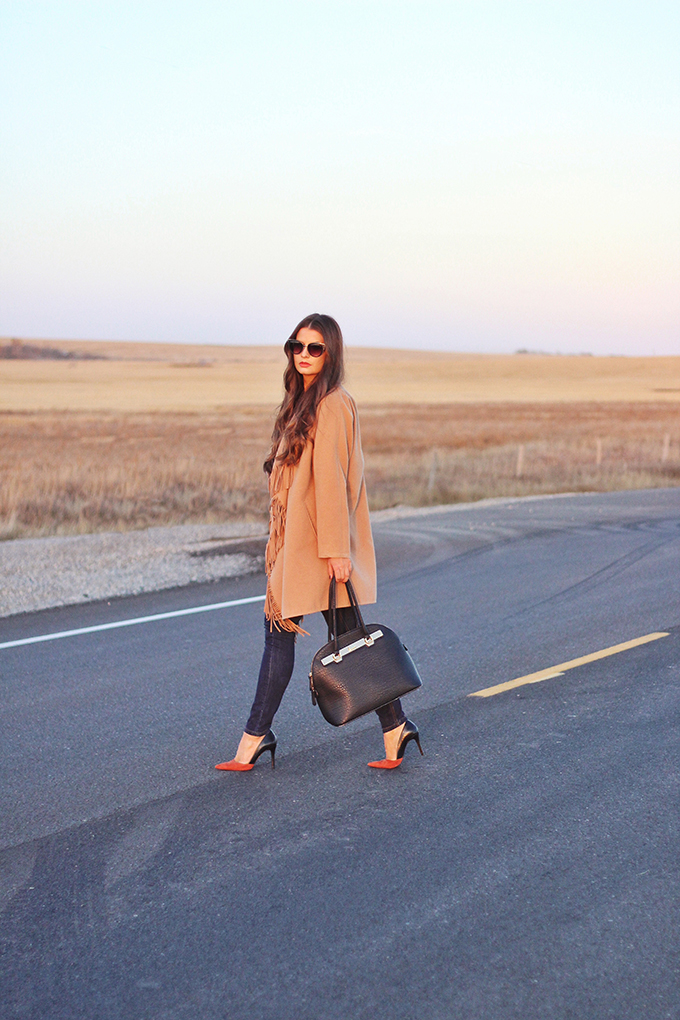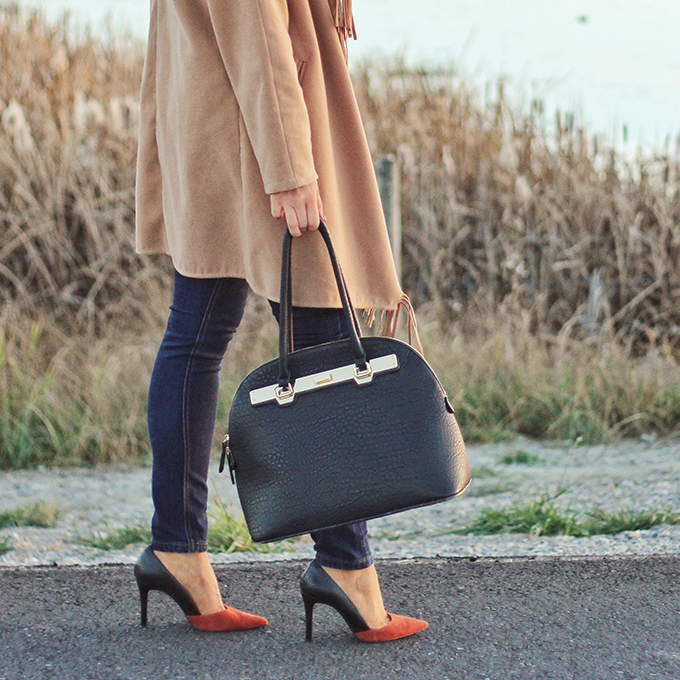 Almost no one believes me when I say that my heels are comfortable, but I swear that these ones are! Personally I wear flats, or heels that are about 4″ — for me these are the most comfortable — anything in between just doesn't work for me. I've mentioned this so many times on the blog, but I think that Zara makes the best shoes that you can buy for the money. For me, great shoes that I wear often don't have to be expensive, but they do have to be comfortable and well made. These leather Mid Heel Combined Court Shoes are sleek and stylish, and I love the pop of rust on the toe (read more about my love for rust here). Pointed toe pumps really elongate the legs and look good with just about anything. I also chose them for this outfit because the faux croc print embossing on the back and heel matches the bag — paying attention to little details like this make an outfit feel cohesive and polished. They incorporate a few of this seasons trends while still being versatile and interesting, and I've been wearing them a ton.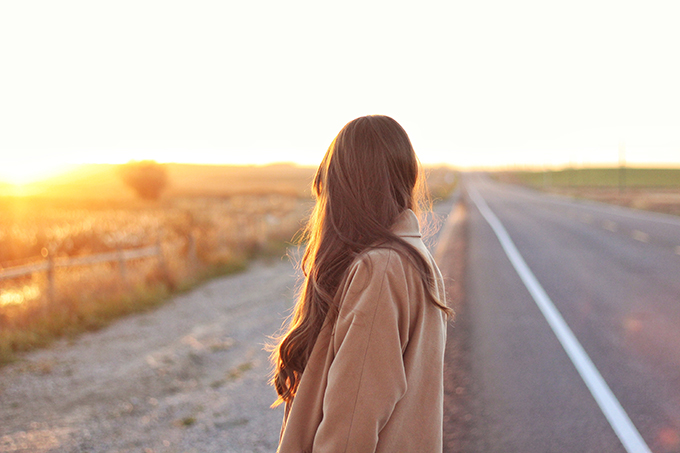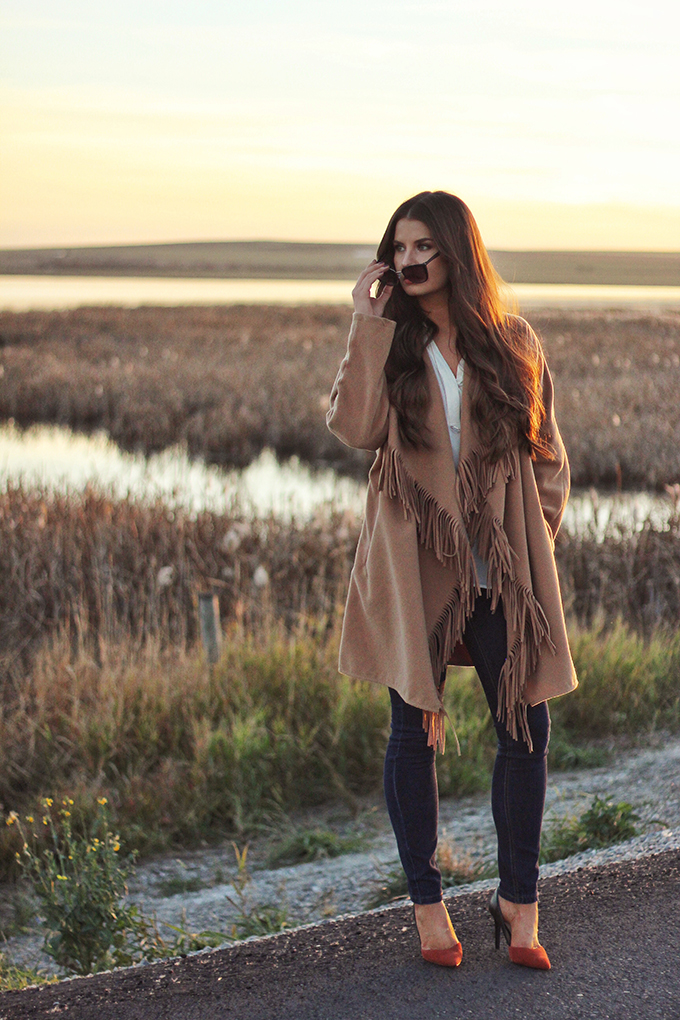 I think soft, face framing waves look beautiful on everyone, and the best part is that this style takes 10 minutes or less. The trick is to curl large sections of hair away from your face (I'm not precise about it, at all), and leave the last inch of your hair out of the curl (leaving the ends of the hair out give your curls more of a tousled, bohemian vibe). When you're done curling, just run your fingers through the curls to rough them up a bit, and finish with a light mist of hairspray. The best curling wand I've ever used is the Sultra The Bombshell 1″ Rod Curling Wand, which they used to sell at Sephora. It's an investment, but so worth it — I've had mine since 2009! I see Sephora no longer carries the Sultra brand, so I've linked to it on amazon.ca. You can achieve this look with any good quality, 1″ curling icon. If you want the full 70's vibe, try a centre part.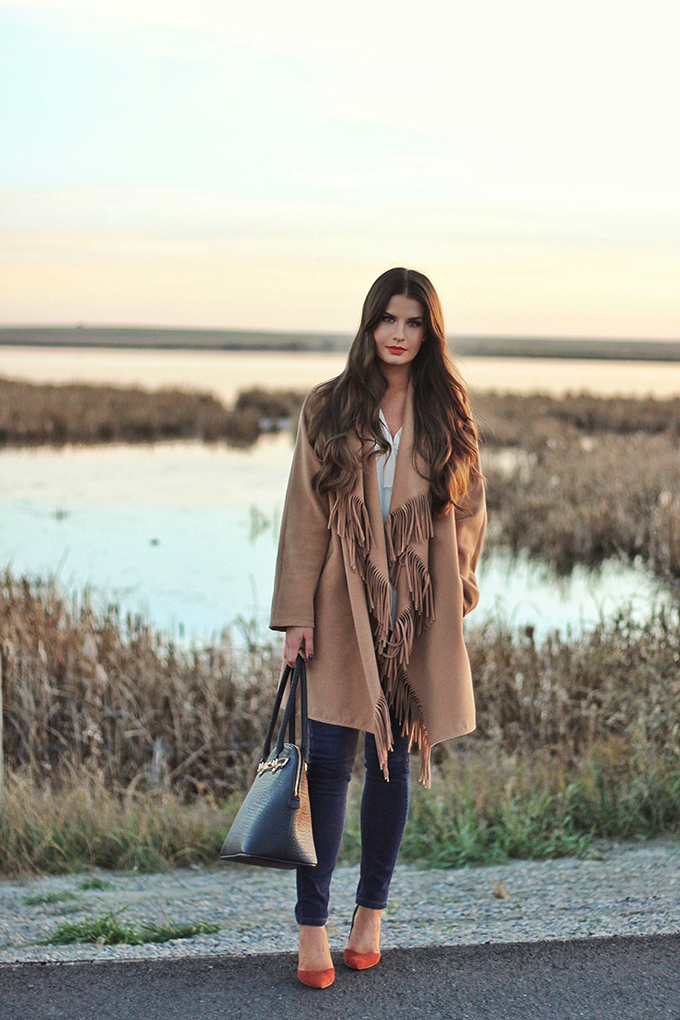 ---
SHOP THE LOOK
Purr-haps Black Sunglasses | JOA Road West Tan Fringe Coat | Silence + Noise Cross-Neck Tunic | Longline Faux Stone Necklace | Doheny Mid-Rise Jeans in Dark Huntington | Mid Heel Combined Court Shoe | Bite Beauty Maple Matte Crème Lipstick in Warmed Maple
---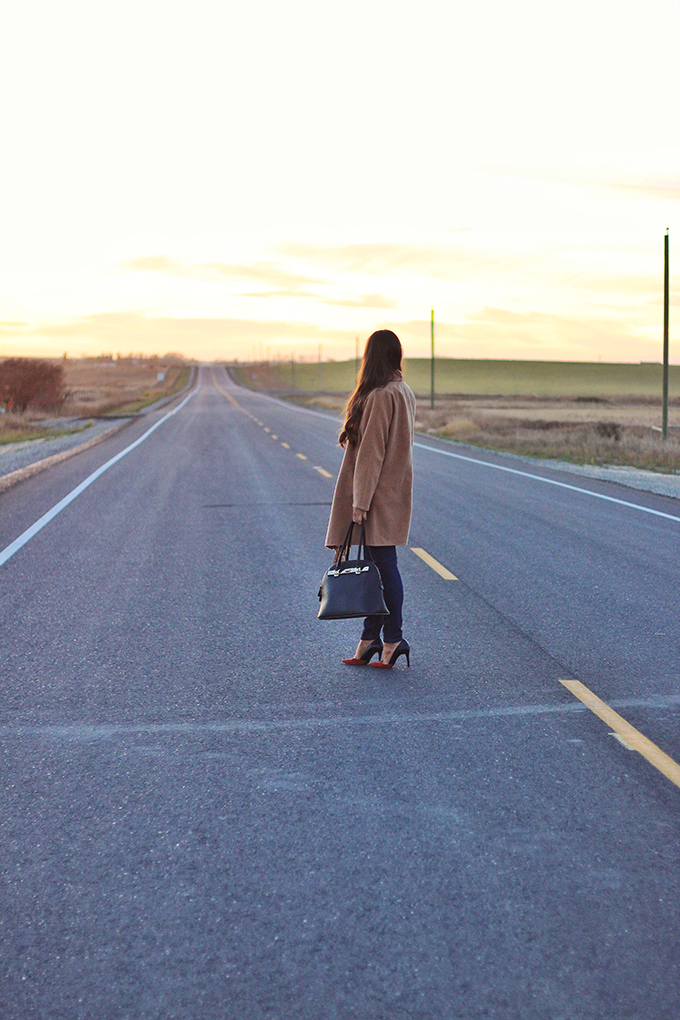 ---
What are your fall style staples? Anytime you have a question about what I'm wearing, need a recommendation, or want to chat about fall fashion, just leave me a comment! And feel free to leave me fashion post requests, too. A friend of mine just requested another post in my WHAT TO WEAR TO series — about what to wear to a holiday party. So keep your eyes peeled for that one in November. Have a great weekend, guys!
---
Disclaimer: This post is not sponsored, and contains my genuine thoughts and recommendations. JustineCelina uses affiliate and referral links, which allow me to receive a small commission when you make a purchase through one of my links. Your purchases help to support JustineCelina.com!