---
Better late than never, right?! My October 2018 Soundtrack is the last regularly scheduled post I missed during my forced intermission — but I did want to get it out for you! As you've probably gathered, October was an extremely stressful month, but these are the tunes that kept me going! As always, this Monthly Soundtrack is a mashup of musical genres, artists and moods — 2.5 hours of everything my ears enjoyed most last month, with a healthy dose of calming instrumental. If you're looking for some fresh, inspiring tunes to listen to while you work, think, create, get your sweat on, relax at home, hang out with friends or enjoy a long drive, this soundtrack is for you!
Some of my most played tracks during October included The Echelon Effect's Your First Light My Eventide, Bon Vie's Entirety, Tracey Chattaway's Light The Night, Kiiara's Gloe, Equanimous's Forest, Dreamer's Delight's Starborne, Attom's Golden Hour, Middle Kids Salt Eyes, Only Evening's Emily and Blackbird Blackbird's B There 2 Hold You. I hope you enjoy one of the more chill playlists I've published here at JustineCelina over the years and that it brings your some peace and tranquility during these busy, pre-holiday times!
---
OCTOBER 2018 SOUNDTRACK
---
---
NEED MORE FRESH TUNES? CHECK OUT MY LATEST PLAYLISTS
---
September 2018 Soundtrack (or listen on Spotify)
August 2018 Soundtrack (or listen on Spotify)
July 2018 Soundtrack (or listen on Spotify)
June 2018 Soundtrack (or listen on Spotify)
May 2018 Soundtrack (or listen on Spotify)
Or, browse the MUSIC archives here at JustineCelina for 3.5 years of monthly playlists!
---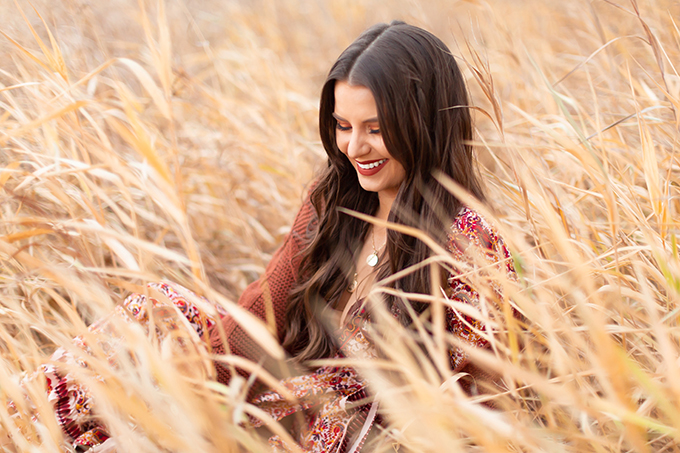 We snapped this month's album cover at my childhood home in rural Alberta over my break! It's part of my upcoming How to Style | Maxi Dresses for Autumn post, which includes 3 looks and is publishing later this month!
What have you guys been listening to lately? Leave me your recommendations in the comments, I'd love to hear from you! Do you use Spotify? If you do, feel free to drop some links to your playlists, or playlists / artists you think I'd enjoy. I love to discover new music!
---
Disclaimer: This post is not sponsored, and contains my genuine thoughts, ideas and recommendations. JustineCelina uses affiliate and referral links, which allow me to receive a small commission when you make a purchase through one of my links. Thank you for supporting the brands and businesses that support JustineCelina!