---
It seems that we skipped spring entirely here in Calgary over the past 2 weeks and went straight from winter to summer — so naturally, I thought it was time to drop my first Spring 2018 TREND GUIDE on you! Admittedly, it's difficult to keep up with our extremely bipolar climate in Alberta, let alone dress for it. Although we enjoyed many 20 ºC days in late April and early May, over the past few days we're back to more typical spring weather — May showers included! While I was ecstatic to bust out all my open toed shoes (you can expect a SS18 SHOE GUIDE coming soon!), I also pulled together a few spring looks at the beginning of the season that have been on repeat lately — this is one of them! I never thought I'd see the day where bare legs were an option, but friends, the time has come!
I'm thrilled to bring you my Spring 2018 Trend Guide | Check Yourself — one of my favourite transitional outfit formulas for our Canadian winter-to-spring season, freshened up with a selection of key trends as we move into warmer weather (I can't even begin to tell you how refreshing it is to not have to shoot in the snow!). Today I'm chatting about how to integrate checks, blush, OTK boots, round sunnies, panama hats and retro colour pairings into your spring style and highlighting my favourite on trend pieces at every price point. I'm also sharing my favourite source for designer bag dupes — believe it or not, this Chloe Faye look alike was under $40!

---
SPRING 2018 TREND GUIDE | CHECK YOURSELF
---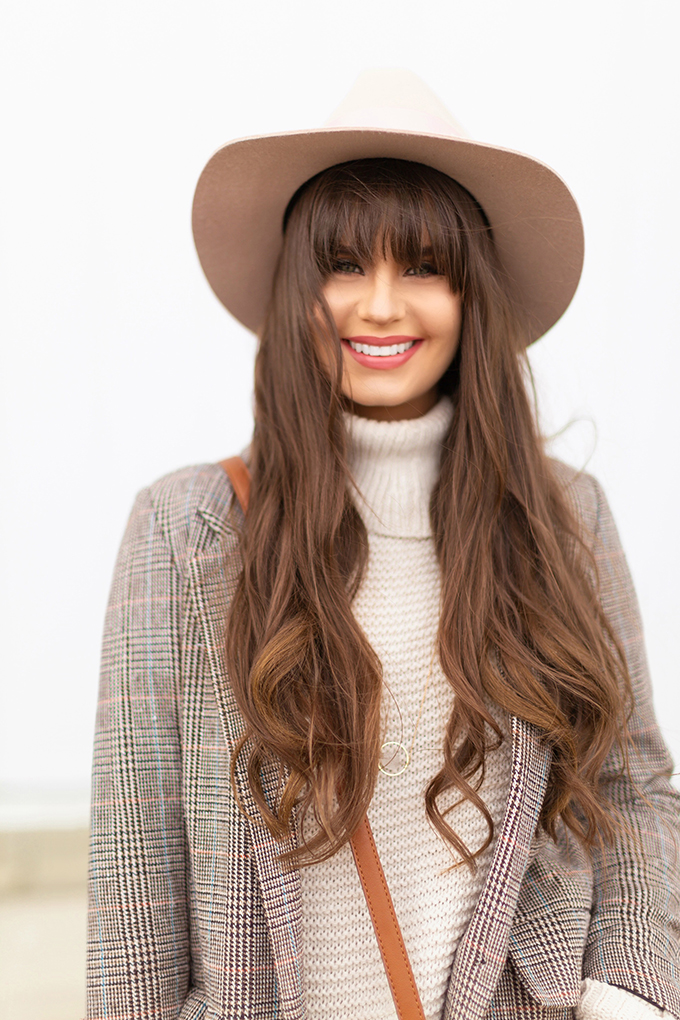 Are you as happy as I am that spring has finally arrived here on the Alberta prairies? It feels amazing to not have to be bundled up in 10 layers and show a little skin! With tons of fresh sartorial spring content coming your way over the next couple of months, I wanted to kick things off style wise this spring TREND GUIDE style. While there are so many fantastic trends popping up this season, I've curated a handful of my favorites into this casual, lightly layered look featuring some of my most worn pieces as of late. I hope you enjoy my spin on Spring 2018's biggest trends, adapted to our temperamental Alberta climate!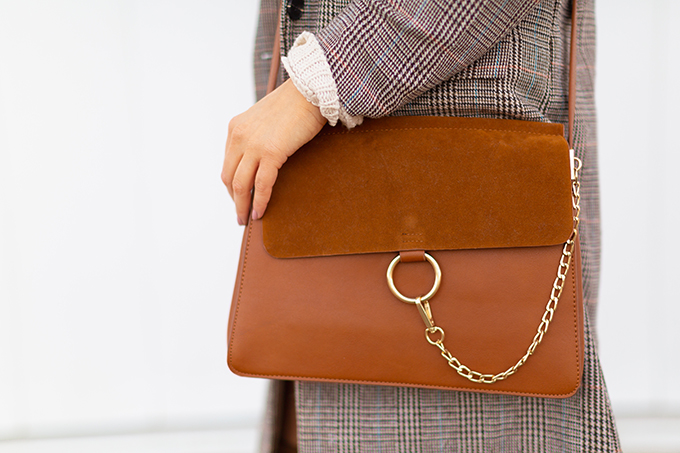 ---
TREND: Checks
---
Checks are everywhere this spring — from outerwear, to suits, to coordinated sets, to accessories — and I'm all for it! Checked prints are a fantastic option for those of us who could never really get on board with plaid — I like to think of checks as plaid's older, more sophisticated sister. This linear print would make a fantastic addition to any spring wardrobe and can be worn in both personal and professional settings. If you're looking to add one new pattern to your wardrobe this season, check yourself!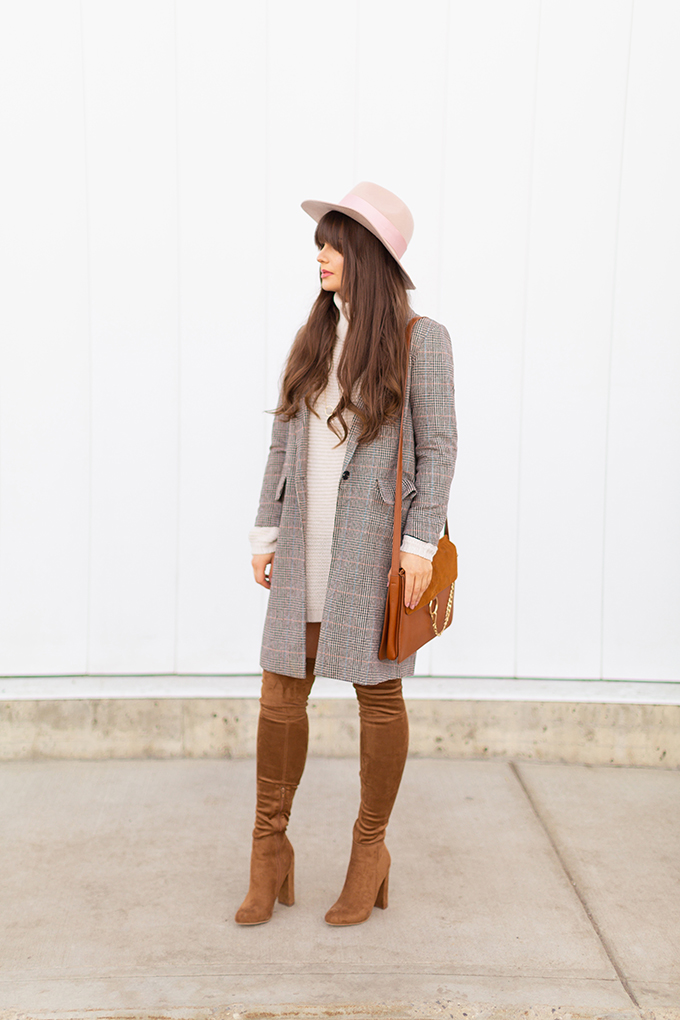 I'd been hunting for the perfect checked blazer for quite some time when I spotted this Single Button Longline Plaid Blazer (unfortunately it's now sold out, but they do restock, so if you love this blazer as much as I do, keep checking back!). Believe it or not, it's actually from SheIn! While that retailer is extremely hit and miss, I only share the hidden gems with you here at JustineCelina — and this blazer is one of my favourite spring wardrobe staples. I get so many compliments on it and love that I can style it more casually like I've done here, or dress it up for client meetings as well. Shop my favourite checked blazers below!

---
TREND: Blush
---
I truly never thought I'd say this — but I'm actually starting to think of blush as a neutral! While it's not technically a neutral shade, these softer, more subdued blush hues are certainly a new staple of mine (especially during the spring), even though my personal style isn't overly feminine. It's no secret that I've been majorly crushing on blush hues for quite some time! Blush and millennial pink hues are here to stay this spring and summer — and with pastels being bigger than ever, now is the perfect time to add a pop of blush to your wardrobe!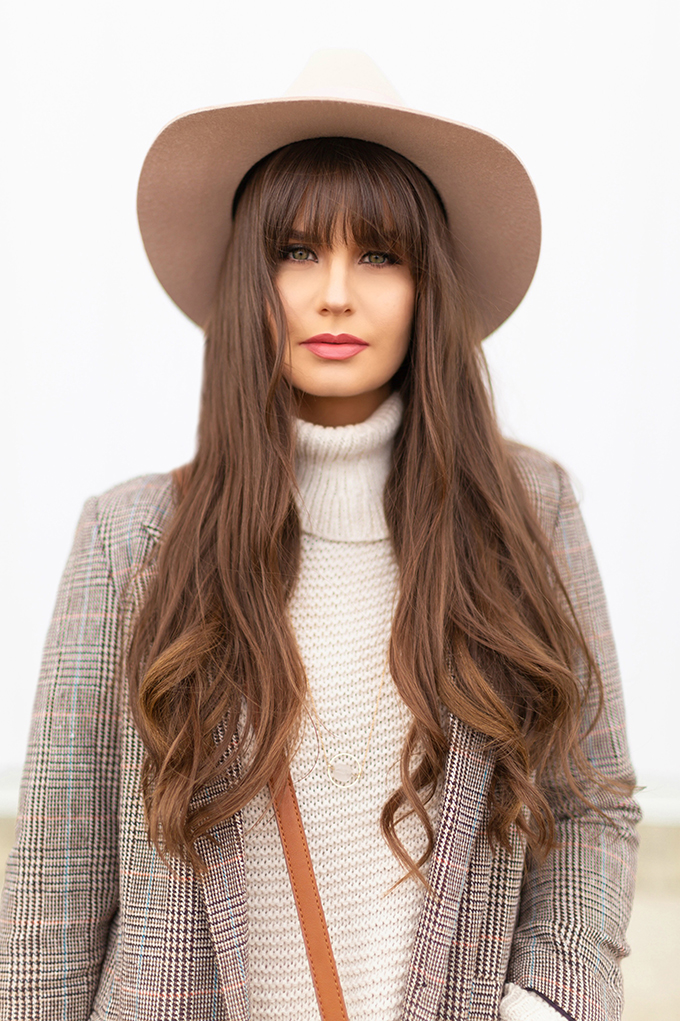 In this outfit, both my blazer and my hat feature subtle blush tones, while keeping the overall look very neutral. I believe blush can be tasteful, age appropriate and not sickly sweet when styled well — you can integrate blush hues into your wardrobe at any stage of life and in both personal and professional settings. If I've finally convinced you to jump on the blush bandwagon and you're not ready to commit to it a staple piece of clothing (like my favourite teddy coat, for example), why not add some blush to the mix in a subtle print, or with fun pop of colour in a spring-inspired hat or a bag? I think you may be surprised at how much wear you get out of your blush pieces this season — stay tuned for lots more blush style inspiration coming your way this spring!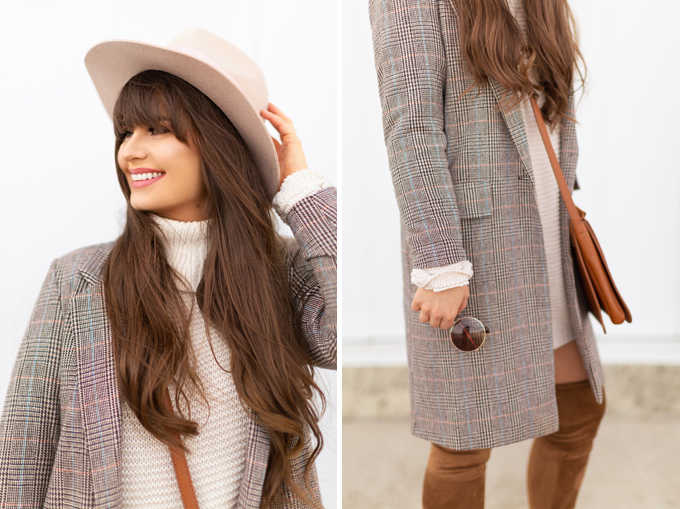 ---
TREND: OTK Boots
---
My ALDO Areaviel boots in Cognac are my favourite pair of OTK boots, ever. In fact, I wish I would have picked them up in every colour while they were still available here in Canada (update: they restocked and I actually did!)! I typically purchase my ALDO footwear during their 50% off sales — that's when I grabbed these beauties. How to I love thee Areaviels? Let me count the ways.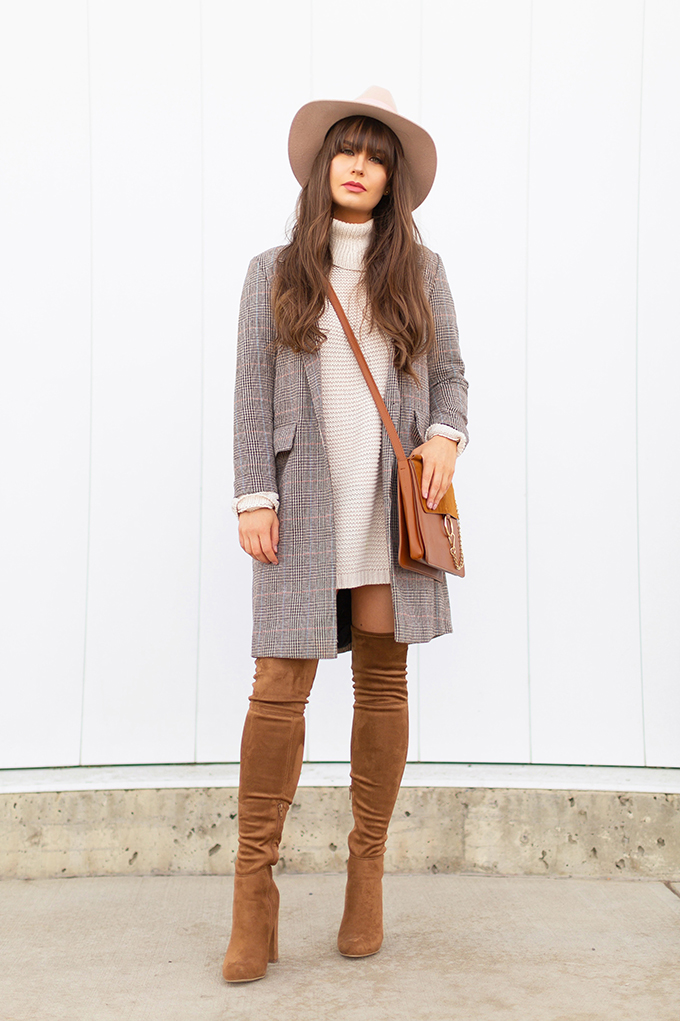 First, there's a fantastic dupe for the Stewart Weitzman Hiline Suede Over-The-Knee Boot at a fraction of the price. Second, they make your legs look a million miles long! Third, they're actually really comfortable and stay put. They're my ideal pair of OTKs — and I only wish I had found them sooner! If you're in the market for a timeless pair of over the knee boots that won't break the bank, I've linked this exact pair up for you below, along with the  Stewart Weitzmans, if you're so inclined!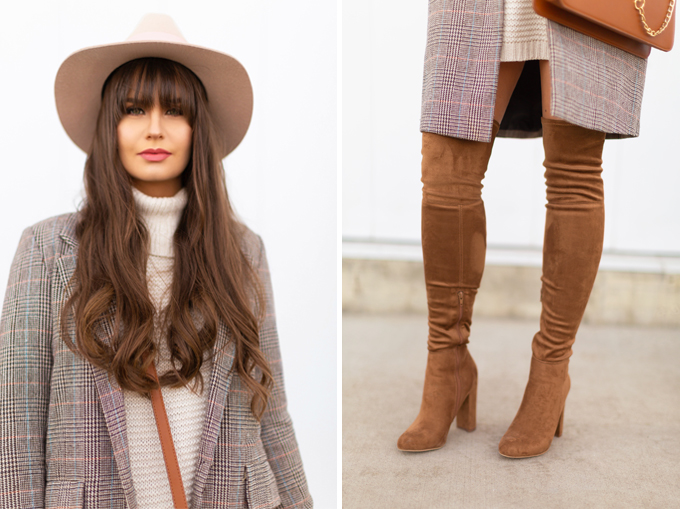 ---
TREND: Round Sunglasses
---
Longtime readers will know that round sunnies are totally my thing — and they continue to trend as we transition into spring and summer. If you've never really embraced this frame style, now's a great time to take it for a spin! With many major retailers and designers producing a variety of round sunnies to choose from this season, there's more variety at a greater value than ever.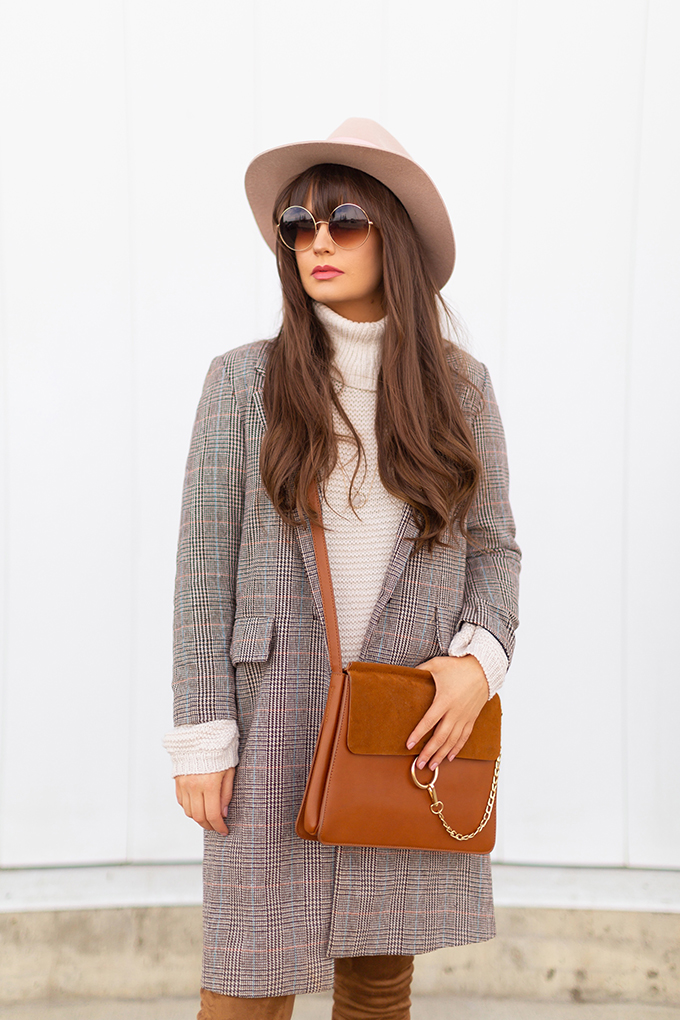 In addition to round sunglasses, we're also seeing an onslaught of mini sunglasses and cat eye frames this spring and summer — and this oversized frame lover is actually embracing it! I've added a couple of new frame style into rotation lately and am loving them. Experimenting with new sunglass styles an inexpensive way to change things up and refresh your wardrobe for a new season — so if you're looking to add some interest to your look this spring, inject your look with an air of mystery by selecting a pair of round, mini or cat eye shades.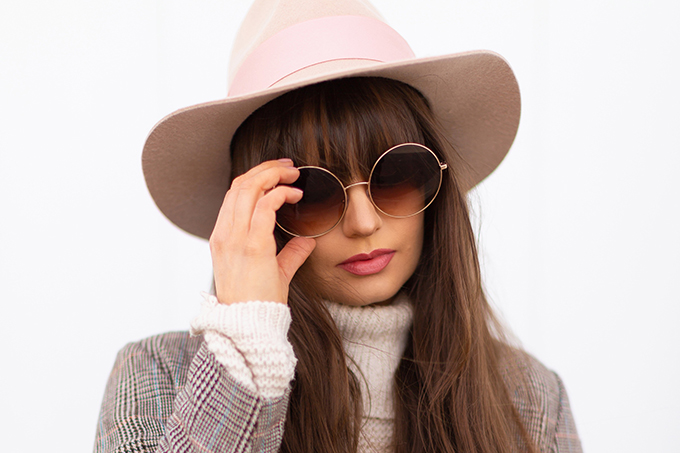 ---
TREND: Panama Hats
---
As I'm sure you're aware, I love my hats! I've always been a hat girl, but since cutting a fringe, hats are absolutely necessary for those days when I don't have time to style my fringe, or it's feeling a bit overgrown. This season, Pamana style hats are where it's at — a flat, wide brimmed style is a refreshing change from the large floppy versions we're used to seeing during the spring and summer! While Panama hats can be made from almost any material (think wool for cooler temperatures and textures like straw and rattan for summer weather), I've been living in my Aldo Stahle lately!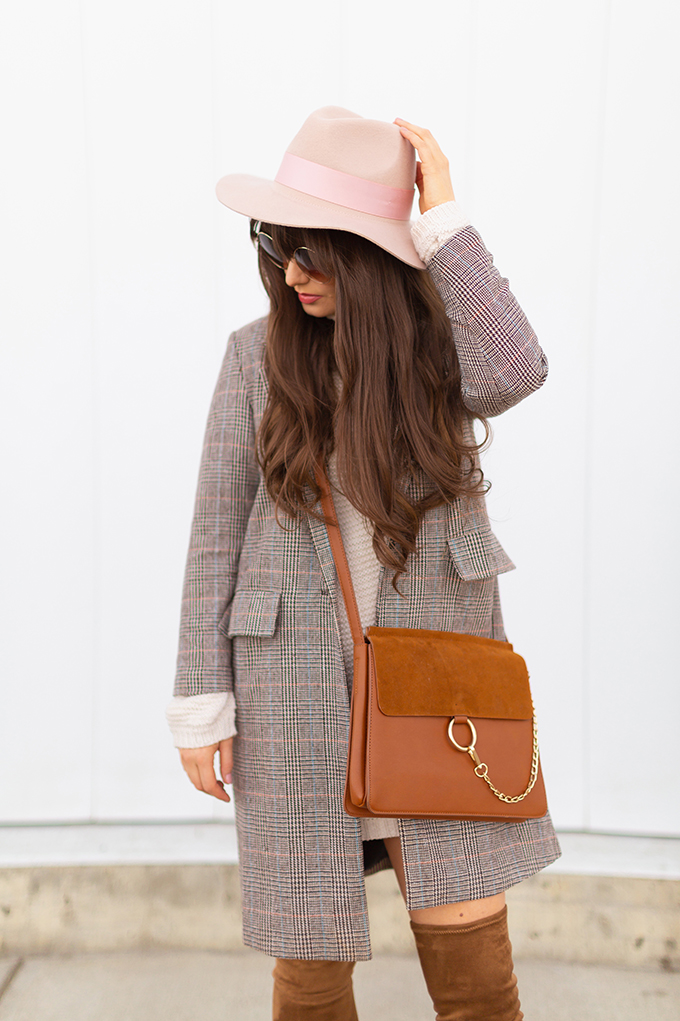 This soft blush panama hat works so well for transitional outfits — it's the perfect mixture of winter and spring. I love to throw it on with dusters, blazers, and trenches during the spring to complete my look and have been pleasantly surprised by how versatile it is!

---
TREND: Retro Colour Pairings
---
I've noticed a lot of retro, 60's and 70's inspired colour pairings are popping up this spring — including one of my favourite colour combinations, blush and brown. If you've been following along with our SPACE REFRESH series, this should come at no surprise! However, it wasn't until I edited the photos for this post that I realized just how similar the colour palette of this outfit is to our living room — and I swear it wasn't planned! Offsetting blush with warm neutrals is my favourite was to style pink for a cool, vintage inspired, yet not overly girly vibe. Blush and brown is a popular combination this spring — as is yellow and brown. Style your favourite spring brights or pastels with brown to anchor the look and impart a fresh, retro sensibility this season!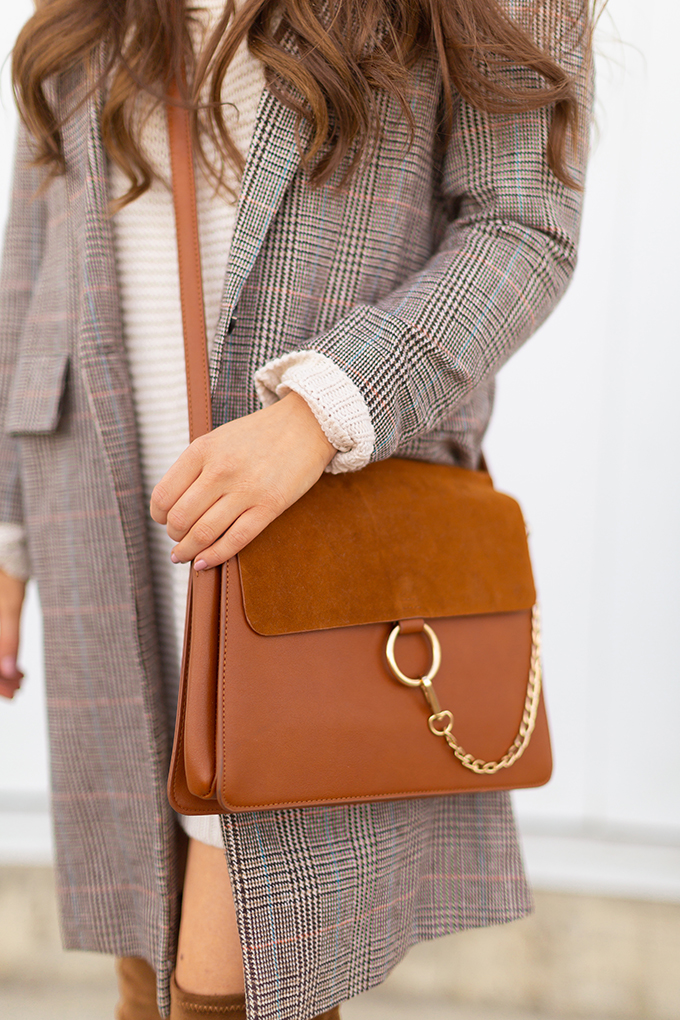 And that source for designer bag dupes I promised you? It's SheIn! I actually picked up quite a few designer inspired bags during the winter and have been getting a ton of wear out of them. This particular bag is a dead ringer for the Chloe Faye Medium Leather and Suede Shoulder Bag, but it was less than $50. As of right now it's sold out, but as I mentioned, SheIn restocks popular styles frequently — so be sure to stalk this link if you want to snag yourself a designer dupe for a steal!
---
Spring 2018 Beauty Trends
---
I've actually been sticking with more natural, pretty, everyday makeup this spring — and not just because it's on trend right now! If you've been missing my BEAUTY exclusive content, I will have a new SS18 Beauty Favourites post publishing soon — but I actually haven't been exploring many new products lately. Instead, I find myself sticking to what I know works for me and focusing on using what I have rather than purchasing new items.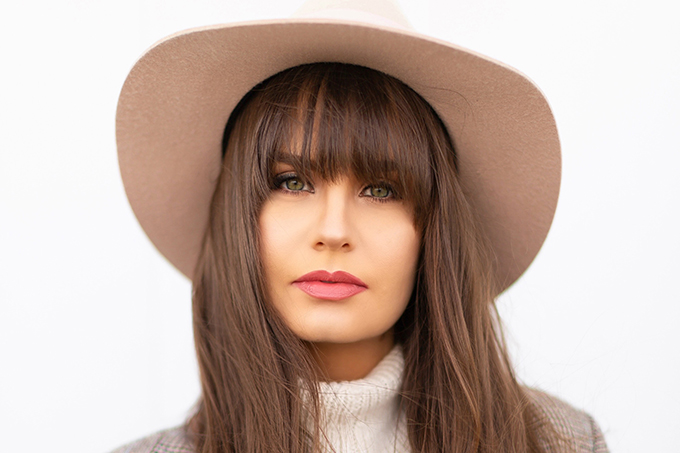 For the first time in a long time, more natural, minimal makeup is trending. Glossy lips are back, healthy, luminous skin is in and there's a focus enhancing your natural beauty rather than covering it up! I've been really enjoying shopping my own stash and finding new ways to use long time favourite products to achieve more of a naturally beautiful, easy going look. My current favourite lip combination includes the Smashbox Always On Liquid Lipstick in Babe Alert, topped with my beloved Fenty Beauty Gloss Bomb Universal Lip Luminizer (which I'm almost out of!). Other than that, a lot of my holy grail products have been making a regular appearance on my face — all of which I've linked up for you below!

---
SHOP THE LOOK
---


---
STAY INSPIRED WITH FRESH SPRING STYLE IDEAS
---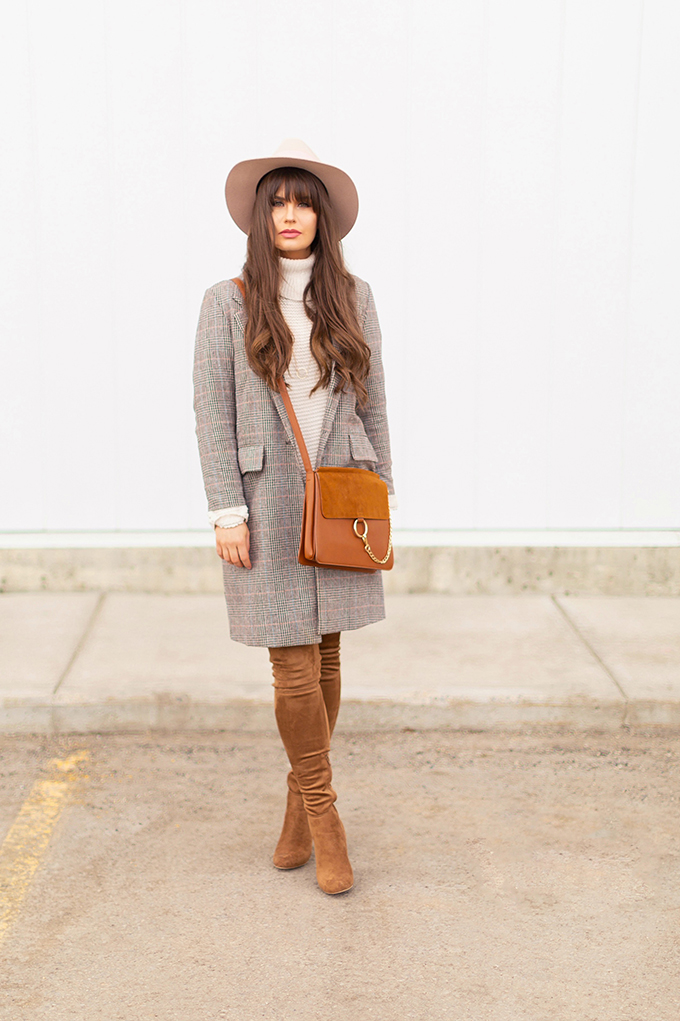 How to Style | Transitional Layers
Spring 2017 Trend Guide | Gingham Style
Springing Forward + Seasonal Wardrobe Staples
Spring 2017 Trend Guide | Casual Chic
What to Wear to | Spring Weddings
---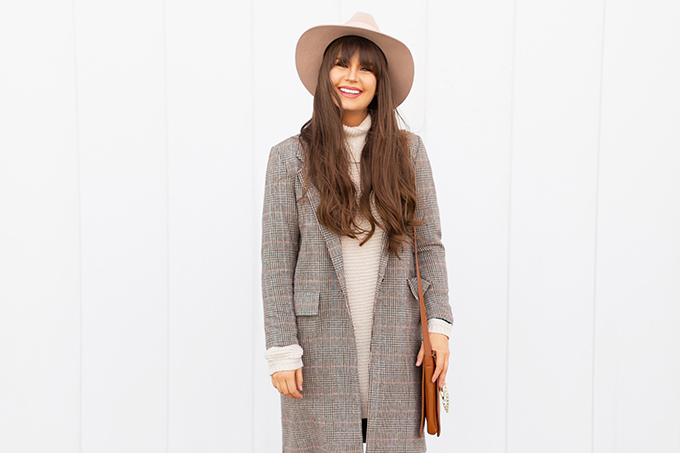 Thanks for stopping by for the first spring TREND GUIDE of Spring 2018, beautiful people! It looks like snowy days are behind us (knock on wood!) — and I have so much seasonal FASHION inspiration to share! I actually had to push all my spring content back a full month this year to accommodate our crazy Calgary weather, so I'm very ready for spring. As always, if you have a sartorial request, please leave me a comment or shoot me a message. Enjoy the rest of your day!
---
Disclaimer: This post is not sponsored and contains my genuine thoughts, ideas and recommendations. JustineCelina uses affiliate and referral links, which allow me to receive a small commission when you make a purchase through one of my links. Thank you for supporting the brands and businesses that support JustineCelina!