Hello from Vancouver! It's been awhile since I've traveled outside of Alberta and I'm so thrilled to be exploring this gorgeous city. I actually didn't plan to publish a dedicated style post for this look, but many of you were interested in what I was wearing when I posted a photo of this outfit on Instagram yesterday — so where we are! While all of the style content you see here at JustineCelina is reflective of my fairly eclectic personal style, I like to keep things interesting, so I showcase a range of looks. Today's outfit is such an easy one for me to wear and very representative of my everyday style — a simple, no fuss look incorporating some of my favourite wardrobe staples. In fact, I've worn every single piece (except my new-ish Zara sweater!) in previous style content.
I take in as much as I can on foot while I'm traveling (I love to discover new things around each corner!), so I do a lot of walking. While comfort and warmth are my first priorities, I also like to look polished and up for anything. Most locals have been complaining about the weather, but it's -20°C in Calgary, so not having to be totally bundled up and deal with snow sounds pretty good to me right now (it's been a long winter!). My Effortless Travel Style is achieved by packing a small but cohesive wardrobe full of quality, simple pieces and great accessories that I'm able to combine in unique ways to create a variety of outfits. Stick around if you'd like to see some of what's in my suitcase!
---
Weekday Thrown On Knit Coat (similar, similar) | Grey High Waist Denim with Rips | Sweater with Tie Sleeves (similar) | Striped Tunic (similar) | Aldo Follona Leather Loafers | Round Sunglasses (similar) | Wing Woman Brown Handbag | Faux Fur Pom Bag Charm | Hourglass Girl Lip Stylo in Dreamer
---
EFFORTLESS TRAVEL STYLE
---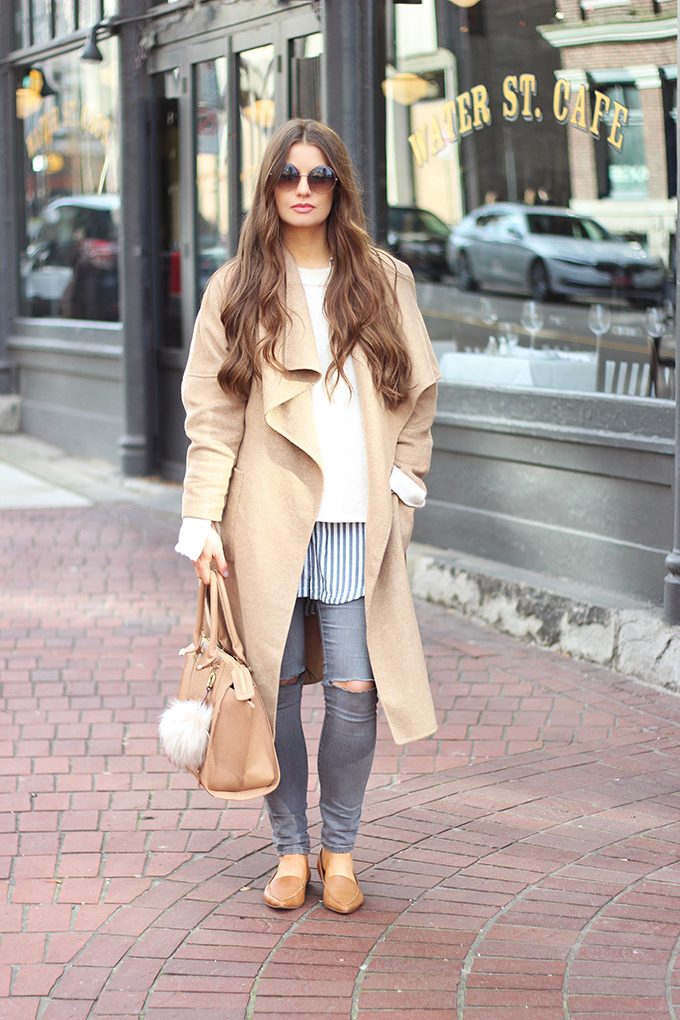 These photos were shot in Gastown where I've been spending most of my time over the last couple of days. It's a gorgeous, historic neighborhood (the oldest in Vancouver) with beautiful Victorian architecture and fantastic shopping (the boutiques are to die for), eats and art galleries! I love the fusion of old and new here — it reminds me a lot of Calgary's Inglewood. The Steam Clock (a must see) is just across the street and the corner is riddled with tourists snapping photos (I learned that it's difficult to take style photos on busy streets without catching 10 people in the background!). It's definitely different than what you usually see around here and it was kind of fun!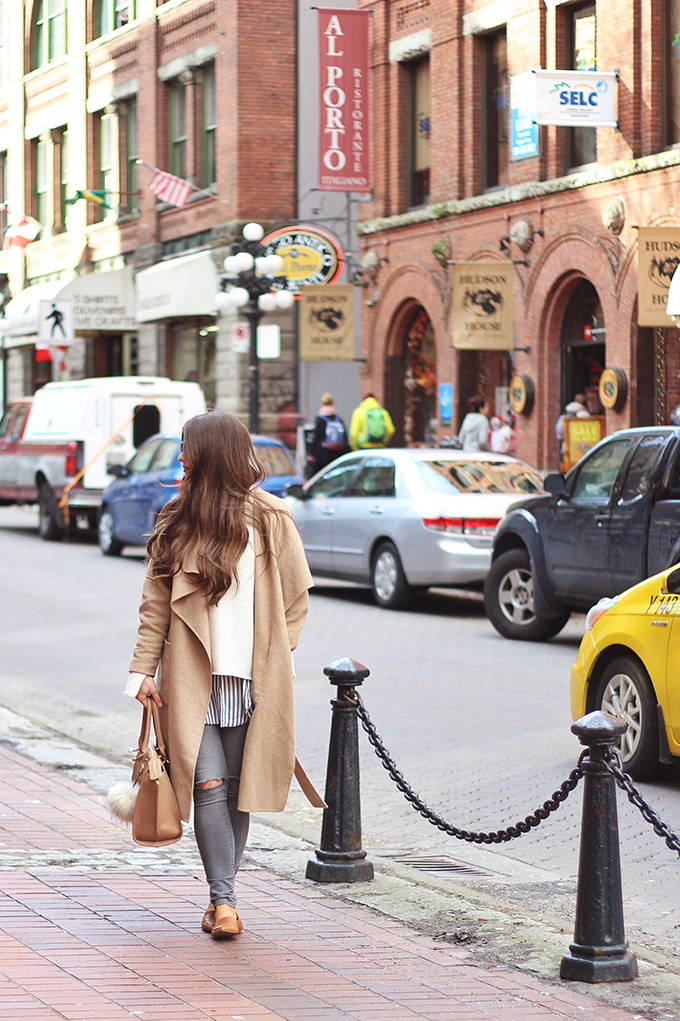 So, let's chat about this outfit! If this coat looks familiar, it's because I've worn and mentioned it here many times at JustineCelina. It's about 2 and a half years old — you saw it first last February and I also wore it in my Winter Shoe Guides. It's a beautiful wool coat from Zara that I wear from autumn through spring that literally goes with almost anything in my closet (and everything in my suitcase). It's the first piece of outerwear I pack when I'm traveling — it's lightweight but cozy and it's perfect to wear on the plane! Every time I wear it I receive so many compliments and inquires about where I purchased it. While this exact coat it no longer available, there are some fantastic similar options currently on sale at ASOS here, here and here if you're in the market for a chic, everyday camel coat!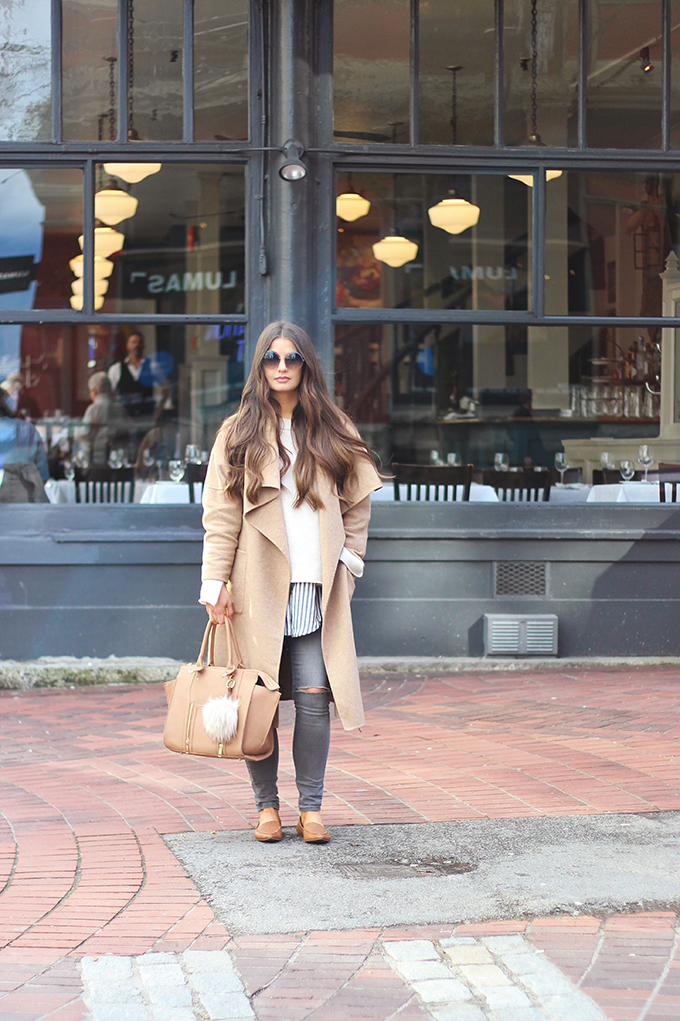 Day to day, I prefer my lighter neutrals (brown, camel, grey, cream and white) as opposed to black. While black definitely has it's place in my wardrobe (you'll actually be seeing an almost all black outfit soon), I love the ease and elegance of a lighter neutral colour palette as we transition into spring. I picked up this ultra comfortable cream Sweater with Tie Sleeves at Zara during the sale a couple of months ago (although, it wasn't online at the time!) and I've been living in it! It's the warmest sweater I packed and it's a great layering piece (I love the extra long sleeves that poke out from under my coat!). Zara makes some of the most beautiful knits you can buy for the price and while this particular sweater is no longer available online, you may still be able to track it down in store (ask for the Sweater with Tie Sleeves in cream, but it also comes in grey!). If not, I've linked a similar style here.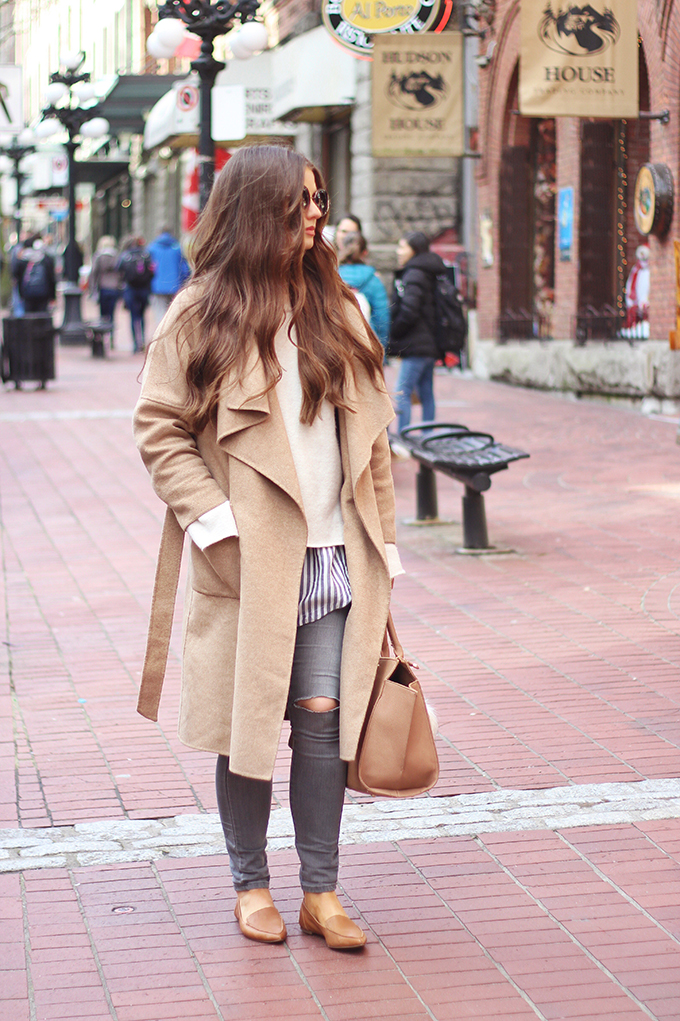 The striped grey tunic I'm wearing is another great staple that I wear year round. You originally saw it in my Newtrals post from last spring (along with this same pair of round sunglasses — we all know how I feel about those!) and it's been on heavy rotation ever since. It's an easy layering piece that's perfect for travel year round because you can pair it up with so many things. I love the subtle pattern (and extra bit of warmth) it adds to this neutral look. Find a similar one on sale at ASOS (hey, what I can I say — I've been shopping the sale!) here.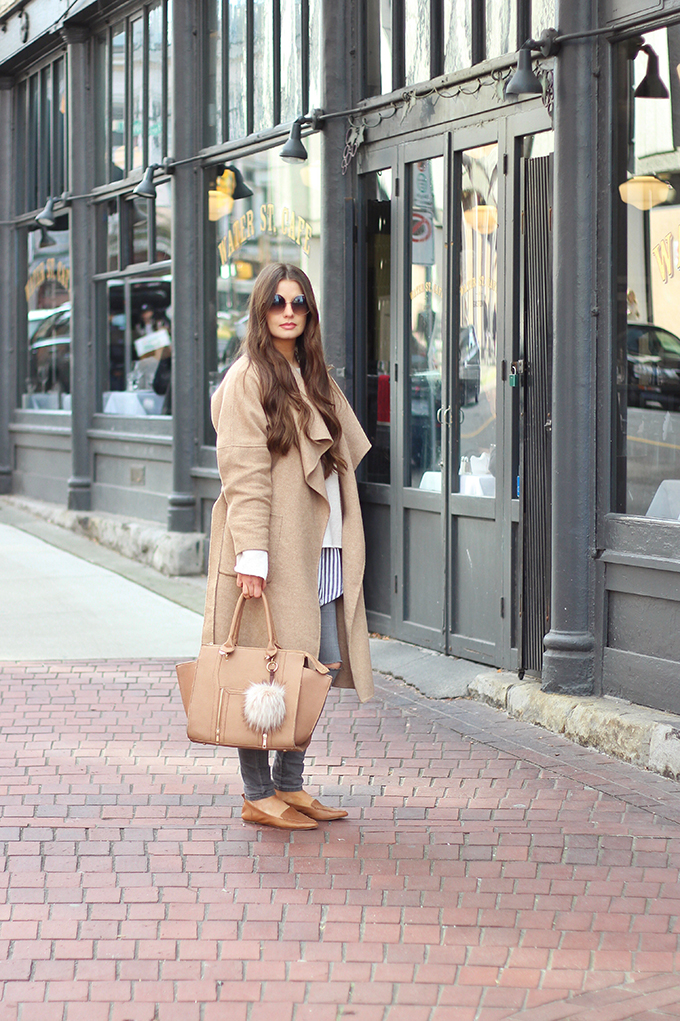 Comfortable skinny jeans with some distressing and just the right amount of stretch to move with me are what I wear most in my day to day style. I've owned this grey pair I originally picked up at Forever 21 for years (I actually wore them in my very first style post here at JustineCelina) and they're so versatile — they can easily be dressed up or dressed down. I was able to find an almost identical pair for you at ASOS on clearance, so if you're on the hunt for a great pair of grey skinnies (a wardrobe essential, in my opinion), these are a steal!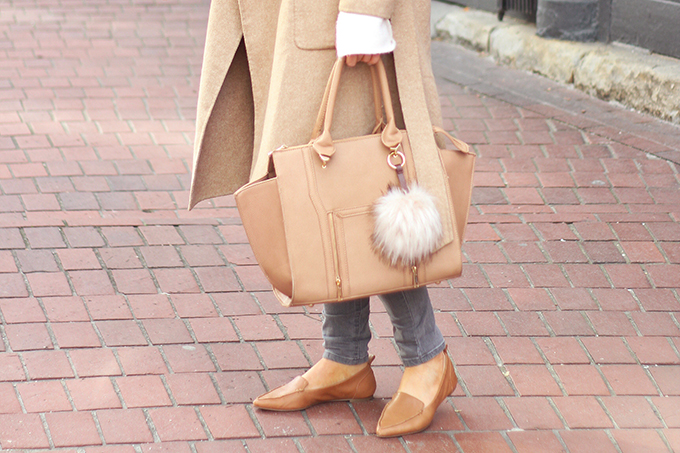 The gorgeous Wing Woman Brown Handbag may also look familiar because you saw the black version back in my Pre Fall Transitional Style post. I originally purchased it in black, but loved it so much I also picked up brown and tan versions (yes, I totally purchase multiple colours of my favourite pieces!). By far, they're my most worn handbags day to day. This stylish carryall is so practical for travel because it has enough room for my laptop, camera and batteries / chargers but keeps everything concealed. And it wouldn't be a JustineCelina style post during the winter months without a touch of faux fur — this pom bag charm is detachable and I snap it onto different bags (like the black one I mentioned in my Transitioning the Trends | Autumn to Winter post) to add a bit of interest and a fun pop of texture to my outfits.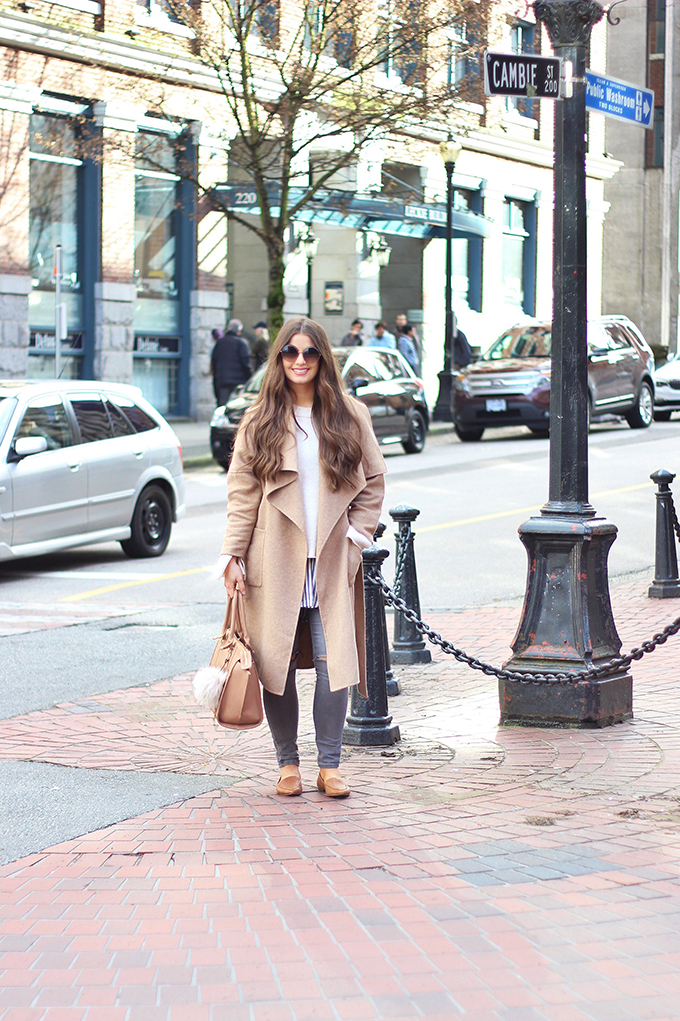 You don't see me wearing flats often around here because I wear heels most of the time (unless I'm exploring entire neighbourhoods on foot!). I've already put so many miles on these Aldo Bazovicas (now called Follonas) that I mentioned in my Winter 2017 Shoe Guide | Basics. Since I published that post they've sold out — and it's too bad, because I wish I could purchase them in every colour now, having worn them so much (edit to add: I did purchase them in every colour now that they're back!). As someone that's more comfortable in heels (literally and figuratively!) I've truly never worn a more comfortable pair of flats. These chic loafers are made of buttery soft leather that molds to your foot, making for the perfect wear-all-day shoe!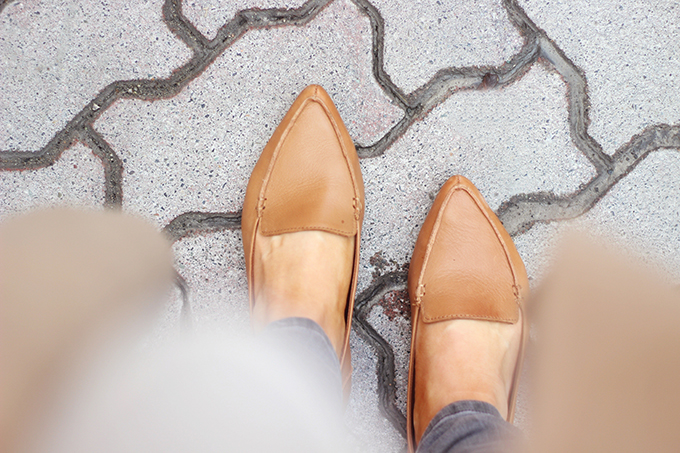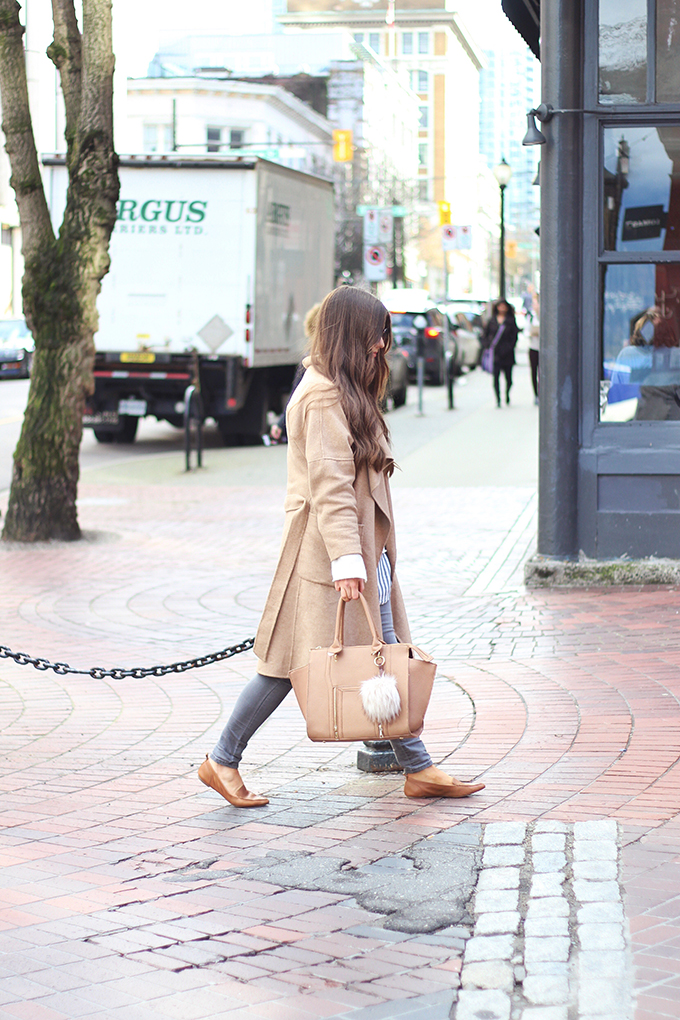 SHOP MY ALL TIME FAVOURITE FLATS
---
My hair is less wavy than usual — because guess what? All this super fine hair can't hold a style for more than 10 minutes in the rain! This is my second day, dry shampooed, relatively unstyled mane. I mean really, what's the point when it's just going to fall out anyway? I'm rolling with it.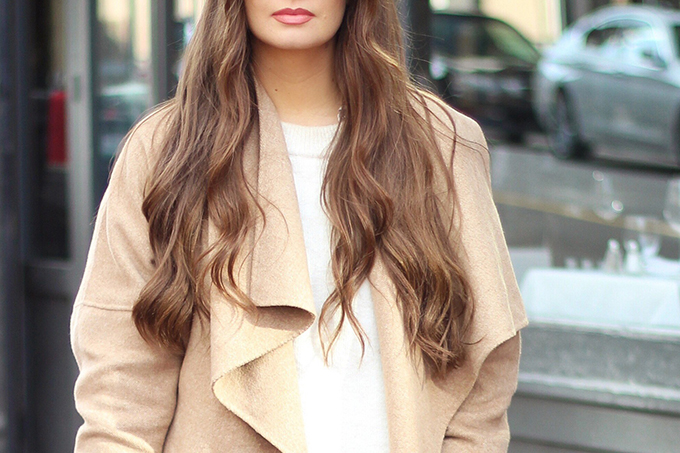 I'm also testing out some recent beauty launches in preparation for my Spring 2017 Beauty Trend Guide coming to the blog next week in partnership with Sephora Canada (who I'm elated to continue working with this year!). On this particular day I was actually wearing face full of newer-to-me products — most of which I loved (and a foundation that didn't hold up well at all in the elements!). Today, the standout product was what I'm wearing on my lips — the Hourglass Girl Lip Stylo in Dreamer (expect more on these beautiful lipsticks next week!). A super easy, go-with-anything peachy pink nude is always in my travel makeup bag and a perfect option for your everyday makeup routine.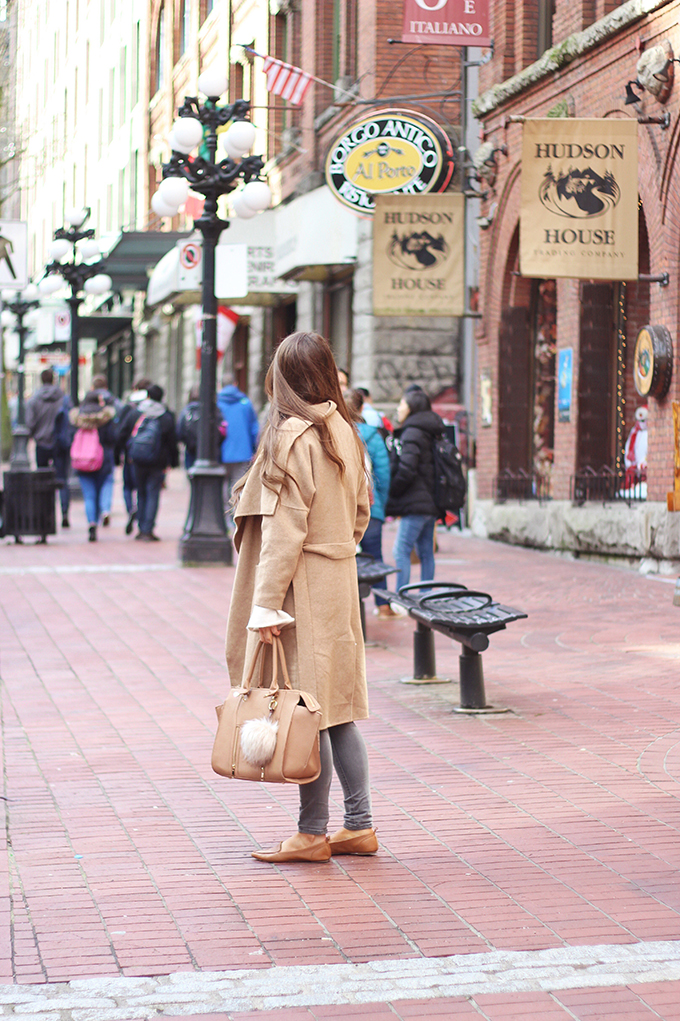 So there you have it — an easy outfit formula for Effortless Travel Style! This outfit took me from meetings, to coffee with a friend, to dinner, to an event. It could easily be dressed up for evening by swapping the flats for a sleek pair of black pumps, the oversized caryall for a black mini bag and the everyday nude lip for a bold pop of colour (all of which are also in my suitcase!).
---
SHOP THE LOOK
---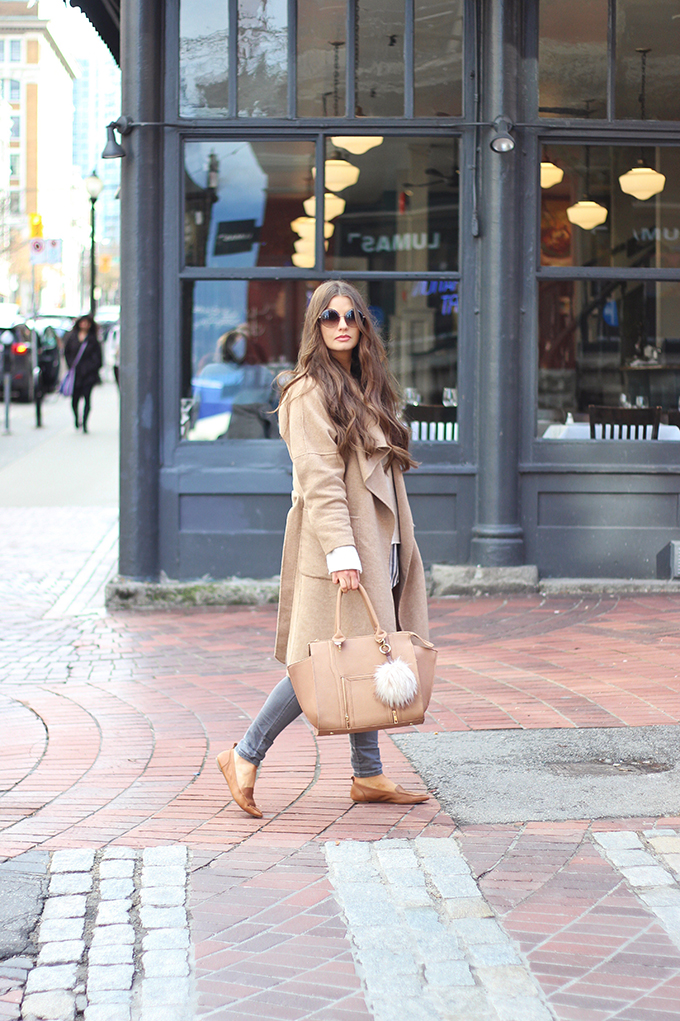 Weekday Thrown On Knit Coat (similar, similar) | Grey High Waist Denim with Rips | Sweater with Tie Sleeves (similar) | Striped Tunic (similar) | Aldo Follona Leather Loafers | Round Sunglasses (similar) | Wing Woman Brown Handbag | Faux Fur Pom Bag Charm | Hourglass Girl Lip Stylo in Dreamer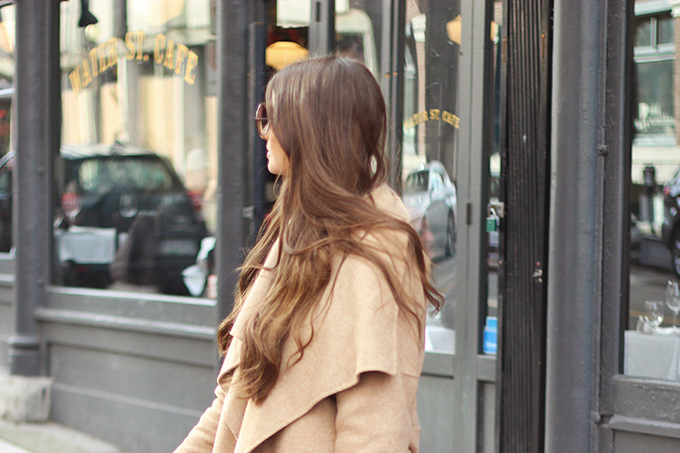 I'm so excited to continue to explore this vibrant city — I may even head to the island this weekend! Stay tuned to see more of my adventures on the blog later this month, I can't wait to share them with you. Have a fantastic weekend, everyone!
---
Disclaimer: This post is not sponsored, and contains my genuine thoughts, ideas and recommendations. JustineCelina uses affiliate and referral links, which allow me to receive a small commission when you make a purchase through one of my links. Thank you for supporting the brands and businesses that support JustineCelina!