---
Happy Saturday, everyone! I'm really not quite sure how it's the last day of September… but that means it's time for a fresh playlist! September was an extremely busy month for me and this was the soundtrack that kept me going as it roared by. My September 2017 Soundtrack is a 3 hour playlist of everything that delighted my ears last month — from easy listening instrumental, to emerging alternative, to chill deep house to a sprinkling of hip hop and R&B. There are also new releases from a couple of my favourite artists this month, including Alt-J and ODESZA. My September 2017 Soundtrack is an easy listening playlist full of good vibes — perfect background music for whatever you're up to this weekend!
My favourite tunes of September were Bora York and Kuebiko's Open Tales, a cool, stripped down rendition of The Postal Service's Brand New Colony, Liyv's Like You Mean It, Jason Nolan's Batu, a live, Spotify exclusive recording of The War on Drug's Accidentally Like a Martyr, ZHU's Chasing Marrakech, Kidwaste and TRACE's Friends, Petit Biscuit's Gravitation, Julian Lamadrid's The Back Room, Coast Modern's Dive, Staffaloo's Throw Me To The Wolves, ODESZA's Show Me, Galimatias's Blow Back, Ella Vos's Rearrange, REGN's WATR, Pool Cosby and crew's Please, Mishegas Have Me, Babygirl's Tomorrow Tomorrow, an elegant cover of Brand New's Jesus Christ, Freedom Fly's Adios Amigos, Bay Ledges Tween Love, Bien's The Best Part and slenderbodies anemone. I hope you enjoy this 50 track playlist!
---
SEPTEMBER 2017 SOUNDTRACK
---
---
CRAVING MORE MUSIC? CHECK OUT MY LATEST PLAYLISTS
---
August 2017 Soundtrack (or listen on Spotify)
Summer Rewind (a compilation of my favourite tracks from last summer — it's a good one!)
July 2017 Soundtrack (or listen on Spotify)
June 2017 Soundtrack (or listen on Spotify)
May 2017 Soundtrack (or listen on Spotify)
Or, browse the MUSIC archives here at JustineCelina for 2.5 years of monthly playlists!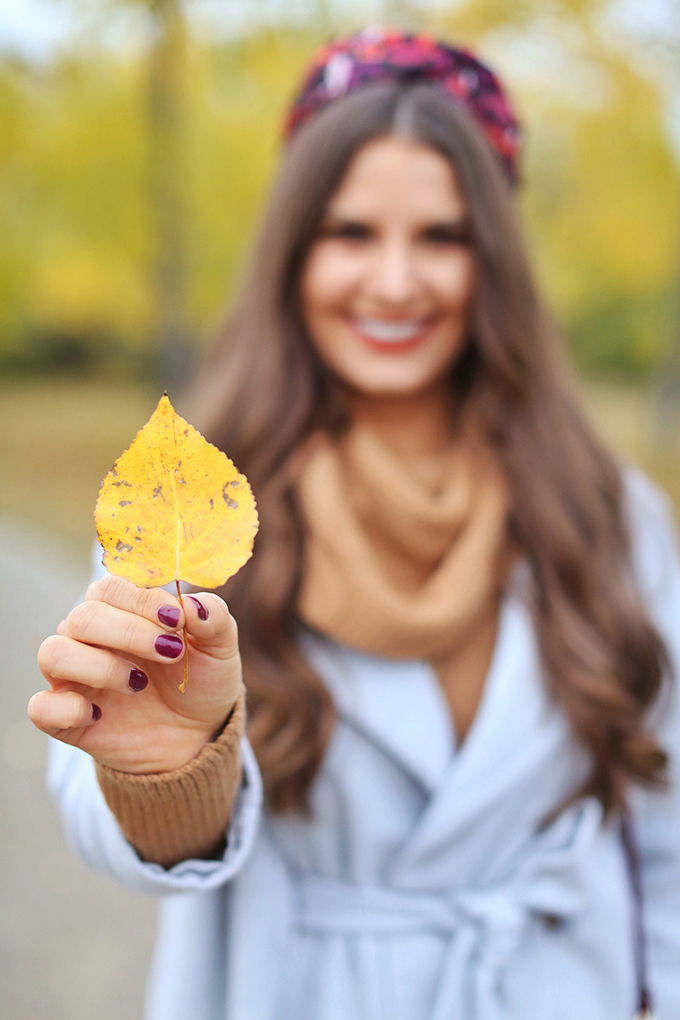 October's album cover was taken during my first style post this autumn — it was freezing cold out and had snowed the day prior, but the foliage was absolutely beautiful!
---
What have you guys been listening to this month? Leave me your recommendations in the comments, I'd love to hear from you! Do you use Spotify? If you do, feel free to drop some links to your playlists, or playlists / artists you think I'd enjoy.
---
Disclaimer: This post is not sponsored, and contains my genuine thoughts, ideas and recommendations. JustineCelina uses affiliate and referral links, which allow me to receive a small commission when you make a purchase through one of my links. Thank you for supporting the brands and businesses that support JustineCelina!