---
With Winter Solstice in the rear-view, it feels surreal to be publishing my final LOOKBOOK of the decade (isn't that absolutely wild?!). After a seemingly never ending saga of snowstorms and chinooks over the past month as we approach the holiday season, I'm excited to share what I've been wearing during this festive time of year in my 6 outfit Autumn / Winter 2019 Lookbook! My sixth and final LOOKBOOK of 2019 spotlights practical and stylish outfits ideas for a variety of settings and events as we transition from late autumn into early winter here in Calgary. As always, it features my favourite outfit formulas and classic wardrobe staples — updated with fresh dose of seasonal trends! 
If you're looking for some FASHION inspiration to help you navigate through the holiday season and into a new decade in style, you've come to the right place! Today I'm dishing on my favourite winter trends, patterns, prints, colours (with an introduction to the Pantone 2020 Colour of the Year, Classic Blue!) materials and silhouettes, plus all my best styling tips to help you brave our harsh Canadian winters — and look absolutely fantastic doing it! As always, you can expect a melange of high, low, old, new and vintage in my Autumn / Winter 2019 Lookbook — as well as an onslaught of shoppable links at every price point and tips about how to curate accessible style on a budget, with an emphasis on quality, cold-weather fabrics! Enjoy a delicious festive beverage while you satisfy your winter fashion fix — courtesy of this comprehensive guide to winter dressing for the sophisticated, modern woman. 
---
AUTUMN / WINTER 2019 LOOKBOOK
---
Winter is now officially upon us — although we've been experiencing wintery conditions here in Calgary for the past few months. Admittedly, winter is my least favourite season in Alberta weather-wise, but as a FASHION enthusiast, I'm determined not to let snow and chilly temperatures put a damper on my personal style!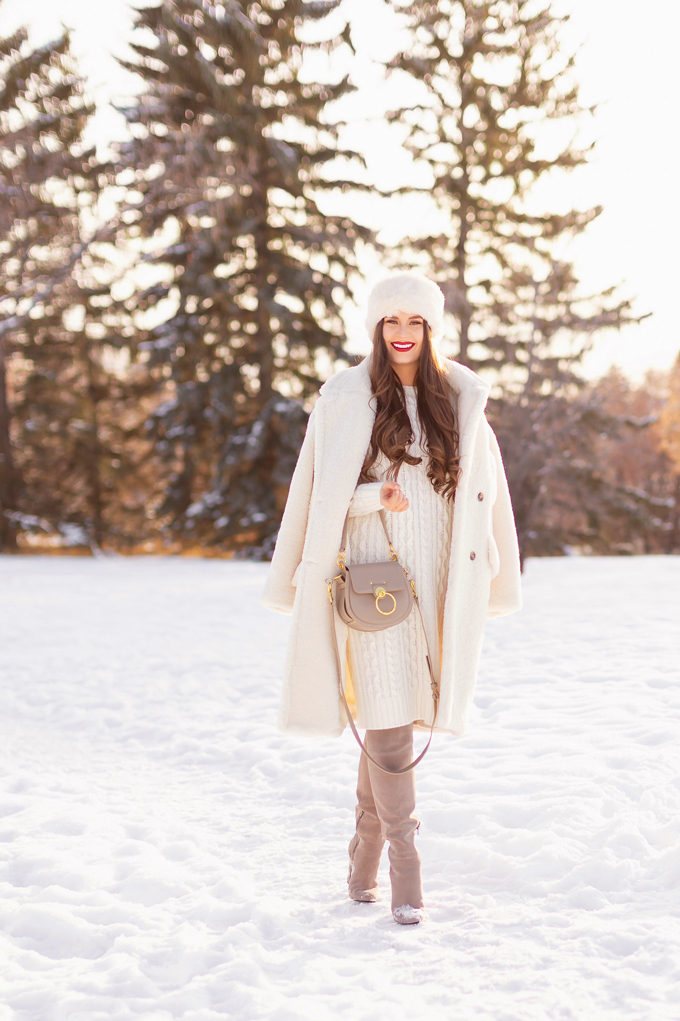 This AW19 and into 2020, I'm excited to explore the seasons hottest trends, colours, fabrics and silhouettes — integrating them into my wardrobe in a way that's conducive to my personal style and my environment. If you, too,  live in an unpredictable northern climate (or are perhaps visiting one this season), I hope it offers you some sartorial inspiration to keep your love of fashion warm and cozy through the coldest months of the year!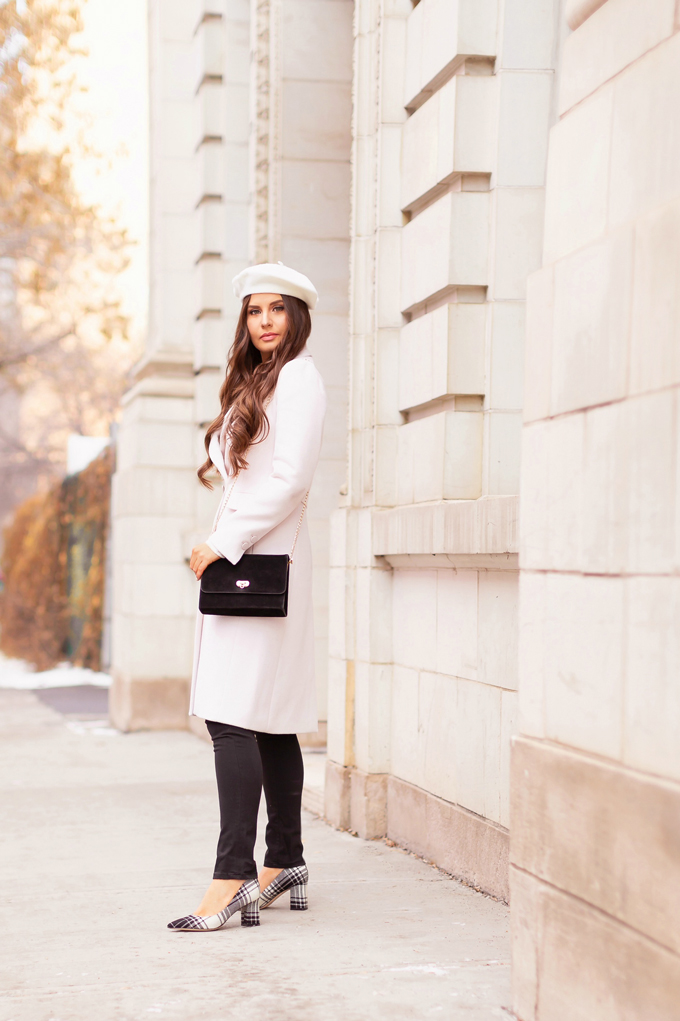 This Autumn / Winter 2019 Lookbook follows the same format as my previous two — each outfit is sectioned off with titles for easy browsing. I'm so excited to share what I've been wearing with you in the final days of the decade and into the holidays!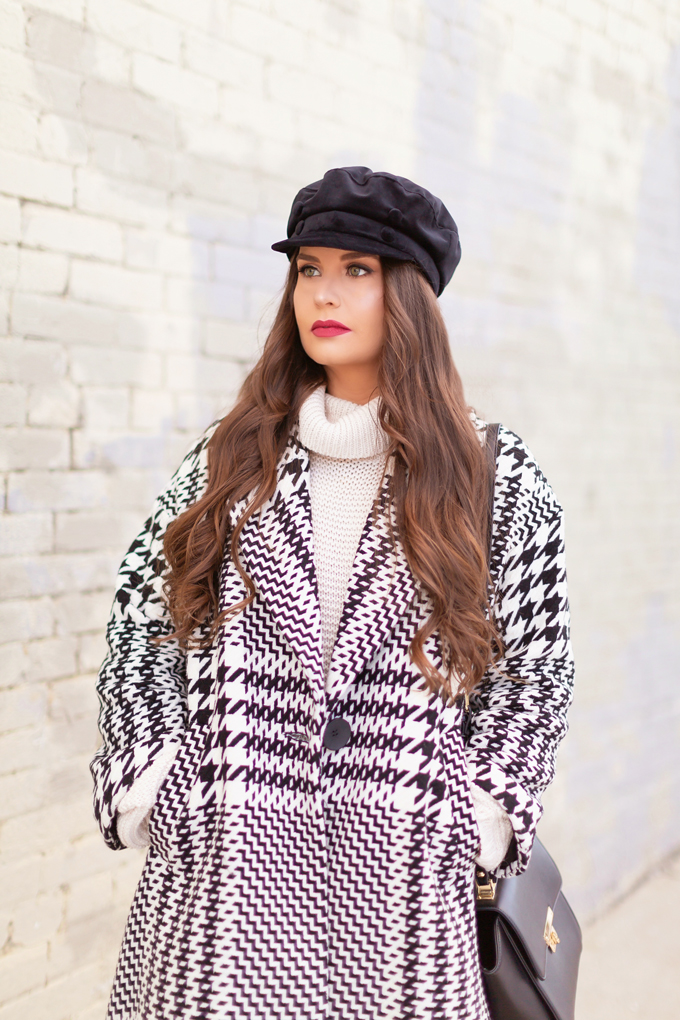 ---
CHECKED COWGIRL
---
I'm all about experimenting with contrasting textures and materials in monochromatic outfits to keep things interesting! Although I'm a colour lover through and through, sometimes it's fun to strip things back to basics and focus on texture. Wool, ruffles, leather and denim combine in to create a cozy but playful tonal look, which came together mostly because I had a few new pieces in that I was dying to take for a spin — so I just wore them all together! This isn't something that I usually do as I love the process of curating thoughtful outfits, but sometimes, you just have to take inspiration as it comes!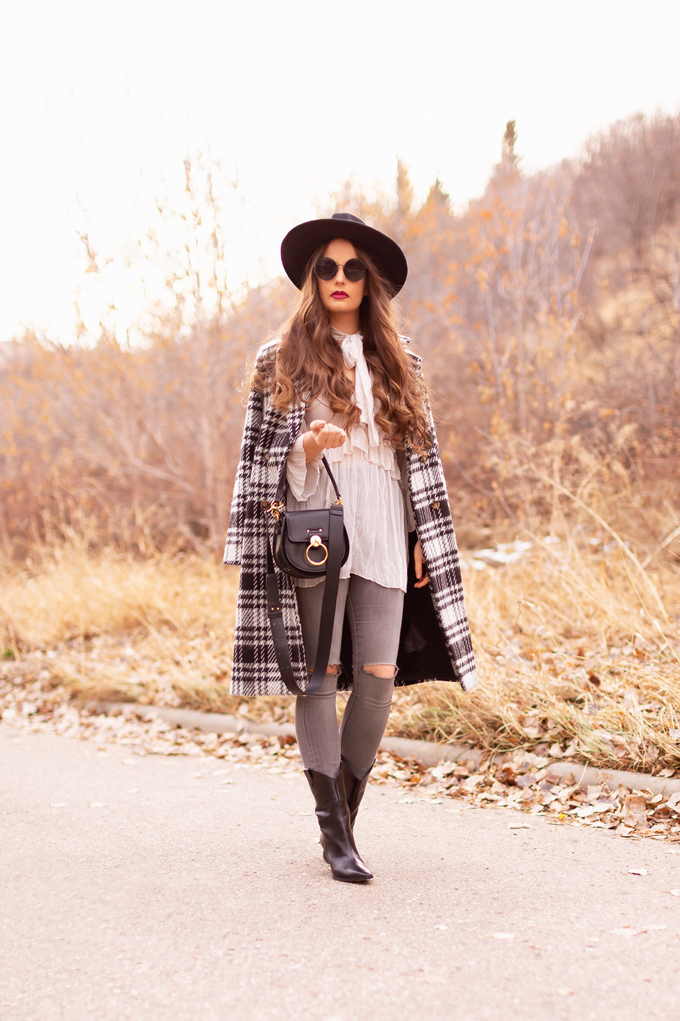 After years of searching for my perfect neutral checked coat, I was so happy to find this gorgeous Vero Moda Wool Plaid Coat on sale last month at Best Seller Clothing. It's now on sale for an even greater discount at 40% off (for just $87.00!) and I couldn't resist passing the savings along! Classic garments like these made from quality materials will never go out of style — which is always top of mind when I purchase outerwear. I've owned some of my most loved coats and jackets for over a decade!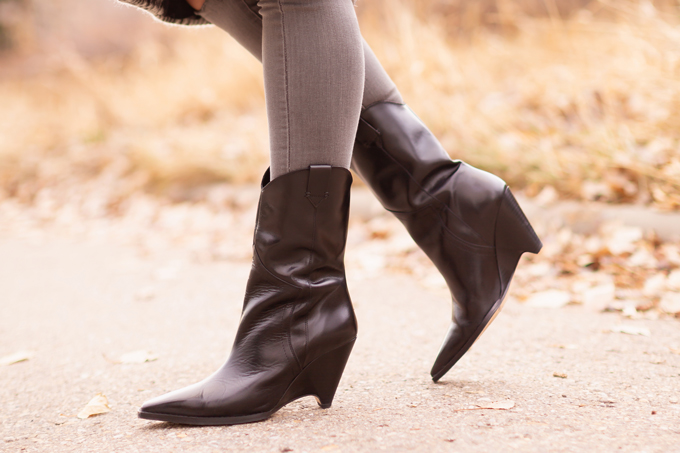 These Heeled Leather Wedge Cowboy Boots are also new in — and as soon as I spotted them on the Zara website it was an instant add-to-cart situation. Typically I wait for a sale do the majority of my shopping at Zara (I have a healthy wishlist for Boxing Day!), but I couldn't handle the thought of these beauties selling out in my size before them! They've been on repeat ever since I unboxed them — and I can see myself wearing them nearly year-round. Although I've styled them here with a pair of ancient ripped grey skinnies (I wore them way back in my very first style post and have owned them for the better part of a decade), they'd also look great with bare legs and dresses or skirts in warmer temperatures!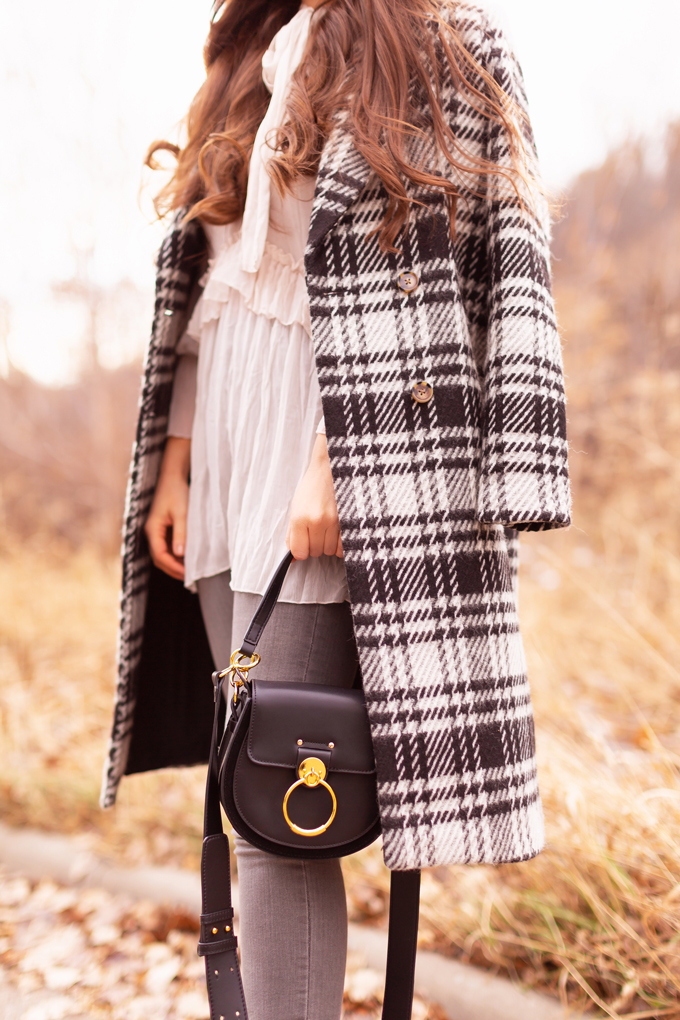 In the same Zara order, I picked up this dreamy, ruffled ecru blouse — although if it looks familiar, I also wore it in My Top 5 Everyday Neutral Lip Colours post. The soft, creamy grey shade worked perfectly with the tones of this look to pull everything together and add a soft, feminine touch.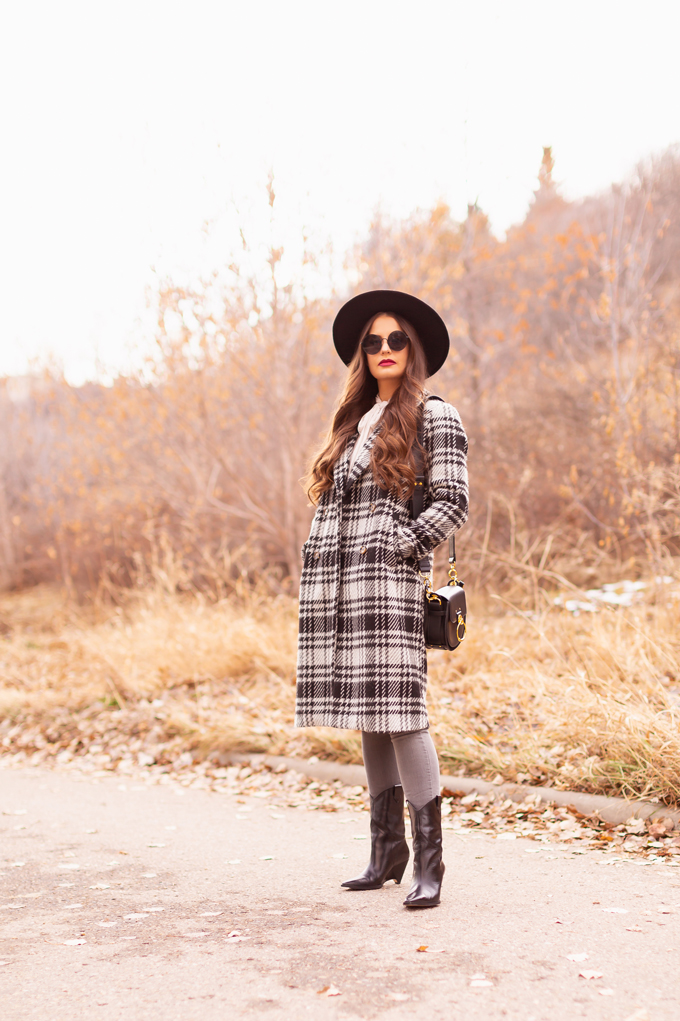 To finish the look, I pulled out my trusty Black Artisan Anything Chloe Tess dupe in Black (use JUSTINE10 for 10% off!), my black circular shades and a black, flat brimmed hat to elevate the western vibe.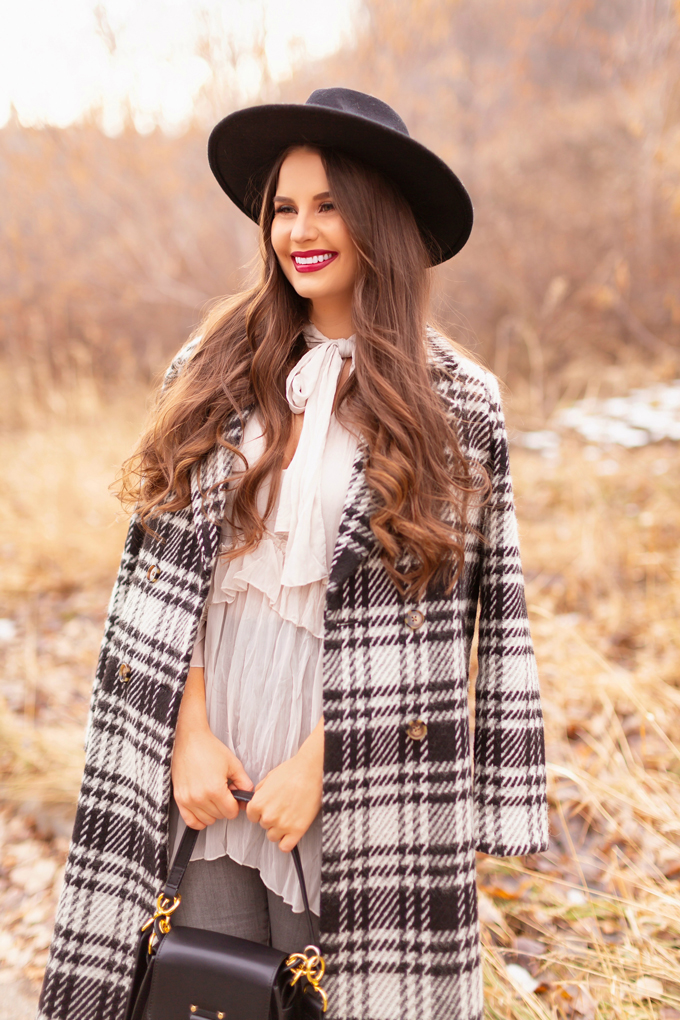 Lastly, I applied Bite Beauty's Amuse Bouche Lipstick in Beetroot (which is sadly being discontinued, but is also on clearance for just $6.50 for the rest of 2019!) for a moody look. As evidenced in this LOOKBOOK, I've really been into bold lips lately and am feeling so inspired, BEAUTY wise!  

---
GREY AREA
---
I love to draw inspiration from my environment — and all the grey, snowy days we've been having lately are what inspired look. I actually think they can be quite beautiful!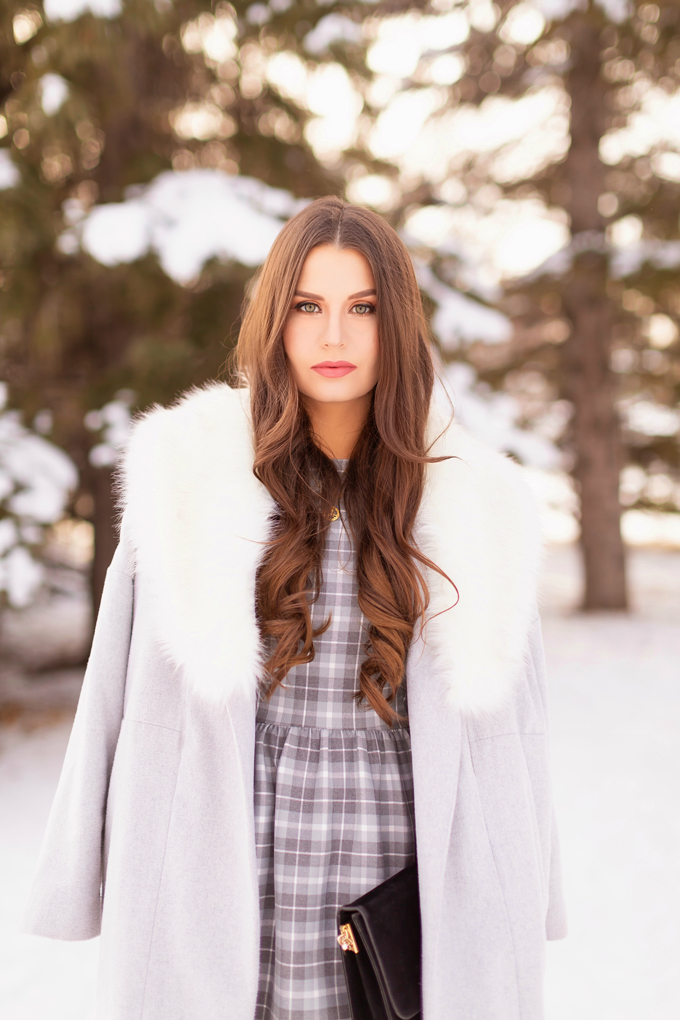 As winter approaches, I find myself drawn to more subdued, tonal palettes — which is definitely out of the ordinary for this colour lover! That said, I still love to experiment with shade, texture and pattern, especially when there's a lack of colour. Wool, faux fur, plaid, and suede all intermingle in this understated, festive look — which I wore to the theatre earlier this month during an evening snowstorm!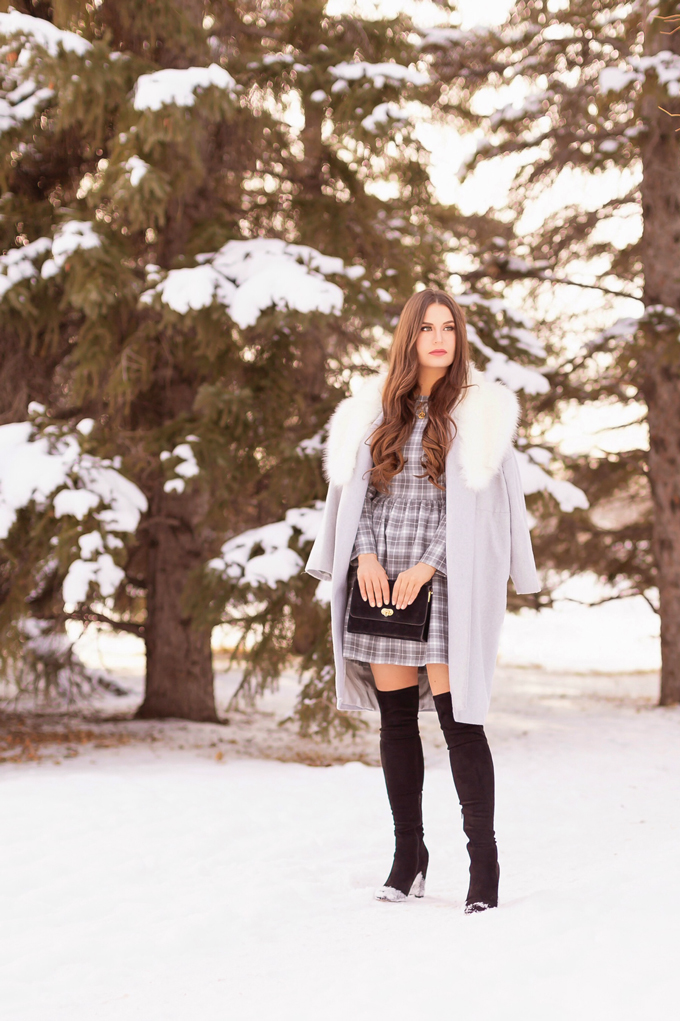 Although I love plaid year-round (likely due to my Celtic heritage!), it's definitely a pattern I wear frequently during December. Tonal plaid lends a festive air to any look as we approach the holidays — and this sweet little dress has been a staple for all of this month's festive gatherings. It's just so easy to wear and style!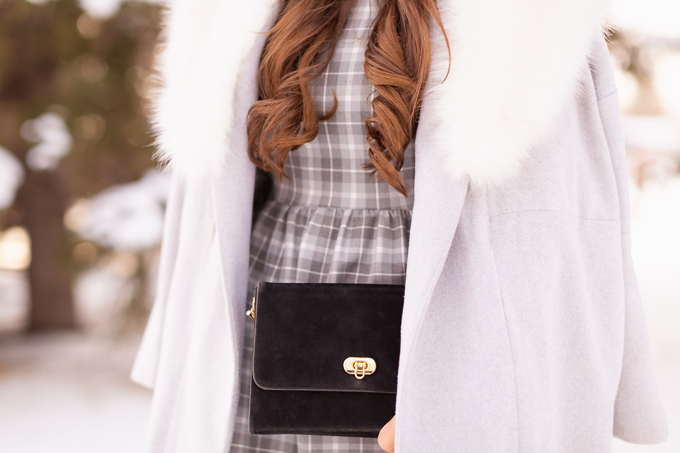 To carry the grey theme into other garments, I selected this grey Paisie coat that's been with me for years — but made old new again by styling it with a white faux fur collar. One of my best tips to maximize the versatility of your outerwear is to look for pieces with detachable faux fur collars that you can mix and match with different garments! This is something I do often — both with new faux fur collars from my outerwear, but also with real vintage fur shawls and stoles I've collected over the years. Not only is (faux) fur ultra chic, it's also incredibly warm and cozy!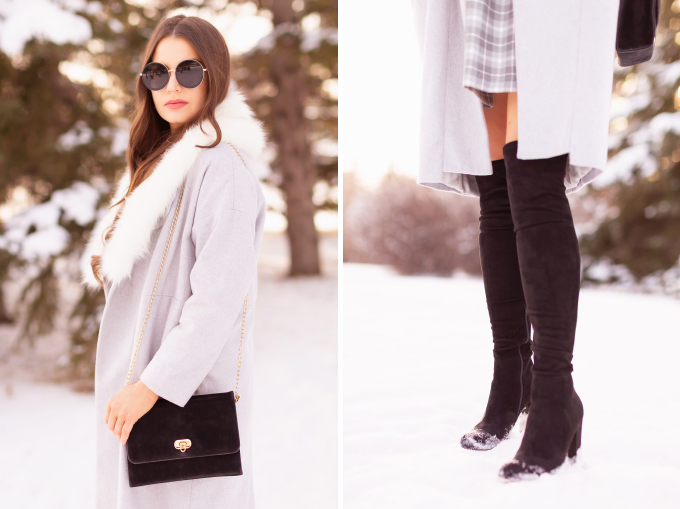 Although I could have paired this look up with a pair of grey OTK boots, I opted for this pair of sleek, black suede block heeled stunners to make it more appropriate for evening. Knee high boots are all the rage this AW19, but I still love my OTKs — especially with mini hemlines in cooler months! I accessorized with my vintage suede bag, which has become my go-to evening bag lately (recognize it from my Autumn 2019 Lookbook)? I've also styled it with for daytime in my Parisian Plaid look, below!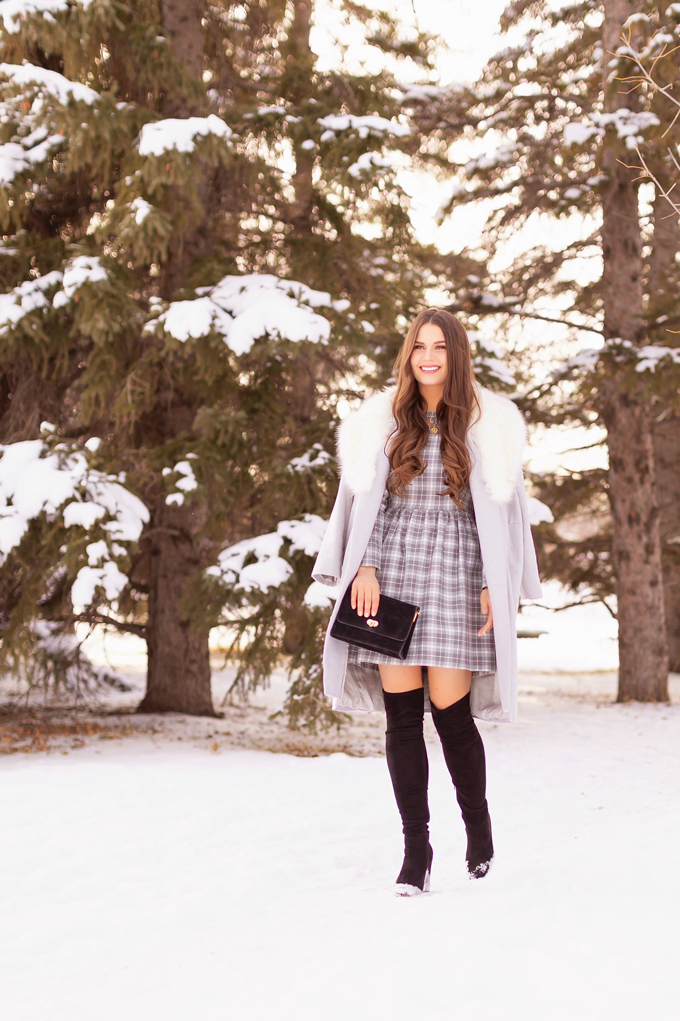 I polished the look with a pair of chic black sunnies with gold accents and my all-time-favourite everyday lipstick, Nars' Audacious Lipstick in Brigette. It's my go-to lipstick whenever I want a perfect my-lips-but-better shade — and it never fails to make me feel beautiful! Hop over to My Top 5 Everyday Lip Colours for a full review and more photos — or shop it below, along with pieces similar to what I'm wearing. 

---
HOUNDSTOOTH CHIC
---
Houndstooth has emerged as AW19's it print — and it's completely new to my wardrobe this season! I fell head over heels with this oversized (and I mean oversized — this is a Small!) Houndstooth Coat the moment I spotted it (also at Zara!). It's the first houndstooth piece in my closet and I'm obsessed with the juxtaposition of scale in pattern. Previously, houndstooth had always struck me as too conservative for my personal style, but I'm so into about this modern spin on a classic print!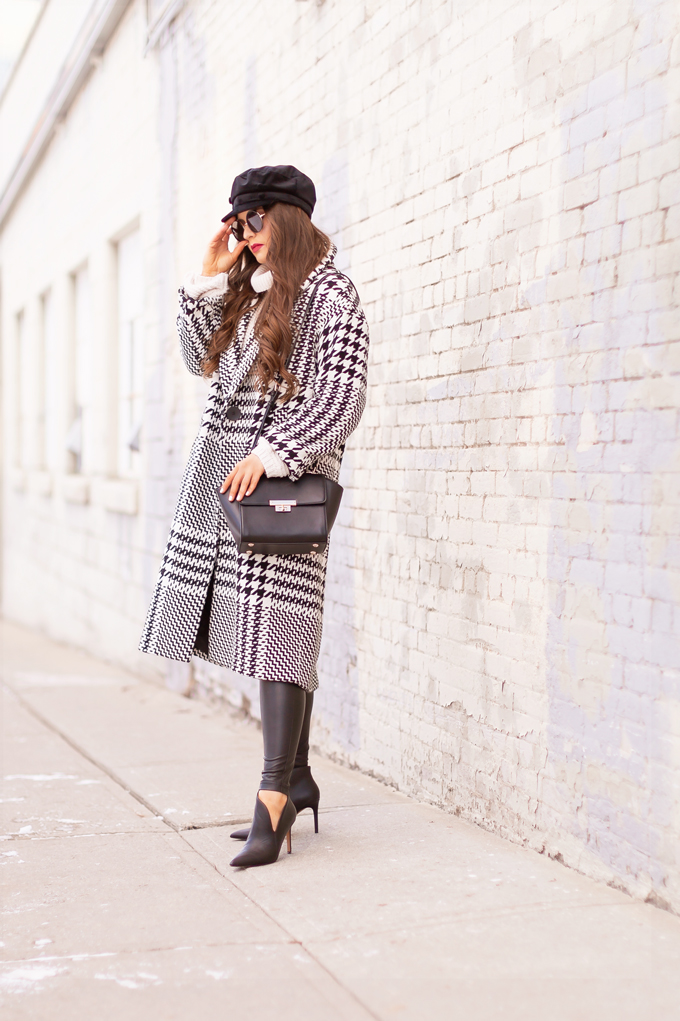 If you frequent my STYLE archives, you'll know I'm not one to shy away from a bold pattern — but I think this coat may actually be the loudest piece in my wardrobe, despite it's subdued palette! As I often do, I've taken cues from the colours (or lack there of, in this case) of my anchor piece and styled it with complimentary garments. But, I did experiment with all my favourite textures in this go-to winter outfit formula — cozy textures, graphic prints and bold lips are a few of my favourite things about winter fashion!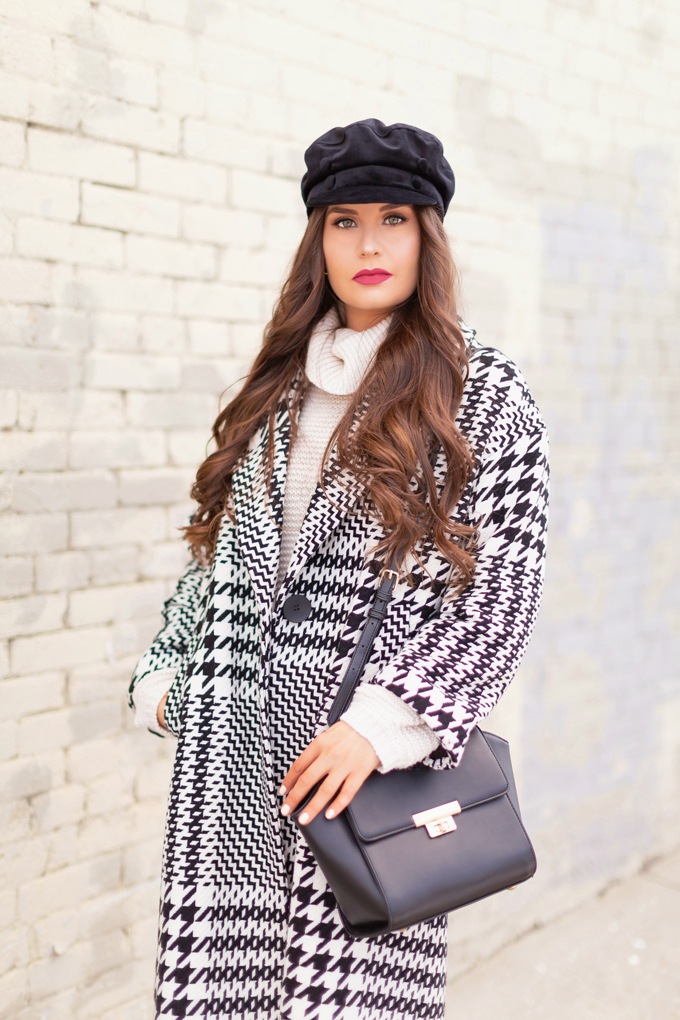 Although I love to layer (especially during cooler months!), I'm forever struggling to style my statement-sleeved knits under more structured outerwear. So, I took advantage of my coat's ultra oversized silhouette layered my chunkiest, balloon-sleeved, creamy knit underneath. I've always loved the way cozy knits pair up with (faux) leather leggings, so I've opted for a pair of my sleekest for a bit of texture play.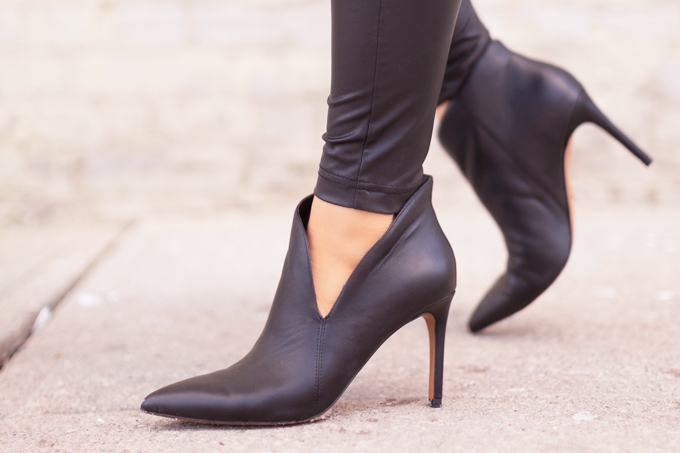 I consulted my closet for accessories with clean, bold lines to complete this chic, graphic look. On my feet I'm wearing a pair of leather ankle boots I picked up at TopShop earlier this year — isn't the asymmetric upper striking? Bag wise, I wanted something with structure to stand up to my statement coat, so I called on ancient vegan leather bag (I forgot how much I love it!). I capped things off with a velvet baker's boy hat to keep my warm (another winter favourite of mine!), a pair of subdued black sunglasses and a sultry lip in one of my favourite formulas.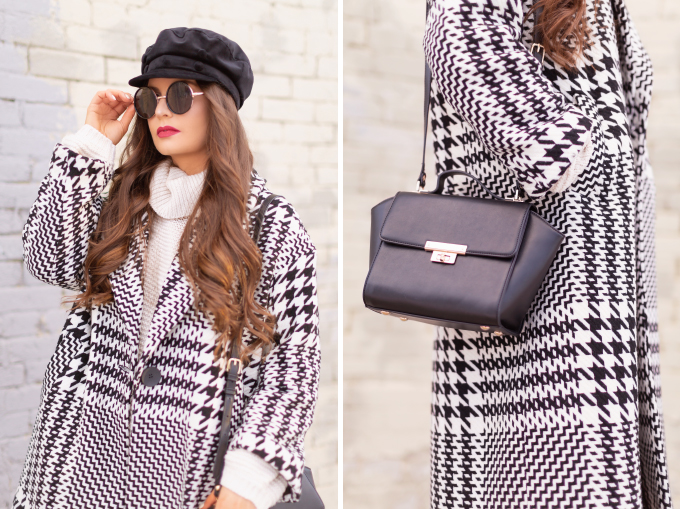 Expect a fresh post in my PATTERN PLAY series in the new year dedicated to houndstooth where you can see more from this look — along with my best styling tips and tricks to make this recently revived print work for you! 

---
PARISIAN PLAID
---
If you follow along with my Instagram Stories, you may remember I was invited to Evernew's Grand Opening at CF Chinook Centre back in September. It was a lovely evening browsing the shop, catching up with my some of my favourite local bloggers and previewing the AW19 Collection. Evernew generously gifted us each a piece of our choice — and I chose the Tori Double-Breasted Crombie Coat (which is currently on sale for $149.95!).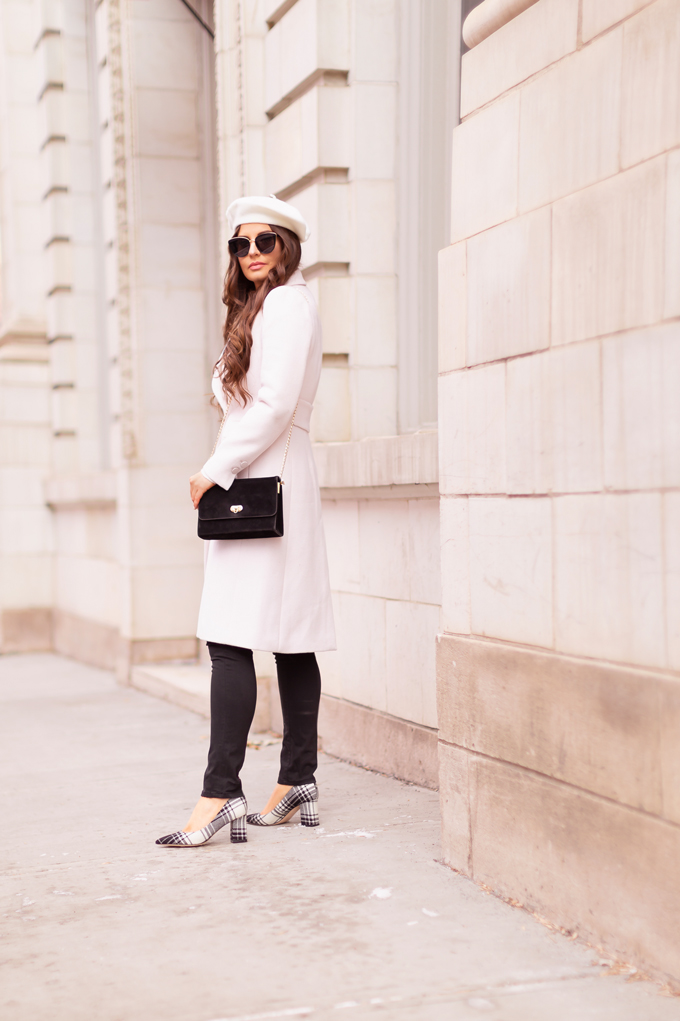 As soon as I slipped her on, I knew she had to come home with me. I'd been looking for a light coloured coat with a more classic, streamlined silhouette for years, but could never seem to find the right one. I was immediately impressed by the luxurious wool blend of the outer, the buttery, silky lining and the exquisite tailoring. In the dressing room, I was shocked (in the best way possible!) when I looked at the tag — as this coat looked and felt much more premium that its modest price point would indicate!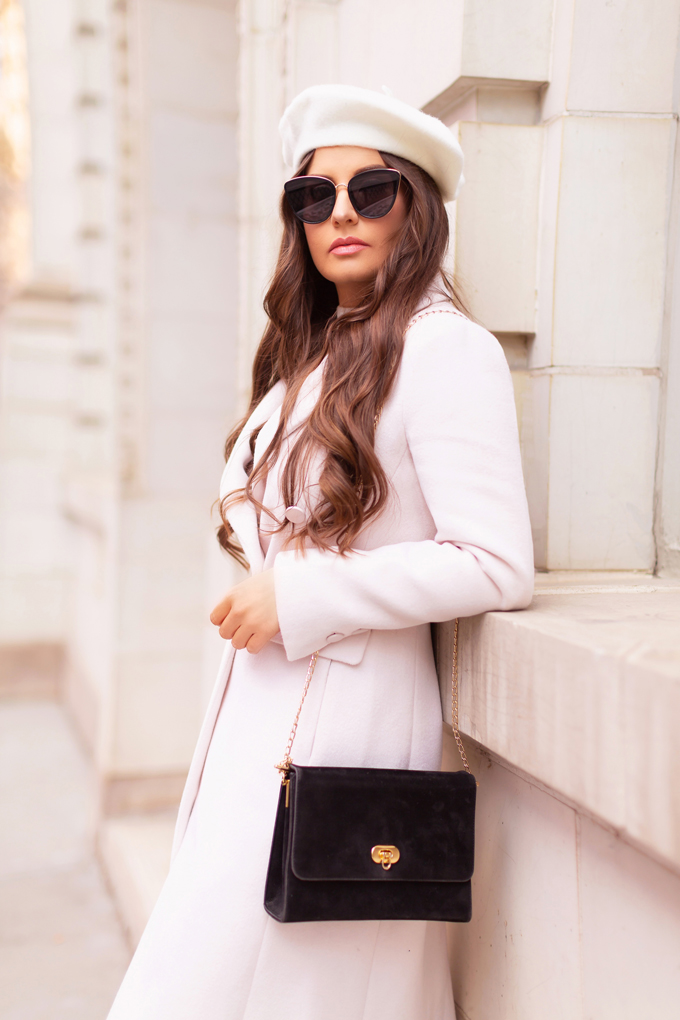 I'd been waiting all autumn to style Tori up for cooler weather, and she's become one of my most worn pieces of outerwear over the past month. I adore her soft blush hue and actually find it surprisingly versatile — because I treat it like a neutral. Once again, I've created a tonal, monochromatic, and subtly festive look using this beautiful coat as my anchor piece!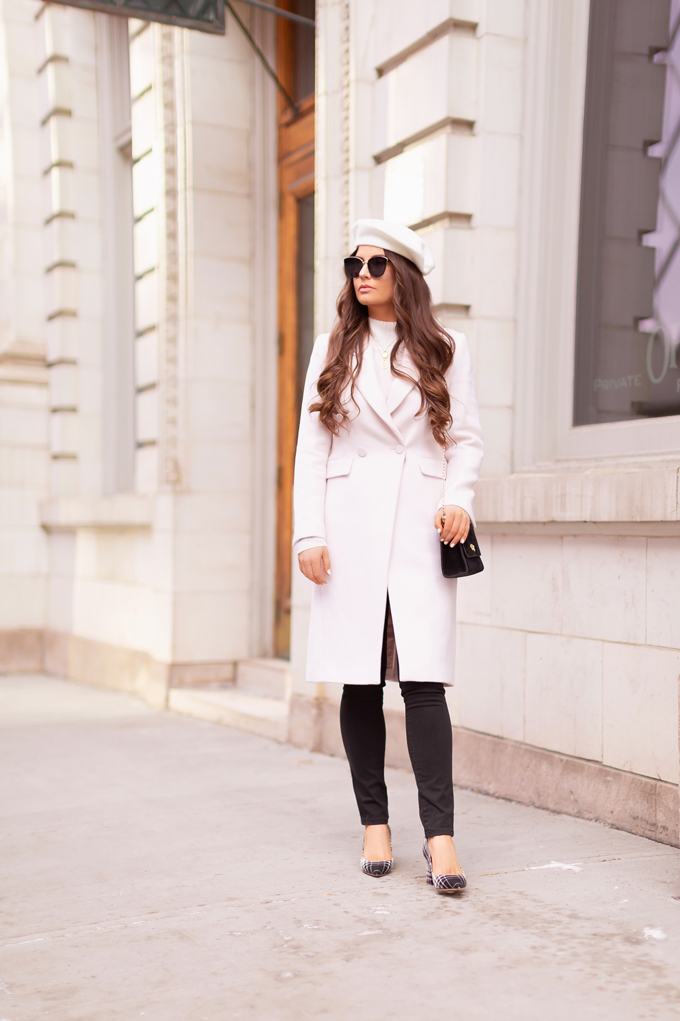 Underneath, I layered on a white, knit mockneck and teamed it with a pair of classic, black cigarette skinnies (which I've owned for almost 10 years!) to form the base of this look. I kept my accessories neutral, chic and understated — beginning with my vintage suede bag (I also wore it in my Autumn 2019 Lookbook and it's been on heavy rotation lately!), a cream wool beret and Nordstrom's Made Bp. Perfect Cat Eye Sunglasses in Black (I finally caved and picked up a Tortoise and Black pair of my own so I can stop borrowing my Mom's!). I'm loving cat eye shades lately (who am I?)!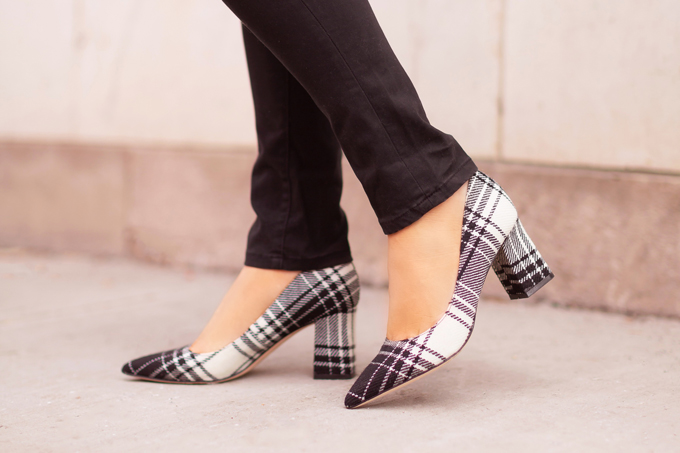 To add a festive flair, I selected my new Marc Fisher Zala Pumps. After eyeing them for years, I finally decided to splurge — I couldn't go another holiday season without them! Although I love a great sale, I firmly believe that sometimes you just have to treat yourself and am always happy to invest in quality wardrobe staples I'll treasure for years to come. Not only do they dress up more casual outfits, they also compliment this season's cocktail dresses and midi skirts perfectly. Plus, they're insanely comfortable!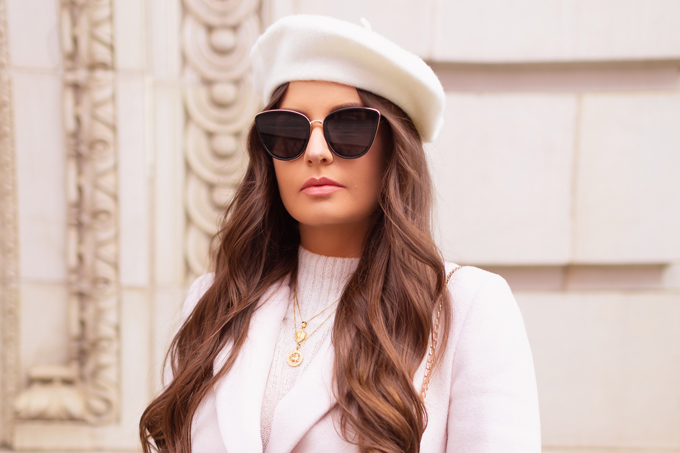 I felt a pink nude lip complimented this look perfectly, so treated my pout to a dose of Clove + Hallow's Lip Crème in Ballerina Slippers — my go-to lipstick whenever I want something on the pinker side without venturing into bubblegum territory. Although I tend to gravitate towards lip colours with more depth at this time of year, sometimes you just have to go back to basics! If you're interested, pop over to My Top 5 Everyday Lip Colours for a full review and more photos — and use code JUSTINECELINA15 to save 15% on Clove + Hallow products.

---
CLASSIC BLUE
---
As someone who's very inspired by colour, each year I anxiously await  Pantone's Colour of The Year announcement. Earlier this month, Classic Blue was confirmed as the Pantone 2020 Colour of the Year, Classic Blue — described as a timeless and enduring blue hue, elegant in its simplicity. At first I was shocked at the choice (I thought it was going to be a warm neutral shade!), but as always, I'm excited to allow it to inspire my work across categories.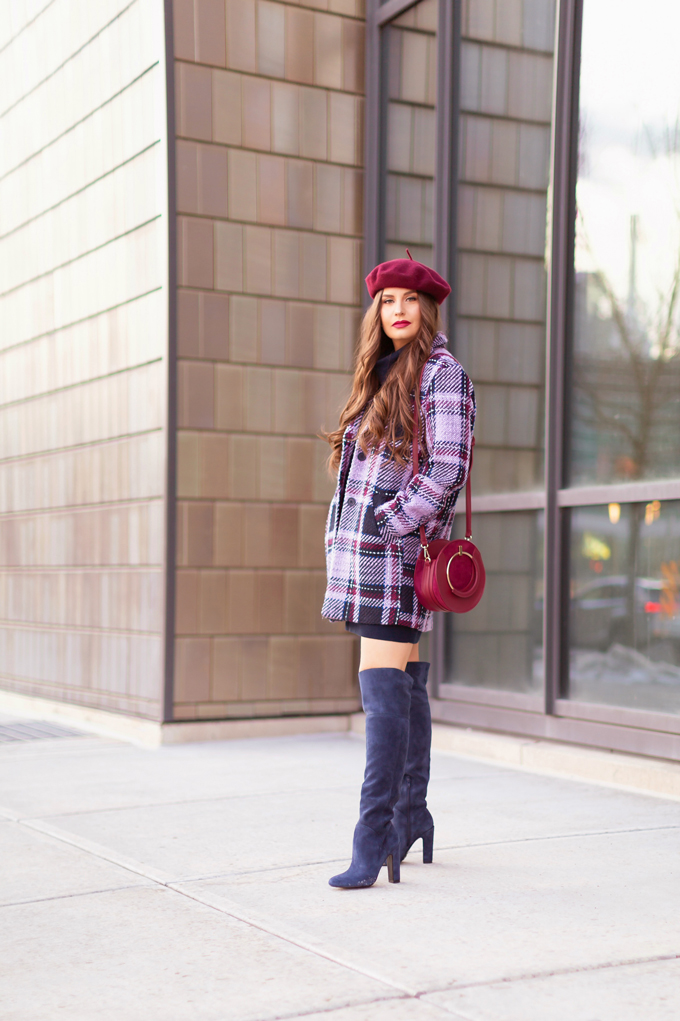 I created this look as an ode to Classic Blue — and to demonstrate that there's always a way to incorporate trends (colour or otherwise) in a way that's congruent to your personal style. As someone with warm colouring, blue isn't a colour I wear often — but I do own a few blue pieces that I'm excited to style through fresh eyes as we transition into a new decade!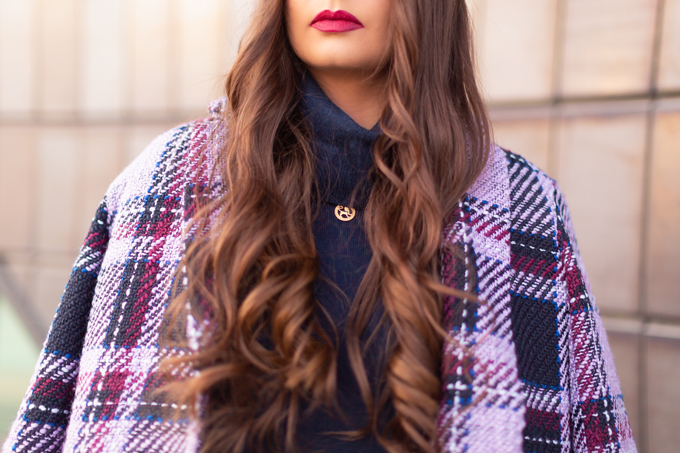 The star of this look is undoubtedly my gorgeous plaid coat, which I immediately thought of when the 2020 Colour of the Year was announced. Believe it or not, I purchased it at Joe Fresh back in January of this year at an extreme discount (and in the same order as my dress!). Because I grabbed it at such a steal, my usual size was sold out (this is a Medium), and although it's very large on my frame (the shoulders jut out a good 2″ on each side!), I've actually been embracing oversized outerwear this season! This is something that's been on trend for quite some time now, so I'm holding off on alterations. If I really love a piece on clearance but my size is sold out (which is often the case!), I'm happy to have garments with high quality materials (this bargain find is 100% wool!) tailored.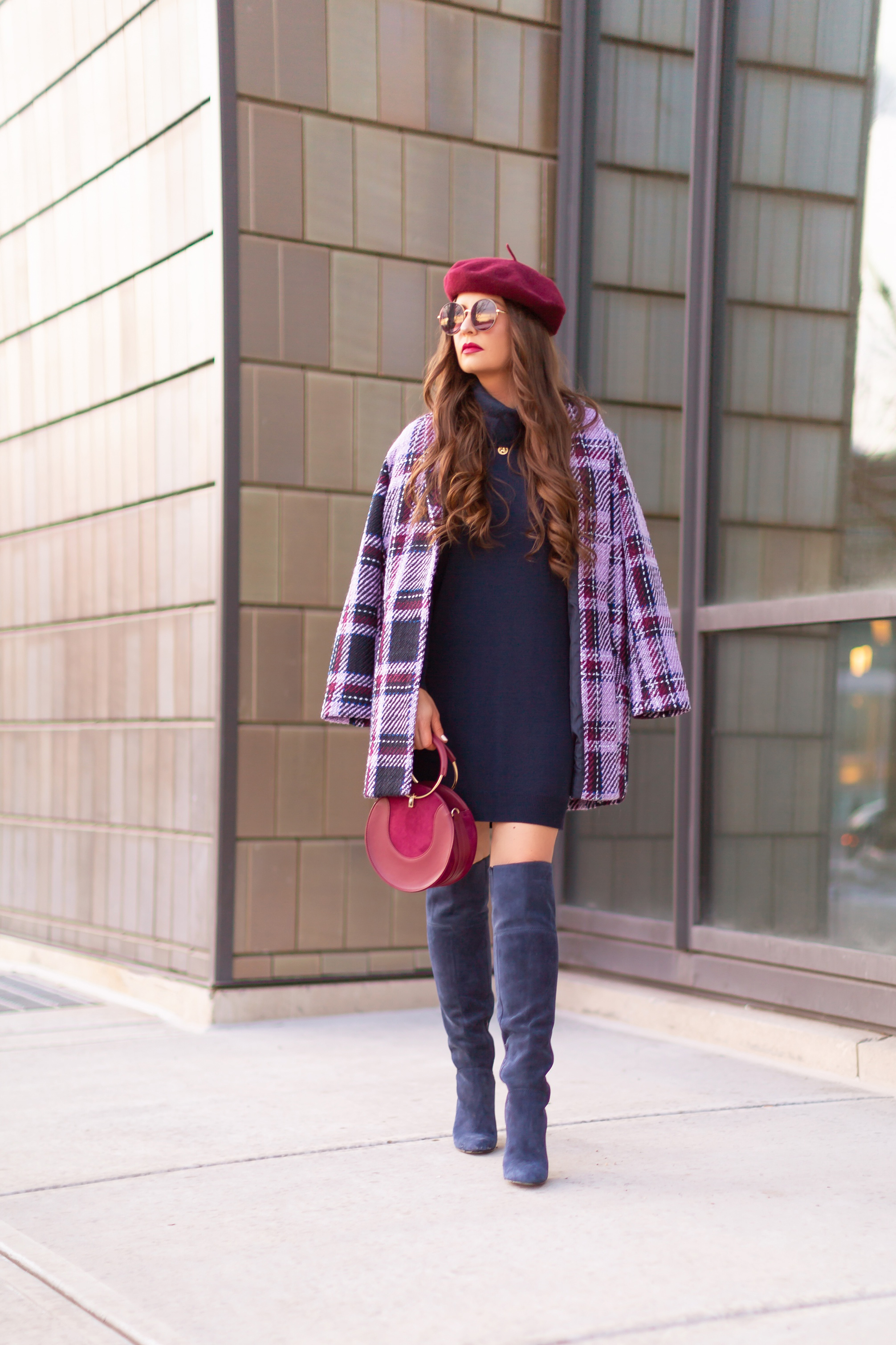 Although my merino wool sweater dress is more of a navy, it's definitely adjacent to 2020's Colour of the Year. I picked this staple piece at the beginning of the year in January's sales from Joe Fresh for $19. As it's 100% merino wool (renowned for it's extremely insulating qualities despite being ultra lightweight), this classic winter staple would typically run you $100+ in department stores. I'm always an advocate for educated, mindful purchases, brushing up on fabric composition knowledge and reading labels — no matter where you're shopping! Unfortunately Joe Fresh isn't offering 100% merino wool sweater dresses again this season, however, I have my eye on these ones — which feature a great blend of materials, including 25% cotton and 3% cashmere (they're also currently 25% off!).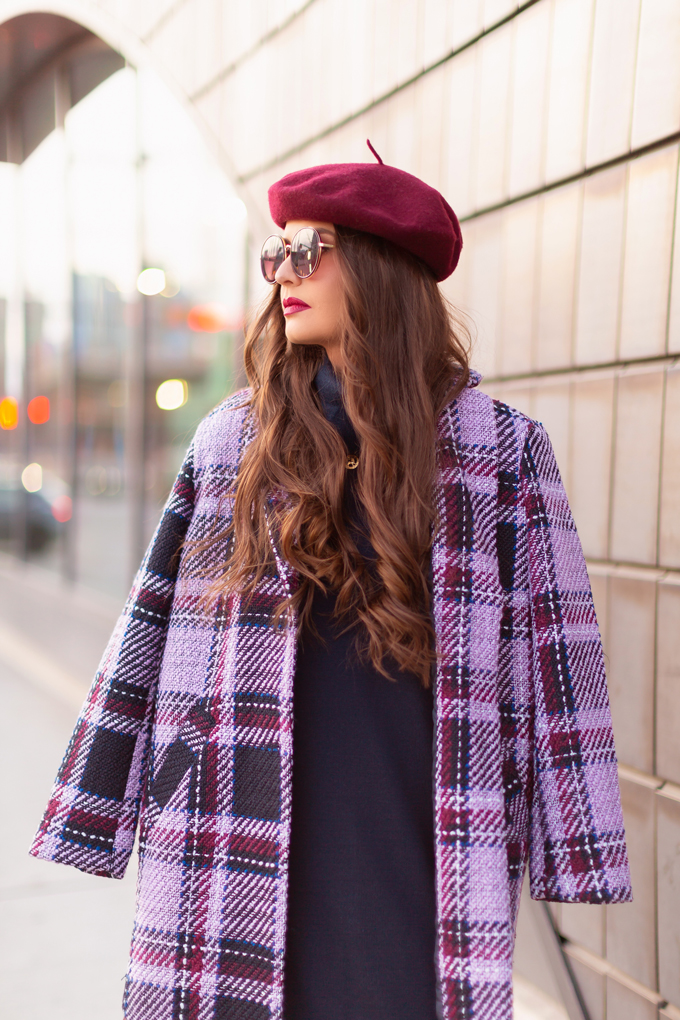 I probably sound like a broken record at this point, but I drew inspiration for the colour story of this look from the print of my coat (what can I say — it's one of my favourite styling tips!). I find the combination of colours so unique and interesting, I really wanted to play it up!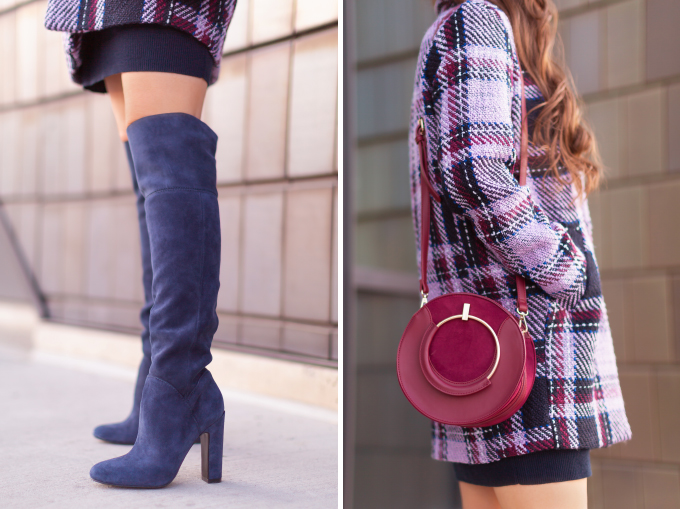 I committed to this cool, unconventional colour story with a pair of blue suede OTK boots, a circular burgundy bag, my beloved raspberry beret, a pair of burgundy sunglasses and Clove + Hallow's Lip Velvet in Uptown (a new favourite!) with a layer of Lancôme Matte Shaker High Pigment Liquid Lipstick in Kiss Me Chérie on top (which is included in my My Top 5 Red Lipsticks for the Holidays!).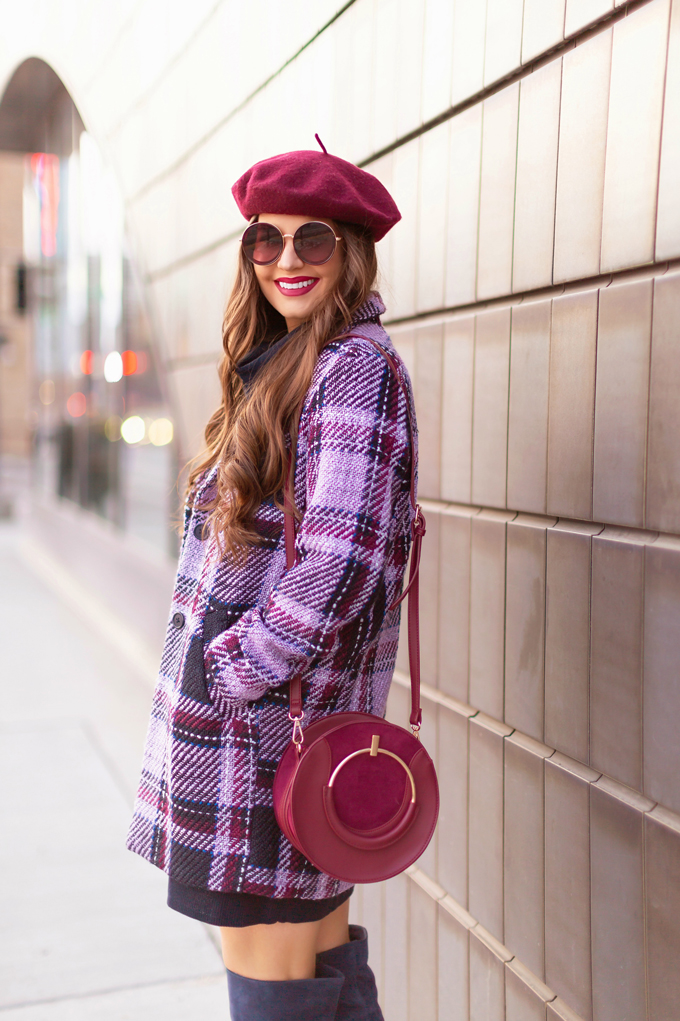 If you're intrigued by Classic Blue and eager for more Pantone 2020 themed content, you're in luck! I have my annual post dedicated to the Colour of the Year planned for January — so stay tuned for JustineCelina style cross-category colour inspiration coming next month. 

---
WINTER WHITES
---
And last but certainly not least in my Autumn / Winter 2019 Lookbook is this ultra cozy, festive monochromatic look celebrating my love of Winter Whites! This outfit is actually I'll be wearing for this year's Christmas dinner in the country, where comfort and warmth are paramount — although the forecast looks quite mild (for once!) this holiday season.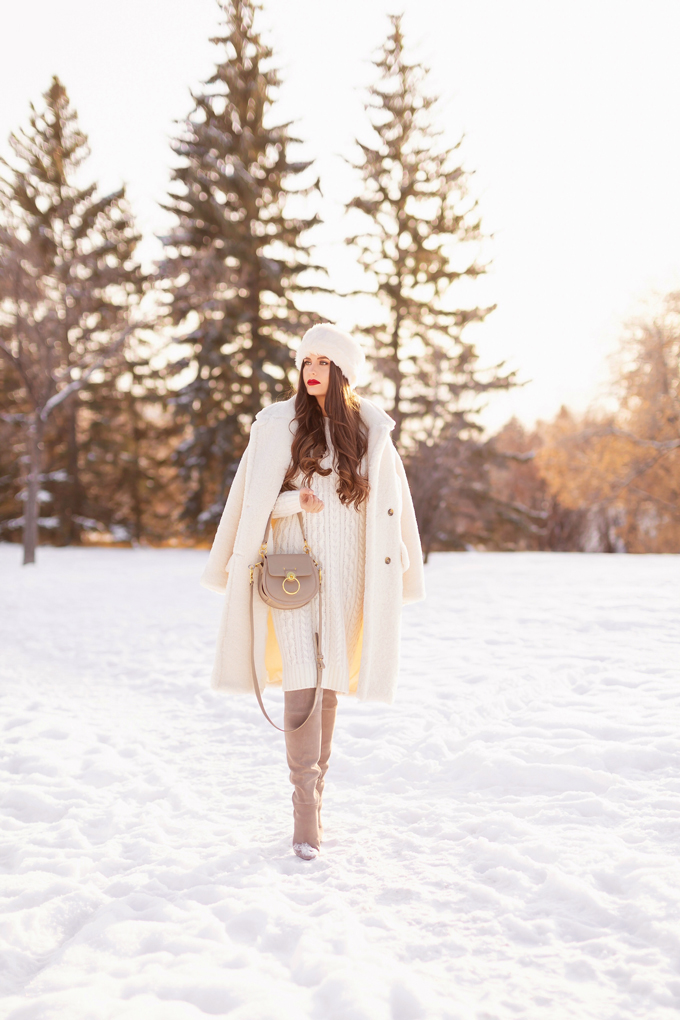 I recently found the cream, cable knit sweater dress of my holiday dreams last month during an impromptu trip to Edmonton — another item I've long had on my winter / holiday wishlist for years! Adam and I stopped into West Edmonton Mall on our way back to Calgary and I stumbled on the Uniqlo store — a brand I'd been very interested in for months prior due to all the buzz about their quality basics made from incredible materials at very reasonable price points. We spent about 2 hours in Uniqlo and both picked up some fantastic basics — one of which was this Long Sleeve Cable Knit Sweater Dress (which is now unfortunately sold out online, but you may be able to still track it down in stores!).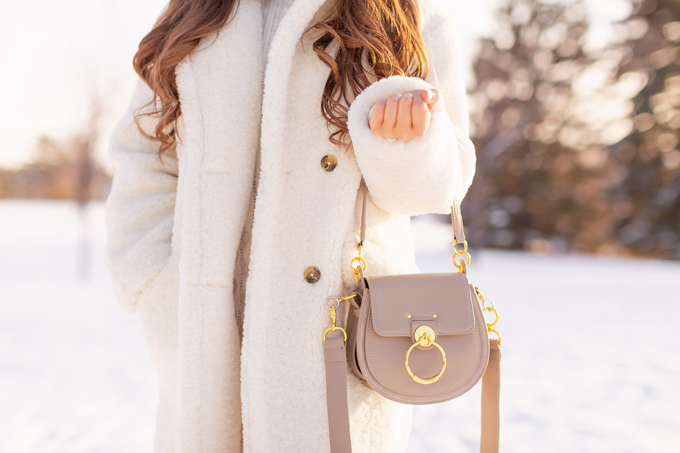 It seems my penchant for monochromatic dressing intensifies over cooler months when I can really experiment with layering different textures, patterns and materials in an analogous colour story. And that's exactly what I've done here — using my gorgeous creamy sweater dress as my anchor piece!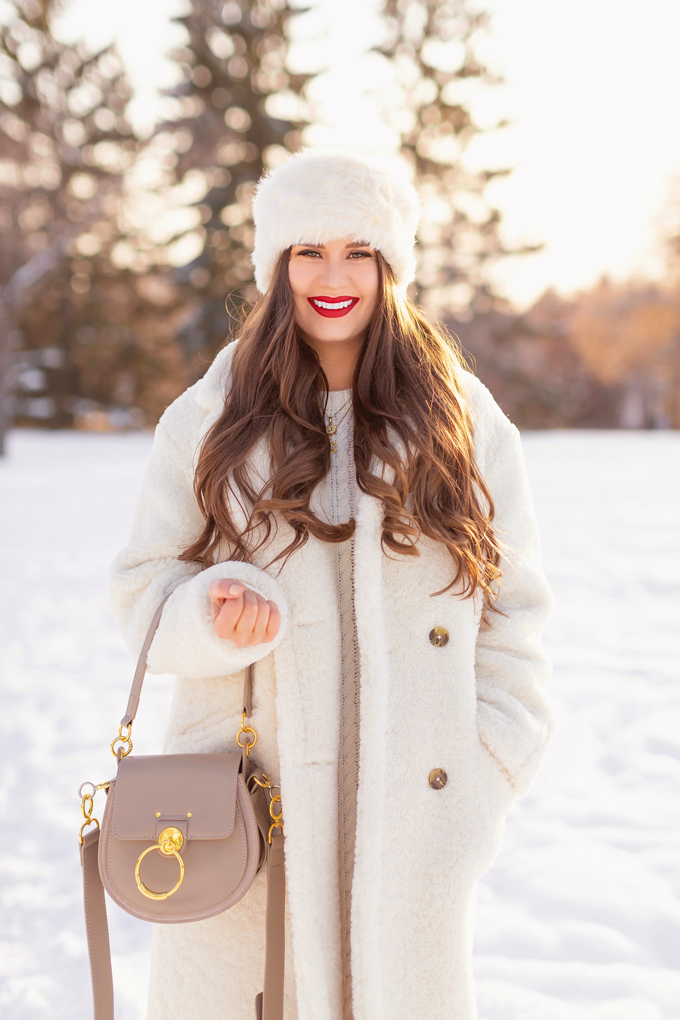 I'm so thrilled to finally introduce this oversized, statement-making cream teddy coat to JustineCelina — although it's been on heavy rotation off of these pages since I picked it up at Mango earlier this year in the dead of winter. I'd always wanted a fluffy, cream teddy — and spotted this one on sale in back February. Although I ordered my regular size for outerwear when I want enough room to layer even the chunkiest of knits underneath (believe it or not, this is a Small!), this coat is still dramatically oversized — but in the best way possible! I love how luxe and dramatic it feels, plus, it's one of the warmest pieces of outerwear in my winter wardrobe.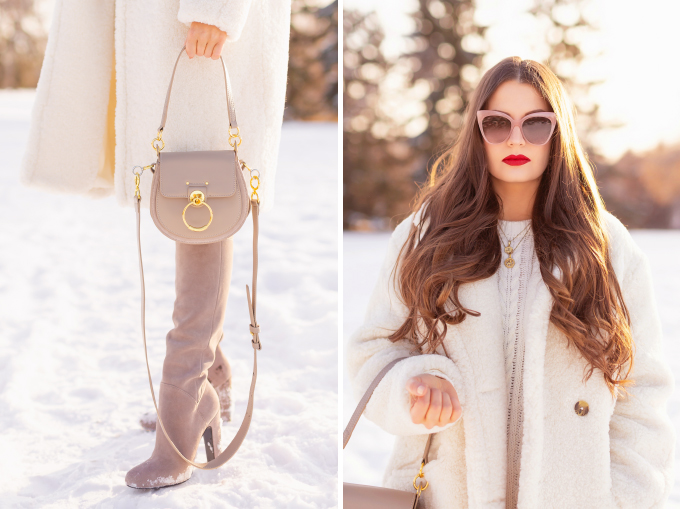 Since my coat makes such a statement, I kept the rest of the styling simple to create a comfortable, festive look to carry me through the holiday season in style. I've teamed my grey Chloe Tess Dupe (use JUSTINE10 for 10% off!) up with the grey version of the blue suede boots in my Classic Blue look above.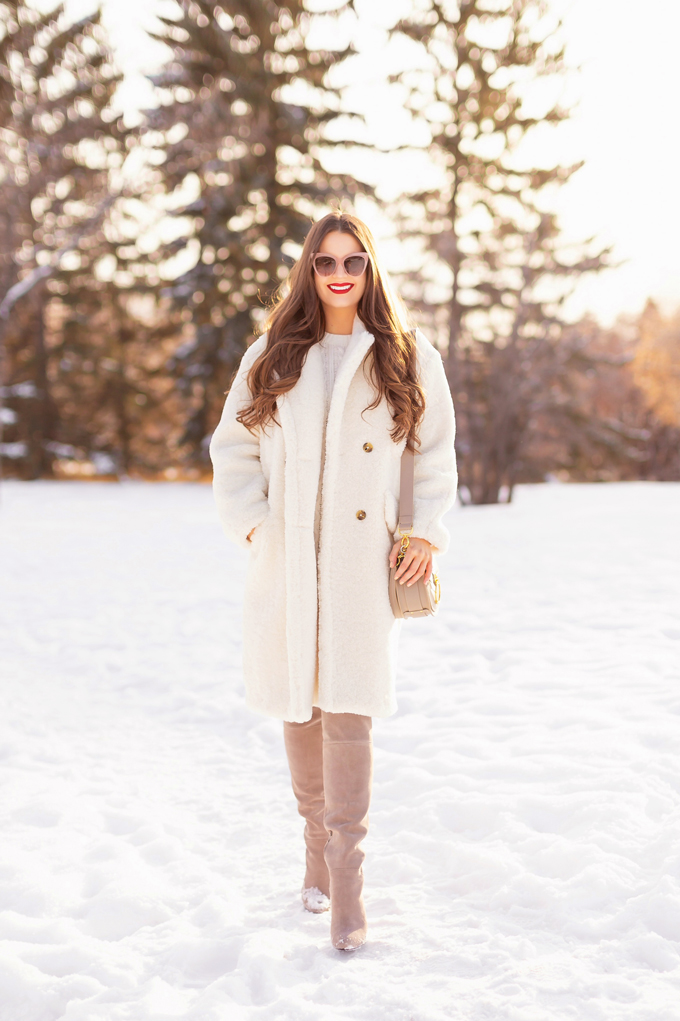 To complete this monochromatic look with festive flair, I swiped on FENTY BEAUTY's Stunna Lip Paint Longwear Fluid Lip Color in Uncensored (catch my full review in My Top 5 Red Lipsticks for the Holidays), slipped on a pair of pearly cat eye sunglasses and opted for cozy warmth after the sun went down with a cream, faux fur headband. 

---
MY SIGNATURE JEWELLERY
---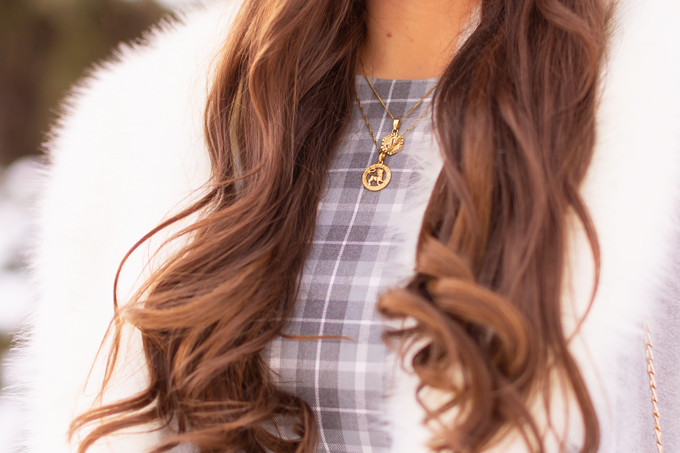 As usual, I'm wearing my layered, gold necklaces from House of Vi — which have become an integral part of my personal style. Founded by fellow Calgary blogger Vivienne Gliesche, you can shop House of Vi online worldwide — but if you're local, you can pick up in person! I wear the the Alphabet Necklace in J layered with the Zodiac Necklace in Leo almost everyday and I'm asked about them constantly. I can't recommend them enough!
---
MORE WINTER & HOLIDAY STYLE INSPIRATION
---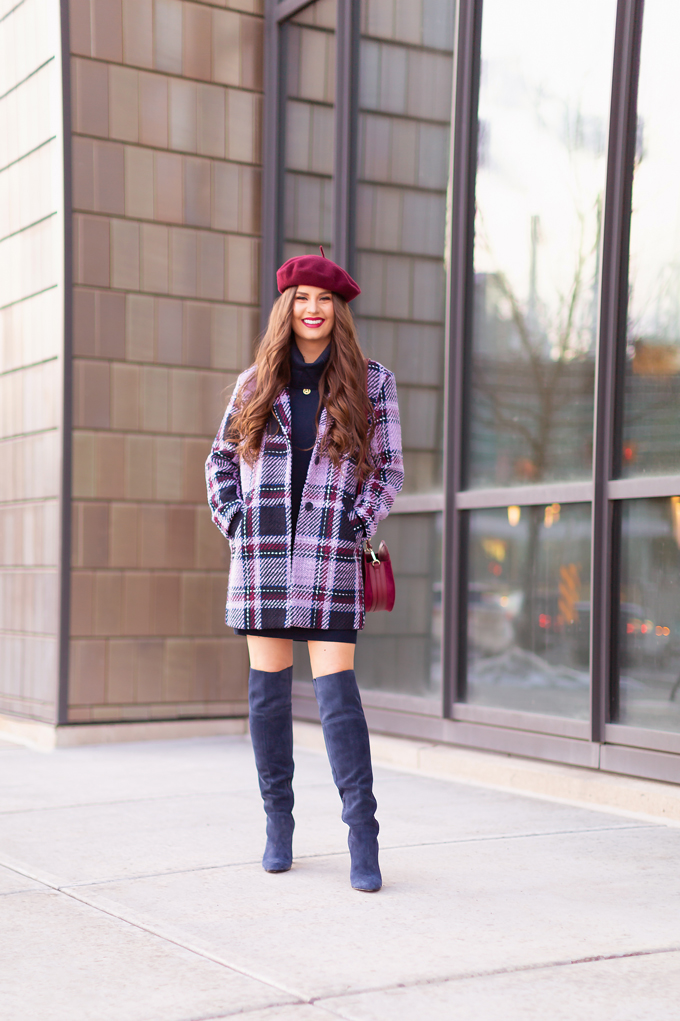 What to Wear To | Casual Holiday Parties 
---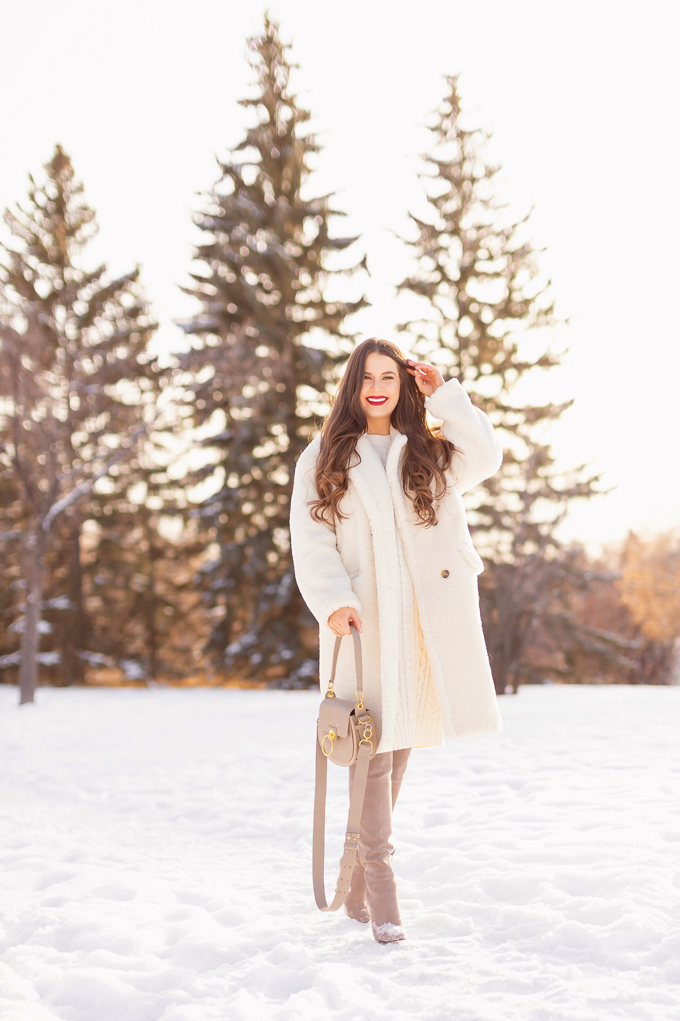 Friends and fashionistas, thank you for stopping by to celebrate my final LOOKBOOK of 2019! Although they're definitely a labour of love, these LOOKBOOKS  have become some of my favourite pieces of content this year — and I hope you've enjoyed them just as much as I've enjoyed creating them for you. If there are looks that you'd like to see more of, be sure to frequent my FASHION section as I'll be sharing additional details here at JustineCelina in individual outfit posts and various other series! 
It you're looking for even more sartorial inspiration, you can catch more of what I'm wearing for the festive season in my Easy Holiday Entertaining Ideas post! You can also follow along with my JustineCelina Fashion board on Pinterest, or the Winter 2019 / 2020 Lookbook board I created to showcase my favourite cold weather looks. And for a sneak peek at what I'm wearing before it hits the blog, as well as some exclusive style content you won't see here, come join me over on Instagram for daily posts and BTS / day-to-day life on Stories! Enjoy the rest of your weekend, beautiful people! 
---
Disclaimer: Thank you Evernew for my gorgeous Tori Double-Breasted Crombie Coat. This post is not sponsored, and contains my genuine thoughts, ideas and recommendations. JustineCelina uses affiliate and referral links, which allow me to receive a small commission when you make a purchase through one of my links. Thank you for supporting the brands and businesses that support JustineCelina!