'Tis the season! Tonight's post is another installment in my WHAT TO WEAR series (thanks, Michelle for the request) — I've compiled a very comprehensive guide on what to wear to various holiday parties. I've included outfit options for every type of party you may be attending — whether it be a corporate gala or black tie event, cocktail party, or a New Years Eve celebration! And now is a great time to shop (it's when I personally do my holiday shopping), since a lot of retailers are offering Cyber Week and Black Friday promotions. I'll have more details on that in this post!
Let's face it — holiday parties are not what they used to be, at least not in Calgary. Five years ago I was dressed to the nines at multiple, extravagant celebrations, while this year neither my boyfriend or I are attending corporate holiday parties. Companies just don't have the extra cash right now to shell out on these types of events. But rather than focusing on the negative, I put a budget friendly spin on my picks — each piece of clothing is under $200, and most accessories under $100 (with a lot of jewellery $20 or less)!
---
Bariano Ocean of Elegance Navy Blue Maxi Dress | Side Swipe Bodycon Midi Dress in Green | BP. Faux Fur Stole | Bling Forth Gold Rhinestone Statement Necklace | Disco Island Iridescent Rhinestone Earrings | Steve Madden Varcityr Gold Multi D'Orsay Pumps | Bangalore Palace Gold Beaded Clutch
---
CORPORATE GALA OR BLACK TIE EVENT
---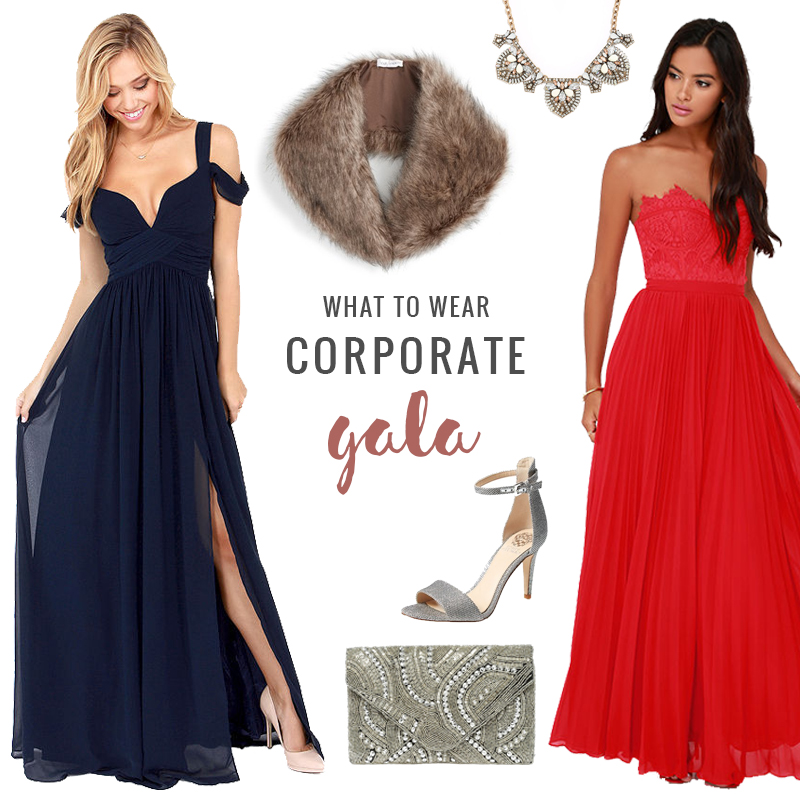 ---
Bariano Ocean of Elegance Navy Blue Maxi Dress | Bariano Come Quick Cupid Red Strapless Lace Maxi Dress (also available in Taupe and Purple) | Sole Society Faux Fur Stole | Made to Honor Grey Rhinestone Statement Necklace | Vince Camuto 'Court' Ankle Strap Sandal in Silver Glitter (available in 10 other colours!) | Destined for the Arena Gold Beaded Clutch
---
If you're attending a corporate gala or ball and the dress code is black tie, I've got you covered! This is the fanciest party of them all — and it basically translates to men in tuxedos (or very formal suits), but the rules are a little more open for women. Generally I'd recommend wearing a full length gown — this is the perfect opportunity to dress up, so why not take it? But, if you don't have a gown (or any desire to wear one), you can wear a cocktail dress that hits close to the knee, or is midi length, and dress it up with accessories. Look for a classic fit and flair silhouette (Chicwish has some great options, which I've linked below!). Try to keep the colours deep, jewel toned, icy or red (which is very on trend right now) for these types of events. If you want to wear a pattern or texture, stick to something traditional like stripes or florals in a luxurious fabric, or try a sequined dress if you're feeling especially bold. And, please ladies — wear some sheer tights if you're going above midi-length — I personally wouldn't wear bare legs or open toed shoes to a formal event, unless I was wearing a full length gown. Anything shorter than 3″ above your knee is a no-go. Basically, you can't overdress for this occasion.
Don't be afraid to go all out with accessories and glam! Personally, I love faux fur wraps and stoles for formal occasions — you'll feel so glamorous wearing one. You can scroll down to the bottom of the post to see a selection of jewellery that I love. Also, try a deep berry, brown or red statement lip — 'tis the season!
For a super budget friendly option, wear an old bridesmaid dress if you really liked it. Yes, I'm serious. You have a perfectly tailored gown just sitting in your closet — and you're not wearing it, because why?! You can totally make an old dress seem fresh again by changing up how you style it. If it's in a dark colour, you're pretty much set — just accessorize with any jewellery you like. If it's full length, but in a lighter colour, try accessorizing with dark, bold jewellery in rich tones, and a statement lip. Even if it's knee length, and in a dark colour, you're still okay. Again, accessories will transform the dress — and you can also try pairing it with opaque black tights and dark, closed toe shoes. Light coloured cocktail dresses are a no-go.
---
SHOP CORPORATE GALA OR BLACK TIE WEAR
My favourite gowns are from Melbourne-based designer Bariano, but they sell them on Lulus.com. I wore a crimson version of the navy blue gown to a ball a couple of years ago — I've never had so many compliments on something I wore. Women I knew, women I didn't know, and even men all complimented me. It's the most beautiful dress I've ever worn, and I felt amazing in it! Even my seamstress kept commenting on how well the dress was made and asking how much I paid for it, and where I purchased it! These gowns are incredible quality — the navy gown is under $200, but the rest of the Bariano gowns are just over the $200 mark.
Click any image above to shop
---
COCKTAIL PARTY
---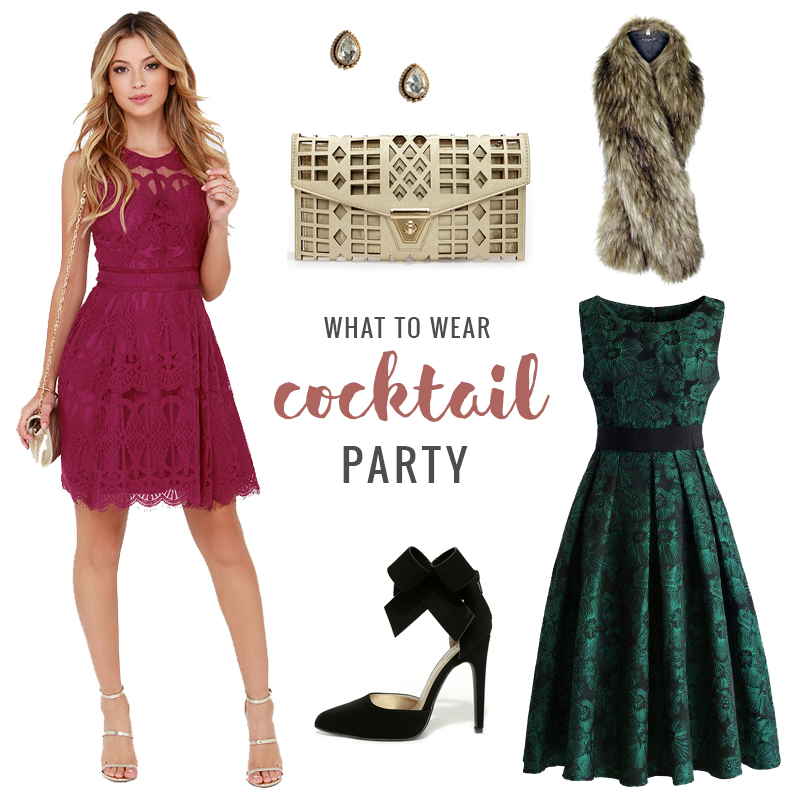 ---
Adelyn Rae Sleeveless Lace Fit & Flare Dress in Plum (available in 13 other colours!) | Sugarpush Gold and Clear Rhinestone Earrings | Geo du Jour Cutout Gold Clutch | Topshop Faux Coyote Fur Stole | Precision is Key Black Bow Heels | Grace Reverie Floral Dress in Evergreen (also available in red!)
---
Pretty much anything goes at a cocktail party! But, I'd air on the side of modesty if it's a corporate cocktail party, or you'll be networking. I've cringed over the years at girls who've shown (what, in my opinion is) way too much skin — excessive cleavage, or hemlines that are more than 3″ above the knee with bare legs. Basically, if you wouldn't show that much skin at the office, it's not okay for a corporate party, either. Leave a little to the imagination, it's sexy (plus, it's cold outside)!
If you're attending a more personal cocktail party — have a little fun, but keep it classy! Look for more informal silouhettes (shift dresses, slimmer skirts, lower necklines, and higher hemlines). Personally, I'm a big fan of shift dresses with shorter hemlines and tights. You can also opt for a skirt and blouse or lace top if you're not a dress kind of girl. Keep this in mind — cleavage or legs, but not both. I fully abide by that rule! Basically, if your dress has a deep V, keep the hemline longer, or wear sheer tights. If your dress shows a lot of leg, keep things more covered up on-top. Experiment with colour, texture, pattern and level of sparkle.
---
SHOP COCKTAIL PARTY WEAR
Click any image above to shop
---
NEW YEARS EVE
---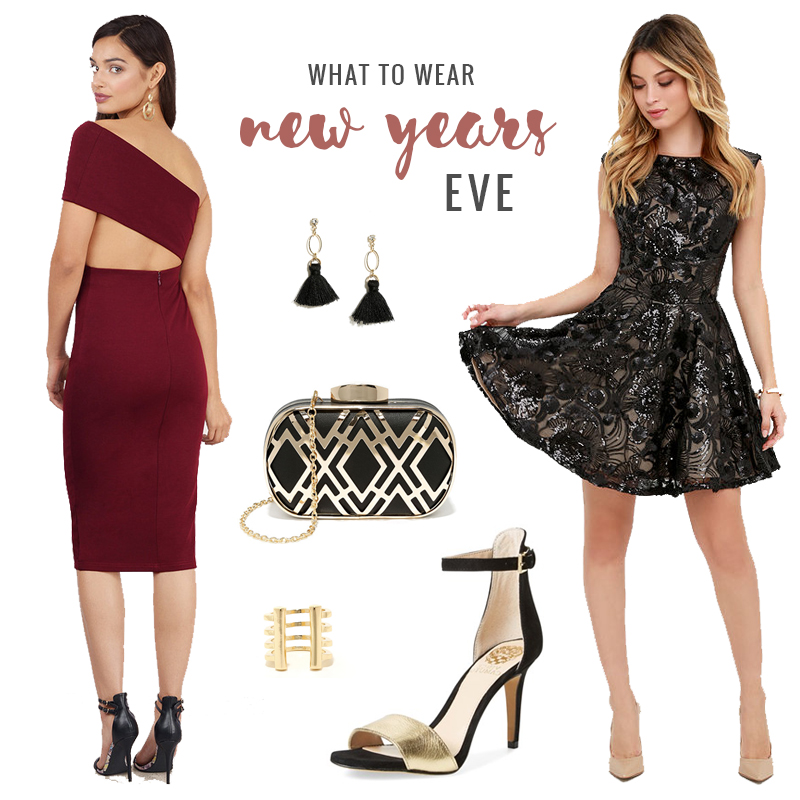 ---
Side Swipe Bodycon Midi Dress in Wine | Lighthearted Endeavors Black Sequin Skater Dress | Mind Your Manor Black Tassel Earrings | Time for Takeoff Gold and Black Clutch | Empire State of Mind Gold Cage Ring | Vince Camuto 'Court' Ankle Strap Sandal in Pure Gold / Black (available in 10 other colours!)

---
I like to go all out for New Years Eve if I'm attending a party. Since you'll be with the people you care about the most, it's a great time to experiment or wear something a little more daring than you normally would. Try shorter hemlines, tasteful cutouts or sequins, and have fun with your shoes! Bust out that shade of lipstick or nailpolish you've been looking for the perfect excuse to wear, or rock a really intense smokey (or glittery!) eye. This is an occasion where you can be playful and sexy. Step outside of your comfort zone!
---
SHOP NEW YEARS EVE
Click any image above to shop
---
HOLIDAY PARTY SHOES
---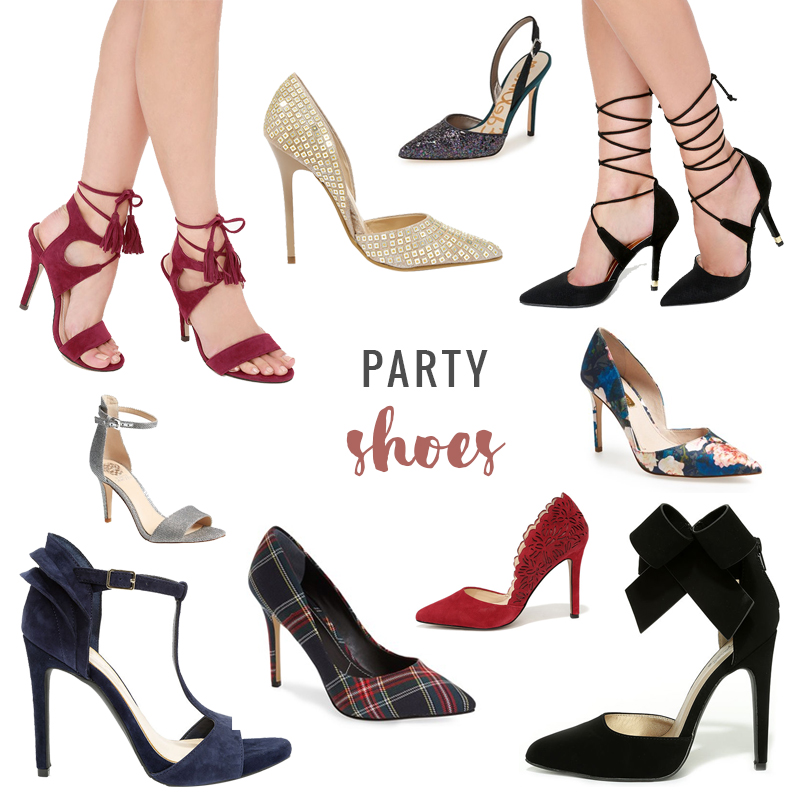 ---
Forces of Nature Red Suede Lace-Up Heels (available in 2 other colours) | Steve Madden Varcityr Gold Multi D'Orsay Pumps | Sam Edelman 'Dora' Pointy Toe Slingback Pump in Midnight / Blue Leather Glitter (available in 4 other colours) | Tip of the Century Black Snakeskin Lace-Up Heels (also available in nude) | Vince Camuto 'Court' Ankle Strap Sandal in Silver Glitter (available in 10 other colours!) | Louise et Cie 'Hermosah' Pump (available in 3 other neutral colours) | Jessica Simpson Rayanna Military Blue Kid Suede Peep Toe Heels (also available in purple) | Charles by Charles David 'Pact' Pump | Jessica Simpson Cassel Chili Red Kid Suede Cutout D'Orsay Pumps (also available in black) | Precision is Key Black Bow Heels

---
Excuse me while I come back down from shoe heaven! My favourite shoes to wear to holiday parties have a little something extra — I look for special details, unique colours, patterns and fabrics. One rule: if you're wearing tights, do not wear open toed shoes (and paint those toe nails!). Full length gowns pair well with open or closed-toe toed shoes (no tights needed). Midi to knee length skirts look great with both sandals and closed-toe shoes. But again, if there's snow on the ground, I'm generally a fan of closed-toe styles for holiday parties. I've pulled a variety of options for every budget, and holiday look.
---
SHOP PARTY SHOES
Click any image above to shop
---
HOLIDAY ACCESSORIES
---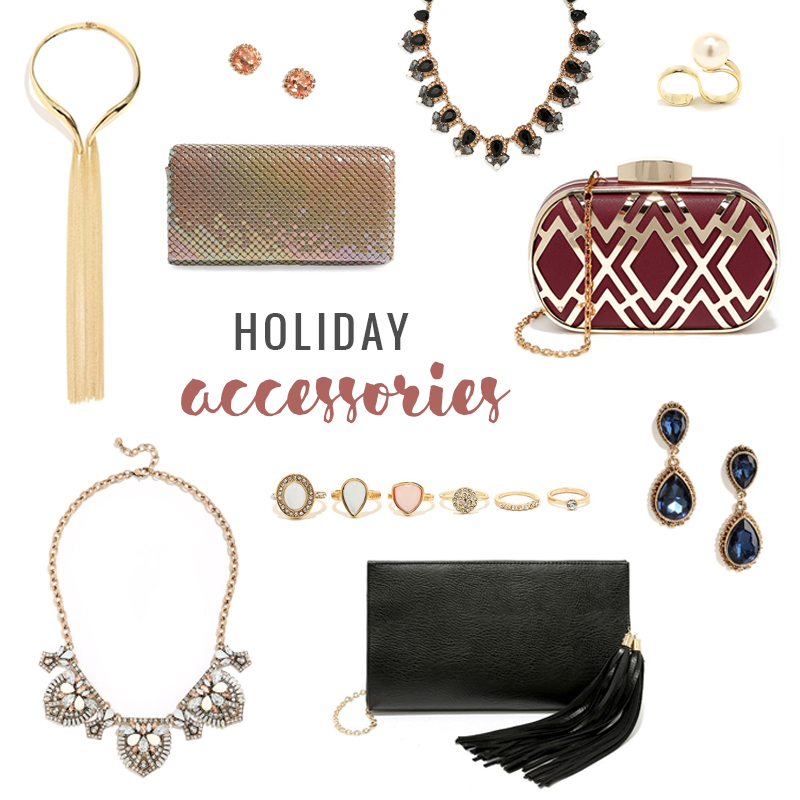 ---
Tales of Triumph Gold Collar Necklace | Shine With Me Peach Rhinestone Earrings | Jessica McClintock Mesh Clutch (also available in silver and black) | Get Glam Black Rhinestone Statement Necklace | Pearl of Wisdom Gold and Pearl Two Finger Ring | Time for Takeoff Gold and Oxblood Red Clutch | Hand in Hand Gold and White Ring Set | Top Deck Black Clutch | Astute Courtier Gold and Blue Rhinestone Earrings (also available in silver and peach)

---
Now's it's time for the finishing touches! Think of accessories to an outfit like punctuation to a sentence; it's necessary to make everything work. If your dress is fairly simple, or a solid colour, try statement jewellery. If you're rocking a large print, wear more minimal pieces. My personal rule is a statement necklace with no (or very simple) earrings, or statement earrings with no necklace. I think you can look overdone fast if you pair statement earrings with a statement necklace. Tip: look for a necklace with silver and gold in it, so you can accessorize with either (or both!). Also, try experimenting with cocktail rings, and cuffs!
I'm a fan of clutches for holiday parties. They're more formal than an over-the-shoulder style, and they're a great way to elevate the look of your outfit. If you can't fully part with a strap, look for a clutch that has a hidden strap (where you can tuck it inside the clutch, or unfasten it and place it inside the clutch until you need it). Again, if your dress is simple, you can go all out with the clutch. And vise versa. It's all about balance — if you're ever in doubt, you've probably gone too far. Try removing one accessory to keep your look streamlined and polished.
---
SHOP HOLIDAY ACCESSORIES
---
What holiday parties are you guys attending this year? Besides get togethers with family and friends, I think our holiday season will be pretty low key this year, which is nice for once, to be honest! We're usually traveling during the holidays, so I'm looking forward to keeping things mellow this year. If you end up picking up something I mentioned, let me know! Or send me a photo — I'd love to see how you styled it. And as always, if you have questions, comments, or requests, please leave them for me below. Have fun, and be safe!
---
Disclaimer: This post is not sponsored, and contains my genuine thoughts and recommendations. JustineCelina uses affiliate and referral links, which allow me to receive a small commission when you make a purchase through one of my links. Your purchases help to support JustineCelina.com!
Save
Save